Researching the best 2-person tent for outdoor adventures can be time-consuming and overwhelming, so we've done the legwork for you. Thankfully, there are many excellent 2-person tent options that suit every need and budget.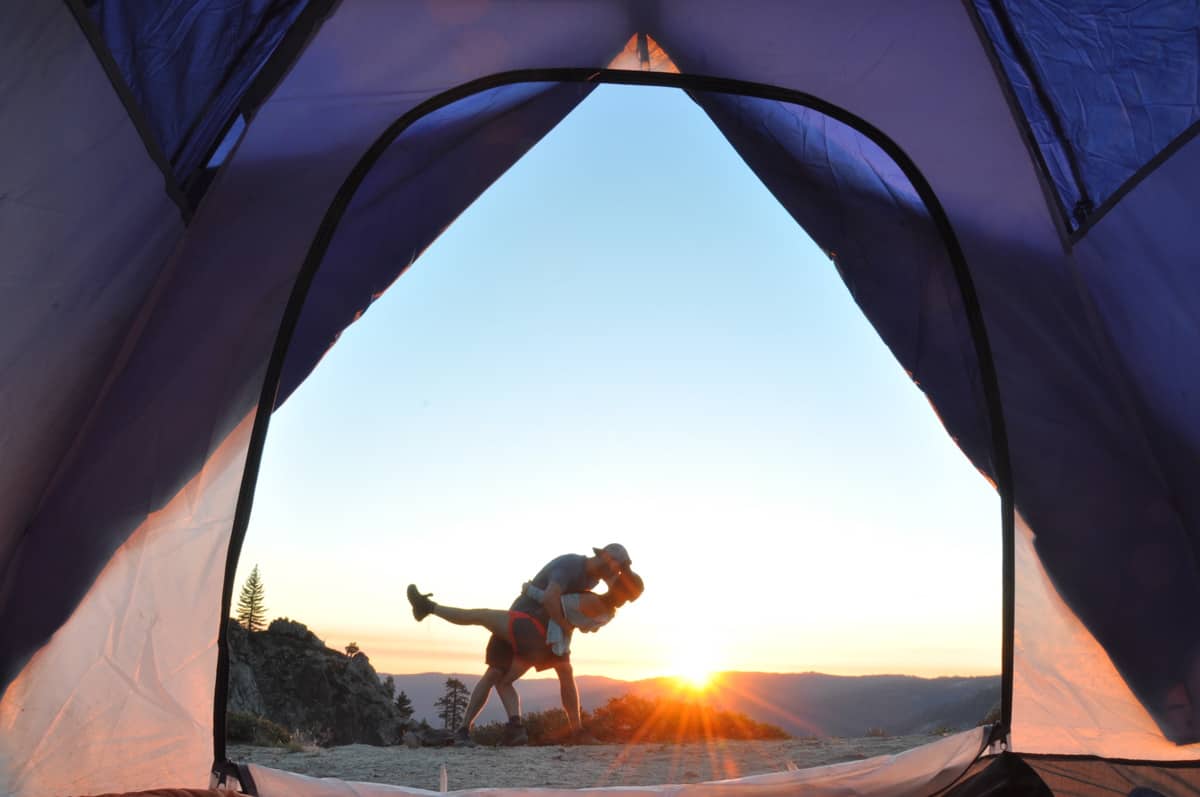 A tent is unquestionably one of the bigger-ticket and most important items in your camping and/or backpacking gear arsenal, so researching the best 2-person tent is a worthwhile use of your time.
But what exactly constitutes the best 2-person tent? That's highly subjective, of course, and it's further complicated by the hundreds of options in every category.
Do you want an ultralight tent, a tent with lots of head room, one with features like blackout technology?
Thankfully, there are many excellent 2-person tent options that suit every need and budget. We know choosing the best tent can be overwhelming, so we've done the legwork for you.
Psst! After you read this article, you'll want to check out the best sleeping bags on the market to help you get the best night's sleep outdoors!
Highlights
How to choose the best 2-person tent for YOU?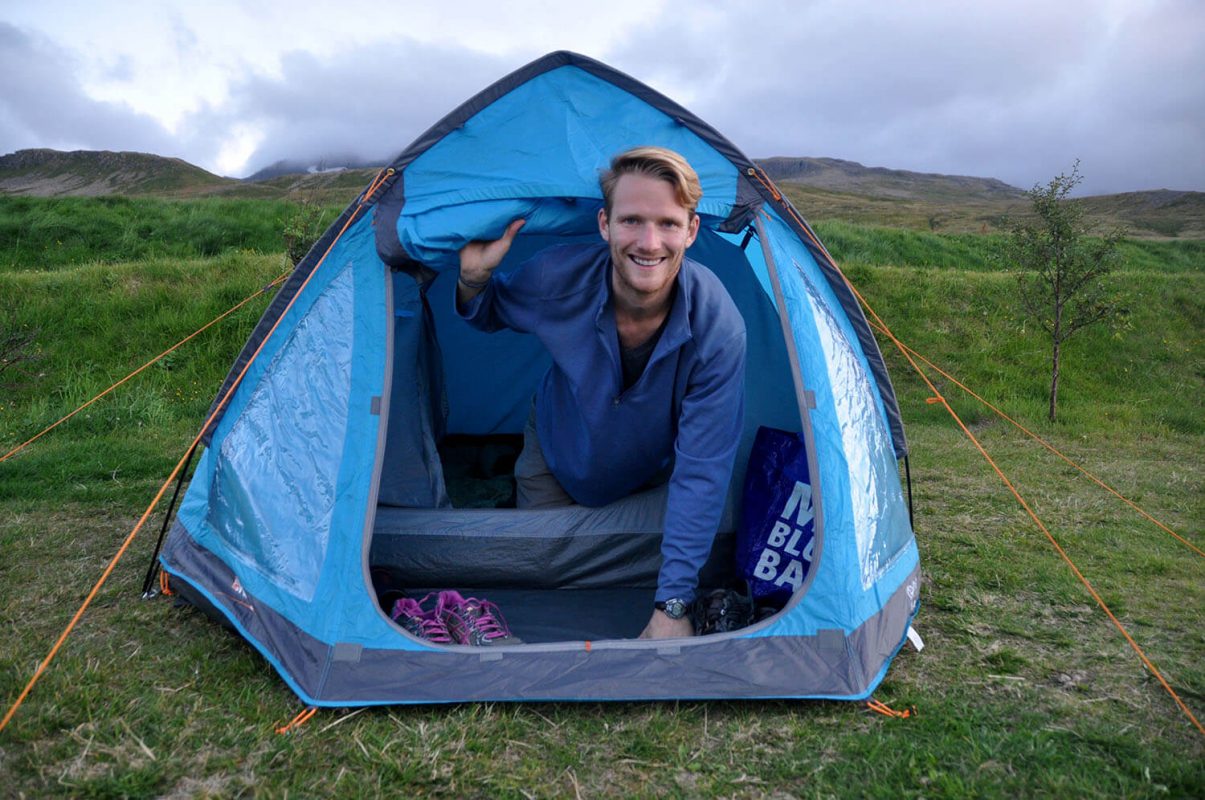 When you're shopping for tents, the sheer number of options can be very intimidating. There are so many styles, uses, weights, and price points — how are you supposed to know which is perfect for your needs? 
We've put this buyer's guide together to help you make that decision. The information below will highlight not only the best 2-person tents, but also give you things to consider in deciding which one best suits your lifestyle. Ready to find the best tent for you? Let's go!
What will you use the tent for most?
The type of 2-person tent you should get depends largely on the type of camping you do most. Do you primarily go backpacking or car camping? Or, is it an even mix of both? 
If you mostly car camp, the size and weight of your tent isn't necessarily a huge concern. On the other hand, if you're an avid backpacker, those will be your top concerns.
Wondering how to plan your first camping trip? This article has some great camping tips for beginners to help you plan an epic outdoor getaway!
What's the weather like where you'll be camping?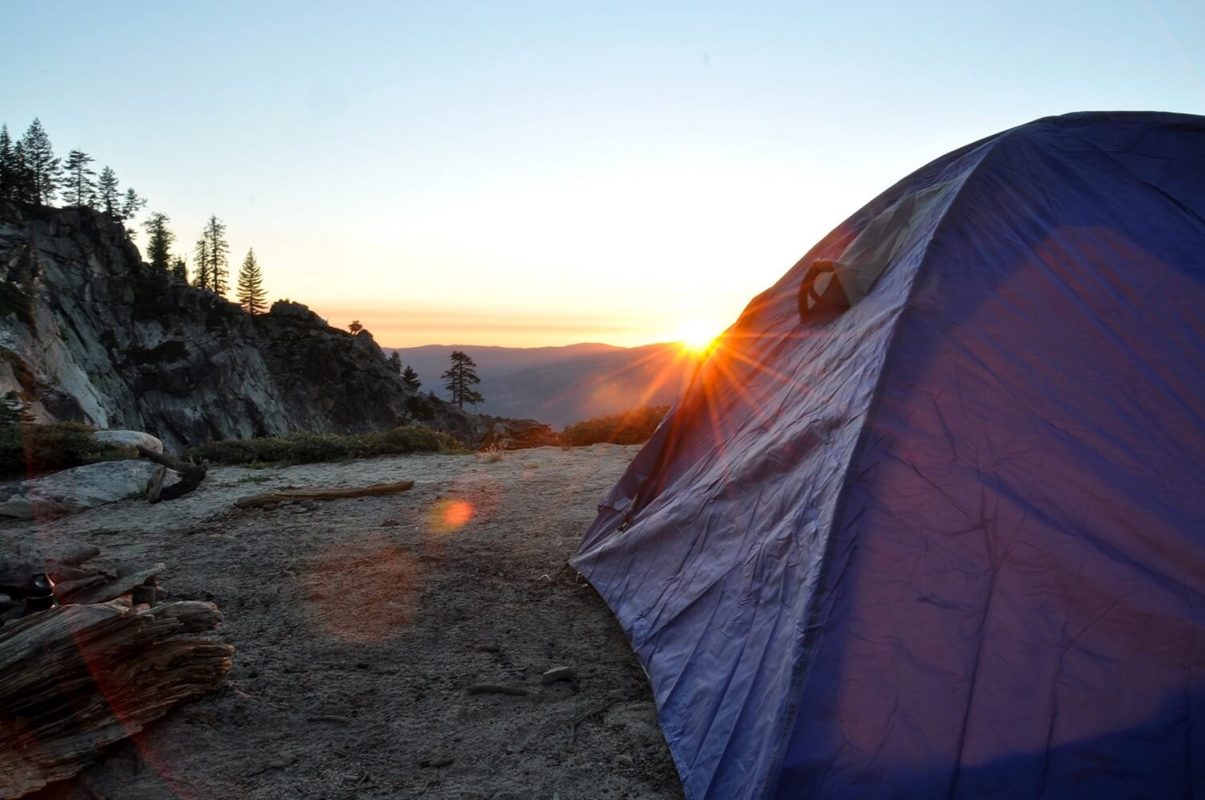 If you live in, say, the Southwestern United States where it's generally warm and dry, you may not even think about weather being a potential problem. But in many other places where it's rainy, windy, or extremely cold, weather is a very real issue when camping in a tent. Depending on where you usually camp, you may want to look for extra waterproofing features.
Budget
Your budget is naturally going to be a key factor in which tent model you ultimately decide on. Fortunately, there are actually several fantastic options at wallet-friendly price points. We've included choices ranging the full price spectrum in this guide and in fact, what we consider the best 2-person tent overall isn't even close to the most expensive!
Psst! We have a whole article with tips on how to find cheap camping gear to help you stay on budget.
Space
Determining how much space you really need in small 2-person tents can be tricky. To help you decide, ask yourself a few questions: are you tall and/or would you prefer to be able to stand up inside, or are you okay with crawling in on all fours? Do you travel with lots of gear, or do you travel with a pet? Would you like to have room for an air mattress?
Ease of setup
The days of struggling for an hour to pitch a tent are (for the most part) long gone, but there are still some tents that are remarkably easier to set up than others. If you're relatively new to setting up camp, frequently camp alone, or simply want the easiest, simplest setup, you may want to look into pop-up or inflatable tents.
Psst! The Dyrt is our favorite campsite locating app with the largest database of campgrounds and user-submitted reviews. Try their Pro Membership for FREE for 90 days and gain access to the offline version of the the app, utilize their trip planning feature AND get exclusive discounts on campsites and gear!
2-Person Tent Product Reviews
We did the research for you and compiled all the info we could find by researching product reviews, specs and reports to come up with the list below. It is our objective to give you an honest and unbiased review of each product so you can make the decision to know which 2-person tent is best for YOU.
REI Co-op Half Dome SL 2+ Tent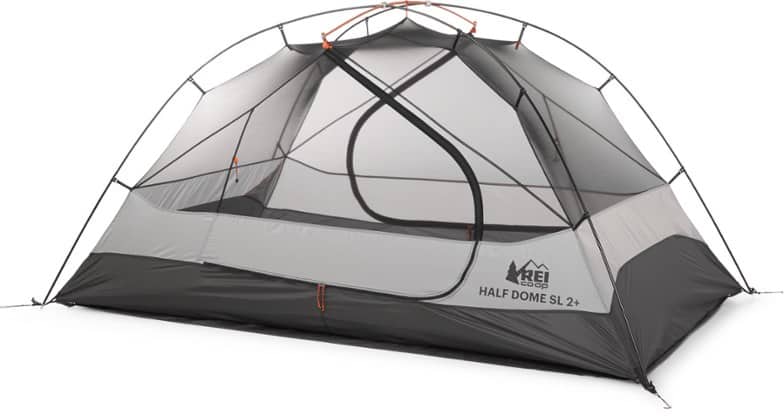 Features:

Two entrances, vertical sidewall construction gives you more usable space and headroom, and the rainfly can be adjusted and partially rolled up

Pros:

One of the most spacious 2-person tents available, well-ventilated design, and several clever interior pockets and hanging loops

Cons: Airy design makes it difficult to protect your belongings inside the tent in wet or windy conditions
With an exceptionally spacious layout, REI's Half Dome SL 2+ is one of the best 2-person tent options for tall people or those who travel with a pet or a lot of gear. Or anyone who simply appreciates having the extra space!
Everything about this tent is well thought out, from the two D-shaped doors to the rainfly with integrated close-able ceiling vents and the color-coded poles. At 3 pounds, 15 ounces, the Half Dome SL 2+ certainly isn't an ultralight tent, but it's the perfect size for shorter trips and car camping.
Psst! Save this list of easy & fun camping games for your next trip!
NEMO Aurora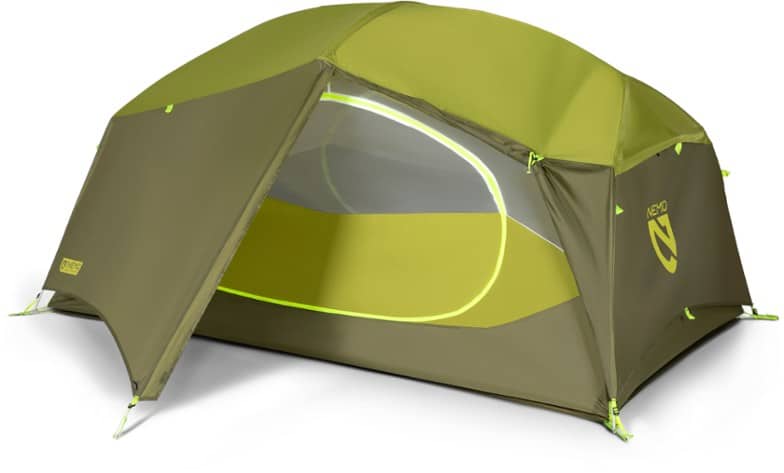 Features:

Near-vertical sidewalls for maximum interior space, dual oversized doors, large rainfly with integrated "strut vents" for quick ventilation

Pros:

Fast setup,

extremely spacious inside with generous storage pockets, and included footprint

Cons:

On the heavier side (4 pounds, 9 ounces) for 2-person tents and, because of how well-ventilated it is, this isn't the best option for very cold weather
With an approachable price point, tons of thoughtful features, and one of the largest interiors in the class (52" wide x 88" long), the NEMO Aurora 2-person tent is one of the best options available.
Our favorite features include door jamb pockets to tuck the doors into when they're open, a light-diffusing pocket in the ceiling to convert your headlamp into a lantern, and the way the fly also creates gear vestibules. The upper layer is also almost completely mesh, which allows for supreme breathability and stargazing at night.
Big Agnes Copper Spur HV UL2 Tent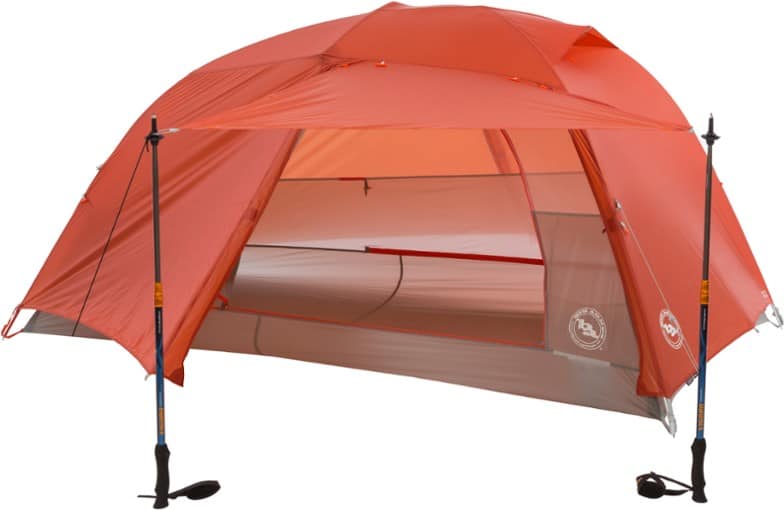 Features:

Ultralight, innovative 3D "mezzanine" bin inside provides generous off-the-floor storage, several smart pockets,

Pros:

Amazingly spacious inside with tons of functional storage, great headroom, and two large doors that convert into awnings

Cons:

One of the most expensive 2-person tents, and the zippers easily snag on the fabric
Big Agnes has long been a go-to for serious backpackers looking for the best small 2-person tents. This Copper Spur HV UL2 tent checks all the requisite boxes: it weighs just 3 pounds, 1 ounce, packs down really compact, and is spacious and comfortable to sleep in. It's extremely breathable and also holds up well in heavy winds.
Our favorite features are the ample storage pockets and the clever convertible doors. Using your existing trekking poles, the side doors can quickly be turned into awnings for shade or extra hang-out space.
Quechua Waterproof Pop-up Camping Tent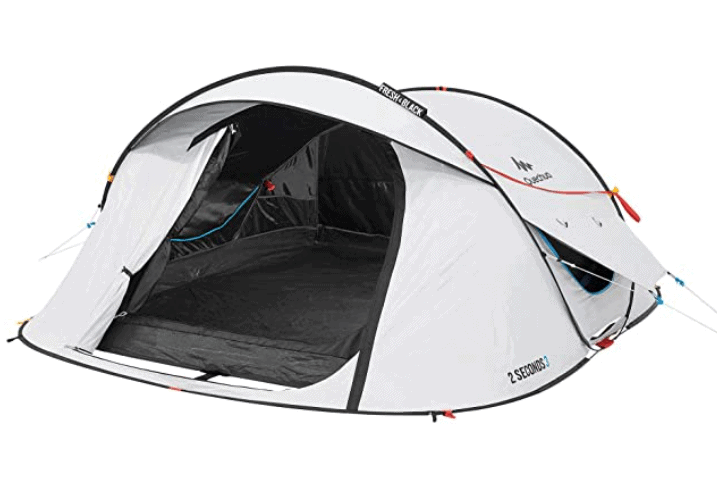 Features:

2-second setup, simple Easy Guide folding system for disassembly, waterproof, and blackout finish on the interior

Pros:

Durable in inclement weather and super-simple, fast setup and tear-down

Cons:

The rainfly partially covers the windows, so this 2-person tent is not as breathable as some others. It's also on the smaller side, so even two people and gear may feel crowded
Although pop-up, or instant, tents have a reputation for being cheaply made and not lasting long, that isn't the case with the Quechua Waterproof Pop-up Camping Tent. This impressive waterproof 2-person tent can withstand 30-mph winds, making it an ideal choice especially for places where weather is a common concern.
The patented "Fresh & Black" combination of a bright white exterior and blackout, heat-resistant interior keeps the tent quite dark, even in broad daylight, and it truly does setup and come down in just seconds.
Heimplanet Original Fistral Tent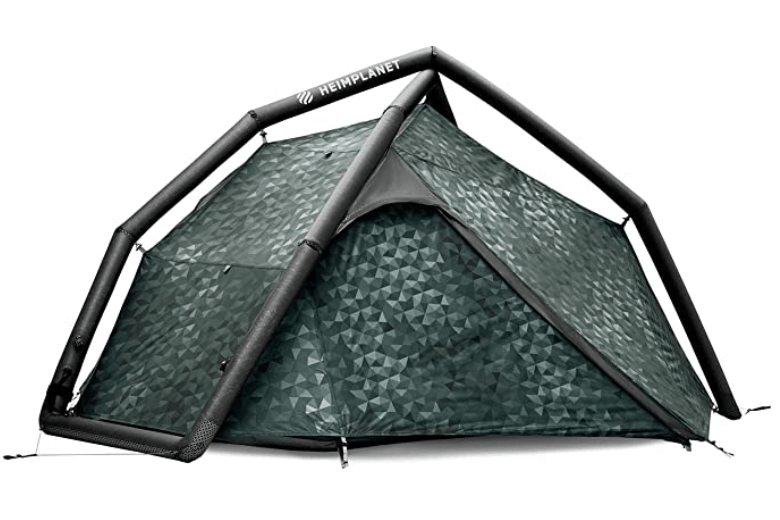 Features:

Inflates and deflates incredibly easily using a single valve, unique geodesic shape makes the tent ultra-stable, multiple air chambers means the tent is stable even if one gets damaged

Pros:

Inflates in under one minute and has two separate entrances and vestibules

Cons:

On the pricier and heavier side (5.5 pounds) for small 2-person tents
Functioning identically to traditional tents, the inflatable Heimplanet Original Fistral 2-person tent uses tubes of air in place of poles. A single valve allows you to inflate and deflate the tent in less than a minute, and it packs up for storage just as easily.
Most impressive is the tent's water- and wind-resistance. Thanks to its unusual shape, the Fistral is rated to withstand winds up to 110 mph. It also cleverly includes two separate entrances and vestibules for gear storage, making it easier for two people to share this tent.
Kelty Late Start 2 Tent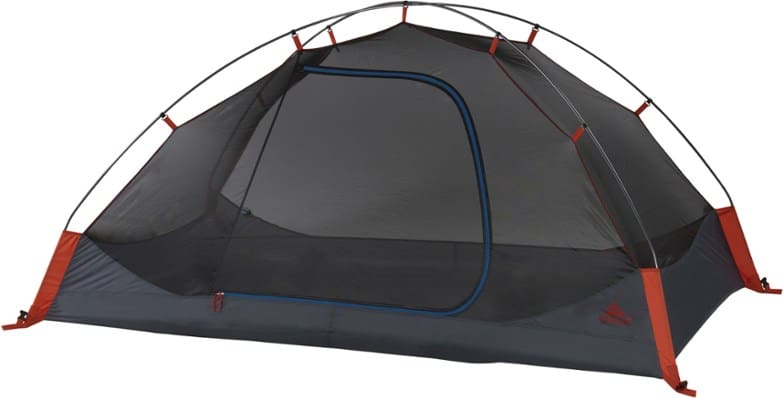 Features:

All-mesh canopy, interior personal pockets, unique pole sleeve design

Pros:

Excellent price point, lighting-fast setup, surprisingly roomy interior, and high-quality stakes included

Cons:

One door and one vestibule mean the tent interior quickly becomes a bit cramped for two people, and the fly can be difficult to adjust just right
The Kelty Late Start 2 tent is one of the least expensive options on our list, yet it's packed with features you would expect from the best 2-person tents. It sets up in seconds and disassembles just as easily, largely thanks to Kelty's "Quick Corner" technology with color-coding and pole sleeves.
It also weighs just 4.5 pounds — impressive in the budget category especially. Kelty even integrated small pockets for tucking the guide lines into when they're not in use. On warm nights when weather isn't an issue, the tent's mesh design allows you to stargaze from inside.

You may also like…
Save this article on Pinterest for later!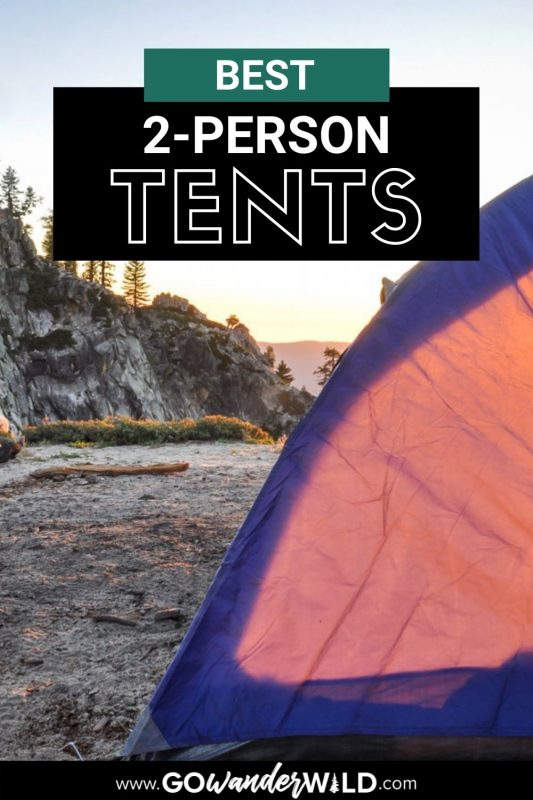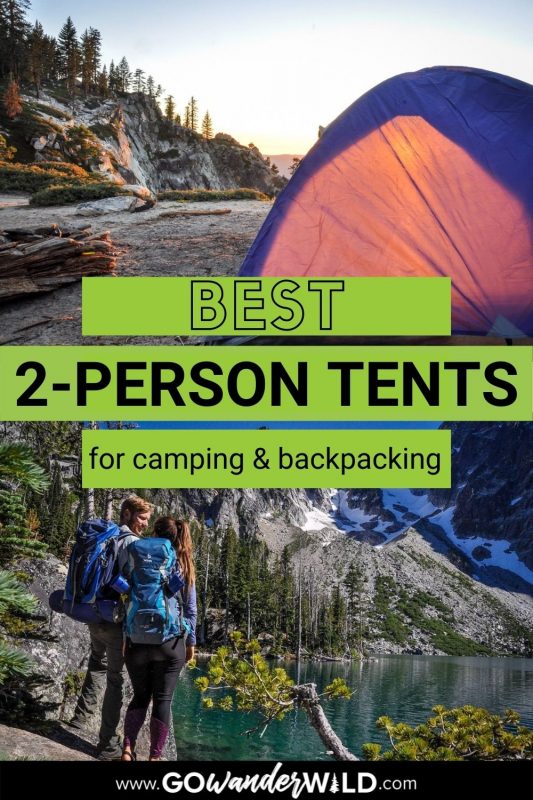 We want to hear from you!
Have you tested out any of the tents on this list? What was your experience? Do you have any other 2-person tent recommendations? Comment below and let us know!