We're going over the basics of car camping to get you ready to sleep under the stars! Find out where to find campsites, how to prepare and what to pack for your next car camping adventure.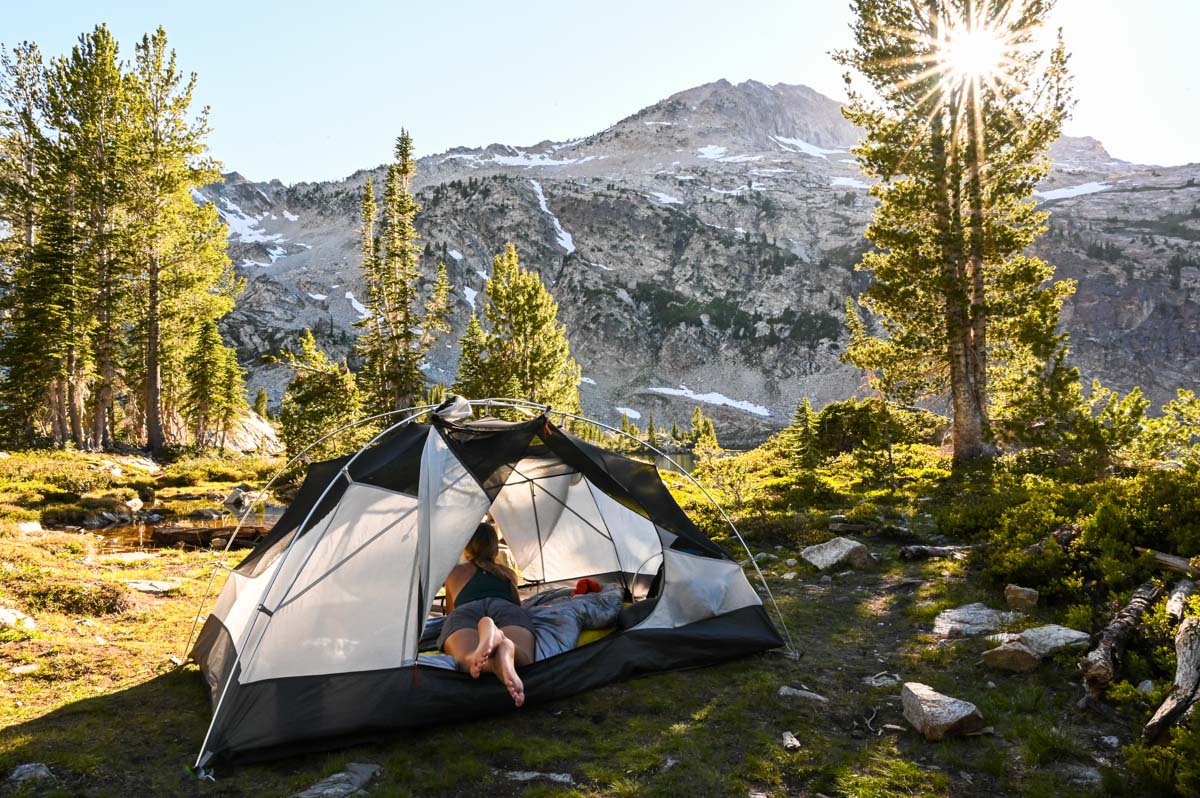 Written by Guest Contributors: Sarah Vaughan and Matthew Cafarella
Are you one of the many people who dream of car camping but aren't sure where to start? We understand your dilemma! Getting started car camping can feel overwhelming at first but luckily for you, we've put together this comprehensive guide to help you get going.
While you may feel intimidated by all of the gear, logistics, and planning that camping entails, sitting around a campfire with a cold beer and s'mores, listening to the sound of crickets echoing through the forest, before heading off to sleep under the clear night sky is more than worth the effort.
Sure, staying in a hotel or Airbnb is easy and convenient, but nothing beats a night out in the woods, disconnecting from the distractions of everyday life and reconnecting with the wonder of nature.
If you are eager to learn more about how to begin your car camping journey, keep on reading!
Article contents

What is car camping?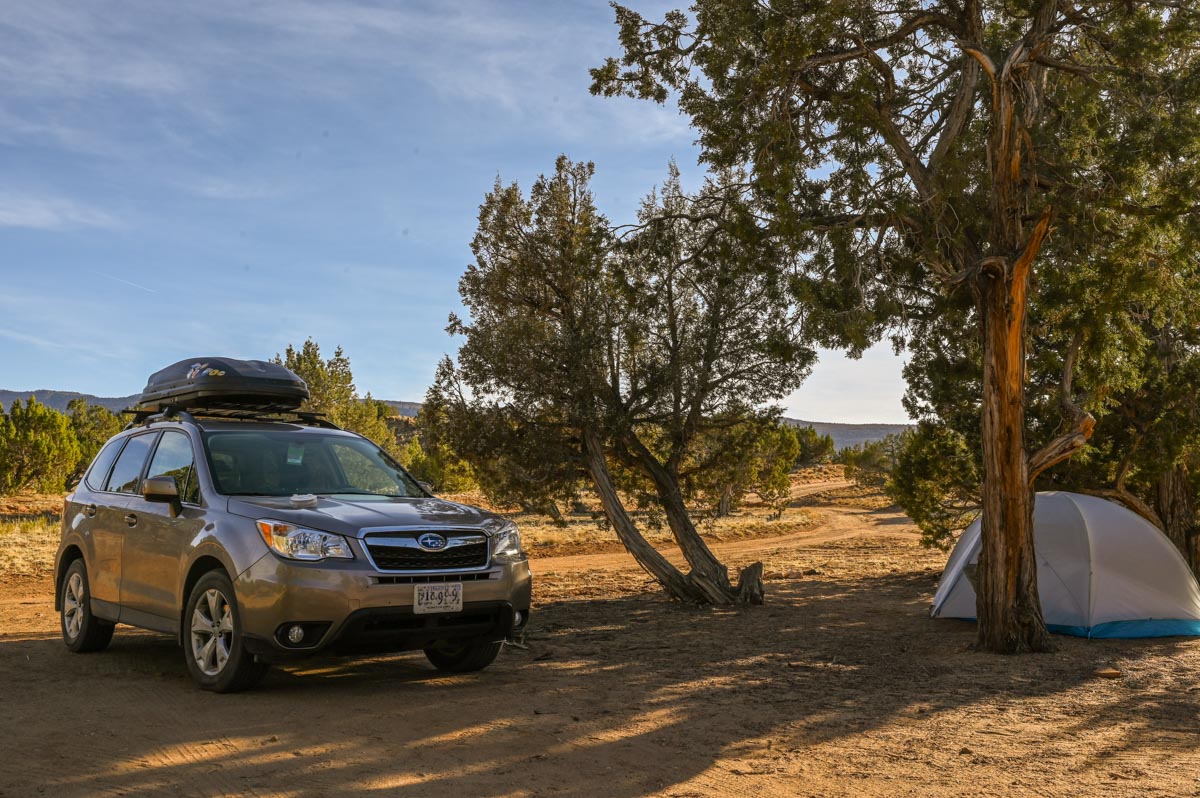 Before we get into some of the details, it's important to clarify a few things right off the bat. When someone says they are "going camping" that can mean a few different things and people tend to have different definitions of what they consider to be camping.
It could mean they are loading up their 25 foot RV and parking it at a site with running water and electricity. It could also mean they are squeezing everything into a backpack, hitting the trail, and sleeping deep in some remote location only accessible by foot (this is more commonly referred to as "backpacking").
In this article, we're focusing on the most common type of camping – car camping.
It's fairly self-explanatory but when you hear the term car camping, it generally means that you are camping (i.e. sleeping in a tent) but have your car nearby to hold your belongings or run to in case of an emergency (yes, we've made a mad dash to our car in the middle of the night when we heard a bear rummaging near our tent!).
Car camping is not only the most popular form of camping, but is also the best way to break into the world of camping. Having your car close by allows you to access more supplies and gives you an important sense of security as you get used to sleeping in the woods.
Types of car camping
In general, there are two types of car camping – dispersed camping and camping at a campground. They are similar but have some important differences.
Campgrounds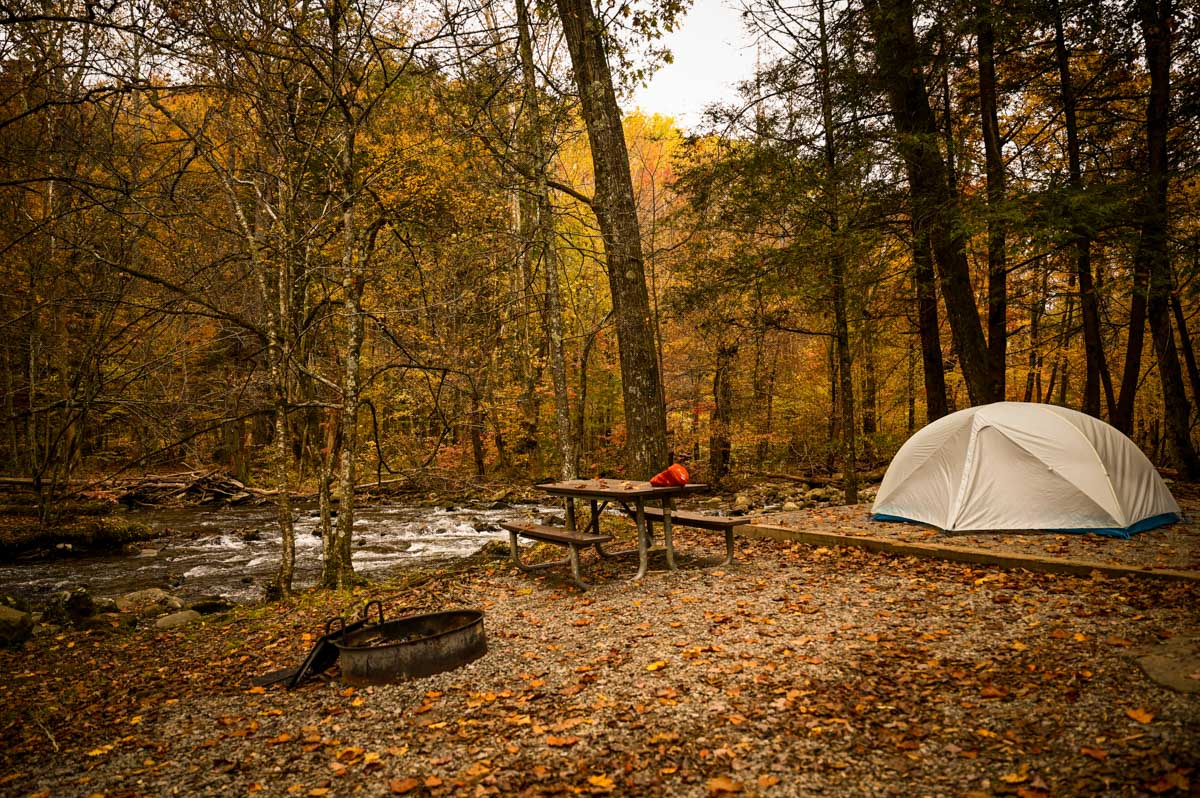 Let's start with what you're probably more familiar with – campground camping.
As the name implies, it entails, you guessed it, camping at a campground. You will have a designated site with a fire ring, tent pad, picnic table, and parking spot.
There will also likely be other amenities at the campground including, bathrooms with running water, a communal sink for dishes, a camp store selling basic supplies, or even laundry/shower facilities.
Of course, every campground is a little different and always do your research so you know what facilities to expect once you get to your campsite.
Importantly, you will need to pay to stay at a campground, and while some campgrounds are first-come, first-served, most require reservations well in advance, especially if you want to camp in a national park.
The nightly rate varies widely depending on where you are staying but we'd say prices are generally between $20-$50 a night.
Dispersed Camping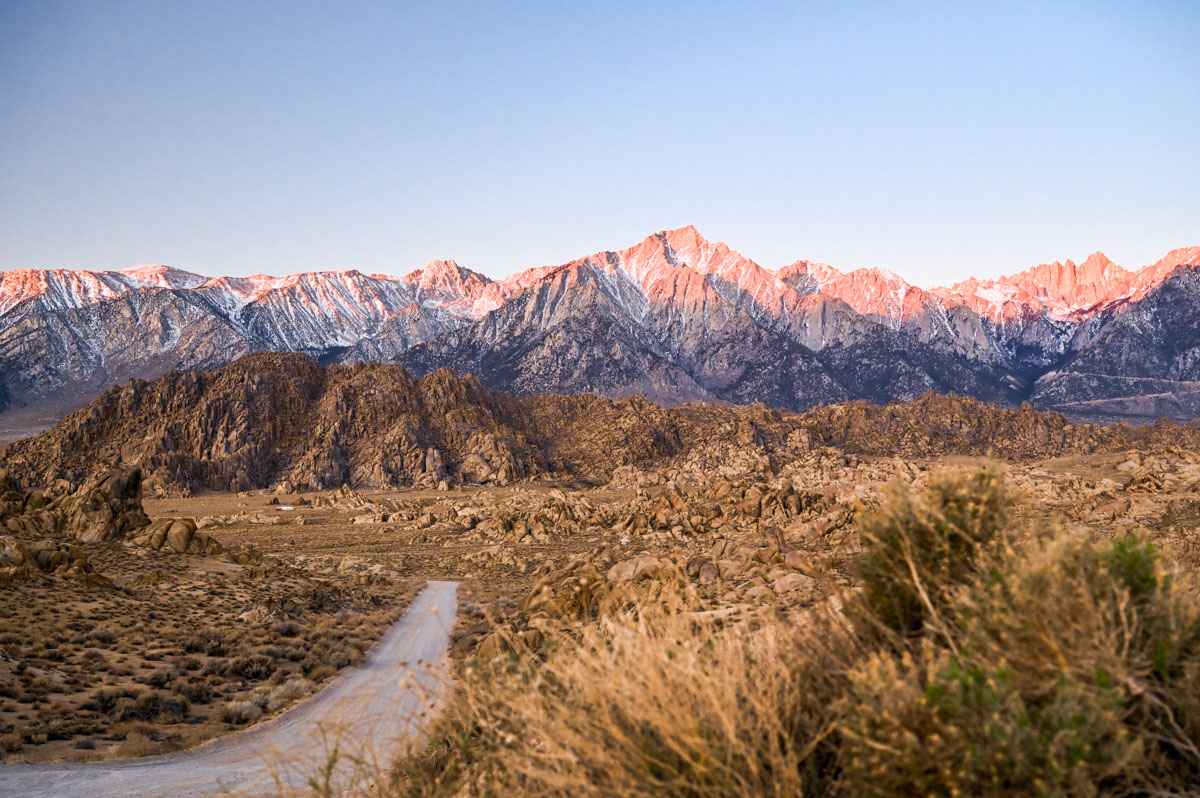 While car camping at a campground is nice for its amenities and convenience, the other option is dispersed camping.
Coming from the east coast this was a foreign concept to us before moving west, but did you know that you can camp for free on millions of acres of protected land throughout the American West?
That's right! Free camping in national forests, national monuments, or BLM camping is widely available throughout the western states (if you know where to look).
We love dispersed camping not only because it doesn't cost anything, but also because you can usually find more remote and isolated locations away from the crowds packed into popular campsites.
We have found some seriously epic campsites in amazing spots! A few of our all time favorites include Hole in the Rock Road in Escalante, the Alabama Hills in southern California, and the Buffalo Gap National Grasslands near Badlands National Park.
There are two downsides to dispersed camping.
First, you won't have all the amenities you'll typically find at established campgrounds. No bathrooms, running water, fire rings, or picnic tables. You're really on your own and you need to be prepared for that.
Second, finding a good dispersed camping site can be a bit of a challenge. Even if you've done your research in advance and have a general area where you know you can camp, it can be hard to find a good, flat spot with a spot to park your vehicle.
Again, unlike campgrounds, there are no designated sites when you're dispersed camping so you're on your own to find a good site.
How to find campsites
When planning your first car camping trip, the first question you probably have is: where exactly should I car camp?
This is always a tricky question because in most popular areas, there are tons of camping options, it's just a matter of what you're looking for and what is available.
We've broken down all the different ways to find a good campsite below.
Campgrounds at National Parks, National Forests, State Parks, etc.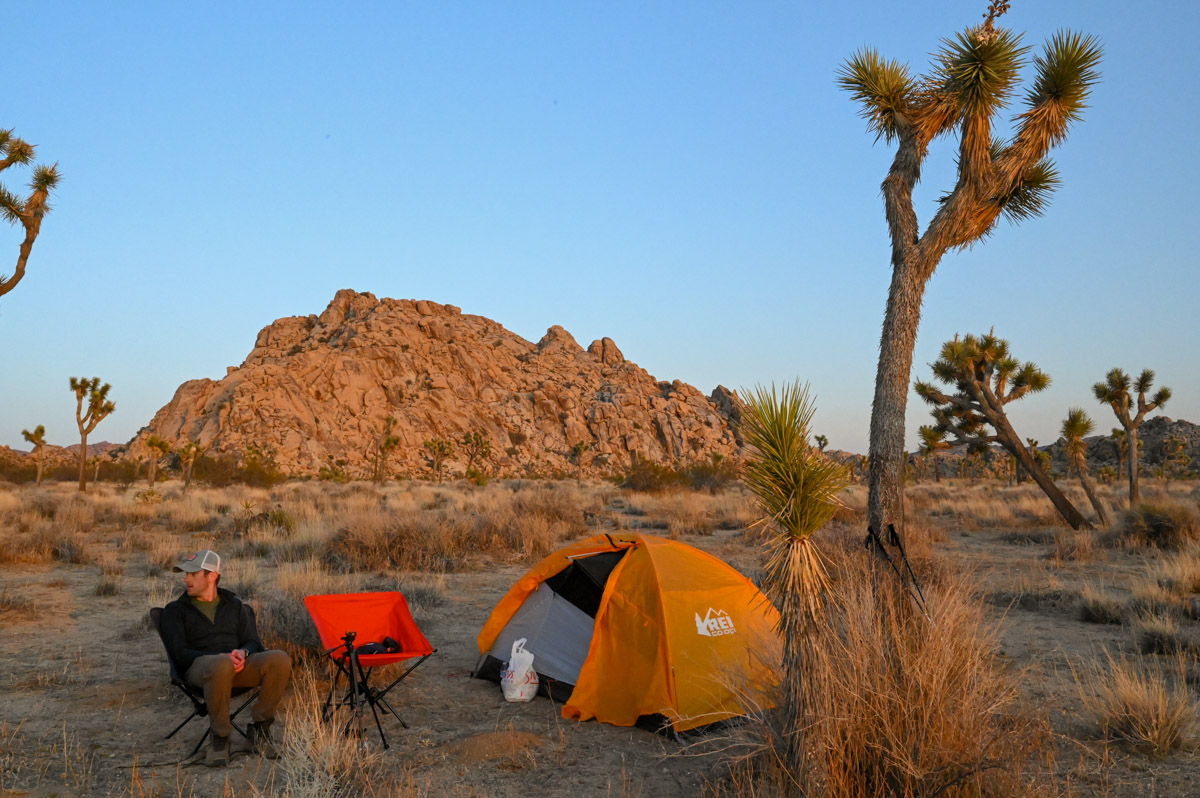 If you're looking to go camping, chances are, you're going to some national park, national forest, state park, national monument or some other form of protected land.
If this is the case, the first place we'd look for a campsite is on the park's official website. Most parks have some form of established campground available for car camping within their borders. Naturally, these are great places to camp because you get to stay in the park and can be very close to many popular sites.
For national parks, you can check recreation.gov or the NPS website for campground information and reservations. Otherwise, just do a quick google search for the name of the place you're visiting + "campgrounds" and you'll surely get some hits.
A few things to look out for when trying to car camp at a national park, monument, etc:
In many of the popular parks, campsites must be reserved in advance. At very, very popular parks (think your major national parks like Glacier, Yosemite, Zion, etc.) campground reservations will be released well in advance and can be totally booked almost instantaneously. Be sure to start researching early!
Make sure you don't accidentally reserve a group site (unless you're camping with a large group) or a handicap accessible site.
While you don't need to have every detail of your trip planned before you book a campsite, it's a good idea to have some idea of what hikes or activities you're going to be doing so you can book a campsite that is centrally-located. There's nothing worse than booking a campground in a park thinking you're going to be super close to a certain trailhead only to later learn you're still a 2 hour drive away!
Psst! Be sure to read up on these tips for eco camping to make sure you're being environmentally conscious on your outdoor adventure.
Private campgrounds in cities/towns near parks
Similarly, wherever you are visiting, there is likely some town or city nearby where the less adventurous are staying in their fancy hotels with their cushy beds and hot showers. In these towns, there is also likely to be a handful of private campgrounds where you can car camp.
We don't love these campgrounds because they tend to be on the more expensive end. Their main goal is to make a profit, not necessarily ensuring you have a secluded, private camping experience.
When we've camped in private campgrounds, we're usually packed into a tiny little site without much natural scenery. But, if you're in a pinch, they're always an option.
Dispersed Camping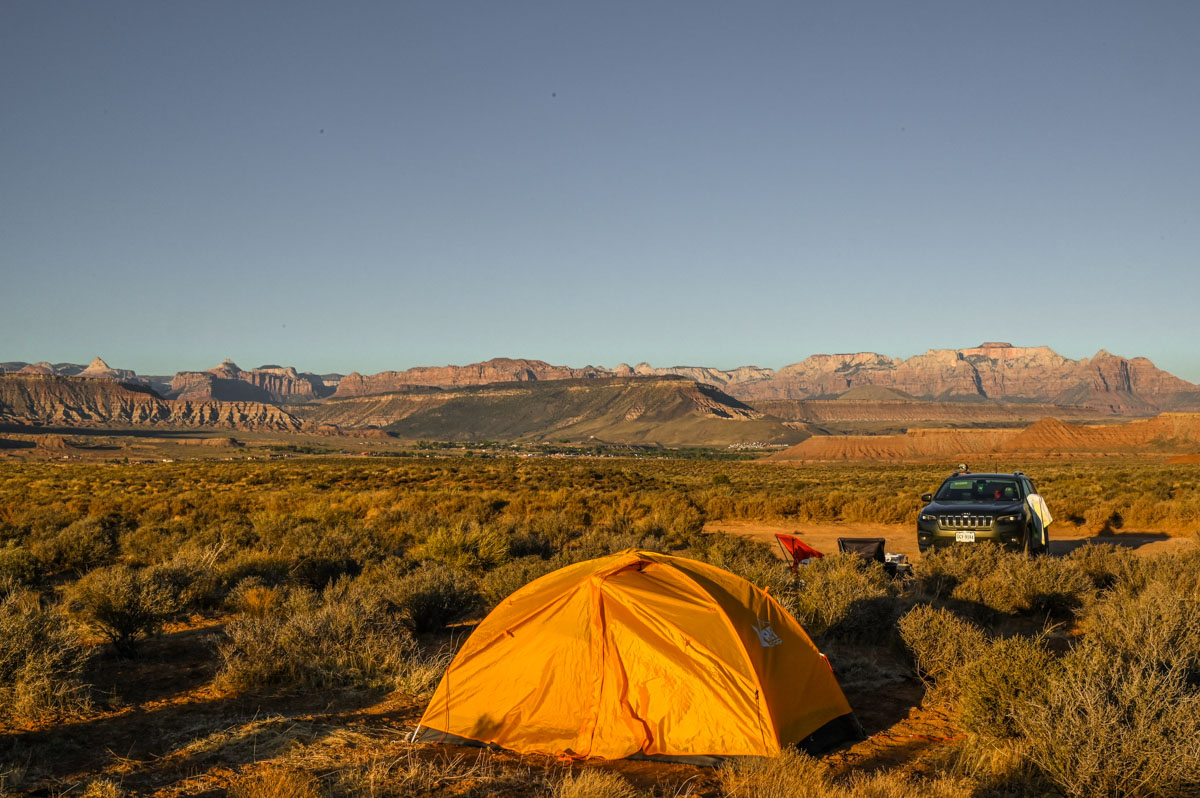 We love dispersed camping because it is typically more remote, isolated, and it's free! All that being said, it can be a challenge to find good dispersed camping sites, as they aren't typically advertised or publicized anywhere.
When we are in need of a dispersed camping site, the first place we look is always The Dyrt app. With a database of over 44,000 campsites across the country, no other website or app has more camping information!
Psst! Katie and Ben here: We also LOVE using The Dyrt app and we have a BONUS offer for you! Try their Pro Membership for FREE for 90 days and gain access to the offline version of the app, utilize their trip planning feature AND get exclusive discounts on campsites and gear!
If you can't find what you're looking for on the Dyrt, you can always check the BLM or National Forest Service websites for parks nearby. We've found both these websites are generally quite difficult to navigate and lacking in useful information about dispersed camping, so the Dyrt is definitely your best bet.
This article on how to find free camping is another great resource that breaks down this information into more detail.
What to pack for car camping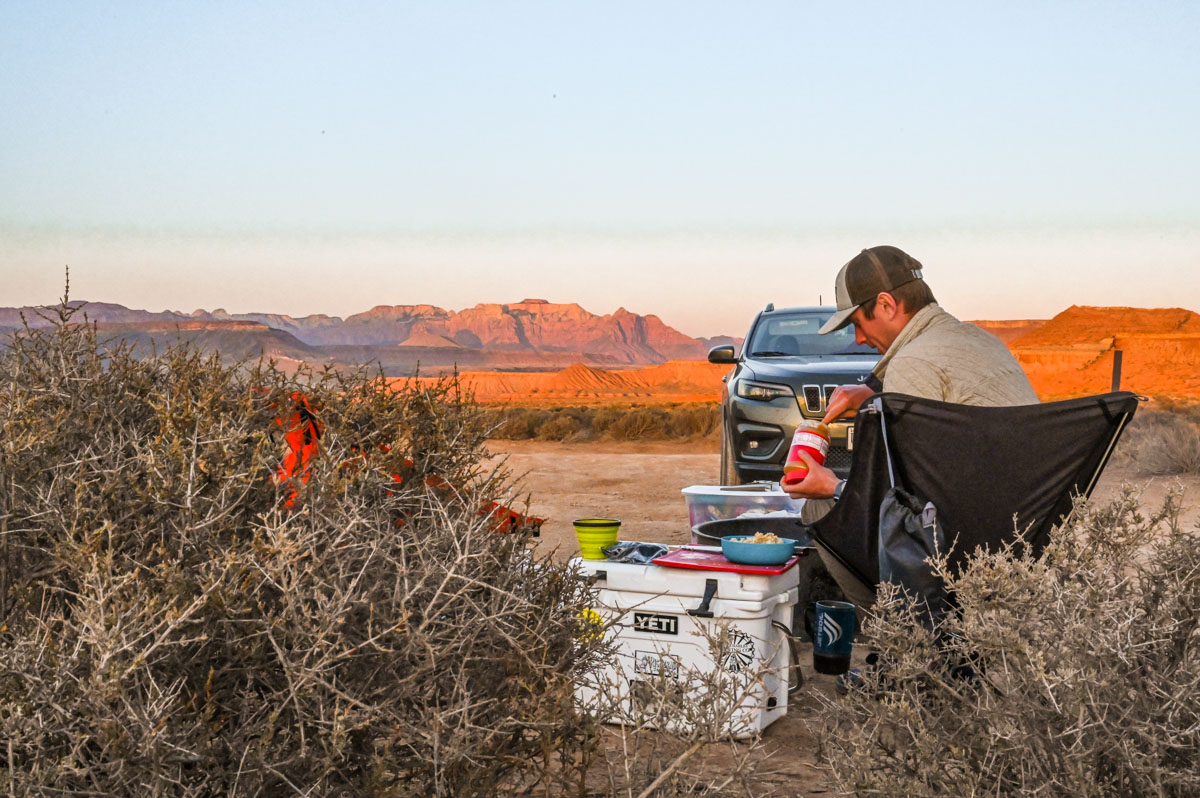 So you've started to plan your first car camping trip, you have a campsite reserved and now you need to figure out what to pack…
Frankly, we still get overwhelmed by all the different camping gear options out there! But before we get into the details, let's start with a few tips on how to approach purchasing gear.
Tips for purchasing car camping gear
The harsh reality is that any form of camping is fairly gear-intensive. But that doesn't mean you need to spend thousands of dollars right away, and honestly, we'd strongly recommend you don't buy all your gear before your first trip.
Rent before you buy: Luckily, you can rent pretty much everything you need for a car camping trip from REI or other local outfitters. It's a great way to take some time trying different products before investing in anything expensive. Once you've spent a few nights under the stars, you'll get a sense for what gear you actually need, and be in a better position to invest in your own stuff!
Buy used: Another great option is to buy your first major pieces of car camping gear used. You can check Craigslist, Facebook Marketplace, or join a local buy/sell group on Facebook. REI also sells some gently used gear.
Remember, you get what you pay for: If you need to stick to a strict budget, you can definitely find some good stuff at lower price points. But just be aware that there is always a reason cheap things are cheap. If you buy the $250 tent instead of the $500 tent, you'll probably need to buy another tent in half the time and won't end up saving money in the long run.
Consider backpacking: If you think there's a possibility you might get into backpacking, it may be financially wise to invest in backpacking gear (think smaller, lightweight sleeping bags, pillows, sleeping pads, tent, etc), which can double as car camping gear.

We made this mistake when buying our first set of car camping gear, and ended up purchasing new stuff that was suitable for backpacking just a few months later.
Car camping packing list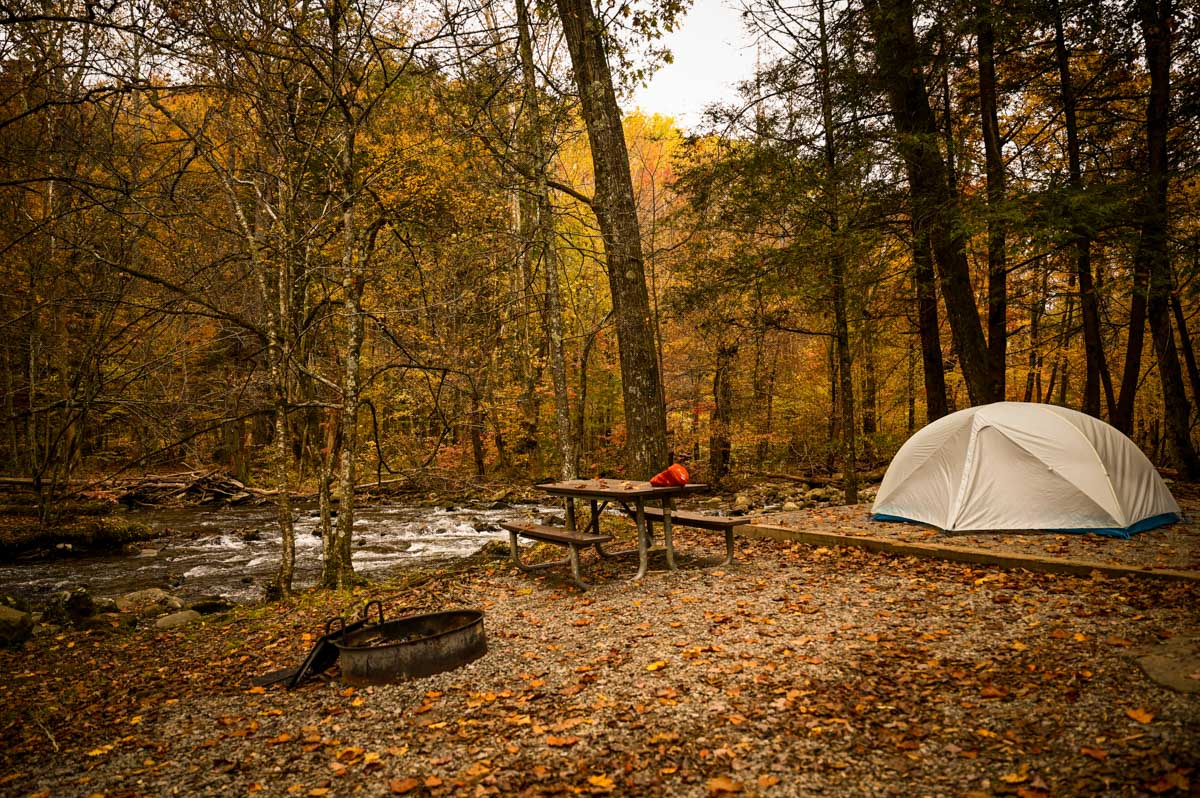 With all that info out of the way, let's get into the actual gear you'll need to pack for your first car camping trip:
Essentials
Tent + rainfly + footprint: It almost goes without saying but a good tent, with a rainfly and footprint is a must. You can opt either for a lighter, smaller backpacking tent if you ever envision yourself going backpacking or stick to sturdier, more spacious car camping tents.
Sleeping pad: Just like mattresses, find one that is comfortable for you!
Sleeping bag: Make sure you bring a sleeping bag that is temperature rated for the climate where you are going. There is nothing worse than being cold all night! If you are camping in colder weather, you may want to consider a sleeping bag liner for extra warmth.
Fire supplies: Make sure to purchase firewood in the area you are camping. Never bring firewood from home, as it could carry invasive bug species.
Headlamp and/or flashlight: Hopefully, the stars will be shining bright but they still won't provide enough light to illuminate the path to the bathroom in the middle of the night.
Weather appropriate clothing: Make sure you have everything you need to stay warm, dry, cool, etc.
Bear spray (if in bear territory): And please know how to use it and keep it readily available. Bringing bear spray and leaving it in the car or not knowing how to use it as a bear is coming at you serves no good.
Water: Most campgrounds will have running water but make sure to check before you go. Regardless, it's always a good idea to bring water reservoirs and plenty of water with you. If you are dispersed camping, you will be responsible for bringing your own water. You can never have enough!
Camp Kitchen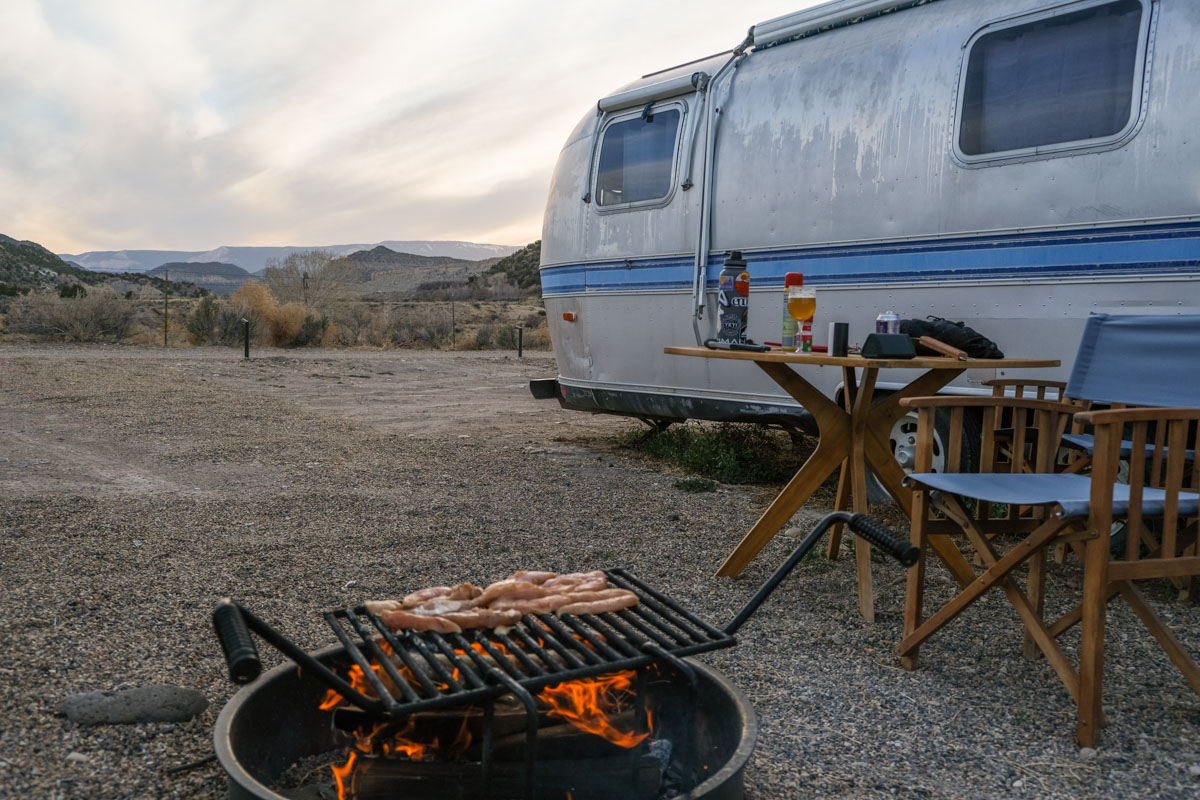 Camp stove + fuel: Even if you plan to cook dinner over the fire, you'll want a way to make coffee in the morning. It's also great to have in case weather conditions prevent you from starting a fire.
Cooking pots/pans: Plan out your meals before you go and pack accordingly.
Cooking utensils: You don't need anything too fancy but make sure you have something long enough and sturdy enough to handle the heat of an open fire.
Knife + cutting board
Cups
Plates/bowls
Cooler + ice: A good cooler is absolutely essential. If you'll be camping for a few days, having a solid cooler will make a world of difference.
Trash bags
Dish towel: Also doubles as a pot holder.
Sponge
Eating utensils
Fire roasting stick: For s'mores!
Bottle opener: Those beers aren't going to open themselves.
Toiletries and personal hygiene
Bug spray + bug candles: You're in the woods. There will be bugs. They will be annoying. At least try to minimize the nuisance as much as you can.
Sunscreen
Chapstick is definitely a must have for camping that is easy to forget!
Toilet paper + sealable plastic bag (or WagBag): If you are dispersed camping, there will not be any bathrooms. In certain areas (typically dry, desert environments), you must pack everything out, and that includes your #2! Always check local regulations about waste disposal before you set off on a dispersed camping trip.
Microfiber towel: In case you want to rinse off in a nearby river, lake or shower.
First aid kit: Hopefully you won't need it, but it's always better to be safe than sorry.
Comfort Items
Sleeping bag liner: This is a borderline necessity for us but you could survive just fine without one. When you curl up in your sleeping bag at night, you'll likely be dirty and sweaty and you can't wash a down sleeping bag. Using a liner adds a bit of warmth and allows you to keep the actual sleeping bag clean.
Camping pillow: If you're feeling even more luxurious, you could bring a normal pillow. If you're feeling more grungy, just roll up a sweatshirt or jacket. If you want something in the middle, an inflatable camping pillow is the way to go.
Camp chairs: For lounging by the fire!
Camp blanket: To keep you warm cozied up by the fire after the sun goes down.
Hammock: For your afternoon nap.
Lantern: A necessity not just for being able to see but also for dramatic effect while telling campfire ghost stories.
Book or Kindle: Make sure to download a book while you still have wifi.
Camp games: To keep you (and the kids!) entertained.

We recommend bringing a deck of cards and Corn Hole is always a fun one.
Cleaning supplies
Wash bucket: These make it so much easier to clean dishes at your site.
Biodegradable soap: For cleaning up after dinner.
Clothesline: In case you need to dry clothes after a long day on the trail.
Travel laundry detergent: To clean your clothes of sweat, dirt, and grime, especially if you plan to camp for a few days.
Be sure to download our FREE camping packing list before your next trip and never leave another essential behind again!

What to eat while car camping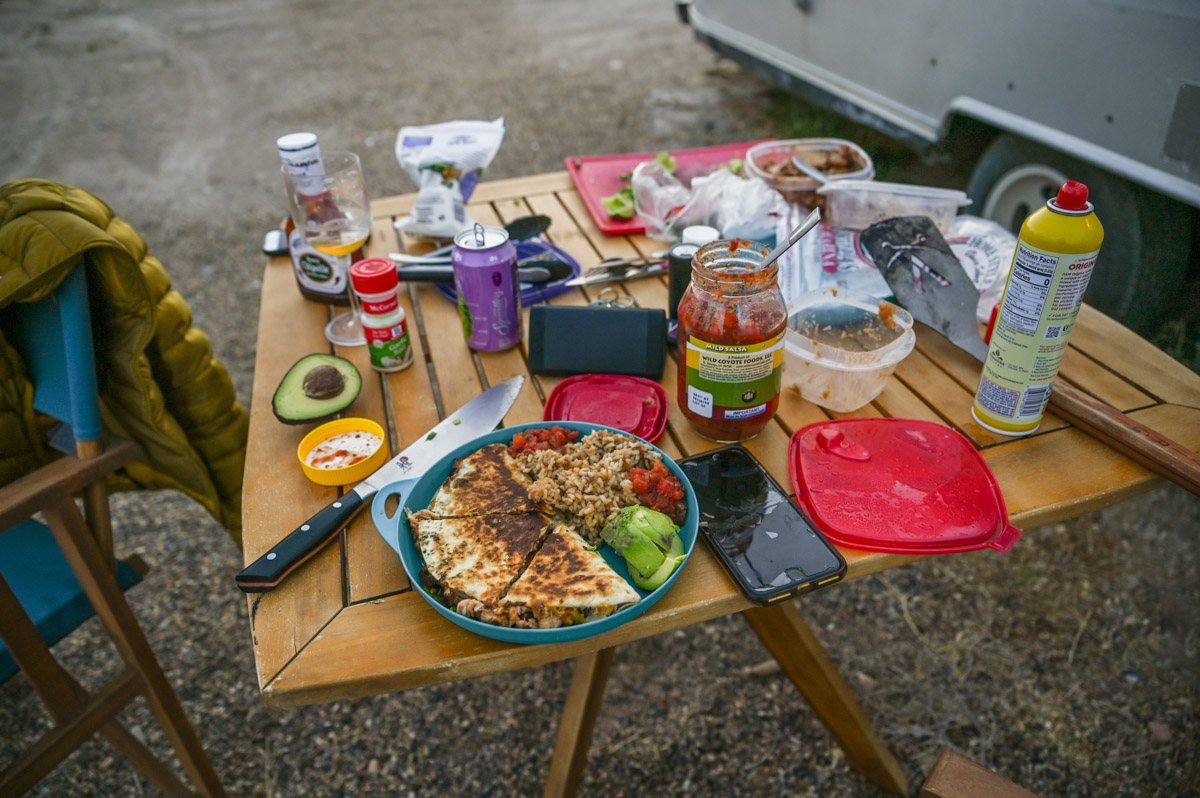 In addition to all the gear listed above, you'll also need to plan out your meals before you leave, as there are unlikely to be grocery stores or restaurants near your campsite. Luckily, it doesn't have to be challenging to make something super delicious while car camping!
One of our favorite things to do while car camping is to make a homemade meal over the campfire. The open flame and forest air definitely make everything taste better. There are tons of awesome recipes for cooking over a campfire, including some meals you wouldn't think are possible to cook over an open fire.
One word of caution – while cooking over the campfire with a cold beer in hand is super fun, you won't be able to make a fancy three course meal with all sorts of side dishes. Your cooking options are a bit limited out in the woods but that does not mean you need to skimp on flavor.
Here are some camping food ideas to get you started:
We also have a FREE camping food checklist you can bring to the grocery store with you and meal plan for cooking in the wilderness.

Tips for camp cooking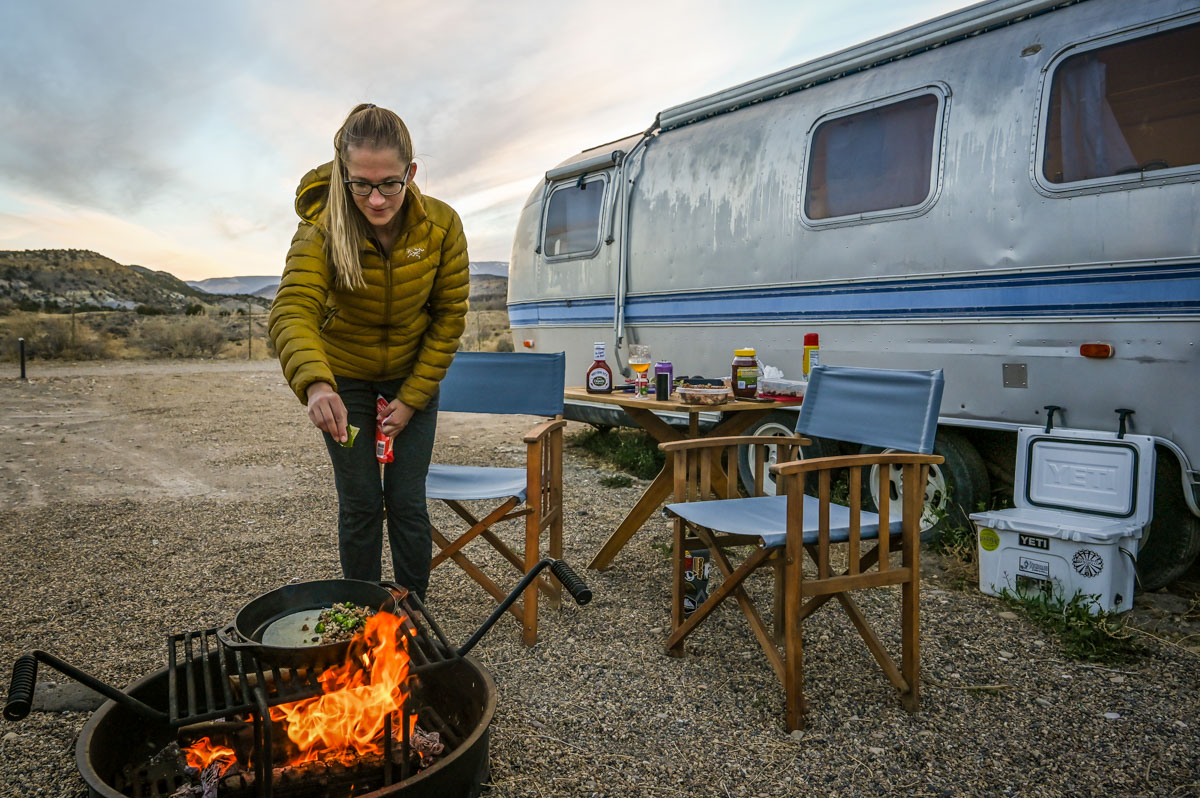 Make meals ahead of time: If you aren't in the mood for cooking an entire meal over the fire, you can make your meals in advance and simply heat them up over the fire.

We love to prepare a nice, big pot of chili at home, and then just throw it over the fire to warm up.
We've also been known to pick up chinese food on the way to a campground and heat it up in the skillet once we're all settled. No prep required!

Use a camp stove or Jetboil: If you are arriving at your campsite late, forgot to pick up firewood or simply want to cook with a little more control of your heat source, you can also make delicious food using a camp stove, portable grill, or JetBoil.

Camp stoves and portable grills are pretty simple. Just be sure to bring enough gas and you can use them just like you would a normal grill or small stove at home.

Throw everything in one pot: When you just want something easy, one-pot camping meals are our favorite. Some ramen noodles, mixed with fresh veggies, a spoonful of peanut butter, and chili paste is an incredibly easy, filling, and delicious meal (don't hate on Ramen!).
Wildlife and food storage
While you are camping, please remember that you are a visitor in the home of countless wild animals from racoons, squirrels, birds, chipmunks and marmots to bears, javelinas, deer, and foxes. All of these animals have evolved over millions of years to find any food in their vicinity and most of them are way more clever than you'd think.
You need to be very careful with your food storage while camping, especially in bear country. Make sure to secure all food waste, keep all food and beverages in your car overnight, never leave food unattended, and follow any posted rules exactly.
Not only is leaving food out dangerous for you and your loved ones, it can also cause the bears to become habituated to human food and continually seek it out, which unfortunately, often results in them being put to death.
In bear country, you will also want to keep any toiletries or scented items, like chapstick, lotions, contact solution, medicines, etc, properly secured in your car and never in your tent!
If you are in bear country, there will likely be bear boxes available for you to store your food. Bears have been known to break into cars and that fancy Yeti cooler you just bought is bear-resistant but is by no means 100% bear proof!
Fun things to do while car camping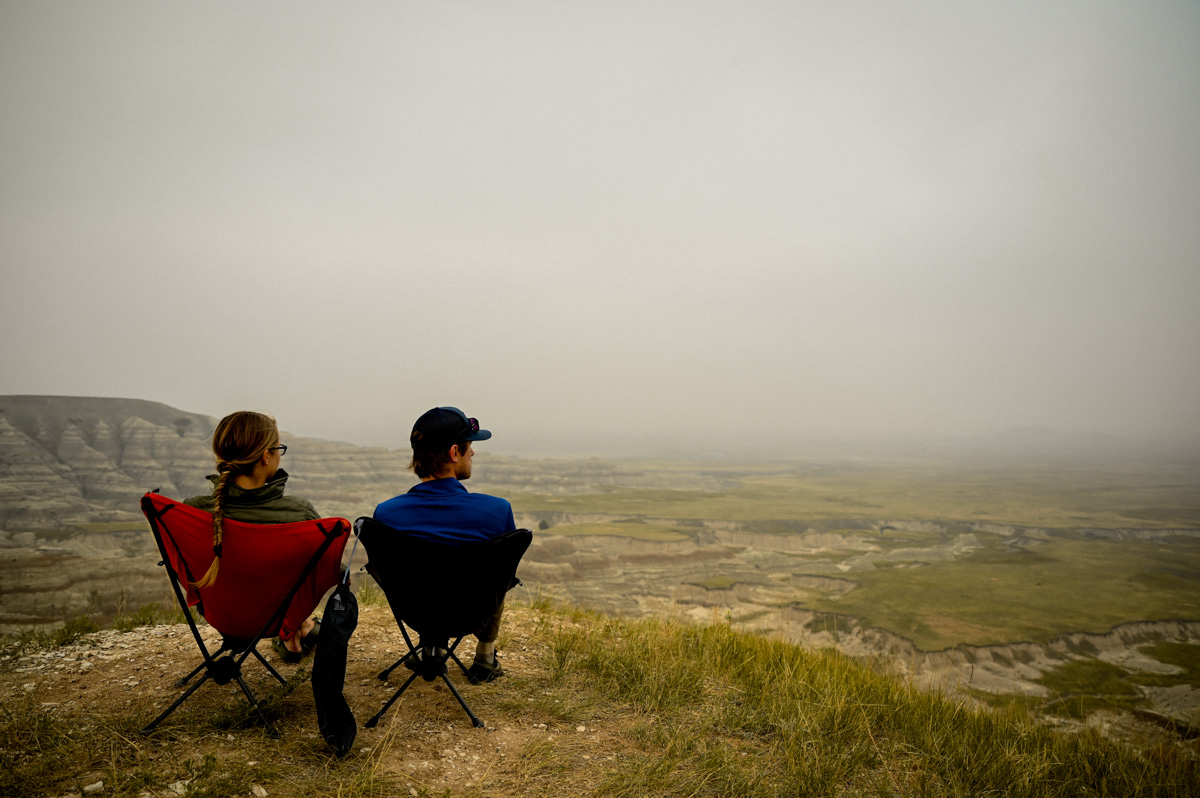 Of course, if you're going car camping, you'll surely be partaking in other outdoor activities. While we love relaxing in nature as much as the next person, you'll probably want some way to entertain yourself while in the woods. Here are a few fun suggestions:
Hiking: Most campgrounds are located near amazing hiking trails. Do some research before your trip and find some hikes close to your campsite.
Games: Whether it's cornhole, ladder toss, Jenga, cards, charades, or your favorite board game, enjoying a fun game while camping is what it's all about!
Basic car camping safety tips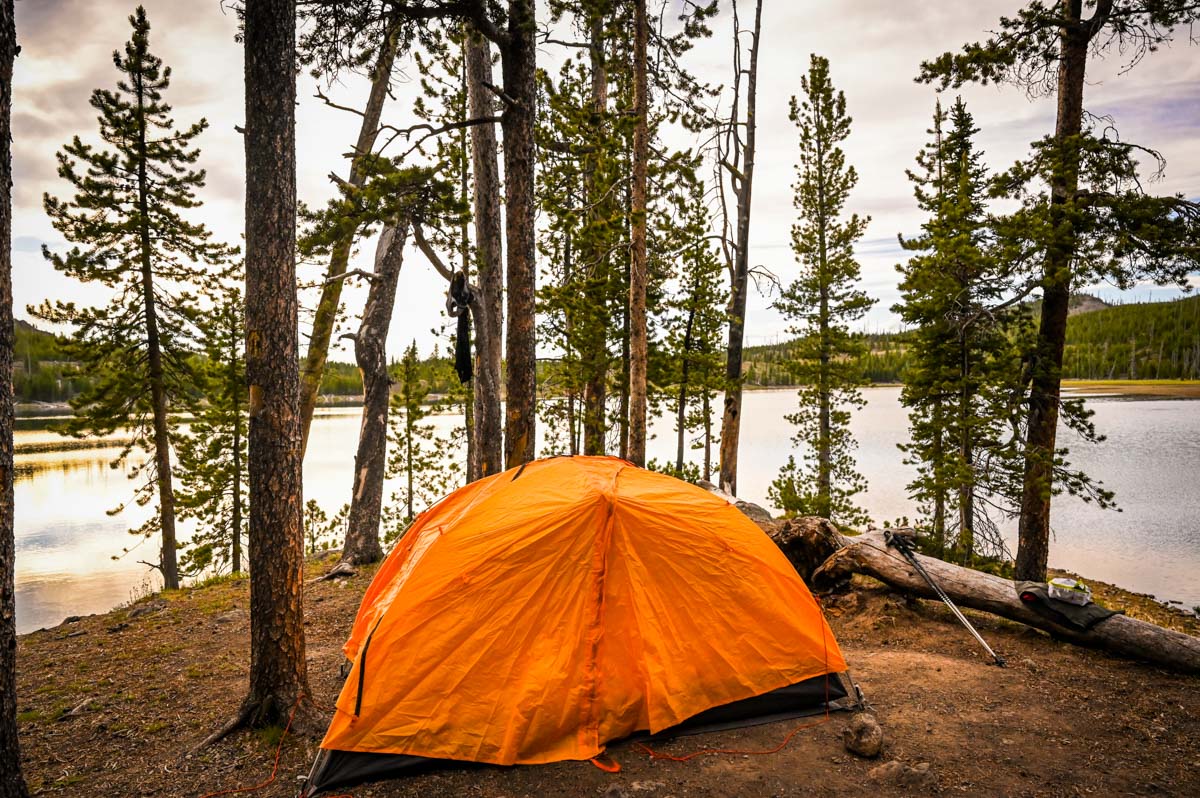 While car camping is generally safe, you should take some precautions. You will likely be in a place with no cell service, could be in an area where weather conditions can become particularly dangerous, or in bear country.
To be safe, we recommend the following things:
Tell someone where you're going and when you'll be back. If something does happen, at least you'll have someone who can call for help if you don't return as scheduled.
Brush up on your bear safety and know what to do if you encounter a bear.
Check the weather before you go. Be prepared for quickly changing conditions.
Carry a GPS device, like the Garmin InReach mini, which you can use to communicate with the outside world in case of an emergency.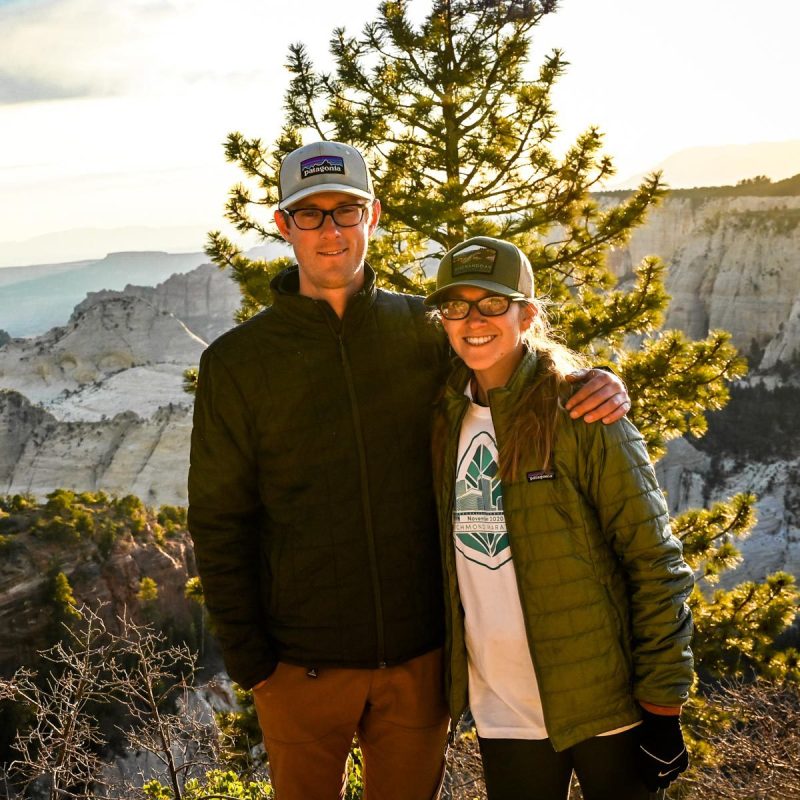 Meet our guest contributors
Sarah and Matt are two digital nomads, outdoor enthusiasts, and the creators of Two Outliers, an adventure travel and photography blog dedicated to helping you plan your next adventure! They road trip full-time across the United States along with their cat, Fitzgerald, while working full time and spending all their free time hiking, camping, backpacking, and exploring new places. They hope their experiences will inspire others to be outliers too!

You may also like…
Save this article on Pinterest for later!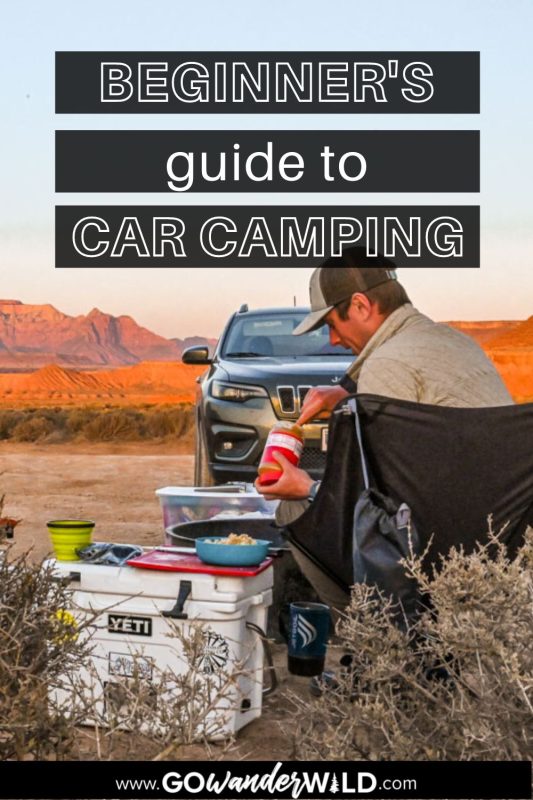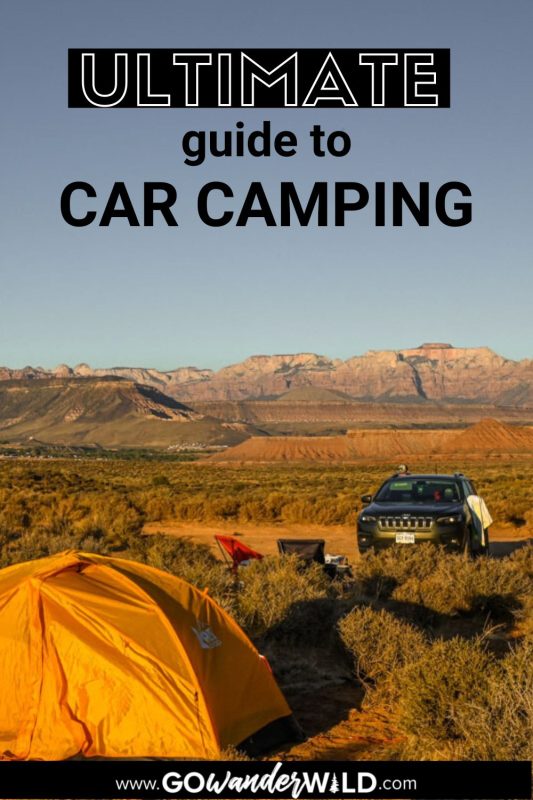 We want to hear from you!
Are you thinking of planning your first car camping trip and have more questions? Leave your comments below and let us know!