We have put together a list of the best Idaho hot springs, from well-developed resorts to little known gems. We're sharing details on how to get there and what to expect so you are fully prepared for your next hot springs visit.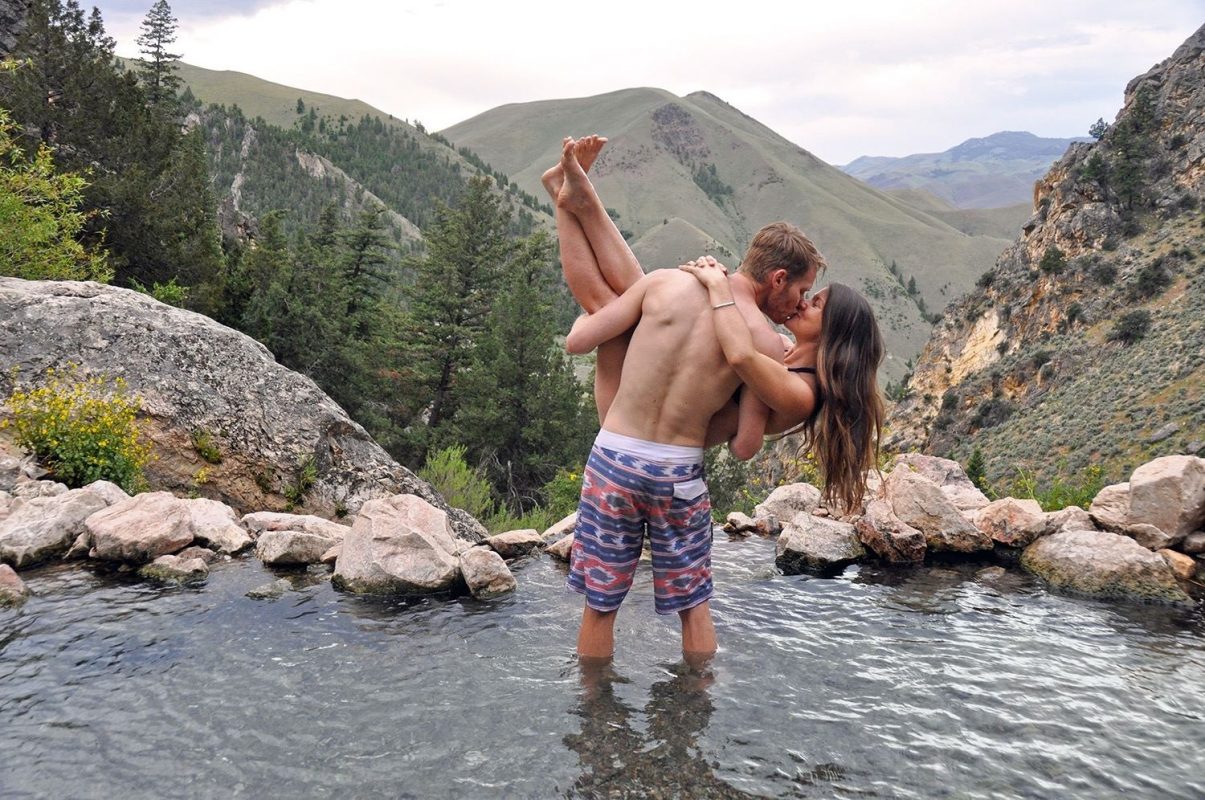 Sandwiched between Washington, Oregon, and Montana, Idaho is often overshadowed by its ultra-popular neighbors. However, Idaho — which is nicknamed "The Gem State" for its natural beauty — deserves a spot at the top of your must-visit list for the PNW.
The Gem State has endless opportunities for hiking and other outdoor pursuits, but one of the very best is Idaho hot springs. With more than 130 "soakable" hot springs, Idaho is said to have more than Washington, Oregon, and British Columbia combined!
Some of the hot springs are extremely well-known, while others are hidden gems (see what we did there?!), but they're all spectacular. Here's a guide to visiting our 12 favorite Idaho hot springs, but keep in mind that this list barely scratches the surface!
1. Burgdorft Hot Springs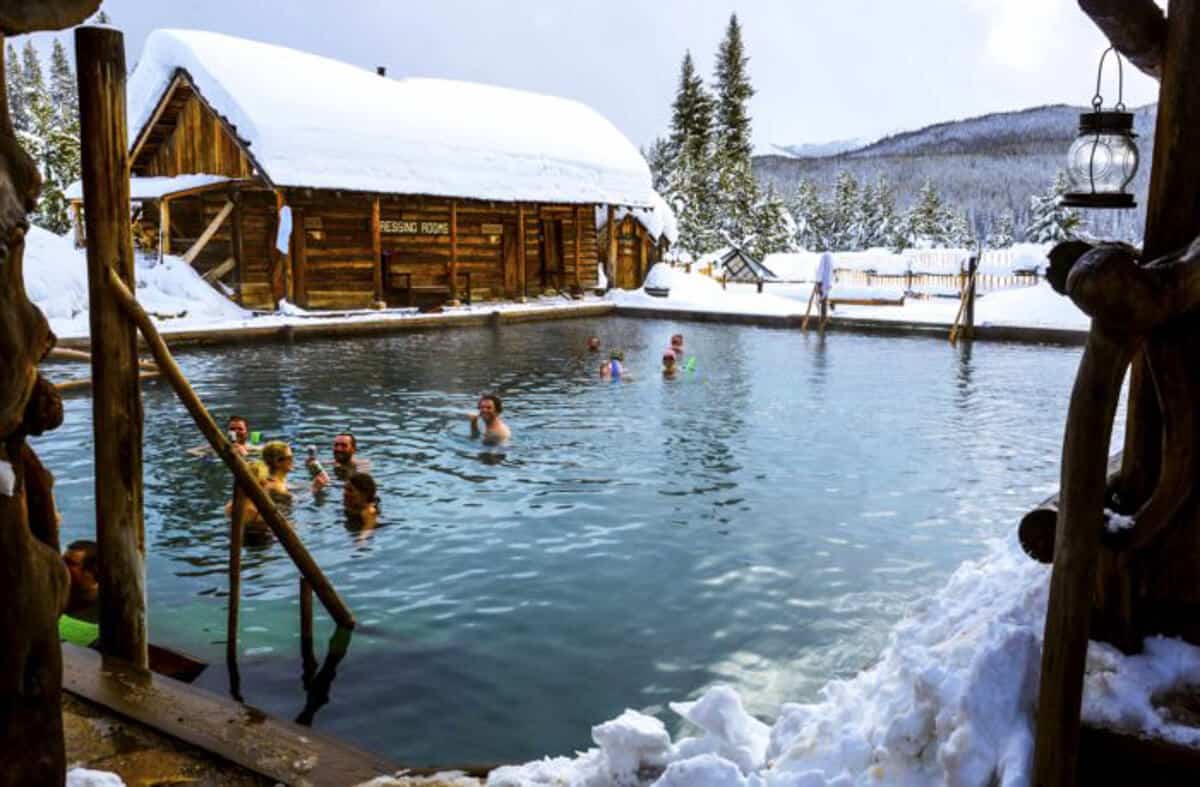 Tucked deep into Idaho's backcountry, Burgdorf Hot Springs is unique, blending natural springs with a rustic resort. The registered National Historic Site was built in the 1870s and is remarkably well-preserved.
There are two small spring-fed log pools and a larger one. These Idaho hot springs are open year-round, and guests can rent a cabin or visit for the day. We highly recommend a cabin, as the experience is unforgettable — they don't have electricity, instead using oil lamps and propane for heat.
How to get there: Burgdorf Hot Springs is accessible only by snowmobile during the winter months. The rest of the year, you can drive. It's 30 miles north of McCall off paved FS Road #21 (Warren Wagon Road).
Entrance Fee: Cabins range from $175-280 and you can reserve online. Note that day-use is currently suspended due to the pandemic.
2. Boat Box Hot Springs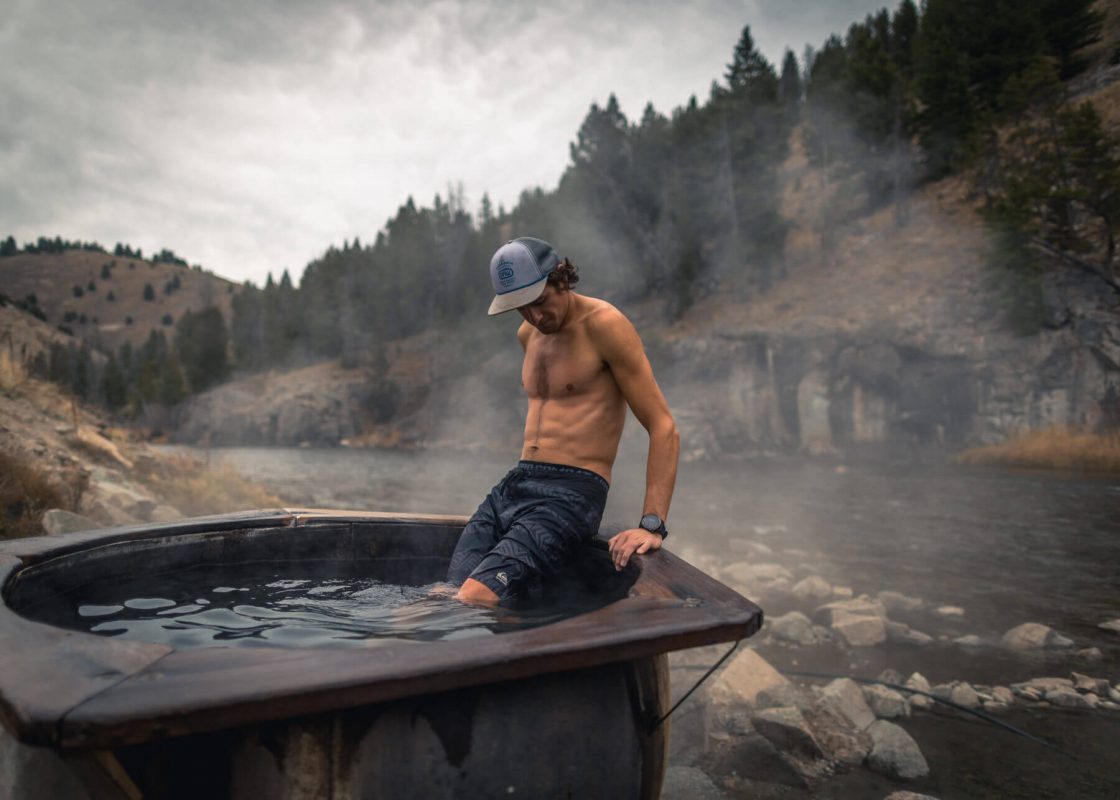 Arguably one of the most accessible (and popular!) Idaho hot springs, Boat Box Hot Springs is just outside Stanley and totally free. It's also incredibly scenic, situated in a valley along the Salmon River surrounded by pines.
A pipe carries water from the riverbank into the tub, an old mining cauldron. Beware, the water is scalding. Thankfully, there's a bucket nearby for transporting cool river water into the tub. Note that the tub is rather cozy, comfortably fitting just 1-2 people.
How to get there: Drive 3.5 miles north of Stanley on the 75. Look for a small pullout on the right side (it's easy to miss!), where you'll see steam coming from the river. Park and walk down,
Entrance Fee: Free!
3. Rocky Canyon Hot Springs
About an hour from Boise outside Crouch, this is one of the most popular Idaho hot springs. Rocky Canyon is unique because the hot springs' mouth is on a hillside above the Payette River. There are several small pools on the hill, and they look different seasonally as the river rises and recedes.
You have to cross the Payette to access Rocky Canyon Hot Springs, and this is only safe in mid to late summer or early fall. Wear sturdy waterproof shoes (we recommend Chacos) and cross in pairs.
How to get there: From downtown Crouch, take South Middle Fork Road 12 miles. The last couple of miles are gravel. Look for steam across the river and park in the small lot on the left.
Entrance Fee: Free!
Looking for more adventures in Idaho? Check out our guide to the best things to do in Coeur d'Alene in every season.
4. Kirkham Hot Springs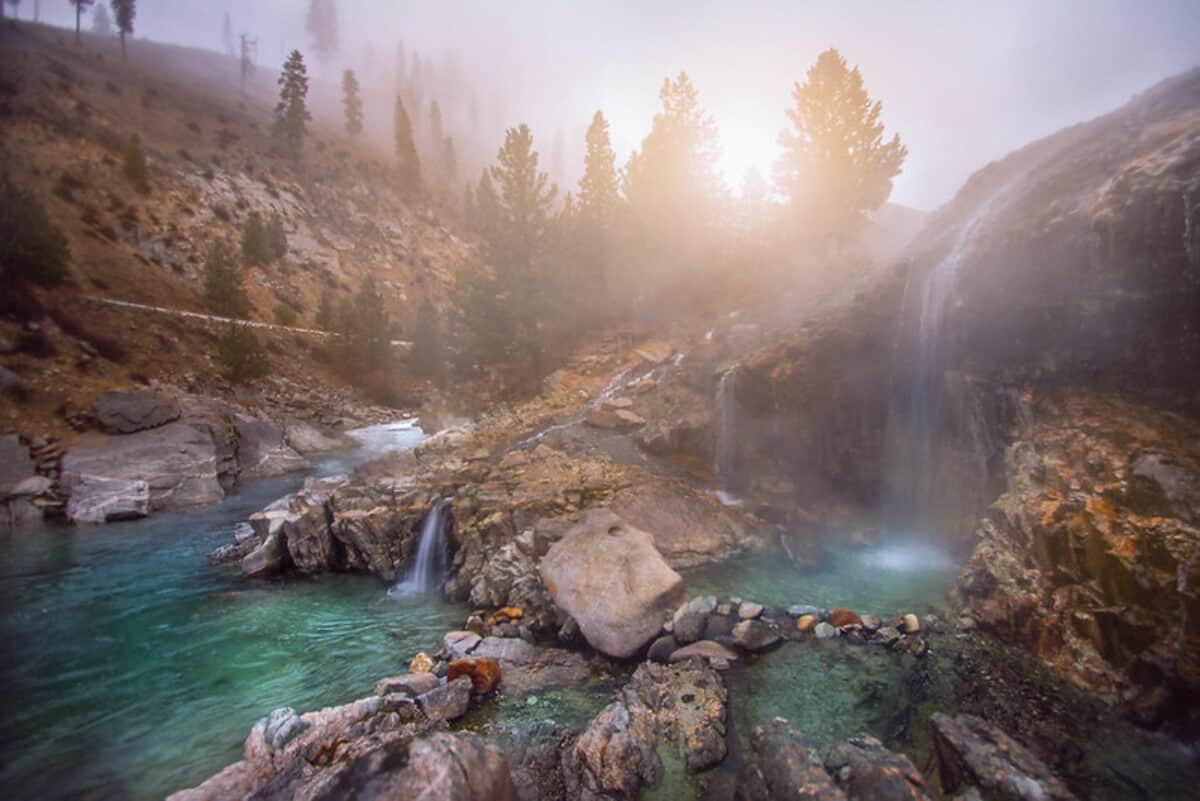 With its photo-worthy wooden staircase and steaming waterfalls, it's no wonder Kirkham Hot Springs is wildly popular. Down the stairs, you'll find several tiered geothermal pools and small waterfalls cascading into them, creating natural showers.
These hot springs are situated on the South Fork of the Payette River, and while Kirkham is natural and undeveloped, it's close to the popular Kirkham Campground. It's not a "secret" by any means, but well worth a visit nonetheless. Plus, there are several other hot springs in this area, so you can make a longer trip of it.
How to get there: From Boise, take Highway 21 north five miles past Lowman. Look for signs for Kirkham Campground.
Entrance Fee: The springs are free, but bring $5.00 to park. Cards aren't accepted, so bring cash or check.
5. Mountain Village Resort Hot Springs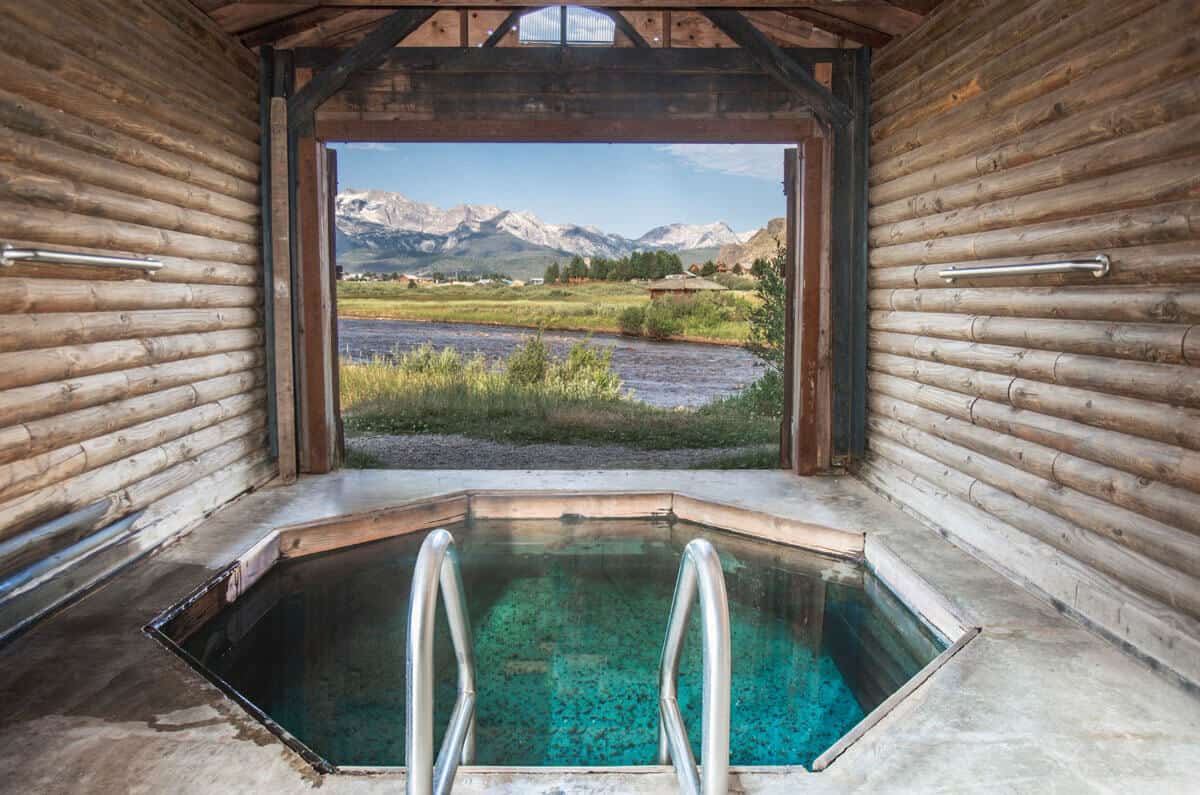 If you're looking for picture-perfect Instagrammable hot springs in Idaho, look no further than Mountain Village Resort. This resort features an indoor-outdoor hot spring with naturally heated water that is piped in to a manmade pool. The pool is large enough to seat 8 people while gazing out the large barn-style door at the creek and Sawtooth Mountains in the distance.
How to get there: The resort is located in the town of Stanley, at the intersection of I-21 and I-75. Use Google Maps to find the exact location.
Entrance Fee: Entrance to the hot spring is free, but restricted to guests of the resort only. Reservations for your soak must be made ahead of time with the concierge.
6. Goldbug Hot Springs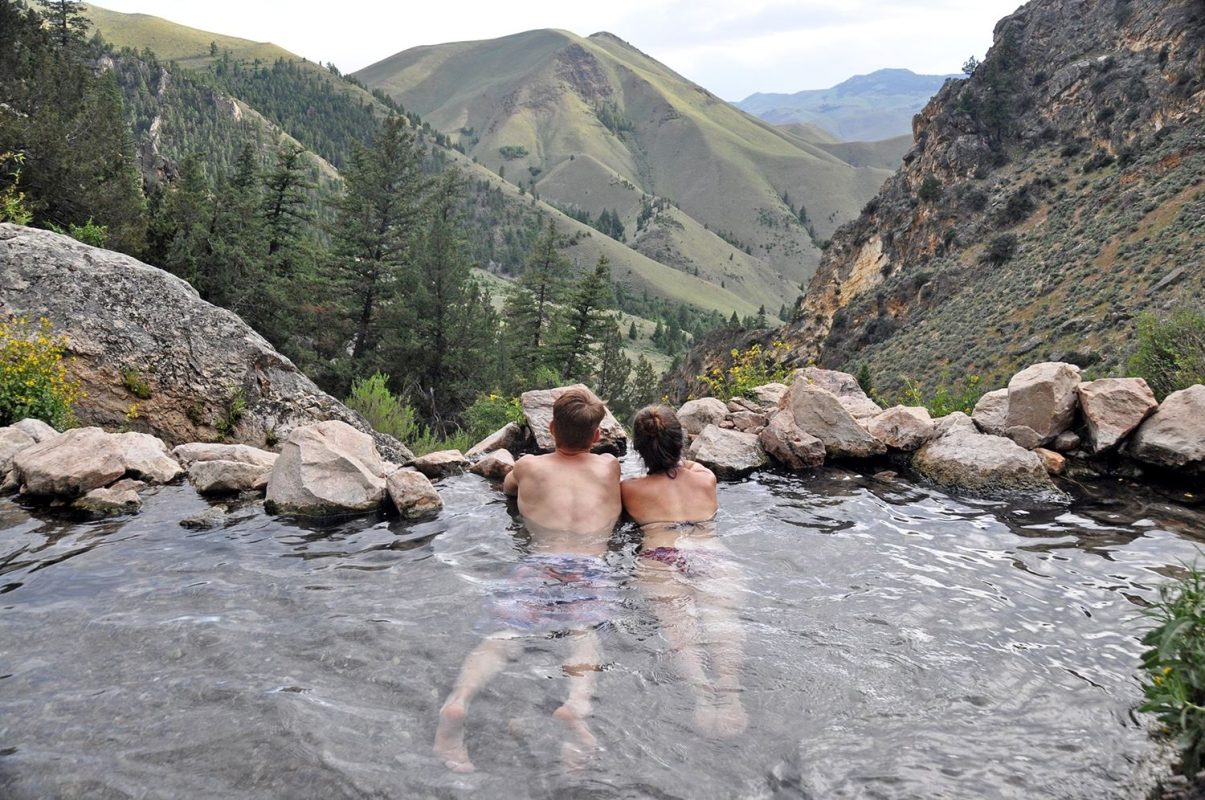 Goldbug Hot Springs is tucked in the Salmon-Challis National Forest south of Salmon, ID, near the Montana border. It's one of the most rugged, awe-inspiring hot springs in all of Idaho. However it requires a fairly strenuous (though easily accessed and well-traveled) four-mile round-trip hike to visit the pools (one of best places for hiking in Idaho!) .
As soon as you arrive at the springs, you'll forget all about the steep climb. There's a large creek-fed pool at the top that spills over, creating several waterfalls flowing into three pools below. With the expansive mountain views and several places nearby to pitch a tent or hang a hammock, you may never want to leave!
How to get there: We put together a detailed guide to visiting Goldbug Hot Springs, including how to get there and what to expect.
Entrance Fee: Free!
Tip: For the best experience, camp overnight at the springs. I promise you won't regret it. Remember you are not allowed to camp within 500 feet of the fall. Also, try to go on a weekday instead of a weekend for your best chance of avoiding crowds.
7. Gold Fork Hot Springs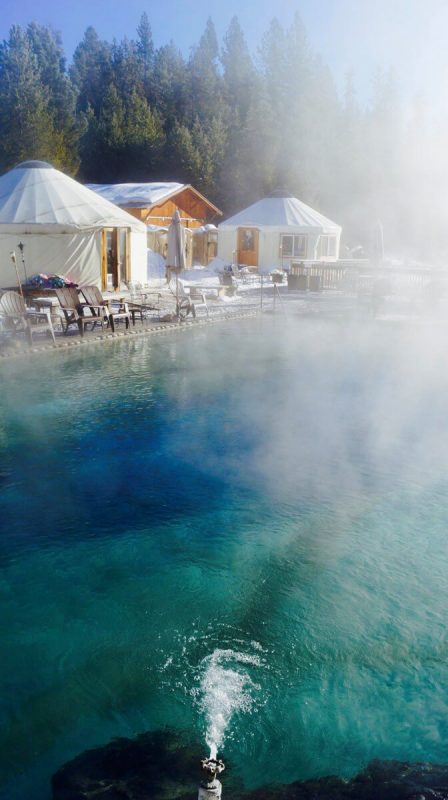 If you're looking for a resort hot springs experience in Idaho, look no further than Gold Fork. The family-oriented resort near Donnelly is home to possibly the largest hot springs in the state, with six individual pools in a gorgeous natural setting.
The top (main) pool is the hottest, maintaining a 110-degree temperature. It flows down to the five pools tiered below, each built into the natural rock formations. There's even a shallow kiddie pool with a sandy bottom.
How to get there: Drive south on Highway 55 from McCall for 17 miles. Just past Donnelly, look for the resort's blue sign, then drive another eight miles.
Entrance Fee: $10 for adults, $5 for children 2-9, free for children under 2. Cash only!
8. Stanley Hot Springs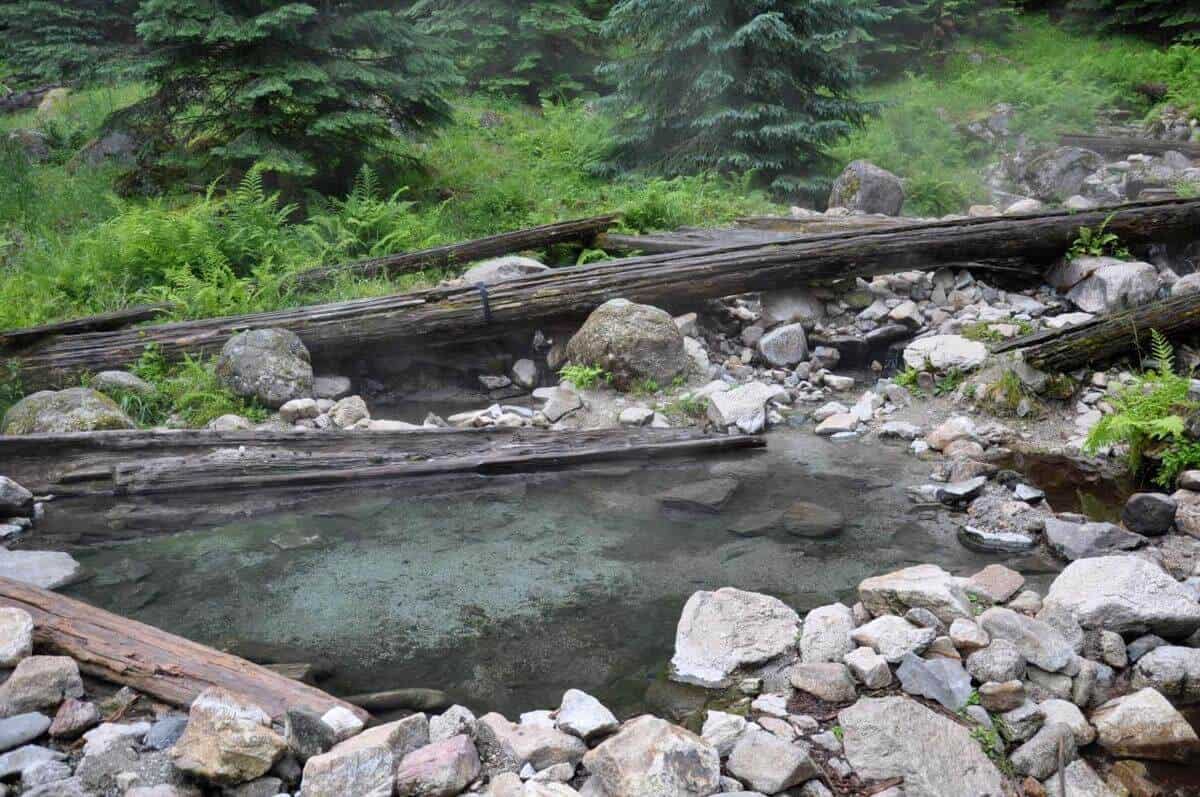 One of the most remote Idaho hot springs, Stanley Hot Springs is tucked deep into the Selway-Bitterroot Wilderness. While a paved road takes you directly to the trailhead, reaching the hot springs requires a five-mile hike, one way.
The benefit of a hot spring being so remote, of course, is that it attracts far few visitors. If you're looking for solitude and to truly connect with Mother Nature, head to Stanley Hot Springs! The springs consist of several pristine pools along Huckleberry Creek. Note that a creek crossing is required, which is extremely unsafe during spring runoff.
How to get there: Stanley Hot Springs is extremely remote, so you'll likely have a long drive. The trailhead starts next to the Wilderness Gateway Campground, which is what you should use for navigating. It's just off Highway 12 at milepost 122.
Entrance Fee: Free!
9. Frenchman's Bend Hot Springs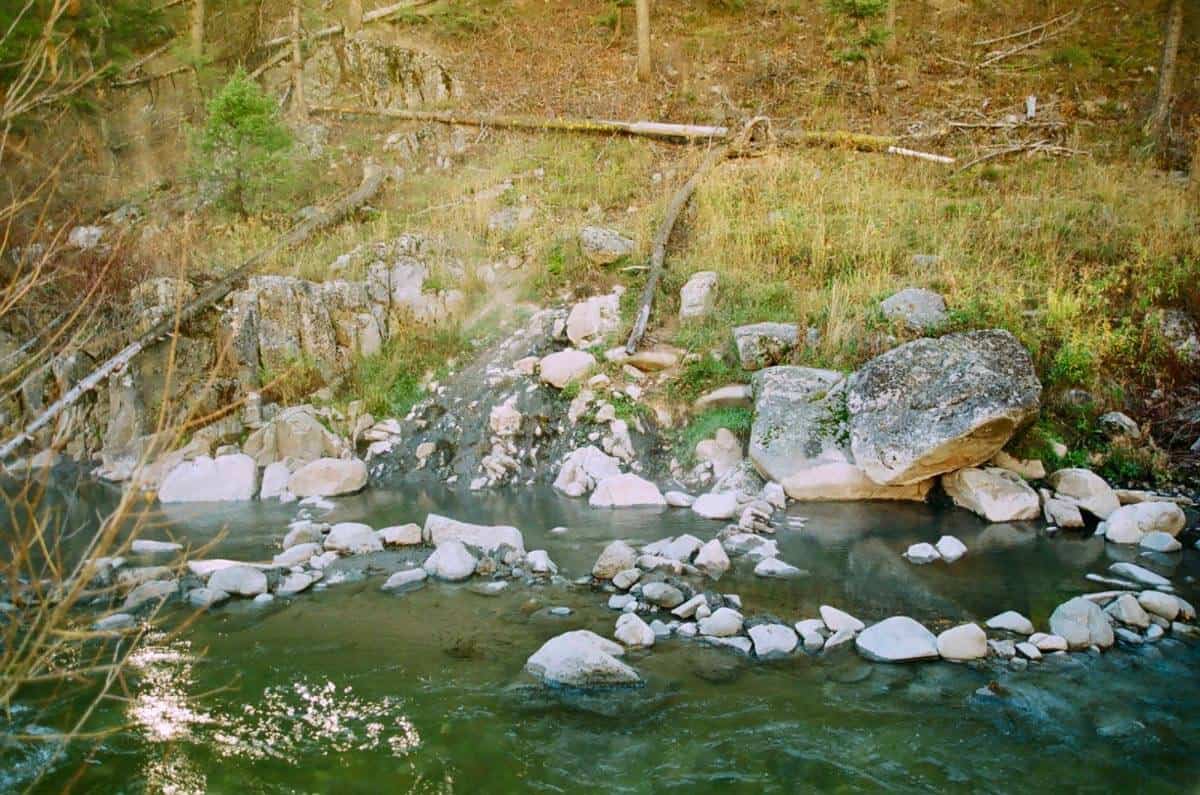 Frenchman's Bend Hot Springs is nestled in Sawtooth National Forest, 10 miles outside Sun Valley. Situated along Warm Springs Creek, three pools flow from three separate springs. One spring is on one side of the creek, while two are on the other. To access those two, you must wade across.
Insider tip: Fall is the best time to visit these Idaho hot springs. The changing leaves are incredible! Also note that maps refer to the springs as Warfield Hot Springs, but they are one and the same.
How to get there: Take Warm Springs Road 10.5 miles outside Ketchum. Note that seven miles are dirt. It's manageable for most vehicles, but the road ices over in winter and closes during spring runoff from mid-March to late June.
Entrance Fee: Free!
10. Trail Creek Hot Springs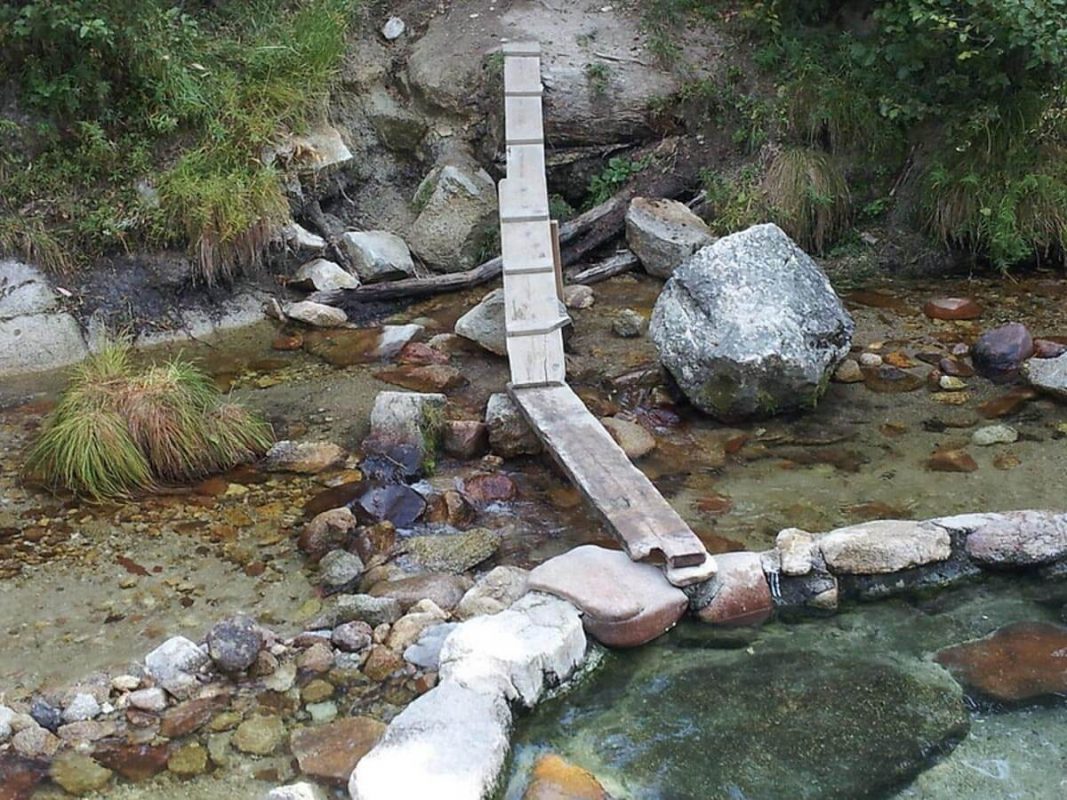 Many of the Idaho hot springs on this list are picturesque, but Trail Creek may take the cake for the most beautiful. Located just outside Cascade in western-central Idaho, Trail Creek is comprised of two individual rock pools, both pristine.
Hot water naturally trickles down from the rocks above, adding to the fairytale scenery. The pools maintain a comfortable 120 degrees, thanks to the cold creek water that's piped in.
How to get there: Take Warm Lake Road about 19 miles from Cascade. Park in the large lot on the south side of the road, then hike the ultra-short, 60-foot trail to the springs.
Entrance Fee: Free!
11. Loftus Hot Springs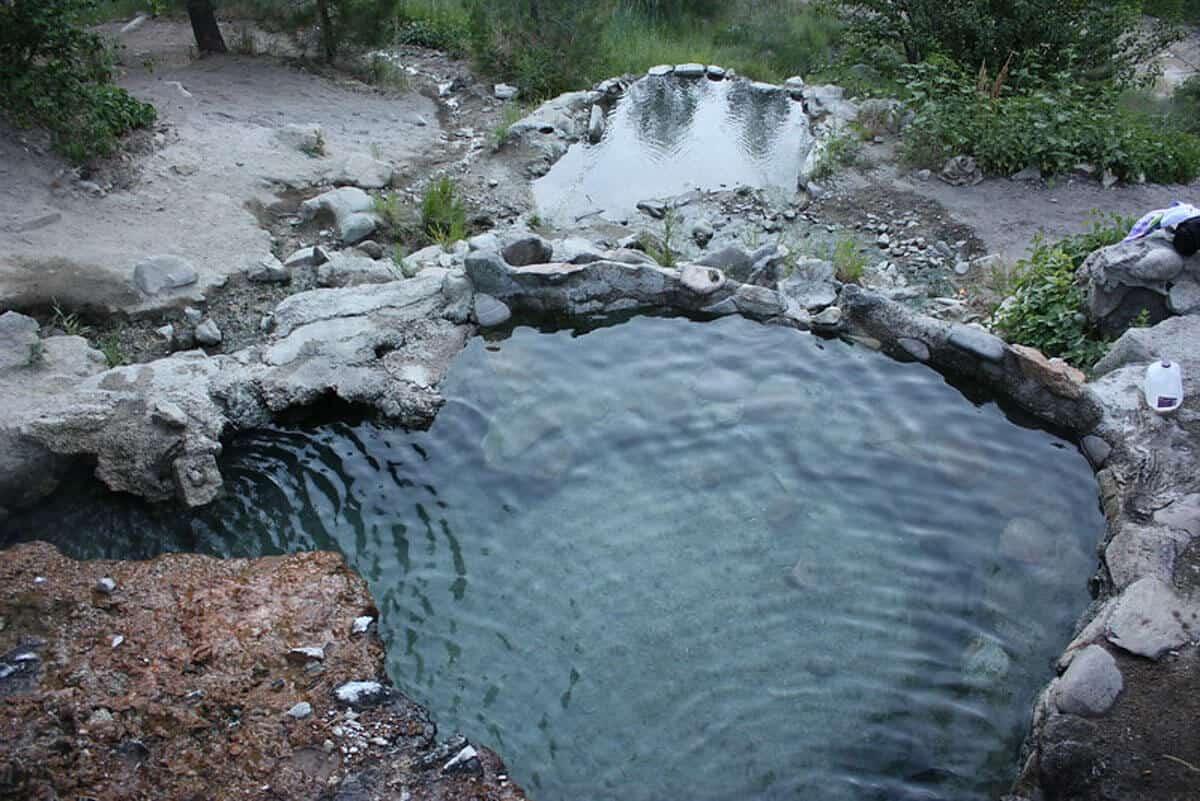 Two and a half hours from Boise lies something of a paradoxical hidden gem. Loftus Hot Springs is easily accessible (in fact, you can park right alongside it) and surrounded by dozens — if not hundreds — of campsites, but is perhaps the least-known of any Idaho hot springs.
The springs consist of a couple of small tiered pools on a hillside. The top pool has a natural lip that allows the water to flow over, creating a small waterfall with a natural grotto at the bottom. It's difficult to get this one to yourself, but incredible if you can.
How to get there: From Boise, take Highway 21 north to the Arrowrock Reservoir exit and turn right (east). This is FR 268, or North Middle Fork Road. Loftus Hot Springs is on your left at the 34 mile mark. Know that it isn't marked and is extremely easy to miss!
Entrance Fee: Free!
12. Jerry Johnson Hot Springs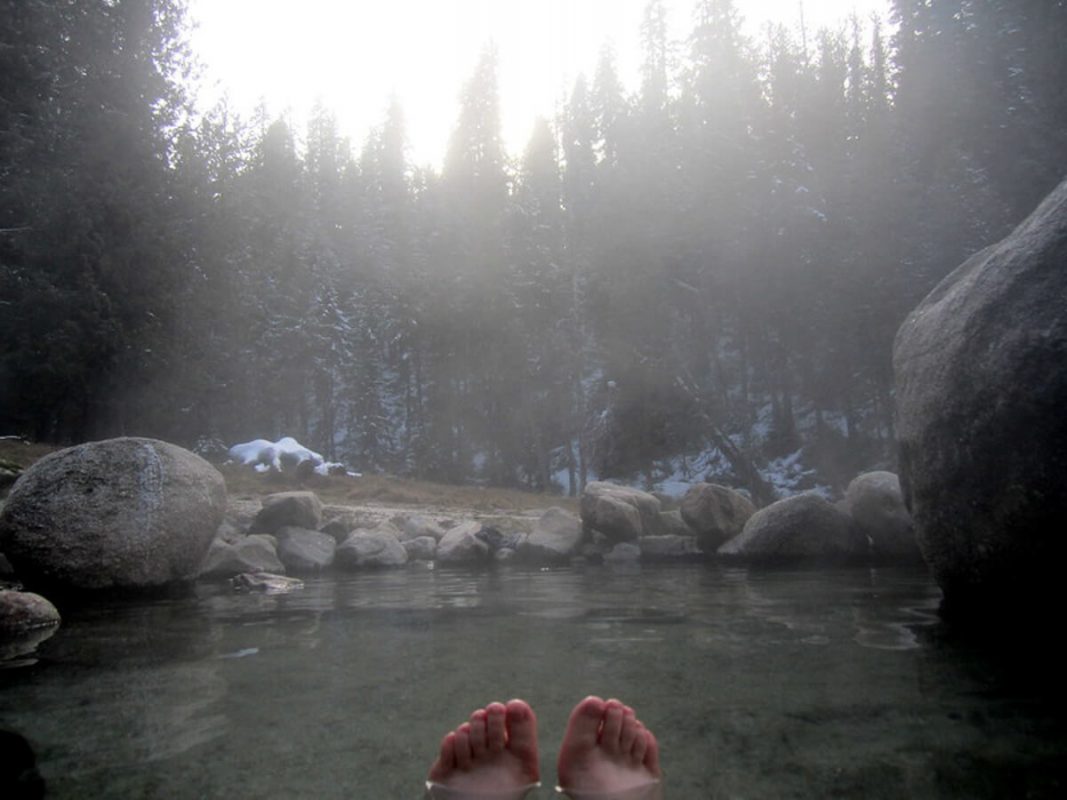 One of the most popular natural hot springs in Idaho, Jerry Johnson is almost exactly halfway between Lowell, Idaho, and Lolo, Montana. These hot springs consist of three pools. Fascinatingly, one of them, known as the "waterfall pool," is typically submerged until late summer when the river recedes.
Getting to Jerry Johnson Hot Springs is easy, which is in large part why it's so popular. You need to hike across a bridge to reach them, but it's a short and manageable 1.3 miles (2.6 miles roundtrip). Know that Jerry Johnson has a reputation as a "party" hot springs, and it is extremely likely you'll encounter nude bathers.
How to get there: Between mile markers 152 and 153 off Highway 12, 53 miles east of Lowell and 57 miles west of Lolo. Look for the Warm Springs trailhead sign, then park and cross the highway and bridge.
Entrance Fee: Free!
13. *SECRET* Hot Spring between McCall & Boise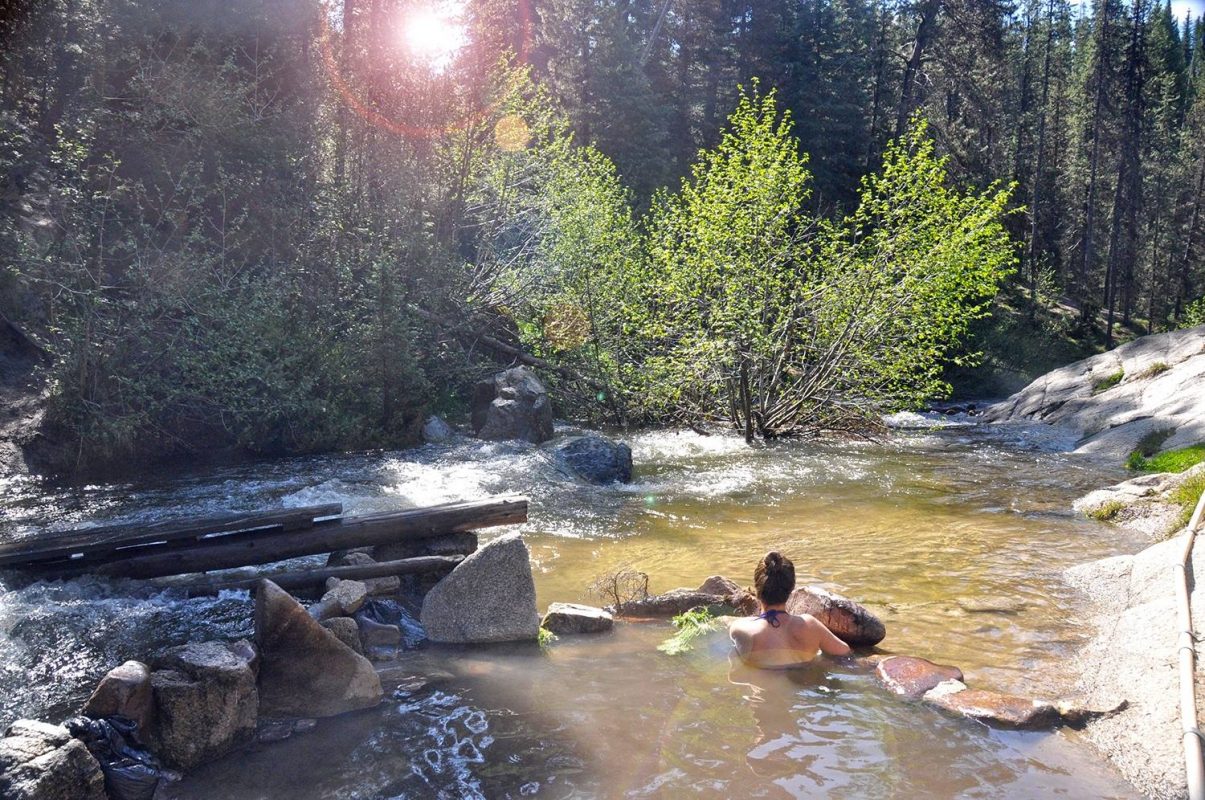 While traveling in Idaho, we got a tip from a local friend about a special hot springs that is lesser known than many of the big names on this list. This kind of "local" place is right up our alley, so we made sure to stop here. Set within a creek, there are two pools for soaking in the naturally heated water.
During June while we were there, the water was a bit high and the downstream pool was flooded but it would be really nice later in the summer. With the sun shining through the trees, the minerals in the rocks making the sand sparkle (seriously!) and just a couple other people soaking, it was seriously magical. If you're visiting McCall, we'd highly recommend this hot spring.
How to get there: In an effort to not geo-tag every secret spot we know, we are not going to share the name or location of these hot springs. However, if you are traveling through this area of Idaho, please send us your email and we will kindly (and automatically) send you directions to this local hot springs. We just don't want this place to be overrun with people, thus ruining the whole vibe.
Entrance Fee: Free!
14. The Springs Mountain Resort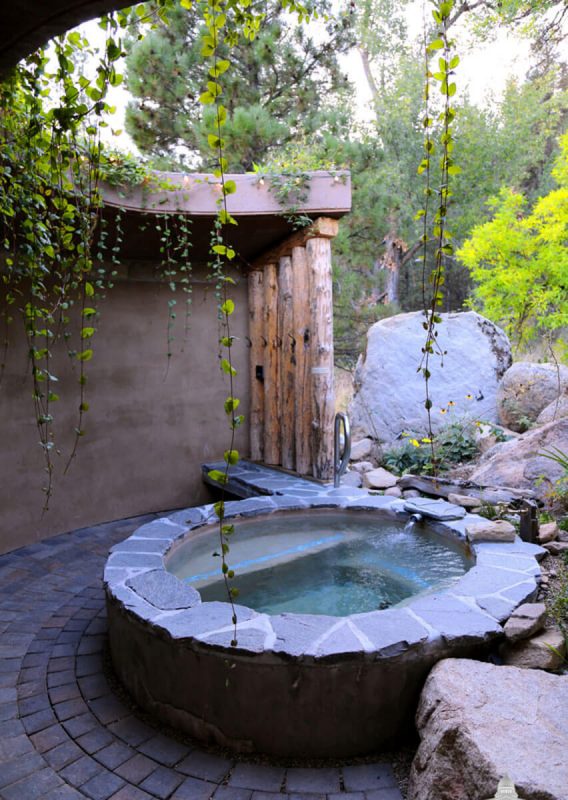 Less than an hour outside Boise in Idaho City, The Springs is a beautiful, state-of-the-art hot springs resort. Visitors have several options for soaking, including the large main geothermal pool, a (literal — ha!) hot tub, and a steam room. There are also several private tubs available for rent.
Aside from the pools, The Springs offers massage services, a cafe, and overnight accommodations. In the winter, enjoy cozy bonfires beside the pools and during the summer, little ones can enjoy the cool splash deck.
How to get there: From Boise, head north on Highway 21. Before reaching Idaho City just after mile marker 37, look out for The Springs' sign on the left.
Entrance Fee: $20 for adults and $17 for children for 2.5 hours. Private tubs are $45 per hour for up to two adults, and an additional $5 per adult, per hour. Reservations are required.

Tips for visiting Idaho Hot Springs
Following a few best practices will help protect and preserve Idaho hot springs, allowing other adventurers to enjoy them for many years.
Practice pack it in, pack it out. This follows the Leave No Trace principles and means that you leave absolutely nothing behind. As a general rule, aim to leave the hot springs better than you found them.
Always, always obey any rules of the hot springs, whether they're posted or simply implied.
Don't bring alcohol to hot springs, especially in glass bottles. Don't bring anything in glass bottles to hot springs, for that matter.
Never use soap, shampoo, conditioner etc. in a hot spring. Remember, hot springs are delicate natural phenomenons and these items can damage them. Plus, anything that goes into the water can easily and quickly get into other sources of water, like rivers or creeks.
Share the springs. Be mindful of the fact that other people made the same effort to reach the hot springs as you. If there's plenty of room, invite others in. If it's a smaller spring, hop out for awhile and let others have a turn.


You may also like…
Save this article on Pinterest for later!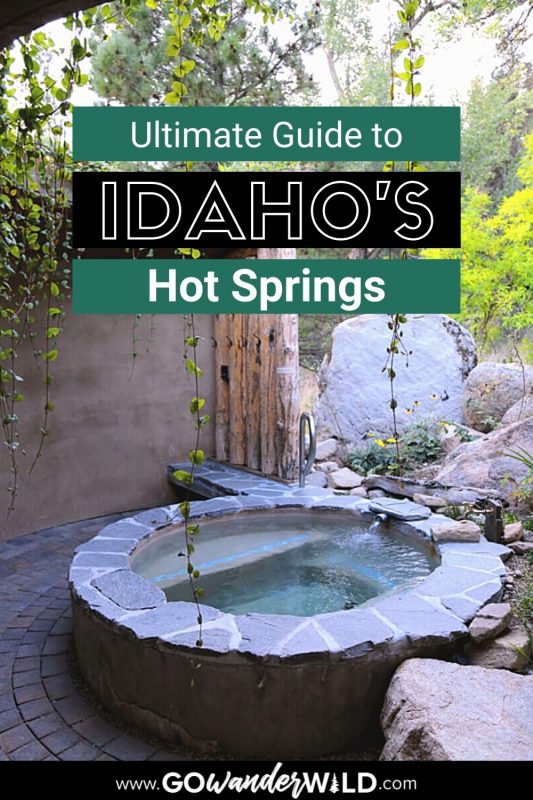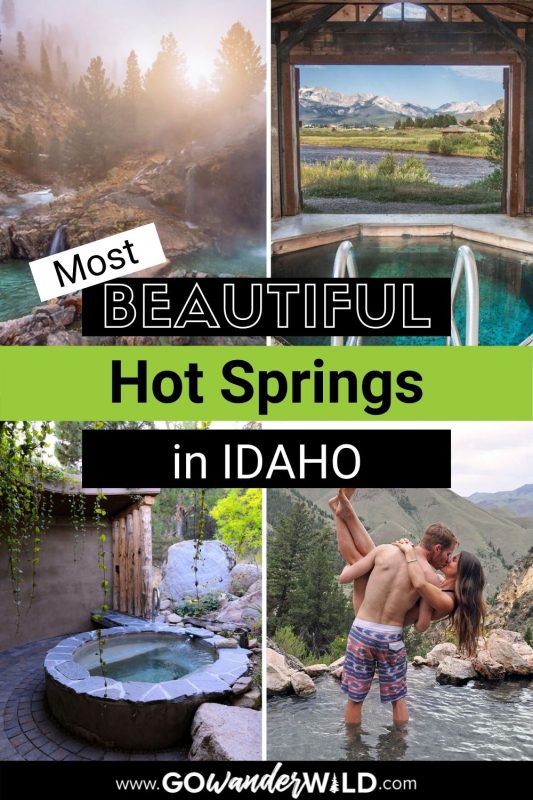 We want to hear from you!
Have you been to any of the hot springs on this list? Which is your favorite? Comment below and let us know!