Want to experience two of the best national parks in one epic trip? This 5-day itinerary takes you from Glacier National Park to Yellowstone, with two adventure-filled days in each park. This guide details the highlights, plus important things to know.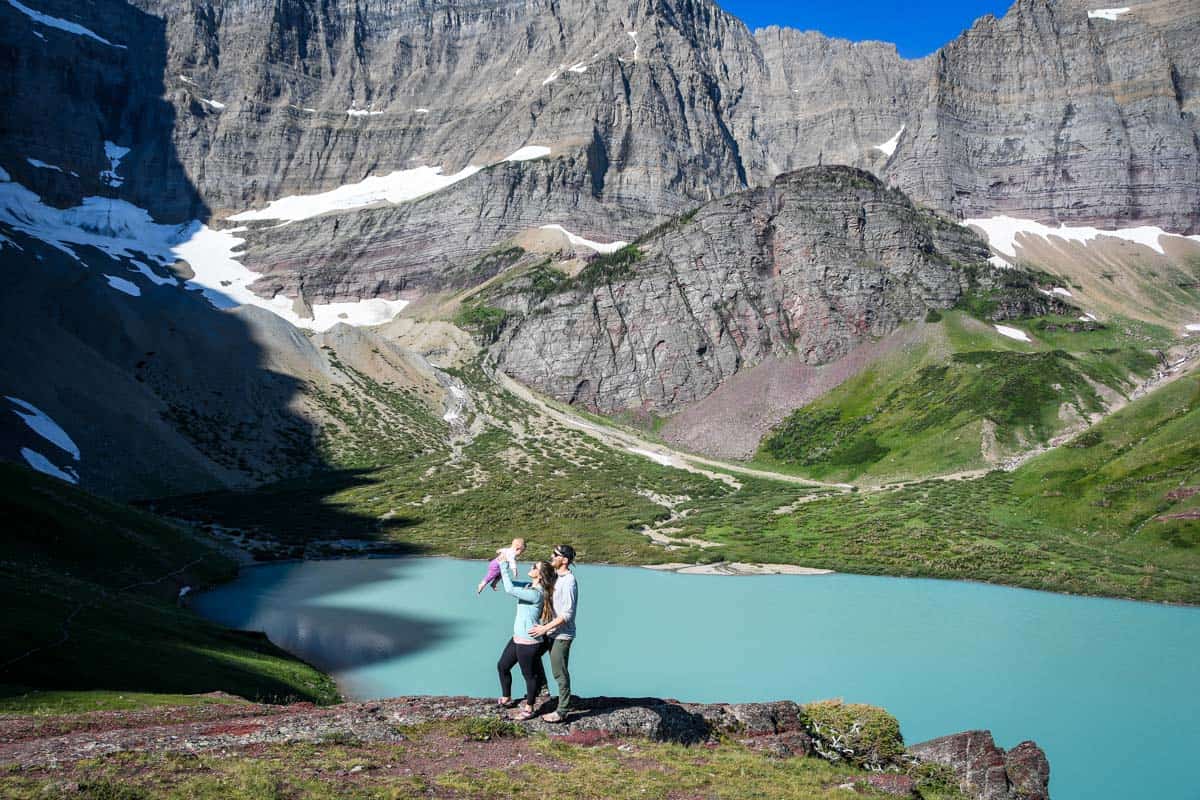 Two of America's most iconic national parks are located about 400 very scenic miles apart. From the stunning glacial lakes of Glacier National Park to the geothermal wonders in Yellowstone, these are two parks on many traveler's national park bucket lists.
In this guide, we share how to get from Glacier National Park to Yellowstone, plus a 5-day itinerary that gives you two days to explore each park.
Article contents


About Glacier and Yellowstone National Parks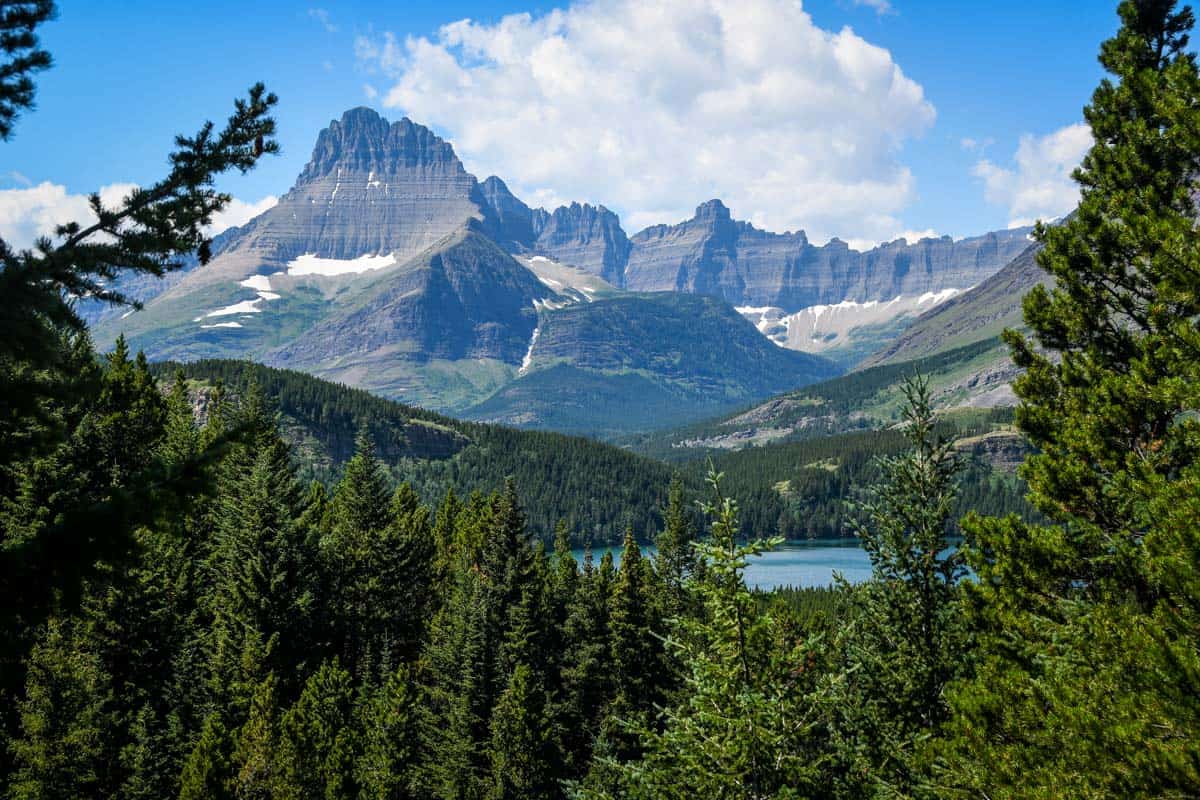 Glacier National Park is in far northwestern Montana on the US-Canada border. Often called the "Jewel of the Continent," this spectacular park is home to over 35 glaciers, milky blue lakes, wildlife galore, and over 700 miles of epic hiking trails.
Established in 1872, Yellowstone was the first national park in the world. It's home to over half of the world's geysers and geothermal features, making the park truly one-of-a-kind.
Yellowstone sits primarily in northwest Wyoming, but also crosses over into Idaho and Montana – which is what makes it such an ideal road trip destination from Glacier.
Psst! We have complete guides to both Glacier National Park and Yellowstone National Park on our sister site.
Glacier National Park to Yellowstone Itinerary Overview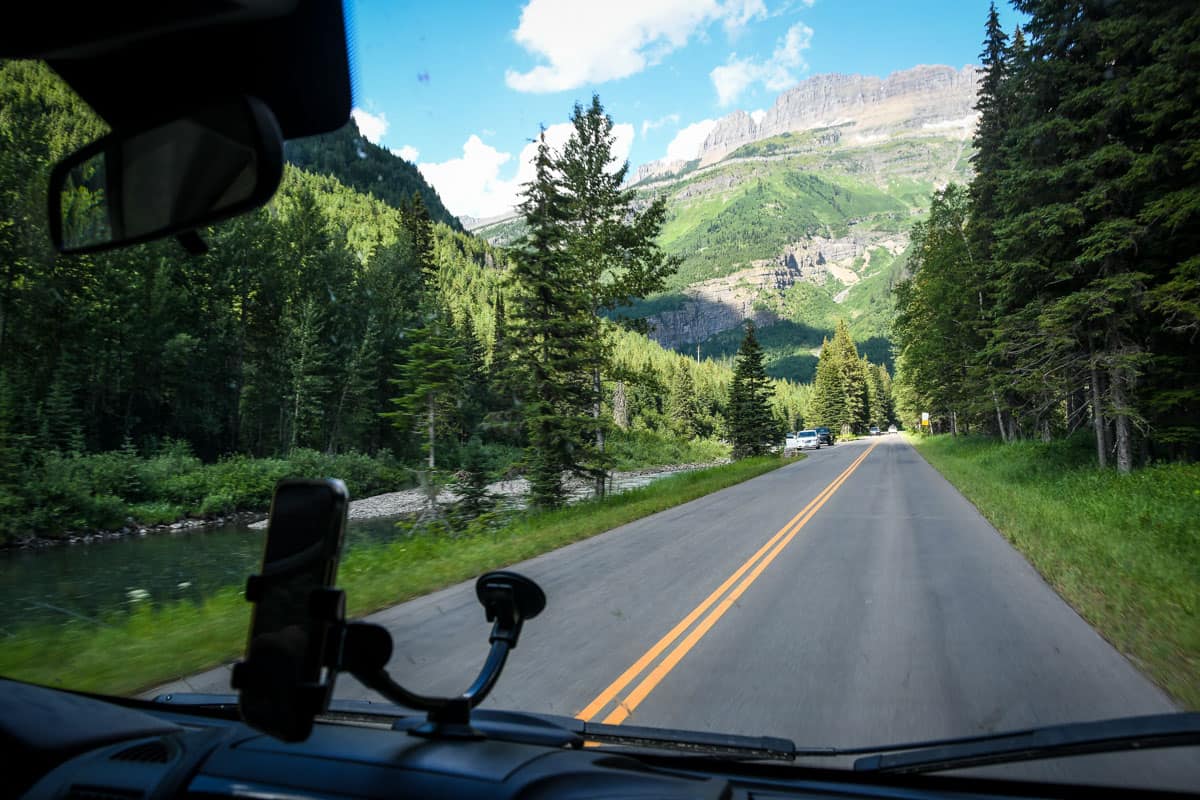 This 5-day itinerary starts in Glacier with two action-packed hiking days. Day 1 includes several smaller hikes, while Day 2 is an all-day hike.
Day 3 of the itinerary is a transit day, but don't let that get you down. There are plenty of sights to see along the way as well as fun towns to stop in for a meal or just a stretch.
Day 4 and 5 will be spent in Yellowstone National Park. On these slightly more relaxed days, you'll enjoy the highlights at one of the country's most iconic national parks.
Note: If you prefer to start from Yellowstone, simply do the itinerary in reverse and end in Glacier.
How much time do I need in Glacier National Park?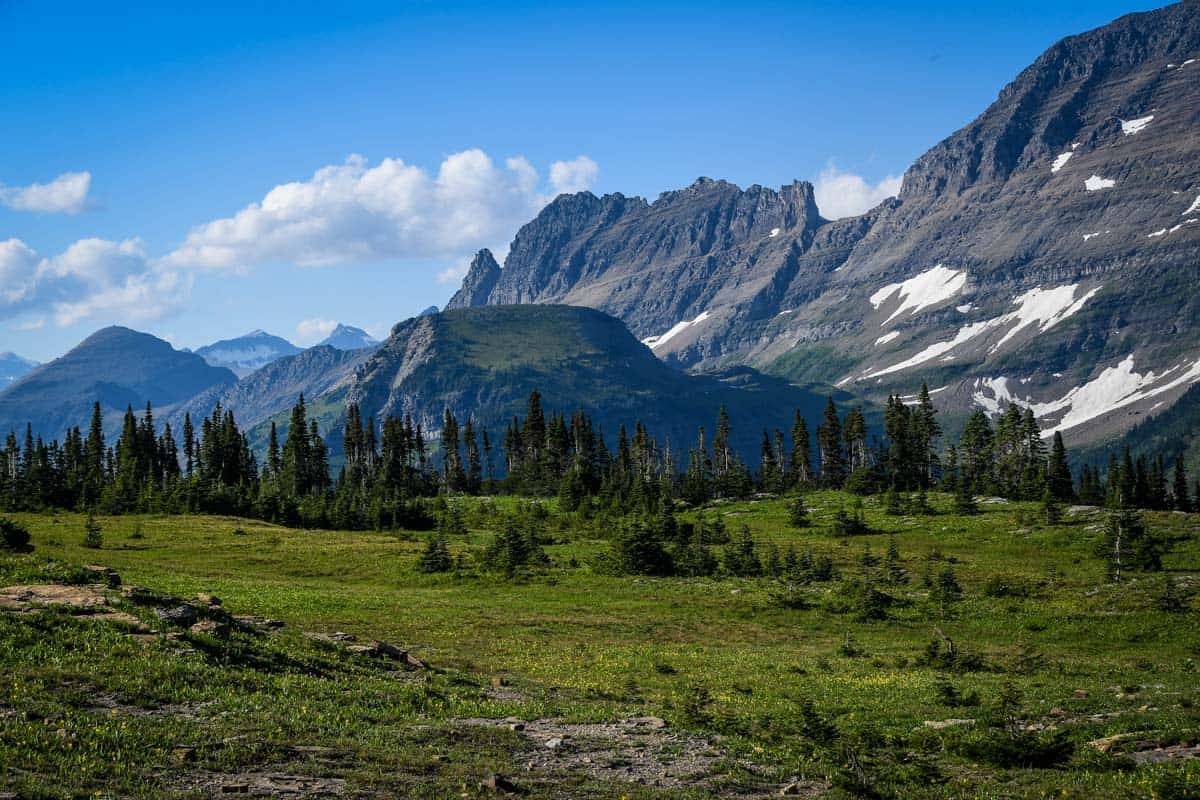 As with most national parks, the more time you have, the more you can explore Glacier's 1 million-plus acres and hundreds of lakes.
Of course, not everyone can carve nearly a week out of their lives to explore a national park. So while more is better, you can absolutely enjoy a shorter visit to Glacier National Park.
Our two-day itinerary shows off the park's highlights so you can maximize time and still have a few days to check out Yellowstone!
How much time do I need in Yellowstone National Park?
Yellowstone is more than twice the size of Glacier, covering over 2 million acres, so the situation is similar where more time is better. However, two days is certainly enough to get a taste.
When to go to Glacier and Yellowstone National Parks?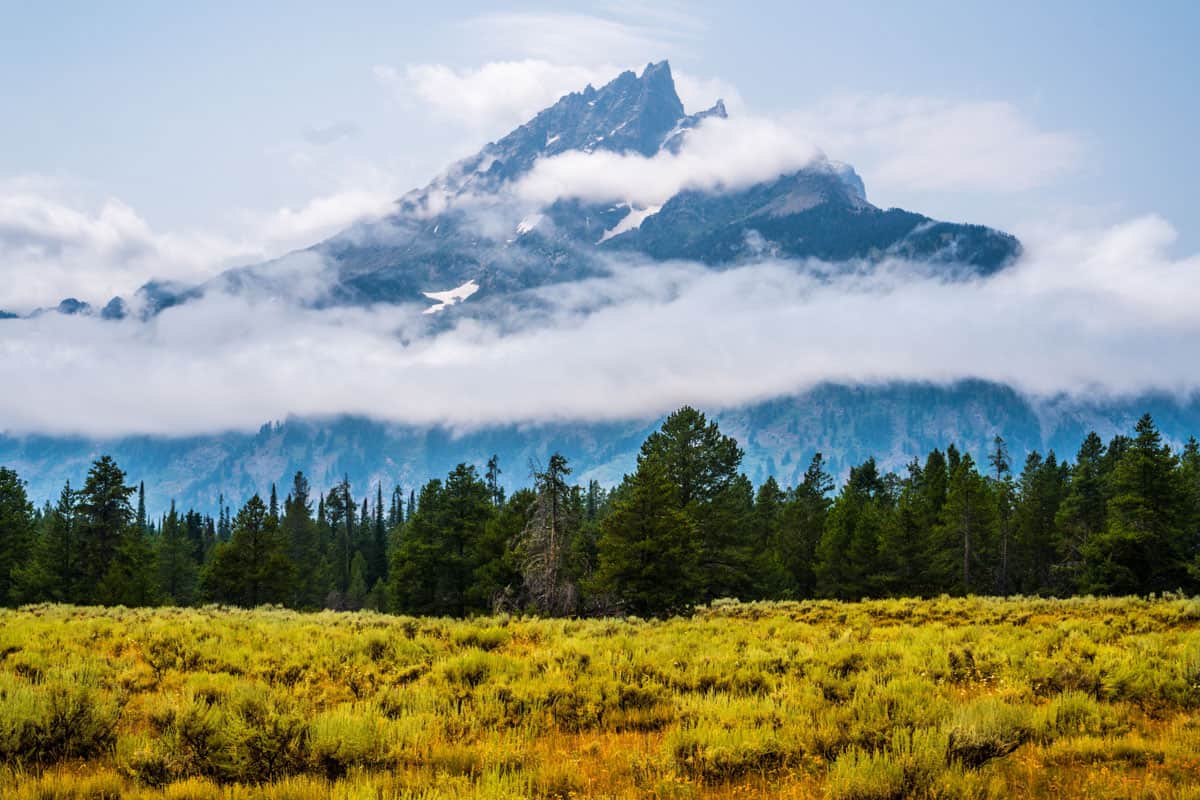 Overall, the best times to visit Glacier and Yellowstone are summer and early fall (June through early October).
Summer is the peak season, when everything is open and accessible and weather is mostly favorable. However, both parks get extremely crowded, and accommodations (including campsites) sell out far in advance.
Spring and fall can be nice, but weather is dicey and major sections of both parks, including roads, are closed between October and May — sometimes into June (or July, in Glacier!).
Having said that, September and early October are fantastic. Summer crowds are gone, it's a great time for wildlife viewing, the weather is gorgeous, and all the roads in the parks are open through mid-October.
Winter is magical in both parks, but access is limited due to closures and lack of services/facilities. However, if you're not planning on doing any hiking, Yellowstone is one of the best national parks to visit in winter, especially because you'll avoid the massive crowds.
Wanna try out vanlife on your Glacier National Park to Yellowstone road trip?
It's no secret we are obsessed with #vanlife. If you don't have the time (or interest) in building your own conversion but you still want to give vanlife a test drive, we've got you covered! We put together an entire guide to the best campervan rental companies in the US over on our sister site, including exclusive discounts for our readers!
One company we'd recommend looking into is Escape Campervans. They have 12 different locations across North America and come fully loaded with all the gear you need for an epic road trip. Plus, their rates are fair and affordable.
BONUS: We've partnered with Escape to give you a 10% off discount when you use our link!
Things to know before visiting
Both parks experience major road closures in the winter and spring, allowing visitors to explore very small sections
Cell phone reception is spotty at best
Parking lots fill up and crowds form early, so try to get an extra-early start
Accommodations sell out quickly and far in advance for summer (up to a year!)
Glacier and Yellowstone are in bear country, so make lots of noise on trails, carry bear spray, and store food properly
Aside from bears, tons of wildlife call both parks home. Give them plenty of room, and don't approach or attempt to feed them. 99
America the Beautiful annual park pass

If you're planning to visit more than just Glacier and Yellowstone National Parks, we'd highly encourage you to look into getting an annual park pass. At $35+ per vehicle upon entry, visiting the national parks in the U.S. can get expensive.
For just $80 per year, you can purchase the America the Beautiful park pass. This pass grants you free access to all of the national parks. Plus it also covers your entrance to over 2,000 natural, historical, and recreational sites across the United States.
If you still need convincing, check out our article: National Park Annual Pass: Is it Worthwhile? + How to Buy

And now with all that info out of the way, let's get into the fun part!
Day 1 | Glacier National Park
Although Glacier has several entrances, we recommend first-timers start in West Glacier. There are more services and amenities here, plus some of the most popular trails and sites.
Lake Mcdonald + Apgar Village
One of Glacier's best views is also one of its most accessible. Lake Mcdonald is one of the first stops from the West Glacier entrance and it showcases what the park is all about: larger-than-life snow-capped mountains, sparkling lakes, and breathtaking scenery.
Soak in the views, especially at sunrise or sunset, and get out on the water, too. Rent kayaks or paddle boards, or take a lake cruise during the summer.
Before hitting the road, browse the shops and grab a coffee in Apgar Village.
Going-To-The-Sun Road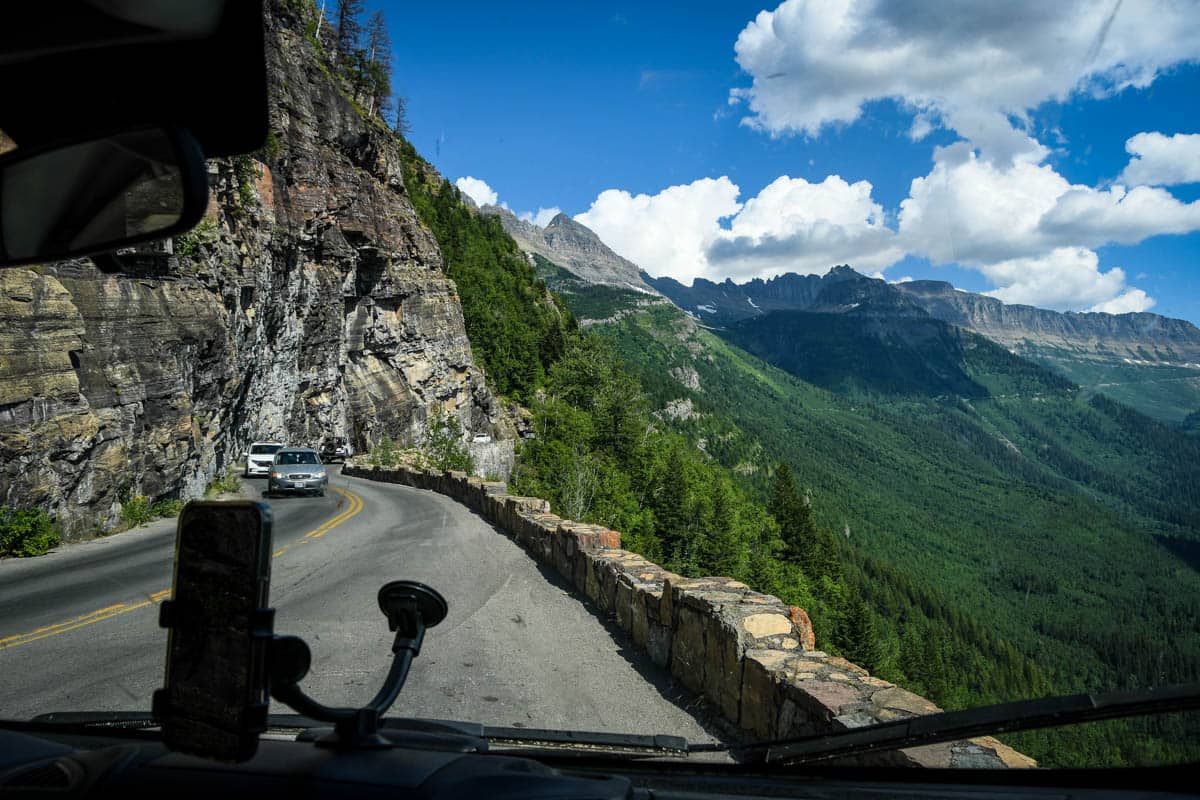 Known as the GTTSR, this jaw-dropping road spans 50 miles across the park from Apgar to St. Mary. It crosses the Continental Divide and provides countless "ooh-ahh" moments.
Driving the GTTSR one-way without stopping takes about two hours, but could easily be a full day. The road is closed from mid-October through most of June and sometimes into early July, so keep that in mind when deciding when to visit.
Hike the Trail of the Cedars to Avalanche Lake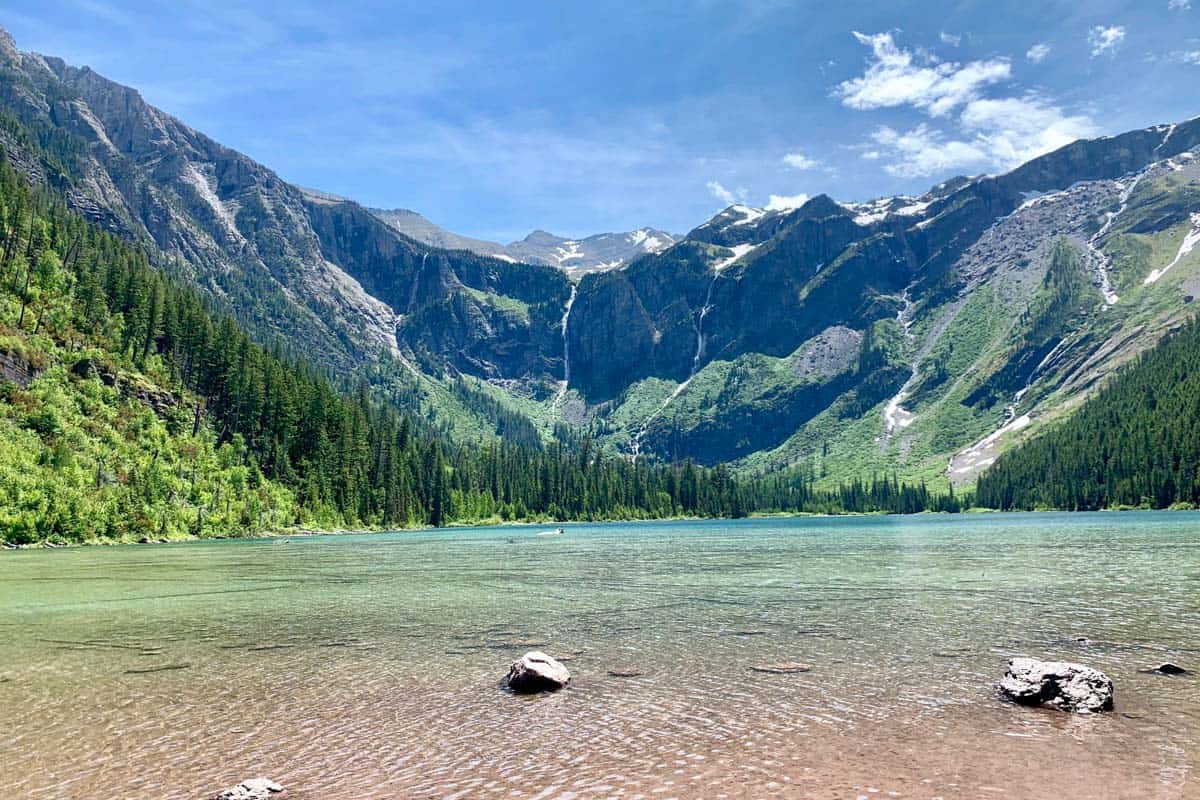 Near Apgar, the Trail of the Cedars is a relatively flat, easy 0.7-mile hike that passes through spectacular scenery. If you're up for it, complete the full 5.9-mile hike to Avalanche Lake.
Psst! This is one of the best hikes in Glacier National Park. Check out our article to see the rest!
Hike to Hidden Lake at Logan Pass
The GTTSR crosses the Continental Divide at Logan Pass and as you'd expect, it's spectacular. The drive itself is just as spectacular, actually, about one hour from West Glacier.
Once there, hike to Hidden Lake Overlook, just under 3 miles round-trip. The overlook is an easy going hike and if you'd like more of a challenge, head down to the lake.
Hidden Lake is frequented by grizzly bears and mountain goats, so the trail sometimes closes temporarily beyond the overlook. Also, parking is a major issue at Logan Pass, so plan to stop extremely early or late in the day.
Don't forget to bring your bear spray for hiking in this park!
Wild Goose Island
This short and sweet stop near St. Mary is one of the most photographed spots in the park. Simply stop and enjoy the breathtaking view.
St. Mary
St. Mary is a quick stop. Grab a late lunch or have a picnic before heading back west on Going-to-the-Sun Road.
On your way back, stop at any overlooks that strike your fancy and not the difference in views from one direction to the other.
Day 2 | Glacier National Park
Day two is one of the toughest yet most rewarding of this Glacier National Park to Yellowstone itinerary. We're suggesting two options, but both include all-day trails widely considered some of the best hikes in all of Montana.
Option 1: Highline Trail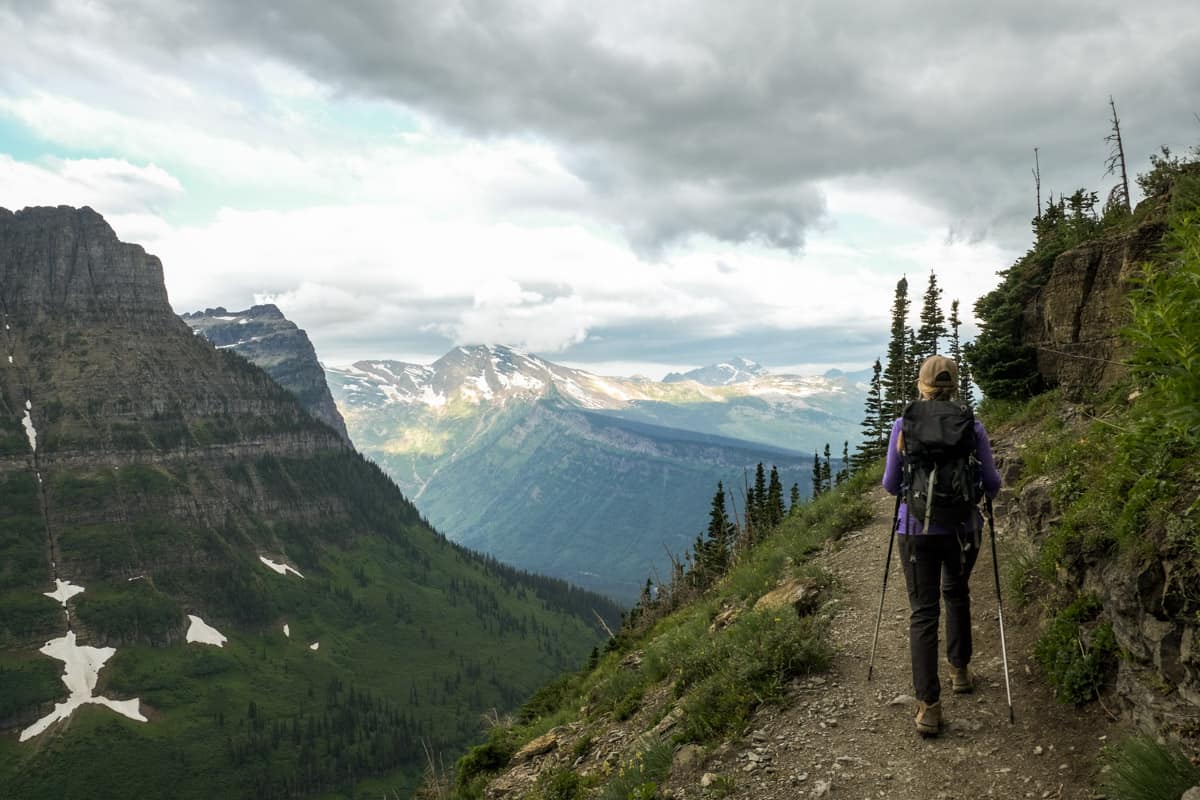 For avid hikers, it doesn't get much better than the Highline Trail. The trail starts at Logan Pass, so get on the road early to secure a parking spot.
There are several ways to break up the 15-mile hike, but we recommend doing the full trail from Logan Pass to Granite Park Chalet and back. You can also detour to Grinnell Glacier Overlook if you're up for adding two additional steep miles for a stunning view.
The Highline is long, but not terribly technical or difficult. You'll have plenty of flat miles along the way, plus non-stop breathtaking views to keep you going.
Option 2: Many Glacier Hike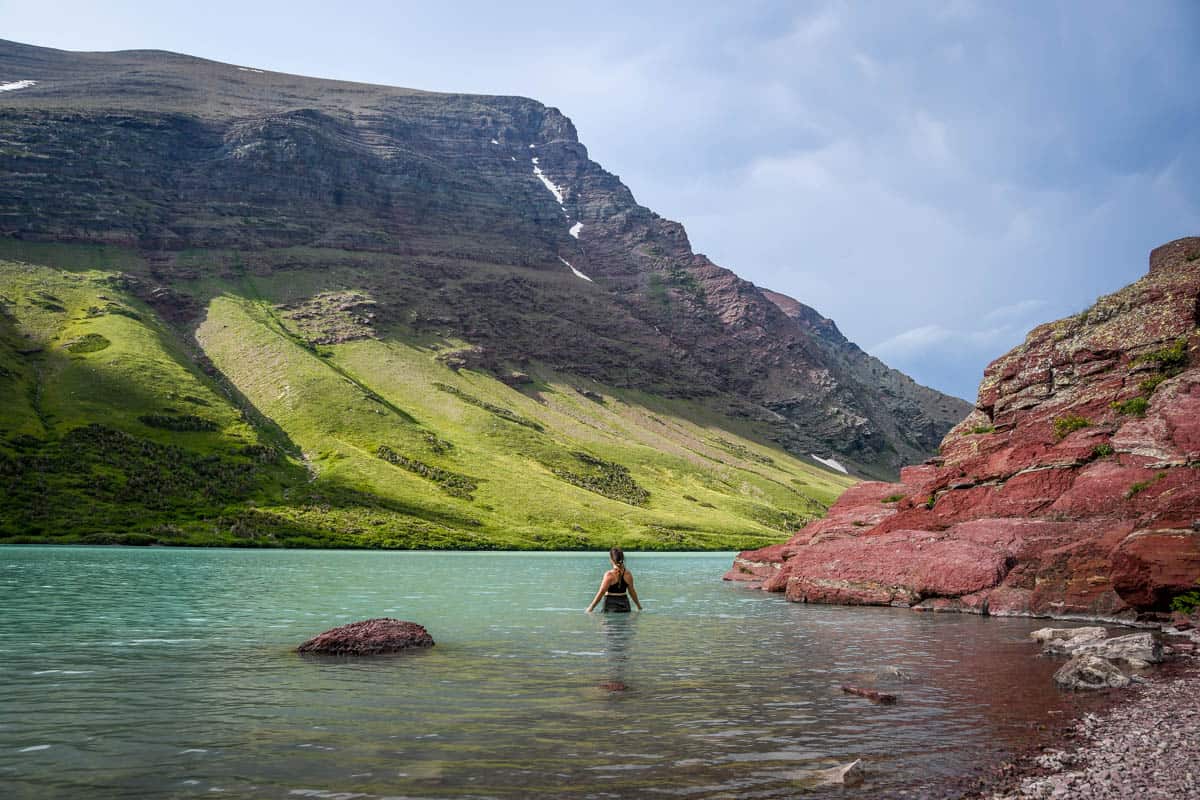 As an alternative to the Highline, head to Many Glacier. Few visitors get to this side of the park, as it's not as accessible as other areas, but it's by far the most impressive.
Some of the best hikes start here, including Grinnell Glacier (10.6 miles), Cracker Lake (12 miles), and Iceberg Lake (9.3 miles).
After hiking, head back to your lodging and rest up for the road trip tomorrow!
Day 3 | Road trip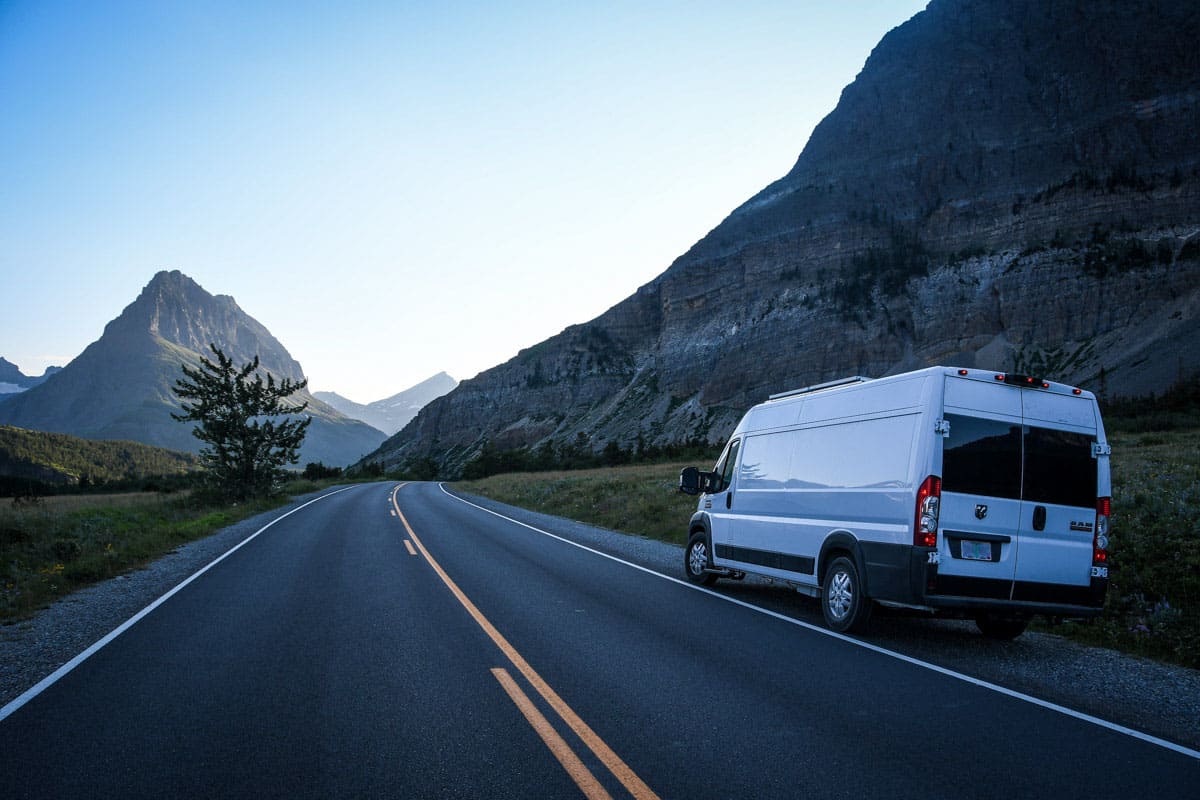 Distance: 400 miles
Driving time: 7-8 hours
After two busy days in Glacier, today should be more relaxed. There are several route options for getting from Glacier National Park to Yellowstone, and all are equally fantastic — never-ending views and plenty of interesting stops.
The biggest decision is which Yellowstone entrance to visit. For two days, we recommend West Yellowstone because it has the greatest concentration of highlights.
When planning your trip, keep in mind that West Yellowstone isn't accessible for 5-6 months of the year.
Flathead Lake & Big Fork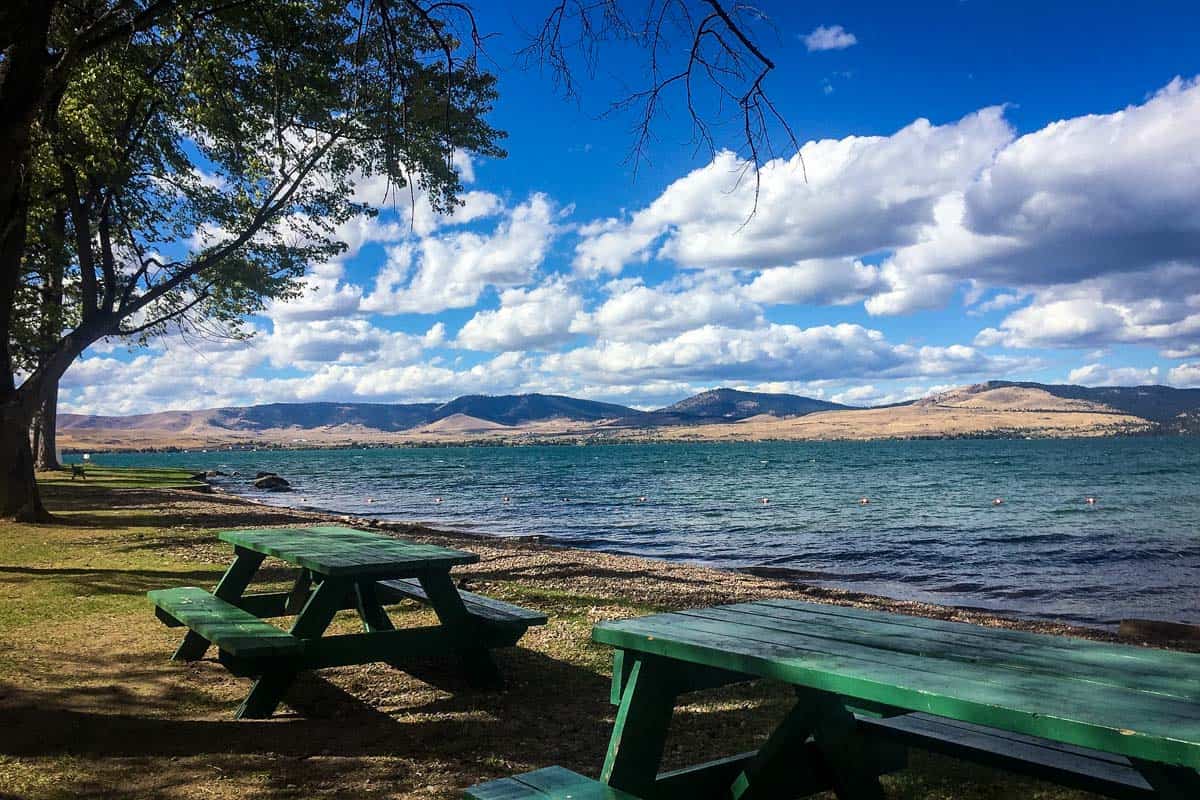 Massive Flathead Lake is stunning. Stop to go for a swim or paddle, or simply enjoy the scenery. It's also popular for trout fishing.
Dozens of breweries and laid-back restaurants and bars dot the lakeshore, and the town of Kalispell is also worth a stop.
Missoula
Missoula is a fantastic city combining big city amenities and Montana ruggedness. It's fantastic for art or history lovers, with several museums, galleries, and historic areas.
Montana University is also here and downtown is full of wineries, breweries, and quirky boutiques. During the summer, there are frequent farmers' markets and other outdoor events.
Butte
A historic mining town with deep roots, Butte feels a bit like stepping back in time. The World Museum of Mining is worth a stop, and there are several mine tours in town.
Big Sky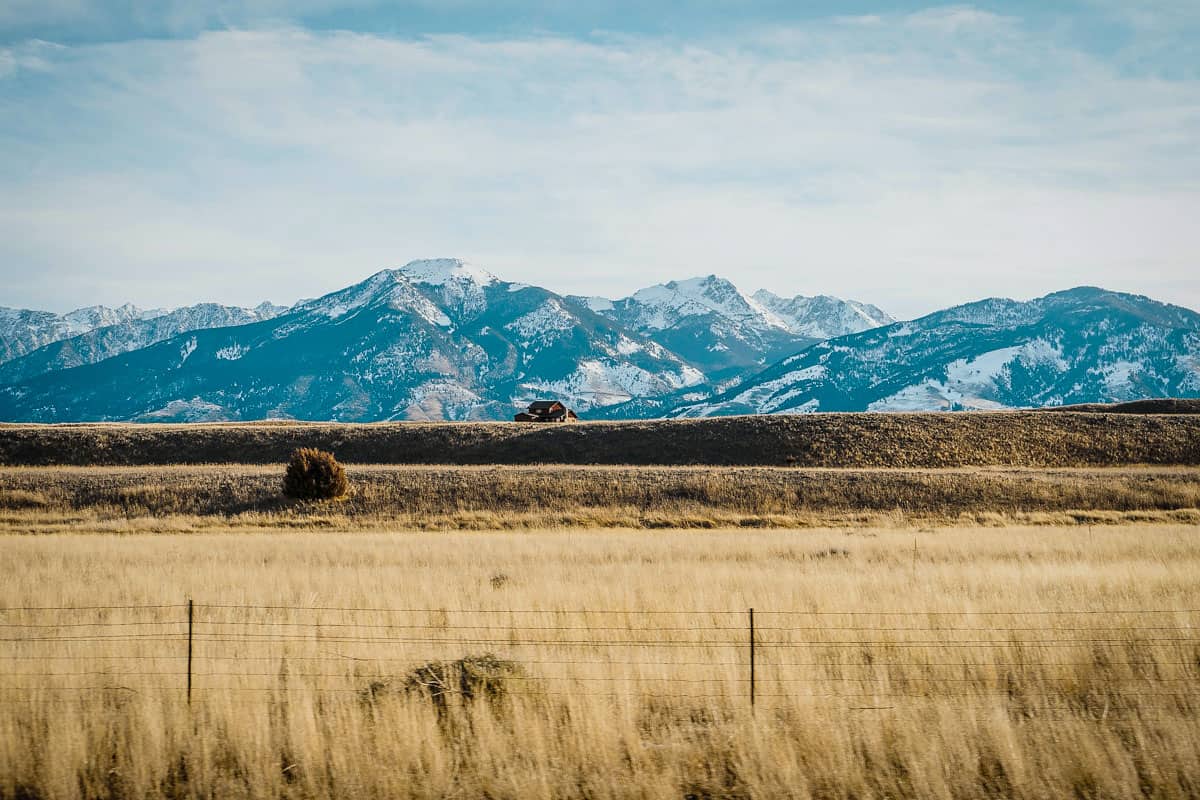 The resort town of Big Sky is about an hour from West Yellowstone. Four-season recreation includes hiking (don't miss Ousel Falls!), rafting, horseback riding, biking, and winter sports.
Day 4 | Yellowstone National Park
Especially in the summer, Yellowstone's Grand Loop gets extremely crowded and traffic can be frustrating. Bring snacks to hold yourselves over and start as early as possible!
Old Faithful
As one of Yellowstone's most famous attractions, Old Faithful draws huge crowds trying to get a glimpse of the eruptions, which shoot up to 100 feet high.
Old Faithful erupts on a very predictable schedule, every 60-90 minutes. Interestingly, exactly when depends on the previous eruption — if it was 2.5 minutes or less, the next eruption should be 65 minutes later. 2.5-minute or longer eruptions mean Old Faithful will erupt again at 91 minutes.
To avoid some of the crowds and get a different view of the eruption, hike 1.5-mile (roundtrip) Observation Point.
Upper Geyser Basin
Next, take the easy hike to Upper Geyser Basin. This is the world's highest concentration of geysers and geothermal features (and unsurprisingly, the busiest part of Yellowstone)!
To get there, walk 1.4 miles along the boardwalk from Old Faithful to Morning Glory Pool. You'll pass colorful, otherworldly geysers, hot springs, and colorful pools.
Biscuit Basin
Much quieter Biscuit Basin is just a few minutes away, home to several colorful pools and geysers. Take a short drive or hike the 2.2-mile (one-way) Artemisia Trail if you're feeling ambitious.
Walk the 0.6-mile boardwalk and enjoy the bright colors and lack of crowds. You can get significantly closer to geysers in Biscuit Basin, but remember — do not leave the boardwalk!
Grand Prismatic Spring
End your first day in Yellowstone at one of the park's stunners: Grand Prismatic Spring. It's the third-largest geothermal spring in the world!
The spring's vibrant colors truly can't be captured in photos or explained with words; you HAVE to see this place with your own eyes.
You can see Grand Prismatic well from the boardwalk, but for an unbeatable view, head to Grand Prismatic Overlook, one of the best hikes in Yellowstone. The easygoing, 1.6-mile roundtrip hike gains 135 feet of elevation and is a perfect way to end the day.
Day 5 | Yellowstone National Park
The final day of your Glacier National Park to Yellowstone trip includes two jaw-dropping sites. Again, these areas get extremely crowded early, so get started before the sun if possible.
Grand Canyon of Yellowstone
Carved out by the Yellowstone River, this breathtaking geological gem is over 20 miles long and up to 1,200 feet deep.
Fun fact: The canyon's yellow walls are thought to be the river's namesake (and later, the park's).
Head to iconic Artist's Point first, a short walk from the parking lot on the southern rim. After enjoying the straight-on views of Lower Falls, hike down to the Brink of the Lower Falls. It's a steep climb, but short and mostly paved.
Next, stop at Lookout Point for another view of the falls and on your way out, stop at Inspiration Point for one last look.
Another option is hiking the 3.2 miles from Inspiration Point to Yellowstone Falls (or vice-versa) along the canyon rim.
Mammoth Hot Springs
The final Yellowstone stop is Mammoth Hot Springs, northeast on Route 89 toward Gardiner. It's one of the largest geyser basins in the park and it's incredibly unique.
The geysers are in stepped terraces unique to this area of the park, and many of them are as white as snow. Take the 1.75-mile boardwalk trail that connects several different geysers to experience them all!

What to pack for your Glacier National Park to Yellowstone itinerary
Hydration pack and/or water bottles
Bear Spray (note that you can't fly with it, but you can get it–rent or buy–almost anywhere near either park!)
Bug spray (we prefer the natural stuff)
Sun protection: sunscreen, sunglasses, hat
Camera and tripod (this is our favorite for hiking)
Hiking boots/shoes or Chacos if you prefer sandals
Comfortable hiking clothes (lots of layers!)
Swimwear (if you're visiting in the summer and plan to take a dip!)
AllTrails Pro (or download Google Maps offline for the area in case you lose service)

You may also like…
Save this article on Pinterest for later!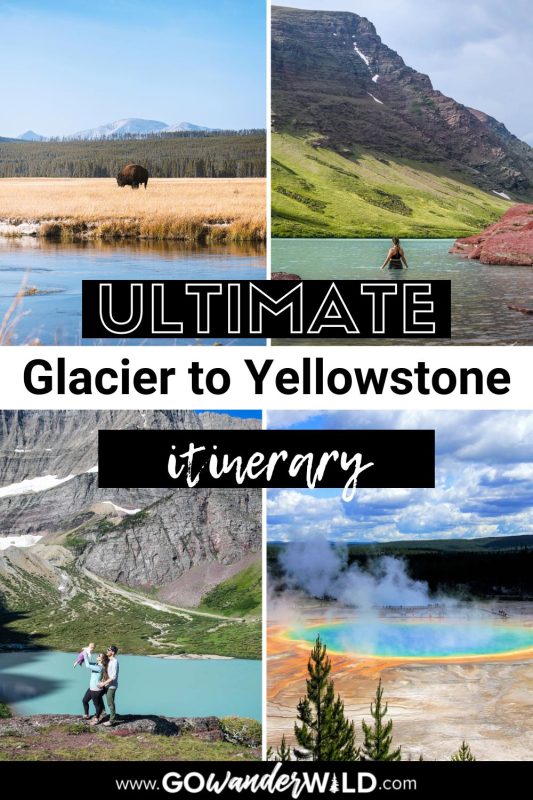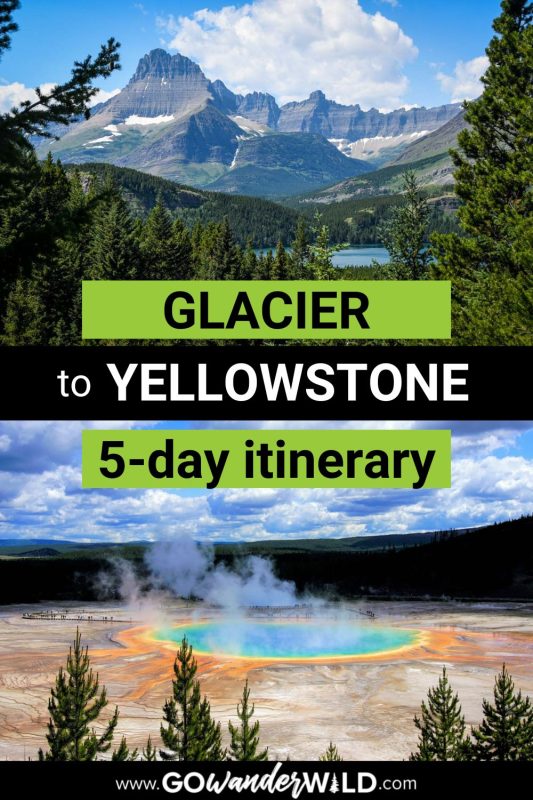 Have you ever been to Glacier or Yellowstone National Park? What was your experience like? Are you planning a trip from Glacier National Park to Yellowstone and still have questions? Comment below and we'll do our best to get back to you!