All outdoor enthusiasts know the struggle of finding the best recipes to make on the go. That's why we have consolidated a list of the best one-pot camping meals every outdoor aficionado should have in their back pocket.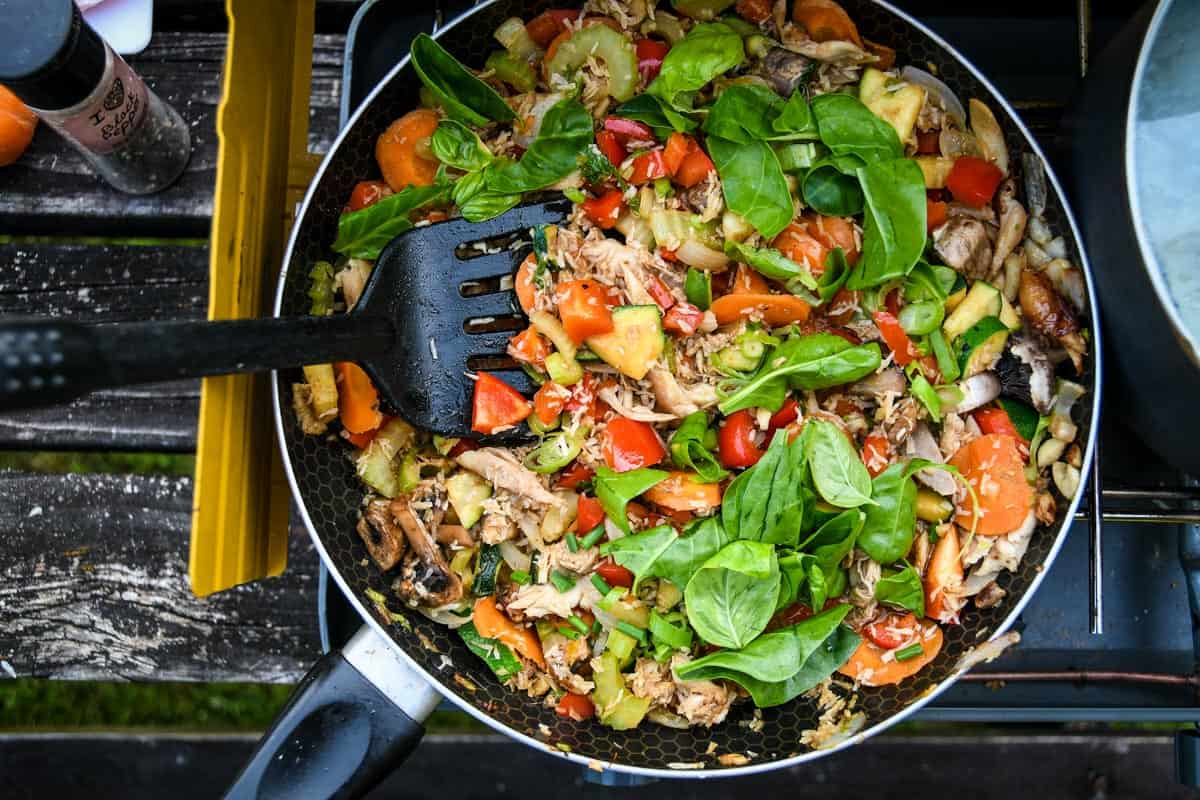 All outdoor enthusiasts know the struggle of finding the best recipes to make on the go. The limited space in your pack and the desire to keep it lightweight mean you can't use the same cookbook that you would at home. The best camping recipes have very few, portable ingredients and only need one pot to make. But oftentimes it can feel like you're sacrificing the quality of your meals for convenience.
That's why we have consolidated a list of the best one pot camping meals every outdoor aficionado should have in their back pocket. Whether it's breakfast at the break of dawn or a warm meal shared under the stars, these recipes will keep you full without sacrificing any of the flavor you could get at home. And the very best part… you can make them all in just one pot!
Article Contents

One Pot Breakfasts
Everyone has heard the saying, breakfast is the most important meal of the day and it's true. Breaking fast is the best way to replenish your body after hours of slumber. Not to mention getting the fuel you need to begin your day on the right foot and tackle your to-do list.
So it's no surprise that breakfast is just as important when you're out in the wild. No matter if you're deep in the backcountry, beach camping on the coast or pitching a tent in your own backyard, you have to replenish the tank to start your day. These amazing one-pot breakfast recipes will help you start the day the right way so you can get on with your adventure.
1. Oatmeal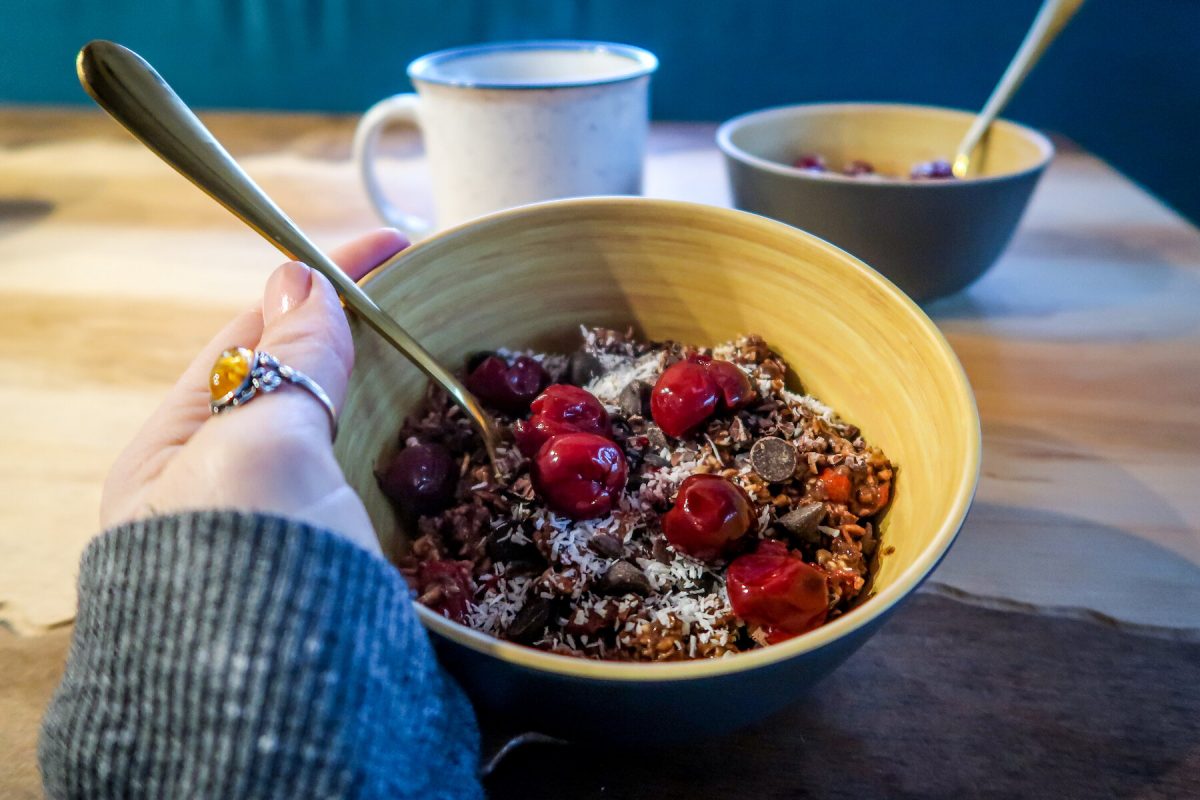 Oatmeal is a quick and healthy breakfast option that many outdoor enthusiasts love. Not only is it super easy to make but you can adapt the flavor to your own taste. You can always add new and different ingredients to spice it up and it feels like a completely different meal day after day.
This recipe makes a large batch that you can store for multiple days. That way you already have breakfast ready to go when you wake up, no assembly required! Some standout ingredients like fresh fruits and chia seeds make this oatmeal recipe even better. Not to mention the fact that it's vegan, so it works for most dietary concerns.
Psst! Wondering where to find all the gear for your camping kitchen? We've rounded up all of our tips for finding cheap camping gear so you can collect more gear on a budget too!
2. Simple Shakshuka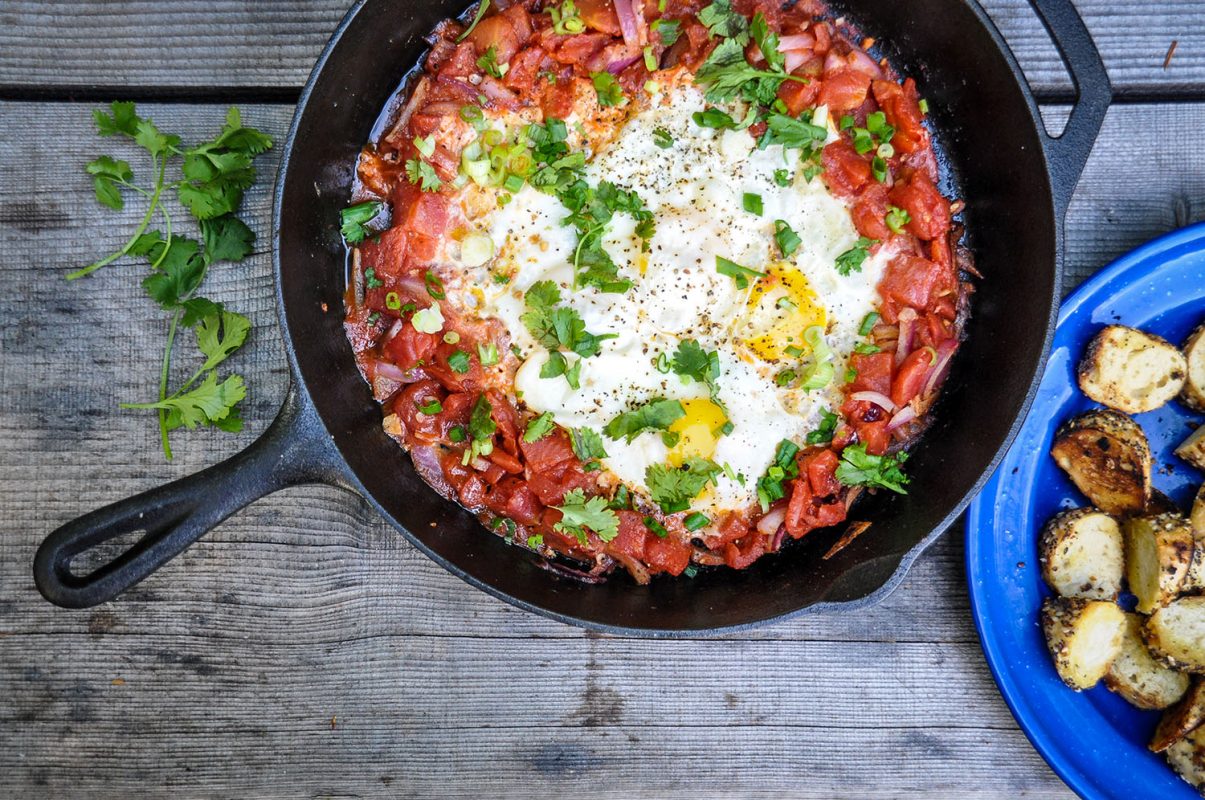 Shakshuka is a satisfying dish to make for breakfast or dinner while camping. With canned tomatoes and eggs as the standout ingredients, this meal can be kept relatively simple and served with bread for dipping. Or you can dress it up with spices, vegetables, potatoes, feta cheese, or even fresh herbs!
This recipe is super simple and easy to follow. Also, this dish is completely gluten-free if you skip the bread.
Psst! Looking for more veg-heavy options? We've got you covered with these vegetarian camping meals that are both healthy & delicious!
3. Easy Banana Pancakes
Pancakes are always a favorite for a morning meal. The fluffy texture, sweet flavor, and easy cooking make it a fantastic choice on the go. This recipe is a fun and healthy twist on your classic pancakes by adding bananas.
The addition of ingredients like banana and cinnamon really add a twist to the classic hotcake flavor. And you can top it with just about anything you like: fruit, Maple syrup, Nutella, the possibilities are endless!
Check out our personal recipe below:
*Makes enough for 2-3 people
Ingredients:
4 ripe bananas
¾ cup oats
1 egg
Dash of cinnamon
Optional: Blueberries
Optional Toppings: Peanut butter, Nutella, Maple Syrup, etc.
Psst! Get a jumpstart on planning your next camping adventure with this list of the best Oregon Coast campgrounds.
Instructions:
In a mixing bowl, use a fork to mash your bananas into a soft lump-less mixture.
Stir in the oats and egg until well combined. If you decide to add blueberries, you can stir these in as well.
Add a dash of cinnamon to your taste.
Pour about 1 cup of mixture onto your skillet per pancake and let them cook until they firm up and look like they can be flipped. (You can test this by sliding your spatula underneath for a peak.)
Flip and cook until browned and firm.
Serve warm with your favorite pancake toppings!
4. Camper's Breakfast Hash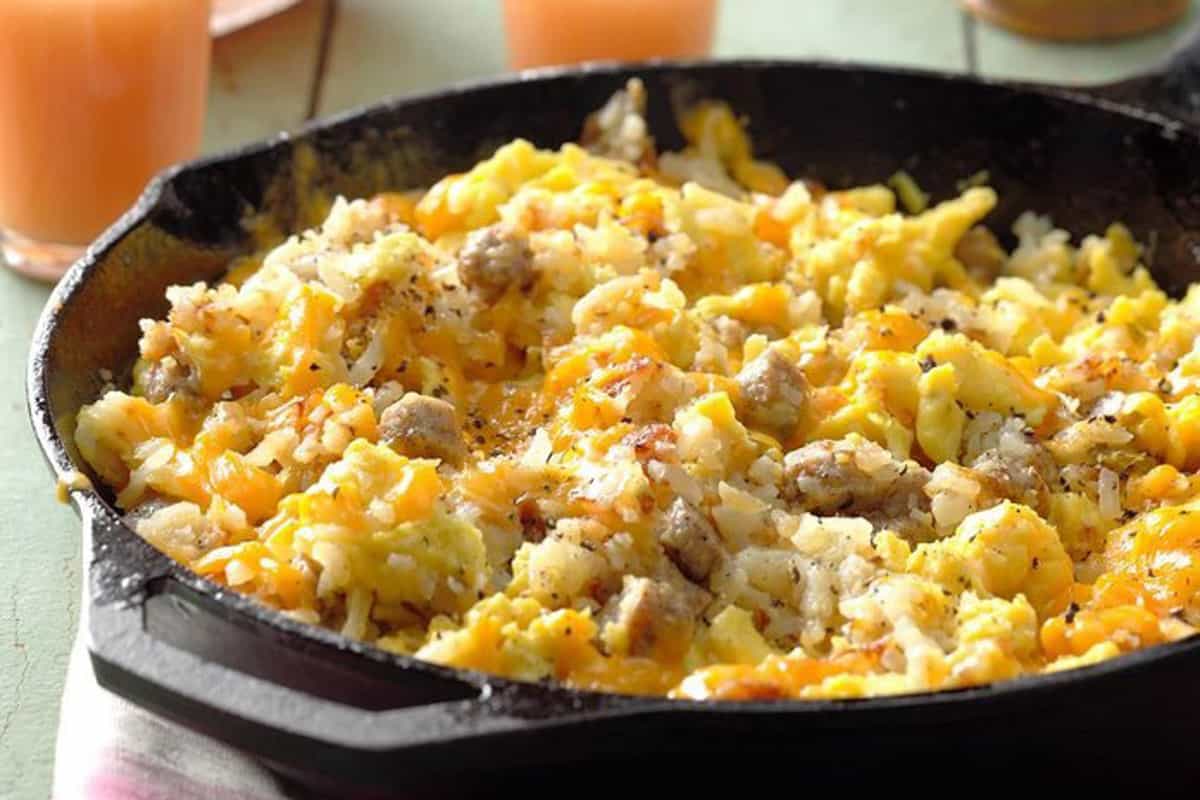 Eggs and potatoes are common ingredients for campers. Due to ease of transportation, protein content and ability to fill you up, both have become common breakfast choices for any outdoor enthusiast. A breakfast hash is typically a combination of the two with classic omelette ingredients.
This recipe from Taste of Home is super easy to make with only 2 steps and can easily be done over a camp stove or campfire. Start your day on the right foot with a hearty breakfast packed with protein and flavor.
You know what goes best with breakfast? A steaming cup of joe! Find out which is the best method and how to brew the best camping coffee for your next outdoor adventure.

Entrees
Most home-cooked dinners require a lot of time and ingredients. When cooking dinner at home, we tend to use a lot of cookware that might be too much of a hassle to bring with on a camping expedition. This is why we searched extra hard to find one-pot camping meals that would be both filling and delicious, but of course, easy to create in the woods. But we promise that these recipes will not disappoint!
From an Italian lasagna recipe to our own spin on Thai curry, you'll find this list is full of flavor and variety.
Psst! Looking for new camping digs? Upgrade your gear with this list of the best 2-person tents for camping and backpacking.
5. Thai Green Curry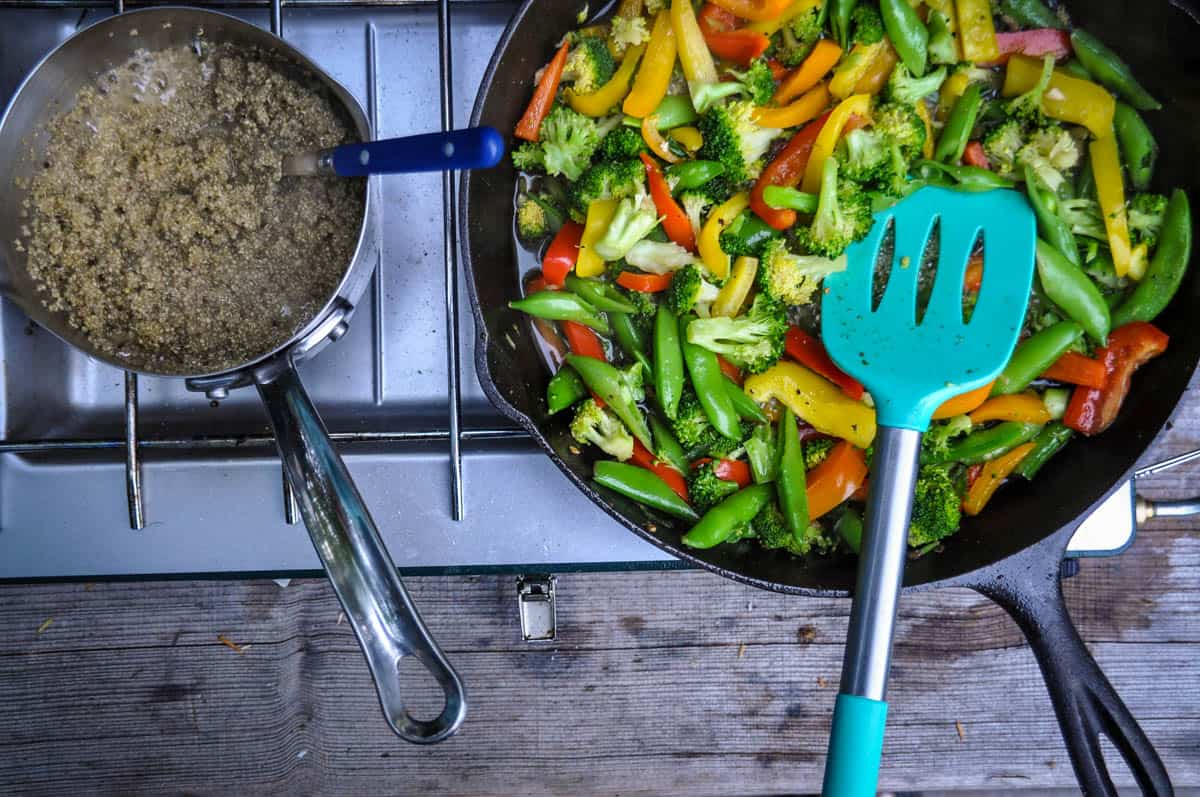 This dish is commonly misconstrued as a challening and complex meal to prepare. But in actuality after the prep work is done, the cooking happens all by itself! This recipe is one we've made countless times in our own home kitchen and have altered it a bit to be done in one single pot. We break it down step by step so you can make it from anywhere.
Not to mention that this meal can easily be stored for leftovers later. As an added bonus – the longer it sits, the better the flavors mingle together!
Check out our personal recipe below:
*Makes enough for 2-3 people
Ingredients:
1 bag rice (optional: substitute with quinoa)
1 can coconut milk
2-3 tbsp Thai green curry paste
2-3 cloves garlic, diced
1 small-medium sized yellow onion, chopped
Optional chopped veggies: carrots, bell peppers, zucchini, broccoli, or any other veggies you fancy
Dash of olive oil for pan
Pinch of salt
Optional: Red chili flakes
Instructions:
Cook rice over your camp stove to package instructions (will need a lid to cook rice!) or bring pre-cooked rice along. Set aside for later use.
In camp skillet, sautee garlic, onions and veggies with a dash of olive oil. Add a pinch of salt.
Pour the coconut milk over the veggies and bring to a simmer.
Add the curry paste to the pan and mix together thoroughly. Taste the curry and add red chili flakes if you need a little extra kick.
Optional: Add the rice to directly into the curry while still in the pan, or serve over rice in a bowl.
6. Vegetable Lentil Soup
This soup is a very filling and absolutely delicious meal for any time of day. It's warm, soothing, and smells amazing. Not to mention just how easy it is to prep and cook. And, like other recipes on this list, you get to choose your favorite ingredients for the recipe and add whatever veggies you have on hand.
Standout ingredients like healthy greens (spinach, kale, etc.) and lentils make this soup incredibly healthy for you. As a double bonus: this recipe is both gluten-free and vegan friendly!
Psst! Save this list of easy & fun camping games for your next trip!
7. Camp Chili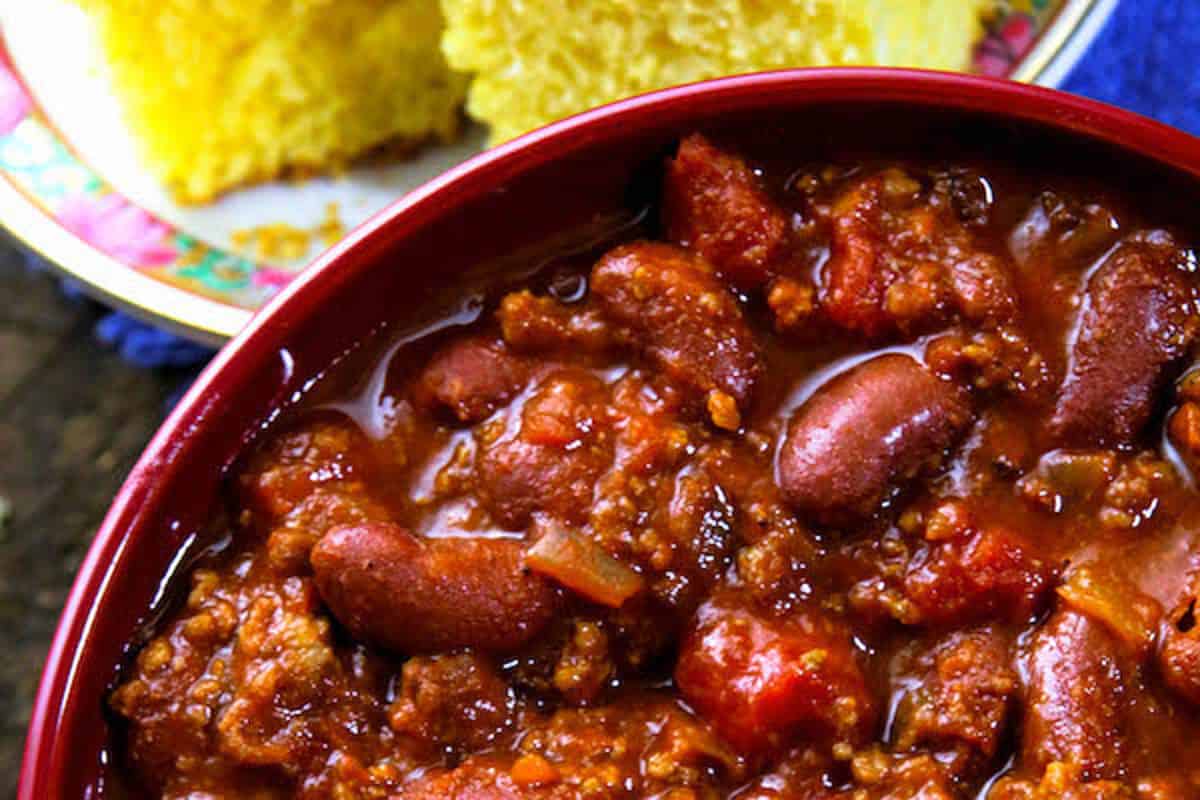 Chili is a staple for many outdoor enthusiasts and a home favorite for most families. However, chili can be complicated and take lots of time and effort to prepare. This recipe from food blogger, Alyona, tells you how to make a delicious, steaming bowl of chili in just one pot while the go!
Standout ingredients include the green chilies and cayenne pepper that really gives this chili a spicy kick. The hearty base of this recipe helps balance the flavor for an even palette.
8. Vegetarian Chili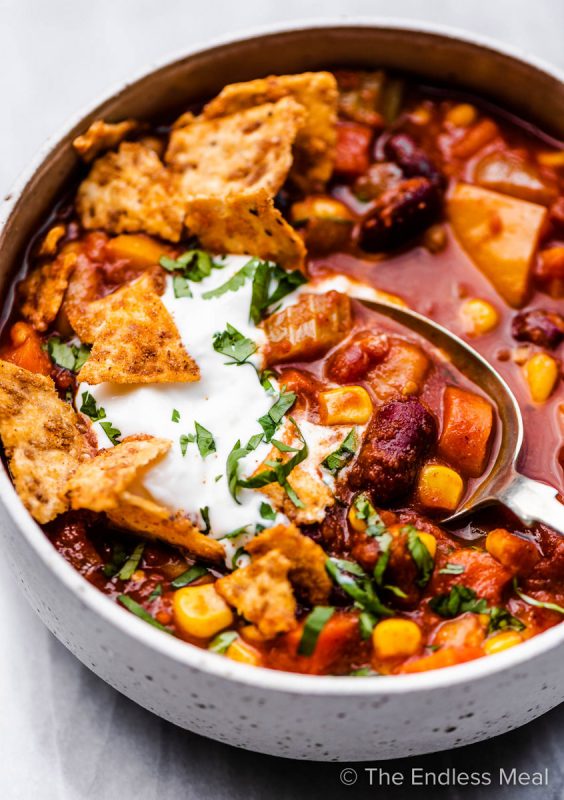 Now that we know chili can be a camping favorite – we figured it'd be good to include a meat-free option for our vegetarian friends. It can be really hard to find a good vegetarian chili recipe, but we think you'll enjoy this veggie-packed dish from The Endless Meal.
Cumin and chili flakes give this chili a spicy kick just like the classic. And this easy-to-follow recipe makes the process so simple for at home or over the camping stove.
Psst! After dinner, you'll want to try some of these delicious and easy campfire desserts!
9. Quinoa Enchilada Bowl
Enchiladas are a popular dinner choice for those who love the taste of Mexican food, but require a lot of kitchen tools and prep-work. Not to mention an oven! We've taken the classic enchilada flavors and put our own healthy spin on this. It's an easy and portable way to enjoy enchiladas without all the mess and prep work. The quinoa gives these bowls a punch of superfood to keep you energized for all your outdoor adventures.
Check out our personal recipe below:
*Makes enough for 2-3 people
Ingredients:
½ cup quinoa
½ cup canned black beans, drained and rinsed
8 oz package enchilada sauce
Optional veggies: sweet corn kernels (cut from the cob or canned), diced bell peppers
1 avocado, peeled and diced
1 Roma tomato, diced
½ – ¾ cup shredded cheese: Cheddar Jack or Mexican Blend
½ teaspoon chili powder
Salt & pepper, to taste
1 bunch chopped cilantro leaves
Dash of oil or butter for pan
Instructions:
Rinse quinoa thoroughly and cook over your camp stove to package instructions. Set aside for later use.
In your camp skillet, saute veggies with a dash of olive oil so they don't stick to the pan. If you don't have olive oil, any cooking oil or butter will do.
About half-way through the cooking time for the sauteed veggies, add black beans, enchilada sauce, cooked quinoa, chili powder and salt and pepper to the pan. Continue stirring as it cooks, blending all ingredients together.
Sprinkle in shredded cheese. (If you have a lid for your skillet pan, you can cover and melt the cheese directly on top.)
At the last minute add the avocado cubes and tomatoes so they warm just a bit and finish off with cilantro on top before digging in!
Optional protein: Grill some chicken breast beforehand and cut into small bite-sized cubes, add the chicken to the mixture while mixing in the sauce and cheese.
10. One Pot Pasta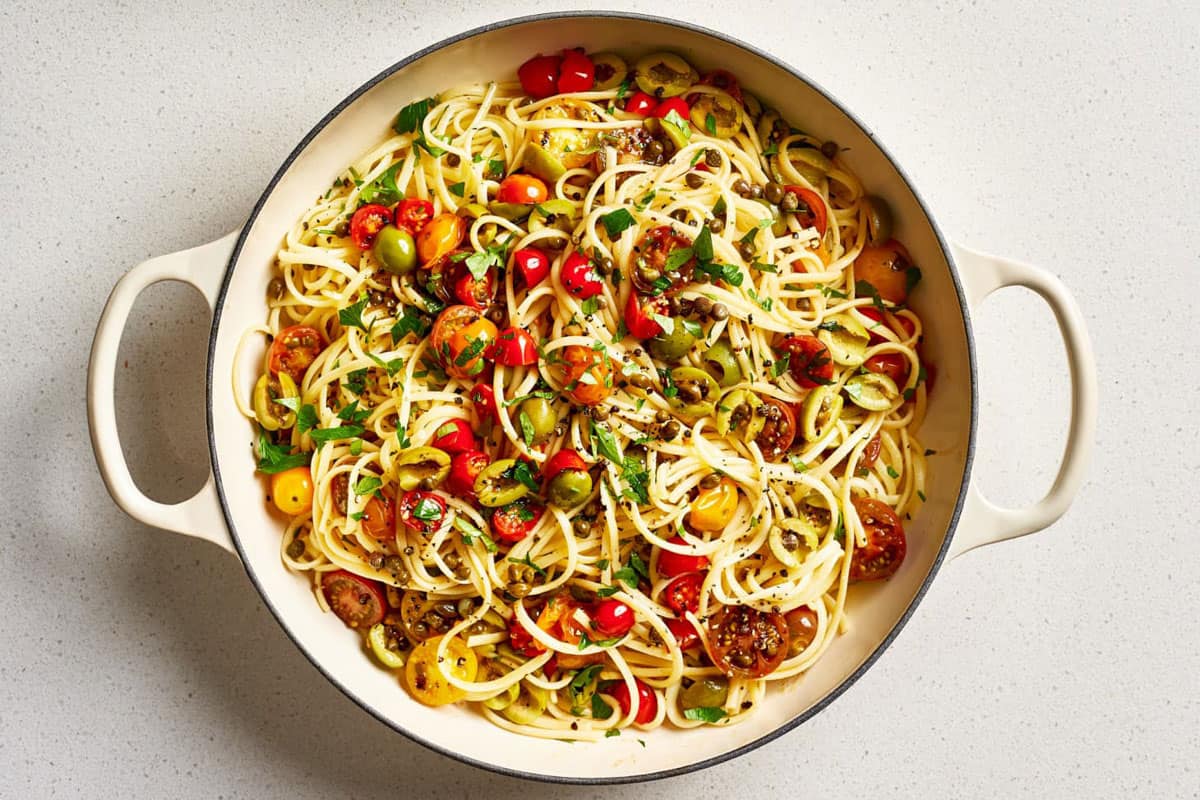 Pasta is a favorite Italian dish at home but seems a little impractical for camping. Usually pasta takes multiple dishes, burners, and ingredients to prepare. However, these recipes from Kitchn show you not one, but 5 different ways to make pasta in just a single pot!
Yep, you heard that right: one pot for pasta! With a short 10-minute cook time, you'll have your gang fed in no time. Standout ingredients include the meat (ranging from pork to shellfish) and herbs that really give these recipes their flavorful kick.
11. Easy Skillet Lasagna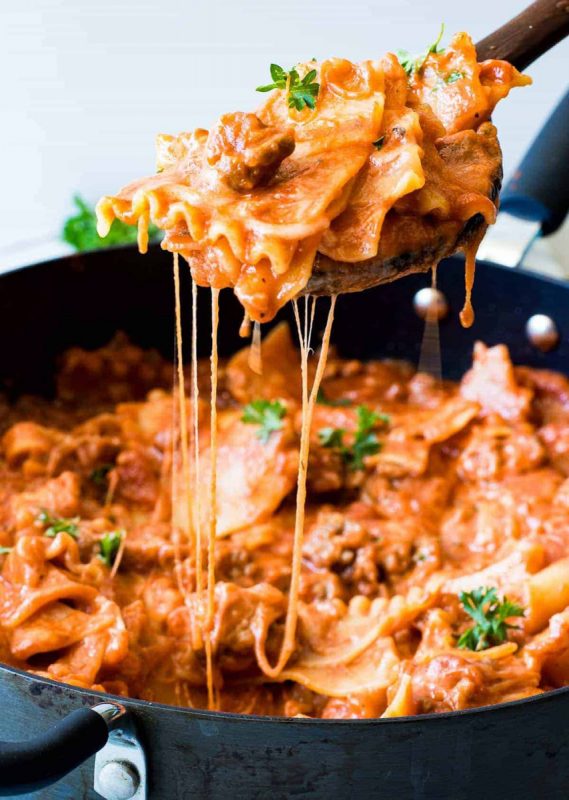 Lasagna is not something many campers think about when deciding on entrée options. But what would you say if I told you there is an easy skillet lasagna recipe that you can enjoy without an oven? That's right, you can make lasagna over a camp stove!
This recipe from House of Yumm shows you how to make lasagna, with all the cheesy goodness, in a skillet instead of an oven. And there are no shortcuts on the flavor either. Standout ingredients like ricotta cheese will make sure you have all the comforts of home in this on-the-go dish. Not to mention it only takes 30 minutes to cook.
12. Mexican Skillet Pasta
This pasta is a perfect way to get all the flavors you love from a taco without worrying about crushing the shells along the way. And, of course, it is all made in one pot to make the cooking experience as easy as possible around your campfire. This recipe from Damn Delicious even has pictures of each step to guide you through the cooking process so you can't go wrong. And with a 30-minute cook time, you'll be enjoying the flavors of Mexico around your campfire in no time at all!
13. Cilantro Lime Shrimp & Rice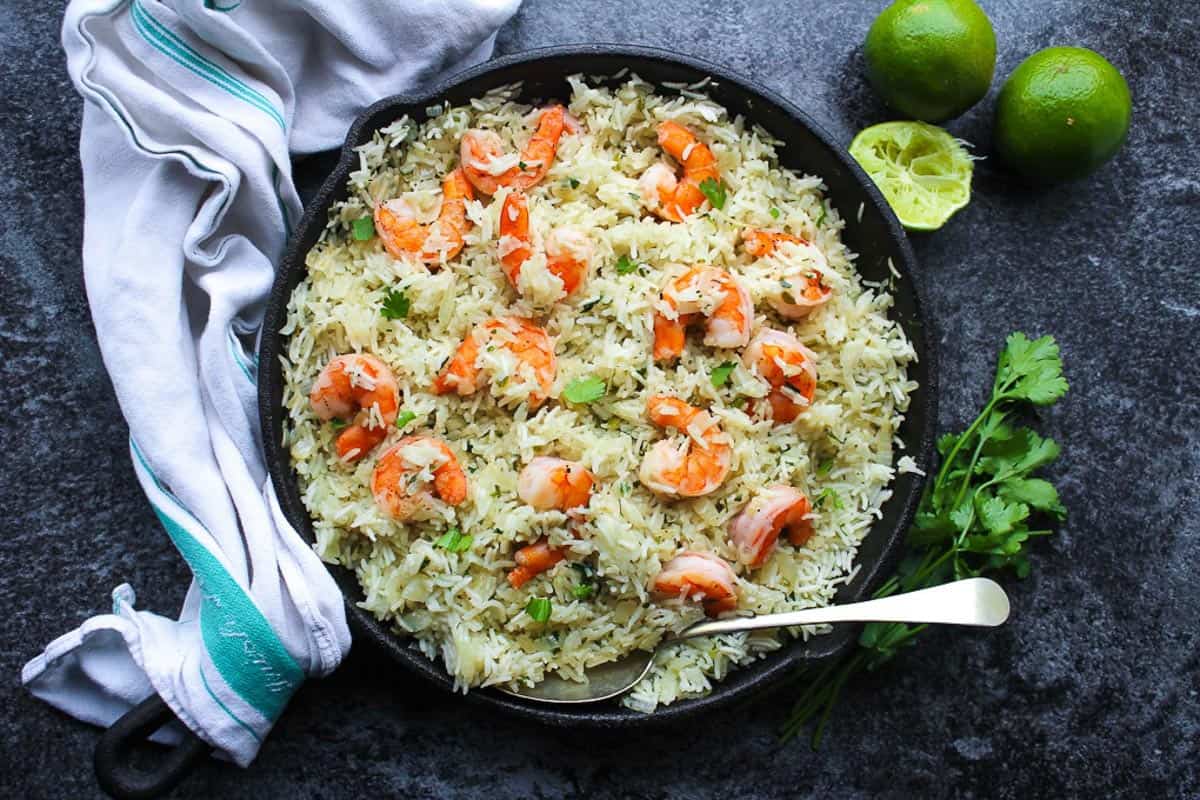 We love this recipe from A Saucy Kitchen because it's simply and healthy and packed with flavor. The combination of cilantro and lime gives this shrimp a zesty kick that is reminiscent of Caribbean flavors that we don't usually think of when sitting around a campfire.
You may be asking yourself how to prepare shrimp while camping, but the truth is, shrimp is a great food for camping because it cooks up super quickly and doesn't require a precise temperature. The secret is cooking the rice after you cook up the shrimps so it soaks up all the flavors.
14. Chicken Tikka Masala Tacos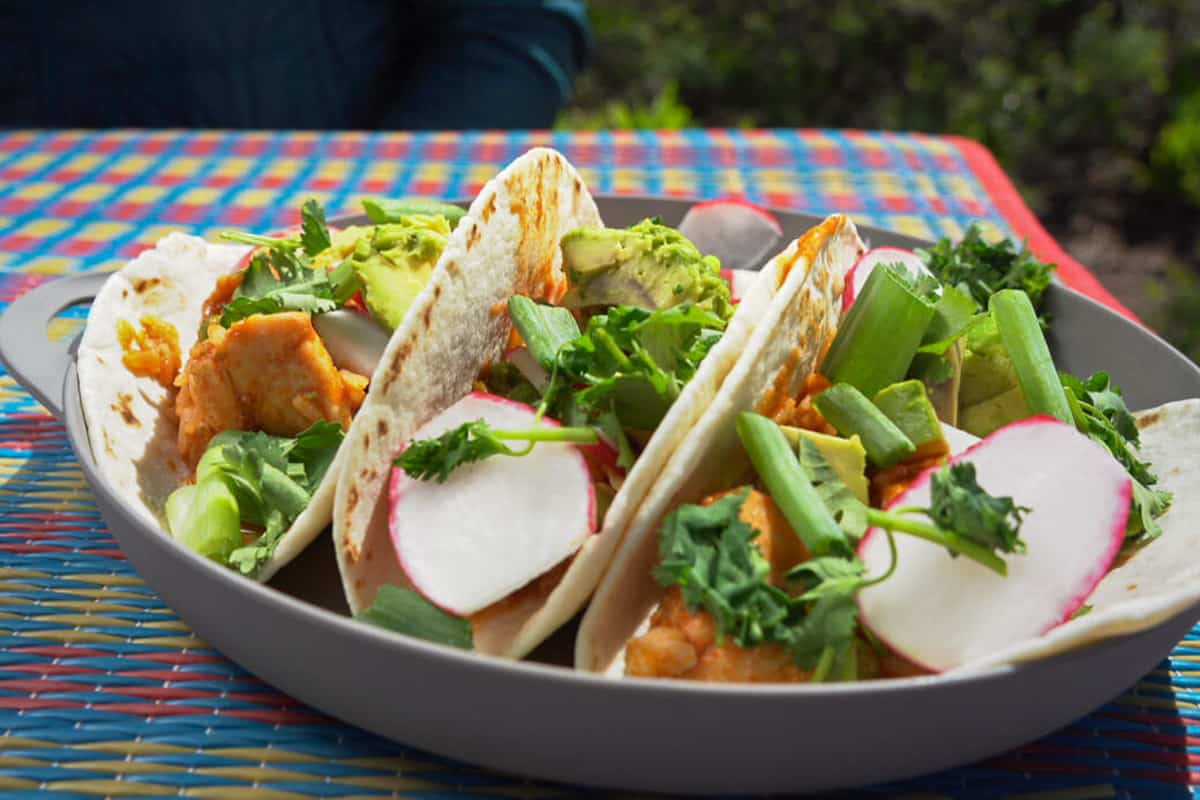 This recipe from She Dreams of Alpine is a nice shift from the usual one-pot camping meal classics. All of the flavors meld together deliciously and it's hearty enough to fill you up after a long day of hiking in the woods.
At only 30 minutes to prep and cook, these tacos give you an easy dinner over your campfire stove. The best part is you can try different variations using different sauces like Butter Marsala or Coconut.

Snacks
We couldn't end this list without some rocking recipes for midday snacks. We are big snackers ourselves and like to be prepared with food at any time of the day.
These recipes show you how to make some delicious and easy camping snacks to keep you full no matter what you're up to. Check out our list for the best, easiest, and most delicious snacks to supplement your adventure!
15. Campfire Nachos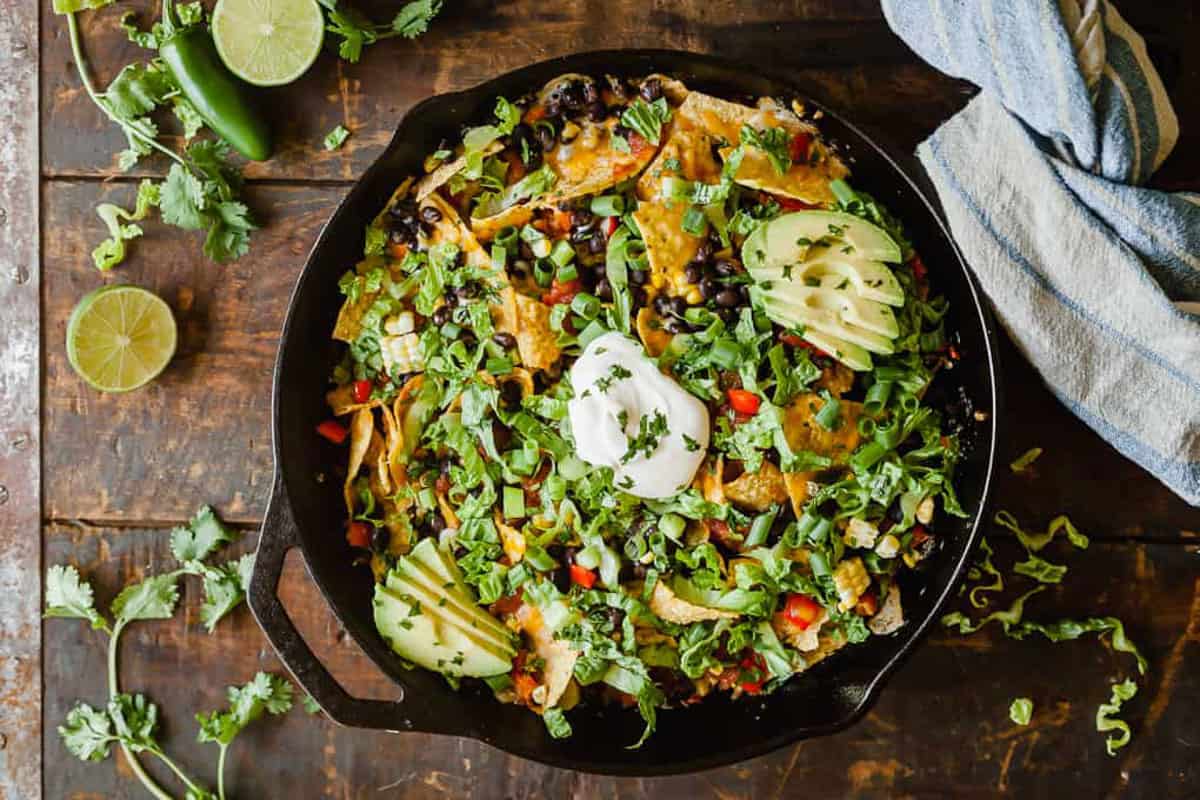 Nachos are an easy party-pleaser but they don't usually come up when thinking of great snacks for camping. For one, they are usually prepared under the broiler or in the microwave and you won't have access to either of those while out in the wilderness. That is until we came across this recipe from The Live-in Kitchen!
She's taken the classic party food and turned it into a snack that can be made over a campfire in… you guessed it, just one pot! That's right, you can make nachos in the middle of the wilderness, even without access to a microwave. She's added black beans and avocado to make this snack extra hearty, but we think you can enjoy it with any toppings you prefer.
16. Campfire S'mores Nachos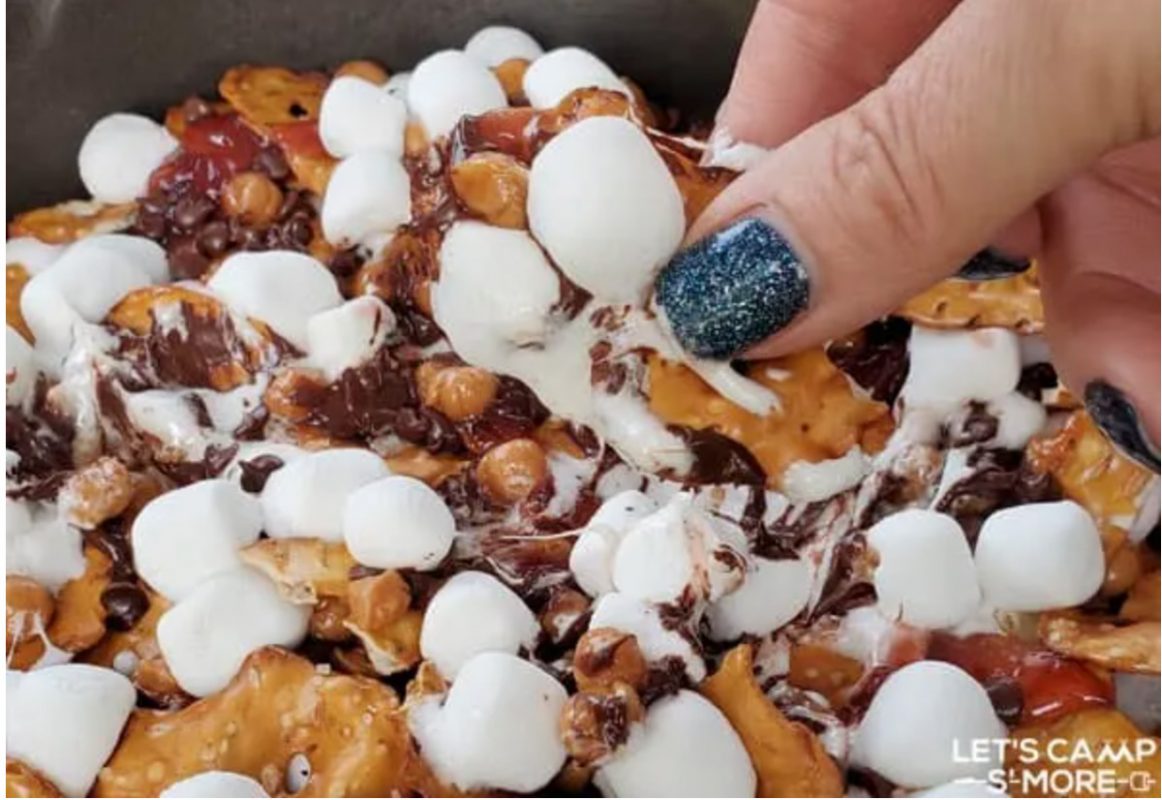 No camping cookbook is complete without a version of the classic smore's treat. We all remember sitting round the campfire as kids waiting to break out the graham crackers, marshmallows, and chocolate.
This recipe is a grown-up version of the treat you loved when you were young, using a cast iron skillet instead of twigs or skewers. You're basically turning your smore's into a plate of dessert nachos. It's less messy and there's less cleanup, but with all the same great flavor.
17. Trail Mix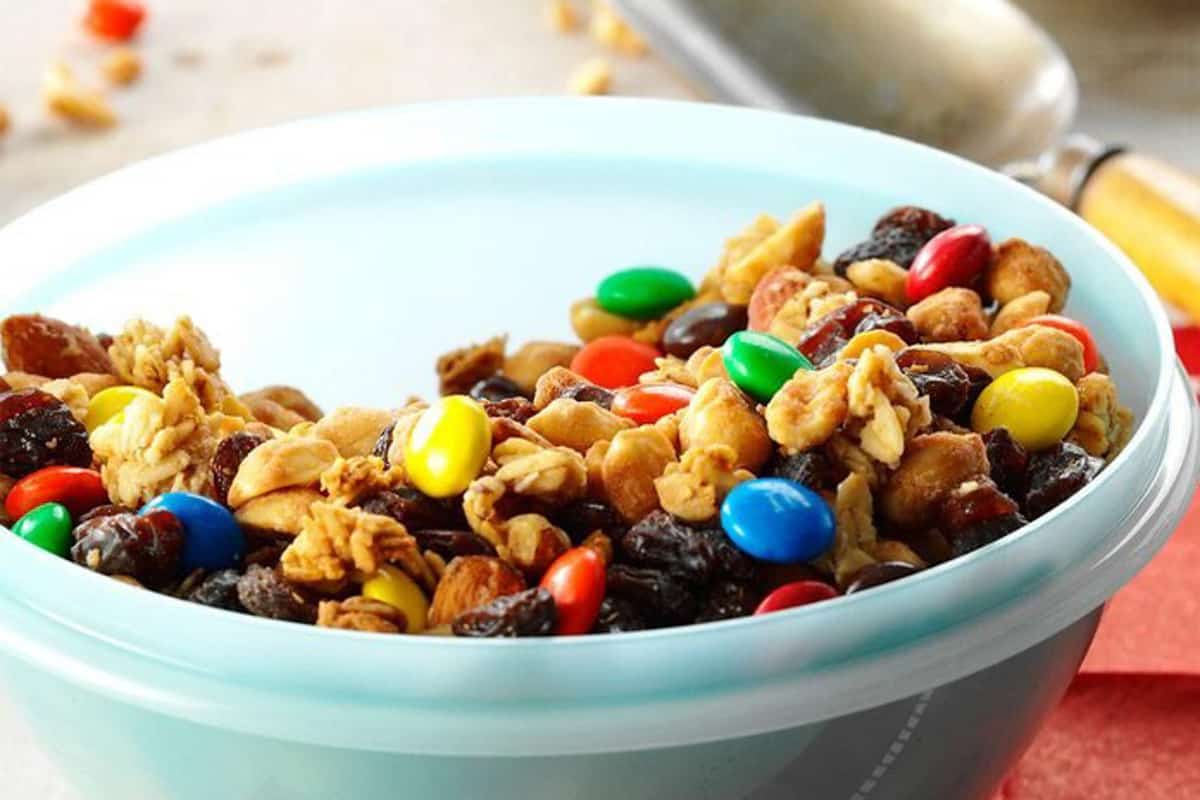 And, of course, we couldn't finish off the list without a recipe for some delicious trail mix. This playful lightweight snack is easy to store, lasts for days, and has the sweet and salty flavor that everyone in your gang will love. It's a staple for many people to bring along on a camping trip but you don't have to buy pre-made trail mix with all the additives and preservatives in stores.
This recipe from Taste of Home shows you how to make your own trail mix for your next camping adventure. This trail mix ends up cheaper, fresher, and with more servings than the store bought version. And it only takes 5 minutes in total to mix it all up!


You may also like…
Save this article on Pinterest for later!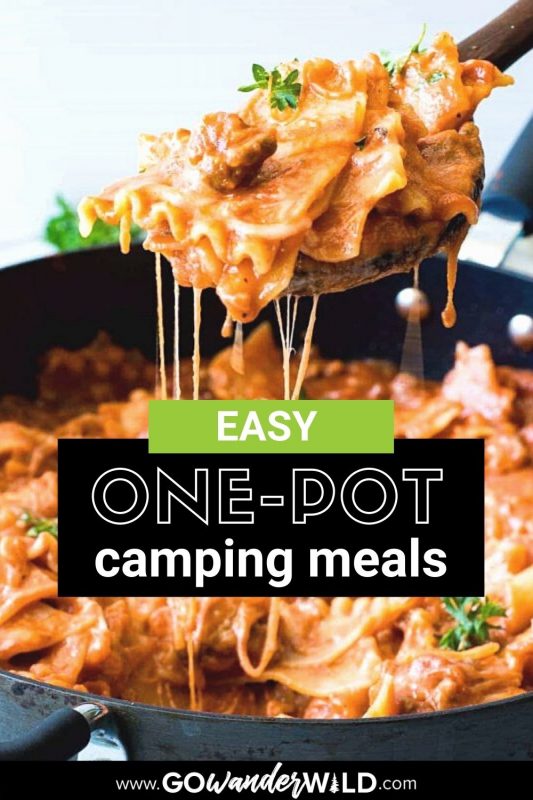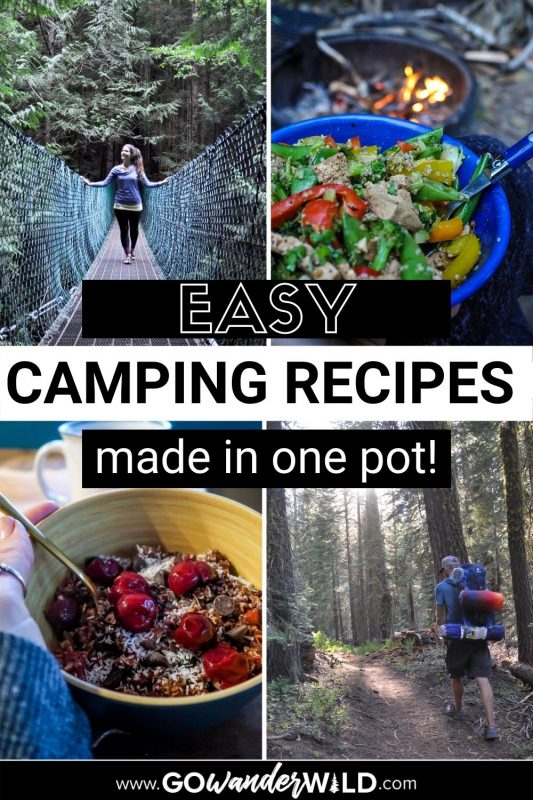 We want to hear from you!
What's your favorite one-pot camping meal from this list that you cannot wait to try cooking? Are there any other one-pot favorites you think we've missed? Comment below and let us know!