The majestic peaks, pristine lakes, and abundant wildlife of Colorado's most famous national park draw millions of visitors each year. We've rounded up the best hikes in Rocky Mountain National Park to help you plan your next adventure!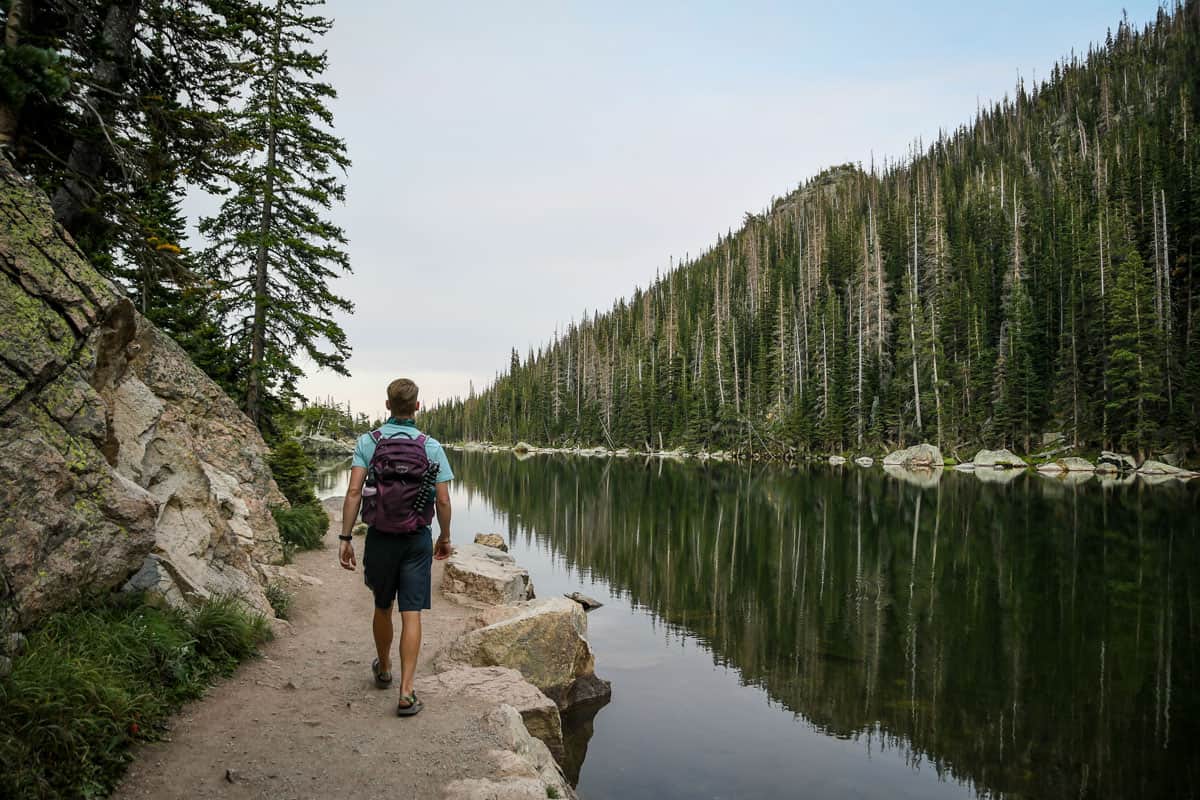 Widely considered Colorado's crown jewel, the 400-plus-square-mile Rocky Mountain National Park offers visitors seemingly endless adventure through dense forests, sparkling lakes, and wildflower-covered meadows and hillsides.
While there's no shortage of ways to enjoy The Great Outdoors in RMNP — camping, fishing, kayaking and paddle-boarding, horseback riding, and scenic drives — hiking is the undisputed star of the show. In fact, the park has over 350 miles of hiking trails! 
When it comes to selecting the best hikes in Rocky Mountain National Park, visitors are truly spoiled for choice. We've done the work for you and rounded up our favorites at every level of difficulty.
Know before you go
If you're planning your first visit to Rocky Mountain National Park or it's been awhile, there are some things you should be aware of.
From late May to mid-October, timed-entry permits are required for all visitors. This helps mitigate traffic and parking issues in the park, which can get pretty bad on summer and fall weekends.
Another way to get around parking and traffic hassles is taking advantage of the park's shuttle system. This service connects key destinations and trailheads throughout the park, such as Bear Lake and Moraine Park.
You do need to make shuttle reservations for everyone in your party, but it's only $2.00 for up to four riders. You can catch the shuttle as early as 6:30 a.m., and the last ride is at 7:00 p.m.
Best time to visit Rocky Mountain National Park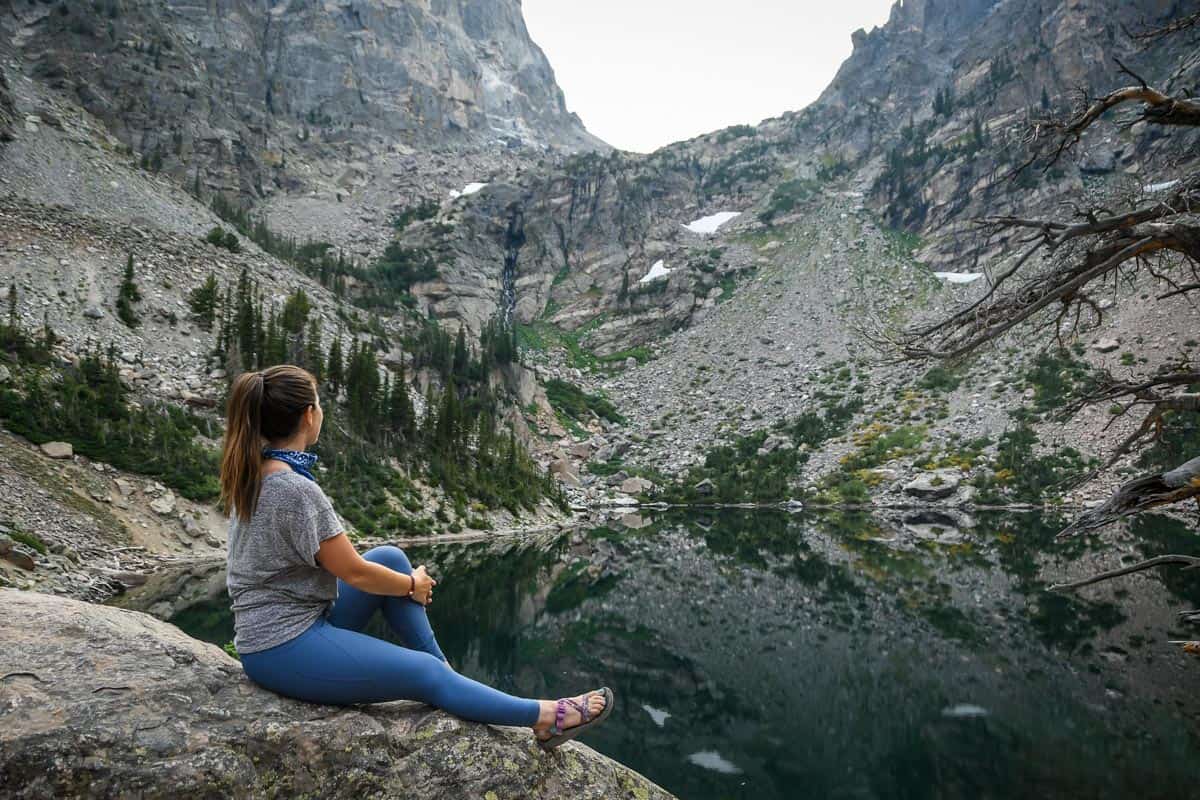 Rocky Mountain National Park sees its peak influx of visitors between June and September. As with most parks, the best time to visit RMNP coincides with the busiest time, but we recommend making a summer trip nonetheless, to avoid heavy snow and take advantage of amazing hiking trails that may be inaccessible in the winter.
Alternatively, if snow actually is your thing, you can don a pair of snowshoes or skis and visit the park from October through May.
Rocky Mountain National Park is open 24/7, so get here early for the best chances of beating the crowds and getting shuttle seats (May through October).
No matter when you visit, pack plenty of water, sunscreen, and layers because many trails are fully exposed to the elements. Yes, this applies even in winter — Colorado's high altitude and high UV index mean you can absolutely get sunburnt, even in the winter or on cloudy days.
Psst! Did you know RMNP is one of the best national parks to visit in winter?
America the Beautiful Annual Park Pass

If you're planning to visit more than one of the U.S. National Parks, we'd highly encourage you to look into getting an annual park pass. At $30 per vehicle, entering RMNP along with other national parks in the U.S. can be expensive.
For just $80 per year, you can purchase the America the Beautiful park pass. This pass grants you free access to all of the national parks. Plus it also covers your entrance to over 2,000 natural, historical, and recreational sites across the United States.
If you still need convincing, check out our article: America the Beautiful Annual Park Pass: Is it Worthwhile?
Psst! Check out some of our other favorite national parks on the west coast & Western U.S. that make great hiking destinations.

Best day hikes in Rocky Mountain National Park
While there are tons of hiking opportunities in the park, we've narrowed down our top picks for the best hikes in Rocky Mountain National Park to add to your itinerary.
1. Bear Lake Trail
We can't promise you'll see an actual bear, but you'll quickly see why scenic, easygoing Bear Lake Trail is one of the best hikes in Rocky Mountain NationalPark.
The quick loop cuts through a dense aspen forest and swings around the lake. The eastern side of the trail offers up views of 12,718-foot Hallett Peak, while Half Mountain, only slightly shorter at 11,482 feet, appears as you enter the northern portion of the trail.
2. Dream Lake Trail
Dream Lake is only a two-mile hike, but has some of the dreamiest views in the park. Start at Bear Lake Trailhead and continue past Bear Lake. Magical Nymph Lake is your first stop, where in the summer, you'll see tons of blooming lily pads.
Half a mile after Nymph Lake, you'll reach pristine Dream Lake and a trail junction. Enjoy the lake and turn back, or continue to Emerald Lake (also on our list!) or Lake Haiyaha.
Note that Dream Lake is one of the busiest hikes in RMNP. We recommend arriving early and taking the shuttle.
Psst! Check out some of the other best hikes near Denver on our list!
3. Sprague Lake Trail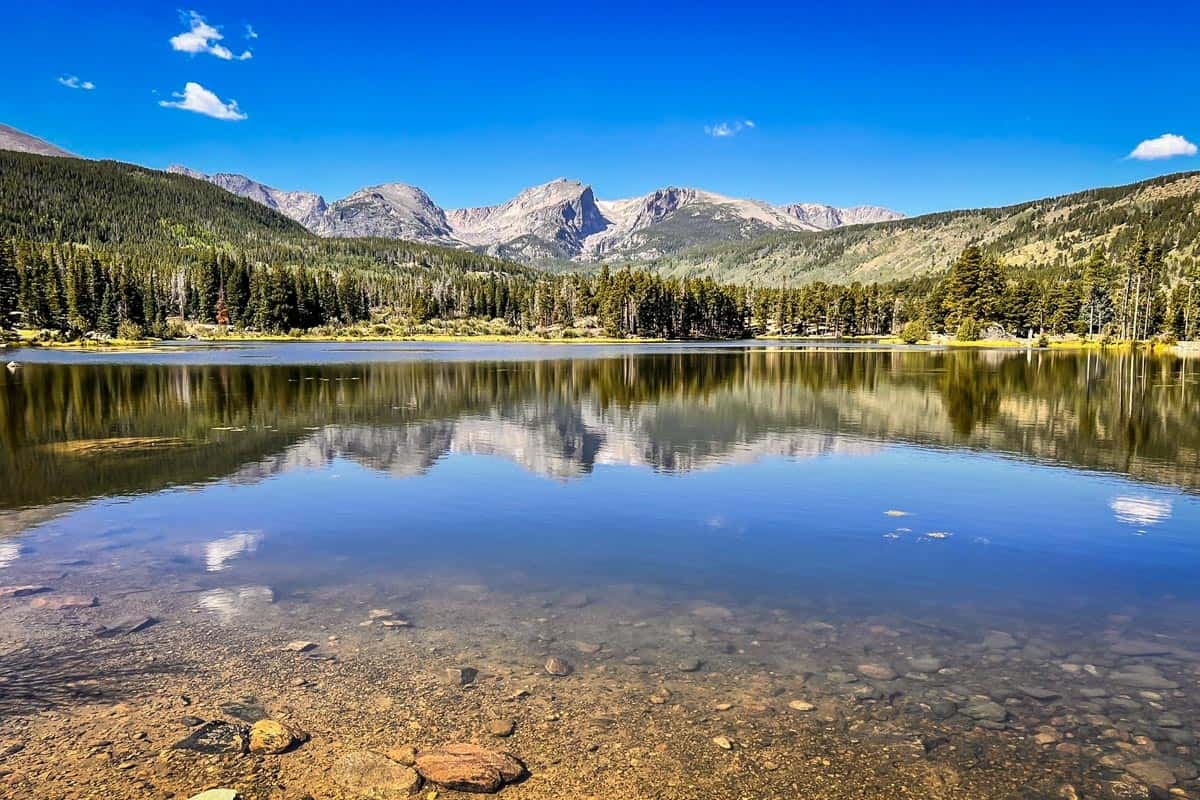 Sprague Lake offers iconic Rockies views in a short, flat trail, making it one of the best hikes in Rocky Mountain National Park. It's ideal for families, photo ops, and days when you want to squeeze in one more quick hike, and it's stroller- and wheelchair-friendly.
This is one of the park's best trails for fall leaf-peeping and wildlife spotting. The bridge you cross is also a trout spawning area, so take a few minutes and look into the water!
4. Adams Falls Trail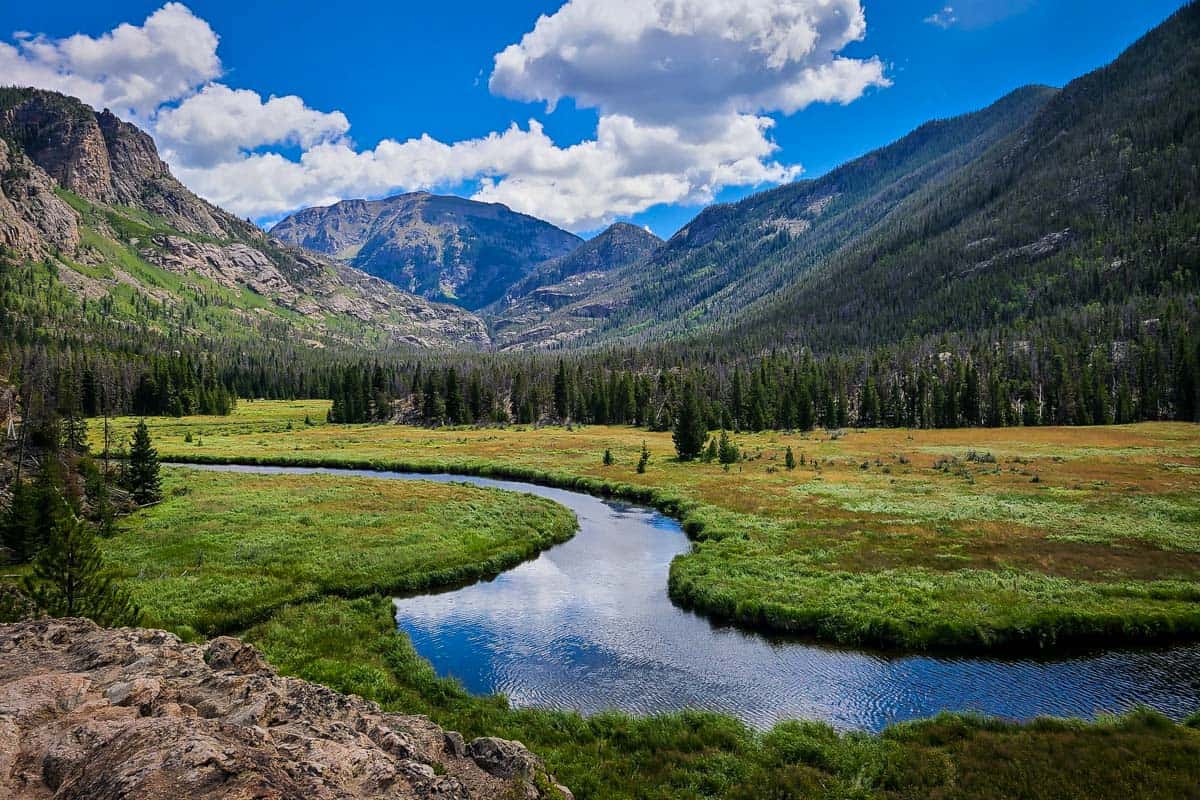 Adams Falls is more of a leisurely walk than a true hike, so it's perfect for kiddos or others in your party who may struggle with a tougher trail.
On this short trail, hikers are treated to views of 55-foot Adams Falls, as well as Grand Lake. Be aware that because of its easy-going nature, Adams Falls attracts heavier crowds, so be prepared to share the trail.
5. Cascade Falls Trail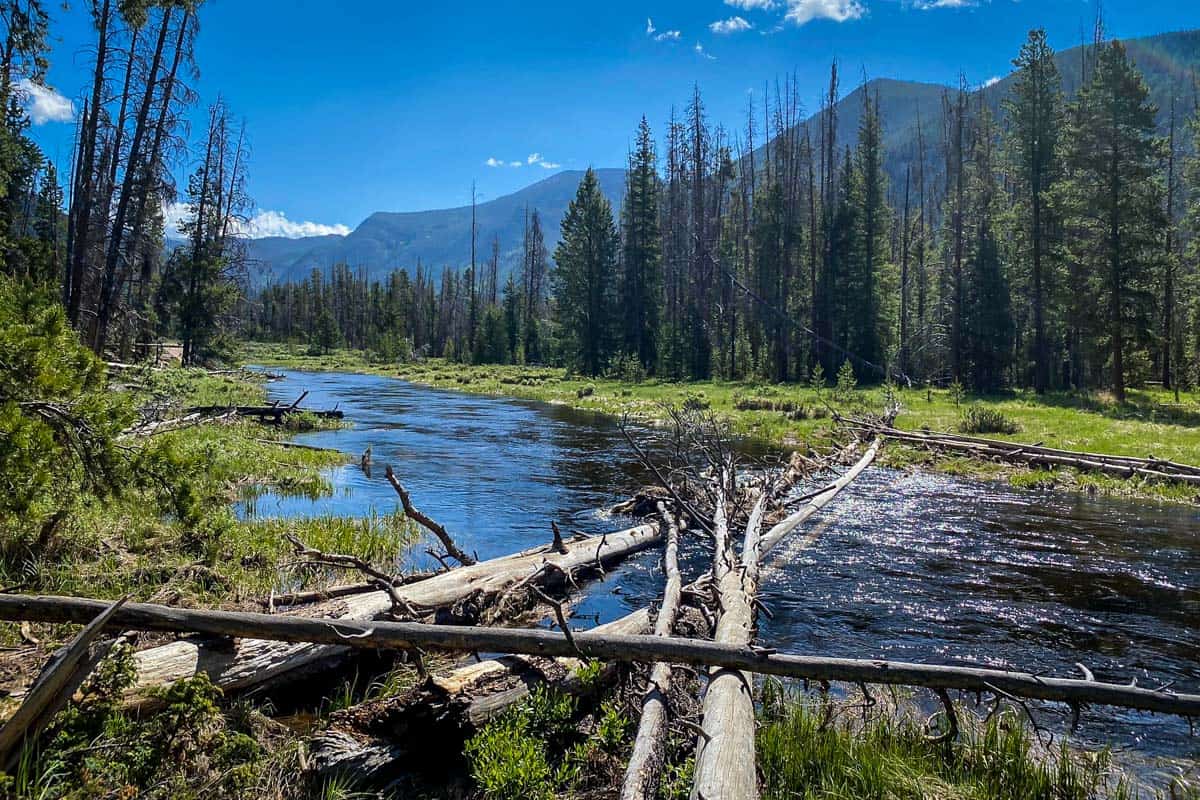 Tucked in a quiet section of the park, Cascade Falls is one of the best hikes in Rocky Mountain National Park. Rather than towering peaks, this trail offers a tranquil valley, creek, and the namesake falls.
Three miles in, you'll hear rushing water. After climbing a stone staircase, you'll be greeted with the picturesque cascade tumbling. Keep your eyes open for ripe raspberries in late summer and early fall — and wildlife who enjoy feasting on them!
6. Emerald Lake Trail
You'll start Emerald Lake Trail by way of the Bear Lake and Dream Lake trails, then ascend another mile through pristine alpine forest, full of rocky peaks and excellent views.
Continue on through spectacular Tyndall Gorge and pass Tyndall Creek. You're close to Emerald Lake when you spot iconic Flattop Mountain towering above. For a full day on the trail, head back to Dream Lake, then swing a left to Lake Haiyaha.
7. Gem Lake Trail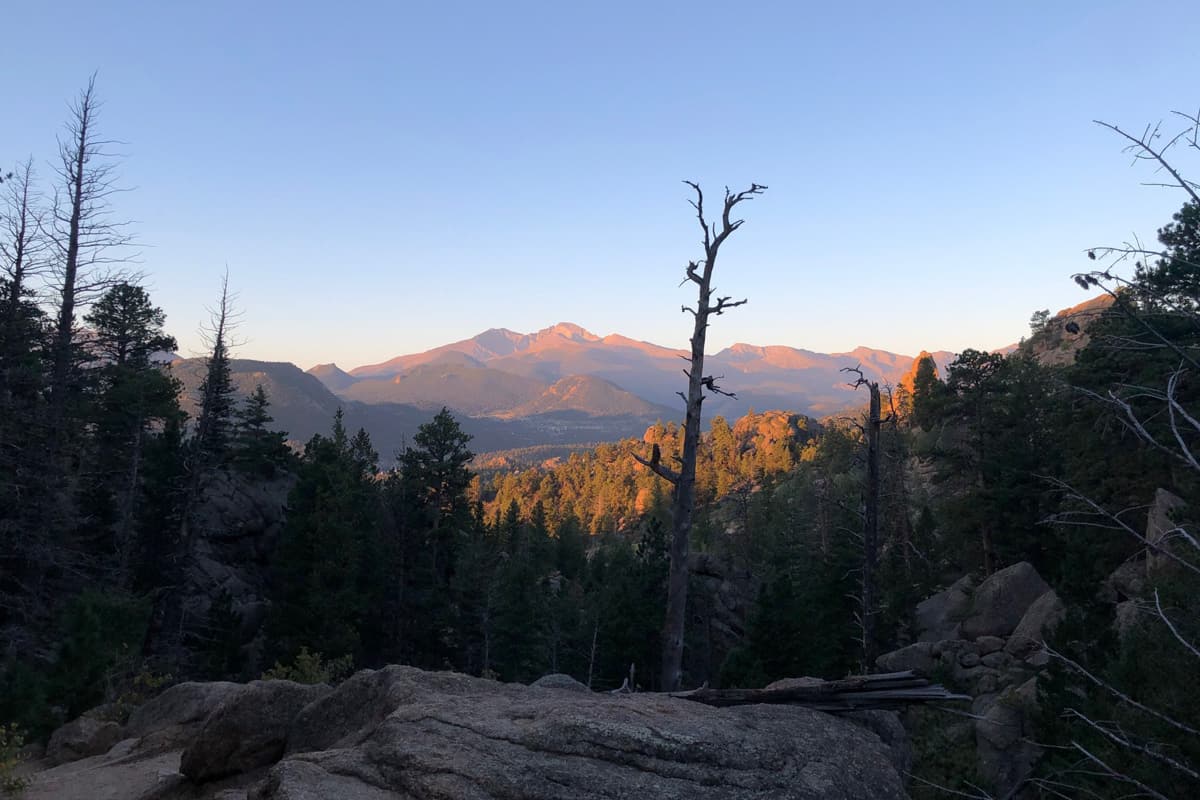 Start this hike from the Lumpy Ridge Trailhead in Estes Park (a much less-trafficked trail, one of the reasons this is one of the best hikes in Rocky Mountain National Park!) making your way to the main trail in the park. Along the way, don't miss the distinct Twin Owls Rock formation and Longs Peak, the park's only 14er.
Fascinatingly, Gem Lake has no inlets or outlets, so it's filled solely by rainfall and snowmelt!
8. Bierstadt Lake Loop Trail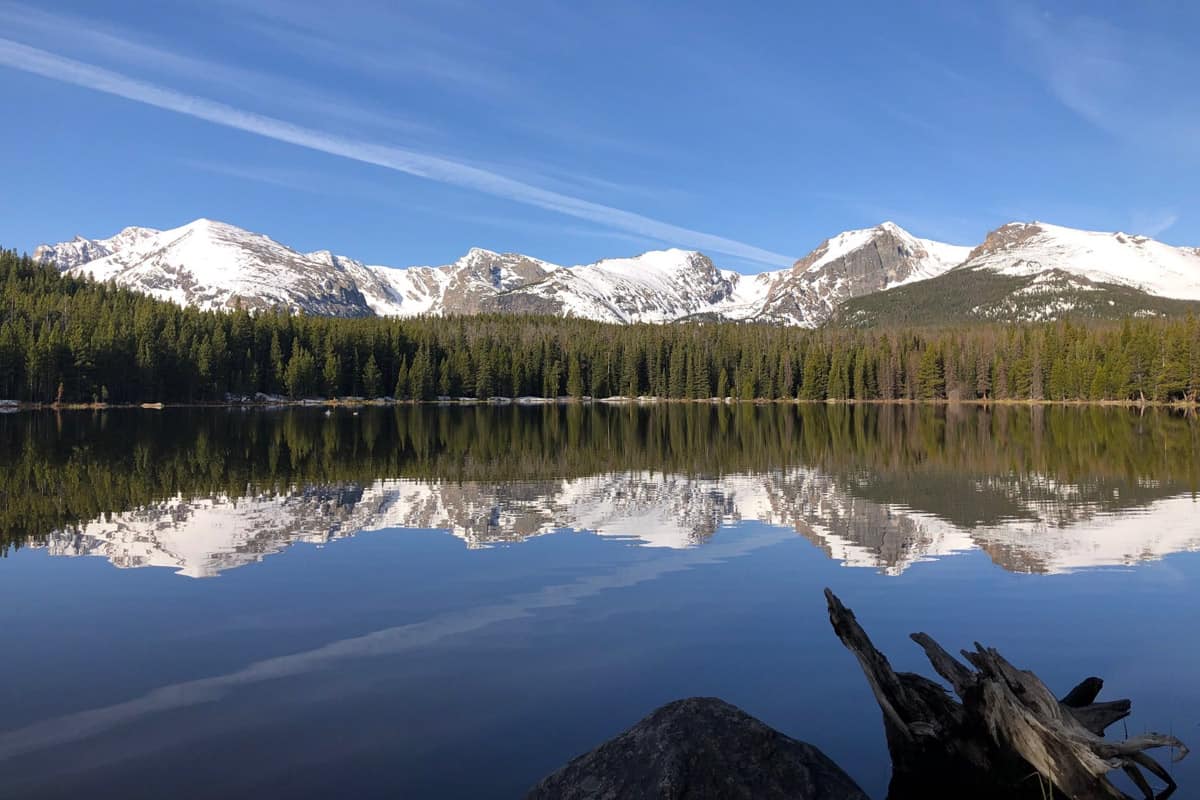 Bierstadt Lake Loop Trail is an excellent trek for casual climbers who want beautiful views without a grueling path to reach them, and also provides a perfect workout for days when you don't have time for a longer hike.
The first mile involves a set of fairly steep switchbacks, but once you tackle those, the trail levels out. At Bierstadt Lake, taking a loop around adds 8/10 of a mile to the total distance.
9. Cub Lake Loop Trail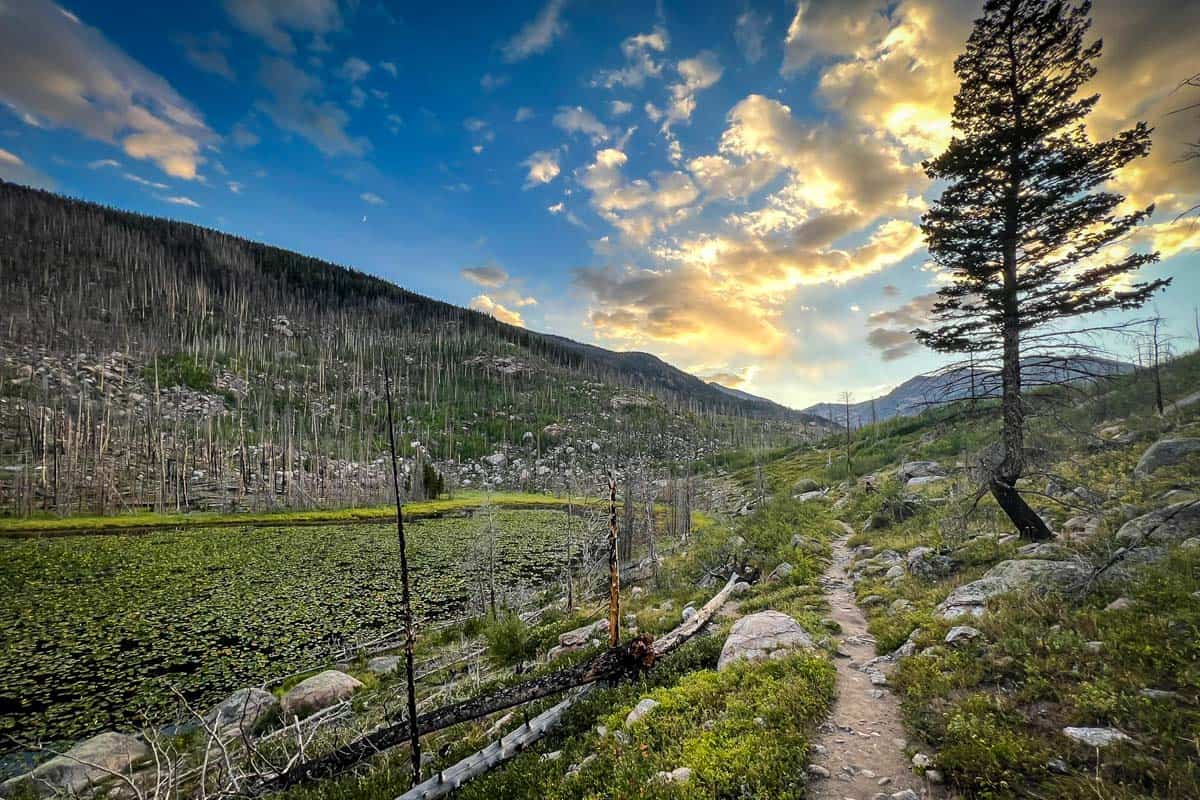 Cub Lake Loop Trail doesn't get nearly as crowded as some others in Rocky Mountain National Park, so it's a good choice if you're looking for some solitude.
From Fern Lake Road, start the journey with a few steep sections as you pass by moose and elk habitat. Lilies (and mosquitos!) flourish in the lake, and you can get an even better view if you hike up the left side to the lookout point.
Note: there's also an out-and-back trail to Cub Lake. In our opinion, this loop is better because it adds just a bit of distance while giving you fresh scenery the whole time!
10. Rocky Mountain National Park River Trail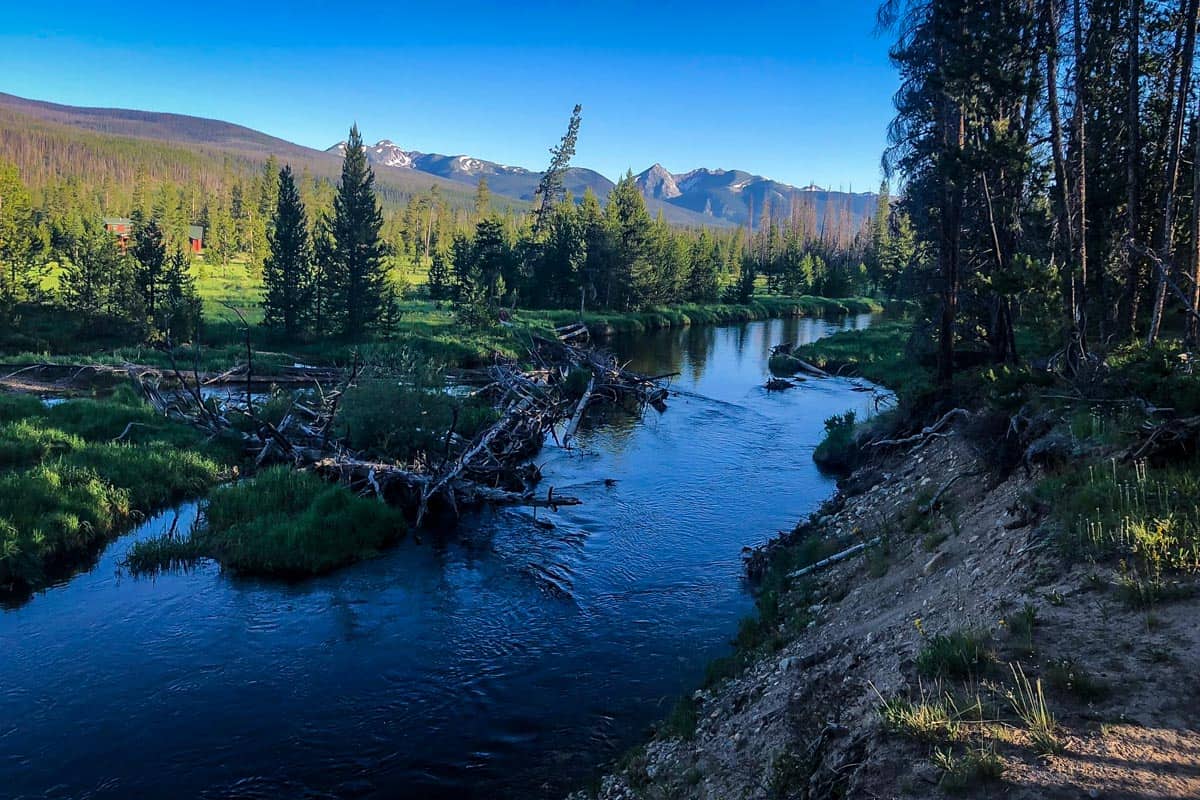 This is the major starting point for most visitors to Rocky Mountain National Park. The river trail stands on its own as a quick out-and-back, but also serves as a connector to many other trails throughout the park.
The trail's meadow is a great spot to encounter elk and moose, and it's also considered one of the best horseback riding trails in RMNP (watch your step!).
11. Deer Mountain Trail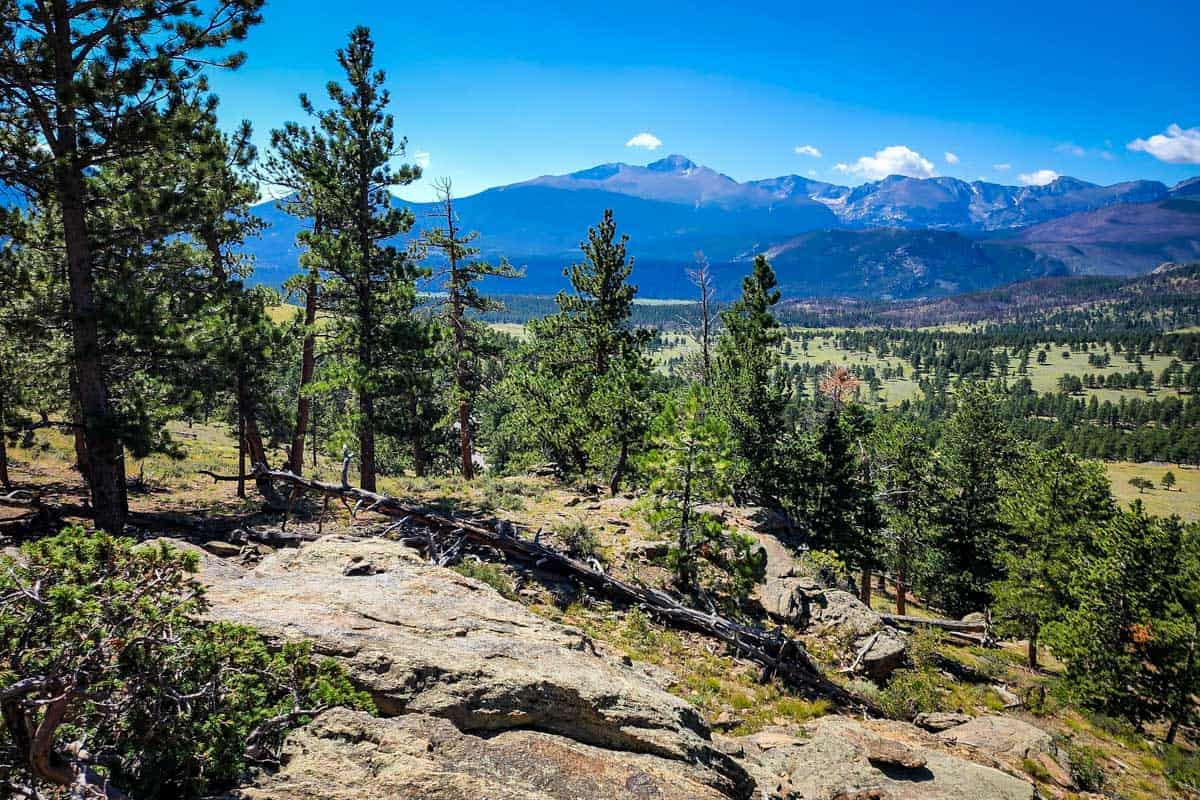 This trail offers some of the best sweeping views in RMNP, and the climb to reach them isn't bad at all. The elevation gain is nicely spread out over the route, kept manageable via a series of switchbacks.
The big push comes toward the end, when the trail deceives by dipping downhill briefly before one steep final climb to the summit. Once you're there, explore all the spur trails for different views, including Longs Peak and Estes Park.
12. Chasm Lake Trail
Breathtaking almost doesn't do Chasm Lake justice when it comes to describing the tough trek's scenic views. The initial 3-mile stretch is by far the most crowded (and challenging!) of the entire trail, so be sure to get there very early to beat the crowds.
Once you hit Chasm Lake Trail, things get a bit easier. Enjoy views of Longs Peak and Columbine Falls as you traverse the rock trail and boulder field, following cairns to the lake.
13. Twin Sisters Peak Trail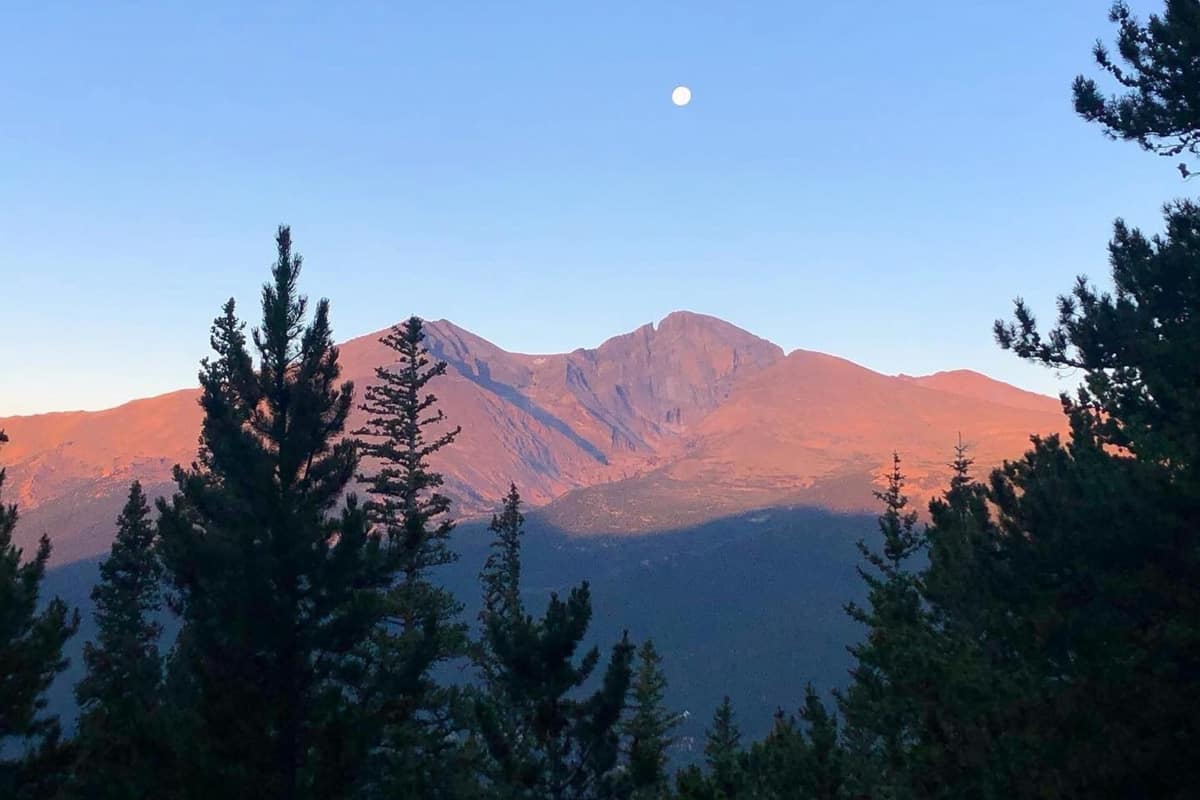 If you're looking for a slightly off-the-beaten-path trail, Twin Sisters Peak is one of the best hikes in Rocky Mountain National Park. It's on the very edge of the park and part of the trail isn't within park boundaries at all, so crowds are substantially lighter.
The main draws are the views of Longs Peak and a cleared-out area where a landslide caused a lot of destruction. Three miles in, you rise above treeline and enjoy fantastic views of countless surrounding peaks.
14. Black Lake Trail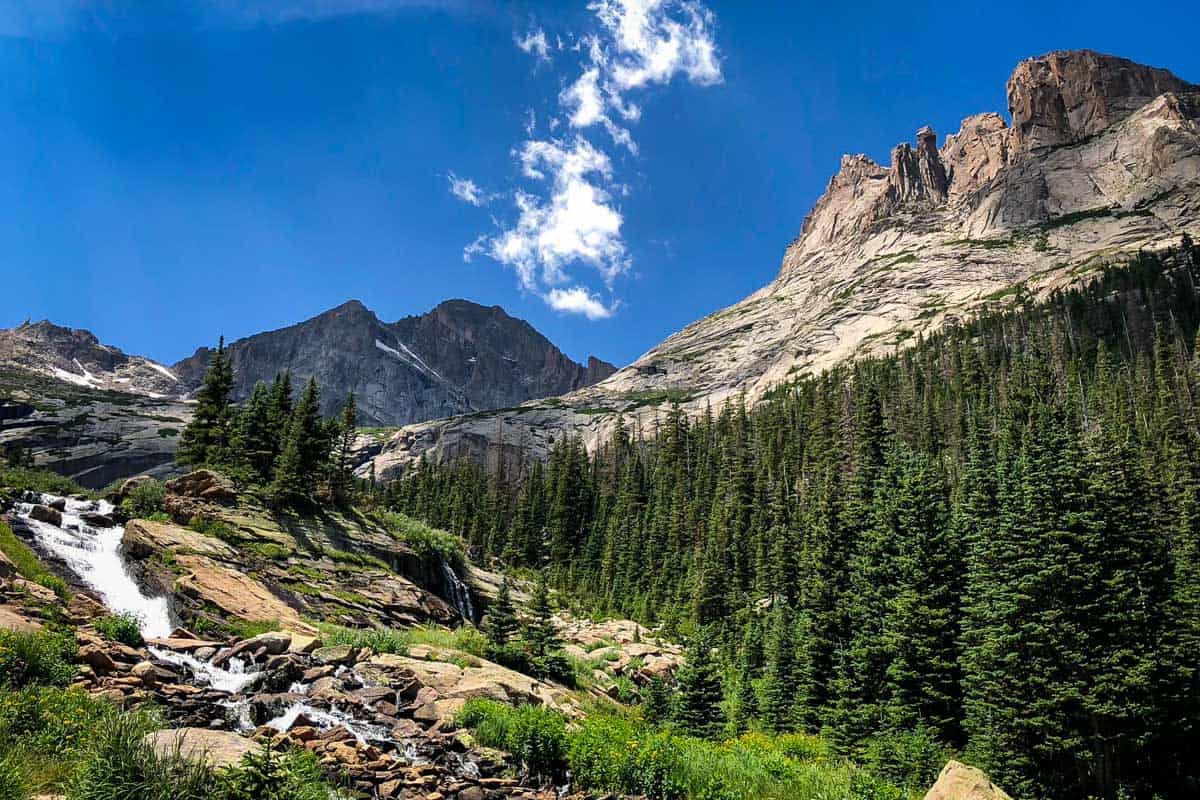 Black Lake Trail is best for those looking for an allll day hike. Nearly 10 miles, it's a long but worthwhile trek starting from either the Bear Lake or Glacier Gorge parking lot.
You'll pass Alberta Falls at the one mile mark, then Glacier Gorge. Another few miles and several lakes and rugged peaks later, you'll arrive at Black Lake. For an even bigger high alpine adventure, continue on to Blue Lake or Frozen Lake.
15. Flattop Mountain Trail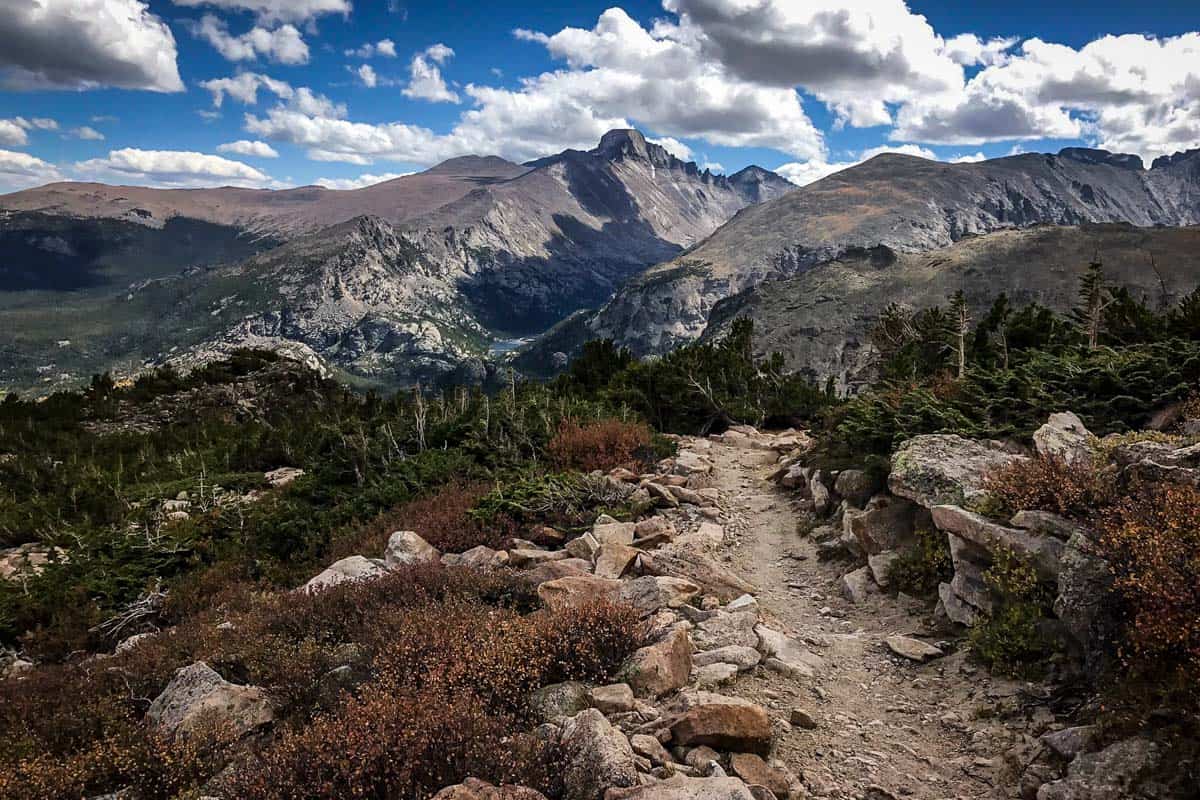 Flattop Mountain Trail presents one of the most challenging hikes in Rocky Mountain National Park. Start at Bear Lake Trailhead and continue until the trail becomes tricky to follow. Pay attention to the brightly-colored bands on trees to stay on the path!
Enjoy views of Dream Lake and Hallet Peak en route, and once you reach the summit, you'll be standing directly on the Continental Divide! From here, you can continue onto Tyndall Glacier or Hallet Peak.

What to pack for hiking at Rocky Mountain National Park
Although hikes at RMNP vary tremendously and there are plenty of accessible trails, you'll still want to have some key items in your pack.


You may also like…
Save this article on Pinterest for later!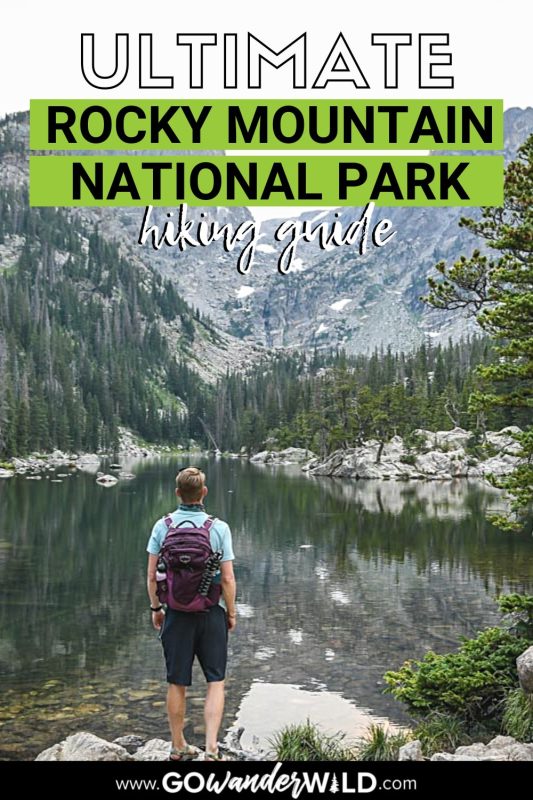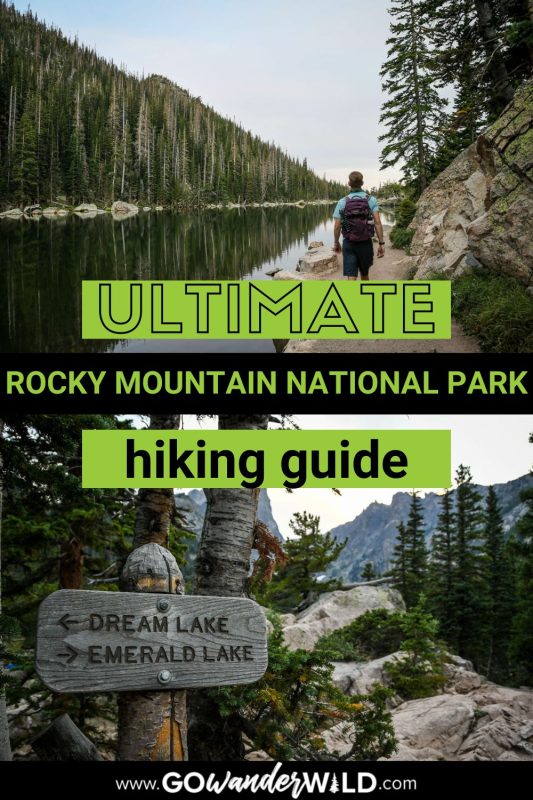 We want to hear from you!
Have you done any of the hikes in Rocky Mountain National Park on this list? What was your experience like? Are you planning a trip to the Rockies and want more advice? Comment below and let us know!