Olympic National Park beaches are uniquely rugged and undeveloped. From dramatic sea stacks to places you can camp overnight, we've highlighted the park's most noteworthy beaches.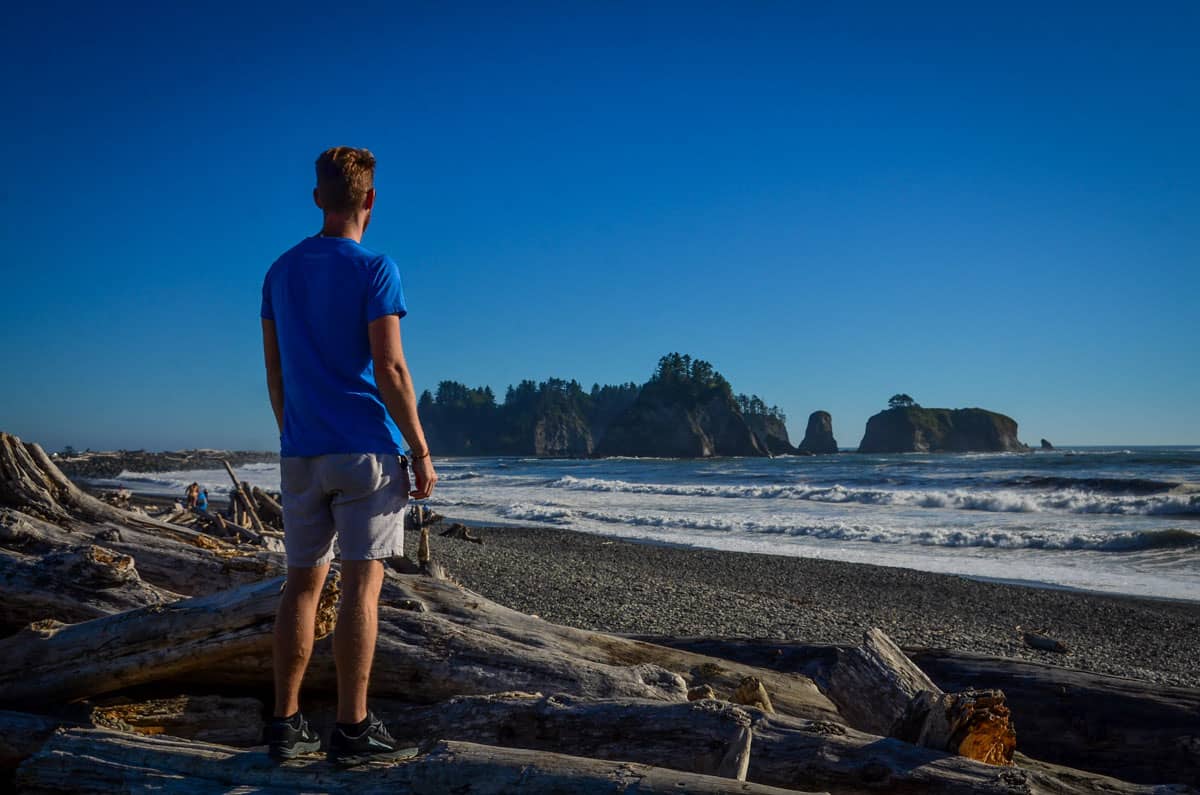 The coastline in the far northwestern US doesn't exactly check the typical boxes for a quintessential beach getaway. This is exactly why it's so alluring.
Olympic National Park Beaches beautifully showcase Mother Nature's grandeur. Dramatic mountain ranges paint the backdrop for rugged driftwood-strewn beaches. With quickly-changing weather conditions, you'll find the water is cold year-round attracting rare marine life including orcas.
Tucked away in a remote section of Washington, Seattle is a 3-to-4-hour drive from the national park, and there are few towns along the coast.
Combined with the fact that most of the beaches are only accessible via hiking, it really amplifies their unspoiled, undeveloped nature. Unlike many other beach destinations, it's easy to find a spot all to yourself here!
Between the remoteness and there being just a handful of accommodations in the park, camping is the best way to experience its coastal sections.
Both developed and dispersed campsites are abundant on most beaches. Just make sure to obtain a wilderness camping permit and bring appropriate supplies, including rain gear and a bear canister (just as much for raccoons as bears!)!
Each of the beaches in Olympic National Park offers something slightly different. While one has more whale sightings, another has dramatic views and another is known for its driftwood. We recommend visiting (at least!) a few, and to help you do exactly that.
In this article, we've rounded up the best Olympic National Park beaches to help you decide which to visit first.

1. Shi Shi Beach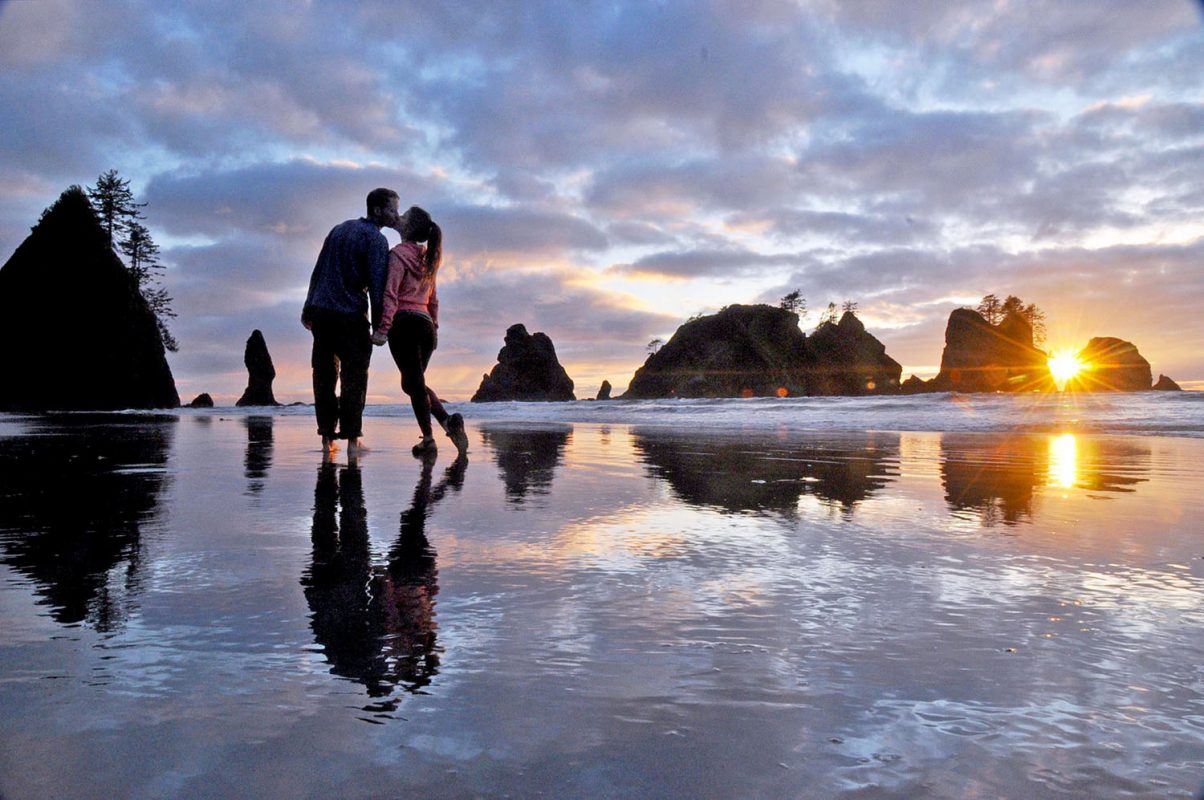 One of the most stunning Olympic National Park Beaches, Shi Shi takes some serious effort to reach – requiring extra driving and a hike.
The reward is well worth it: more than two miles of wide sandy beach, abundant sea stacks, and dramatic cliffs.
Since Shi Shi Beach is on tribal land, it's necessary to purchase a Makah Reservation Permit to park at the trailhead. From there, it's a two-mile hike to the beach. Note that while the trail is relatively flat, it often gets exceptionally muddy.
Once at the beach, hike the whole length to the Point of Arches. This southernmost tip is filled with natural tunnels, tidal pools, and rock formations, perfect for exploring and a sunset photo-op! Keep in mind you need low tide to explore tidal pools.
Shi Shi Beach is excellent for camping, with three campgrounds and dispersed sites dotting the coastline. Campfires are allowed, and there's usually abundant driftwood available. We have a complete guide to camping on Shi Shi Beach on our sister site.
2. Ruby Beach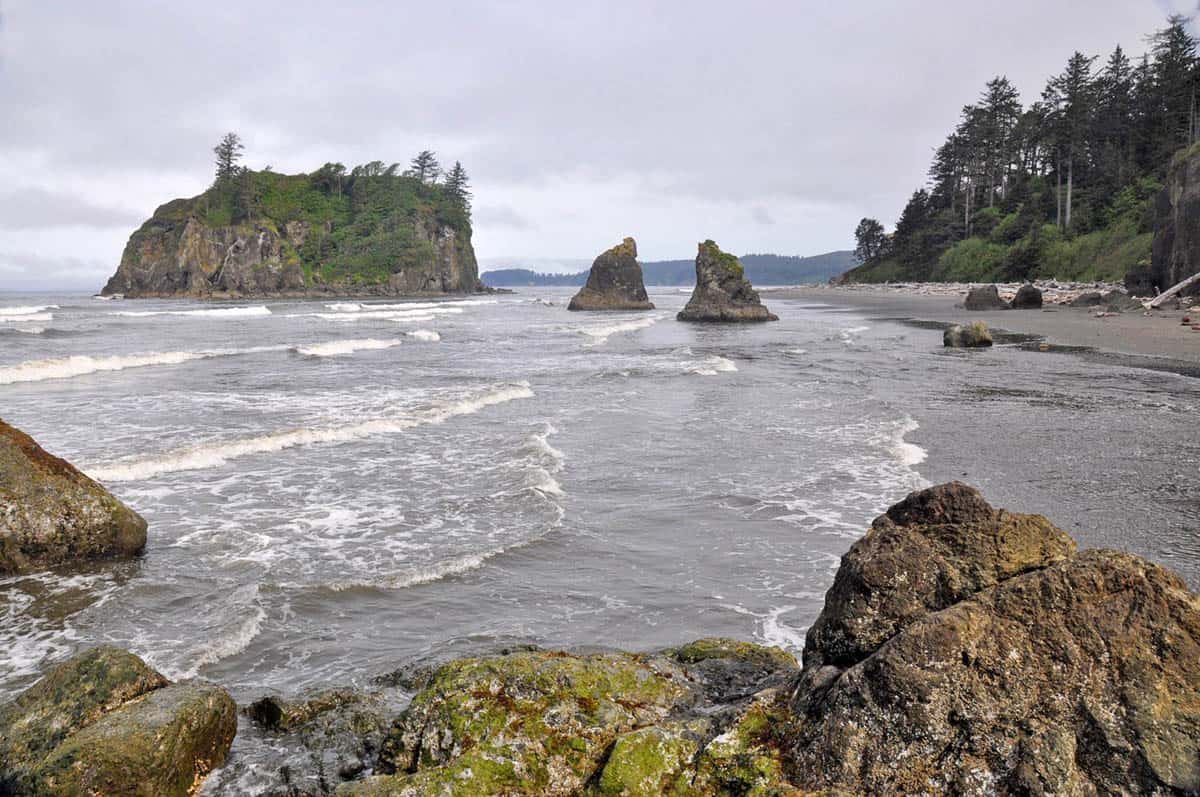 The most iconic of all Olympic National Park beaches, Ruby is pictured on brochures and postcards for good reason. Defined by enormous driftwood, chiseled sea stacks, and fortress-like islands, this beach perfectly encapsulates the rugged beauty of the PNW coastline.
Ruby's location along Highway 101 also makes it easy to combine with other Olympic Peninsula attractions. Consider it for sunset after exploring the Hoh Rainforest, just under an hour away!
From the parking lot, it's a short walk to the shore after passing shallow Cedar Creek near the entrance, which is perfect for getting your feet wet.
However, take care to stay away from the ocean swells here, as rip tides are particularly dangerous near Ruby Beach. Instead, simply sit on a log and take in the spectacular beauty or walk along the shore.
3. Kalaloch Beach (Tree of Life)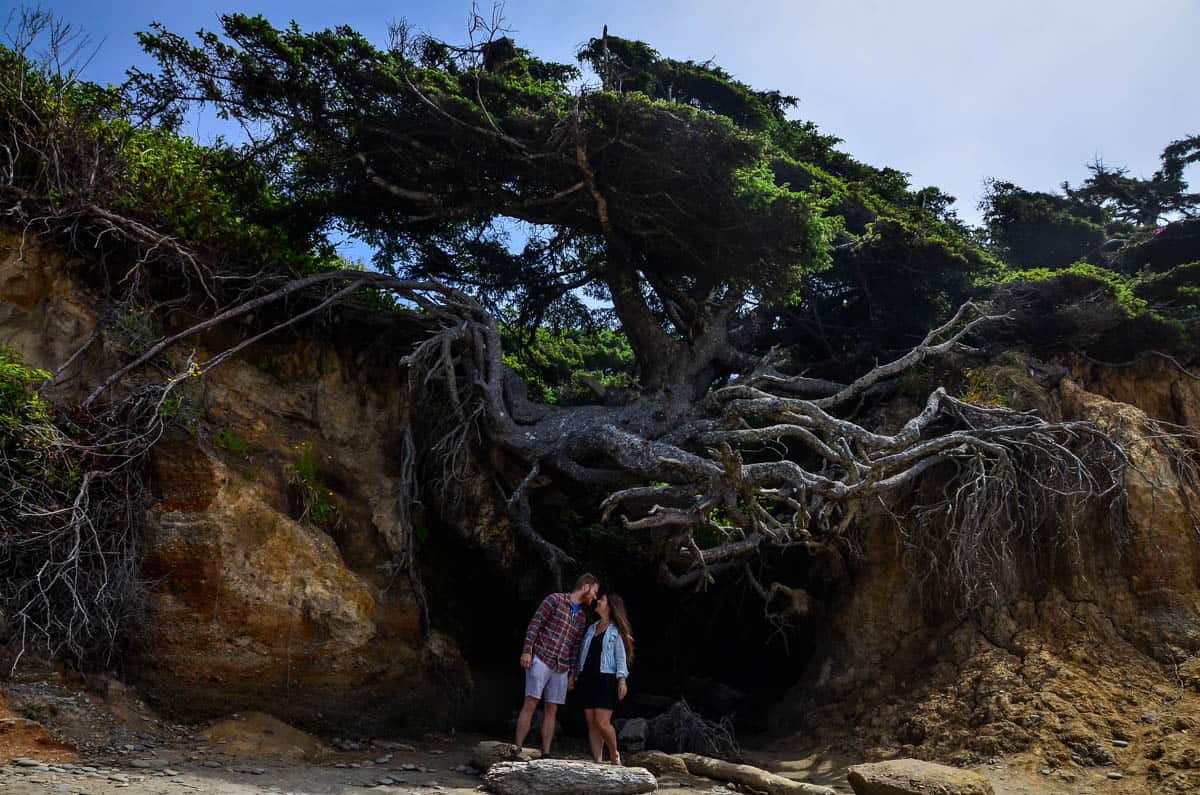 In Olympic National Park, there are literally thousands of trees of all types, shapes, and sizes. Yet none compare to the Tree of Life.
This large Sitka spruce is miraculously suspended between two cliffs at one of the Kalaloch Beaches, its web-like root system completely exposed yet somehow holding on from both sides. Right near the Kalaloch Lodge just north of the ranger station, this wonder is a must on any Olympic National Park itinerary.
The spruce's height and trunk are both hefty, suggesting the tree's collapse is imminent. However, it keeps clinging, year after year, with a stream perpetually flowing and eroding the sand underneath.
There's even a cave-like hollow underneath the tree, affectionately called the Tree Root Cave, adding further drama to the scenery.
4. Rialto Beach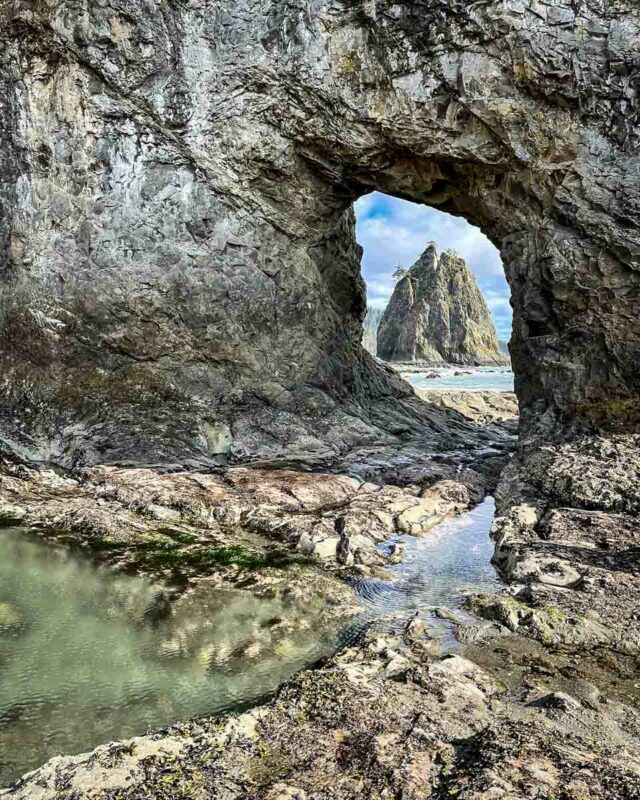 Easily accessible, large, and scenic, Rialto Beach is popular for good reason. Especially on sunny weekends, this beach attracts families, picnickers, and even surfers, lending it a more traditional coastal vibe.
While it may seem packed near the entrance, don't worry about overcrowding because Rialto Beach is spacious. Approximately 1.5 miles long, it's a wide stretch of sand and rocks with plenty of driftwood and small tidal pools.
The sea stacks are especially dramatic in this area, with both tall, slender towers and monolithic islands. To take in the full beauty of Rialto Beach, hike 1.5 miles north, where there's a rock archway known as Hole-in-the-Wall.
As with some other Olympic National Park beaches, there are several dispersed campsites throughout the woods next to the beach.
5. La Push – First Beach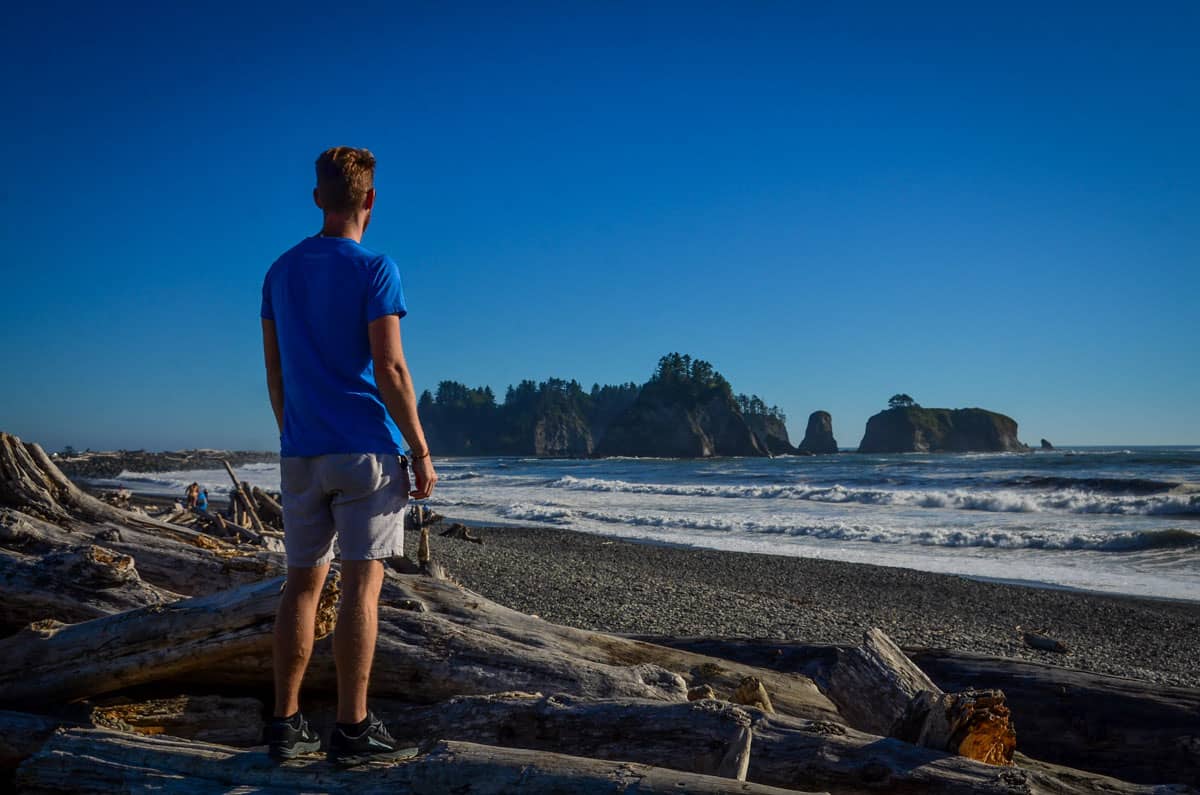 If the sea stacks of First Beach look a bit familiar, perhaps you recognize them from the Twilight series. This was where werewolf Jacob frequently went surfing!
First Beach is still a popular surf spot, thanks to the calm swell and easy access. Unlike many other Olympic National Park beaches, you can drive right up to First Beach! It's also a great spot for watching surfers, with enormous driftwood logs to sit on.
Located outside official park boundaries, crescent-shaped First Beach is administered by the Quileute Tribe. Because of this, it's extremely important to obey all signage and be aware of your surroundings — some areas are sacred and strictly off-limits to visitors.
Right next to First Beach, the small town of La Push has a gorgeous riverside restaurant and general store. Visitors can also stay in a rustic beachfront cabin at the Quileute Oceanside Resort, a rarity in Olympic National Park.
6. La Push – Second Beach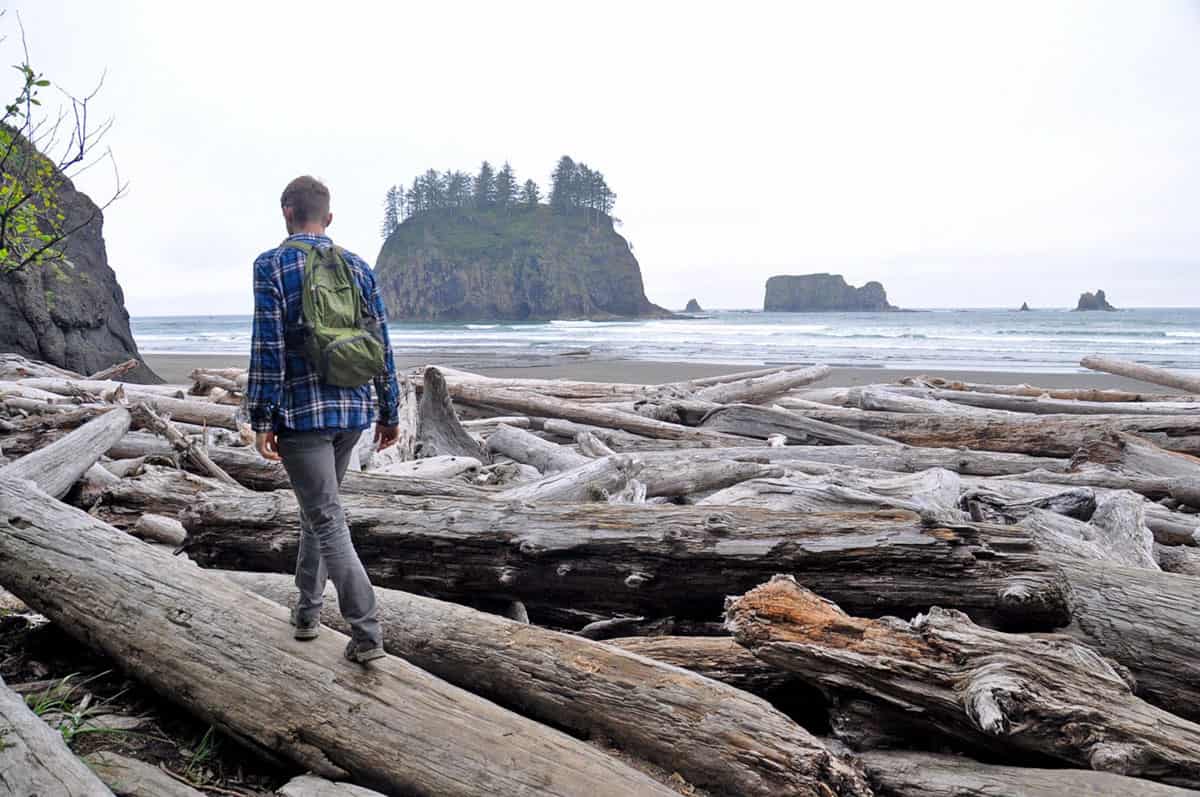 Just south of La Push Village, Second Beach is widely considered one of the most spectacular Olympic National Park beaches. It's also one of the quietest!
Second Beach is secluded, tucked between two impassable headlands and accessible only by a 1.4-mile round-trip hike through coastal rainforest. It first ascends slightly and then descends dramatically down to the beach.
Once you reach the picture-perfect shore, you'll be greeted with towering sea stacks in one direction and in the other, Quateata Arch, a natural sandstone arch. Listen to the wind make howling sounds as it passes through the arch!
You can hike to the arch (the entire beach is 1.5 miles between both headlands), but be mindful of tides — you can get stranded near it when the tide comes in!
7. La Push – Third Beach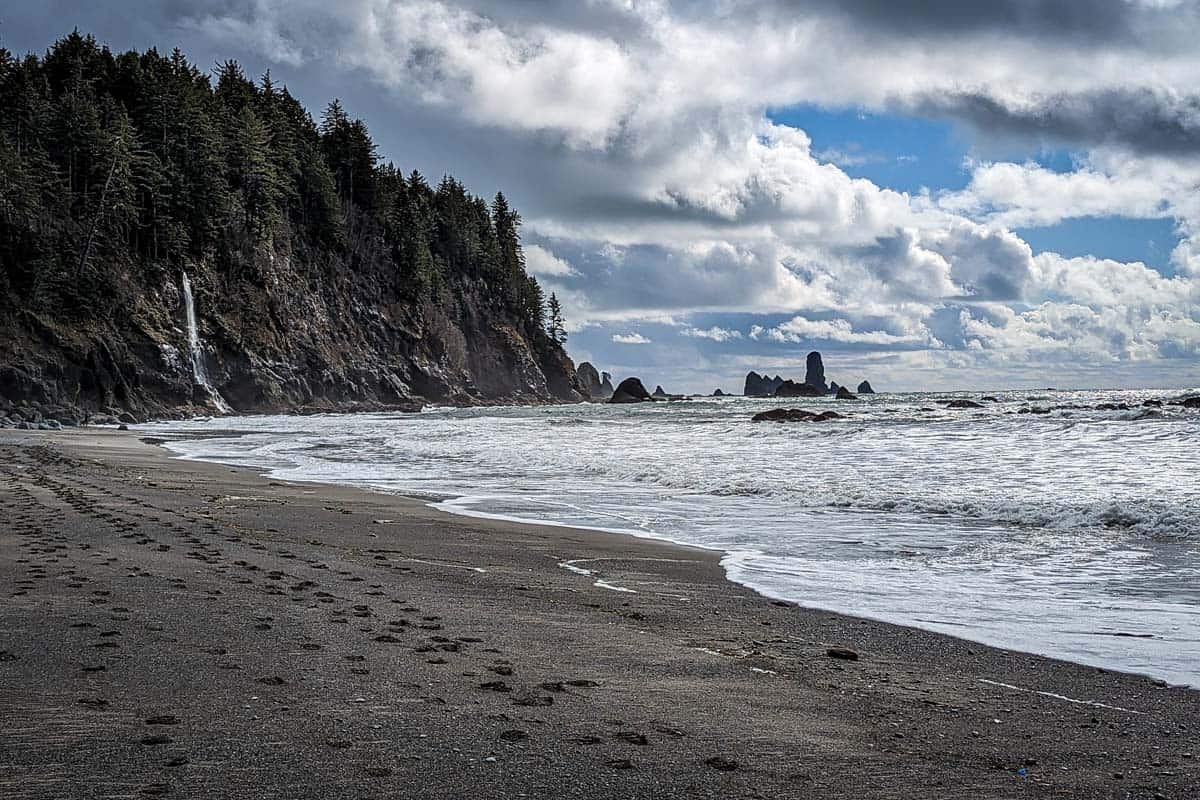 Often cloaked in fog and accessible only with a 1.4-mile hike through a rainforest, Third Beach is often described as hauntingly beautiful.
Most of the hike is flat and easy, but the 200-foot descent down to the beach is nearly vertical and becomes even more challenging after rain.
Once you're on the beach, though, the reward is well worth the effort. There are huge piles of driftwood to navigate around (or over!), and seasonal Strawberry Bay Falls tumbles over a cliff into the ocean at one end of the beach.
Giants Graveyard, a cluster of sea stacks, is also visible in the distance. Especially with crashing waves or on foggy days, the "hauntingly beautiful" description really fits!
Note that the Third Beach parking lot is itty-bitty, and there is no overflow parking available. Get here early, and have a Plan B in mind for killing some time before trying again.
8. Sand Point (Ozette Triangle Hike)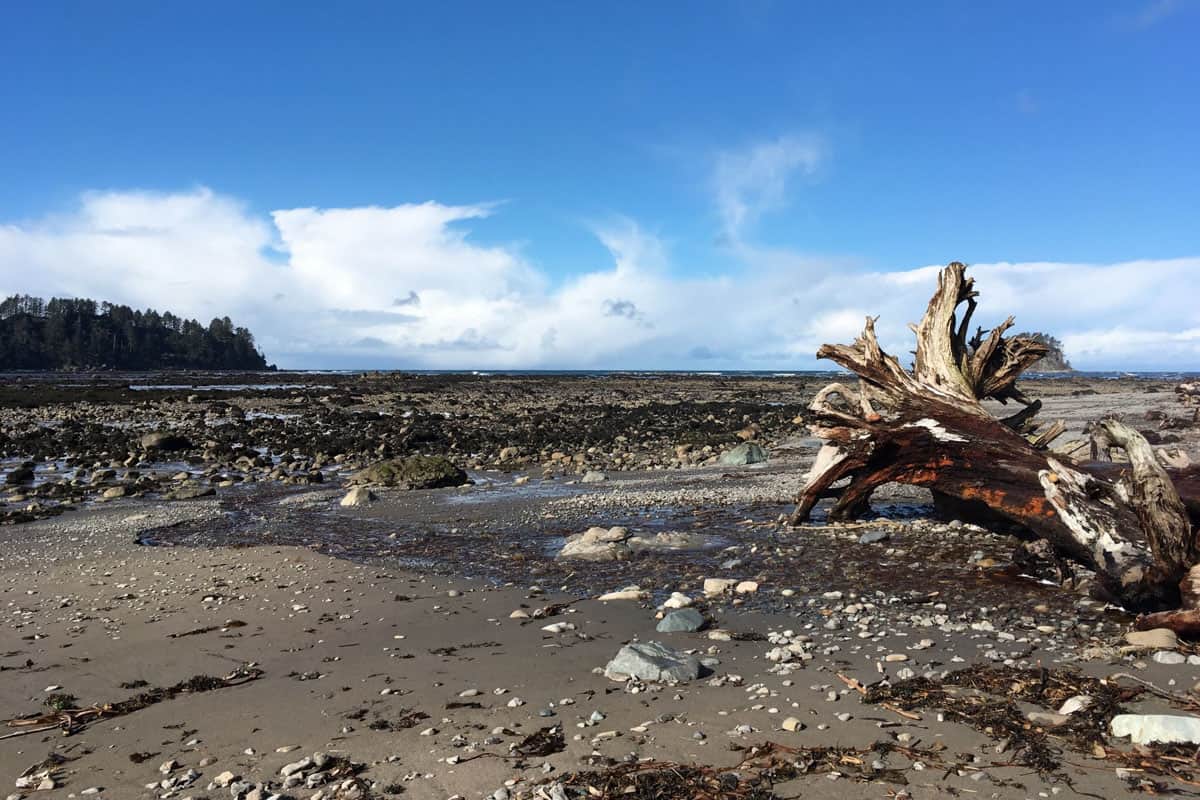 Sand Point is one of the coastal endpoints of the Ozette Triangle – an excellent 9.4-mile Olympic National Park hike.
Interestingly, the major draw of Sand Point is the beautiful hike, not so much the beach itself. Also called the Cape Alava Loop, the Ozette Triangle Hike comprises both forest and sandy beach.
Along the way, you'll encounter Lake Ozette and the Ozette River, several boardwalks, plenty of wildlife, and even ancient petroglyphs.
The beach at Sand Point is considered one of the nicest in the Pacific Northwest, a wide expanse of sand and distant views of green-covered headlands. The water is very shallow and there are often minimal waves, so it's possible to dip your feet in after your hike.
It's possible to wilderness camp at either Sand Point or three miles north at more rocky and rugged Cape Alava.
Psst! We have a round up of the best hikes in Olympic National Park if you want to hit the trails!
9. Kalaloch Beach 1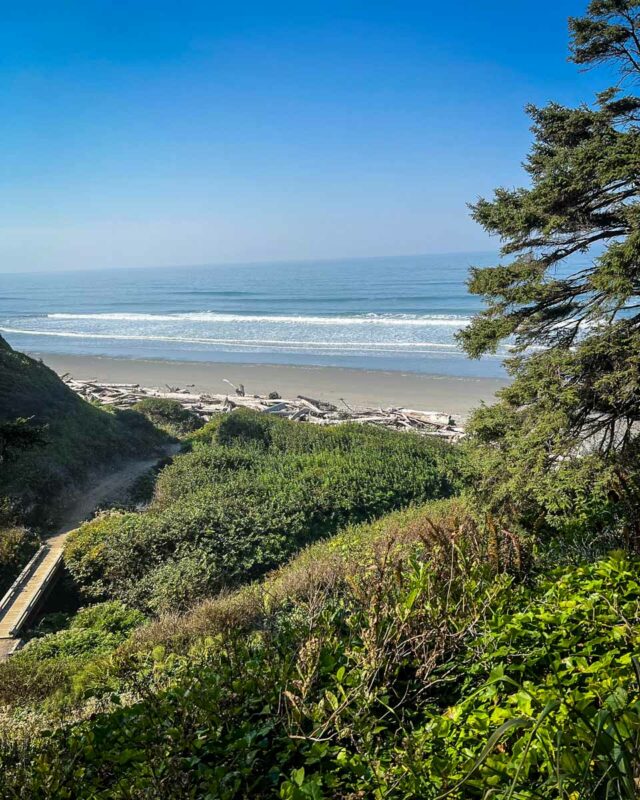 Just up the road from the South Beach campground is the inexplicably less-visited Kalaloch Beach 1. The beach is pristine, wide, and sandy rather than pebbly, and the short, easy hike is beautiful.
The trail down to the beach crosses a stream via a picturesque wooden bridge, and it's surrounded by verdant green scenery. One of the most notable features is the spruce burls, large round knob-like growths on the trees.
This windswept part of the coast accumulates an exceptional amount of driftwood, with large logs that always wash up on the beach. Navigating these is the only tricky part of the trail.
Note that while some smaller pieces may be tempting to grab, remember that doing so is actually illegal.
10. Kalaloch Beach 2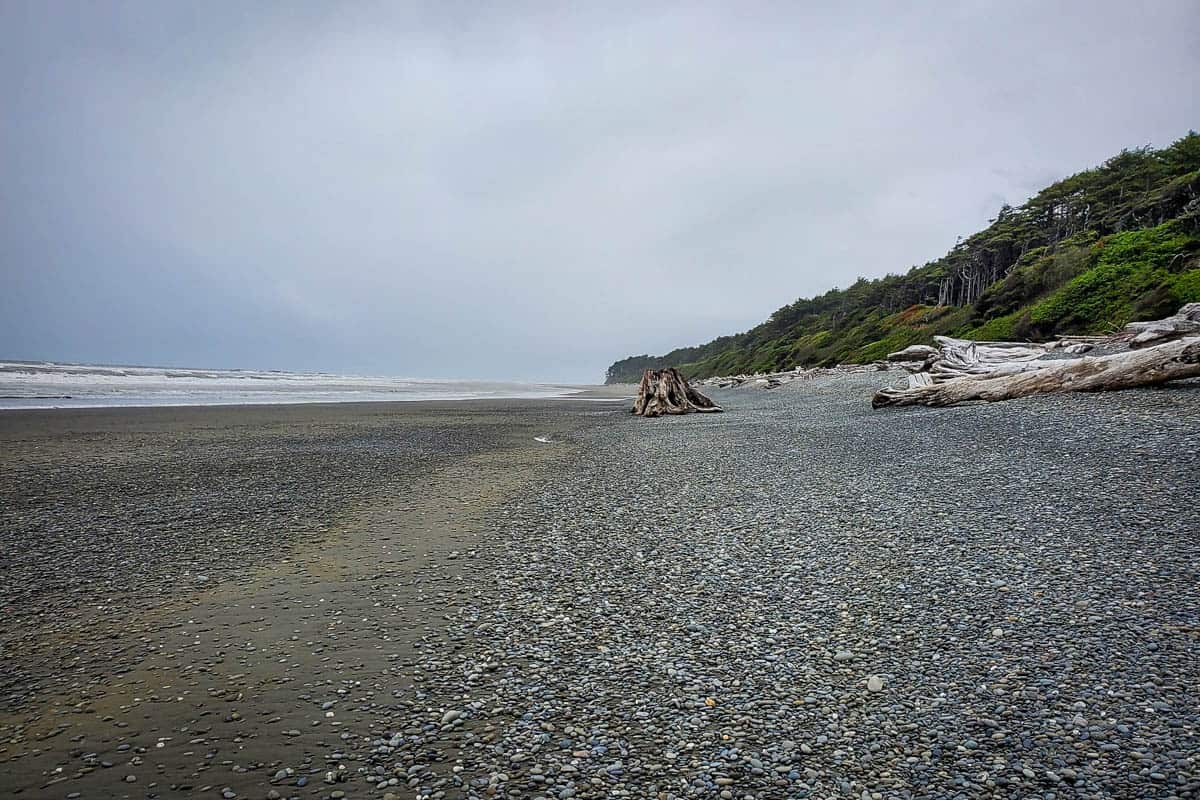 Like Beach 1, Kalaloch Beach 2 has a driftwood-strewn shore. However, this beach is pebble instead of sand.
Beach 2 is also massive and, again, inexplicably never crowded. It's a wonderful spot to bring a picnic, stroll, and beachcomb for hours, and there's an excellent chance you won't encounter another soul!
There's also a stream that flows down to the beach, usually under logs, creating the appearance that it originates underground.
Surrounded by a wall of imposing trees, Beach 2 offers classic Pacific Northwest coastal scenery. While it doesn't have quite the grandeur of other Olympic National Park beaches, the draw here is the seclusion and unusually large size.
11. Kalaloch Beach 3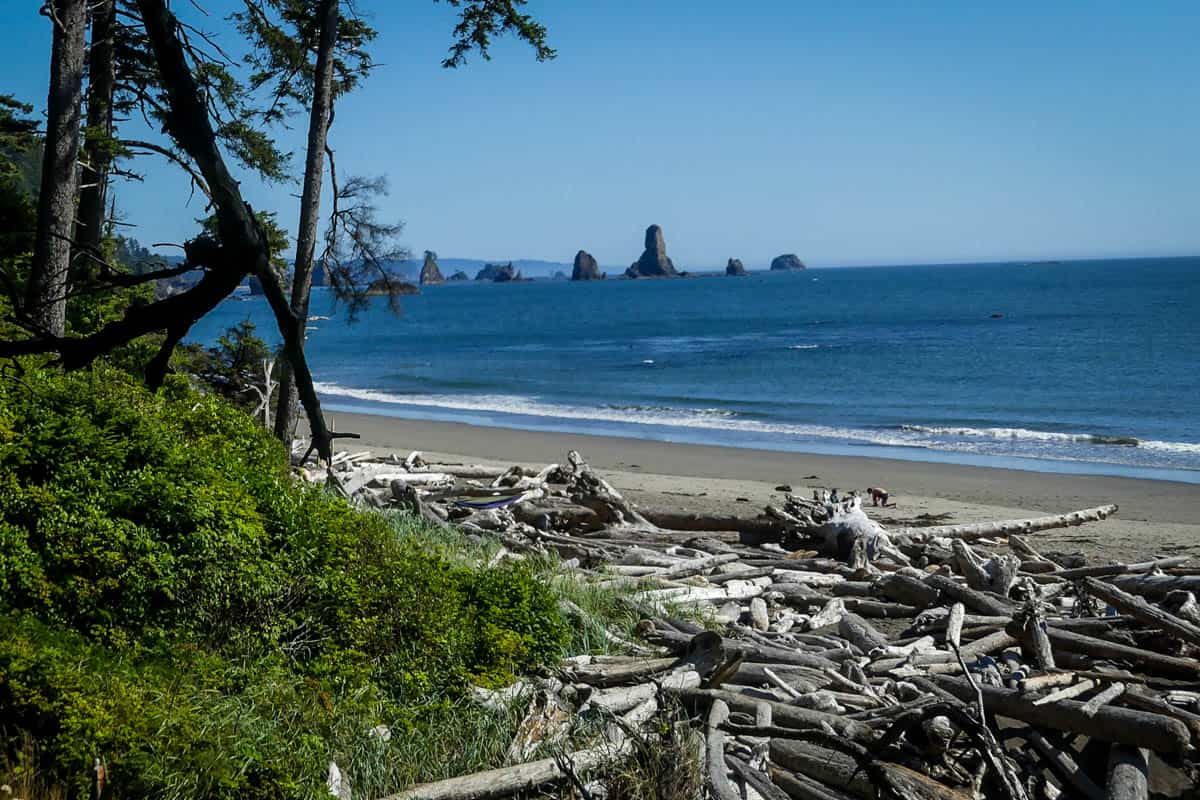 Beach 3 distinguishes itself from other Olympic National Park beaches with abundant marine life. This is one of the best spots along Highway 101 to spot colorful sea anemones, starfish, small crabs, birds, and more, especially when tidepooling.
Remember to practice Leave No Trace, being extra attentive to footing and taking care to avoid damaging any sea life with your steps. Also, check local tide charts before visiting to ensure the pools will be accessible (the best time to explore tide pools is one hour before low tide and one hour after).
The path from the parking lot is very short but steep. To find the tide pools, you'll need to explore a bit further out once you reach the beach.
12. Kalaloch Beach 4
Out of all the Kalaloch beaches, Beach 4 is perhaps the most adventurous. It requires a half-mile hike (one mile round-trip) that includes a section where you use a rope to scramble down a large rock.
Tidepooling is especially good at Beach 4, and you can often find colorful starfish and sea anemones.
However, the most unique feature here is the ancient turbites, ancient rock formations with unique layers. They're such fascinating geological formations that geologists are commonly at the beach, studying them!
Beach 4 also has large piles of driftwood, making this a fun playground for climbing and scrambling, especially during low tide.
On clear days, you'll see the now-abandoned Destruction Island Lighthouse offshore. Because of its somewhat challenging hike, Beach 4 is typically one of the least crowded among Olympic National Park beaches.


You may also like…
Save this article on Pinterest for later!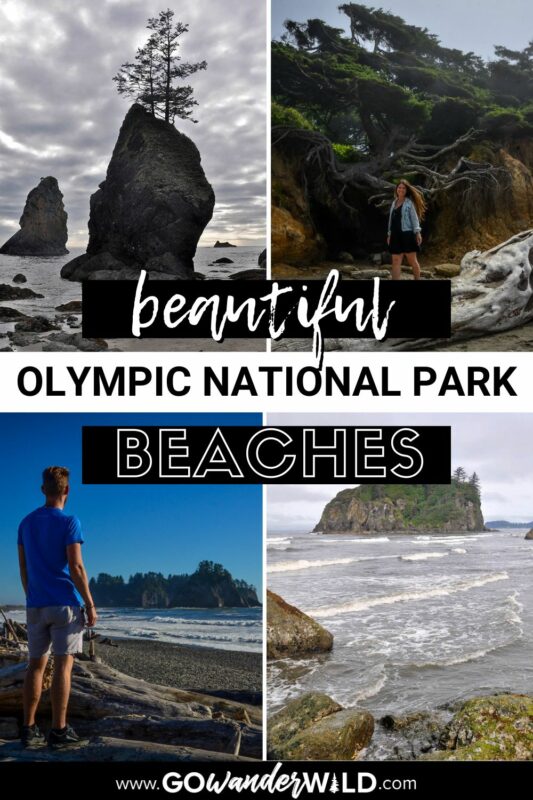 We want to hear from you!
Which of these Olympic National Park beaches are you most excited to visit? Have you been to any of the beaches on this list? What was your experience like? Let us know in the comments below!