We put together this list of the best Washington hot springs, from well-developed resorts to little known gems. Plus we're sharing details on how to get there and what to expect so you are fully prepared for your next hot springs visit.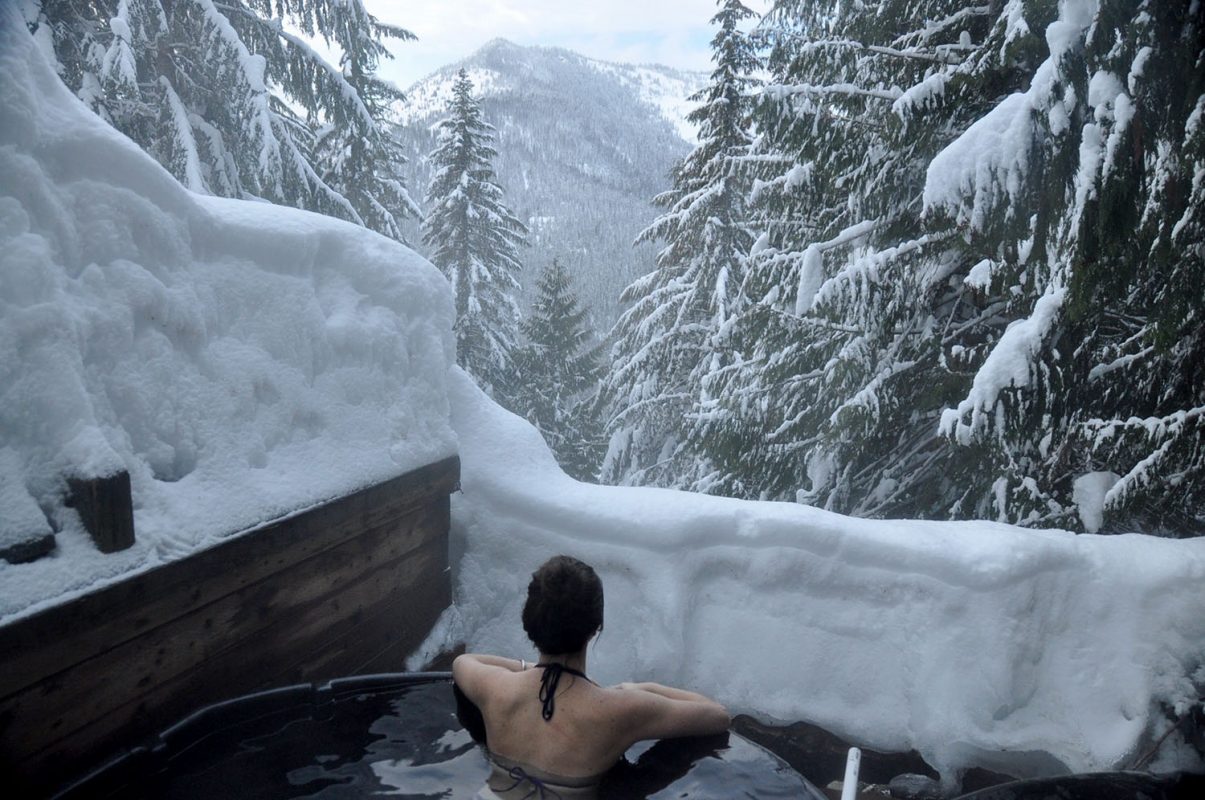 Washington is a beautiful state with boundless natural beauty. In fact, it's one of our favorite states to go hiking in. However, the Washington hot springs are not to be overlooked. Hot springs provide a relaxing place to soak and relax amongst the wildlife and Washington state has plenty to choose from.
But they can be notoriously difficult to find and hard to suss out which are the best. That's where we come in… We've put together a list of the best Washington hot springs to visit, how to get there, and even tips on what to bring.
The best part is, most of the hot springs on our list have awesome hiking trails if you want to get a little more active.
1. Olympic Hot Springs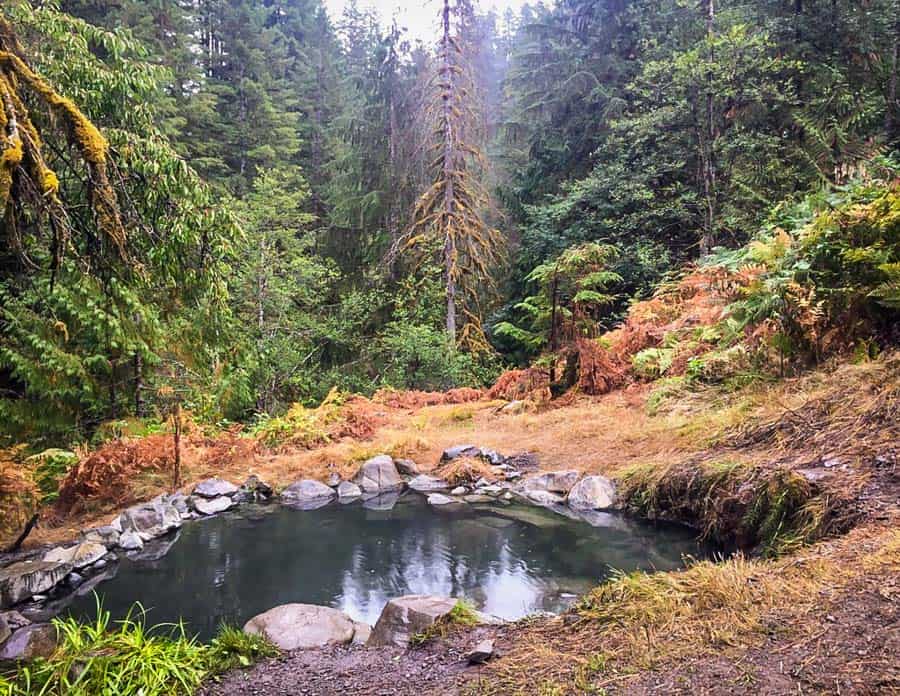 Olympic Hot Springs is a popular tourist attraction for adventurers across the globe. Because of the beautiful forest surrounding the springs and the nearby attractions like Madison Creek Falls and Glines Canyon, it's easy to see why many call Olympic a must-see. There are a handful of pools available to use and some can be up to 118° F.
Located just 3 hours from Port Angeles in the Olympic National Forest, this site is a must see on any visit to Olympic National Park. The springs look absolutely gorgeous and are super secluded, so if you want to escape the city and immerse yourself in nature, this is the place to do it!
How to get there: There is a 2-mile hike with a trailhead at the end of Olympic Hot Springs Road. It's super smooth and is easy for hikers of any age or ability.
Entrance Fee: National Park Service does charge a fee: $30 per car, $25 per motorcycle, or $25 per pedestrian and biker. Another option is getting the annual park pass.
2. Scenic Hot Springs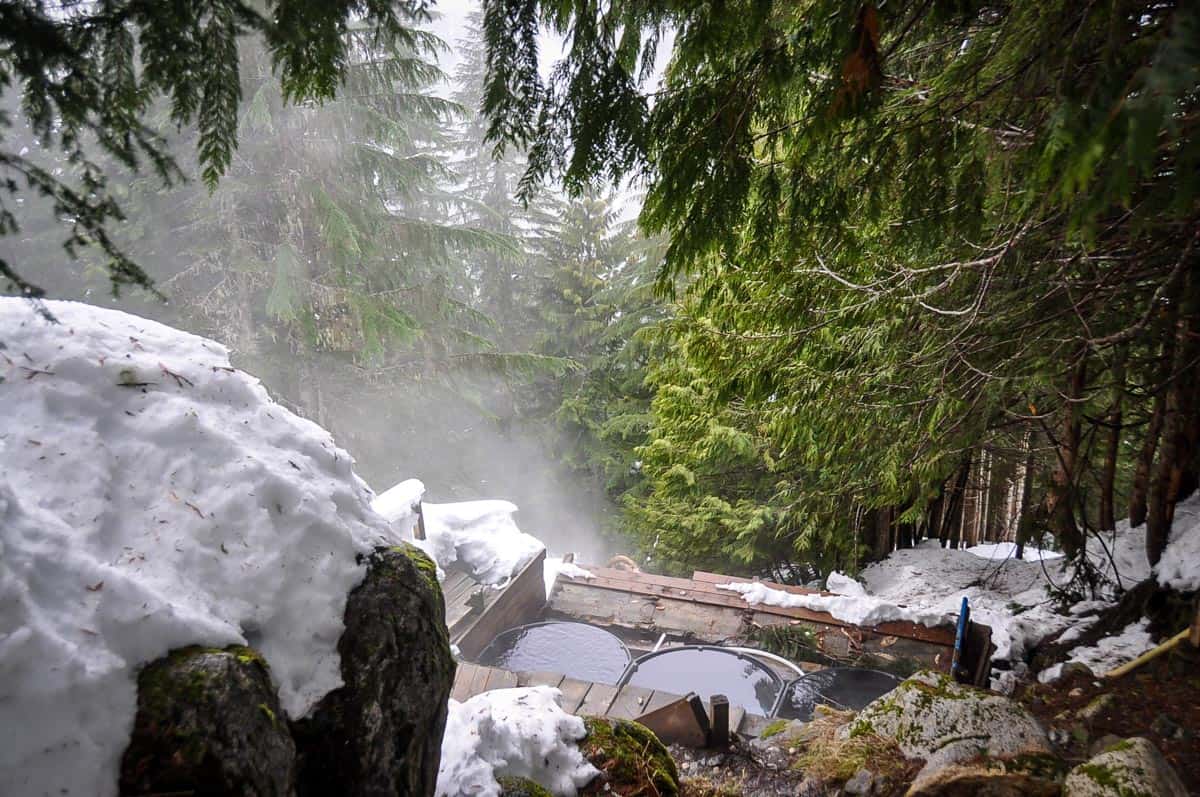 Picture yourself in one of 3 steaming tubs overlooking a vast snow-dusted forest of Ponderosa Pines with the Cascade Mountains looming in the distance of this winter wonderland. That's exactly what you'll get when you visit Scenic Hot Springs, our personal favorite hot springs located near Steven's Pass outside Leavenworth.
It is important to note that Scenic Hot Springs is on private property and you'll have to make a reservation in advance if you want to visit. Featuring 3 separate tubs of water at varying temperatures, only 10 people are allowed to visit these hot springs at a time. The tubs are naturally heated and fed by tubes so the water isn't the clearest and you may notice some debris.
Clothing is optional here, so make sure that is something you are comfortable with when planning your visit. There is also a small outhouse available for visitors.
How to get there: To get to Scenic Hot Springs, you'll need to hike for 1.5 – 2 hours up the mountains. This hike will require snowshoes (or skis with skins) after a fresh snow! We have an entire guide to visiting Scenic Hot Springs that details how to get there and most importantly, how to make a reservation for the pools.
When you make a reservation and pay the fee, you will get detailed directions to the hot springs. Out of respect to the man who maintains the springs, we will not post the directions in this article.
Entrance Fee: $5 per person on weekdays and $10 on weekends or holidays
3. Goldmyer Hot Springs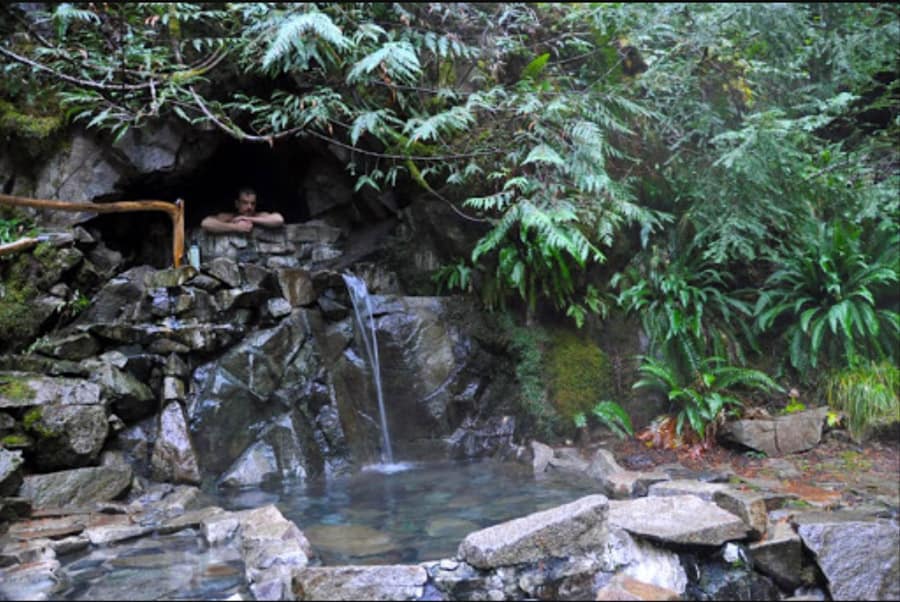 Goldmyer is home to some of the most beautiful sites in all of Washington. Nestled at the foothills of the Cascade Mountains, these springs offer gorgeous backcountry views while you soak in their man-made rock pools. Not to mention the 20-acre property offers multiple hiking trails to keep you active while you get away from the crowds of the city. You'll want to check out the best campsites in Washington to figure out where to stay as well.
Located about 50 miles east from Seattle near North Bend, this site is super popular with experienced outdoor enthusiasts. It's very rustic and a bit more challenging to get to. A few amenities are provided at the site including bike racks, food hanging lines and containers at the campsites, outhouses, and an open-air cabana at the pools.
Important to know: Reservations are required to visit Goldmyer Hot Springs and there is a lottery system to make your reservation. For preservation of the site, they only allow 20 people at a time to be in Goldmyer. You can go to their website and fill out an application here.
How to get there: Goldmyer is accessed by a forest service road (12-mile paved and 6-mile unpaved) that can be challenging to maneuver throughout the year, especially during winter. A Northwest Forest Pass must be displayed in your vehicle to park at the Dingford Creek Trailhead, which is the end of the driving road. There is an additional 4.5-mile one-way hike to reach the springs. They can also be accessed by bicycle.
Entrance Fee: Children under 18 years of age enter for free, adults 18 – 64 must pay $20, and Seniors 65+ only pay $15.
Psst! If you love visiting hot springs as much as we do, you'll want to make your way to Idaho, a state that is full of them! We put together a list of must-visit Idaho hot springs, including how to get there and what to expect.
4. Sol Duc Hot Springs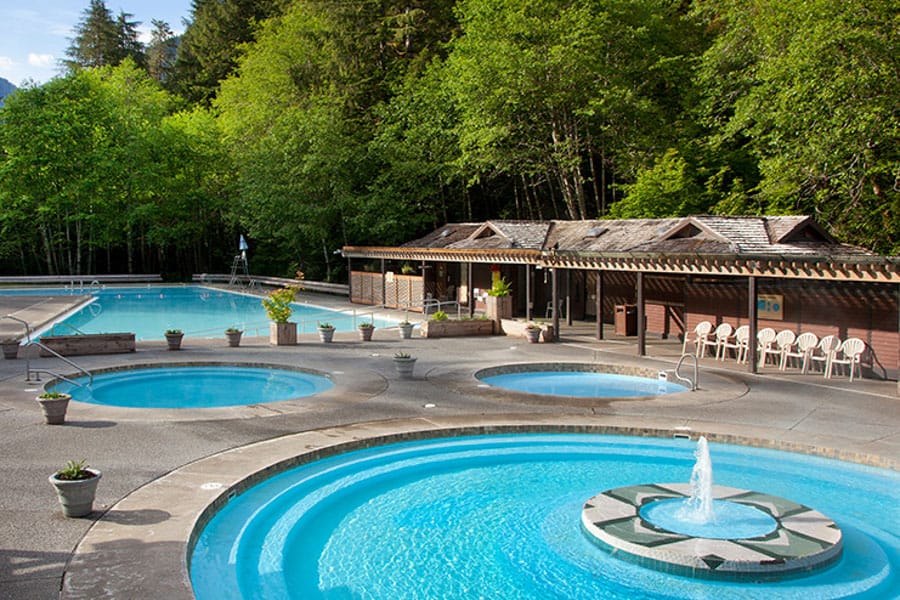 Sol Duc is actually a full-blown resort in the Olympic National Park. It's a full-service hotel that happens to offer beautiful mineral hot springs to soak in and enjoy the wildlife. There are also multiple hiking trails through an old growth rainforest for you to explore during your retreat.
Located just 3 and half hours from Seattle, this gorgeous resort has everything you could need for a cozy vacation in the wilderness. With an outdoor cafe and private cabins for spending the night, this place is sure to quench your thirst for adventure.
We have a guide to visiting Sol Duc Hot Springs, complete with directions and insider tips for your visit.
How to get there: The pools are located right outside of the main building so no hike required!
Entrance Fee: Varies per cabin and amount of guests. Check out current rates here!
5. Carson Hot Springs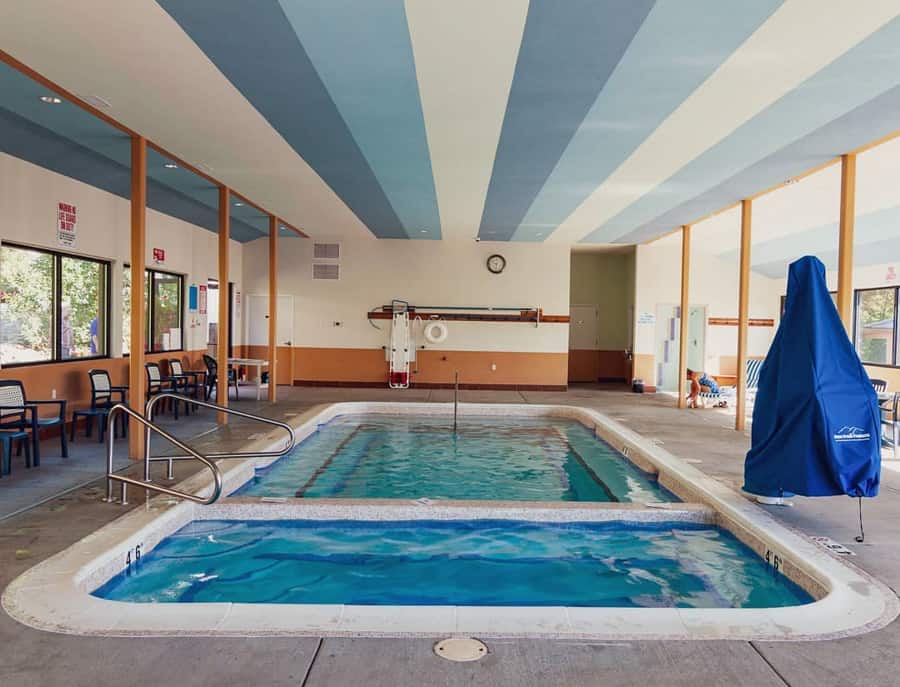 Another resort on our list of Washington hot springs is the magnificent Carson Hot Springs in the Columbia River Gorge. This site is perfect for the traveler who wants all of the modern amenities and comforts of home while still enjoying the wilderness around them. The mineral pools are just the beginning, this resort also offers a full-service spa and golf course.
Just an hour and 10 minutes outside of Portland, OR, across the Washington state border, Carson provides mineral pools in a traditional bathhouse on site. The pools are pumped full of naturally hot mineral water that has healing properties for your body.
How to get there: These springs are part of the resort so no hike required!
Entrance Fee: Fees change with rooms and guest amount. Check out the current rates here!
6. Gamma Hot Springs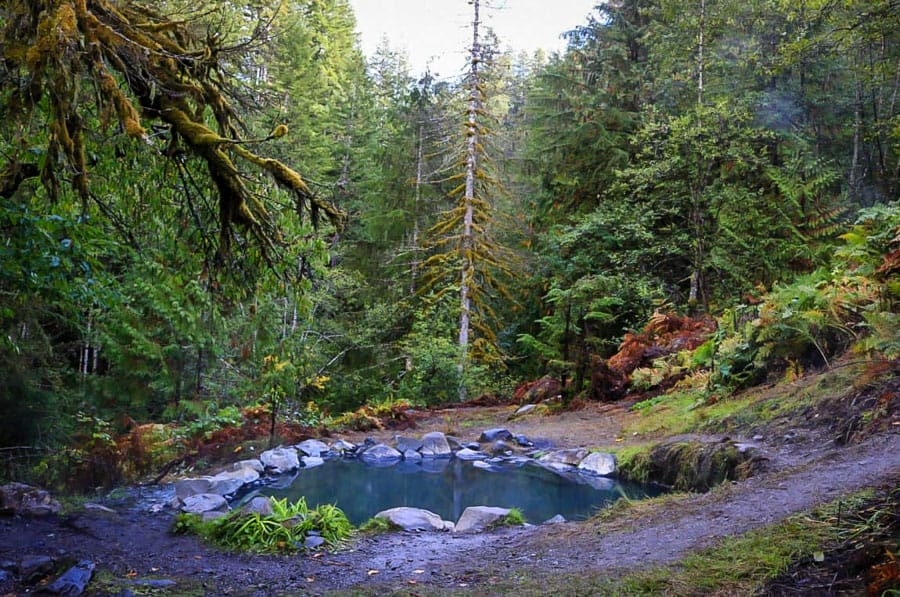 Gamma Hot Springs is a notoriously hard to get to springs, situated near Gamma Creek on a mountainside in Washington. That's right, the soak is actually built into the mountainside on Gamma Peak mountain and requires a bit of a climb to reach.
The pool itself is very small, unmonitored, and pretty secluded. Since it is on the mountainside, this is for the avid adventurer who has some climbing experience in their back pocket. If you do get to visit, make sure to leave a note in the black plastic tube beside the pool to let everyone know you were there!
How to get there: Since it is on a mountainside, the hike to get to Gamma Hot Spings is long and treacherous. The easiest place to park is at the end of Siuattle River Road, where you will start hiking 11 miles on the Siuattle River Trail. For complete instructions on how to reach the springs, check out this article.
Entrance Fee: No fees required as this site is a completely undeveloped part of nature.

Tips for visiting Washington hot springs
Help keep these hot springs at their best and open to the public to be enjoyed by generations to come by following a few rules.
Pack out everything you bring in. Yes, that includes fruit peels or nutshells. Why? While biodegradable, they are not native to this environment, and wildlife should not be consuming them or drawn-out near people. Don't put the animals in harm's way by leaving anything behind. Read more about the 7 principles of Leave No Trace.
Always obey the rules of the hot springs.
Leave alcohol, especially in glass bottles, at home.
If you are visiting hot springs in the wintertime, you may want to bring a dry bag or even a plastic garbage bag to keep your stuff dry while you soak.


You may also like…
Save this article on Pinterest for later!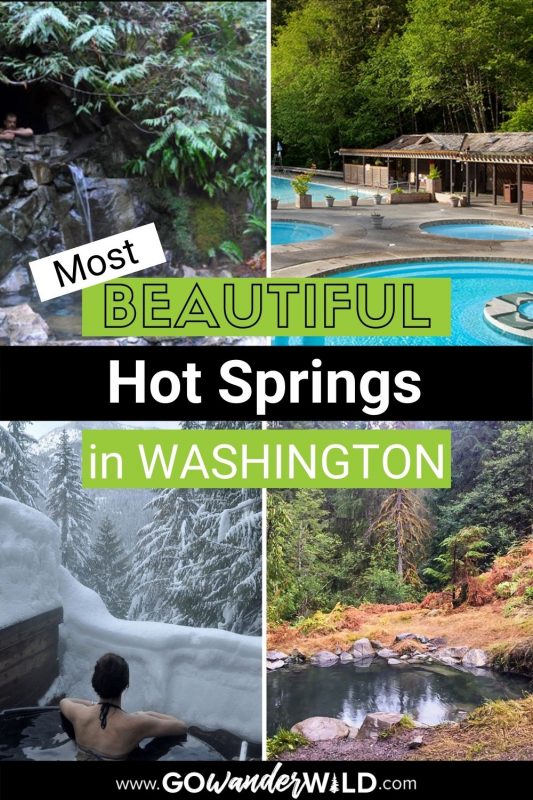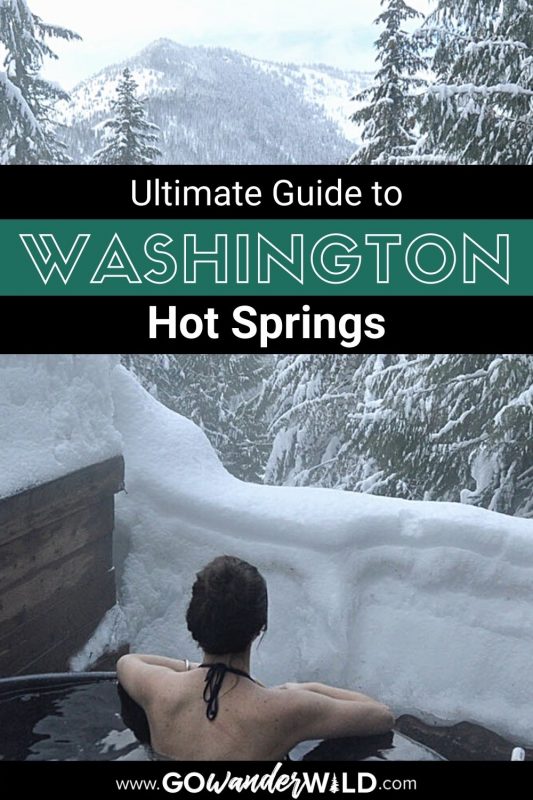 We want to hear from you!
Have you been to any of the hot springs on this list? Which is your favorite? Comment below and let us know!