From gentle tiered cascades to dramatic drops of several hundred feet, the vast variety of Columbia River Gorge waterfalls is incredible. This guide covers our top recommendations (out of nearly 100!), with options for every type of adventurer, plus tips and insider info.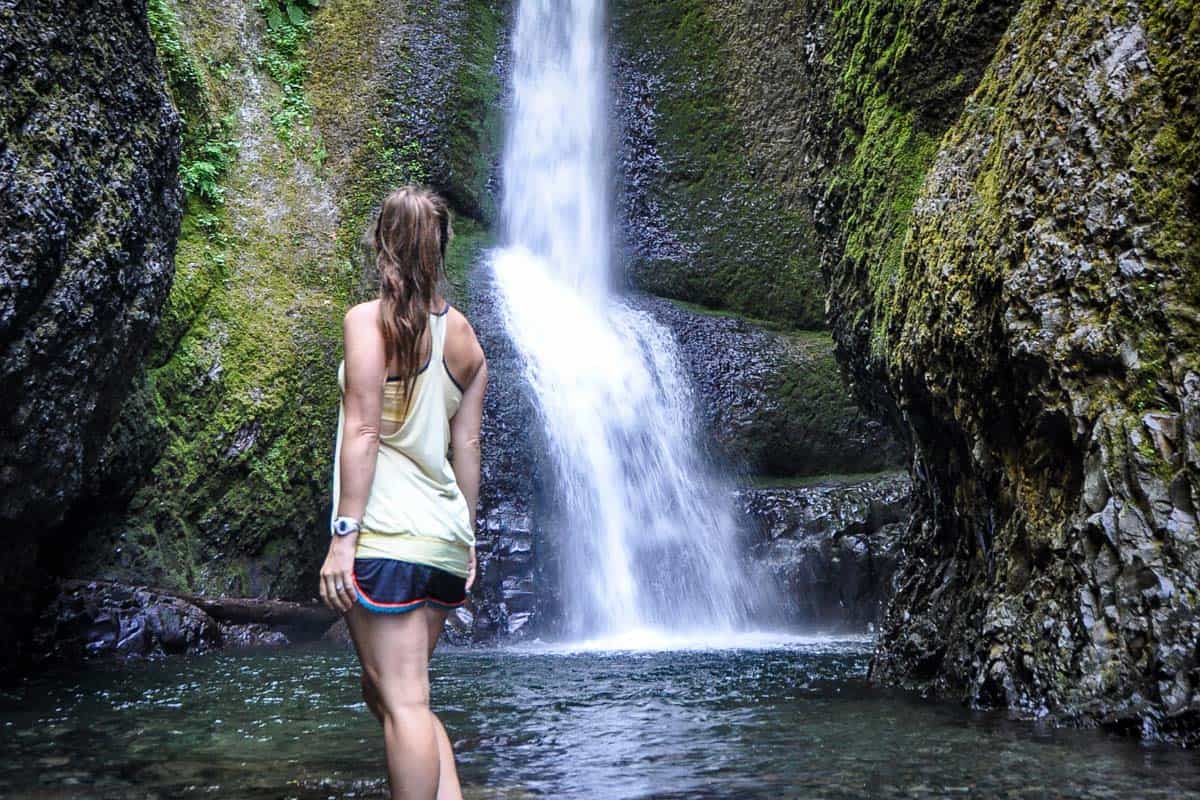 There are tons of fun things to do in Portland, but one of the most unique is chasing waterfalls.
Thanks to the unique geology of the Columbia River Gorge (which sits on the border between Washington and Oregon), there are a whopping 90 waterfalls within about an hour drive from the city! Therefore it's no surprise this was named one of the 7 Wonders of Oregon.
Tucked into beautiful, quintessential PNW scenery, the huge number of Columbia River Gorge waterfalls means there's one for everybody.
Roadside cascades for quick photo ops? Check.
Prefer having to work for your view with a waterfall hike? Covered.
Want to see as many waterfalls as possible in one quick day trip from Portland? Got it.
Whichever sounds more appealing, this guide to the most wow-inducing Columbia River Gorge waterfalls has something for you!
Columbia River Gorge Travel Guide
Psst! If waterfalls are your thing, you'll want to peep this round up of magical waterfalls near Portland (most of which are not covered in this guide!).

1. Multnomah Falls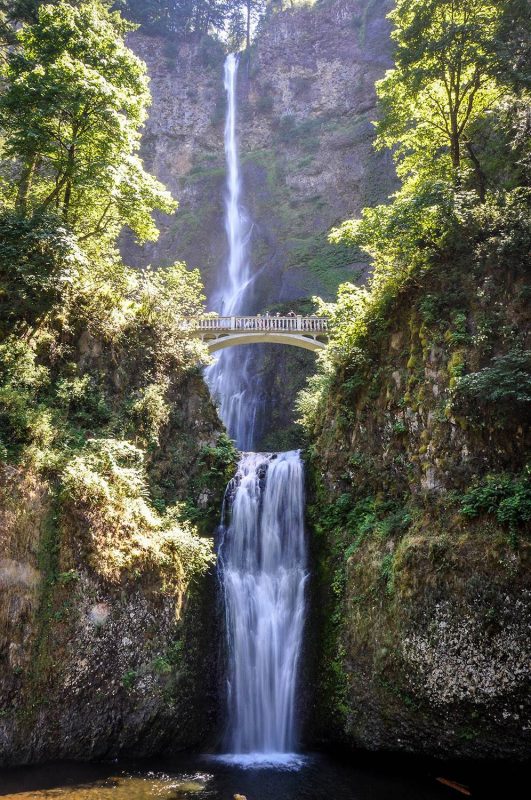 Waterfall height: 620 feet
Accessible: Yes
Hike: 2.6-mile Multnomah Falls Trail
Facilities: Multiple viewing platforms, bathrooms, gift shop, and restaurant in Multnomah Falls Lodge
Hands-down the most famous of all Columbia River Gorge waterfalls, Multnomah Falls is the tallest in Oregon. There are multiple options for viewing it.
Just a few minutes' walk from the parking lot is the lower viewing platform, which offers that iconic view of both tiers of the falls and the famous stone bridge set between them.
Visitors can continue onto that bridge, an easy stroll, or take the hiking trail to the upper viewpoint at the top of the falls.
$2 timed entry permits are required to park at Multnomah Falls between Memorial Day and Labor Day.
2. Wahkeena Falls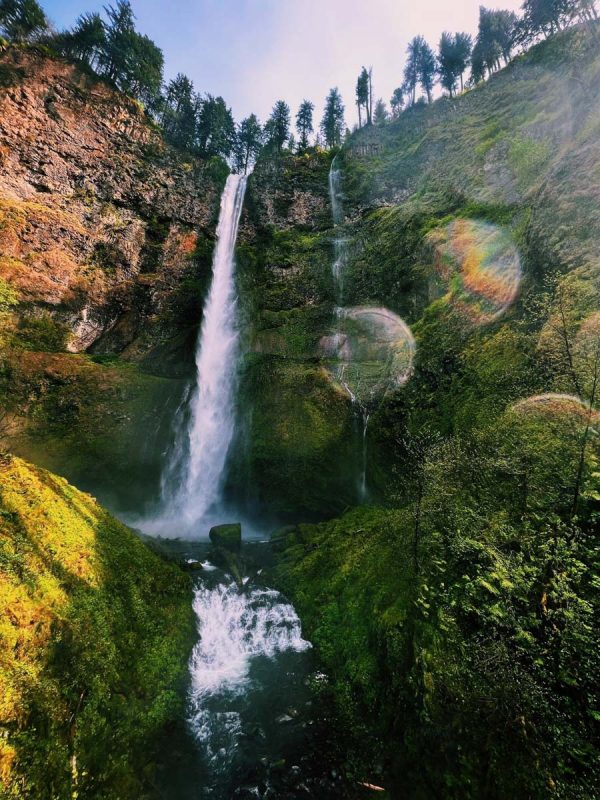 Waterfall height: 242 feet
Accessible: No
Hike: 3.1-mile Wahkeena Falls trail
Facilities: Day use area with bathrooms, picnic tables, and grills, and a stone bridge at the base of the falls
Right near Multnomah Falls is another beautiful Columbia River Gorge waterfall, Wahkeena. While it's less than half the height of its neighbor, the unique double horsetail fall is quite impressive.
Note that Wahkeena Falls connects to tons of awesome trails, so there are multiple ways to hike it. The main trail is mostly paved and even has a connector to Multnomah Falls!
The easiest and most straightforward route starts from the base of the falls, offering awesome views as you work your way up. If you take this route, you'll start from the day use area.
3. Horsetail Falls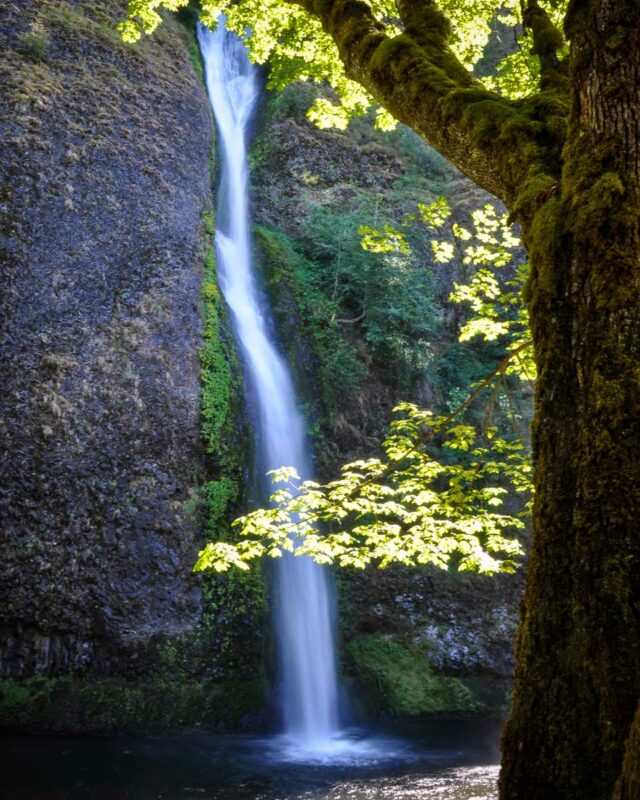 Waterfall height: 176 feet
Accessible: Yes – but be aware that you'll need to cross the highway after parking
Facilities: Picnic area
Located in the "Waterfall Corridor," Horsetail Falls is literally right alongside the Historic Columbia River Highway. You can easily see it without even stopping your vehicle!
Something especially unique about Horsetail Falls is that a stone staircase from the viewing area provides direct access to the plunge pool.
Park across the highway, then walk over and enjoy the view. Bring a picnic and splash around in the pool on hot days. If you're up for a quick hike, head up to Ponytail Falls (more on that below!).
4. Bridal Veil Falls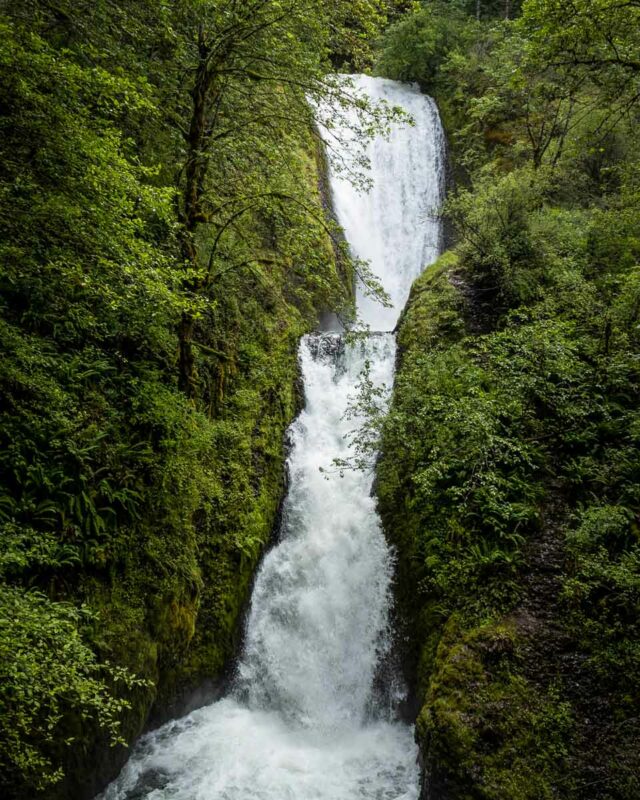 Waterfall height: 118 feet
Accessible: Yes (Overlook Trail)
Facilities: Bathrooms and picnic tables
If you're looking for a quick stop or an unforgettable picnic spot, Bridal Veil is one of the best Columbia River Gorge waterfalls.
It's almost a roadside waterfall, but you have to get out of your vehicle to see it. Luckily, two super short paths lead to the falls.
The lower trail takes you to the base of the waterfall in a short but steep 0.3 miles. If you want something more easy-going, take the paved quarter-mile Overlook Loop Trail.
Local tip: bring lunch or snacks to enjoy on the gorgeous grassy lawn near the parking lot.
5. Latourell Falls
Waterfall height: 249 feet
Accessible: Yes – the viewpoints only, not the hike
Hike: You can see the falls without hiking, but the 2.4-mile Latourell Falls Loop offers multiple viewpoints
Facilities: Bathrooms and picnic area
A mere 30 minutes outside the city, Latourell Falls is one of the closest waterfalls to Portland…and unsurprisingly, one of the most popular.
You'll hear the falls roaring the moment you step out of your car, and you'll see them about a minute after that.
From the parking lot, two short trails each lead to viewpoints. One offers a great view of the entire waterfall, while the Lower Falls viewpoint takes you right to the base. Prepare to get wet!
There's also a relatively easy 2.4-mile loop trail that crosses four bridges and takes you to an upper viewpoint.
6. Oneonta Falls (Middle Falls and Triple Falls)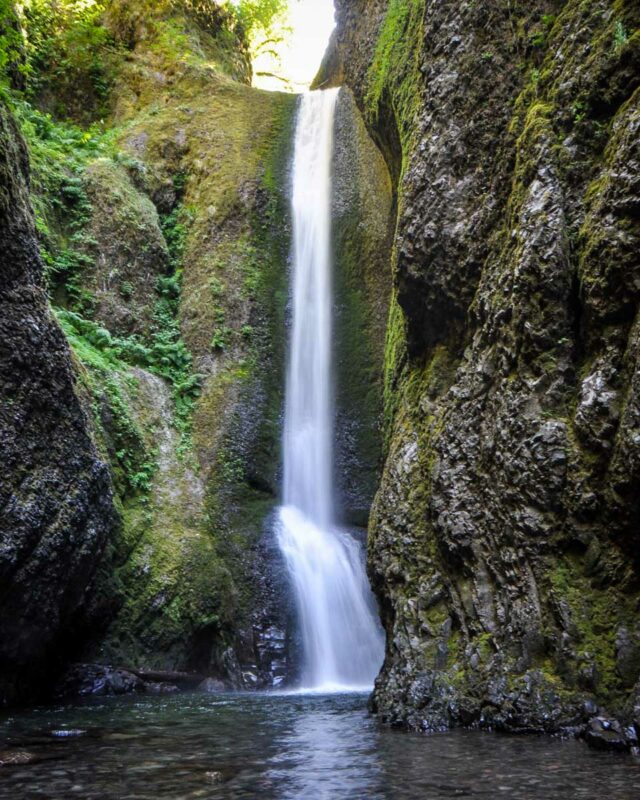 Waterfall height: 20 feet (Middle Falls) and 68 feet (Triple Falls)
Accessible: No
Hike: 5.6-mile Oneonta Trail*
Facilities: None
*Note that it's mistakenly labeled 'Oneonta Gorge Trail', but this is the correct trail info.
Important: Oneonta Trail is open, but Oneonta Gorge is closed indefinitely, as this area was severely damaged in the Eagle Creek Fire. Be sure before setting out that you're following the trail and not the gorge…they're often (mistakenly!) used interchangeably online!
There are four waterfalls along the trail, but only two are visible now. Fortunately, one of them is the trail's crown jewel, Triple Falls.
1.7 miles into the hike, Triple Falls is exactly what it sounds like, three cascades tumbling down side-by-side!
For an awesome day hike, head to Triple Falls, then backtrack to the Horsetail Falls junction to make a loop. This takes you by Middle Oneonta Falls and under Ponytail Falls.
7. Ponytail Falls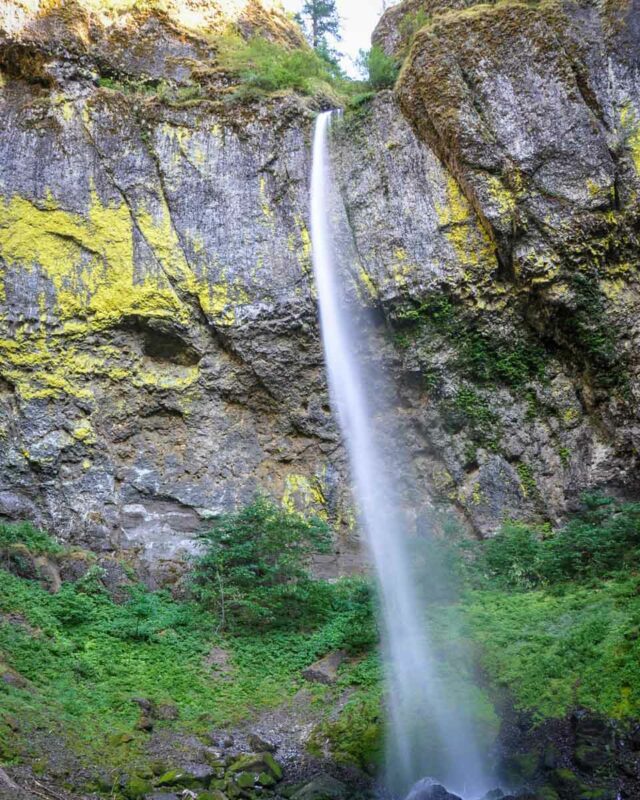 Ponytail Falls (also referred to as Upper Horsetail Falls — the top of the horse's "ponytail") is a short half-mile hike from Horsetail Falls. It's a bit of a steep climb, but nothing technical.
What makes Ponytail Falls special among other Columbia River Gorge waterfalls is that you actually walk under/behind it, in a half tunnel! For this reason, it's widely considered one of the best waterfall hikes near Portland.
After the waterfall, you can turn back toward Horsetail Falls or continue on. At 1.3 miles in, the trail officially ends and becomes the Oneonta Trail.
*Note that Ponytail Falls itself is 0.4 miles into the trail
8. Fairy Falls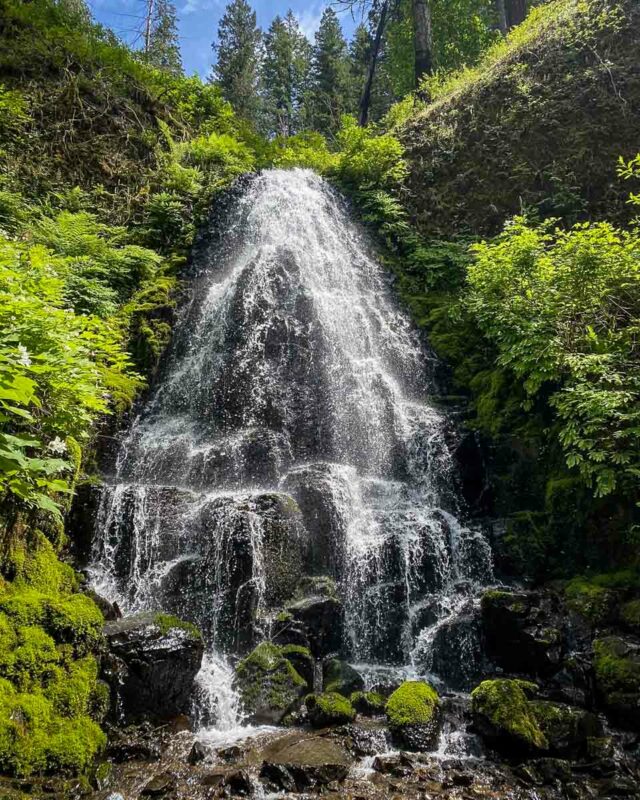 Waterfall height: 20 feet
Accessible: No
Hike: Take the Wahkeena Falls Trail and continue on for a 3.4-mile loop
Facilities: None, but there are facilities at the Wahkeena Falls day use area
Just one-fifth of a mile past Wahkeena Falls, stunning Fairy Falls wows with its unique fanning cascades. It may not have much height, but it's incredibly photogenic!
Amazingly, Fairy Falls is rarely crowded, because most people don't continue past Wahkeena Falls (there are no signs!). Don't be fooled by the short distance from Wahkeena Falls — you gain serious elevation, and it typically takes about one hour each way.
Fairy Falls is also very close to the Multnomah Falls Loop Trail, connecting to several other beautiful Columbia River Gorge waterfalls.
9. Punch Bowl Falls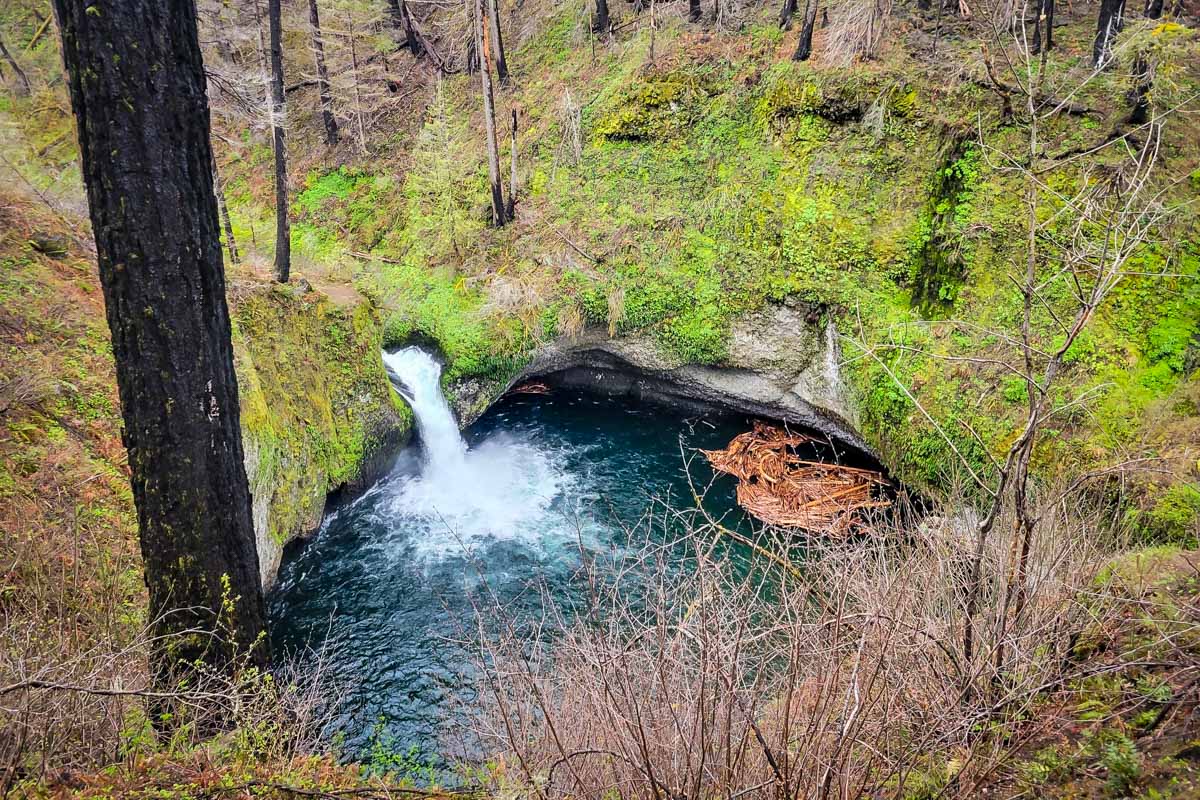 Situated along the renowned Eagle Creek Trail, Punch Bowl Falls offers tremendous bang for the buck.
Although relatively small, the waterfall's straight drop and large, circular pool deliver a major "wow" factor.
The hike is equally impressive, passing through fern-draped old-growth forest and other major waterfalls (Sorenson and then Metlako). Right after a good rain, dozens of additional small cascades form alongside the trail.
While the hike is easy, there are several narrow ridges with sheer, exposed drop-offs, and cable handrails have been installed in spots. You'll also need a Northwest Forest Pass.
10. Wahclella Falls
Waterfall height: 350 feet (in two tiers)
Accessible: No
Hike: 1.9-mile Wahclella Falls Trail
Facilities: Port-o-potties
An easy, fun interactive trail leads to Wahclella Falls, considered by many to be one of the most impressive Columbia River Gorge waterfalls.
You'll go through a slot canyon, pass enormous boulders, cross bridges, and see a small dam and several smaller cascades on the trail.
The 2017 Eagle Creek Fire was especially devastating in this area, so there's an increased risk of landslides and flash flooding. Avoid it during rain and for 1-2 days after big storms.
Note that you'll need to either pay a $5 day use fee to park, or have a Northwest Forest Pass.
11. Metlako Falls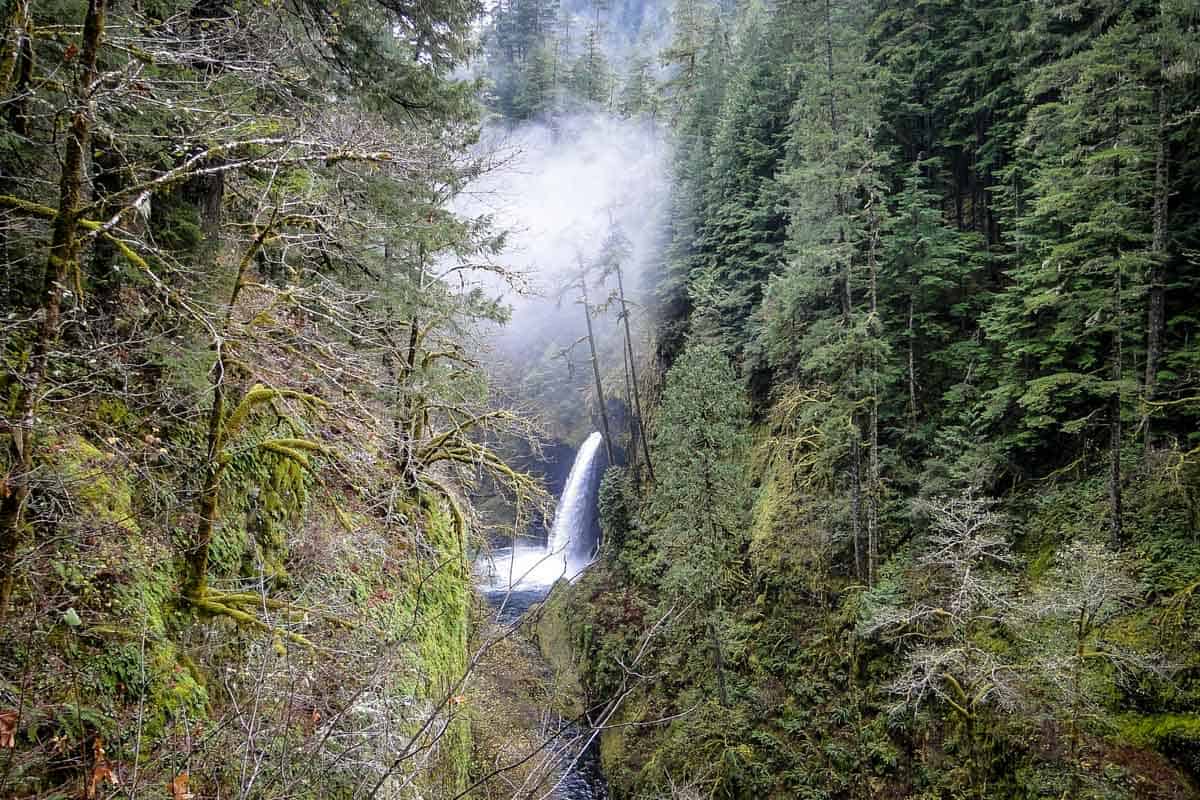 Unfortunately, the short trail to Metlako Falls is closed indefinitely. The overlook literally fell off the cliff during a 2016 heavy storm and subsequent landslide, and the 2017 Eagle Creek Fire further damaged it.
The best viewpoint for Metlako Falls is on the main Punch Bowl Falls trail, right after you see Sorenson Falls.
12. Hole-in-the-Wall Falls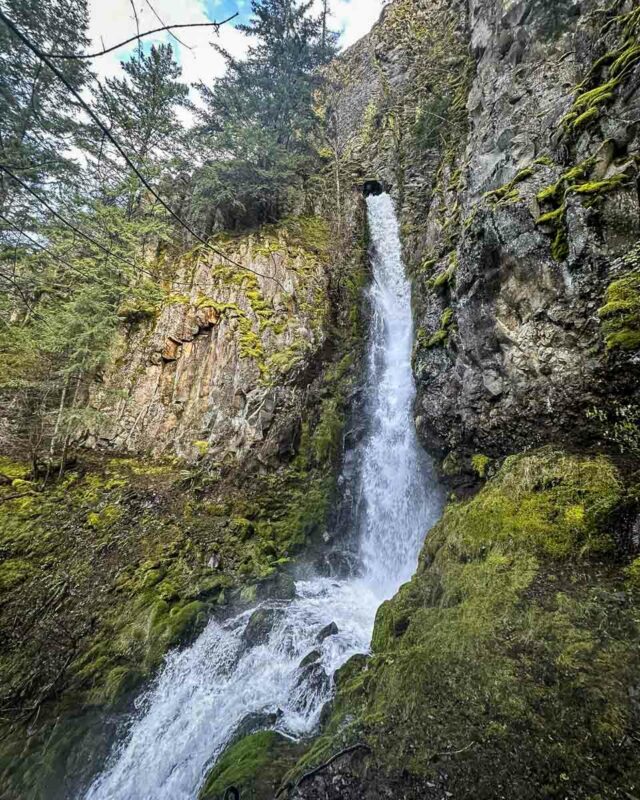 Unique among other Columbia River Gorge waterfalls, Hole-in-the-Wall Falls is actually manmade.
In a (successful) attempt to prevent Warren Creek from flooding the interstate, a tunnel was blasted through a cliff to divert the water. It is very literally a hole-in-the-wall waterfall!
Hole-in-the-Wall is in an especially waterfall-dense area, accessed from the Starvation Creek trailhead. Hikers will see four impressive falls in just over one mile, including Starvation Creek, Cabin Creek, Hole-in-the-Wall, and Lancaster.
13. Panther Creek Falls
Waterfall height: 130 feet
Accessible: Upper viewpoint only
Hike: 0.3-mile Panther Creek Falls Trail
Facilities: Upper and lower viewing platforms
Not all Columbia River Gorge waterfalls are in Oregon! This stunning cascade is on the Washington side, in what's considered the Central Gorge.
Panther Creek Falls is impressive, with multiple tiers that dramatically fan out. Best of all, it requires just a 10-minute hike! Because it's so short, most people visit both the upper and lower viewpoints.
Note that the upper viewpoint has an accessible path, but the lower one does not. The road in is also not maintained during the winter, so the falls may be inaccessible due to heavy snow.
14. Dry Creek Falls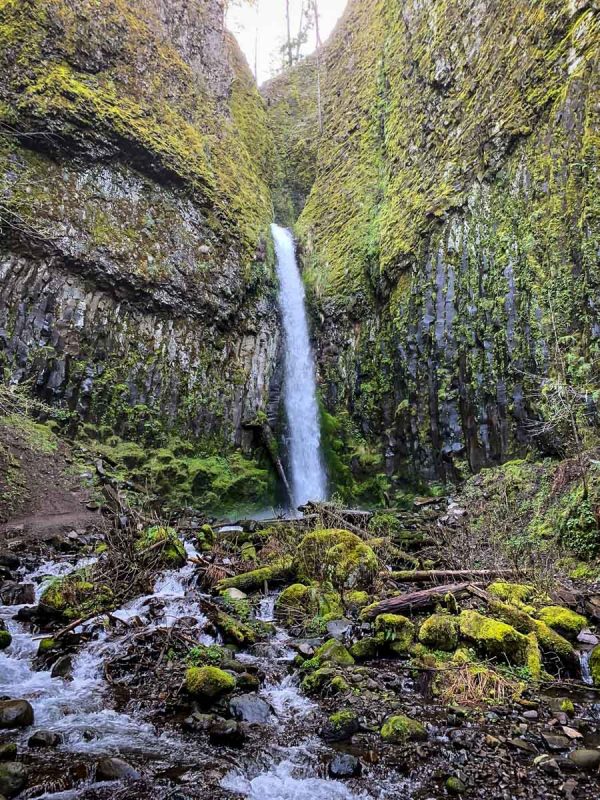 This waterfall hike starts from the Pacific Crest Trailhead in Cascade Locks. It's an easy trail with classic Gorge scenery, including moss-covered boulders and a heavy canopy of trees.
When you're finished, you can take pedestrian-only Dry Creek Road for two miles instead of retracing your steps. It only adds half a mile to your total distance, and you can grab lunch or a drink in town.
Local tip: park on Moody Avenue under the bridge if the parking lot is full. This also shaves a bit off your hike!
15. Dutchman Falls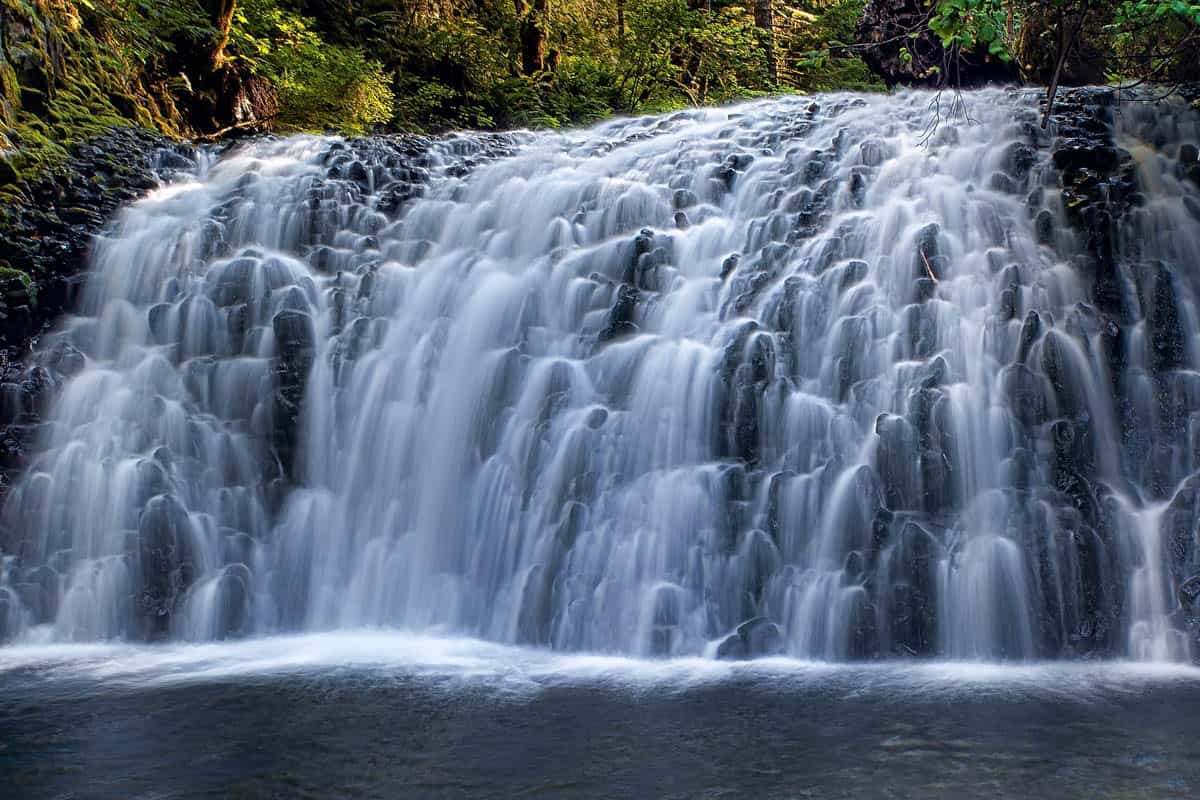 Waterfall height: Two tiers of 20 feet, then 10 feet
Accessible: No
Hike: Accessible via several trails, including 2.6-mile Multnomah Falls Trail
Facilities: Facilities available at Multnomah Lodge
If you're visiting Multnomah Falls, Dutchman Falls (and several other Columbia River Gorge waterfalls!) is a hidden gem just a bit further.
From Multnomah, continue on past Benson Bridge just over one mile. You'll come to a series of numerous waterfalls, including the triple-tier Dutchman Falls.
If you're NOT starting from Multnomah Falls but you're hiking in the area, consider this a waterfall-themed choose your own adventure! Several awesome trails interconnect here, and Dutchman Falls is accessible from seven.

Map of the Columbia River Gorge Waterfalls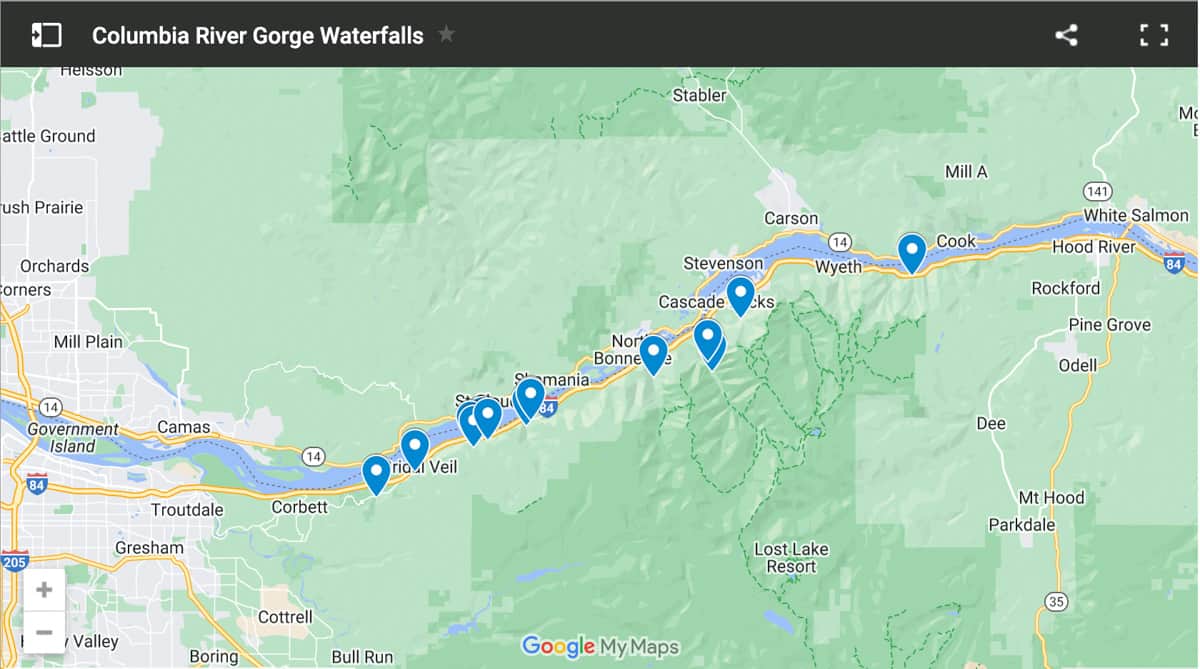 Not sure which waterfall to visit first, or wondering where you can go to see several in one trip? Check out this map of some of the best waterfalls in the Gorge!
Best time to visit the Columbia River Gorge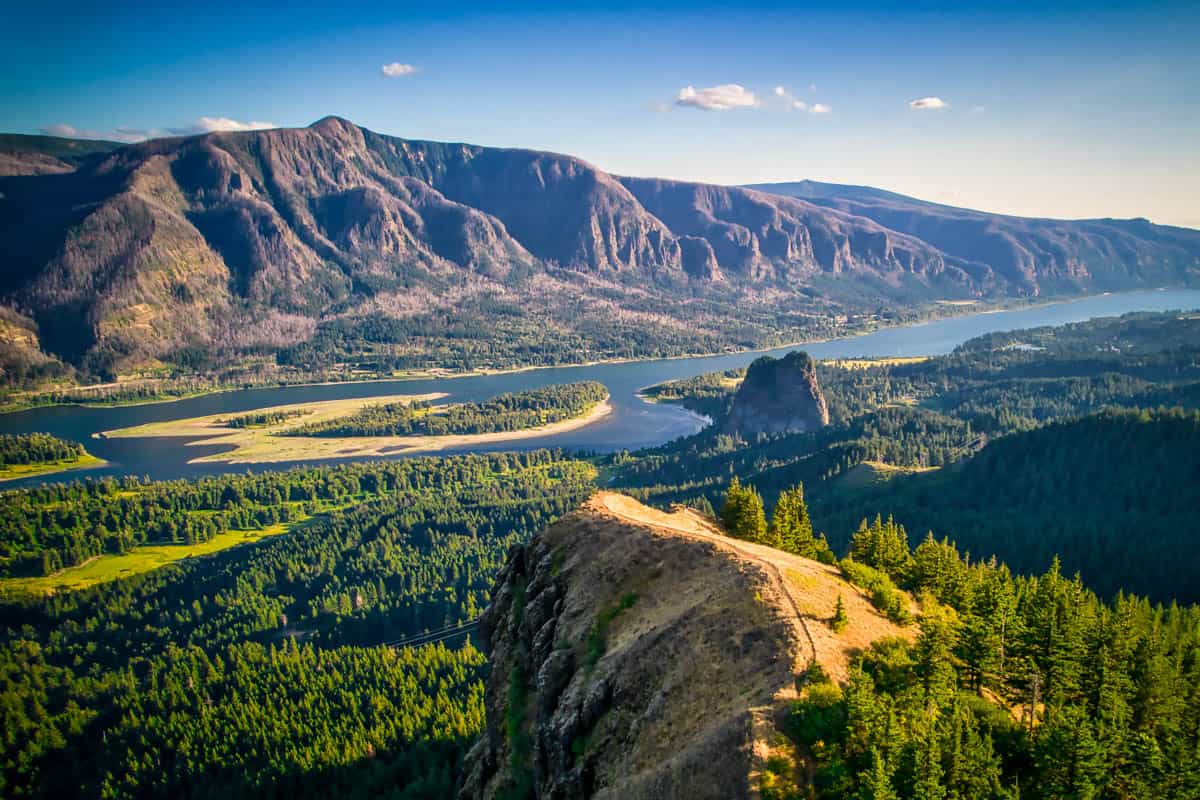 In order to have the best experience viewing Columbia River Gorge waterfalls, visit in the spring or early summer — March through June. This is when the waterfalls are at their peak flow, as most are fed by snow melt.
However, keep in mind that this is also busy season. Parking lots fill and crowds form early, especially at the more accessible falls, so visit on weekdays if possible and aim for early or late in the day (before 9:00 am or after 5:00 pm).
Permits for visiting the Columbia River Gorge Waterfalls
In order to mitigate some of the traffic and crowds, timed use permits are required to park at Multnomah Falls (exit 31 off of I-84) between Memorial Day weekend and Labor Day weekend, between 9:00 am – 6:00 pm.
Permits are $2 per vehicle, available through Recreation.gov up to two weeks in advance. Note that advance permits are required; they are not offered onsite whatsoever.
During booking, visitors must select a one-hour window to arrive and park, but they're welcome to stay at Multnomah Falls as long as they'd like.
Tips for visiting the Columbia River Gorge Waterfalls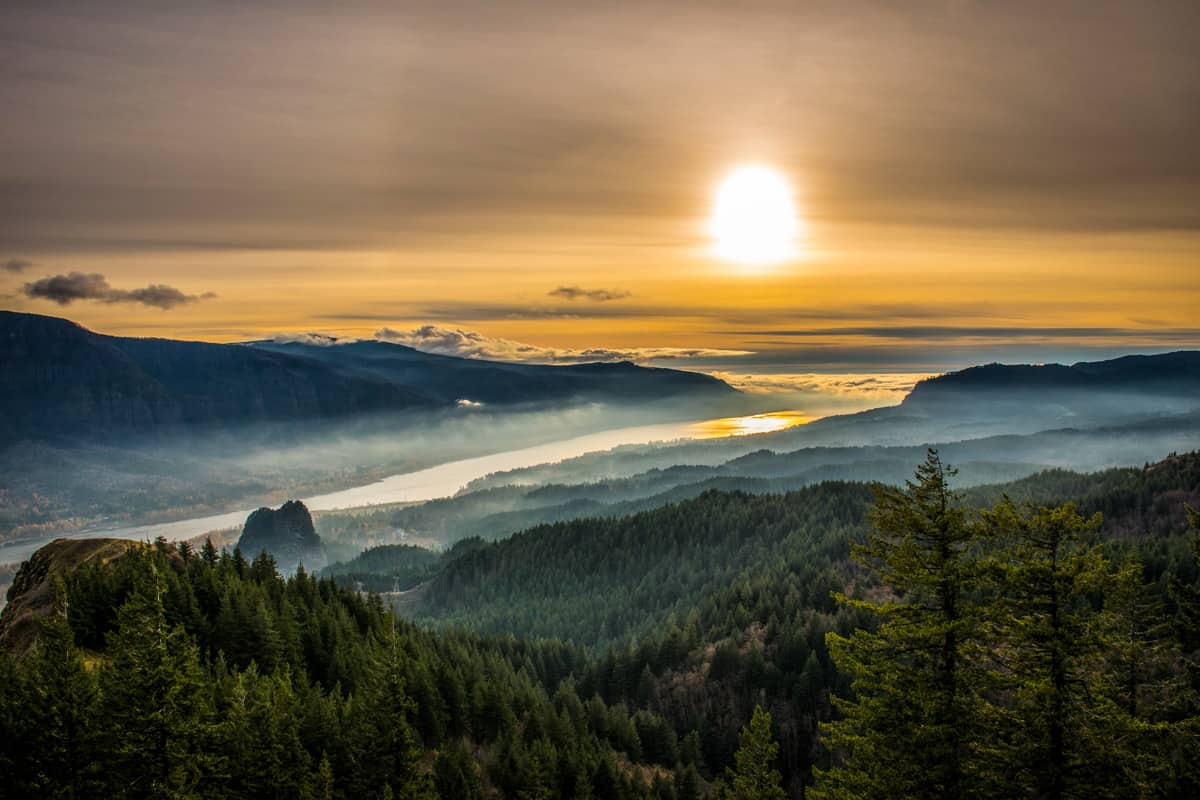 Several shuttle companies offer service to the Columbia River Gorge from Portland. Check out Columbia Gorge Express and Sasquatch Shuttle, both great hassle-free alternatives to dealing with traffic, parking, and the timed use permits.
A Northwest Forest or Discover pass may be required to park in some areas.
Wear sturdy, closed-toe shoes. Hiking to waterfalls in the Gorge often means mud and tons of water year-round — leave your sandals at home.
Bring a rain jacket. Even when it's not raining, spray from some waterfalls can leave you soaked!
Time your visit carefully. Most Columbia River Gorge waterfalls are in canyons and don't get much of a sunset, if at all. It also may get dark significantly earlier than outside the canyon.
Pay close attention to signage and your footing. Even in the best conditions, waterfalls are slippery and muddy. In the Gorge, where it frequently rains, there are steep cliffs, and the area is still recovering from the Eagle Creek Fire, the ground is often unstable.
What to pack for visiting the Columbia River Gorge


You may also like…
Save this article on Pinterest for later!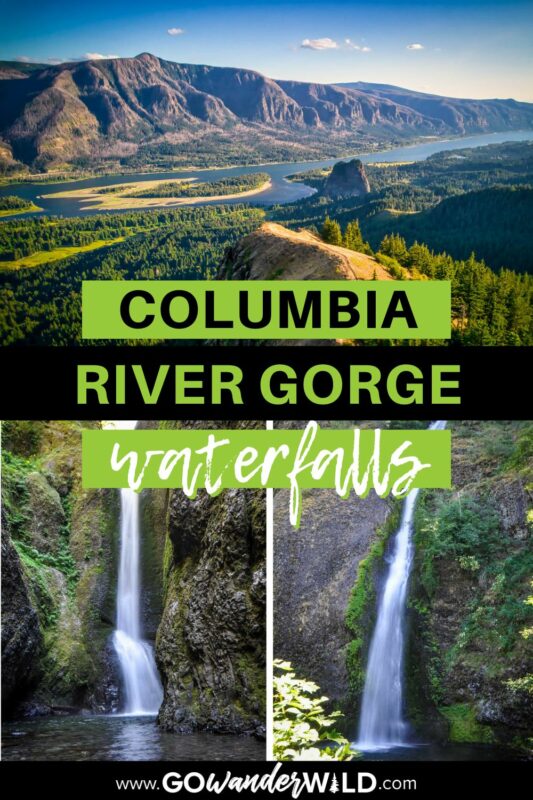 We want to hear from you!
Have you visited any of the Columbia River Gorge waterfalls on this list? What was your experience like? Which is the waterfall you're most excited to add to your bucket list? Comment below and let us know!