From waterfalls near Seattle that can be seen on a day trip to those that require a bit of a drive and hike to reach, it should come as no surprise that Washington State is a waterfall-lover's paradise. We've rounded up a handful of the best waterfalls in Washington State to add to your PNW bucket list, and we've included insider tips as well as important things to know before visiting.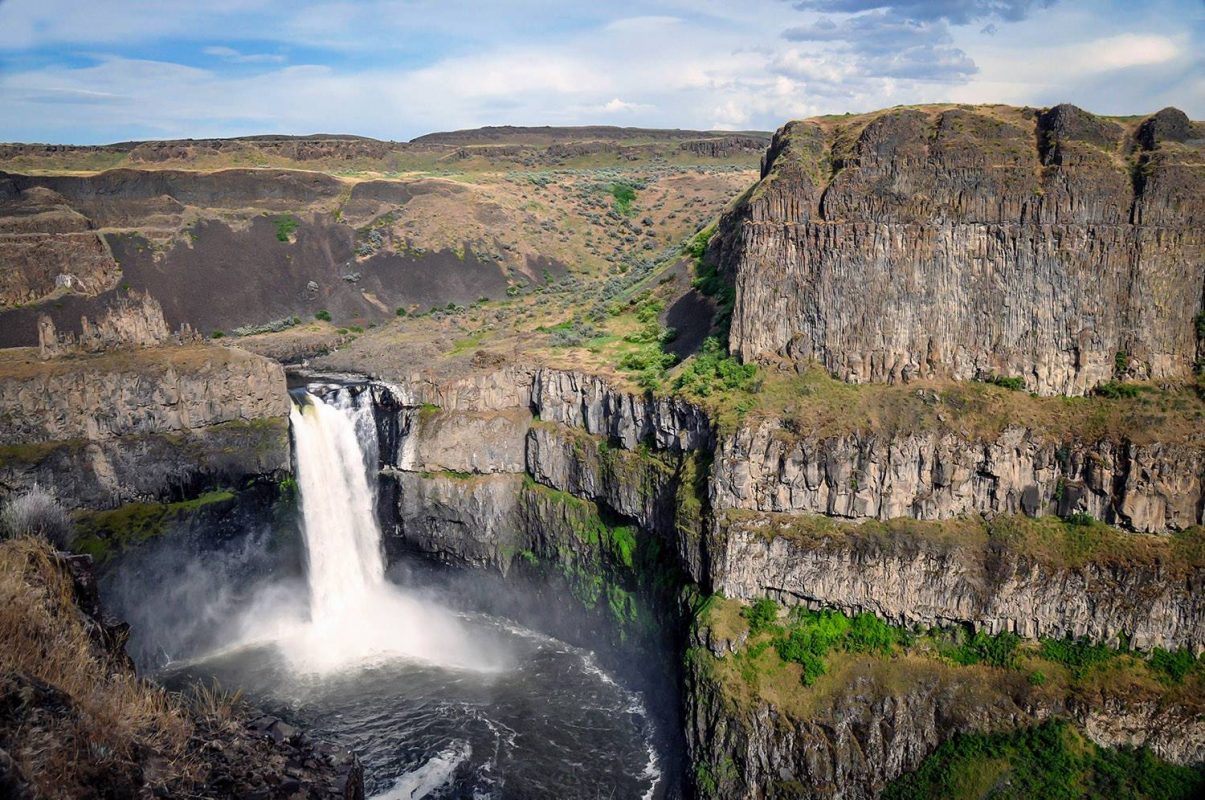 The Pacific Northwest is overflowing with waterfalls. (See what we did there?!) From waterfalls near Seattle that can be seen on a day trip to those that require a bit of a drive and hike to reach, it should come as no surprise that Washington State is a waterfall-lover's paradise.
We've rounded up a handful of the best waterfalls in Washington State to add to your PNW bucket list, and we've included insider tips as well as important things to know before visiting.
Whether you're visiting Washington on a USA road trip, or you are a Washingtonian looking for some ideas for weekend adventures, be sure to save this list to help as you plan.
Now let's get ready to chase some waterfalls, shall we?!
Article Contents

Waterfalls Near Seattle (within 2 hours driving)
If you're looking for a fun day trip from Seattle, these waterfalls make an excellent escape from the city.
1. Snoqualmie Falls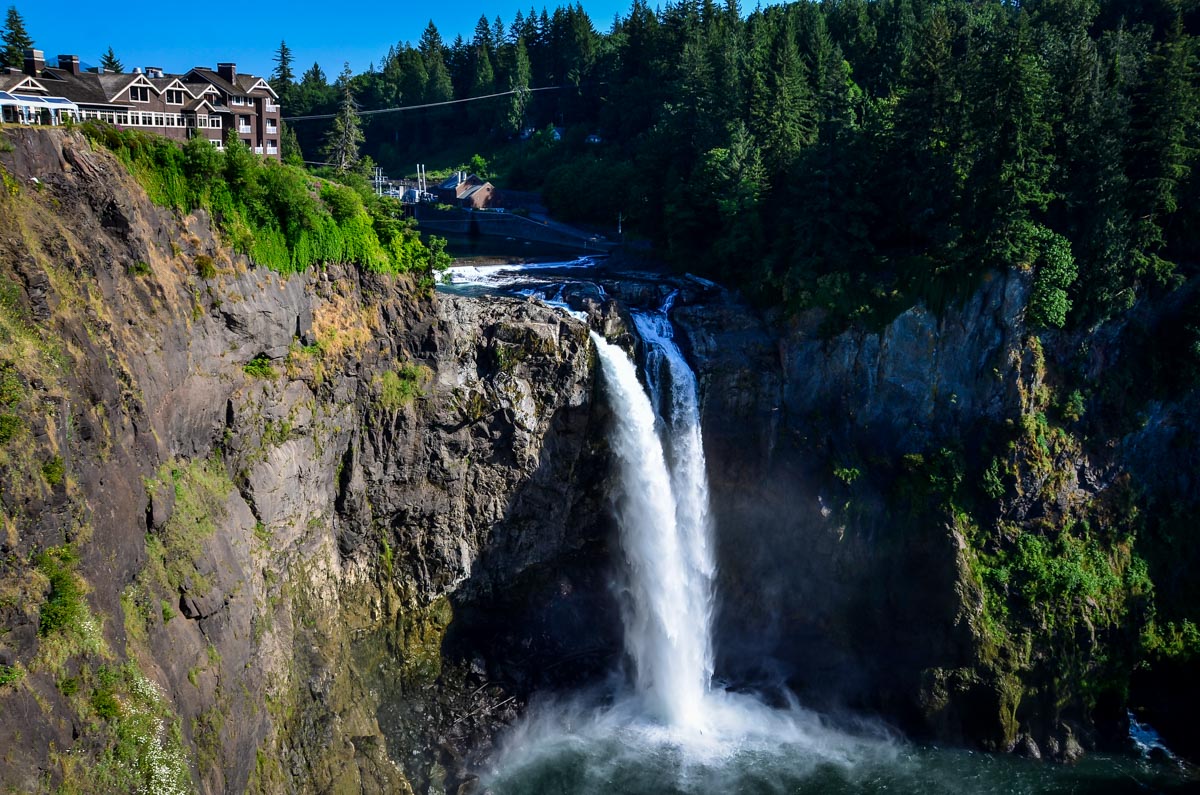 Snoqualmie Falls, located about a half hour east of Seattle, is one of Washington's most famous landmarks. It stands an impressive 268 feet tall, and depending on the water level, can range from 50 to 150 feet wide.
In the summer, the 2-acre park around the observation deck is host to many weddings and celebrations. It is nearly impossible to avoid crowds, but the winter and early spring will be less crowded and when the waterfall is at its most spectacular.
The thunderous water creates a wide curtain, and the spray can overwhelm the observation decks and be seen from miles away.
With easy access from Seattle, a modern parking lot and well-equipped facilities, it is no wonder that upwards of 1.5 million people visit the waterfall each year. It's one of the top day trips from Seattle.
The walk from the parking lot to the main observation deck is wheelchair and stroller accessible, and only 100 yards, making Snoqualmie an easy destination if you're traveling with a baby or kids. There is a longer (but very gentle) hike down to the power station and another lookout, but the main observation deck is truly the best vantage point of the waterfall.
Snoqualmie Falls is sacred to the people of the Snoqualmie Tribe, and after decades of ownership by the power company, the Snoqualmie Tribe purchased the falls, the lodge that sits at the top, and the surrounding land in 2019, largely with the goal of halting further development to keep Snoqualmie the pristine, scenic destination that it is.
Recommended by: Dani Ward of Diapers in Paradise
Psst! Check out these other beautiful waterfalls near Seattle.
2. Franklin Falls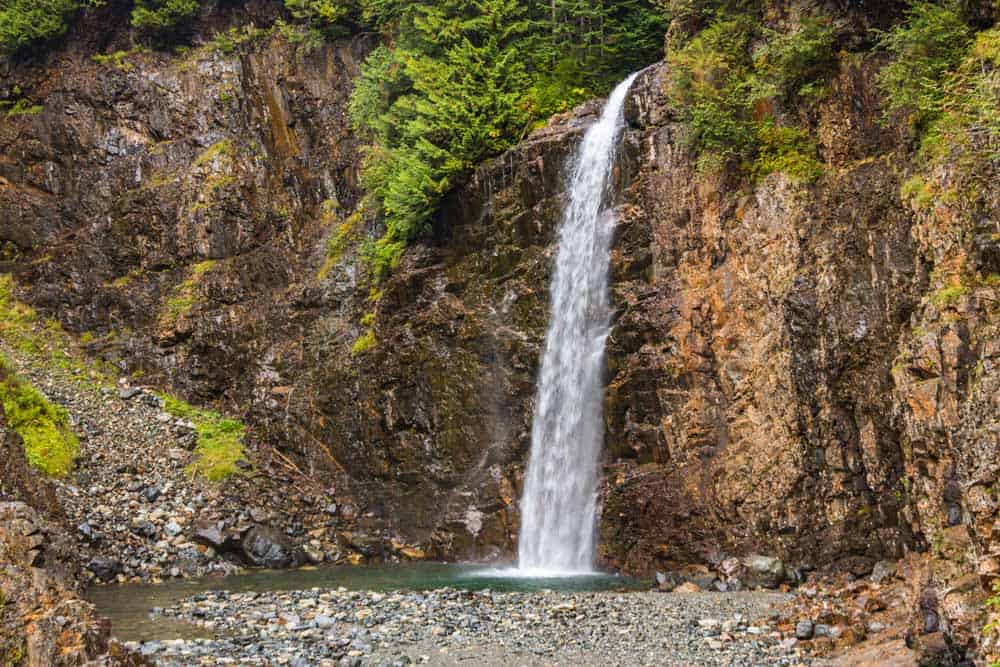 For an easy hike just under an hour outside of Seattle, Franklin Falls is a great choice! The hike is only 2 miles round trip and your elevation gain is only 400 ft, making this a moderate hike for anyone to tackle.
This is actually a three-tiered waterfall but the last drop, which is the tallest and most spectacular, is the one you'll hike to.
Just under a mile into your hike, you'll catch your first glimpse of Franklin Falls from a viewing area on the trail. The better views are at the base of the falls though, so you'll have to clamber down some rocks to get there. The rocks will be slick, so watch your step while heading down.
At the base of the falls, you'll feel the real power from the 70 ft waterfall! Franklin Falls gushes off a rock face and into a small pool of water below which flows down the Snoqualmie River.
Tips for visiting Franklin Falls:
The earlier the better. This waterfall is no secret so if you're road-tripping Washington, try to get here before everyone else does!
The waterfall is accessible year-round but you'll have to snowshoe in winter to reach it and possibly start from further back if the trailhead parking is too snowed in.
The better times to visit are between April – July since it's when the waterfall is at its fullest.
Recommended by: Nina Ragusa from Where in the World is Nina
3. Deception Falls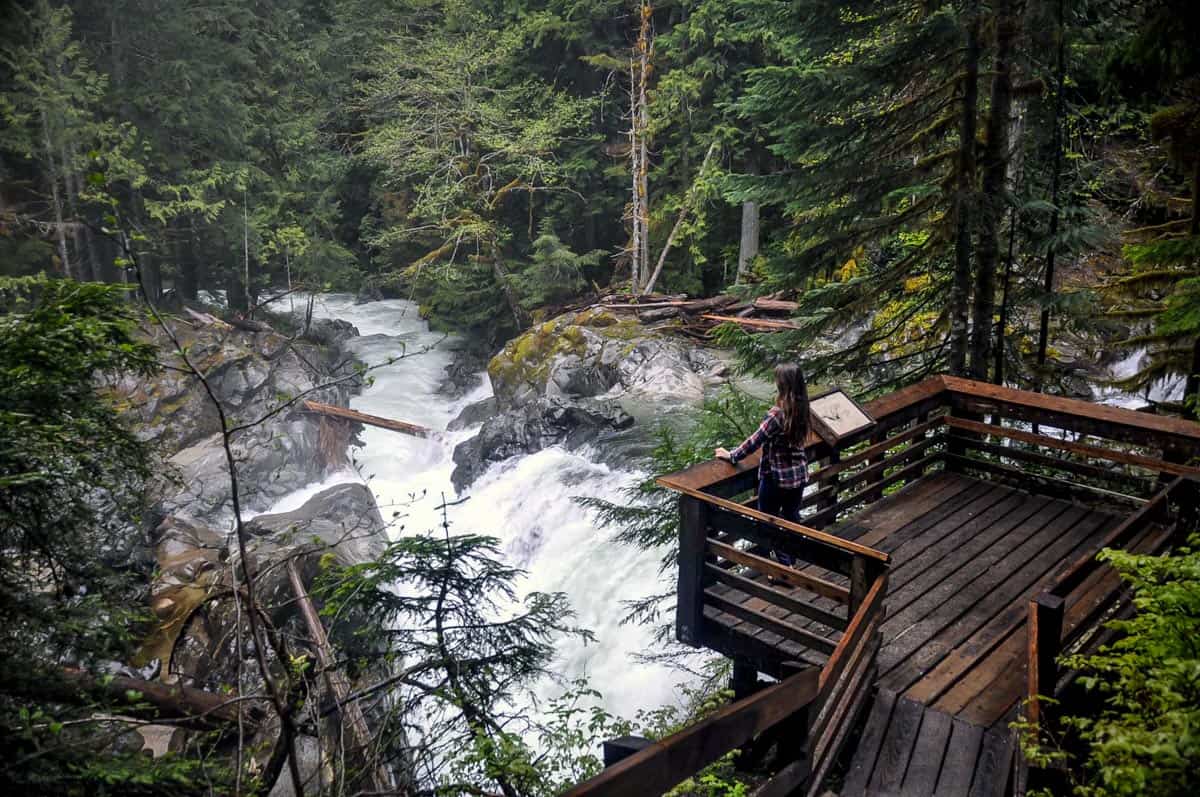 The drive on Highway 2 between Seattle and Leavenworth is a breathtaking journey, and there is no shortage of places to pull over and enjoy the view. One such place is the Deception Falls Interpretive trail, located just outside the small town of Skykomish.
Even though it's just an hour and a half from Seattle, you'll feel a world away from the city. The .8-mile interpretive trail makes for a quick and scenic walk to stretch your legs.
Walk along a flat and well maintained path, cross wooden bridges, and find yourself at a wooden overlook with a view of the falls below.
Insider Tip: If you're coming from Seattle, or heading there after, stop at Sultan Bakery for a super tasty treat! We love their buttermilk bars, their coconut chocolate chip cookies, and their sandwiches on homemade bread. Oh, and if you're really hungry, their breakfast burrito is big enough to split and still have leftovers!

Waterfalls in Mount Rainier National Park
If you find yourself exploring this National Park, you'll definitely want to check out some of these waterfalls!
4. Narada & Christine Falls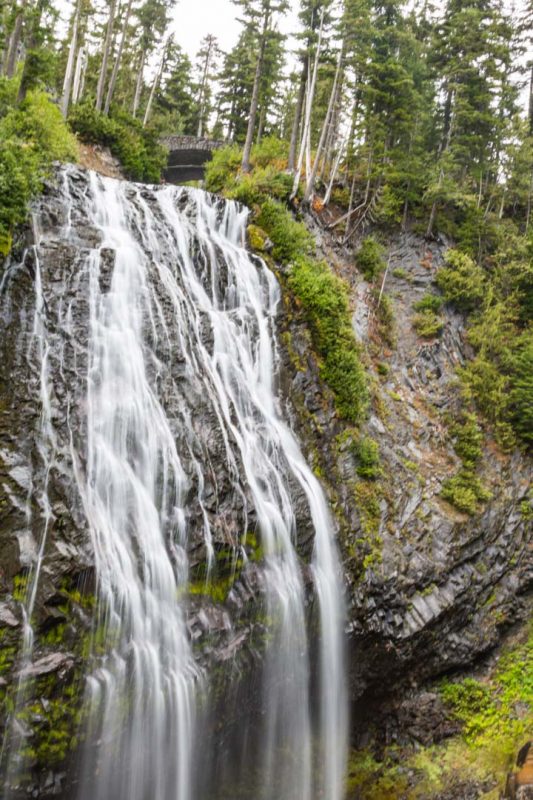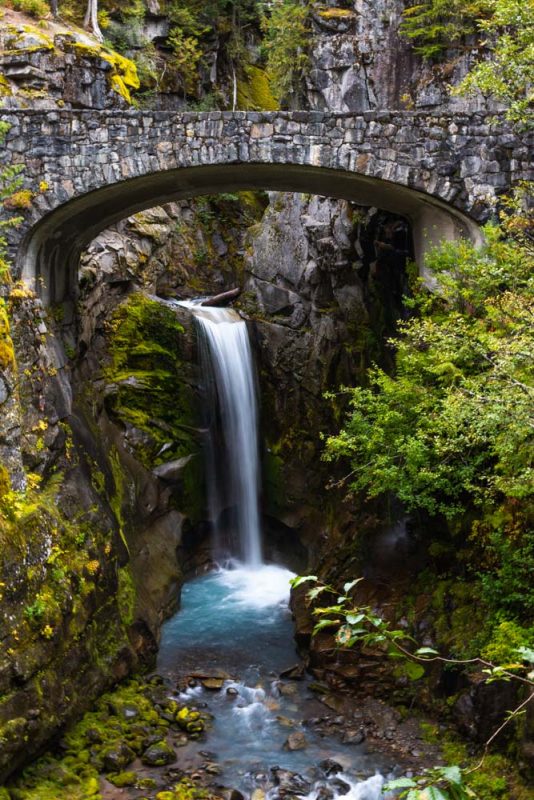 Considering Mount Rainier has the most glaciers in the country, aside from Alaska, and gets hammered with over 100 inches of rain a year, it's not surprising there are waterfalls everywhere. Stopping here was a must when road tripping from Seattle to San Francisco, and stumbling upon beautiful waterfalls was pretty easy!
Out of all the gorgeous waterfalls in the area, Narada Falls (pictured on the left) is one of the prettiest and most accessible. The curtain-like waterfall plummets 176 ft and continues flowing down the Paradise River.
To get here, you'll have a few options. There's a parking lot with a small viewing area just over the bridge, but you'll want to get closer. You can take the steps down to get a better view of the waterfall, keeping in mind it's a bit steep and perpetually wet.
If you want to stretch your legs, you can drive to the gorgeous Paradise area and hike 2.4 miles round trip to Narada Falls as well. This will give you some more trail time and some time away from people. The trail is often not too busy as most just gather around the waterfall and have come from the parking area.
Tips for visiting Narada Falls:
Don't pass Christine Falls, which is a beautiful waterfall you can see from the road (pictured on the right), it's just 4 miles away from Narada. In fact, you drive over it! From Christine Falls, you can hike a further four miles to Comet Falls.
You'll need a pass to get into Mount Rainier. A single vehicle pass is $30 for seven consecutive days.
This area of Washington gets wet, and Narada Falls will mist you. Bring that rain jacket.
Recommended by: Nina Ragusa from Where in the World is Nina
5. Myrtle Falls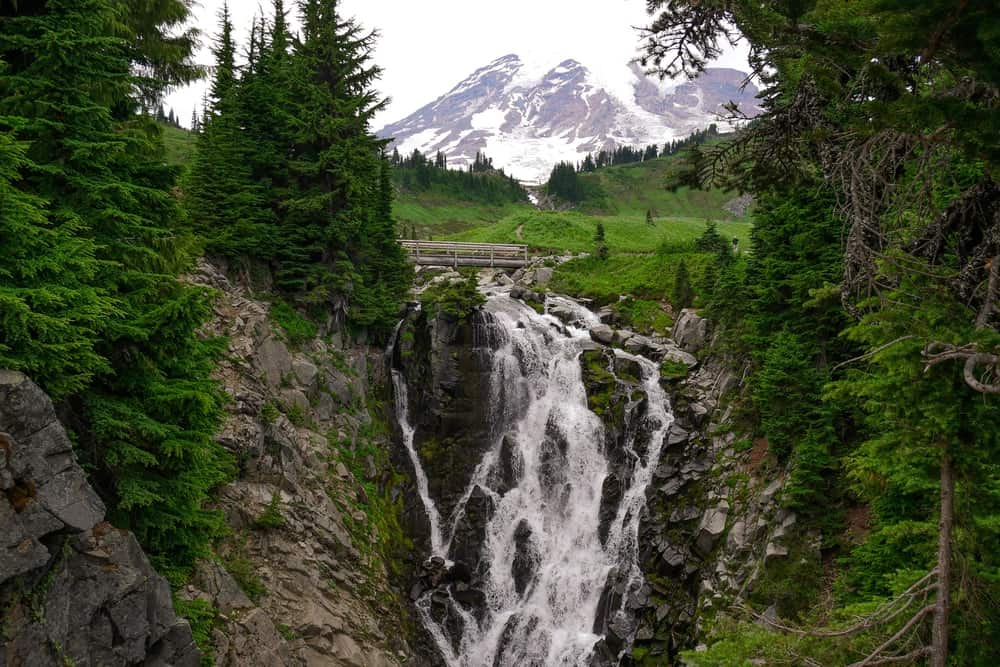 Recommended by: Erika Bisbocci of Erika's Travels
Though Myrtle Falls isn't the biggest or most dramatic waterfall in Washington, its setting below the towering snow-capped peak of Mount Rainier is certainly among the most scenic.
The idyllic waterfall sits in the Paradise Valley, along Mount Rainier National Park's spectacular Skyline Trail. The trail begins as a paved walkway. It showcases wildlife-rich slopes, alpine meadows, and spectacular 360 degree views of the Cascade Mountains.
At about the 0.5 mile marker, the Skyline Trail crosses Edith Creek at the top of Myrtle Falls. From the south end of the wooden footbridge, a short dirt trail veers off the main pathway and leads to head-on views of the 72 foot high cascade. The viewpoint perfectly frames Myrtle Falls as it tumbles below Mount Rainier.
Though Myrtle Falls flows year-round, it is not accessible during snowy winter months. Come June and July, however, the weather warms to pleasant temperatures, wildflowers speckle the nearby meadows, and Mount Rainier's towering mountain peak still lies under a glistening blanket of snow.
Due to its picturesque location and easy access from the Paradise Visitor Center, the path around Myrtle Falls can get quite crowded. To get postcard-worthy photographs without hoards of other people, the area is best visited early in the morning and at dusk.
6. Silver Falls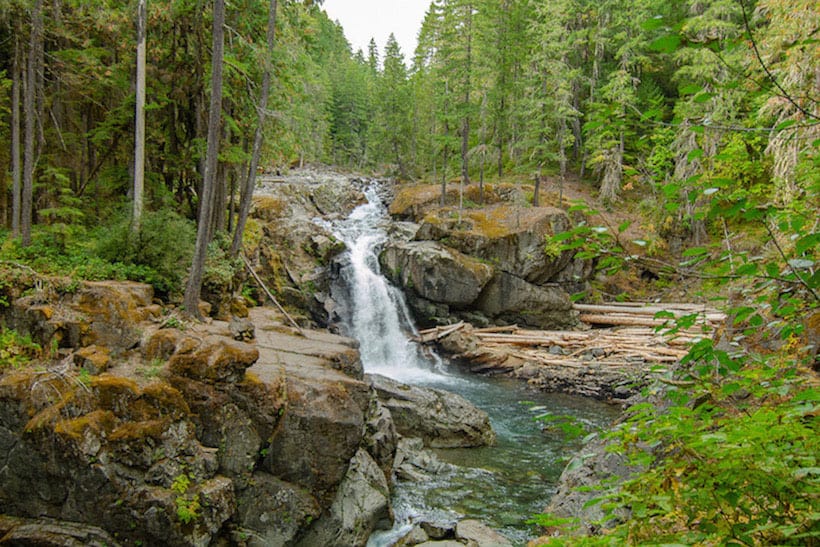 Mount Rainier National Park is known for its namesake mountain but there is so much more to the park. It has some of the best waterfalls in Washington state, and one of the most beautiful waterfalls lies along the Ohanapecosh River.
The Ohanapecosh River can be accessed by entering the park from either the Ohanapecosh Visitor Center in the South, or by continuing on the road after the turnoff for Sunrise in the North. At just over a 2 hour drive, it is one of the closer and more accessible waterfalls near Seattle.
The journey to Silver Falls takes you through the forest, past the remnants of a hot springs resort. The tiny pools are still there, but are now warm and not suitable for use.
The trail then follows the striking blue, clear river. The falls are said to be named for the silvery blue tint in the water that flows through the area.
For about 1.5 miles you follow the river to the falls. The waterfall itself is not that tall, at 95 feet, but the pool that it flows in to is beautiful. There are amazing photo opportunities from viewpoints along the trail. The trail then loops back along the beautiful, blue river.
Visiting in falls in the summer and fall is the best time safety-wise; the river is not rushing as it does with the snow melt and rain that Pacific Northwest Spring brings. Because the falls are hidden away in the forest, out of sight of larger-than-life Mount Rainier, they don't get as much attention as some other features around the park.
Make sure not to miss out, and include Silver Falls on your next trip through Washington!
Recommended by Samantha of A Truthful Traveler

Waterfalls within the Olympic Peninsula
Just across Puget Sound from Seattle is where you'll find this incredible waterfall.
7. Sol Duc Falls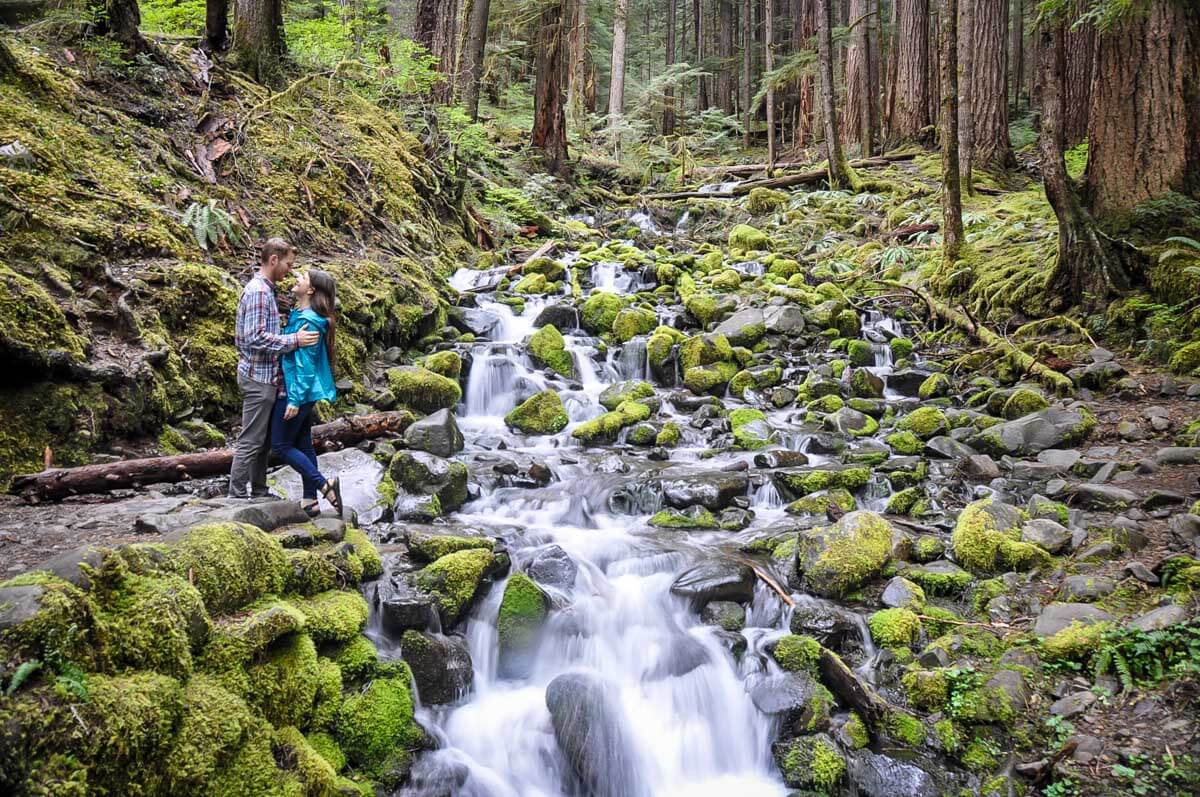 No visit to Olympic National Park would be complete without seeing the Sol Duc Valley and its namesake waterfall. Walk through the thick, old growth forest and feel as if you've been transported to another world. (Anyone else remember Fern Gully? This area is literally what inspired that movie!)
To get to the waterfall, you'll follow a flat, well-maintained path for about .75 miles (1.6 miles out and back). On the trail, you'll pass an old log trail shelter that was built by the CCC (civilian Conservation Corps) back in the Great Depression era.
You'll know you've reached the main waterfall when you see a large wooden viewing platform that overlooks the falls, which is split into three distinct offshoots. Mist often sprays up and you might be lucky enough to catch a rainbow in the spray.
Insider Tip: The main portion of Sol Duc Falls is beautiful, but don't miss the smaller creeks and small rapids leading up to it, as they are perfect for long exposure shots and are less crowded than the main overlook.
Entrance fee: In order to get to this waterfall, you must enter Olympic National Park by either paying the day fee ($30/vehicle) or using your annual America the Beautiful Pass.
8. Marymere Falls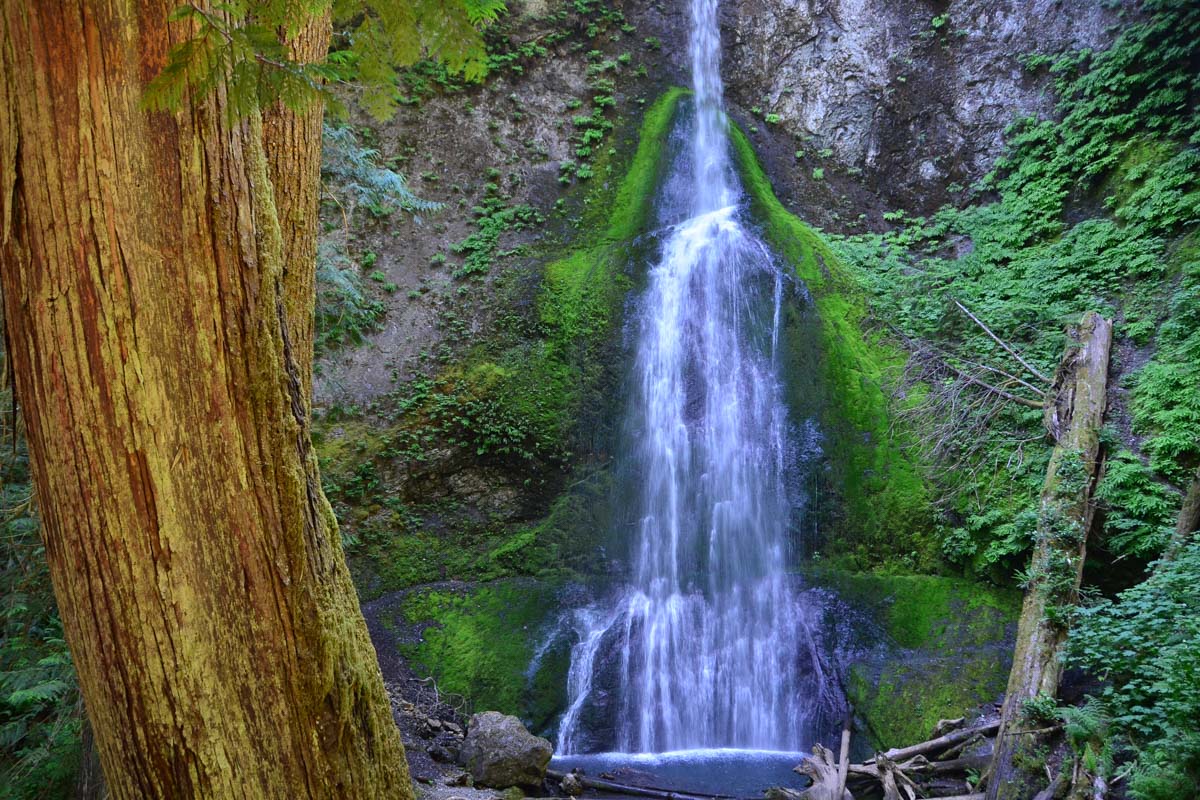 This stunning 90-foot waterfall sits as a backdrop against Lake Crescent on the Olympic Peninsula. A short 1.7-mile out and back hike is required to reach the falls, but the popular trail is worth the effort. Marymere Falls is considered one of the best hikes in Olympic National Park.
You can find the trailhead just outside the Storm King Ranger Station off Hwy 101. The easy walk has very little elevation gain as you traverse through moss-covered old growth forest surrounding Lake Crescent.
Entrance Free: $30/vehicle to enter the national park

Eastern Washington Falls
Chasing waterfalls is as good as any reason to venture into this part of the state!
9. Palouse Falls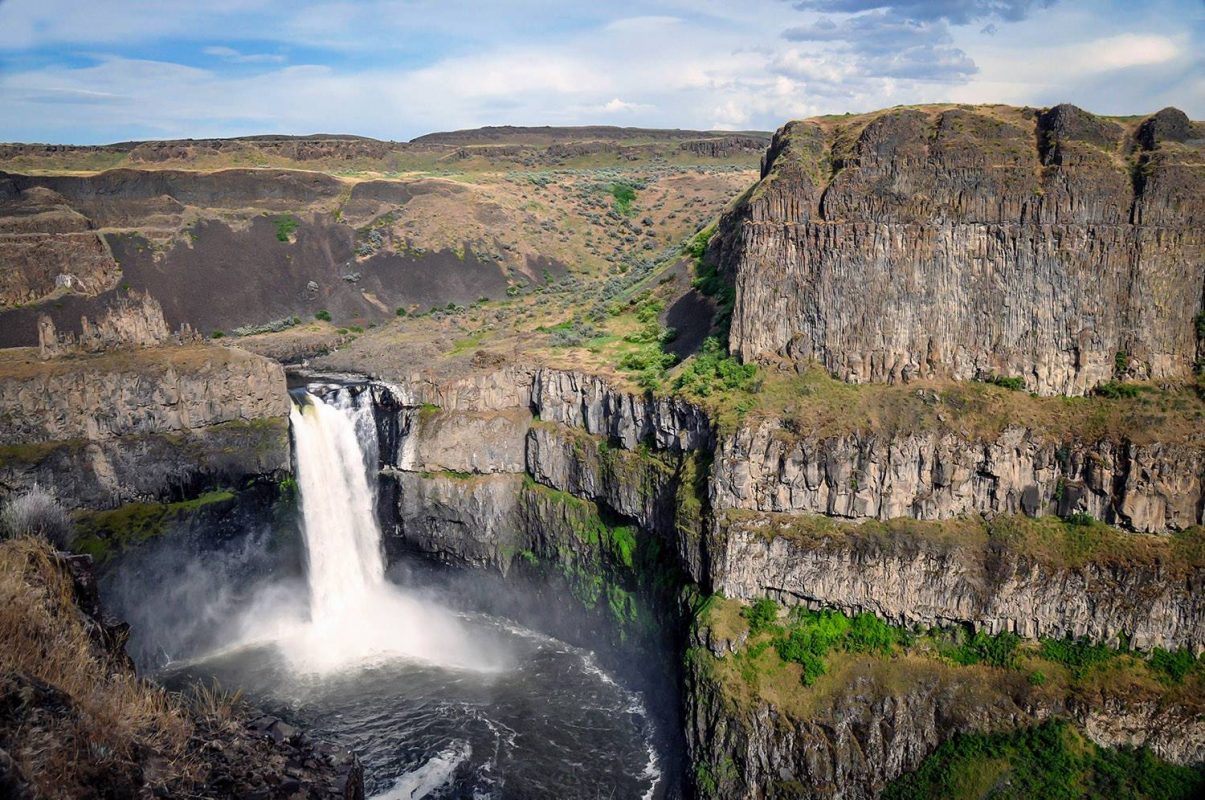 Palouse Falls is the kind of waterfall that looks like it belongs on a desktop screensaver or on the pages of a calendar… But we can assure you it is in fact a real place!
Much of eastern Washington is flat and barren, so the valley oasis of Palouse Falls State Park is a welcomed sight. Towering at 200 feet and plunging into a valley below, Palouse Falls is truly a sight to behold.
Located just over 100 miles from Spokane, Washington, getting to Palouse Falls requires a bit of effort as it really is in the middle of nowhere. It makes a great stop on a road trip or an adventurous day trip. There are campsites available as well if you want to spend the night.
Good to know: Depending on the time of year you visit, this waterfall can be seriously impressive or it can lack a certain oomph. Spring is the best time to visit, when the water is flowing freely and the canyon walls are lush and green. Later in the summer, the water flow becomes much slower and the valley turns a dusty tan, making it much less picturesque.
Word of warning: When walking around the viewpoints of Palouse Falls, be cautious. The dusty trails are easy to slip on, especially when winds are high. During our visit in 2017, dive crews were working to recover the body of a man who had slipped over the edge to his death while taking a photo the previous day.
Photo Tip: While the waterfall itself is the main showstopper, don't forget to look in the opposite direction into the canyon for a pretty beautiful shot as well!
10. Spokane Falls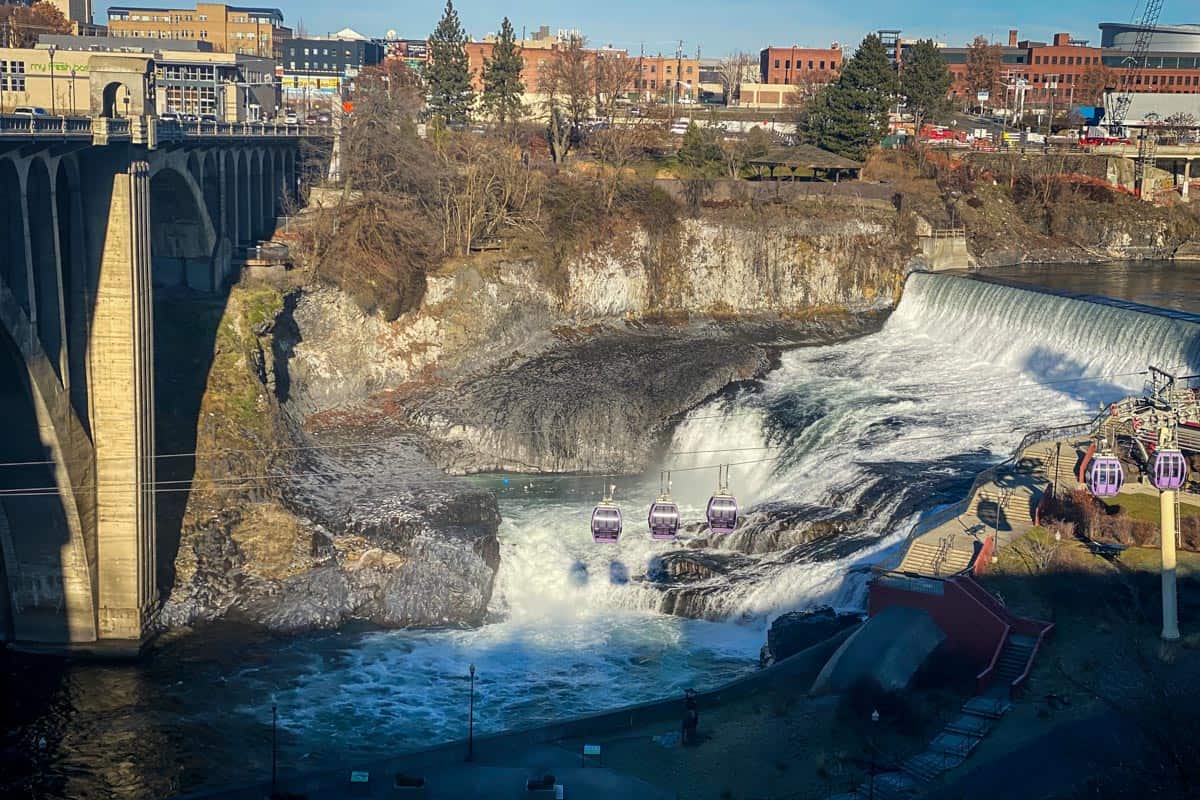 If you're looking to change your waterfall chasing pace, head over to Spokane Falls. Unlike the other incredible Washington waterfalls that are tucked in nature, these falls are right smack in the middle of downtown Spokane.
A visit to Spokane Falls allows you to connect with Mother Nature while exploring a vibrant city that boasts a beautiful riverfront and incredible food scene.
The Spokane River magically flows into two waterfalls, the Upper and the Lower Falls, each with its own dam. The total height of the cascading falls is approximately 146 feet, perhaps not the tallest or most dramatic waterfalls in Washington but their juxtaposition with city life is sure to take your breath away.
Catch the easy 1.6 mile loop at The Spokane Falls Trail (located across the Canopy Credit Union on N. Howard Street). This serene and scenic walk will immerse you in the stunning vantage points of the city's many bridges, beautiful architecture, a leisurely stroll through Riverfront Park, and a stop on Canada Island while the emerald green cascading falls never leave your sight.
If you're up for an adventure, take the gondola ride with Numerica Skyride, ranked "One of the Top 12 Scenic Cable Rides in the World" by Conde Nast Traveler. The ride will take you through some of downtown's iconic sites and get you up close and personal with the falls.
The coolest part of the ride is going through the arches of the historic Monroe Bridge, a structure that, in our opinion, is as captivating as the falls themselves. Look out for the rainbow that reliably likes to hang out right in front of the bridge's arches.
The best time to visit the Spokane Falls is March-June when the waters are raging at full force. But rest assured, the falls are actively in motion year round.
While visiting make sure to grab a bite at one of Spokane's many delicious dining establishments and leave some room to sip your way through the area's many wonderful wineries. Wine and waterfalls, we can't think of a better combination!
Submitted by Liat of Sunday Strolling


You may also like…
Save this article on Pinterest for later!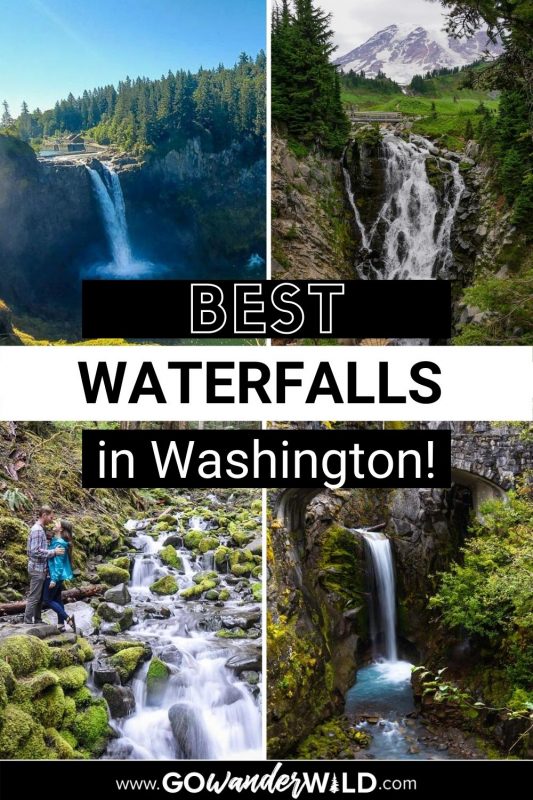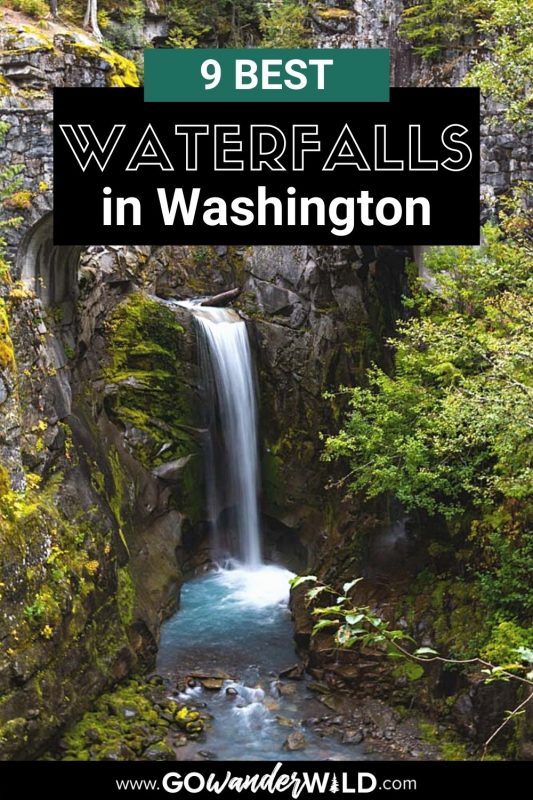 We want to hear from you!
Have you been to any of the waterfalls on this list? Which are you most excited to visit next? Do you have any incredible waterfalls in Washington you think we should add to the list? Comment below and let us know!