France may be world-famous for its iconic purple lavender fields, but Oregon also has its fair share. The moderate climate and fertile valleys create the perfect environment for several Oregon lavender farms, and this guide highlights some of our favorites.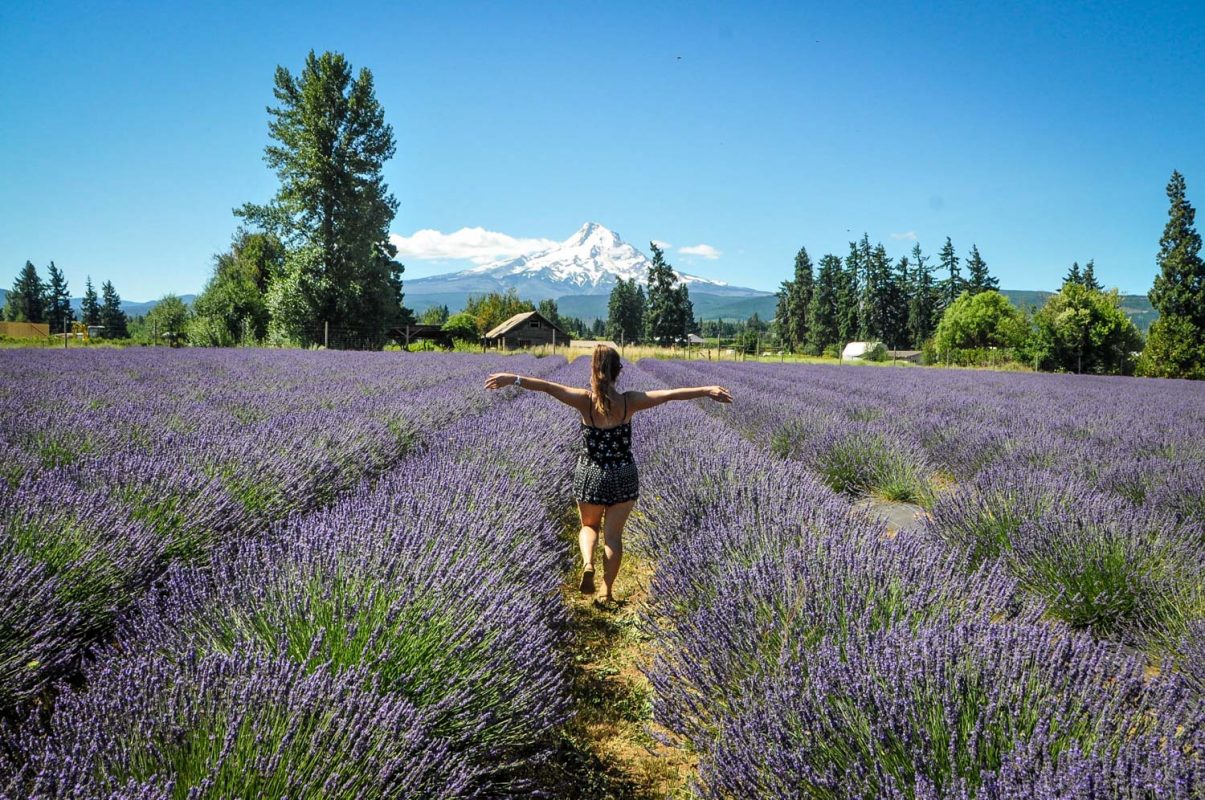 Summer in Oregon is synonymous with beach days, paddling various rivers and lakes, and cooling off with local craft beers…and to those in the know, the sweet, fragrant smell of lavender.
The unique climate and geography throughout much of the state lends perfectly to growing it, and visiting Oregon lavender farms in the summer is a bucket list-worthy experience. There's just nothing quite like the striking blankets of purple against the backdrop of Oregon's mountains and valleys!
More than just a scenic backdrop and aromatic plants, Oregon lavender farms also often have activities or food onsite, offer workshops, and hold annual festivals. It's no wonder visiting them is one of the best things to do in Oregon!
In this guide, we highlight some of the best lavender farms in Oregon, plus cover exactly what to expect when you visit.
Oregon Lavender Farms Guide

1. Hood River Lavender Farms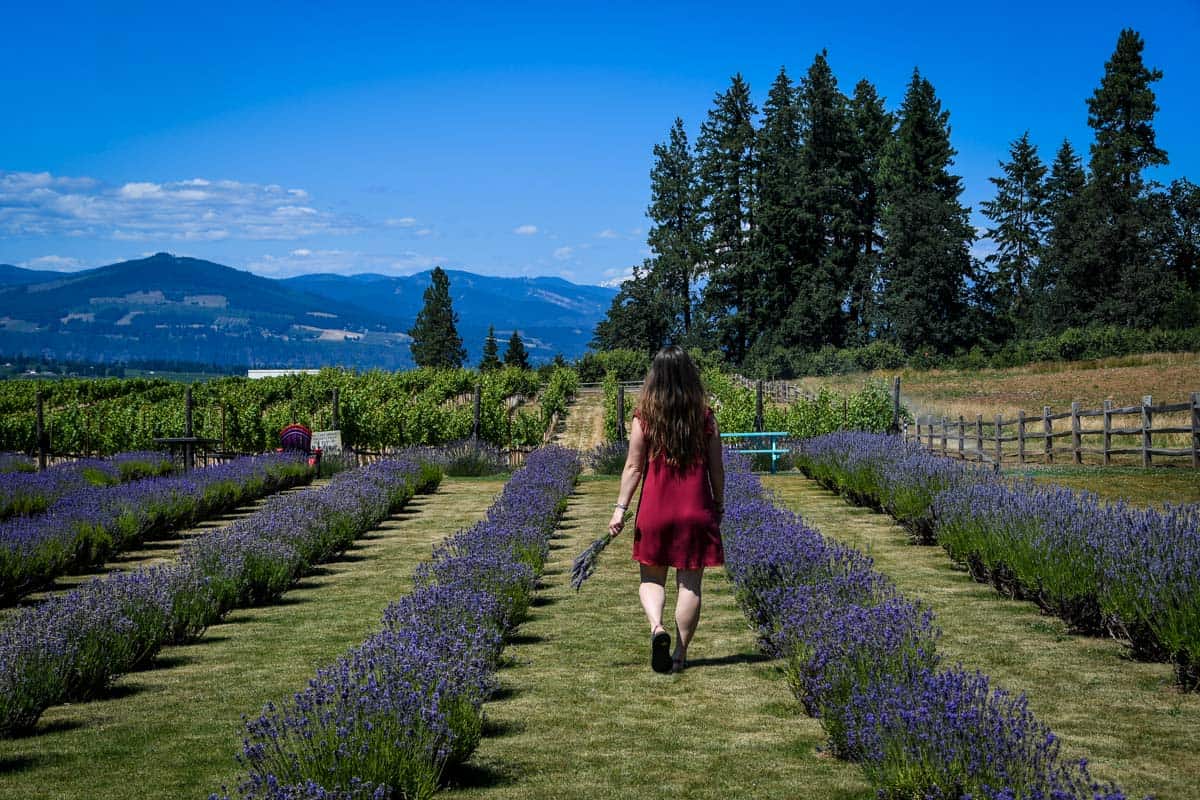 This place is truly so jaw-droppingly gorgeous, it sets the bar high for other Oregon lavender farms! Mount Hood towers above this fifth-generation lavender farm, nestled in the aptly-named Lavender Valley and part of the (also aptly-named!) Hood River Fruit Loop.
Stroll through the lavender fields, cut your own bouquet, and visit with the adorable resident goats. Be sure to stop by the gift shop for some lavender tea, chocolate, or essential oil, which is steam-distilled onsite.
If possible, visit in July during the Lavender Daze Festival. The event is held during peak bloom and features live music, food, and artisan vendors.
Bonus: Hood River Lavender Farms is right next to Stave & Stone, one of our favorite Hood River wineries!
2. Mountainside Lavender Farm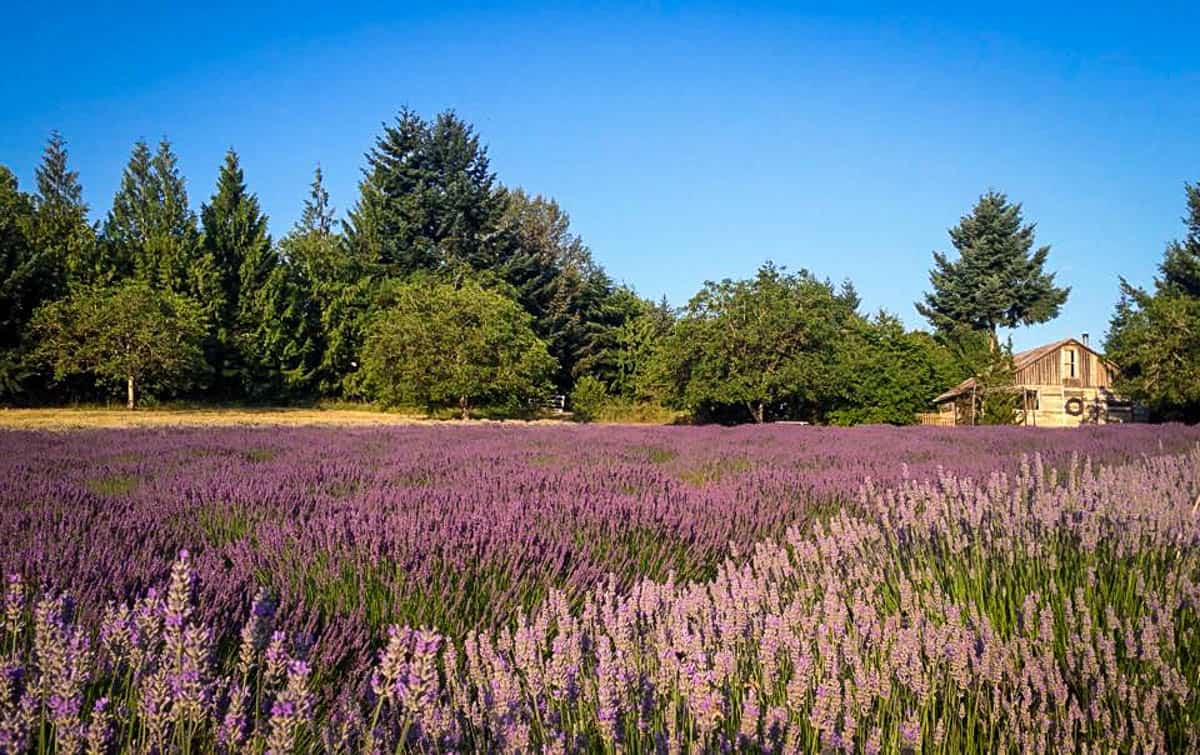 This family-run Oregon lavender farm is less than 30 minutes from Portland. Mountainside grows over 20 varieties of lavender, in shades of pink and white in addition to purple. As you might imagine, it's wildly popular with photographers!
Visitors can buy individually potted lavender plants or purchase bundles for $6 each, either U-pick or ready-made. The staff will even cut you a fresh bundle if you prefer, and the farm provides shears and other tools for U-pick.
Mountainside Lavender Farm is part of a working farm, so there are cute farm animals to visit and interact with onsite. Throughout the season, the farm also offers popular lavender wreath-making classes.
At the end of the season, the farm distills certain English and French lavender for essential oils, which are available year-round.
3. Wayward Winds Lavender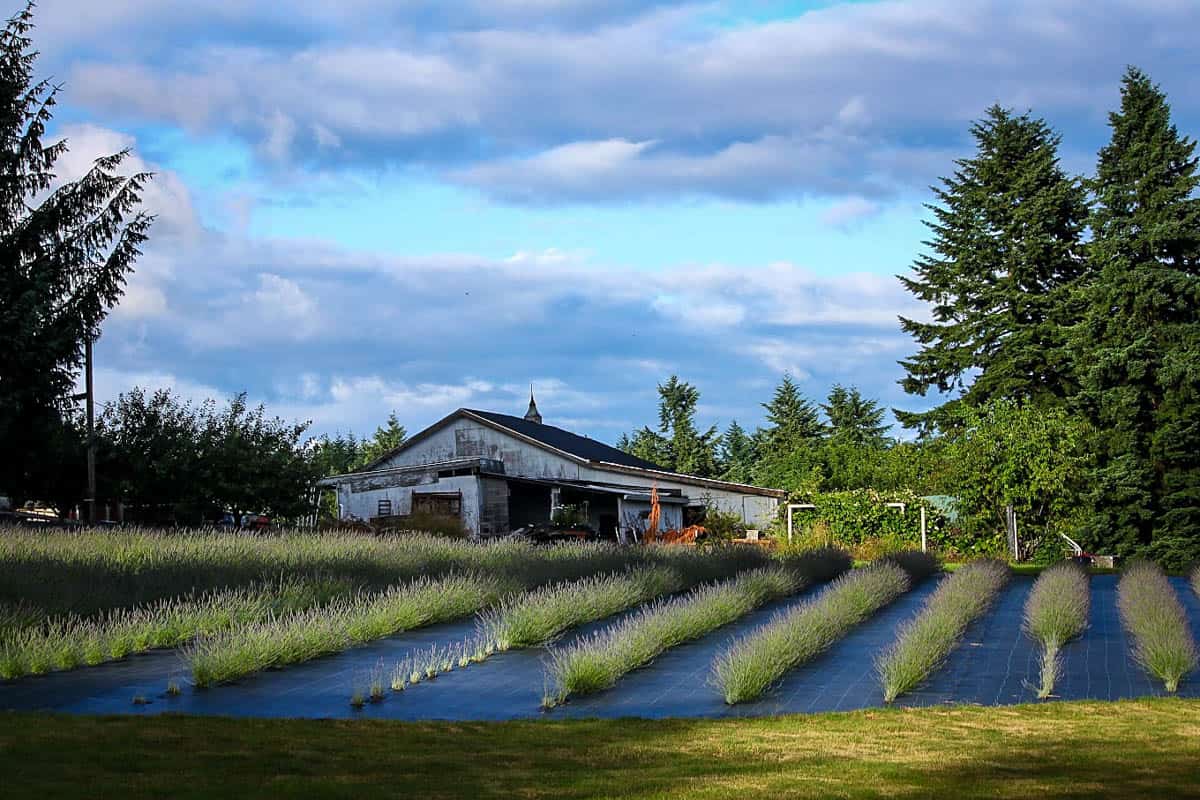 Boasting one of the largest U-pick fields of any Oregon lavender fields, Wayward Winds is a must — especially because it's just a pleasant 40-minute drive from Portland.
In addition to the flower fields, Wayward Winds also has a fun, massive lavender maze, and dogs are welcome to join in the fun, too. Visitors can also take a variety of classes and shop for small-batch goodies including teas and syrups.
One of the most unique things about this Oregon lavender field (aside from the maze, of course!) is that it's extremely encouraging of photoshoots. Some lavender fields have strict policies against it or charge a small fortune, but Wayward Winds charge just $40 and even provide a variety of fun props.
There's also a beautiful gathering space available for rent for groups of up to 20 people. It's the perfect venue for bridal or baby showers, book clubs, and more!
4. Helvetia Lavender & Christmas Tree Farm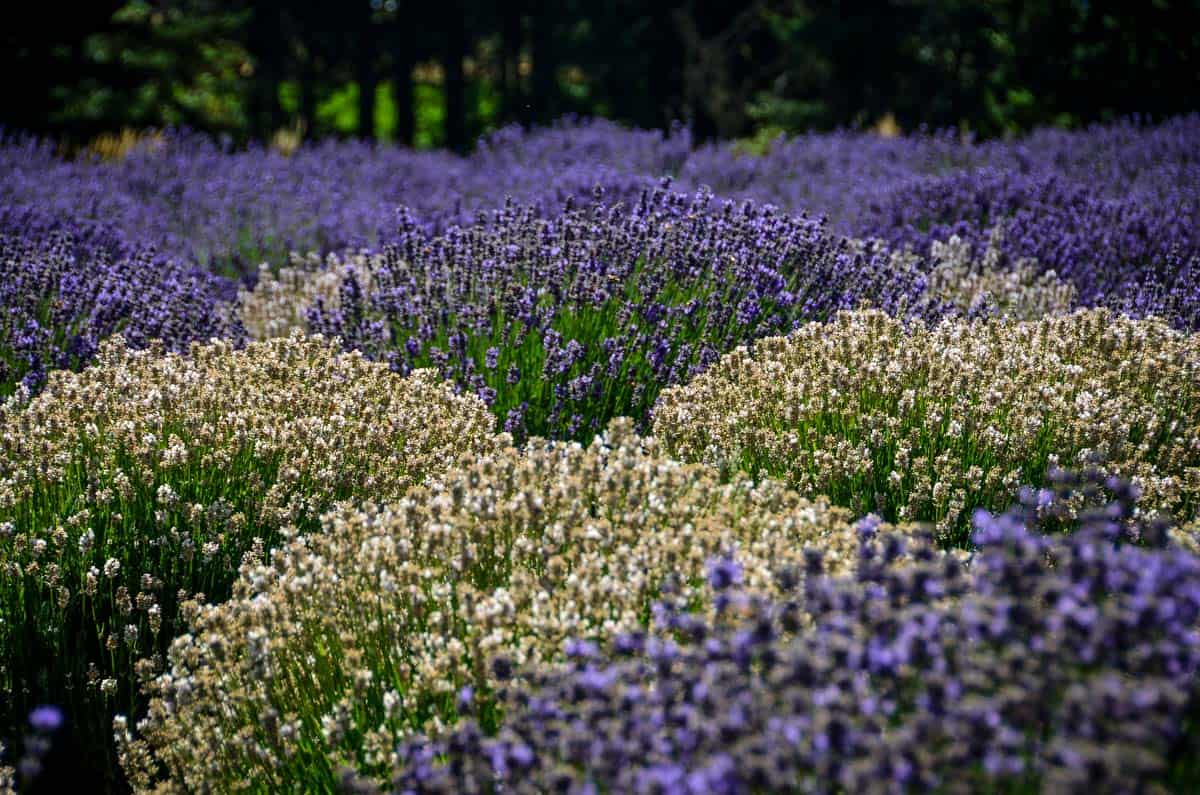 Nestled in the picturesque Willamette Valley less than 30 minutes from downtown Portland, Helvetia Lavender Farm grows over 60 varieties of the aromatic plant. Somewhat unique among Oregon lavender farms, some of the fields here are strictly for landscaping, rather than cutting.
Use the provided shears, twist ties, and baskets to cut your own bundles, or purchase a pre-cut bundle. Relax on the pavilion set in the fields, which overlooks nearby Eagle's Nest Vineyards.
You may also notice this lavender farm's interesting-looking hillsides. It's also a Christmas tree farm, open seasonally the day after Thanksgiving.
The farm's annual Helvetia Lavender Festival is a major highlight, held on two July weekends. In addition to its usual u-pick offerings, the farm brings in food and craft vendors, live music, kids' activities, and holds workshops and demonstrations on essential oil distilling, wreath-making, and more.
5. Durant at Red Ridge Farms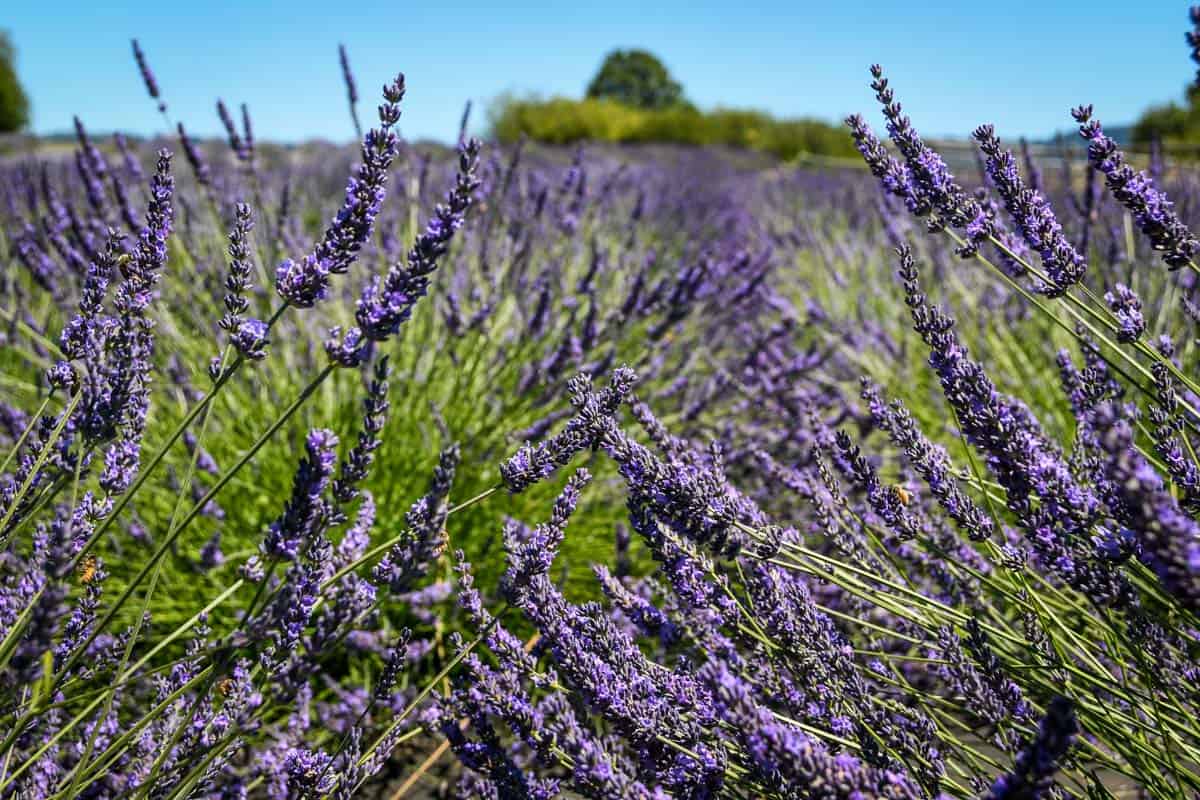 Hours: Variable — nursery, gardens, nature trail, and gift shop 10 am – 4 pm daily; tasting room 10 a.m. – 3 p.m. by reservation
Entrance: FREE
Of all the Oregon lavender farms on our list, this one is easily the most diverse in terms of its offerings.
In addition to 14 varieties of lavender, Durant at Red Ridge Farms is home to a vineyard and tasting room, Oregon's only commercial olive mill, a gift shop, a specialty plant nursery, and even overnight accommodations.
Something especially unique about this Willamette Valley farm is that its Oregon lavender is available only during its annual July festival weekend. Although you can't get u-pick bundles outside of the festival, the nursery carries lavender plants and bouquets when in season.
The farm also offers summer gardening workshops and classes on making lavender wreaths and body products.
Be sure to factor in a bit of extra time for this particular lavender experience, because you'll want to visit the tasting room or take an ATV or tractor tour of the vineyards.
6. Cascade Lavender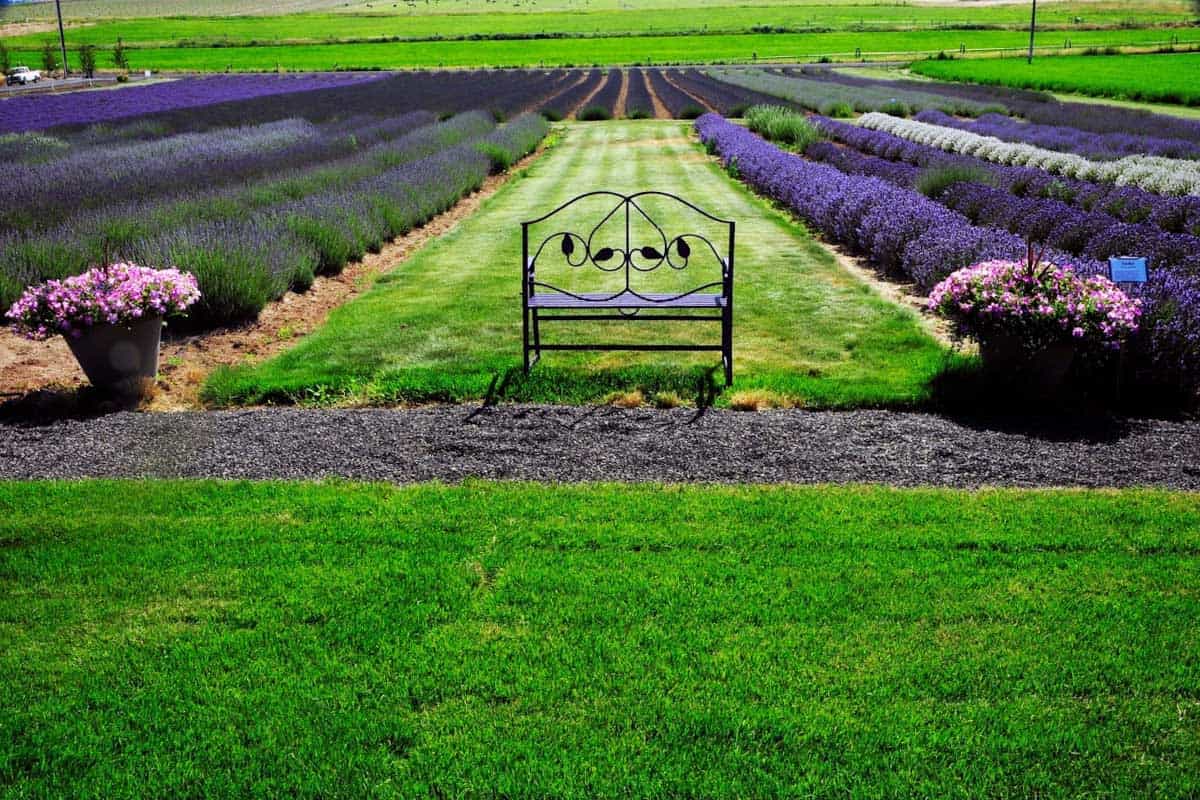 Less than an hour north of Bend with stunning views of the surrounding Cascade Range, Cascade Lavender offers many family-focused activities in addition to its plentiful lavender fields.
Over 100 varieties of lavender (24 in the U-pick garden) and 4,000 individual plants make up the display gardens and U-cut fields, and there's also a plant nursery where you can buy potted plants or precut bundles.
Beyond the lavender, there are friendly farm animals to visit with, a great gift shop selling a wide array of lavender products, and beautiful picnic areas on the grounds, some with shade shelters and others with benches.
This Oregon lavender farm is also pet-friendly, so feel free to bring your pup along for the scenic drive!
7. Ravencroft Lavender Farm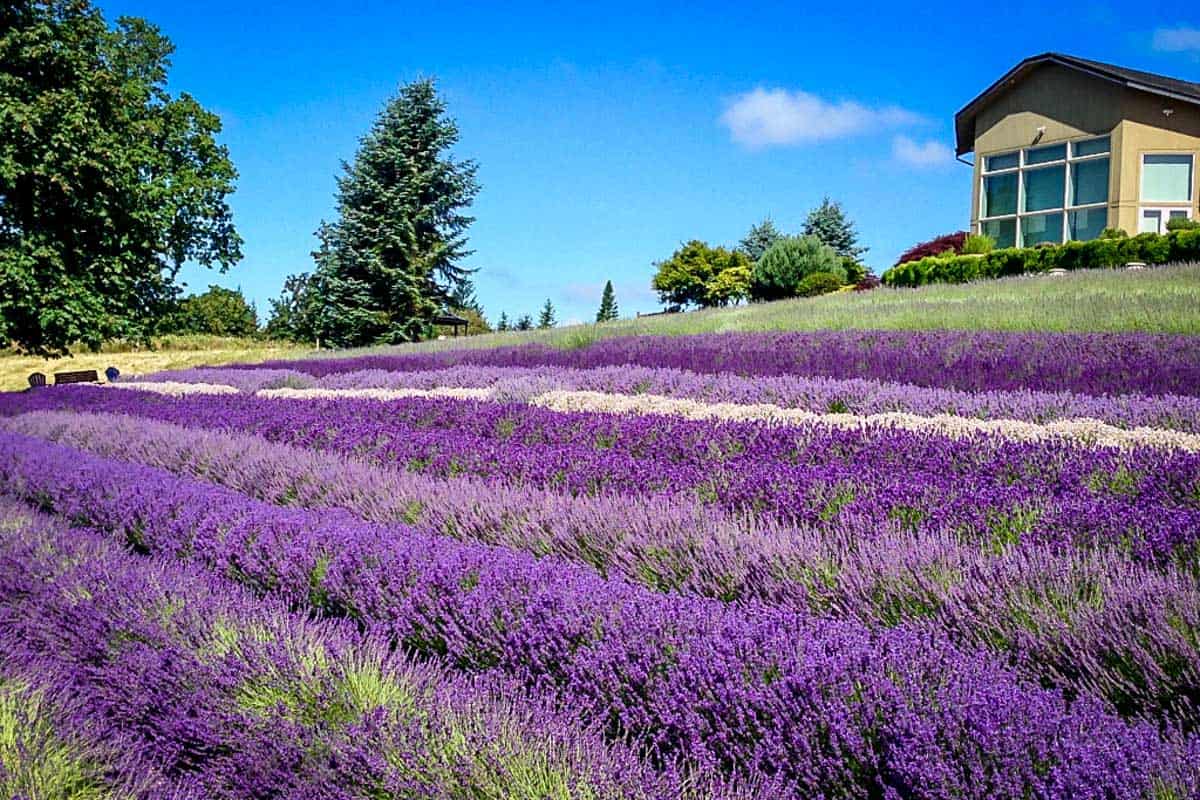 Tucked into a hillside with a gorgeous view of the Willamette Valley, Ravencroft features dozens of varieties of lavender. It has a few early-blooming varieties that create an extra-long bloom season, starting as early as May.
Ravencroft also specializes in distilling its lavender, and the farm is known for hand-distilling individual varieties. The end results are essential oils and other lavender products, all available in the charming Raven's Nest Gift Shop.
Stroll the fields, bundle your own lavender bouquets, and bring your own picnic lunch to enjoy under the shaded gazebo overlooking the lavender fields and valley.
8. Lavender Ally Farms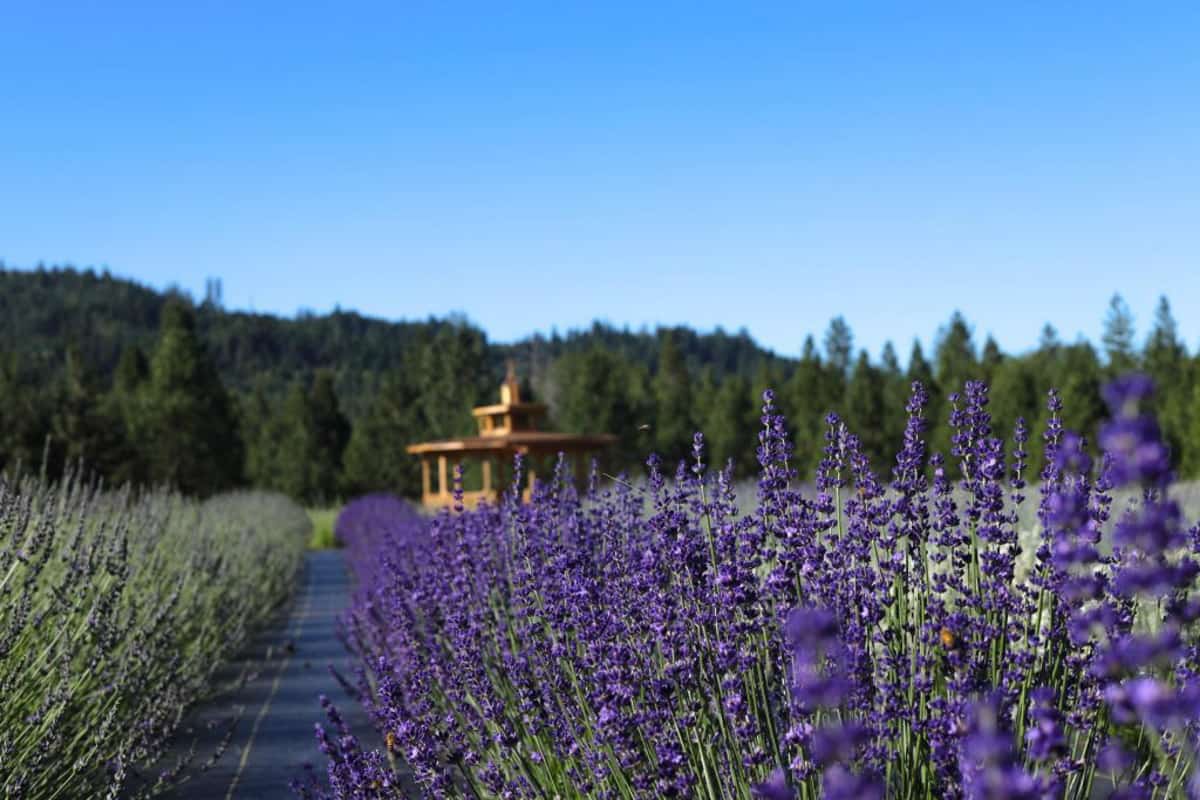 Hours: 10 a.m. – 4 p.m. Friday-Sunday from June 4 – July 31
Entrance: FREE
One of the newest Oregon lavender farms, Lavender Ally is part of the Southern Oregon Lavender Trail, a group of six family-run operations.
Lavender Ally grows 13 varieties of lavender, all arranged in a circular field with a gazebo at the center. The design represents the tree of life, symbolizing our ever-lasting connection to the earth.
While bees are common sights at Oregon lavender farms, Lavender Ally actually has its own hives onsite. Their shop sells honey and several other lavender-focused products, including gorgeous handmade flower crowns.
Insider tip: Grab a brochure from any one of the farms on the trail and ask for a stamp. If you visit all six, you can return your brochure for fun prizes!
9. Dos Mariposas Vineyards & Lavender Farm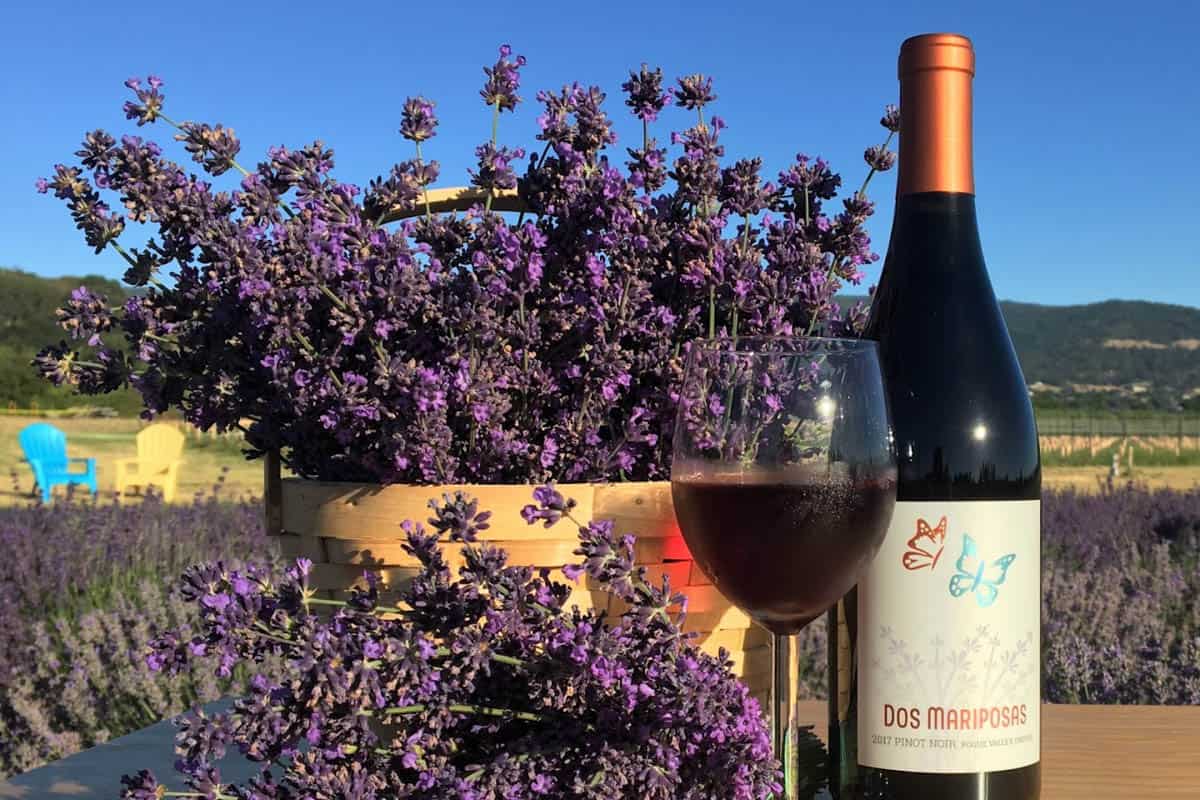 Tucked into the Rogue Valley, Dos Mariposas is one of the more unique Oregon lavender fields. It's also a working winery (plus, it's another member of the Southern Oregon Lavender Trail)!
The 27-acre farm and vineyard enjoys beautiful mountain views in all directions and is a true family affair. Three generations of family members work the land, including two little girls whom the winery is named after.
Dos Mariposas has 16 varieties of lavender ranging from white to purples and blues, and some of them begin blooming as early as May. Peak bloom season here is actually in June, tapering off by mid-July.
The farm is 100% organic and the lavender is hand-harvested, with body products and essential oils available year-round in the tasting room. Note that dogs are welcome on the grounds, but not in the winery.
10. Applegate River Lavender Farm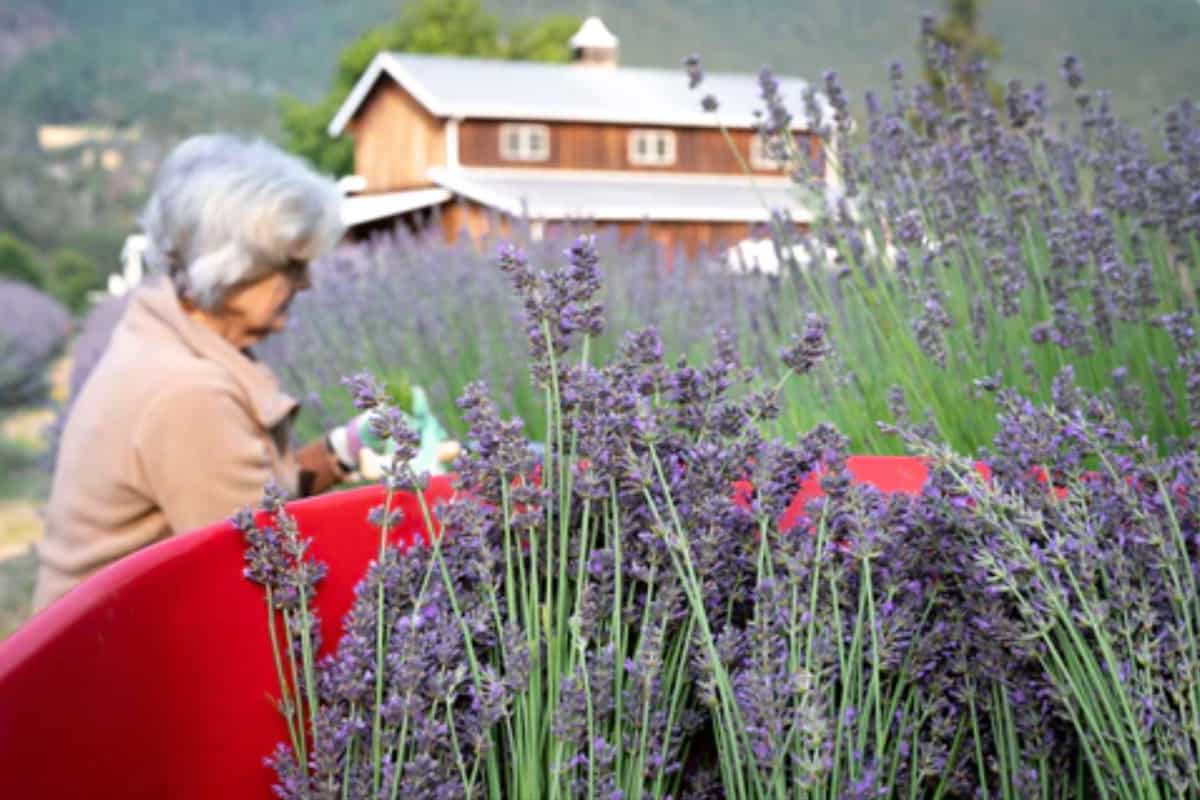 One more location along the Southern Oregon Lavender Trail, family-owned Applegate River has tons to offer lavender lovers.
The 1,000-plant, 7-variety farm offers U-pick during the season, as well as a variety of classes including lavender wreath-making, essential oil blending and distilling, and "Lavender Farminar," a 101-type of class that covers everything you could possibly want to know about growing lavender.
Best of all, the clear Applegate River runs right through the grounds of this Oregon lavender farm! Hang out on the "beach," under the enormous shady maple tree, or in the barn, which also hosts weddings and other special events.
The Southern Oregon Lavender Trail hosts an annual Lavender Festival on two weekends in June and July. Individual farms bring in live music, local vendors, food, and a variety of special lavender-focused workshops and classes.
Map of Oregon lavender farms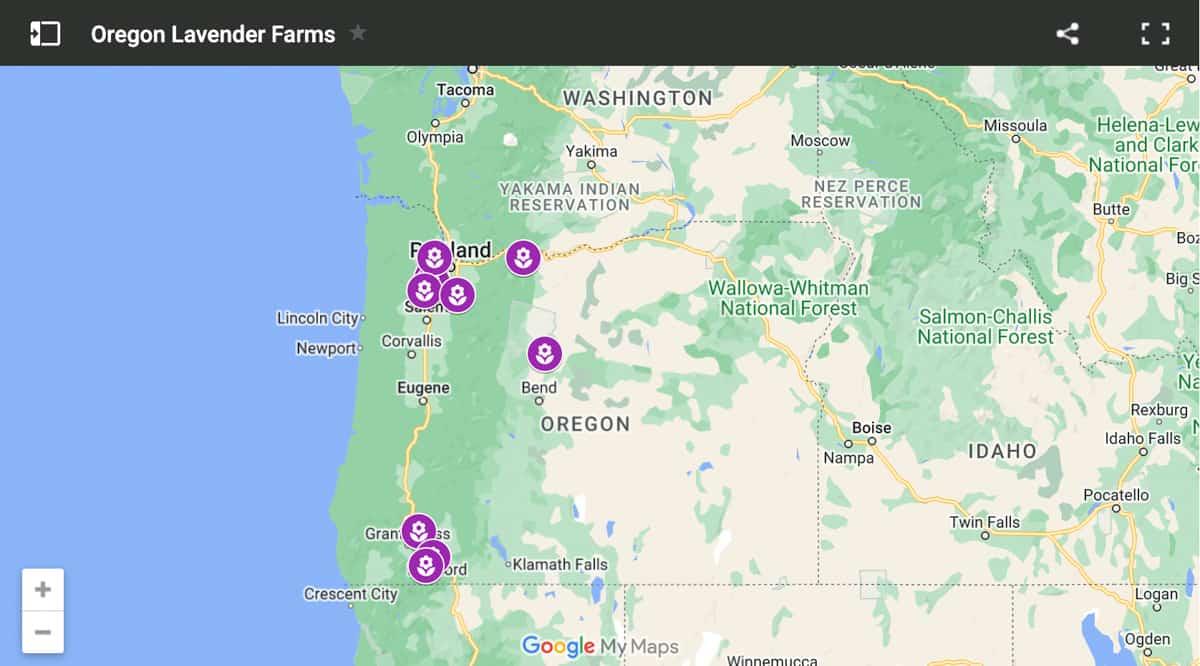 Wondering where to find the best Oregon lavender farms? The colorful, fragrant flower grows exceptionally well in a few different Oregon climates found throughout the state. There are several fields and farms clustered in the Willamette Valley, Hood River Valley, southern Oregon, and central Oregon, north of Bend.
What type of lavender is grown in Oregon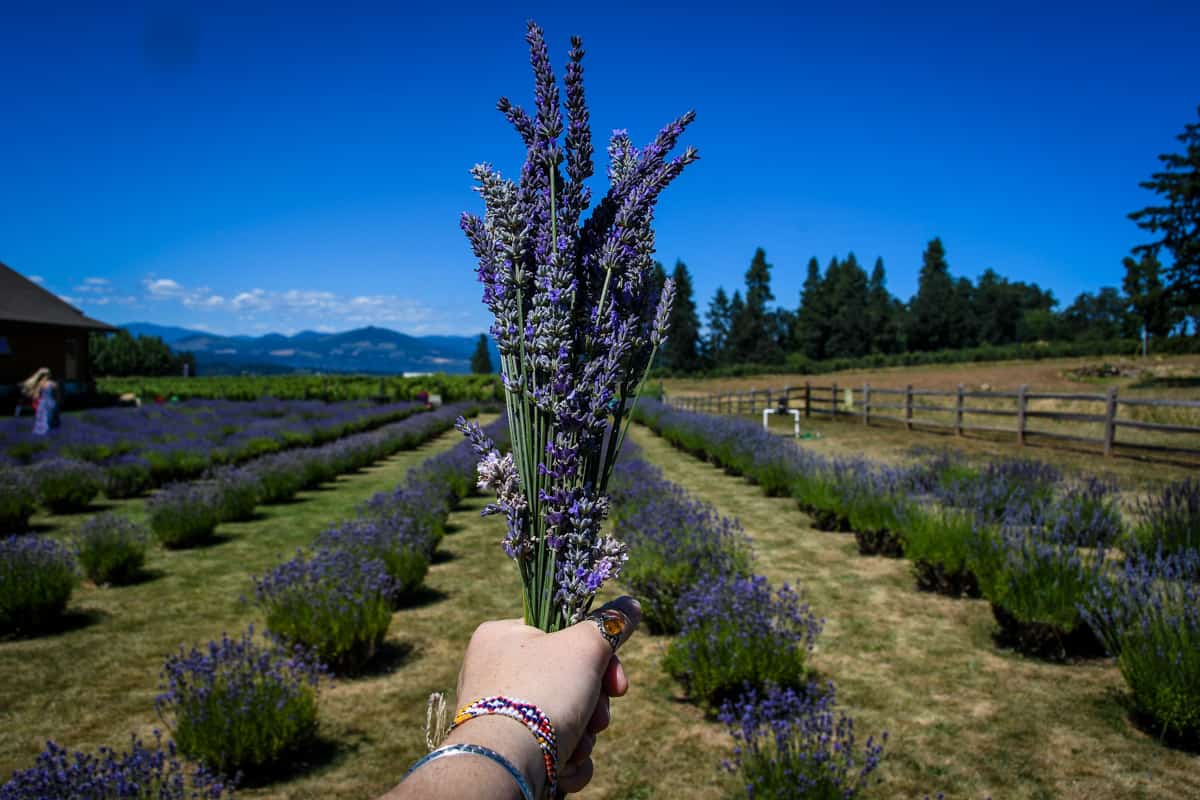 Although you'll find Oregon lavender farms showcasing a handful of other varieties, the most popular types of lavender grown here include Lavandin, English, Spanish, and Rivera.
Within each of these family types are several individual varieties, all with unique aromatic and color properties. Depending on the season and what the farm has planted, you may see lavender plants ranging in color from white and pink to gray and, of course, deep blues and purples.
Best time of year to visit Oregon lavender farms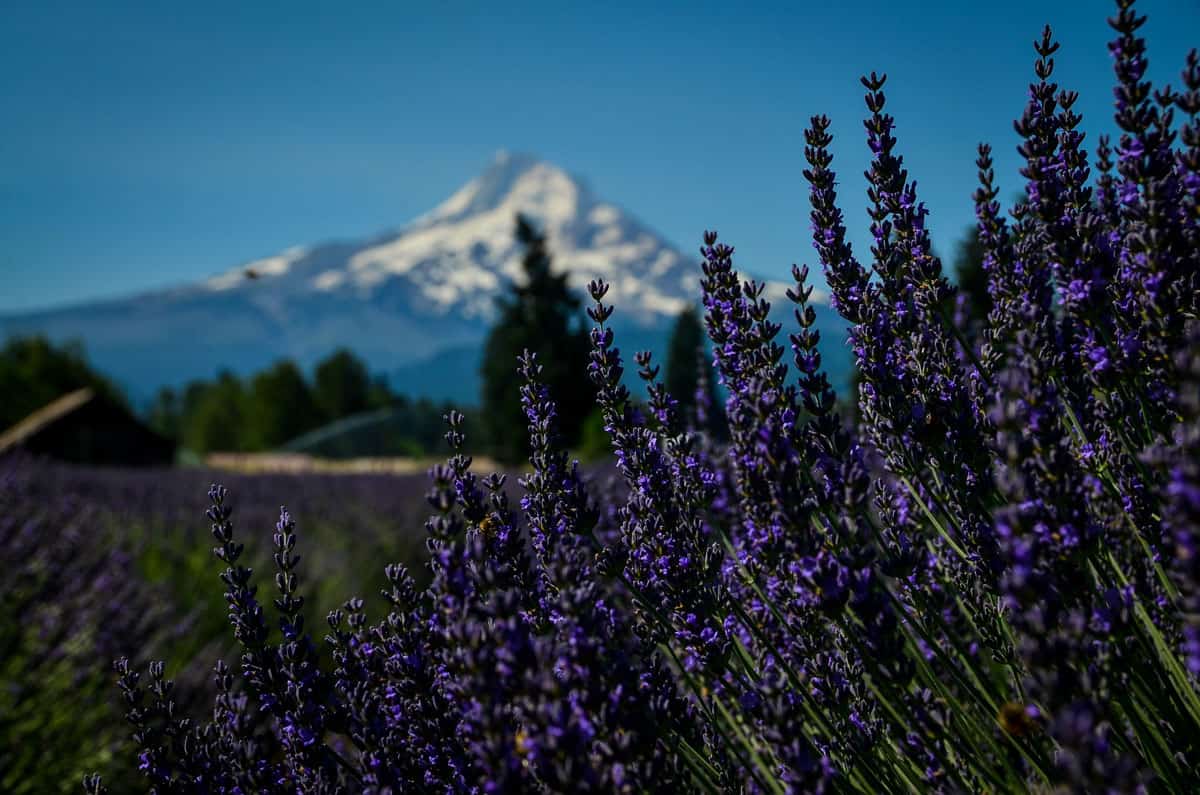 Summer is the best time to visit Oregon lavender fields, as this is when the lavender actually blooms.
Technically, the blooming season runs from April through August, depending on the variety of lavender and the exact geography and climate of a particular area. Even factoring in all those variables, however, peak bloom for Oregon lavender is reliably late June through early August.
What to expect at Oregon lavender farms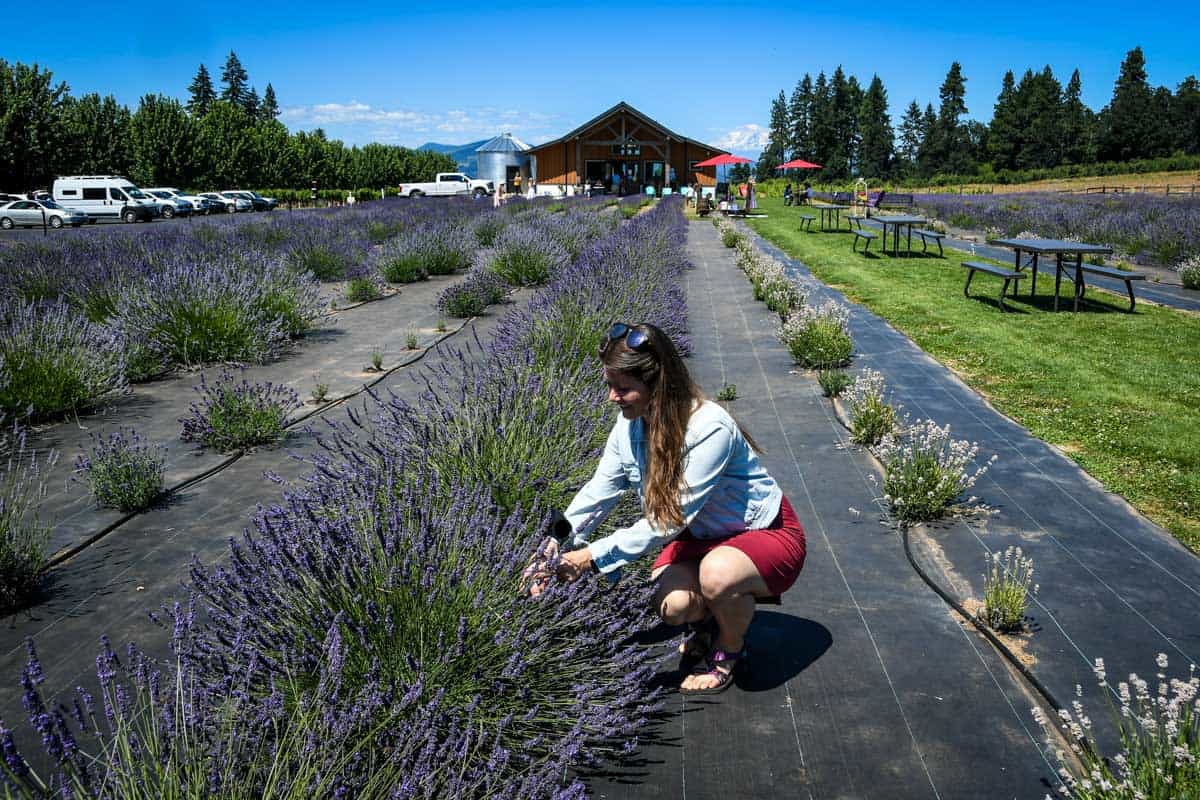 Aside from the scenic lavender itself, many Oregon lavender farms offer special U-pick fields and have gift shops where you can purchase homemade lavender goodies. These vary significantly, but you may find anything from soaps and lotions to edible treats like lavender ice cream and lemonade.
Most, if not all, also offer pre-cut lavender bouquets for purchase. Those with onsite nurseries also typically sell potted plants or seeds.
If the lavender fields are on grounds with other growing operations, like wineries or farms, you can also expect to find tastings, petting zoos, or other animal interaction experiences.

You may also like…
Save this article on Pinterest for later!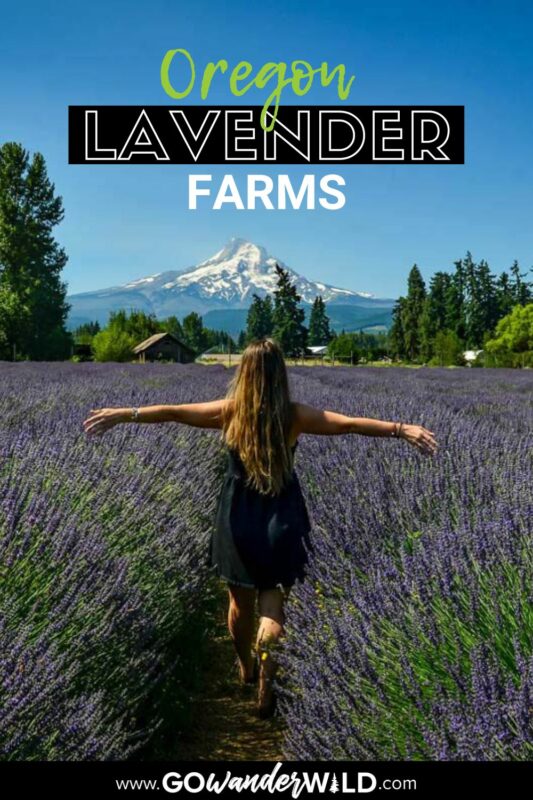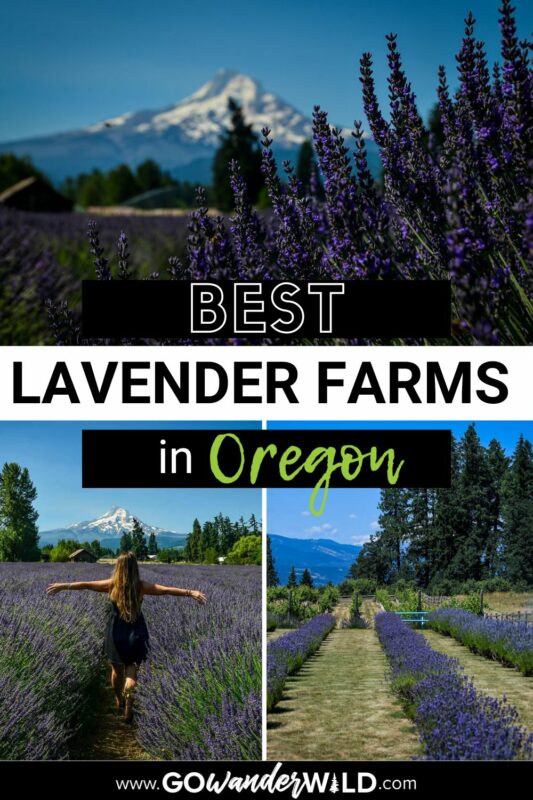 We want to hear from you!
Have you been to any of the Oregon lavender farms on this list? What was your experience like? Which is your favorite? Comment below and let us know!