With towering volcanoes, lush forests, and the Pacific Ocean all within two hours, there's an outdoor adventure to match every taste. We rounded up the best hikes near Portland to highlight a diversity of trails, from easy urban escapes to full-day treks with overnight camping options.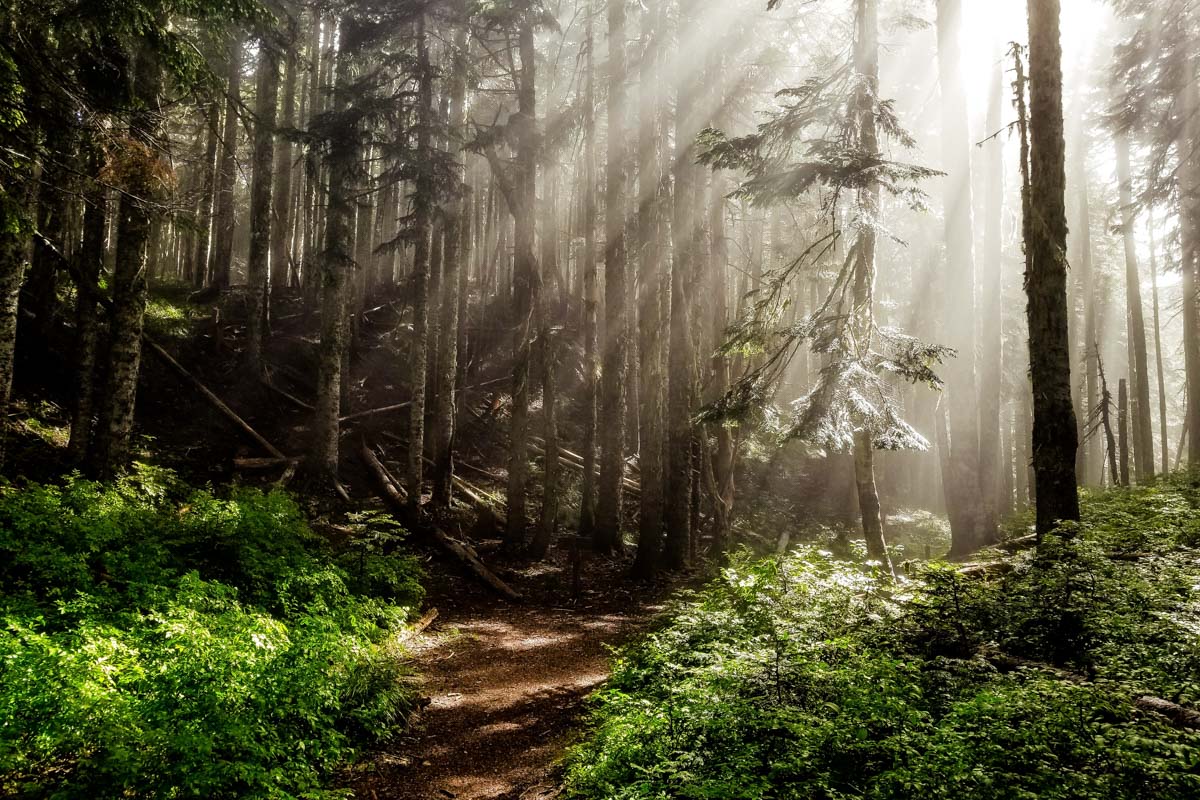 Centrally located between towering volcanoes, endless mountain ranges, beautiful coastline, and lush forests, Portland, Oregon is a hiker's dream.
With so many options less than two hours away, hiking near Portland makes it easy to dip in and out of busy urban life, sometimes without leaving the city at all.
Whether it's a trail combined with a relaxing beach day or trekking next to streams cascading from Mount Hood, you'll find one of these Portland hikes to match any mood. And don't worry—we've considered all experience levels and every member of the family (including your dog!). It would take several lifetimes to hike all of Oregon's incredible trails, so this list highlights the best hikes near Portland, arranged from least to most difficult.
1. Multnomah Falls Trail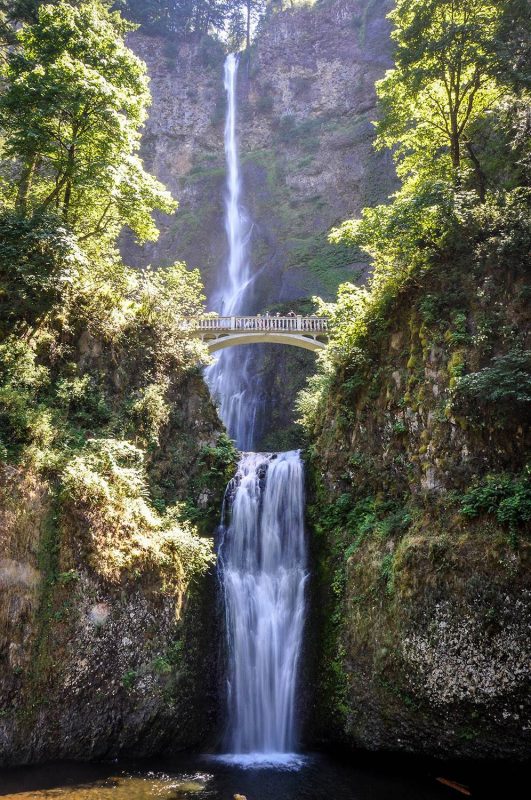 Distance:

9-mile, loop

Elevation: 2,864 feet
Difficulty Rating: Moderate
Distance from Portland: 30 Miles, 30 minutes
The Columbia River Valley is located just 30 miles to the east and is where you'll find some of the best Portland hikes. The crowning jewel is Multnomah Falls, one of the most beautiful waterfalls in Oregon. The best way to experience the falls is by hiking the 9-mile loop trail where you'll pass six different falls and cascades among the thick old growth forest.
2. Powell Butte Loop Trail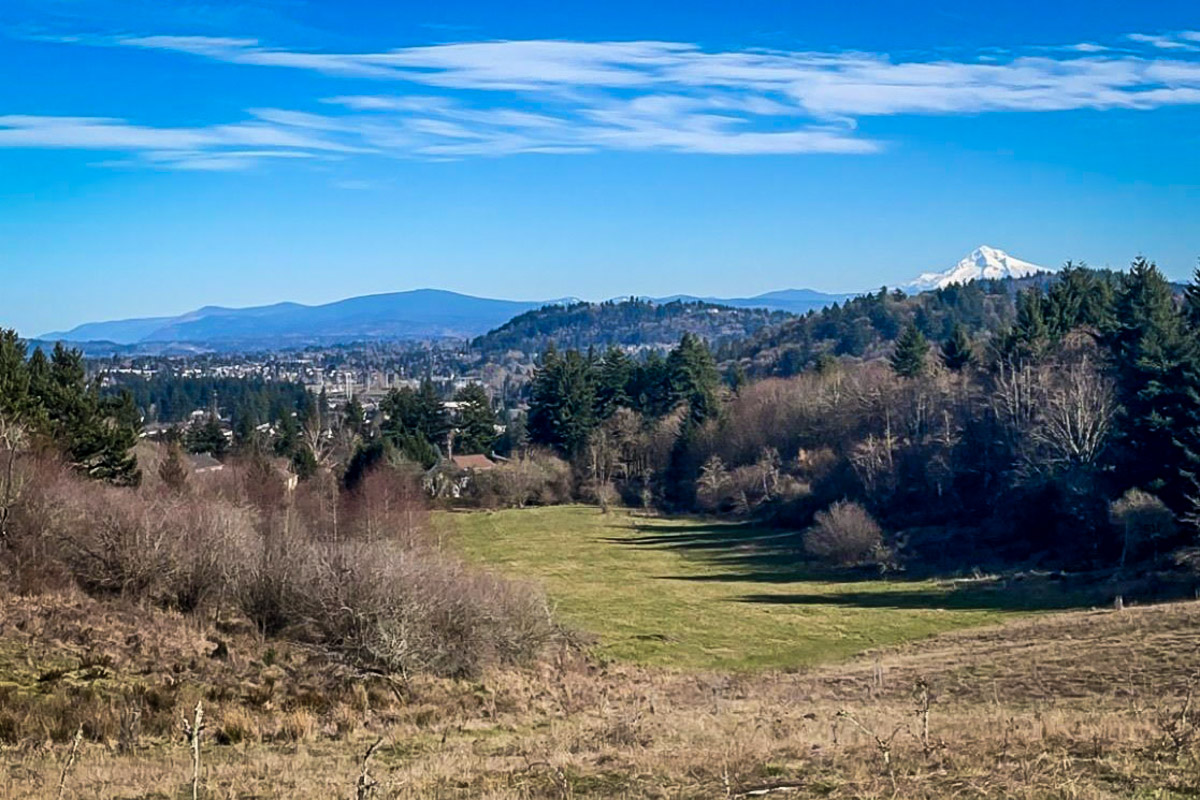 Distance: 6.2 Miles
Elevation: 951 Feet
Difficulty Rating: Easy
Distance from Portland: 12 Miles, 30 minutes
Just outside the city limits, Powell Butte is a family-friendly preserve that features vistas of all the major volcanoes near Portland.
Criss-crossed with both paved and compacted dirt trails, it's easy to create your own route through the preserve, either for entertaining the kids or going on a trail run. The backdrop is a mix of lush meadows and forests, with plenty of picnic tables scattered throughout.
Powell Butte's accessibility and variety make it a wonderful location to relax and enjoy an afternoon. No wonder it's a locals' favorite among Portland hikes!
3. Trillium Lake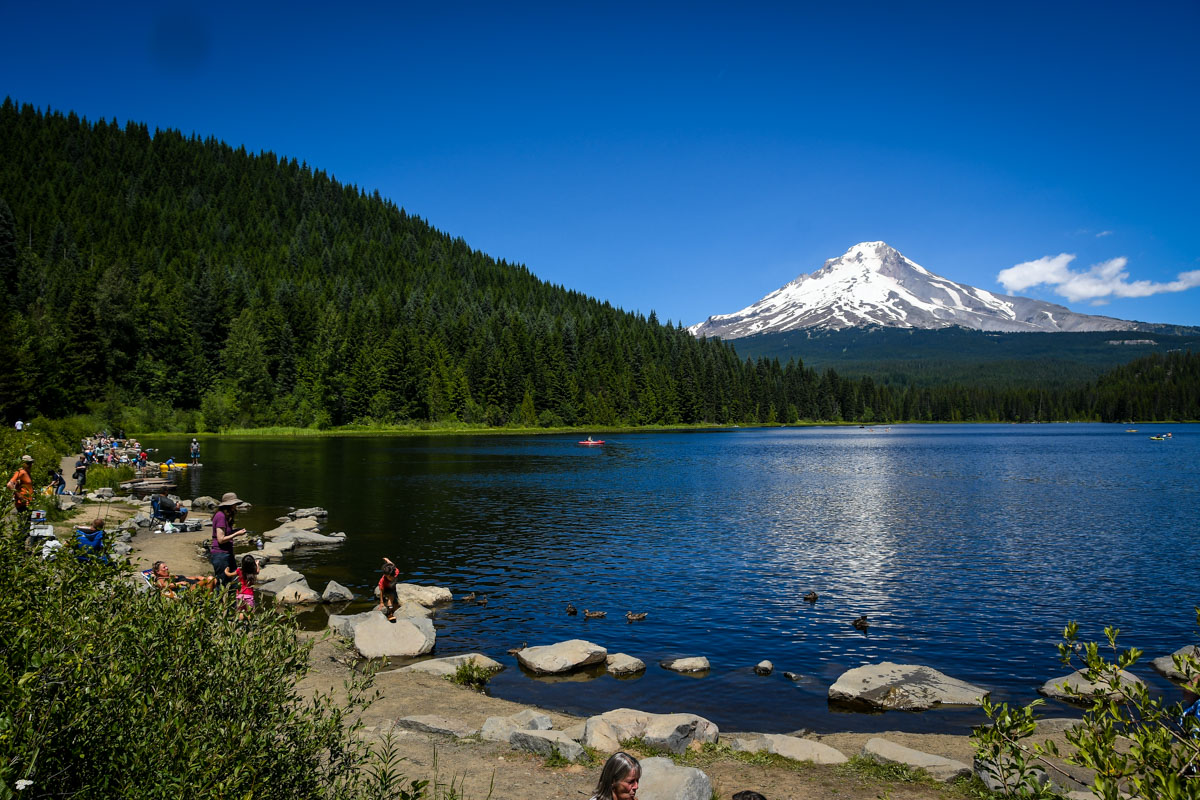 Distance: 1.9 Miles
Elevation: 26 Feet
Difficulty Rating: Easy
Distance from Portland: 59 Miles, 1 hour 15 minutes
One of Oregon's most famous lakes, this easy walk in the woods provides stunning views of Mount Hood, accessible for any hiking ability.With opportunities for kayaking, camping, and fishing, this beautiful spot will keep everyone in your group occupied.
Somewhat unique among Portland hikes, you can even traverse this trail in wintertime with snowshoes for an opportunity to see the lake completely frozen!
Make sure to arrive early and try to avoid weekends; parking can be an issue at Trillium Lake.
Check out our other favorite Mount Hood hikes if you're in the area!
4. Tryon Creek Trail
Distance: 3.5 Miles
Elevation: 541 Feet
Difficulty Rating: Easy
Distance from Portland: Within city limits
Verdantly green, mossy, and with little development, Tryon Creek is one of our favorite places to "unplug" within Portland's city limits.
You'll follow a series of wooden bridges along a small creek for a distance just long enough to scratch that nature itch, but without a full-day commitment. There are also small hills to keep it interesting, making it an excellent route for trail runners.
5. Lower Macleay Park to Pittock Mansion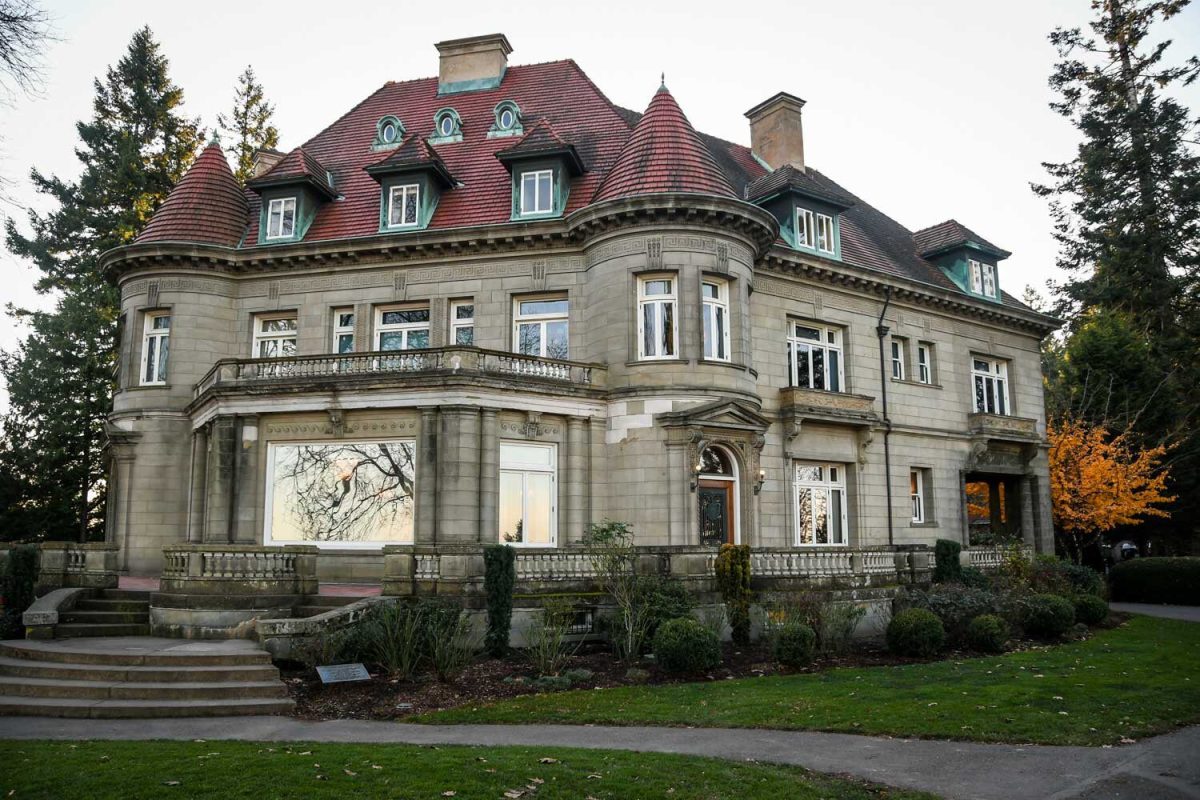 Distance: 5 miles
Elevation: 900 feet
Difficulty Rating: Easy
Distance from Portland: Within city limits
One of the quintessential Portland hikes within the city limits, Macleay Park offers a cool forest escape with spectacular views. It has all the elements we love about the PNW right in the city: lush greenery, fresh air, and views of snow-capped volcanoes.
It gets crowded on weekends, so opt for a weekday afternoon if possible. You'll also pass an abandoned stone house, a stream, and Portland's tallest tree.
Insider tip: If you aren't feeling a climb, catch a bus or Uber to Pittock mansion, then hike the route downhill.
6. Oneonta Gorge Trail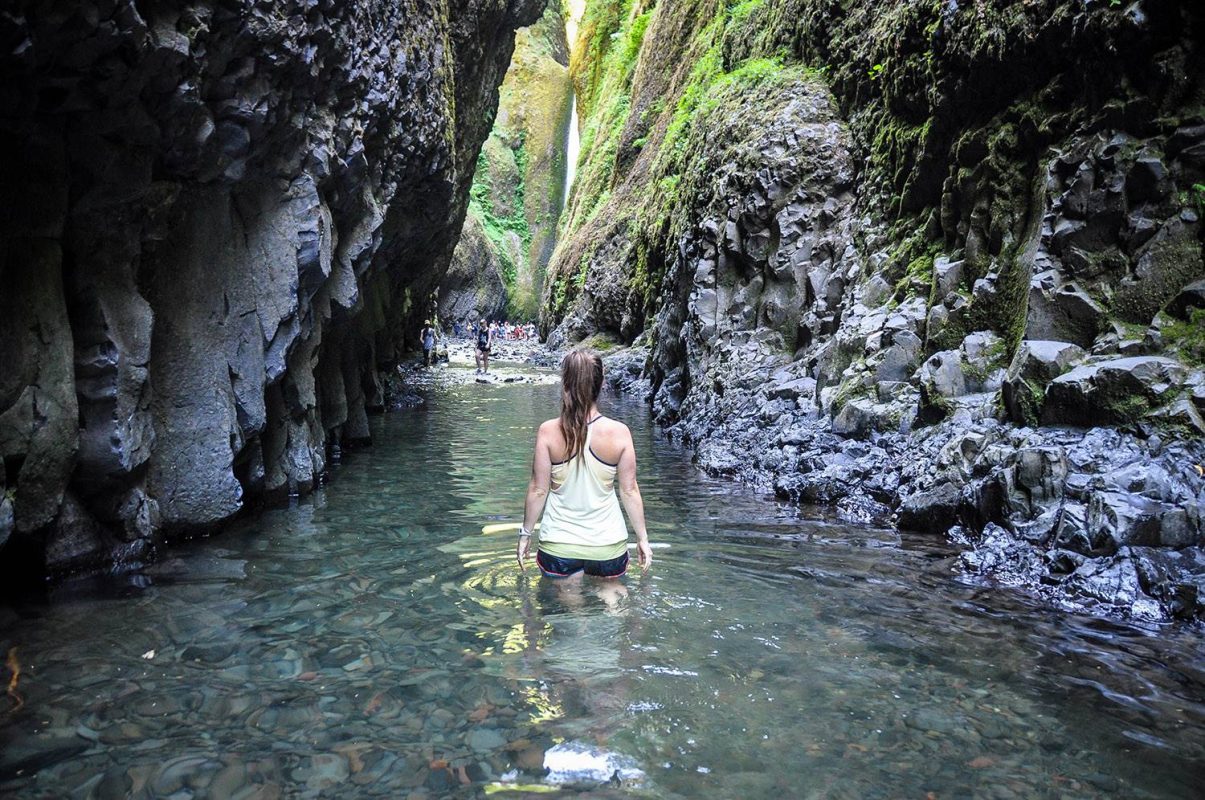 Distance: 5.6 miles, out-and-back
Elevation: 1,633 feet
Difficulty Rating: Modertate
Distance from Portland: 36 miles, 40 minutes
Another one of the highlights of the Columbia River Gorge, the Oneonta Gorge trail. Be prepared to get a little wet on this Portland hike! This unique trail has you hiking through a gorge in waist to chest deep water to discover the prize at the end of this jaw-dropping trail, Lower Oneonta Falls.
This trail is best hiked in the summer months on a week day to avoid crowds and for favorable water temperature in the gorge. Check for an updated trail status here.
Psst! Is chasing waterfalls kinda your thing? Are you also an avid hiker? Check out these incredible Oregon waterfall hikes and see which ones you need to add to your bucket list.
7. Dry Creek Falls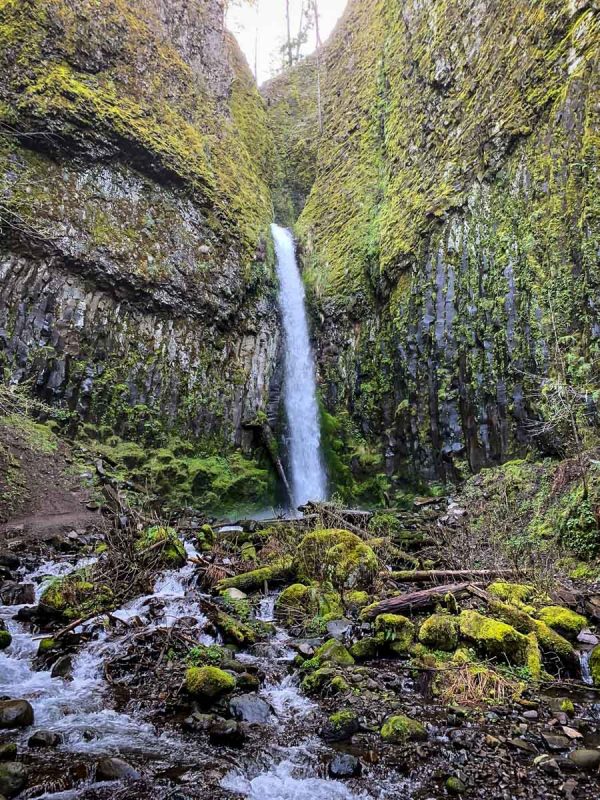 Distance: 4.4 Miles
Elevation: 866 Feet
Difficulty Rating: Easy
Distance from Portland: 44 Miles, 1 hour
No list of Portland hikes would be complete without at least one (or several!) waterfall hikes. Dry Creek Falls is an ideal, easily accessible hike, not over-congested with crowds.
You follow a section of the PCT through dense woods and seasonal wildflowers to reach a 75-foot waterfall flowing from basalt rock formations. It's a great city escape easily enjoyed with children or your pup.
Due to its shorter length, this hike combined with Beacon Rock makes for a relaxing day out on the Columbia River Gorge.
8. Umbrella and Sahale Falls Loop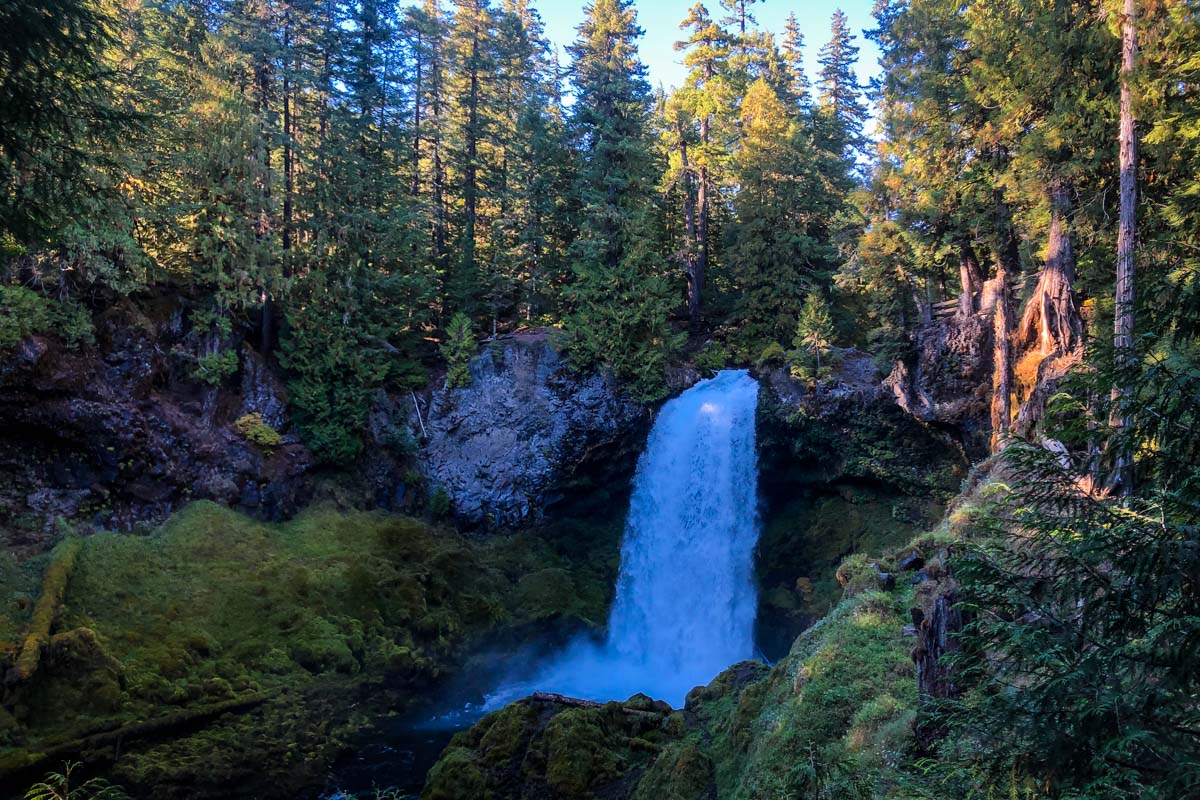 Distance: 5 Miles
Elevation: 944 Feet
Difficulty Rating: Easy
Distance from Portland: 67 Miles, 1 hour 30 minutes
With meadows, waterfalls, gorgeous forest, and views of Mount Hood, this is our go-to recommendation as one of the best hikes near Portland – especially for new hikers.
A trail that won't take you to the physical limit but offers full immersion into nature, this loop is a family-friendly option that still feels like a moderate hike. Mount Hood's proximity to Portland opens many possibilities for outstanding natural escapes, and this one is the best option to ease into its beauty.
9. Beacon Rock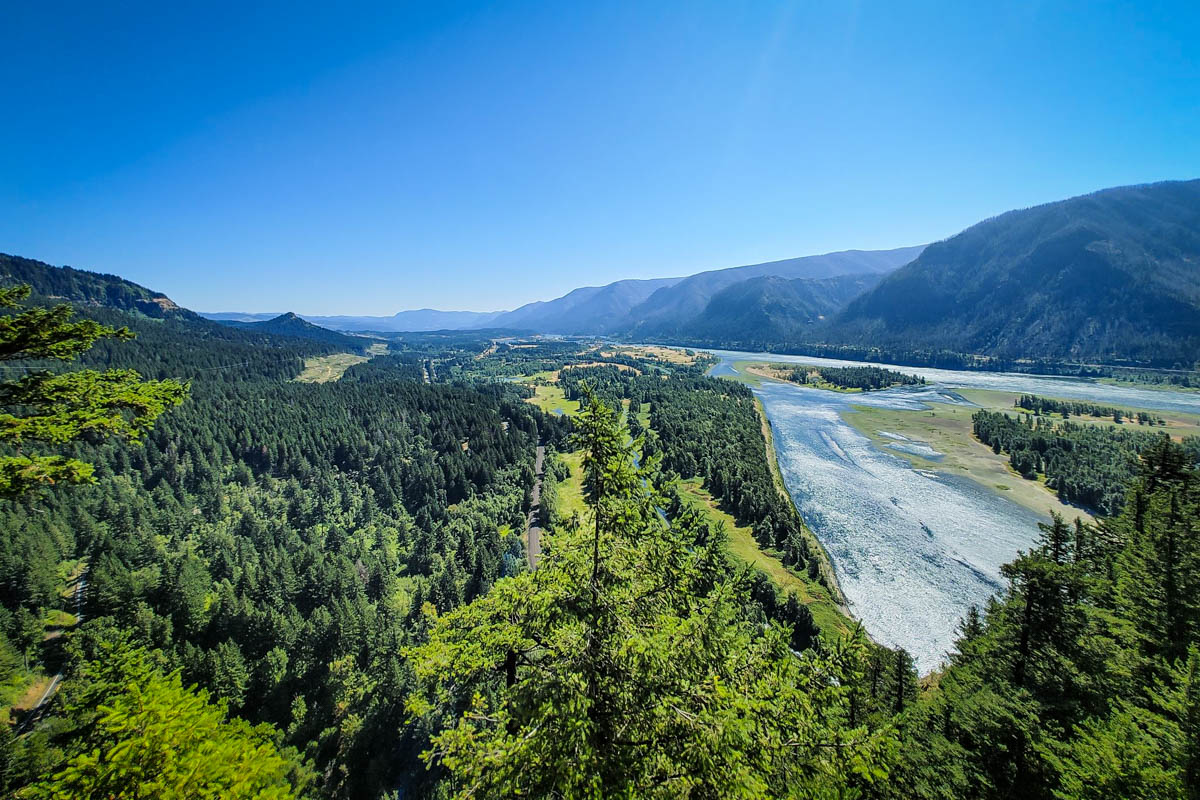 Distance: 1.5 Miles
Elevation: 574 Feet
Difficulty Rating: Moderate
Distance from Portland: 40 Miles, 45 minutes
Just across the Washington border, this short but steep trail rewards hikers with expansive views of the Columbia River Gorge. Beacon Rock itself is fascinating: a remnant of a volcano, it is one of the biggest free-standing rocks in the US.
Named by Lewis & Clark, Beacon Rock elicits stories of the pioneers. The trail was chiseled by a conservationist in the early 20th century, making it just as much of a historical landmark as a hike.
Although steep, there are adequate railings along the trail, so bring the whole family along to savor both the view and the story.
10. Cape Falcon Trail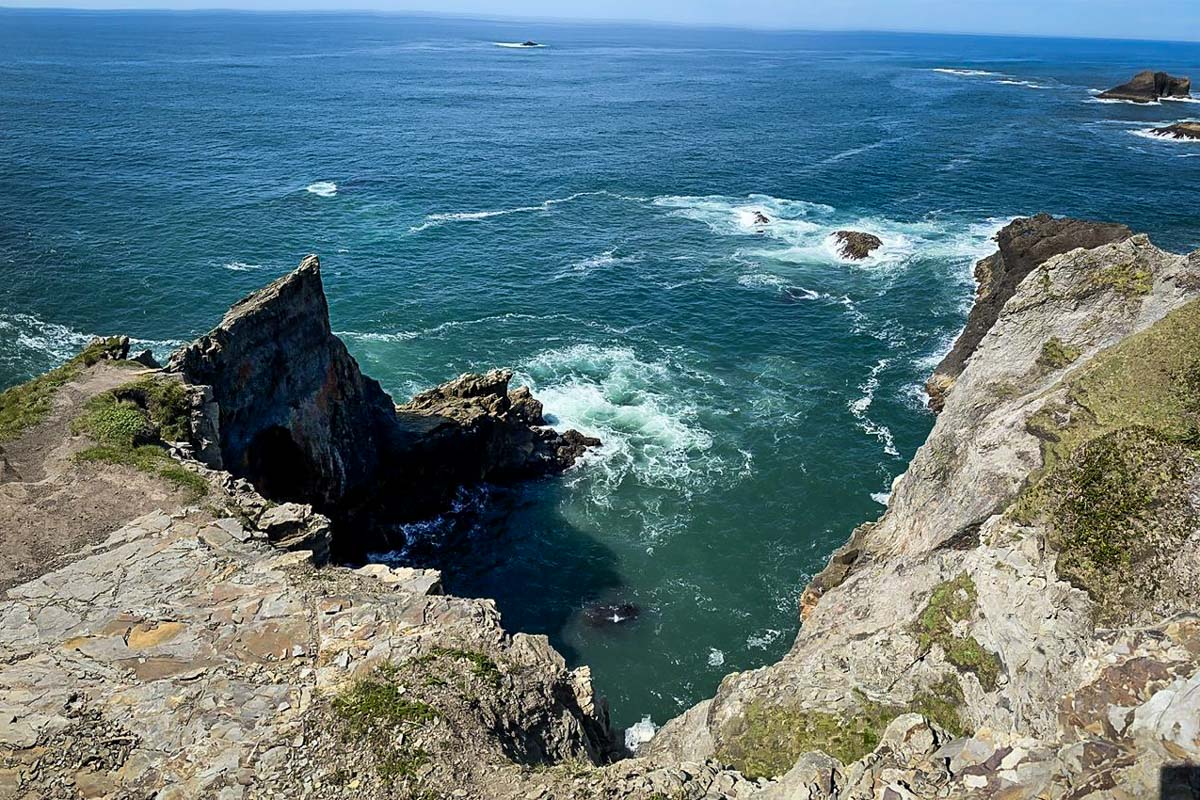 Distance: 4.6 Miles
Elevation: 623 Feet
Difficulty Rating: Moderate
Distance from Portland: 88 Miles, 1 hour 30 minutes
Combining scenic Short Sand Beach, dense forest, and cliffside lookouts, this trail is one of the best Portland hikes for showcasing Oregon's diverse coastline.
A great option for rainy, misty days, the forest looks magical when the fog rolls through. However, this trail is prone to becoming muddy, so bring sturdy boots.
If everyone in your group doesn't necessarily want to hike, Short Sand Beach is near the start of the trek and the perfect place to relax.
11. Trail of Ten Falls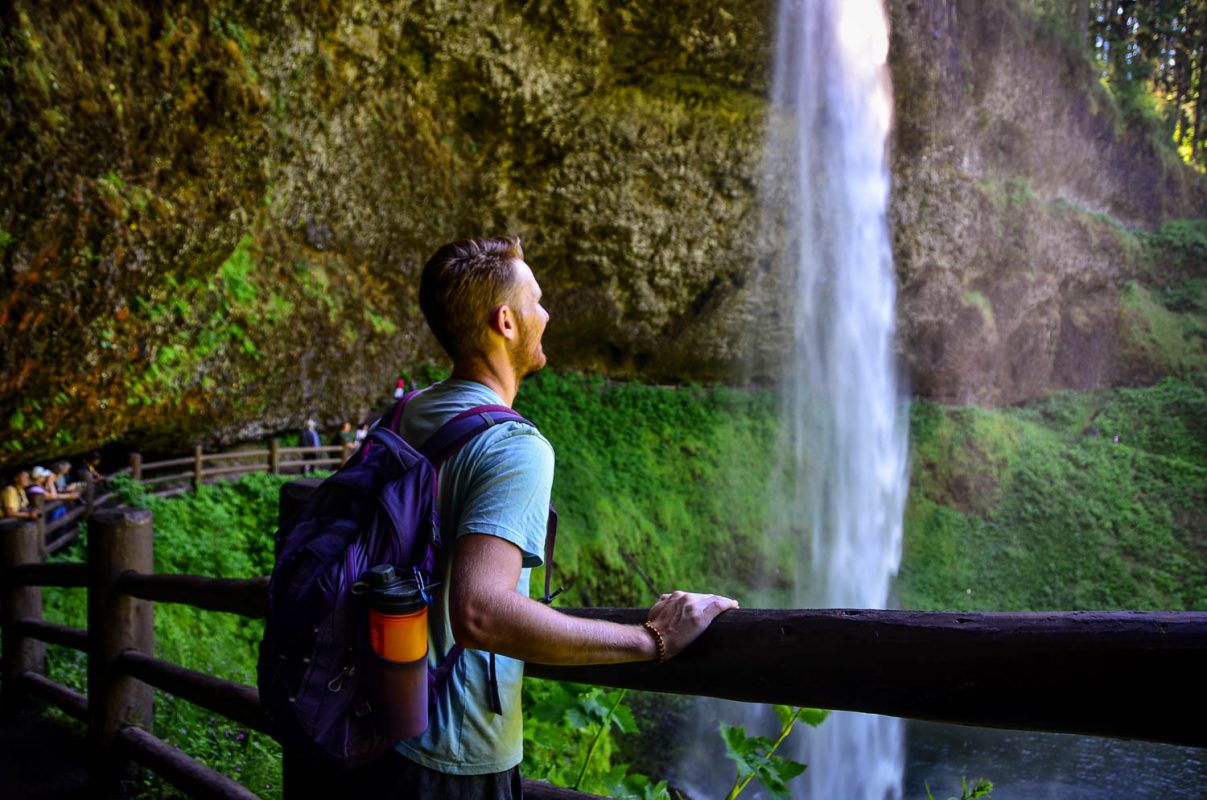 Distance: 7.4 Miles
Elevation: 1151 Feet
Difficulty Rating: Moderate
Distance from Portland: 54 Miles, 1 hour 15 minutes
One of our favorite Portland hikes in the rainy season, Trail of Ten Falls lives up to its name: 10 waterfalls spaced out over a lengthy but relatively easy trail through the woods.
The hike is well-trodden, immaculately maintained, and located inside Oregon's largest state park, Silver Falls. A conveniently designed loop, you'll pass behind several falls, so bring a jacket. If the cascades on the trail aren't enough, it's possible to add side routes to see even more.
12. Neahkahnie Mountain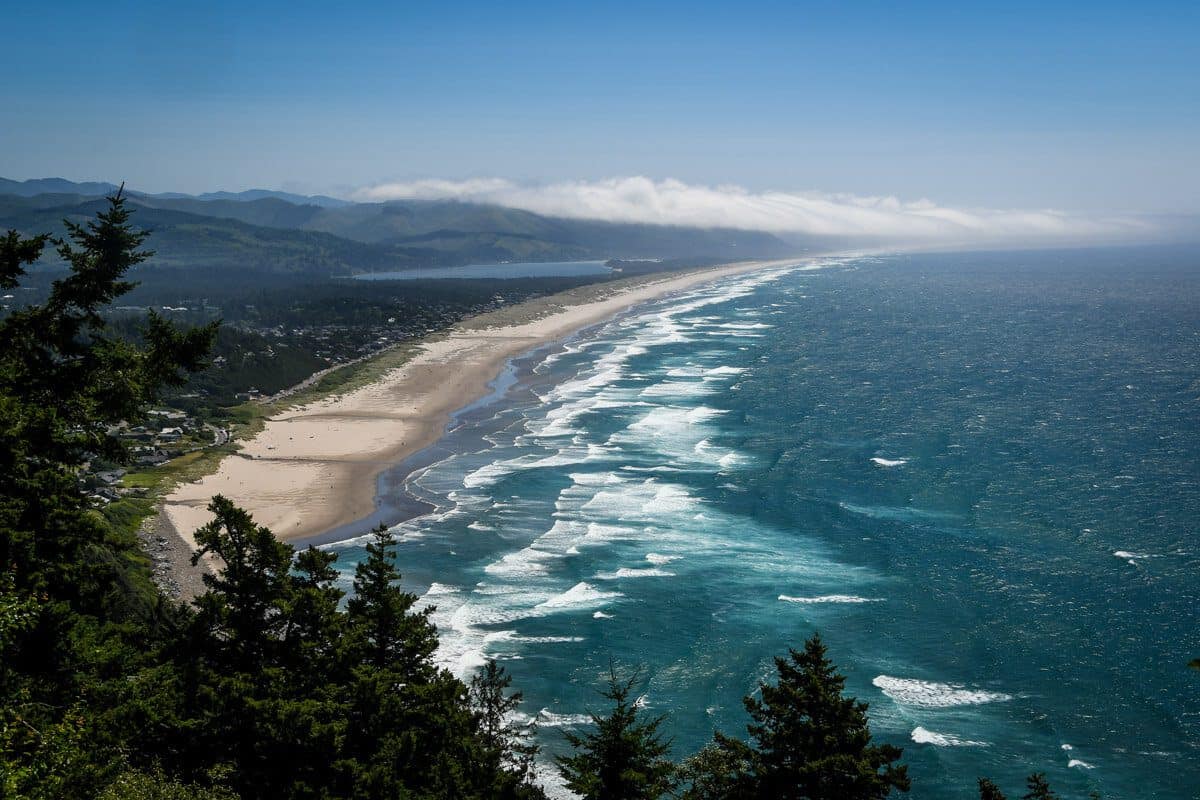 Distance: 2.8 Miles
Elevation: 866 Feet
Difficulty Rating: Moderate
Distance from Portland: 91 Miles, 1 hour 45 minutes
Located just north of Manzanita on the Oregon Coast, this hike is the perfect half-day outing to combine with a beach day. Enough of a climb to be rewarding but not an exhausting endeavor, when you reach the summit and see the ocean, you'll immediately feel a sense of awe.
The trail climbs through a beautiful tall pine forest and is completely shaded until you reach the top. On a hot day, the ocean breeze will cool you down, but watch out for strong gusts; it can be very windy!
13. Tom Dick and Harry Mountain Hike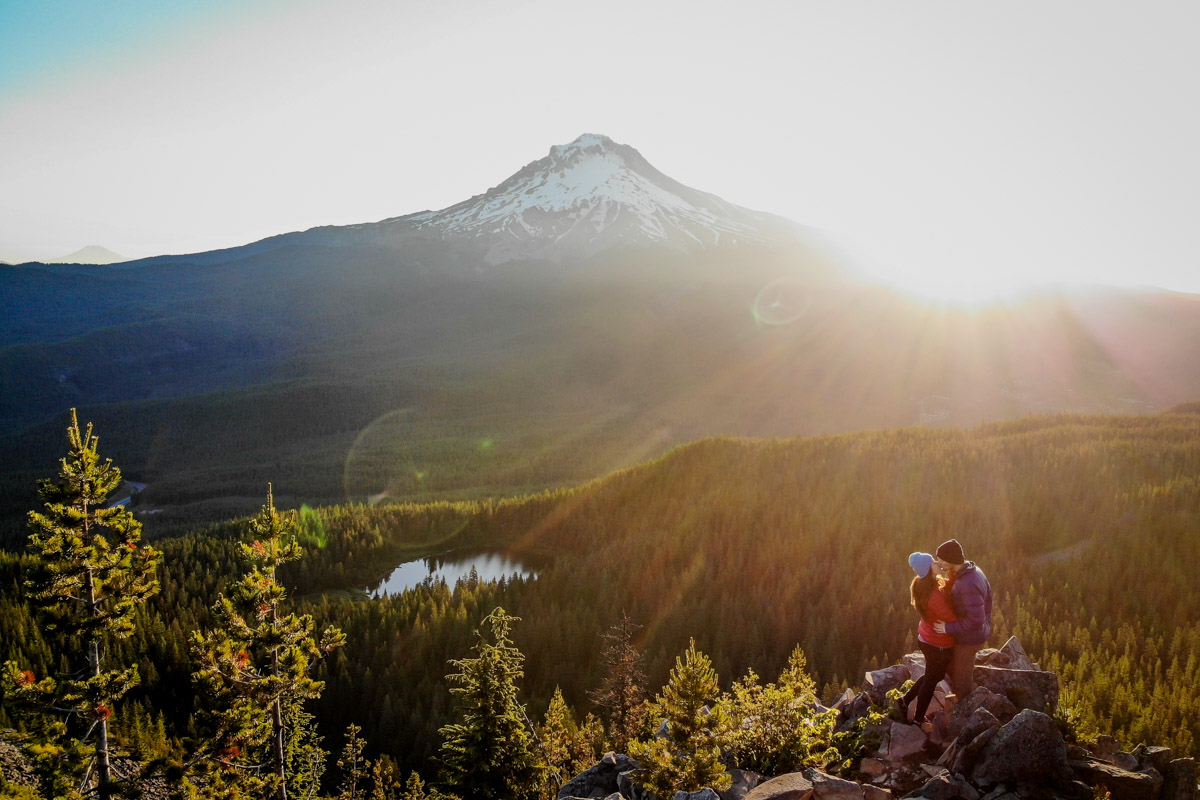 Distance: 9 Miles
Elevation: 1709 Feet
Difficulty Rating: Moderate
Distance from Portland: 57 Miles, 1 hour 15 minutes
Varied and easy to reach but not overly strenuous, this Portland hike combines all the elements for a perfect day trip.
You'll pass through a rejuvenating pine forest, along the shores of a beautiful lake, and finally onto a small summit with impressive views of Mount Hood and surrounding mountains.
The trailhead starts right off of Highway 26, so parking tends to be limited. However, if you manage to secure a spot, disconnecting on the trail is easy. Due to its longer length, hikers remain spaced out.
We put together a detailed guide to hiking Tom Dick and Harry Mountain so you'll know exactly how to prepare and what to expect.
14. Angel's Rest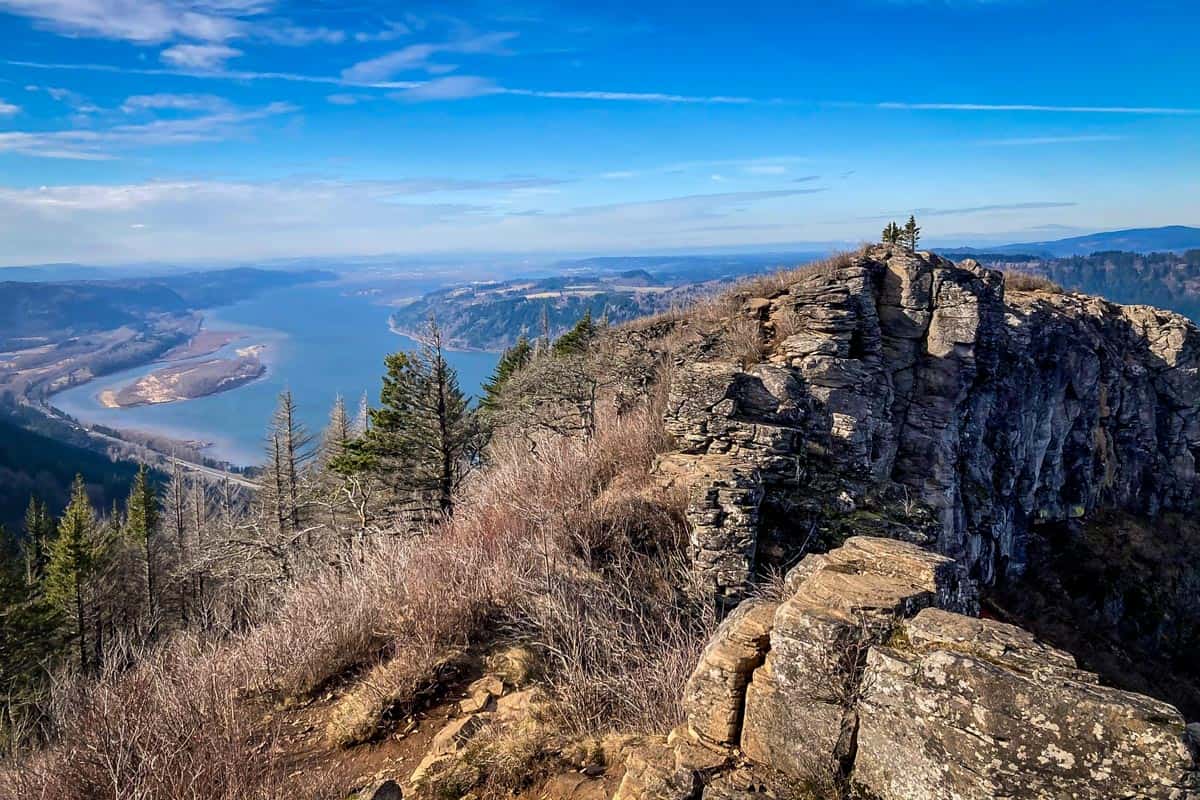 Distance: 4.5 Miles
Elevation: 1476 Feet
Difficulty Rating: Moderate
Distance from Portland: 27 Miles, 30 minutes
A fun climb only 30 minutes from downtown, Angel's Rest is one of the best hikes near Portland. It's a steep but doable trail with rewarding views of the Gorge.
Follow switchbacks through a forest that later turns to smaller bush, granting magnificent views into Washington state.
The summit is a rock outcrop with sharp drop-offs, not ideal for small children. However, for those who love towering heights, Angel's Rest makes for a picturesque sunrise and sunset spot not far from the parking lot.
15. Kings Mountain Trail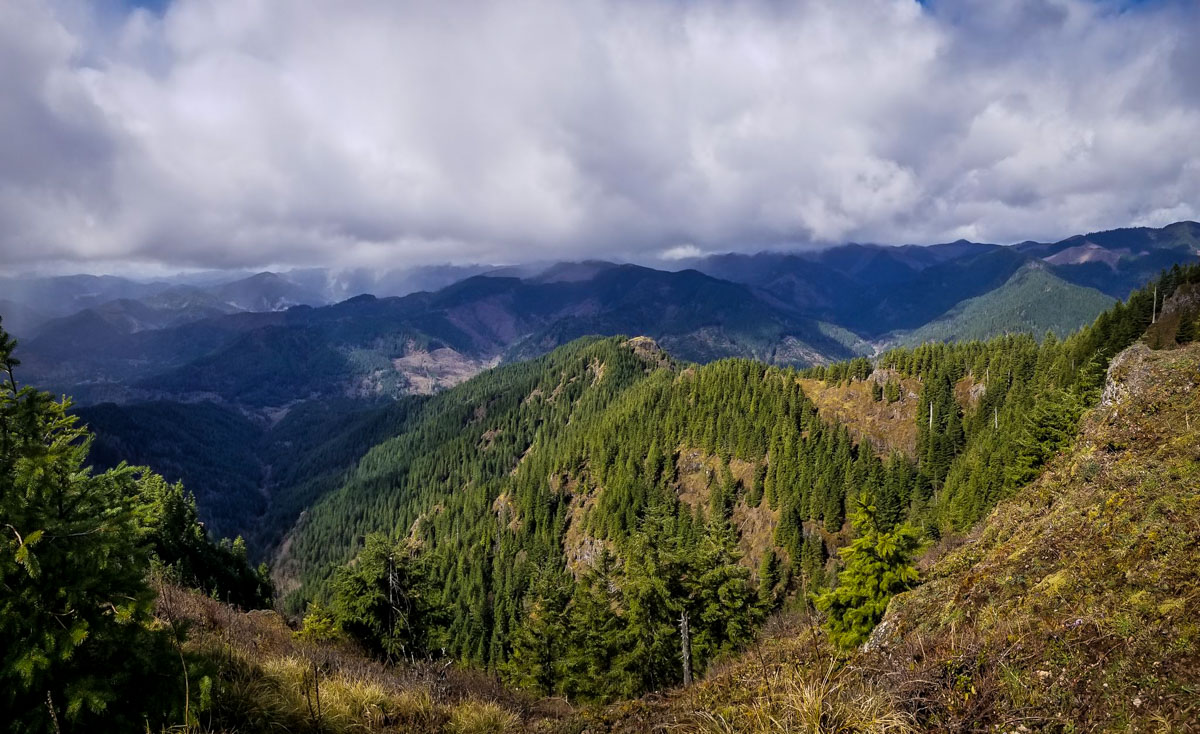 Distance: 4.4 Miles
Elevation: 2509 Feet
Difficulty Rating: Challenging
Distance from Portland: 47 Miles, 1 hour
A great leg burner on the highway back from the coast, Kings Mountain will get your heart pumping, calves burning, and reward you with a scenic summit.
The trail is a steep, continual climb through a dense forest. There are many rocks, so we recommend trekking poles for extra balance. Few vistas peak throughout the trees until the finale – but it's well worth it when you savor the views of the ocean and mountains together.
16. Silver Star Mountain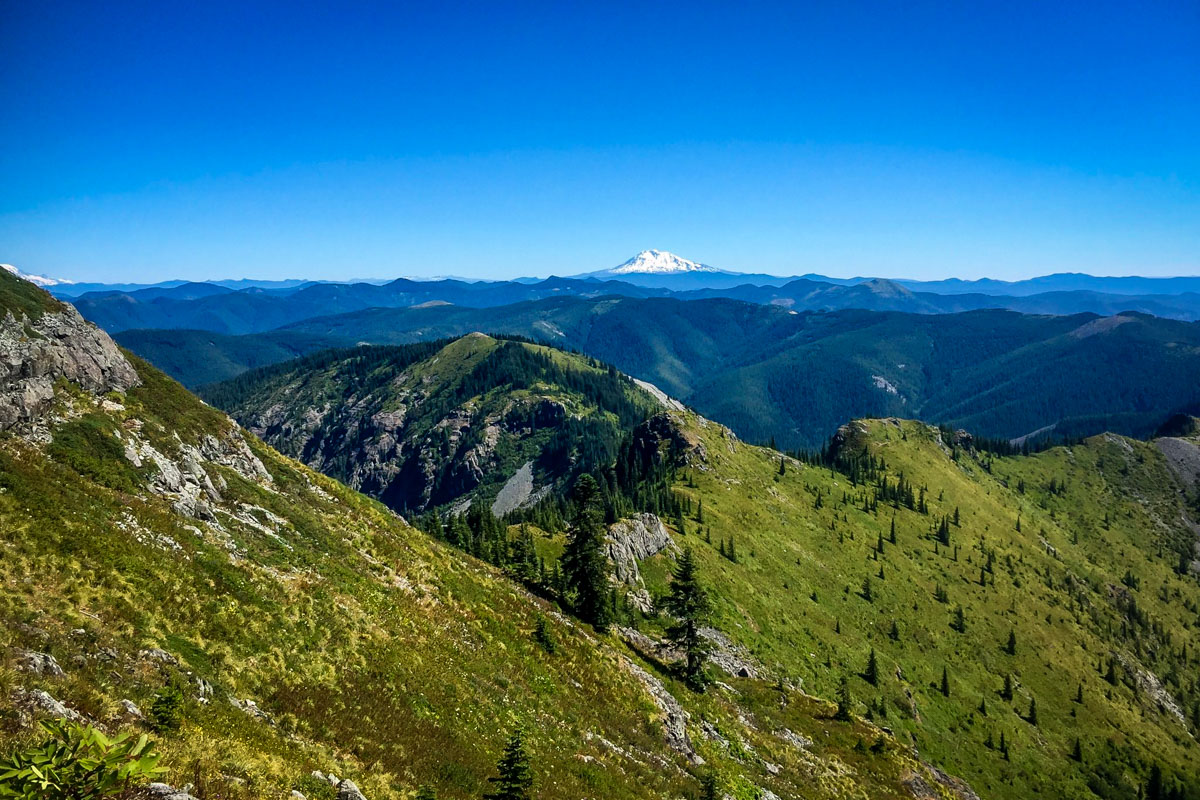 Distance: 6.3 Miles
Elevation: 2096 Feet
Difficulty Rating: Challenging
Distance from Portland: 40 Miles, 1 hour
Close to Portland and incredibly scenic, Silver Star Mountain allows you to see several stratovolcanoes, the Pacific Ocean, and small towns dwarfed down below.
So what's the catch? Unusual for many Portland hikes, the road leading to the trailhead is rough and requires a high clearance vehicle.
However, if you have the car for it, you'd be remiss not to check it out. The view at the top is 360 degrees, and you'll follow ridgelines with layers and layers of mountains in the background getting there. From trailhead to the summit, this is without a question one of our favorite hikes near Portland.
17. McNeil Point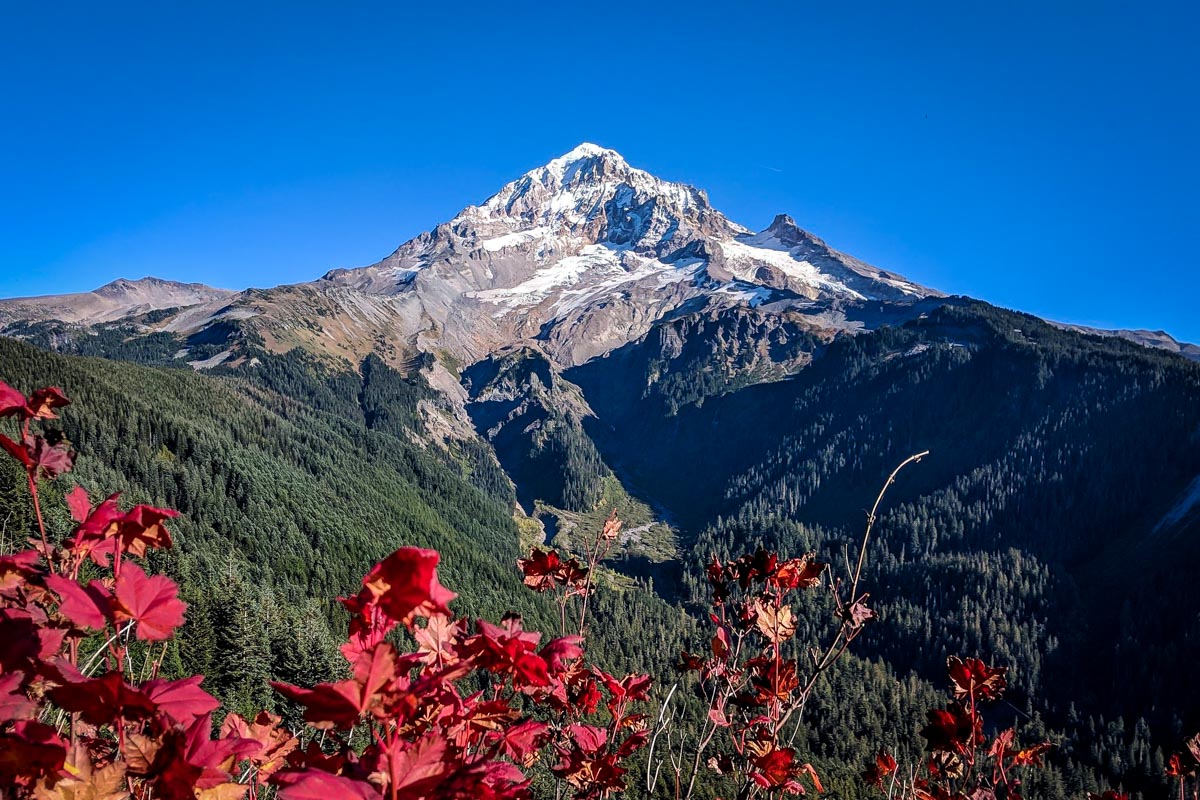 Distance: 10 Miles
Elevation: 2726 Feet
Difficulty Rating: Challenging
Distance from Portland: 56 Miles, 2 hours
This challenging but stunning trail weaves through forest, ridges, ponds, and wildflowers to reach a spectacular view of Mount Hood, the magnificent Cascades, and other distant volcanoes.
Memorable as a day trip, it also makes for a wonderful overnight backpacking hike, as there are many camping spots next to freshwater streams descending from Mount Hood.
Pesky gnats will bother you when standing still in the lower section of the trail. They are an annoying source of motivation, but trust us, the views at the top redeem the effort as one of the best Portland hikes!

What to pack for hiking near Portland
Although hikes near Portland vary in length and difficulty, you'll still want to have some key items in your pack no matter which hike you choose to do.
Navigation: we recommend using Alltrails+ to download the offline trail map
Water bottles and/or bladder for your Camelbak
Bug repellant (we prefer the natural stuff)
Sun protection: sunscreen, hat, sun glasses
Camera/tripod (this one's our favorite for hiking)
Lots of layers (here is a great resource if you're wondering what to wear hiking)
Rain jacket
Comfortable hiking boots or shoes (or Chacos if you prefer)
Swimwear (if you're visiting in the summer and plan to take a dip!)
Plenty of snacks: check out our favorite hiking snacks here!
Be sure to grab our ultimate hiking packing list includes our must-have gear for any hiking trail!

You may also like…
Save this article on Pinterest for later!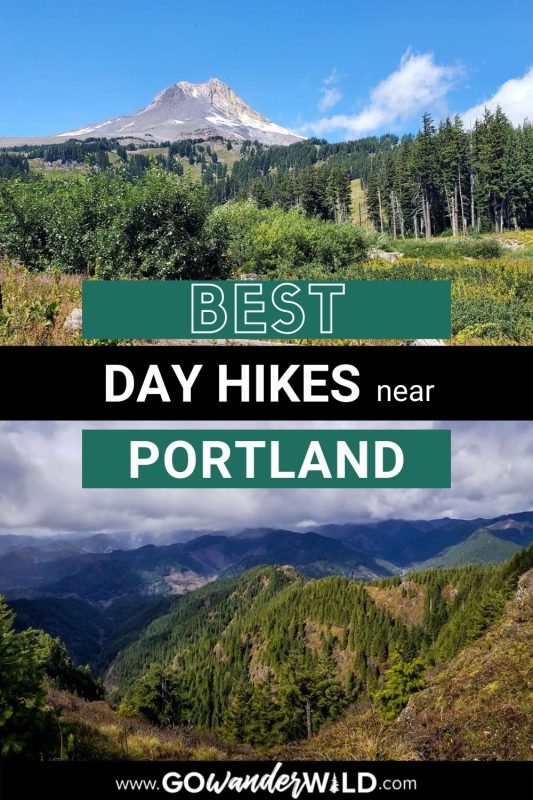 We want to hear from you!
Have you done any of the Portland hikes on this list? What was your experience like? Are you planning on doing some hiking near Portland and want more advice? Comment below and let us know!