From tiny homes nestled deep in the forest to beachfront houses and unique, whimsical spaces, there's a bit of everything to choose from when it comes to cabins in Oregon. We've rounded up some of our favorites for a cozy cabin stay.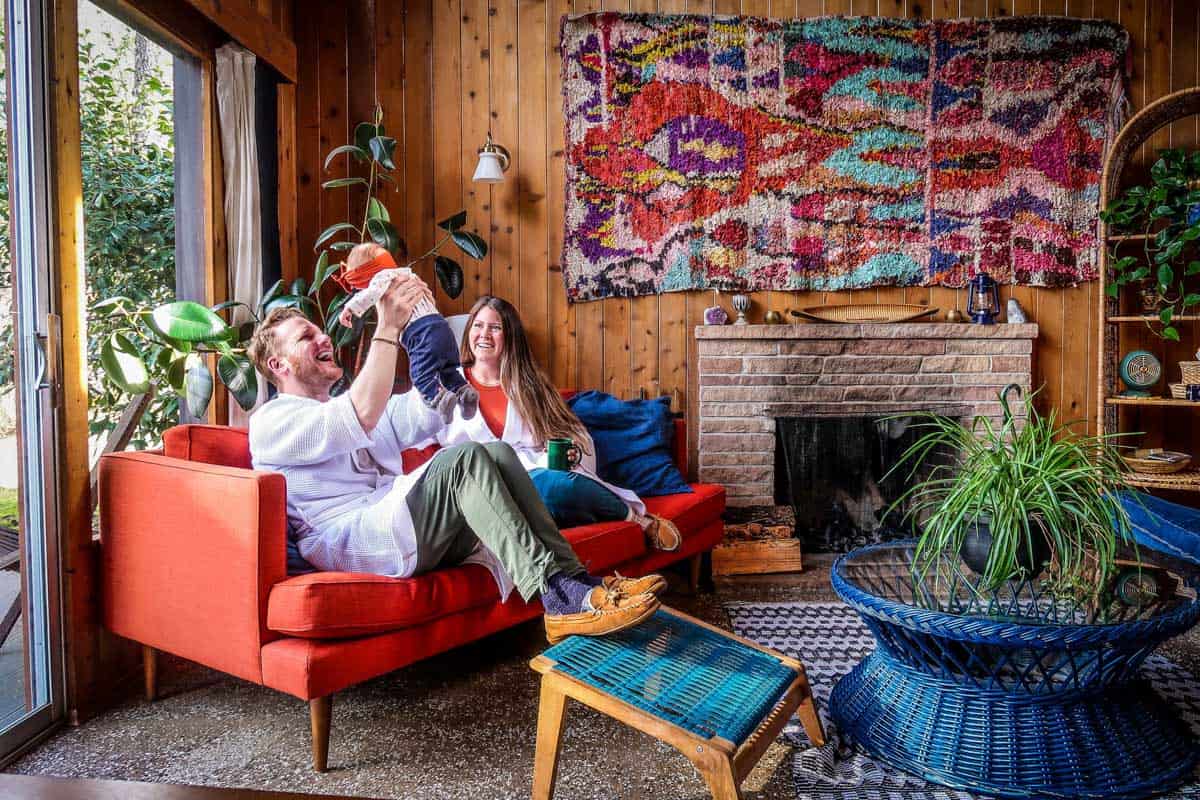 It's no secret that the Pacific Northwest, and Oregon in particular, is a major getaway destination. Cabin rentals in Oregon are wildly popular, especially in the wintertime.
The contrast of lush old-growth forests and rugged coastline, along with magical waterfalls and natural hot springs, makes it almost fairytale-like. Plus, add to that unmatched opportunities for outdoor recreation including hiking, biking, camping, paddling, and so much more!
We know firsthand that one of the best ways to experience all that PNW magic is by planning an overnight adventure. While there are tons of cabins in Oregon to choose from, we put together this list of our favorite cabins you can rent for your next adventure.
1. Loloma Lodge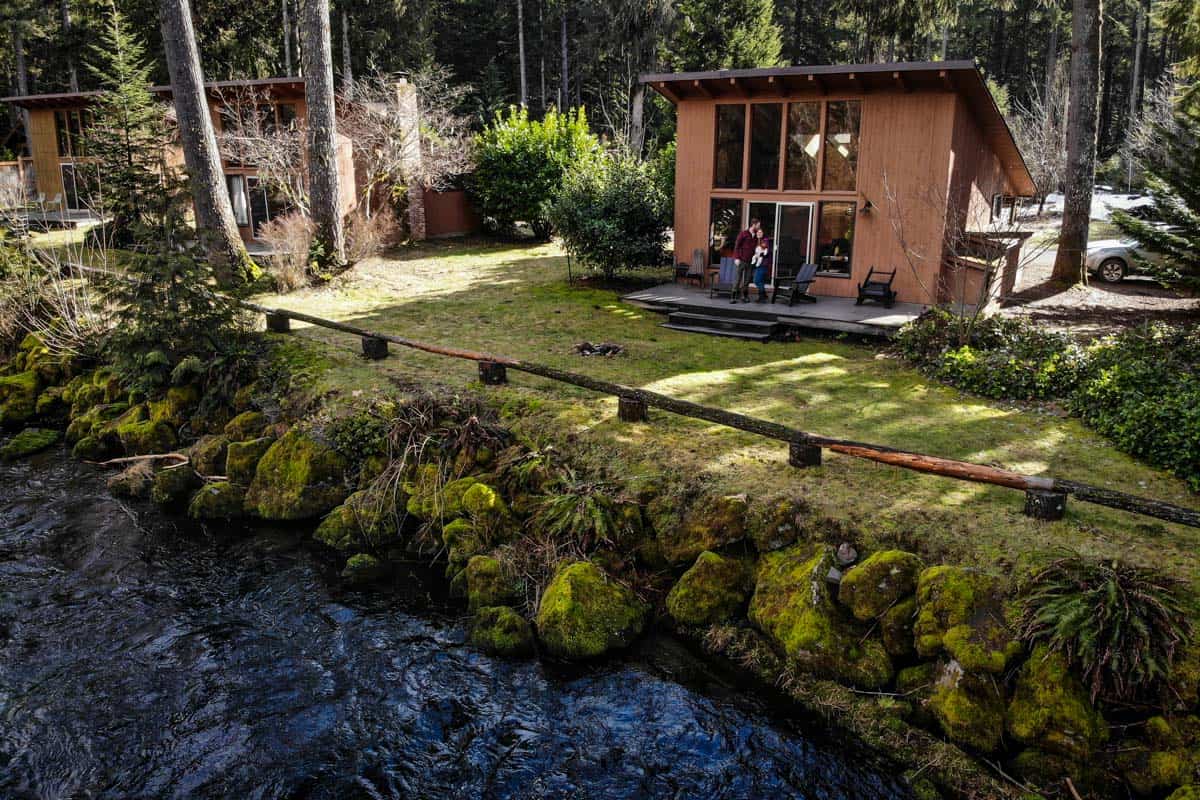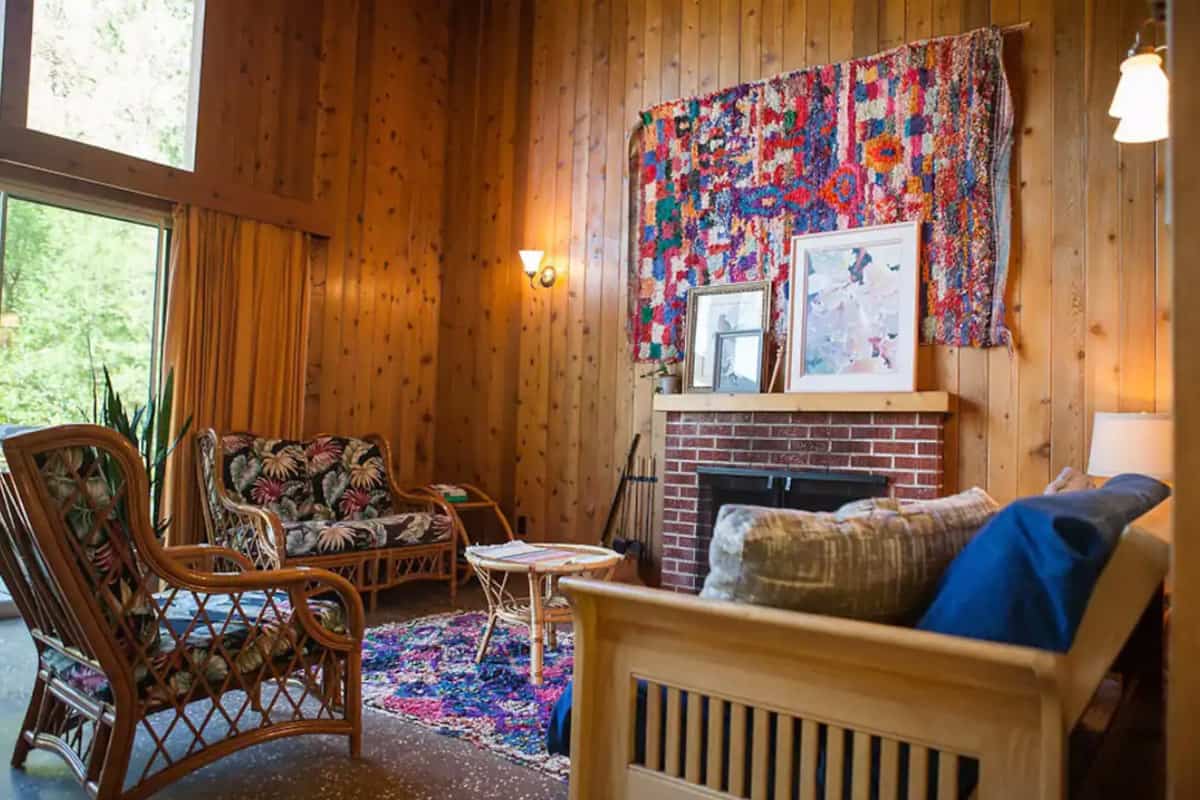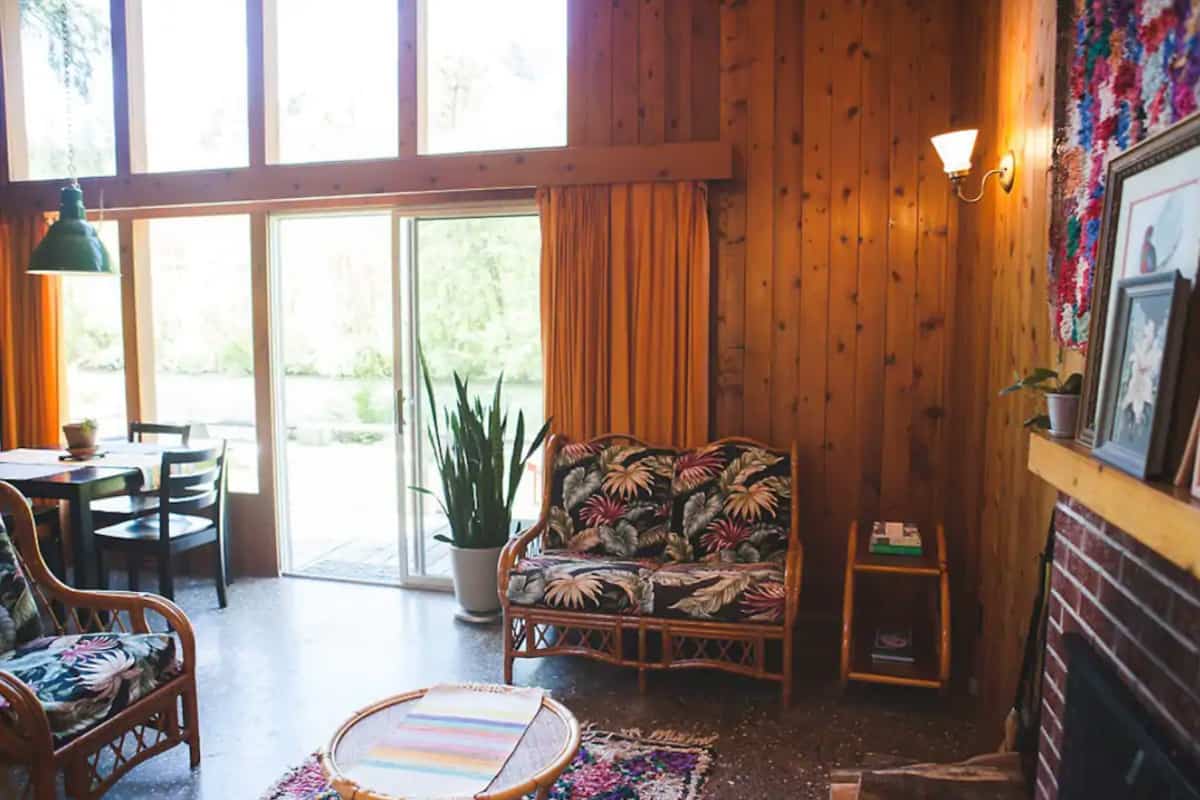 Oregon has plenty of gorgeous regions, but few are quite as pristine and tranquil as McKenzie Bridge, the setting of the Loloma Lodge cabins. Situated directly on the banks of the McKenzie River, these cabins in Oregon are a bit off-the-beaten-path, offering a truly unplugged getaway with a front-row seat to some of the state's best scenery.
The 1960s cabins have full kitchens, cozy fireplaces, and floor-to-ceiling windows and large decks for taking in the river view. There are several trailheads on the property, and this area is also close to several Oregon hot springs.
2. The Hide & Seek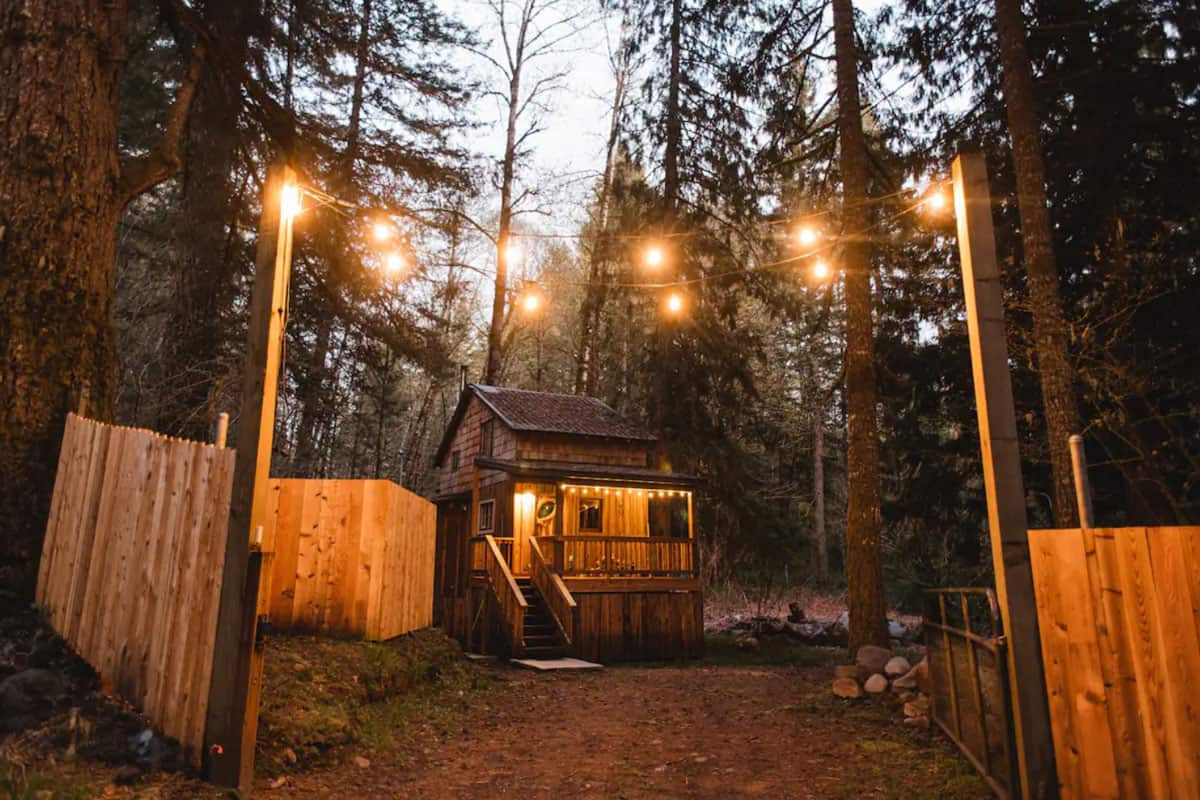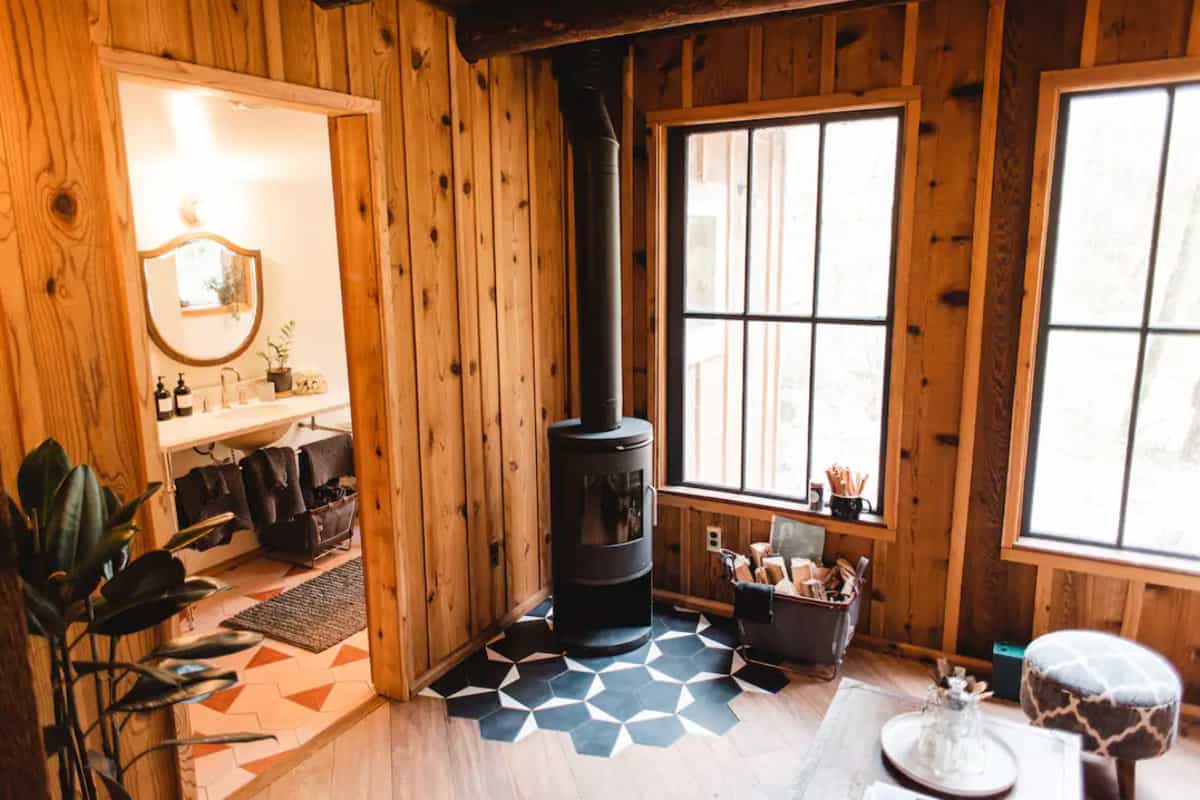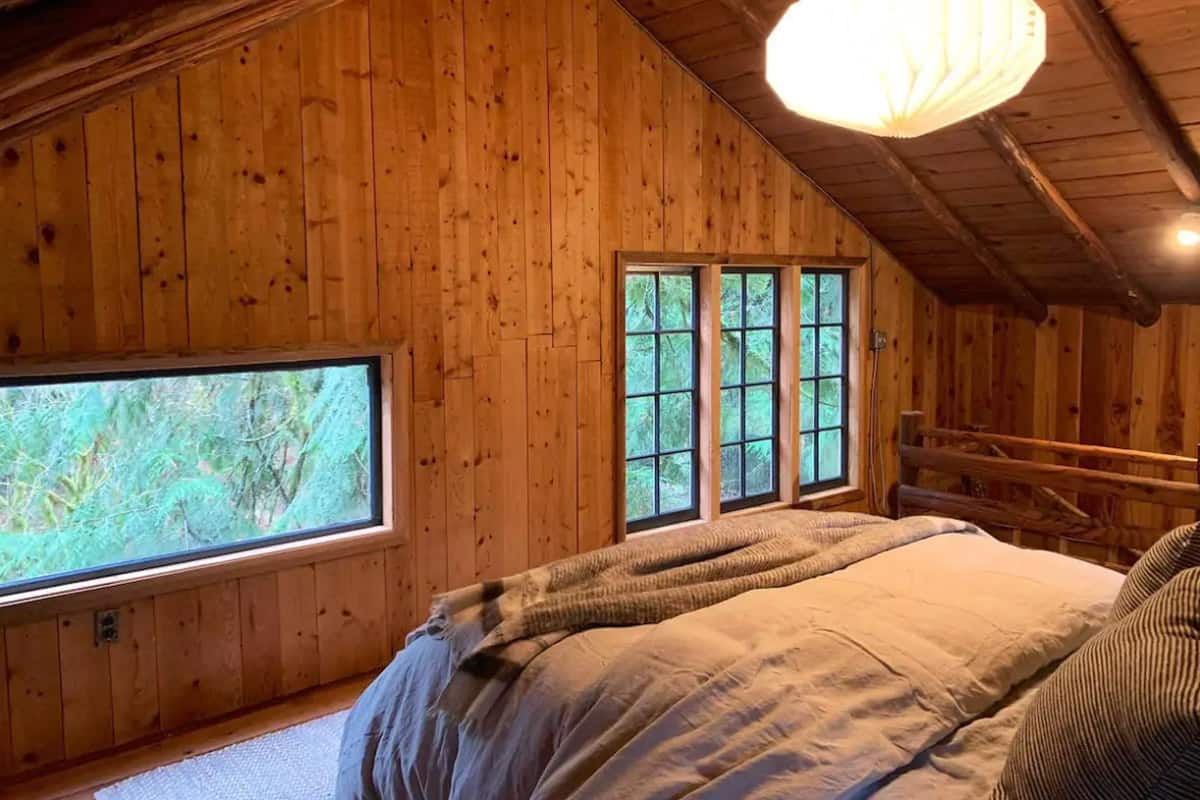 If you're looking for a romantic getaway, it's hard to top this adorable Oregon cabin! Nestled deep in the woods, the small space is designed for connecting and cozying up with one another, with a wood-burning stove, nice selection of board games, and upscale linens.
If you're looking for a bit more of a "plugged in" experience, the cabin has fast wifi and a TV in the bedroom. Outside, there's a private sauna to enjoy and you're just a short walk from the river!
3. Heartland Treehouse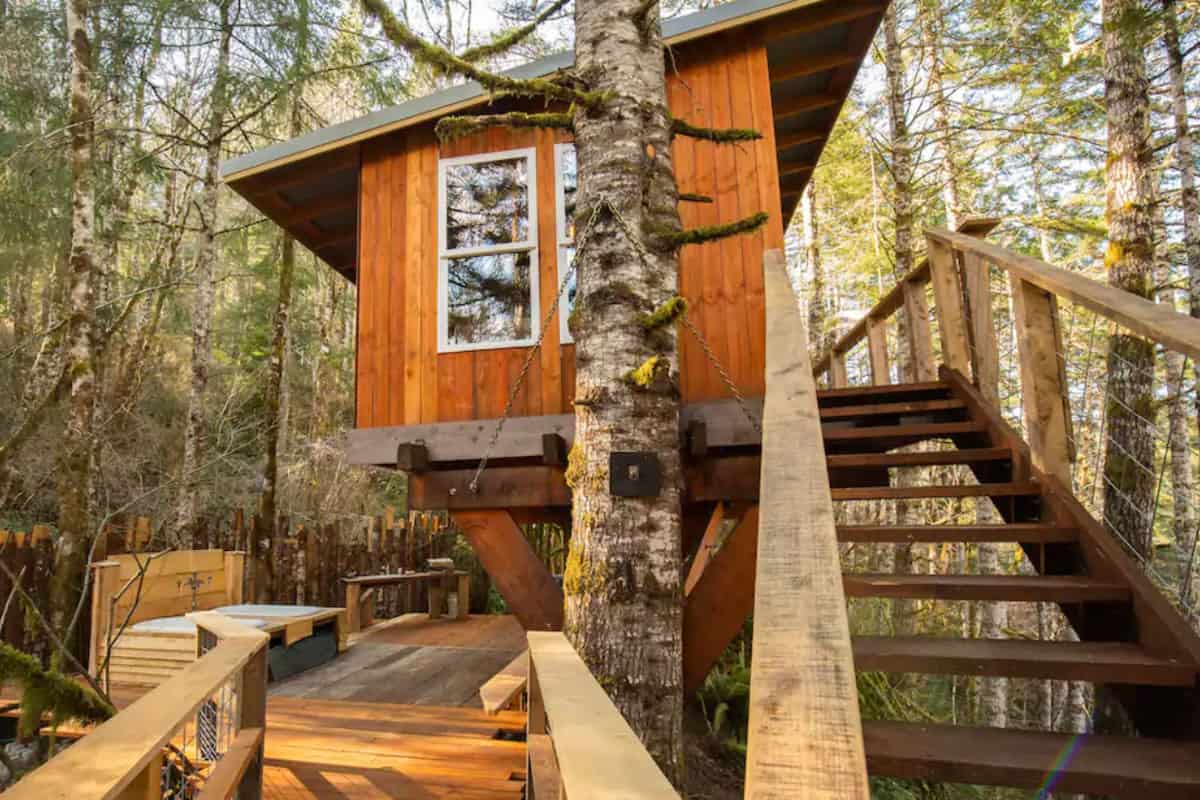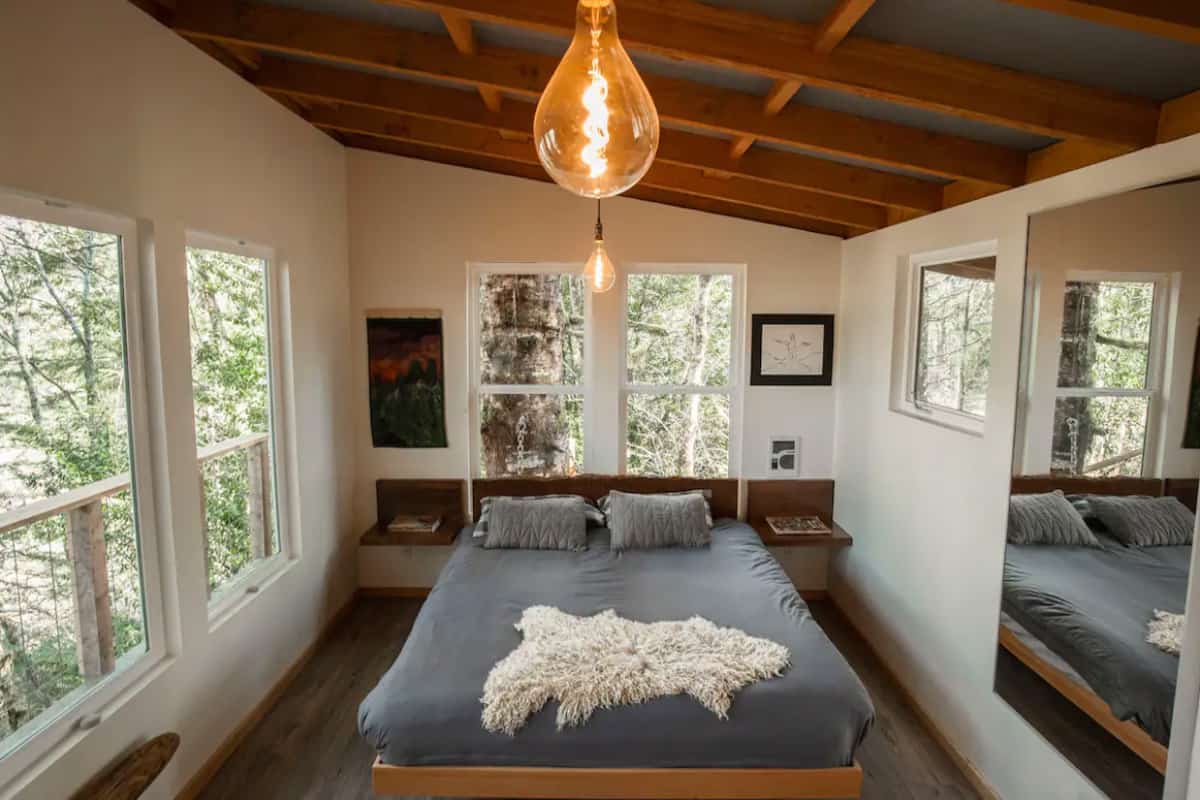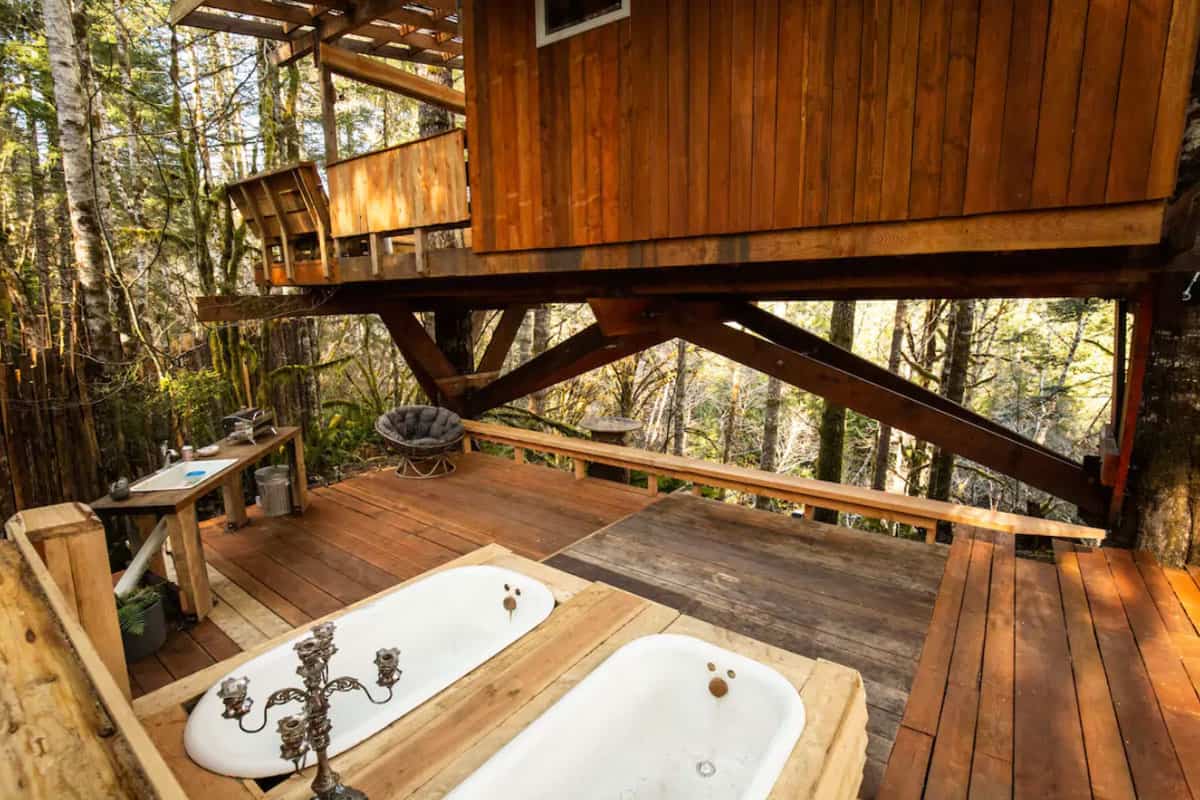 A true treehouse, this Oregon cabin was built right between two enormous trees. One of them comes up right through the deck, with built-in benches surrounding it! This is an ideal getaway for a couple, as everything has been thoughtfully designed to help you slow down and recharge.
For example, the star attraction is hands-down the pair of side-by-side outdoor soaking tubs on the deck. How dreamy is that?! The treehouse is also a short stroll from a creek and waterfall.
4. East River Rest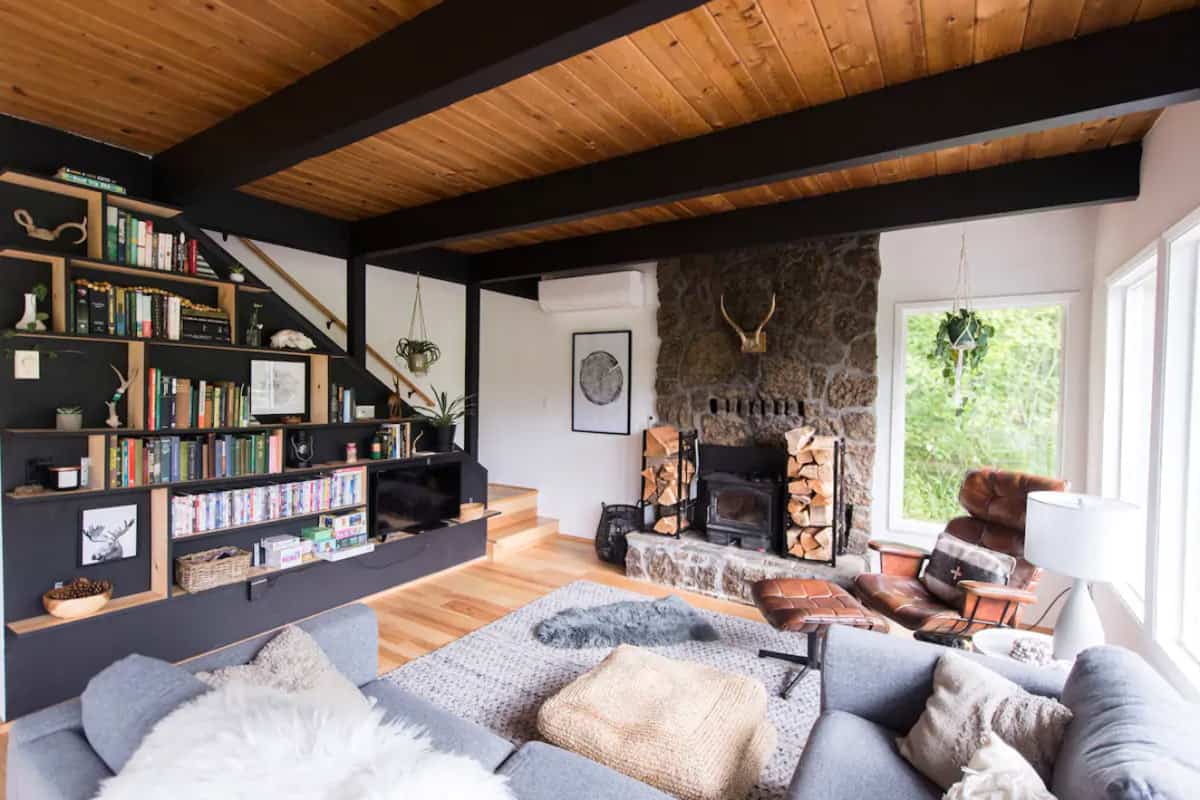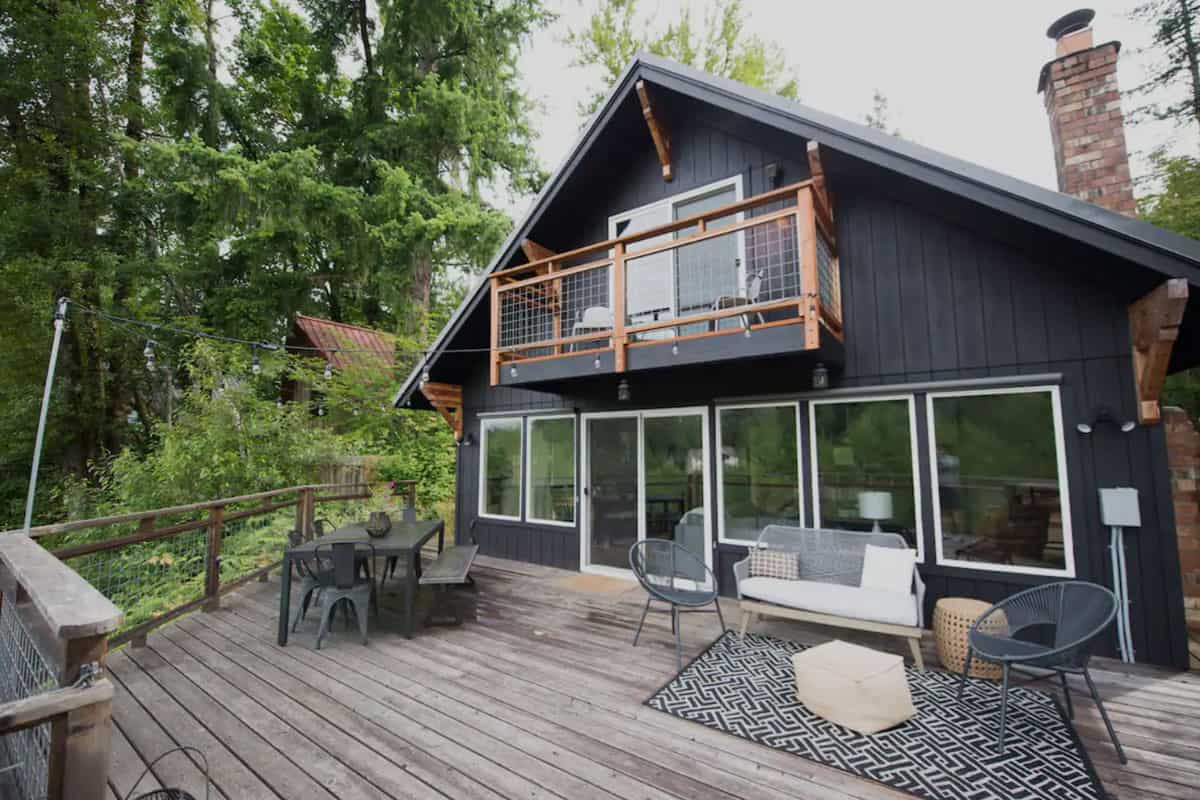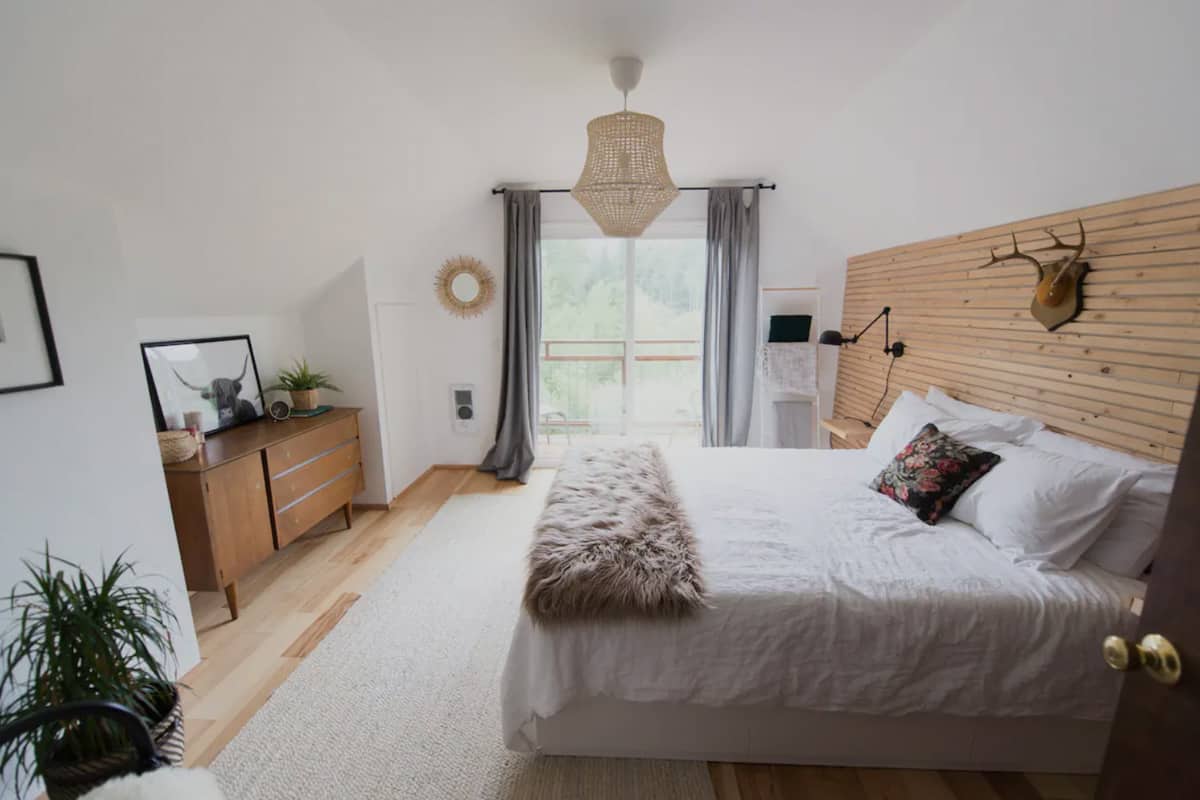 With a location right on the East Sandy River and just an hour outside of Portland, multiple oversized decks, and an outdoor hot tub, this may just be one of the best cabins in Oregon!
The Scandinavian-designed living space is equal parts cozy and minimalist, encouraging you to simply connect with nature and unwind. A trail takes you directly down to the river and nearby, you'll find charming mountain villages with restaurants and shops, plus, of course, year-round recreation on Mt. Hood!
5. The Woodlands House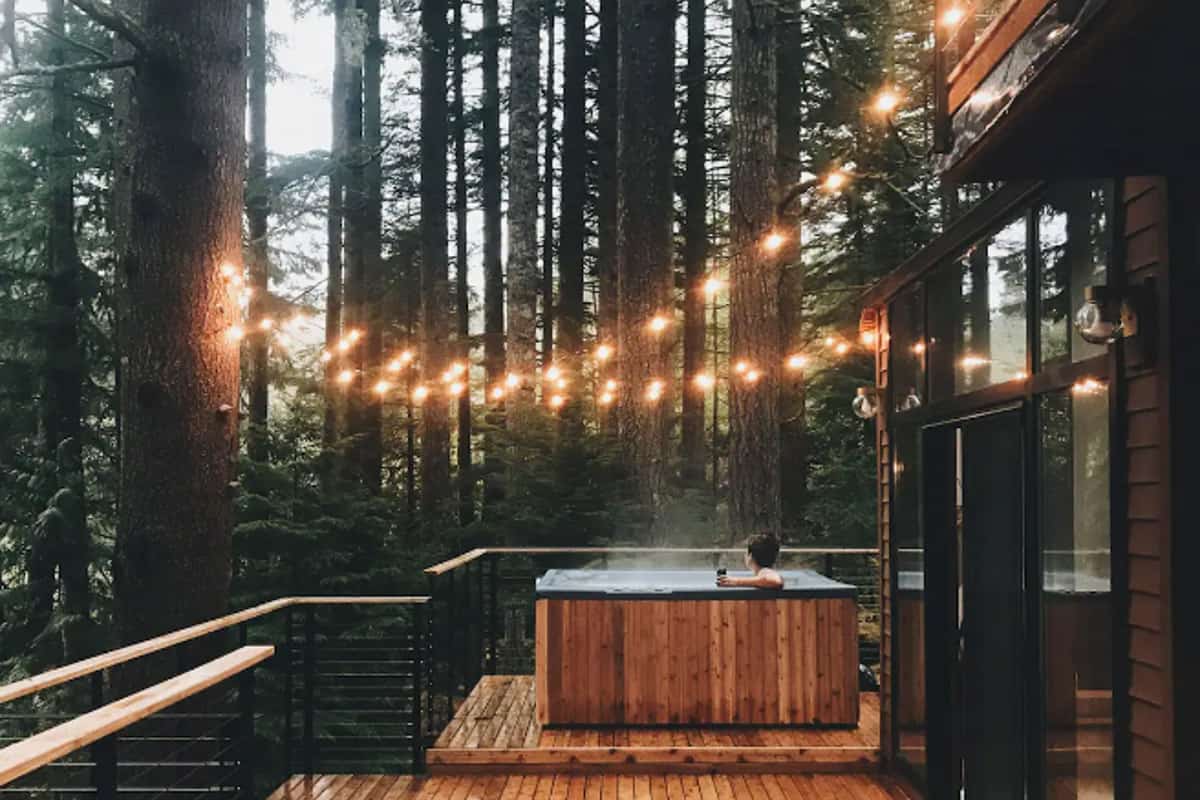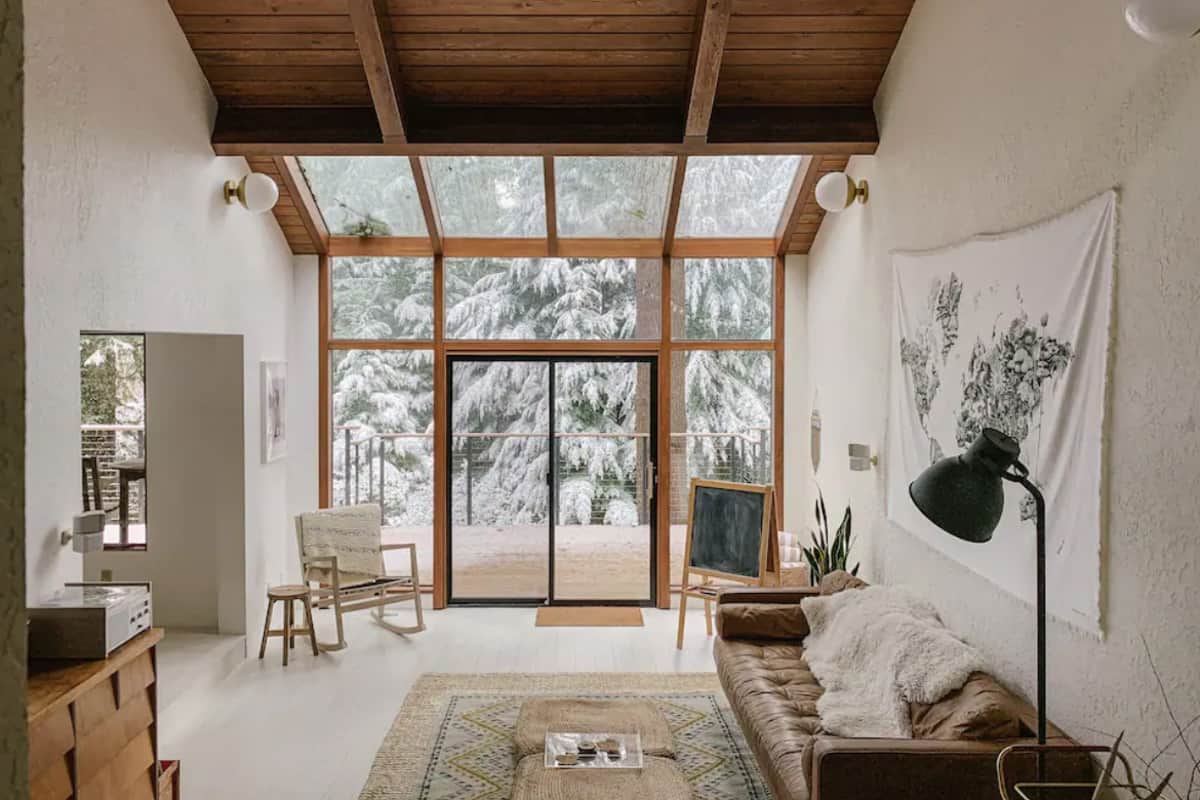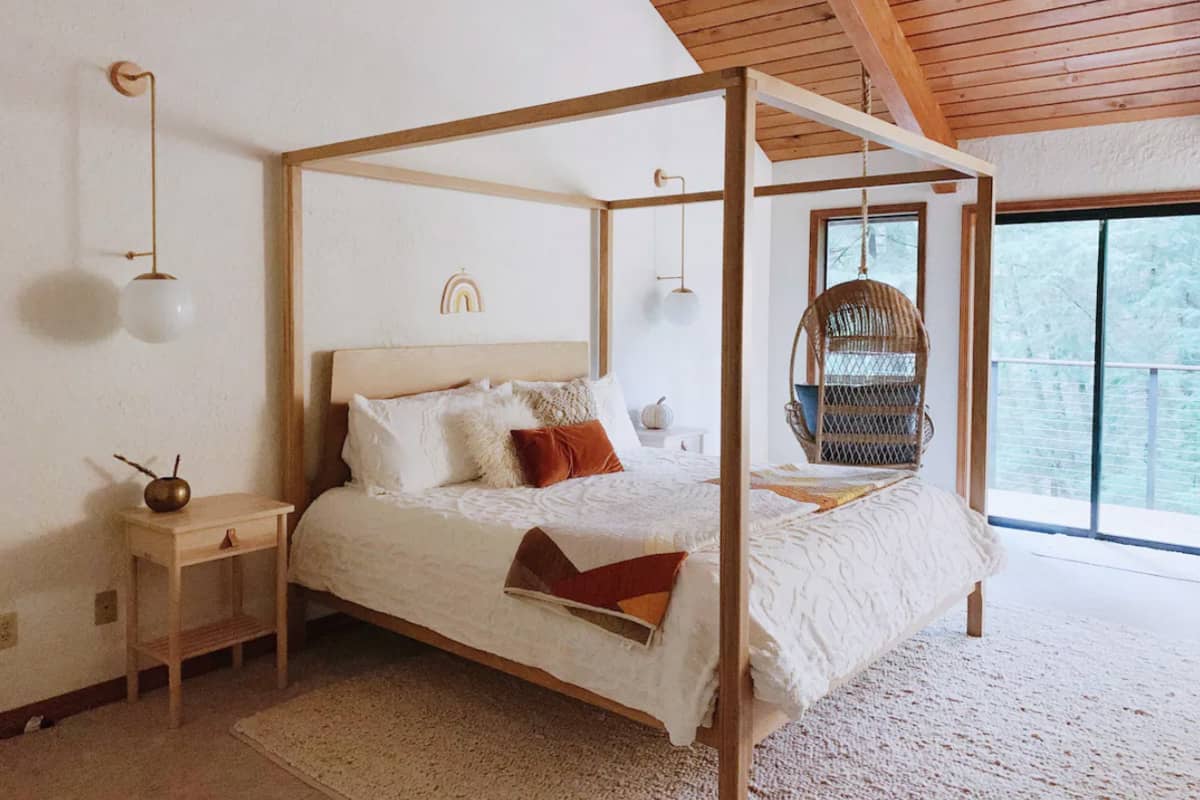 A bright and airy space, this Oregon cabin is nestled into the woods in a fairytale-perfect location. It sits on five private acres in a lush old-growth forest, making it feel like your own slice of paradise — yet, it's just 30 minutes from Mount Hood and 45 from the airport!
With four bedrooms and two spacious decks, the cabin has plenty of room for a group to spread out. The outdoor space is spectacular, overlooking a stream and with trails running in every direction, but when you want to cozy up indoors, there's a wood-burning fireplace, soaking tub, and satellite TV.
6. Little House on the Mountain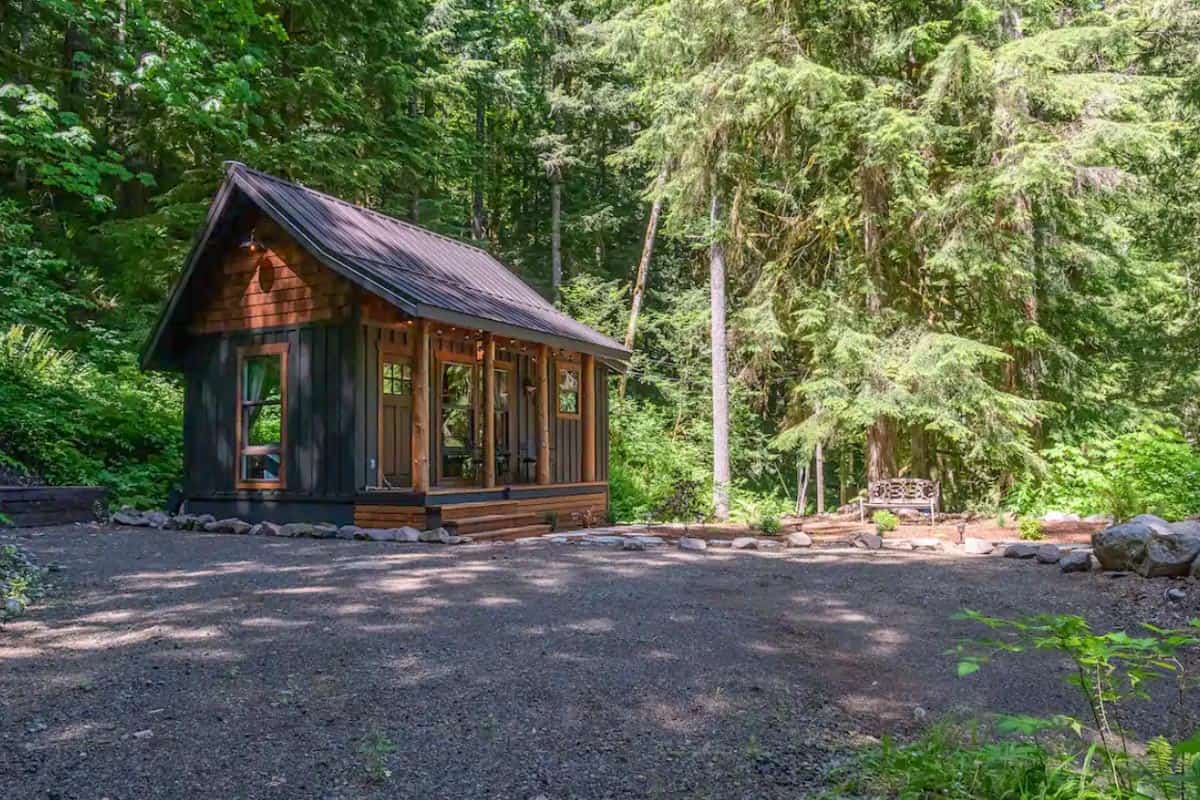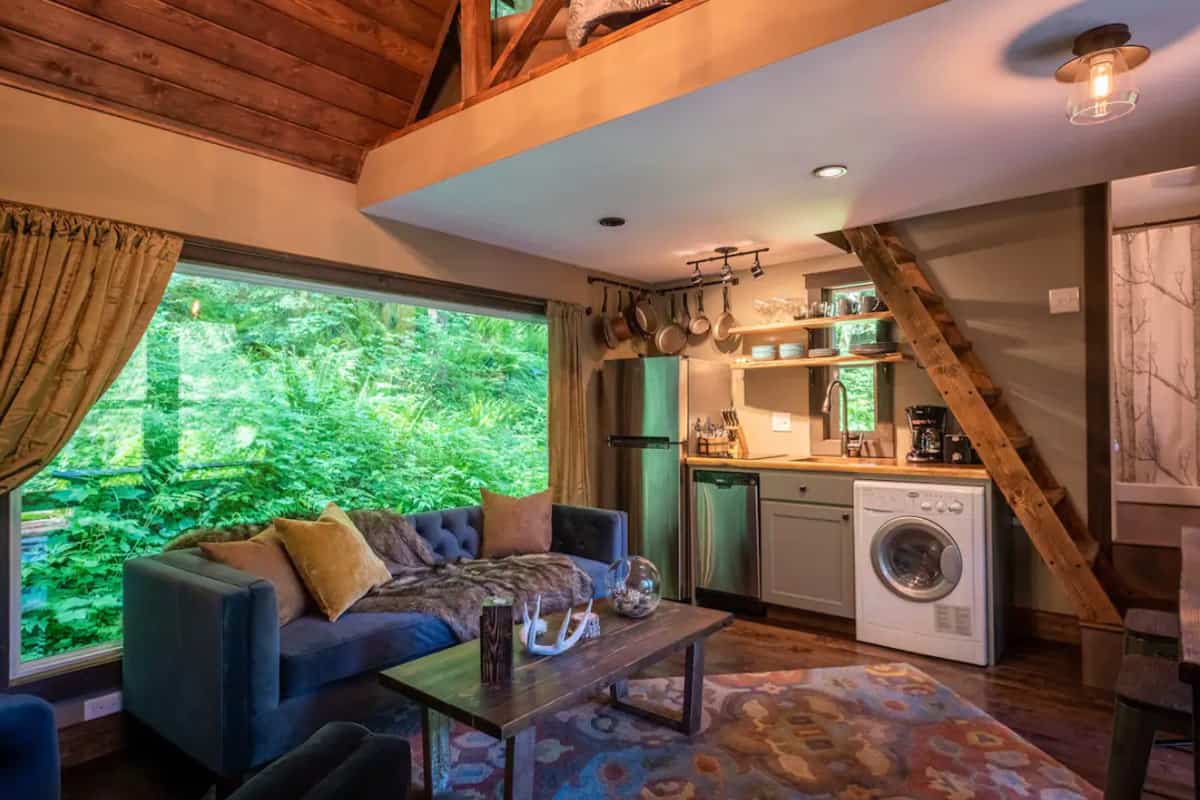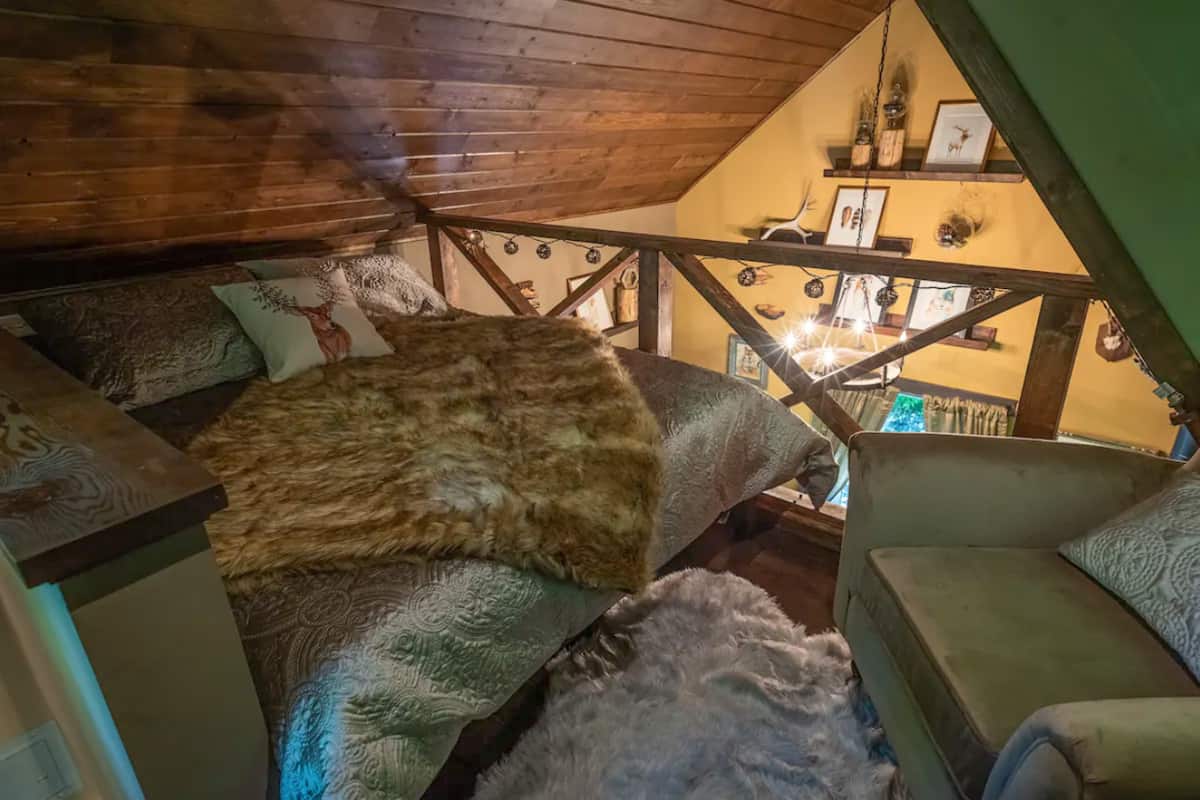 This custom-built cabin sits on four ultra-private acres bordering Mt. Hood National Forest, making it the perfect romantic getaway. It's thoughtfully designed with an unbelievably cozy lofted sleeping area and a wood-burning stove and large windows downstairs.
There's a kitchenette and fire pit, so pick up some groceries on your way and settle in for a cozy weekend. Enjoy ZigZag Mountain views and being just minutes from hiking, skiing, and everything else at Mt. Hood!
7. Dome Sweet Dome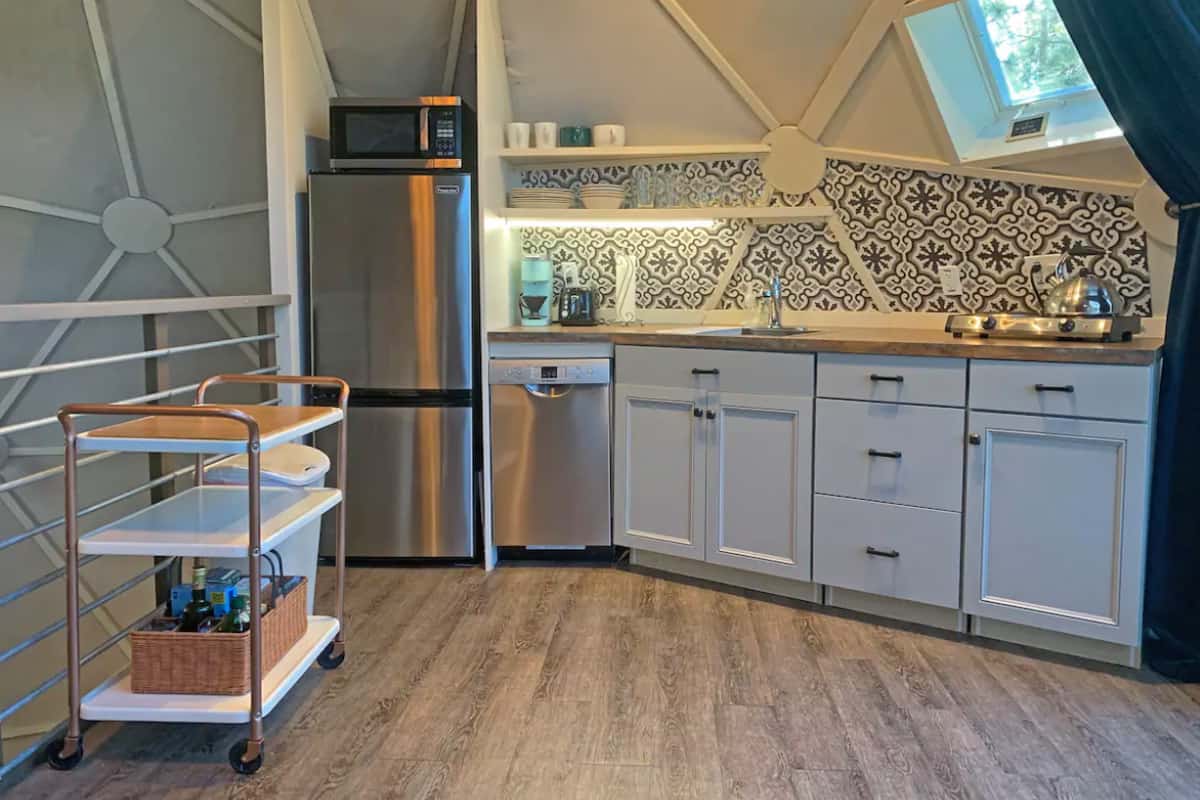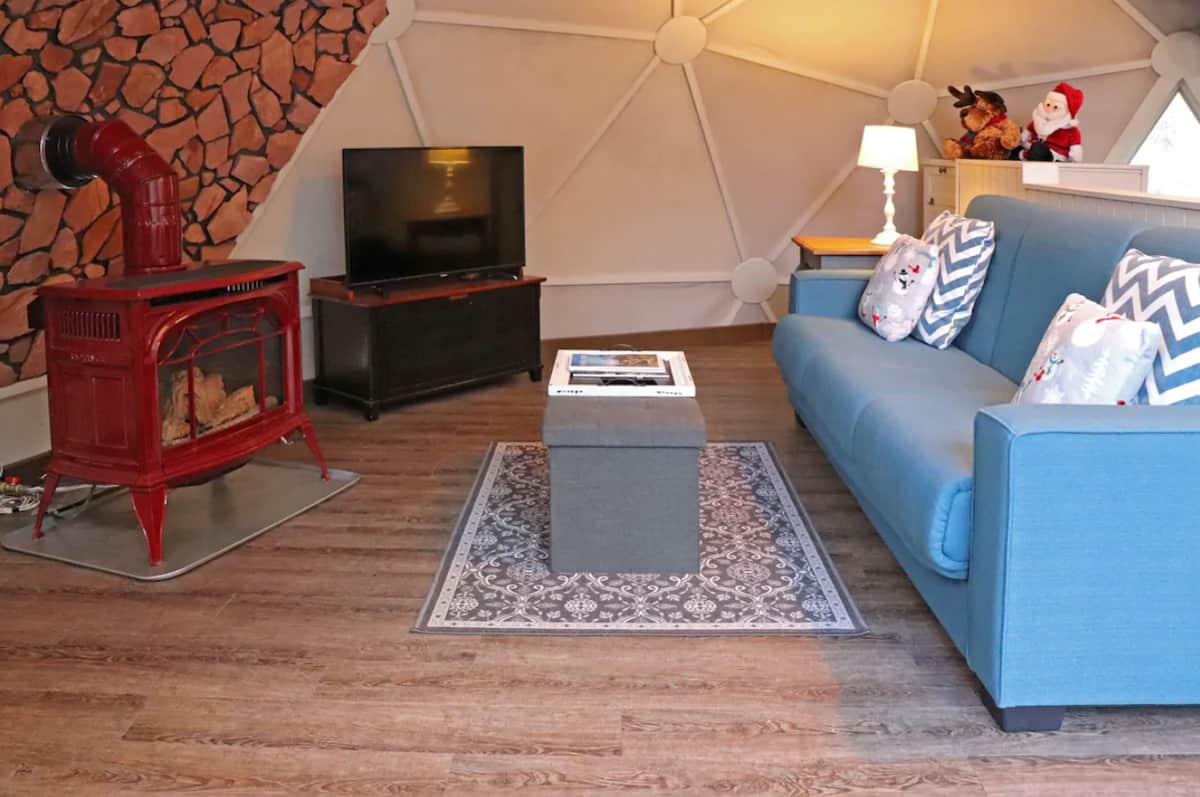 Part treehouse, mostly dome, this is one of the most unique cabins in Oregon! It's a true dome, perfectly round with views from everywhere inside (including from bed!). It even has two stories, so the cabin is more spacious than it appears.
One of the very best things about this cabin is its location. It's in a Bend neighborhood, an easy bike ride from downtown, yet feels far more secluded. Some of Bend's best trails are within walking distance, including the Deschutes River Trail.
8. Cozy Cascade Cabin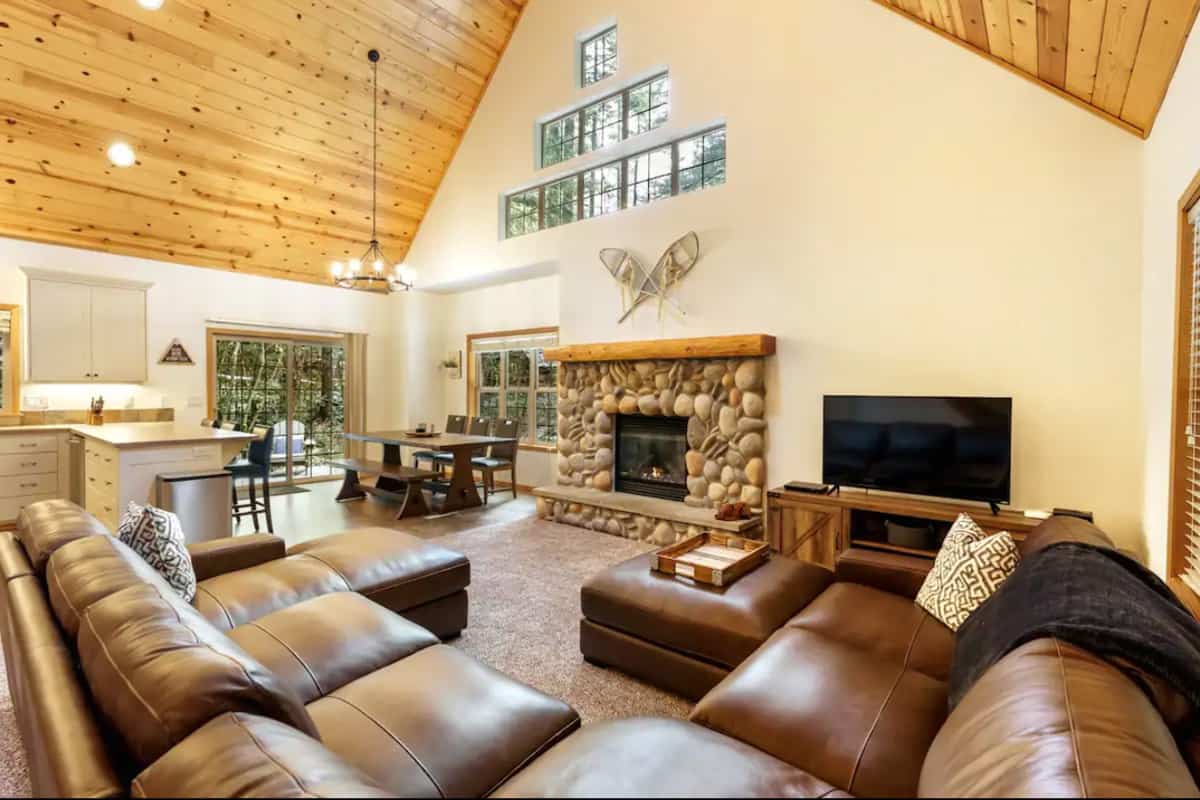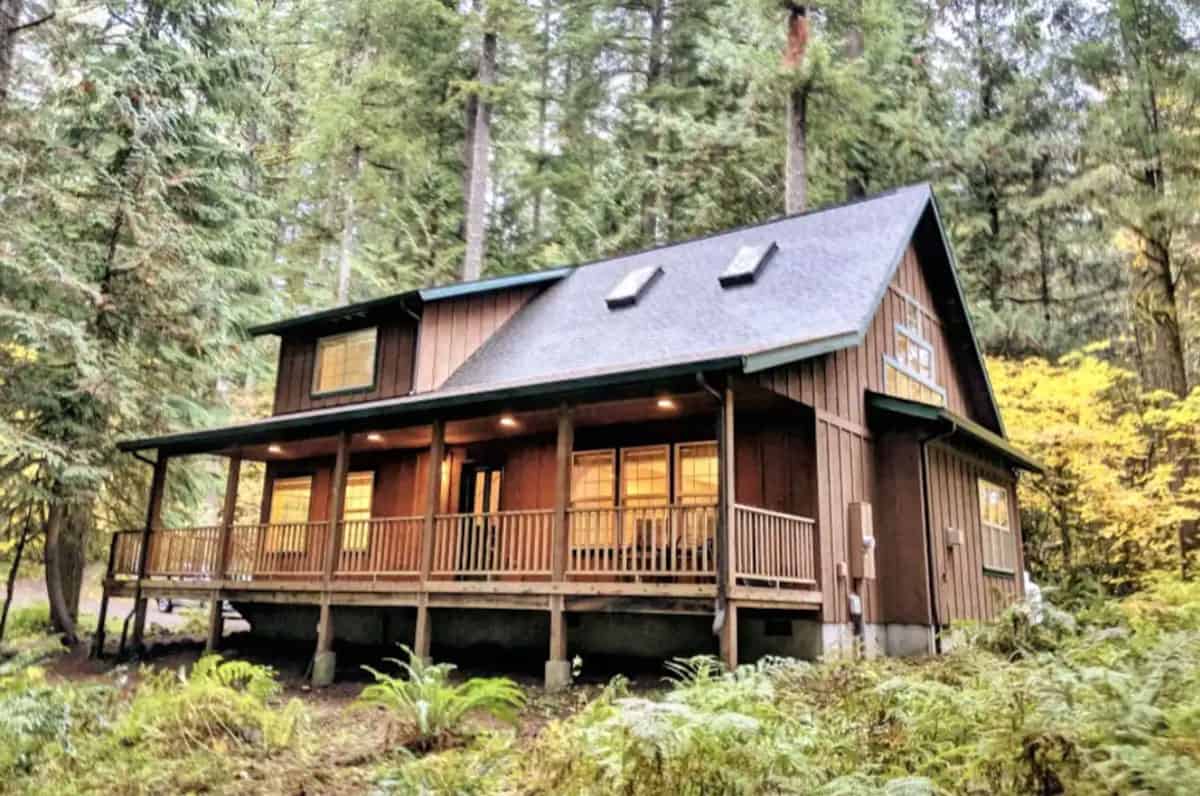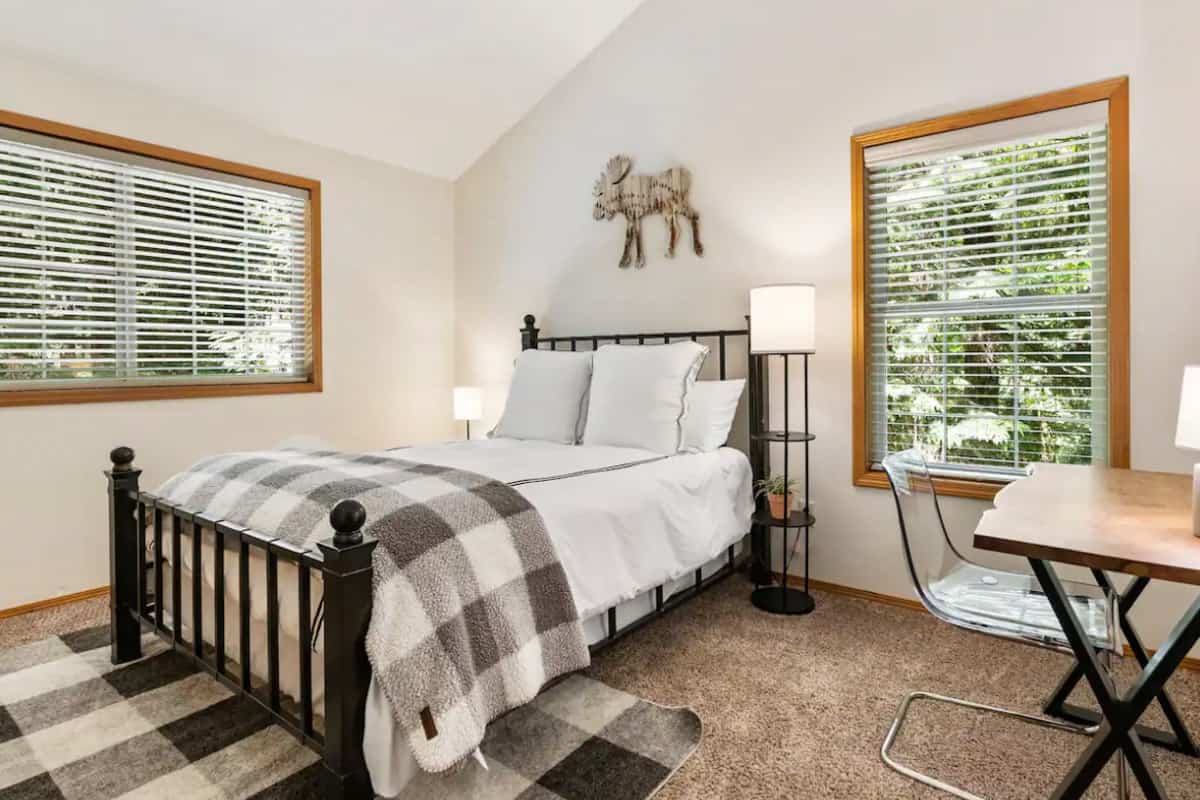 For groups, this is one of the best cabins in Oregon! The chalet-style home has a large, open floor plan central space with plenty of room for everyone to spread out — or cuddle up. The couch is perhaps the comfiest ever, and there's a gas fireplace and tons of board games.
Outside, the enormous covered front deck overlooks Clear Creek and the hot tub and fire pit are out back. Guests will find sleds, fishing poles, and yard games for slowing down and making memories outdoors.
9. Pacific Overlook Cabin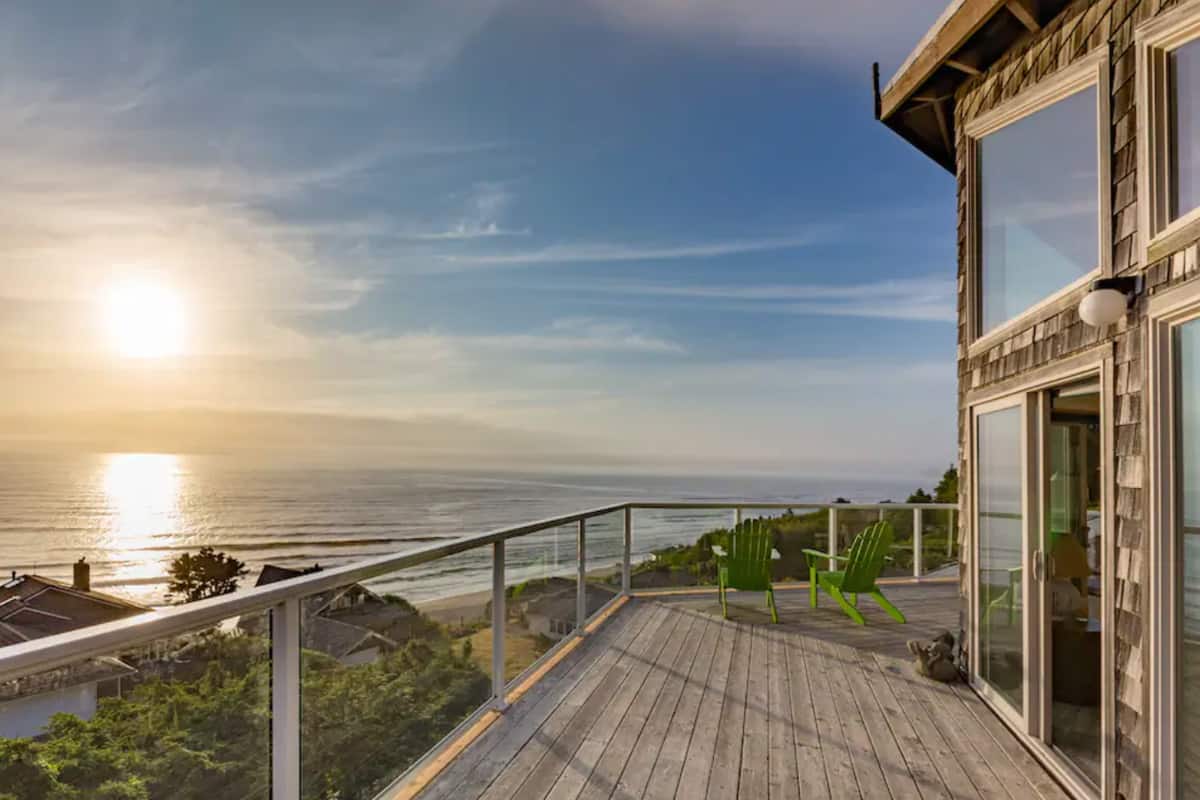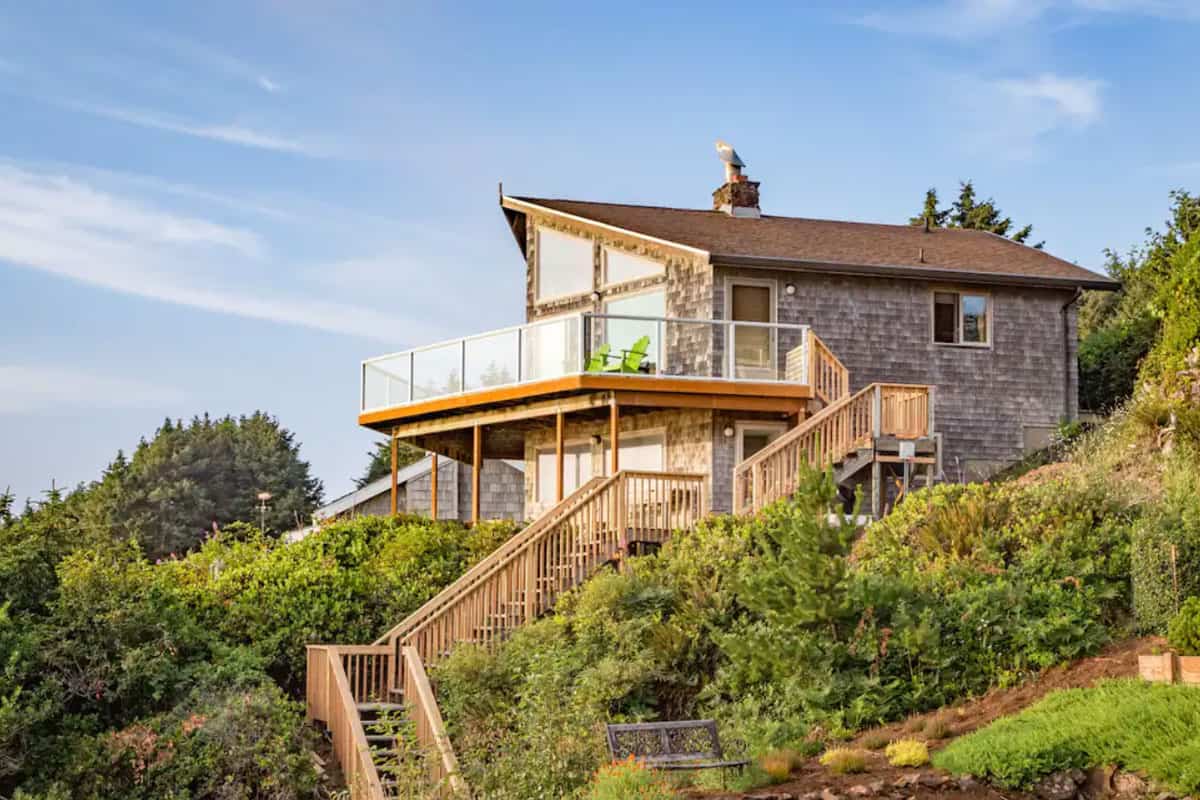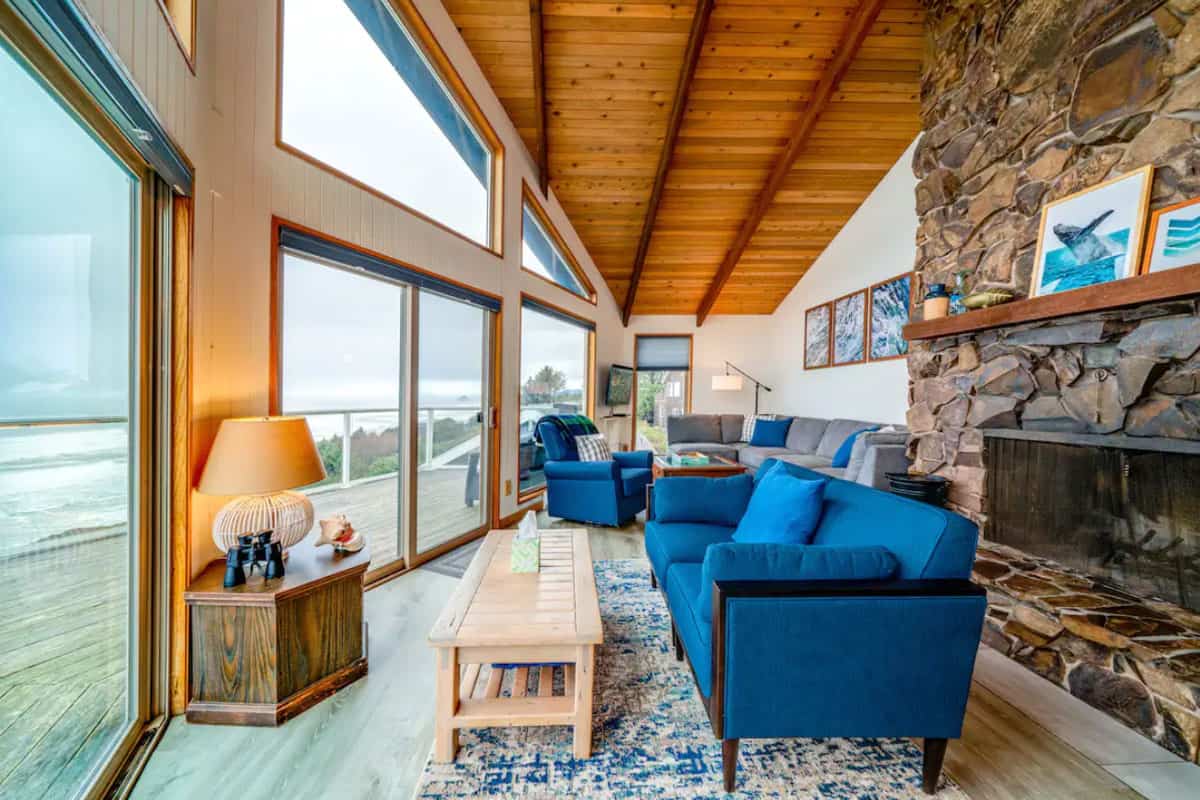 Just 10 minutes from Pacific City, this Oregon cabin offers plenty of space for larger families or groups, as well as unobstructed ocean views from all living spaces. The home overlooks Winema Beach and offers up views of iconic Haystack Rock.
For beach access, there are a few options, including a path just three houses away! There are also several beach toys for guest use. On stormy days, enjoy a well-stocked game room and cozy wood-burning fireplace.
10. Red A-frame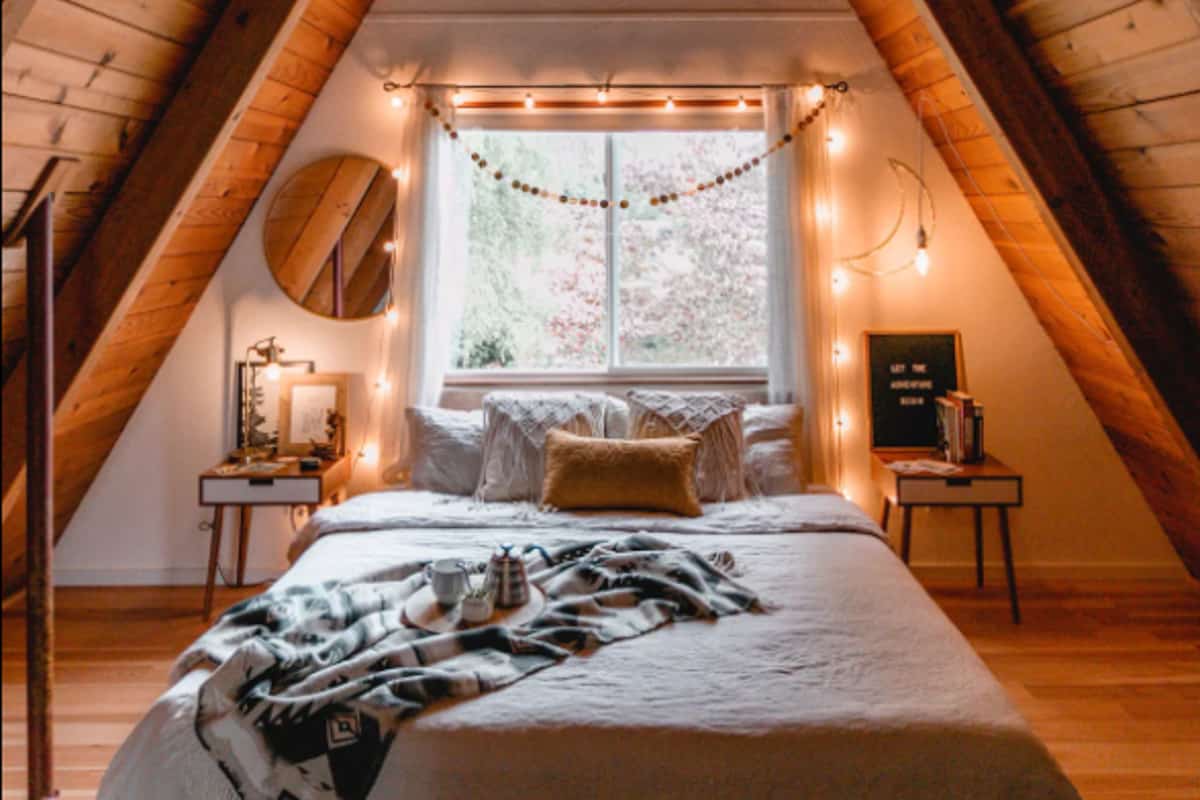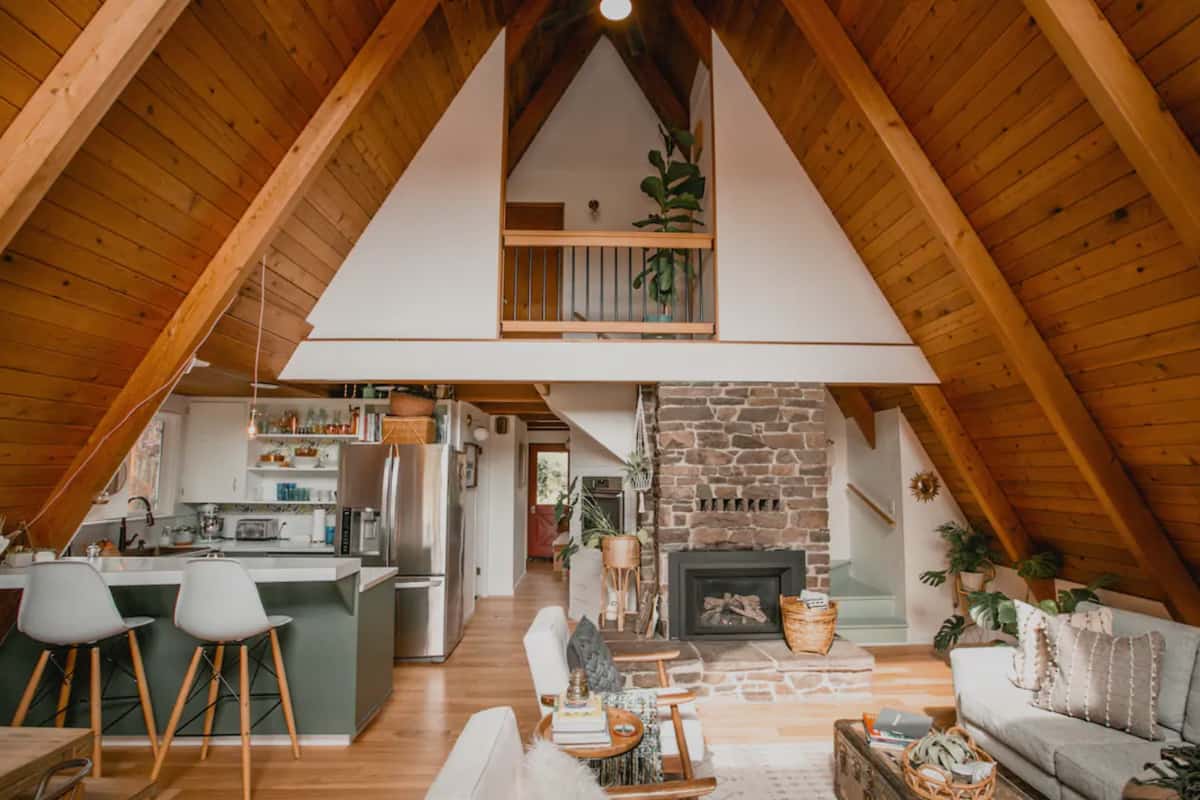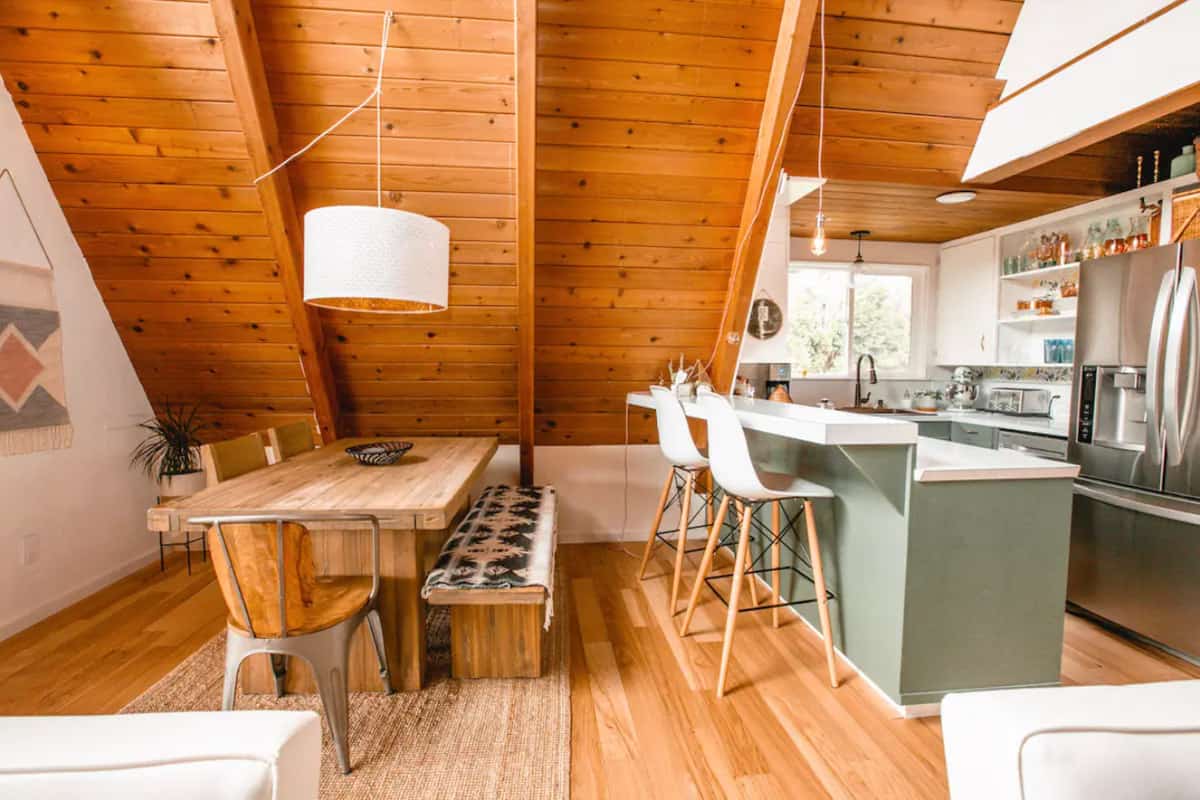 Mid-century Modern meets rustic and cozy in this charming Hood River cabin. Situated on 2.5 private acres with spectacular mountain views, yet just minutes from downtown and some of the best wineries in Hood River!
Enjoy a large fire pit surrounded by Adirondack chairs and a children's playground, as well as being very close to fantastic hiking and mountain biking trails. Inside, cozy up by the fireplace with a book from the well-stocked library.
11. Camp Neary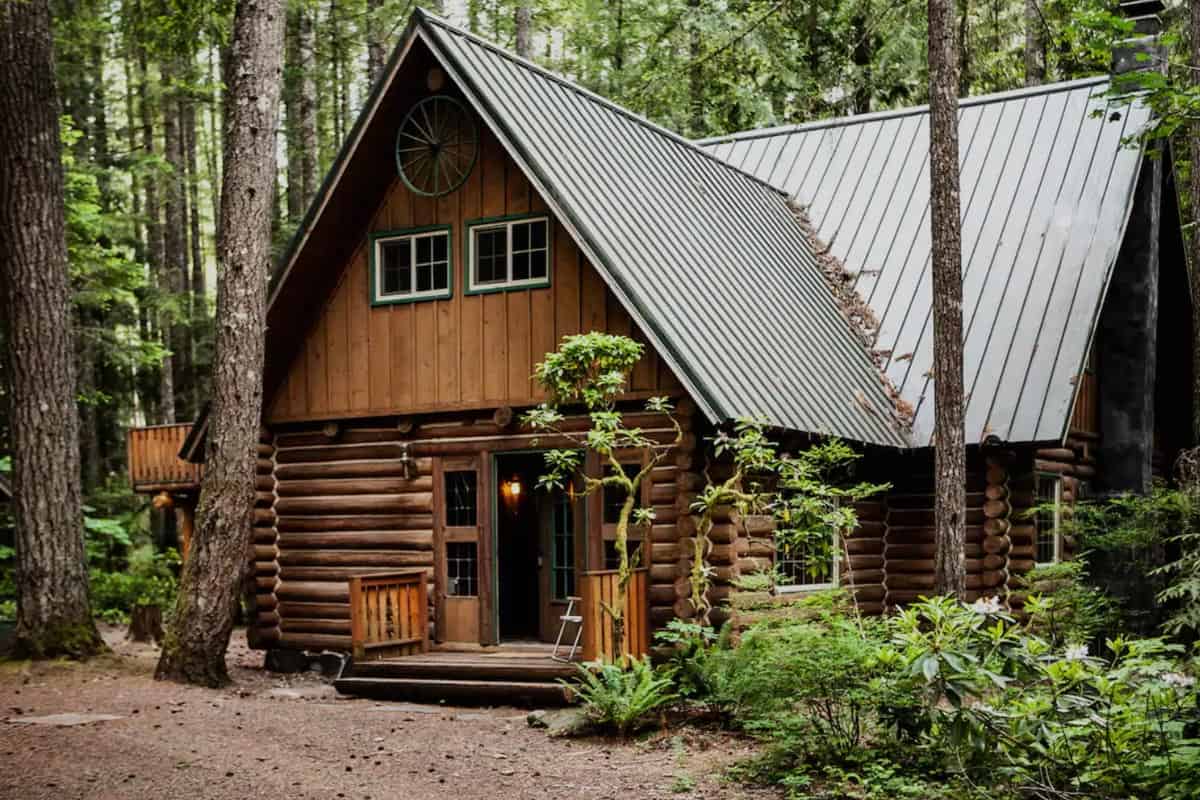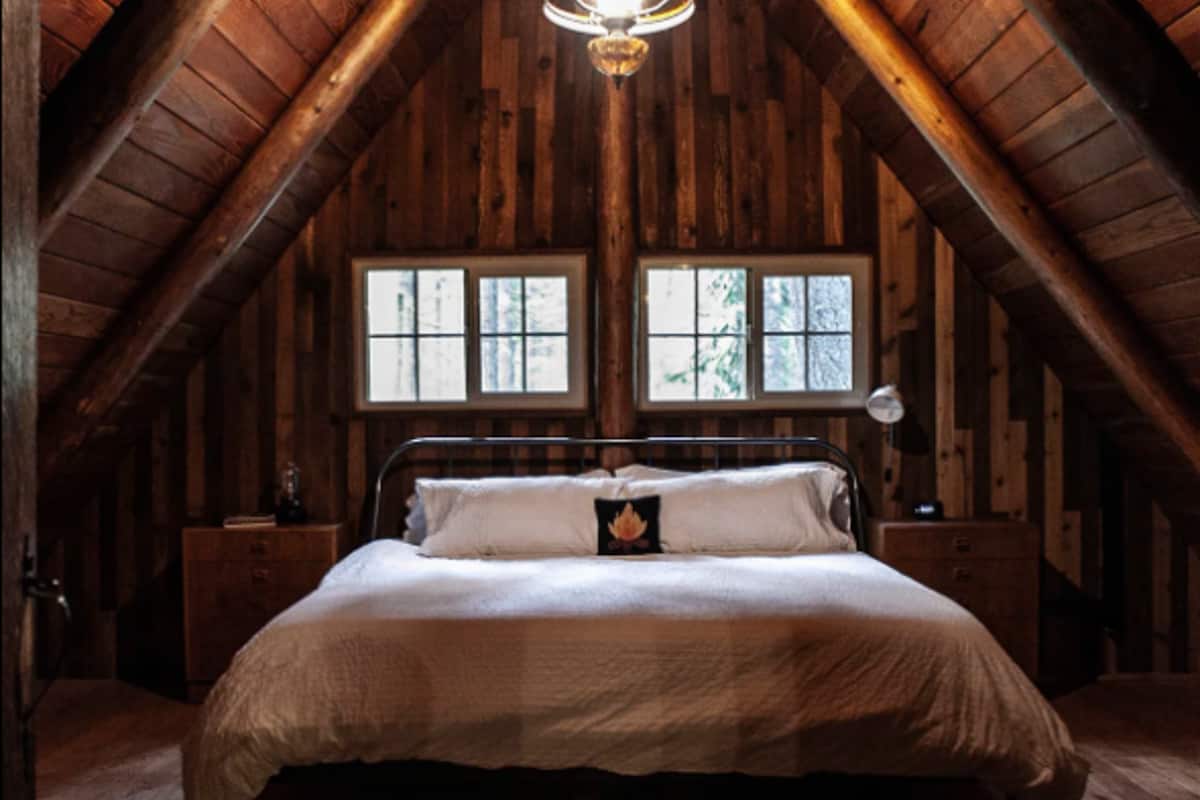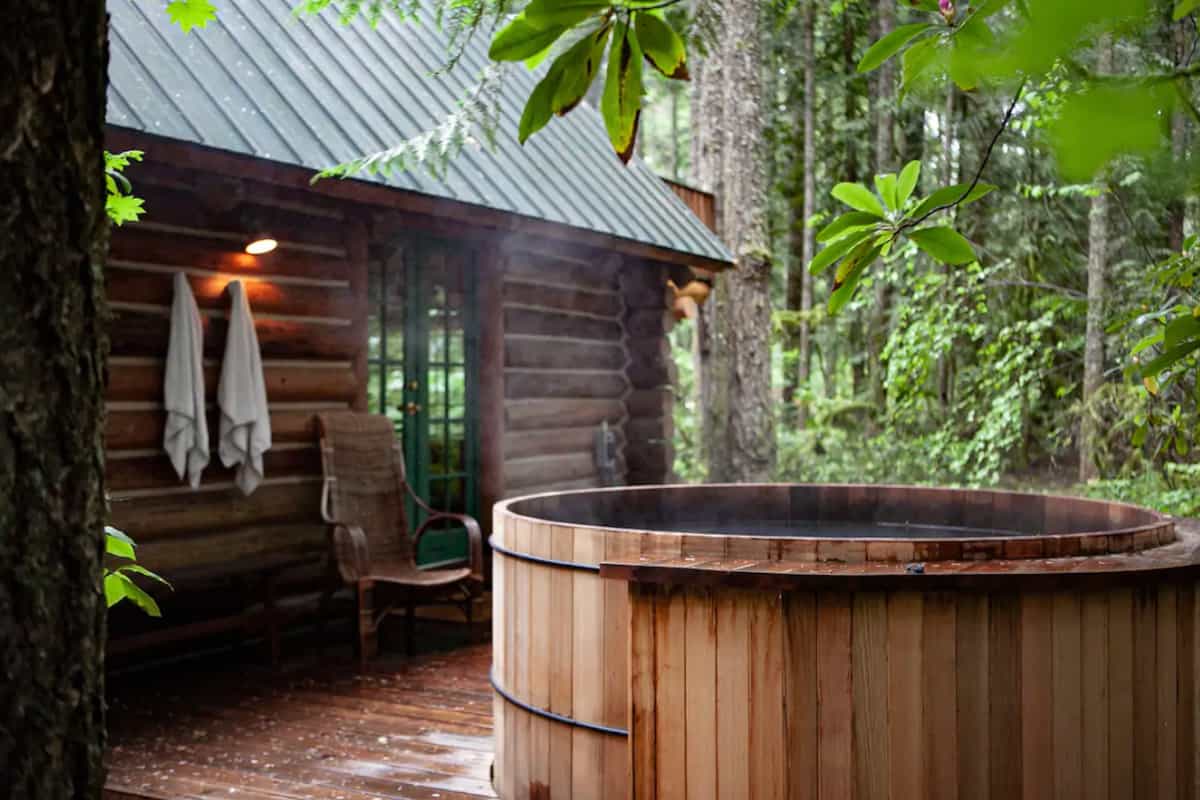 Built by renowned log home builder Mike Neary, this show-stopping home is one of the most impressive cabins in Oregon. It effortlessly blends rustic with ultra-modern, such as the stainless-steel chef's kitchen alongside the outdoor fire pit with rough-hewn log benches.
The 2,900-square-foot home sits on a full acre, offering incredible privacy with plenty of room for up to eight guests. One of the cabin's many unique amenities is the handmade hot tub, constructed from Western red cedar trees on the property.
12. Cozy & Private A-frame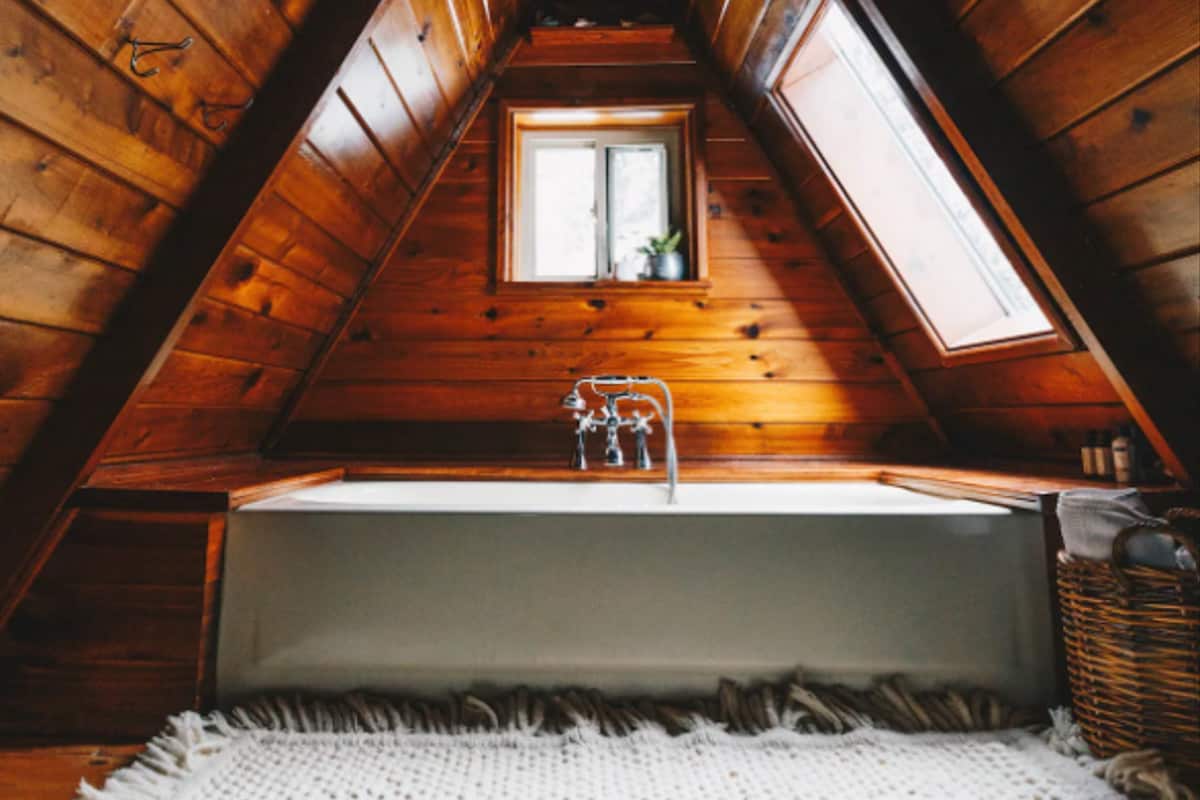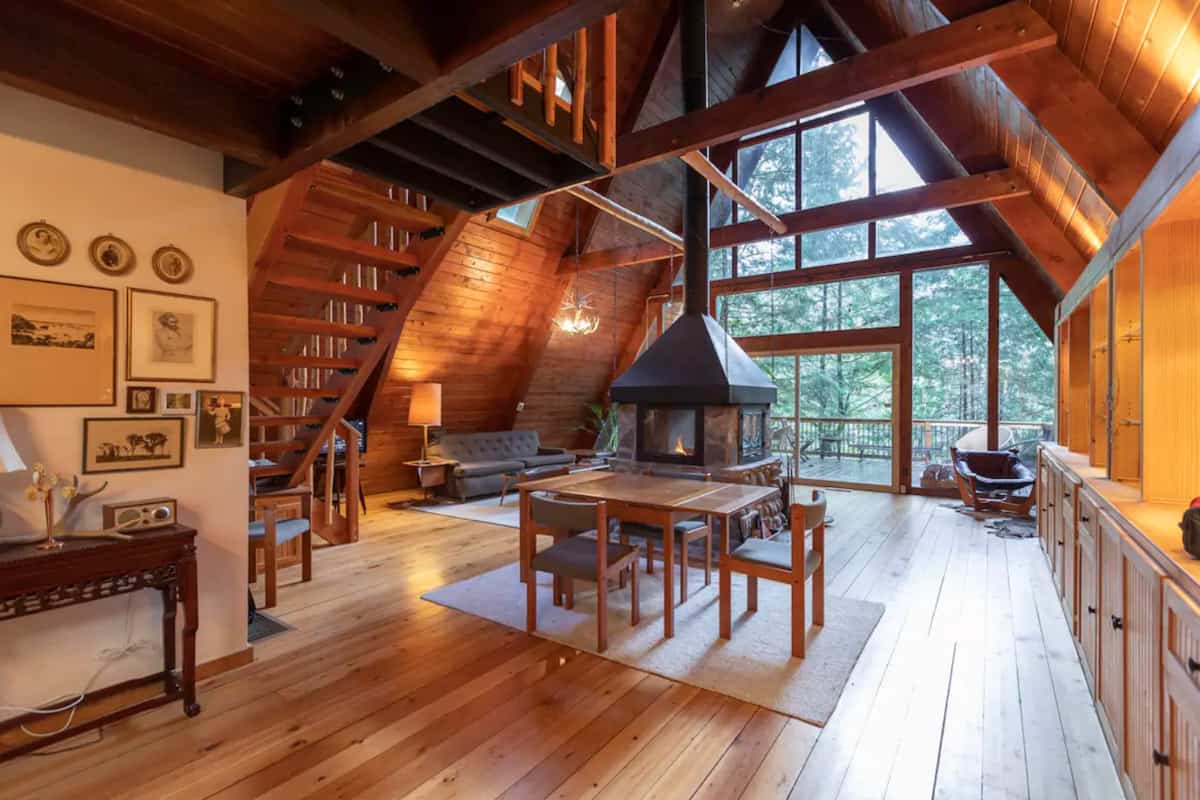 An absolutely beautiful cabin in Oregon, the floor-to-ceiling windows, exposed beams, and standalone fireplace in the living room make this a design lover's dream. There are also two large decks, with the upper one right off the main bedroom.
The Salmon River is just across the road, and you can be at a dozen different trailheads within five minutes. Tamanawas Falls is just over 30 minutes away, and Trillium Lake is also close by, offering year-round recreation.
Note: there's also a detached studio on the property that can be rented to accommodate larger groups.
13. Majestic Mountain Home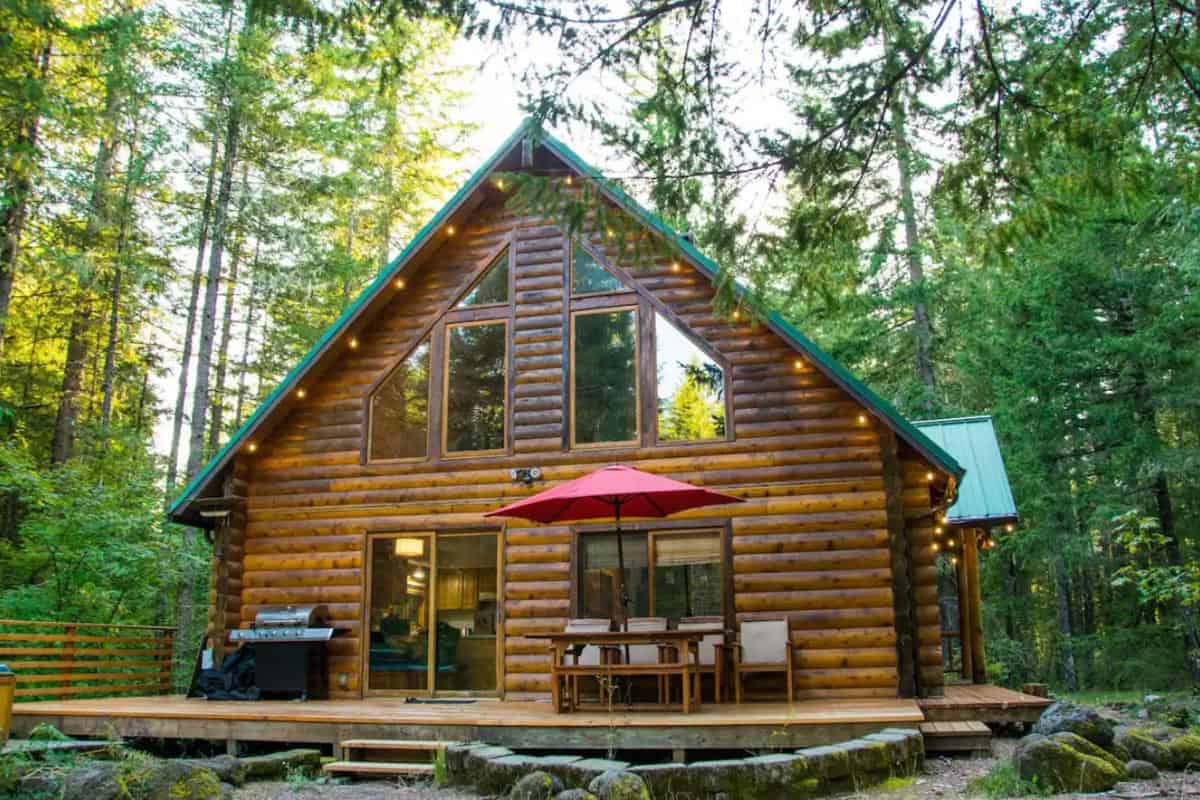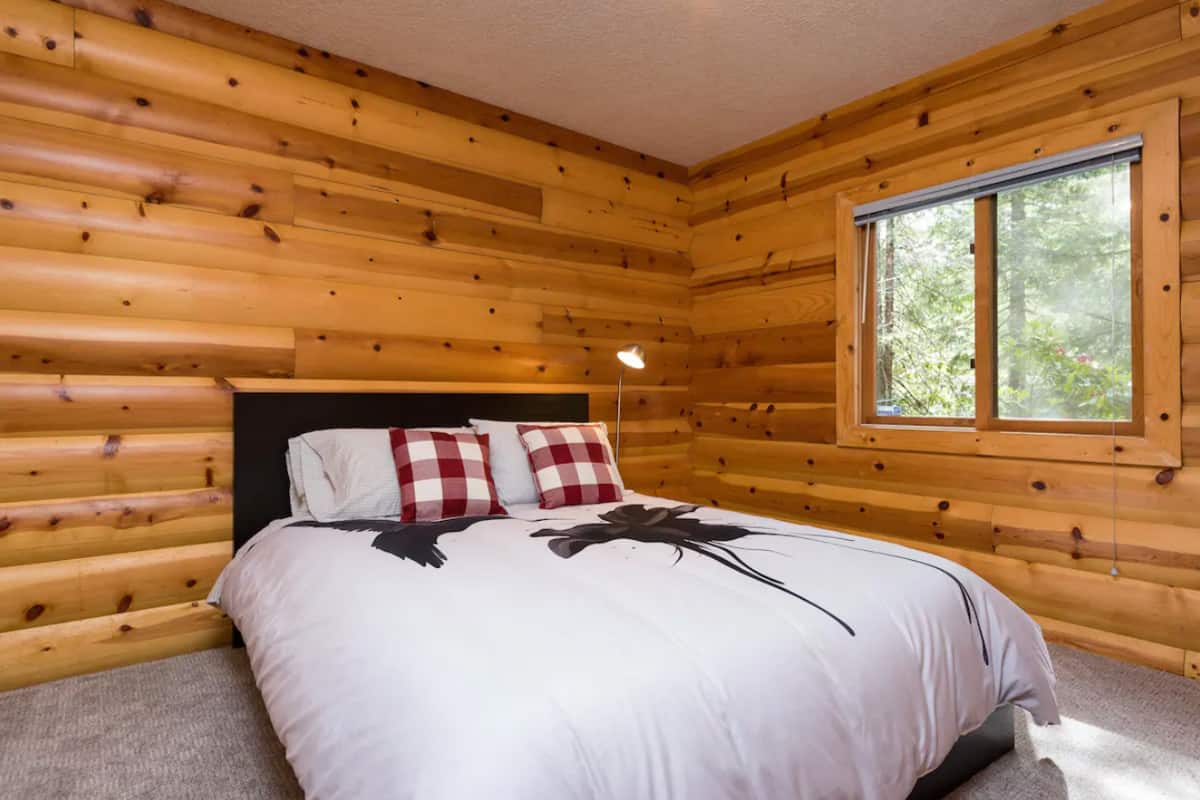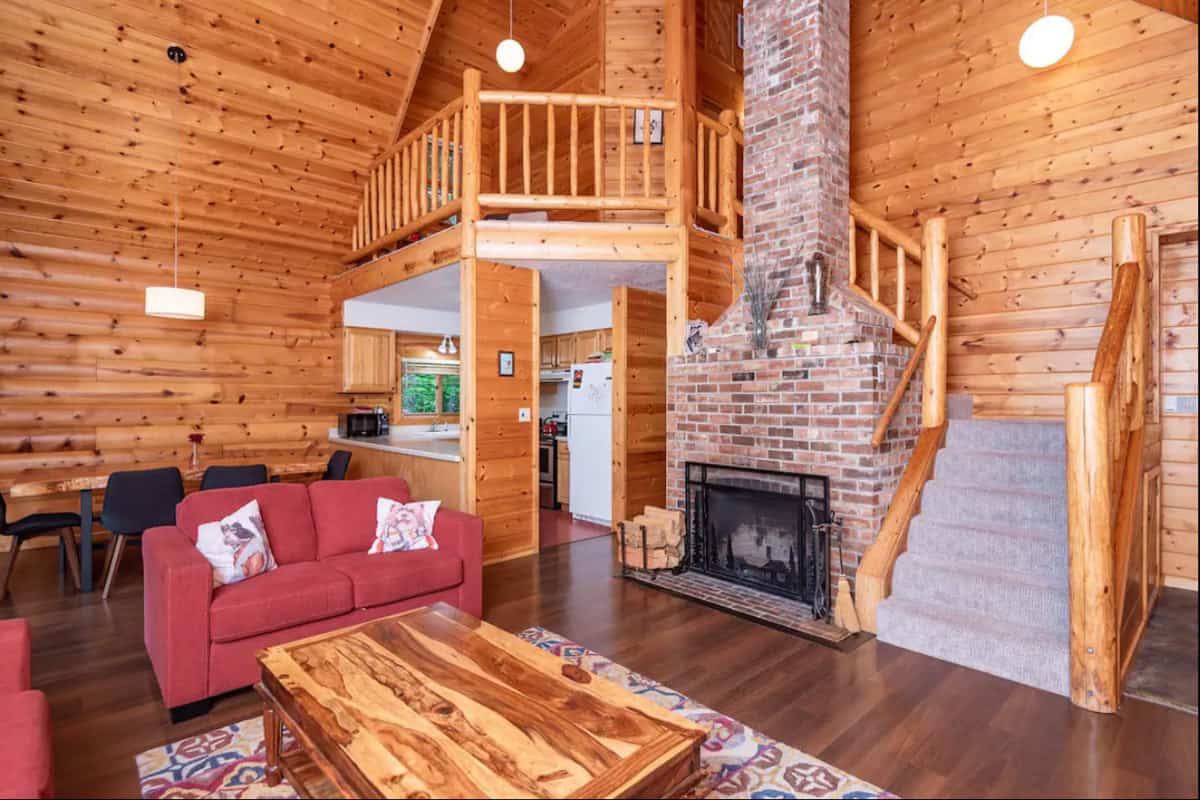 Cabins in Oregon don't get much better than this! Situated on an ultra-private 10 acres, it feels like you have a slice of the PNWl to yourself. The cabin is spacious, but 30-foot-tall ceilings with large windows and an open loft space make it feel even larger.
Speaking of the loft, it's well-stocked with toys, games, and books to keep little ones busy — especially helpful if you want to get some work done at one of the two dedicated workspaces. Outside, relax in the hot tub or the hammock!
14. Wald House PDX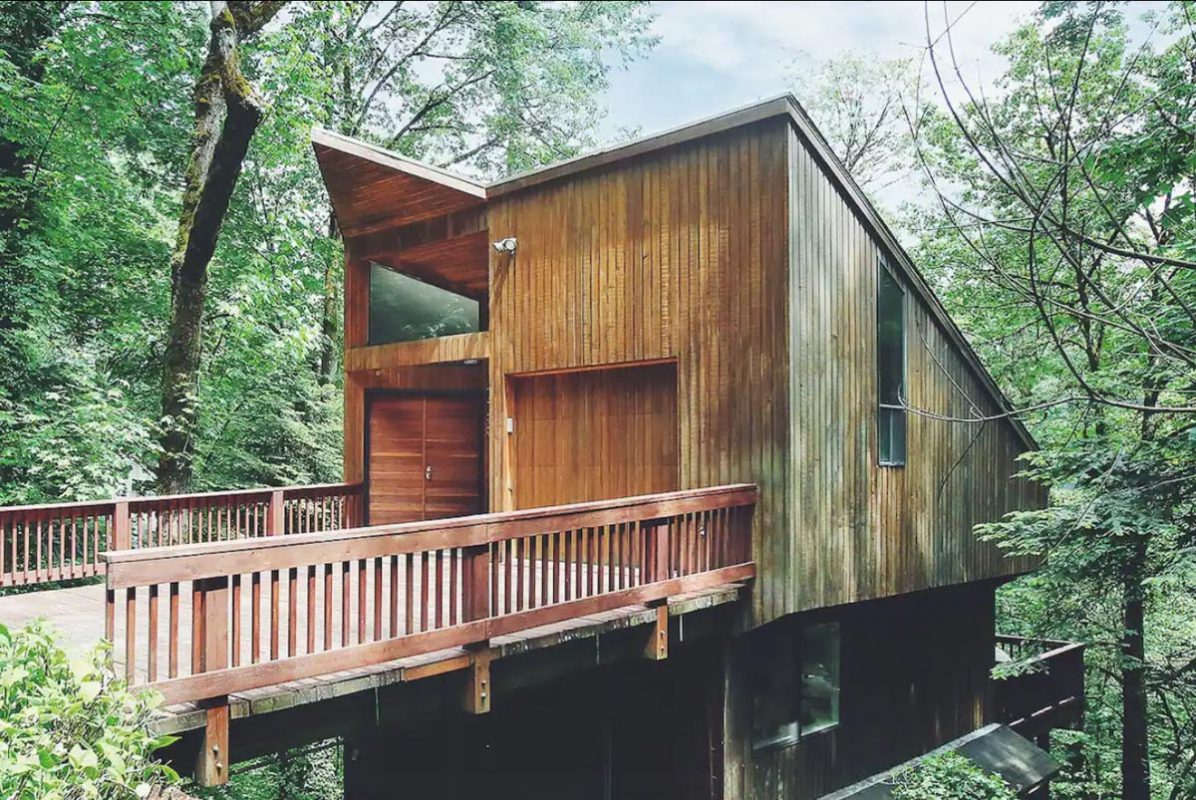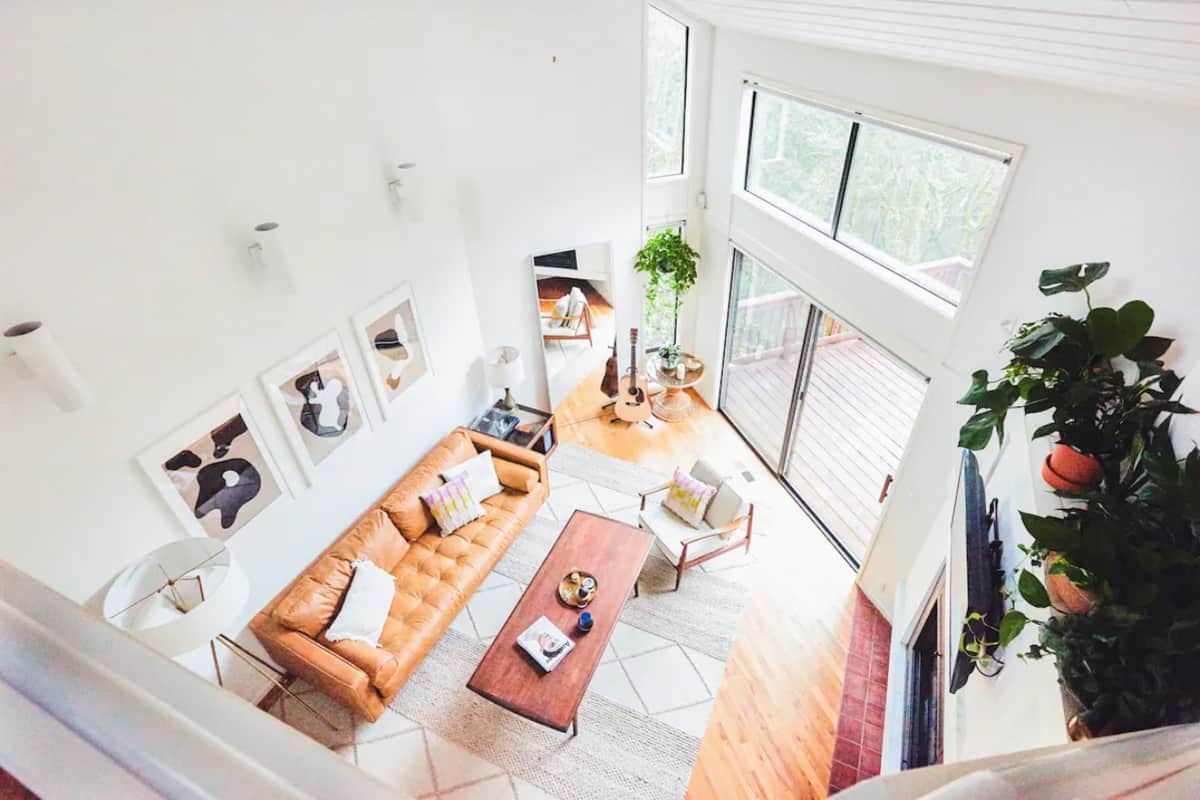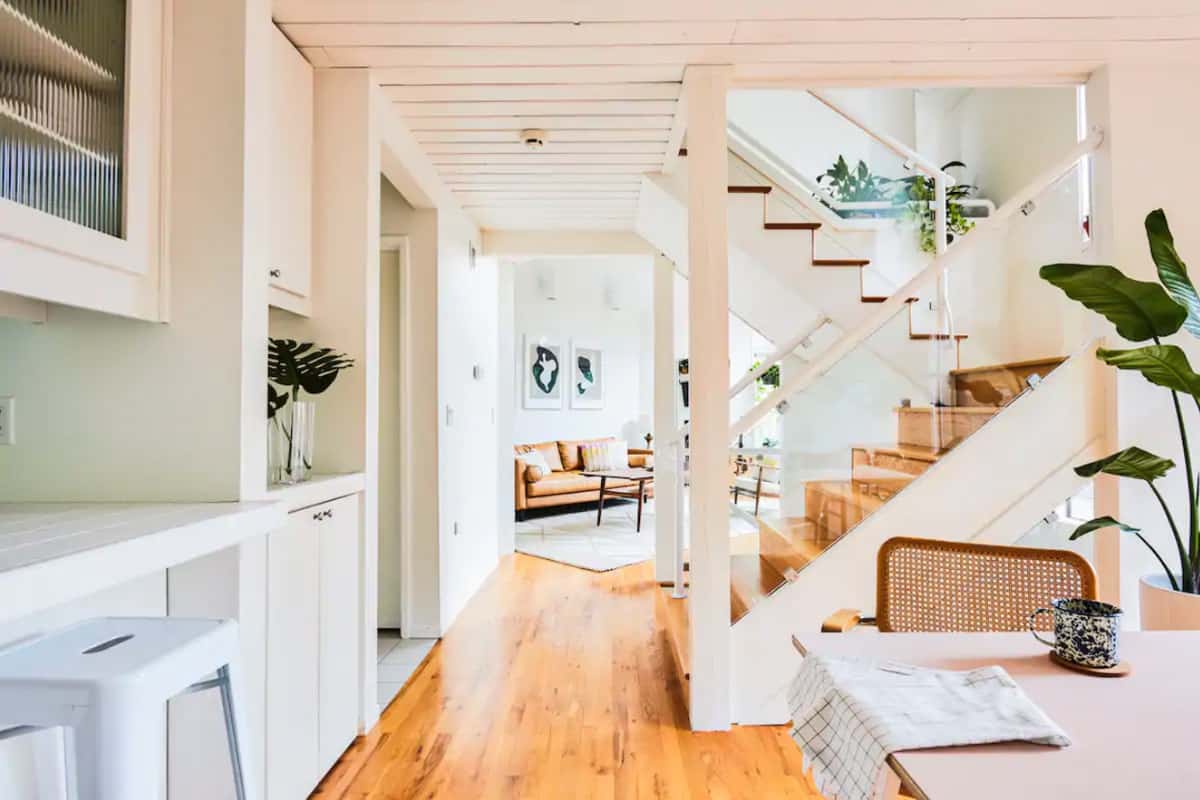 You won't believe this stunning Oregon cabin is just 10 minutes from downtown Portland! You truly get the best of both worlds with this one: quick, convenient access to fantastic restaurants and breweries, plus just-as-quick access to hiking and biking trails, plus waterfalls, parks, and everything else Portland has to offer!
The cabin, featured on Dwell, is an immaculately-preserved gem from 1979. The modern design is complemented by an eclectic record collection and colorful, cozy decor, and there's an oversized deck for enjoying the surrounding forest.
15. Riverside Cabin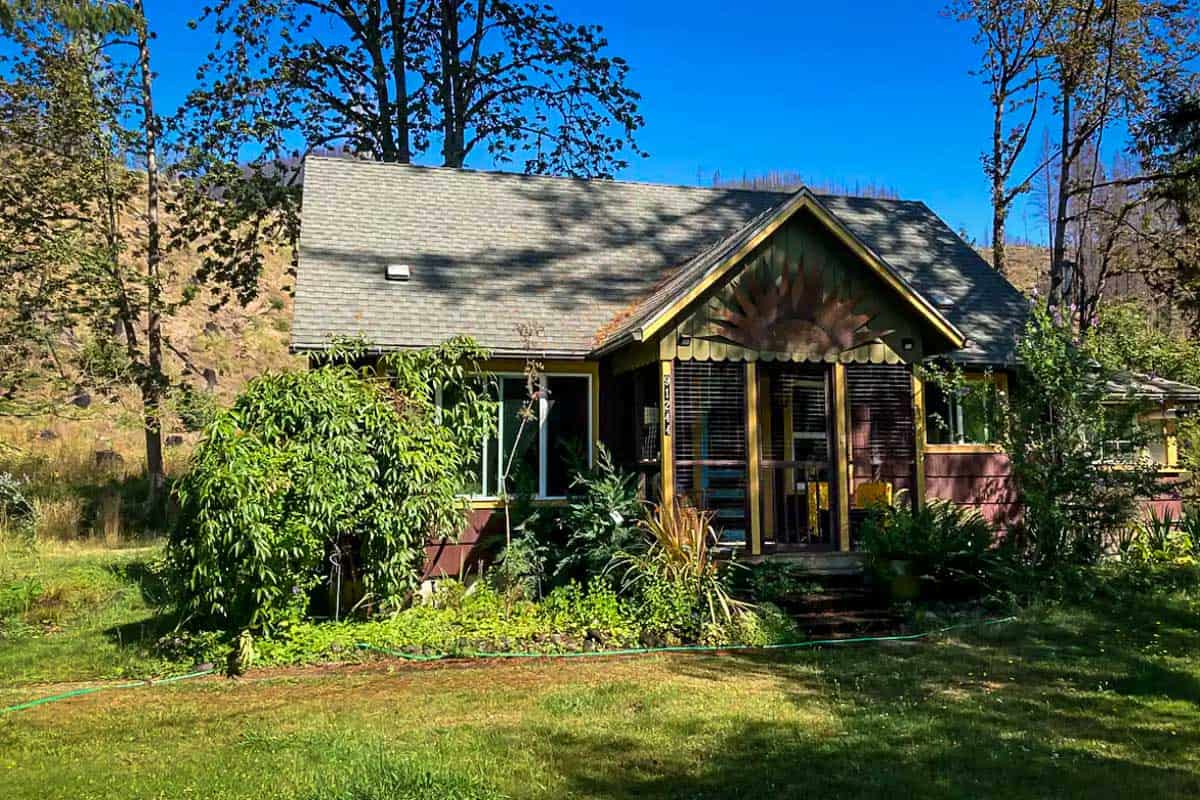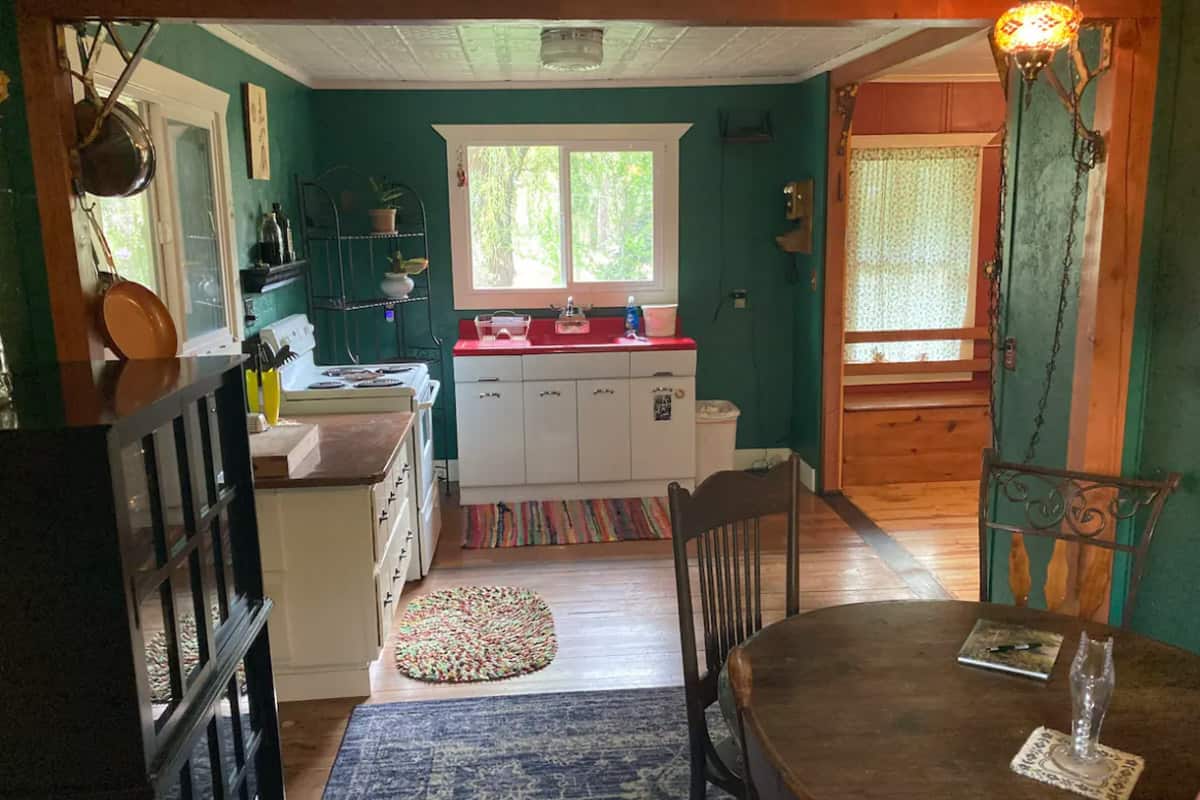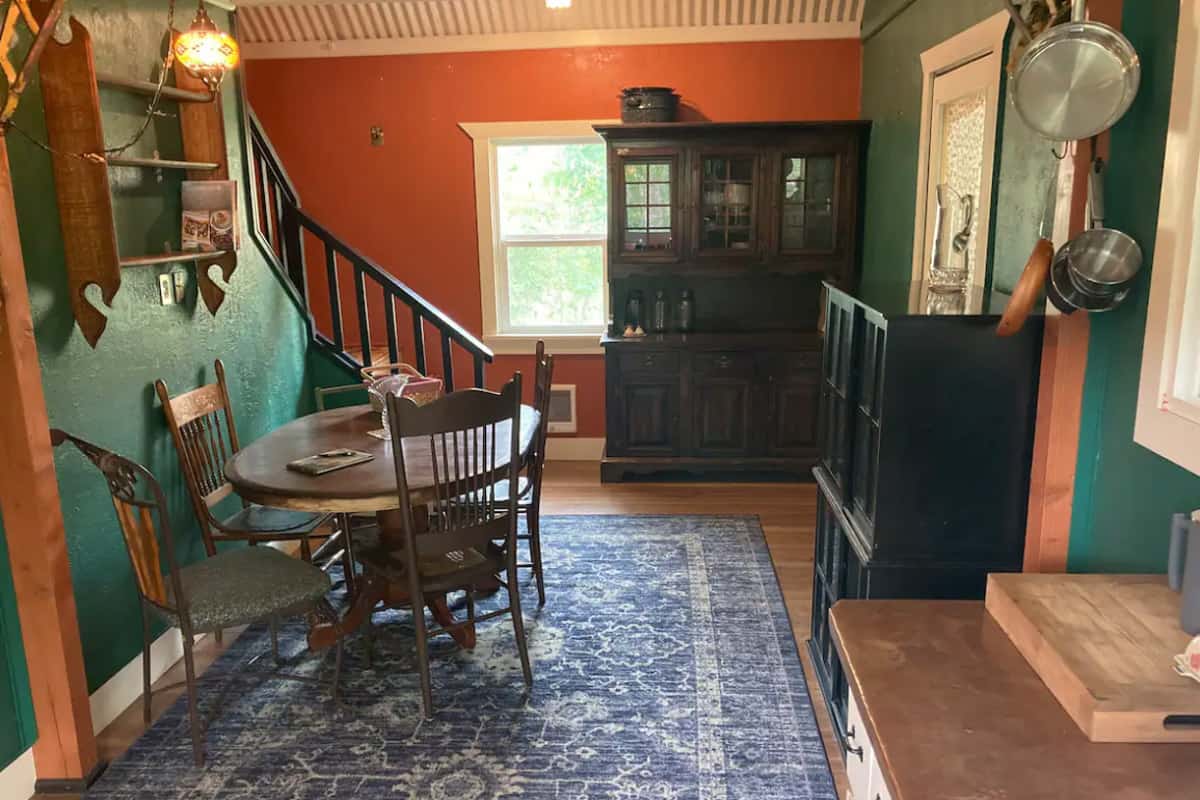 Looking to get away from the daily hustle and bustle? This is one of the best cabins in Oregon for unplugging! Situated in the heart of the beautiful McKenzie River Valley, the cabin is 40 miles from Eugene and 60 miles to Sisters.
Use the spectacular location as a reason to immerse yourself in the outdoors. Hike in the Willamette National Forest, fish or raft the McKenzie or Blue River, soak in hot springs, or chase waterfalls! When you want to stay in, relax in the claw-foot soaking tub.
Bonus: Spend the night in a fire lookout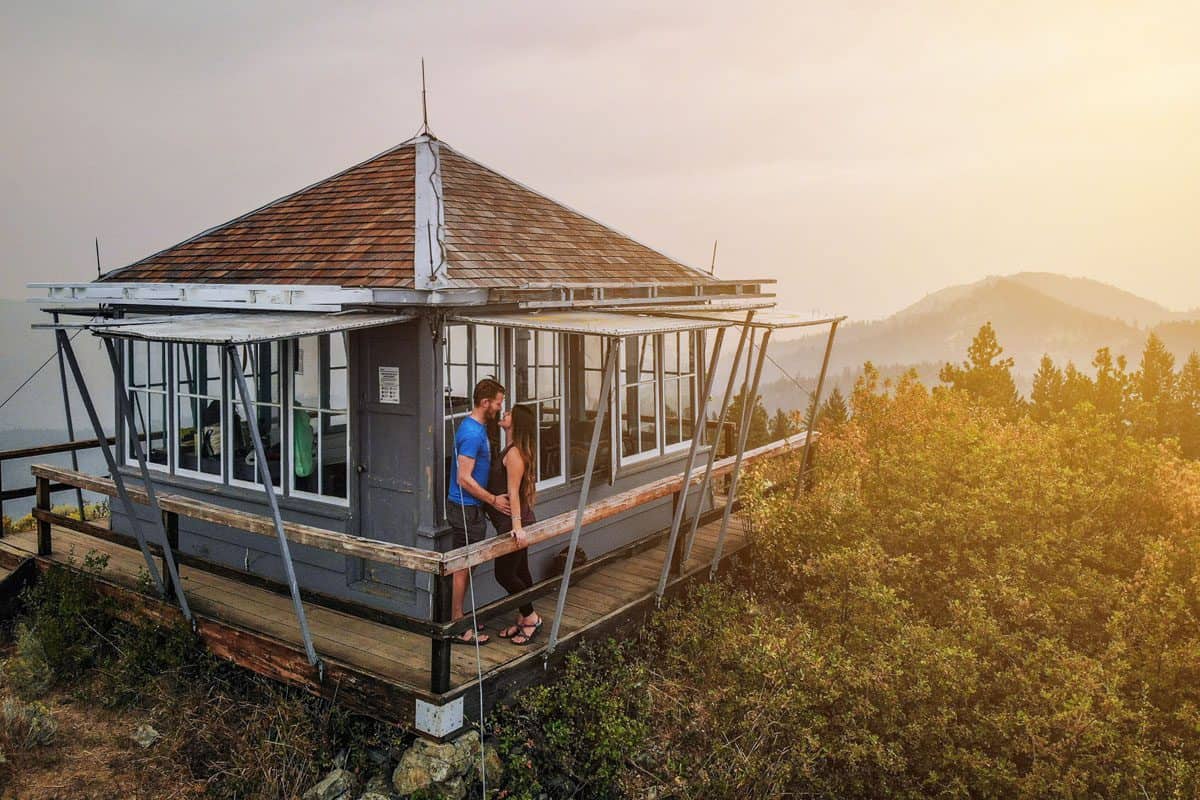 Looking for something even more unique and memorable than the Oregon cabins we listed? How about spending a night in an Oregon fire lookout!
This uniquely PNW experience tops many a bucket list, and for very good reason. Imagine sleeping in your own private lookout, perched well above the forest with 360-degree views.
It's an unforgettable experience to be sure, and one of the most epic things to do in Oregon, but it's also fiercely competitive. There are about 20 fire lookouts across the state that can be rented and many of them are open only in the summer, so they book well in advance.
We've personally stayed in a few, and our top tips are to be flexible, and to set an alarm to check availability every day. Because most fire lookouts accept reservations on a rolling basis, new availability pops up daily.

You may also like…
Save this article on Pinterest for later!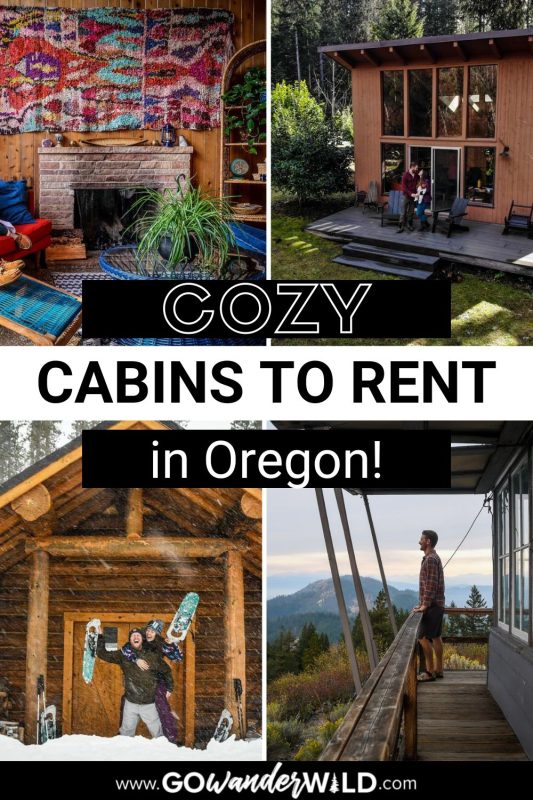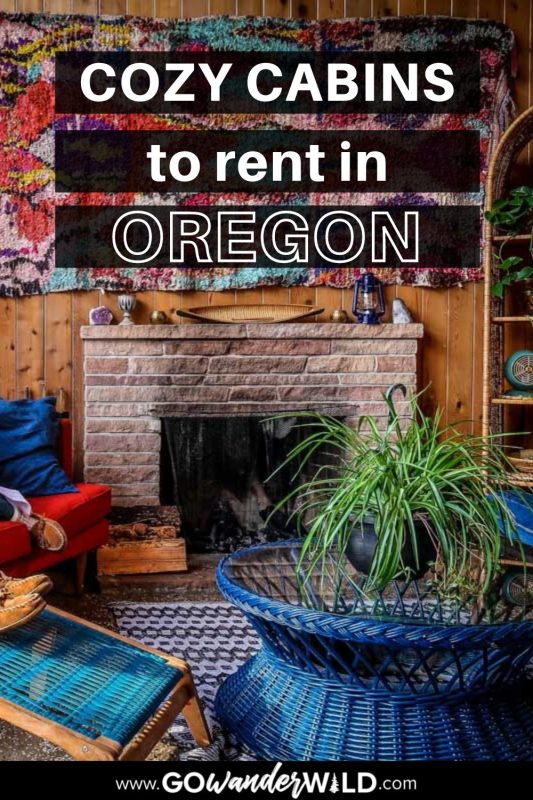 We want to hear from you!
Which of these cabins in Oregon would you like to spend the night in? Are you planning a trip to Oregon soon and have more questions about where to stay? Drop us a comment below and we'll do our best to get back to you!