Ever wondered where to find these surreal mountains made up of brightly colored layers of earth? They are called the Painted Hills, and were formed over the past 40 million years through the changing climate. Find out everything you need to know before visiting the Painted Hills Oregon, including the history of these remarkably colorful hills and tips for visiting the park.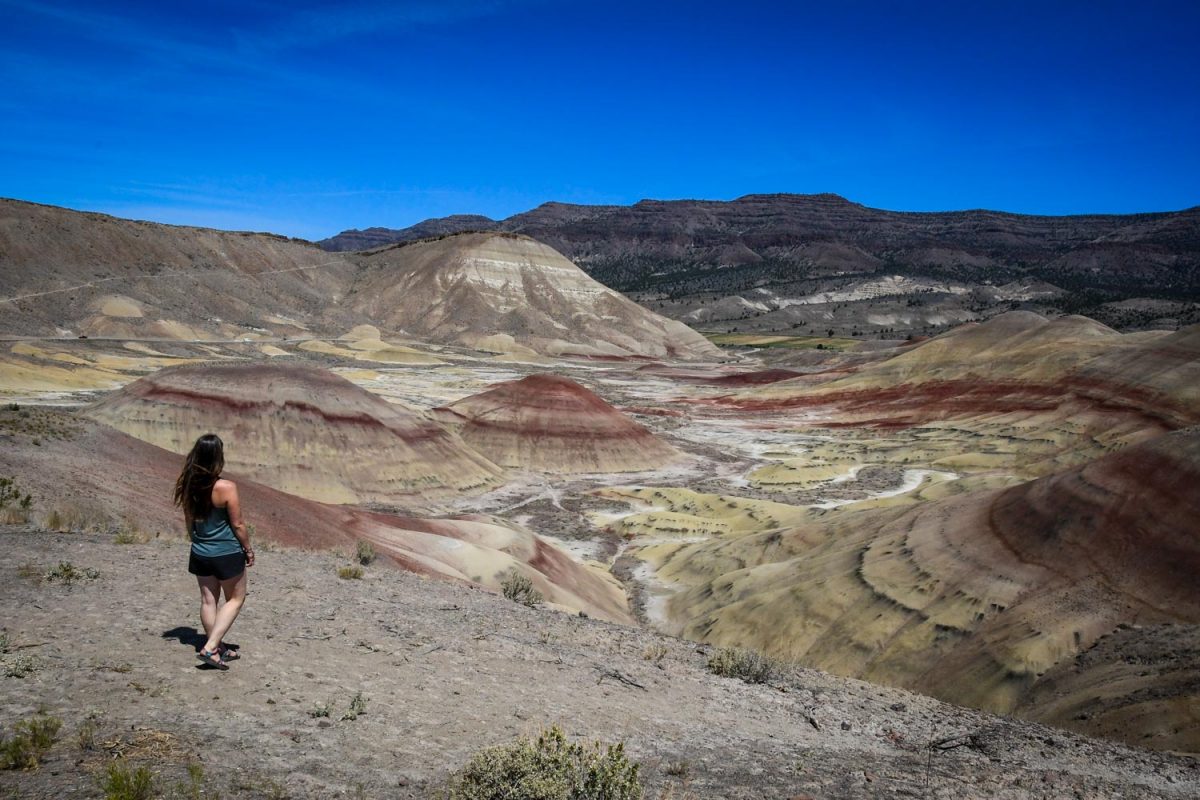 Named one of the 7 wonders of Oregon by the Oregon Tourism Board, the Painted Hills is actually one of three units that make up the John Day Fossil Beds National Monument in Oregon.
Characterized by brightly colored layers of earth, the Hills preserve an impeccable record of evolution and the changing climate over the past 40 million years.
Also known as the Oregon Painted Desert, the name plays on the fact that the colors are so vibrant they actually appear to have been painted on. At just over 3,100 acres, the small unit can easily be visited in a day.
The Painted Hills History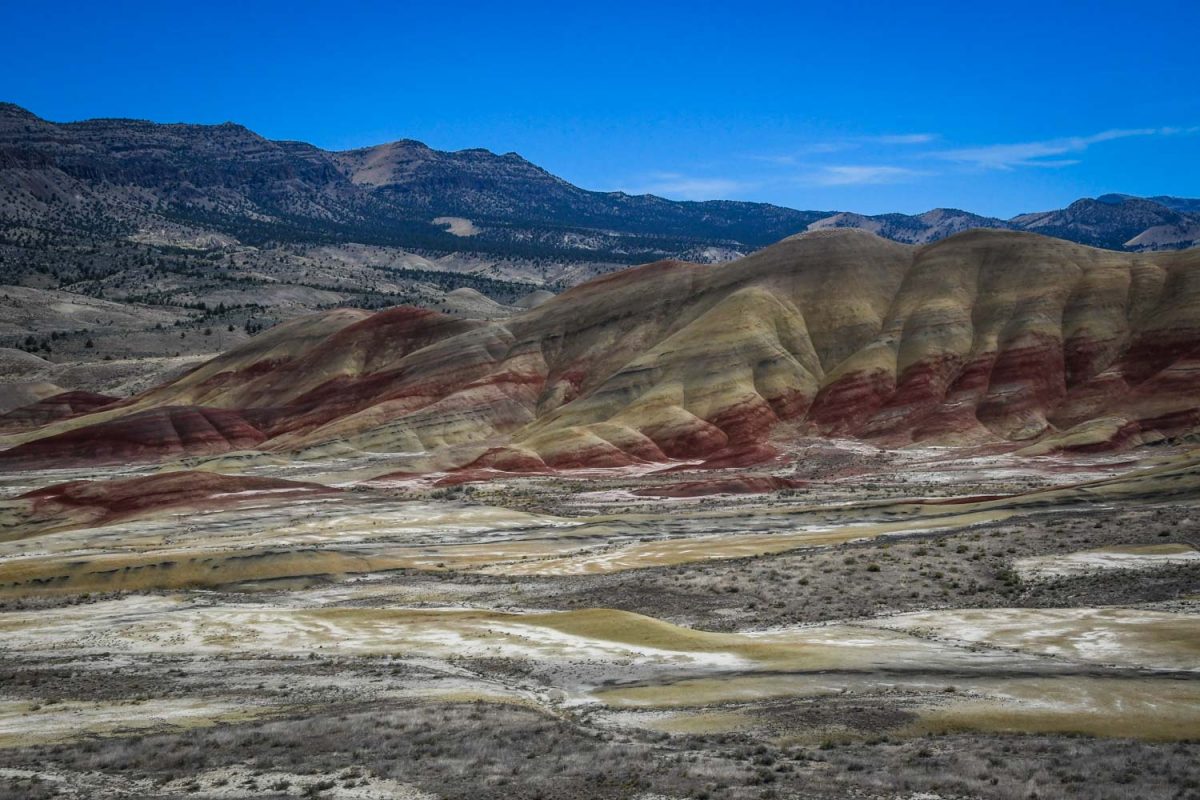 The park is named after John Day, so who is he and why is he important?
Well, first things first: John Day likely never even visited this area. The park is named after the John Day River that flows through it, because of its importance in eroding the land to expose the fossil bed.
Side Note: But how did the river come to be named after John Day? He first came to Oregon in 1812 as part of an expedition with an American fur trade venture. The group split up before reaching Oregon territory and while camping near the Mah-hah River, John Day and his partner were robbed. After their rescue, John Day became well known at the trading post. As people pointed out the river where the incident happened, they proclaimed about John Day. By the 1850's the Mah-hah River had been renamed the John Day River.
This region is special because of the history it preserves. The most obvious is in the different colors of the earth that the Painted Hills are known for. Each of the colored layers represents a different period in geological history. According to the NPS website, "John Day Fossil Beds National Monument protects one of the longest and most continuous records of evolutionary change and biotic relationships in North America."
Psst! If you're interested in seeing more of Oregon's natural wonders, you'll want to check out our ultimate guide to visiting Skylight Cave.
Know before you go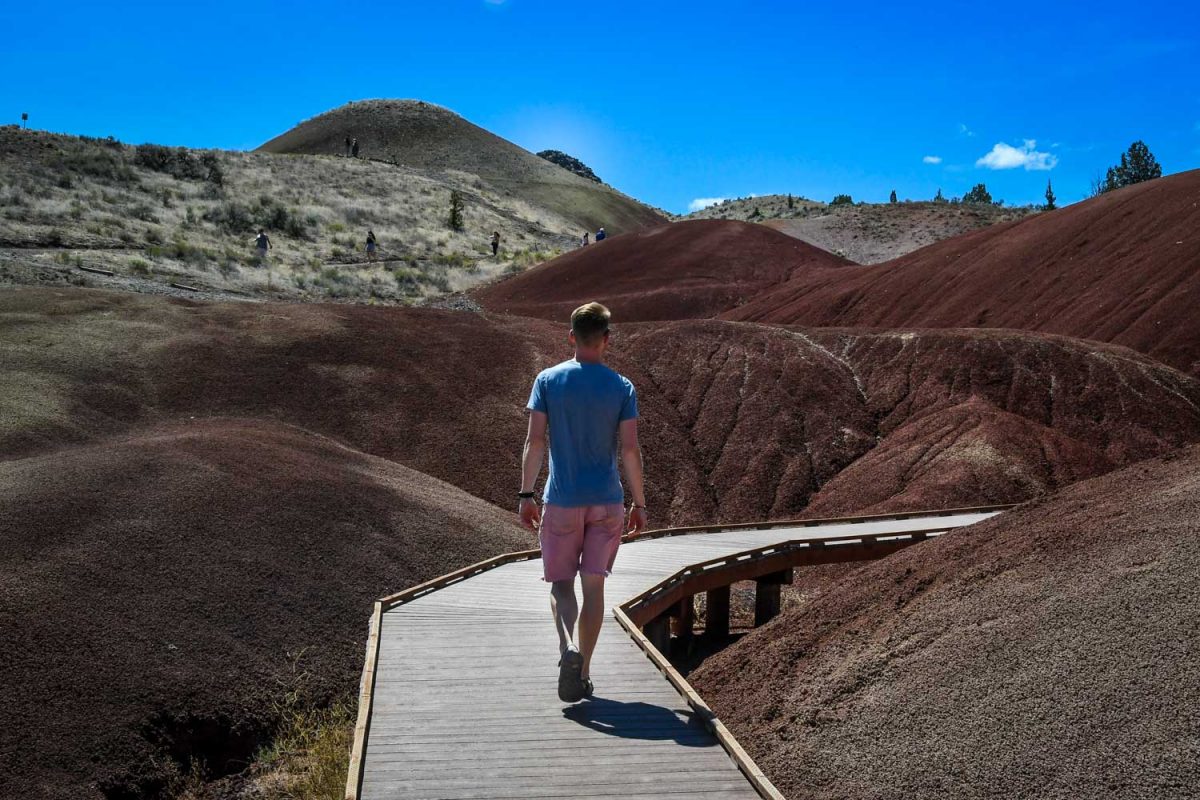 The Painted Hills is the most visited of all three units in the John Day Fossil Beds National Monument. Peak times on the weekends after noon, so consider this when planning your visit and if you can't avoid these hours, be sure to have a backup plan in case the unit is too crowded.
There isn't a visitors center or ranger station inside the park and you'll likely be out of range for cell service as well (we can verify this for Verizon users), so it's good to get a lay of the land and have an idea of where you want to go before you enter.
Insider Tip: Download the offline version of Google Maps before you get here so you can still use GPS services to find your way around.
You can turn off to a picnic area with restroom facilities just outside the park entrance and it's a good place to stop because there aren't toilets at any of the other rest stops in the park. The bathrooms are just two pit toilets that were notably pungent, however relatively clean and well-stocked with toilet paper and hand sanitizer when we were there.
Tips for visiting Painted Hills Oregon
Stay ON the paths. While it might not be completely obvious, this ecosystem here is fragile and if people walk off trail, it can easily start to erode this historic land. All walkways are clearly marked and there is no reason to venture off them. There's even a hashtag that the park service has on signs in the area: #Don'tHurtTheDirt.
Do not take anything with you. It is strictly forbidden to collect any of the rocks, plants, or fossilized material that you may find along the way.
Don't litter. Obviously. We hope we don't need to explain this point anymore. Just be sure to carry everything you bring out with you as well.
This is a no drone zone. So don't try to fly… See what I did there?
Dogs are allowed, but should be kept on leash.
There is no water available at the park, so bring as much as you will need for your visit.
Hiking in the Painted Hills
The Painted Hills isn't exactly a hiking spot, but it does have a few short trails you can wander to get to the best viewpoints.
Painted Hills Overlook Trail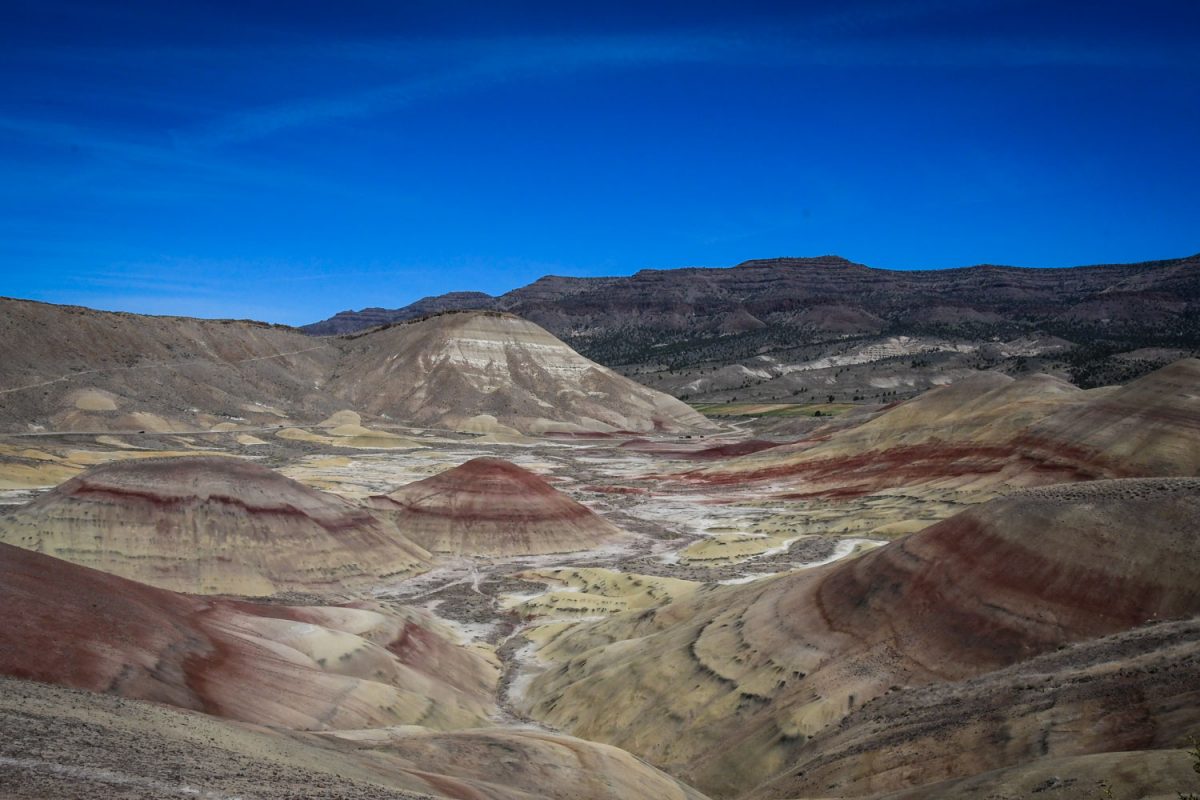 Distance: 0.5 miles out and back
Difficulty: easy, very little elevation gain
This is the most popular and notable trail in the park as it leads to an overlook with views of the remarkably colorful earth. There is a large parking lot here and the trailhead is well-marked. As you walk along the ridge you'll have views of the Painted Hills with different perspective changes.
In our opinion, the best views were actually from about mid-way through the trail (the very end of the trail wasn't a climax view or anything, but still worth going to).
Carroll Rim Trail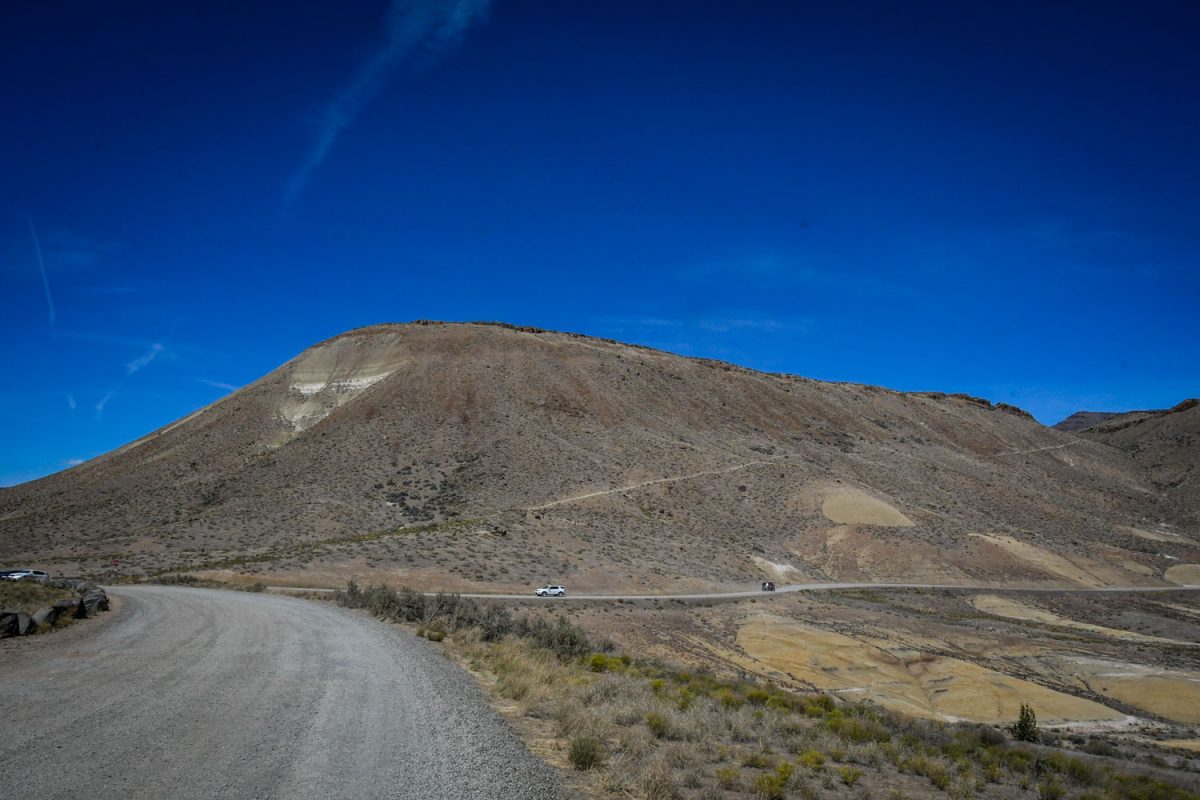 Distance: 1.6 miles out and back
Difficulty: easy – moderate
From the same parking lot as the Overlook, look across the road and you'll see the path leading up the ridge. This is the Carroll Rim Trail and leads to a viewpoint above the Painted Hills. This is the longest trail in the area, at 1.6 miles out and back (.75 miles in and .75 miles out). It is also the steepest, with 400 feet in elevation gain. That said, if you're relatively fit or like hiking, this should be no biggie.
Painted Cove Trail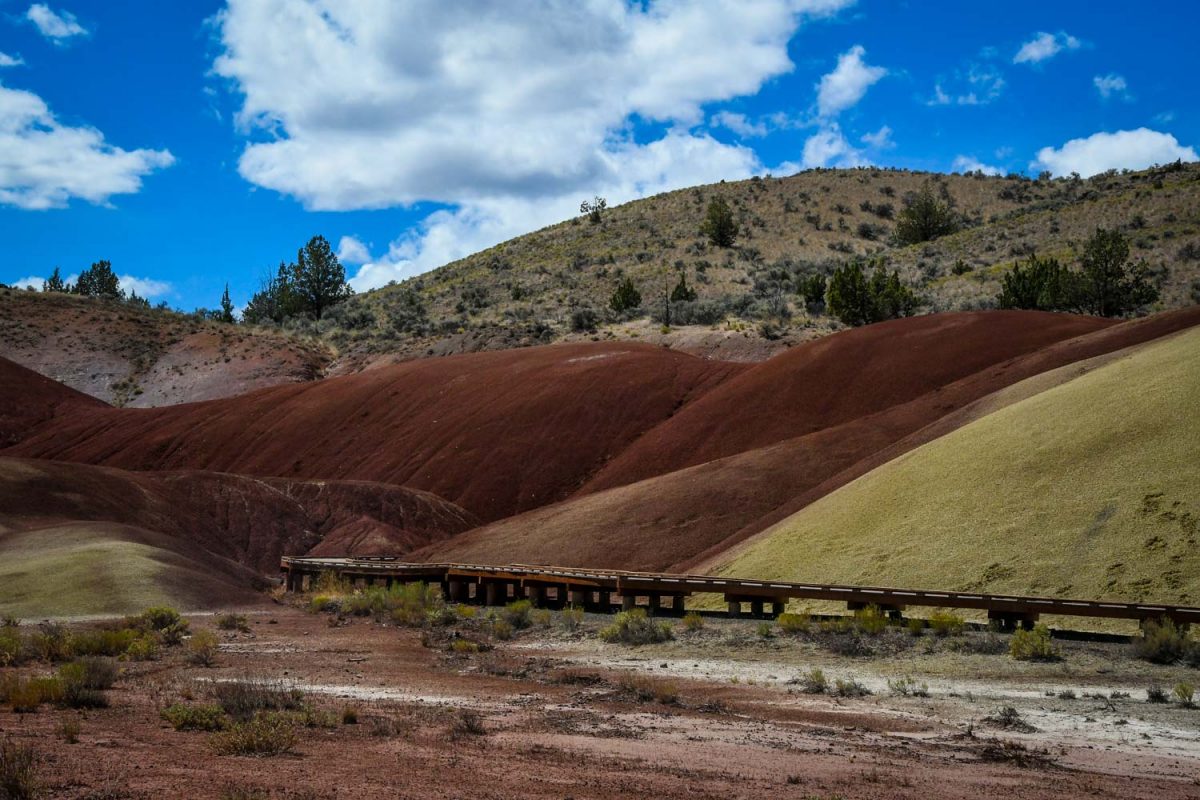 Distance: .25 mile loop
Difficulty: easy
This path starts with a boardwalk that brings you close — within just a few feet — of the red sandy hills. It's a completely different perspective than you get on the Overlook Trail. You'll also see layers of yellow sand and an almost lavender color (which is apparently from recent lava flows). After the boardwalk ends, you'll see a path that climbs upward, and from this vantage point you can see some brilliantly blue lakes in the distance, making for a surprisingly colorful view.
Leaf Hill Trail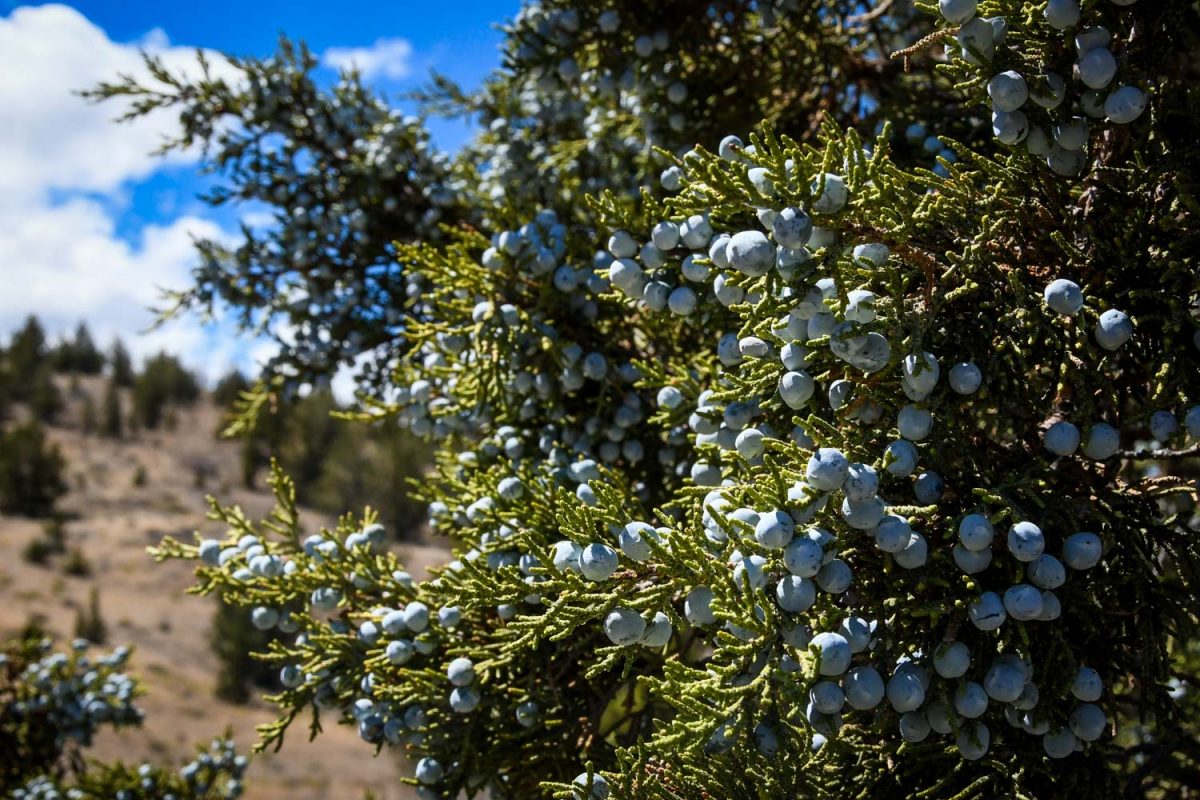 Distance: .25 mile loop
Difficulty: easy
To the untrained eye (aka any average person), this trail isn't anything all that spectacular. However, this area of the park in particular has been studied extensively by paleontologists for the high concentration of fossilized specimens that have been discovered here. (Did anyone else's mind just jump to Ross from Friends?!)
This hike has a bit of a different feel than the others in the area. It's surrounded by juniper and sage and is less barren than the land around it. The trail culminates at a hill that, in all honesty, is pretty average looking. But if you're reading the signs you'll know that it is covered in petrified wood.
Red Scar Knoll Trail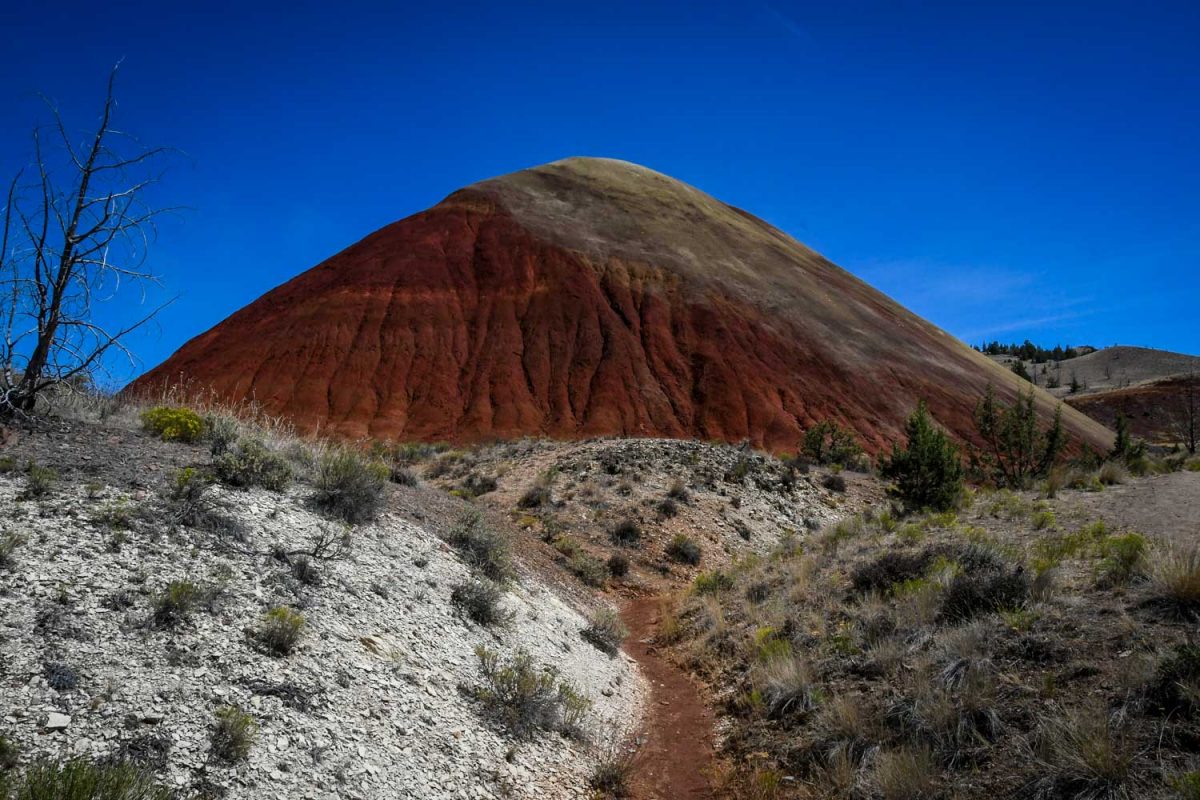 Distance: .25 miles
Difficulty: easy
This flat and easy trail loops around a standalone hill that is pretty striking. Half of it is deep red and the other half is a yellowish beige. Note that the trail will be called "Red Hill" on the signage.
What to pack for visiting the Painted Hills
comfortable shoes, but hiking boots are unnecessary
sunscreen and/or hat: most of the trails are completely exposed to the sun
sunglasses
water: there isn't any place to get drinking water in the park
snacks
Want to explore more in the area?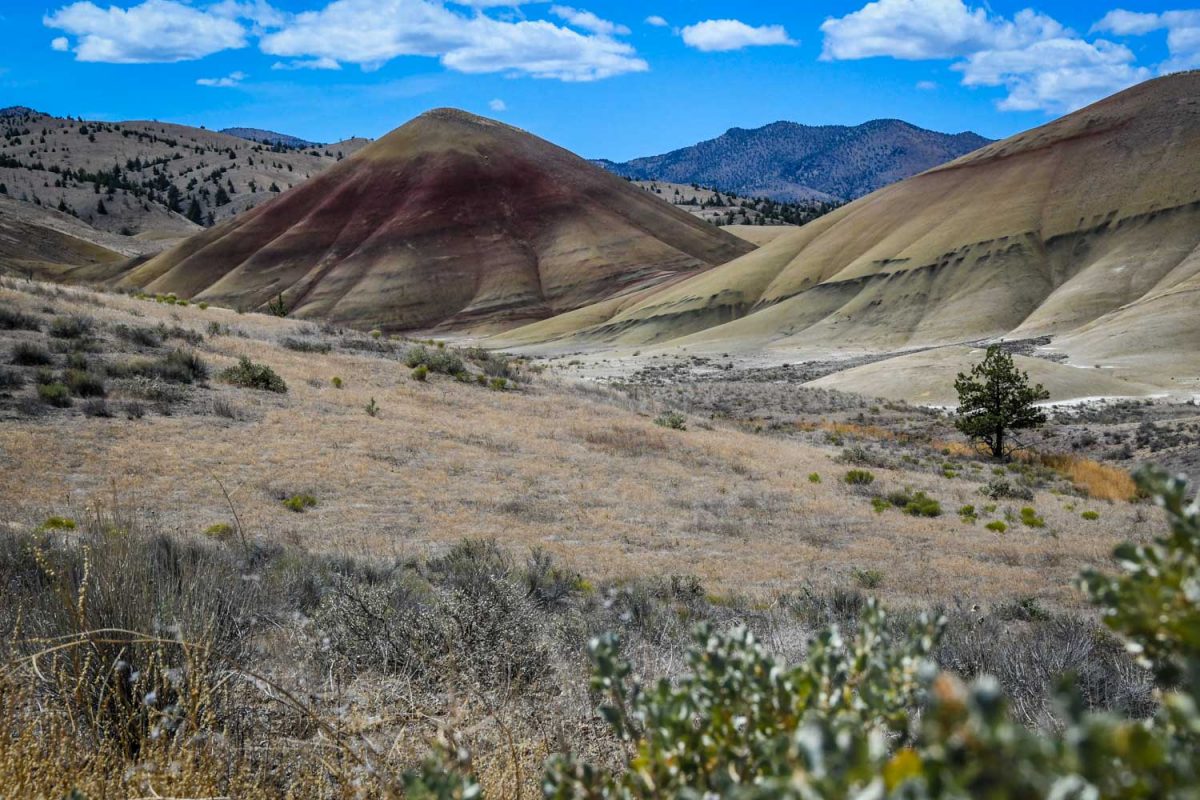 As we mentioned above, the Painted Hills unit is just one section of the John Day Fossil Beds National Monument. Keep driving on Hwy 26 and you'll enter the Clarno Unit (to the north) and the Sheep Rock Unit (to the east), both of which have more opportunities for hiking and viewpoints. These areas are also known for their rich density of fossils. If you're interested, you can check out the Thomas Condon Paleontology Center, located in the Sheep Rock area.
The closest town to the Painted Hills is Mitchell, Oregon. It's a tiny town with a Western feel. If you've been to Winthrop in Washington, it's kind of like a miniature, dustier, more gritty version.
Mitchell is worth a visit if you're looking for a place to grab a bite or a beer after hiking.
Looking for a place to eat nearby? We stopped in Tiger Town Brewing after our visit to the Painted Hills and had a pleasant experience. The beer was alright but the food looked good. Especially the nachos (we even overheard the server say it was her favorite thing on the menu). The space and atmosphere was nice, and the outdoor seating with a mister felt great on a hot day. They even had a stage where it appeared they host live music shows from time to time.


You may also like…
Save this article on Pinterest for later!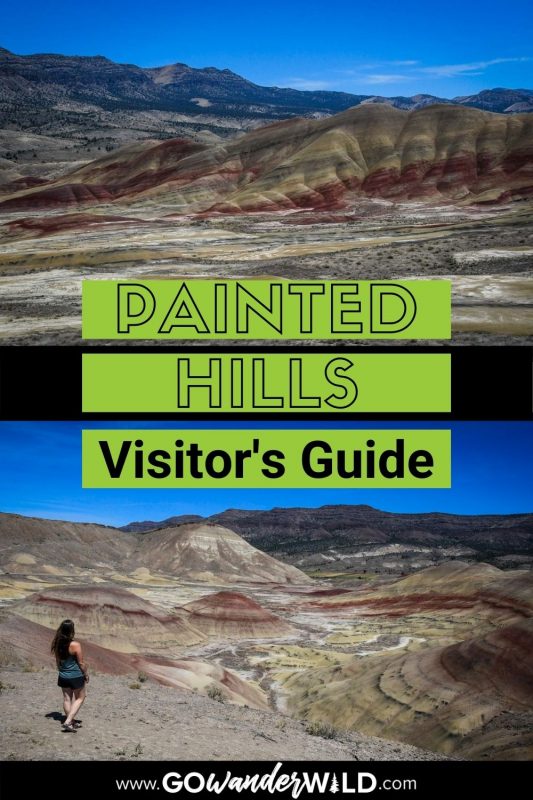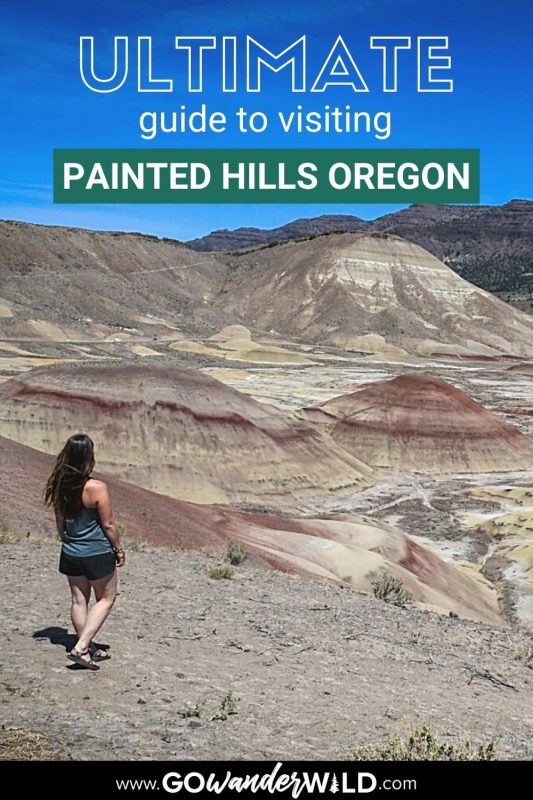 We want to hear from you!
Have you ever visited Painted Hills Oregon? What was your experience like? Do you have more questions about our experience? Comment below and let us know!