Skylight Cave in Oregon is yet another one of the incredible natural wonders found in this part of the country. We'll tell you how to find it (hint: it's tricky!) and what to expect when visiting.
About 11 miles northwest of the city of Sisters, Oregon, is the unique lava tube known as Skylight Cave. The cave is known for the three "skylights" which produce dream-like beams of light that pierce through the darkness and down into the cave like spotlights on an empty stage.
Though it appears fantastical, this is just another one of Oregon's many natural wonders. The lava tube was formed after an eruption of nearby Sixmile Butte. As the lava cooled, thin layers of the roof caved in naturally forming the "skylights" that we see today. 
Psst! If you're interested in seeing more of Oregon's natural wonders, you'll want to check out the Painted Hills of the John Day Fossil Beds National Monument.
How to get to Skylight Cave
Situated in Deschutes National Forest, the cave is about a 30-minute drive from Sisters. However, finding it can be a challenge as the unpaved forest service roads aren't very well marked on a map. For this reason, we also recommend a 4-wheel drive vehicle as the last quarter-mile is a bit rough. It is possible to traverse in a 2-wheel drive car, but let's just say we were glad to be in our Subaru Outback.
Tip: Grab a coffee and pastry at Sisters Coffee Company for the road!
The pin for Skylight Cave on Google Maps is accurate. You may want to download the offline version of the map before heading out as you'll likely lose cell service in the forest.
Just before the Google Pin of the cave (.1 miles or less), there are a couple larger pull outs with room for 5-6 cars. You'll want to park there because you'll be able to exit easily. There are signs for no vehicles near the cave, which makes sense, but will make it challenging to turn your vehicle around. Walk further down the road and the National Forest Sign will appear (pictured above) to let you know you've arrived at the cave.
What to expect at Skylight Cave
When you arrive at Skylight Cave, be sure to sign the visitors log to help the park system track visitors. Keep in mind there will likely be no cell service (we can verify this for Verizon users) and no other amenities such as toilets or water fill stations in the area. You can download the offline version of Google Maps ahead of time so you will be able to continue using GPS tracking on your phone.
At the entrance, you'll find a sturdy metal ladder leading down into the cave. When you first enter, you can choose to either go left or right. To the right there supposedly is a very long cave system to explore (without the skylights). To the left, behind the ladder, is where you'll find the main attraction – the three skylights.
As soon as you walk a few steps you'll be able to see the light ahead of you. It's not a very far walk to reach the skylights (maybe 0.1 – 0.2 miles), but there are lots of small and loose lava rocks on the ground as is common in Central Oregon, so be careful of your footing.
Psst! Looking for more hiking in the area? We put together a comprehensive list of the best hikes near Bend, Oregon for every ability level from short day hikes to full-day treks.
Rules for visiting Skylight Cave
It is important to take note of the rules for visiting the cave so as not to disturb the fragile ecosystem there. To protect the sensitive bat population from contamination, you are asked to do the following when visiting Skylight Cave:
Be sure your clothes and shoes are clean and haven't been worn in a different cave
Remove the dirt from your shoes immediately after exiting the cave
Wash your hands before returning to your
Best time to visit Skylight Cave
The cave is only open to the public during the summer months from May – September to protect the bat population that hibernates there over the winter. Luckily for visitors, this timing coincides with the summer solstice which is when the sunlight will be at its best for viewing the light beams in the cave.
During our visit, we arrived at the caves at about 9:30 a.m. and only saw one other couple there. It was a completely blue bird day without a cloud in the sky, but the light streams were not quite as prominent as we'd seen in some photos. The light was strongest around 9:45 a.m. and kind of started dwindling around 10. A few families were arriving as we left around 10:15 a.m.
We'd recommend getting there around the same time as us to have the best chance at photographing the skylights. It's also good to note that the light streams kind of come and go, so if you don't get the shot you want right away, wait around for a bit.
Tips for photographing Skylight Cave
In our experience, the light streams didn't show up super well on an iPhone camera. If you have a DSLR you can get better shots, but it's still a very cool sight and you can get some decent pictures on a phone.
Bring a tripod if you have one and use a slower shutter speed to capture the light
Play around with the light and perspective, capturing yourself or other subjects in your photos
If there are other people around, ask them if it's okay to walk up to the skylights (you don't want to accidentally photobomb someone else's shot)
Arrive early! We were lucky and had about 20 minutes to ourselves for photographs. If you arrive early on a weekday, chances are good you might have some time alone in the cave too!
Looking for more photography help? Check out these travel photography tips for beginners to spike your creativity!
What to pack
Water: there is none on site
A headlamp: we had just our phone flashlights and it was fine but headlamps would be better
Sturdy shoes: you'll be walking on uneven surfaces with loose rocks, so wear something comfortable
Layers: it's not all that cold in the cave but it is cooler than the outside temperature and layers are always a good idea
Pack everything out: There are no trash bins on site, so if you bring snacks, plan to bring any wrappers, fruit peels or cores with you when you leave.


You may also like…
Save this article on Pinterest for later!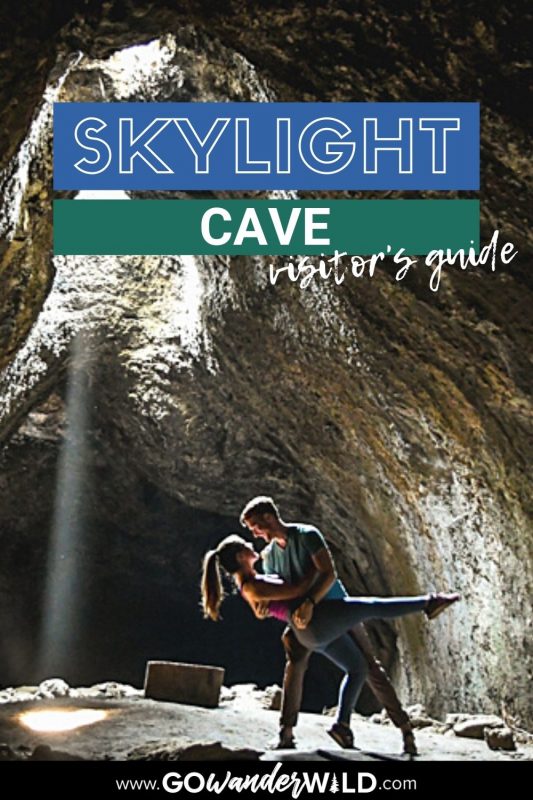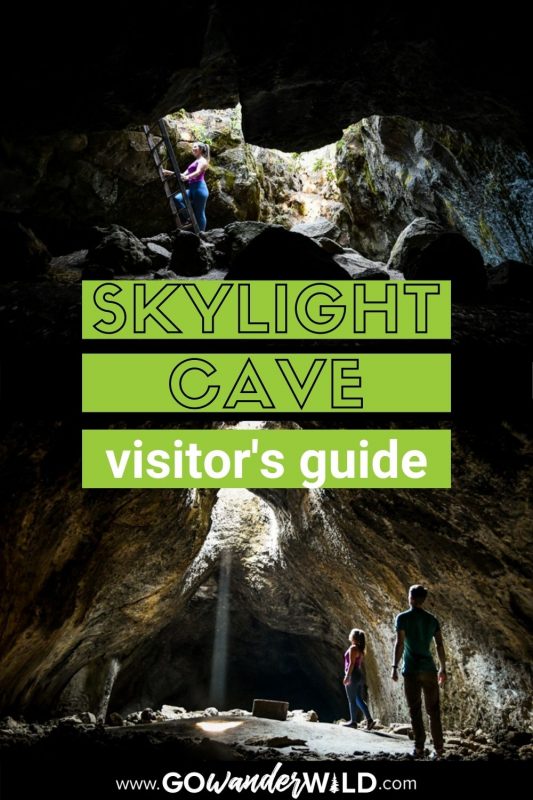 We want to hear from you!
Have you ever visited Skylight Cave in Oregon? Is there anything we left out of this guide? Comment below and let us know!