Beloved by trail runners, backcountry enthusiasts and day hikers, this 15-mile round trip Broken Top Hike is not to be missed! We're going over everything you need to know to prepare for the hike, including a shortcut that'll shave miles off your trip!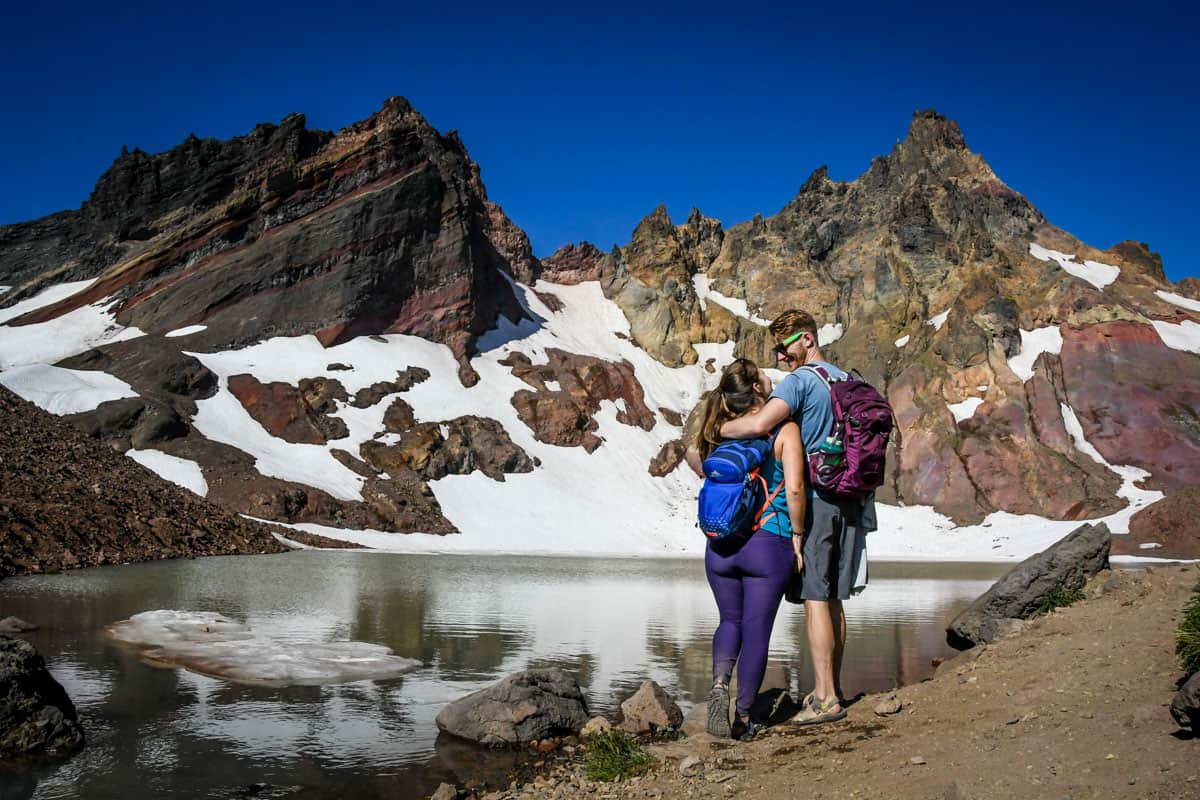 The hike to Broken Top and No Name Lake is an iconic Central Oregon trek that traverses through the Three Sisters Wilderness. The hike brings you through thick ponderosa forests, past babbling brooks and wildflower meadows, and culminates at the picturesque No Name Lake, which reflects the jagged peaks of the Broken Top summit.
While a rather lengthy day hike, at roughly 15 miles, the trail itself is relatively easy with most of the elevation gain coming at the end near No Name Lake.
Broken Top hike is well-loved by trail runners, backcountry campers and day-hikers alike, and is suitable for beginners as well as experts.
This is easily one of our favorite hikes in Central Oregon, so if you have the time and the stamina to traverse 15 miles in one day, this will likely be a favorite of yours too.
Tip: If you have a rugged 4-wheel-drive vehicle with good clearance, it is possible to shorten the hike and make it just 6 miles in total. (More on that below!)
Whether you're a Central Oregon local or just looking for fun things to do in Bend, the trail to Broken Top and No Name Lake should definitely be on your Oregon bucket list! We're going to share everything you need to know before your visit so you're fully prepared.
Trail at a glance
Location:

Three Sisters Wilderness

Distance:

15 miles

Elevation gain:

2,815 feet

Type of hike:

Out and back

Difficulty:

Moderate-Difficult (the majority of the elevation gain is toward the end end of the hike near No Name Lake)
Note: We saw people of all ages doing this hike. There was a group of dads with kids as young as 6 years old (impressive!), and a couple groups of seniors hiking together.
Timing:

How long this hike takes you will vary greatly depending on your pace and how many stops you make. For reference, this hike took us just over 6 hours of moving time and about 7 hours total with stops.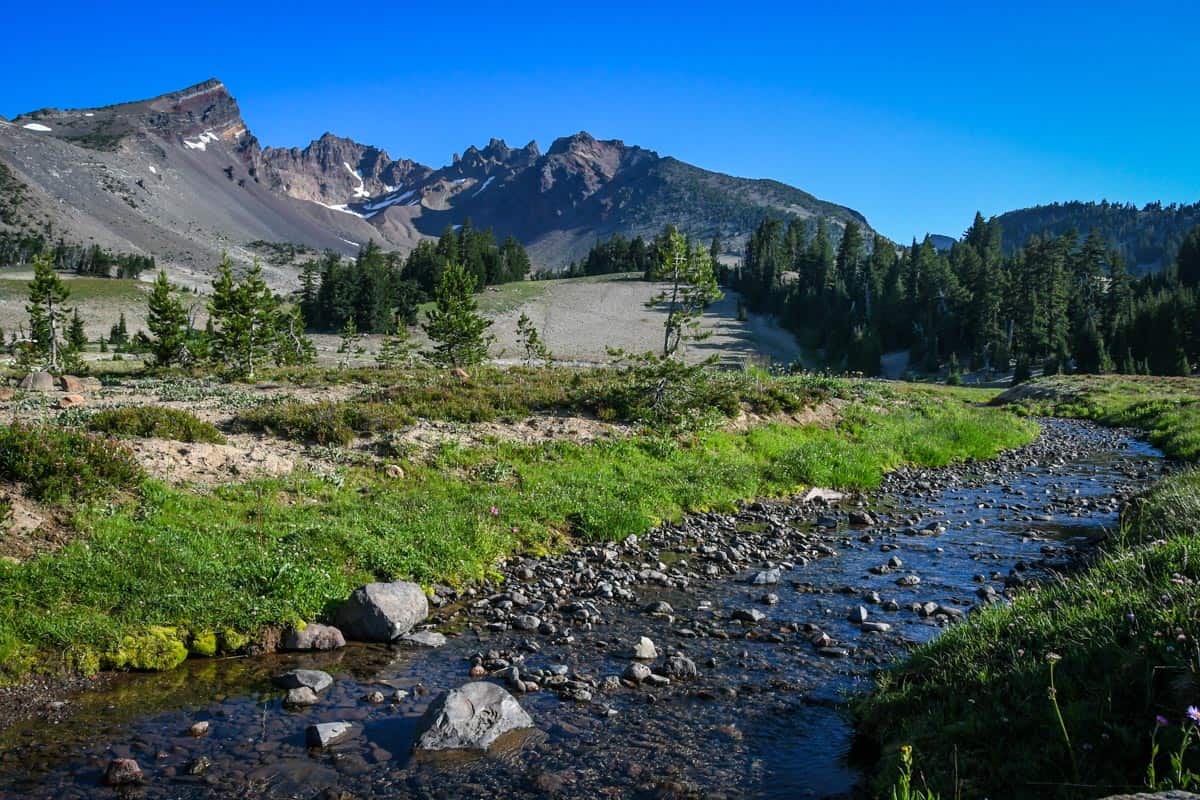 Things to know before you go
Permits: This trail is located in the Three Sisters Wilderness and requires a free wilderness permit that you can self-register for onsite.
Fees: To park at Todd Lake, you must pay for a $5 day pass that can be self-issued onsite OR display a valid recreation pass on your dashboard (either an interagency pass, like America the Beautiful or a National Forest Pass).
Backcountry: It is possible to camp in the Three Sisters Wilderness area, and overnight visitors will need a Central Cascades Wilderness Permit, which can be obtained on Recreation.gov.
Restrooms: There is a pit toilet a short walk from the parking lot, but there are no other toilet facilities on the trail. Be sure you are practicing Leave No Trace Guidelines when you need to "relieve" yourself.
Cell service: We actually had pretty decent signal (with Verizon Wireless) through much of the trail.
Wildlife: We didn't see any animals other than birds (we saw a bald eagle in the distance)
Dogs: allowed on leash
Drones: NOT allowed
Psst! We put together a list of all the best hikes near Bend, Oregon for every level and ability. Check it out to help plan your next adventure.
How to Get to Broken Top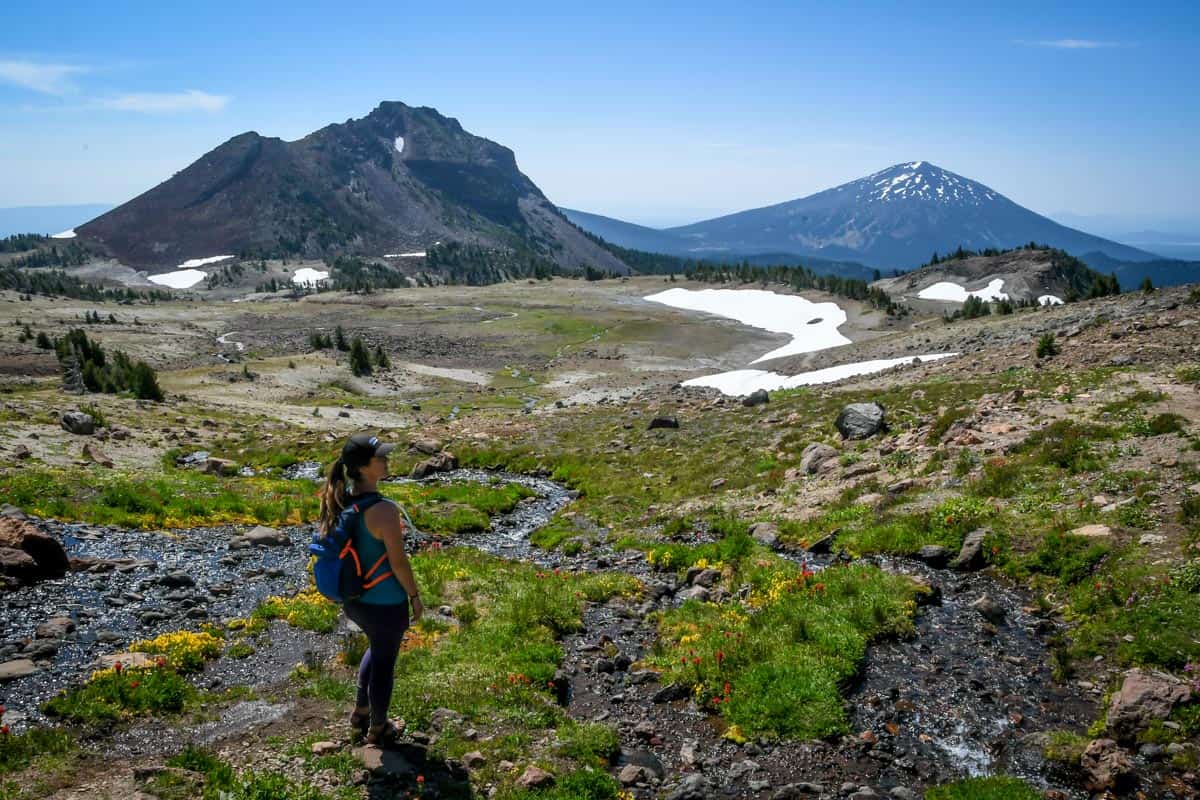 You'll start your hike at the Todd Lake trailhead, which is located on the Cascade Lakes Highway, just about 40 minutes southwest of Bend. Once you've passed Mount Bachelor Ski Resort, you're getting close.
Important Note: This road is closed seasonally, and can only be accessed during the summer months (usually mid-May through mid-October).
On Google Maps you can search for "Broken Top Trailhead," but unless you have a 4×4 vehicle and are prepared for a pretty gnarly, unmaintained shortcut (more on that below), you'll be actually parking at the Todd Lake Trailhead, which can also be found on Google Maps.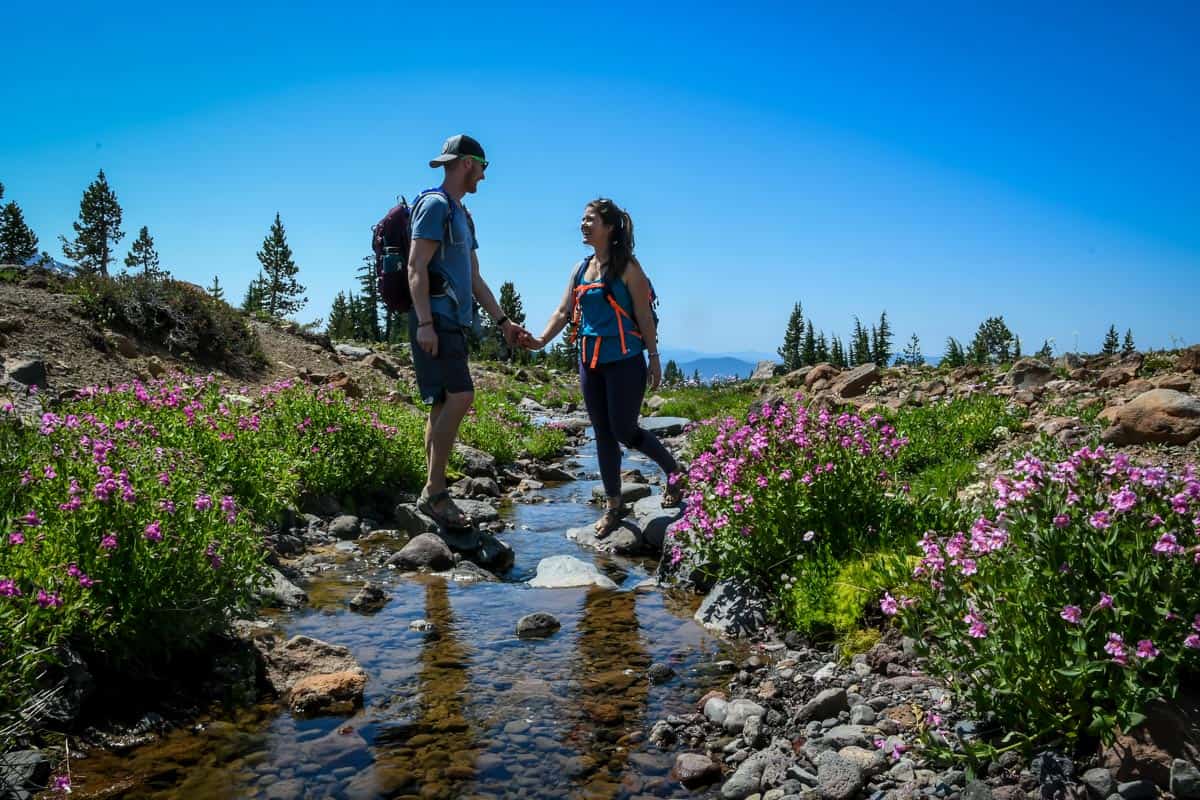 The shortcut
There is a way to cut some significant mileage off this hike by driving all the way up to the Broken Top Trailhead.
If you're asking yourself, now why would anyone hike the whole thing when there's a shorter version?
Well the main reason is the road to get there is… gnarly, for lack of a better word. The gate to this road is closed for much of the year, but even when it is open beware. The road is not maintained for passenger vehicles and is really only meant for off-road vehicles.
We drove on it for about .3 miles in our Subaru Outback (which does have 4 wheel drive) before turning around. In order to reach the trailhead, you have to traverse about 3 miles on this wild and unkept road, and then back again after your hike.
We were getting worried that we'd get a flat tire and not be able to get back out, so we turned around and opted for the longer hike. And honestly, we're glad we did.
The first 4 miles of the hike (the ones you'd miss if you go to the Broken Top trailhead) are actually quite easy with little elevation gain. And it's beautiful! If you cut the beginning of the hike, you'll miss some seriously picturesque babbling brooks surrounded by wildflowers that look like they're out of a dream.
But if you've got the proper vehicle and really want to cut your hiking time, go for the shorter version. In our trail notes, we'll give you an indication of where you'll be starting the hike.
Psst! If you're interested in seeing more of Oregon's great outdoors, you'll want to check out the Painted Hills of the John Day Fossil Beds National Monument.
The Broken Top Hike & What to Expect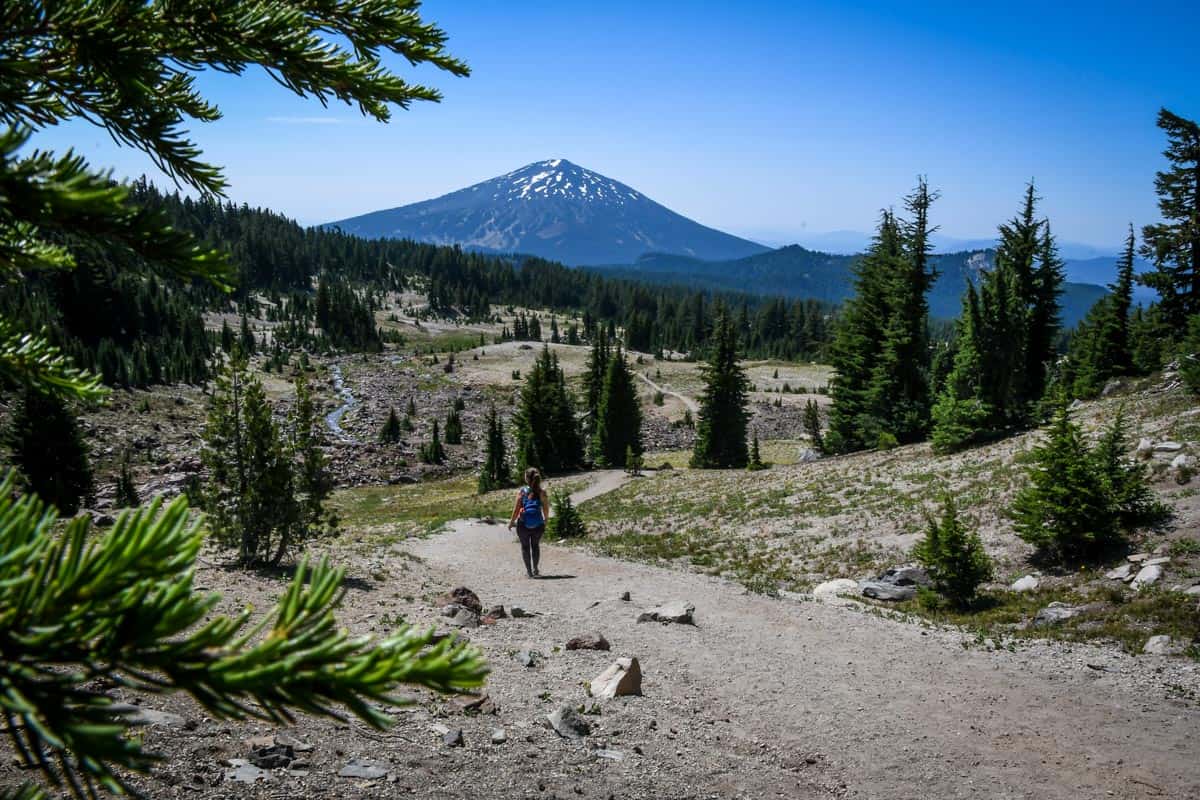 Mile 1 – 4
The first 4 miles of the hike are relatively easy, with minimal elevation gain. You'll start in a thick forest of Douglas Firs and Ponderosa Pines on Soda Creek Trail (#11), and after you hike the length of Todd Lake, the trees begin to thin out and the trail becomes a bit more dusty (that's the high desert for you!).
There are a handful of small creek crossings along the way, but don't worry, they are all in quite shallow areas and there are rocks to step on to get you to the other side.
Mile 4 – 5
Around mile 4, you'll come to a wide open basin and from this point, you will be treated to unobstructed views of Broken Top. This portion of the hike was our favorite (with the exception of No Name Lake and the summit of course!). Wildflowers are scattered about the meadow and streams carve their way through the land, babbling like the soundtrack that's played in a massage parlor or in a guided meditation.
We decided that we'd get to the summit as soon as possible, then return to spend a little time in this piece of paradise (and we'd highly recommend doing the same).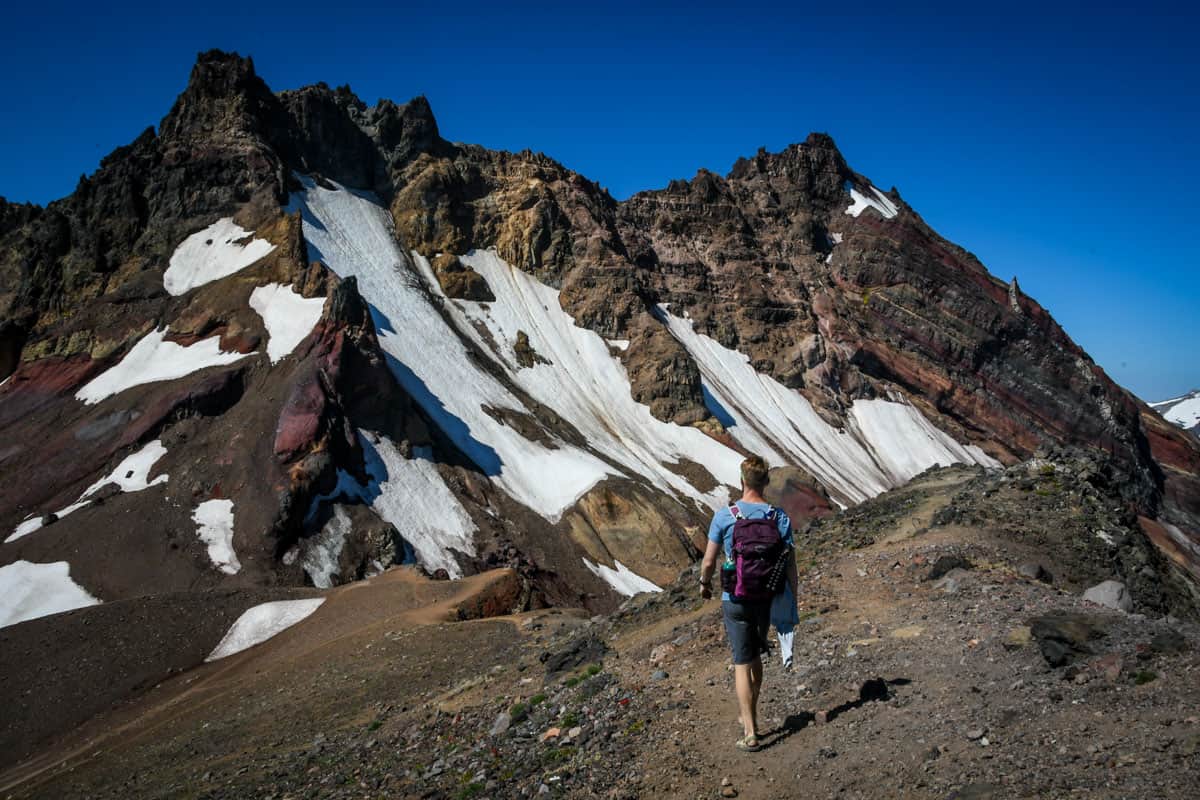 Mile 5
Note: If you parked at the Broken Top trailhead this is the point at which you will meet up with the trail.
This is where the trail begins to get steeper. Shade becomes rare, so if you have the chance to rest beneath a tree, take the opportunity.
You will likely also cross some snow patches. We hiked at the beginning of August and still encountered 3 decently-sized patches of snow. We were both wearing Chacos (hiking sandals) and didn't have much of an issue with crossing the snow (slowly). However, if you do this hike earlier in the season, some people recommend microspikes.
As you near No Name Lake there is a short and steep section of the trail that is also quite rocky. Take your time and be sure of your footing. A rolled ankle here wouldn't be a good thing.
You'll see a small creek spilling down next to the steep trail, and as you may have already guessed, this is water coming from No Name Lake.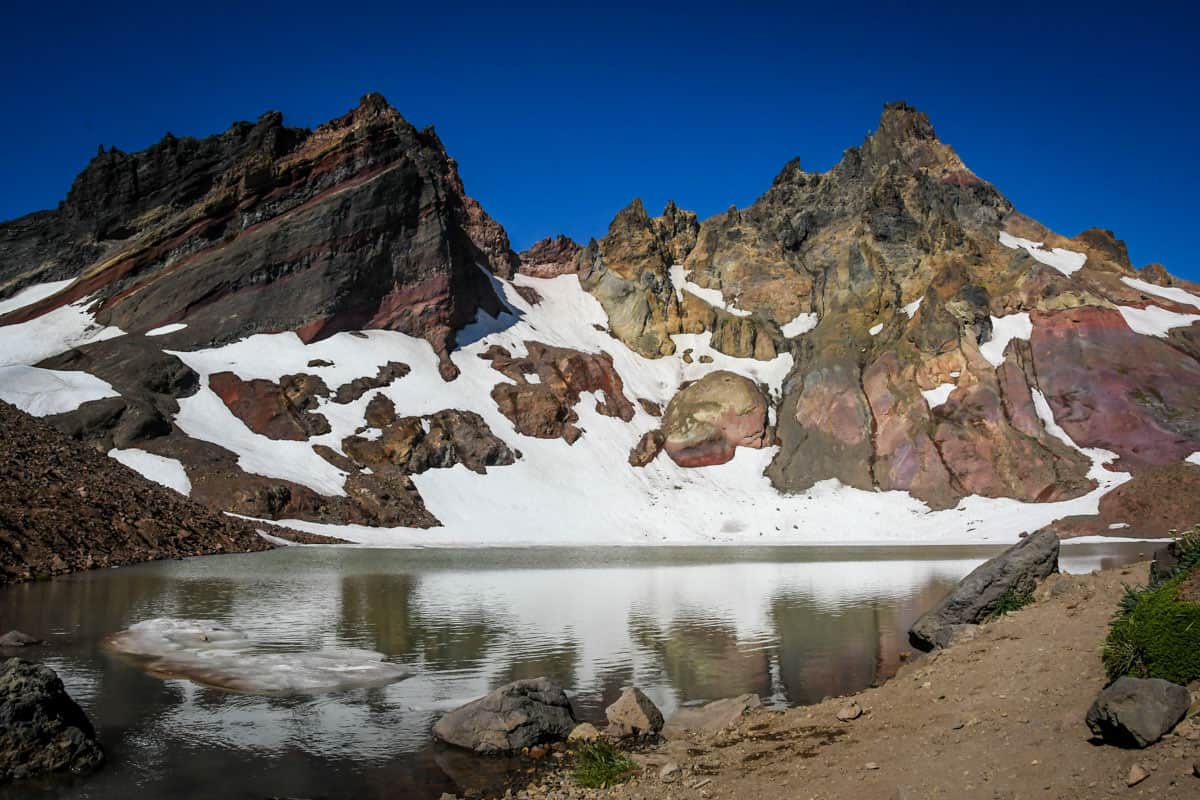 Mile 6.5: No Name Lake
As you get to the top of the trail, No Name Lake will appear before your eyes, a sight that makes the effort of that climb 100% worthwhile. The lake is often dotted with little "icebergs" floating in the nearly freezing waters. Even during our hike in August there were a few.
Not only are you rewarded with the sight of this stunning little lake flanked by the ridges of Broken Top, but you'll also get a break from the uphill climb to catch your breath and take in the beauty before you.
Psst! Looking for more outdoor adventures? Check out this guide to the best hot springs in Oregon to get your soak on in some epic locations!
One thing that we were not expecting was how the rocks of Broken Top had beautiful shades of reds and purples. We sat here and had a snack as we took in the surroundings. A few other people came past while we were there, but there was a good amount of time that we had the whole lake to ourselves.
Mile 7: Summit
Even though you've made it to the lake, the hike isn't over yet! There is just about 1 mile left of trail that'll bring you to the summit viewpoint, and it's well worth the extra effort.
Continue along the water's edge and you'll eventually see where the trail begins to climb again. It's a short but steep 300-foot climb to a ridgeline that continues up a ways. The sweeping 360-degree views are breathtaking and below you'll see Bend Glacier to the west, the Three Sisters mountain range to the northwest and a view over No Name Lake to the south.
Warning: Be careful with your footing as the trail is dusty and narrow and has steep drops on either side in some places.
Our Experience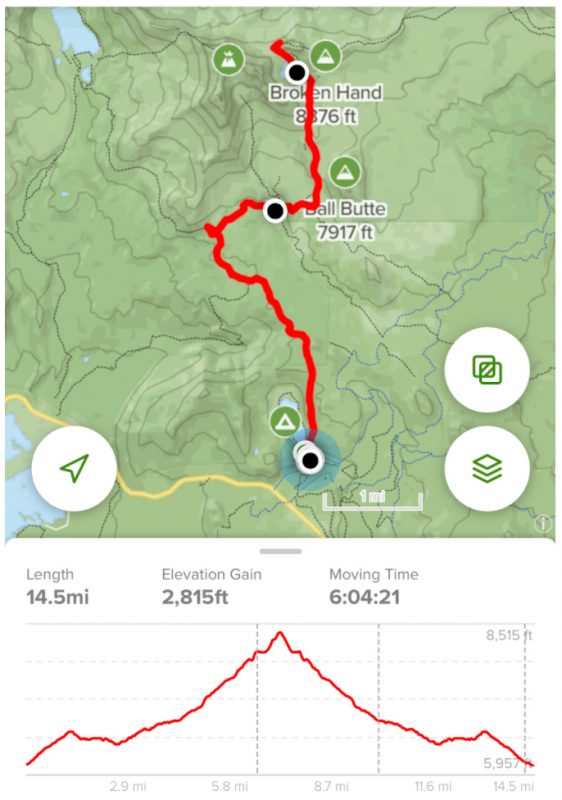 We cut off just a bit of walking time at the summit. It's a narrow and dusty ridgeline, and when we were at the top there were other groups of hikers up a head so we didn't want to crowd anyone. It didn't seem that the views would be much different, so we turned around a bit shy of the very end point. If you keep going to the end, you should clock in around 15.2 miles.
Post Hike
After you're done with the hike, we recommend walk down to Todd Lake (near the parking lot), to soak your feet or hop in for a refreshing swim! Alternatively you could set up a hammock and rest your weary legs.
Todd Lake is one of the less crowded lakes on the Cascade Lakes Highway and is warm enough for swimming in the summer months.
As you're enjoying your post-hike reward, you can look up to Broken Top, which towers over the lake, and see where you've just come from. It's a pretty great feeling!
What to Pack for your Broken Top Hike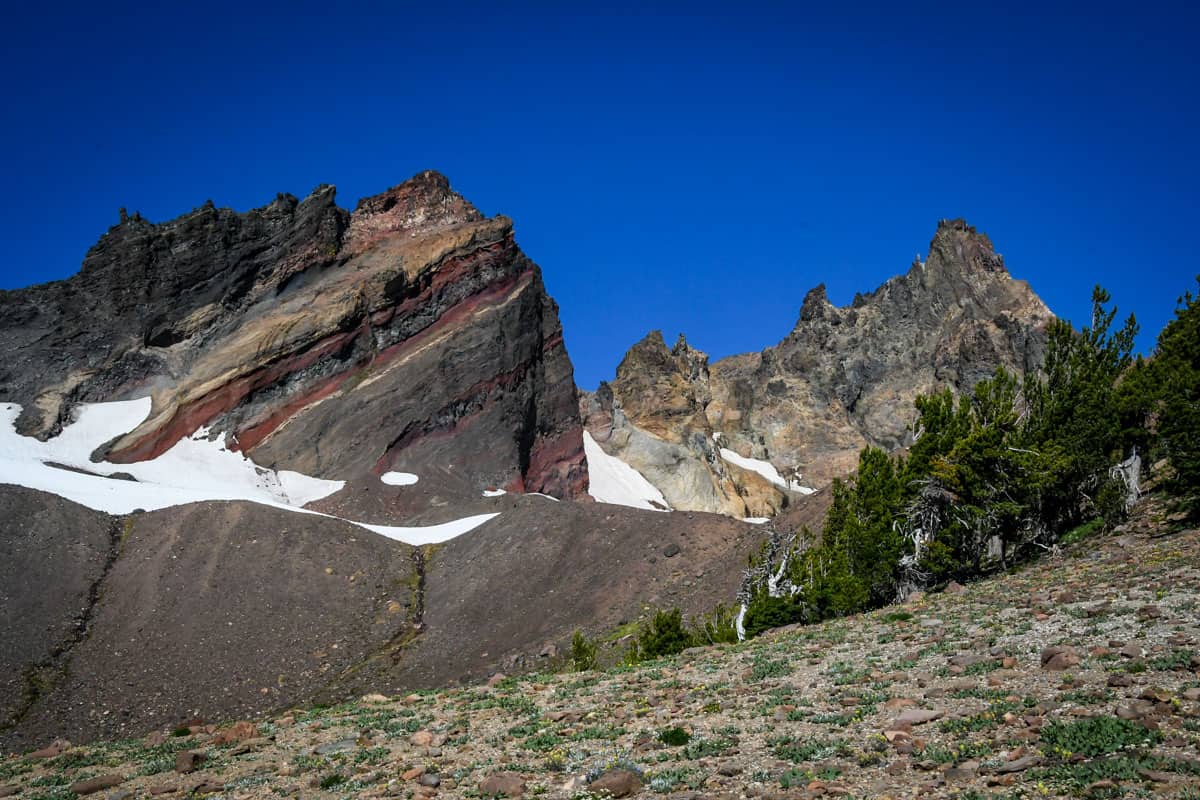 Hiking snacks: It's a long one so you'll want to make sure you're prepared with the best healthy and delicious hiking snacks for the trip!
Layers: Temperatures can vary depending on the time of year you choose to hike Broken Top, and even change throughout the day. The best way to be prepared is by dressing in layers for this hike. 
Small first aid kit
Hiking poles (if you prefer them)
Sturdy hiking boots or shoes
Note: We wore our Chacos on this hike, and they were fine most of the time, however the trail is very dusty, so we'd recommend close-toed shoes over hiking sandals.
Sun protection (sunscreen, hat, sun glasses): A good portion of this trail is exposed, so be prepared!
Hydration bladder and/or water bottles
Water filtration device: You'll likely want to fill up on water more than once throughout the hike. The best way to do this is to bring your own filtration device and refill in the springs and rivers. We recommend the Steripen, a small device that purifies water in seconds using UV rays. 
Camera: … duh! 
Be sure to grab our ultimate hiking packing list includes our must-have gear for any hiking trail!


You may also like…
Save this article on Pinterest for later!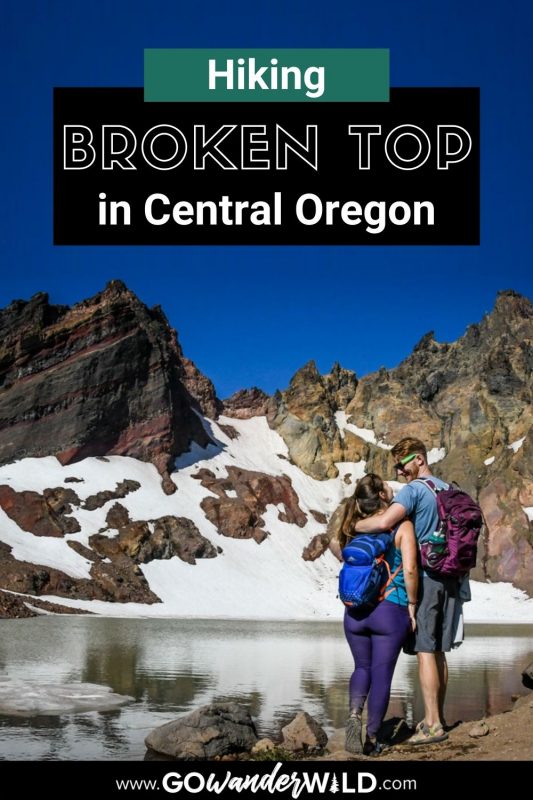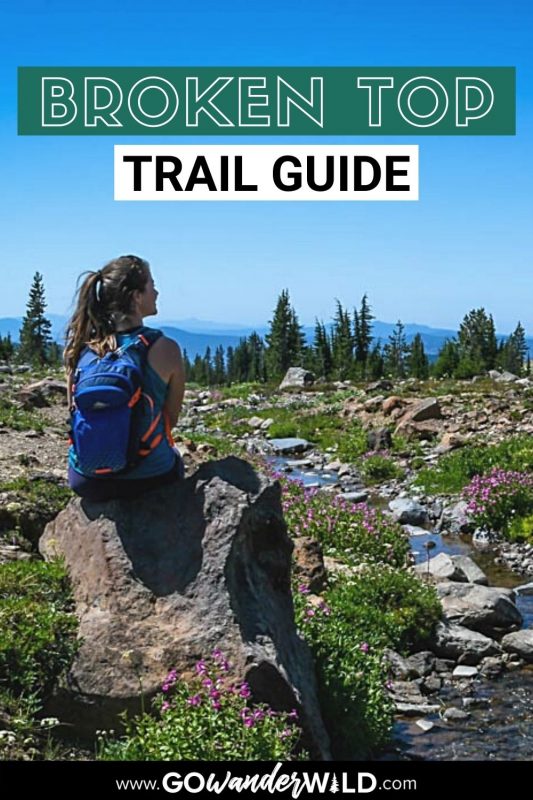 We want to hear from you!
Have you ever done the Broken Top hike in Central Oregon? What was your experience like? Do you have more questions about doing the hike? Comment below and let us know!