Near sparkling Lake Crescent in Olympic National Park, the Marymere Falls Trail packs a tremendous punch in under two miles. This guide breaks down all the details and explains why Marymere Falls should be on your hiking bucket list!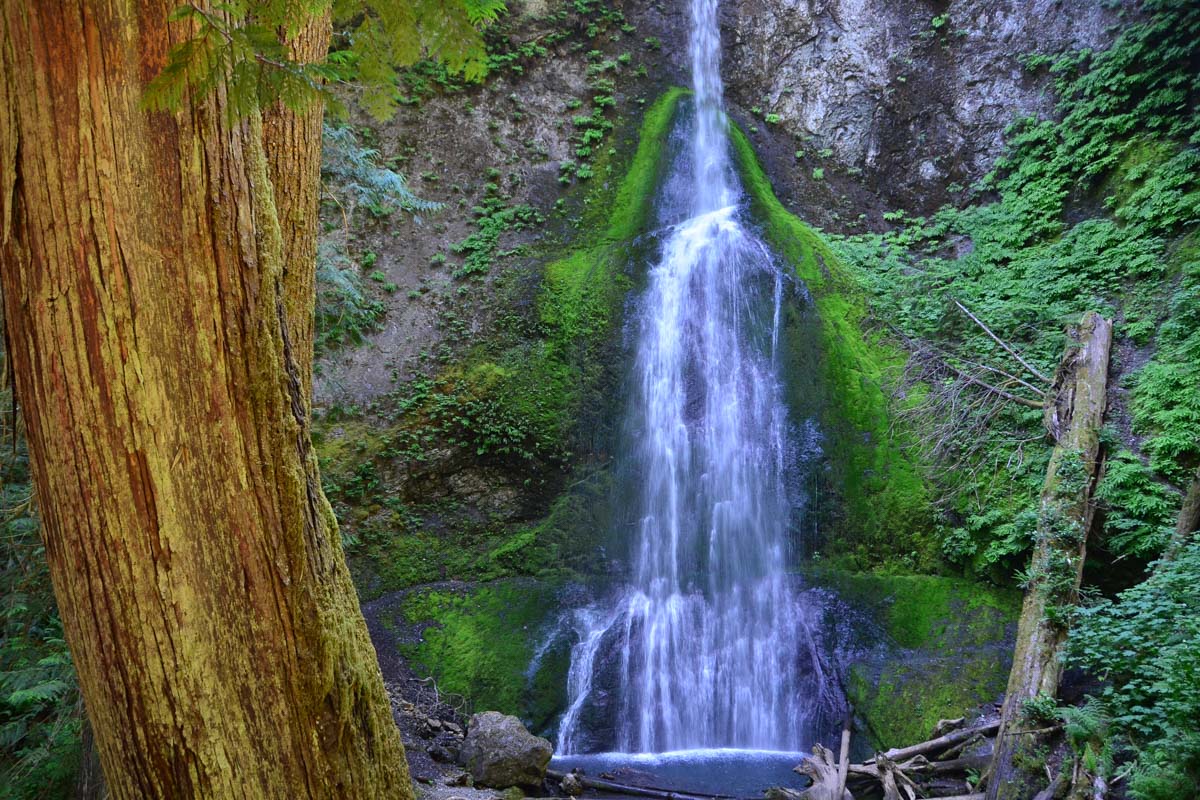 When you want a beautiful waterfall hike but you're also not up for much of a challenge or you're short on time, look no further than the Marymere Falls Trail in Olympic National Park.
Understandably popular thanks to the enchanting old-growth forest, multiple creek crossings over scenic bridges, and of course, the 90-foot cascade, Marymere Falls is also easy enough to be extremely family-friendly.
Keep reading for everything you should know about tackling this enchanting hike to the tallest waterfall in Olympic National Park.
Marymere Falls Guide
Psst! This is just one of the best hikes in Olympic National Park. All of which are sure to impress!


National Park Annual Pass

If you're planning to visit more than one of the Washington national parks, we'd highly encourage you to look into getting an annual park pass. At $30 per vehicle for the entrance fee, visiting ONP along with most other national parks in the U.S. can get expensive.
For just $80 per year, you can purchase the America the Beautiful park pass. This pass grants you free access to all of the national parks. Plus it also covers your entrance to over 2,000 natural, historical, and recreational sites across the United States.
If you still need convincing, check out our article: America the Beautiful Annual Park Pass: Is it Worthwhile?
Psst! Check out some of our other favorite national parks on the west coast that make great hiking destinations.

Marymere Falls trail stats
Location: Olympic National Park, Washington
Distance: 1.8 miles round-trip
Elevation gain: 298 feet
Difficulty rating: Easy to moderate
Timing: 1-1.5 hours
Pets: No
Permits: No
Marymere Falls hike overview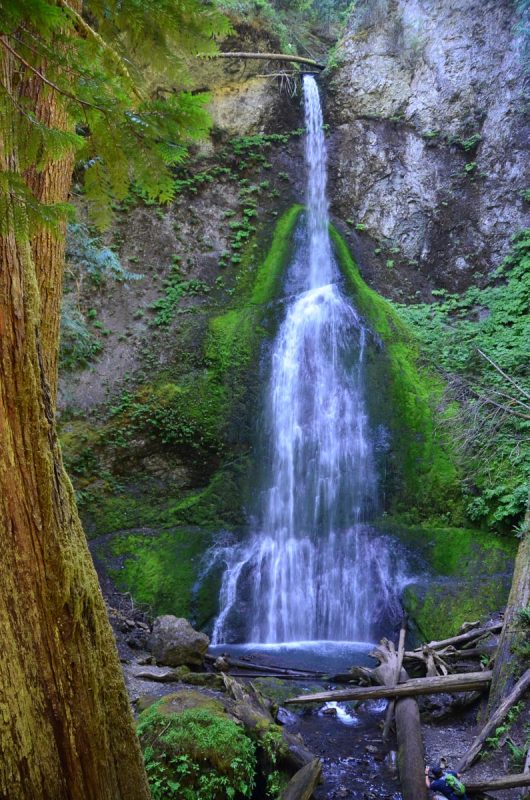 Nestled within the heart of the national park, the Marymere Falls hike offers a magical experience that combines the best of the Pacific Northwest.
Hikers will see pristine, glacially-carved Lake Crescent, pass through verdant green, fern-draped old-growth forest, and cross multiple creeks along the way to 90-foot-tall Marymere Falls.
The trail is very well maintained and fairly heavily traveled, plus the elevation gain is gradual. Still, boardwalks and stairs present mild challenges and keep things interesting, making Marymere Falls the perfect laid-back hike for everyone.
At the end of the trail, the misty, horsetail-style waterfall is absolutely mesmerizing — and made perhaps even more so on moody weather days!
Nearby, the Mount Storm King hike offers a longer (4.1 miles), much more strenuous challenge for more ambitious hikers.
Things to know before you go
Although the Marymere Falls hike is short and sweet, and fairly straightforward, there are several things you'll want to know before hitting the trail.
Best time of year for the Marymere Falls Hike
The best time to hike to Marymere Falls is springtime. Not only is the waterfall at its fullest thanks to snow melt, but this is also one of the park's low seasons in terms of visitors.
One thing to keep in mind is that springtime hikes in ONP also mean lots of mud and more frequent rain showers. If you're concerned about this, plan your visit for the summer — but know that the park will be significantly more crowded.
How long does it take to hike the Marymere Falls trail?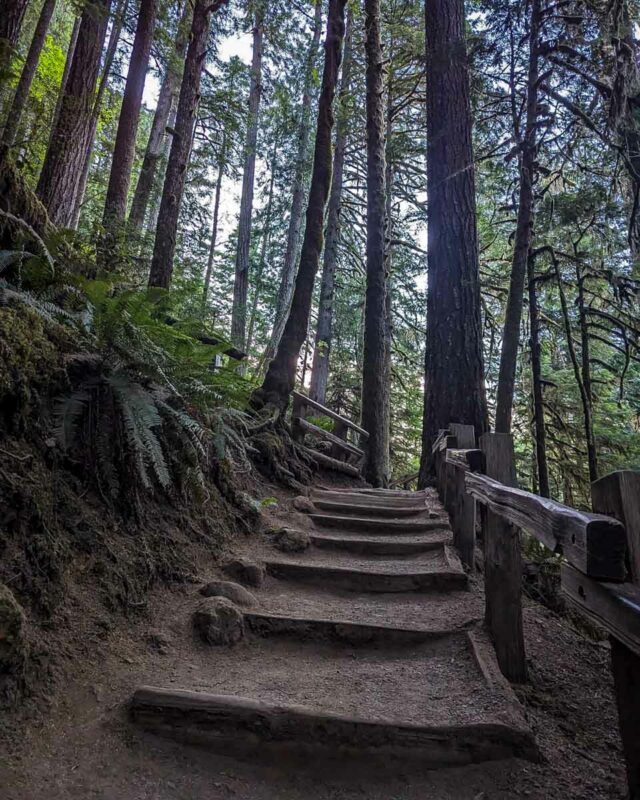 Plan on 1-1.5 hours to hike to Marymere Falls. If you hiked directly to the waterfall and straight back, it would probably take less than an hour. However, you'll almost certainly spend at least a few extra minutes marveling at the falls or stopping for photos along the way.
How difficult is the Marymere Falls trail?
Marymere Falls is a fairly easy hike that just about anyone should be able to complete. The most challenging obstacles are exposed roots in the dirt sections and a set of stairs that can get slippery. The vast majority of the trail's entire elevation gain is on these stairs.
The route to Marymere Falls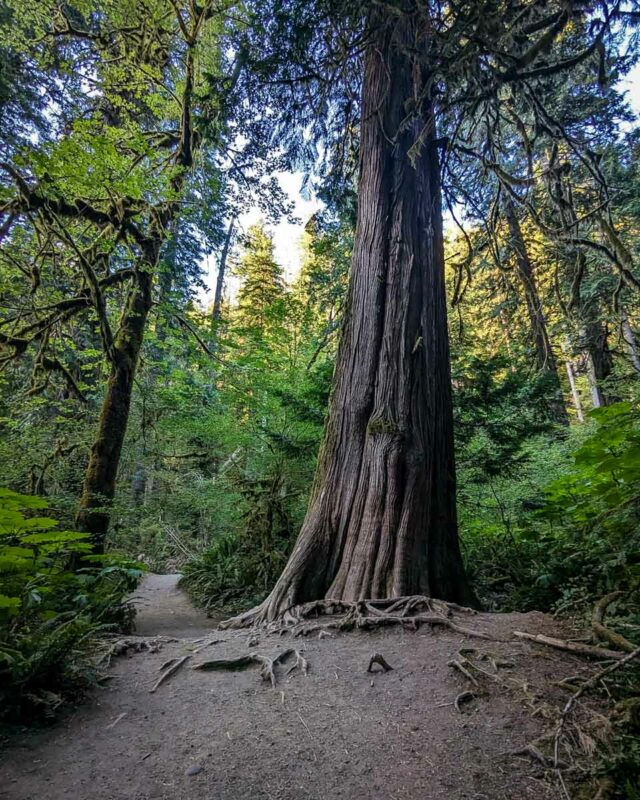 You'll start the hike to Marymere Falls from either the Mount Storm King ranger station or Lake Crescent Lodge.
The trailhead that starts at the ranger station is a bit more scenic at the beginning, but otherwise they're nearly identical. If you want to start there but the parking lot is full, park at the lodge — it's less than a 15-minute walk.
The trail's first views are of pristine Lake Crescent, before crossing under Highway 101 in a tunnel. While it's strictly practical, the tunnel serves as a fun photo op!
Pretty quickly, you'll find yourself in the park's famous old growth forest. Note that because of how dense the tree canopy is, it's often noticeably colder here than the trail's exposed sections.
Just before the first bridge, you'll see a sign pointing to Mount Storm King. Although this hike seems fairly short at four miles round-trip, it's brutal! You gain over 2,000 feet of elevation in under two miles and there are ropes, so it's truly something for experienced hikers only.
Cross the Barnes Creek Bridge and shortly after that, the trail's second bridge, over Falls Creek. Barnes Creek has a large modern bridge, while Falls Creek is a super scenic, rustic log bridge. The slight wobble is part of the adventure!
Almost immediately after crossing the second bridge, you'll come to the staircase leading to Marymere Falls. One direction leads to the lower viewpoint and the other direction goes to the upper. They're both worthwhile, so choose your starting point and then hit the other.
After taking in the views, retrace your steps. Assuming you started from the ranger station, you can opt to follow the signs to Lake Crescent to switch up the end of your hike.
Tips for hiking the Marymere Falls trail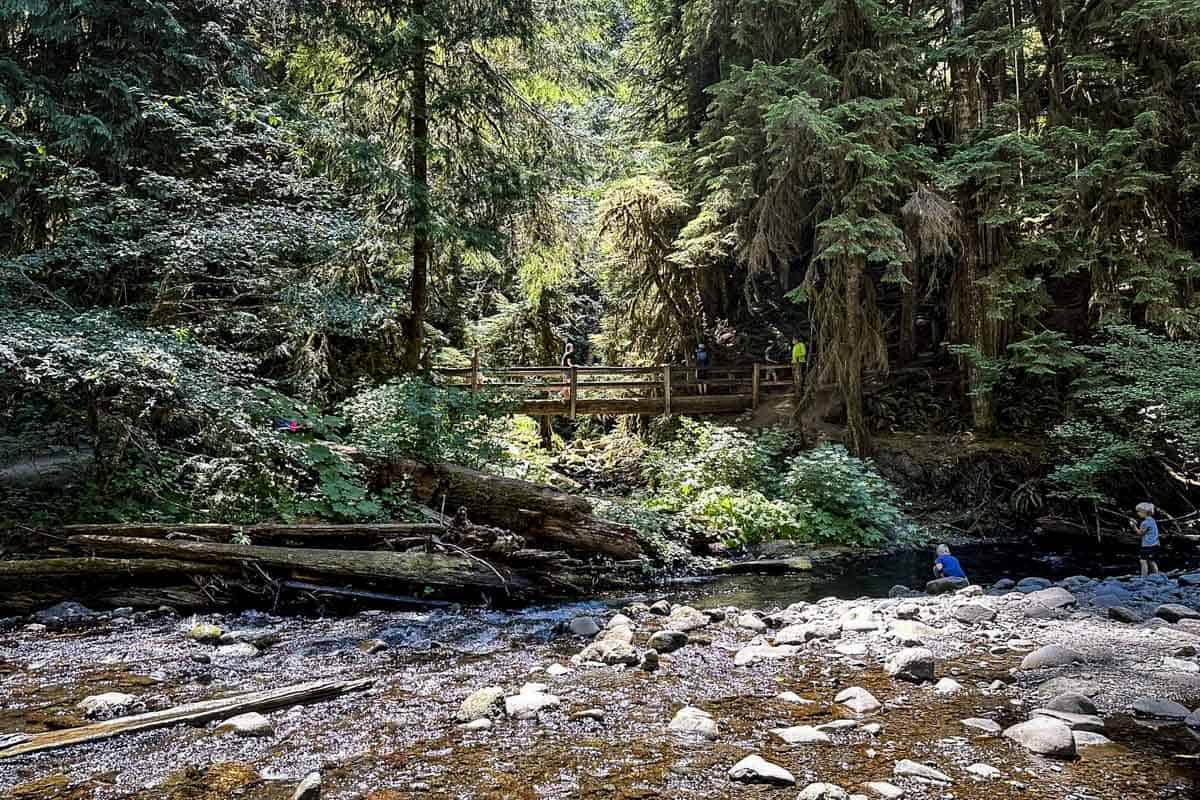 Pack layers. Aside from preparing for the ever-changing PNW weather, a large portion of the Marymere Falls trail goes through well-shaded old growth forest that's significantly cooler than the exposed sections.
Wear sturdy, closed-toe shoes. Largely thanks to all that shady old growth forest, this hike is muddy for much of the year. Muddy often also means slippery, so wear heavier-duty hiking shoes.
Take "accessible" lightly on this trail. The official park website lists Marymere Falls as accessible up to the first bridge (about half a mile), but we disagree. There are lots of exposed, gnarly tree roots and the trail is muddy more often than not.
The trailhead is in a VERY busy part of the park. The Storm King ranger station lot also serves Lake Crescent's boat launch, so it fills up early and fast. Try to arrive early and bring lots of patience — and remember that the lodge lot is a great option.
Where to stay nearby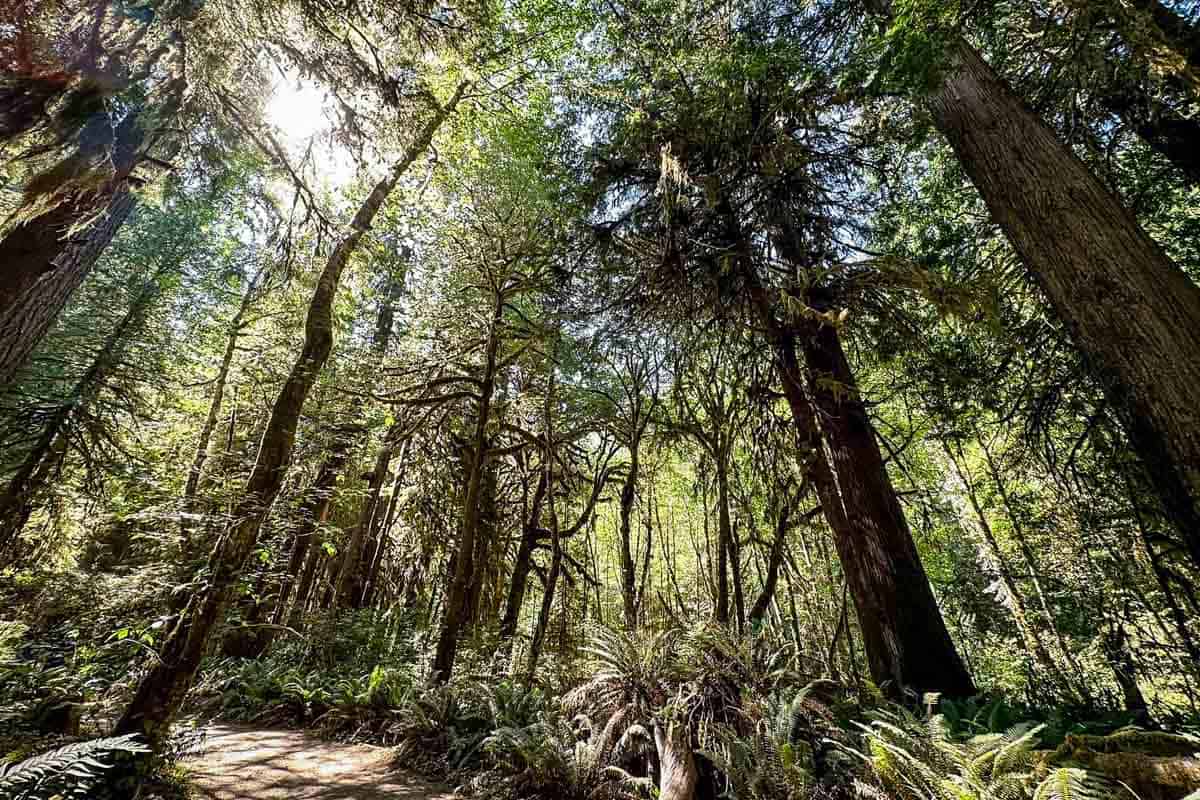 The best way to explore Olympic National Park is to stay in the park or at least nearby. Pretty much everything on the peninsula books out FAR in advance, so you should make reservations as soon as you have finalized plans.
Due mostly to the limited availability in the park, most people stay in nearby Port Angeles, about 30 minutes away. You'll find a variety of accommodation here, ranging from traditional hotels to quaint B&Bs and campsites.
If you prefer to stay in ONP, try to book a room at Lake Crescent Lodge. Not only is the historic lodge super close to the Marymere Falls trail, it sits right on the lake and makes a convenient homebase for exploring the whole park!
Campers lucky enough to snag in-park reservations are spoiled for choice with several awesome campgrounds. Log Cabin RV Resort & Campground is the closest to Marymere Falls, but there are over a dozen others.
Most accept reservations and some are first-come, first-served only, and all have slightly different operating seasons, so it's best to check the park's official camping page for all the details and updated conditions.
What to pack for hiking to Marymere Falls

Navigation*: we recommend using Alltrails+ to download the offline trail map
Water bottles and bladder for your Camelbak
Dry bag (we always carry one with us for our valuables in case of rain)
Bug repellant
Sun protection: sunscreen, hat, sun glasses
Camera/tripod (this one's our favorite for hiking)
Lots of layers (here is a great resource if you're wondering what to wear hiking)
Rain jacket
Comfortable hiking boots or shoes
Plenty of snacks: check out our favorite hiking snacks here!
Be sure to grab our ultimate hiking packing list includes our must-have gear for any hiking trail!

You may also like…
Save this article on Pinterest for later!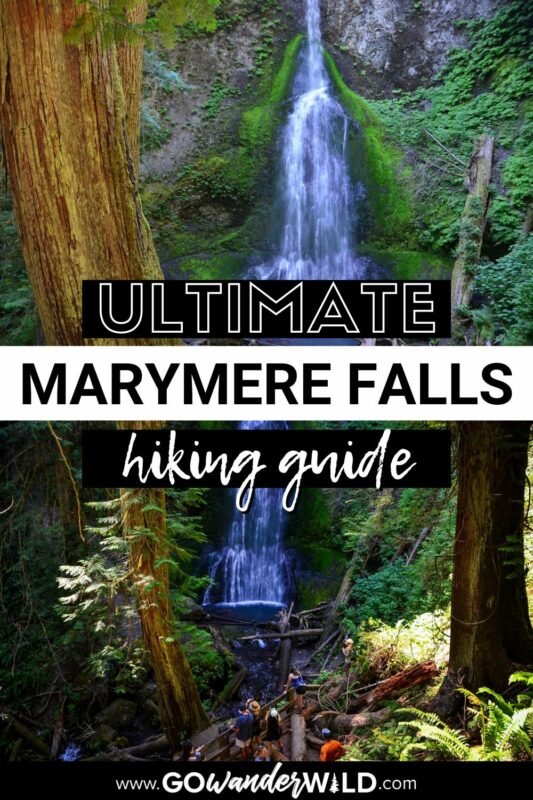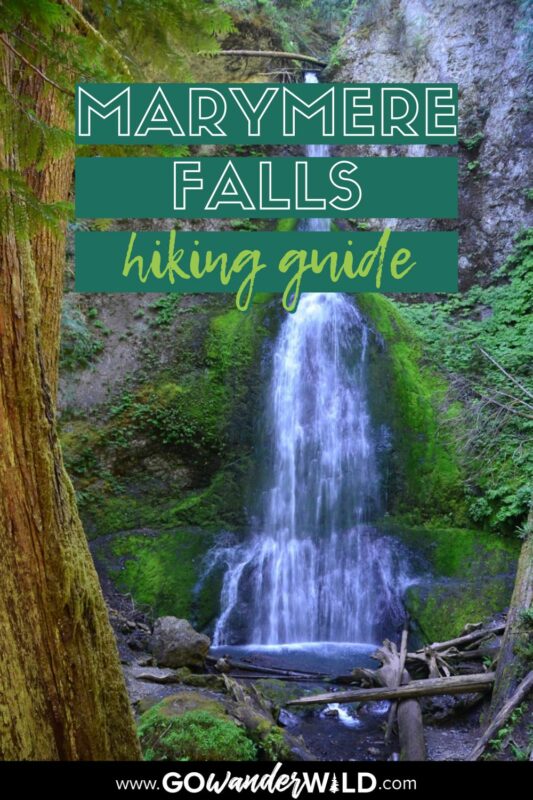 We want to hear from you!
Comment below if you have questions about hiking the Marymere Falls Trail at Olympic National Park in Washington state and we'll do our best to get back to you!