When hiking in Washington State, there is something for everyone. Whether you're a beginner or an experienced hiker, we've got the perfect hike listed here just for you. From the most epic views to the most unique hikes, this article is everything you'll ever need to complete your Washington hikes bucket list!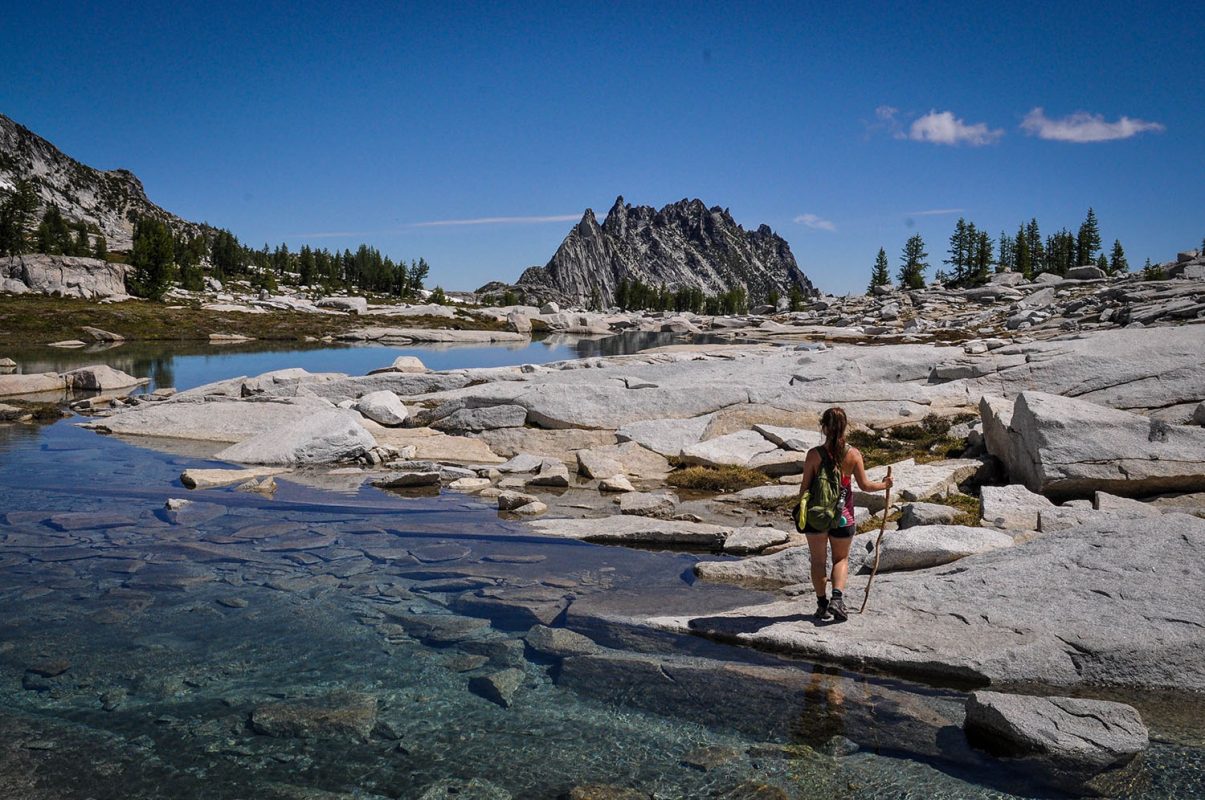 Washington State has some of the most beautiful hikes in all of the United States, and there are trails suitable for all levels. We've rounded up the best of the best trails to give you some outdoor inspiration.
Whether you're a beginner or an experienced hiker, we've got the perfect trails just for you. From epic views to the most unique hikes, this article has everything you'll ever need to complete your Washington hiking bucket list.
Who knows? You might even find a few Washington hikes you've never heard of!
So without further ado, let's dive in!
Article contents

Washington hikes with the best views
If an epic viewpoint is what you're looking for, you'll want to check these beautiful vistas off your bucket list.
1. High Rock Lookout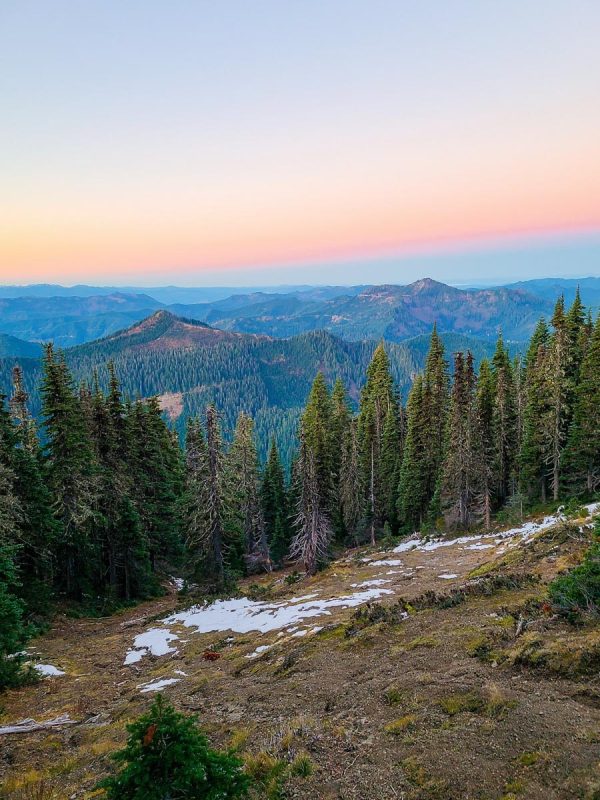 As its name suggests, High Rock Lookout stands quite a bit taller than everything surrounding it. That's exactly what makes this one of the best hikes in Washington for views; the summit is easily one of the best views in the entire state!
Note the elevation gain as compared to mileage — you climb quite a bit in just a mile-and-a-half, so brace yourself for a leg burner on the way up.
2. Naches Peak Loop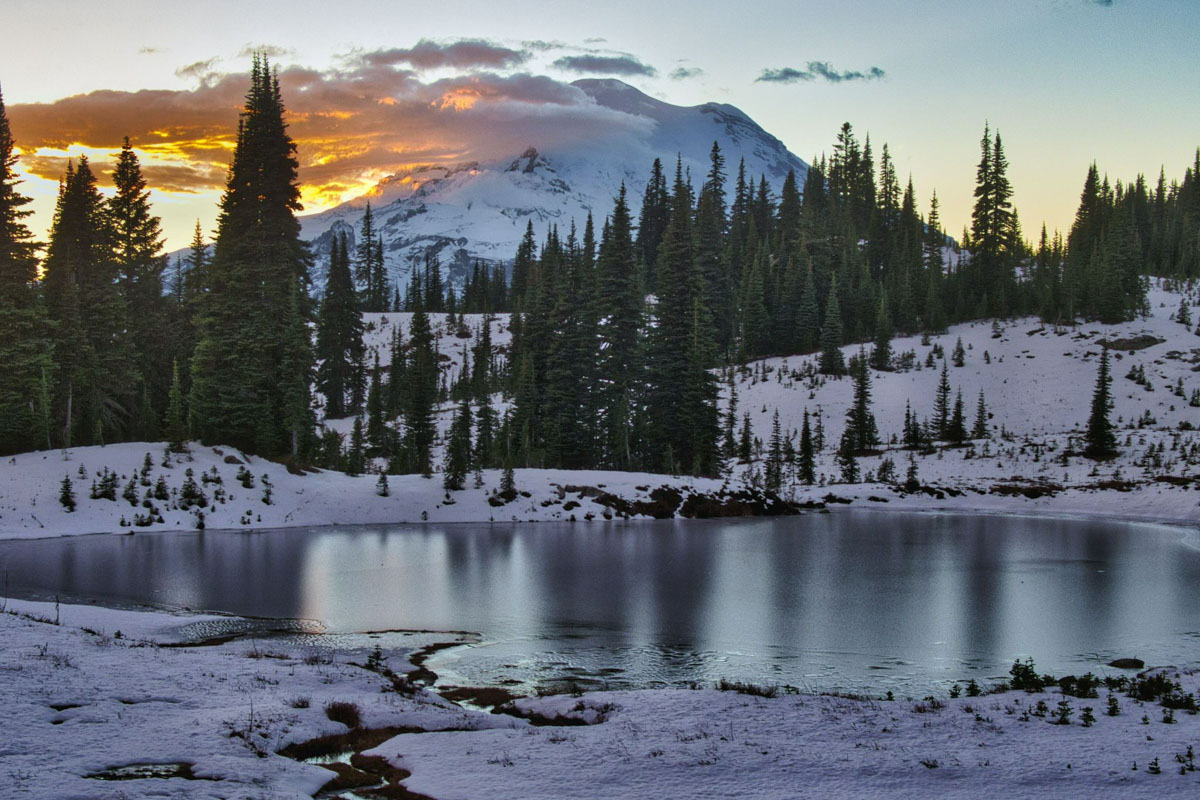 Offering wildflowers galore in late summer, two mirror-still ponds, and picture-perfect Mount Rainier views, Naches Peak Loop packs a serious punch in a small distance. We recommend hiking the loop clockwise (starting on the PCT) to get head-on views of Rainier.
This is one of the most popular Washington hikes for good reason; plan to hike on a weekday for a bit more solitude!
3. Hurricane Ridge to Hurricane Hill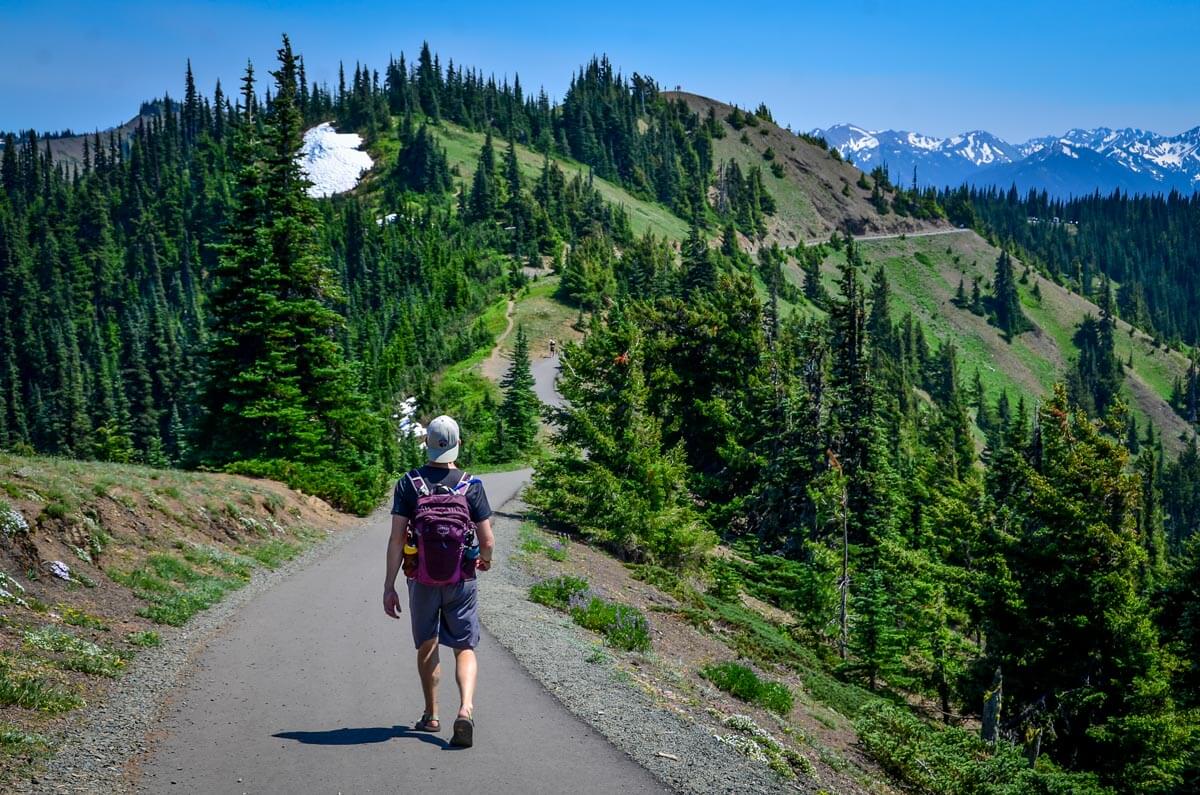 As one of the best hikes in Olympic National Park, the Hurricane Ridge trail offers different experiences and views each season. You can get a 360-degree view and see Puget Sound, Vancouver Island, and Mount Olympus. In winter, the trails are open for skiing and snowboarding.
Psst! Check out our complete guide to visiting Hurricane Ridge in Olympic National Park for more information!
4. Icicle Ridge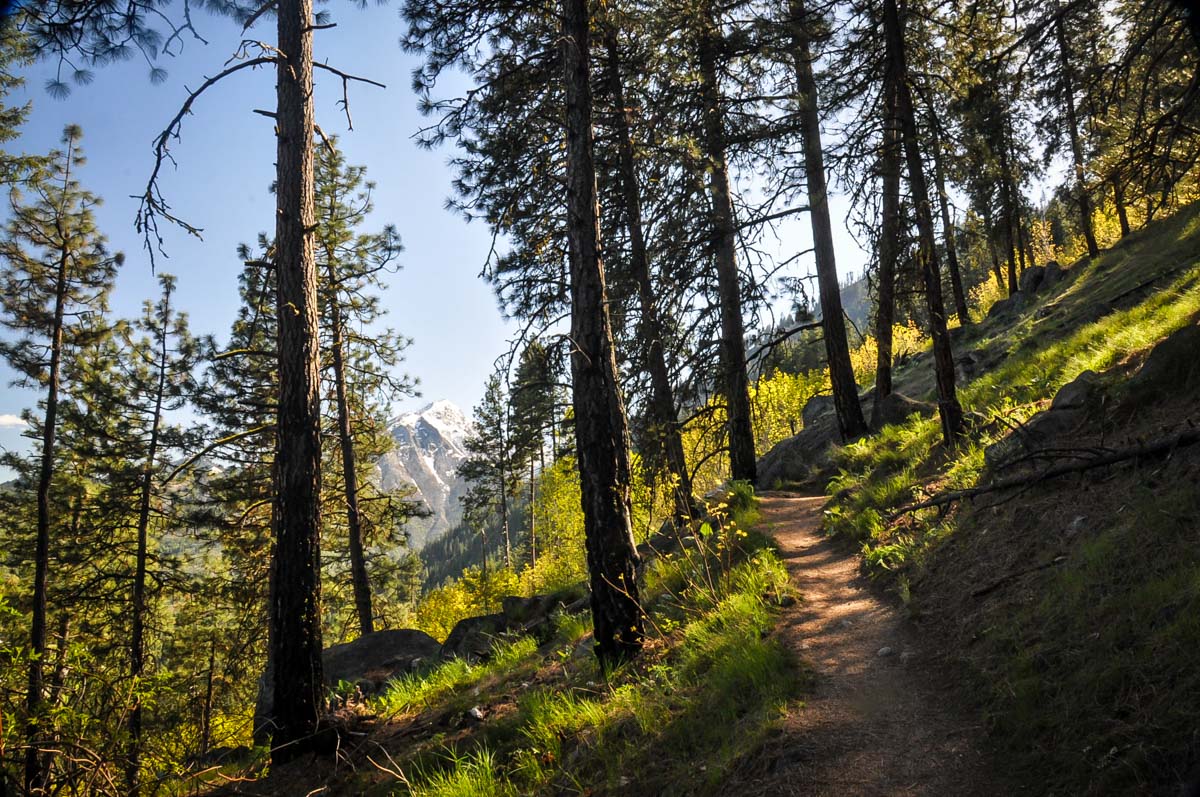 Icicle Ridge is a popular trail that leads to the most beautiful views of Leavenworth at the top of the ridge. At 5.1 miles, Icicle Ridge Trail is certainly not among the longest hikes near Leavenworth, but it's quite challenging! Spring to fall is the most popular time to visit Icicle Ridge. During winter, people come here for a fun snowshoe.
We have a complete guide to hiking the Icicle Ridge Trail with all the information you need to plan your hike!
5. Mount Fremont Lookout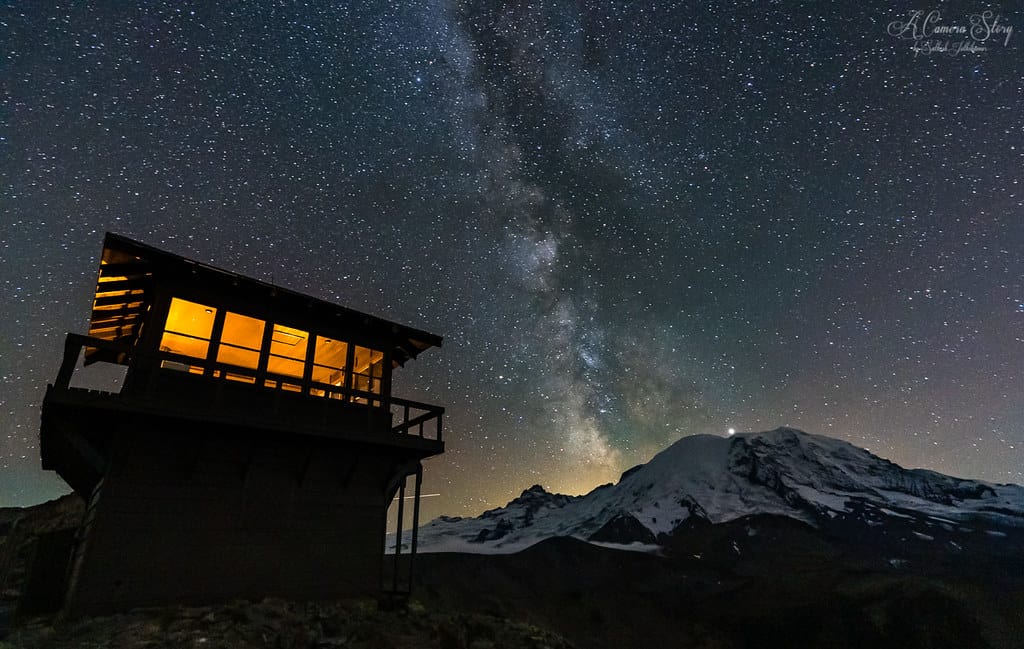 What makes Mount Fremont Lookout worth the hike are the superb views of Mount Rainier, the Cascades, and the Olympic Mountains. And just north of the lookout, you'll find the meadows of Grand Park. Along the way, you'll come across a large herd of mountain goats which are a treat to see.
This is one of our favorite hikes at Mt Rainier you don't want to miss!
6. Tolmie Peak Trail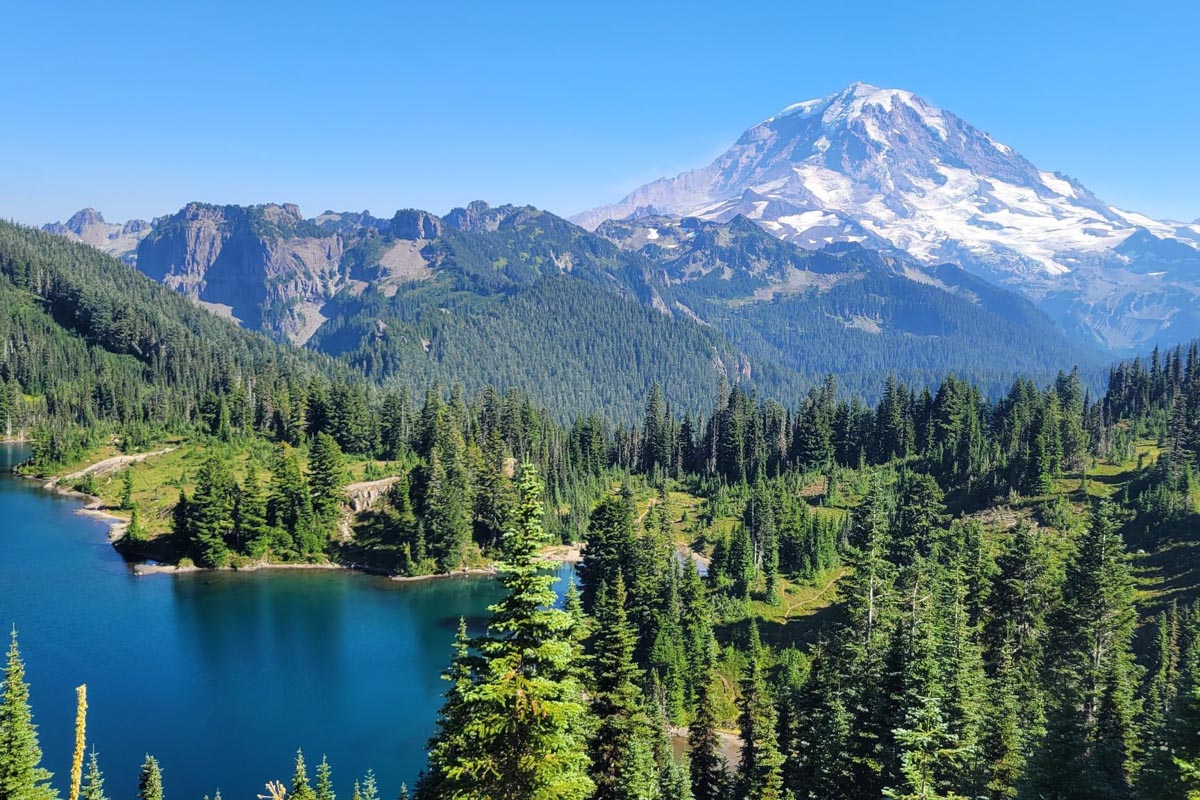 This iconic hike takes you deep into the rugged terrain surrounding Mount Rainier in a less-visited corner of the park. The trail starts and ends at Mowich Lake, perfect for a refreshing swim at the end of your journey.
Elevation on the trail is continuous yet gradual, so you'll feel accomplished but not winded when you reach the summit (our favorite type of hike!). On the way down, sidetrack to beautiful Eunice Lake for a picnic, but pack bug spray. Mosquitoes are the only downside on this excursion.
7. Chain Lakes Loop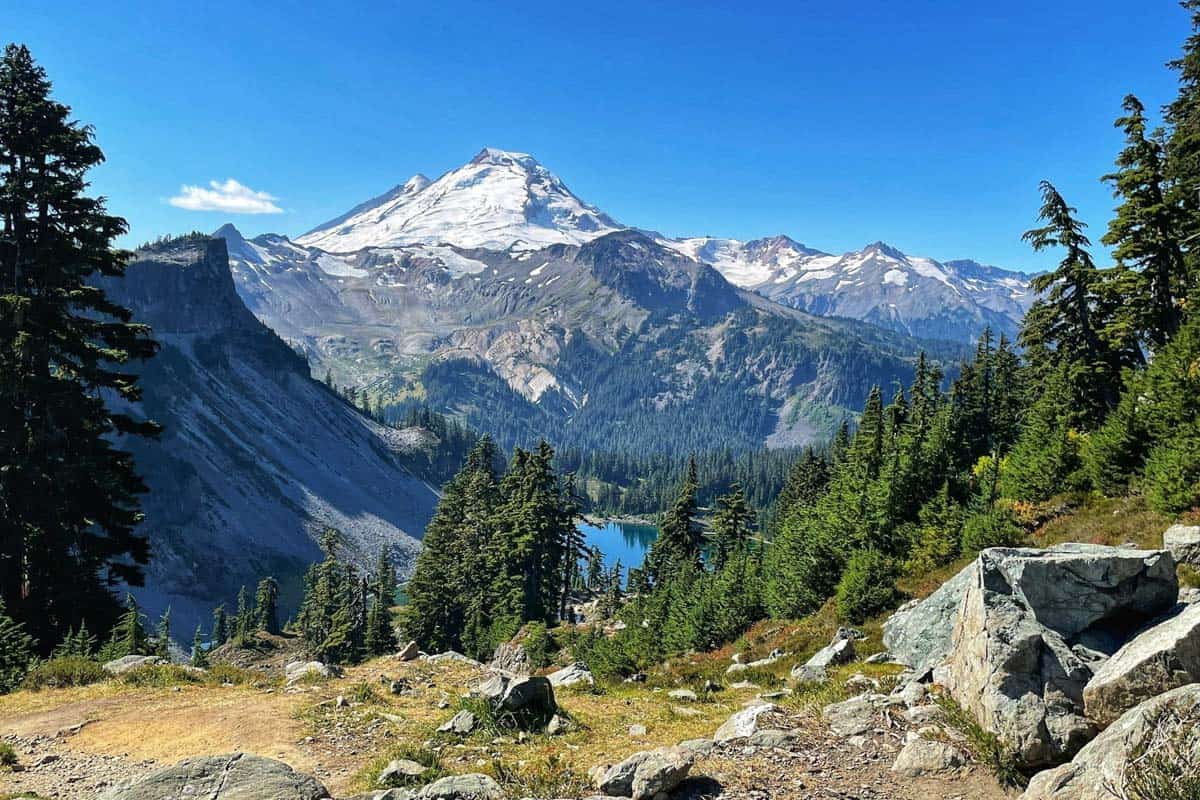 You can choose to start your hike from Heather Meadows Visitor Center or Artist Point. The trail offers stunning views of soaring mountain tops and rock formations. Along the scenic trail, you will pass by several stunning blue lakes of various sizes.
8. Glacier Basin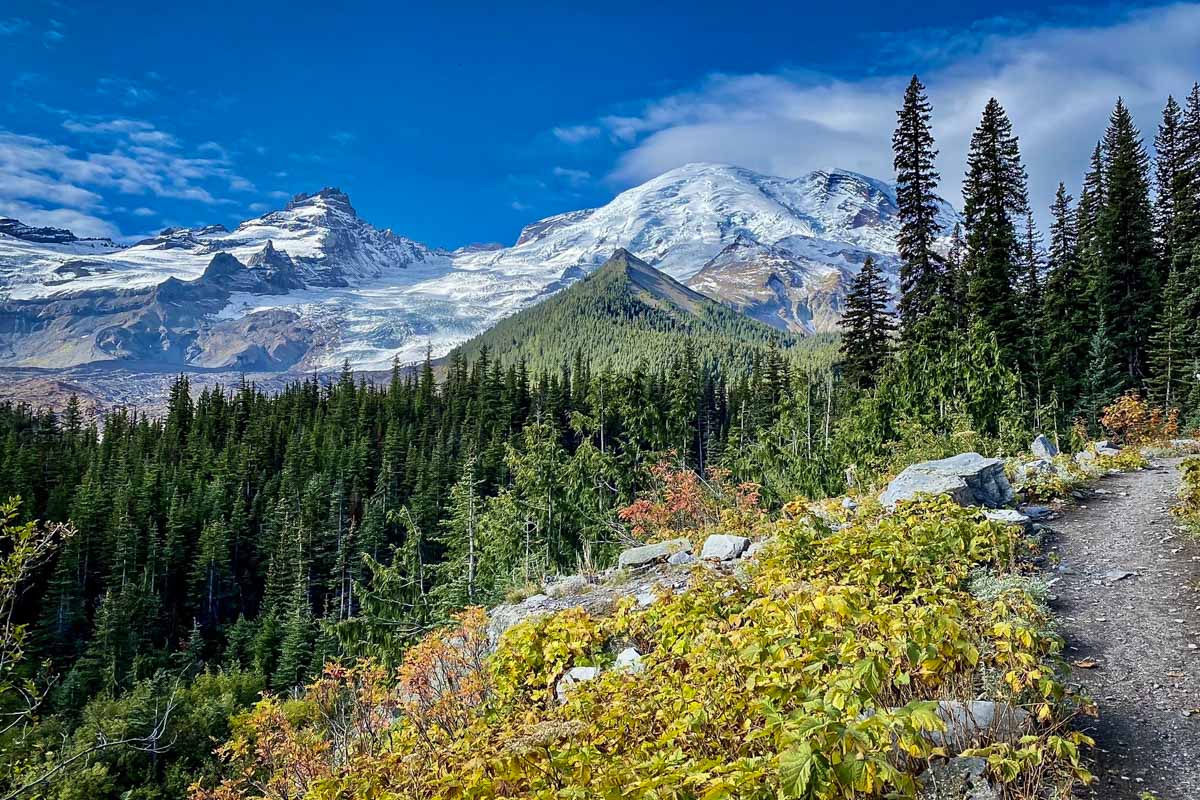 A well-trodden but longer trail for the whole family, this hike takes you through a pine forest to views of Emmons Glacier, Mount Rainier's largest. At its base, you'll also see a beautiful, milky-blue glacier-fed lake.
With plenty of shade, creeks, and mountain views, this is one of our go-to hikes at Mt Rainier when we don't want to get too sweaty but still want to be on the trail for several hours.
9. Palouse Falls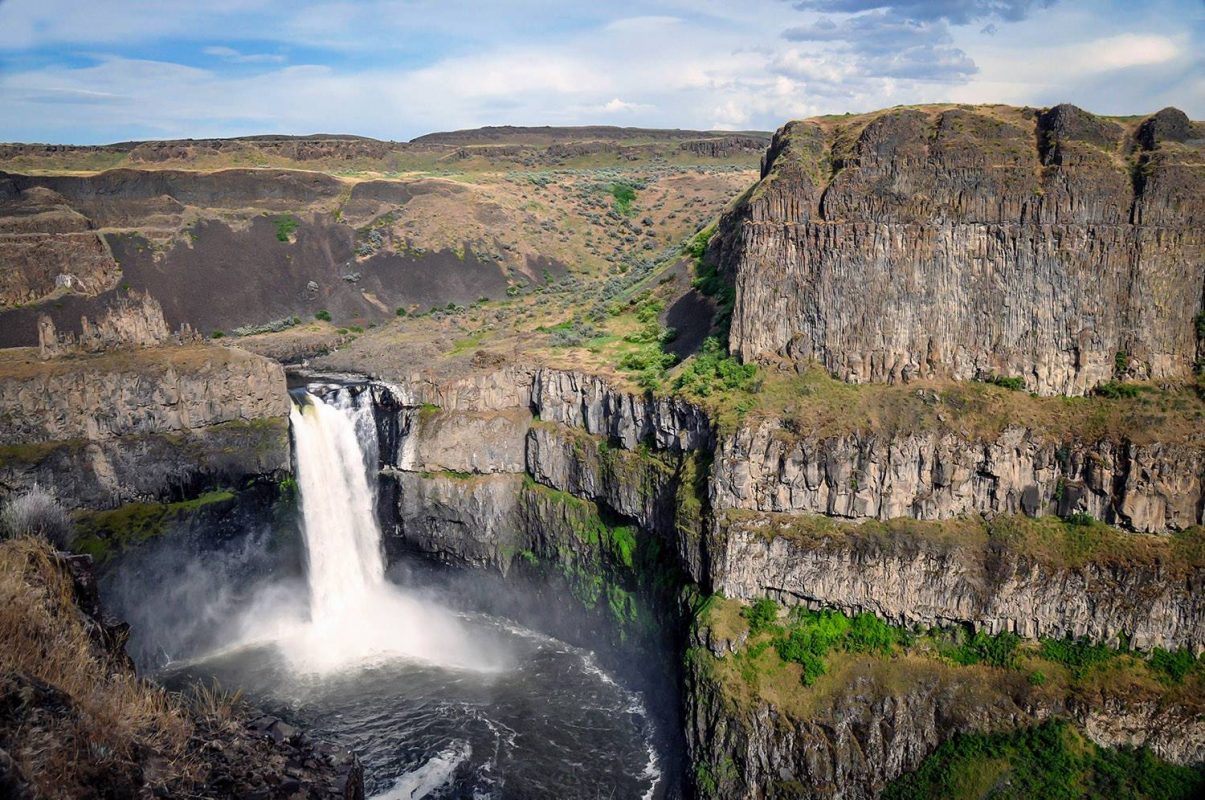 Amazing falls and breathtaking views are just some of the best things Palouse Falls has to offer, making this one of the best waterfalls in Washington state! You can opt to enjoy the views from the top or go all the way down and around the falls. The short trail has some steep and rocky parts, so it's best for fit hikers.
The best times to visit are from February to October when the falls are gushing.
10. Mount Storm King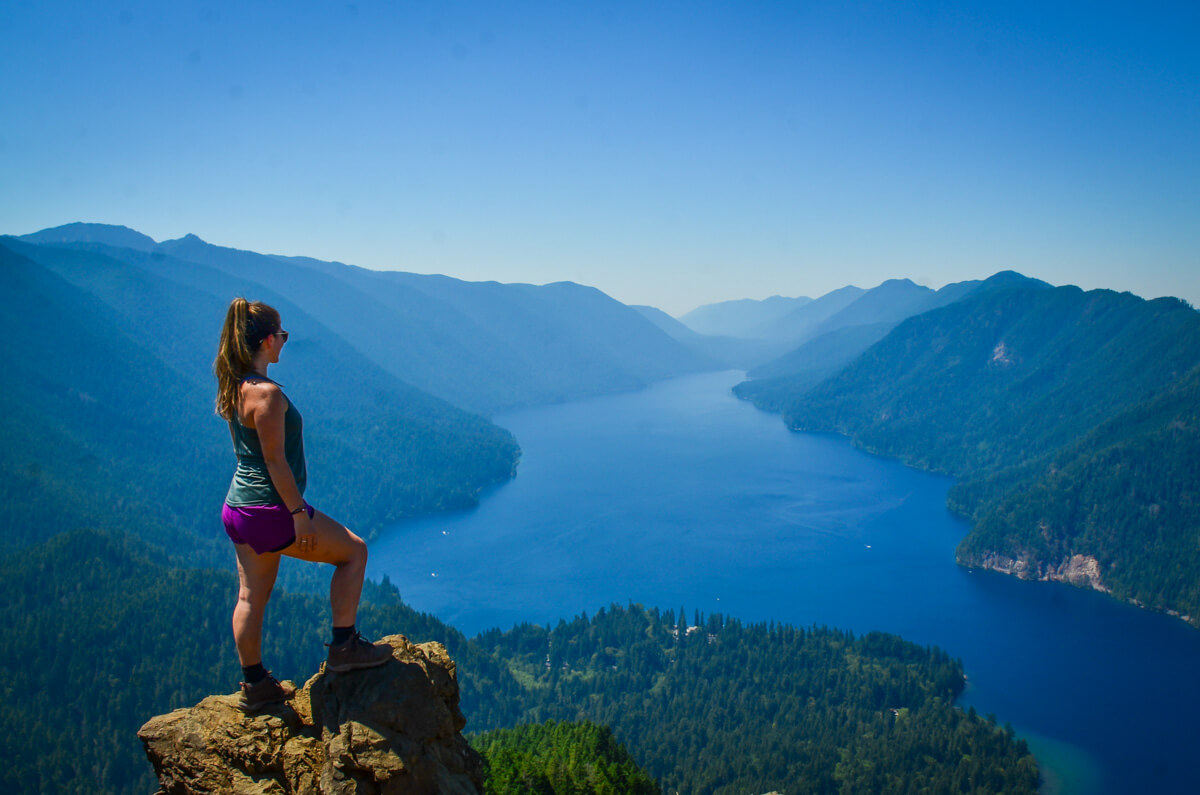 As one of our favorite challenging hikes in Washington, Mount Storm King offers a trail of old-growth forest with several viewpoints of the central Olympics and Lake Crescent. The hike to the summit is quite steep and challenging with some rock scrambling and there is even a rope to help pull yourself to the summit. The views from the top will be worth it, trust us!
Check out our Mount Storm King hiking guide for all the info you need to plan your hike.
11. Maple Pass Trail
Maple Pass Trail is a somewhat strenuous trail offering amazing views of the Cascades, snow-capped mountains, wildflowers, alpine lakes, waterfalls, and wildlife. Its stunning scenery makes it popular for both hikers and adventurers. You can choose to hike the trail clockwise or counterclockwise.
Psst! Did you know Washington has 3 incredible national parks with tons of hiking opportunities? Check out our guide to Washington National Parks to help plan your adventures.

Lake hikes in Washington
On a hot summer day, there is really nothing better than rewarding yourself after a hike with a refreshing dip in an alpine lake. These trails will lead you right to some of Washington's most beautiful lakes.
12. Emmons Moraine Trail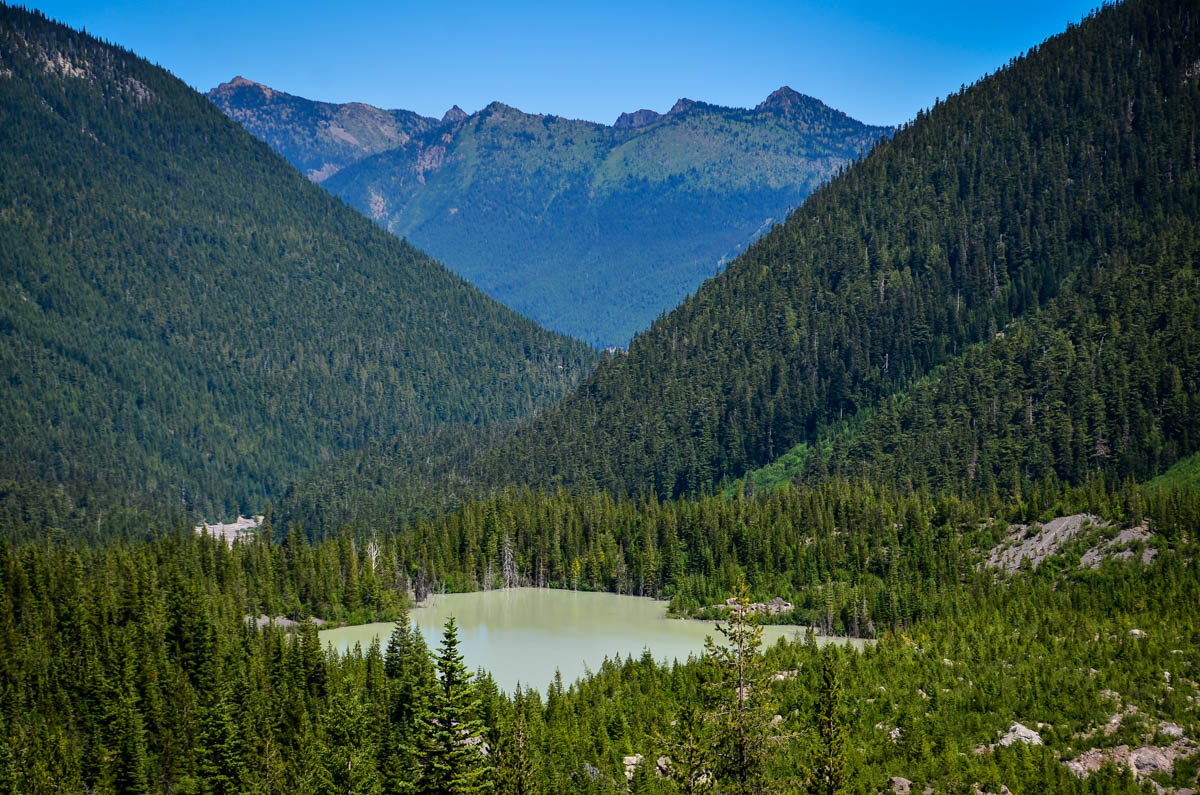 If you're into impossibly blue turquoise glacial lakes and epic views, this will quickly become one of your favorite hikes in Washington state. The trail has a little bit of everything, including waterfalls and views of Rainier itself, but interestingly, it's very much a hidden gem and isn't typically very crowded (YAY!).
13. Blue Lake Trail
Blue Lake Trail is a short hike famous for easy trails offering epic views of the larches, snowy mountains, and an impossibly blue lake. For the majority of the walk, you'll pass by trees lining the hiking trails with occasional openings of prominent landmarks such as the Winter Spires and Liberty Bell.
This hike is kid-friendly and great for seniors as well as those short on time, who want to pack the most punch into a single hike.
14. Lake Valhalla Trail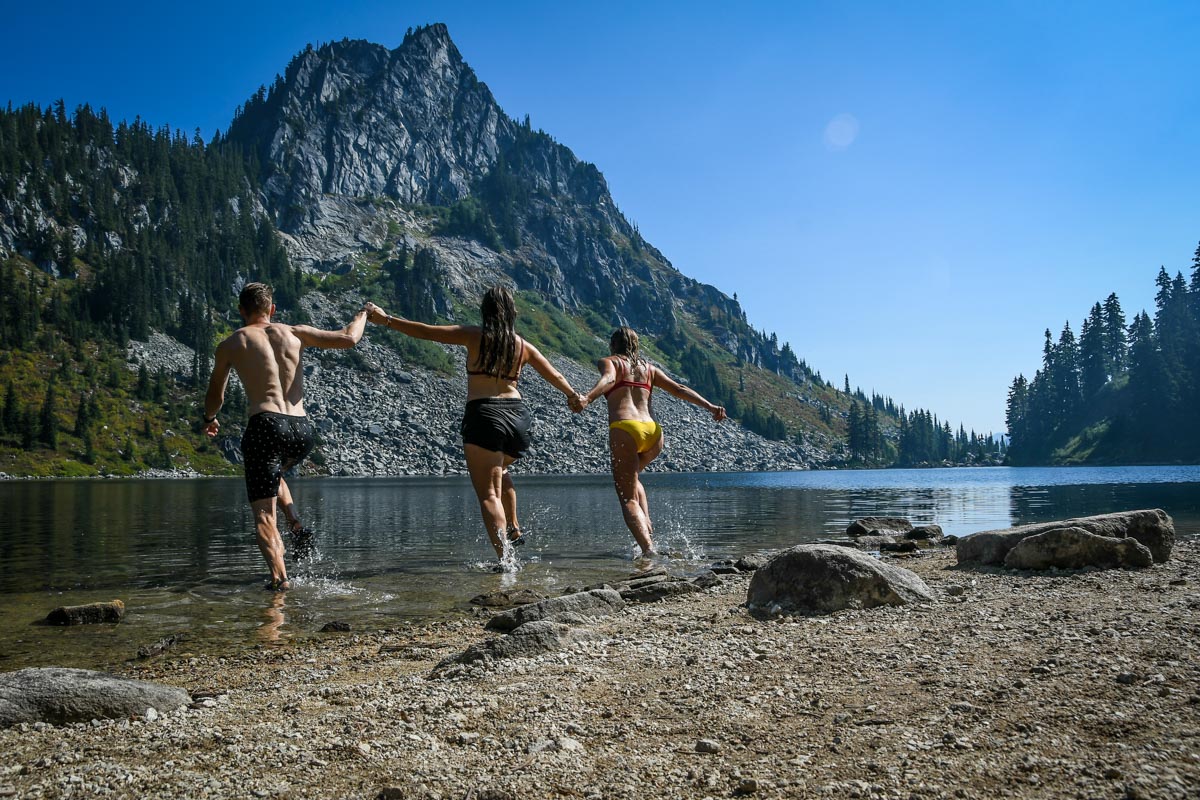 Lake Valhalla Trail is one of our favorite lake hikes in Washington for good reason! Stunning views and beautiful wildlife everywhere you look make it a fantastic hike. The trail takes you to and from the lake in about three hours, and the elevation gain adds just enough of a challenge to get your blood pumping a bit.
Accessible year round, the fall colors are amazing at Lake Valhalla and a little snow really turns it into a winter wonderland. However, you should be extremely cautious in the winter and drive a capable vehicle to the trailhead.
Check out our Lake Valhalla hiking guide for all the info you need to plan your hike.
15. Diablo Lake Trail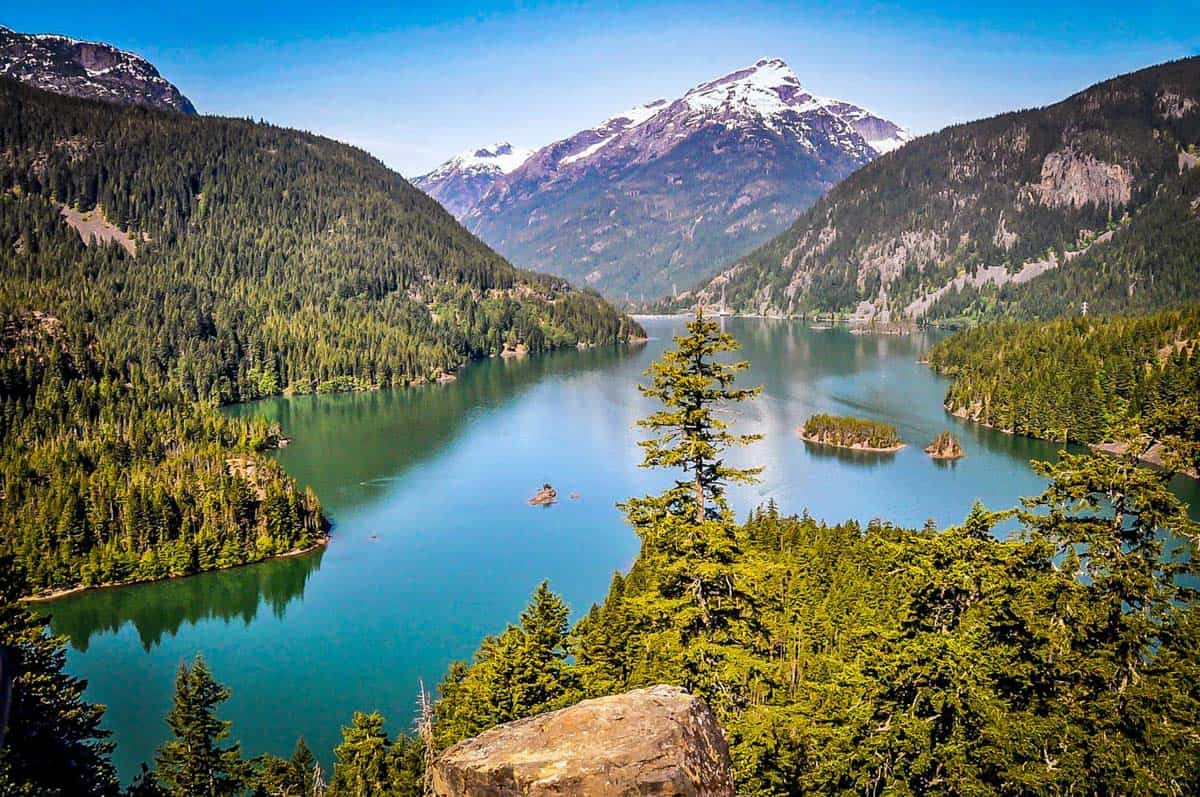 The spectacular turquoise waters of Diablo Lake may make you squint, rub your eyes and wonder if you are in fact dreaming. Yes, this is real life, and no, this lake has not been injected with dye.
The hike itself is moderately challenging, and quite popular, though the views are so-so. The best view of Lake Diablo will actually be from the lookout on the North Cascades Scenic Highway.
16. Eightmile Lake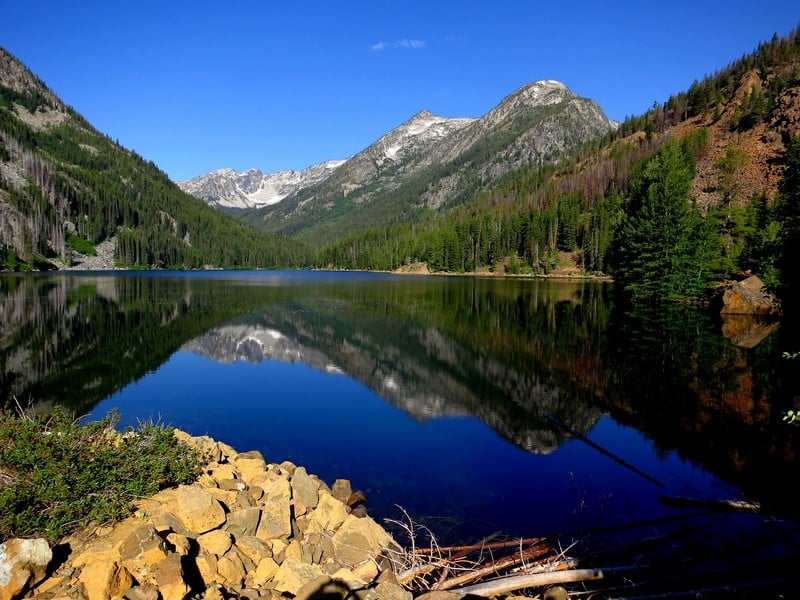 Eightmile Lake trail is both a great day or overnight hike to one of the most beautiful Alpine Lakes in the area. The trail is filled with meadows, wildflowers, evergreen stands, the beauty of the forest rebuilding itself after the fires and destruction in 1994 and 2010.
Because of this, there isn't much shade during the hike, so make sure to wear sun protection! During summer, the lake is refreshing and perfect for swimming—a nice reward mid-hike.
17. Lake 22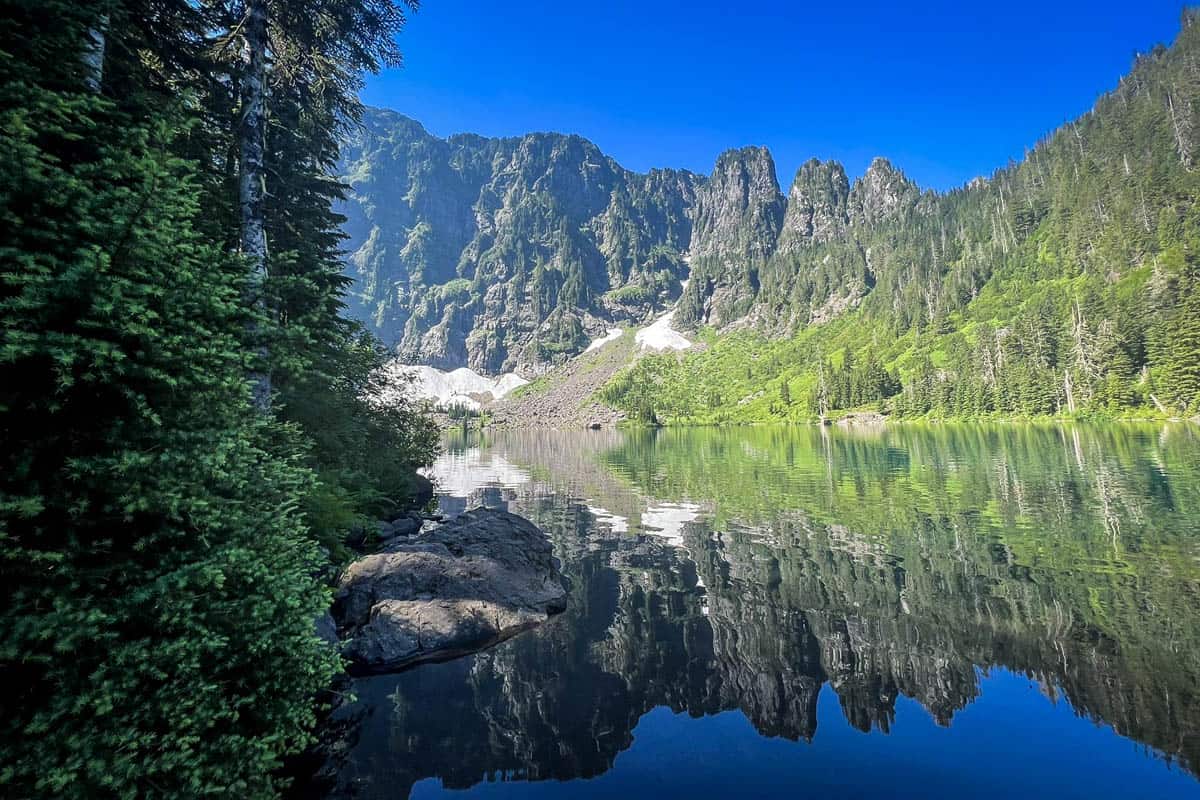 Want to visit an alpine lake and hike through old-growth forests? Lake 22 near Granite Falls is the perfect choice for you. Along the way to the lake, you'll pass by a creek, a bridge, and a pretty waterfall. Use your sturdy boots or hiking shoes since Lake 22 has a rocky trail.
18. Minotaur Lake Trail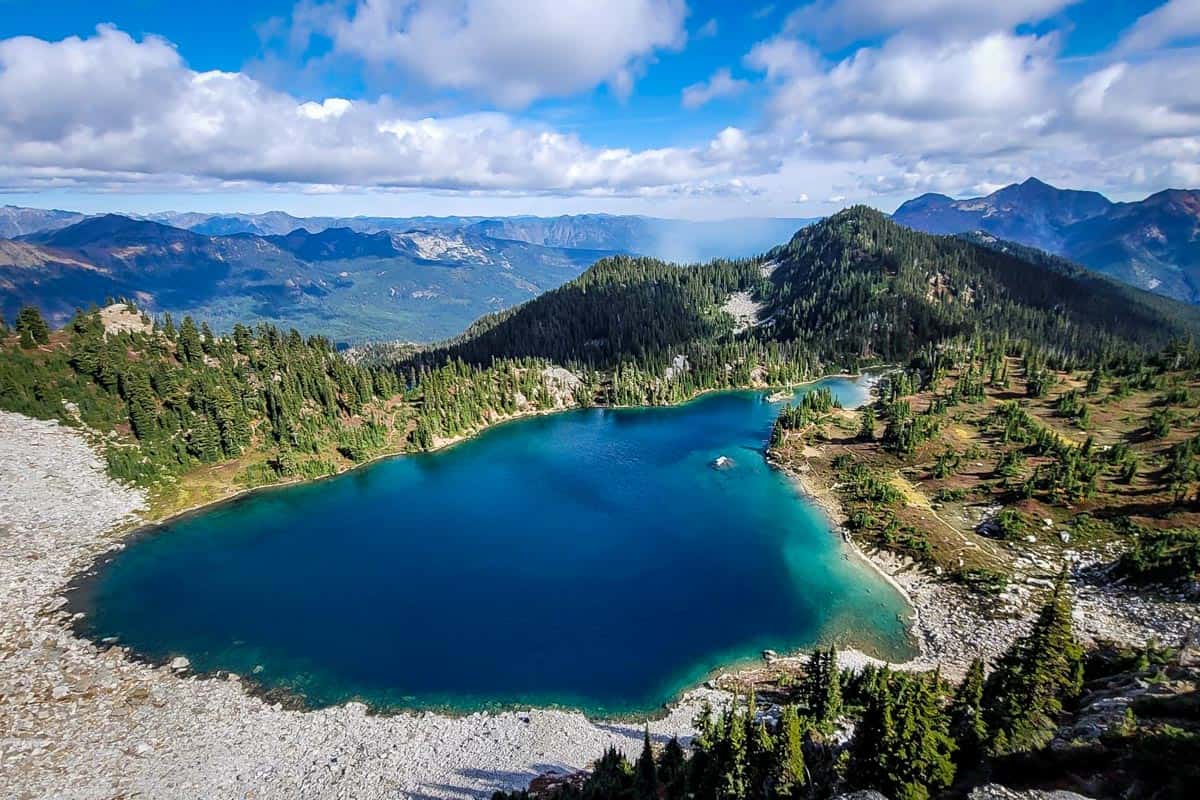 Minotaur Lake Trail is a short but steep hike to the stunning Minotaur Lake. The trail features green meadows, colorful wildflowers and a picturesque lake. From the lake, you can get an epic view of Theseus. Above the lake, you can also opt to explore Labyrinth mountain.
19. Snow Lake Trail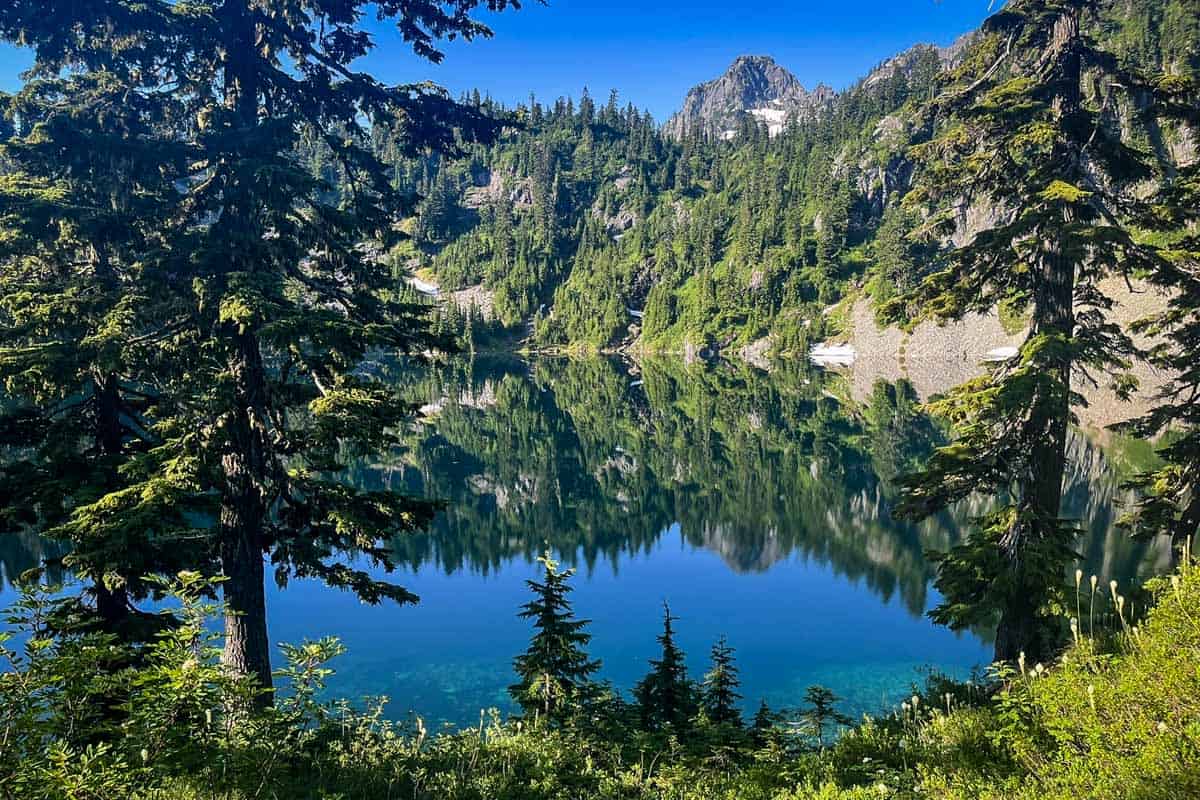 Snow Lake Trail is open all year round offering varied trekking adventures depending on when you decide to hike. Spring and summer have the greenest views, while autumn gives that perfect color change. Lastly, winter is perfect for snowshoeing.
The hike will take you past several waterfalls with an amazing alpine lake at the end. In winter, be aware that the trail's steep terrain has a high risk for avalanches.
20. Colchuck Lake Trail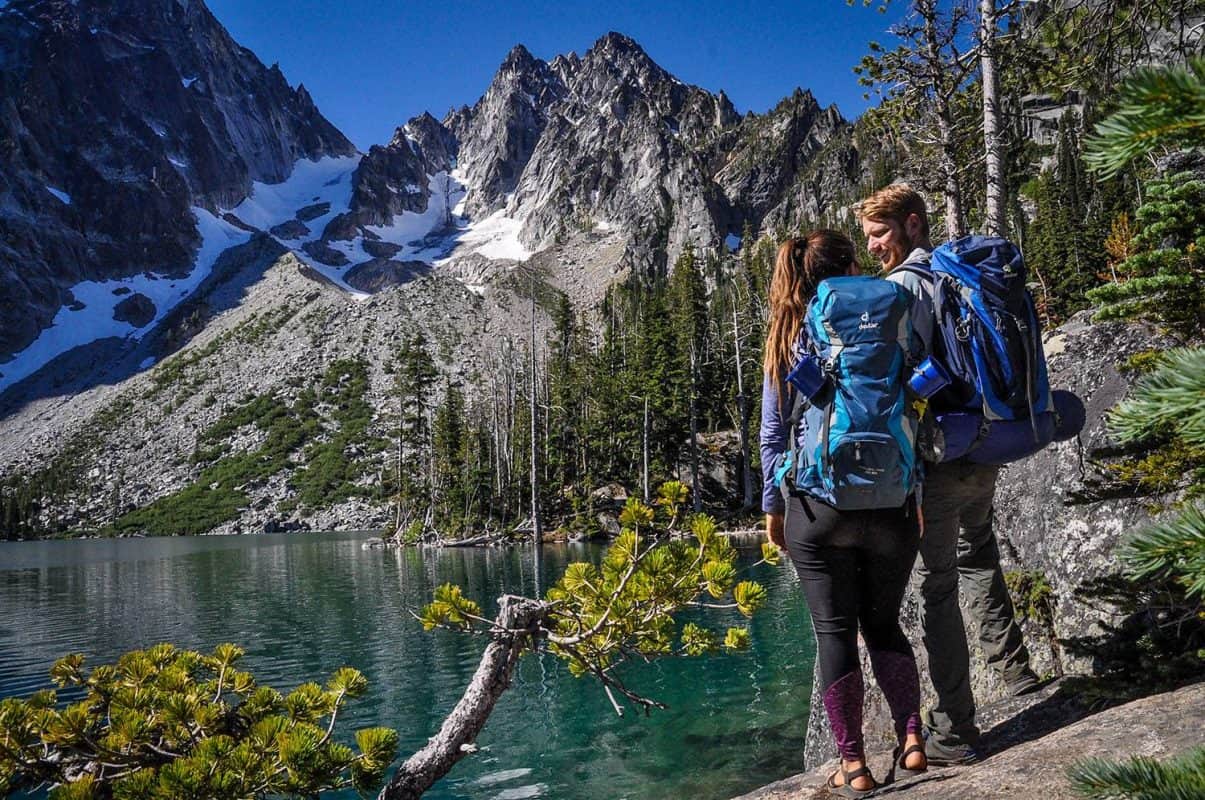 Within the Cascade Mountains, you'll find Colchuck Lake along with other lakes composing the "Enchantments" Alpine Lakes Wilderness area. The trail consists of stunning lake views, snow-capped peaks, glaciers, abundant wildlife, and larch trees, making it one of the absolute best hikes in Washington state.
Check out our Colchuck Lake trail guide for all the info you need to plan your hike.
21. Blanca Lake Trail
Tucked away in the Henry M. Jackson Wilderness, this striking green lake is one of the coolest lake hikes in Washington. The trail is challenging, with 30-plus switchbacks, but has a tremendous payoff. Hiking to Blanca Lake makes for a perfect day trip from Seattle.

Hikes near Seattle
If you're looking to get out of the city for a jaunt, check out some of these note-worthy hikes near Seattle.
22. Lighthouse Loop Trail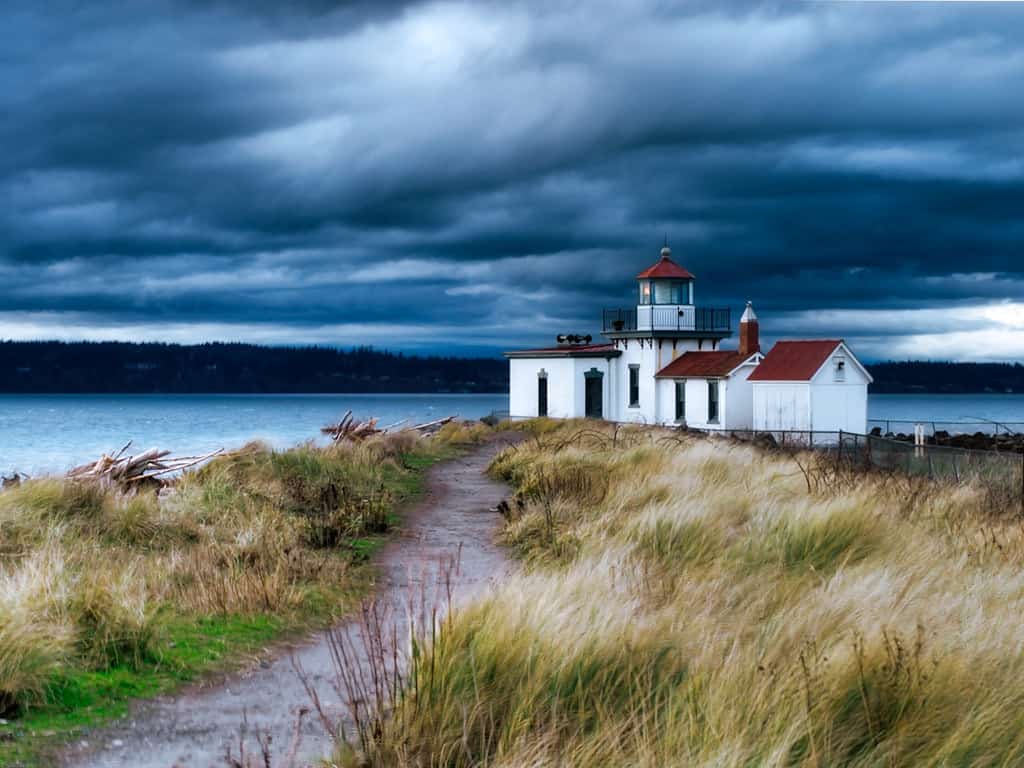 With convenient access to the city, Discover Park and the Lighthouse Loop is the perfect place to go if you want to spend some time away from the hustle and bustle of the city. The easygoing loop trail traverses fields, forest, and the coast, keeping things interesting.
You can reach the park via the Metro Bus System or walk if you're up for the extra steps!
23. Rattlesnake Ledge
Rattlesnake Ledge is one of our favorite hikes near Seattle, and we are not alone in this thinking. The ultra popular trail has some of the best views of Mount Si and Mount Washington.
Near gorgeous Snoqualmie Valley, the steady incline takes you through dense forest and offers panoramic views of Rattlesnake Lake and countless peaks. In the summer months, the lake below is ideal for swimming and kayaking.
Check out our Rattlesnake Ledge hiking guide for all the info you need to plan your hike.
24. Poo Poo Point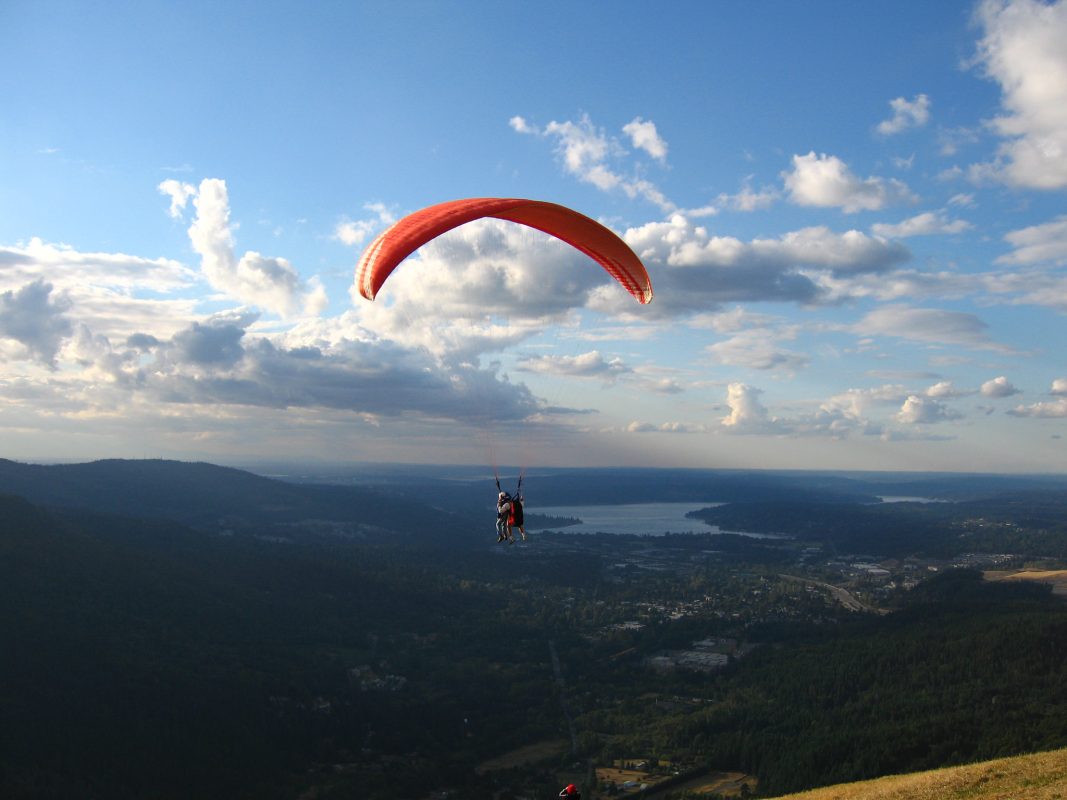 From the Issaquah Alps trailhead, you can easily access the Poo Poo Point trail. You'll follow the Many Creeks Valley and pass a few creeks along the way. All throughout your hike, you will be walking under a shaded trail.
Poo Poo Point trail is also perfect for an evening hike since it offers one of the best sunset views near Seattle. Since the place is popular for hang gliders and paragliders, you'll be likely to see both floating through the skies during your hike.
25. Mount Si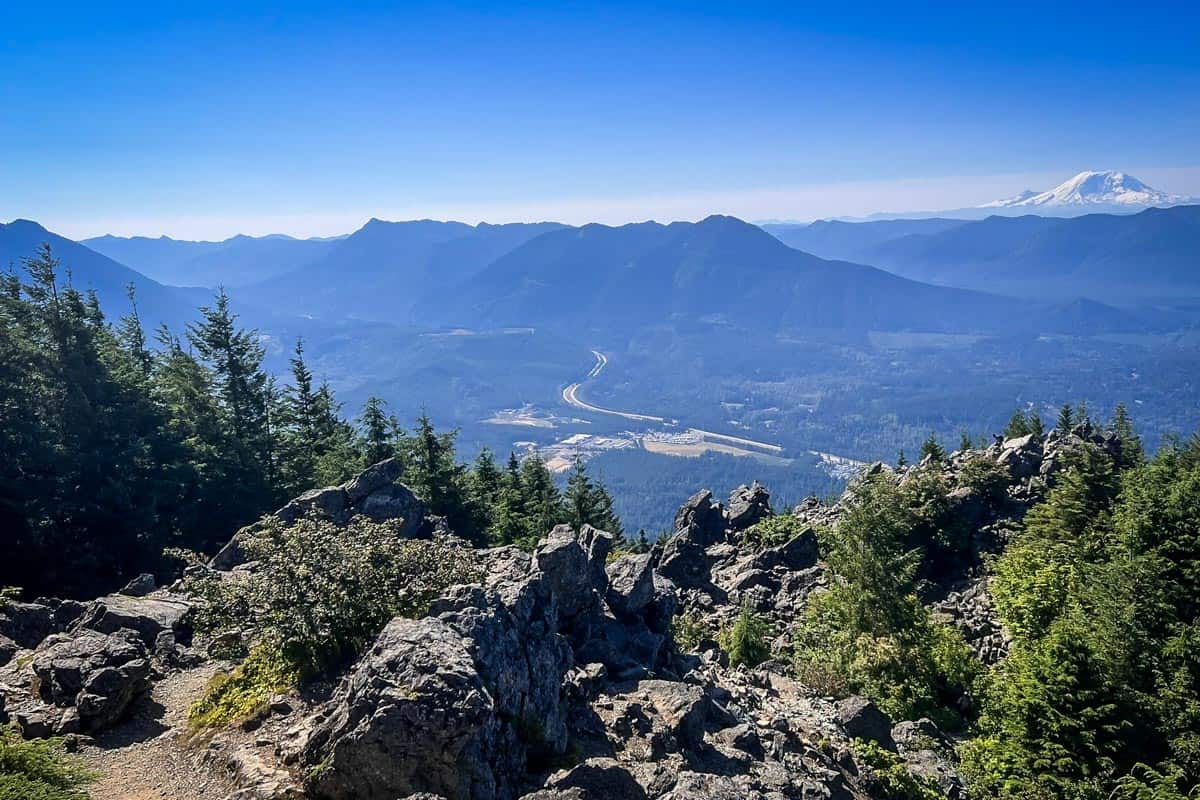 Not only is Mount Si one of the best hikes in Washington, it's one of the most challenging shorter hikes on this list! Admittedly, the bulk of this trail isn't particularly feature-rich — you mostly hike through view-less forest. It's the summit views you hike Mount Si for, staring out over the entire Snoqualmie Valley.
With tons of thigh-burning elevation gain in a shorter distance, lots of hikers use Mount Si to train for summiting Mount Rainier, so that gives a good indication about the difficulty of this trail.
Psst! Looking for a quick getaway from the city? Check out our entire roundup of best hikes near Seattle.

Easy hikes in Washington
Are you just getting started with hiking? Or perhaps you're looking for an easy hike that is family-friendly? We've got a few easy strolls here that you're sure to enjoy!
Psst! If you are a newbie to hiking and not sure where to start. Our friend Parker helped us put together a list of beginner hiking tips and essential info that has everything you need to know to feel comfortable hitting the trails!
26. Deception Falls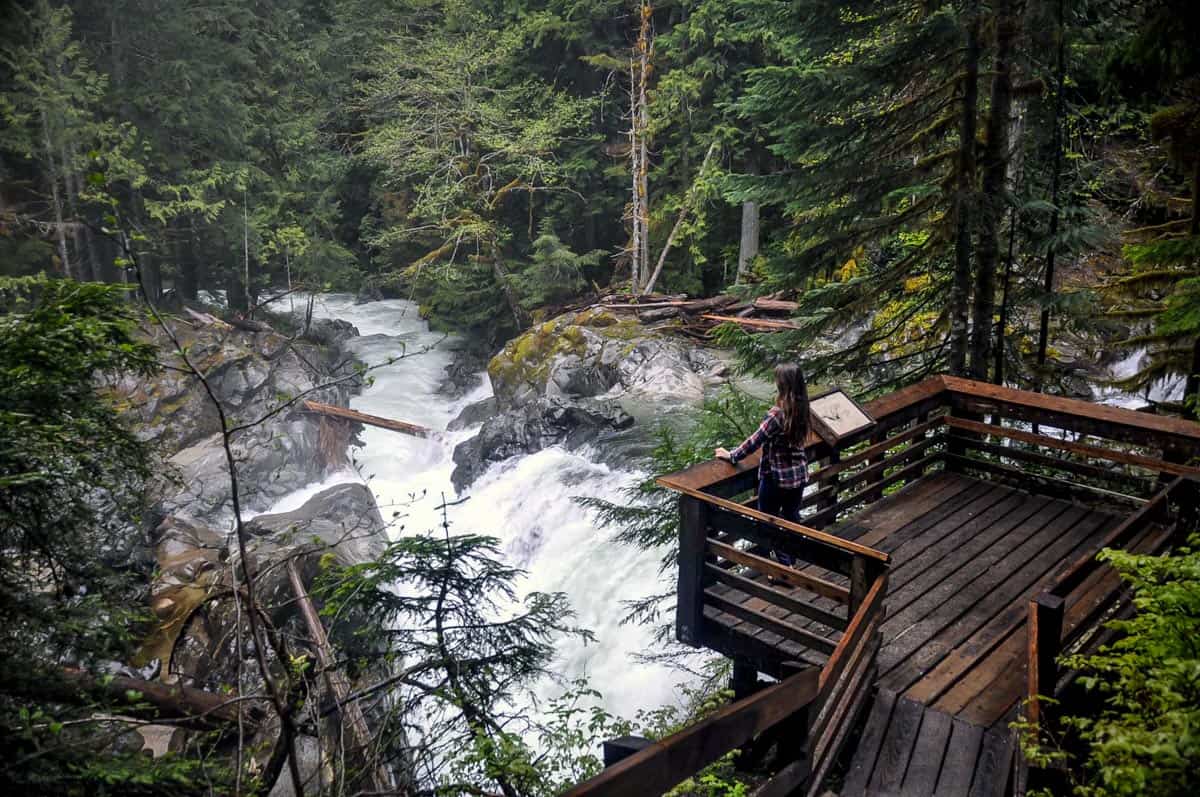 If you want to go on a stroll among beautiful greenery, picturesque waterfalls and a lovely forest, Deception Falls is a great place to visit. It's an epic place for both adults and kids to enjoy the woodlands. Strollers might not work here, but the trail is easy to walk.
Psst! Check out these other waterfalls near Seattle that make for great escapes from the city.
27. Big Four Ice Caves Trail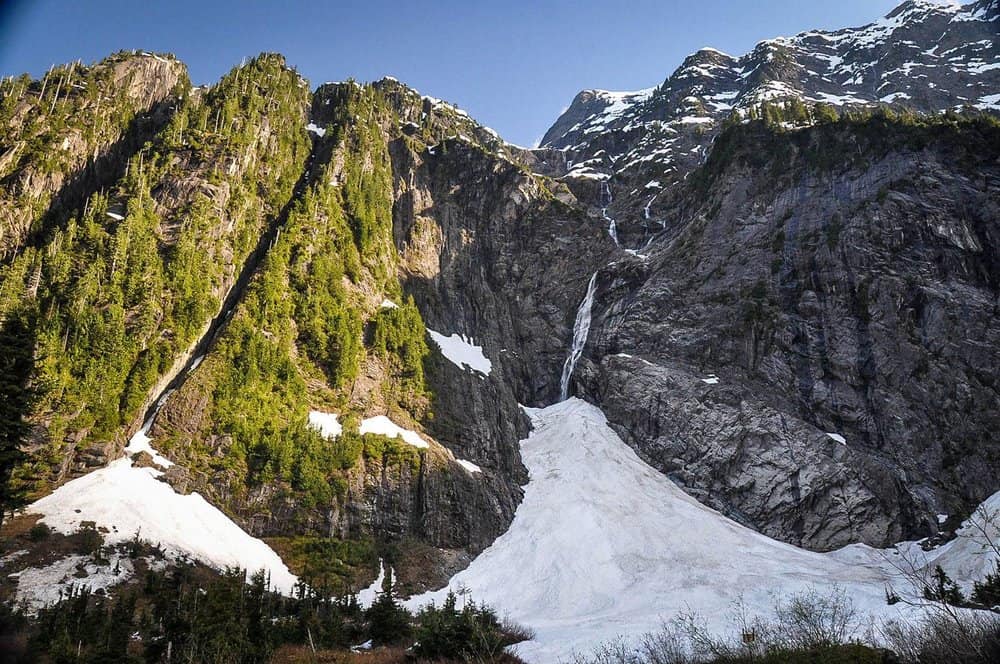 True to its name, Big Four Ice Caves Trail will take you across scenic terrain before finally reaching the unique ice caves. You'll pass by spectacular views of the Big Four Mountains, picnic tables, grassy fields, and even the ruins of a large chimney leftover from an old hotel.
If you're bringing your kids, be sure to keep an eye on them, especially near the caves.
28. Hall of Moss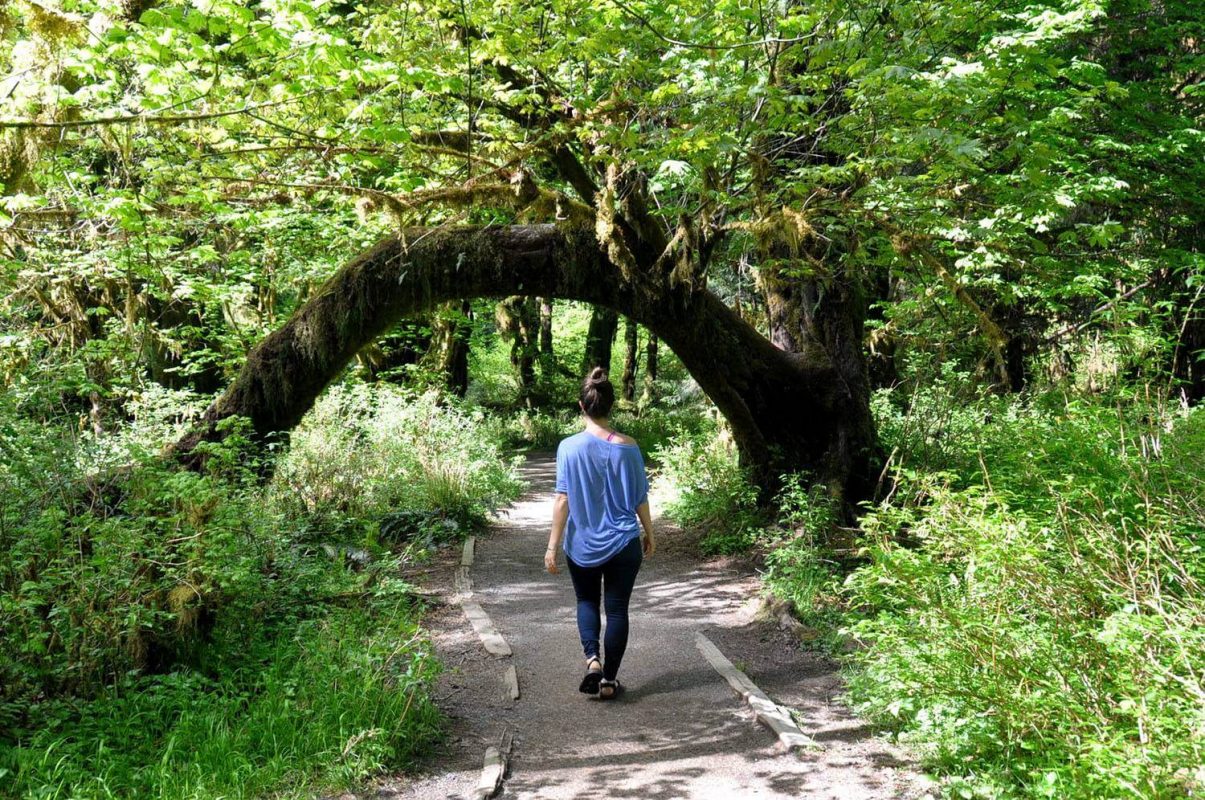 The Hoh Rainforest, Hall of Moss Trai is a busy trail going through a lush rainforest perfect for all skill levels. The trail features pretty wildflowers, blue creeks, club mosses, and all sorts of amazing flora. The rainforest is also home to one of our favorite campsites in Washington state, in case you're looking for someplace to stay.
29. Sol Duc Falls Nature Trail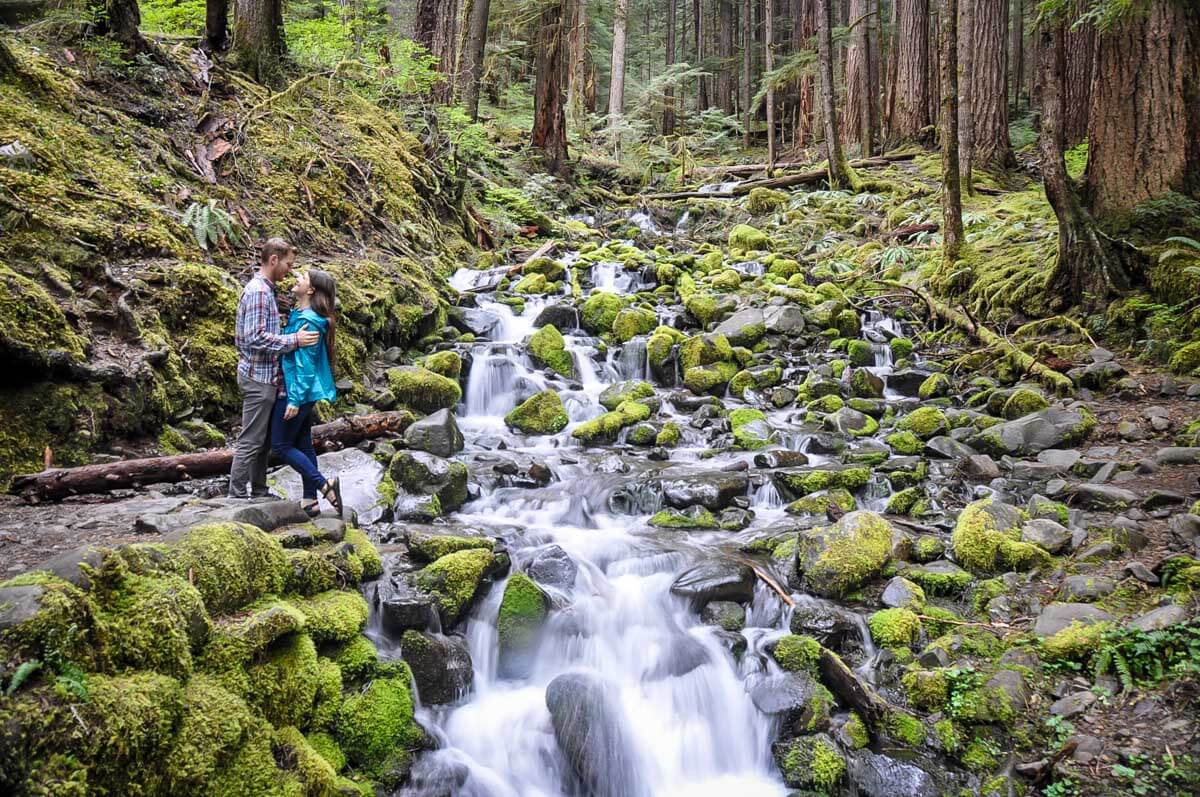 Possibly one of the most well-known waterfalls in Olympic National Park, Sol Duc Falls is a must-visit for the scenery alone. These stunning falls look like something out of Fern Gully (remember that movie?!).
The Nature Trail is a relaxing walk through the temperate rainforest. After an easy mile-and-a-half, you'll bump into the falls, a picturesque attraction with four separate waterfalls plummeting nearly 50 ft into the canyon below.
Psst! Want to rest your legs after a day of hiking? Why not treat yourself with a soak in nearby Sol Duc Hot Springs.
30. Franklin Falls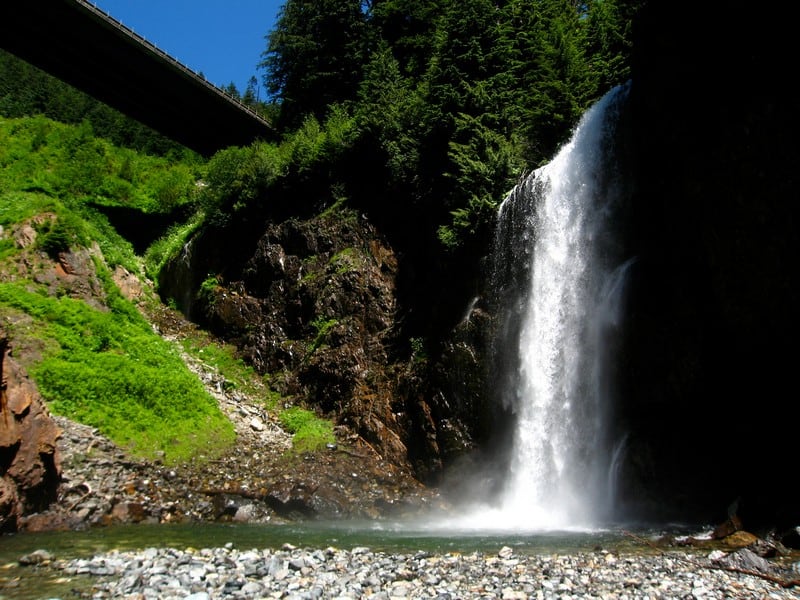 Another one of the waterfall hikes in Washington state is Franklin Falls. It's easily accessible with a wide parking lot and paved road. There are several stopping points along the trail and it makes a great hike any time of the year. Take a dip in the summer or snowshoe in the winter. It's up to you.
31. Icicle Gorge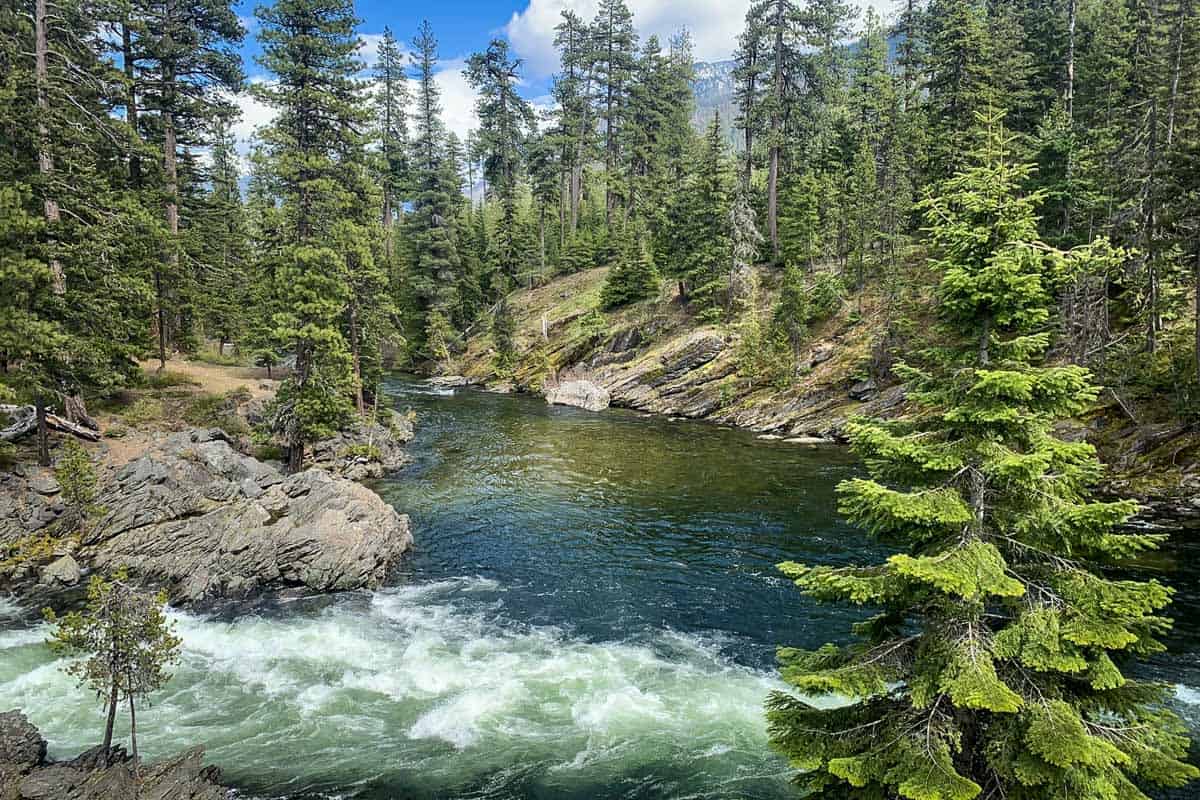 Not to be confused with Icicle Ridge (#4 on this list), Icicle Gorge is a great trail if you want to experience Icicle Valley without the high elevation gains. With its low elevation, Icicle Gorge is an easy hike great for both kids and adults. Here, you can go camping, or fishing and enjoy nature at its best.

Challenging-but-worth-it hikes in Washington
These thigh-burners are not for the novice hiker, but the experience is sure to be worth your while.
Psst! Check out our beginner's guide to backpacking for everything you need to know to prepare for your first backpacking trip.
32. Mount Pilchuck Lookout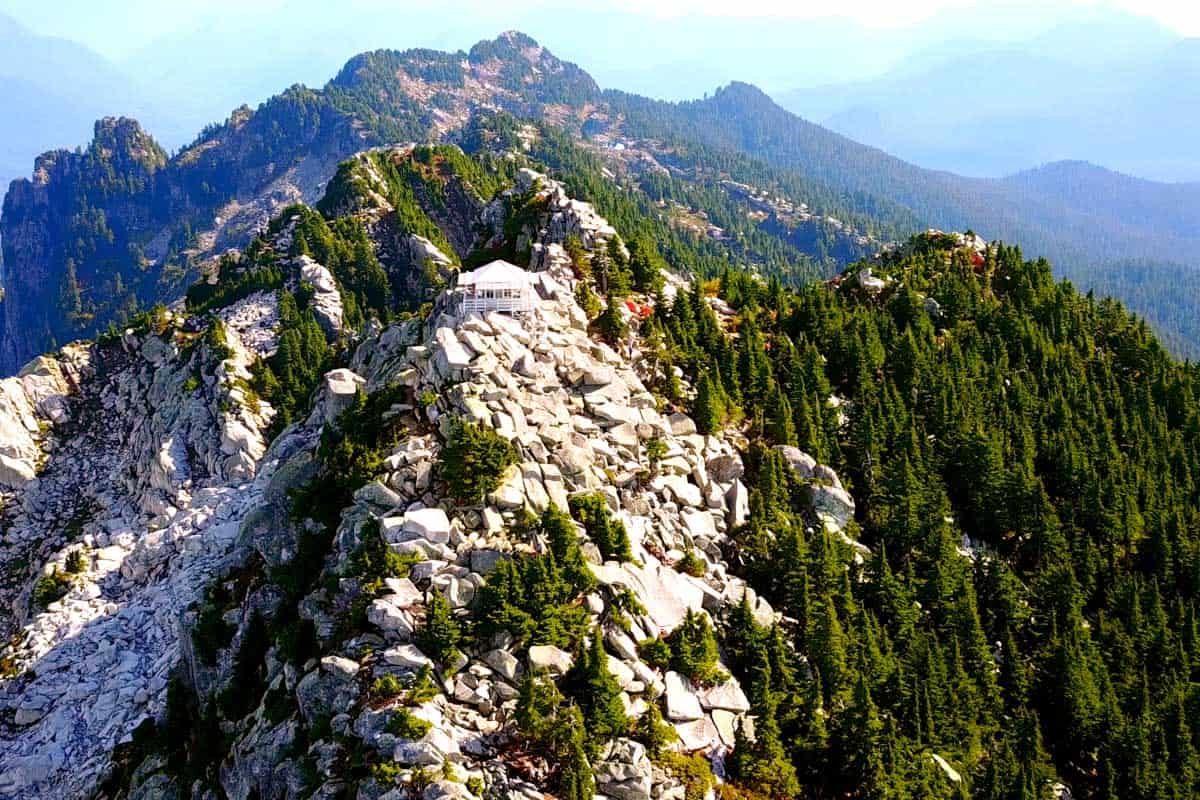 For years, volunteers have maintained the Mount Pilchuck Lookout. The trail is very popular so it's best to start hiking early. The trail features old-growth trees, and boulder fields. If you're into camping, you can camp overnight at the lookout tower (reservations are required!).
33. Skyline Trail Loop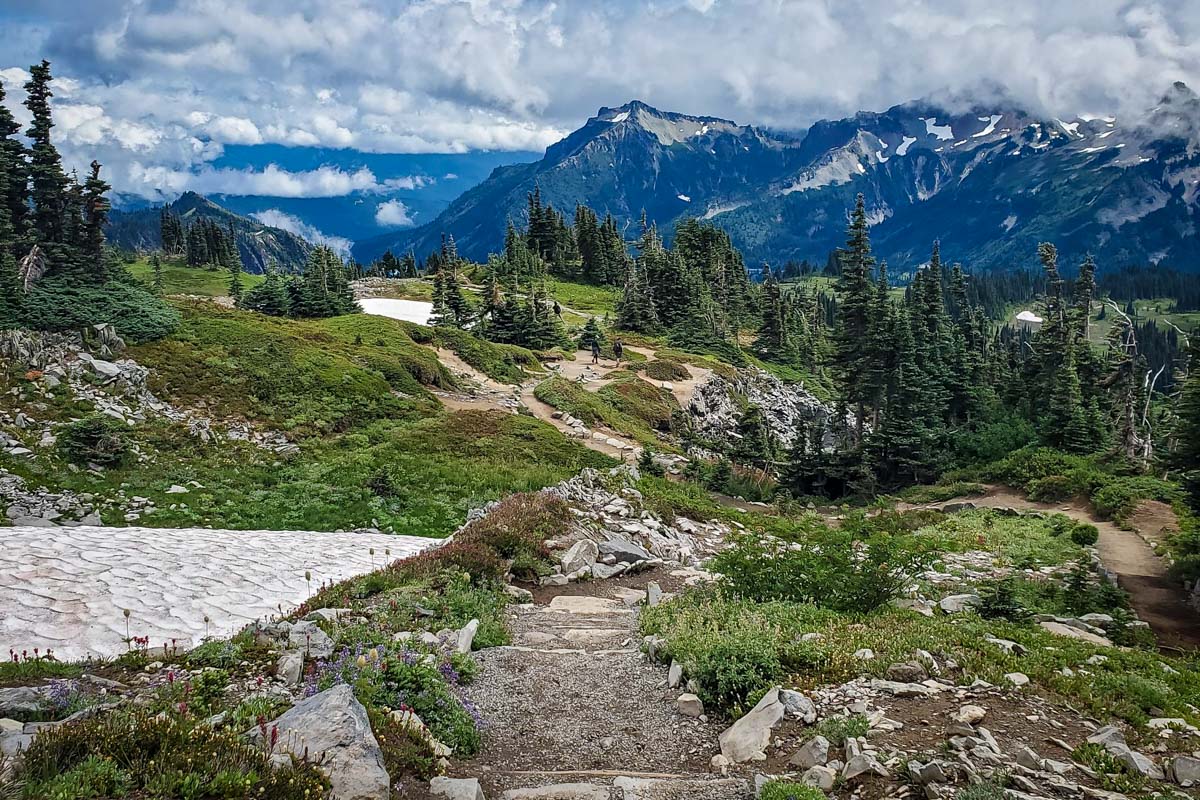 One of Washington's most beloved hiking areas, Skyline Trail Loop highlights why this region is called Paradise. The trail will feel different in each season. In late summer, expect abundant wildflowers and burrowing marmots. Cascading streams abound in spring, fall colors are vibrant in September, and winter brings a snowy wonderland.
Regardless of the season, the views at Panorama Point are truly breathtaking, showing off Mount Adams, Mount St. Helens, and on a clear day, even Mount Hood.
34. Dog Mountain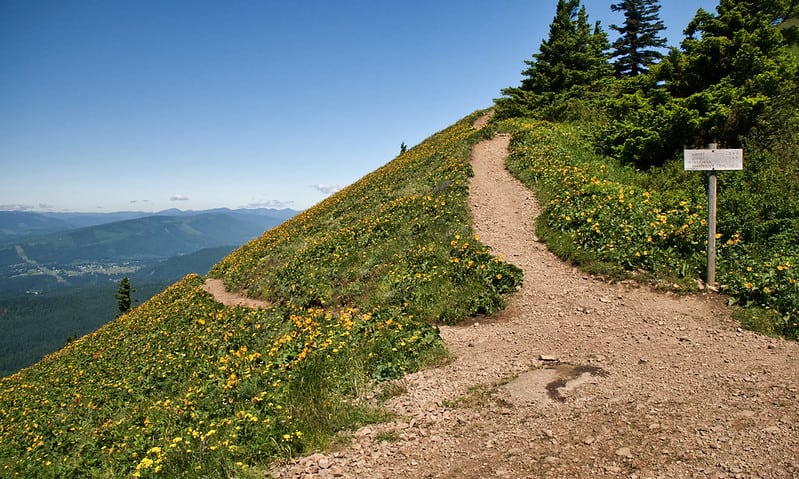 The springtime flowers and picturesque views are what makes Dog Mountain trail popular among hikers. You can easily see the Columbia River and Mount Hood from here. The trails are very steep so if you're planning a trip here, it's best to work on your perseverance and fitness before hiking.
35. Mount St Helens Summit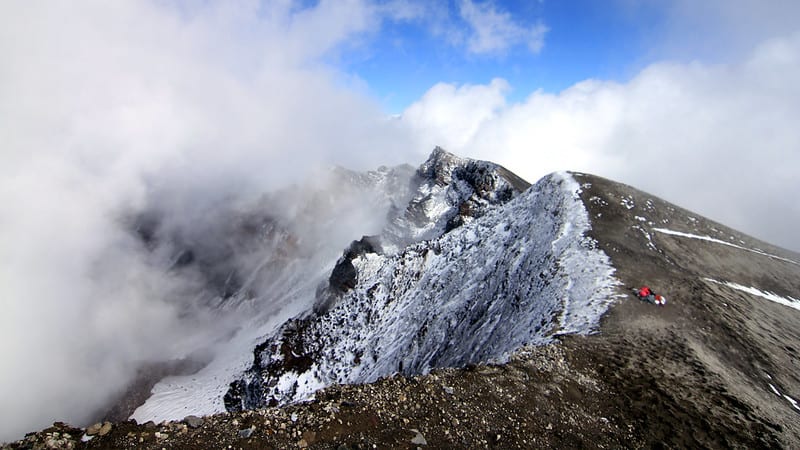 Mount Saint Helens is an active volcano that's popular for both experienced and beginning mountaineers. You can choose from the two primary routes. The Monitor Ridge route is best during summer while the Worm Flows route is best for winter. Before hiking, you first need to obtain a permit online.
36. Dirtyface Peak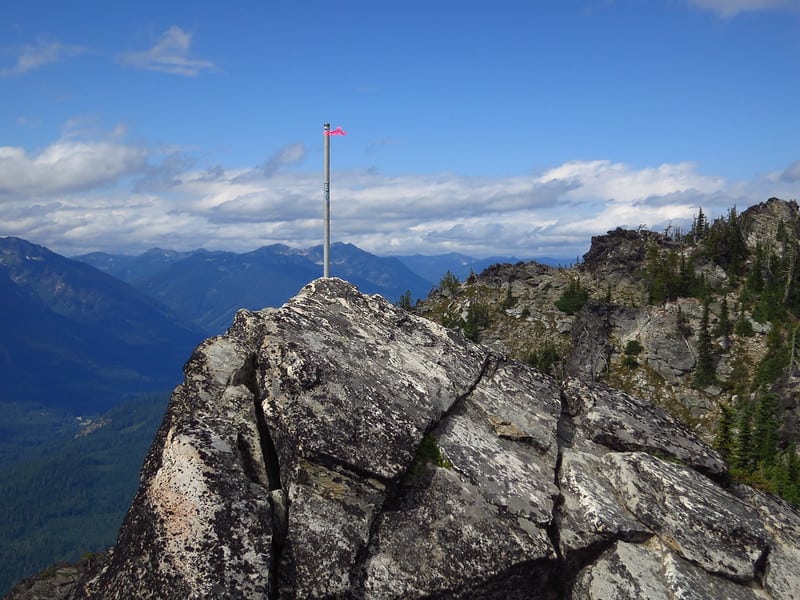 Dirtyface Peak offers a great workout with its many switchbacks and steep trails. This is a challenging hike from the trailhead to the top but it is well worth it! At the peak, you get 360 stunning panoramic views that will keep you coming back for more.
37. Gobblers Knob Lookout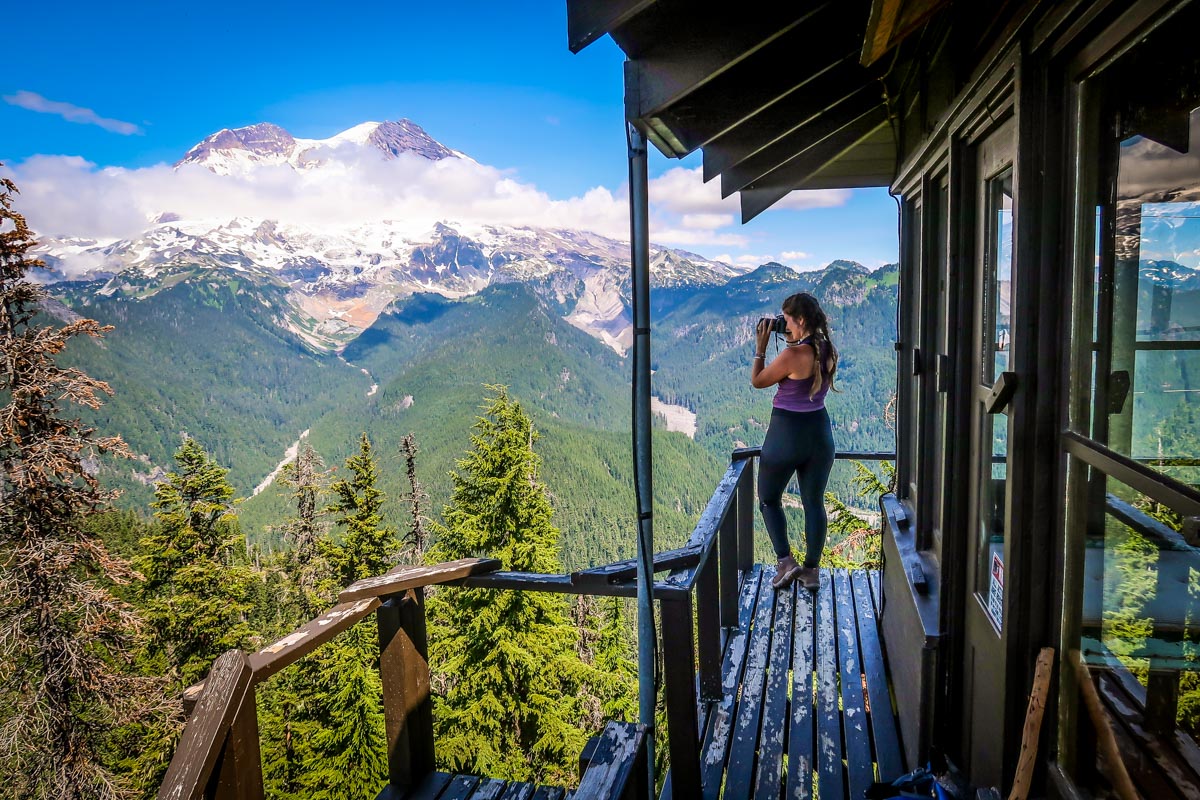 One of Mount Rainier 4 remaining fire lookout stations, Gobbler's Knob is a moderately challenging hike with major payoffs. Situated at 5,485-feet elevation, the fire lookout is the lowest of the 4 in the National Park.
To get to the trailhead, you'll have to hike (or bike) 3.8 miles of the closed Westside Road. The hike to the lookout includes some of the best views in the park. 
38. Royal Basin – Royal Lake Trail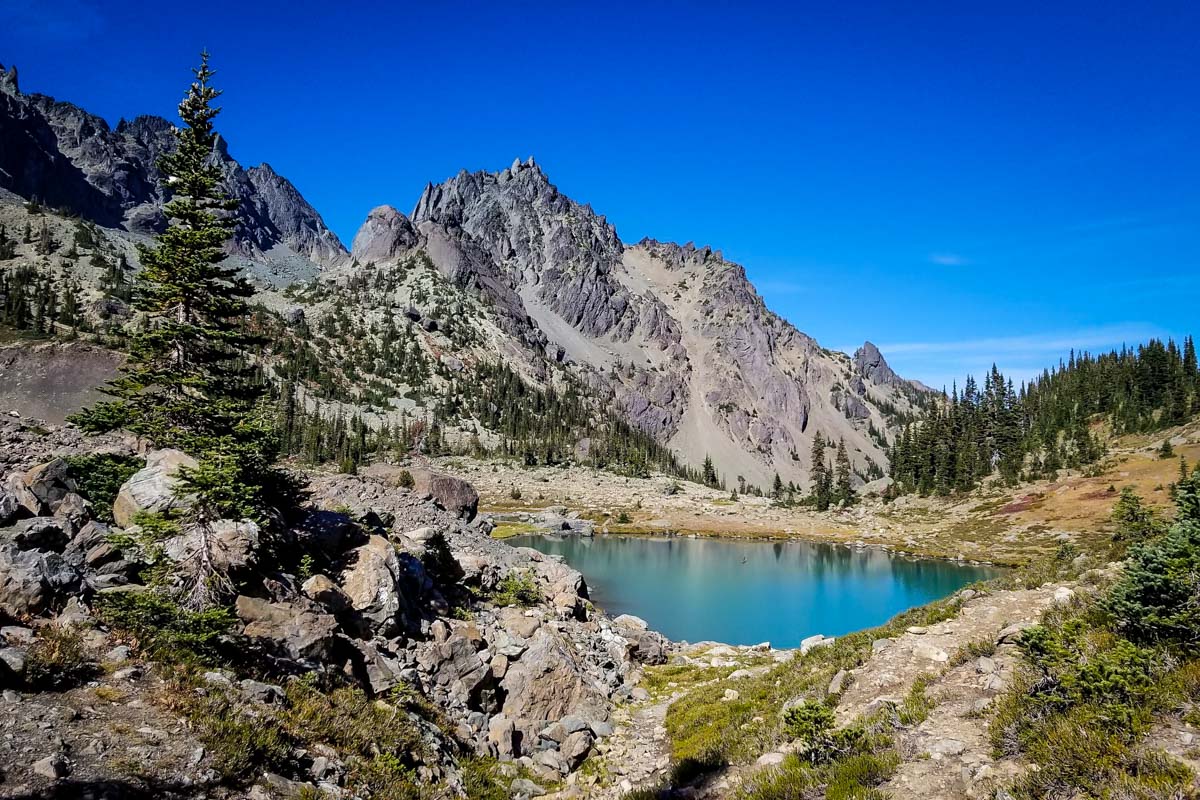 The high country of Upper Royal Basin in Olympic National Park is defined by rocky slopes, milky blue tarns and wildflower-dotted subalpine meadows flanked by 7,000-foot peaks. Topped off by one of the most beautiful and accessible waterfalls in the backcountry, hiking to Royal Basin Falls is one of the best little-known gems in the park.
The hike starts at the Upper Dungeness Trail and connects with the Royal Basin Trail after just about a mile. The nearly 16-mile hike takes stamina if it is to be completed as a day trip, and can easily be turned into an overnight backcountry hike if you obtain a camping permit.
39. Snow Lakes Trail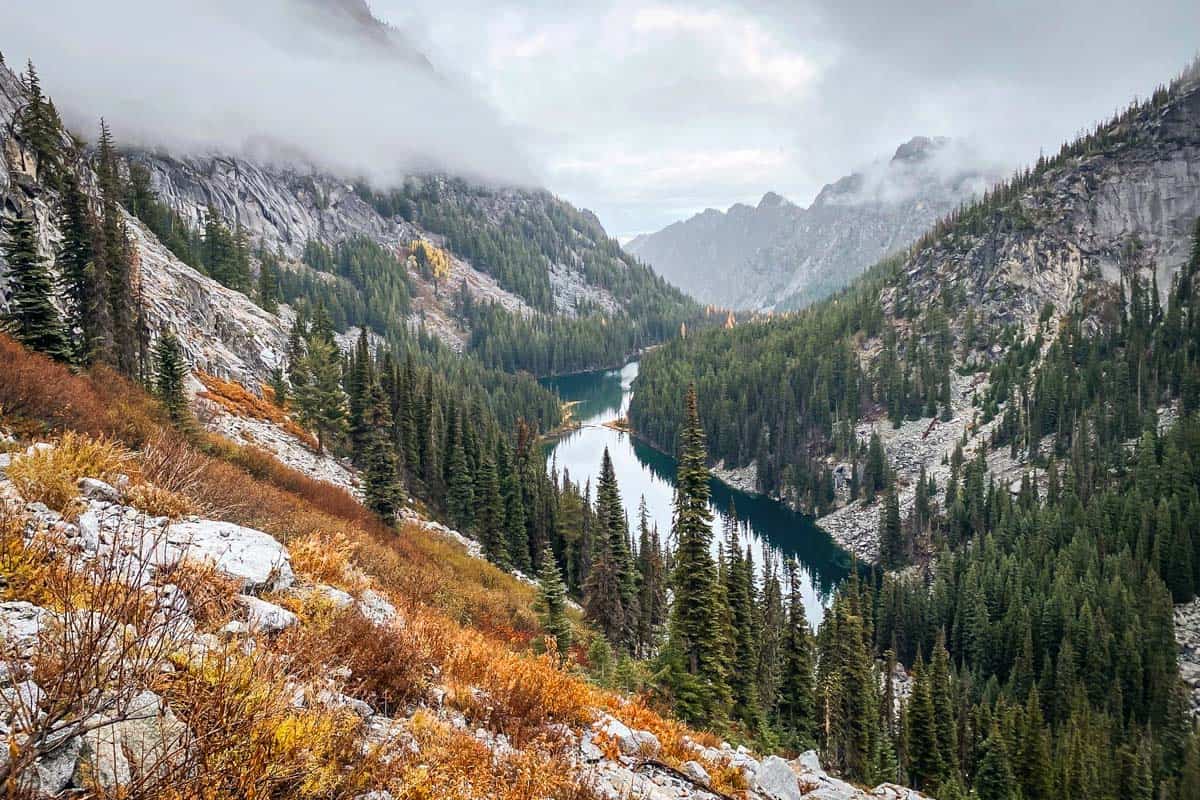 Best known as the "scenic" (i.e., long) route into The Enchantments, Snow Lakes Trail is one of the most beautiful all-day hikes near Leavenworth. It has a serious elevation gain of 4,560 feet and jaw-dropping scenery featuring several lakes, rivers, forest, and mountains.
Snow can be deep and dangerous during the winter and spring, so June-September are the best months for Snow Lakes Trail unless you are extremely confident in your hiking skills.
40. High Divide & Seven Lakes Basin Loop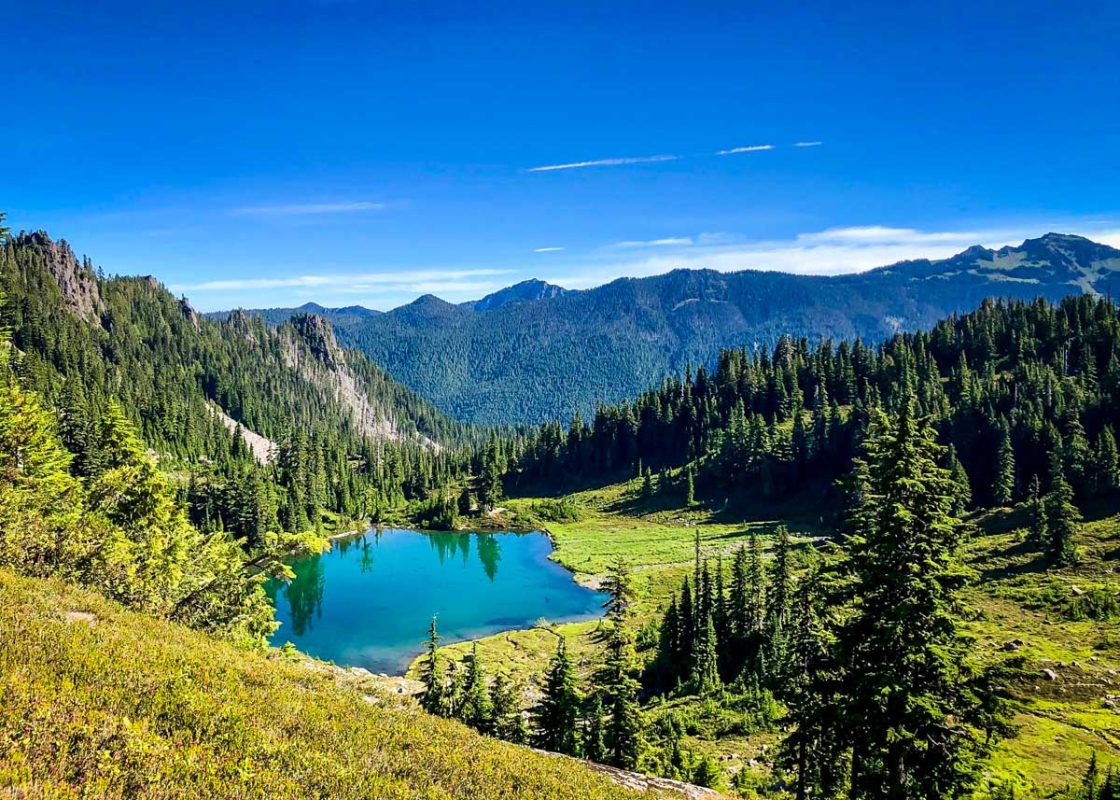 For a tranquil trail with idyllic scenery, take the High Divide Trail to the stunning subalpine basin known as Seven Lakes Basin. The basin itself has more than 7 lakes (who named this thing!?) and is teeming with wildlife from black bears roaming to mountain goats grazing. It's a picturesque place to spend a few nights in the backcountry if you want to get away from the crowds. (A wilderness permit will be required to camp overnight.)
41. The Enchantments Thru Hike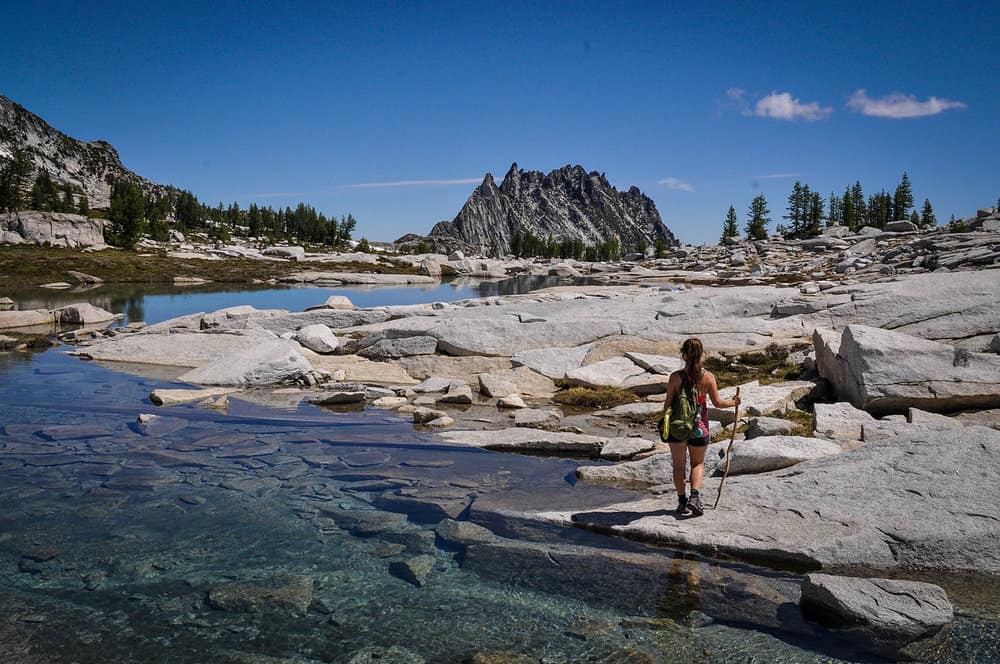 The Enchantments thru hike is an extraordinary trail that will take you to the best and most popular areas of the Enchantments Wilderness Area. You'll hike through challenging mountain passes, and get stunning views of peaks. You can choose to hike in either direction.
There is a lot of planning involved in making this hike happen, including pre-arranging transportation and a tricky permit lottery. Check out our guide to hiking the Enchantments for all the info you need to plan your hike.
42. Wonderland Trail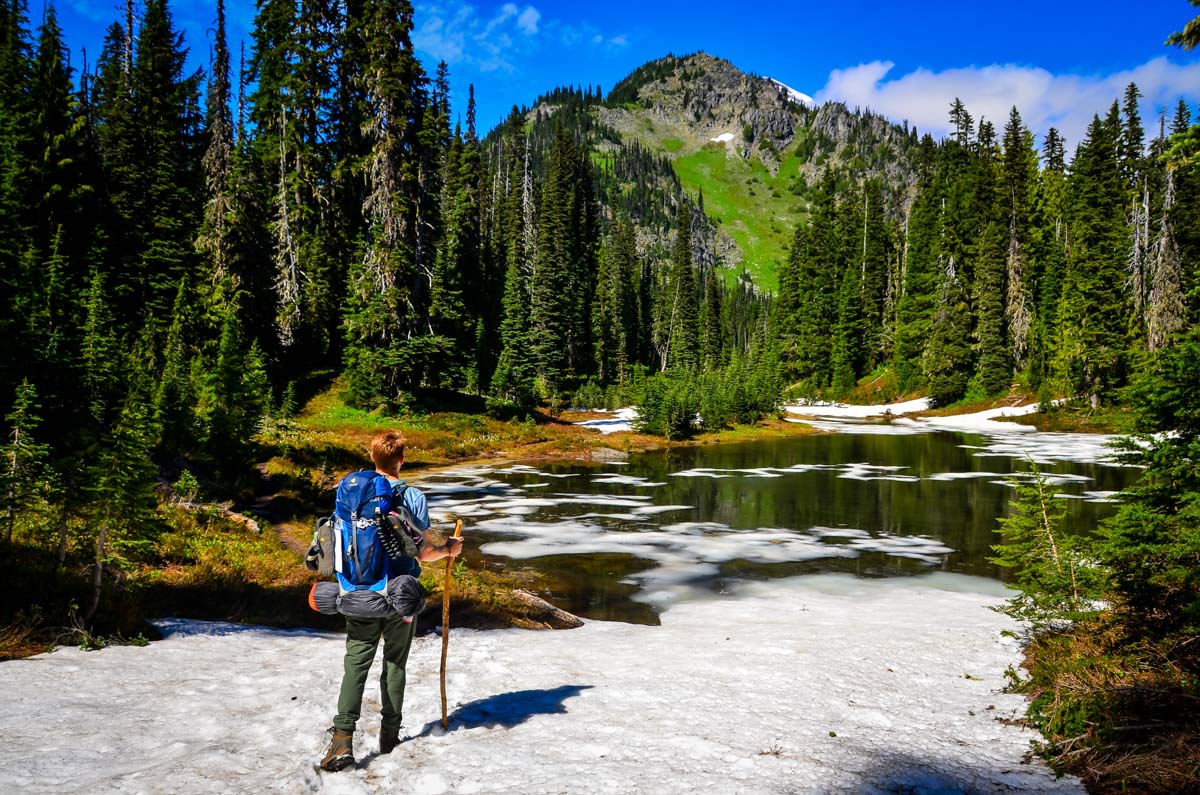 This is one truly epic, infamous backpacking trip around Mount Rainier. Most hikers take between 5-15 days to complete the loop around the mountain, which features an average elevation gain of 3,000 feet daily.
It's a grueling test and not one we've completed ourselves. Permits are hard to get and logistics need advance planning, but plenty of friendly park personnel are willing to help.
Check out our Wonderland Trail hiking guide for all the info you need to plan your hike.

Washington Coast Hikes
Being that Washington state has 157 miles of coastline, we figured we'd include some epic coastal hikes on this list.
43. Shi Shi Beach Trail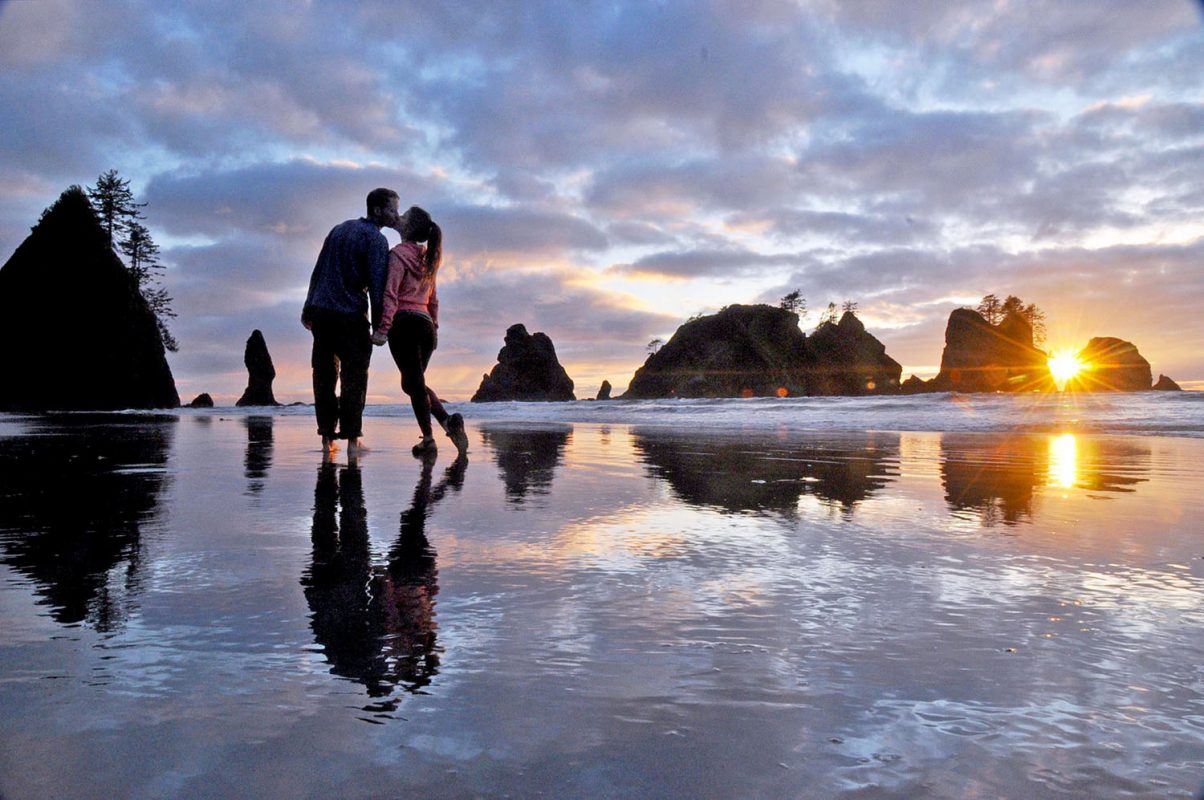 Shi Shi Beach is a great hike near Port Angeles. It features a beautiful forest and a steep descent down to the coast where you'll get a majestic view of the ocean. During rainy days, the trail can get really muddy (and slippery) so be sure to use poles, boots or shoes with good tread.
Being that it is quite a trek, we'd recommend a stop here only if you are camping overnight, or if you intend to spend the whole day exploring. Over on our sister site, we put together an entire guide to camping on Shi Shi Beach with everything you need to know.
44. Ruby Beach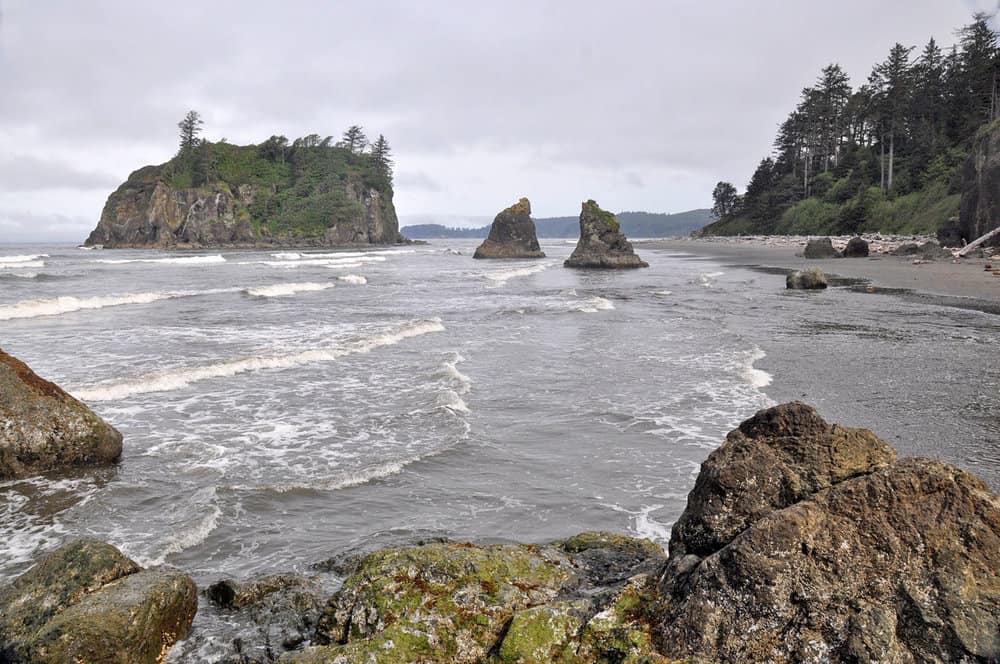 Most people say Ruby Beach is the most beautiful beach in Washington state. With its remote location and proximity to Quinault and Hoh Rainforest, you've got yourself a perfect itinerary full of adventure and exploration! Ruby beach provides scenery of driftwood piles, tidepools, and sea stacks.
45. Second Beach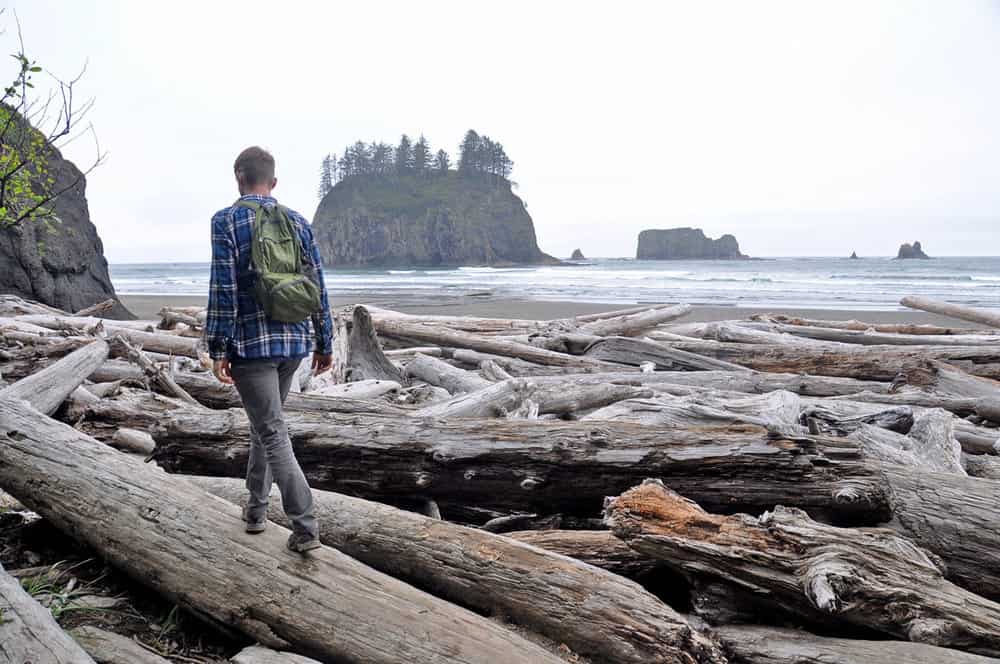 Another fun beach trail on the Olympic Peninsula is Second Beach. This is one of the most compelling beaches to visit near Olympic National Park. The hike will take you to stunning ocean views, sea stacks, and opportunities to see bald and golden eagles, as well as sea otters and seals.
46. Cape Disappointment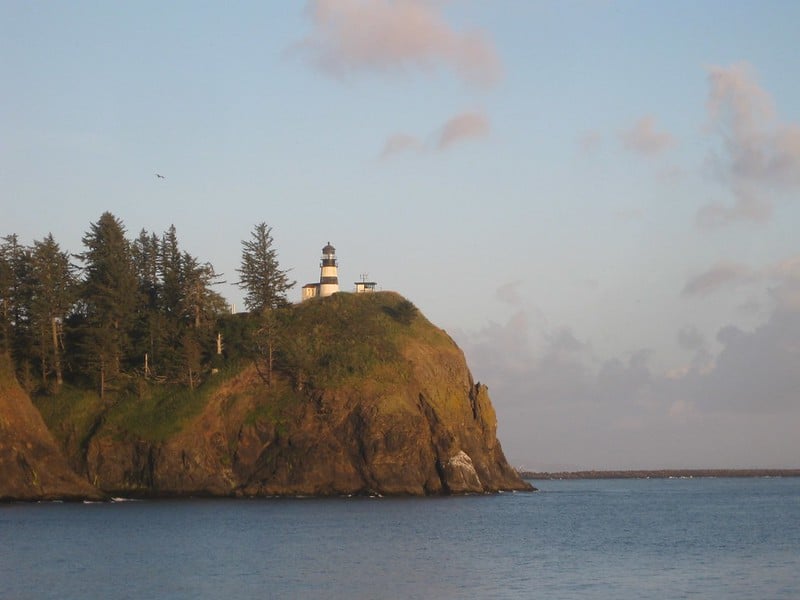 Despite its name, the Cape Disappointment trail is one of the most fun hikes in Washington. The view from the lighthouse is incredible. The easy trail makes a perfect hike for families with kiddos and seniors alike, plus the scenery is totally worth it!
47. Dungeness Spit
Dungeness Spit is a rewarding hike that offers breathtaking views, abundant wildlife, and rich maritime history. This trail of natural sand spit stretches for around seven miles. Before starting your hike, make sure to check the tides and pack enough food and water.
If you love bird watching, you'll surely want to keep coming back to Dungeness Spit for its abundance of birds, as well as marine and land mammals you may see while hiking.

Off the beaten path hikes in Washington
Looking for a peaceful respite from the crowds? Check out some of our favorite off the beaten path hikes in Washington state.
48. Enchanted Valley Trail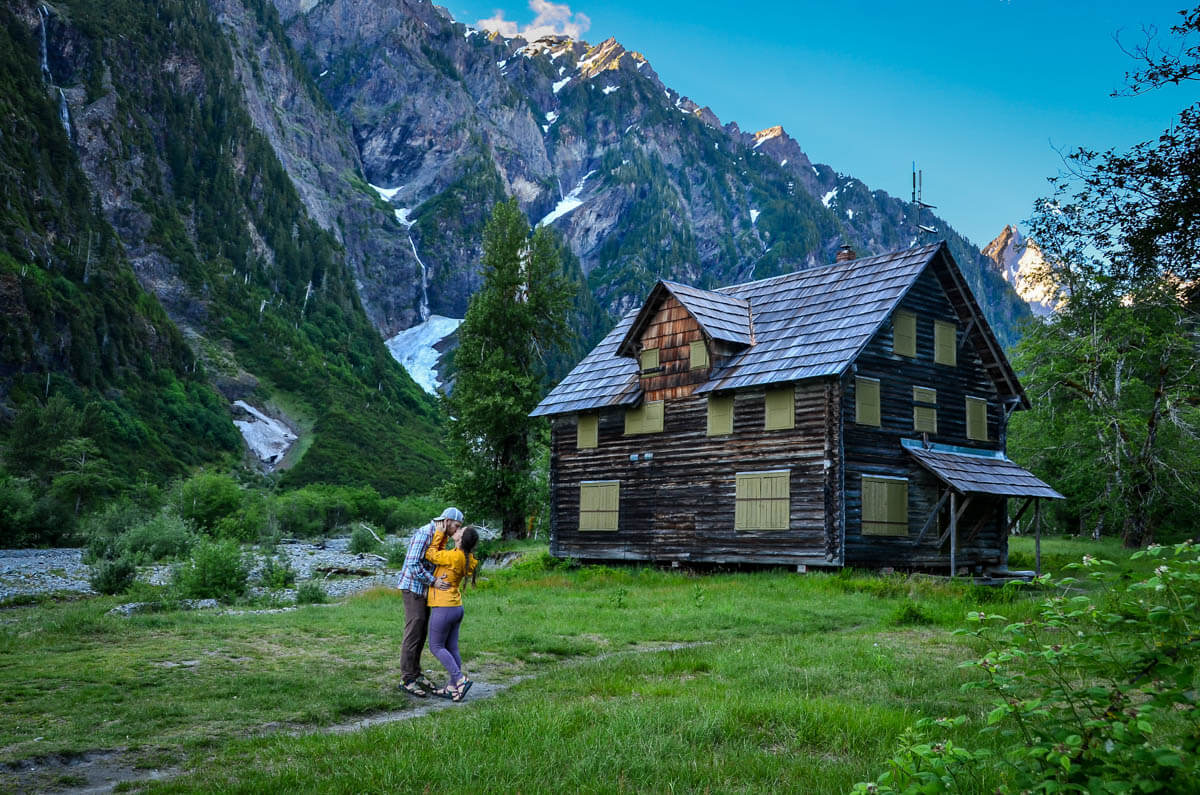 Aptly named, the multi-day Enchanted Valley backcountry hike will take you through lush, old growth forests, across rustic bridges scaling the river below, and ultimately to a majestic wide open valley.
Check out our Enchanted Valley hiking guide for all the info you need to plan your hike.
49. Tuck & Robin Lakes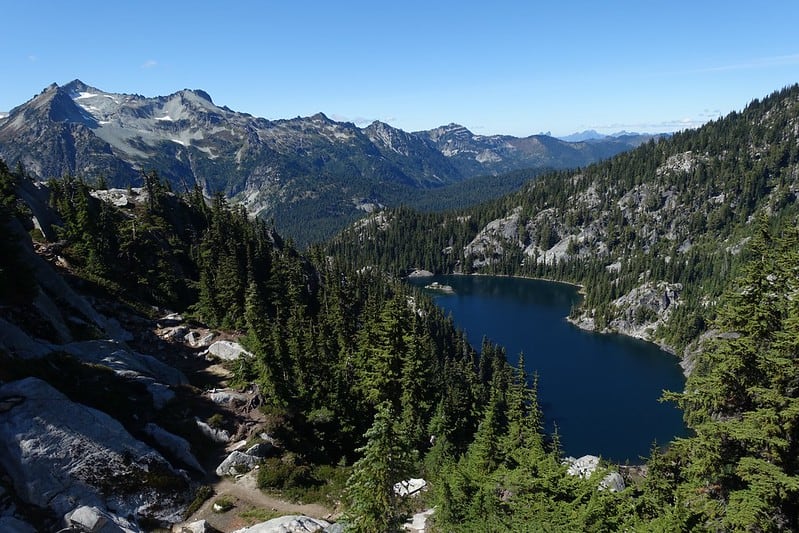 If you're looking for off the beaten path hikes in Washington, don't miss Tuck and Robin Lakes! Robin lakes has been compared to the Enchantments and is even known as the "little Enchantments." This trail is famous for its alpine lakes, endless granite, and breathtaking views of Cathedral Rock and Mount Daniel.
50. Sauer's Mountain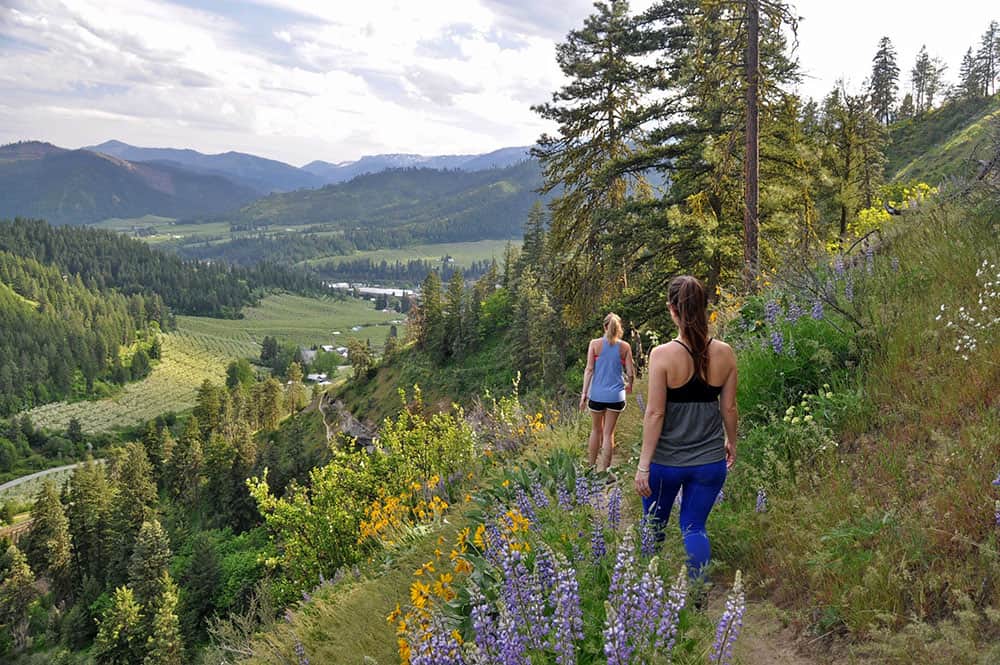 The best time to hike Sauer's Mountain is in mid-May to see the wildflowers in bloom. The trail begins on private land where you might encounter Mr. Sauer, the landowner. You'll most likely find him selling wine from his family's winery.
Do come prepared and buy some or leave a generous tip/donation in the wooden box. It is, after all, Mr. Sauer's family who built and maintained the trail on their own property.
The trail is quite narrow in several parts. But the views at the top of the mountain, the forest and wildflowers are worth the hike!

What to pack for hiking in Washington state
Although hikes in Washington state vary tremendously and there are several easy trails, you'll still want to have some key items in your pack.
Be sure to grab our ultimate hiking packing list includes our must-have gear for any hiking trail!


You may also like…
Planning to hike in Washington? Save this post to Pinterest for later!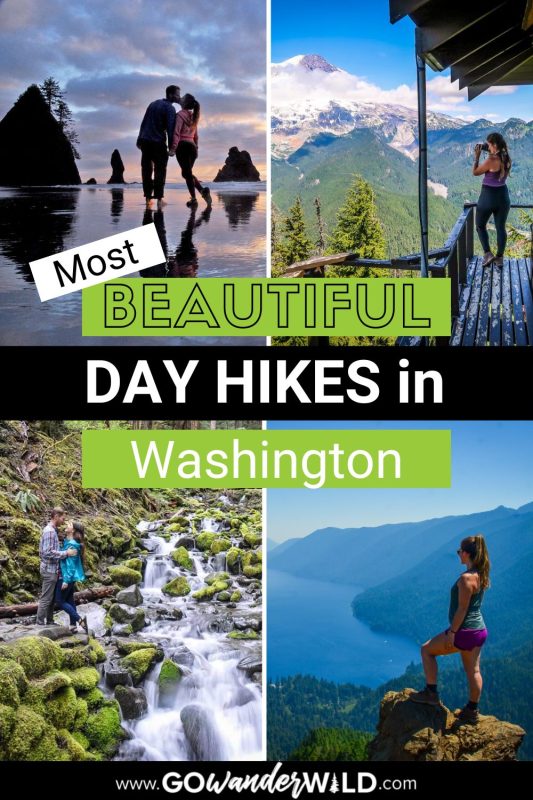 We want to hear from you…
What hikes in Washington do you love the most? Are there any we should add to this list? Let us know in the comments below!