Check out our curated list of the 100 best adventure quotes to reignite your passion and inspire your next adventure. We've even included quote graphics to save for later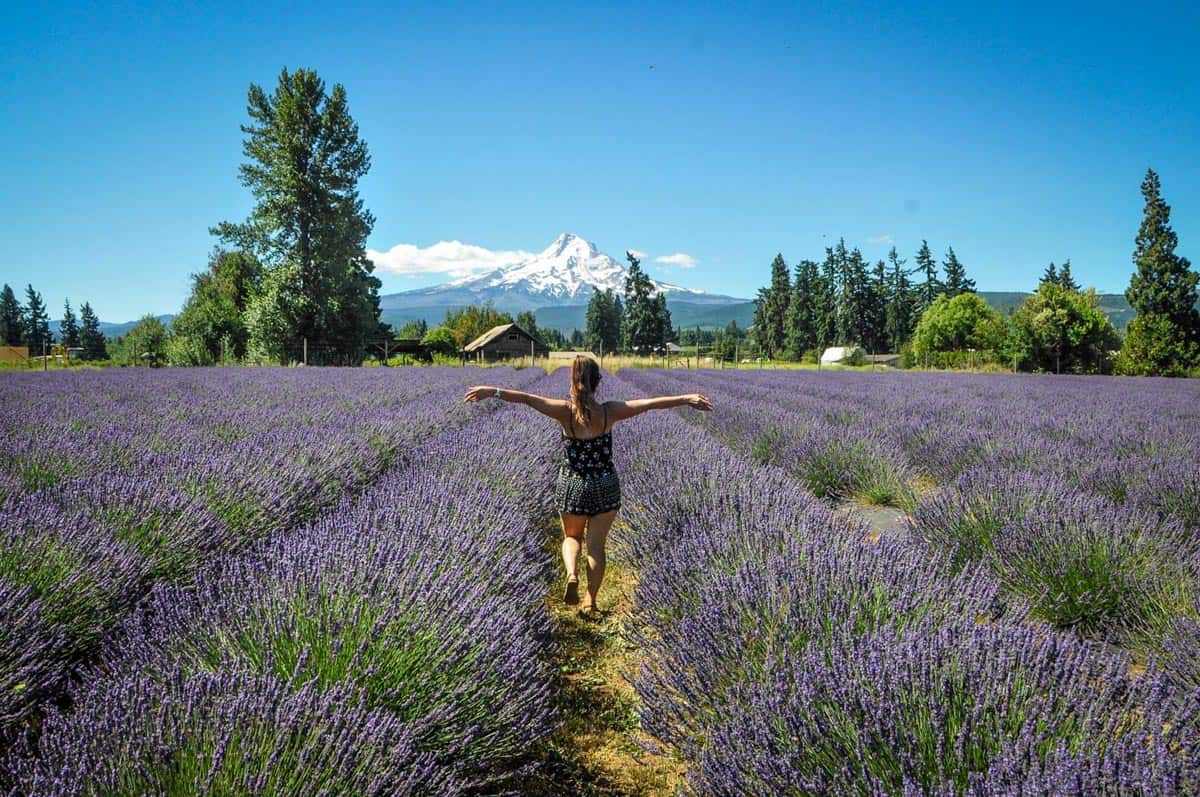 Finding a quote that resonates with your soul is a pretty special feeling. It's that knowing that someone else has been where you are and has felt what you feel. Impactful quotes can make us feel connected in a pretty unique way.
Maybe it speaks to a situation you're currently going through, maybe it sheds light on a whole new way of looking at life, or maybe it inspires you in a way you can't quite explain.
That's why we have curated a list of the 100 most inspirational adventure quotes to reignite your flame and passion for getting outside, embracing your own journey, and traveling into the unknown.
From century old writings to modern-day celebrities, we hope you find a few pieces of writing in this diverse list of adventure quotes that speak to you. We hope you're inspired and uplifted, and we hope these quotes will motivate you to tread into unknown waters and to let adventure shape your life.
Be sure to pin your favorite quotes so you can come back to this article anytime you need a little inspiration!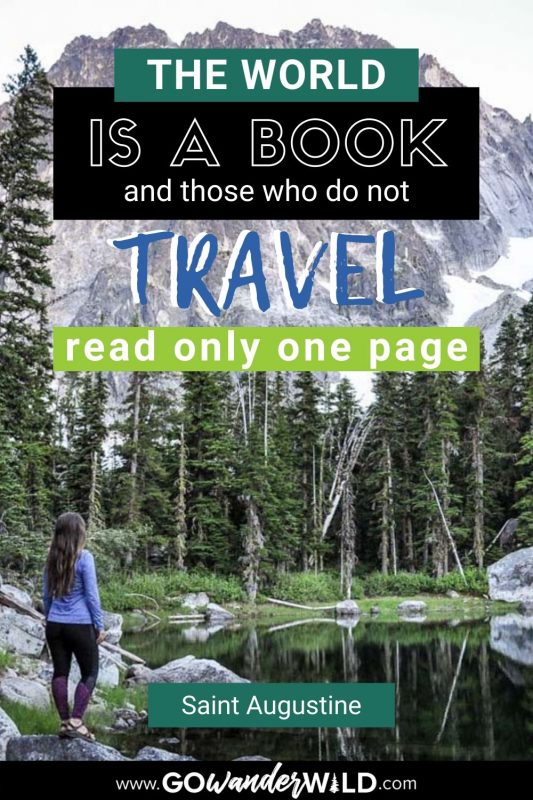 1. "The world is a book, and those who do not travel read only one page." –Saint Augustine
2. "Live your life by a compass, not a clock." –Stephen Covey
We live in an age where everything is fast-paced and everyone is constantly on the move. When planning an adventure, some people feel pressured because they think in terms of time. But this quote helps push those anxieties away by saying there is no way to live by a clock. So live by a compass instead.
3. "I went to the woods because I wished to live deliberately, to front only the essential facts of life, and see if I could not learn what it had to teach, and not, when I came to die, discover that I had not lived." –Henry David Thoreau
4. "You cannot swim for new horizons until you have the courage to lose sight of the shore." –William Faulkner
5. "There is freedom waiting for you, on the breezes of the sky, and you ask 'What if I fall?' Oh but my darling, What if you fly?" ― Erin Hanson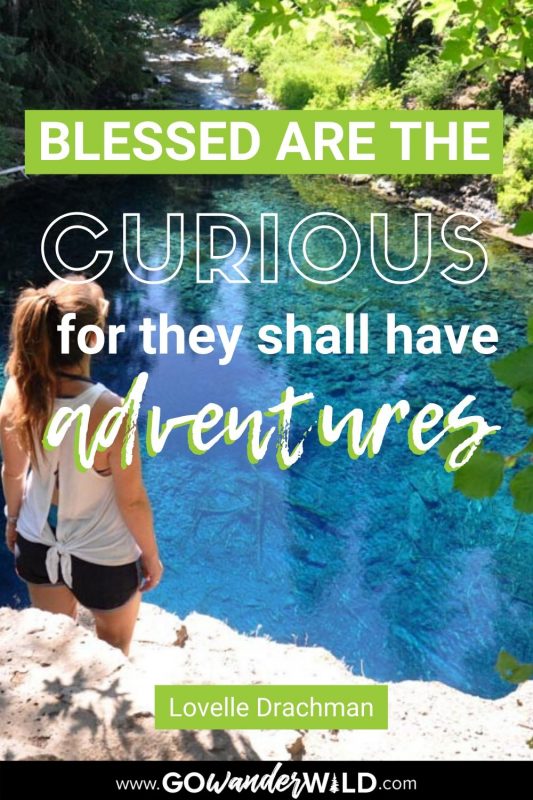 6. "Blessed are the curious for they shall have adventures." –Lovelle Drachman
7. "There is always a time for departure even when there is no certain place to go." –Tennessee Williams
Tennessee Williams was the voice of Southern playwrights for a long time because his shows made him very famous. This quote from him just resonates because it is so powerful and simple. He's telling you that even if you don't know where you're going, there is always a time to leave so take the leap.
8. "It matters not how straight the gait, How charged with punishments the scroll; I am the master of my fate: I am the captain of my soul." –W.E. Henley
9. "Earth and sky, woods and fields, lakes and rivers, the mountain and the sea, are excellent schoolmasters, and teach some of us more than what we could learn from books." –John Lubbock
10. "Don't be afraid to fail. Be afraid not to try." –Michael Jordan
11. "Life moves pretty fast. If you don't stop and look around very once in a while you could miss it." –Ferris Bueller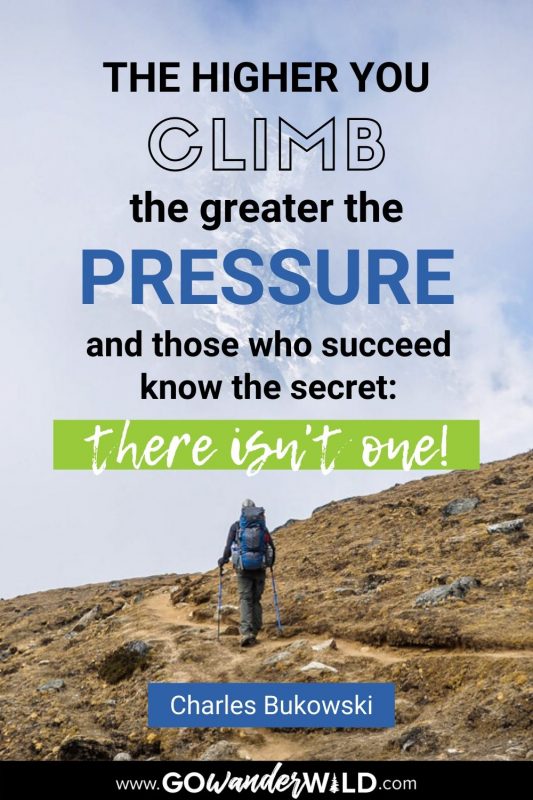 12. "The higher you climb, the greater the pressure…and those who succeed know this secret: there isn't one." –Charles Bukowski
13. "A person should set his goals as early as he can and devote all his energy and talent to getting there. With enough effort, he may achieve it. Or he may find something that is even more rewarding. But in the end, no matter the outcome, he will know he has been alive." –Walt Disney
Psst! Check out our USA National Park Checklist & Guide to help plan your next big adventure!
14. "A ship is safe in harbor, but that's not what ships are for." –John A. Shedd
15. "A journey, after all, neither begins in the instant we set out nor ends when we have reached our doorstep once again. It starts much earlier and is really never over because the film of memory continues running on inside of us long after we come to a physical standstill. Indeed, there exists something like a contagion of travel, and the disease is essentially incurable." –Ryszard Kapuciski
Gearing up on a budget? No problem! We've put together an article with all of our tips for finding discounted outdoor gear and apparel.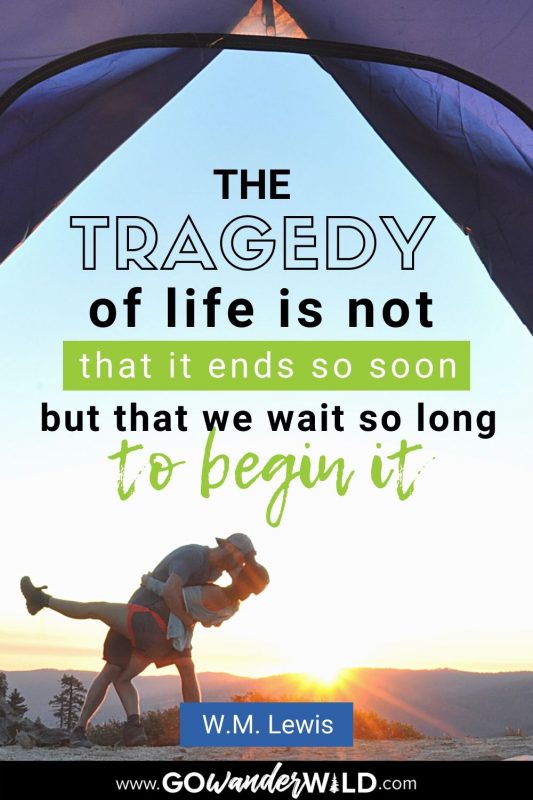 16. "The tragedy of life is not that it ends so soon, but that we wait so long to begin it." –W.M. Lewis
17. "The impulse to travel is one of the hopeful symptoms of life." –Agnes Repplier
18. "I find age such a foreign concept. I have to be reminded. I still have the extraordinary feeling of adventure, striking out into unknown fields." –William Shatner
19. "I now walk into the wild." –Jon Krakauer
20. "Climb the mountain not to plant your flag, but to embrace the challenge, enjoy the air and behold the view. Climb it so you can see the world, not so the world can see you." –David McCullough Jr.
As inspiring as all of these quotes are, this one really hits home on what to expect out of your travels. We live in a world of boasting and posting on social media all of your accomplishments. But this quote helps remind you that no matter what adventure you search for, make sure your purpose is for learning and growing. An adventure taken simply to show off to others is not a real one.
21. "The journey not the arrival matters." –T.S. Eliot
Psst! If you love adventure quotes, check out these epic quotes about mountains to inspire you further!
22. "You thought too hard. Same with travel. You can't work too much at it, or it feels like work. You have to surrender yourself to the chaos. To the accidents." –Gayle Forman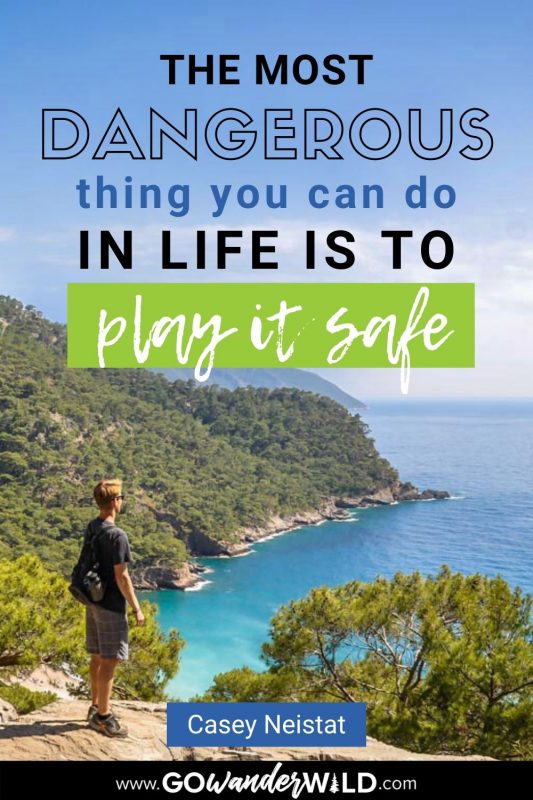 23. "The most dangerous thing you can do in life is to play it safe." –Casey Neistat
Whether you feel moved by centuries old wisdom or from your favorite celebrities, there are adventure quotes to inspire from anyone. Casey Neistat is a YouTube celebrity who has inspired us to go on a journey. This quote ignites a passion to tread into unknown waters because the most dangerous thing for your life is to stay at home. This quote is sure to help you take the leap and sail from the shore.
24. "A man practices the art of adventure when he breaks the chain of routine and renews his life through reading new books, traveling to new places, making new friends, taking up new hobbies and adopting new viewpoints." –Wilfred Peterson
25. "With age, comes wisdom. With travel, comes understanding." –Sandra Lake
26. "We travel not to escape life, but for life not to escape us." –Unknown
27. "We travel because we need to, because distance and difference are the secret tonic to creativity. When we get home, home is still the same. But something in our mind has been changed, and that changes everything." –Jonah Lehrer
28. "Tourists don't know where they've been, travelers don't know where they're going." –Paul Theroux
29. "Conventional wisdom tells us…we take our baggage with us. I'm not so sure. Travel, at its best, transforms us in ways that aren't always apparent until we're back home. Sometimes we do leave our baggage behind, or, even better, it's misrouted to Cleveland and is never heard from again." –Eric Weiner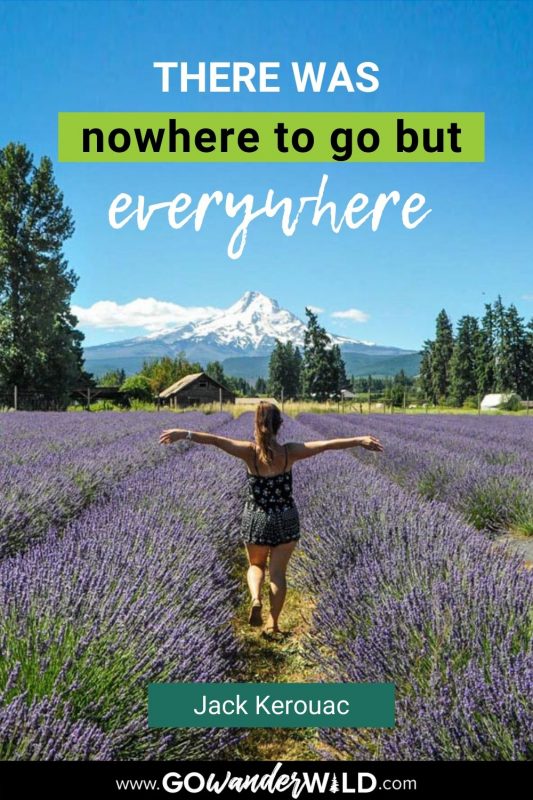 30. "There was nowhere to go but everywhere, so just keep on rolling under the stars." –Jack Kerouac
31. "Travel opens your heart, broadens your mind and fills your life with stories to tell." –Paula Bendfeldt
32. "Wherever you go, go with all your heart." –Confucius
33. "Traveling is a brutality. It forces you to trust strangers and to lose sight of all that familiar comforts of home and friends. You are constantly off balance. Nothing is yours except the essential things. Air, Sleep, Dream, the sea, the sky – all things tending towards the eternal or what we imagine of it." –Cesare Pavese
34. "If you think adventure is dangerous, try routine; It is lethal." –Paolo Coelho
35. "A journey of a thousand miles begins with a single step." –Lao Tzu
36. "We must go beyond textbooks, go out into the bypaths and unhidden depths of the wilderness and travel and explore and tell the world the glories of our journey." –John Hope Franklin
37. "Travel is fatal to prejudice, bigotry, and narrow-mindedness, and many of our people need it sorely on these accounts. Broad, wholesome, charitable views of men and things cannot be acquired by vegetating in one little corner of the earth all one's lifetime." –Mark Twain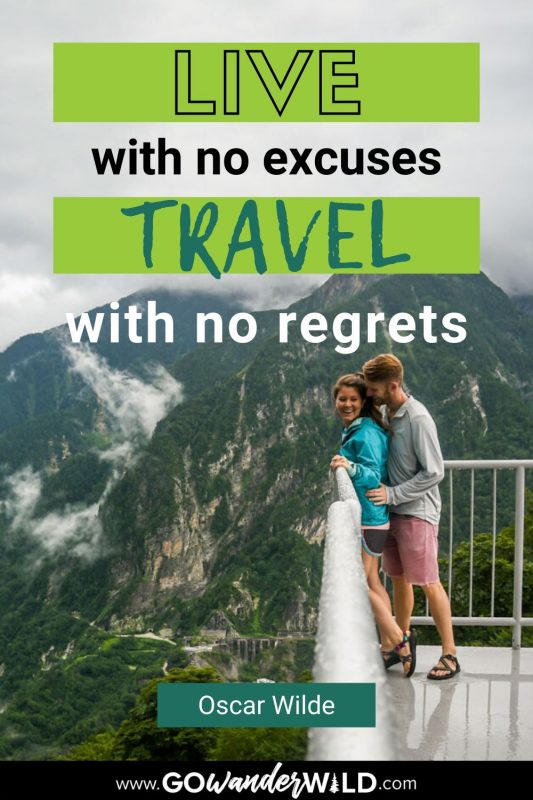 38. "Live life with no excuses, travel with no regrets." –Oscar Wilde
39. "The world is big and I want to have a good look at it before it gets dark." –John Muir
40. "Surely, of all the wonders of the world, the horizon is the greatest." –Freya Stark
41. "Why do you stay in prison, when the door is so wide open?" –Rumi
42. "Keep your face always toward the sunshine – and shadows will fall behind you." –Walt Whitman
43. "You must live in the present, launch yourself on every wave, find your eternity in each moment. Fools stand on their island of opportunities and look toward another land. There is no other land; There is no other life but this." –Henry David Thoreau
When you talk about most inspiring outdoor quotes, no one can deny Henry David Thoreau's impact on many. Thoreau has made years of literature about living in nature and taking solace in the beauty of the world. This quote teaches that you only have one life to live and there's no time to waste worrying. So take every moment you have to go and see the world because there is only one to see.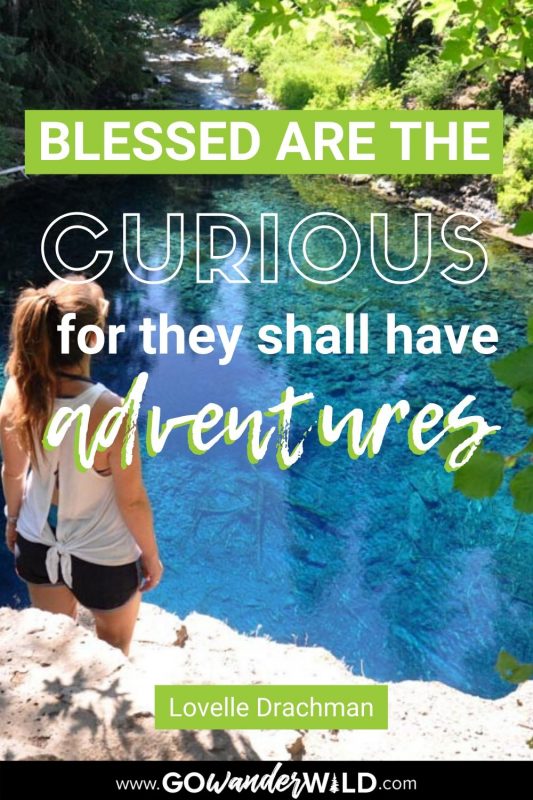 44. "Blessed are the curious for they shall have adventures." –Lovelle Drachman
45. "For time is the longest distance between two places." –Tennessee Williams
46. "Once a year, go someplace you've never been before." –Dalai Lama
47. "Twenty years from now you will be more disappointed by the things that you didn't do than by the ones you did do. So throw off the bowlines. Sail away from the safe harbor. Catch the trade wind in your sails. Explore. Dream. Discover." –Mark Twain
48. "I'm in love with cities I've never been to and people I've never met." –John Green
49. "Travel is never a matter of money but of courage." –Paolo Coelho
50. "Security is mostly a superstition. It does not exist in nature, nor do the children of men as a whole experience it. Avoiding danger is no safer in the long run than outright exposure. Life is either a daring adventure or nothing." –Helen Keller
Many people delay traveling because they are afraid of dangers. Whether it be money situations or fear of natural dangers, it's common that many people delay traveling and choose not to go on any adventures because they don't want to be unsafe. This quote helps point out that being safe is merely an illusion and something that humans made up to feel better. So, go on your journey, go hang-gliding, travel somewhere new, because you either have to live your life or stay home.
51. "The spectacles of experience; Through them you will see clearly a second time." –Henrik Ibsen
52. "Each morning we are born again. What we do today is what matters most." –Buddha
53. "Only those who risk going too far can possibly find out how far they can go." –T.S. Eliot
54. "Travel far enough, you meet yourself." –David Mitchell
55. "Travel and change of place impart new vigor to the mind." –Seneca
56. "Spontaneity is the best kind of adventure." –Anonymous
57. "Stuff your eyes with wonder. Live as if you'd drop dead in ten seconds. See the world. It's more fantastic than any dream made or paid for in factories." –Ray Bradbury
58. "Not I, nor anyone else can travel that road for you. You must travel it by yourself. It's not far. It is within reach. Perhaps you have been on it since you were born, and did not know. Perhaps it is everywhere – on water and land." –Walt Whitman
Whitman is one of the most well-known poets who writes about nature in almost all of his work. In this quote, Whitman points out that no one else can take your journey for you. Sometimes traveling is scary and dangerous. But no one else can take your journey for you so go anyway. Reading about it in books is no way to live life and you have to travel on your own to live.
59. "It is only in adventure that some people succeed in knowing themselves – in finding themselves." –Andre Gide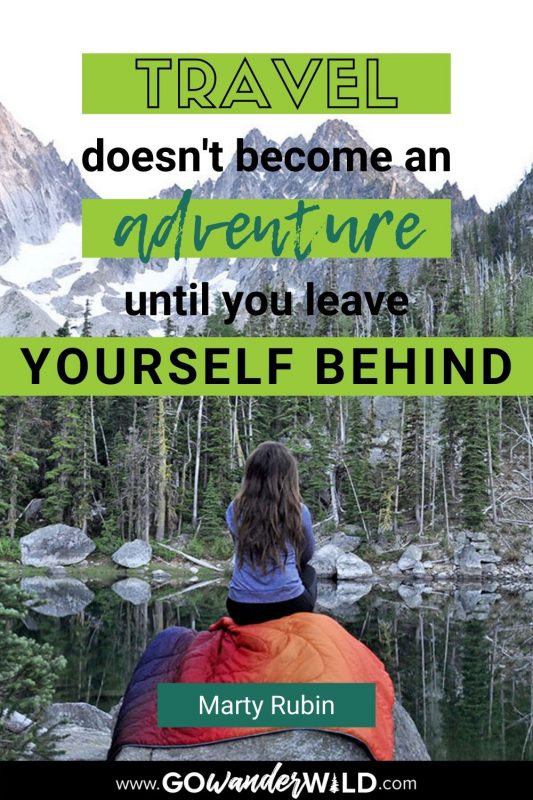 60. "Travel doesn't become adventure until you leave yourself behind." –Marty Rubin
61. "You can never conquer the mountain. You can only conquer yourself." –Jim Whittaker
62. "The mountains are calling and I must go." –John Muir
63. "If adventure has a final and all-embracing motive, it is surely this: we go out because it is our nature to go out, to climb mountains, and to paddle rivers, to fly to the planets and plunge into the depths of the oceans…When man ceases to do these things, he is no longer man." –Wilfrid Noyce
64. "The world is not in your books and maps, it's out there." –Gandalf
65. "You know you are truly alive when you're living among the lions." –Karen Blixen
66. "People don't take trips, trips take people." –John Steinbeck
67. "Adventure is worthwhile." –Aristotle
68. "Every man's life ends the same way. It is only the details of how he lived and how he died that distinguish one man from another." –Ernest Hemingway
69. "Death is more universal than life; Everyone dies but not everyone lives." –Alan Sachs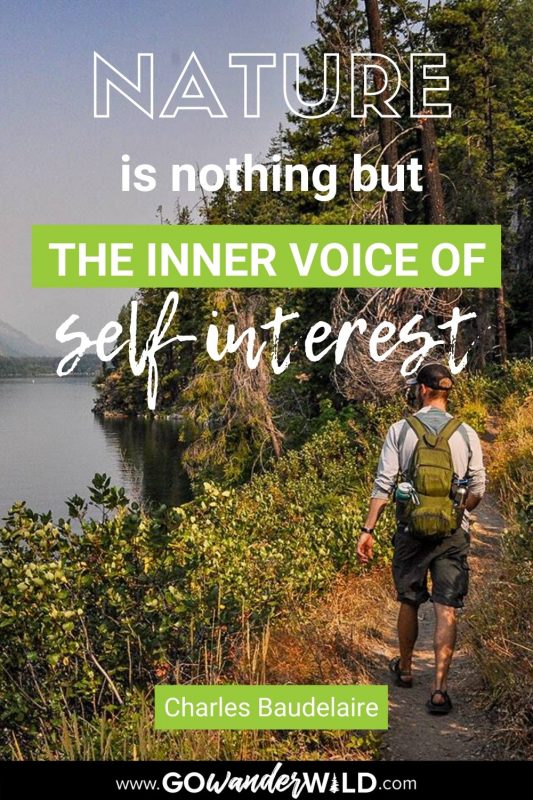 70. "Nature…is nothing but the inner voice of self-interest." –Charles Baudelaire
71. "Few places in the world are more dangerous than home. Fear not, therefore, to try the mountain passes. They will kill care, save you from deadly apathy, set you free, and call forth every faculty into vigorous, enthusiastic action." –John Muir
John Muir's quote helps encourage those who stay home because they are worried about their safety in the great, unknown world. He points out the most dangerous thing to do is to rest at home. Staying home sets in this sense of apathy and kills your passion. So, Muir tells you to go out into the world and climb your mountain because it will teach you more about life and make you free than staying in safety ever could.
72. "We live in a wonderful world that is full of beauty, charm and adventure. There is no end to the adventures we can have if only we seek them with our eyes open." –Jawaharial Nehru
72. "To travel is to live." –Hans Christian Andersen
73. "Do not follow where the path may lead. Go instead where there is no path and leave a trail." –Ralph Waldo Emerson
74. "Not all who wander are lost." –J.R.R. Tolkien
75. "Do not follow where the path may lead. Go instead where there is no path and leave a trail." –Ralph Waldo Emerson
76. "To travel is to discover that everyone is wrong about other countries." –Aldous Huxley
77. "You're off to great places! Today is your day! You mountain is waiting, so…Get on your way!" –Dr. Seuss
Dr. Seuss was a life-changing children's author that helped shape many generations through his words. This quote helped ignite the passion for adventure and travel in many kids around the world. Dr. Seuss is encouraging exploration because no matter where you are or your age, the adventure awaits for you. So go and learn because no one else can do it for you!
78. "Wherever you go becomes a part of you somehow." –Anita Desai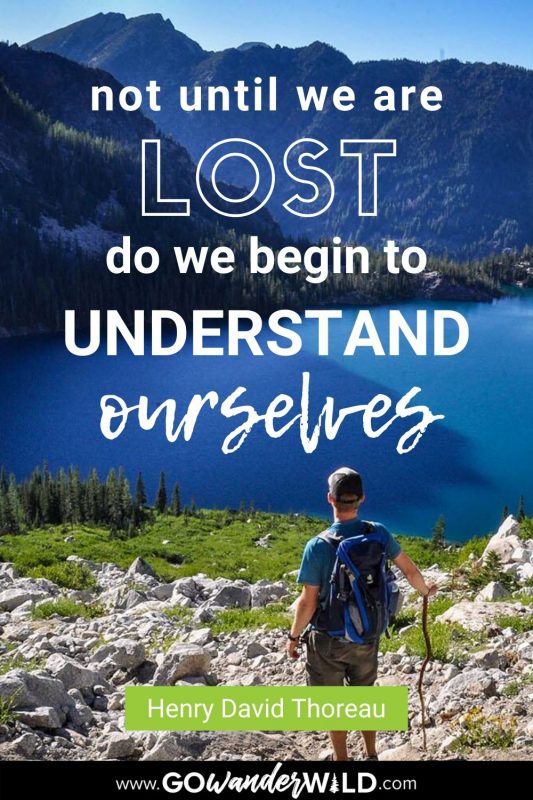 79. "Not until we are lost do we begin to understand ourselves." –Henry David Thoreau
80. "Adventure is not outside man; It is within." –George Eliot
81. "Travel isn't always pretty. It isn't always comfortable. Sometimes it hurts, it even breaks your heart. But that's okay. The journey changes you; It should change you. It leaves marks on your memory, on your consciousness, on your heart, and on your body. You take something with you. Hopefully, you leave something good behind." –Anthony Bourdain
82. "If we were meant to stay in one place, we'd have roots instead of feet." –Rachel Wolchin
83. "There are no foreign lands. It is the traveler only who is foreign." –Robert Louis Stevenson
84. "The purpose of life is to live it, to taste experience to the utmost, to reach out eagerly and without fear for newer and richer experience." –Eleanor Roosevelt
85. "Everything you want is on the other side of fear." –Jack Canfield
86. "Off the beaten track is the real world." –Isabella Bird
87. "What you've done becomes the judge of what you're going to do – especially in other people's minds. When you're traveling, you are what you are right there and then. People don't have your past to hold against you. No yesterdays on the road." –William Least Heat Moon
88. "Men do not understand books until they have a certain amount of life, or at any rate no man understands a deep book, until he has seen and lived at least part of its contents." –Ezra Pound
89. "Life is traveling to the edge of knowledge, then a leap taken." –D.H. Lawrence
89. "We travel, initially, to lose ourselves, and we travel, next, to find ourselves. We travel to open our hearts and eyes. And we travel, in essence, to become young fools again – to slow time down and get taken in, and fall in love once more." –Ray Bradbury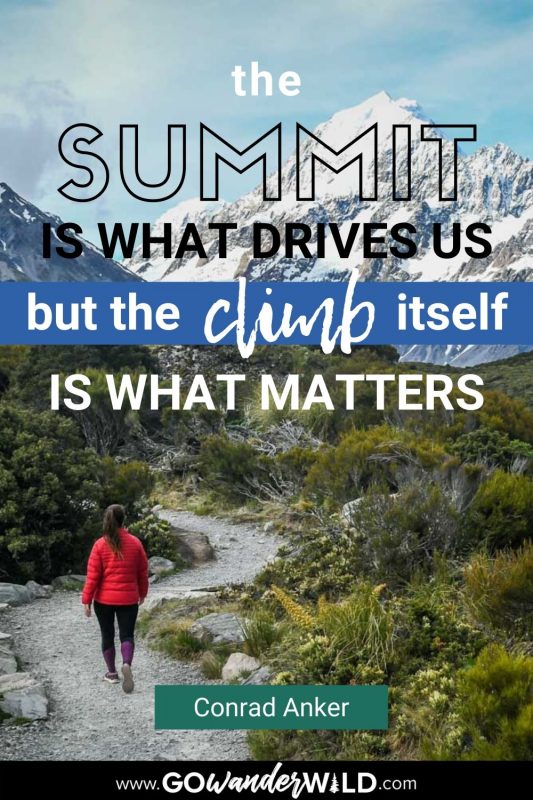 90. "The summit is what drives us, but the climb itself is what matters." –Conrad Anker
91. "I saw that my life was a vast glowing empty page and I could do anything I wanted." –Jack Kerouac
92. "Death is one moment and life is so many of them." –Tennessee Williams
93. "Run from what's comfortable. Forget safety. Live where you fear to live. Destroy your reputation. Be notorious. I have tried prudent planning long enough. From now on I'll be mad." –Rumi
94. "As a well-spent day brings happy sleep, so life well used brings happy death." –Leonardo da Vinci
95. "There's no way I was born to just pay bills and die." –Anonymous
97. "People do not decide to become extraordinary. They decide to accomplish extraordinary things." –Edmund Hillary
98. "I'll look back on this and smile because it was life and I decided to live it." –Anonymous
99. "You don't have to be rich to travel well." –Eugene Fodor
100. "Once in a while it really hits people that they don't have to experience the world in the way they have been told to." –Alan Keightley
101. "Keep Ithaca always in your mind. Arriving there is what you're destined for. But don't hurry the journey at all. Better if it lasts for years, so you're old by the time you reach the island, wealthy with all you've gained on the way, not expecting Ithaca to make you rich." –C.P. Cavafy
This quote hits on the most important part of traveling: the adventure. C.P. Cavafy wrote this poem about Greek legend Odysseus and his journey to make it home to Ithaca. But Cavafy makes sure to note that even though your destination is Ithaca, don't neglect all of the adventures you'll have along the way, the people you'll meet, and the amazing things you'll see!

You may also like…
Save this article on Pinterest for later!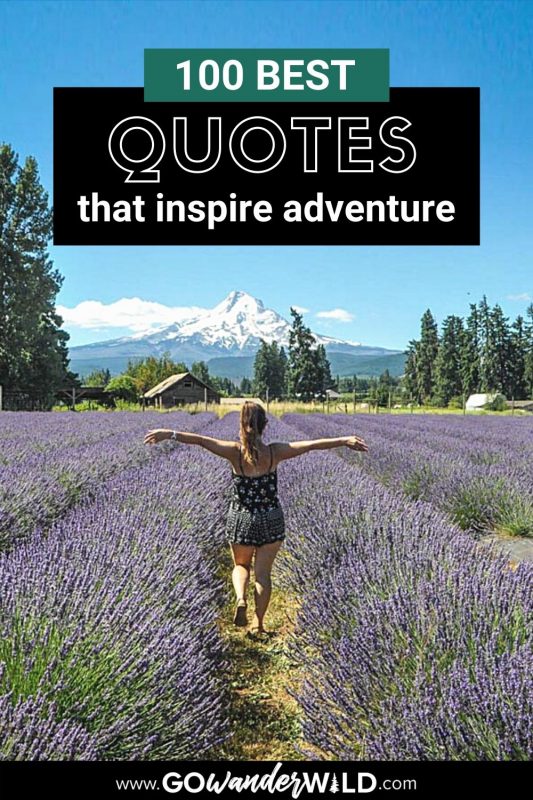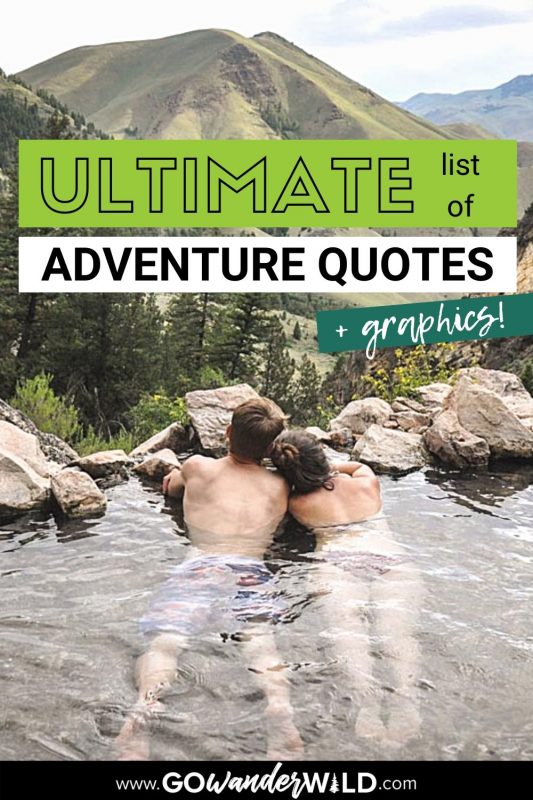 We want to hear from you!
What's your favorite adventure quote from this list? Are there any that really speak to you and have you excited to get outside and get moving? Do you have a favorite quote you think we should add to the list? Comment below and let us know!