Maybe because we always have food on the brain, hiking snacks are essential to our packing list. Here's a list of our favorite bites to bring on the trail.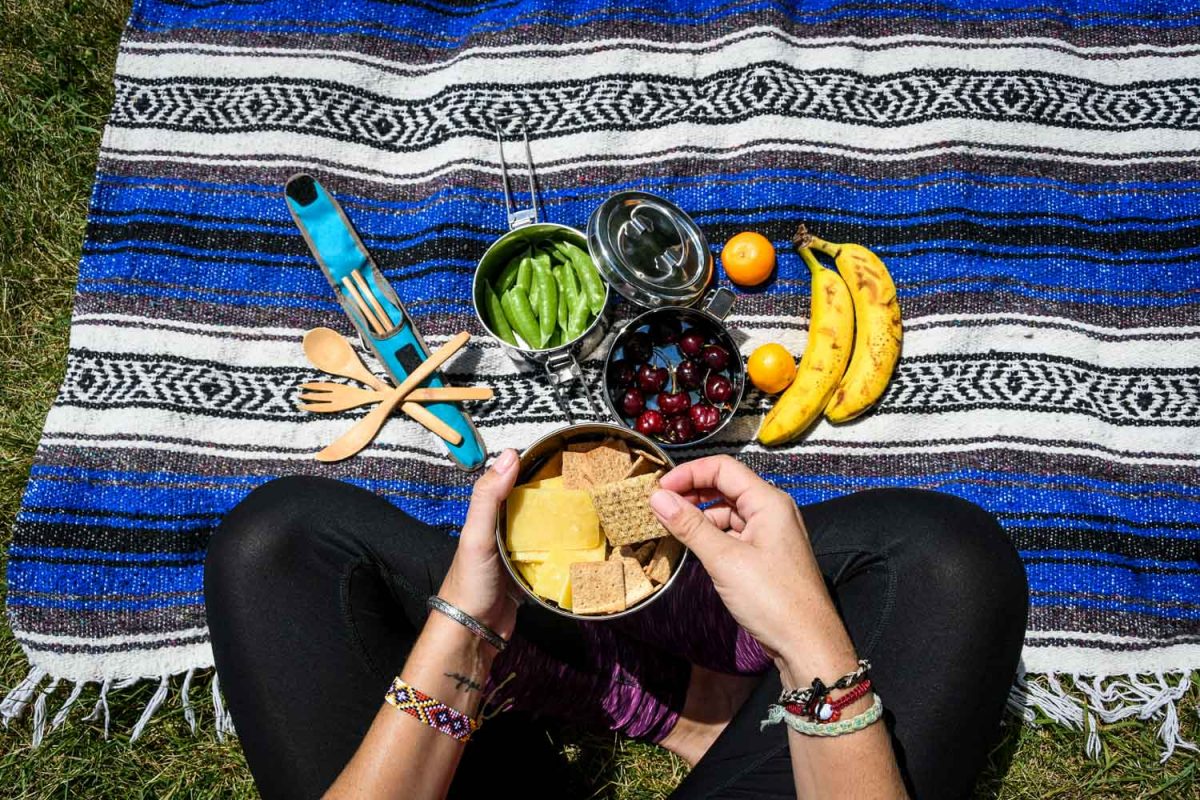 When preparing for a hike, one of the first things we like to do is plan what kind of snacks we're going to bring, because food is ALWAYS on our minds…
One of the things we look forward to most is finding a perfect spot to sit down, rest our legs, and enjoy some well-deserved snack-age while enjoying the views that our bodies have made possible. Anyone else love this feeling?!
We're going over some of our favorite hiking snacks to pack as well as how we determine what type of food to bring.
Ask yourself these questions before you pack hiking snacks…
Okay, first things first. The type of hike you're doing will help determine what foods to bring. Here are some things to consider:
What is the distance of the hike?
What is the elevation gain?
How long do you expect the hike to take?
Do you expect the hike to be strenuous?
You can find most of the information about a hike's distance, elevation gain and difficulty level on a hiking app like AllTrails.
Answering the questions above will help determine how much food to bring as well as the type of snacks.
For instance, on a short and relatively easy hike, you'll be fine with packing an apple and trail mix. But on a hike where you're going to be burning a significant amount of calories, you'll want to plan to bring enough high-energy food to both fuel and replenish your body.
Here are a few more helpful things to think about:
What time do I expect to start and end the hike?
If your hike will start early and go past lunchtime, you might need more than just a few light snacks. You'll want to pack enough to fuel your body through those two mealtimes.
Are there places to get food nearby?
If the hike is near a town, you'll be able to grab food afterward, making it a bit less important to pack lots of food. That way, if you're really hungry toward the end of the hike, you know food is coming soon.
There's nothing better than grabbing a pizza/burger/[insert your favorite food here] after a hike, don't you think?! You earned it, after all! On the other hand, if you're hiking a remote trail, you'll want to pack more food than you might expect you'll need since there's no convenient place to refuel after your hike. Perhaps you can leave some in your car.
Is this a heavily trafficked trail or is it pretty remote?
A popular trail will have less chance of you getting lost or into a bad situation. And chances are there will be other people around to help out if need be.
However, if you're trekking in a remote area, you'll want to be more prepared in the case that you (or someone you run into) get into a bad situation. This means packing a little more food than you might deem necessary.
Psst! Before you head out on your next trek, make sure you check out our article on what to wear hiking to be sure you're wearing the best fabrics and layering properly for hitting the trail in any season.
What nutrition should I look for in hiking snacks?
Sure, you can easily throw a candy bar and a handful of cookies into your backpack, but all that sugar is going to cause you to crash. Not a good thing when you're halfway through an 8-mile hike, trust us.
You're looking for that elusive combination of protein, healthy fats and sugars, complex carbs and a bit of sodium.
Why carbs? Carbohydrates are the best way to get energy quickly! Complex carbs are what you'll aim for because they have higher fiber content, making them digest more slowly and make you feel fuller longer. Complex carbs also help keep blood sugar more level, rather than spiking.
Why sugars? While you shouldn't be reaching for snacks with lots of added sugars, the natural sugars found in fruits and complex carbs can help you maintain a steady blood glucose level. If you start to feel dizzy after exerting yourself on a hike, reach for some fresh or dried fruit or an energy bar, and you should feel better in no time.
Why protein? Protein will keep you full longer and help your muscles and tissues rebuild after your hike.
Healthy Fats? Healthy fats will keep you energized and satiated throughout your hike.
Why sodium? It might sound counterintuitive but sodium (an essential electrolyte) is important in keeping your body hydrated, especially during long and exhausting activities. You may see it listed on the label as sodium chloride, benzoate, bicarbonate, etc. 
Be sure to grab our ultimate hiking packing list includes our must-have gear for any hiking trail!

How many calories do I need on a hike?
The answer to this question is going to vary significantly based on many factors including your height and weight, plus the type of hike you're attempting. For instance, hiking a .5-mile loop that is relatively flat is going to require a significantly lower amount of energy than a 10-mile trek with an elevation gain of 1,500 feet.
According to experts, "200 – 300 calories per hour is a good ballpark figure".
How to calculate: Calculate how many hours you plan to hike, and go on the higher end of the calorie count if you expect it to be difficult terrain.
For instance, if you're planning to hike for 4 hours on a very difficult trail, you'll want to be factoring at least 300 calories per hour (if not more). This means your snacks should equate to a minimum of 1,200 calories in order to sustain your energy level.
But it should be noted that all calories are not created equal. You'll want to be sure you're packing hiking snacks that have the right nutritional balance of complex carbs, healthy fats, sugars, and proteins, as described above.
How much water should I bring hiking?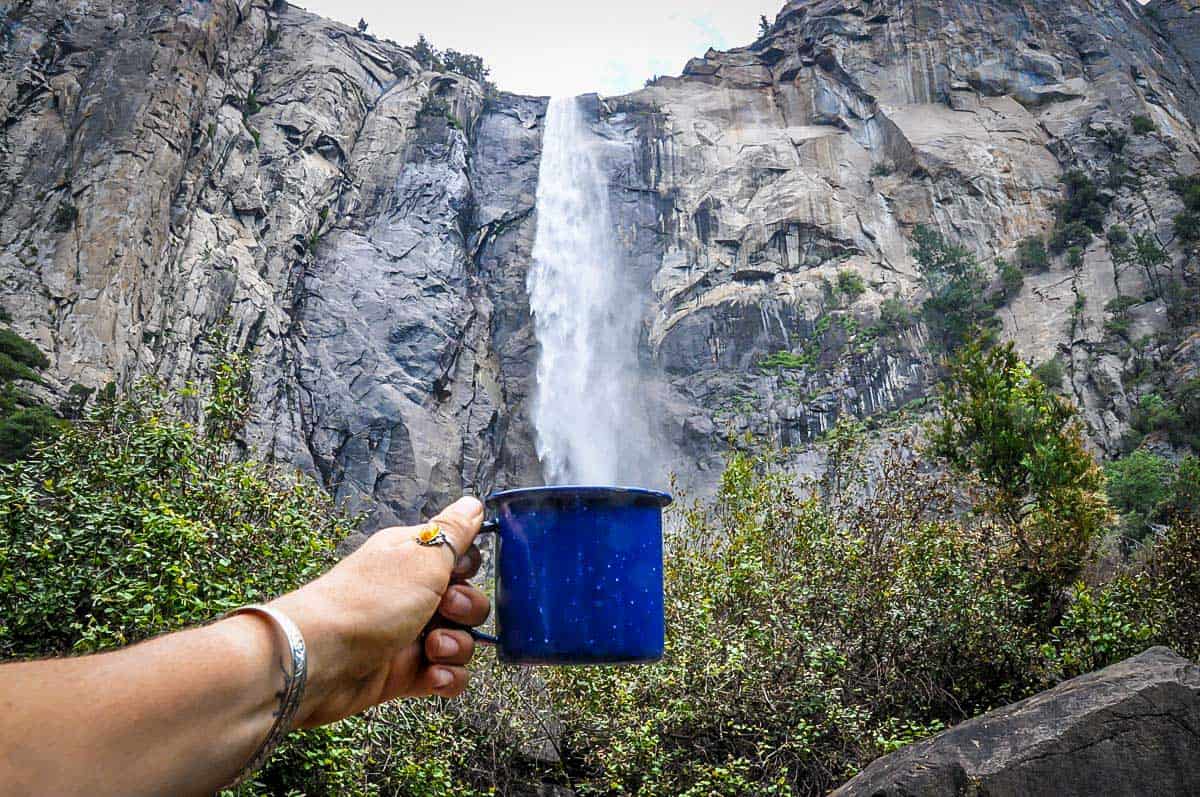 This is an essential question, and again the answer will vary significantly based on the temperature, length of your hike, difficulty level, and your body.
Good to remember: Before starting your hike, be sure to hydrate! This will help ensure you don't get dehydrated during your trek.
A general rule of thumb is to pack at least half a liter of water (aka 2 cups, or 16 ounces) for each hour you plan to be hiking. We like to overpack on water because running out is never something you want to deal with.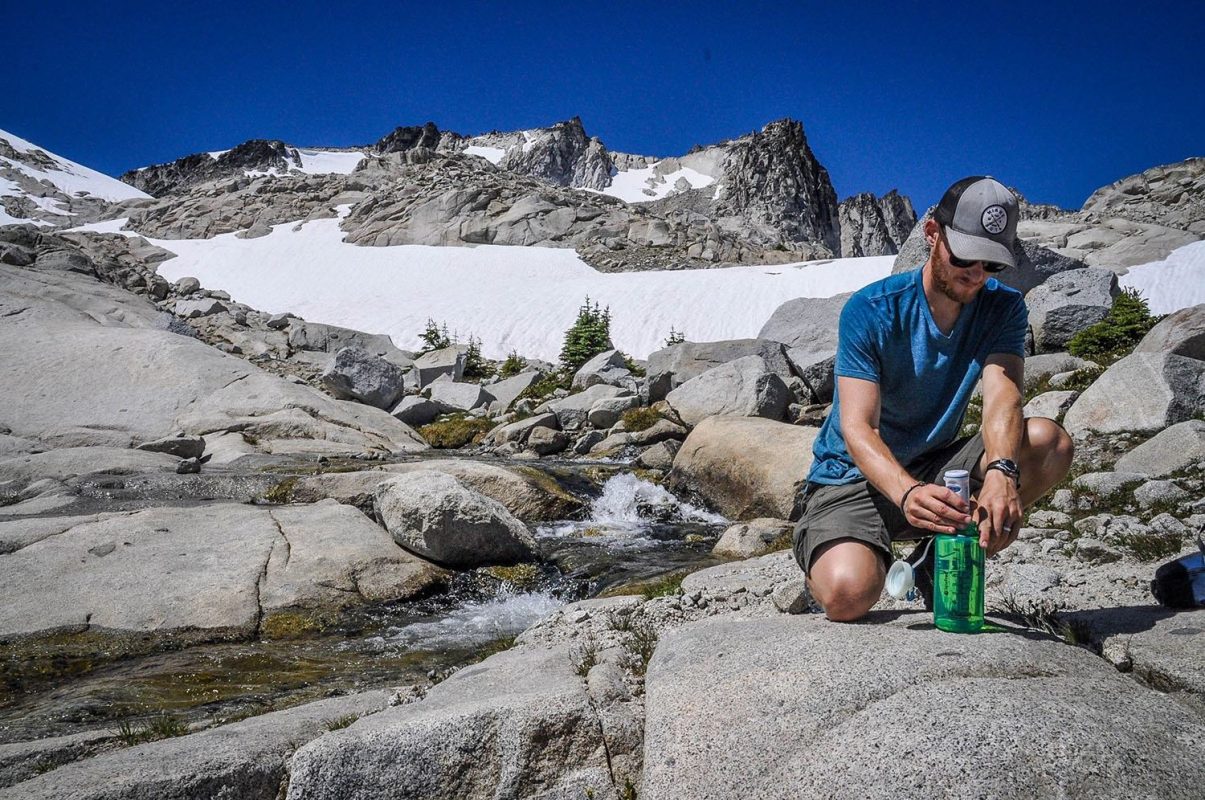 Insider Tip: If you'll be hiking near a water source (a river or lake), pack a Steripen or other sterilizing device so you can have access to clean, drinkable water.
Tips for packing hiking food
Think about the weight of the food you're packing. Go with foods that are dense (nuts, dried fruit, beef jerky) so you can pack less weight overall.

Choose snacks that don't need to stay refrigerated if possible. We do have a couple of chilled items on this list and some "hacks" to help them stay cold on your hike.

Pack snacks that you're excited about! There's not really a point in watching your calories super closely and limiting yourself on a hike. And similarly, if a chalky-tasting protein isn't going to bring you much satisfaction. So while there are some nutrition "rules" to consider, the best hiking snack for you is going to come down to personal preference.

Eat a balanced meal before your hike. Starting a hike on an empty stomach is asking for an unpleasant experience. So is having a high-sugar or super greasy breakfast, both of which will surely lead to a crash during your hike. Plan ahead and have a balanced breakfast like eggs, whole-grain toast, and avocado; or oatmeal, nut butter, and berries.
Are you a hiking enthusiast looking for the latest gear to add to your wishlist? Check out our extensive list of gifts for hikers to find some unique inspiration!
1. Energy / Protein Bar
This is perhaps the easiest, no-hassle snack you can pack. I mean, all you gotta do is stop at a grocery store and you're set. The great thing is many energy bars have a really good balance between complex carbohydrates, protein, and natural sugars.
Related: Looking for more hiking adventures? Check out our guide to all the National Parks in the US by state. We've also included a handy checklist so you can record which ones you've already visited!
Best energy bars for hiking:
In general, when looking for energy or protein bars, we like to keep things simple. There are some exceptions, but we typically like to choose bars with few ingredients so we know what we're putting into our bodies. Here are some of our favorites:
RXBAR: These bars are packed with 12 grams of protein, and are made with only a handful of ingredients like egg whites, dates, and almonds. "No B.S." is their motto, and the bars are pretty darn tasty, if we do say so ourselves!
KIND Bars: We are obsessed with KIND Bars whether we're exerting tons of energy, or just Netflix-n-chillin'. They taste like a candy bar, but dare I say, healthier. They're made with no-nonsense ingredients like nuts (yay for omega-3s!) as well as honey and dark chocolate to give your blood sugar a mid-hike boost (and keep your tastebuds happy!).
LÄRABAR: With a similar ingredient lineup to RXBARS, Lara is known for simple ingredients. If we're only speaking about flavor, we prefer RXBARs. But LÄRABAR is quite a bit more versatile, as they are vegan, kosher, dairy-free, soy-free, non-GMO, and gluten-free. There are also a ton of flavors to choose from and organic options. Now, that's hard to beat!
EXO Protein Bars: Vegetarians, this one isn't for you because the main source of protein in these bars is… wait for it… crickets! If that doesn't make your skin crawl, keep reading because these make a great choice for a hiking energy bar for those who can handle their most noteworthy ingredient. Why crickets? In short, they are packed with nutrition and are a sustainable energy source, as they require far fewer resources to cultivate than, say, cattle. We personally haven't tried them (yet!), but this review from Business Insider makes us think the Blueberry Vanilla would be our flavor of choice.
Health Warrior Chia Bars: You're probably well aware of the benefits of chia seeds, which pack in a punch of omega-3s, antioxidants, and fiber. These bars are an easy way to snack on chia and provide essential energy needed while hiking, while not going overboard on sugar or protein.
Luna Bars: These protein bars are under the Clif Bar brand, and are aimed specifically at women. With 7 – 8 grams of protein per bar, and a modest 200 calories, these bars are a decent option, especially when you consider their crave-worthy flavors like Chocolate Dipped Coconut (which tastes like a Mounds Bar).
Perfect Bar: Peanut butter lovers will go crazy for these bars because it tastes like a big chunk of creamy, nutty PB! Like their primary ingredient – nut butter – these babies aren't exactly low-calorie, but damn, they are satisfying. Find them in the refrigerator section and keep them chilled, as they don't contain any unnatural preservatives. They are also available in mini-bars and bites.
Clif Nut Butter Filled Energy Bars: Clif Bars are a classic when you think of energy bars. We've personally never been too keen on the original version, as they have a long(ish) ingredient list and tend to taste kind of chalky (in our opinions). However, an exception to this is their organic Nut Butter line, which is drool-worthy. Our personal favorite is the Coconut Almond Butter filled bar.
2. Trail Mix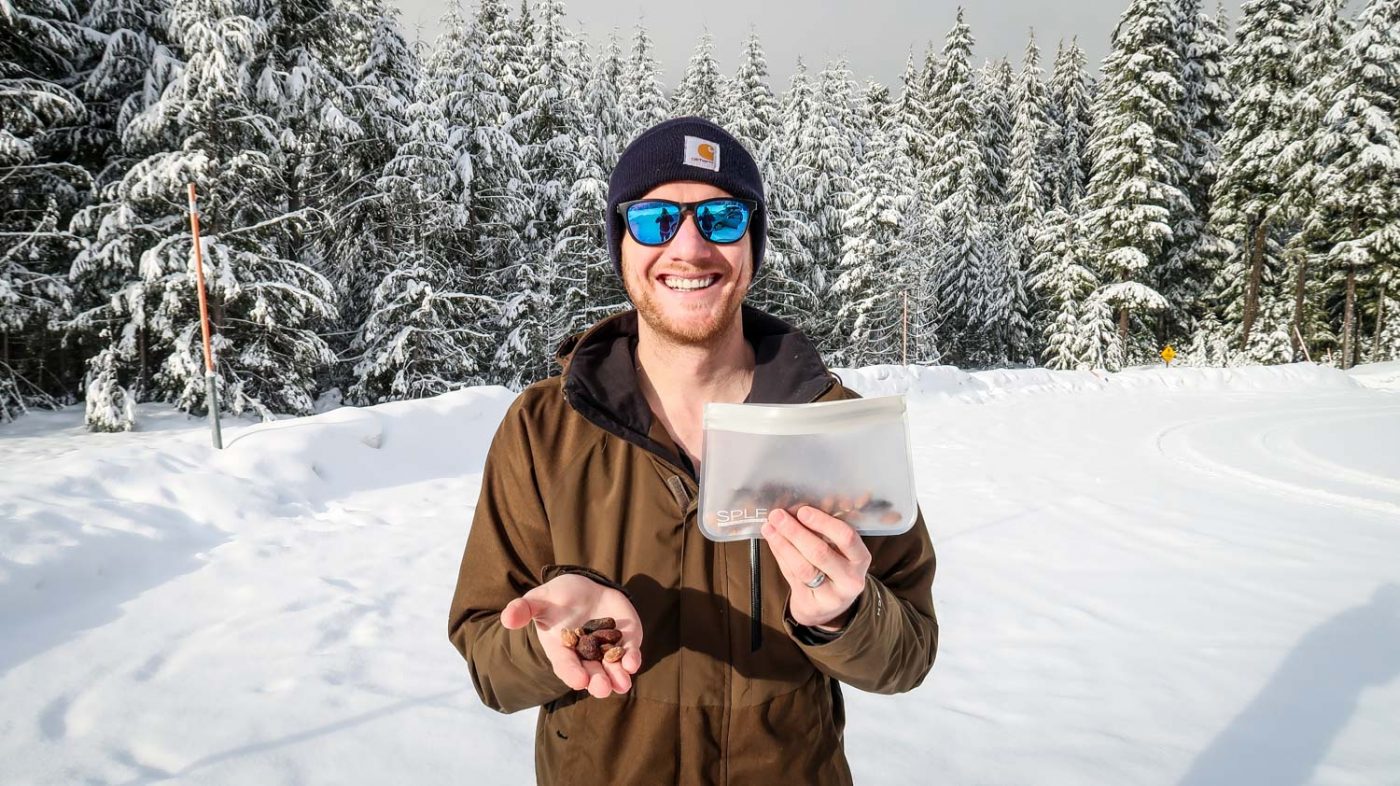 When we only bring one snack it is usually trail mix. This go-to snack is perfect for hiking because it's portable, calorie and protein-dense, satisfying, and easy to make or buy. Plus, it comes in a variety of flavors and mixtures, so there's a trail mix for everyone!
We like making trail mix because it's cheaper and less wasteful (fill up at the bulk section of the grocery store!). Plus, we can try new flavor combinations!
Here are some trail mix recipe ideas:
Chocolate Cherry Trail Mix
Almonds
Dried cherries (or dried cranberries)
Dark chocolate chunks and/or cacao nibs
Cashews
Peanuts
Dried coconut
Peanut Butter Chocolate Lover's Trail Mix
Honey-roasted peanuts
Salted peanuts
Reese's Pieces
Dark chocolate chunks
Savory Trail Mix
Wasabi peas
Smoked almonds
Salted cashews
Mini pretzels
Morning Buzz Trail Mix
Chocolate covered espresso beans
Almonds
Hazelnuts
Raisins
Banana chips
If you don't have the time to make your own trail mix, Trader Joe's has a lot of good options!
3. Nuts
Maybe you like to enjoy your fruit and nuts separately. It's alright, we won't judge. Well, we won't judge too much.
But regardless, if you only like nuts (hmm, maybe I should rephrase that)… Nuts are great on their own too.
Here are some of our favorite ways to bring them hiking:
Savory nut mix (recipe above)
Chocolate covered nuts, for you sweet tooths!
Smoked almonds
Pistachios (But don't be that person and throw your shells on the trial. Pack 'em out!)
Honey roasted peanuts
Are you planning to stay overnight? Check out our ultimate list of one-pot camping meals to help you prepare the food for your next outdoor adventure!
4. Fresh Fruit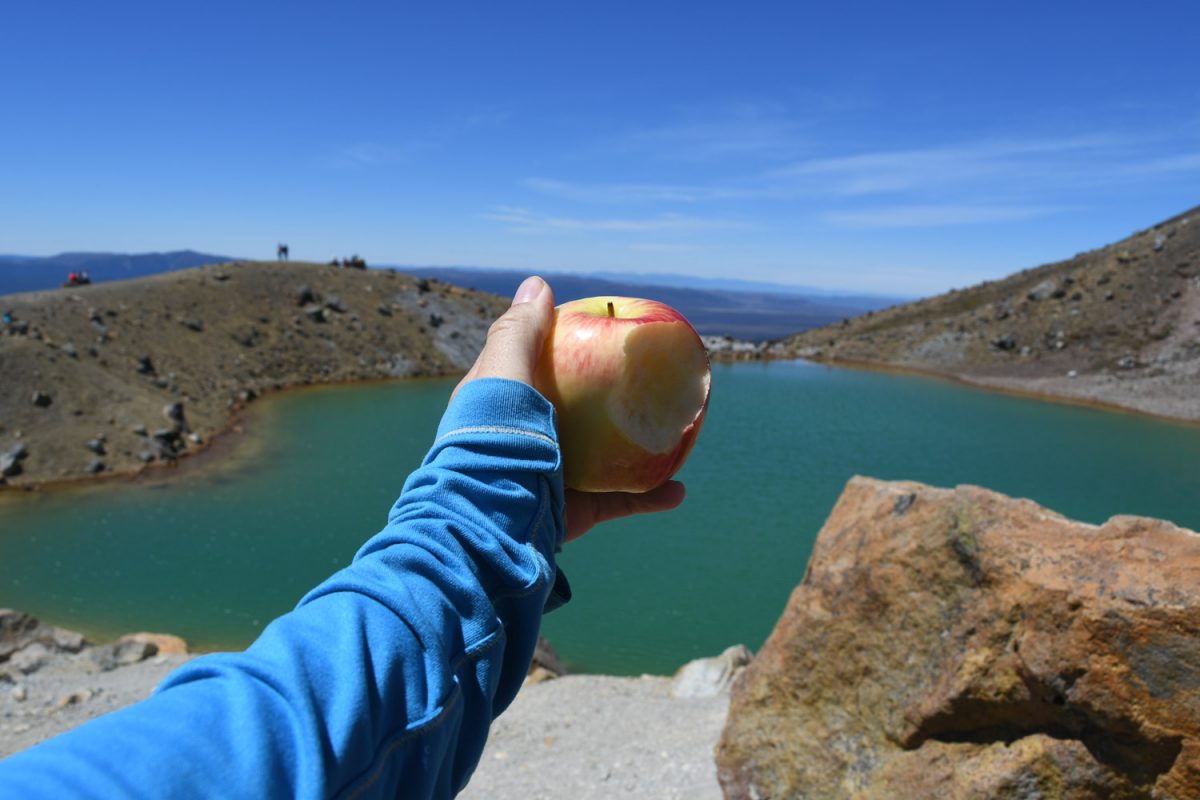 Packing fresh fruit is always a good choice, as it is a natural way to bring your blood sugar up when you're feeling low on energy or lightheaded.
Here are some of our favorite fruits to pack:
Apple
Orange
Banana
Grapes
5. Dried fruit
Dried fruits are a favorite for many hikers because not only will they deliver a good dose of natural sugar (perfect for when you're feeling faint), but they are lightweight, calorie-dense, and won't spoil.
Here are some of our favorite dried fruits to pack:
Apricots (we love them paired with salted almonds!)
Figs
Mangos
Apples
Cranberries
Insider Tip: Trader Joes and Costco both have great selections of dried fruits, as do many grocery stores that have a bulk foods section.
6. Fruit Leather
Yet another way to carry your fruit with you! Fruit "leathers" are essentially the grown-up version of fruit roll-ups, and they typically are made with simple ingredients like dried fruit and juice.
The benefit of fruit leathers is they are very portable and they don't spoil.
7. Granola
Easy to snack on, granola has a mix of complex carbs, healthy fats, and sugar. We really like the almond butter granola from Trader Joe's because it has 5 grams of protein, simple ingredients, and has large clusters, making it perfect for snacking on the go.
8. Tuna or Salmon packets
For a big punch of protein, bring a packet of tuna or salmon for a substantial snack. We aren't crazy about tuna on its own, but mixed with some salt and pepper or Trader Joe's Everything but the Bagel seasoning, it's pretty darn good!
This lightweight spice container makes it easy to season your trail food without adding much weight!
Enjoy your seasoned tuna/salmon with crackers, veggie sticks, a tortilla, or a sweet potato! It might sound weird, but if you pack a sweet potato, all you need to do is whip out your multi-tool cut thin slices that look like chips. Spread the tuna on top and voila – you have a tasty, high-protein snack that has a healthy mix of starchy carbs.
Insider tip: Instead of bringing a can (which is bulky and requires a can opener), opt for a lightweight packet, like this one.
9. Peanut butter filled pretzels
If you're looking for an easy sweet-and-salty snack, look no further! Peanut butter-filled pretzels are a good way to get protein and energy. Bonus points for that satisfying crunch!
10. Banana or plantain chips
Which will you choose: Sweet banana or its more savory cousin, the plantain?
Either way, the benefit of banana chips is that they are sturdier than your typical potato chip, so they're less likely to become chip dust by the time you're ready to eat them. All that crunchy satisfaction without the worry of crushing them!
11. Nut butter
Peanut butter, almond butter, cashew butter… what's your jam?! Speaking of jam, why not make it a PB&J? Eat it with an apple. Or on a banana (+ chocolate chips, you're welcome!). Spread it on crackers, eat it with a spoon!
As you can see from our ramblings, nut butter is super versatile and packed with protein, healthy fats, and calories to keep your energy levels up.
We try to reduce the amount of packaging we use as much as possible, so while single-use packets are undeniably convenient for hiking, we prefer to bring a small container that we fill from our larger jar of nut butter in order to cut back on waste.
12. Veggies & hummus
Get your (healthy) crunch on with a combo of veggie sticks and hummus, the latter of which has a healthy mix of protein, fats, carbs, and fiber to keep you satiated and energized.
We like to bring a mix of carrot sticks, celery, jicama (so good!), and snap peas. And our go-to hummus flavors are cilantro jalapeño and roasted red pepper. What's your favorite combo?
13. Cheese & crackers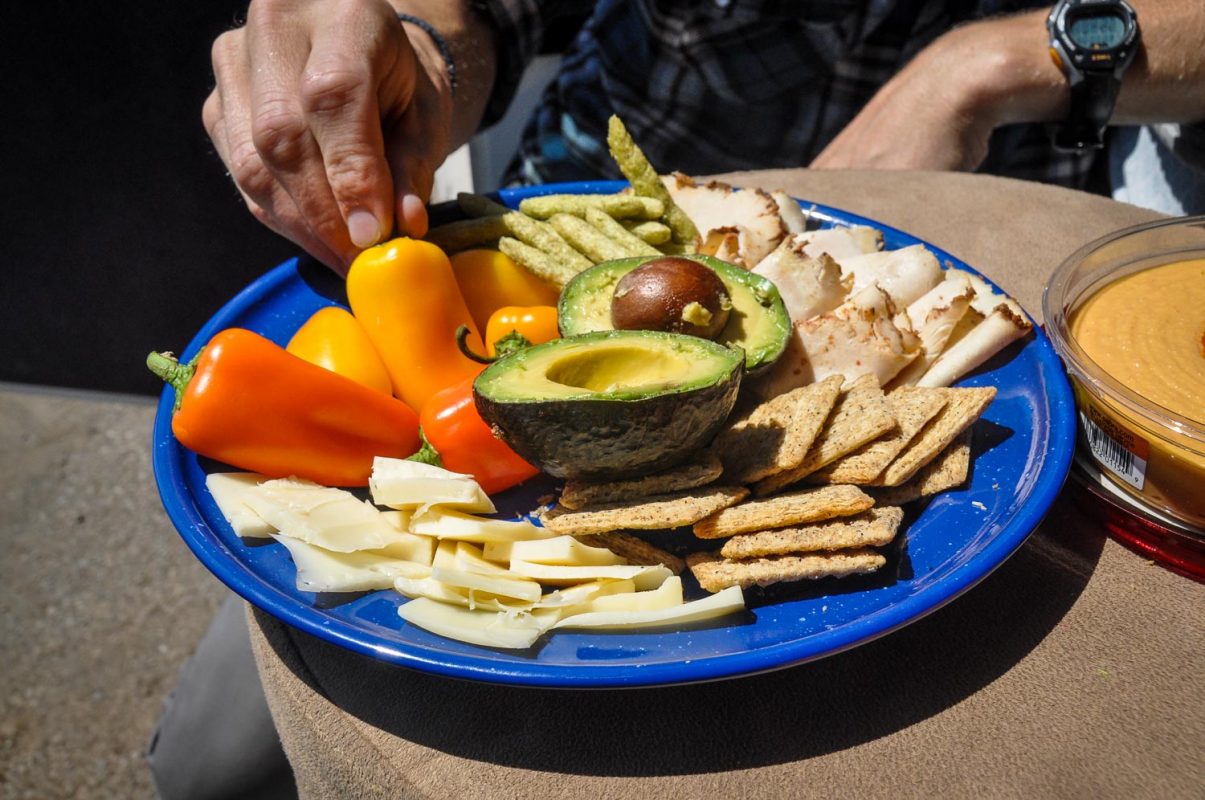 Oh, the good old fashioned combo of cheese + crackers. It's pretty damn hard to beat if you ask us.
We're suckers for the "Everything Crackers" from Trader Joe's and any aged cheese, like a sharp white cheddar, Swiss, or a smoked Gouda. Feeling classy already!
Insider Tip: If you're planning to bring anything that requires refrigeration (like cheese!), pack a frozen protein bar next to what you're trying to keep cool. The frozen protein bar will serve as an "ice pack", and will be ready to eat when it thaws. Just be sure to eat the perishable item first.
Psst! If you are craving cheese but don't like the idea of it being unrefrigerated for a while, Cheese Whisps are a good alternative. Lightweight, portable and super crunchy, they'll give you the satisfaction of eating cheese, but don't require the fuss of the regular stuff.
14. Beef jerky
A hiking snack classic, it's hard to beat the portability and high protein punch that is beef jerky.
If you'd prefer not to buy an entire bag, EPIC is a brand that makes meat bars… which is better than it sounds. They have all types of meats – like venison, turkey and wild boar – and artisanal flavors like sriracha and apple bacon.
15. Oatmeal (with protein!)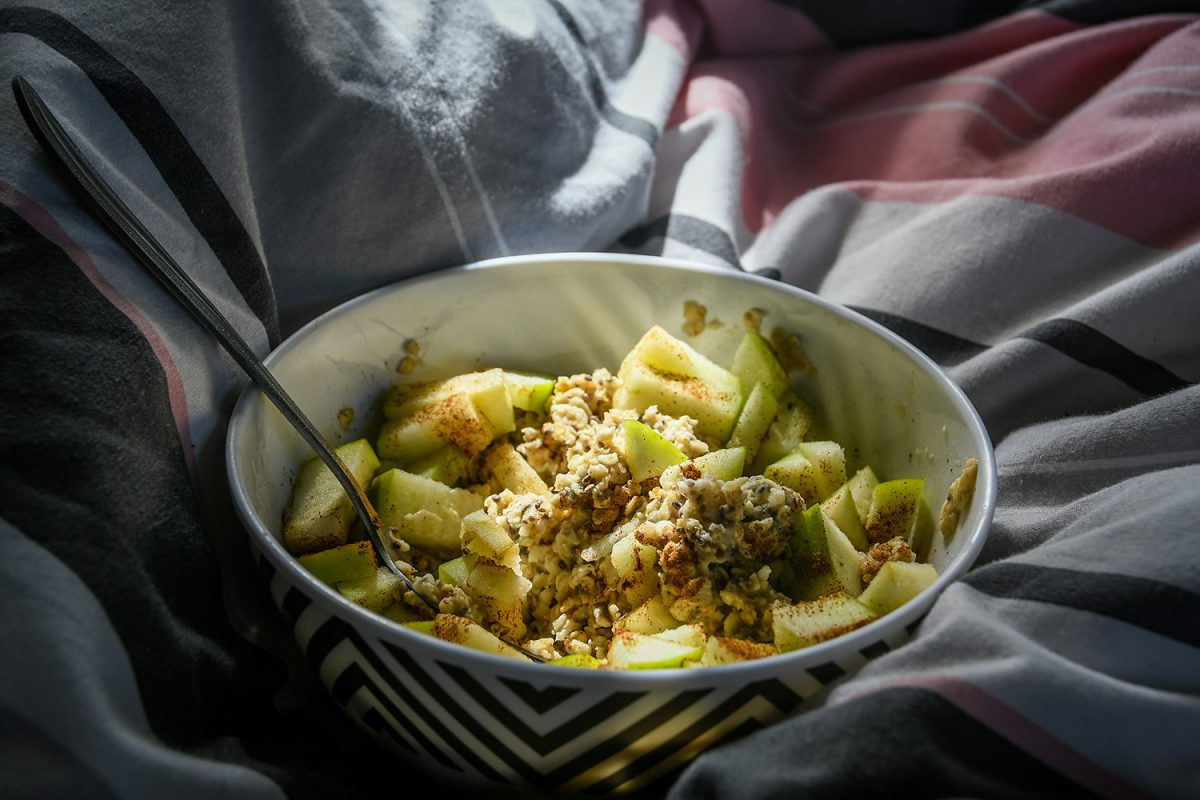 If you think you'll want a snack that really "sticks" with you, packing oatmeal can be a good idea. It's an especially good option on early morning hikes, or in colder weather when you'll want a little warm-up.
Pack a thermos of hot water (you won't need much), and either those single-serving oatmeal packets, or make your own high-powered oatmeal by combining the ingredients below in a bag:
Quick-cooking oats
Brown sugar
Dash of sea salt
Vanilla protein powder (optional)
Freeze-dried raspberries (optional)
Chia seeds (optional)
Psst! Use the remaining hot water to make coffee, hot cocoa, or a hot toddy (no judgment here!).
16. Hard-boiled egg
Healthy and packed with protein and good-for-you fats, hard-boiled eggs make a good snack. Personally, we prefer only to pack them if we know we'll be eating them shortly after starting our hike – it's not the kind of food we really like to have sit around in a backpack for a while.
Also, in our opinion, hard-boiled eggs are much more enjoyable with a bit of salt and pepper, so we either pack a small bag with seasoning, a backpacking spice container, or a couple of those teeny packets they have at fast food joints.
17. Hemp Heart Bites
Have you tried hemp? If you haven't you've gotta taste it! With a nutty, slightly sweet flavor, this superfood packs in a ton of protein and Omega 3 & 6. While hemp hearts are easy to sprinkle on salads or smoothies, they are kind of hard to snack on, that is until we discovered these Hemp Heart Bites. Super portable and nutrient-dense, they make a great hiking snack!
18. Aussie Bites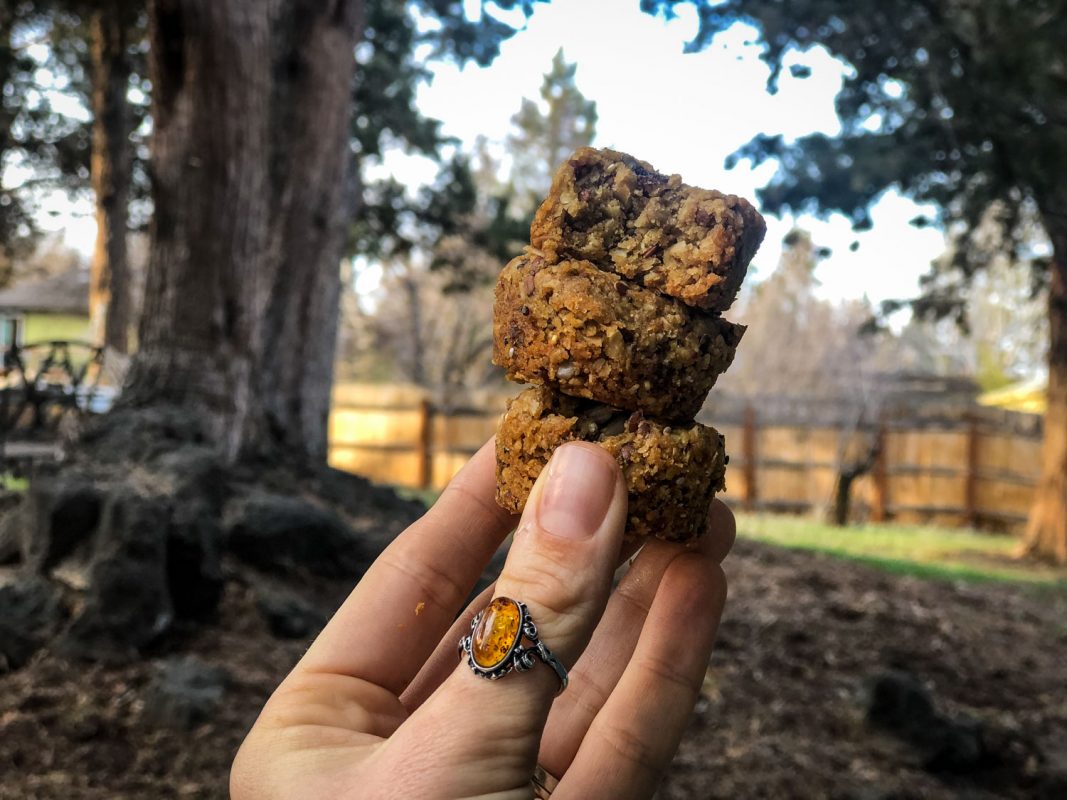 While these tasty little treats could fool a child into calling them "mini muffins", they pack quite a nutritional punch.
Made with all organic ingredients like rolled oats, flax seeds, dried apricots, coconut, quinoa, and chia seeds, these are a far better alternative than packing, say, a chocolate chip cookie, yet it'll give you that same "dessert" satisfaction!
You can find these babies in bulk at Costco, or you can bake your own copycat version by following this recipe!
19. Crispy chickpeas
High in protein and carbs, and with zero sugar, chickpeas are a healthy snack, whether hiking or not. The easiest way to enjoy them on the go is when they're roasted.
You can make them yourself (pretty easily), or you can buy them from the store! They come in a variety of flavors, and can be a good addition to a savory trail mix!

20. DIY Energy balls
If you feel like channeling your inner Betty Crocker, you could whip up a batch of no-bake energy balls to take with on your hike.
We've done a lot of experimenting with energy balls, and here's our favorite recipe we've come up with:
1 cup old-fashioned oats
1/2 cup almond butter (or substitute for peanut butter)
1/2 cup ground flax seed
1 tablespoon chia seeds
¼ cup mini chocolate chips + ¼ cup cacao nibs (or simply 1/2 cup chocolate chips)
1/3 cup maple syrup or honey
1 teaspoon vanilla extract
Mix all ingredients together in a large bowl, and roll into small bite-sized balls. Refrigerate at least 2 hours before taking on your hike (overnight if possible). Pack them in a container so they won't get smushed.
21. Dark Chocolate
For those intense cravings that just can't be satisfied any other way, packing a small bar of dark chocolate might just be a sweet reward you need for the summit (or end of your .5-mile loop!).
Just be sure chocolate isn't your only snack on a big hike. It's gonna taste oh so good, but you'll crash after consuming lots of sugar with no protein, complex carbs or fiber to balance it out.
Insider Tip: If you're hiking in hot weather, freeze the chocolate bar the night before so it won't melt so quickly.
And if you don't want to pack a bar of chocolate, a good alternative are these addictive chocolate-covered berry bites. Add them into your trail mix or enjoy them on their own for a sweet reward!
22. Wrap
While not exactly the most lightweight or low-maintenance of the snacks on this list, this is certainly one of the most satisfying. If you're planning to hike over the lunch hour, why not pack a wrap to look forward to!? If you prefer traditional bread, go the sandwich route, but we like wraps because they are a bit more portable and don't get soggy as quickly.
Start with a tortilla or naan and top it with a protein like deli meat, eggs, or hummus. Add in veggies for freshness, and something to tie it all together, like stone-ground mustard, hummus, guac, mayonnaise or guacamole.
Wrap in tin foil or place in a container that won't get easily squashed.
23. Bao Bites Superfruit Snacks
Basically an adult version of fruit snacks, these gummy bites are sweet, chewy and delicious, but are also made with real ingredients. They're a healthier alternative to processed sugar-packed treats like gummy worms, but are still crave-worthy.
Bonus Snacks!
On a really intense day hike or trail run, you may want to pack the following items. (You won't need these for short or easy day hikes.)
24. Electrolytes
While not really a snack per se, we sometimes bring electrolyte tabs on long (and grueling) hikes. Our favorite brand we've found is Nuun. They are very portable (think a tablet that kind of looks like a Tums), and you pop one in your water and let it dissolve. The best part is they taste better than any other brand we've tried.
Replenishing your electrolyte level can take you from feeling super run-down, lightheaded and nauseous to ready to conquer that summit.
25. Energy chews
While these aren't things we consume regularly, they can be good to pack on long and intense hikes or trail runs. The two we would pick are Honey Stinger Energy Chews and Skratch Labs Energy Chews for their simple ingredients.

Hiking Snacks and Leave No Trace
We have a feeling we're preaching to the choir here, but this is very important, so listen up:
PACK OUT EVERYTHING YOU HIKE IN.
This obviously applies to wrappers. (I don't think we need to explain why.)
And yes, this applies to apple cores, orange peels, pistachio shells, and all the other stuff that people think, "Oh, it's natural, it'll just decompose so I can throw it into the woods."
Here's why that's not a good idea: Animals that are not meant to ever come in contact with banana peels, for instance, may start eating them. Hey, it smells appetizing, after all! This can become a big problem, not only for their digestive systems (which may not be able to handle "people food"), but also because over time, fruit peels can start attracting wildlife to come closer to the trails and have more human interaction than is safe for both the animal and for people.
It's not that difficult to put your apple core into a bag and dispose of it properly.
Our advice: Pack a baggie! When hiking, we usually bring a silicone (reusable) baggie with us to keep our fruit peels for composting later. It's also handy for any wrappers, twist ties, etc.
Read up on the 7 principles of Leave No Trace before you head out on your next hike!
More Responsible Hiker Tips:

Pick up Litter: Go beyond just packing out your own trash! We usually carry a larger bag — usually one we find on the ground — and we try to pick up any trash we see along the trail. And if we don't have a bag handy, we just stick any litter in the water bottle pouch on our backpacks and dispose of it when we find a trash can. It requires minimal effort on our end, yet think of how big a difference would be made if even just 10% of the people on trails picked up some rubbish.

Avoid using trail trash cans: If possible, avoid throwing trash into the bins along trails. Often times, these get overfilled and require rangers to trek out the trash, which may not happen all that often. Obviously it's better to put trash in these bins than throwing it on the ground. But if you have the ability to hike your waste out, that's always a better option.

You may also like…
Save this article for later on Pinterest!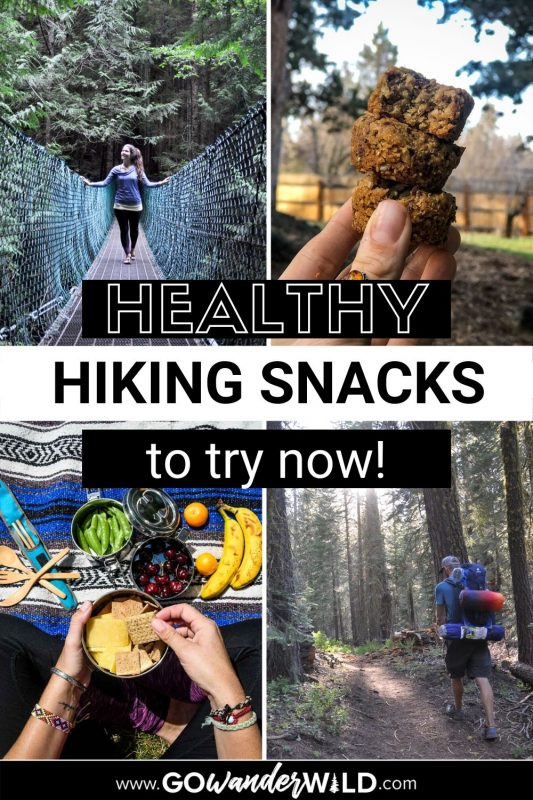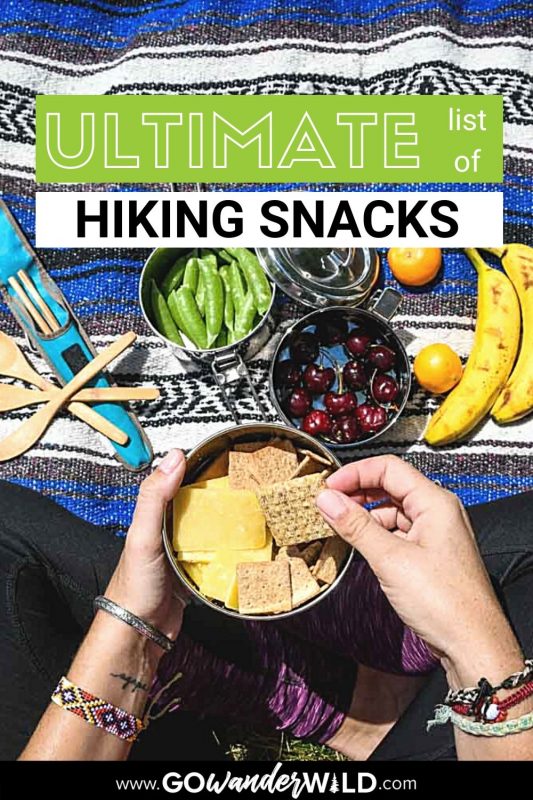 We want to hear from you!
What is your favorite hiking snack? Comment below with your favorite hiking snacks or which foods from the list look best to you!