After living in this Central Oregon town for nearly 2 years, we've had plenty of time to discover the best hikes near Bend, Oregon. We put together some of our favorites suitable for all levels, including easy walks and longer full-day treks.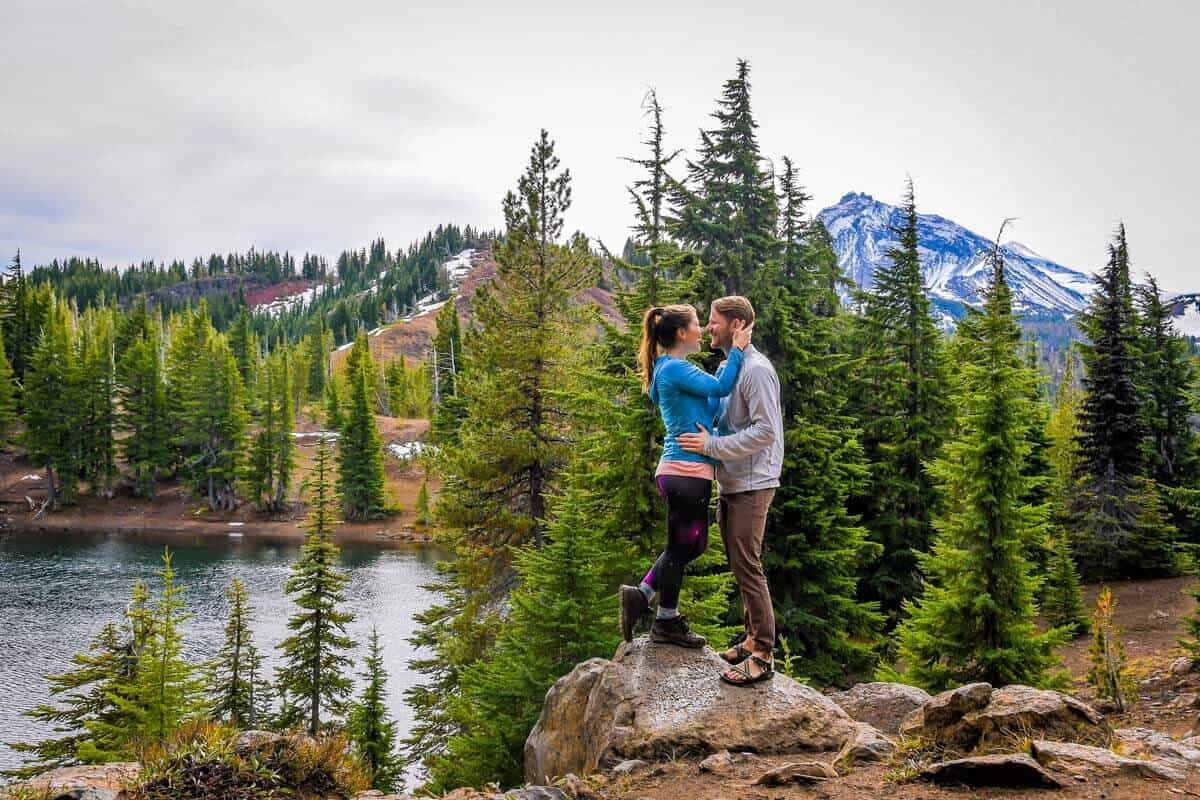 Surrounded by snow capped mountains, thick pine forests, rushing rivers and alpine lakes, it's no wonder that hiking is a favorite pastime in Bend. The diversity of landscape here is like no other and absolutely stunning. After living in this Central Oregon town for nearly two years, we've had plenty of time to discover the best hikes near Bend, Oregon.
There are seemingly endless hikes suitable for all levels around town, so we put together some of our favorites, listed in order of difficulty from easy walks to longer full-day treks. From panoramic mountain views to wildflower filled vistas, clear blue glacial lakes and cascading waterfalls, we're covering all of the best Bend Oregon hikes based on our first-hand experience.
Psst: Before you plan your adventure, be sure you put some thought into what to wear hiking so you're prepared for a great time on the trail.
1. Deschutes River Trail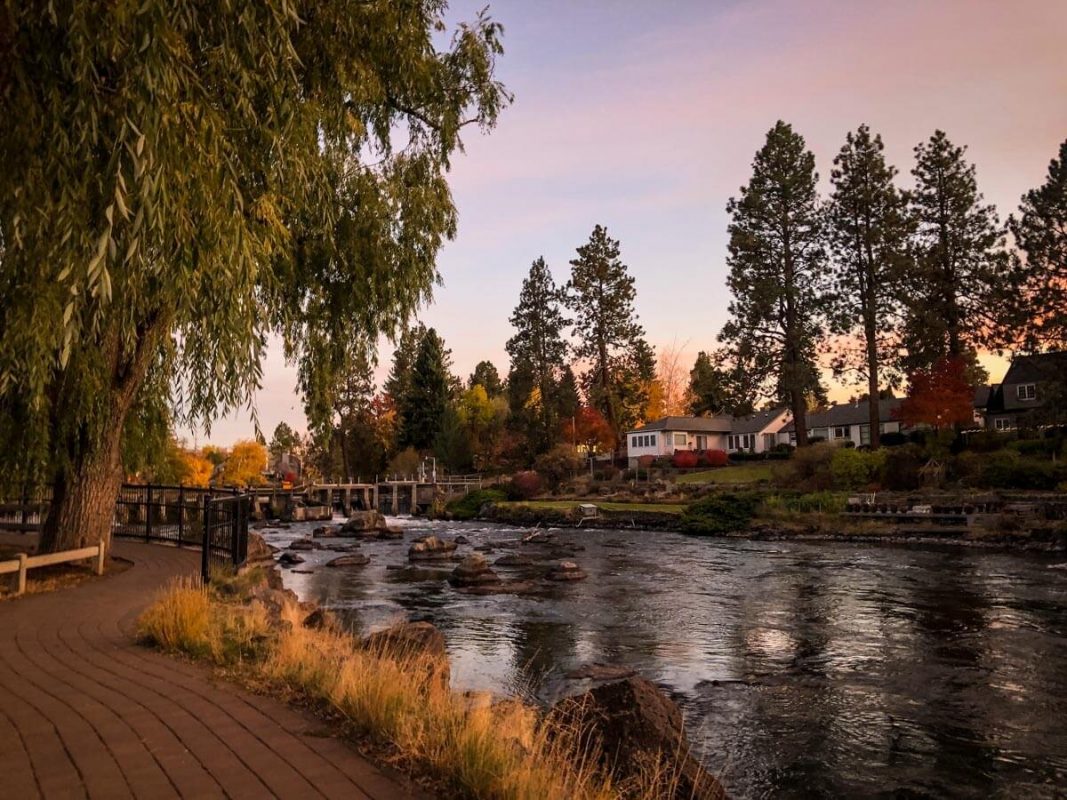 The Deschutes River cuts through the center of Bend, dividing the town into an east and west side. Well-maintained paths lining the river on both sides allow for an easy stroll in either direction — a scenic walk and local favorite.
Officially the trail starts at the Loge Camp and climbs up and over a ridge before continuing along the west side of the river, ending at the Benham Falls Overlook. However, we say you can pop onto the trail at any convenient point and have a leisurely stroll along the river until you feel like stopping.
Insider Tip: One of our favorite places to walk and explore is near First Street Rapids, a section near the river with lots of big boulders. Relax by the water or walk toward Pioneer Park for some nice views.
2. Pilot Butte Viewpoint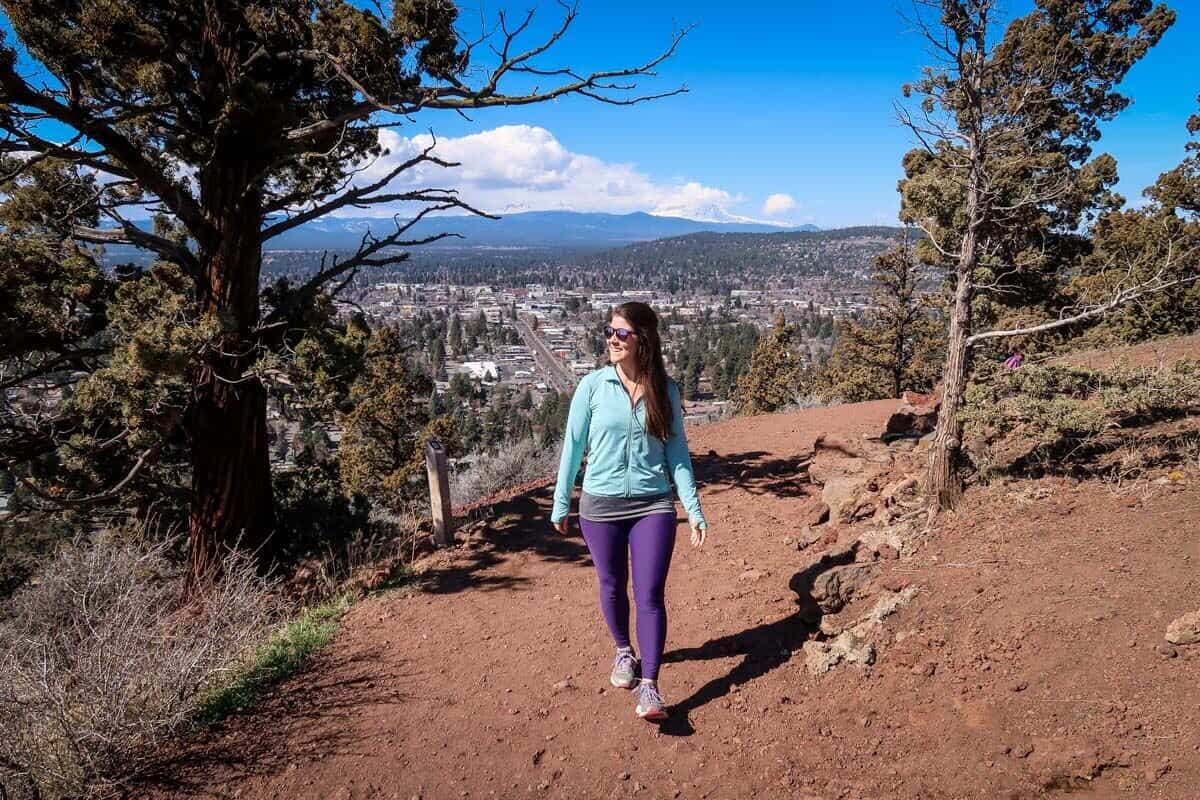 When scanning the horizon from Bend, you'll notice a curved hump looming in the near distance. The unassuming hill protruding from nowhere is actually a nearly 500-foot lava dome that was formed by an extinct volcano. This, my friends, is Pilot Butte.
The state park is a popular place where locals like to get some exercise. There are two options for hiking to the top: You can hike the paved 1-mile road (shared with cars during the summer months), or hike the steeper but more peaceful gravel nature trail. The heavily-trafficked 1.8-mile out and back trek will offer panoramic views over town with nine snow-capped peaks looming in the distance.
Psst! If you are a newbie to hiking and not sure where to start. Our friend Parker helped us put together a list of beginner hiking tips and essential info that has everything you need to know to feel comfortable hitting the trails!
3. Shevlin Park Loop Trail
Located less than 3 miles from Bend, Shevlin Park is a haven of forested lands surrounding a creek. The extensive trail system provides for both summer and winter use. The Shevlin Park Loop Trail is great for walking, trail running, or biking during the warmer months. In wintertime, you can bring your cross country skis and make your way through Aspen and Ponderosa Pine forests on the snow.
4. Riley Ranch Trail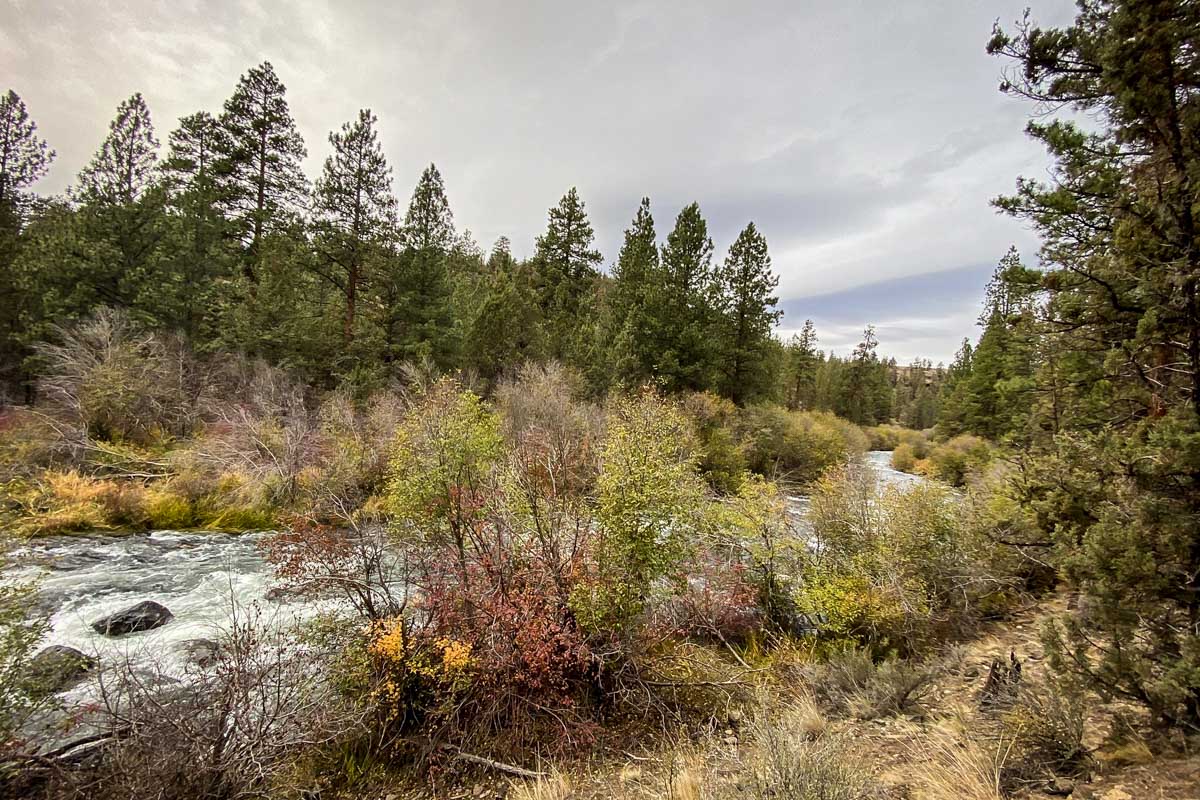 If you're looking for an easy walk with beautiful scenery, this is it. This nature reserve offers varied trails and views for hikers of all experience levels. The well-maintained Riley Ranch Loop Trail is a 4.5-mile moderately-trafficked loop around the reserve, following part of the Deschutes River down into a canyon.
This trail is best hiked in the morning or evening as there is little to no shade to protect from the midday sun. You can make it through the canyon to the campground on the other side and back in about 3 hours.
Tip: It is highly recommended to plan your hike coming back through the meadow at sunset when you're likely to come across a herd of deer or a few rabbits as the sun is setting beyond the meadow.
5. Lava Island Trailhead to Benham Falls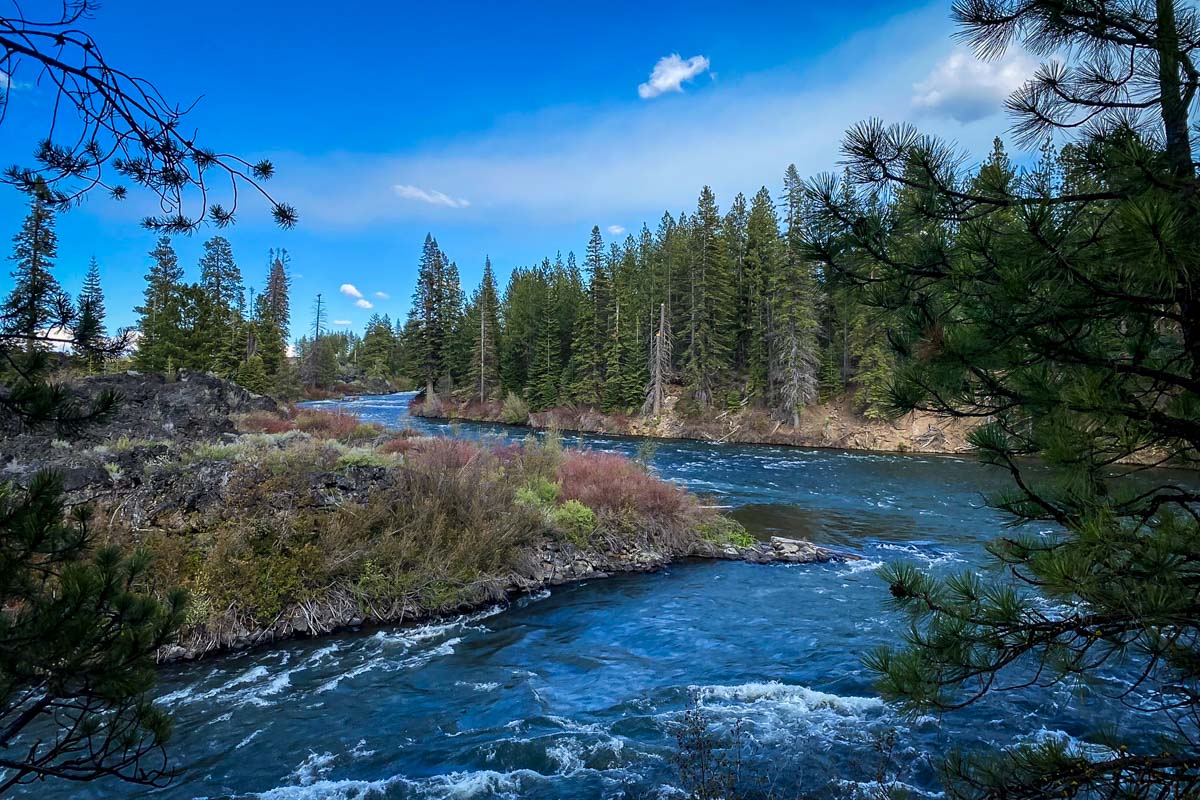 This beautiful and peaceful trail will offer some reprieve from the crowds on the more popular trails on this list. Located near La Pine, Oregon, southwest of Bend, this trail follows the Deschutes River offering a peaceful soundtrack as you take in the scenic views. It is also a great trail for dogs, although they must be kept on a leash.
6. Tumalo Falls Hike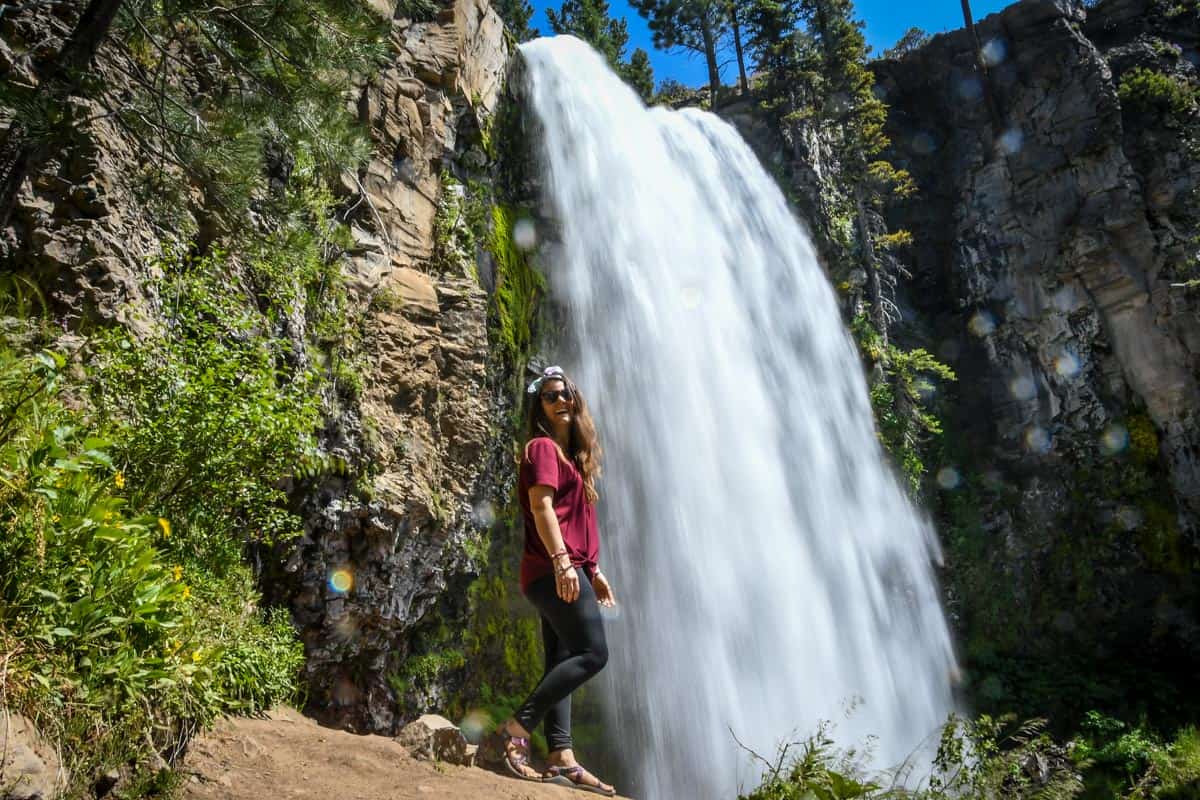 As one of the best waterfalls in Oregon and also the closest waterfall to Bend, Tumalo Falls is actually quite accessible with a short and easy hike to the falls and a nice 7-mile loop around the area. This hike will be less crowded than the falls themselves and offers beautiful creekside views, wildflowers, and several smaller waterfalls all on a tree-shaded path.
In fact, this is one of the most popular hikes in Bend, so we put together an entire Tumalo Falls hike guide with a detailed breakdown of the trail, how to get there and what to expect.
Psst! Is chasing waterfalls kinda your thing? Are you also an avid hiker? Check out these incredible Oregon waterfall hikes and see which ones you need to add to your bucket list.
7. Crooked River Trail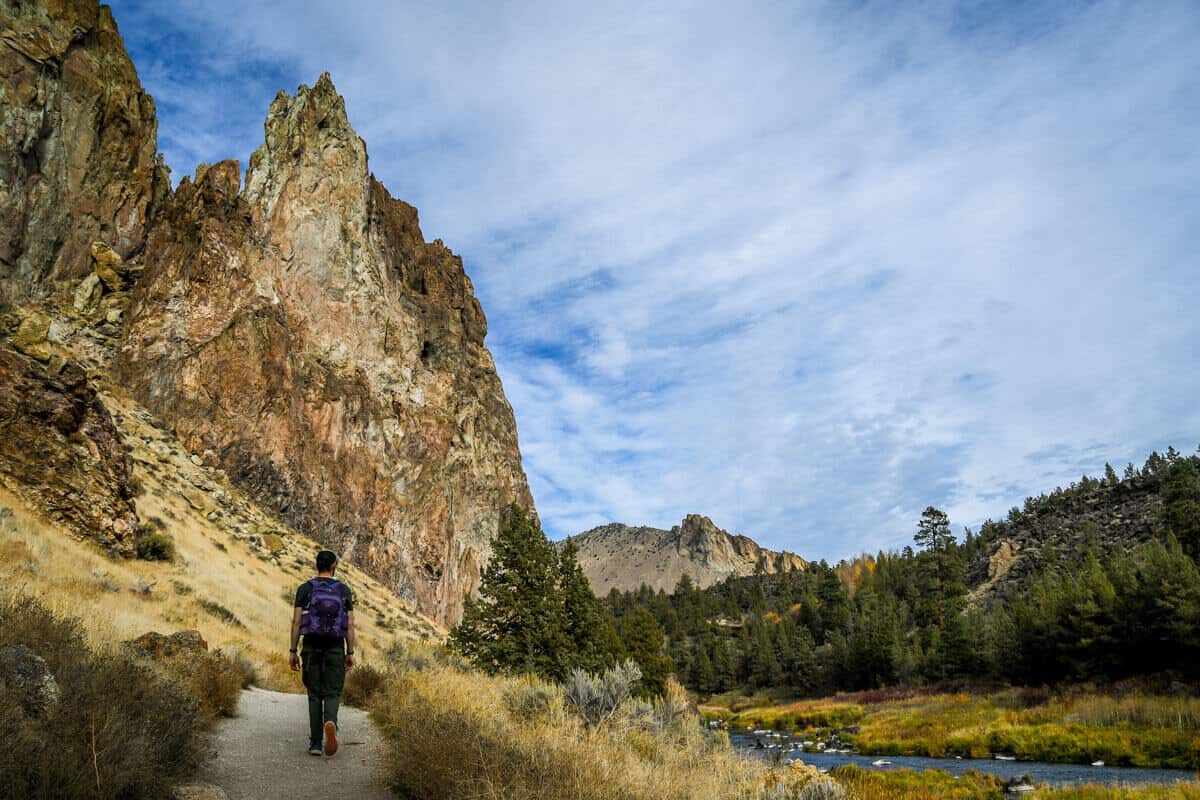 Located in Smith Rock State Park, follow this trail alongside Crooked River, which truly lives up to its name. You'll pass by desert sage and listen to birdsong, with cliffs to one side and the river on your other as you wind your way along this trail. Turn around when you get tired, or make it all the way to Monkey Face rock formation.
The only real elevation gain/loss on this trail is at the very beginning of the hike. From the parking lot, you will descend down a steep path, and at the end you'll need to climb up this stretch to finish.
Tip: Get there early, especially on weekends, to find a good parking spot (Smith Rock charges for parking). And bring plenty of water and sun protection. There are some shaded areas of the trial, but the summer heat is no joke!
Psst! Check out our guide to visiting Smith Rock State Park on our sister site for all the information you need to plan your visit.
8. Skylight Cave
Though it's not exactly a "hike" in the conventional sense, this cave just outside of Sisters is quite a sight to behold and is often grouped into the best hikes near Bend. Descend a metal ladder into what seems to be a pretty typical cave, but walk about 300 ft from the entrance and you'll be rewarded with 3 beams of light shooting through the cave's "skylights".
In order to see this phenomenon, you must visit in the morning on a sunny day, as the light only streams in when the sun is at a certain position in the sky.
We wrote an entire guide to visiting Skylight Cave, including exactly how to get there and what to know before you go.
9. Mattieu Lakes Trail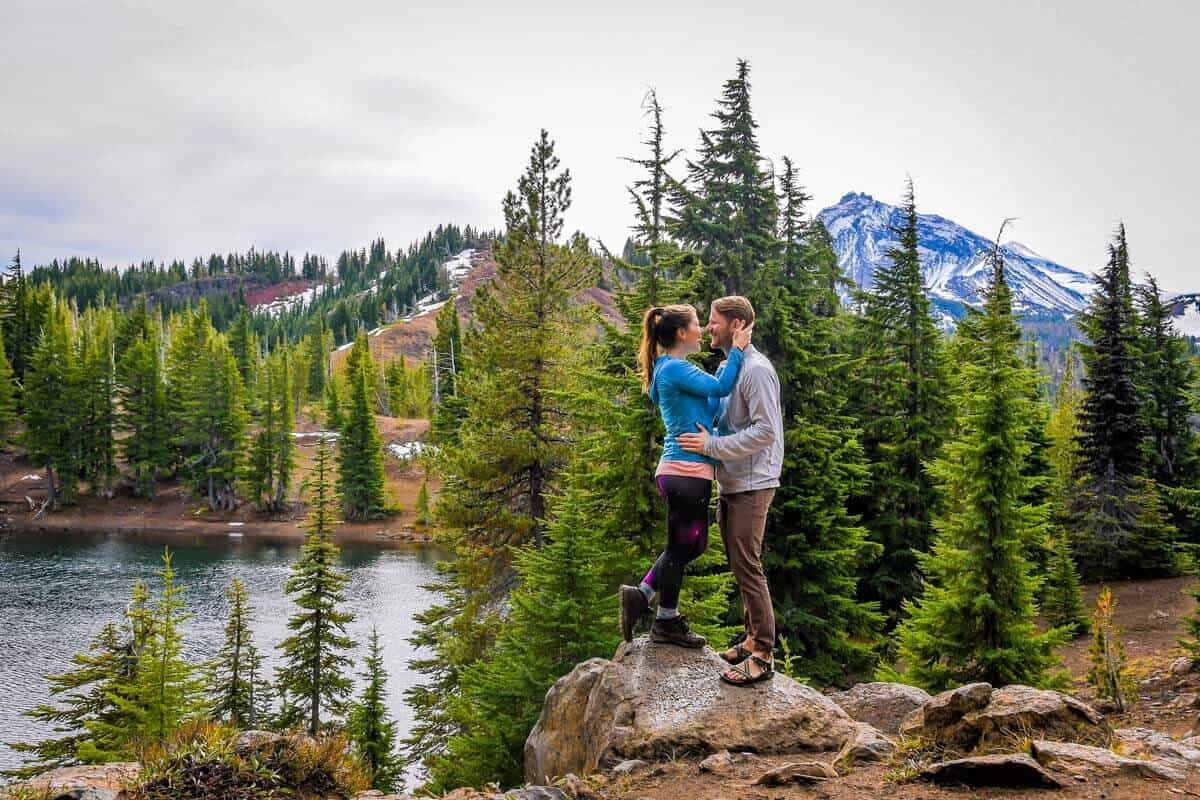 Located near La Pine, Oregon, this dog-friendly trail has very little elevation gain, so it's a great choice for a more moderate hike. Most of the trail is through forest which will help keep you cool on a hot day. The scenery is also quite dramatic, in the best of ways, with plenty of wildflowers and glacial lake views.
Stop at the lake midway through your hike to enjoy a nice picnic lunch and take a dip if you're feeling up for it before completing the loop. As a bonus, the trail links up with a section of the PCT on your way back, which is kind of fun. However, this section is narrow and steep with loose rocks, so hiking poles might be in your favor.
Psst! If it's winter in Bend and all the trails are full of snow, why not try out snowshoeing?
10. Green Lakes Trail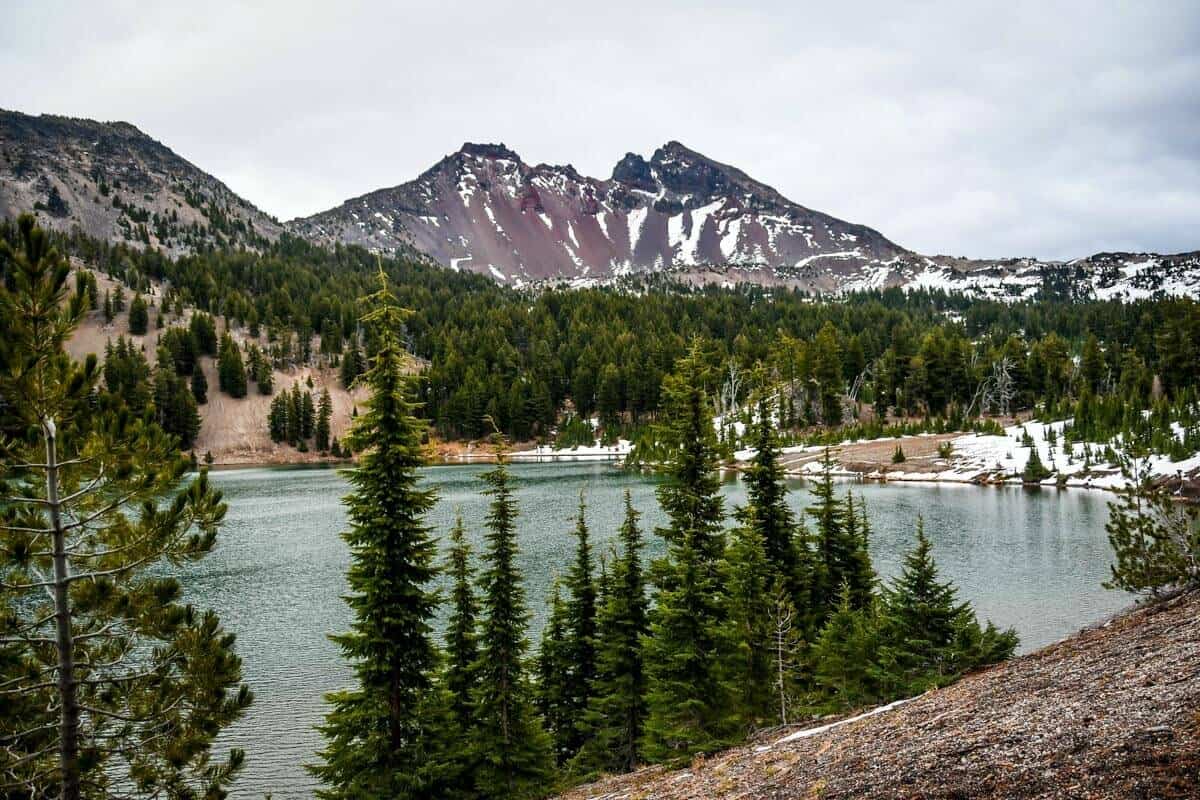 If you're looking for an intermediate hike that won't take all day, Green Lakes Trail is a great choice. Located about 30-minutes west of Bend, just off the Cascade Lakes Highway, and passing through some of the most beautiful Central Oregon wilderness, this trail is popular with hikers and trail runners alike.
On thickly wooded trails you'll pass by a few small waterfalls until you reach Green Lake. This is a perfect spot to enjoy a picnic lunch with epic views of Broken Top in the backdrop before turning around to head back.
Insider Tip: Pack some of our favorite hiking snacks or pick up a sandwich at one of the many shops in town before heading out on the trail.
11. Tumalo Mountain Trail
If you're looking for some of the best views in Central Oregon that are fairly easily accessible, then this trail is definitely for you. The Tumalo Mountain trail is a steep yet pretty straight shot to the top of a ridge where you'll be rewarded with panoramic views of Broken Top to the north and Mount Bachelor to the southwest.
This particular route is popular to do for sunrise, and the parking lot will sometimes fill up even an hour before sunup. Be prepared that you may encounter snow on this trail up until July.
Tip: Don't forget to pack your camera and be sure to check out the short but scenic Tumalo Falls hike while you're in the area.
12. Misery Ridge & Summit Trail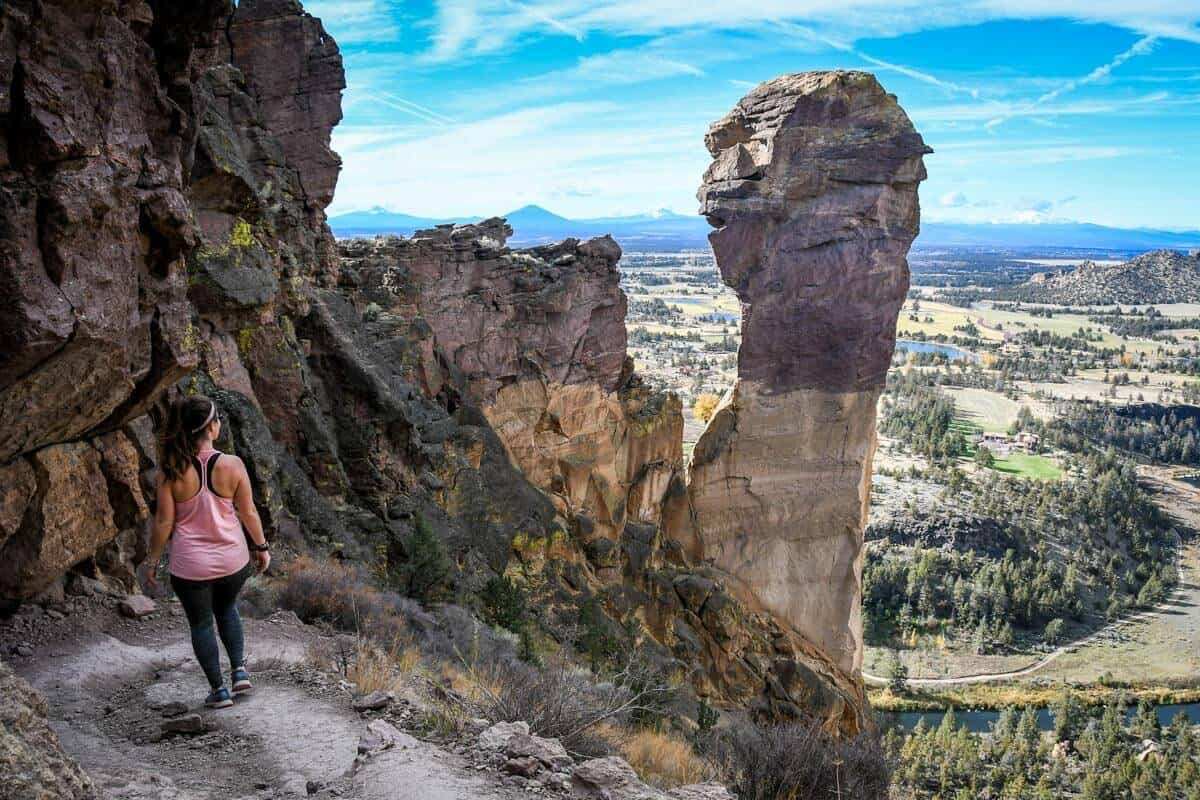 Another hike in Smith Rock State Park, this one is sure to get your heart pumping! The Misery Ridge & Summit Trail takes you through a world-famous climbing site in Crooked River Canyon and offers some incredible views over the river and cliffs.
It is considered to be one of the best hikes in Oregon, and one of our personal favorites too!
The trail is mostly flat and easy walking, but gets much more strenuous as it climbs over the ridge. Stop and watch the climbers as you wind your way through the area and finish the loop along the Crooked River for an easy way to wind down.
If you plan to spend some time hiking around Smith Rock, be sure to have proper sun protection, as there is little cover from the high desert sun. Find out more about parking and getting a day pass for Smith Rock State Park here.
13. Tamolitch Blue Pool
This short section of the McKenzie River Trail brings you to the stunning turquoise Tomolich Pool (also known simply as the Blue Pool). There are no filters used on this photo – the water really is that blue!
The hike is located about an hour northwest of Bend and begins at the Tamolich Trailhead just off the McKenzie Highway. (Be sure to start from the proper Tamolitch Trailhead and hike the McKenzie River Trail north to the Blue Pool. We hiked south from the Carmen Reservoir and it took us twice as long.)
We have directions plus all the information you need in our guide to visiting the Tamolitch Blue Pool.
Warning: Just be prepared for cold water! Seriously, even on the hottest summer day, jumping in this spring-fed pond is sure to cover your body in goosebumps. But it is totally worth it, and feels amazing when you dry off in the sun.
14. Broken Top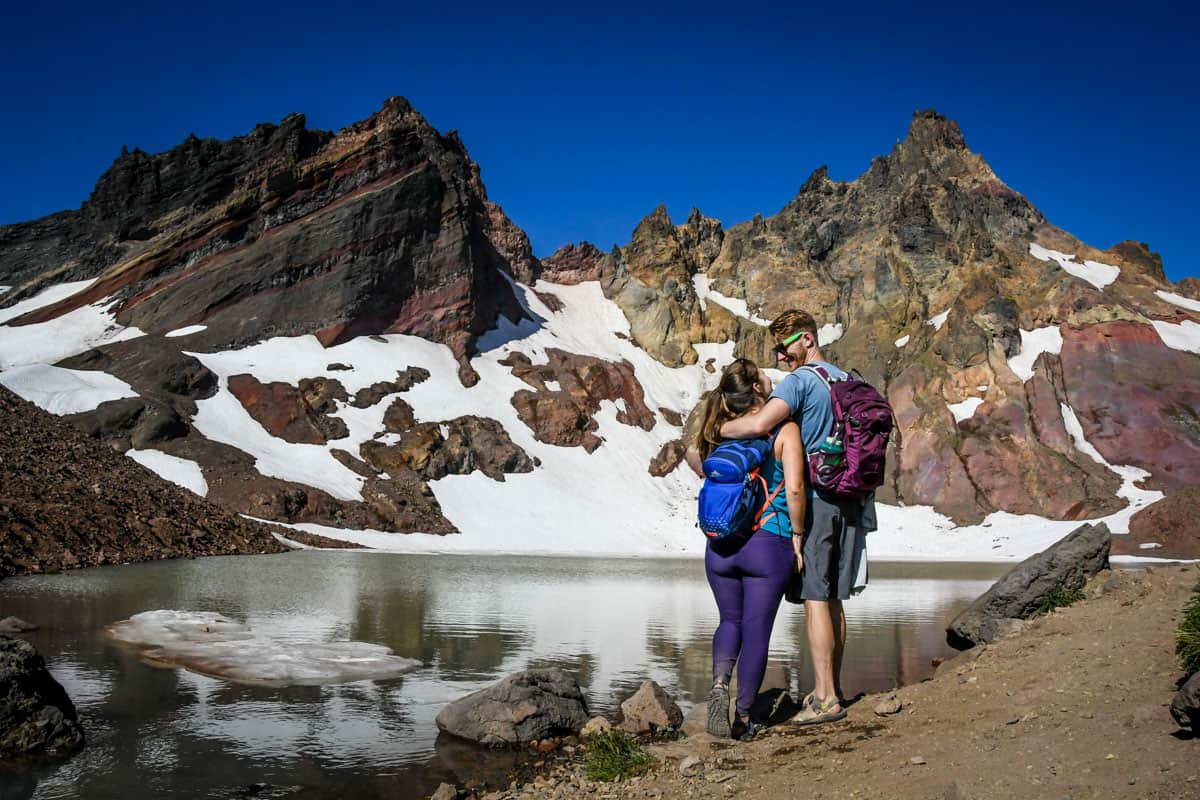 If you're looking for a challenging hike that'll take up a good chunk of your day, we'd highly recommend this trail. In fact, this is one of our very favorite hikes in all of Oregon, and we put together an entire guide to hiking Broken Top with a detailed breakdown of the trail.
15. South Sister Summit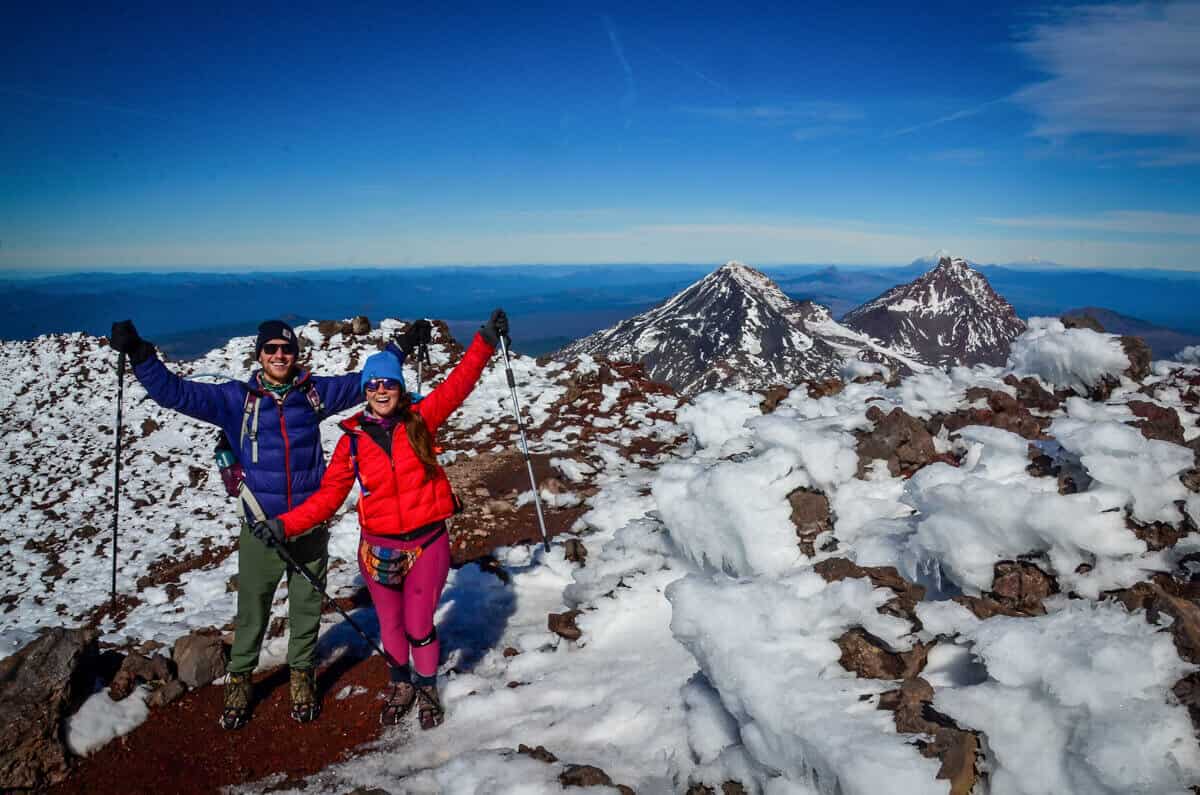 Summiting South Sister is a bucket list hike for many Oregonians, however this hike should be tackled by experienced hikers only. Know that you will need to start this hike early and put in some preparation efforts before hitting the trail. This hike will take the majority of your day (think 10-12 hours).
This trail is extremely challenging, and you'll want to be prepared with proper hiking essentials such as shoes, gear, enough water, and food. Depending on the time of year you hike, you may need microspikes for walking along the crater at the summit. If this isn't scaring you away, it is extremely worthwhile and an epic hike near Bend!
Good to know: As of May 28th, 2021, many trails within Three Sisters Wilderness now require a day-use or overnight permit.
We have all the information you need to prepare in our trail guide for the South Sisters Hike.

What to pack for hiking near Bend
Although the hikes near Bend vary from easy strolls to more challenging summits, you'll always want to have some key items in your pack.
Be sure to grab our ultimate hiking packing list includes our must-have gear for any hiking trail!


You may also like…
Save this article for later on Pinterest!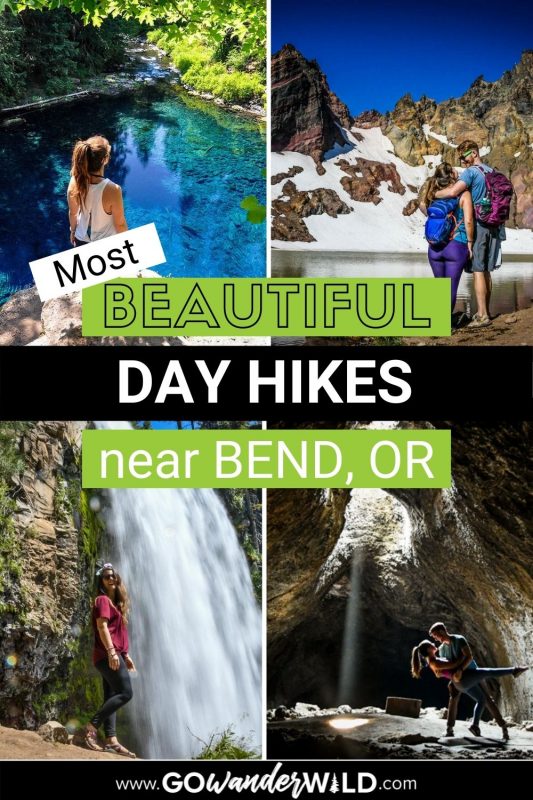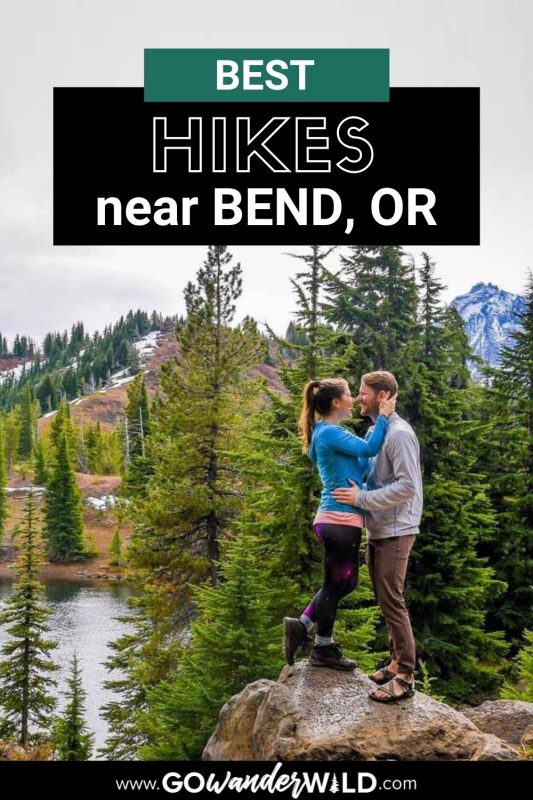 We want to hear from you!
Have you done any of these hikes near Bend Oregon? What was your experience like? Do you have more questions about hiking near Bend? Comment below and let us know!