Find out everything you need to know before visiting Umpqua Hot Springs, some of the most beautiful hot springs in Oregon. We'll go over how to get there and what to expect from your visit, plus a few mistakes we made during our visits so you know what to avoid.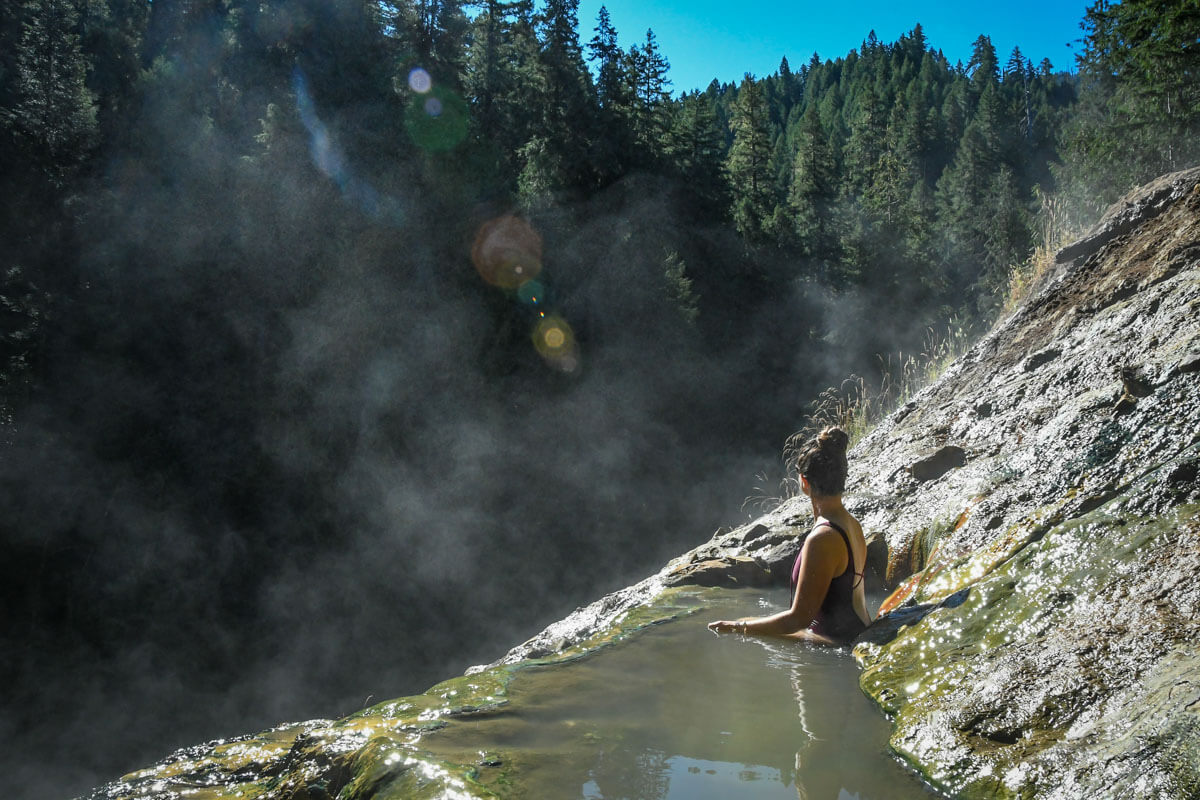 Nestled in a lush pine forest overlooking a river valley, Umpqua Hot Springs looks like something out of a storybook. But don't let the private cliffside pools fool you… This hot spring is definitely no secret.
While it is somewhat remote and requires a short hike to reach, you'll likely be sharing the area with many others who came to enjoy this beautiful piece of Oregon just like you did. (Sorry to crush your dreams of soaking in solitude, but we wanna prepare you for what to realistically expect!)
We've visited Umpqua Hot Springs three times over the years, and can say that there's a lot you should know before you hit the road. We've had a few minor mishaps at this hot spring during our visits, and we want to help you avoid our mistakes.
This article will walk you through exactly how to get to Umpqua Hot Springs, what to bring, what to expect when you arrive (there are certainly a few things you should be prepared for!), and some insider tips you won't find anywhere else.
Umpqua Hot Springs Description
As one of the most famous hot springs in Oregon, people flock to the Umpqua National Forest to soak in these photogenic pools that you've likely seen gracing your Instagram grid.
Umpqua Hot Springs is comprised of a handful of small terraced pools that overlook the North Umpqua River. The top pool is covered with a rustic wooden structure to shield soakers from rain and sun. This tends to be the most "communal" pool as it is larger than the lower, more private pools that fit 3-4 people at most.
The top pool is also the hottest of them all; the pools lower on the cliff get progressively cooler. In fact, we'd describe the lowest pool as a "cool lukewarm"! The variety of temperatures means you can hopefully snag a pool that's to your liking (that is, if it's not too crowded!).
This popular hot spring is known for attracting a diverse crowd — from families with small children, to partying teenagers, to groups of hippies soaking in the nude — you'll see it all here!
Love hot springs? (We do too!) Check out our list of the best hot springs in Oregon!
Umpqua Hot Springs Stats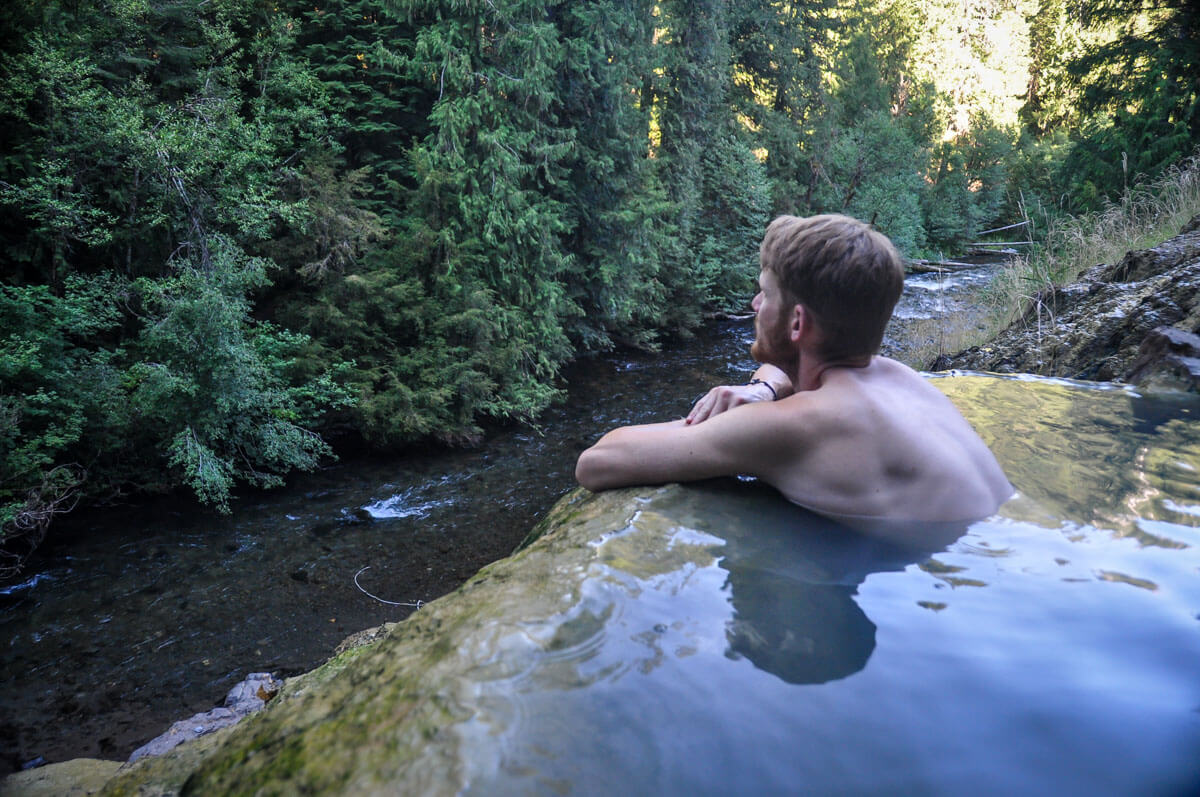 Here are all the important things to know about Umpqua Hot Springs:
Location: in the Umpqua National Forest, a short detour off of North Umpqua Highway
GPS coordinates: 43.2951225, -122.3658739
Nearest moderately-sized town: Roseburg, which is 64 miles west of the hot springs (the town of Glide is technically the closest, at 47 miles away, but it's a very small town)
Access: moderate, .8-mile hike (out-and-back)
Time of year: open year-round; however, the road closes once the snow falls, so you will need to hike, CC ski or snowshoe an additional 1.5 miles either way
Cost: $5 parking fee (per vehicle, per day), or free with the Northwest Forest Pass
Toilets: there is a pit toilet in the parking lot as well as a very rustic toilet near the hot springs themselves
Day use only (no camping overnight)
Camping: no on-site camping allowed; but there are campgrounds nearby
Type of hot spring: mostly natural/undeveloped, though there are some manmade structures and a certain amount of required maintenance
Number of pools: 3; This can change depending on the time of year and water levels. During our visit (in February 2019), there were 2 pools with hot water, but we've heard there used to be 3 or 4 pools.
Water clarity: pretty murky and a bit of a film on the surface
Temperature (at source): 108ºF
Depth: the pools are quite shallow, maybe 3 feet at its deepest
Odor: there is a slight sulfur smell, but it's not the worst we've encountered with hot spring soaking
Clothing: optional
Suitable for children? It depends. While this hot spring is rated in some places as being child-friendly, just know that clothing is optional, and visitors often drink and smoke in the pools.
Important Note: We've heard conflicting information on the current status of Umpqua Hot Springs. According to the US Forest Service, this is temporarily closed due to wildfire damage. However, according to recent reviews on Alltrails, it seems that people say it is not closed. We will try to update this article as soon as we hear more, however, please contact the Toketee Ranger Station (541-498-2531) with any questions you may have, as they will be able to give you the most up-to-date information. Please respect any active closures and do not trespass.
How to get to Umpqua Hot Springs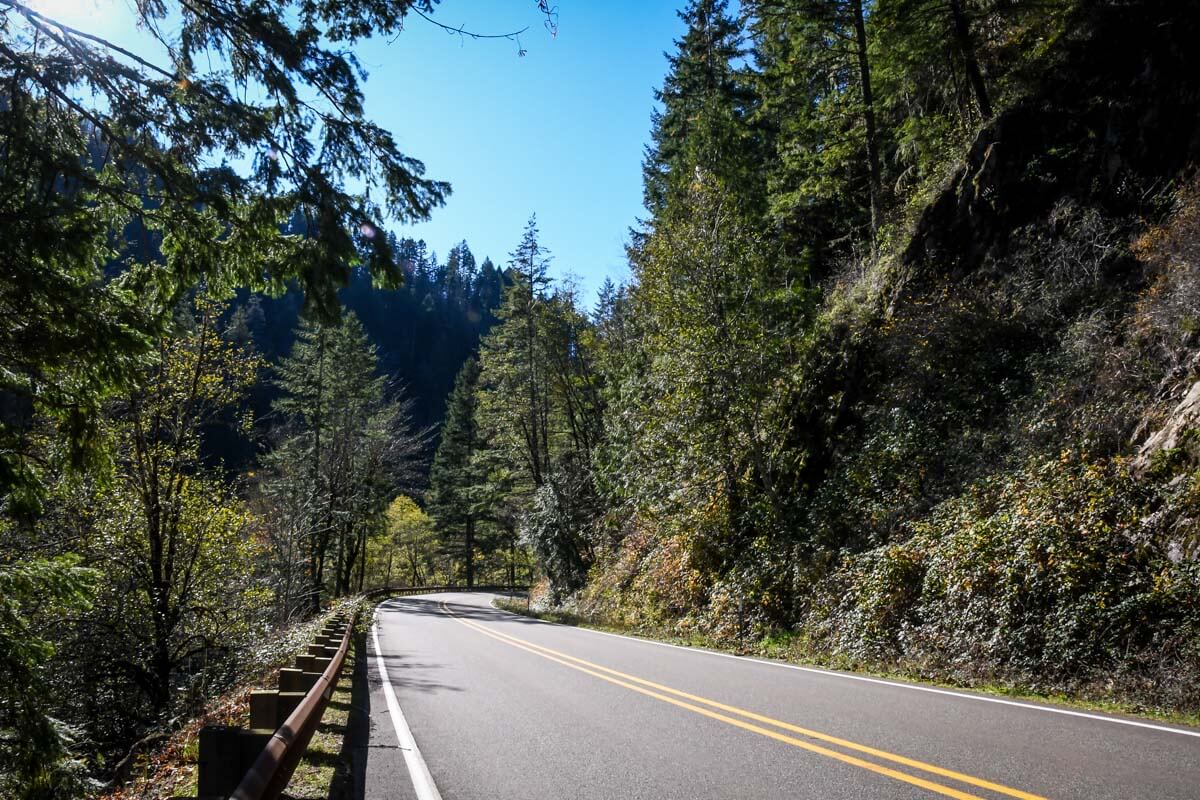 Umpqua Hot Springs is located in Umpqua National Forest, and isn't all that close to any major towns. To get here, you'll need to take North Umpqua Highway (either coming from the east or the west). You'll then take a Forest Service road to the parking lot. From here, it's just a .4-mile hike to the hot springs.
Below are more detailed distances and directions.
Directions to Umpqua Hot Springs
Distance from Eugene: 130 miles, 2 hours 25 minutes
Distance from Bend: 121 miles, 2 hours 20 minutes
Distance from Salem: 192 miles, 3 hours 20 minutes
Distance from Portland: 234 miles, 4 hours
Distance from roseburg: 64 miles, 1 hour 20 minutes
Good to know: The Forest Service road is gravel and depending on the time of year, it can have quite bad pot holes. While visiting this hot spring with my friend Nina, we got a flat tire, so just watch out!
Coming from the West (Eugene)
[You are driving eastbound on Highway 138 / North Umpqua Highway]
From Roseburg, get on Highway 138 and drive roughly 60 miles to the east, just past Toketee Falls.
Turn left onto Forest Road 34 / Toketee-Rigdon Road.
You will pass by Toketee Campground.
Continue on the road and when it forks, take it to the right. In total, this should be about 4.5 miles from the highway.
Once you see signs for Umpqua Hot Springs and a small parking, you've made it!
Coming from the East (Bend)
[You are driving westbound on Highway 58 / North Umpqua Highway]
From US-97, get onto Highway 58, headed west. You will pass by Diamond Lake and Mount Thielsen.
Turn right onto Forest Road 34 / Toketee-Rigdon Road.
You will pass by Toketee Campground.
Continue on the road and when it forks, take it to the right. In total, this should be about 4.5 miles from the highway.
Once you see signs for Umpqua Hot Springs and a small parking, you've made it!
Insider Tip: At just a little more than a 2-hour drive, visiting Umpqua Hot Springs makes a great day trip from Bend, Oregon. Just be sure to get an early start on the day to avoid the crowds as best as you can!
The Hike to Umpqua Hot Springs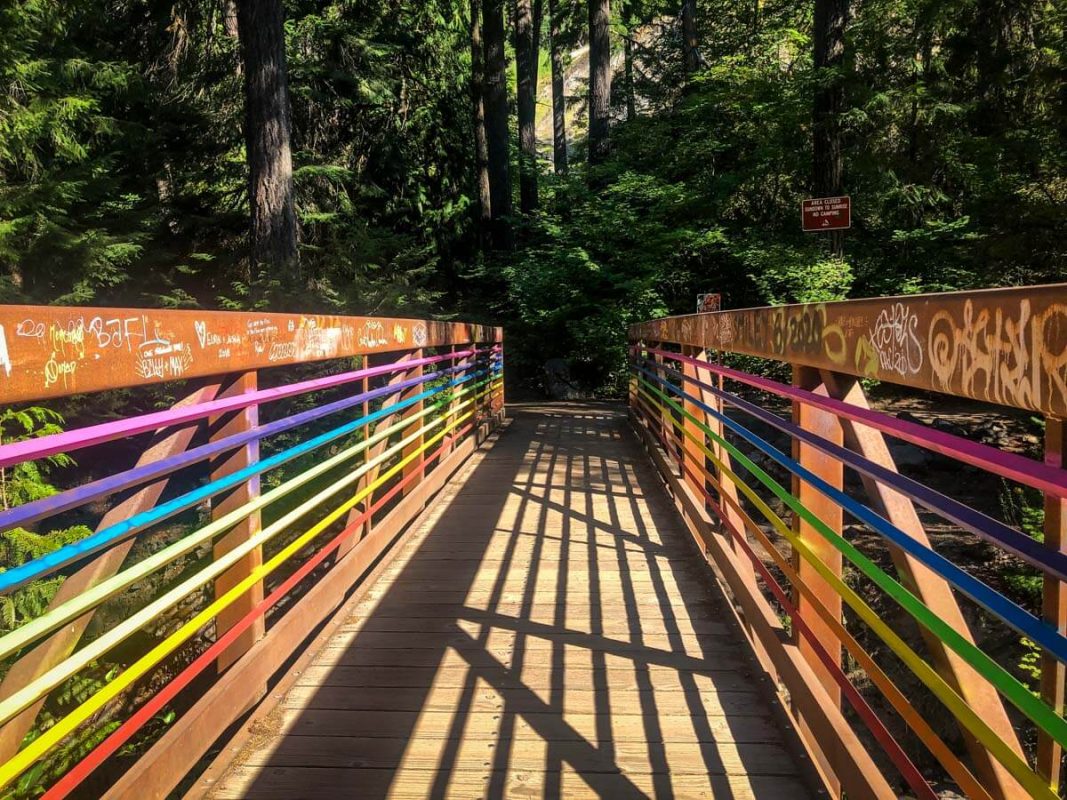 Distance: .8 miles
Type of hike: out-and-back (this means it's just .4 miles to get to the hot springs themselves)
Elevation gain: 305 feet
On Alltrails, this hike is rated as moderate, though I wouldn't put too much thought into it. People of all ages and abilities hike this short trail and make it to the hot springs without too much trouble.
The path is clearly marked at the trailhead. You'll begin by crossing a small bridge, then you'll start climbing a bit on the path through a beautiful forest.
Insider Tip: Download the trail notes from Alltrails before your trip.
Good to know: One thing to note is that the trail getting there is quite steep for a short section, and the path itself is dirt with lots of rocks and roots. We've seen many people do this hike in flip flops, but we'd recommend something sturdier that stays on your foot — a hiking sandal like Chacos are always our choice for this type of hike; plus, they're nice to keep on in the hot springs to make it easy to get in and out.
Things to know about Umpqua Hot Springs…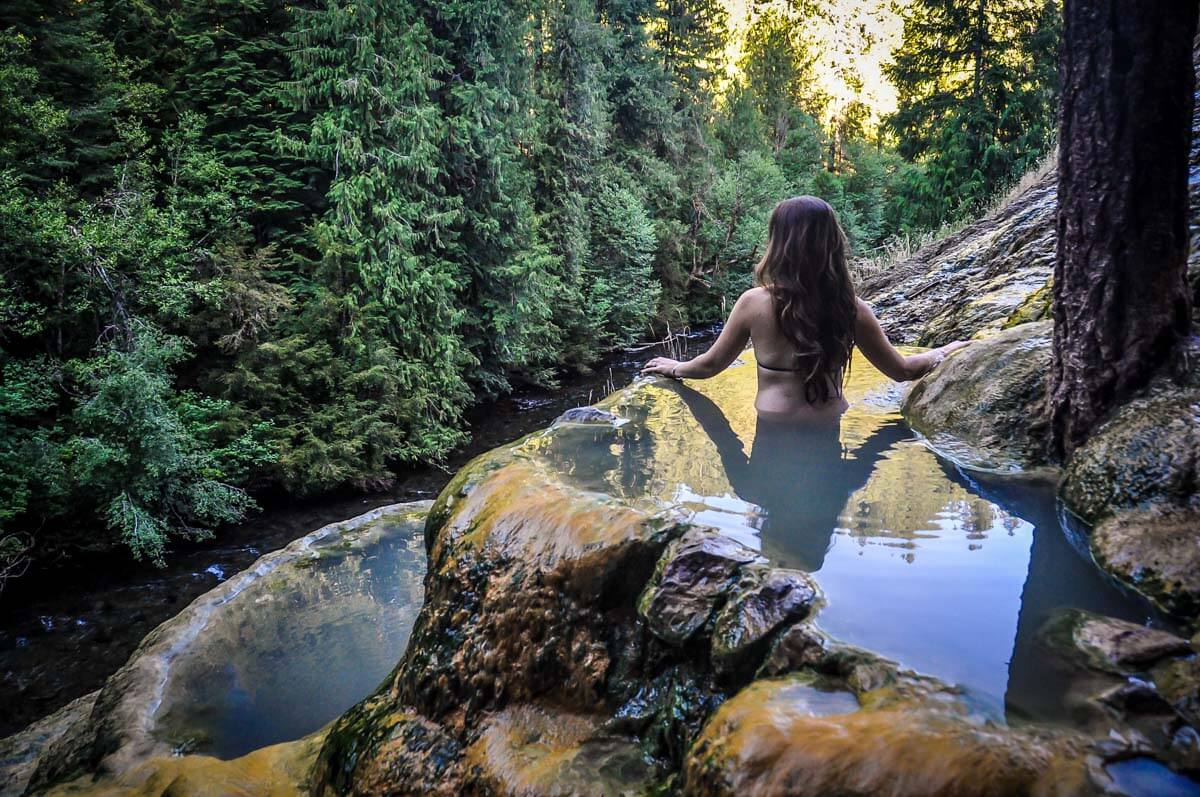 It gets BUSY. If you want to avoid crowds, earlier in the day is better. The best way to get there early (or stay late) is to camp nearby.
There's an upper pool that's bigger, and typically gets kind of crowded. The pools that you often see on Instagram pictures are one of the lower pools that are terraced on the side of the cliff. The water is hottest at the top, and these pools get progressively cooler. These are more "private", but depending on when you arrive, you may or may not find one open.
It's not super clean. Hate to break it to you, but the water is… ermmm… on the murky side. Just making sure you're prepared!
Expect nudity. And drinking/smoking. (This is common at most wild hot springs FYI) We've seen multiple families here too – just be sure you know what to expect.
There's a small outhouse near the spring, but our suggestion is to do your business at the trailhead (and change there too).
A short hike is required to get here. The trail is pretty steep in one section, but not too bad. I'd recommend hiking sandals (like Chacos!) over flip flops if you have them because the trail is a little rough in some sections.
The road getting there is gravel for about the last mile, and it's not maintained super regularly. So depending on the time of year you go, it can be full of potholes – just be cautious. I got a flat tire on this road once… which brings me to the next point…
Cell signal is limited. On the road getting here, expect to have no cell service (Tip: download the offline version of Google Maps ahead of time!). This was kind of an issue when my friend Nina and I got a flat as the sun was setting, and we had no signal. Thankfully, a kind stranger stopped to help.
Umpqua Hot Springs FAQS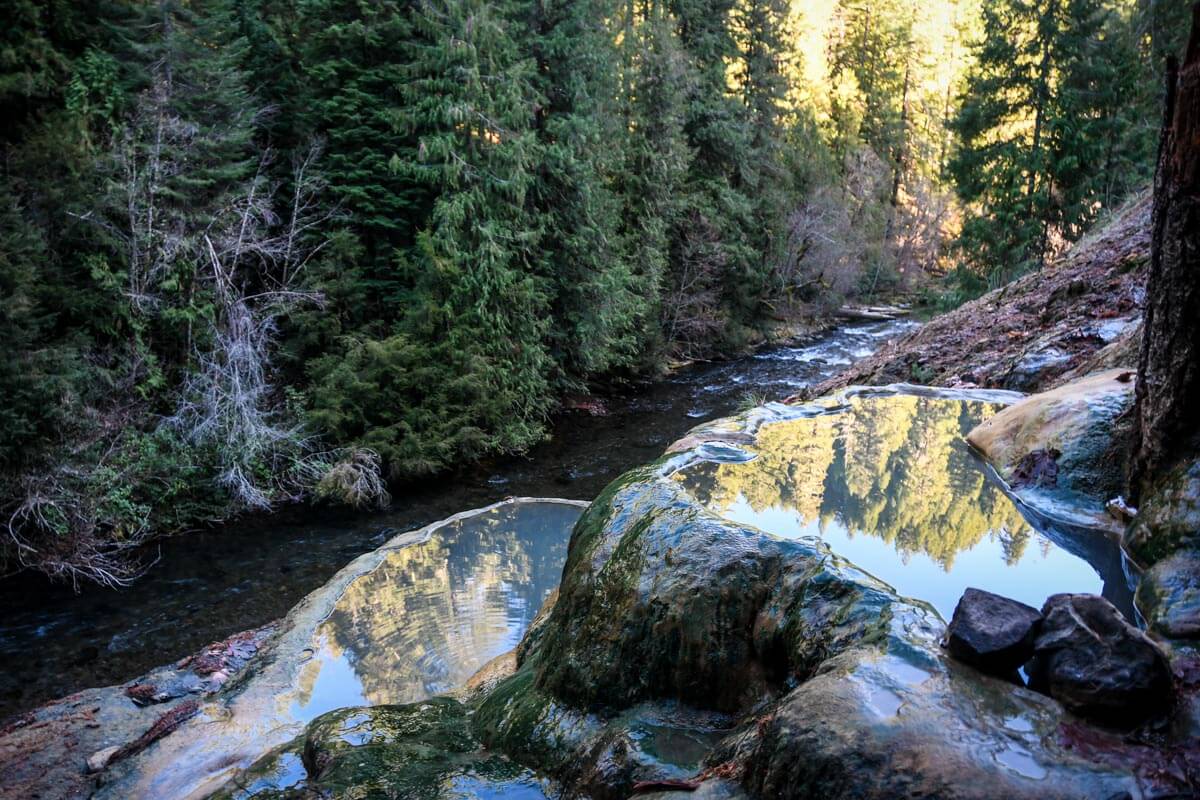 How many pools are there?
The official count is 3 pools; however, there are a few smaller pools as well.
The pool at the very top is covered (with a rustic wood structure), making it a good choice if it's really sunny or if it's raining.
How crowded is Umpqua Hot Springs?
In short, it gets crowded. This is by no means a "hidden gem" or a secret hot spring. Instagram made sure of that! That said, it's still worth visiting (in our opinions!).
For the best chance of having a little peace while you're there, come early (before 10 a.m.) or stay late and camp nearby. Also, try to visit during the weekdays. It's also worth mentioning that summer is the most popular time to visit, so other seasons may be better.
Want another Oregon Hot Spring suggestion? Check out the lesser-known (and less crowded!) McCreedie Hot Springs.
What is the best time of year to visit?
Umpqua Hot Springs is open to the public year-round, and each season has its own draws (and drawbacks).
Summer is beautiful but can get crowded. Plus, with hot summer temps, soaking in a hot spring isn't always the most appealing.
In fall and spring, the chill in the air can make the hot spring more appealing. Though I will mention that when I visited in the fall, the lower pools felt pretty chilly!
Winter would be the least crowded time to visit Umpqua Hot Springs; however, you should know that when the snow starts falling, the road to this hot spring closes, meaning you'll have to CC ski, snowshoe or hike an additional 1.5 miles each way.
Does the water smell?
Yes, a bit. It's not the worst hot spring we've ever smelt (we've smelled a lot!) and it's not the best either. The odor is a mixture of sulfur and also just the smell of many people using the hot spring.
We will also mention that the water isn't very clean looking. You may have seen some beautiful (and perhaps heavily-edited!) photos on Instagram. But don't be fooled! The water is more murky than blue, and in most of the pools, we noticed a bit of a film on the surface of the water. (Again, just want to give you realistic expectations!)
Is Umpqua Hot Springs worth visiting?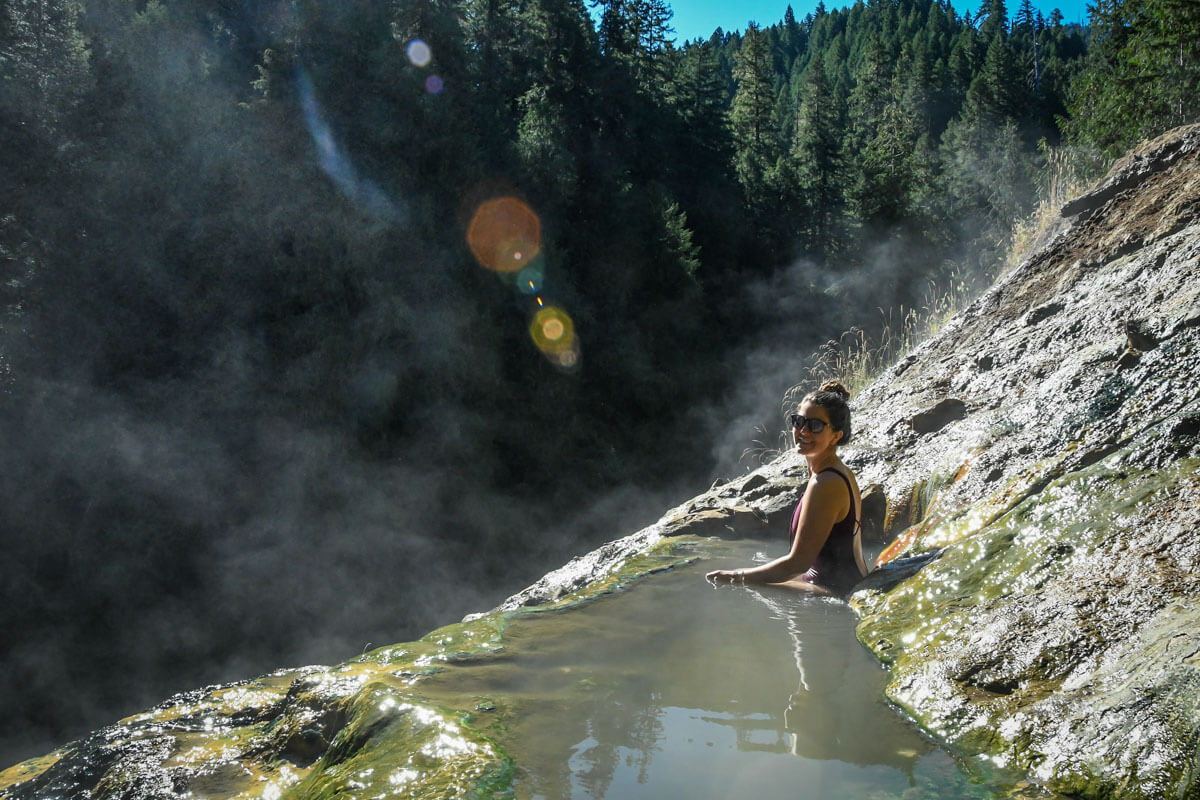 The answer to this is going to depend on you. We personally think it's a really cool spot and worth a visit if you're in the area. That said, it's important to know what to expect — the good and the bad. So here it is for ya one last time:
The not-so-great parts of Umpqua Hot Springs:
The pools are pretty murky and not all that clean.
The lower pools aren't very hot. In fact, depending on the day, I would call them barely lukewarm.
It can get quite crowded.
The atmosphere can vary and depends on the crowd. We've been there at times when it is fun and friendly, and other times when people are being loud and disrespectful.
People leave behind trash and cigarettes butts.
The good parts about Umpqua Hot Springs:
The view and setting is pretty spectacular.
There are lots of other things to see and do in the Umpqua National Forest.
It's not terribly difficult to get to, however, the remoteness of it does make for a fun adventure day!
Takeaway: Honestly, if the "not-so-great-parts" don't scare you off, we think you'll really enjoy yourself at Umpqua Hot Springs!
How much time do you need there?
The answer to this question is going to vary from person to person. We've spent anywhere from 45 minutes to 2.5 hours here. We've seen groups that look as if they've been there all day, and also people who make the short hike, snap a photo, then leave right away. If you're staying nearby, you'll probably want to spend more time at the hot springs than you would if you need to drive a couple of hours back home at the end of the day.
We'd recommend allotting 1.5 hours for the hike to and from as well as your time in the hot springs. Additionally, you'll want to factor in your drive time, and think about other things you'd like to do in the area too (keep reading for some places we'd recommend visiting!).
Where is the closest gas station?
Definitely fill up before you start heading here as the location is quite remote. You'll find a gas station in Diamond Lake (26 miles east) or several fill-up options in Roseburg (64 miles west).
What should I pack?
Drinking water (you'll want to stay hydrated while soaking!)
Towel and/or sarong
Shoes that are fine for walking through mud but are easy to get on and off

Our suggestion: Chacos (or similar hiking sandals) are the best choice as they will be sturdy for the uphill hike, yet you can keep them on in the hot springs to make it easy to get in and out.

Bathing suit, if that's how you feel most comfortable
Clothes that are easy to change in and out of
Dry bag to keep valuables from getting wet
Snacks (as long as you don't leave anything — and I mean ANYTHING! — behind)
Bag to keep your trash
Leave No Trace and Hot Springs
There is no trash bin near the springs, so pack out everything you brought in. Yes, that includes fruit peels or nutshells.
Why? While biodegradable, they are not native to this environment, and wildlife should not be consuming them or drawn-out near people. Don't put the animals in harm's way by leaving anything behind.
And if you want to be extra amazing, pick up any trash you see and pack it out to keep this place beautiful.
Read more about the 7 principles of Leave No Trace.
Have more time in the Umpqua National Forest?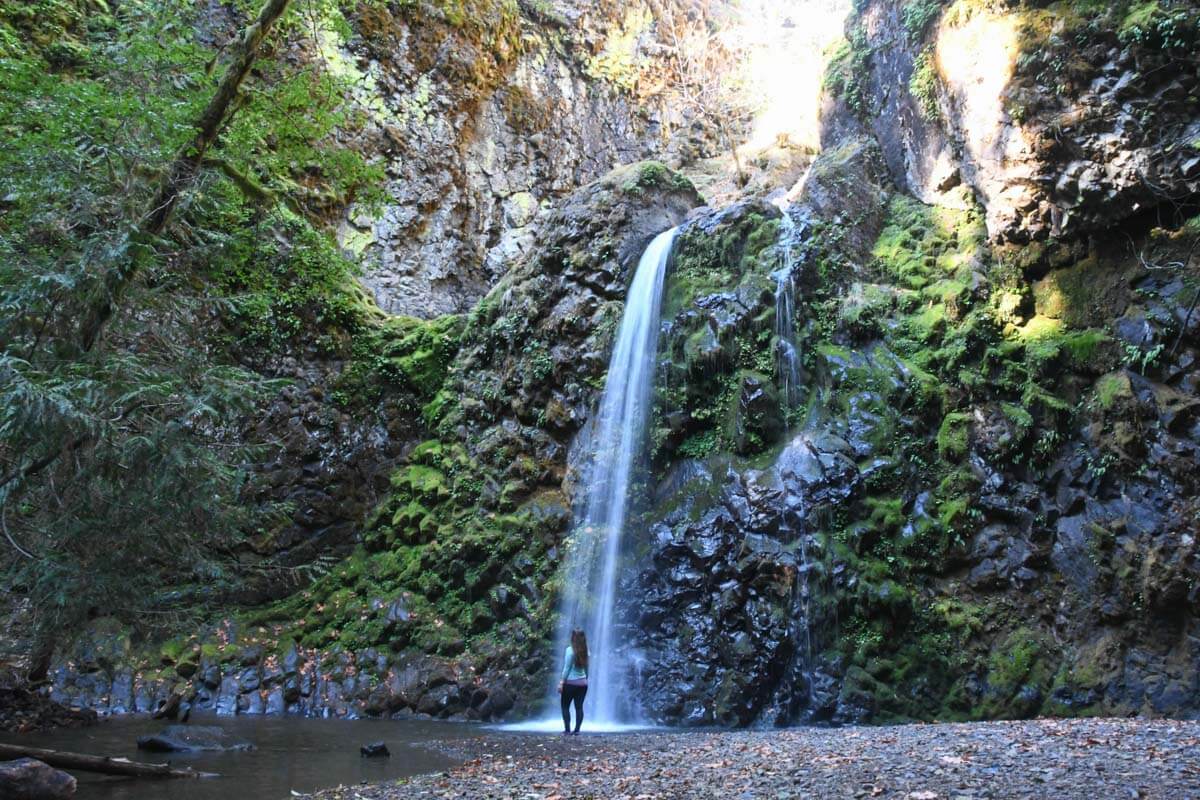 There is so much to see! We love this area and have spent days exploring the nearby trails and waterfalls. Here are a few of our favorites:
Toketee Falls: One of the most impressive waterfalls in this National Forest, Toketee Falls is very close to the hot springs and well worth a visit.
Susan Creek Falls: A lesser-known waterfall on this route that is really beautiful.
Watson Falls: Another great waterfall stop along the North Umpqua Highway!


You may also like…
Save this article on Pinterest for later!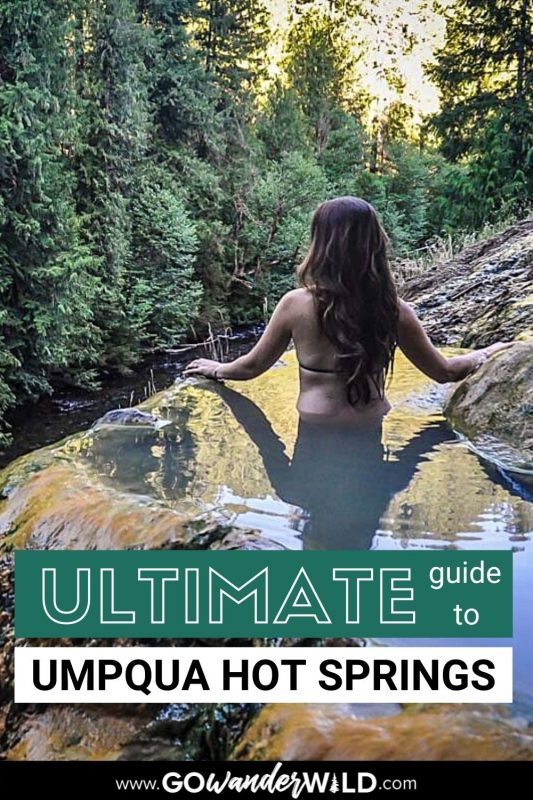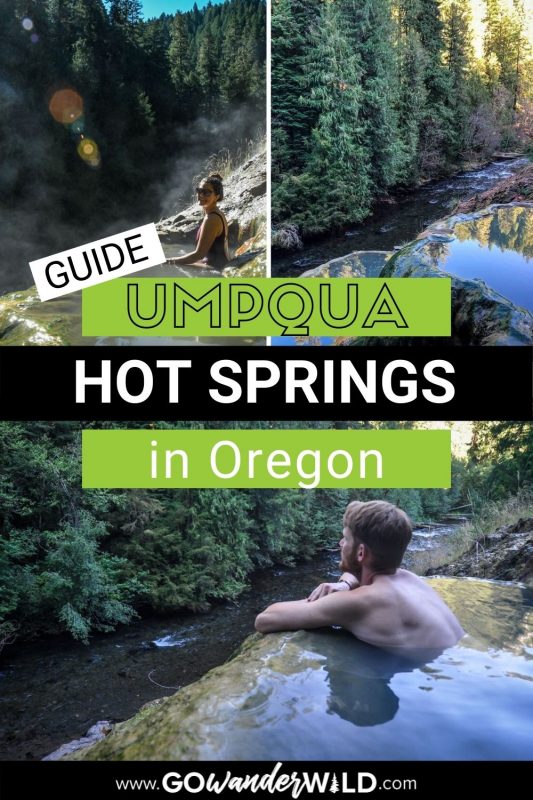 We want to hear from you!
Are you planning a trip to Umpqua Hot Springs in Oregon? Do you have any other questions for us? Comment below and we'll do out best to track down answers for you!