The Enchanted Valley Trail is one of the best hikes in Olympic National Park Washington. In this article, we're going to address the most commonly asked questions about this hike and go over all the information you need to know to prepare for your Enchanted Valley hike.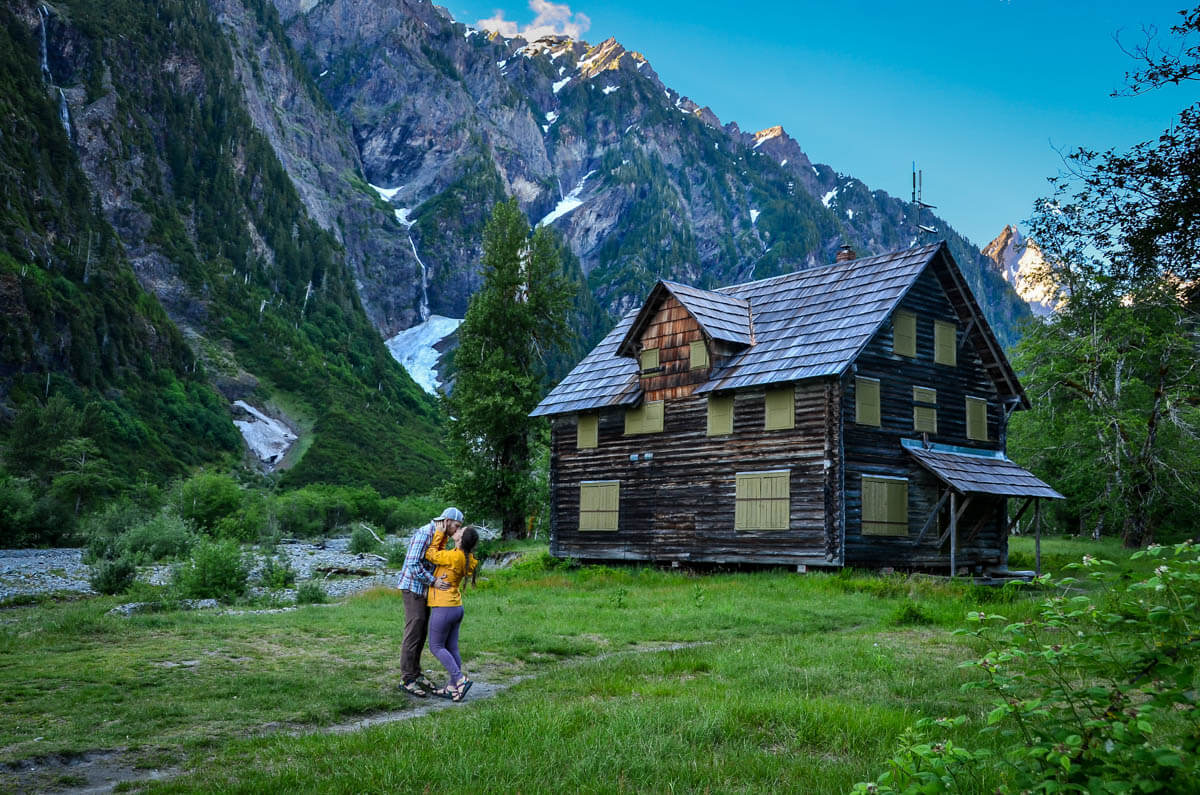 Washington state's Olympic Peninsula is known for remote wilderness and epic hikes. With snowcapped peaks, rushing snowmelt rivers, and lush old growth forests, it's easy to see why.
One of the best hikes in Olympic National Park is The Enchanted Valley Trail, which follows the Quinault River into a valley flanked with mountains on both sides.
The path will take you through lush, old growth forests, across rustic bridges scaling the river below, and ultimately to a majestic wide open valley. Aptly named, the Enchanted Valley is known as a great place to spot wildlife, like black bears and elk, and makes an epic multi-day hike.
In this article, we're going to address the most commonly asked questions about this hike and go over all the information you need to know to prepare for your Enchanted Valley hike.
Article Contents
Enchanted Valley Hike at a glance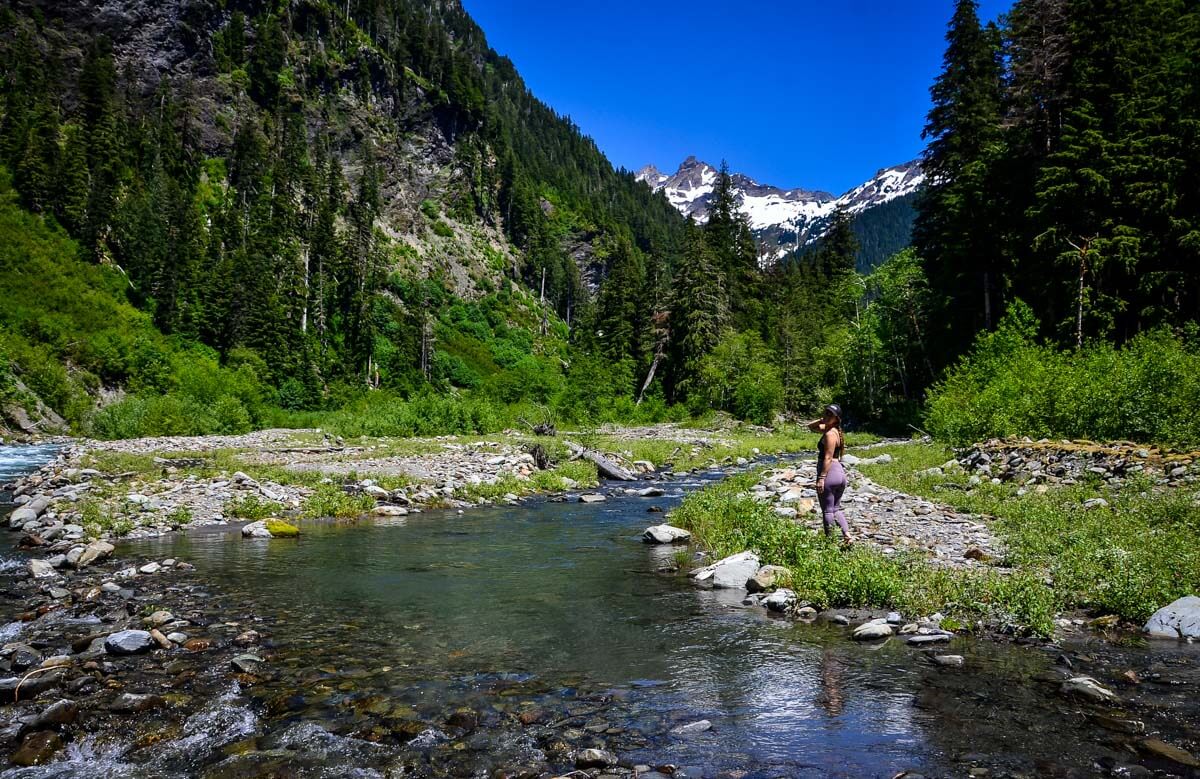 Distance: 27 miles out-and-back (13.5 miles from the trailhead to the Chalet)
Elevation gain: 1,400 ft
Difficulty: Moderate (pretty flat but a long hike)
Timing: Typically a multi-day hike if you want to do the whole thing
Land: This hike is located in Olympic National Park and is on Quinault land
Pets: Dogs are not allowed
Cost: $30 per vehicle park entrance fee

$8 per person per night for camping permits + $6 non-refundable reservation fee
Why aren't dogs allowed on this trail?
Dogs are not allowed on any National Park trail, which we can understand can be frustrating for dog owners. However, there is a reason for this. Dogs are not allowed in part for their safety as well as the safety and wellbeing of the wildlife in the area.
Remember, this is home to elk, bears and all sorts of other critters. Introducing dogs to the environment (especially at a large scale) can be disruptive to their habitat. Please respect the rules when they are in place.
America the Beautiful Annual Park Pass

If you're planning to visit more than one national park in a year, we'd highly encourage you to look into getting an annual park pass. Olympic National Park, as well as most national parks throughout the U.S. have steep entrance fees of $30+ per vehicle.
For just $80 per year, you can purchase the America the Beautiful park pass. This pass grants you free access to all of the national parks. Plus it also covers your entrance to over 2,000 natural, historical, and recreational sites across the United States.
If you still need convincing, check out our article: America the Beautiful Annual Park Pass: Is it Worthwhile?
Enchanted Valley Chalet location and history
The Enchanted Valley Chalet is an iconic landmark on this trail, and is very photogenic.
It is located at the Enchanted Valley camping area, which is roughly 13.5 miles from the trailhead.
Coordinates of the Enchanted Valley Chalet: 47.6718° N, 123.3879° W
History of the Enchanted Valley Chalet
This historic chalet was originally built in 1931 as accommodation for hikers along the trail. Can you imagine what it would be like to hike in this area back then?!
Not long after its construction, it was closed to hikers and was instead turned into a lookout to spot Japanese planes during WWII.
Today, the historic building remains, but it is boarded up and as a hiker you can only look — not go inside.
How to get to the Enchanted Valley trailhead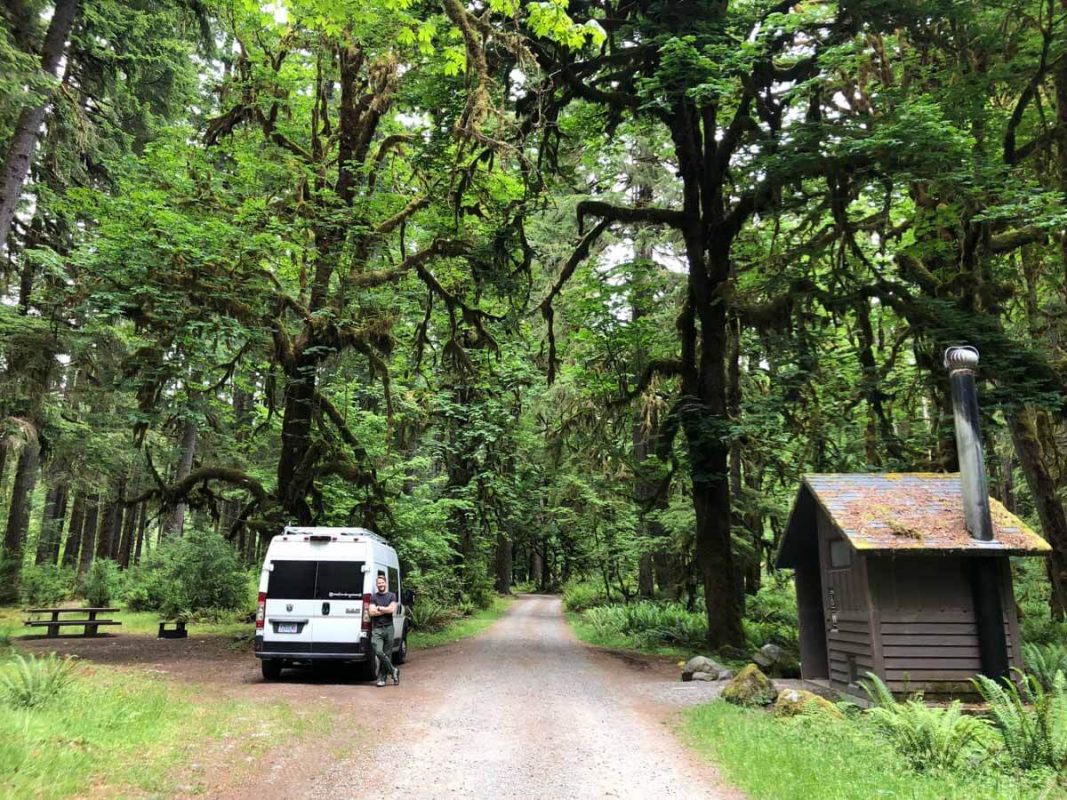 The Enchanted Valley trailhead is quite remote, making it essential that you plan your trip to Olympic National Park with this hike in mind. You will first need to make your way to the Quinault Ranger Station, which is located in the southwest region of the Olympic Peninsula.
Good to know: There is little to no cell signal beginning at this ranger station, so be sure you have everything you need downloaded before you head here.
If you don't have a bear canister of your own, you can rent one from this ranger station. If you plan to camp overnight along the trail, it is required you have a way to properly store your food, so this is essential. You can also drop off your bear canister here once you complete the trail.
Across the street from the ranger station is a general store which has some food, ice, camping equipment, and a deli. It is the last place to get any provisions before you hit the trail, so stock up if needed.
Once you leave the ranger station, you will continue for about 6 miles on the road, which will soon turn to gravel. It is a beautiful drive, right along the Quinault River. The road dead ends at Graves Creek Campground, which is a great place to spend the night before your hike.
The campground is just ¼-mile from the trailhead.
Psst! If there is no fire ban in effect and you'd like to have a campfire, there is one house (that we saw) selling firewood along this drive. Pick it up on the way, as there is no wood for sale at the campground.
Graves Creek Campground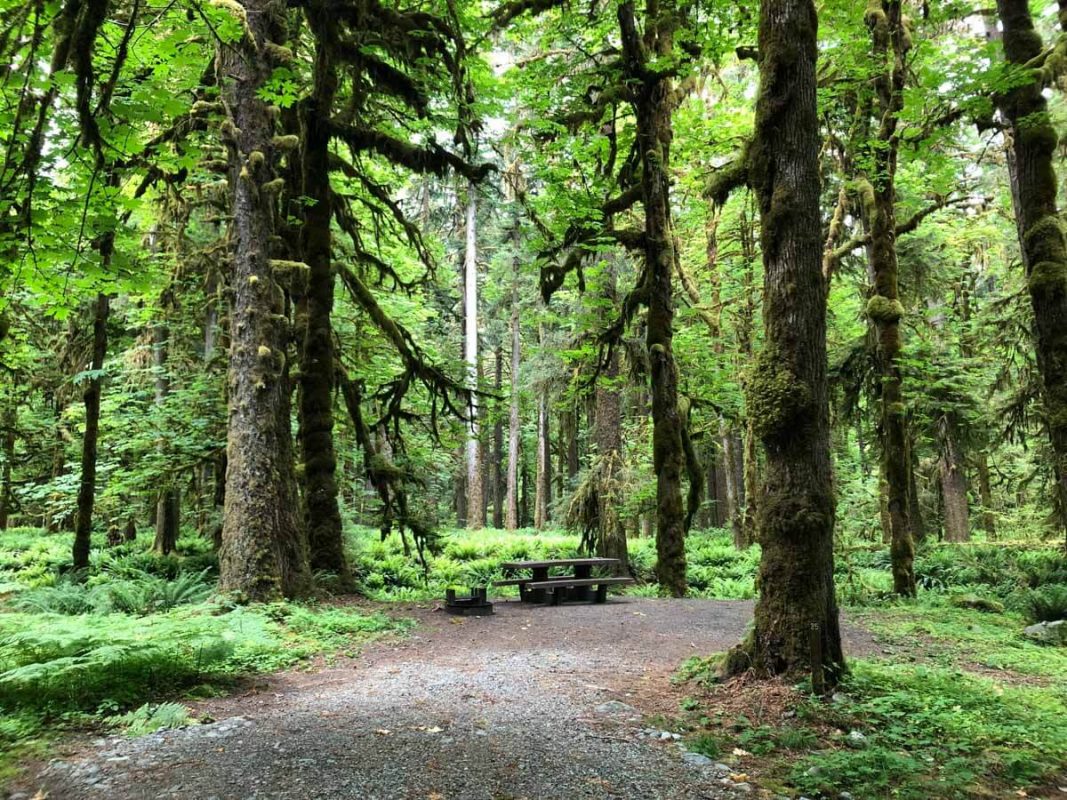 This large campground is nestled deep in the forest and next to a river and has basic facilities like clean pit toilets, fire rings and picnic tables. There are buildings with flush toilets but they were closed during the summer of 2021.
Good to know: There is no potable water available at the campground.
We arrived at 6pm on a Monday and there were plenty of sites open. It costs $20 per night ($10 for seniors) and you need to also have a National Park Pass.
The road getting there is gorgeous but a good portion is unpaved so it is a little slow going with a few bumpy bridges.
The Enchanted Valley trailhead is ¼ mile away from the campground.
This is a very nice basic campground, and we'd highly recommend camping here either the night before your hike or after (or both, like we did!).
Things to know before doing this hike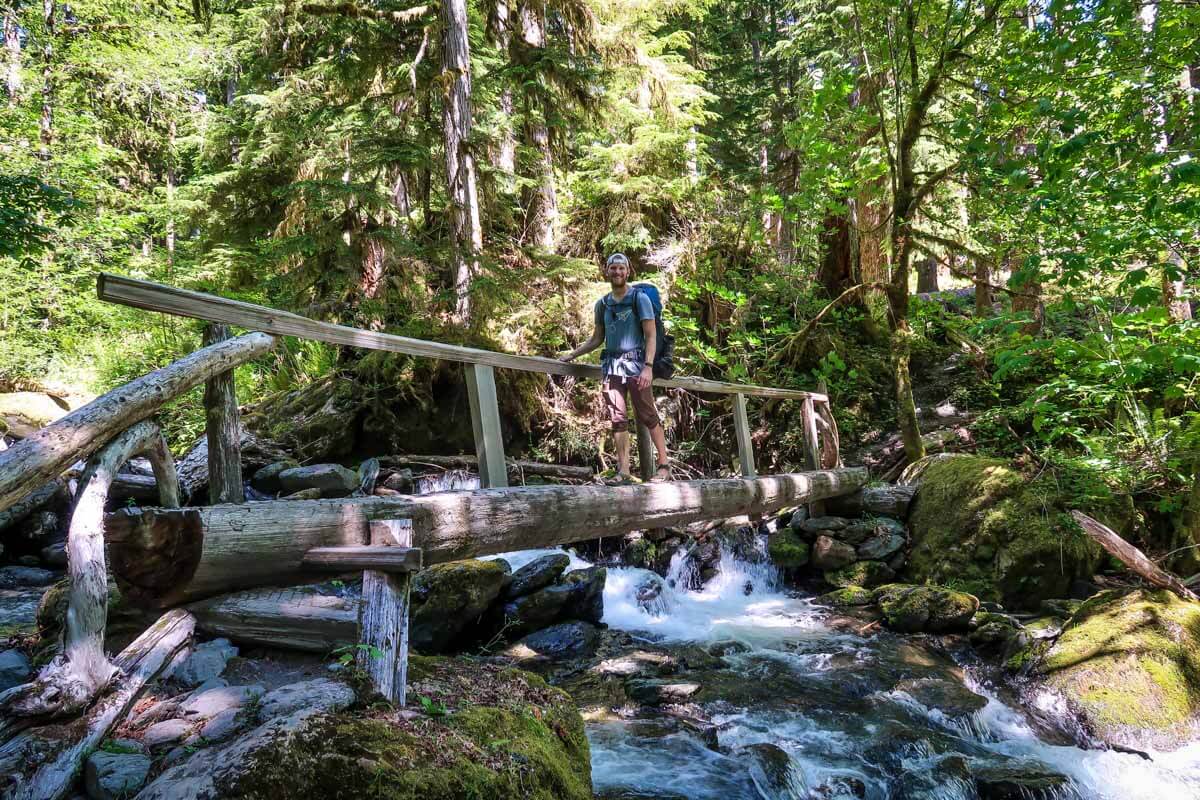 Cell service: There is no cell service in the area. In fact, you'll likely lose cell signal about 6 miles from the trailhead, just before the Quinault Ranger Station. Be sure you have your maps downloaded and everything you need before making the drive.
Download offline maps: On a similar note, if you plan to use an app for your hike, like Alltrails, be sure to download the offline version of the map while you're in cell service. We have the Pro version of Alltrails for this reason.
Gas: There aren't many gas stations near the trail. Be sure to fill up your tank before heading to the trailhead. The nearest regular gas station is in Aberdeen, WA, but there are small town pumps in Quinault near the rangers station and in Amanda Park on the west end of Lake Quinault.
Leave no trace: This means packing out all of your trash (and perhaps even picking up any pieces of litter you see along the way). This also means following guidelines about where you can wash dishes and go to the bathroom.
Pack your permit: Don't forget to bring your permit with you and have it accessible. You may be asked by a ranger to produce it.
There are bears in the area: While it's unlikely that you'll have any sort of scary encounter, there are black bears in this area. It is extremely important that you bring proper food storage (you can rent a bear canister from the Quinault Ranger Station if you don't have your own). It's also a good idea to carry bear spray for peace of mind. We also saw a few people with bear bells on the trail.
FAQs about Enchanted Valley in Olympic National Park
What is the best time of year to hike the Enchanted Valley?
May – October
The Olympic Peninsula is known for getting lots of rain, but planning a visit during the summer months will give you a pretty decent chance of having sunny and dry weather.
Tip: Regardless of the time you visit, it's always a good idea to carry some rain protection.
Most years, you can do this hike as early as May without having to worry about traversing lots of snow. That said, you'll need to be prepared to encounter mud and you'll want to stick to the valley trails and forgo any major river crossings or mountain passes deeper in the valley.
June is a beautiful time to witness the many waterfalls in the valley rushing at their full force with early season snowmelt. During the months of August and September, berries will be plentiful along the trail, but depending on the year you may deal with some wildfire smoke.
Our experience: A ranger we met along the trail said that the valley often gets blue skies and clear weather even when it's overcast at the trailhead. This was the case for us! We started the hike under cloudy skies, but it soon cleared and we had bluebird days. For reference, we visited in late June and had perfectly clear skis and temps in the low 80s during the day and 60s at night.
How difficult is the hike?
The trail itself isn't technical at all and it's really not very difficult. We saw people of all ages on this trail — from children to seniors. However, the trail is very long, making it important that you give yourself enough time to complete it.
The inclines are pretty mild and not all that long, and overall the trail is a good mix of steady uphill, flat path and slight downhill. The steepest incline comes on your way back to the trailhead, just after Pony Bridge Camp, meaning you are almost done with the entire trail.
How long does the Enchanted Valley trail take?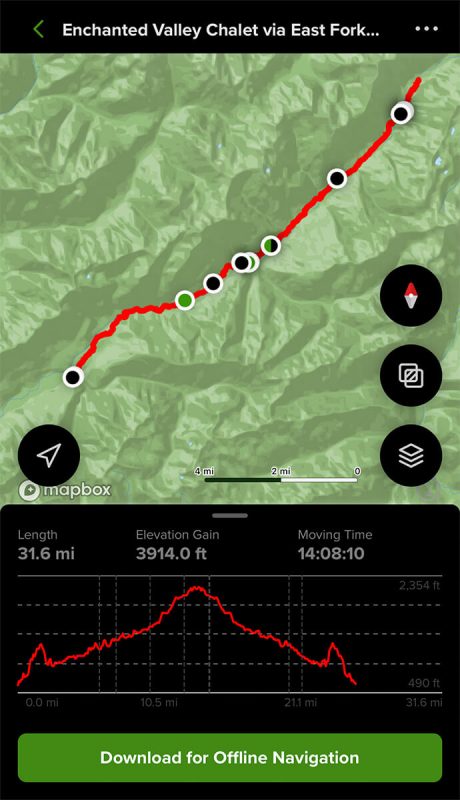 This really depends on how fast you hike and how many days you give yourself.
In total, the trail is 13.5 miles from the trailhead to the Enchanted Valley camp area. This doesn't include getting down into the campsites, and side trails, or hiking past the Enchanted Valley chalet.
In total, we hiked 31.6 miles, and we spread the hike mainly over the first and last days of our trip. We did a short, 3-mile day hike on the day in between.
According to our Alltrails recording, we hiked the 31.6 miles in 14 hours and 8 minutes. (Remember, that was spread over two days of hiking and includes stops for water, snacks, photos and lunch.)
Can you do the Enchanted Valley Trail as a day hike?
Technically yes, but do so with caution… We saw a handful of people hiking on the trail with only daypacks, but we're not sure how far on the trail they made it.
Honestly, the most picturesque part of this trail is at the Enchanted Valley camping area, which is 13.5 miles in. That means that if you want to do this as a day hike, you'll need to hike at least 27 miles in one day. While it's doable (the trail isn't too difficult overall), it is a long, long day.
Make sure you get an early start, and pack a way to filter water and a headlamp for your way out. We'd also recommend camping at Graves Creek Campground since it's so close and you won't have to worry about getting there and away.
Good to know: If you do this as a day hike, no permit is required.
We saw at least one other day hiking party turn around midway through the trail because they hadn't started early enough. It seemed like kind of a shame to come all the way out to the trailhead (it's pretty remote!) and then not be able to get to the actual destination.
What is the trail like?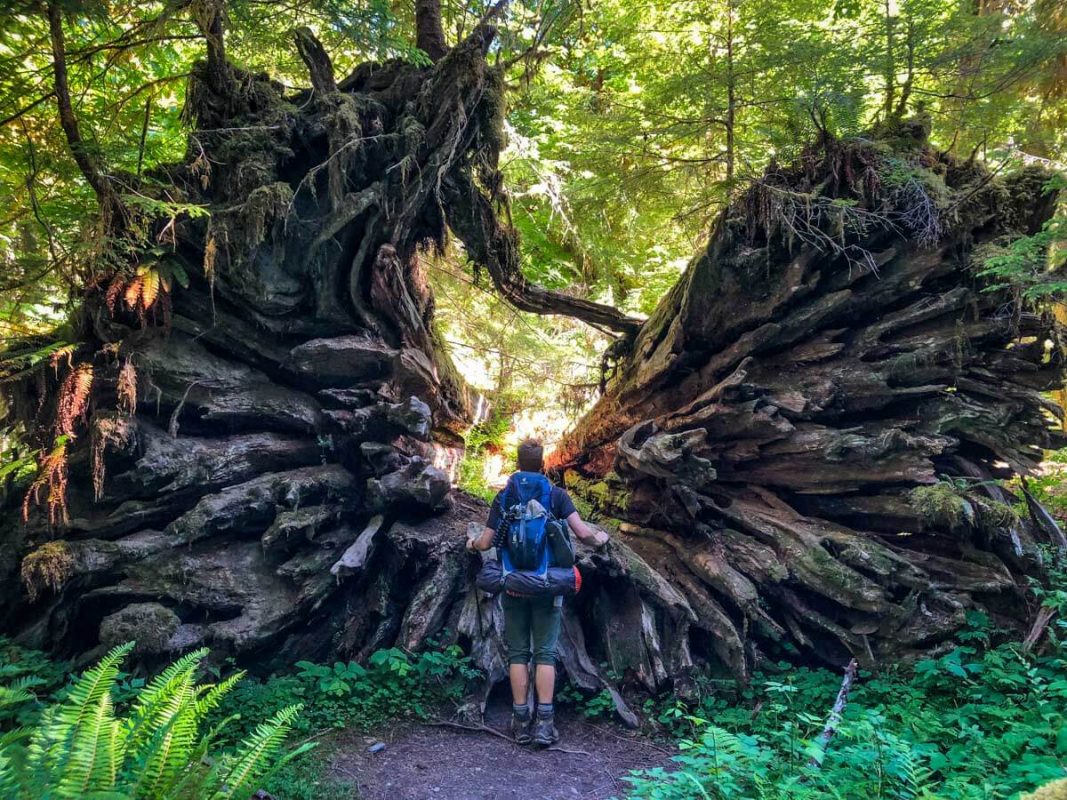 For the most part, the trail follows the Quinault River and leads hikers through thick old growth forests you'd expect in the Olympic Peninsula. There are groves of giant trees, and areas where windstorms have knocked some of these beasts over.
The entire trail is beautiful, no doubt about it. But the main draw of this hike comes at the very end — the Enchanted Valley is where the trees open up a bit and you can really get sweeping views of the snowcapped peaks and the river all at once.
In our honest opinion, it wouldn't make sense to do this hike unless you plan to make it all the way to the Enchanted Valley. It is pretty remote and takes a while to get to the trailhead. It is well worthwhile if you make it to the valley, but to turn around midway would be a bit of a shame.
Obstacles along the trail:
Fallen trees: In some places, there are fallen trees over the hiking trail, but they are typically small enough to climb over, they've been cut, or there is a path around them.
Mud: Expect mud along this trail, especially if it has rained recently. In our experience it wasn't terrible, but we've read that it can get pretty muddy!
Is this trail crowded?
This is going to vary depending on your idea of what makes a trail "crowded" as well as the time of year of your visit. The National Park system has limited the number of overnight permits, and being that this trailhead is pretty remote, it's certainly not as crowded as many of the other hikes in this area. That said, you'll be far from alone on the trail. We had long stretches where it was just us, but we also crossed paths with other hikers along the way.
Do I need a permit to do the Enchanted Valley hike?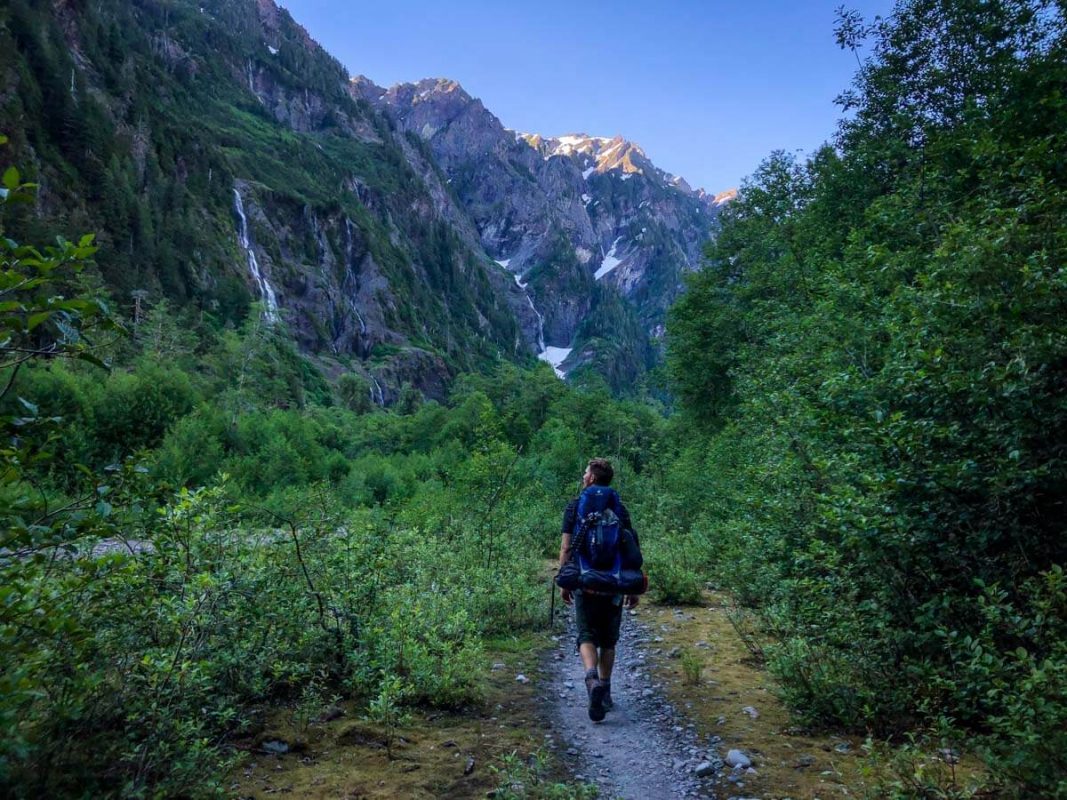 It depends.
If you want to do the entire trail and plan to camp along the way (which we'd highly recommend), you will need a permit.
However, if you do all or part of the trail as a day hike and do not camp overnight, you do not need a permit. You will need a National Park Pass to park at the trail head however.
How can I reserve my camping permits?
Good question! It took us a little while to figure this all out, so we're going to give you full instructions.
You can go on Recreation.gov and search for Olympic National Park wilderness permits.
You'll need to first select the number of people in your party, then click the button that says "Quinault". This will filter all the permits in this specific region of the park.
Now, you'll be able to see a calendar with the number of available permits in this general region.
Remember, if "Enchanted Valley" has zero availability for your dates, look to see if there are spots at the other campgrounds along the way (Pny Bridge, O'Neil Creek, and Pyrites Creek). These are all along the same trail, so you could easily hike to the Enchanted Valley and spend part of the day there, even if you can't stay overnight.
How early should I reserve my permit?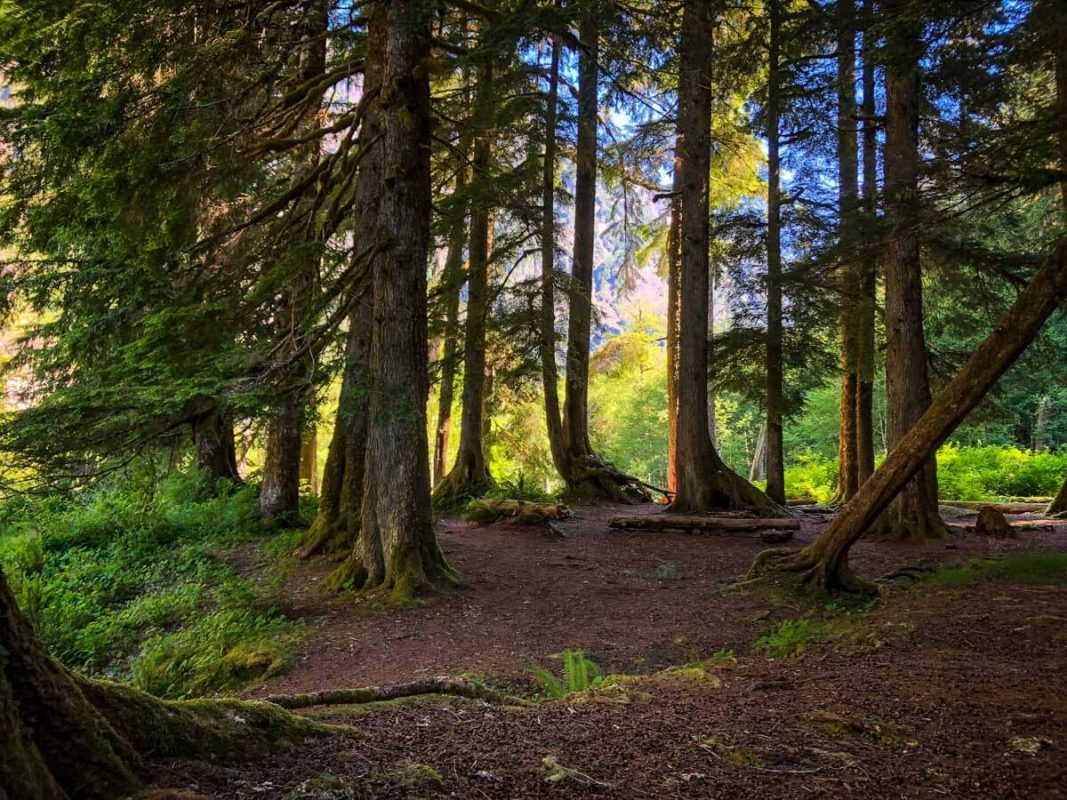 If possible look for permits early in the season or several weeks (at least!) before your intended trip. This trail is popular, and with a limited number of permits available, it fills up quickly.
Insider Tip: If you can be flexible with your dates that can help a lot. Also, check back to the permit site often, as spots can sometimes open up last minute (that's how we scored ours!).
What are some recommended routes for hiking the Enchanted Valley?
1 night: Enchanted Valley
2 nights: O'Neil Creek or Pyrites Creek for the first night and Enchanted Valley for the second night
2 nights: Enchanted Valley for the first night and Pony Bridge for the second night
2 nights: Enchanted Valley for both nights so you have a whole day to relax and do day hikes deeper into the valley (this is what we did, and it was great!)
Where can I camp along on the trail?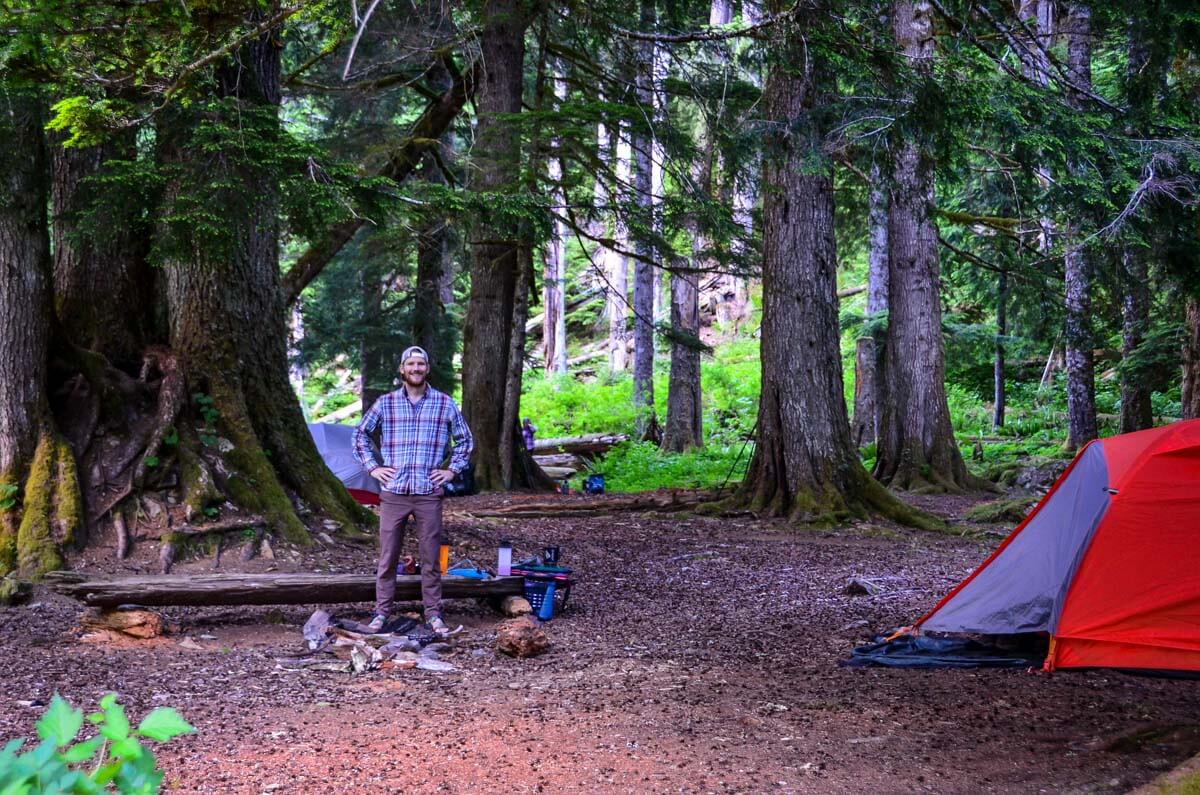 If you can snag a reservation, we would highly recommend spending at least one night on the trail. Not only is it a super cool experience, but it'll make the hike much more doable and enjoyable if you break it up over a couple of days. Here are some campgrounds along the Enchanted Valley Trail:
Pony Bridge Campground: This campground is only 2.8 miles into the trail, but it is situated at a stunning gorge section of the river.
Our thoughts: If your goal is to make it to the Enchanted Valley, we personally wouldn't recommend camping here unless you have more than one night. Since it's less than 3 miles in, this means you will need to hike a very long distance to get to the Enchanted Valley.
O'Neil Creek Campground: Nice, secluded sites near the river about 7.5 into the hike. This makes a good stopping point as it is about halfway to the Enchanted Valley.
Pyrites Creek Campground: About 10 miles into the hike, handful of campsites along the edge of the river in a wooded area.
Enchanted Valley: This is the main destination of the trail, though the path does continue deeper into the valley past the camping area. These campsites are more spread out, yet tend to be less private than the sites at the campgrounds mentioned above.
Insider Tip: If it's open, our recommendation is to head to the small grove of hemlocks past the chalet and slightly to the right. There are a few campsites in this grove of trees, giving you the most privacy, shade and even the opportunity to string up a hammock.
*We also saw a few random campsites between the aforementioned campgrounds.
What amenities do the campsites have?
Access to a privy (rustic drop toilet)
Fire pit (most sites have one)
Tent pad
Most sites have "benches" mades from stumps
Can I continue on past the Enchanted Valley and make this a thru-hike?
Yes, it is possible to continue along on this trail to Anderson Pass, and the further east to The Brothers Wilderness, but this would take multiple days of hiking.
This route is only recommended for experienced and well-equipped hikers. There is a pretty dangerous river crossing near Anderson Pass (especially in early summer), so this route should be followed with extreme caution.
Are there bathrooms along the trail?
Yes, there are privies, or very rustic drop toilets in all of the established camping areas. These are very basic, and you will need to provide your own toilet paper.
If you need to do your business along the trail, be sure to follow these guidelines:
If you need to go #2, choose a spot that is 200+ feet from any water source, trailhead or camping site, and dig a cathole (6-8 inches deep). It's important that you pack a small shovel for this purpose. Cover the hole when you're finished and pack out your toilet paper.
Are there places to fill up water along the way?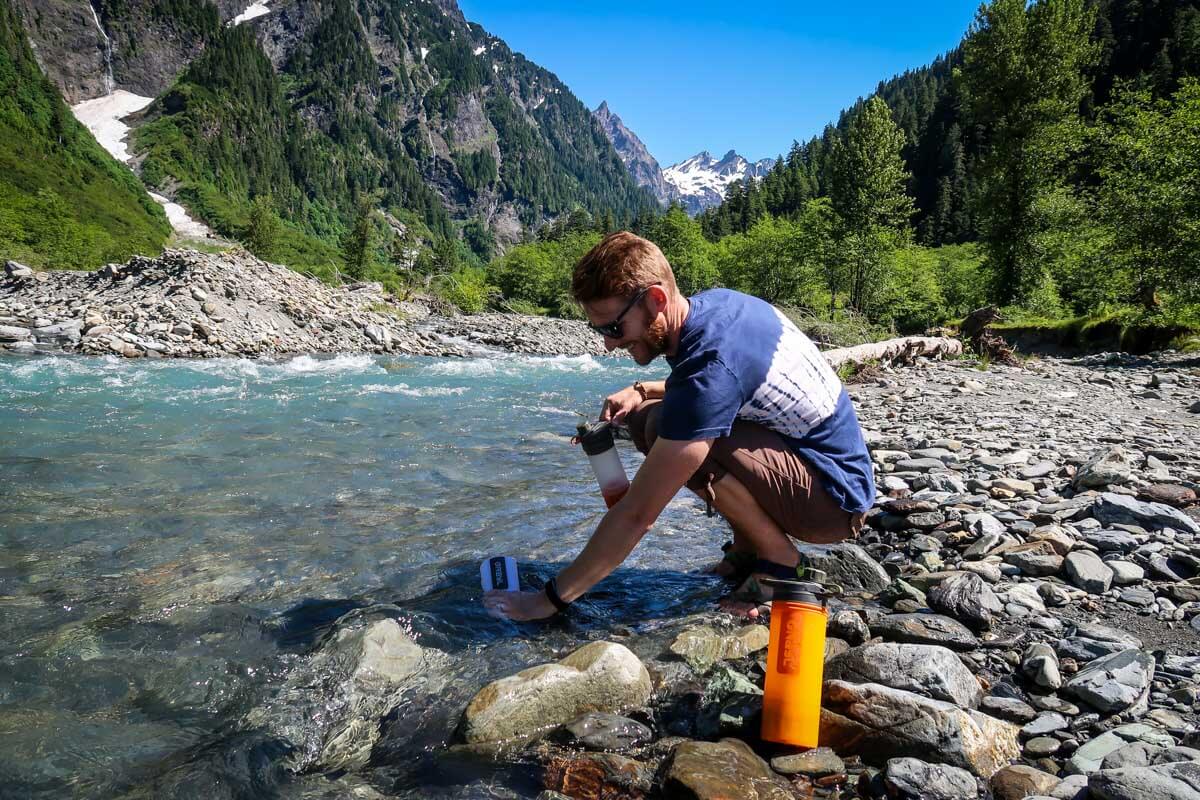 Yes! The entire trail follows the Quinault River, which is the perfect place to fill up your bottles. There's no need to carry in tons of water, but you will need to have a way to purify it before you drink.
Personally, we like our Grayl water bottles for backpacking since the carbon filters are very effective and we don't need to do any pumping, which can be a slow process.
Can you build campfires on this trail?
Potentially. The National Park system has very specific guidelines for where they allow campfires (typically this has to do with elevation, vegetation in the area, and risk of wildfire). If you are camping at any of the camp areas listed in the section above, there are primitive fire rings at most of the sites for this purpose.
If there is no fire ban in effect (be sure to check this before your hike), you can gather wood near your campsite to build a small campfire. Be respectful and responsible with your fire, and never leave it unattended.
Is there wildlife on the trail?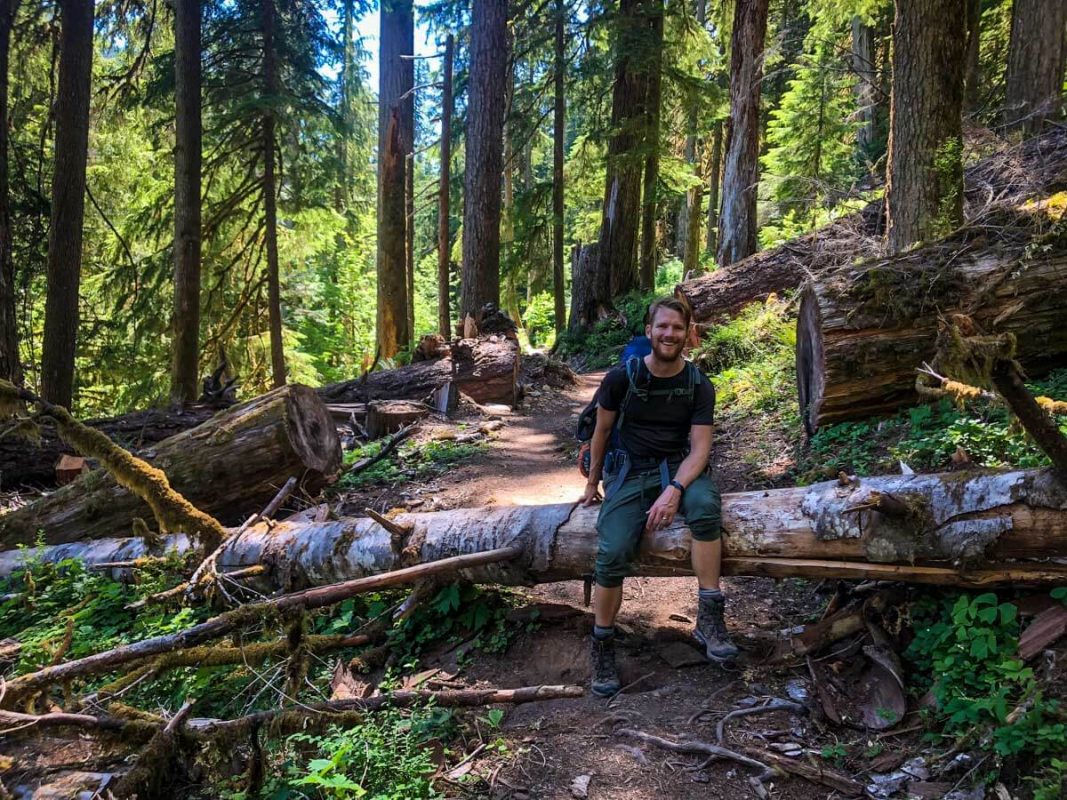 The Enchanted Valley Trail is known for some excellent wildlife spotting opportunities. Though, in our experience, we didn't get so lucky.
We only saw a couple of small snakes on the trail and not a ton else. However, we read in several recent trail reports that people had spotted multiple black bears and herds of elk just days before our hike. So keep your eyes peeled and bring binoculars if you have them!
What should I do if I encounter a bear?
The bears in this area are black bears. If you encounter a bear along your hike, make loud noises and back away slowly (while still facing the bear). You should also carry bear spray as an emergency measure.
Do I need a bear canister?
Yes, it is required that you properly store your food and any other items that smell (like toiletries) at all times. This is to prevent bears and other wildlife from being attracted to the camping areas.
If you don't have your own bear canister, you can rent a bear canister free of charge from one of the ranger stations in the national park.
Alternatively, there are some "bear wires" near the camping areas that you can use to string up your food.
Good to know: You can be fined (and put yourselves, others and wildlife) in danger if you do not follow these rules. Don't be that person.
What to pack for the Enchanted Valley Hike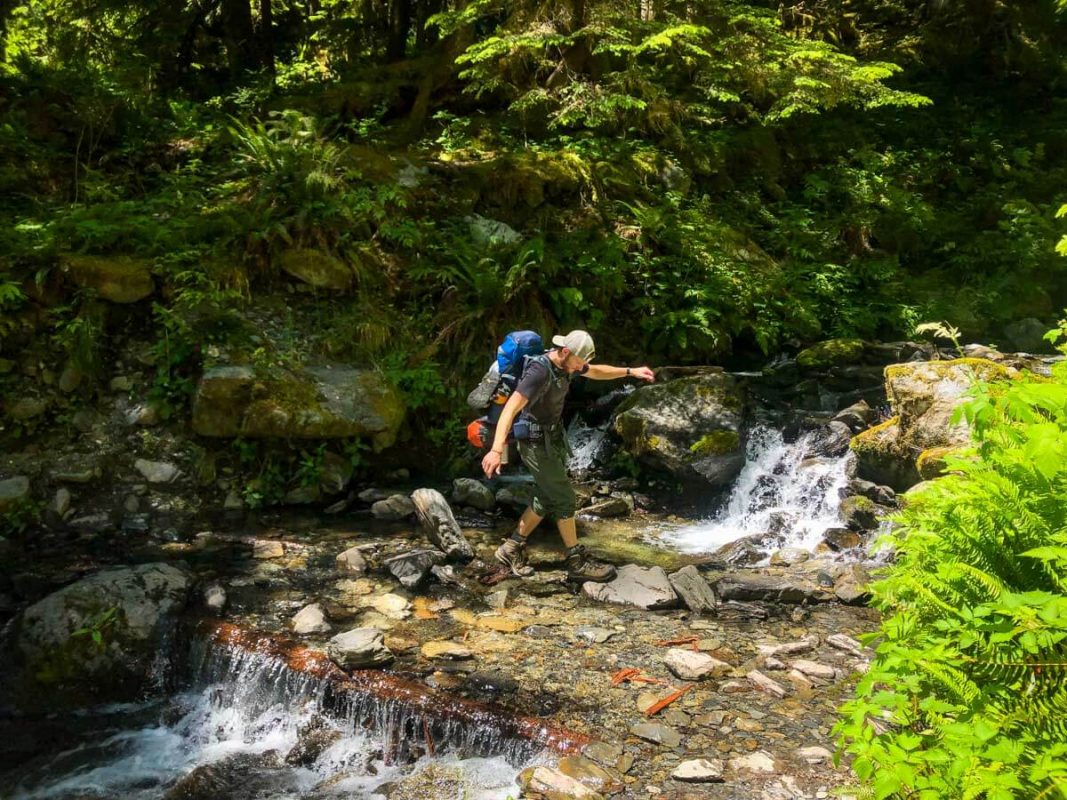 Navigation*: we recommend using Alltrails+ to download the offline trail map
permit**
layers (here is a great resource if you're wondering what to wear hiking)
rain jacket
hiking shoes (boots, hiking sandals or cross trainers would all work fine for this trail)
bug spray
sun protection: sunscreen, hat, sun glasses
water bottles and bladder for your Camelbak
way to purify your water (we used our Grayl water bottles on this trail and they were fantastic!)
lightweight tent
sleeping bag
sleeping pad
dry bag (we always carry one with us for our valuables in case of rain)
headlamp
bear spray
bear canister (it is required that you have a proper way to store your food on this trail)
multi-tool
toilet kit: toilet paper, small shovel, bag for packing out TP, hand sanitizer
bag for your trash
camp stove
mess kit
biodegradable soap and towel
*If you choose to us your phone for navigation, be sure to bring a reliable battery pack to charge your phone
**Don't forget to pack your permit! We were asked by a ranger to show ours before we set up camp in the Enchanted Valley.
Optional gear
camp chairs (we packed in our Crazy Creek chairs, and we saw lots of people with lightweight camp chairs)
battery pack
fire starter
fishing pole (be sure you know the regulations about fishing in the area)
inflatable solar lantern
deck of cards
camera/tripod
Binoculars
ENO hammock
Book or Kindle
Food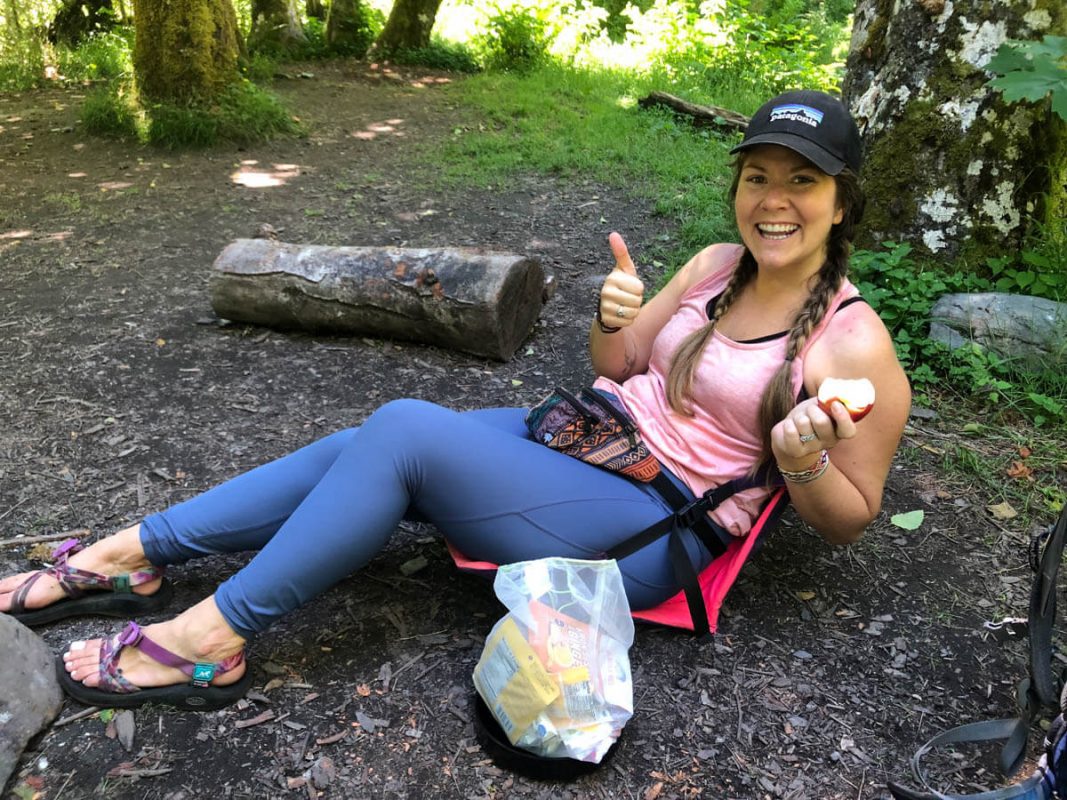 Dehydrated meals (we like making our own backpacking meals with dehydrated ingredients, but you can pick up a decent variety at most outdoor stores)
Snacks: check out our favorite hiking snacks here!
Tea
Coffee (find out how to make the best camping coffee!)

You may also like…
Save this article on Pinterest for later!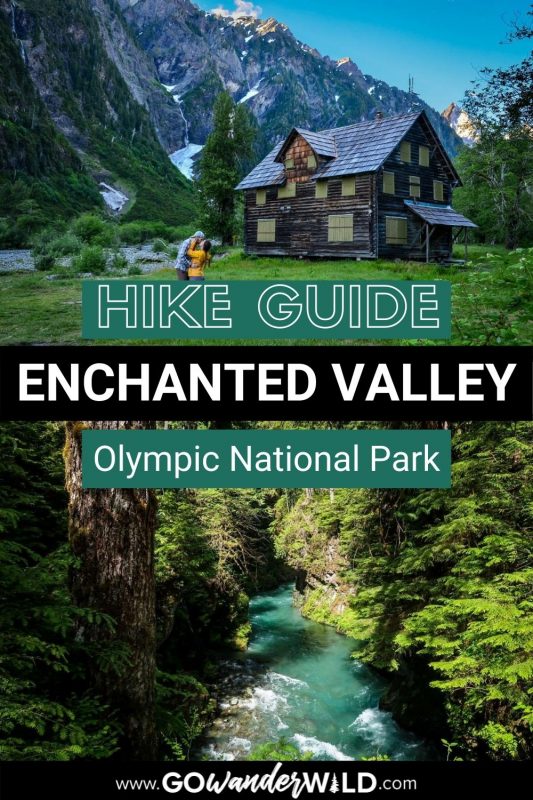 We want to hear from you!
Comment below if you have questions about hiking the Enchanted Valley in Olympic National Park and we'll do our best to get back to you!