Hot springs are one of the best places for outdoor enthusiasts to visit. There's just something so relaxing about finding a natural hot tub to lay back and enjoy. The smell of the woods around you, the warmth of the water and the gorgeous scenery is something everyone needs to experience once in their life.
Oregon is home to a bunch of natural hot springs. From McCredie Hot Springs to Bigelow, you're sure to find a new favorite outdoor space in one of Mother Nature's jacuzzis. And that's where we come in… We have put together a list of the best hot springs in Oregon. We're sharing details on how to get there and what to expect so you are fully prepared for your next hot springs visit.
We've divided this list by region to make it easy for you to find the hot spring nearest you.
Hot springs near Portland
Bagby Hot Springs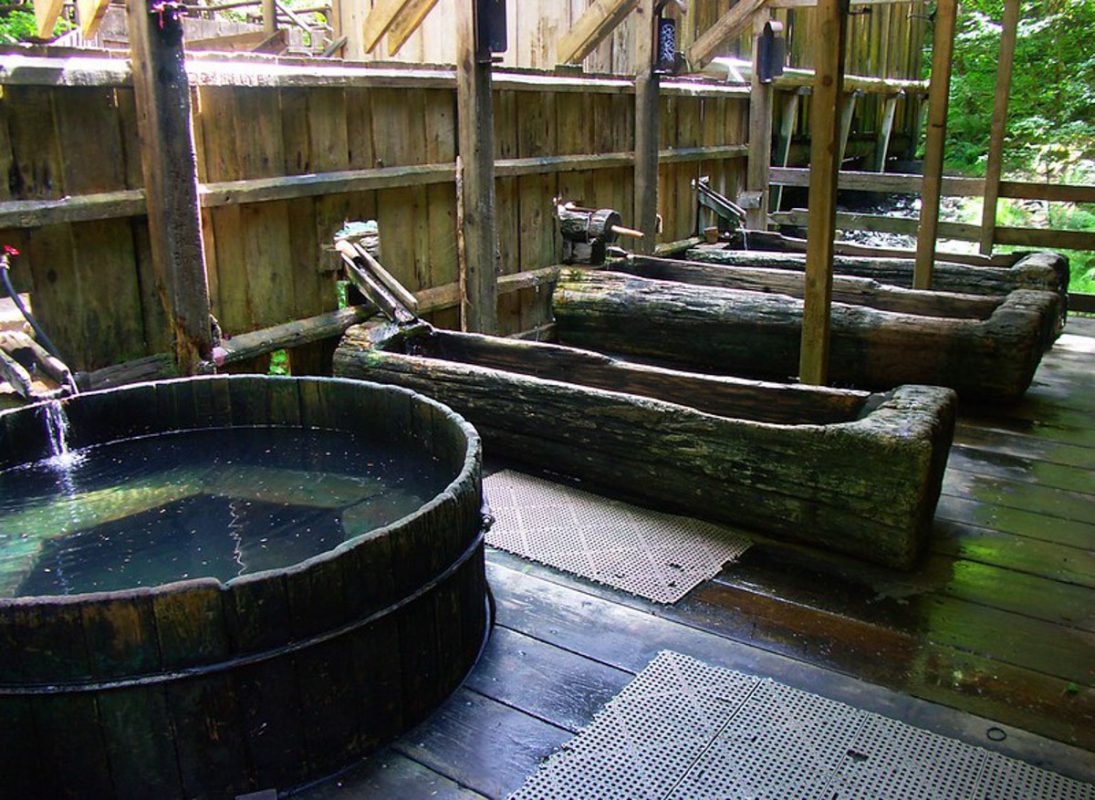 Bagby Hot Springs | Image source: Diana Tolrico via Flickr
The Bagby Hot Springs are one of the most popular hot springs in the state of Oregon, and for good reason. The trail is gorgeous and the springs are actually in hollowed out cedar tubs so you feel as if you're in a bathhouse. There are even private tubs available, as well as the Public Deck which is shared with all guests. And even if you don't feel like a soak, the trail is absolutely breathtaking with the overgrowth of trees in the dense forest.
These springs are located in Mount Hood National Forest, about a 3-hour drive from Portland, so they can be visited in a day trip. Car camping is also available at the hot springs trailhead, and sites are available for as little as $15/night if you want to stay close to the springs overnight.
It is important to note that the Forest Servicer has banned alcohol in these hot springs, so please be respectful of this rule and remember to pack out what you bring in.
How to get there: There is a short hiking trail to get to the springs. It's a 3-mile round trip with only 200 feet in elevation so it's perfect for any beginning outdoorsman. You'll find the trailhead and parking lot off NF-70.
Entrance Fee: Soaking fees are $5 per person and a wristband can be purchased on site with cash or at the Ripplebrook Store near the junction of Hwy 224 and Forest Road 46 where they take card.
Important March 2021 Update: Bagby Hot Springs is currently closed due to the Riverside wildfire and resulting damage to access roads. Please contact the Forest Service for more details.
Psst! Did you know Hood River is one of the top wine regions in the country? We put together a list of the best Hood River wineries to visit if you want a post-adventure recommendation.
Breitenbush Hot Springs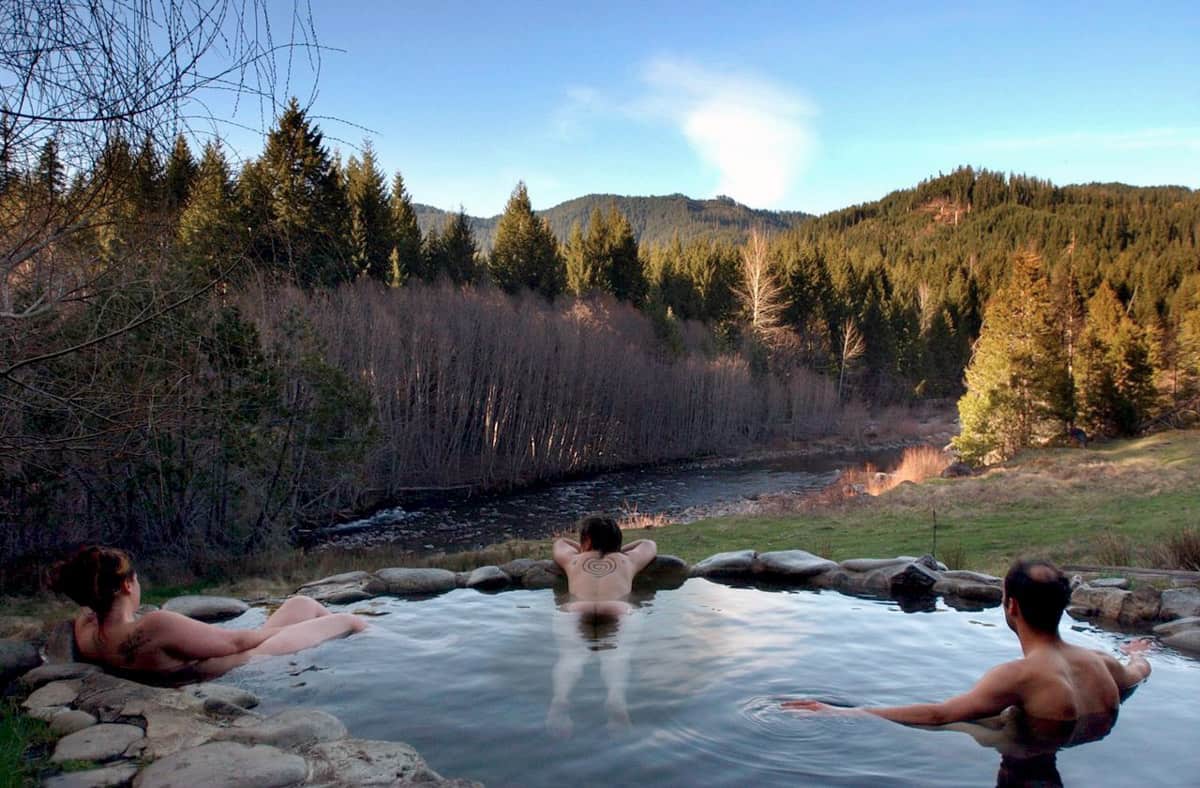 Breitenbush Hot Springs | Image source: Oregon Live
Breitenbush is not only a popular hot springs but also has an entire resort with amenities for guests. The resort offers multiple hot springs to choose from with temperatures ranging from 100° to 110° F to suit your preference. One of the springs is even a silent contemplation area for meditation.
Reservations are required for all visits, including single-day use, so be sure to plan your visit in advance.
Breitenbush is located in a wildlife sanctuary within the Willamette National Forest to provide a calming place for retreat. We love that they are completely off the grid, running on geothermal energy and hydropower! You can find this incredible place about 2 and half hours south of Portland.
How to get there: While there are 20 miles worth of hiking trails, there isn't a trail required to get to the property because they offer guest parking at check in.
Entrance Fee: Day rates for adults are on a sliding scale form $22 – $38 while children 5 – 12 are half that fee and the tots 4 and under are completely free. Reservations must be made in advance!
Important March 2021 Update: Breitenbush is currently closed due to destruction from wildfires. Please check their official website for updates on reopening.
Hot springs near Eugene
McCredie Hot Springs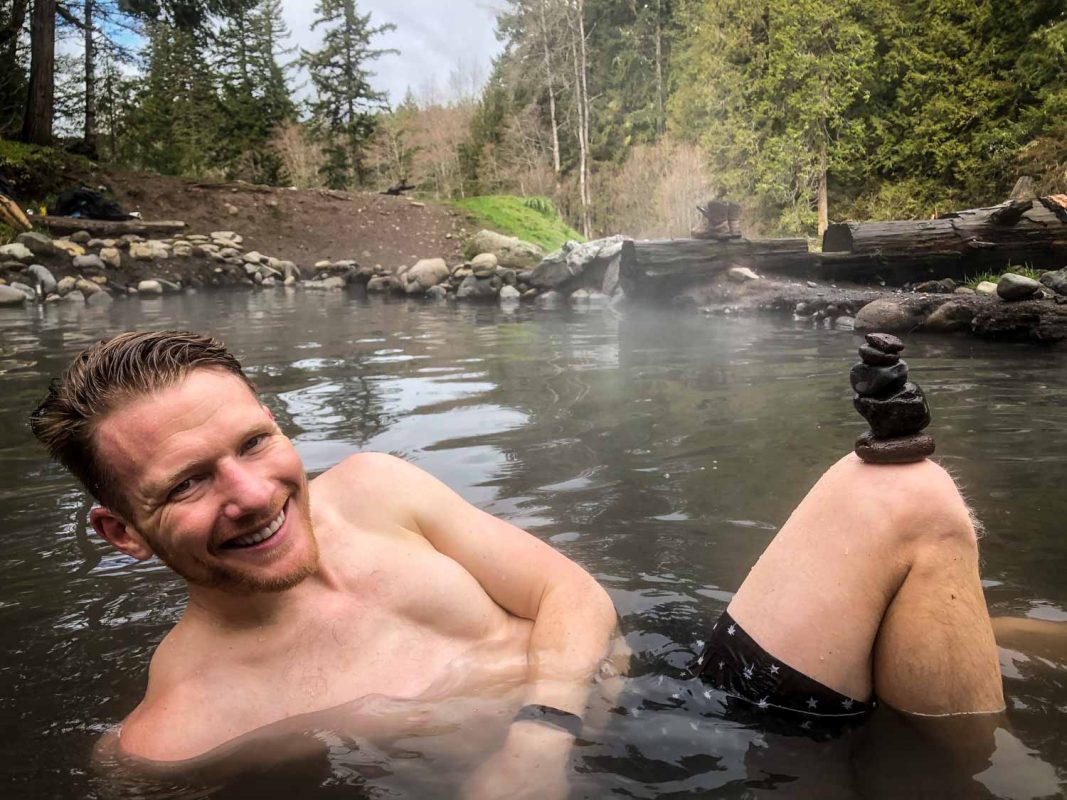 McCredie Springs are also located in the Willamette National Forest, much further south than Breitenbush, in between Eugene & Bend in Central Oregon. Situated right next to Salt Creek, these springs have man-made rock walls to keep the naturally heated water contained to the pools, but are otherwise left in their natural state and can be enjoyed year-round.
Because they are a bit more complicated to get to (the road isn't even listed correctly on Google Maps!), we've put together an entire guide to McCredie Hot Springs to help you plan your trip. But if you want the quick and easy rundown, you can follow our directions below.
How to get there: If you follow your GPS, it'll lead you to a lot known as the McCredie Day Use Site but this leads to a small pool and pit toilet, not the actual hot springs. You'll need to find Shady Gap Road, a half mile past the lot, that leads to a small bridge across the southside of the river. When you park there, the trail is an easy 0.3-mile walk that leads directly to the springs!
Entrance Fee: Completely free, no pass or permit necessary!
Cougar Hot Springs
Also known as Terwilliger Hot Springs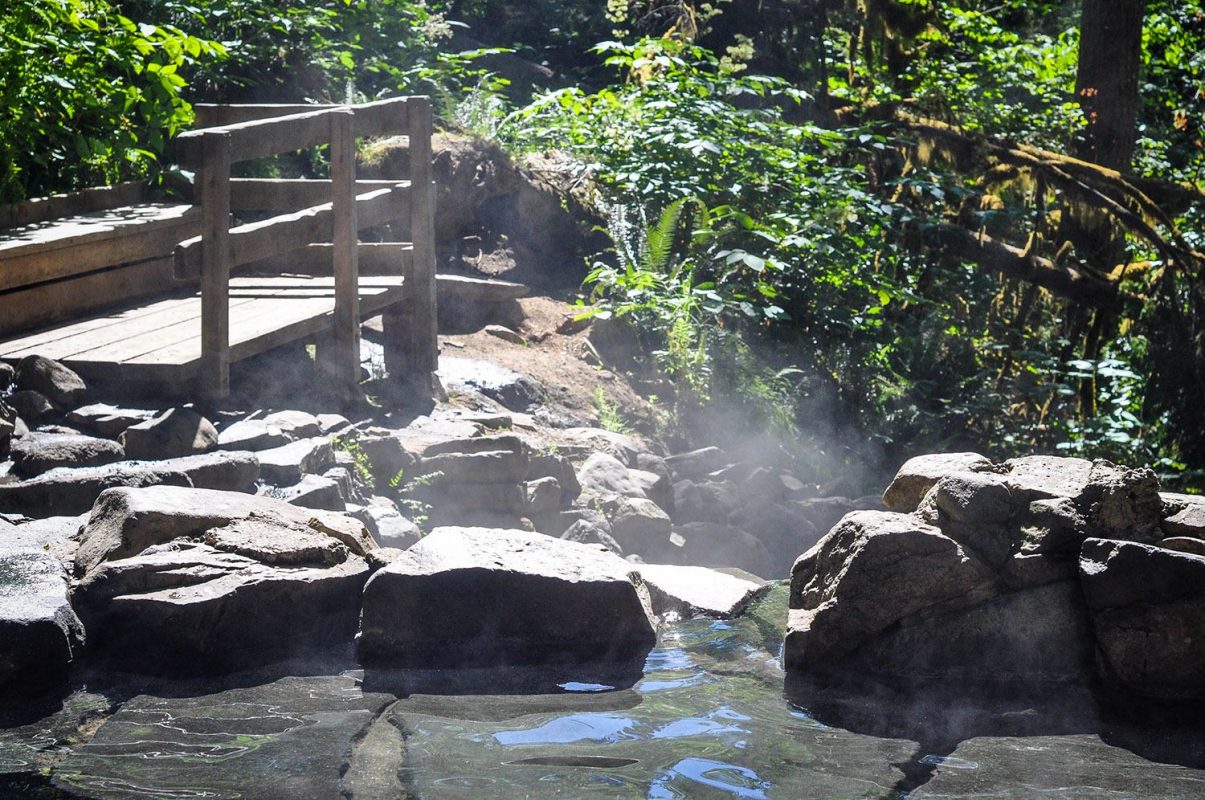 Cougar Hot Springs is known for its beautiful scenery and diverse soaking pools. With 6 geothermal pools ranging in temperature from 90° to 112° F, this site is a good choice for those who want variety in their soaking options. The pools are separated by rock walls in steps down a ravine, creating a beautiful natural landscape.
Located an hour and 15 minutes outside of Eugene, these springs are deep in the Willamette National Forest. There has been some backlash about their use of a manned booth but it has helped keep theft low in recent years.
Open daily from 5 a.m. to 9 p.m., keep in mind Terwilliger is clothing optional, so be prepared to see some people who choose to go without!
How to get there: There is a very easy quarter-mile trail to get to the springs, with the trailhead just off Aufderheide Dr.
Entrance Fee: $7 per person per day or $60 season pass that can be purchased on site.
Belknap Hot Springs
Belknap Hot Springs Resport | Image source: Don Hankins via Flickr
Belknap Resort is situated right along the banks of the McKenzie River in Willamette National Forest. Although the springs are definitely the most popular activity in the resort, the gorgeous scenery and secret gardens are just as noteworthy. There are two mineral hot spring pools at the resort, but only one (the lower one) is allowed for daily use, while the second Upper Pool is reserved for overnight guests.
Located just an hour and 10 minutes outside of Eugene, these springs have perfect soaking temperature at 92° F in the summer and 102° F in the wintertime. There are even color-changing lights in the pool to make for an extra calming and relaxing experience.
How to get there: Both pools are in sight upon arrival at the resort, no hiking required.
Entrance Fee: $8 for an hour of use, including shower and bathroom access. Fee included for overnight guests. Reservations are required and can be made online on their website.
Hot springs near Bend
Bigelow Hot Springs
Also known as Deer Creek Hot Springs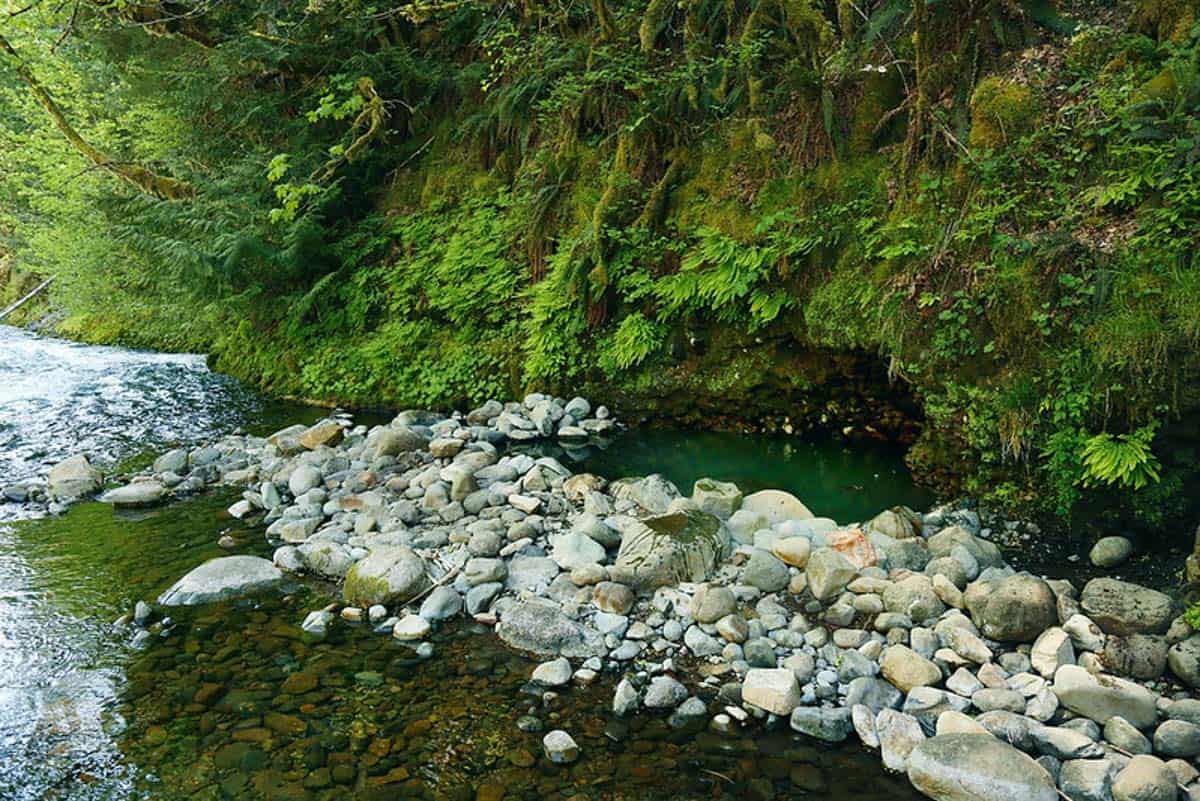 Bigelow Hot Springs | Image source: mzistel via Flickr
Bigelow is the perfect site for an outdoor enthusiast who wants a more natural hot springs experience. The spring is a small gravel pool that can fit about 2 – 4 people and reaches temperatures up to 104° F during the summer months. This small spring is located in a northern bank of the McKenzie River in the Willamette National Forest. A perfect choice if you want solitude and no crowds. Clothing is optional here, so you can make the choice to go with or without!
Just 60 miles from Eugene, Bigelow Hot Springs makes a perfect resting point when exploring the National Forest. And it's not too difficult to find either!
How to get there: From the McKenzie Hwy, take the NF-2654 bridge across the river and park in the lot. The spring will be a short walk away!
Entrance Fee: No fees, this hot spring is entirely free to use.
Umpqua Hot Springs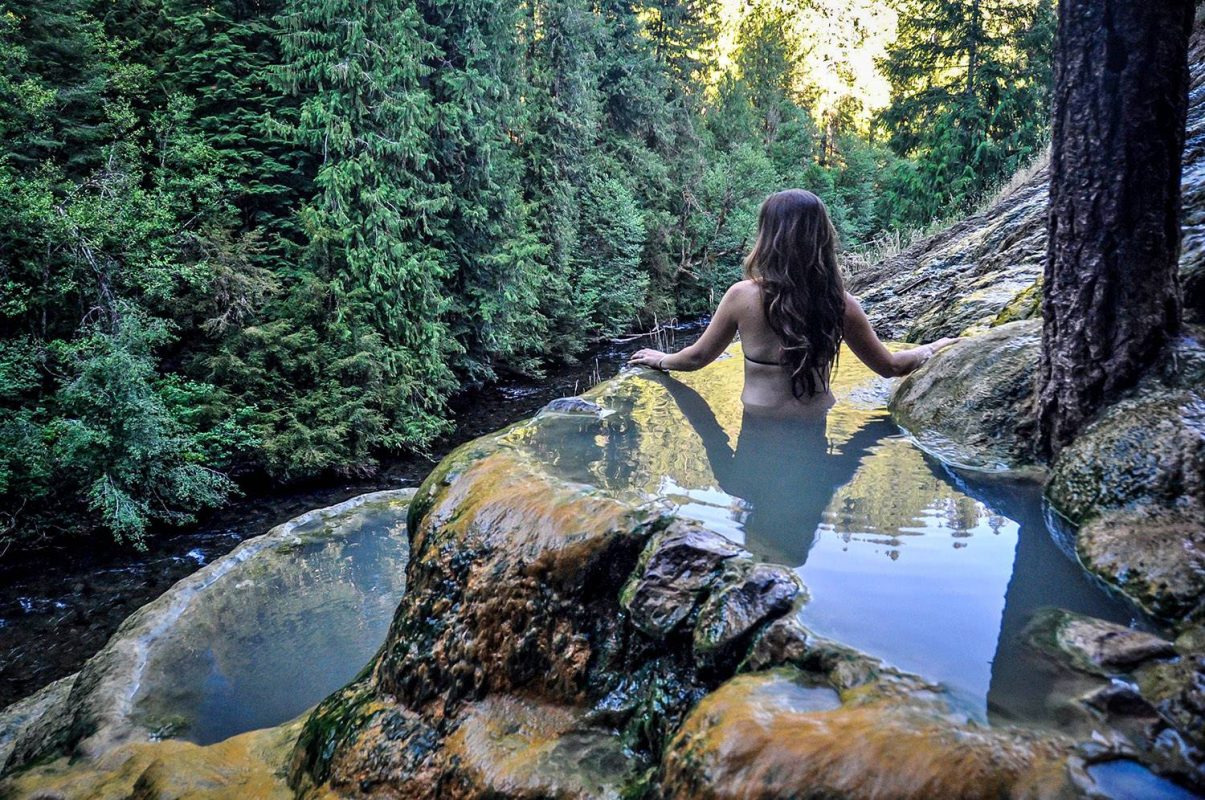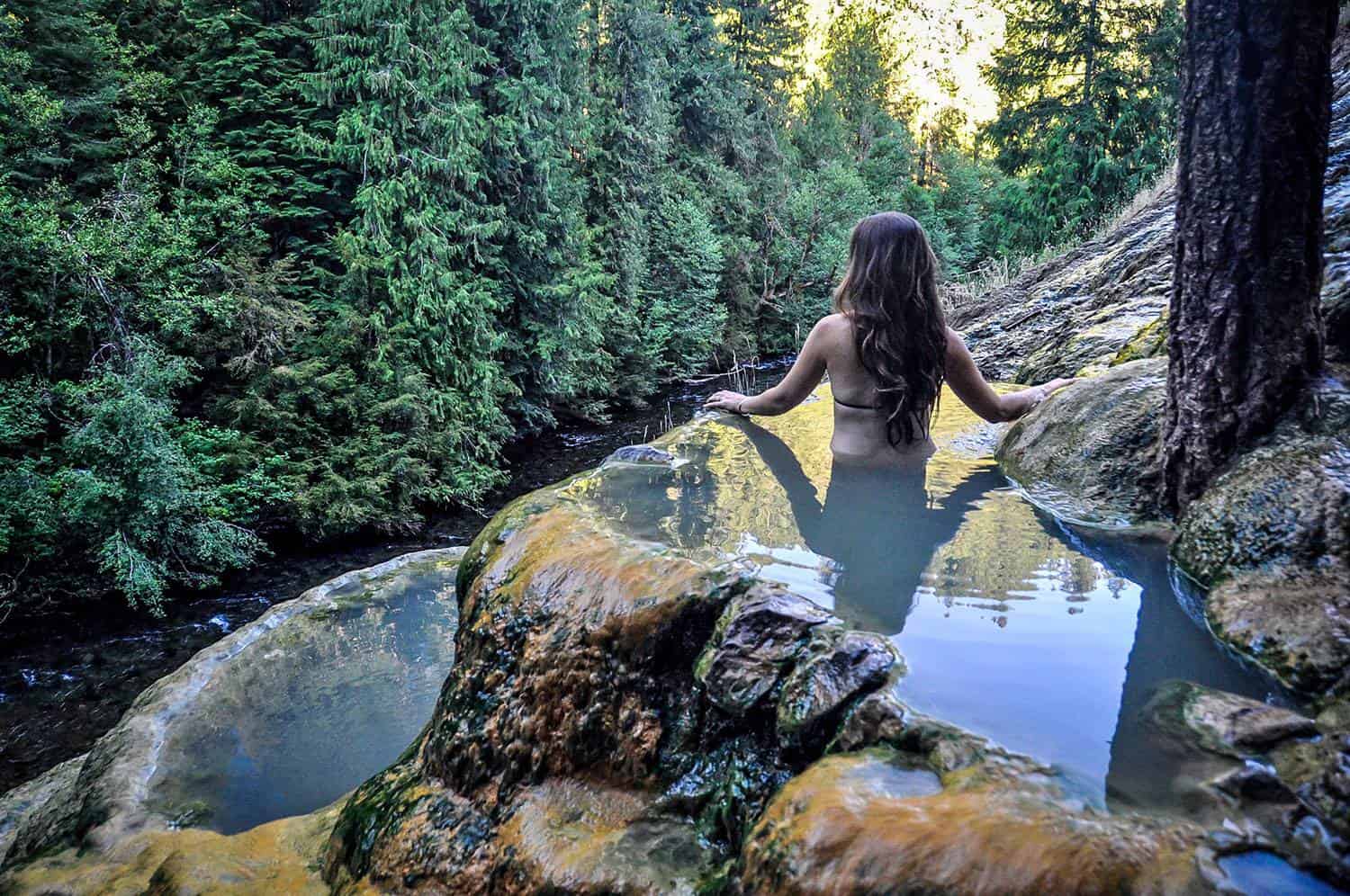 Umpqua is a popular destination for hot spring enthusiasts looking for an in between option that doesn't feel too man-made but also isn't as rustic as others. The 3 hot spring pools, including one that is covered, are on a mineral deposit just above the North Umpqua River. This is a clothing optional site where most visitors opt to go without, so don't be too surprised by the show of skin.
Just a 2 hour and 15-minute drive from Bend, Umpqua Hot Springs also features a composting toilet and campsites near the parking area. Although it is open year round, be warned that some access can be cut off by the winter snow.
We put together a full guide to Umpqua Hot Springs so you know exactly what to expect when you get there. 
How to get there: During the summer months, there is a short quarter-mile hike but the snow in winter can lengthen the trek to 2 miles. Although they are relatively short trails, they are very steep so this adventure is for more experienced hikers.
Entrance Fee: There is no fee to soak in the springs, but there is a $5 per car, per day parking permit, unless you have the Northwest Forest Pass.
Paulina Lake Hot Springs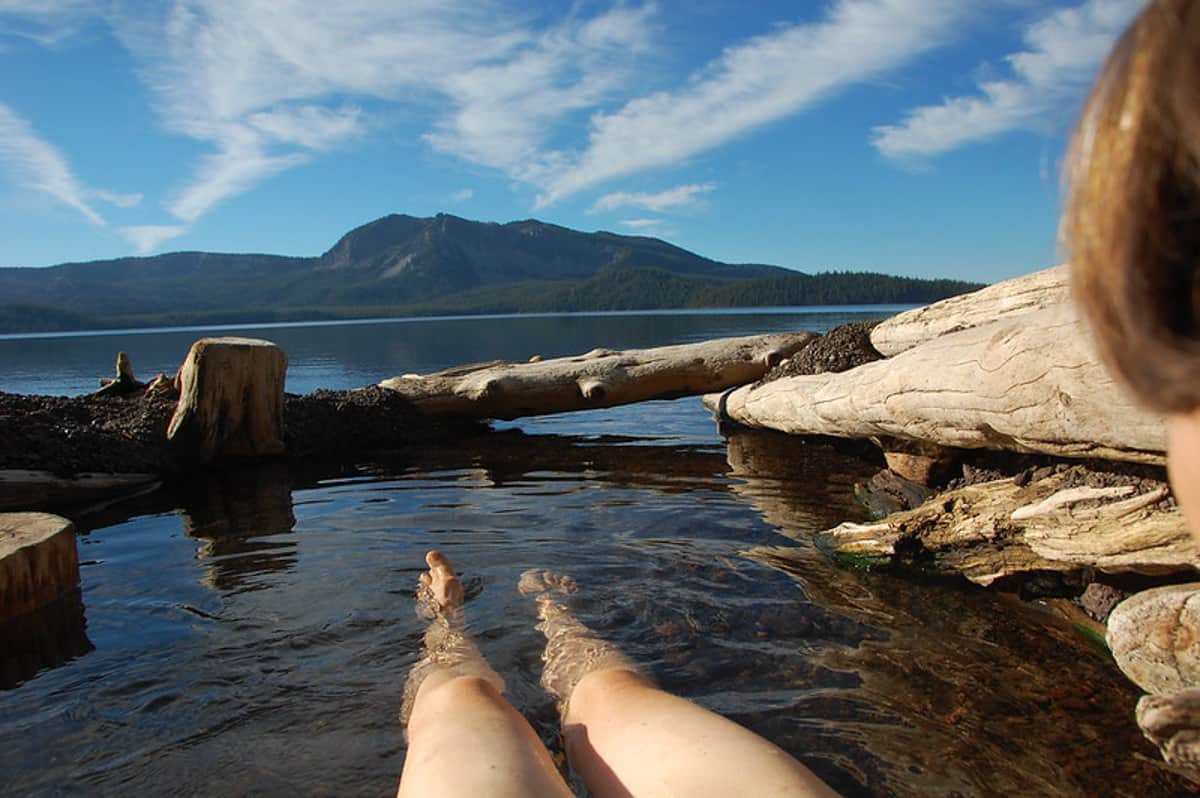 Paulina Lake Hot Springs | Image source: isobri via Flickr
For anyone who prefers more rugged accommodations, Paulina Lake Hot Springs is perfect for you. These springs are located on the banks of the Paulina Lake Beach and are circular dugouts surrounded by wood and rocks. Their small size usually limits each pool to one person so it's perfect for solo visitors.
Located just 45 minutes from Bend in the Deschutes National Forest, these 5 pools range in temperature from 90° F to 115° F depending on the season. Because they're small in size and located on a beach, they have few visitors and are perfect for that much needed retreat from civilization.
How to get there: There are two hiking trails to make it to the beach: Paulina Lake Hot Springs Trail or Hot Spur Spring Trail. Paulina Lake Hot Springs Trail is a 7.5-mile loop around Paulina Lake and is better for those who want a challenge. The Hot Spur Spring Trail is much easier, at only 1.2 miles with very limited elevation.
Entrance Fee: Free to soak! However, there is a fee for the nearby camping facilities.
Summer Lake Hot Springs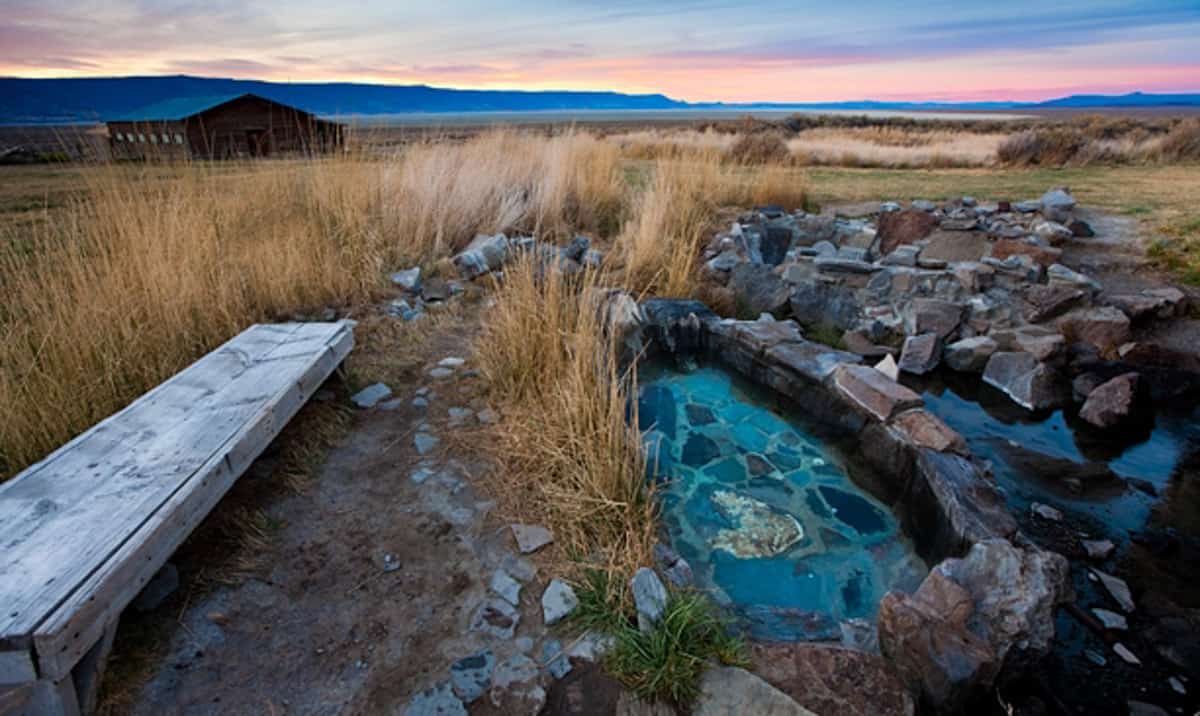 Summer Lake Hot Springs | Image source: Travel Oregon
Summer Lake Hot Springs is known for their natural appeal and conservation policy. The 145-acre resort includes guest houses, cabins, and a campground with RV hookups for overnight stays. The entire place is run on geothermal energy and was designed to show guests how to live a life balanced with nature.
Many past customers have described the experience as "heavenly," enjoying basking in the natural rock pools on site. Plus, the resort hosts numerous other outdoor activities such as hiking, biking and fishing to name a few, if you want some more adventure in your stay.
It is important to note that day use of the hot springs is closed indefinitely. Entrance to the pools is reserved for overnight guests, and there is a 2-night minimum stay for the cabins and guest houses (however, not for camping). Reservations are required for all stays.
How to get there: No hike required, these hot springs are accessible by road.
Entrance Fee: Check out the current nightly rates here.
Looking for more adventure? Check out our completely guide to Silver Falls State Park for waterfalls, hiking and camping tips!
Antelope Mountain Hot Springs
Also known as Hart Mountain Hot Springs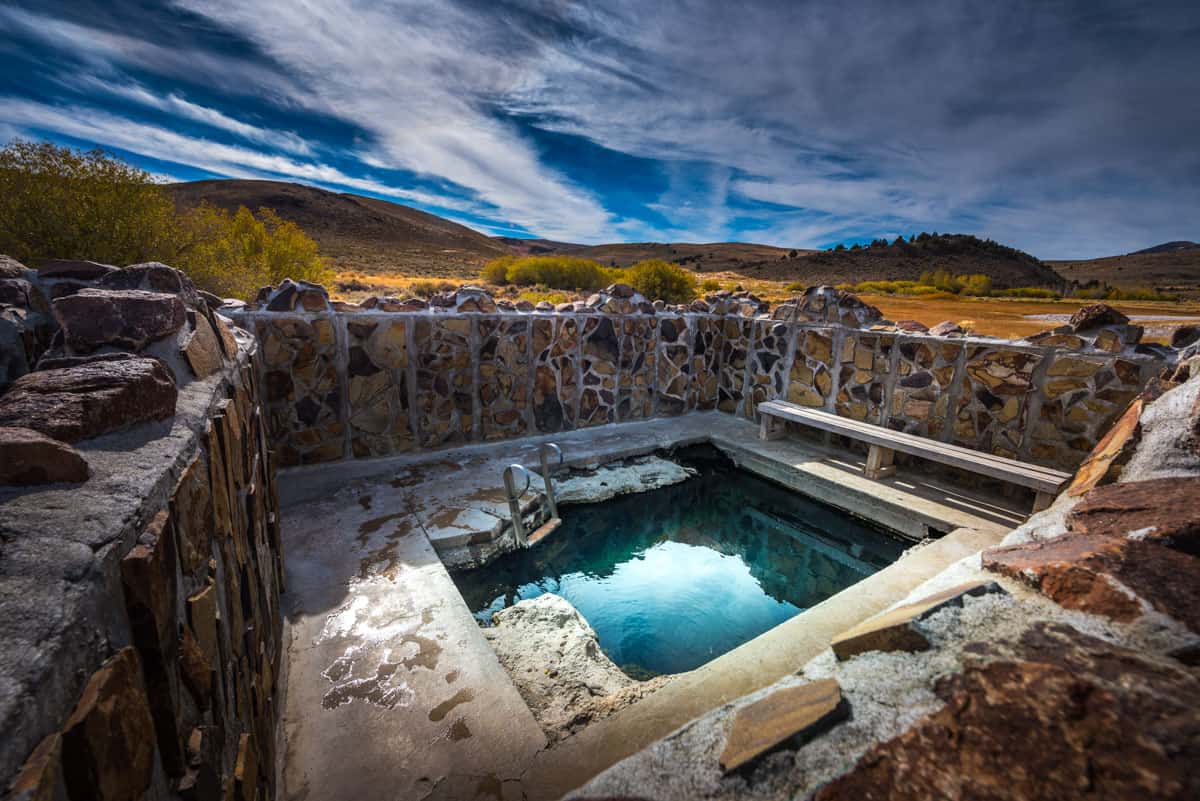 Antelope Hot Springs | Image source: Southern Oregon
Last but certainly not least on our list of the best Oregon hot springs is Antelope Hot Springs in the Hart Mountain National Wildlife Refuge. There are two soaking pools here, a stone-enclosed pool that can accommodate up to six people and a completely undeveloped natural pool with a striking view of the mountain range. The main pool is at a relaxing 100° F to 104° F. There's even a handicap rail in the main pool so everyone can enjoy it!
At 4 hours outside of Bend, the nearest town is Lakeview, which is still 2 hours away. This remote site is perfect for the adventurer who wants to get away from it all as it's in a super remote location on Oregon's high desert plateau.
How to get there: No hike required, these hot springs are accessible by a dirt road. There are also camping sites nearby.
Entrance Fee: No fees!
Tips for Visiting Hot Springs in Oregon
Pack out everything you bring in. Yes, that includes fruit peels or nutshells. Why? While biodegradable, they are not native to this environment, and wildlife should not be consuming them or drawn out of their natural habitats towards people. Don't put the animals in harm's way by leaving anything behind. Read more about

Leave No Trace here

.

Whether on public or private land, be respectful and always obey the rules of the hot springs.

Leave alcohol, especially in glass bottles, at home.

You may also like…
Save this article on Pinterest for later!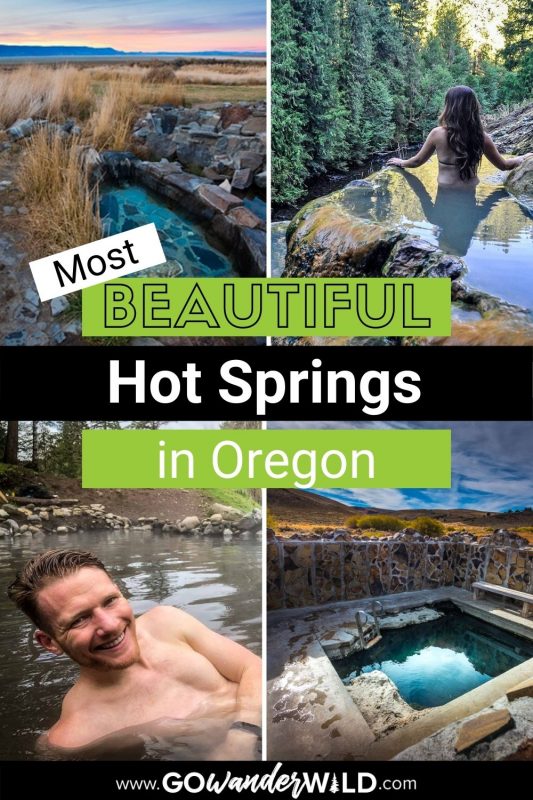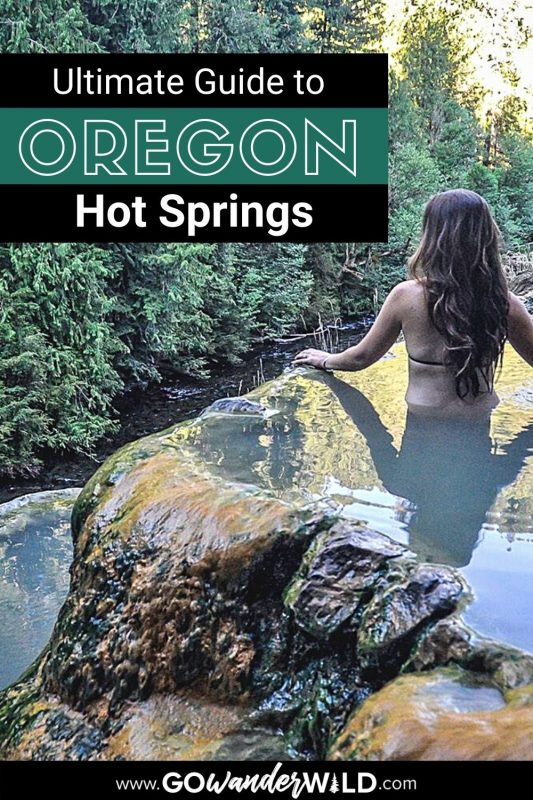 We want to hear from you!
Have you been to any of the hot springs on this list? Which is your favorite? Comment below and let us know!