BLM camping is a great way to get off the beaten path and enjoy free camping in solitude. This guide covers how to do it responsibly and where to find the best BLM camping sites.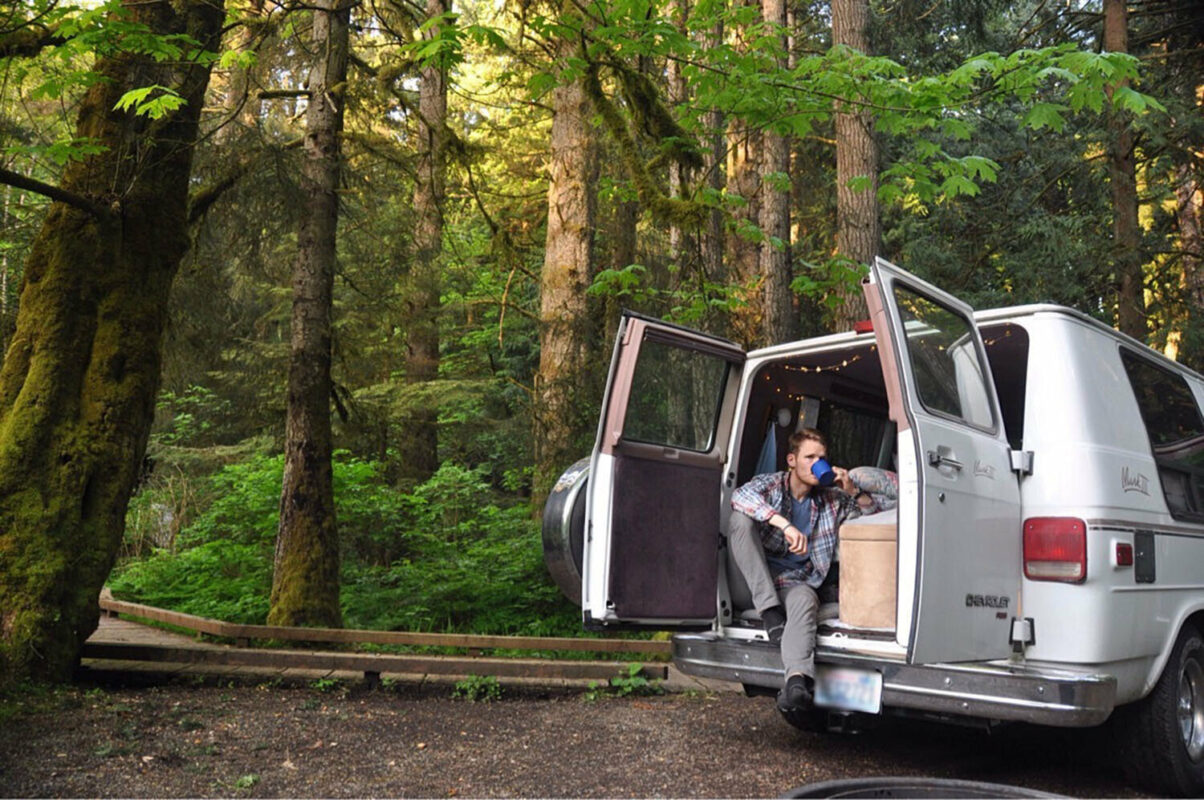 There are a lot of different ways to camp, including backpacking, car camping, and van life. And if you're someone who genuinely likes to "rough it," at least occasionally, you may really enjoy BLM camping.
BLM camping is essentially dispersed camping, also sometimes called dry camping or boondocking, on undeveloped public lands managed by the Bureau of Land Management.
Nearly all of these lands are in the western half of the US, encompassing everything from lakes and rivers to high-alpine meadows and historic trails. Best of all? They're mostly free!
There are some exceptions — for example, some BLM campsites have services and/or facilities, making it not truly dispersed camping. You can also make advance reservations for some BLM campgrounds, and these typically cost a small fee.
Overall, though, you can generally count on BLM camping being free, primitive, and in a stunningly beautiful spot.
So what's the catch? You trade some everyday conveniences like flushing toilets and a guaranteed campsite for enjoying Mother Nature at her finest, and likely with no one else around for miles. Sounds amazing, right?
In this guide, we cover exactly what is BLM land and how you can camp there for free. Plus everything you need to be best prepared for your next camping adventure.
Article Contents

What is BLM land?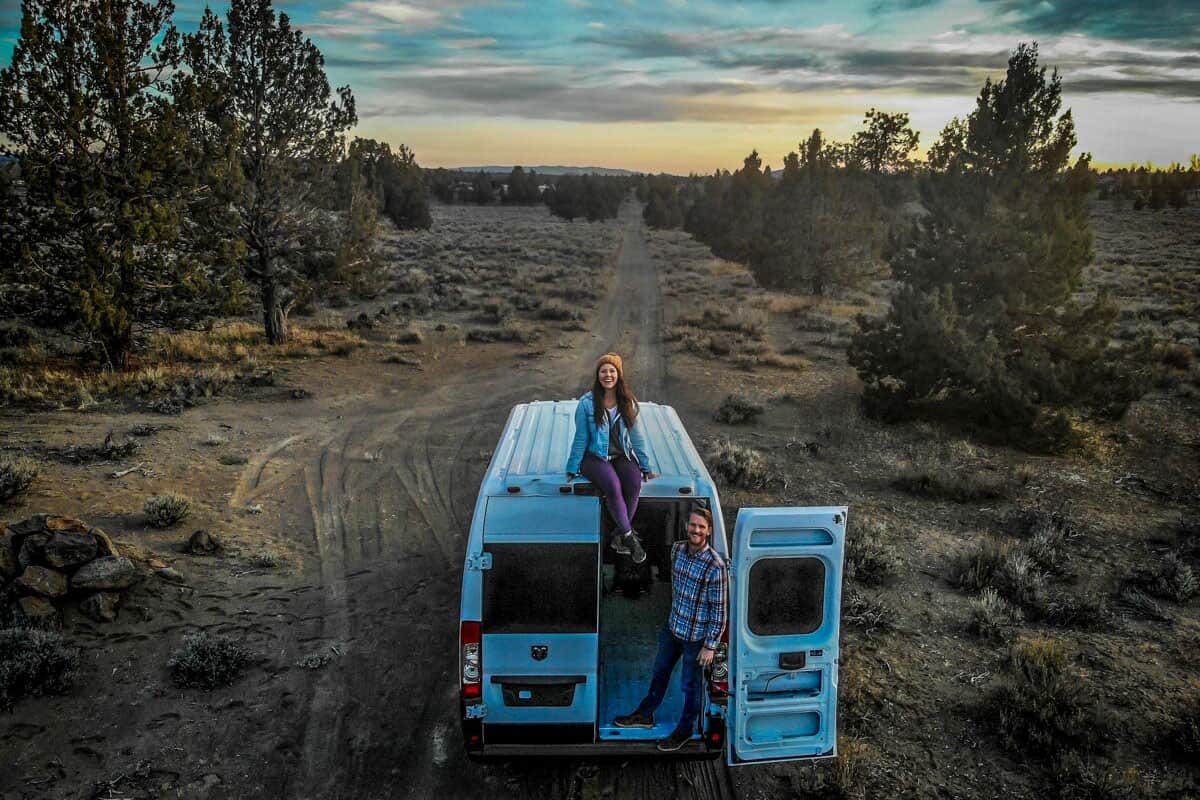 A staggering one-eighth of the US is BLM land — just over 247 million acres. But what is BLM land, exactly?
It's public land that's protected and managed specifically to be used and enjoyed for present and future generations. While that often means for camping, it also means for hiking, boating, fishing, hunting, off-roading, and countless other types of recreation. Some BLM lands also exist to protect specific natural resources or wildlife species. 
The vast majority of BLM land is in the West, and is also undeveloped and totally free to use. While some day-use areas and campsites do require a small fee, there are thousands of incredible places you can camp for free on BLM land!
How to Find BLM Land: The Dyrt App has a awesome Map Layers feature (for Pro members) that lets you explore campsites and roads on BLM lands. They offer a 30-day free trial of the Pro Version exclusively for our readers (compared to the regular 7-day trail)
Generally speaking, free BLM campsites are undeveloped, also called primitive. However, with some research and determination (and maybe a little luck!), you can find epic free campsites that have some facilities, like pit toilets or picnic tables.
Benefits of BLM camping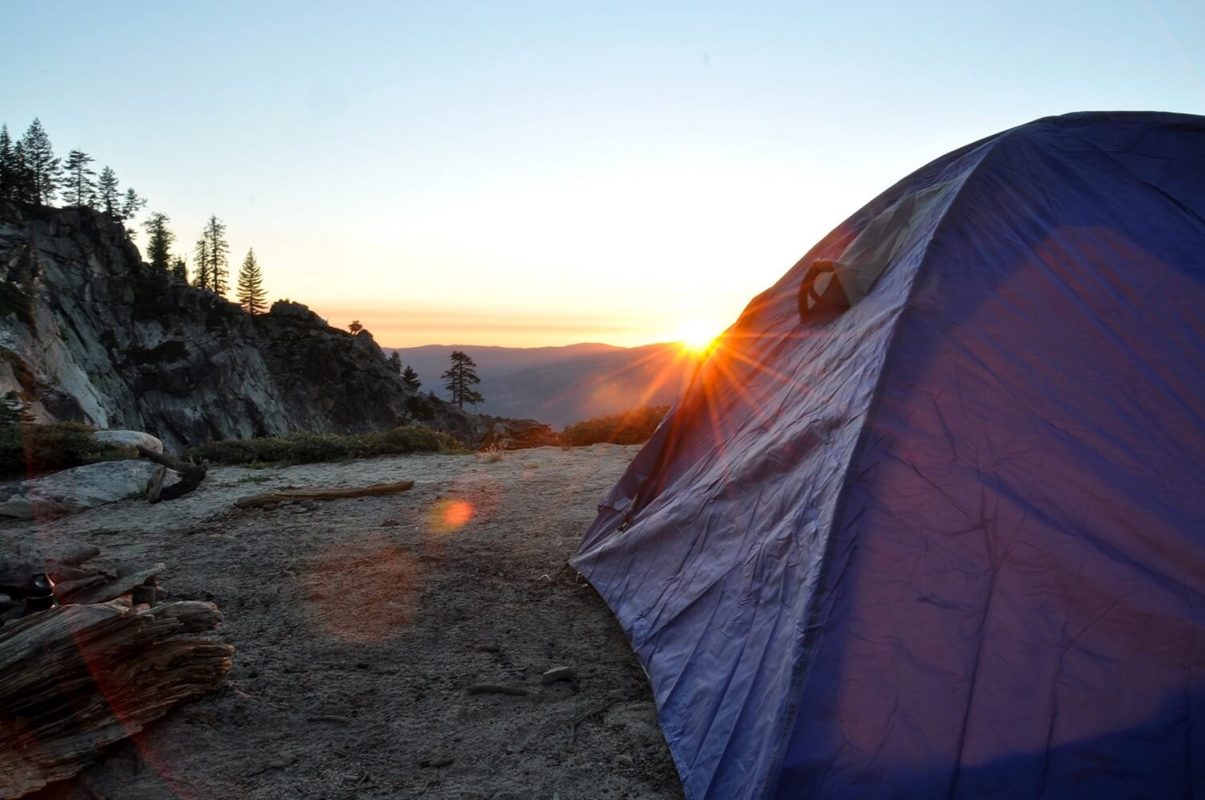 Saves you money. Established campsites can cost a pretty penny these days and the nightly rates add up fast. BLM camping is free, saving you tons on accommodation costs.
Have literal front-row seats to epic views. With hundreds of millions of acres of undeveloped land to explore, you can score free BLM campsites in many bucket list-worthy destinations. Best of all, you often get to enjoy it all to yourself.
A chance to truly unplug. A lot of BLM land is remote, and there's a good chance you won't have cell service. While some people may see this as a disadvantage, disconnecting from technology and everyday hustle and bustle for a few days should be the very reason you camp.
No planning required. BLM camping is great for people who enjoy heading out for the weekend on a whim. As long as you have a rough idea of where you want to head, you simply drive until you find the right spot.
Experience untouched wilderness. There are fewer and fewer undeveloped places in the world, but BLM camping gives you the opportunity to enjoy some of them. Listen to the unhurried sounds of the forest and watch wildlife in their natural habitat.
Downside to BLM camping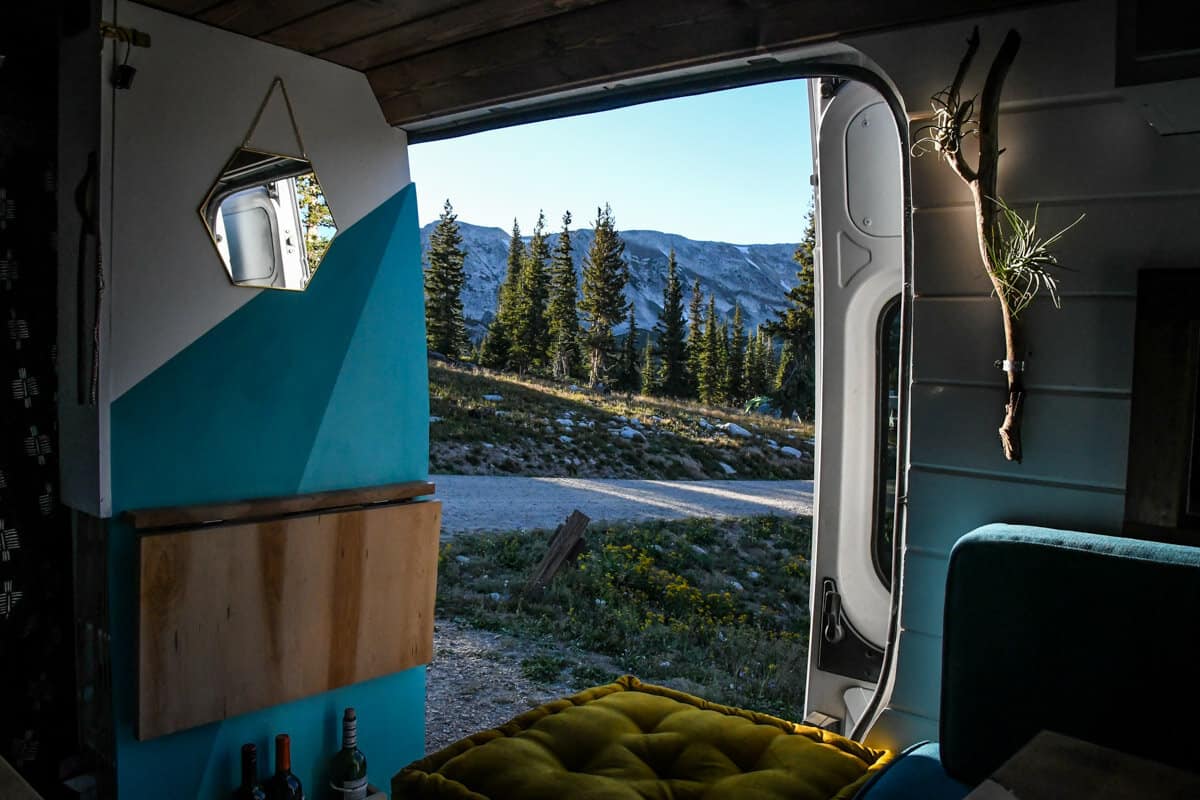 There's fierce competition for the best campsites. Because most BLM camping is first-come, first-served, it can be tricky to nab the best spots. It's common for people to wait outside popular campgrounds in the mid-morning, hoping for a campsite to open. You'll need to get an early start and have a few backups in mind. Along the same lines, there's also usually no way to reserve your favorite BLM campsites.
Emergency services are far away. In the unlikely event of an emergency (even if that emergency is that you forgot a crucial dinner ingredient!), BLM camping means you'll have to travel a ways to the closest services.
Potential (likely) fire restrictions. There's a very good chance you'll face fire restrictions or even full-on bans during the summer on BLM land, especially at undeveloped campsites that don't have established fire rings. There are loopholes, like bringing a portable propane fire pit, but not having a "real" campfire can still be a bummer.

Guidelines for BLM camping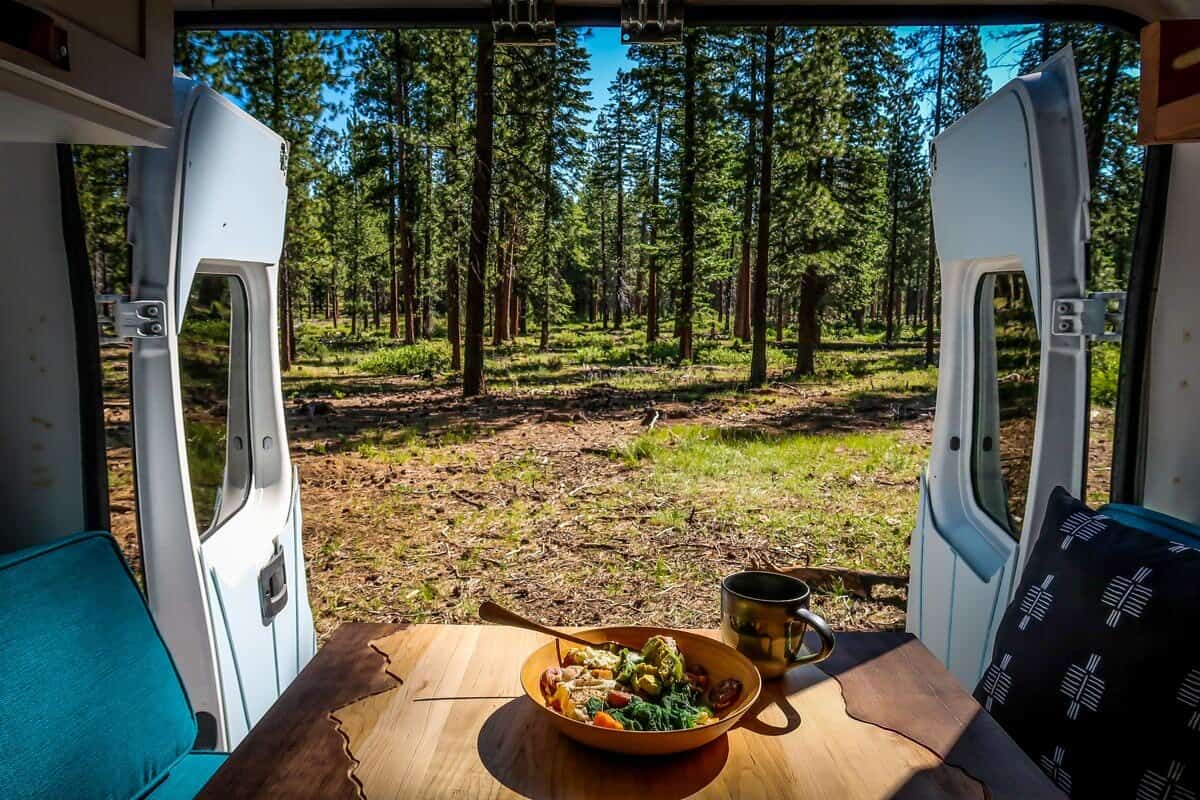 Understand that you need to be 100% self-sufficient. Even in developed BLM campsites, there won't be a camp store and services like potable water or firewood for sale are limited at best. Bring everything you need for your entire trip.
If you're camping at a fee site, be sure to pay the posted amount within 30 minutes of arrival. Any fees will be clearly posted, and fee sites have either a camp host or a self-pay kiosk.

Insider tip: bring small change along when BLM camping.

While most BLM campsites are first-come, first-served, some actually do require a reservation. If you're researching sites ahead of time, be sure to search the campground name on recreation.gov.
In most cases, you can camp at the same site on BLM land for 14 days out of 28. There are some exceptions to this, so be sure to check any bulletin boards or other signage at the campground.
Leave No Trace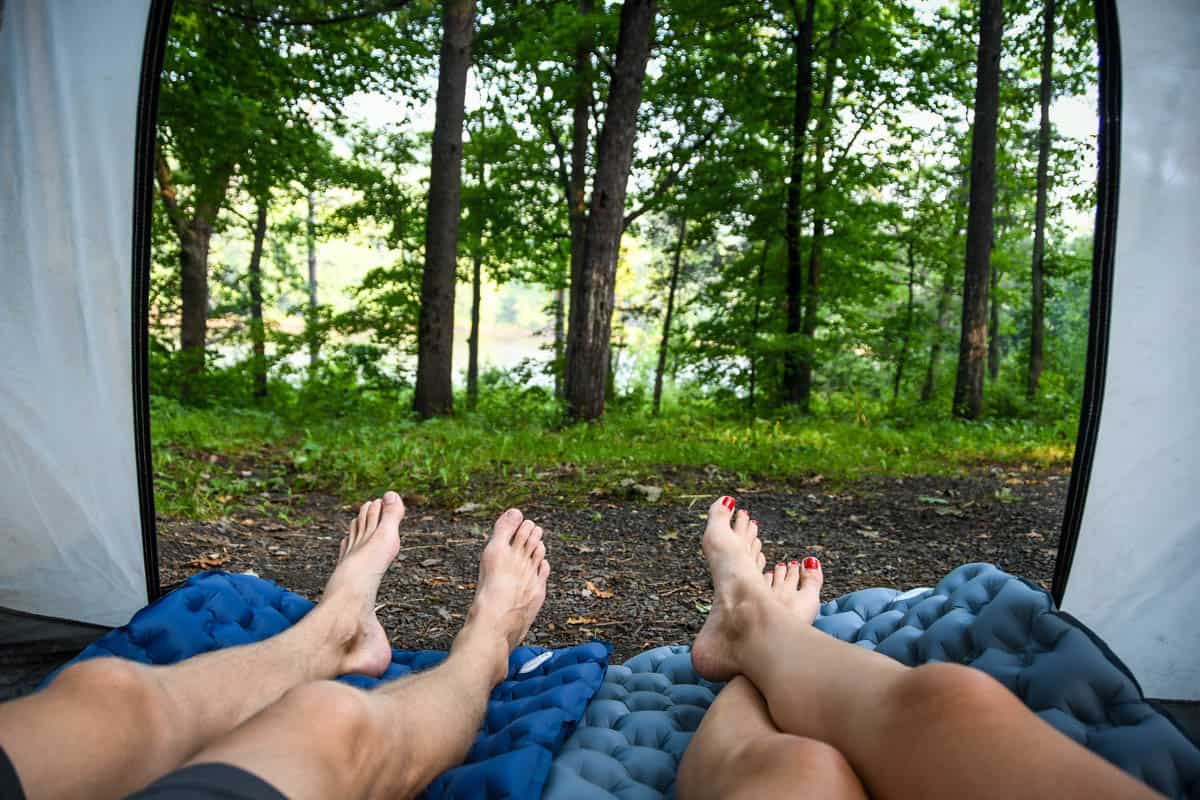 The 7 principles of Leave No Trace are extremely important for outdoor recreation in any manner, but especially so when BLM camping.
Travel and camp on durable surfaces
BLM camping means getting off the beaten path…but only to a certain degree.
You actually want to look for areas that have been obviously used for making campfires and pitching your tent (look for the flattened, disturbed areas), and you want to try to stay on the very literal well-beaten path for finding your site and walking around camp. This prevents new disturbances and protects surrounding areas.
Minimize campfire impacts
Remember, almost all BLM land is in the west…where wildfire season is notoriously bad every year. Never, ever leave a campfire unattended, keep fires small, and be sure to obey all local fire restrictions.
Many counties, national forests, and even some individual campsites maintain social media accounts where they post frequent updates
Dispose of waste properly
You can pretty much guarantee that there won't be any trash cans when you're BLM camping. That means that you are responsible for bringing all your trash out of camp (including human waste and food scraps!).
This is where the term "pack it in, pack it out" comes from! We recommend bringing extra bags of varying sizes for this purpose.

Wanna try out vanlife while testing out BLM camping?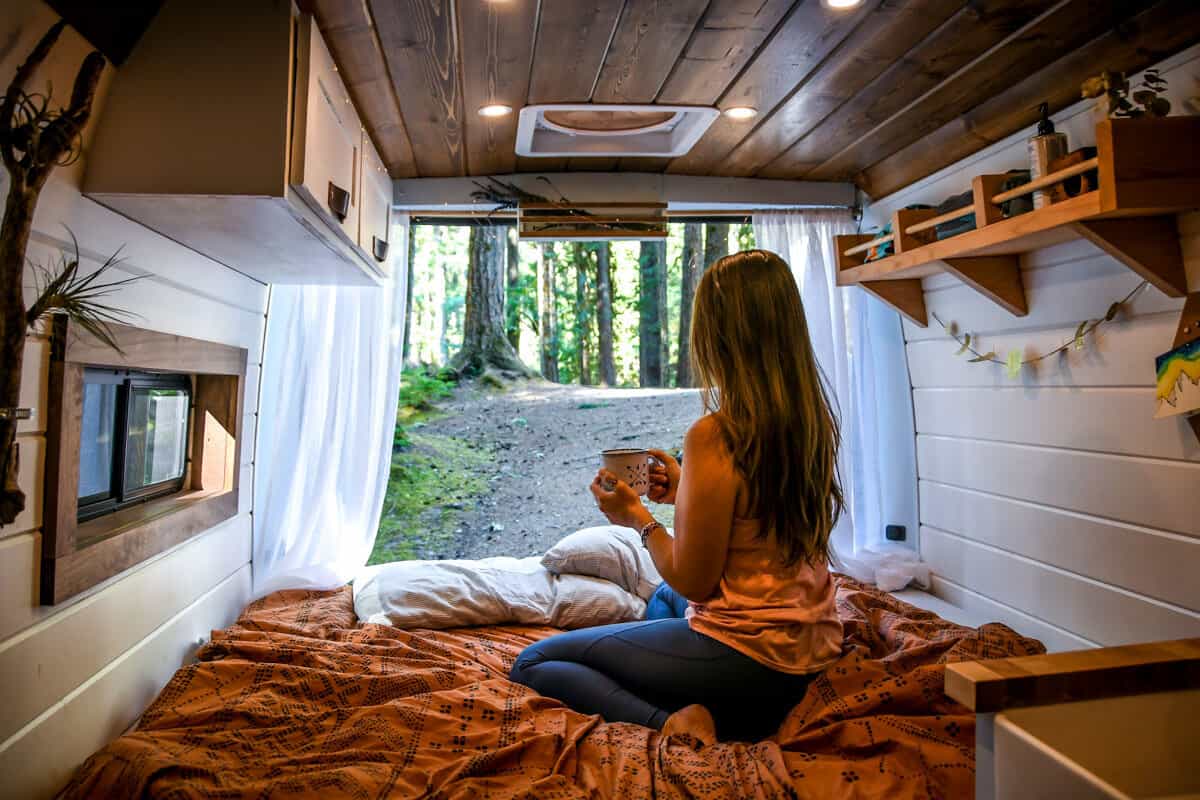 It's no secret we're obsessed with #vanlife. If you don't have the time (or interest!) in building your own conversion but you still want to give van life a test drive, we've got some ideas for you…
Check out our list of top companies for USA Campervan Rentals, from budget to bougie, we've even included some exclusive discounts for our readers!
One company we'd recommend looking into is Escape Campervans. They have 12 different locations across North America and come fully loaded with all the gear you need for an epic road trip. Plus, their rates are fair and affordable.
BONUS: We've partnered with them to give you a 10% off discount when you use our link!

How to find BLM land for camping
We've said it before, and we continuously learn just how true it is: not all campsites are created equal. This is even more true when it comes to BLM camping, where you have literally hundreds of millions of acres of open land!
Luckily, there are several handy resources out there to help you find the best campsites.
The Dyrt
The Dyrt is our favorite campsite locating app with the largest database of campgrounds (44,000+ campsites and counting!) and over 1 million user-submitted reviews. Plus, it's super user-friendly, and has some pretty cool features, like outdoor gear contests and forums to connect and seek advice from fellow campers, that you won't find on any other camping app.
Specific to BLM camping, The Dyrt has a fantastic Map Layers feature (for Pro members) that lets you explore campsites and roads on BLM lands. This is especially useful for road trips and spur-of-the-moment camping trips where you don't have a set plan and want to find something nearby, quickly.
Try their Pro Membership for FREE for 30 days and gain access to the offline version of the app, utilize their trip planning feature AND get exclusive discounts on campsites and gear!
BLM interactive maps
What better place to find the best BLM camping spots than the BLM website? Using the awesome interactive maps, you can search by location, paid versus free campsites, site amenities, or even nearby activities like hiking trails.
Best gear for BLM camping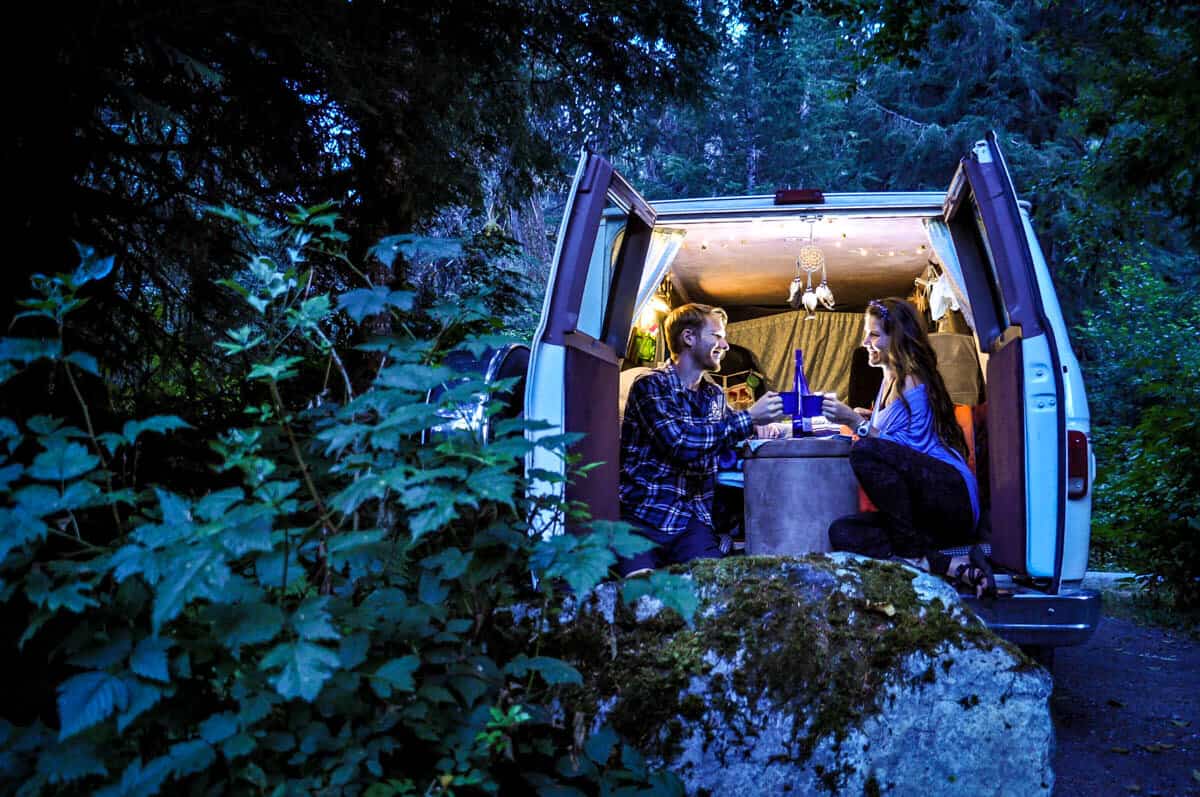 Remember, you need to bring everything you'll need for BLM camping. With that in mind, there are several pieces of gear that will make your experience better and much more comfortable!
Quick note: we assume you have the camping essentials, like a great tent and sleeping bags. This list focuses more on things you may not necessarily have, plus some items that are useful specifically for BLM camping.
Portable camp stove (plus fuel and a way to light it): An easy, less messy way to make coffee and cook quick meals than a campfire, plus an alternative for when there are fire bans

We love our Jetboil for backpacking trips when we have to carry our own gear in.

Cooler with a locking lid to help keep critters out and keep your food cold for longer

Yeti coolers are the gold standard, but there are other brands with locking lids that don't cost as much

Water jugs, preferably with spigots (1 gallon per person, per day is recommended): Remember, you'll need water for drinking, cooking, washing hands and dishes, and brushing teeth
Headlamp: There won't be any lights at night, and you'll want something for walking around camp or reading in your tent!
Entertainment: Bring a book, deck of cards, board games, a puzzle, or coloring book, just in case you get stuck inside during bad weather

Bear canister(s): If camping in bear country (they're honestly great for camping and backpacking in general, though!)
First-aid kit: A just-in-case item, but an important one since medical services are likely a good distance away. Don't forget things like Benadryl, aspirin, and creams to treat bug bites and poisonous plants in addition to medical supplies
Shovel: Not only will this come in handy for digging cat holes, but you can use it to dead-out your campfire
Biodegradable "wet" wipes: You'd be amazed at how well these clean sticky messes, and they're great for "bird baths"

Remember you still need to pack these out as trash! Just because they are biodegradable does not mean you can just throw them into a bush.

Extra trash bags: to pack out ALL of your waste—human, food, etc—when you are done

You may also like…
Save this article on Pinterest for later!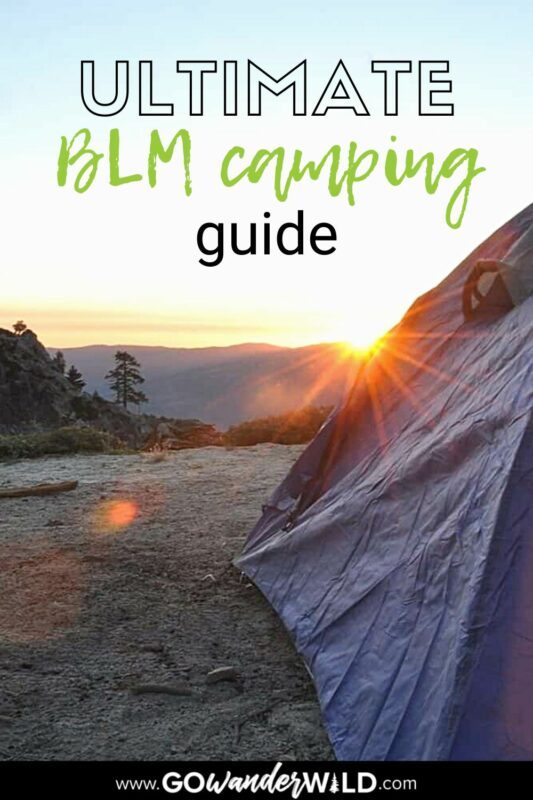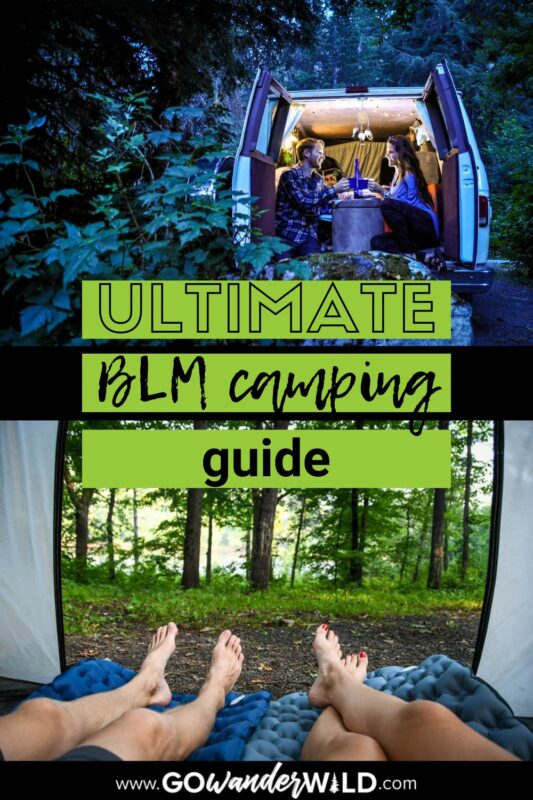 We want to hear from you!
Are you planning on doing some BLM camping and have more questions? Leave your comments below and let us know!