With several distinct regions, each boasting incredible PNW wilderness and views, it can be difficult deciding which hikes at Mt Rainier to embark on. To help you choose, we've rounded up our favorites that you don't want to miss. Prepare to be mesmerized at every step!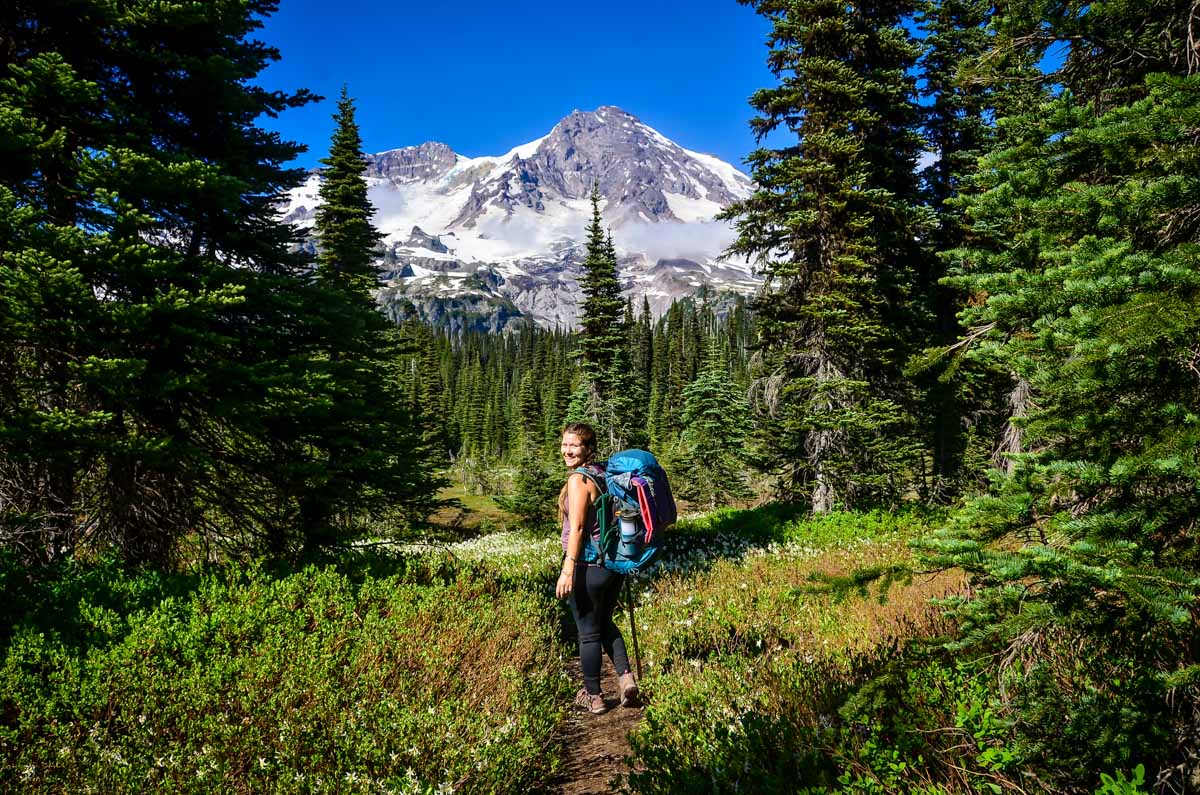 Mount Rainier is easily one of our favorite outdoor destinations. Extraordinarily accessible, with some of the most epic vistas accessible even to families with young hikers, this national park is a can't-miss.
The hikes at Mount Rainier take you up glaciers, through wildflower-blanketed meadows, and to breathtaking viewpoints throughout the Cascades. We've rounded up our favorite Mount Rainier hikes, arranged from easiest to most difficult, to help you plan your visit and get out on the trails.
Best time to visit Mount Rainier National Park
The high-alpine season for Mt Rainier hikes is short; snow lingers through early August (really!), and blizzards can start up again in late September. Like the rest of the PNW, late summer is the most vibrant season, with blooming wildflowers and sunny days.
Don't let that dissuade you from tackling hikes at Mt Rainier even in the off-season, however — some trails are accessible even under snow. Plus, winter hiking has its own special magic! We recommend erring on the side of safety any time of year and checking the park website for up-to-date road closures and other pertinent weather information.
Psst! Did you know Mount Rainier is one of the best national parks to visit in winter?
America the Beautiful Annual Park Pass

If you're planning to visit more than one of the Washington national parks, we'd highly encourage you to look into getting an annual park pass. At $30 per vehicle, Mount Rainier, along with most other national parks in the U.S., can be expensive.
For just $80 per year, you can purchase the America the Beautiful park pass. This pass grants you free access to all of the national parks. Plus it also covers your entrance to over 2,000 natural, historical, and recreational sites across the United States.
If you still need convincing, check out our article: America the Beautiful Annual Park Pass: Is it Worthwhile?
Psst! Check out some of our other favorite national parks on the west coast that make great hiking destinations.

Single-day Mount Rainier hikes
There are seemingly endless hikes to choose from in this popular Washington national park, but here are some of the top single-day trails to put on your itinerary for Mount Rainier.
1. Narada Falls Trail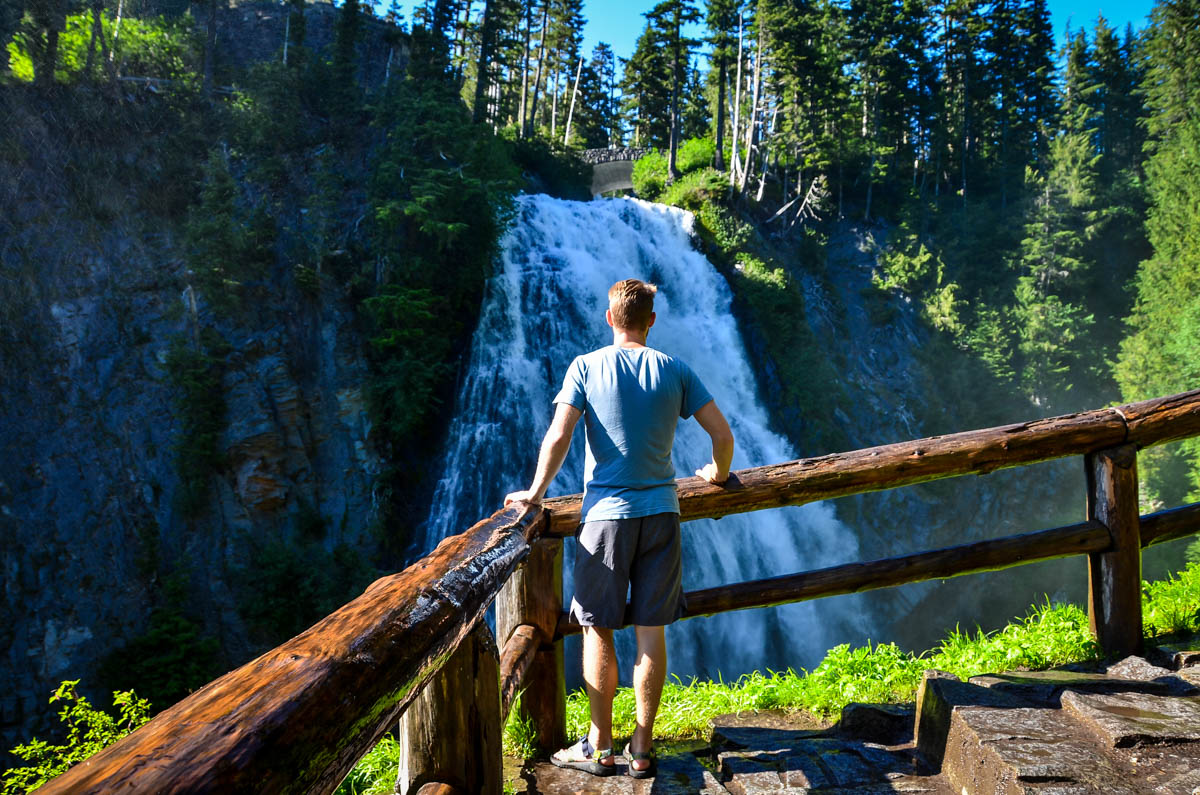 Before we say anything else about this popular Mt. Rainier hike, it should be noted that there are several ways to get to the falls. The AllTrails map shows a 2.4-mile route, but here we're covering the much shorter (and much more popular) route down to the viewpoint from the parking lot.
While it's only 0.1 mile down, it's steep and literally always wet, so it's a bit more challenging than you'd expect! From the parking lot, walk across the bridge to find the trailhead.
2. Myrtle Falls via Skyline Trail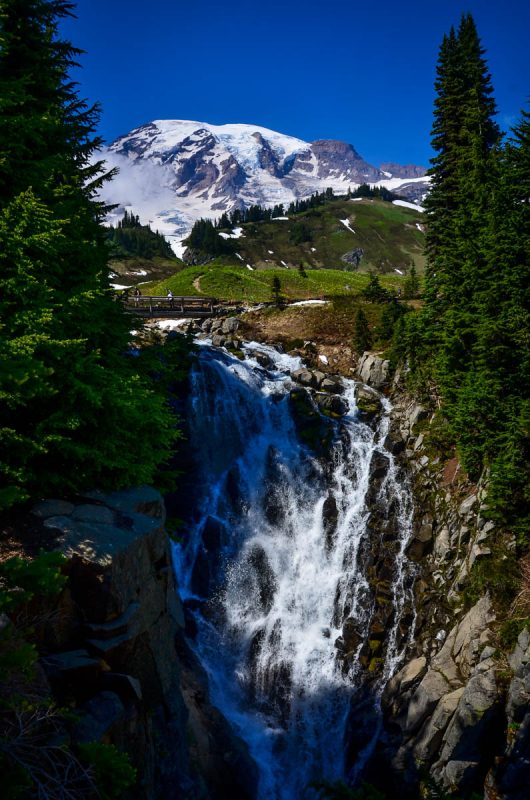 A short but sweet paved trail with a huge payoff, Myrtle Falls via Skyline Trail (you can also reach the falls from the Golden Gate Trail) leads to one of the most iconic views in the park. You'll end up at a viewpoint overlooking the waterfall, nestled at the base of Mt. Rainier in all her snow-dusted glory.
There is a stretch of pavement that gets pretty steep, but otherwise this is one of the easiest hikes at Mt Rainier. And bonus, it's also mostly wheelchair-accessible (minus the stairs to the viewing deck at the end?!
3. Alta Vista Trail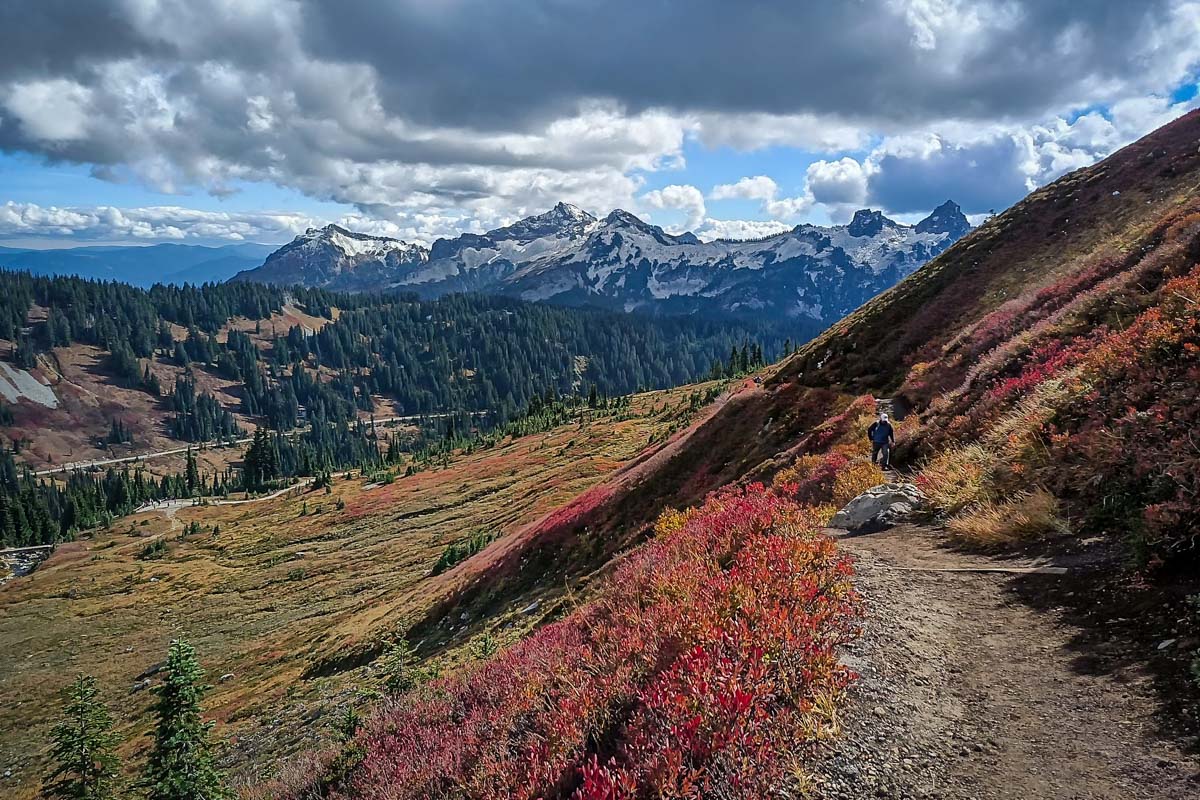 This paved trail offers impressive vistas beginning from the parking lot. With close-up views of looming Mount Rainier and the Cascades as a backdrop, this is one of the go-to hikes at Mt Rainier for any age and ability.
The road often closes during the winter, but when it's cleared, Alta Vista becomes a premier snowshoeing area due to the easy terrain and straightforward navigation.
If you're short on time and deciding between Mount Rainier hikes, pick this one; you'll get up-close and personal with the namesake peak within minutes.
4. Bench and Snow Lakes Trail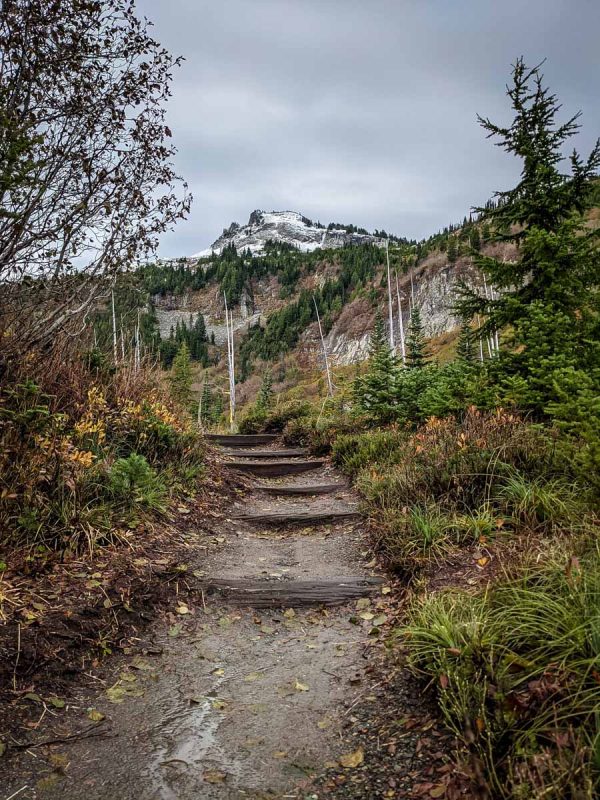 If you're looking for a non-strenuous hike with few (if any!) crowds and impressive views, this trail is a gem! It can also easily be combined with other Mt Rainier hikes in the Paradise area to create a longer trail.
Perfect for summer days, this trail features a gentle climb through shaded forest to two refreshing lakes, the further one with postcard-worthy views of Rainier. If you want to combine the relaxed hike with camping, there are even a few backcountry sites near the shore.
5. Frozen Lake via Sourdough Trail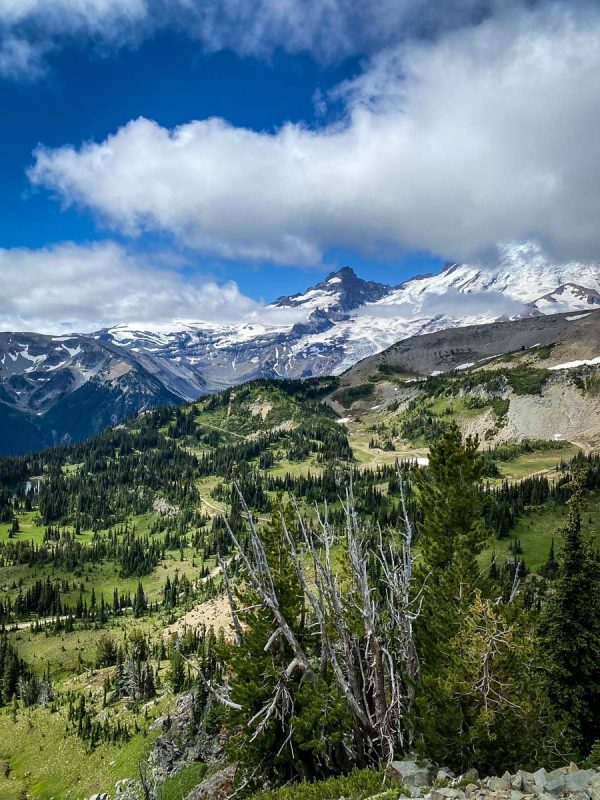 Starting at an elevation of 6,400 feet, this hike deposits you directly into incredible high-elevation mountain views. With sweeping meadows, a lake, and ridgelines folding into the horizon, it's a highly memorable landscape that requires minimal exertion. Fog and clouds often cover Mount Rainier at this close distance, but it also adds some picturesque moodiness to the landscape!
Note: you'll reach a five-way intersection at the "endpoint" of this trail, where you can choose to continue on to several other hikes at Mt Rainier, including Burroughs Mountain or the Wonderland Trail.
6. High Rock Lookout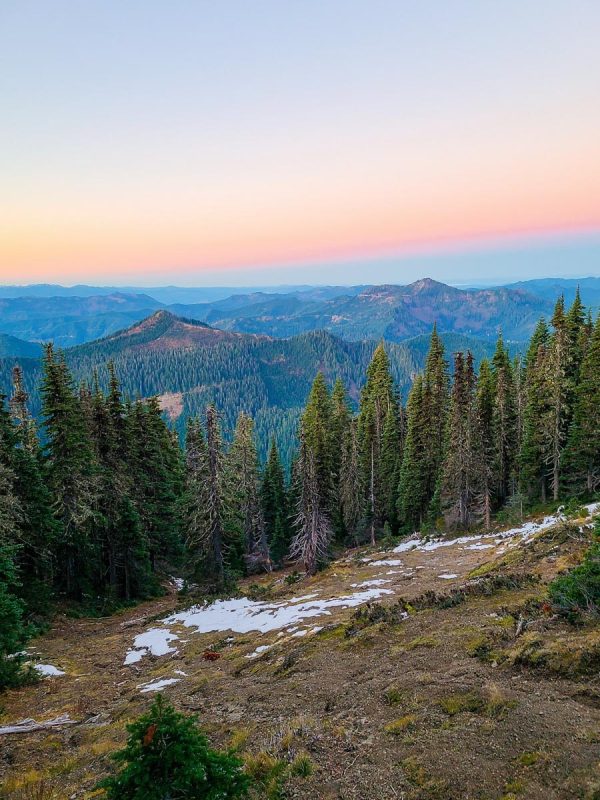 As its name suggests, High Rock Lookout stands quite a bit taller than everything surrounding it. That's exactly what makes it one of the best Mt Rainier hikes; the summit is easily one of the best views in the entire state! Note the elevation gain as compared to mileage — you climb quite a bit in just a mile-and-a-half, so brace yourself for a leg burner on the way up!
The road leading to the trailhead is notoriously treacherous, especially in the winter and spring. It's about nine miles down a washboard road littered with pot holes, and it's frequently covered in snow through late May or early June. Even 4-wheel-drive vehicles have gotten stuck, so this is truly one of those Mount Rainier hikes best left for summer.
7. Naches Peak Loop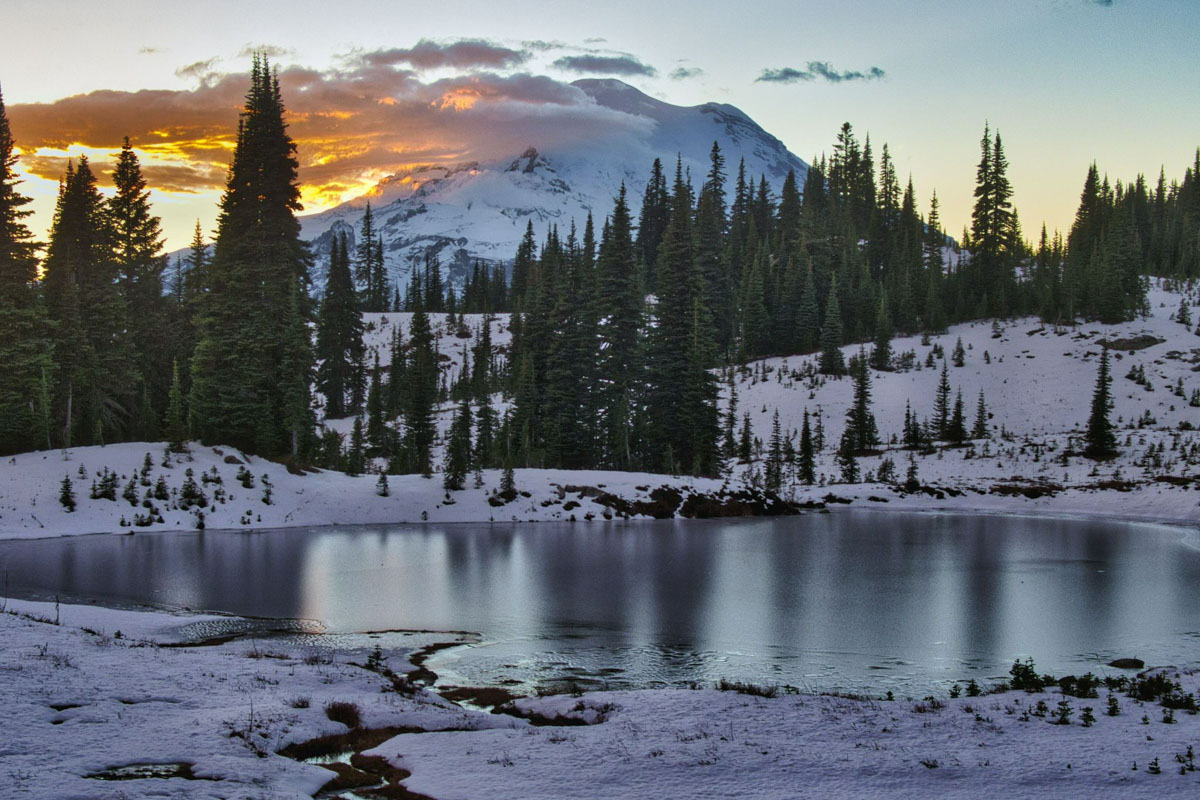 Offering wildflowers galore in late summer, two mirror-still ponds, and picture-perfect Mount Rainier views, Naches Peak Loop packs a serious punch in a small distance. We recommend hiking the loop clockwise (starting on the PCT) to get head-on views of Rainier. En route, there are plenty of spots to stop for a picnic including a stone bench at the Dewey Lake viewpoint or the meadows at the start of the trail.
This is one of the most popular Mt Rainier hikes for good reason; try to go on a weekday for a bit more solitude!
8. Silver Falls Trail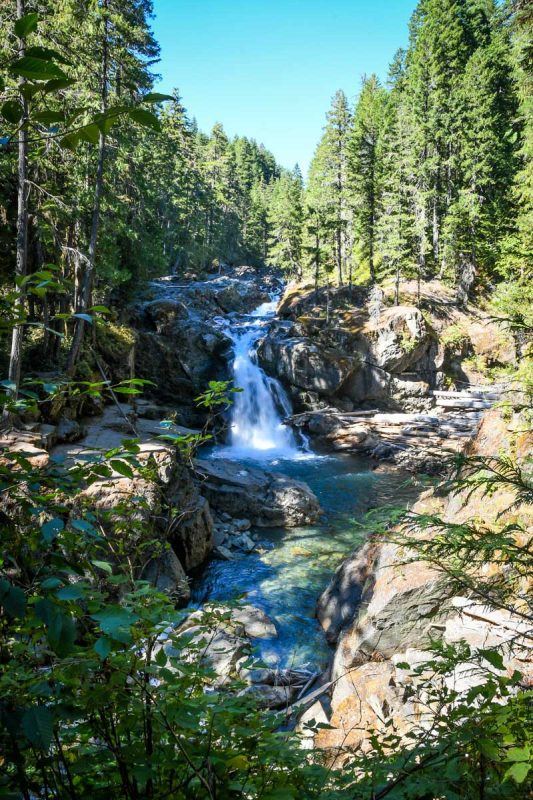 We love a good waterfall hike (who doesn't, though, right?!) and this is one of the more scenic options in the park. The waterfall and river are a spectacular turquoise blue color and typically raging in the early summer months — the best time for hiking in Mt. Rainier!
Do this hike as a loop from Ohanapecosh Campground. And speaking of that, the campsites here are great, if you're looking to stay in the park for a couple of days!
9. Emmons Moraine Trail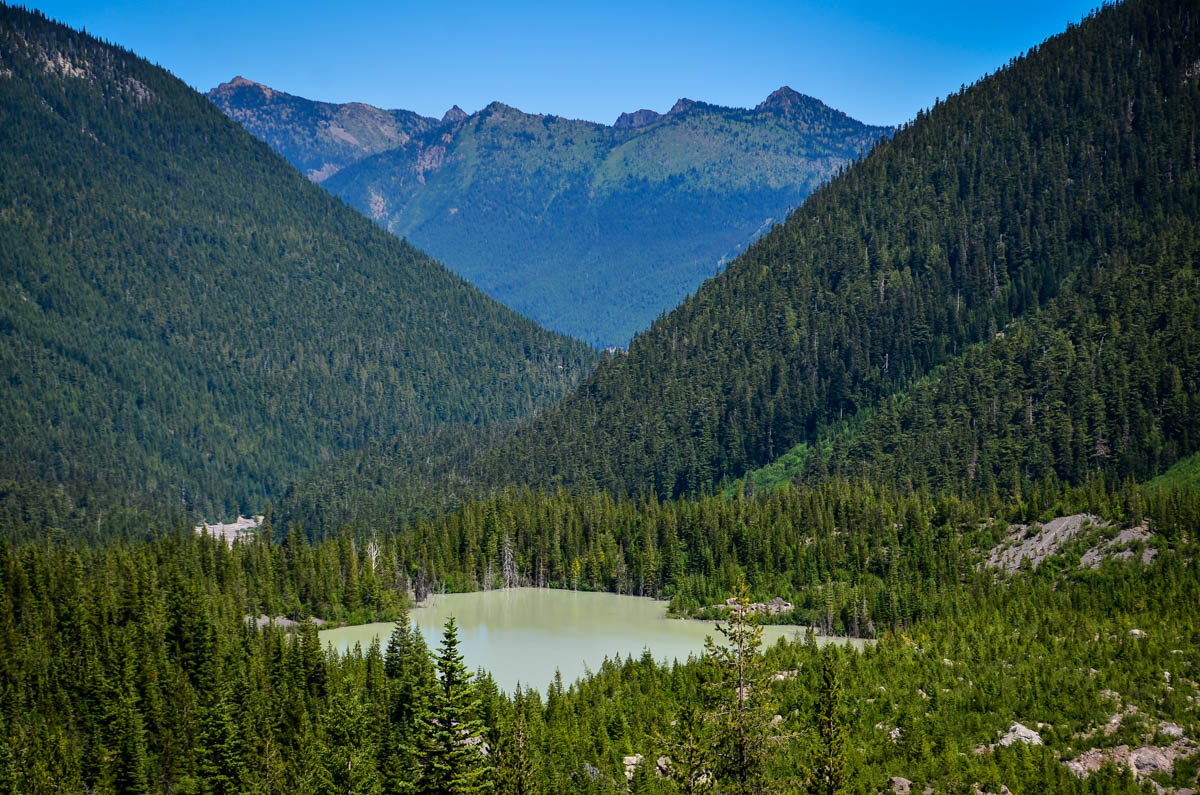 If you're into impossibly blue turquoise glacial lakes and epic views, this will quickly become one of your favorite hikes at Mt Rainier. The trail has a little of everything, including waterfalls and views of Rainier itself, but interestingly, it's very much a hidden gem and isn't typically very crowded (YAY!).
One of our favorite things about Emmons Moraine Trail is that there are a few points where you can turn around to shorten your hike, but you won't miss a thing in terms of views. The first is the milky blue lake and the second is the end of the maintained trail. Technically you can continue past here, but the trail gets increasingly difficult to follow.
10. Mount Fremont Lookout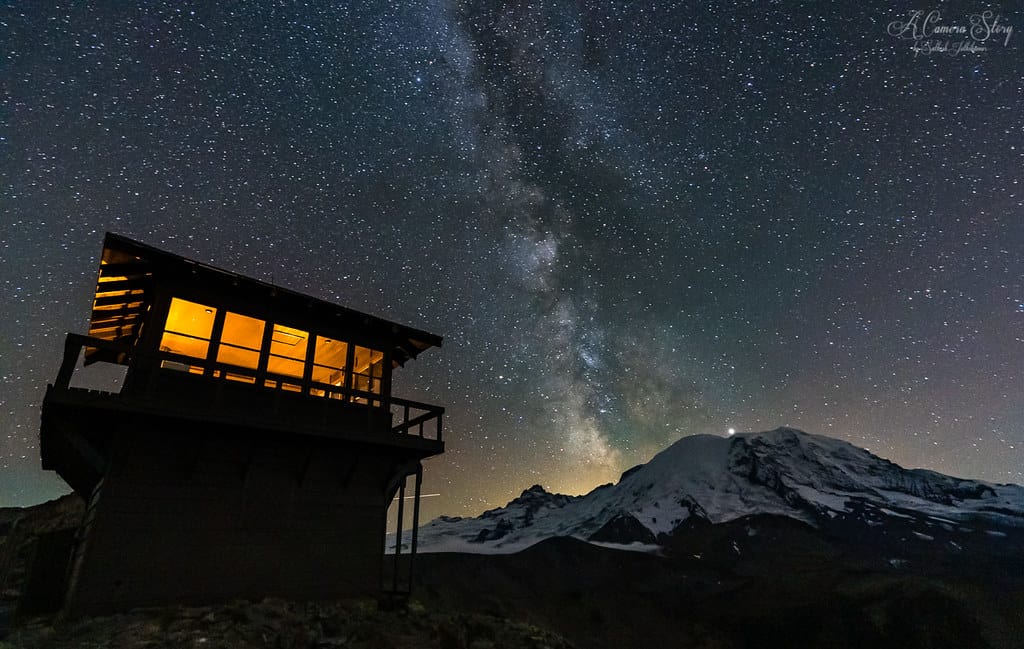 With an up-close view of Mount Rainier and a bit of history, the Mount Fremont trail rises from the bustling Sunrise trailhead (the same one for several other Mount Rainier hikes, including Frozen Lake) to a 1930s wildfire lookout tower.
The trail itself isn't technical but has no shade, so you may want to reconsider on a hot August day. Along the way, the views are incredible: distant peaks, gigantic Mount Rainier, and your starting point, gradually dwarfing in size.
11. Tolmie Peak Trail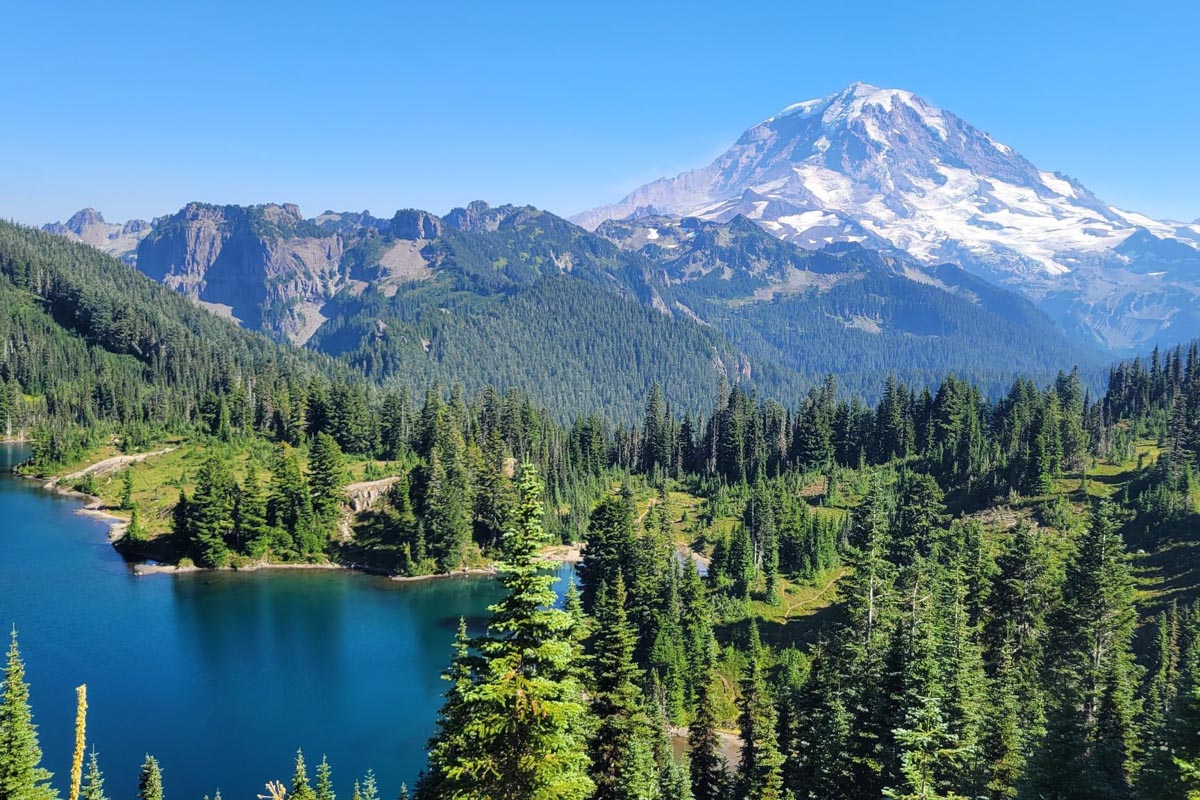 This iconic hike takes you deep into the rugged terrain surrounding Mount Rainier in a less-visited corner of the park. The trail starts at Mowich Lake, perfect for a refreshing swim at the end of your journey.
Elevation on the trail is continuous yet gradual, so you'll feel accomplished but not winded when you reach the end (our favorite type of hike!). On the way down, sidetrack to beautiful Eunice Lake for a picnic, but pack bug spray. Mosquitoes are the only downside on this excursion.
12. Skyline Trail Loop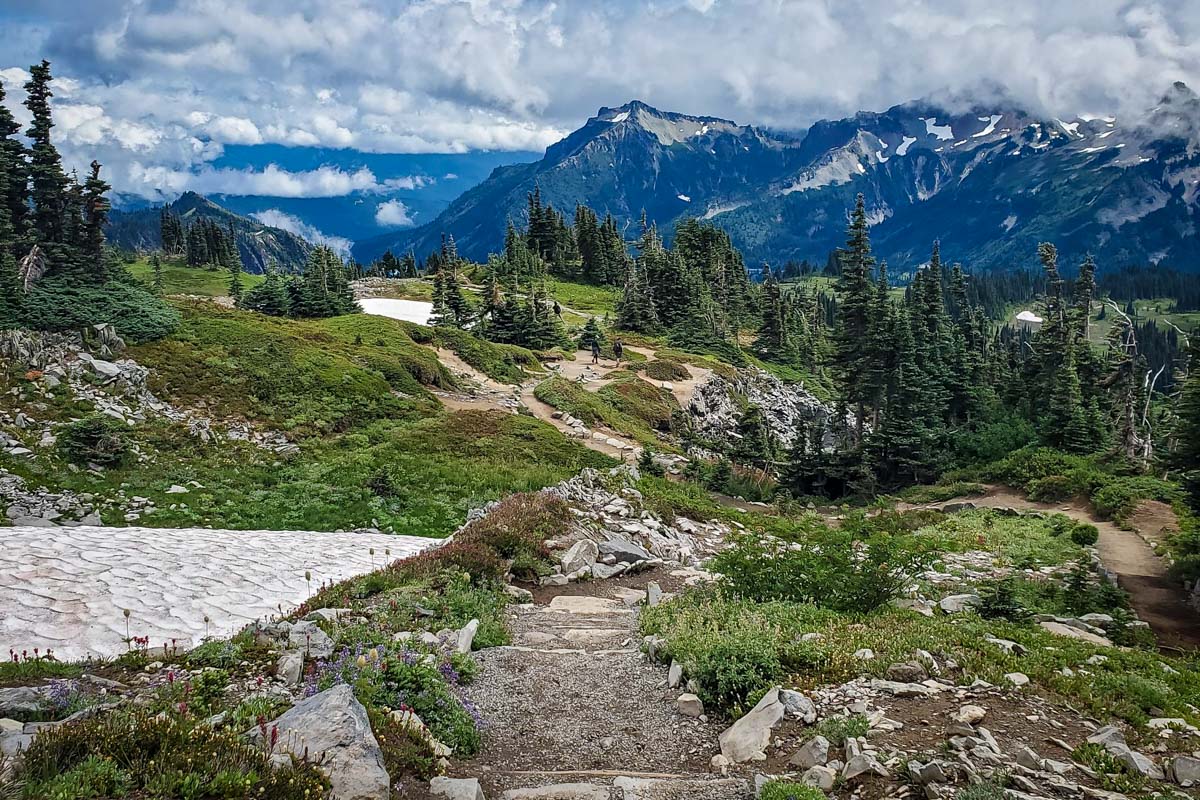 One of Washington's most beloved hiking areas, Skyline Trail Loop highlights why this region is called Paradise. The trail will feel different in each season. In late summer, expect abundant wildflowers and burrowing marmots. Cascading streams abound in spring, fall colors are vibrant in September, and winter brings a snowy wonderland.
Regardless of the season, the views at Panorama Point are truly breathtaking, showing off Mount Adams, Mount St. Helens, and on a clear day, even Mount Hood.
13. Glacier Basin Trail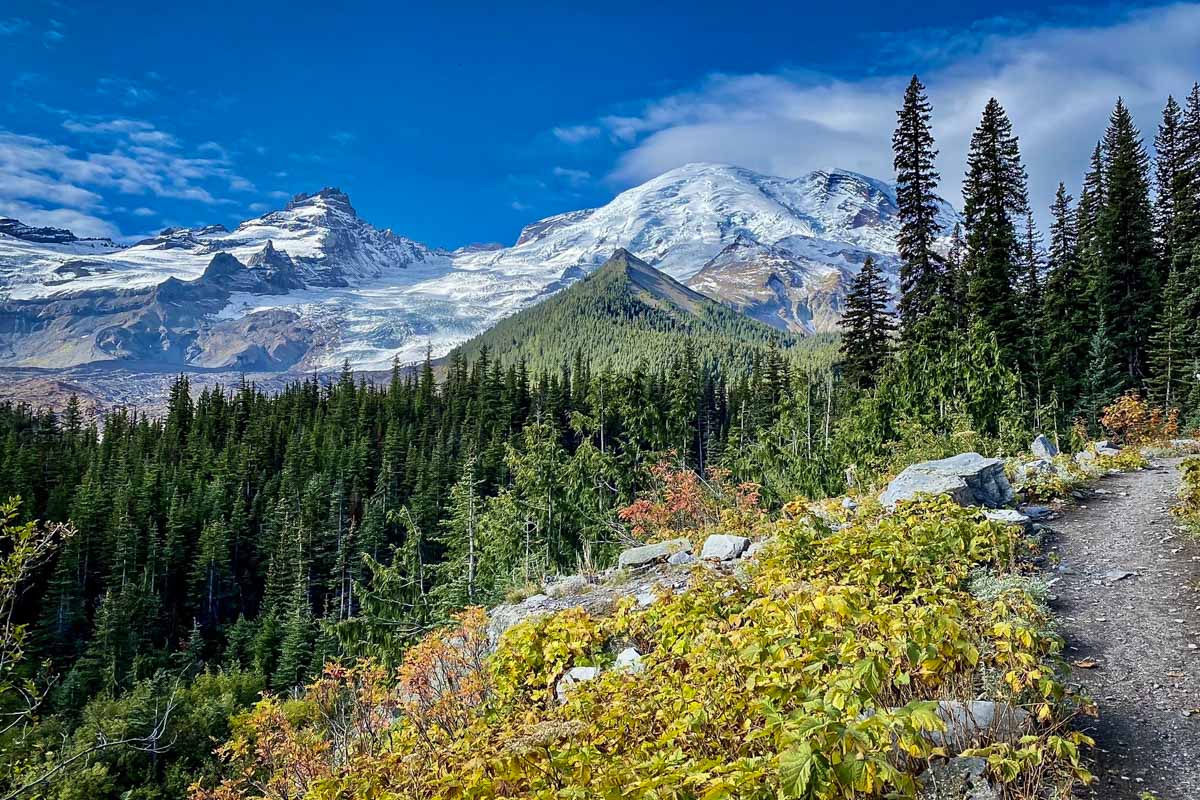 A well-trodden but longer trail for the whole family, this hike takes you through a pine forest to views of Emmons Glacier, Mount Rainier's largest. At its base, you'll also see a beautiful, milky-blue glacier-fed lake.
With plenty of shade, creeks, and mountain views, this is one of our go-to hikes at Mt Rainier when we don't want to get too sweaty but still want to be on the trail for several hours.
14. Spray Park Trail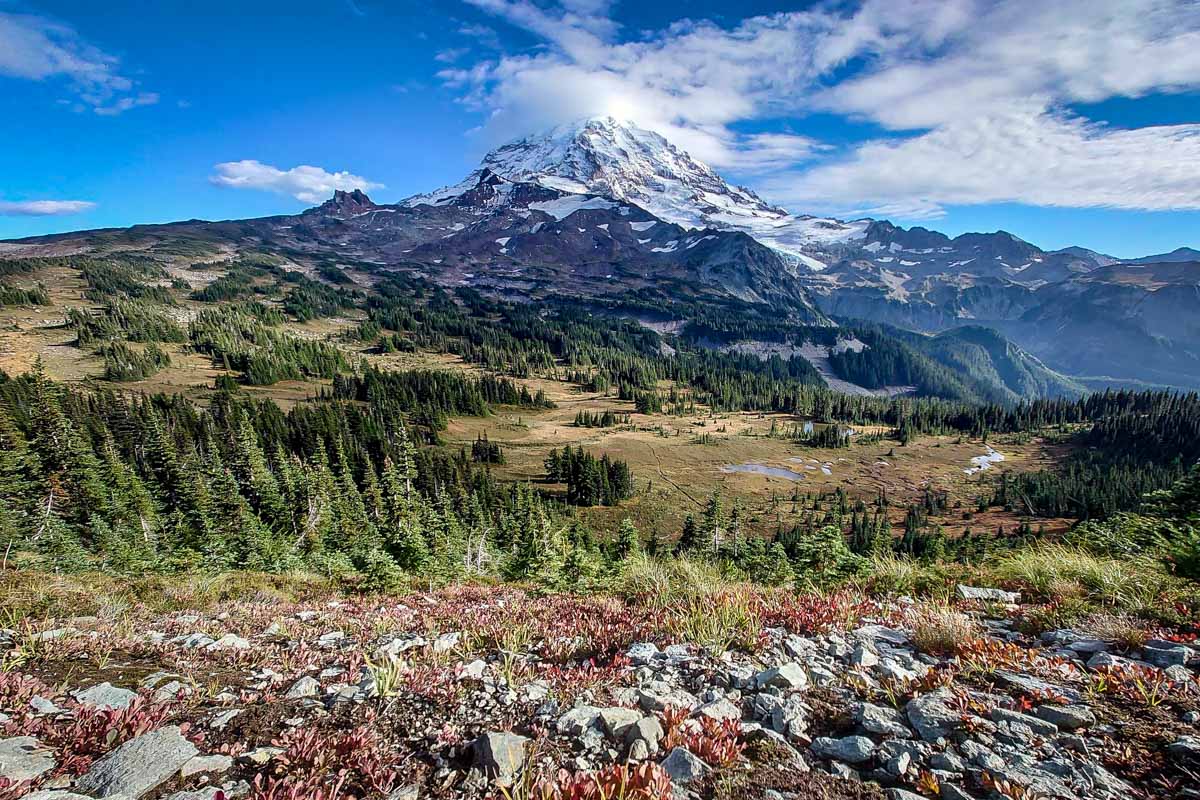 You'll need an SUV to tackle the gravel road to this trailhead, but your efforts will be rewarded with little traffic and incredible camping opportunities. The beginning of the hike is filled with waterfalls, creeks, and the consistent sound of water (hence the trail name!).
After an uphill stretch, you'll emerge on a breathtaking ridge with wildflowers and mountain views. Return downhill and consider camping overnight at either Mowich lake or Eagle's Roost. The opportunity to combine this trail with secluded camping makes it one of the most underrated Mount Rainier Hikes.
15. Van Trump Park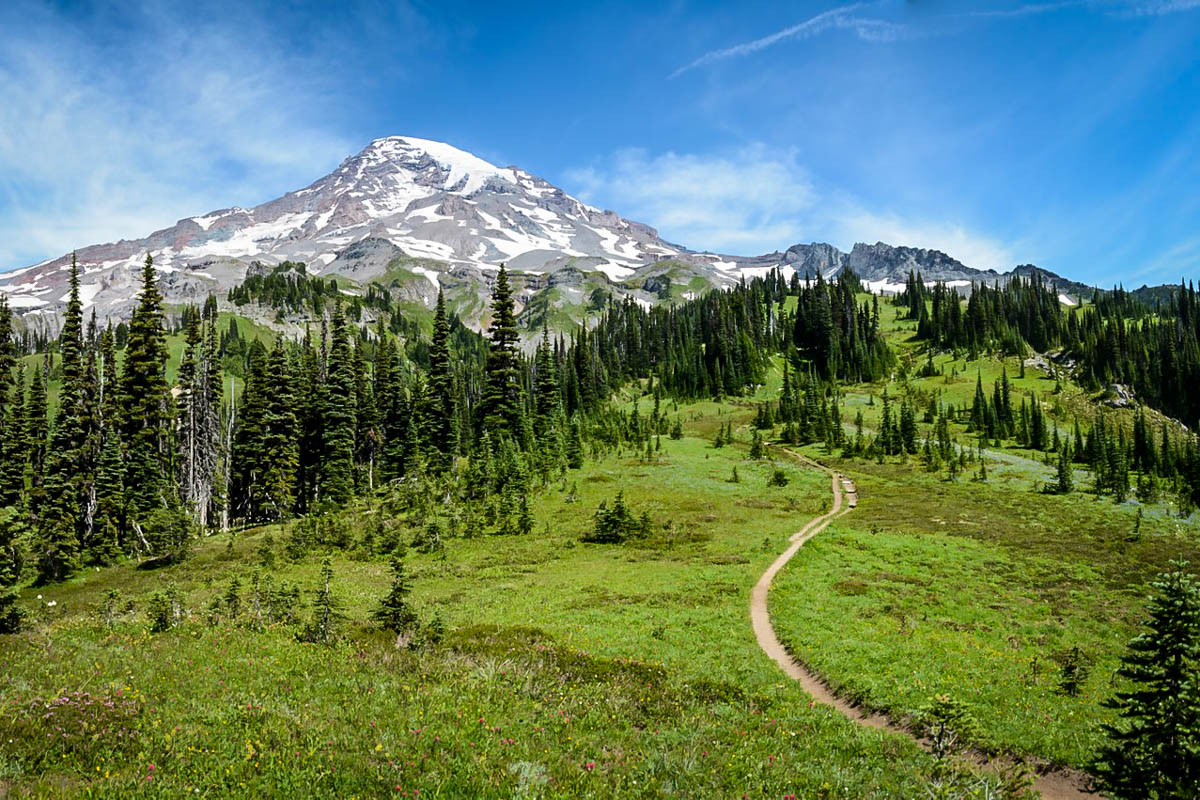 On this hike, you'll climb steep elevation along a creek to approach Comet Falls, one of the tallest waterfalls in the national park. Take a rest near its thundering base before continuing even higher up, reaching a lofty wildflower meadow that will (temporarily) make you forget your efforts.
You'll feel like you're on the peak itself, as layers of the Cascades unfold in the background with mountain goats skipping on the rocks.
16. High Hut Snowshoe Trail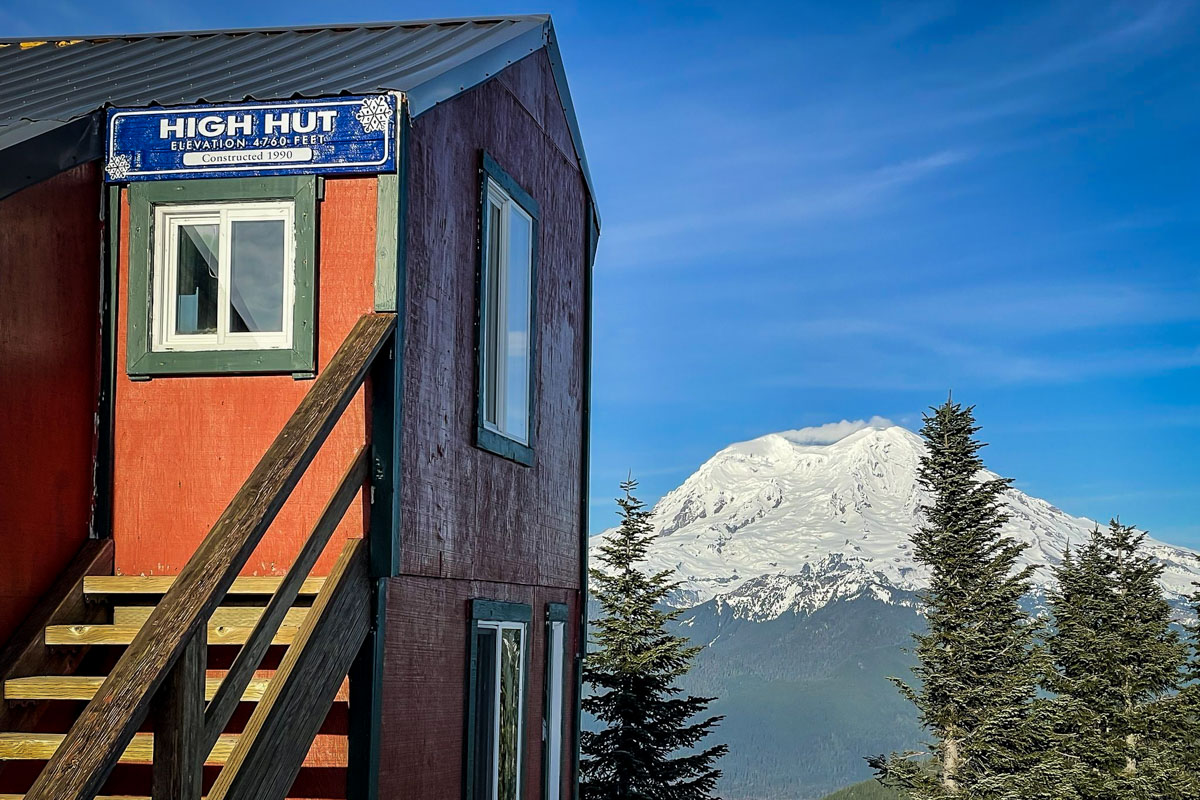 To highlight the all-season accessibility of Mount Rainier, we included an option that's even better in winter than summer! A well-packed, difficult-to-lose snow trail takes you to a ridge with expansive views of surrounding peaks, including Mount Adams and St. Helen's.
Later in spring, many people complete this hike without snowshoes, wearing either sturdy boots or crampons. If you've never been winter hiking before, we highly recommend it — there's a special magic in seeing all the Cascade peaks under snow!
Psst! Check out our guide to snowshoeing for beginners if you're interested in giving this winter activity a try!
17. Camp Muir Route
The most accessible (and popular) approach to summit Mount Rainier without a wilderness permit, this route intensifies the higher up you go — but also tantalizes with greater and greater views. It's a hard one: frequently stopping to catch your breath is part of the journey. However, at the top, you'll feel triumphant standing at over 10,100 feet, high above the clouds.
Make sure to prepare for the elements: the upper part of the trail is almost guaranteed to be snowed out and conditions can change quickly. GPS is essential and it's best to turn around in cloudy weather.
18. Wonderland Trail to Panhandle Gap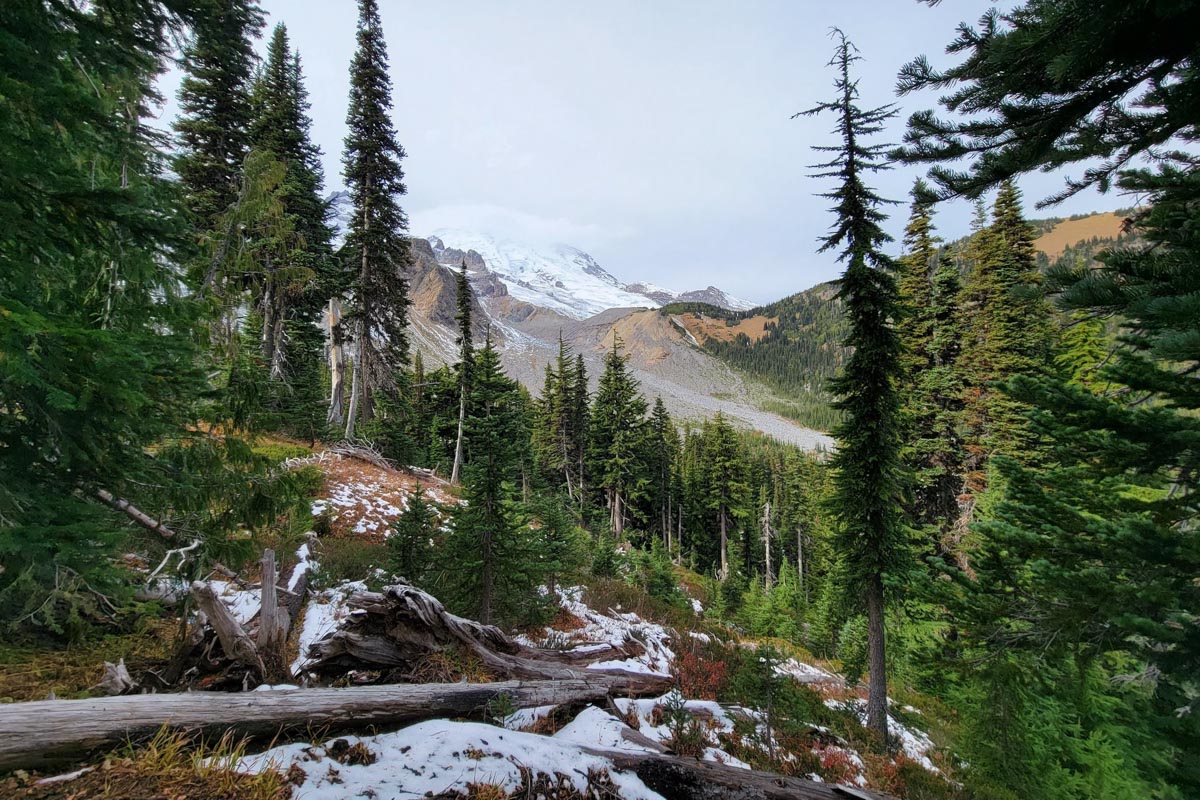 Long and varied but not consistently tricky, the trail to Panhandle Gap is one of our absolute favorite all-day hikes at Mt Rainier. You'll see just about everything the national park has to offer: forests, meadows, boulder fields, and incredible mountain scenery. Once you reach the gap, the vista is a mesmerizing finale; on a clear day, your view extends to Mount Hood!
Make sure to pack plenty of snacks, water, and a jacket. In this alpine environment, weather changes quickly and even in summertime, it could snow.

Multi-day backcountry hikes at Mount Rainier
Below are some of the best multi-day hikes for backcountry hiking and camping. Keep in mind reservations are highly recommended as permits are required for backcountry camping at Mount Rainier and there are a limited number of permits available.
19. Indian Bar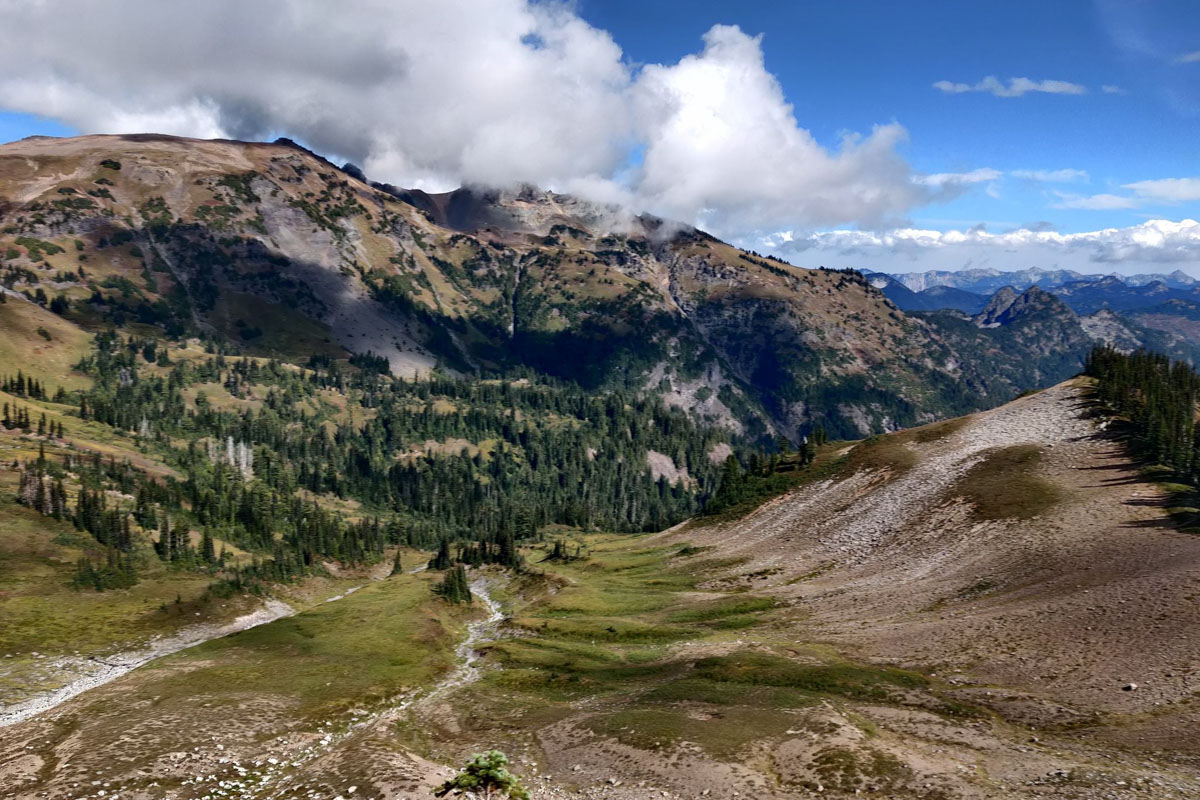 The best way to enjoy the staggering scenery on this trail is with a backcountry camping permit — the limited spots near the shelter on Indian Bar are breathtaking. However, it's still possible to enjoy the scenery through a grueling but rewarding day hike.
This trail ascends and descends quite a bit, but we love how the views come with a one-two punch. You'll ascend and catch impressive vistas of Mount Rainier in the first half, then head through wild blueberry fields (which you can eat in August!) and arrive at Indian Bar, a spectacular glacier-carved cliff.
20. Wonderland Trail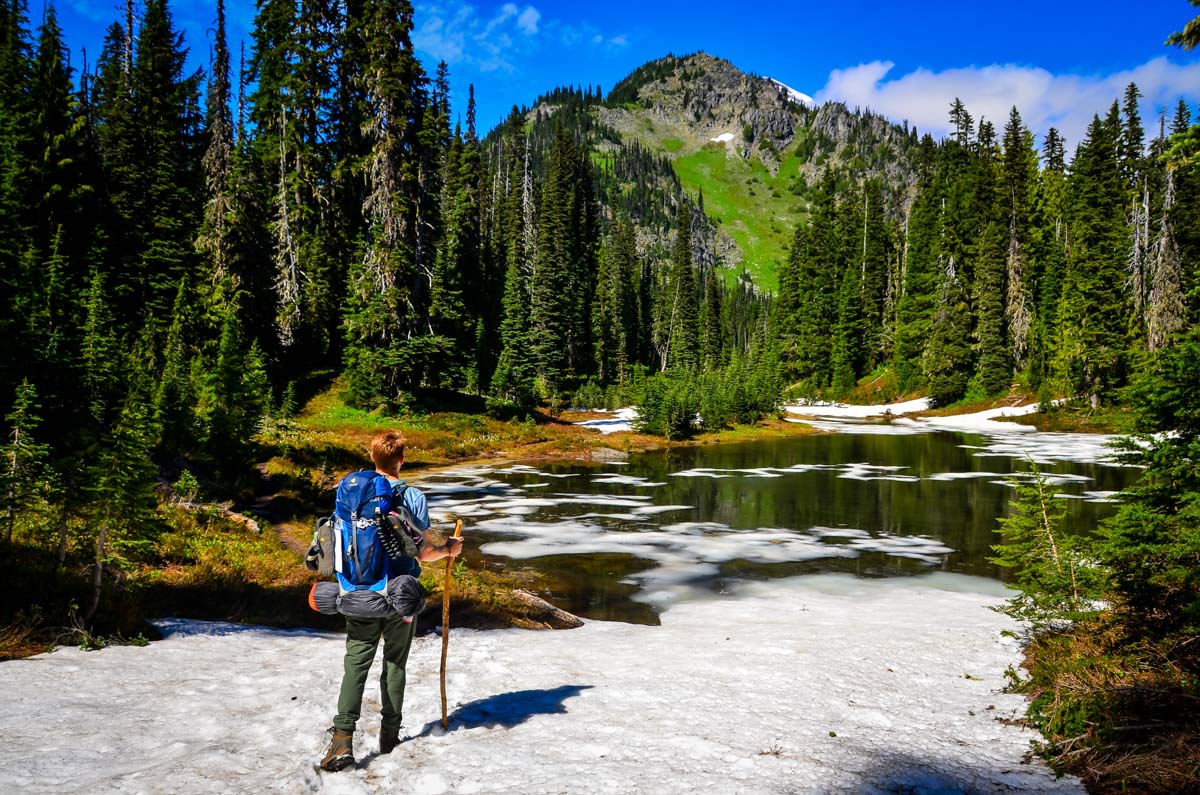 No list of Mount Rainier hikes is complete without this truly epic, infamous backpacking trip. Most hikers take between 5-15 days to complete this loop around Rainier, which features an average elevation gain of 3,000 feet.
It's a grueling test and not one we've completed ourselves. Permits are hard to get and logistics need advance planning, but plenty of friendly park personnel are willing to help. If it sounds like too much to bite off, no fear — many of the day hikes at Mt Rainier on this list share part of the Wonderland Trail.
Check out our Wonderland Trail hiking guide for all the info you need to plan your hike.

What to pack for hiking at Mount Rainier National Park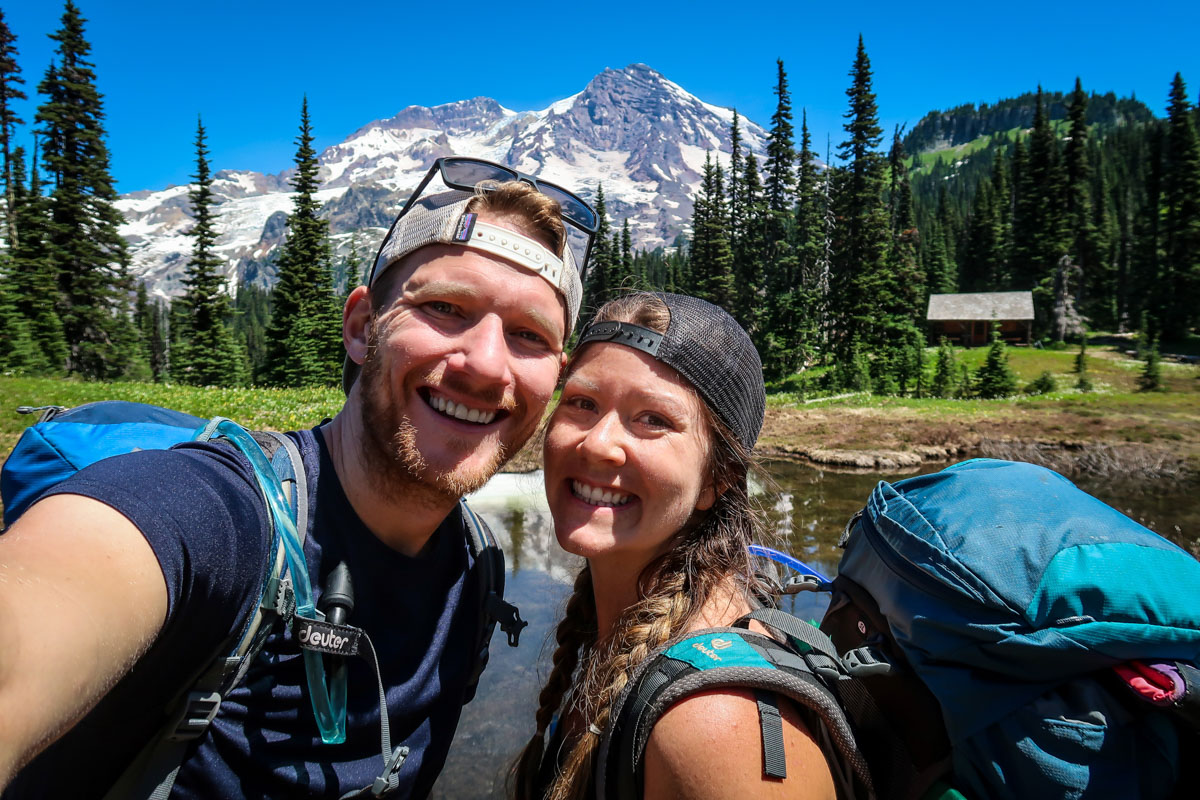 Although hikes at Mt Rainier vary tremendously and there are several easy trails, you'll still want to have some key items in your pack.
Be sure to grab our ultimate hiking packing list includes our must-have gear for any hiking trail!


You may also like…
Save this article on Pinterest for later!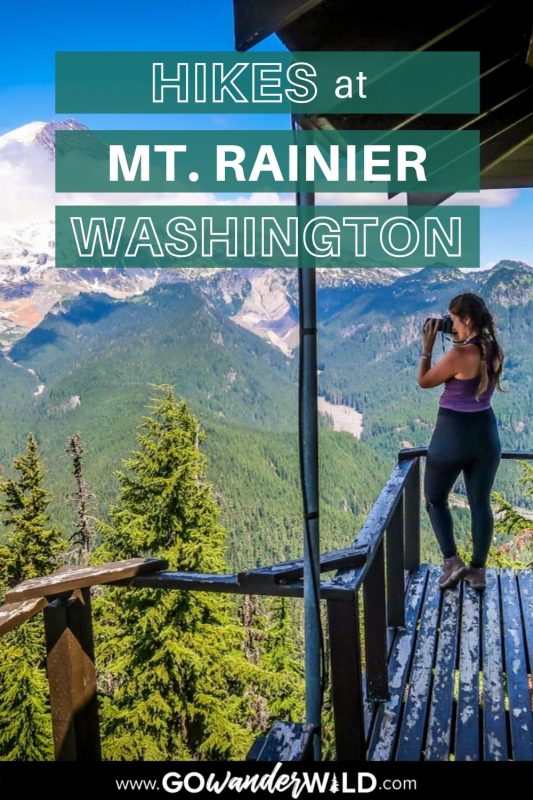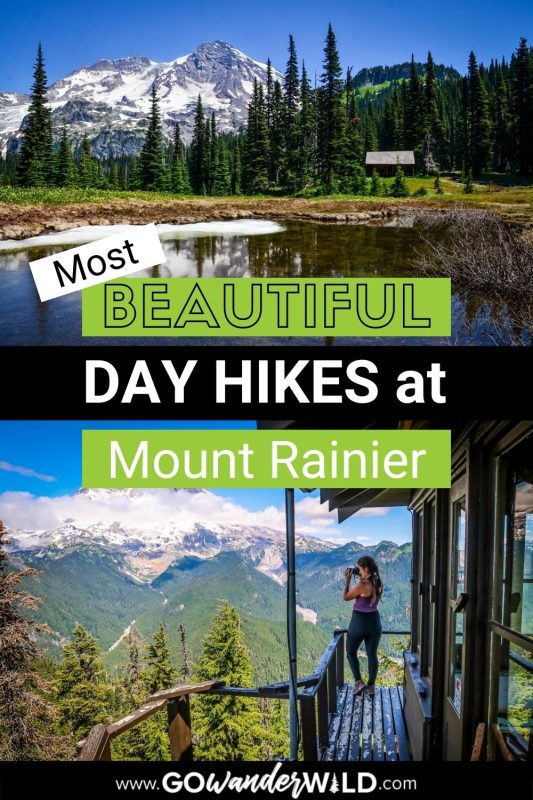 We want to hear from you!
What hikes at Mt Rainier do you love the most? Are there any you think we should add to this list? Let us know in the comments below!