Following a healthy, fulfilling vegan diet doesn't have to be complicated just because you're camping. We've rounded up the best vegan camping food ideas to give you a jump start on meal prepping.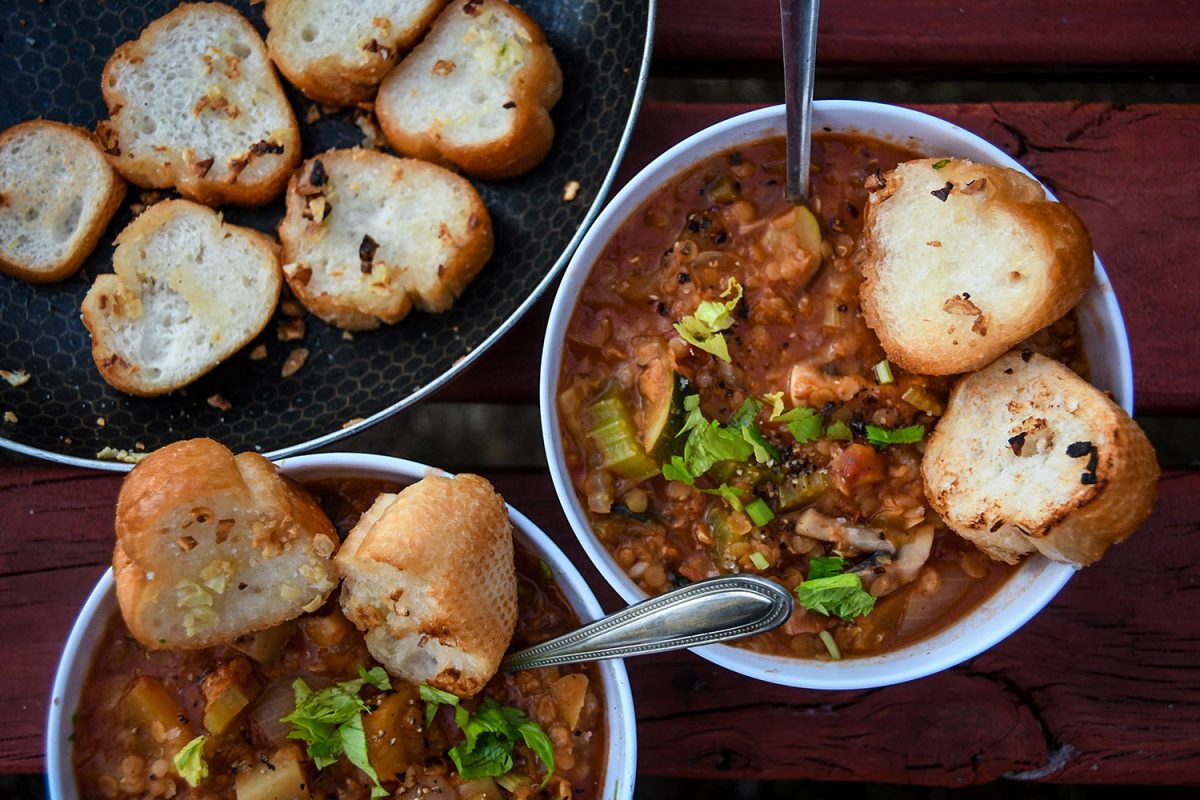 Everyone knows that food is one of the best things about camping. There's just nothing quite like enjoying a hearty meal in the fresh air, around a campfire with good company — and perhaps a campfire cocktail or two.
But what about if you follow a specialty diet or lifestyle, like being vegan? Finding healthy, satisfying vegan camping food can sometimes be easier said than done.
That's exactly why we put together this guide with tasty, healthy, and fulfilling vegan camping meal ideas! Many of them are unbelievably simple, requiring just one pan and limited ingredients of staples and whole foods.
Find a new favorite and say goodbye to PB&Js or canned soup forever!

Vegan camping food main dishes
These ideas will make great meals on their own, or if you're feeding a family or a group, this'll be the main course.
1. One-pot Vegetable Lentil Soup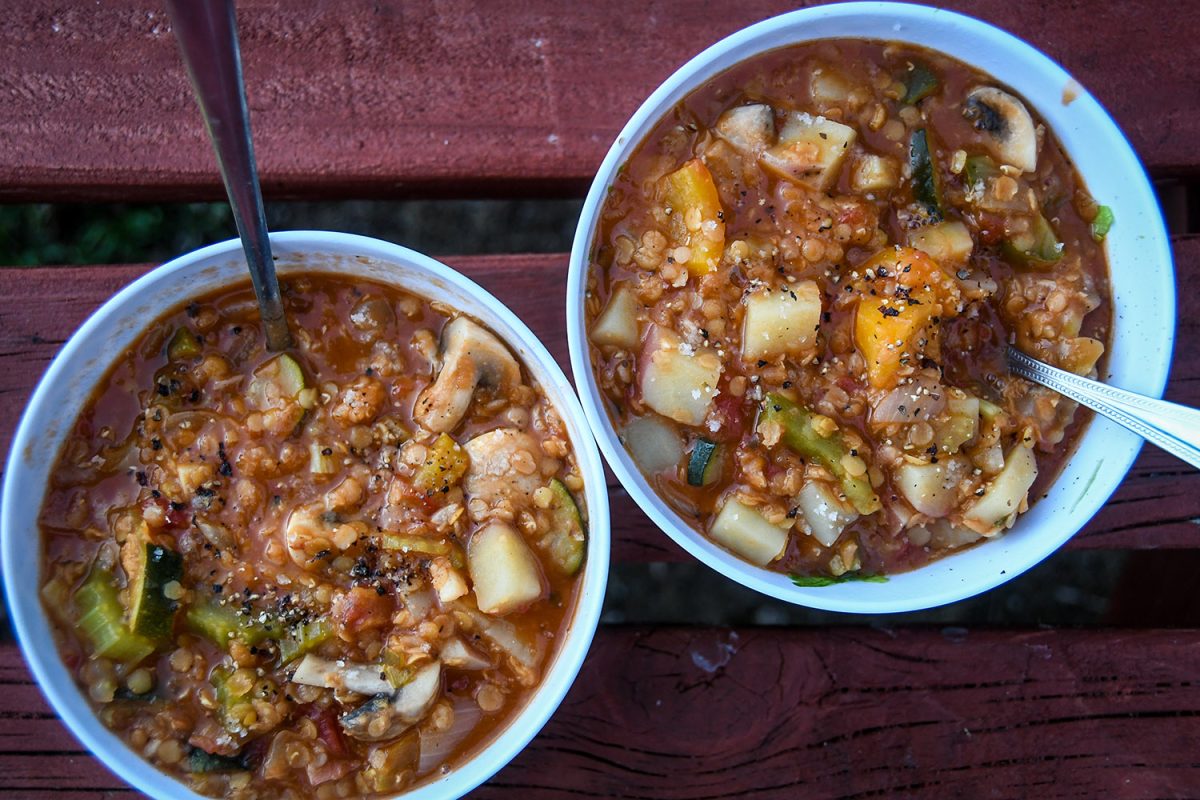 This is one of our absolute favorite camping meals overall (even at home!), and it just so happens to be excellent vegan camping food. 
It's hearty and delicious, but what makes the soup a standout is that it's made in one pot and it's extremely difficult to mess up. Use the recipe as a base, but then feel free to swap out the veggies and seasonings for what you have on hand.
2. Vegan Chili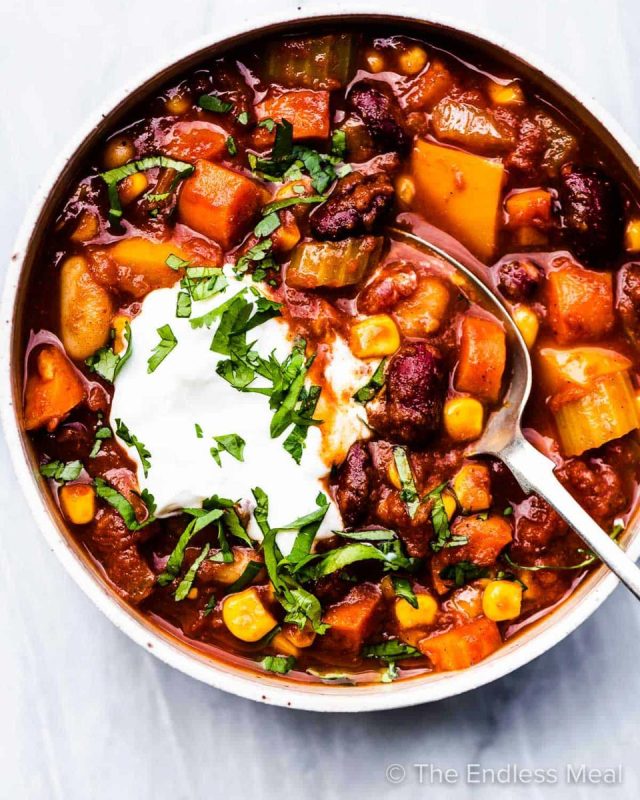 Regardless of how you prepare it, chili is a campsite classic. It's excellent for feeding a crowd and different tastes, since it's easy to customize. This recipe is entirely vegan, but it's so hearty that you'd never guess it!
For added brownie points, set up a condiment bar where everyone can make their bowls their own. Include hot sauce, green onions or cilantro, avocado, tortilla chips, and for the non-vegans, cheese and sour cream.
3. Buddha Bowls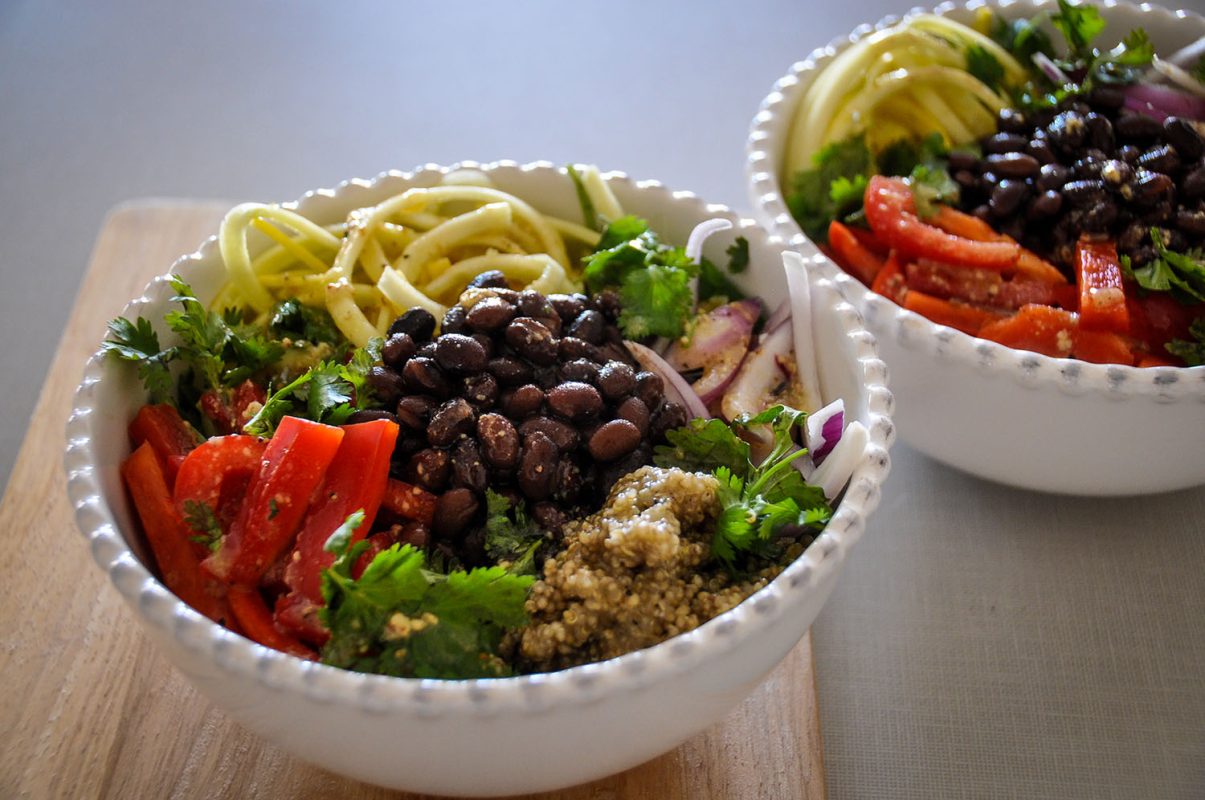 Buddha bowls are a popular vegan camping food. There are few rules, but generally, Buddha bowls have a grain base such as rice or quinoa, tons of colorful veggies, and a protein. Excellent vegan protein choices for camping-friendly bowls include tofu, lentils, or beans.
4. Middle Eastern Spiced Chickpeas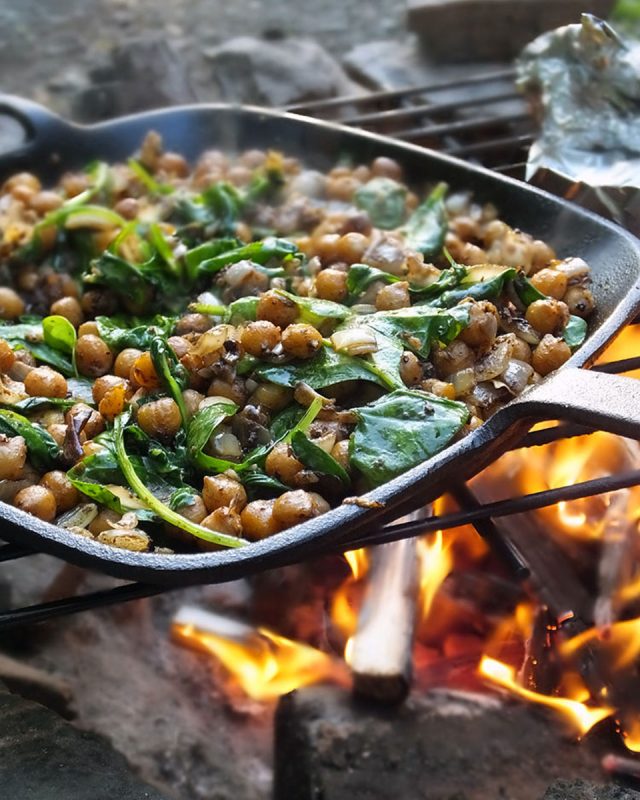 We're going to let you in on a little secret: vegan camping food doesn't have to be complicated. This fragrant dish proves exactly that!
It can be cooked directly over the campfire, and works as a side or light entree. Serve with crusty bread or with naan to make it more hearty, toss into a salad…the options are endless!
5. Egg Roll in a Bowl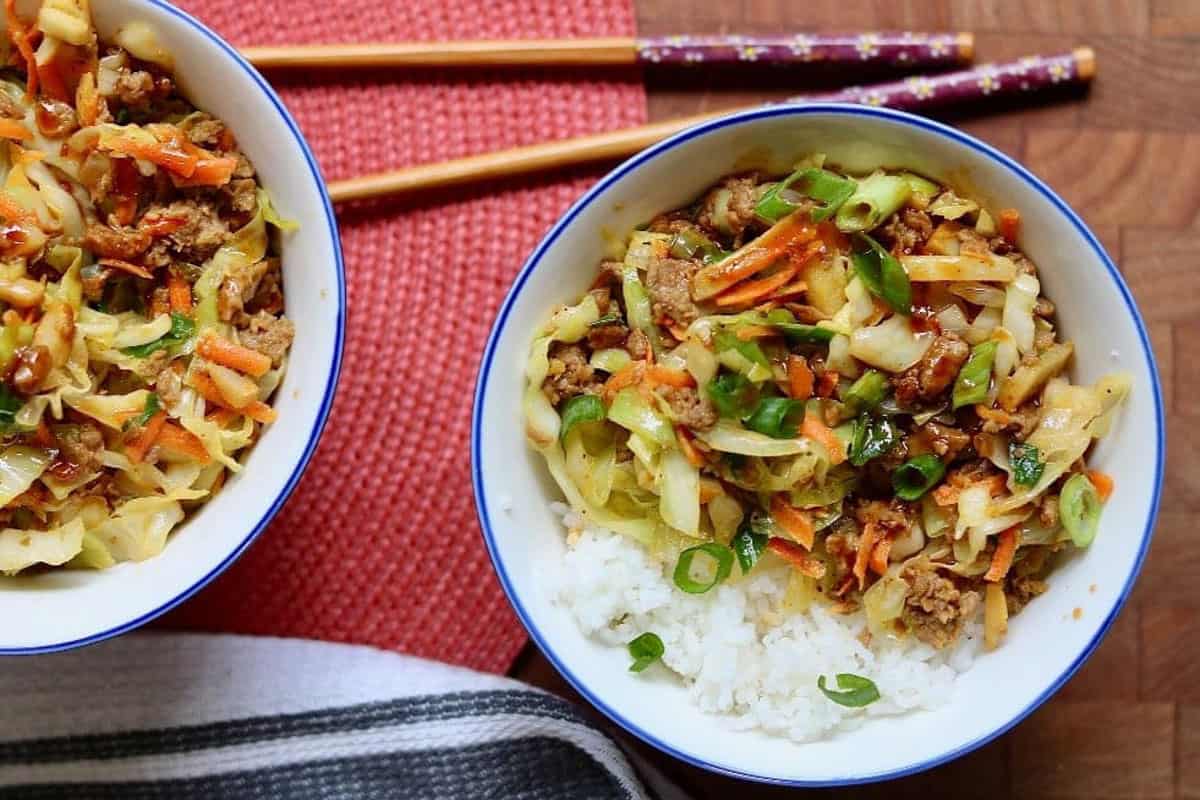 Think of this clever vegan camping food dish as a deconstructed egg roll. It has all the same zesty Asian flavors and various textures, but requires far less prep!
Using humble veggies like cabbage and carrots, combined with bold flavors including fresh ginger and plum sauce, this dish will make you the most popular campsite cook ever!
6. One-pot Puttanesca Pasta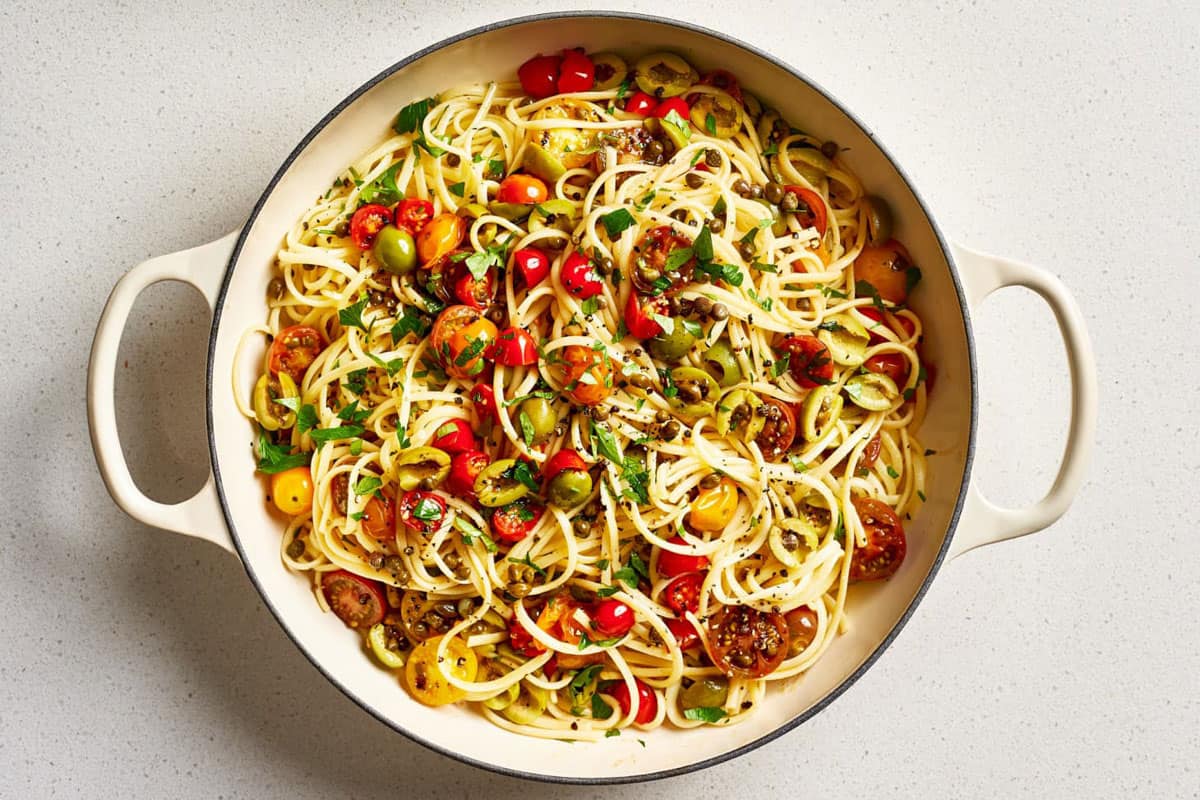 Everyone loves a heaping bowl of pasta, but it isn't typically associated with camping. However, this quick and easy one-pot version will change your mind!
The recipe has bold flavors from cherry tomatoes, Castelvetrano olives, and fresh herbs. It truly comes together in one pot and requires only about 15 minutes (that's prep and cooking time!).
7. Minestrone Soup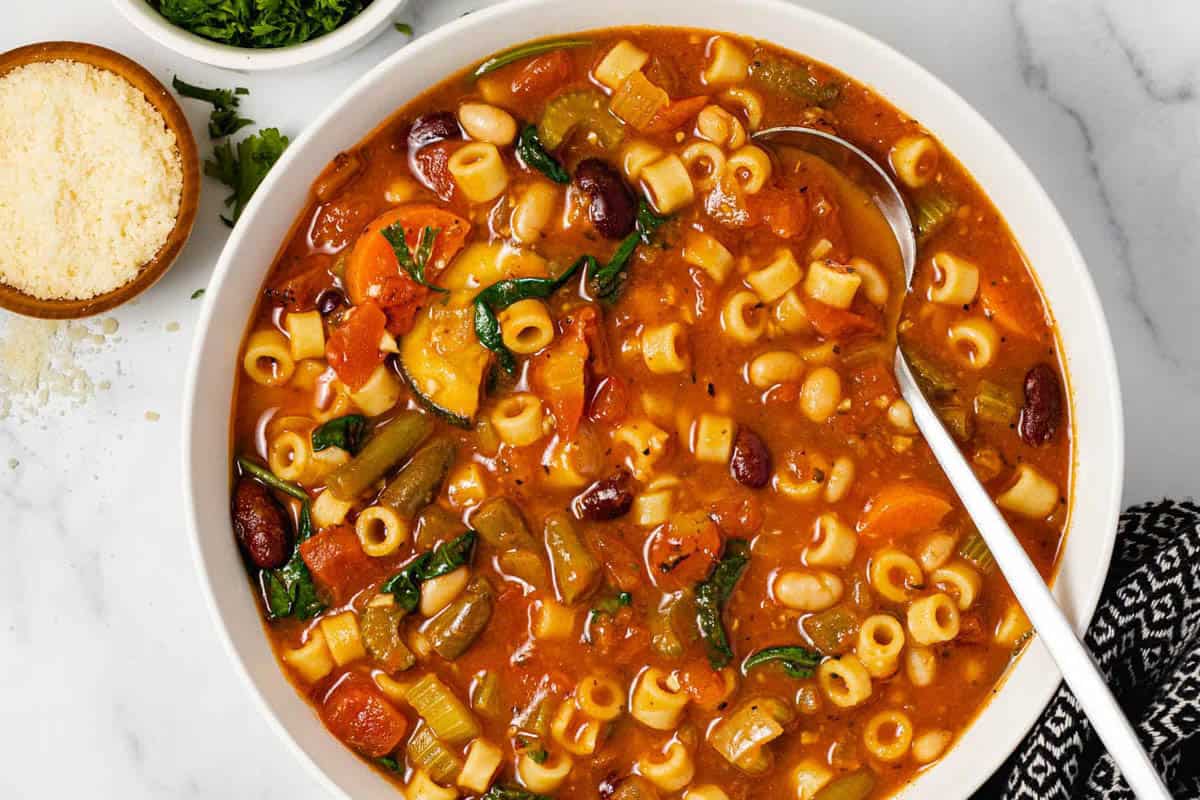 Minestrone is a classic Italian vegetable soup, full of comforting flavors. This recipe takes it a step further, though, and is actually a copycat of Olive Garden's beloved version.
Combining beans and pasta in addition to the veggies, it's a complete meal in a bowl. Best of all, it's cooked in one bowl and takes just 30 minutes start to finish.
8. Lentil Sloppy Joes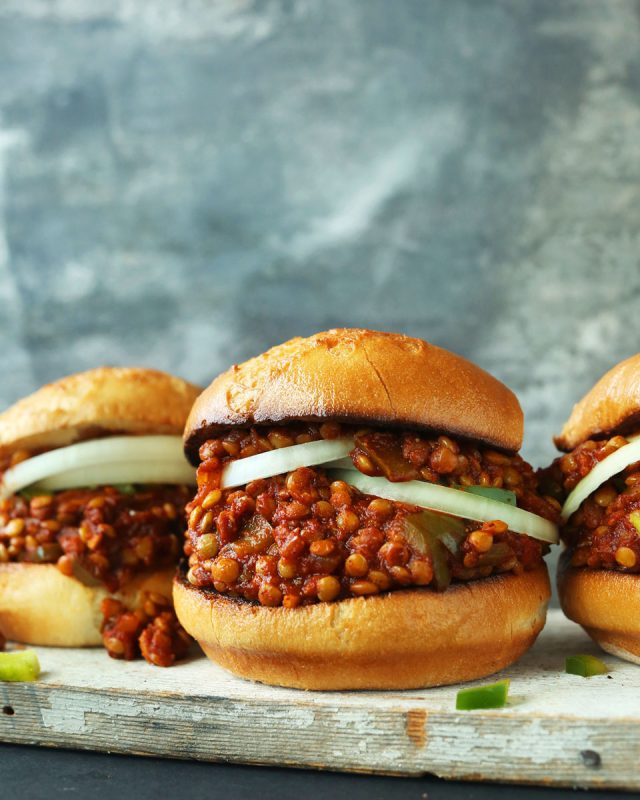 Sometimes, nothing beats hearty comfort food enjoyed next to a campfire. These lentil sloppy joes are exactly that, but with a much healthier (and still just as hearty!) twist.
Serve these on hamburger buns with chopped veggies for condiments, and alongside equally-comforting vegan camping food sides, like potato chips, salad, or baked beans.
9. Moroccan Chickpea, Sweet Potato, and Cauliflower Bowls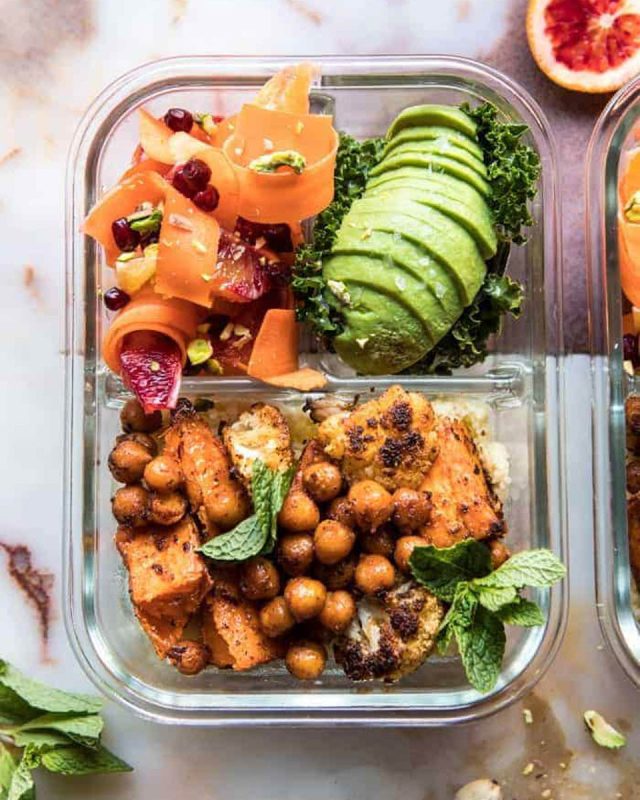 Half Baked Harvest really knows her way around the spice cabinet, and she has a knack for elevating the simplest ingredients.
That's the case with these bowls, centered around whole veggies and legumes with a dash of bold spices.
10. Grillable Veggie Burgers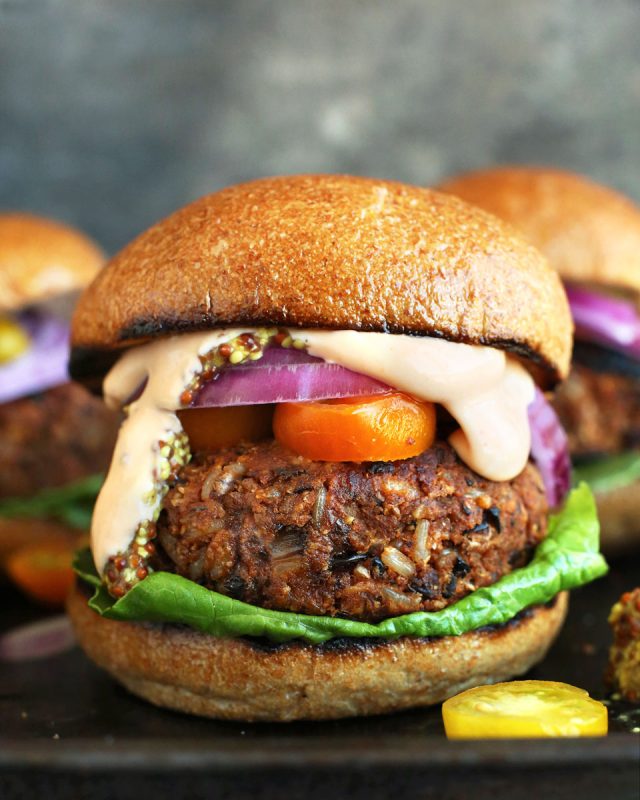 In theory, veggie burgers make dream vegan camping food. They're relatively simple to make, can be prepped in advance, and replicate a classic taste.
Veggie burgers don't hold up well to grilling, however. This version changes that, using a sturdy base of brown rice, walnuts or bread crumbs, and beans.
11. Veggie Burger Foil Packets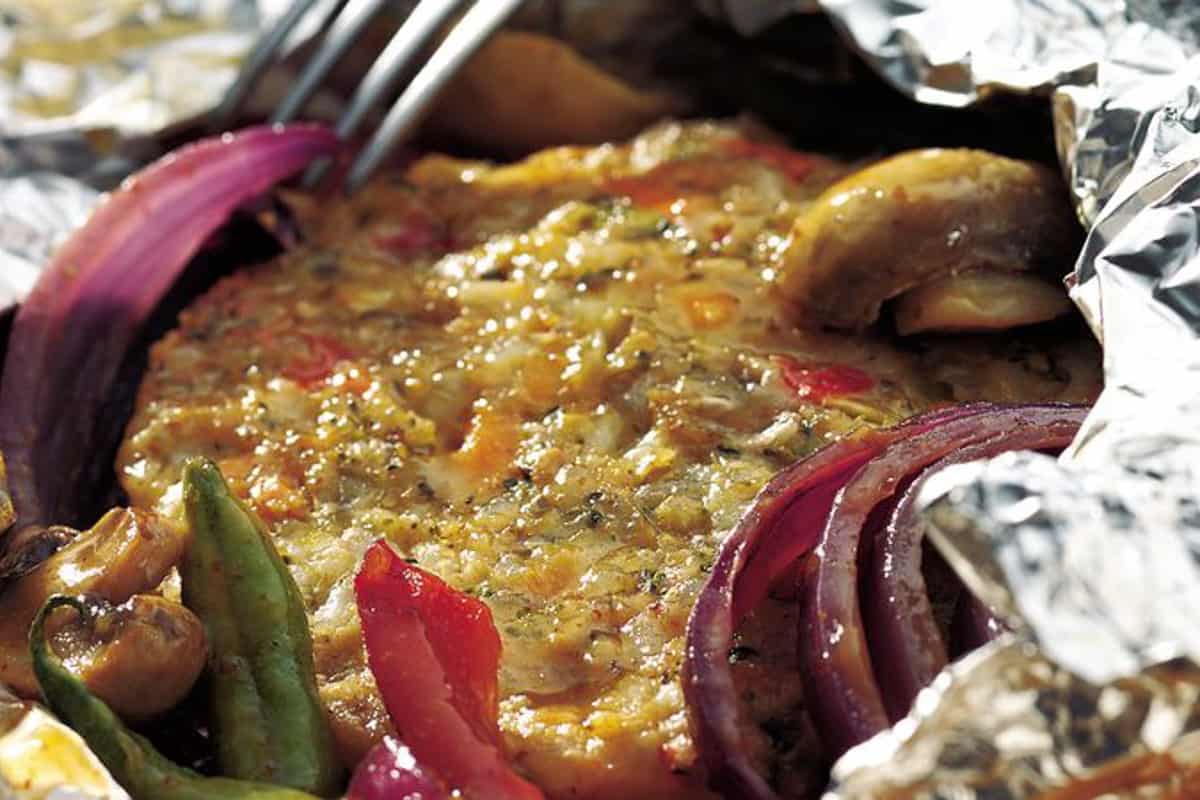 For another, even more camping-friendly take on veggie burgers, try this foil packet version. You'll start with frozen burger patties, either store-bought or the ones in the previous recipe.
Add a variety of vegetables and some BBQ, then grill over the fire in foil packets. As an added bonus, there's zero cleanup!
12. Watermelon Spinach Super Salad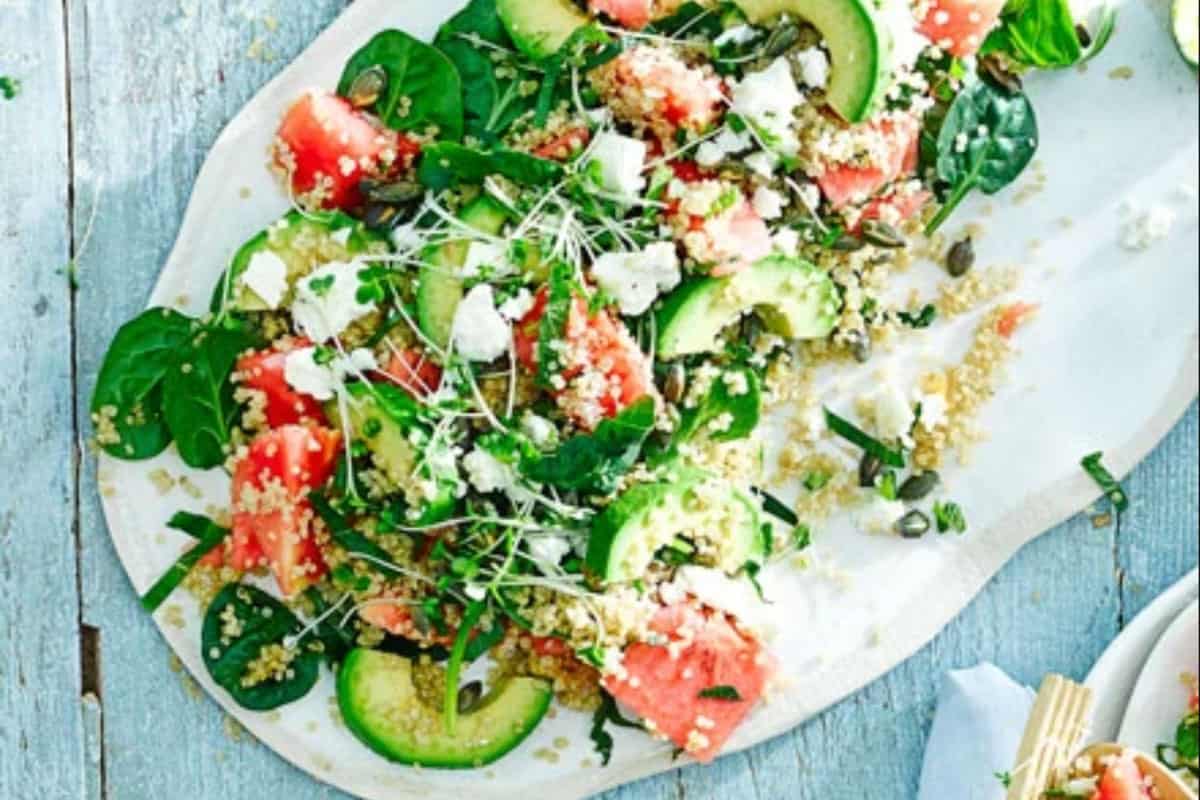 For summertime camping, this light, refreshing meal will hit the spot after action-packed days. A more elevated version of traditional watermelon and spinach salads, this one adds quinoa and pumpkin seeds for an added punch of fiber and antioxidants.
Omit the feta cheese from the recipe to make it vegan.
13. Rainbow Veggie Kebabs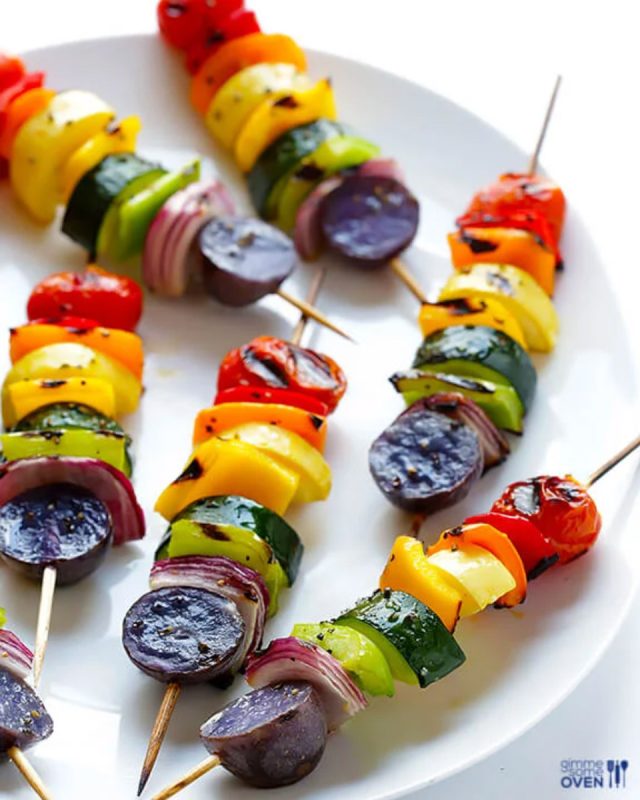 One of the best things about making kebabs is how flexible the "recipe" is — if you don't want something, simply leave it out. Craving a particular flavor? Add it!
To turn this vegan camping food into an activity, put the veggies and skewers on a table, then have everyone create their own masterpieces.
14. Sweet Potato & Black Bean Tacos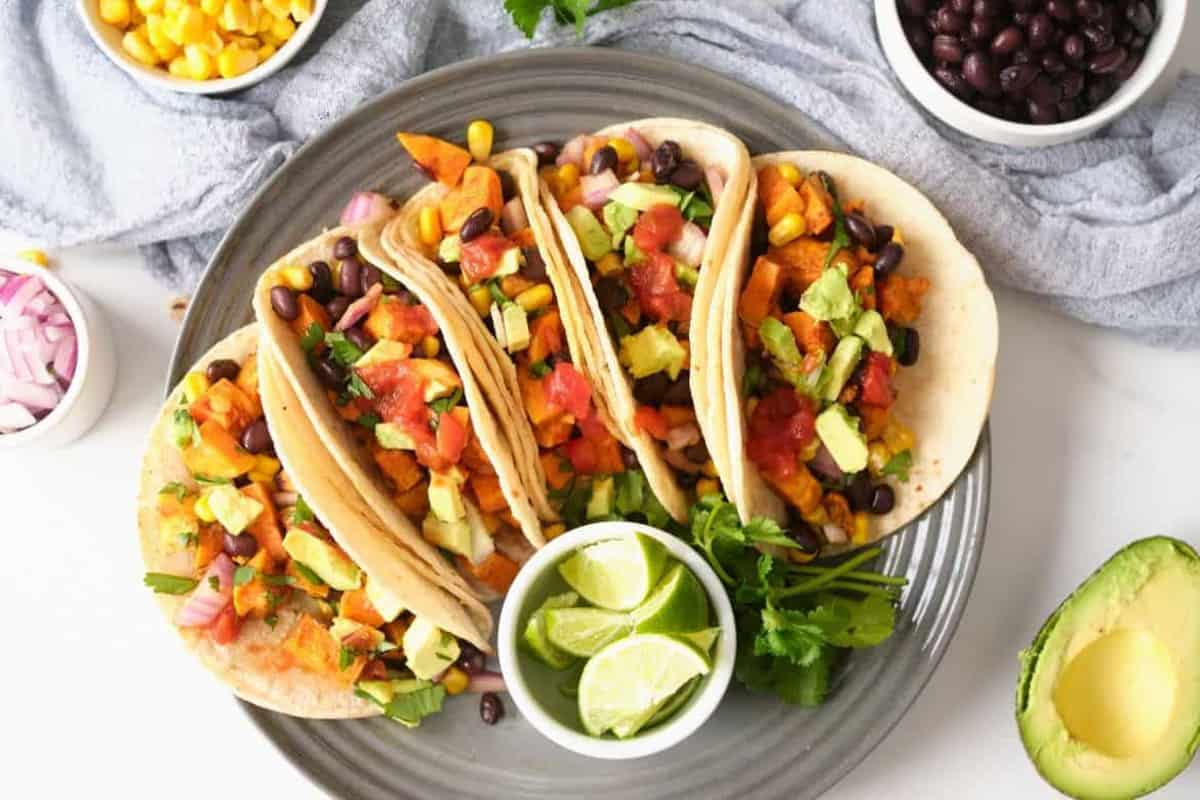 With a few simple (and healthier!) swaps, classic tacos get a welcome upgrade and become tasty vegan camping food.
The tacos come together quickly, so they're especially good for dinner the first night at camp. Prep the filling, then let everyone assemble and top their own tacos.

Vegan camping breakfast ideas
Start your day with fuel for your adventures with these vegan camping foods that will make great breakfasts.
15. Vegan Breakfast Burritos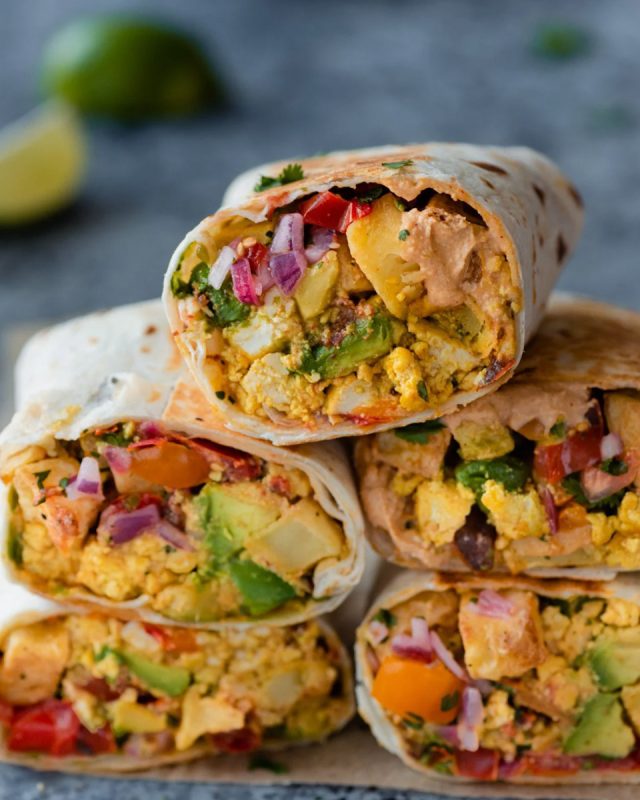 Nothing compares to a warm, hearty breakfast burrito at camp and this vegan recipe lets you enjoy those familiar flavors. Tofu scramble and vegan queso are the base, and you can customize with potatoes, veggies, or plant-based meat. No one will believe this is vegan camping food!
Just like traditional burritos, you can make these ahead of time, roll in foil, and reheat over the fire.
16. Potatoes O'Brien
The humble, versatile potato makes some of the best vegan camping food! In this dish, potatoes combine with peppers, onions, and garlic for a hearty, stick-to-your-ribs meal.
Add potatoes O'Brien to breakfast burritos or hash-style meals, serve alongside veggie burgers, or add plant-based meat to create a standalone skillet meal.
17. Blueberry Lemon Pancakes
A fresh take on the traditional short stack, these pancakes turn out perfectly fluffy. And with the unique flavor combo, they're fantastic for either dessert OR breakfast!
You can whip these up quickly at camp, but the recipe works very well if made in advance. The pancakes actually seem to get even more moist after being frozen!
18. French Toast Skewers
Whoever said you shouldn't play with your food clearly never had French toast skewers at camp.
After prepping these in the traditional, simple way of classic French toast, you get to dip them in whatever syrups or sauces you prefer! Consider setting up a toppings bar with different syrups and toppings like berries and sprinkles.
19. Chocolate Overnight Oats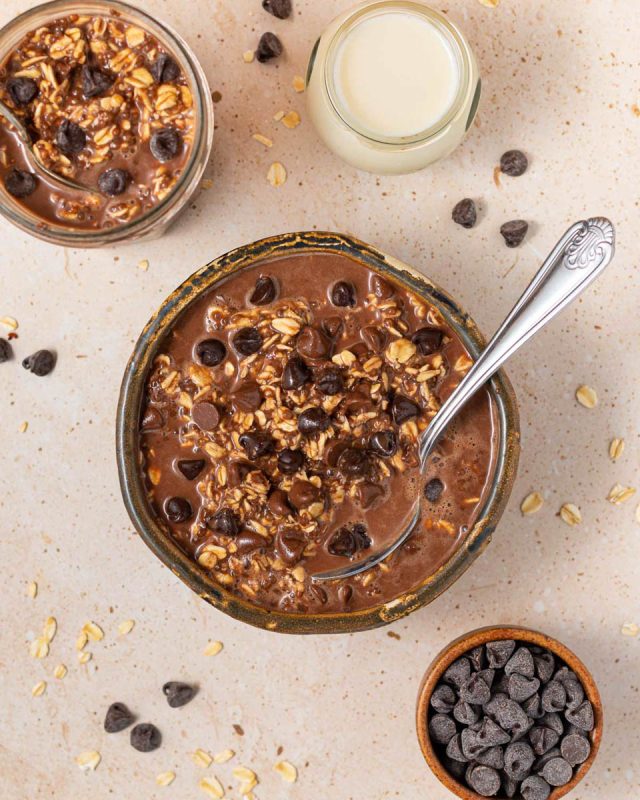 This no-bake recipe is perfect for camping (or home!), with minimal prep and cleanup. The oats and chia seeds deliver tons of protein, while the natural sweetness from syrup and chocolate chips taste like you're really treating yourself.
Bonus: it doubles as a summertime dessert!

Vegan camping baked goods & desserts
Don't skip the best part! These vegan desserts are perfect for enjoying around the campfire.
20. Campfire Apple Crisp Packets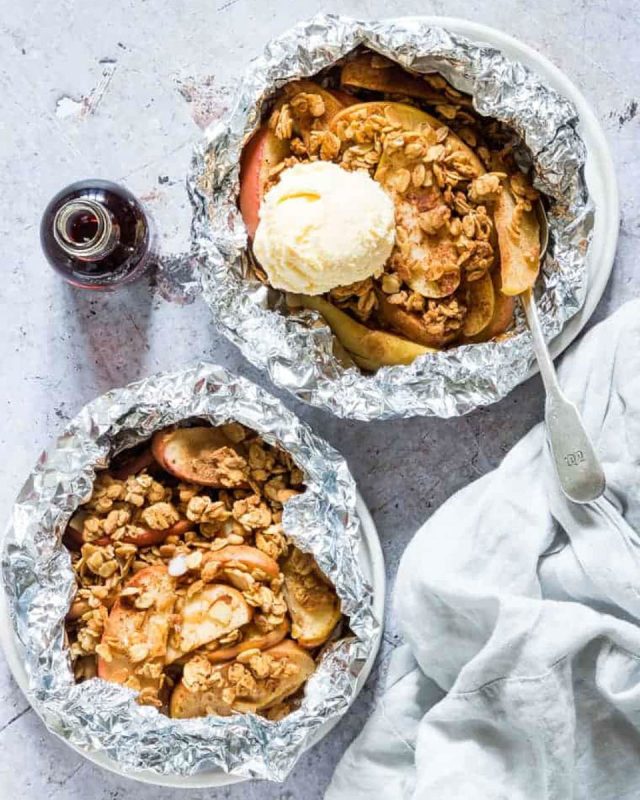 Who doesn't love the comforting, cozy flavors of apple pie?! This simple recipe combines ingredients you likely already have — apples, syrup, cinnamon, granola, and oil — and requires you to essentially dump them all into foil packets over heat.
Best of all, this particular vegan camping food is unbelievably easy to prep and clean up. If you have kiddos in your group, this is a great recipe to let them help with!
21. Carrot Cake Muffins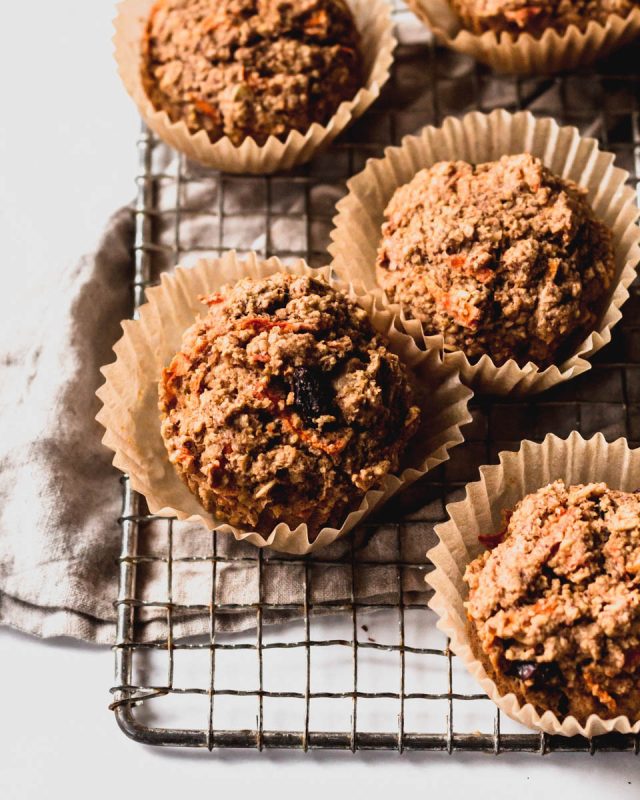 Make these delicious, fiber-loaded muffins at home ahead of time (they freeze really well!) or in your campervan or RV oven for a light breakfast or grab-and-go snack. They truly taste like decadent carrot cake, so you'll probably want them for dessert, too!
22. Chocolate Chip Banana Muffins
Speaking of simple vegan camping food, it doesn't get much more unfussy than a muffin. They're especially great for camping because you can make them ahead of time and freeze, and they're easy to grab and go (a much healthier alternative to typical camping junk food, too!).
These muffins require just eight ingredients, most which you probably already have. It's also a perfect way to use ripe bananas!
23. Vegan Trail Mix Cookies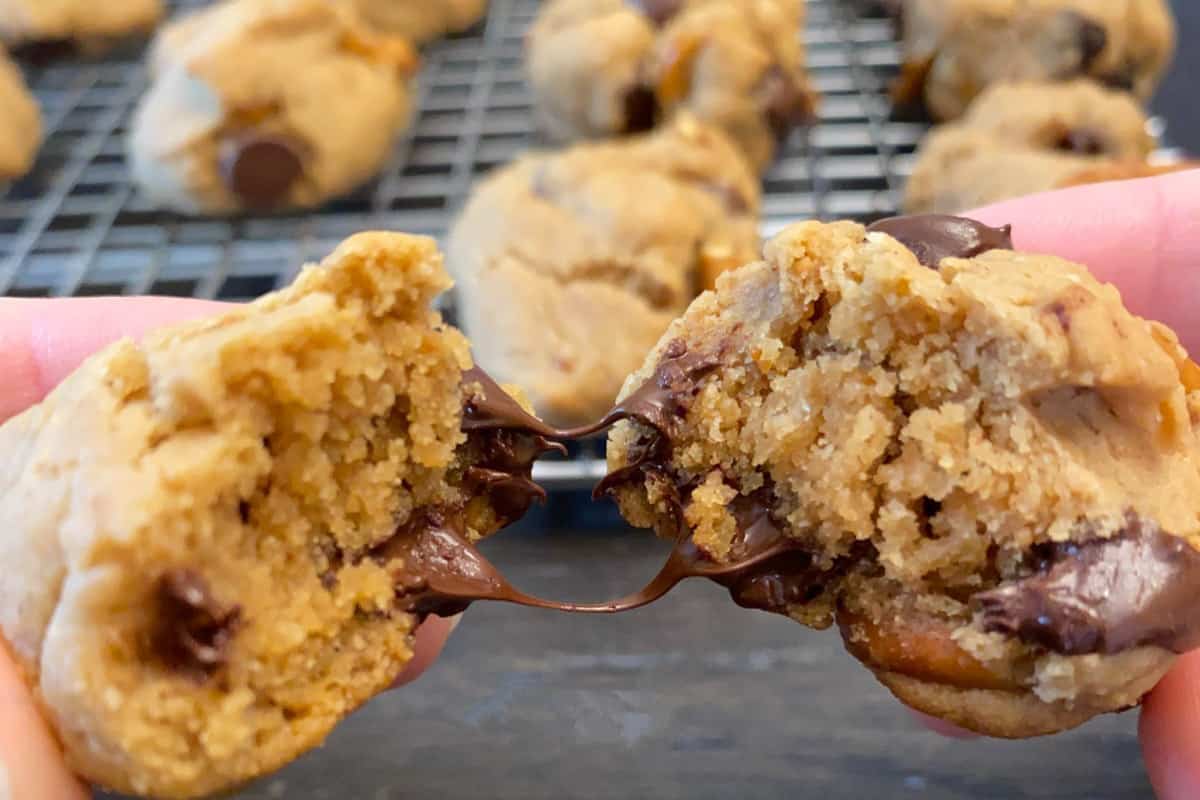 Trail mix and the outdoors go together like peanut butter and jelly (which, coincidentally, are also vegan camping food!). Now take those classic flavors and combine them into a cookie that's a bit sweet, a bit salty.
The cookies come together quickly, blending peanut butter, chocolate chips, raisins, and pretzels. You can tweak the recipe some, but stick to the recipe for that authentic trail mix taste.
24. Dessert Calzone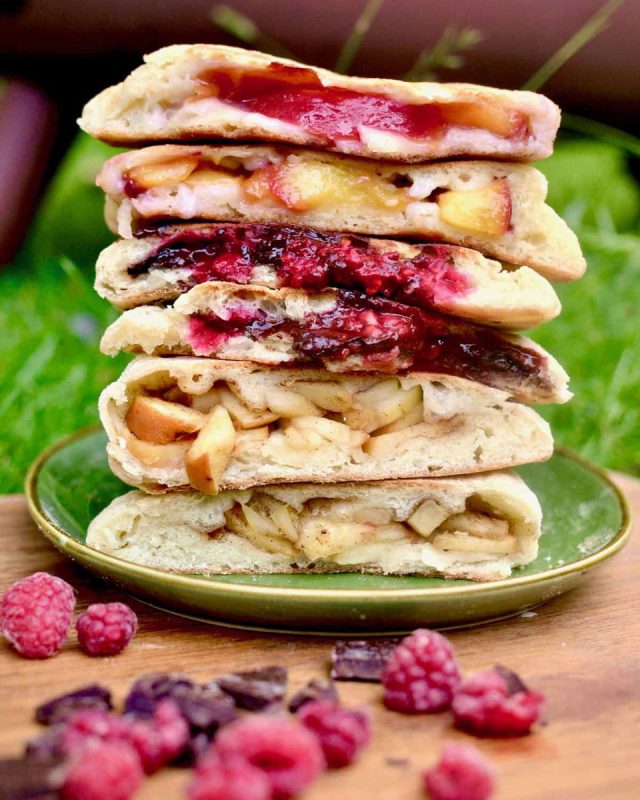 It turns out that pizza crust isn't just for dinner! This clever but easy-to-follow recipe offers three takes on a dessert calzone using pizza crust and a variety of indulgent fruit flavors.
Although the recipe calls for homemade dough, you can swap in your favorite ready-made vegan version. These can be cooked at home or over the campfire, and to make your night even simpler, use the dough to make a pizza for dinner, too!
25. Vegan S'mores Brownies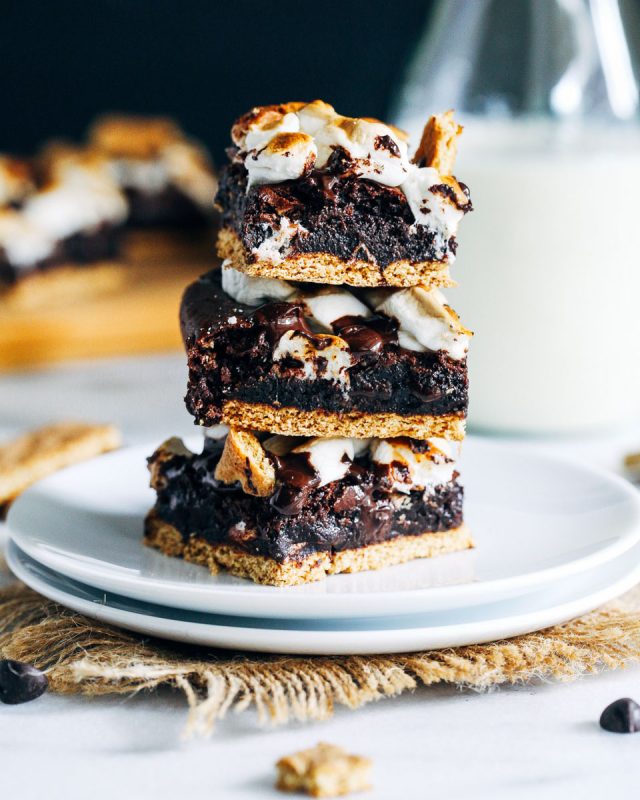 Vegan camping food sometimes gets a bit of a bad (and wildly inaccurate!) rap as being bland or unsatisfying, but these brownies turn that theory right on its head.
Combining the classic flavors of campfire s'mores with a rich, indulgent brownie, this dessert is beyond fulfilling! They're gooey and chocolatey, plus made entirely from scratch (although if there's a boxed vegan mix you love, feel free to use it!).


You may also like…
Save this article on Pinterest for later!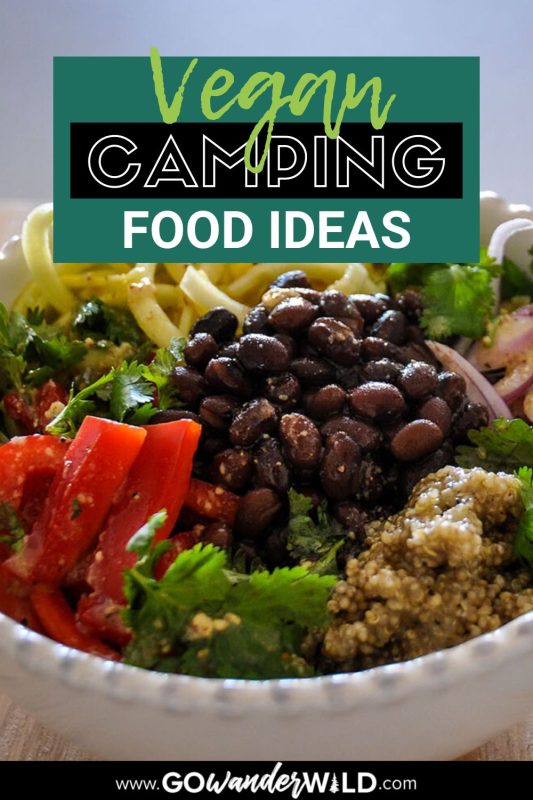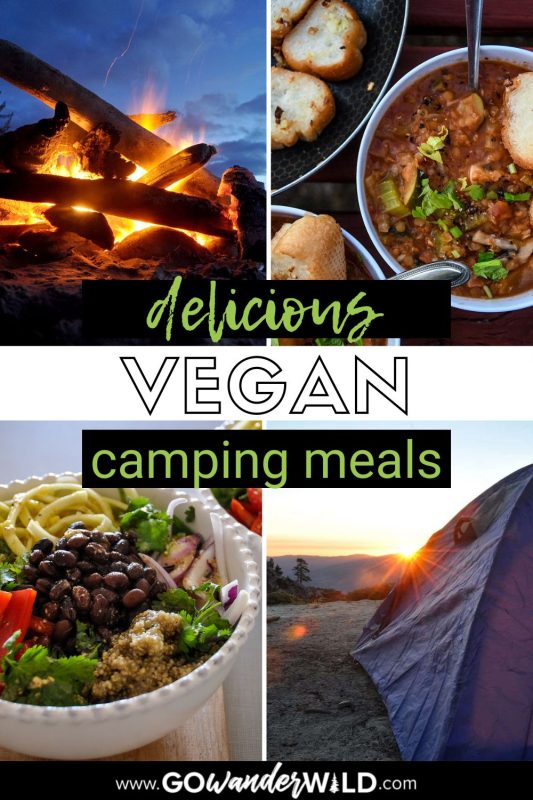 We want to hear from you!
What's your favorite vegan camping food idea from this list that you cannot wait to try? Are there any other vegan favorites you think we've missed? Comment below and let us know!