Packing and preparing your camping food can be a challenge. To help keep you organized and make it a little easier, we've come up with a comprehensive camping food list and tons of easy camping meal ideas.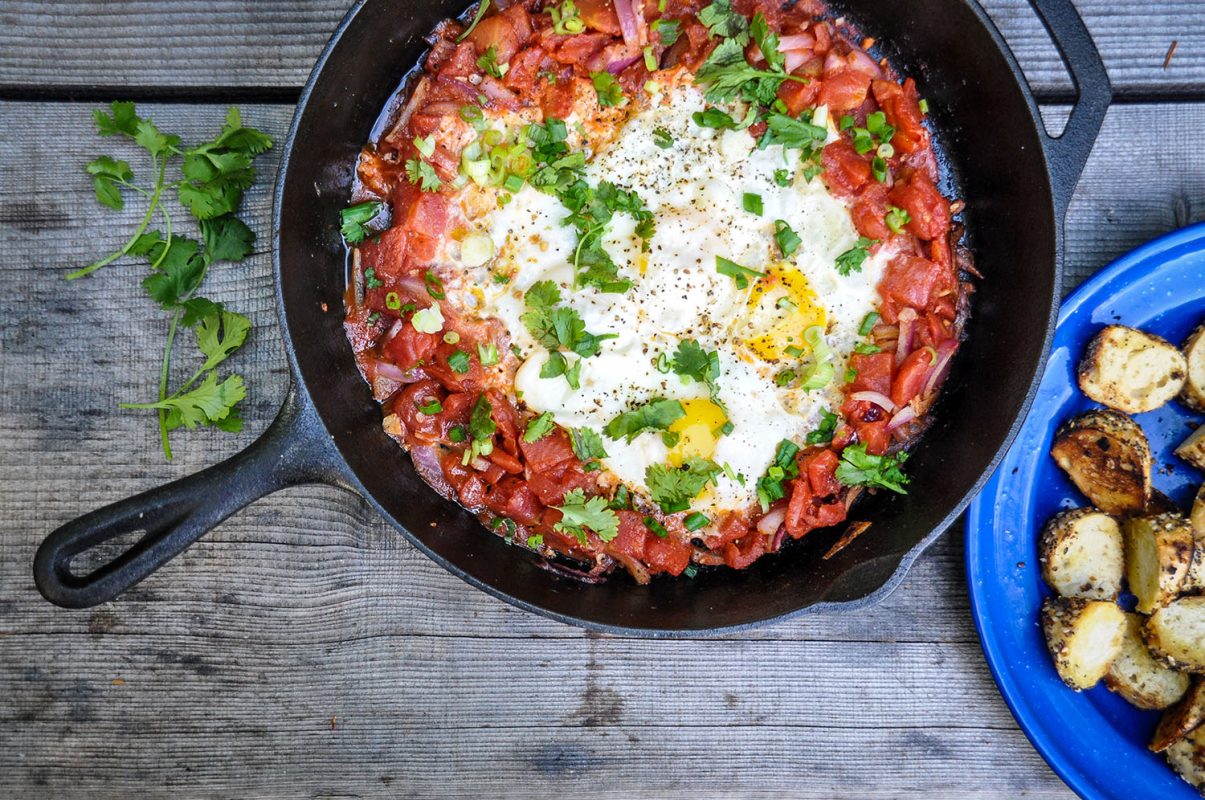 Slowing down and unplugging for a few days in nature, enjoying morning coffee by the campfire, taking in the sunset from a camp chair…there's a lot to love about good old-fashioned camping. Seriously, there's just something about the crackling of a campfire under the stars, with that distinct chill in the air and the sounds of nature enveloping you.
Cooking over a campfire has its challenges, but that shouldn't stand in the way of enjoying delicious, well-balanced meals while camping.
Doing this requires some advanced planning, but with just a bit of effort, you can enjoy some of your favorite meals (and try new recipes!) on camping trips.
To help you prepare for your next camping trip, we've put together this complete camping food list. Use this as a general guide to shop for your own camping food staples, then check out our meal ideas and sample menus to plan out your entire trip!
Download the PDF!

Dry foods/pantry items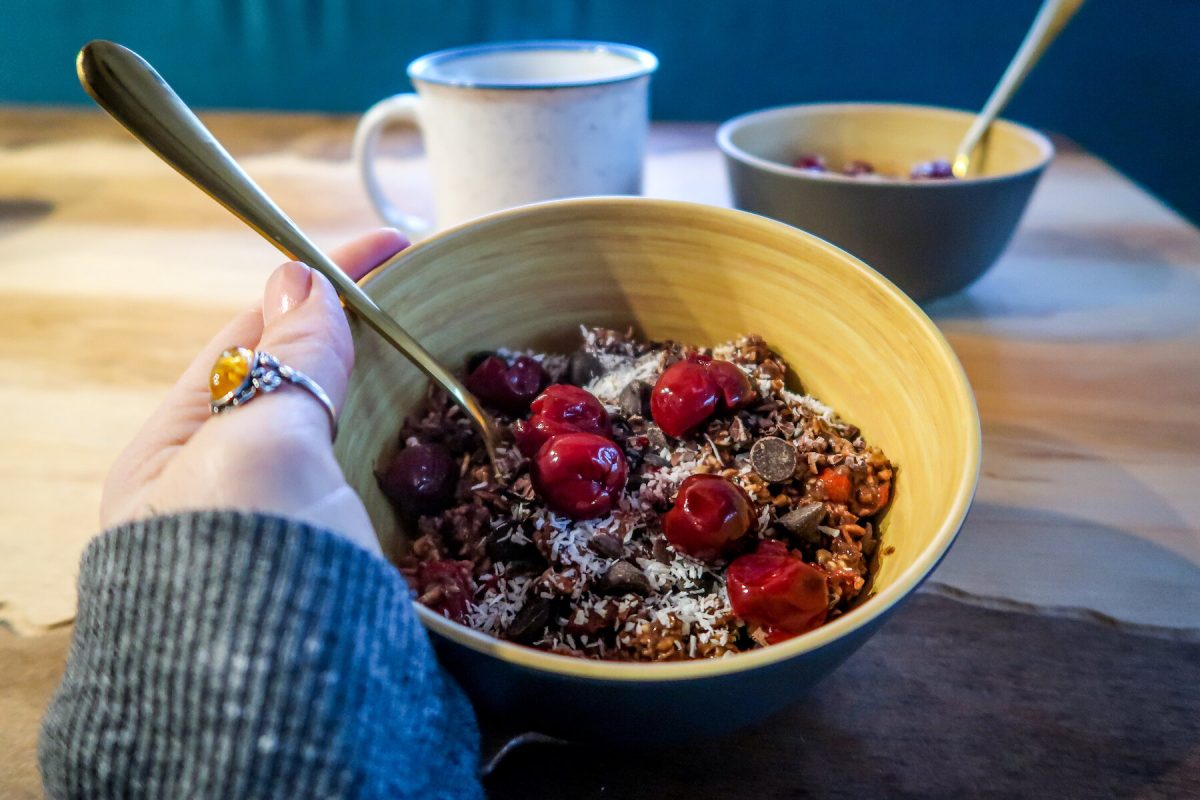 Oatmeal: A hearty, easy-to-cook breakfast with lots of variations in toppings.
Cereal: A quick breakfast, especially for kiddos. Don't forget the milk!
Pancake/waffle mix: Not only does this camping food effortlessly make actual pancakes and waffles, but it can also be used as a biscuit base.
Flour: A staple with countless uses, from baking to thickening and even some camp crafts!
Noodles: These belong on every camping food list for stretching meals and making them a bit more hearty, not to mention a quick, easy meal in their own right!
Rice/quinoa/couscous: Hearty, versatile additions to virtually any dish and, like noodles, perfect for throwing something quick together.
Beans (dried or canned): A great base for countless meals, from chili to nachos to chilaquiles and more!
Canned tuna: We could also put this in the meat section below, but tuna cans and pouches are staples in our pantry. Eat it with crackers or veggies as a dip or make tuna melt sandwiches for lunch or a light dinner.
Tortillas or wraps: Perhaps one of the most useful camping foods, transforming leftovers into a whole new meal. Chili one night becomes burritos the next!
Bread/bagels/buns: If you plan to make sandwiches, toast or have bagels for breakfast. Don't forget to pack the buns for hamburgers/hotdogs/brats!
Peanut butter: You can always simply eat it by the spoonful, but PB is also great for campfire baking and quick sandwiches.
Jam/jelly: An easy go-to for sweetening toast or biscuits, or as a staple in PB&Js.
Your preferred cooking oil: A staple no matter what you're cooking.
Salt & pepper: A staple in any kitchen, outdoors or otherwise!
Herbs & spices: Don't forget to pack your preferred dried herbs and cooking spices. This may include things like dried basil, oregano, garlic salt, chili flakes, etc.
Dairy & eggs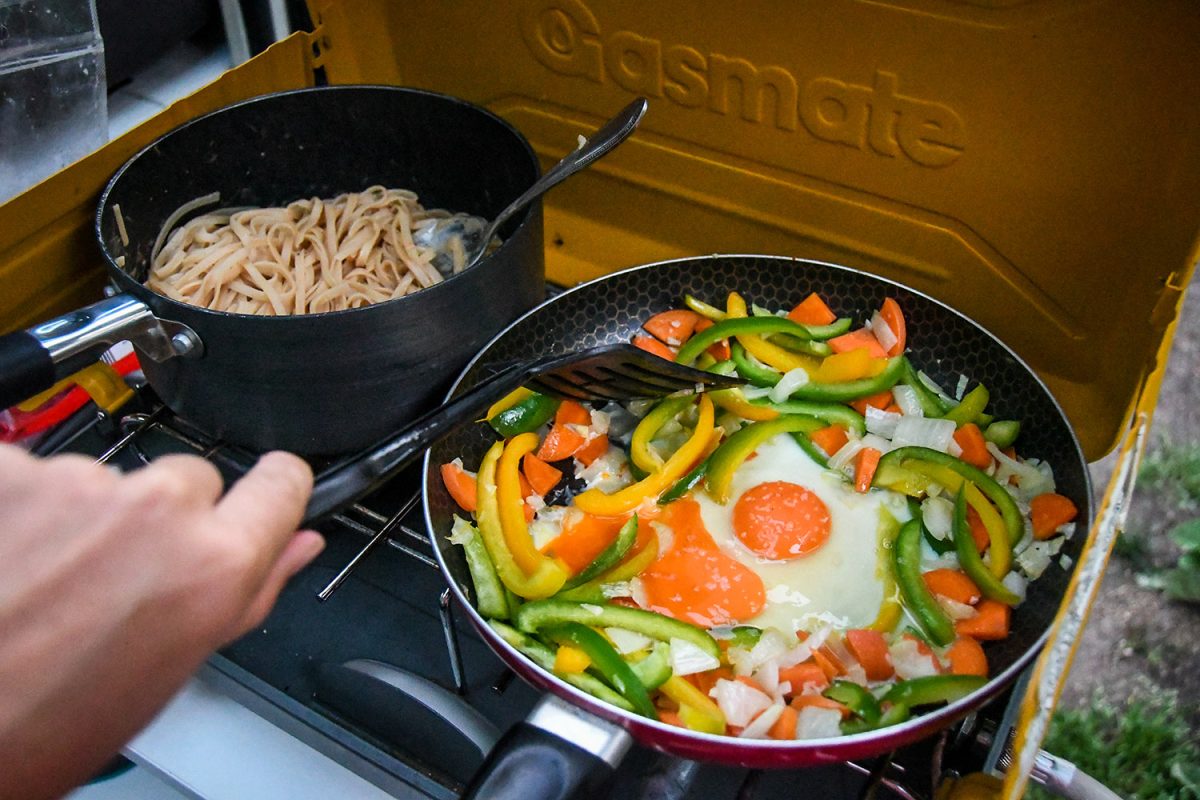 Eggs: One of the most versatile and practical items on any camping food list. Make hard-boiled eggs, use in recipes, or eat on their own!
Butter: Use in baking and cooking, plus it's a great way to add some fat and calories.
Plain Greek yogurt: Healthy alternative to sour cream and it can be eaten with fruit or a variety of toppings for a snack or light meal.
Cheese: Bring a variety, including block, shredded, and sliced. Cheese is always at the top of our camping food list, as we aadd it to everything and eat it as a snack!
Cream cheese: Great as a spread, for adding a bit of creaminess to recipes, or as a base for dips.
Meat
Hot dogs: An unsung hero when it comes to camping food! Grill 'em up by themselves or add to rice and noodle dishes for some protein.
Ground beef: One of the versatile meats, make it into burgers or meatballs, meat sauces and chili…the possibilities are endless!
Sausages: With a ton of flavor variety, this is one of the most practical meats to have on a camping food list. They keep for a decent amount of time in a cooler, too!
Fruit & vegetables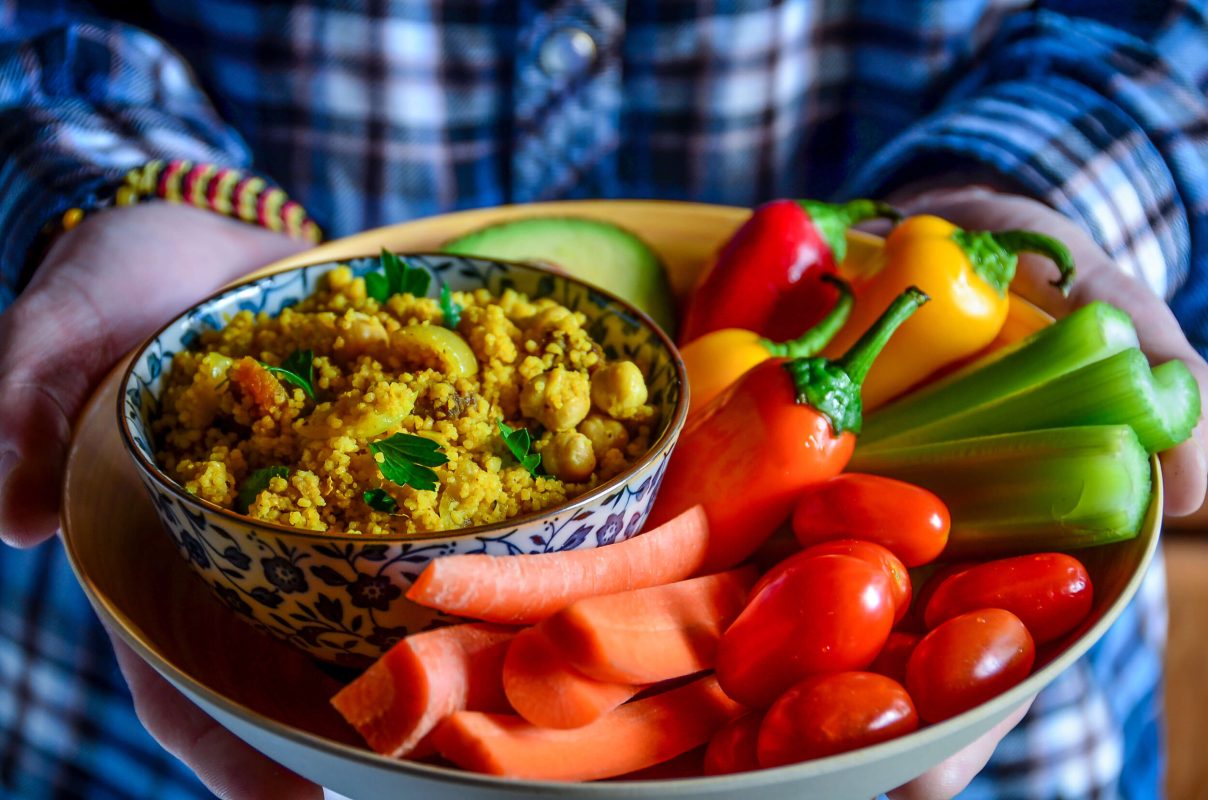 Potatoes: Add shredded or diced potatoes to just about any dish or make entire potato-based meals!
Peppers: We love to get a variety, including bell, mini sweet, and different chili peppers, for flavoring food. Add them to eggs, casseroles, make stuffed peppers, or even eat them as snacks!
Onions: This camping food list item doesn't need much explanation!
Zucchini: Surprisingly versatile, you can make zucchini boats, zucchini lasagna, or just add to recipes.
Tomatoes: Pick up local, in-season varieties whenever possible!
Cucumbers: An easy, refreshing veggie, these belong on your camping food list. Pair with hummus or dip, or make a cucumber salad!
Berries: We could go on and on (and on!) about how often we eat berries. They're affordable, super healthy, and delicious, making them one of our go-to camping foods. Buy local, in-season varieties whenever possible. If they start to go bad, you can freeze them in reusable baggies, then toss the frozen berries into pancakes or oatmeal.
Oranges: A healthy, antioxidant-rich fruit that's easy to grab for busy days on the go.
Apples: Eat these as-is or use them for various campfire desserts and snacks! Baked cinnamon apples, anyone?
Carrots: Dip into hummus, use as a side dish, or crunch a few when you're famished.
Garlic: One of our most-used ingredients in recipes to add an immediate flavor boost.
Snacks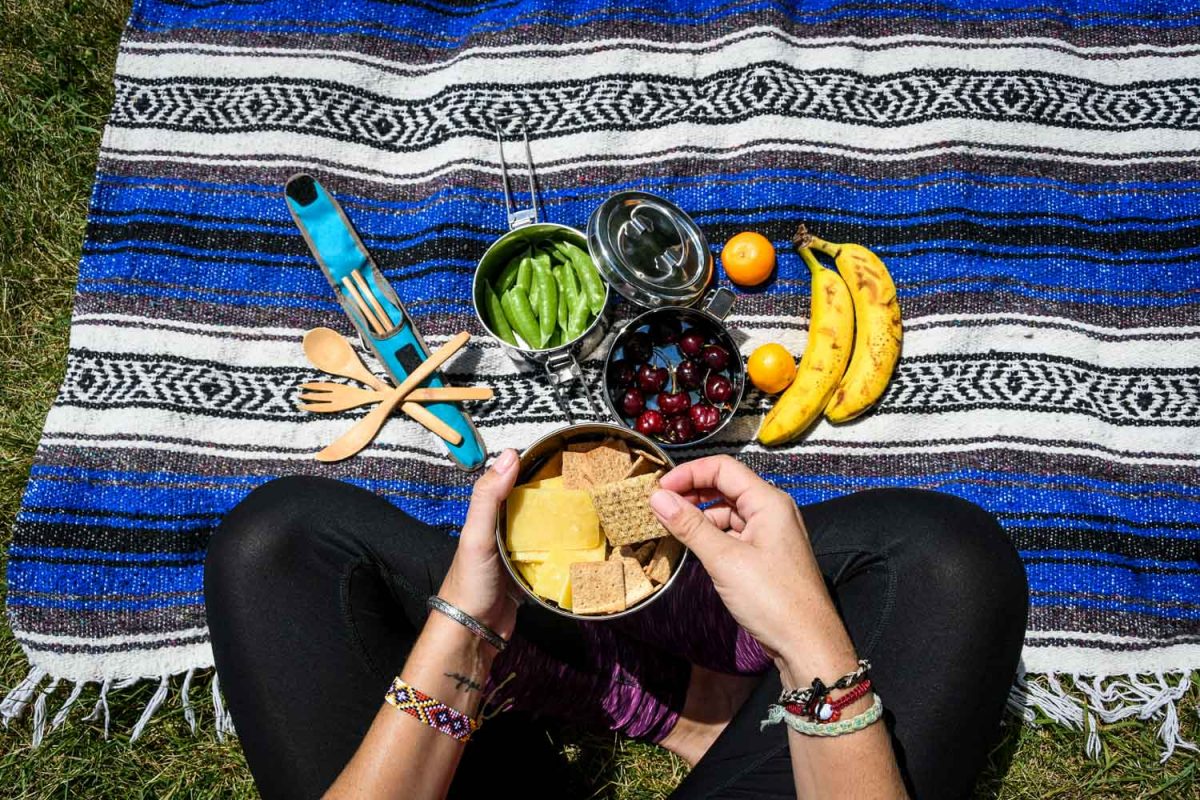 Nuts: High in fiber, healthy fats, and carbs, nuts should be at the top of every camping food list.
Popcorn: A nice old-fashioned snack to have, whether you opt for microwaveable varieties in your rig or get those fun Jiffy Pop ones for the campfire!
Jerky: One of the best high-protein, low carb snacks for adventures.
Trail mix: We like to make DIY versions for camping food, adding nuts, dried fruit, and occasionally some chocolate chips or M&Ms.
Granola bars: Whether you make your own or buy them, these easy snacks should be at the top of your camping food list.
Cookies: Everyone needs a little indulgence now and then!
Crackers: We often end up eating a light lunch of crackers and veggies with various dips.
Pretzels: When you need a salty snack, pretzels are a great option. Plus, they're perfect for dipping into hummus or peanut butter!
Hummus: A super healthy dip that also works well as a spread or in Mediterranean-style bowls.
Chips: Not only is chips and salsa an easy, satisfying snack, but chips also work surprisingly well in several recipes. One of our favorites is chilaquiles!
S'more supplies: Pick up marshmallows, then get creative and use cookies in place of graham crackers and experiment with different types of chocolate.
Condiments
Ketchup: Even if you're not big on burgers and hot dogs, ketchup is a great base for various marinades and sauces.
Mustard: See above! Mustard is a camping food list staple because of its versatility.
Mayo: One of those items that gets used more than you realize, as a spread, addition to tuna and chicken salad, or as a recipe ingredient.
Pickles: Truthfully, we reach for pickles as snacks more than anything else, but they also work well to jazz up sandwiches, burgers, and sauces.
Salad dressing: Another versatile camping food, dressing can be used as dip or marinade.
BBQ sauce: We always like picking up bottles from local vendors on our travels. It dresses up plain meat and also serves as a fun reminder of a particular place!
Hot sauce: If you're someone who likes flavorful food, this is a must on your camping food list!
Salsa: Eat with chips or veggies or add to meals for a fresh, zesty flavor boost!
Syrup: What's a campfire breakfast of waffles or pancakes without some good maple syrup?
Soy sauce: One of our most-used staple condiments, soy sauce is fantastic for making marinades and sauces.
Drinks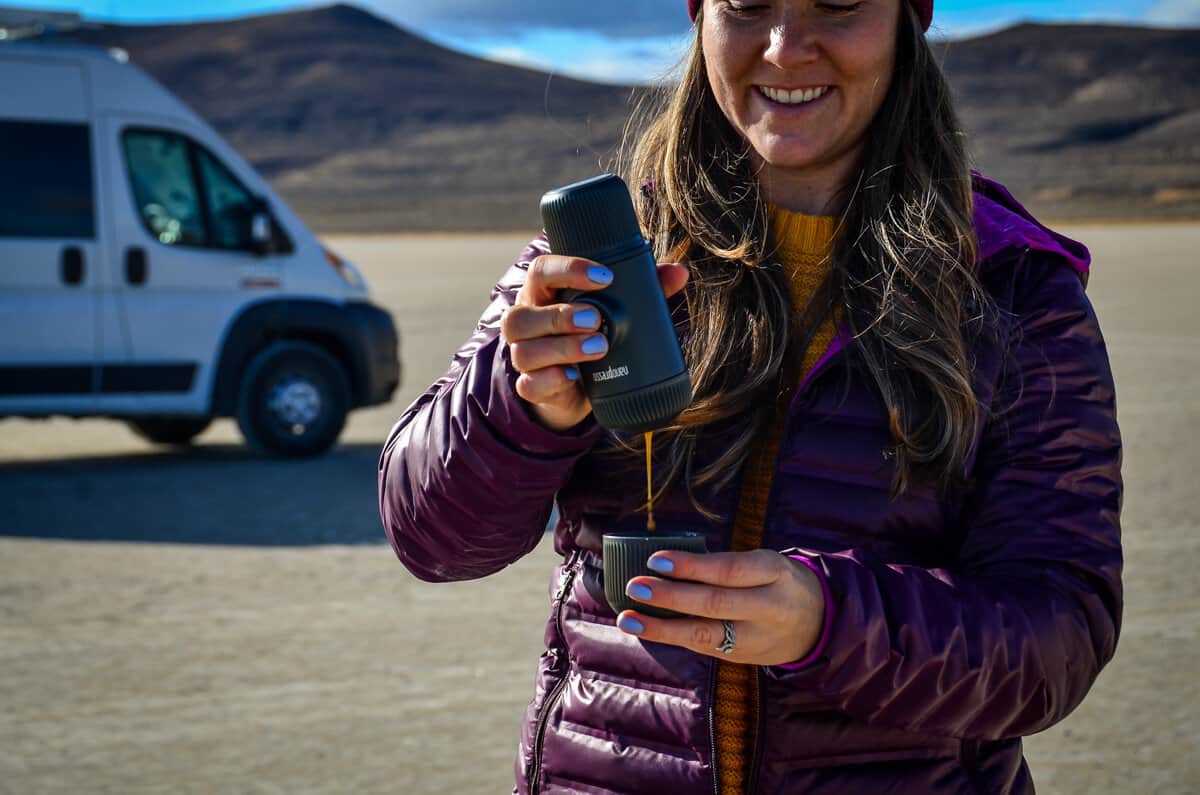 Bottled water: Be sure to pack enough water for the whole crew to stay hydrated if you will be camping off-the-grid in a place where you won't have access to fresh drinking water.
Ice: Even if you're in a campervan or RV, it's a good idea to have ice on hand for a cooler.
Electrolytes: We always include electrolyte packets in our camping food list. It's a great way to stay on top of your hydration, especially if you do a lot of hiking when you camp!
Milk: Great to have on hand for adding to recipes, coffee, etc. Of course, if you prefer a non-dairy alternative, add that to your camping food list instead!
Coffee (don't forget creamer and other fixin's!): There's nothing quite like camp coffee! Grind it ahead of time or just opt for instant to keep things easy.
Juices/sodas: A few options in addition to water and coffee are always nice!
Alcoholic beverages: If you don't drink, simply don't add this one. If you do, though, camp beer or cocktails are a must!
Tea bags: A nice item to have for chilly days, plus especially useful if you start to feel a bit under the weather.
Hot cocoa: We always have a few packets in our camping food arsenal. Add a marshmallow to make it more fun or some alcohol to make it more adult-like!
How much camping food should you bring?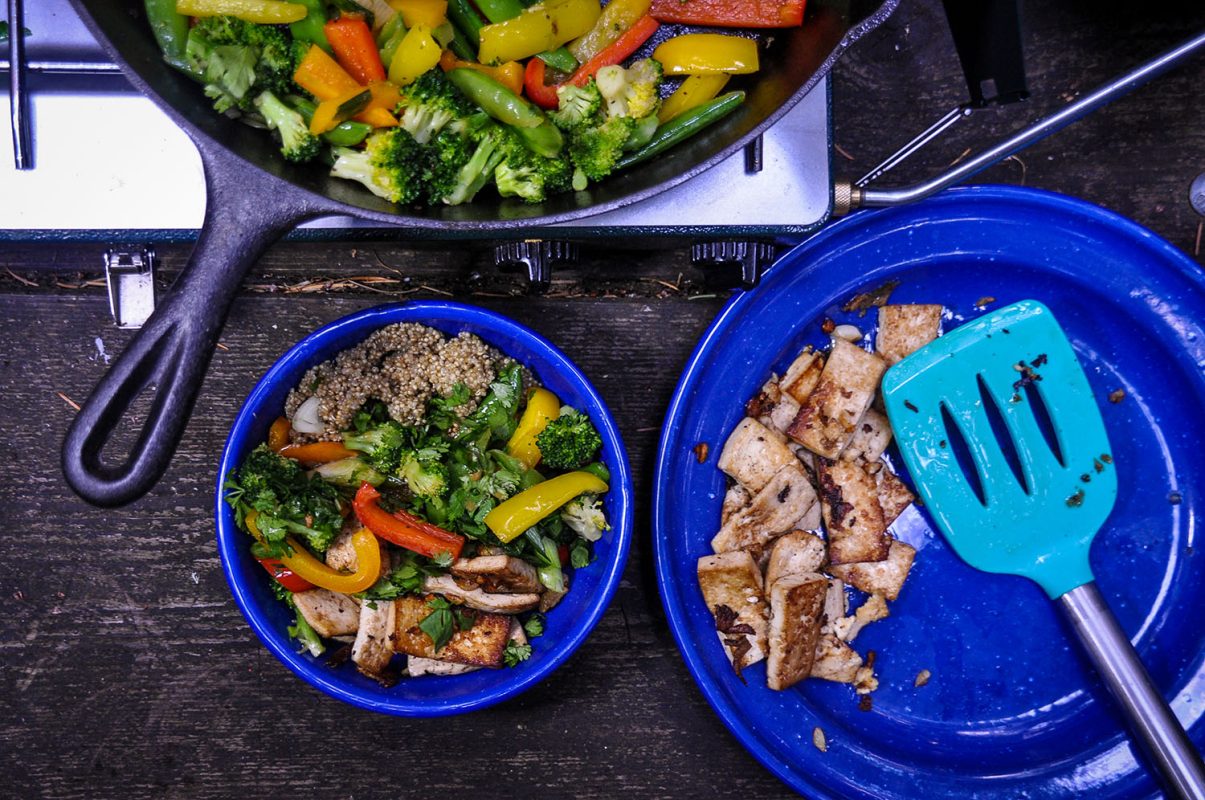 As you make your camping food list, think about how much you should actually bring. We highly recommend planning out meals ahead of time to keep yourself organized and ensure you have the right amount of food.
Having too much is just as bad as not having enough if the excess will just go to waste!
To decide how much camping food you need, break things down day by day. Think about your answers to these questions to get started:
How many people do you need to feed and for how many days?
Will everyone eat breakfast and lunch each day?
It may help to have a visual, so feel free to pull out a pen and paper and map this out!
Once you decide how much you need and you're deciding on a menu, look for recipes that have similar base ingredients. This strategy lets you pack (and buy) less, but keeps things interesting with new meals. For example, stuffed bell peppers and chili have very similar ingredients.
Sample camping food menus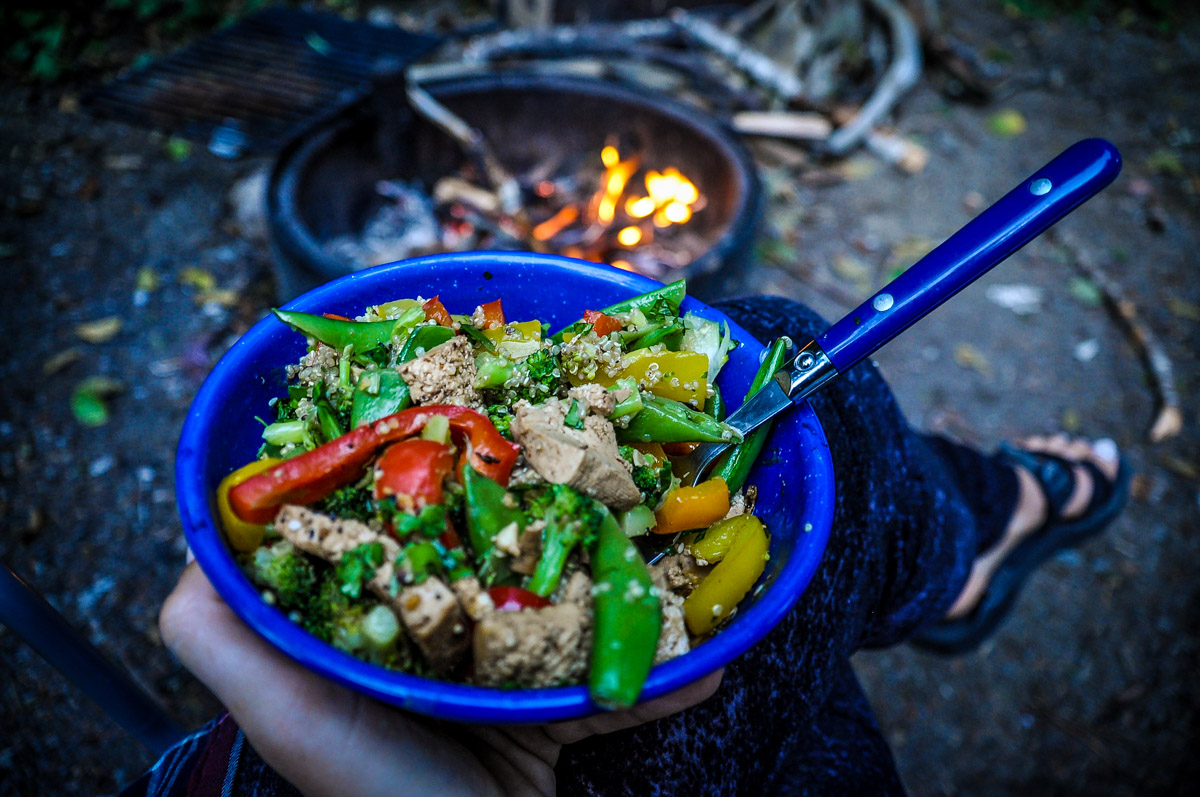 Here are three sample menus, using some of our favorite camping meals (and many items from this camping food list!).
Day 1
Breakfast: Oatmeal (don't forget the toppings!)
Lunch: Wisconsin beer brats
Dinner: Jambalaya foil packets
Snacks: Veggies with hummus, homemade granola bars
Day 3
Breakfast: Sweet potato and egg skillet
Lunch: Campfire nachos
Dinner: Pineapple chicken kabobs
Snacks: Berries with yogurt, cheese and salami
Day 2
Breakfast: Foil packet French toast
Lunch: DIY quesadillas (start with cheese and let everyone add their favorite toppings!)
Dinner: Chicken gyro wraps
Snacks: Apple granola stackers, chips and salsa
Camping meal ideas
Now that you have your camping food list together, it's time to put it to good use… In addition to the sample menus above, we have a ton of camping meal ideas for you. And we're major foodies, so you'll find a ton of out-of-the-box ideas, including vegetarian and vegan camping meals, easy camping breakfasts, campfire and Dutch oven meals, camping desserts, and more!


You may also like…
Save this article on Pinterest for later!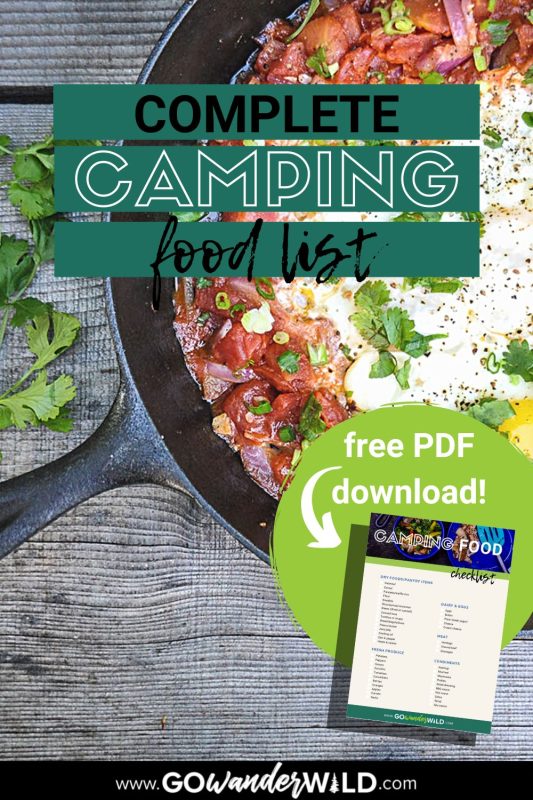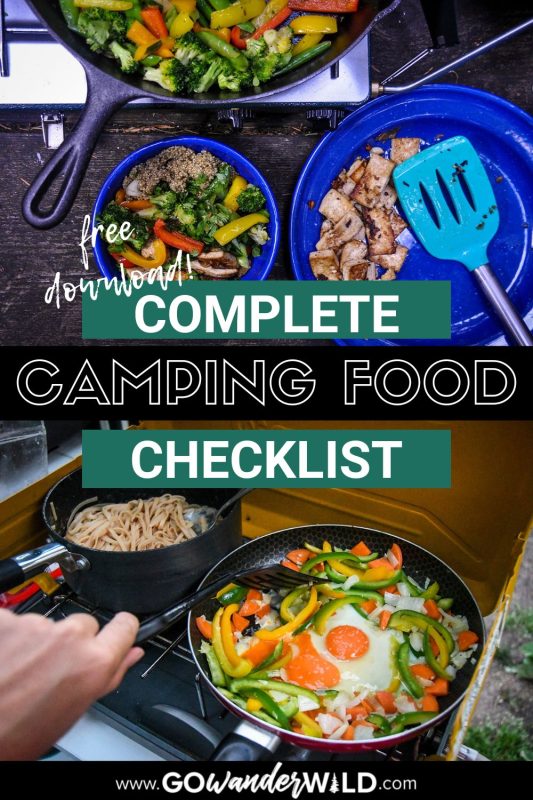 We want to hear from you!
What are some of your favorite meals to prepare while camping? Are there any staples on your camping food list you think we've missed? Comment below and let us know!