If you're looking to reduce your environmental footprint while camping, we've created this quick guide to eco camping to get you started. Discover what eco camping is, the benefits, tips, and our favorite gear for a greener camping routine.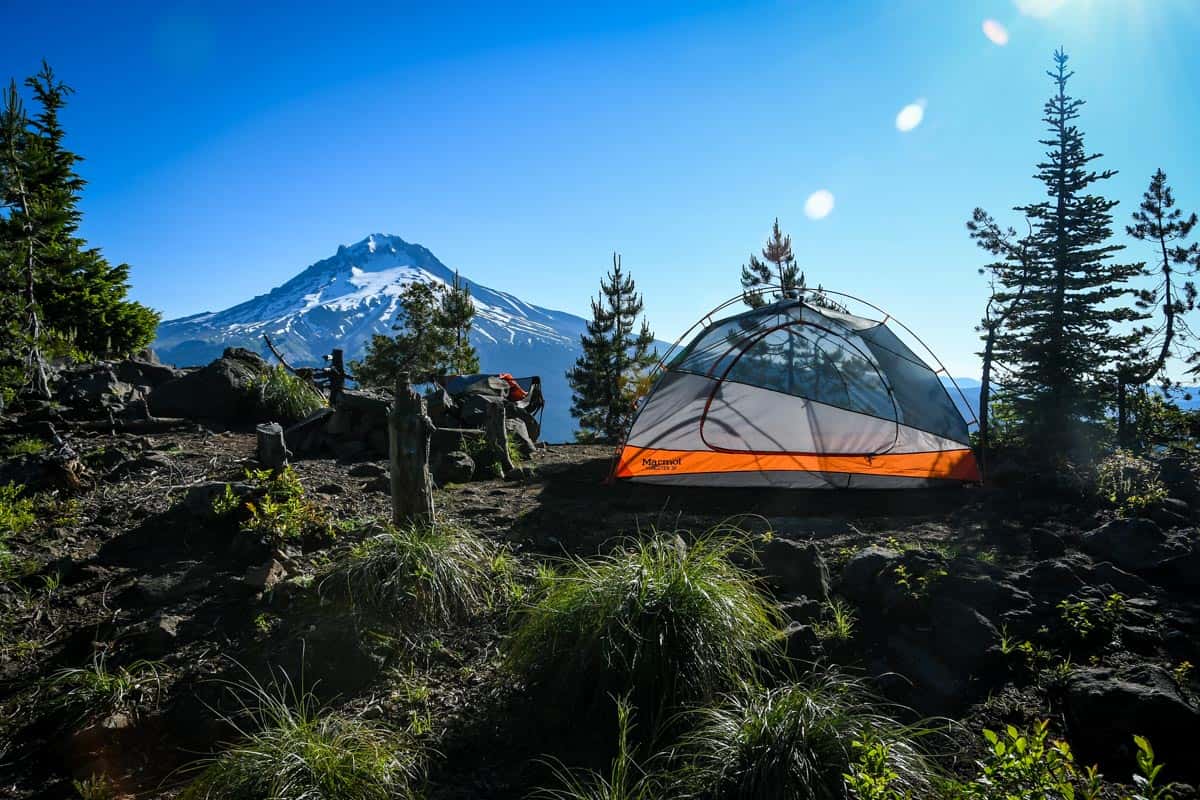 In every season, outdoor enthusiasts pack up their cars with their favorite camping gear and head into nature for some much needed peace and quiet.
We, like most people that spend a good deal of time in nature, know and stress the importance of keeping the environment pristine so that generations of outdoorsy folks can experience the same beauty.
But the irony is, typical camping isn't exactly the cleanest or the greenest.
Many people enter the outdoors with good intentions, but aren't aware of the importance of reducing waste, leaving no trace, and how small choices can make a massive impact.
Which is why we've created this quick and easy guide to eco camping so you will have all the know-how to make more conscious decisions when planning your next camping trip.
In this guide, we cover exactly what eco camping is and everything you need to be best prepared for your next camping adventure.
Article Contents

Be sure to download our FREE camping packing list before your next trip and never leave another essential behind again!


What is eco camping?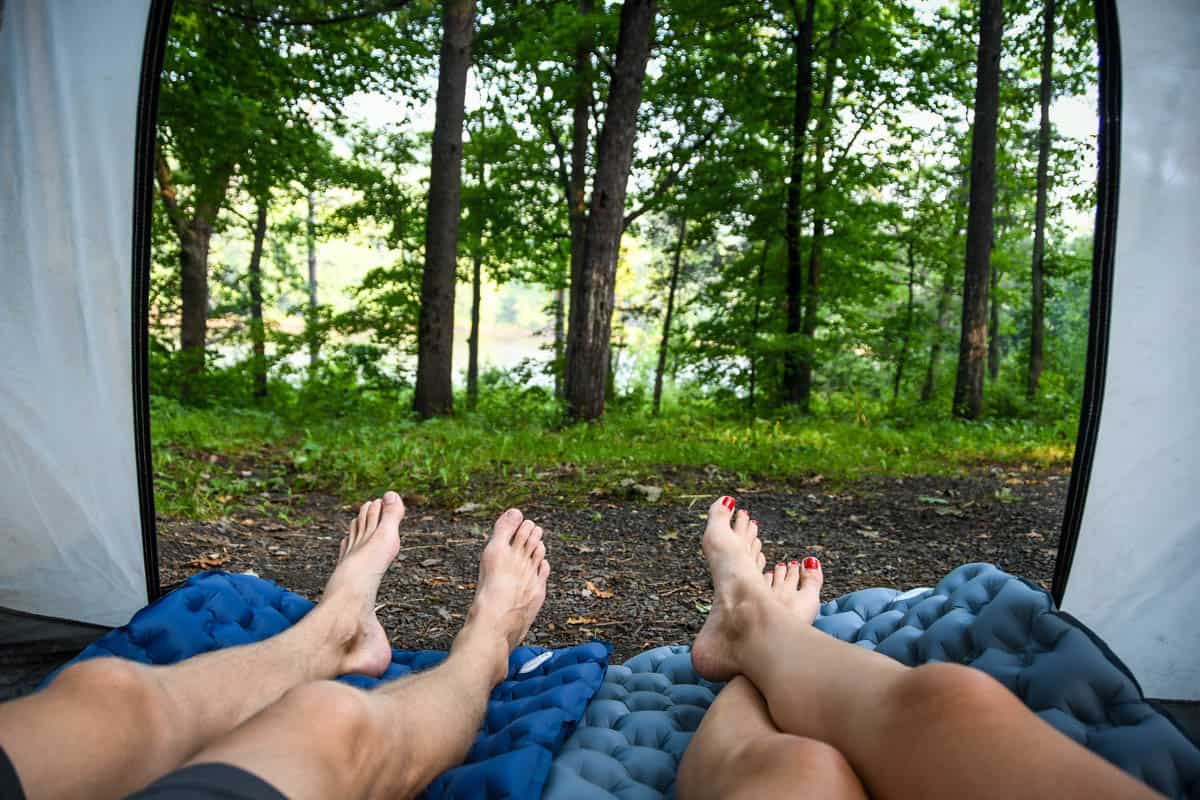 Eco camping is essentially the same thing as regular ol' camping, but includes making conscious and sustainable choices that minimize your footprint in the outdoors.
We believe eco camping should be a standard practice for everyone that gets outside. A lot of people go about their camping trips while being unaware of the potential harms that it can make on the environment.
If you're just starting out as a responsible camper, know that no one is perfect when it comes to sustainability and you'll inevitably make mistakes along the way. What matters is your commitment to doing better and showing up consistently.
Benefits of eco camping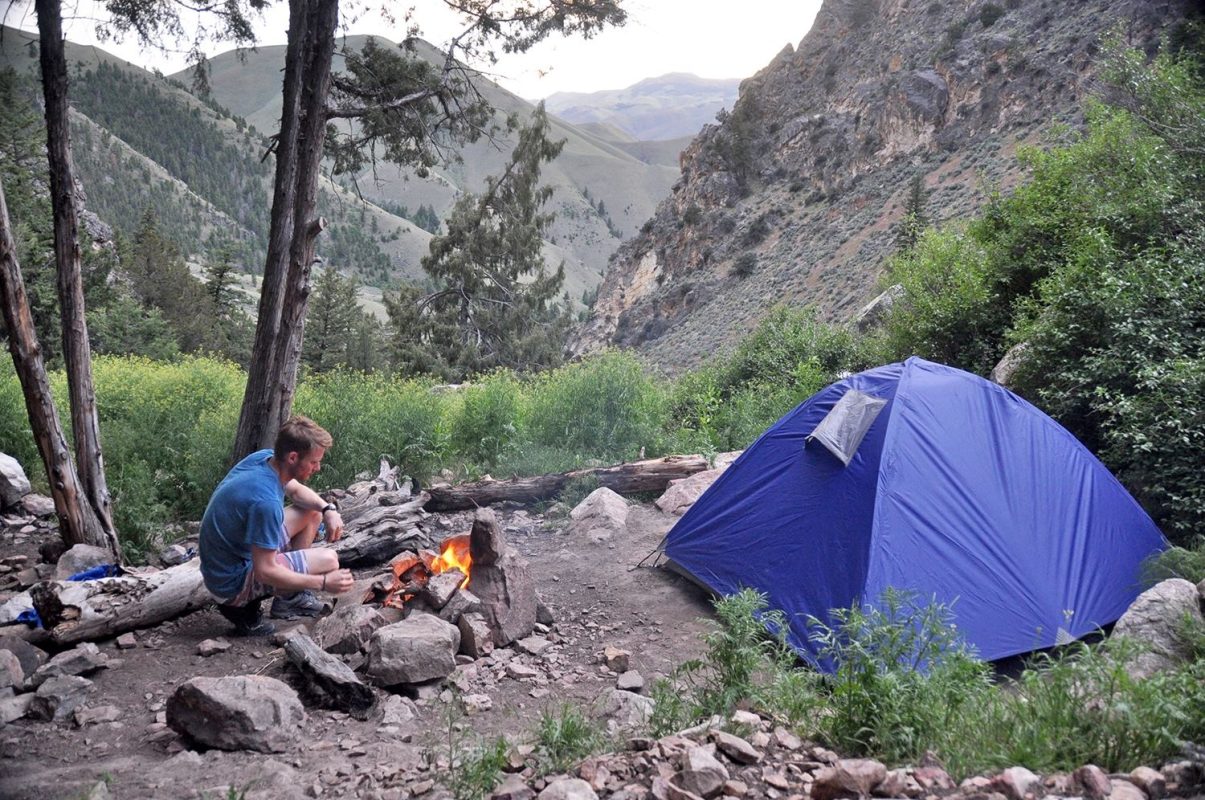 Saves you money. From free camping to established sites, camping is much cheaper than a traditional hotel or Airbnb stay.
Minimizes impact on the environment. Everyone getting outside should be following the 7 Leave No Trace principles, which includes a lot of the basics of eco camping.
Increases chances of wildlife sightings. Campsites are always tucked away from civilization, so your chances of seeing deer, foxes, moose, and even bears is much higher. Your odds increase even more while exploring the backcountry.
More immersive with nature. Getting away from the bustle of metropolitan areas and heading into a quiet campsite is one of our favorite ways to travel.
Tips for eco camping
These simple swaps and practices make the biggest difference when trying to be a more responsible camper.
1. Pack out all of your trash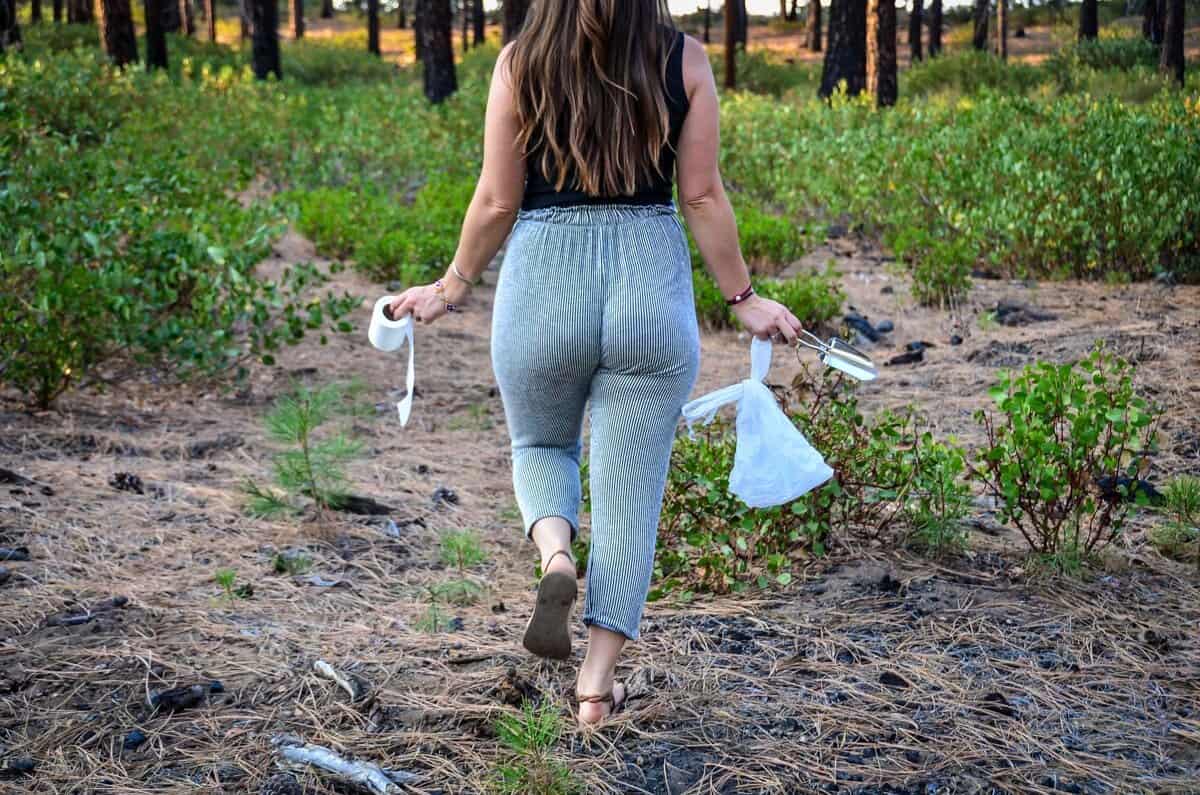 ALL of the waste you accumulate over your camping trip must be packed out. From plastic packaging, wrappers, bottles, to food scraps, nothing should be left behind after you leave.
Leaving organic waste behind attracts animals into the campsite and can be deadly. Plus, nobody wants to start an adventure walking into a messy campsite.
Packing out your waste also includes human waste, which is easily done by using pit toilets and facilities provided at camp.
If there aren't pit toilets or some type of outhouse where you're camping, you'll need to bury your poop or pack it out with you. The rules vary depending on what environment you're in, so make note of that when planning your trip.
To bury your waste, you'll need to dig a 6-inch hole using a trowel that's around 200-feet (about 70 steps) from water, trails, and campsites. Once you're finished, you'll cover the hole with the leftover dirt and pack out your toilet paper.
To pack out your waste, you'll need to bring WAG Bags and know how to use them properly.
2. Understand where to set up camp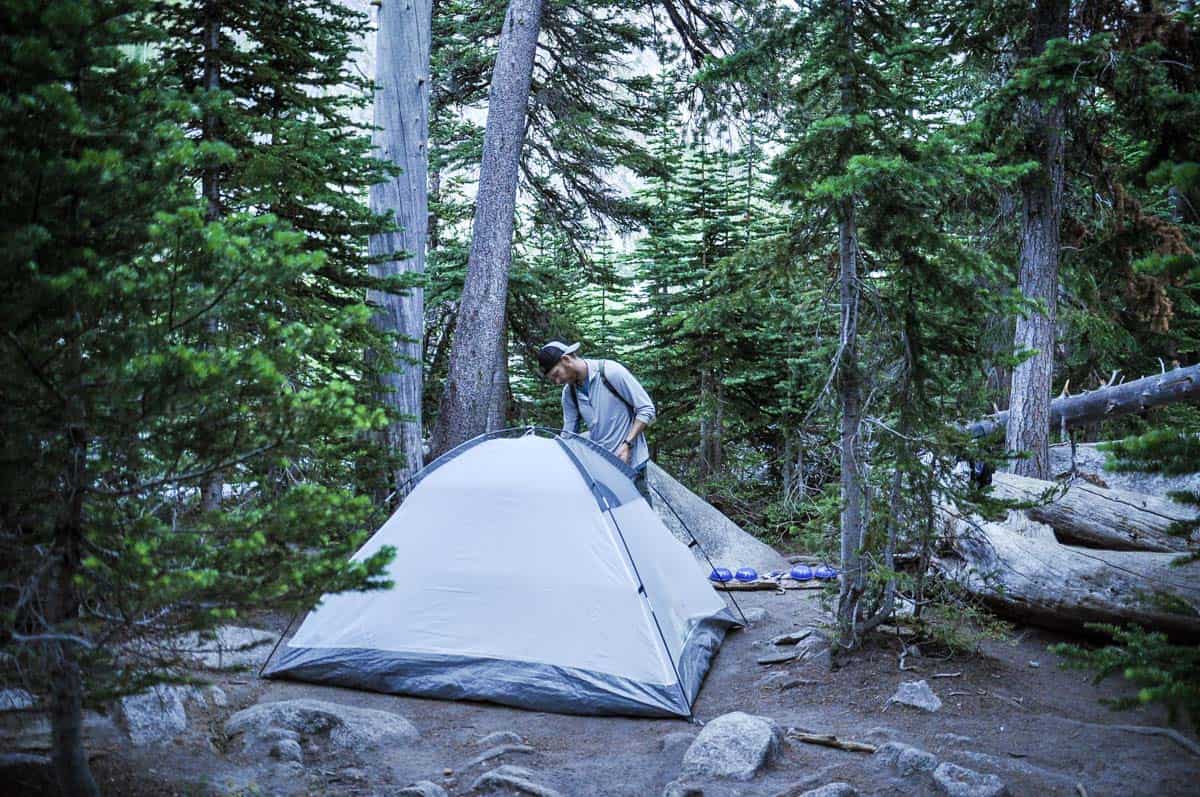 When it comes to camping, there are a variety of ways you can spend a night under the stars.
We've slept at established campsites, in the heart of the backcountry, and even the not-so glamorous Walmart parking lot.
No matter where you choose to pitch, you should always be camping on a durable surface that isn't disrupting wildlife, causing damage to terrain, and is far from trails and water sources.
After a bit of camping experience under our belts, we almost exclusively do free or dispersed camping during our trips. These are sites that have very low-traffic, making them the ideal option for eco camping.
You'd be surprised at all the free camping options there are within the USA. We're so passionate about it we actually have an entire free camping guide on our sister site with all the know-how for finding the best sites and staying eco-conscious in the process.
3. Invest in quality sustainable gear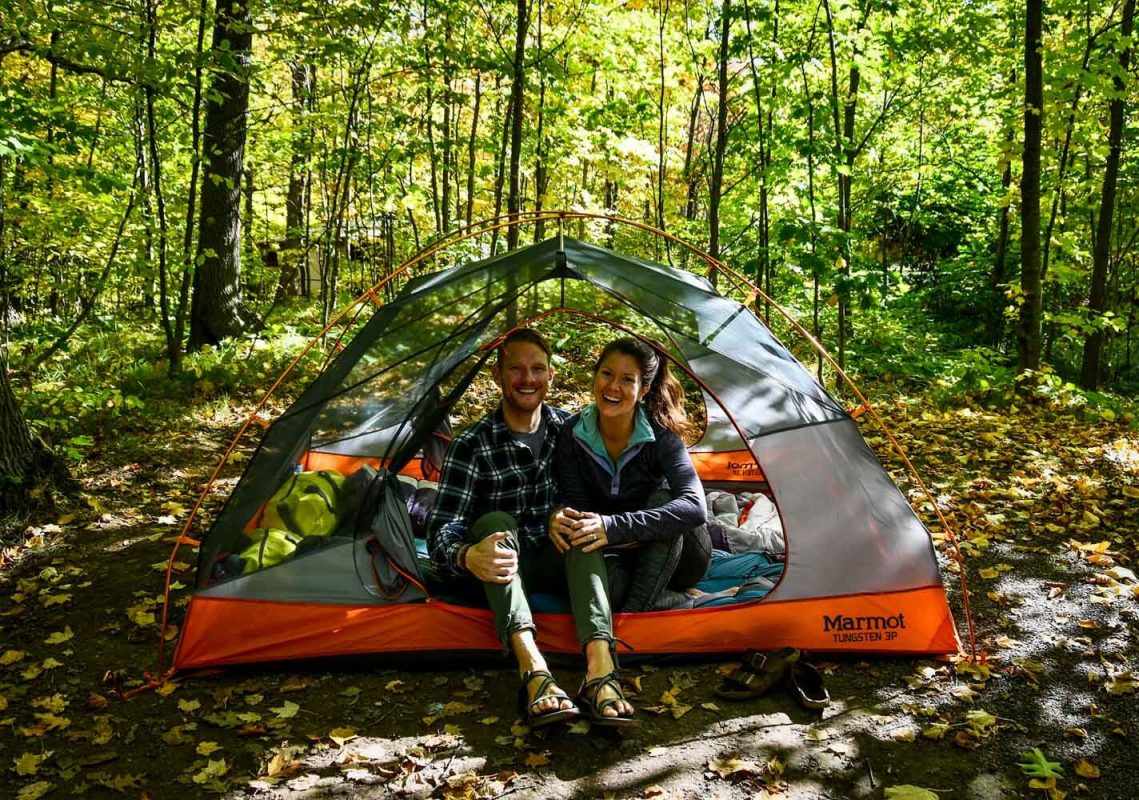 Over the years, we have accumulated high-quality camping gear that will last us for years to come.
Most of the time, cheap gear will fall apart quicker or simply not do the job, which is why it's important to make the initial investment to avoid replacing your gear each season.
And we won't lie, the upfront cost of camping can be expensive with needing a tent, sleeping bag, and other essentials.
To get outside for cheap, we've purchased discounted outdoor gear from all our favorite sustainable brands for a fraction of the retail price.
Patagonia: They are one of the leading outdoor brands in sustainability. They have a top-notch worn wear site and strive to keep their products out of landfills.
Cotopaxi: This B Corp certified brand gives 1% back to communities in need. From the fair wages, to the sustainably sourced materials, they aim to make products that last.
Coalatree: One of our favorite brands for eco-conscious adventure gear. Ben practically lives in their trailhead pants!
Otherwise renting gear is a fantastic way to supplement gear you may not need to invest in, or try out a potential gear purchase.
4. Avoid using products with toxic chemicals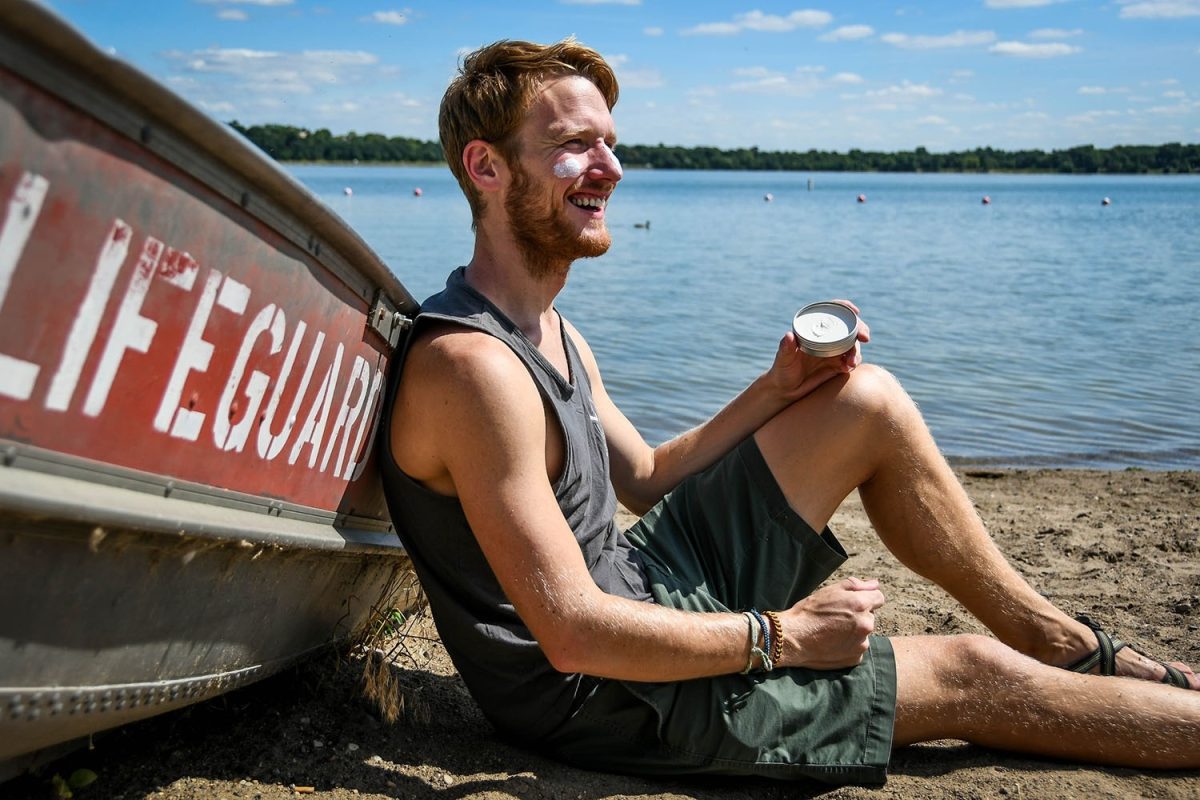 Using natural products makes the biggest impact while eco camping. Many people use regular soap to wash dishes or themselves, unaware that it can be extremely harmful to fragile environments.
Traditional soaps have chemicals that can contaminate rivers, kill plant life, and poison wildlife. Products with natural ingredients are able to break down and dissolve easily, causing no harm to wherever you're exploring.
Your best bet is a biodegradable soap. Dr. Bronner's pure castile soap has no synthetic preservatives, detergents, or foaming agents and can be used to clean just about anything (and we mean anything!)
And while we're at it, you should be using natural bug repellant and reef-safe sunscreen as well.
Note for ladies: Menstrual cups are worth the swap for a chemical and waste-free period. It took me some trial to get used to mine, but after learning the ropes I actually love it!
5. Be mindful when packing your food and water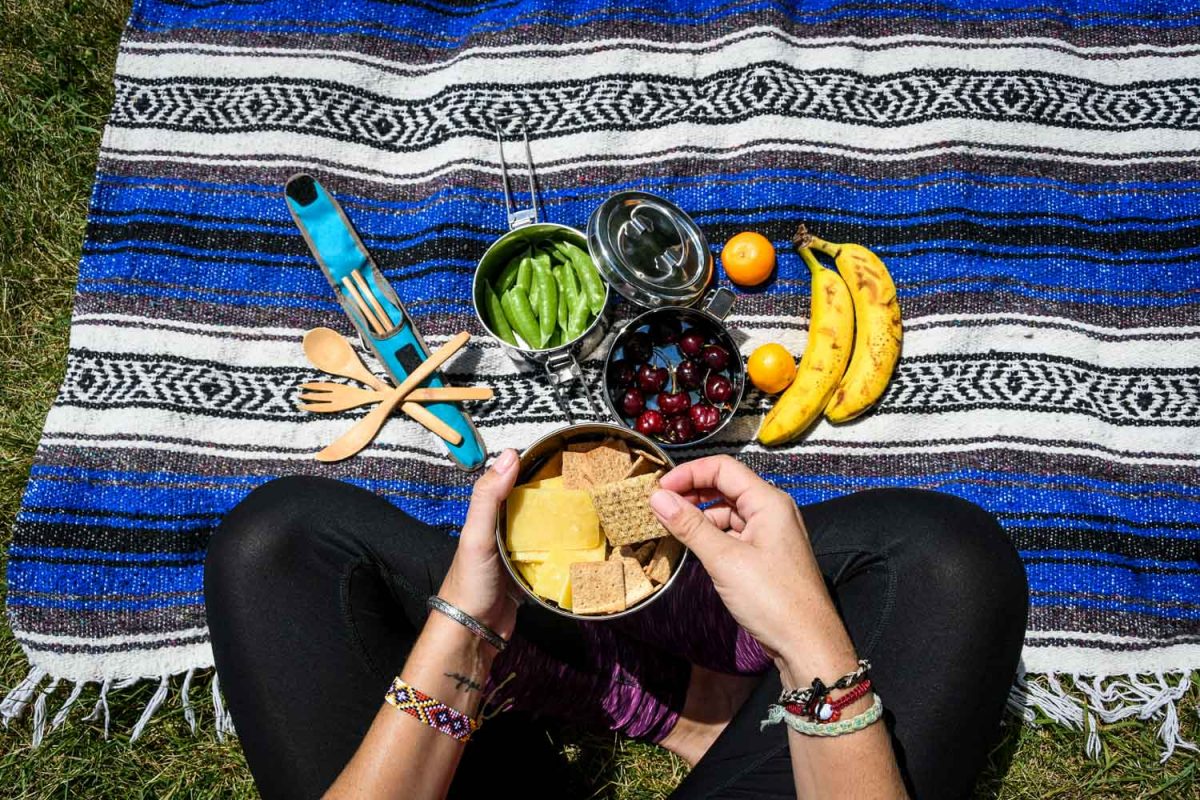 One of the biggest waste-makers while camping is during mealtimes. Plasticware piles up fast, most food is in disposable packaging, and leftovers are often tossed rather than saved.

We know firsthand that avoiding food waste is tricky when camping, but with meal planning and proper food storage, you can make a massive difference.
We like to create a menu for each day to make shopping a breeze. Our massive camping food list has tons of our favorite camp-friendly ingredients and practical meal ideas to get you started!
We've used these storage essentials for years to save waste and reduce plastic:
Reusable plates/cups/utensils: These save a TON of waste that would otherwise pile up after mealtimes.
Food storage: Bring these to save leftovers and reduce food waste.
Silicone baggies: We've been using these in place of single-use Ziploc bags for years and are obsessed with them for sandwiches and on-the-go snacks!
Beeswax paper: Total game changer for wrapping and saving food.
Water container: Fill one of these up before you leave and you'll have a plastic-free water source for your entire trip.
6. Practice responsible fire safety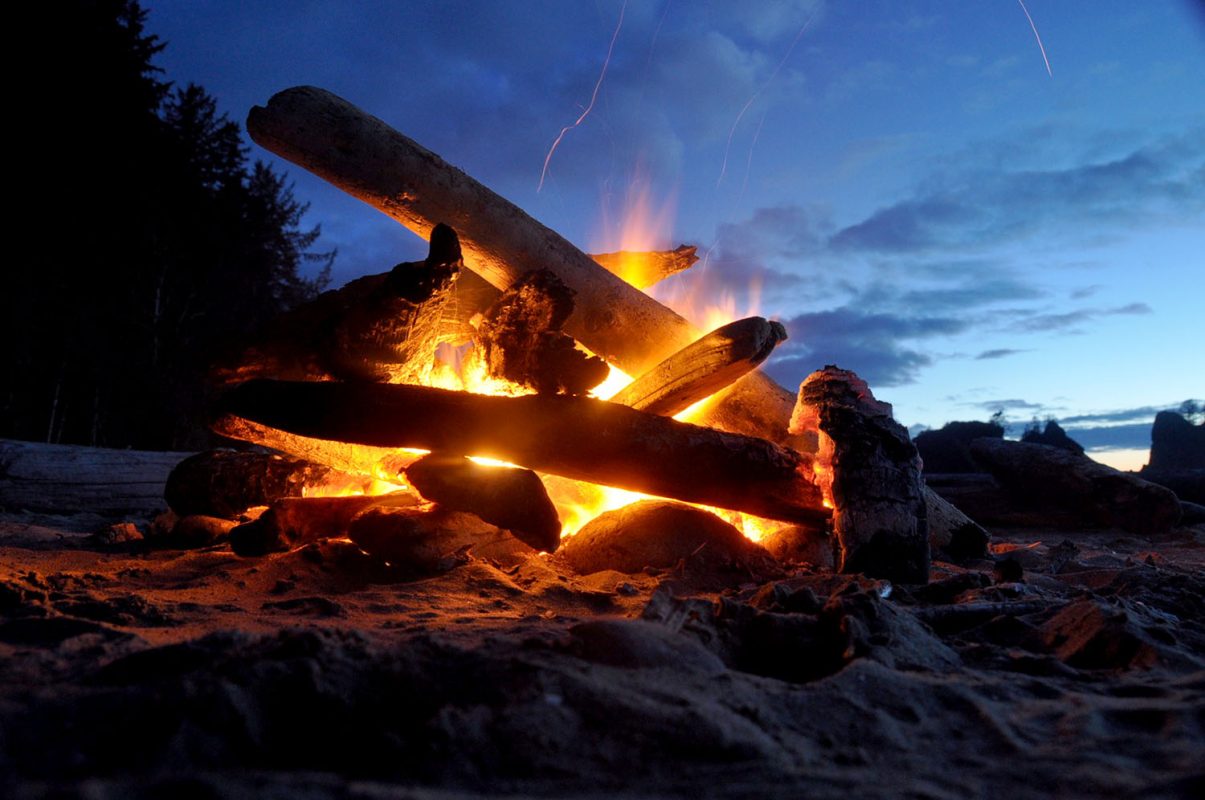 Bonfires are one of our favorite pastimes while camping. Some of our favorite memories have been huddled around a dancing fire underneath the stars.
While they're an essential part of camping, there are a few must-knows before you get to building one:
Check for local fire bans. Regions or parks may not allow fires for various reasons: dry weather, high risk of fires, or lack of resources. No matter the reason, it's important to follow them.
Use fire pits provided. Certain landscapes and geology are damaged by creating your own fire pits. Many campsites already have a designated fire circle to contain ash and soot which is really convenient.
Keep the fire contained. Uncontained bonfires can cause forest fires. The fire pits keep them from getting unmanageable.
Never leave a fire unattended. Just incase of sudden weather or condition changes.
Put the fire completely out before bed. Wait until your fire is completely out or not hot to the touch before settling down for the night.
7. Respect wildlife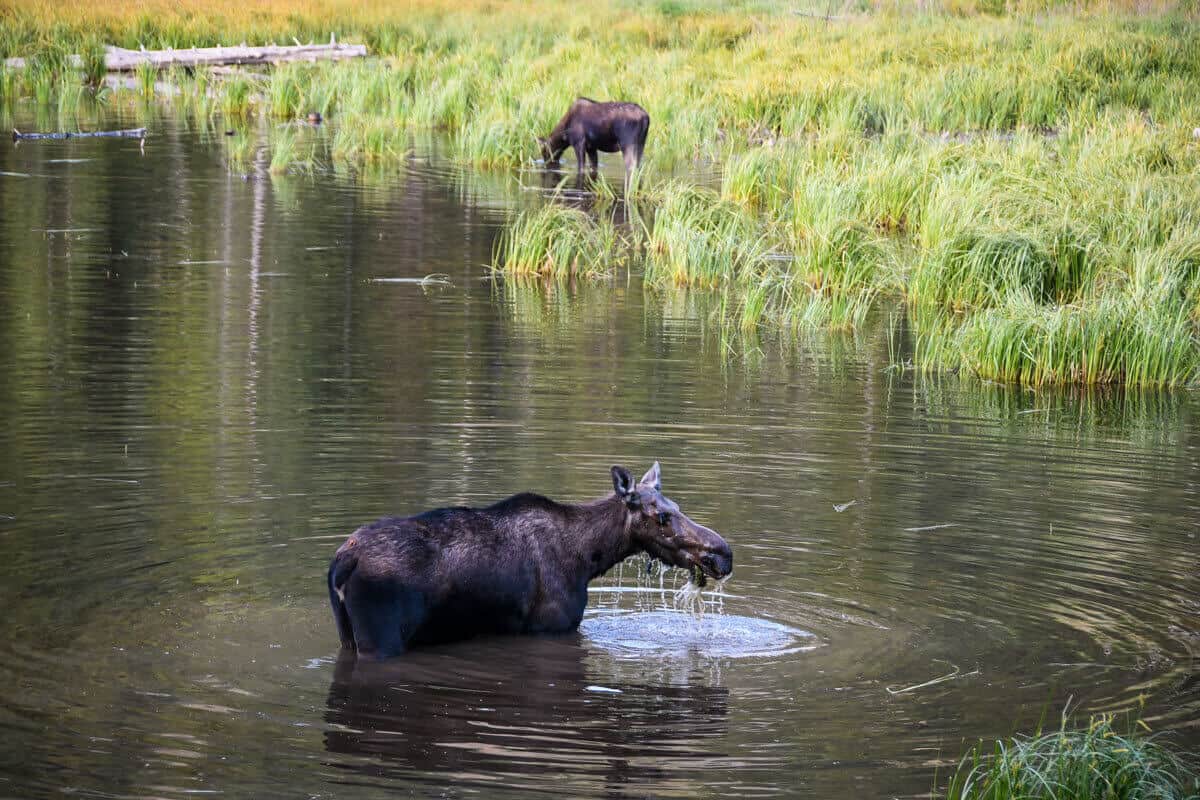 While one of the best parts about being outdoors is the wildlife, you want to do your best at minimizing contact with any animals by keeping a safe distance and not attracting them to your campsite.
If you leave food out, especially overnight, squirrels, raccoons, chipmunks, or even bears will follow the scent to your campsite and rummage through your food.
This will introduce unnatural foods to their diet and associate people with food, which is dangerous for everyone involved.
In places where bears frequent, always carry bear spray with you, and have all your food stored away in bear-proof canisters.
Best sustainable gear for eco camping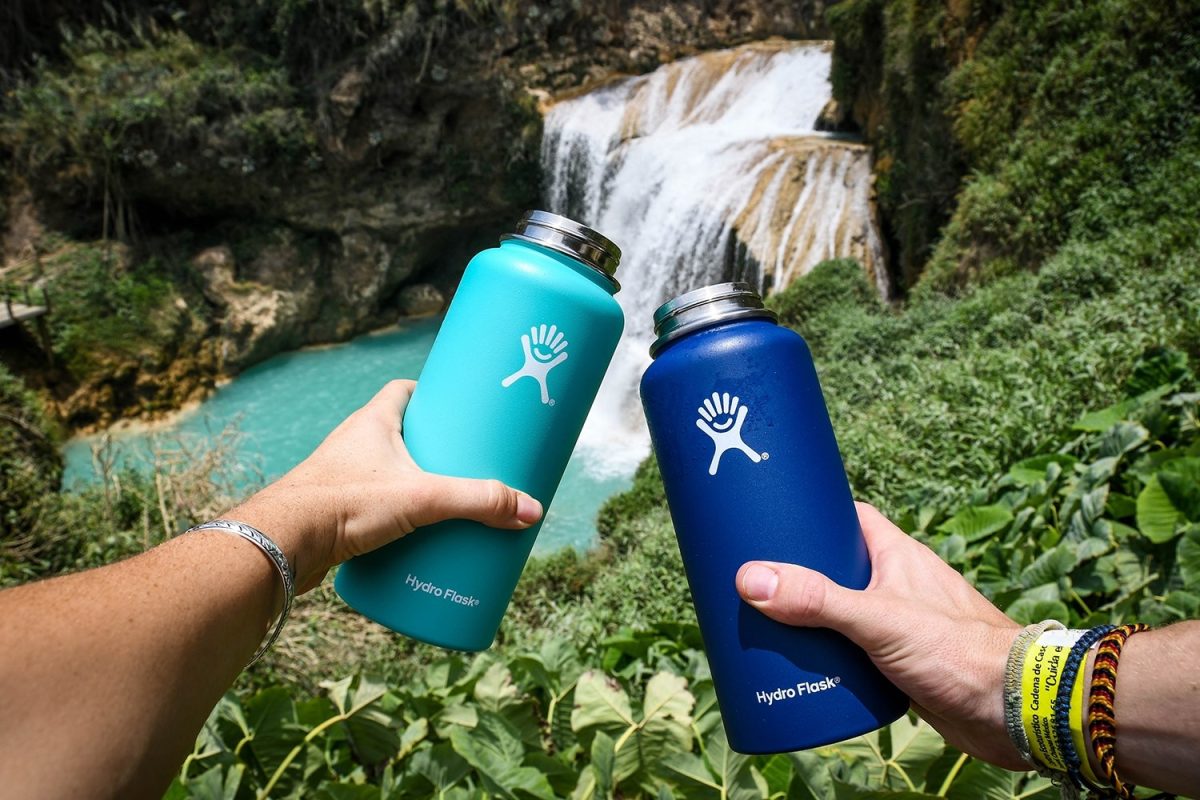 You may also like…
Save this article on Pinterest for later!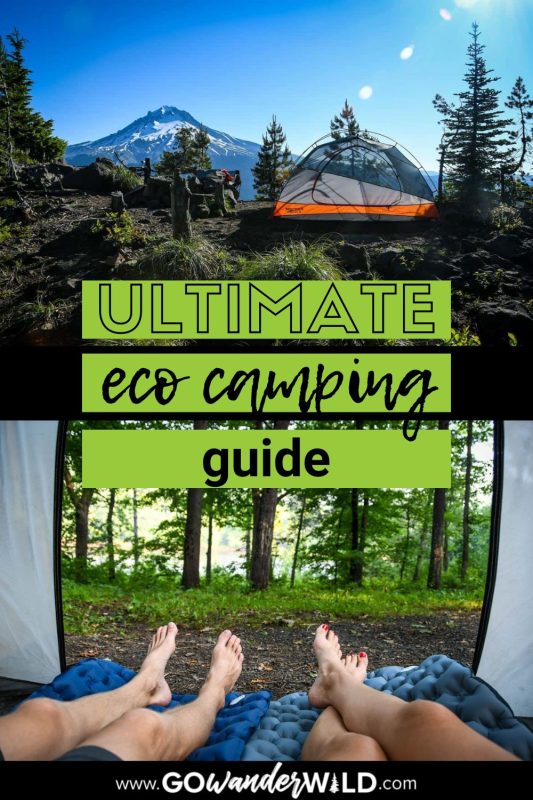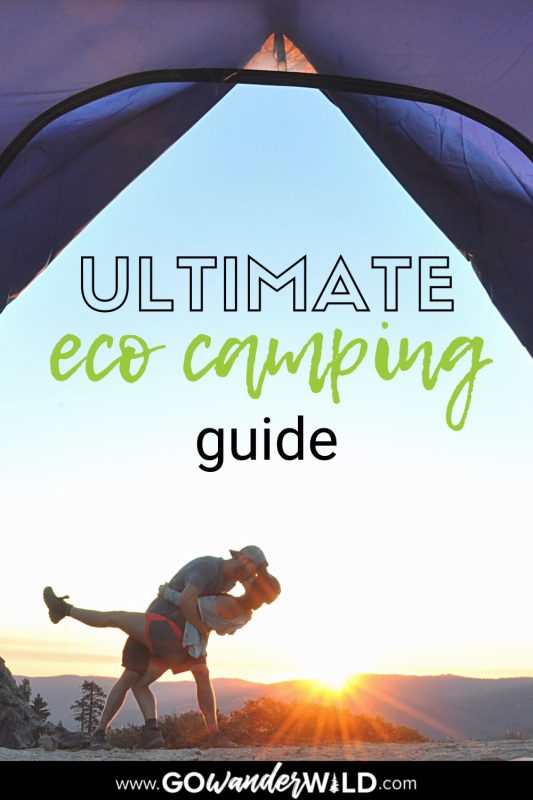 We want to hear from you!
Are you learning to enjoy the outdoors responsibly and still have questions? Drop us a note in the comment section below and we'll do our best to get back to you!