Central Washington's Colchuck Lake hike rewards trail blazers with a jaw-dropping turquoise lake nestled under some of the most dramatic peaks in the PNW. A challenging trail, hiking Colchuck Lake takes some advance planning, so we put together this guide with everything you need to know!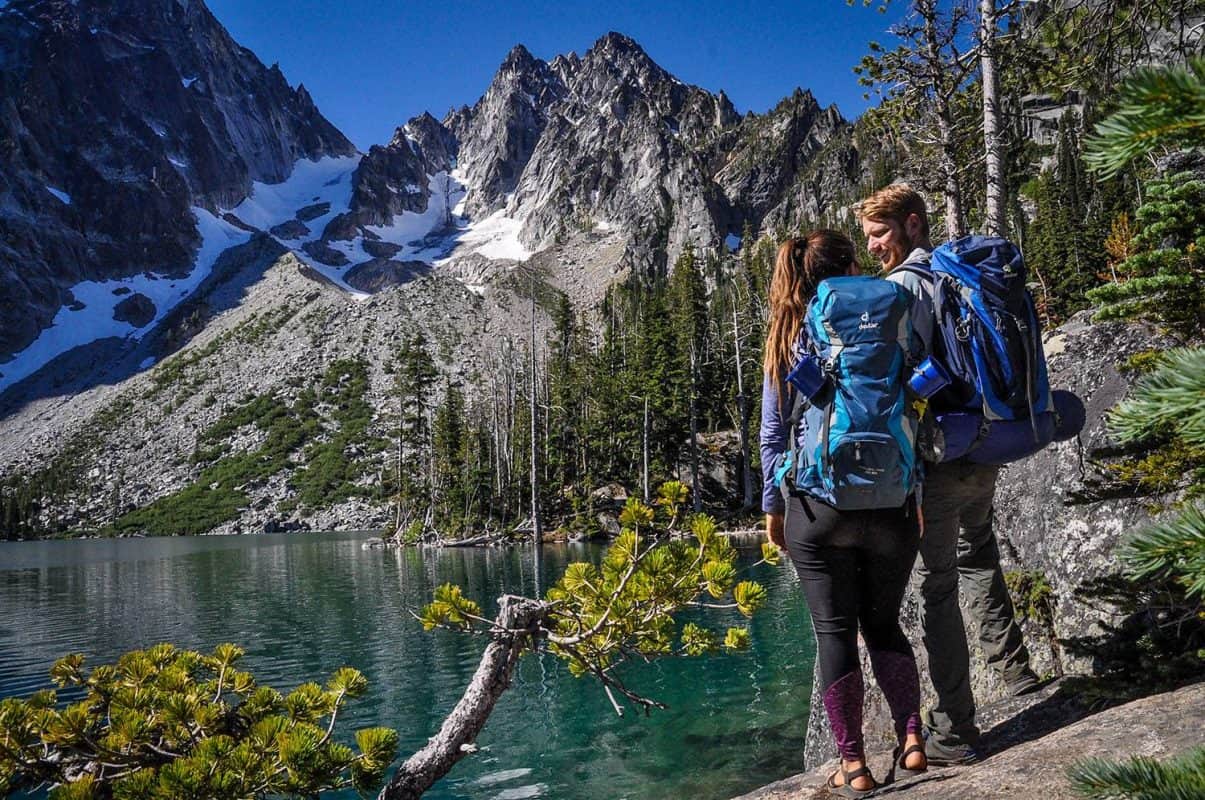 When we close our eyes and picture our happy place, one of those spots is Colchuck Lake.
This glacial lake is nestled at the base of the Enchantments Wilderness Area near Leavenworth, Washington, and it is well worth the hike to get there.
Before you pack your backpack (with a picnic lunch, of course!) and lace up your hiking boots, we've got some insider tips for you. After living in Leavenworth, we've been to this spot many times and have created a guide with everything you need to know about hiking to Colchuck Lake so you can be prepared for an epic adventure!
P.S. For our favorite places to grab food for your hike, check out our Leavenworth guide!
Article Contents

Colchuck Lake hike at a glance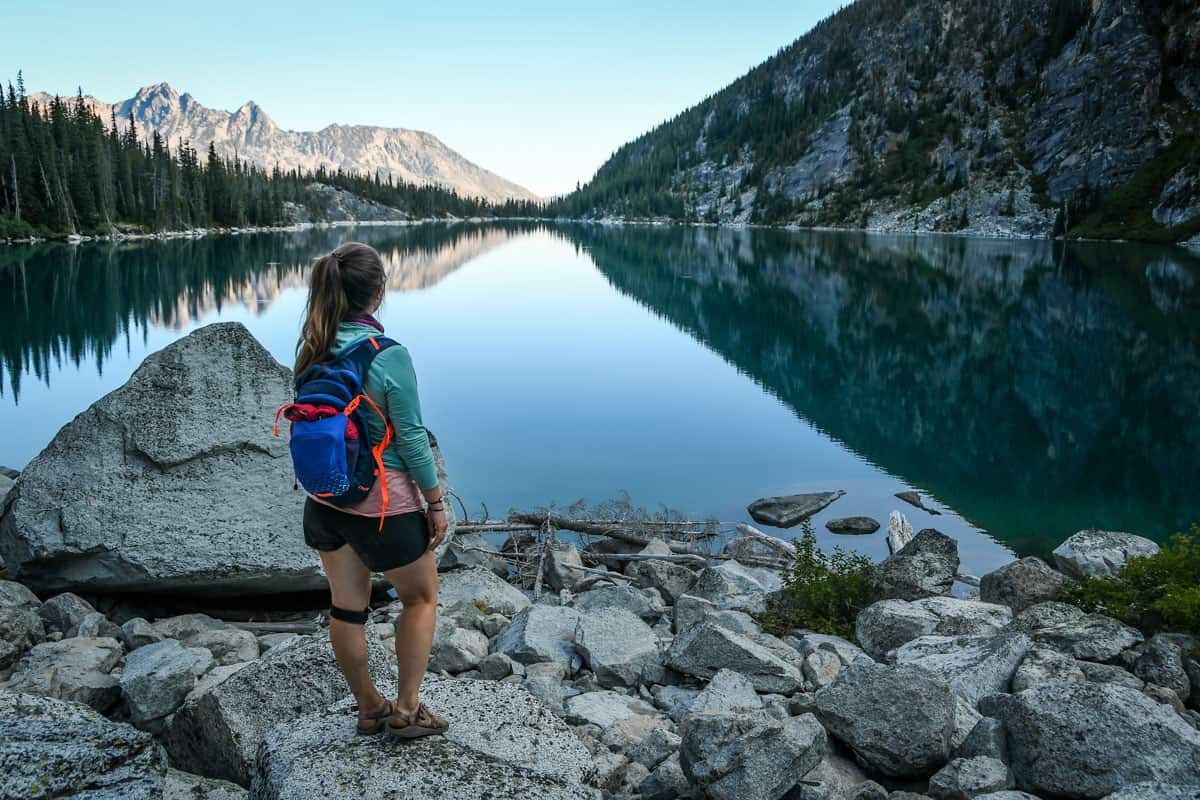 Tackling the Colchuck Lake trail requires you to break a serious sweat, but it's well worth it, as the hike takes you to one of Washington's most spectacular alpine lakes. Flanked by rugged, snow capped mountain peaks, the water creates a perfect, mirror-still reflection of the impressive landscape on sunny days.
Add in the vibrant glacial turquoise color, opportunities for swimming, and it's not at all surprising the Colchuck Lake hike is so popular. In fact it's one of our favorite hikes near Leavenworth!
In spite of the trail's popularity, Colchuck Lake itself is rarely swamped with people, even on the busiest days. The shoreline fortunately has several little nooks for relaxing, so it's easy to stake a claim to enjoy a picnic and take plenty of photos.
The Colchuck Lake trail is also the most accessible entry point into the storied (and appropriately named!) Enchantments hike, one of the most stunning hikes in Washington. Here, tucked deep in the Cascades, you'll find breathtaking scenery, more than 700 alpine lakes, and epic rock climbing.
The Colchuck Lake trail mostly passes through woods and while it packs a substantial elevation gain, it's doable for just about anyone and doesn't feel overly crowded. So lace up your hiking boots and get ready to hit the trail!
Things to know before you go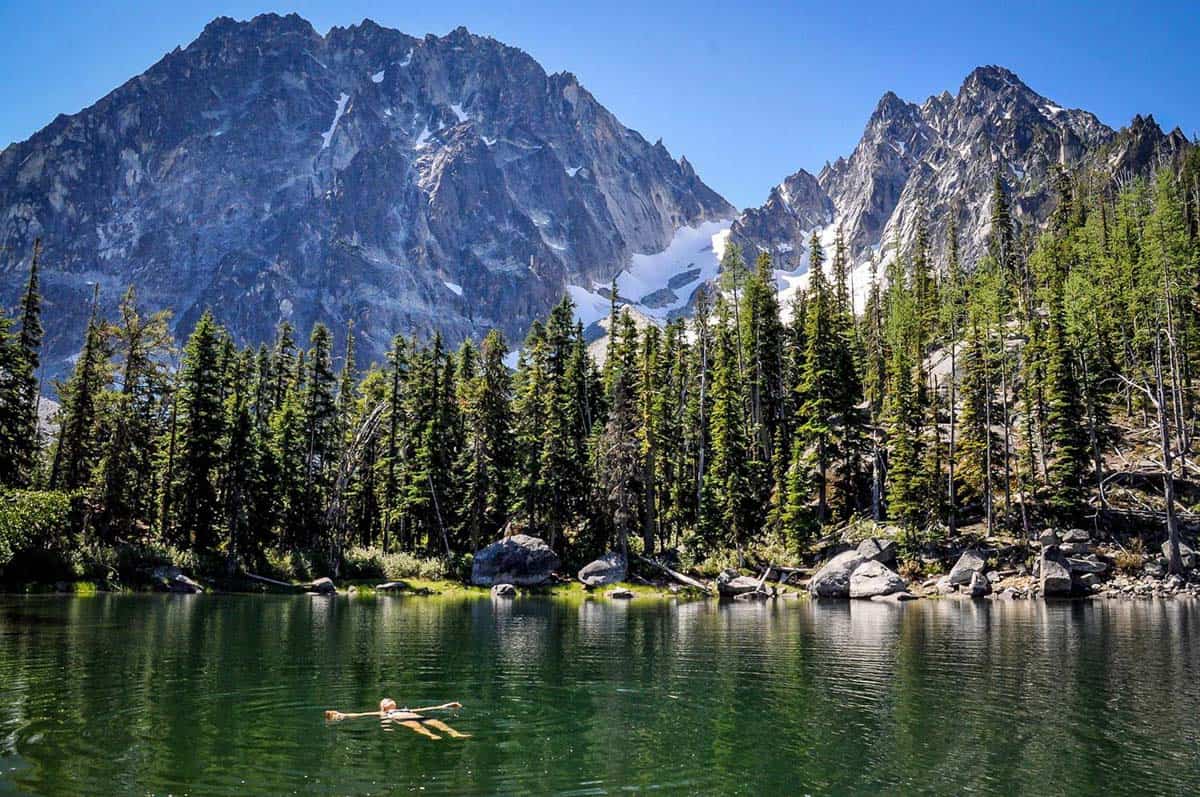 There are some logistics to consider before embarking on the Colchuck Lake hike. We've broken down the essentials below.
Best time of year to hike the Colchuck Lake Trail
Late June to October are the best months for hiking to Colchuck Lake. In fact, the trailhead is actually inaccessible for much of the rest of the year, since Forest Service Road 7601 closes from November to May.
In the winter, experienced snowshoers can tack on the extra seven miles to see the lake beautifully frozen over. We haven't attempted it personally, and wouldn't recommend it without proper gear and experience.
That being said, we love Colchuck Lake on hot summer days. Sure, the hike can get toasty and sweaty, but a plunge in the refreshingly cool water is the perfect finale! Keep in mind that July through August is peak hiking season, so the trail gets crowded, especially on weekends.
Finally, unless there's an early fall blizzard, October is an absolutely fantastic month for the Colchuck Lake hike. There are far fewer crowds, and the larch trees paint the valleys with a stunning fiery orange-yellow color!
How long does it take to hike to Colchuck Lake?
The trail to Colchuck Lake involves a gradual but steady incline. While it's just under four miles from the trailhead to the lake, it's a slooooow four miles.
On average, it takes most people 2-4 hours to reach the lake and another 1.5-3 hours to make the descent back out. Factor in some time for picnicking, swimming, and relaxing lakeside, and it easily becomes a full-day endeavor.
While it's entirely possible to knock the hike out in 4-5 hours, what's the rush? We fully believe that hiking is about the journey and not just the destination, but in this particular case, the highlight is the spectacular teal blue jewel at the end.
Camping on the shore may be a possibility, but it's not especially likely. Doing so involves winning an extremely hard-to-get Enchantments Core Zone permit through an online lottery. Only a very small percent of lottery entrants get one, and most use it to thru-hike the Enchantments (more on that later), rather than the Colchuck Lake trail.
To keep things simple and avoid having to plan months in advance, we recommend the hike as a full-day outing.
How difficult is the Colchuck Lake hike?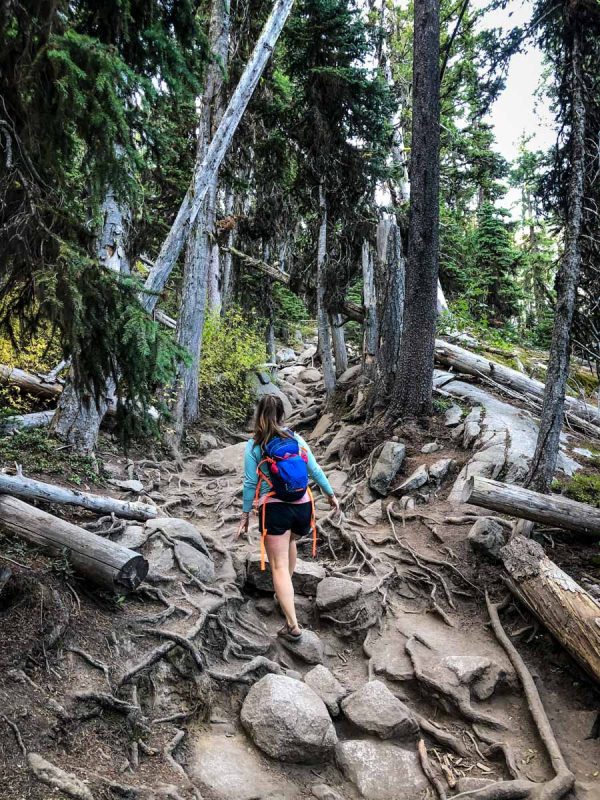 With 2,300 feet of elevation gain, reaching Colchuck Lake takes some perseverance, but it's doable. Don't get us wrong — it's a strenuous hike, but we honestly think anyone who's attempted other challenging hikes or those who are reasonably fit can do it.
The temperatures can creep up into seriously uncomfortable territory during the late summer, but most of the trail is (thankfully!) in the shade.
The hardest part of the hike is the final mile, where a steep incline requires every bit of your endurance to finally reach the lakeshore. However, the trail itself is very well-maintained and while there are some rocks and roots to navigate, it never requires scrambling (unlike Aasgard Pass if you are continuing on to the Enchantments past the lake).
Wildlife on the trail
The entire Alpine Lakes Wilderness area is home to a vast variety of alpine wildlife: mountain goats, marmots, deer, picas, and the very occasional black bear.
No need to fear, though — unlike grizzlies, black bears are rarely aggressive. It's still best to take precautions, though, so make sure to pack bear spray and a bear-proof food canister if you're camping, to be on the safe side!
The most frequent animal encounters around Colchuck Lake are by far mountain goats. While they're adorable and it's tempting to get close, rare instances have occurred where mother goats attacked hikers in an attempt to protect their kids.
Always maintain a safe distance from the goats (and any other wild animals, for that matter!) and take care of your "business" well away from the trail and campsites. Mountain goats and other animals are attracted to the natural salts in urine and often seek out the smell.

Colchuck Lake Trail: The Route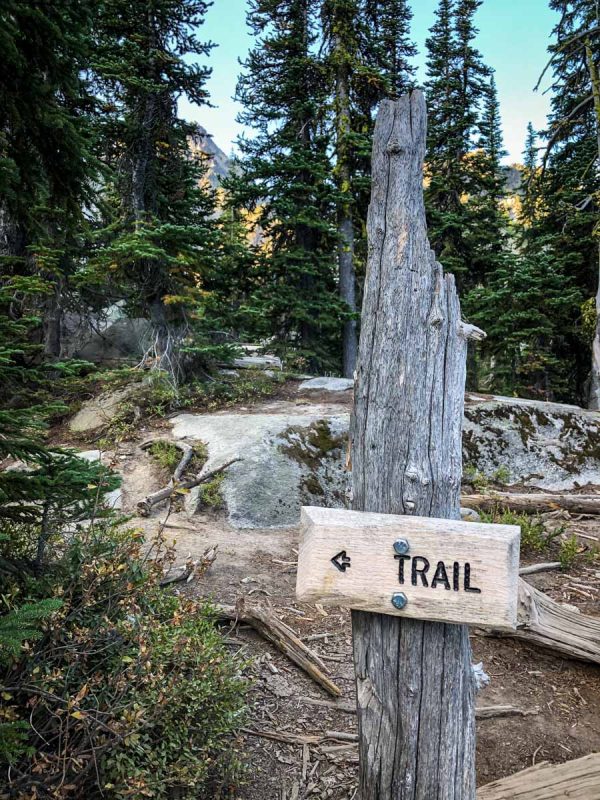 The Colchuck Lake hike starts as an easy-going walk through a peaceful, lush forest. It's well-shaded, the wonderfully potent smell of pine trees fills the air, and chirping birds provide a tranquil soundtrack.
Enjoy this section of the trail, because you'll need to muster up some motivation later on.
About 1.5 miles in, you'll cross a very picturesque log bridge over Mountaineer Creek, which you'll likely hear babbling as you approach. This bridge marks a notable change in the trail, where the steepness ramps up quite a bit. The forest floor also becomes a little trickier to navigate, with more rocks and roots.
About ¾ of a mile from the log bridge (if you use a GPS or fitness watch, this is a great hike to use it on!), look for the trail junction with Stuart Lake. While that hike makes a worthy trip on another day, if you don't pay close attention, you'll easily miss the turn. You want to take a left at the sign that reads, "Colchuck Lake Trail #1599."
Not long after hanging that left, you'll cross Mountaineer Creek again on another log bridge. The other side of the creek holds quite the surprise this time: a massive boulder field and the first good glimpses of the rugged peaks surrounding Colchuck Lake!
This part of the hike can be quite intimidating because it's easy to lose the trail among the boulders. It's not quite as tricky as it looks, though — turn right as soon as you get off the bridge, and make your way through (not over) the giant rocks. Keep your eyes open and you'll pick the trail back up fairly quickly along the creek.
Pro tip: if it's hot or you need a refresher, take a dip in the creek here. The hardest part of the trail is up next!
Just beyond the boulder field, the trail begins the brutal one-mile ascent to Colchuck Lake. The switchbacks start immediately and seem like they will never end, but keep reminding yourself this stretch is just one mile!
The sole silver lining here is that beautiful views of the surrounding valley break through the foliage every now and then, encouraging you to take frequent short breaks for water or to snap a photo.
When you see the sign for the "toilet" (which is really just a pit dug in the ground, but strategically placed in one of the most scenic spots imaginable), you're nearly there!
Just a few feet more and you'll dip down, then immediately spot the unmistakable teal blue of the lake. An enormous granite rock face provides the backdrop for the lake which has several places for resting, picnicking, and cliff jumping into the water.
Once you've gotten some rest, be sure to explore more of the lakeshore and snap pictures from different vantage points. If you're there when the sun happens to be rising or setting, take note of how the water color changes throughout the day.
Continuing on to hike The Enchantments Thru Hike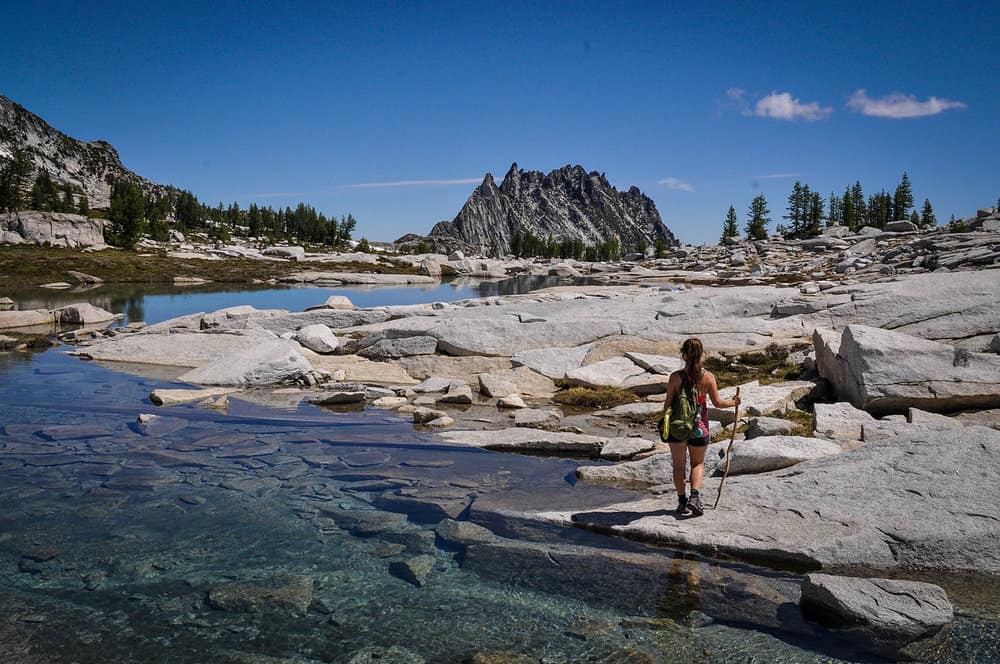 The Colchuck Lake Trail is the first section of the absolutely magical Enchantments — a much longer trail that continues over Asgard Pass, which you can see from Colchuck Lake. Filled with even more glacial lakes, meadows of wildflowers, impressive vistas, and rocky, otherworldly landscapes, the Enchantments is one of Washington's most spectacular long hikes.
While some ultra-fit hikers tackle the Enchantments in one day, it's best to camp along the route, which is 20 miles long, with over 5,000 feet of elevation gain.
However, overnight camping (including on Colchuck Lake's shores) requires the permit we mentioned earlier, which you can only win via a competitive lottery. Securing a permit takes serious advance planning and more than a bit of luck, but it's well worth the effort!
Read more in our complete Enchantments trail guide.

Tips for hiking to Colchuck Lake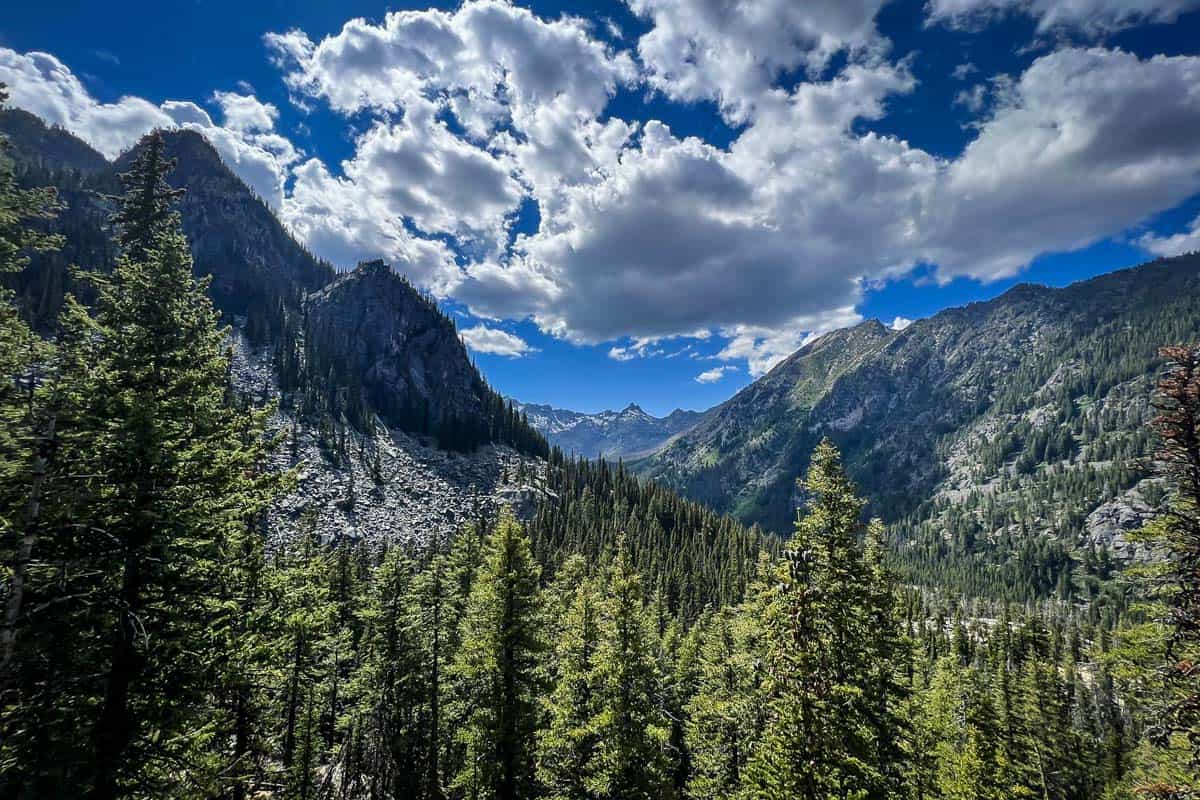 Where to camp near Colchuck Lake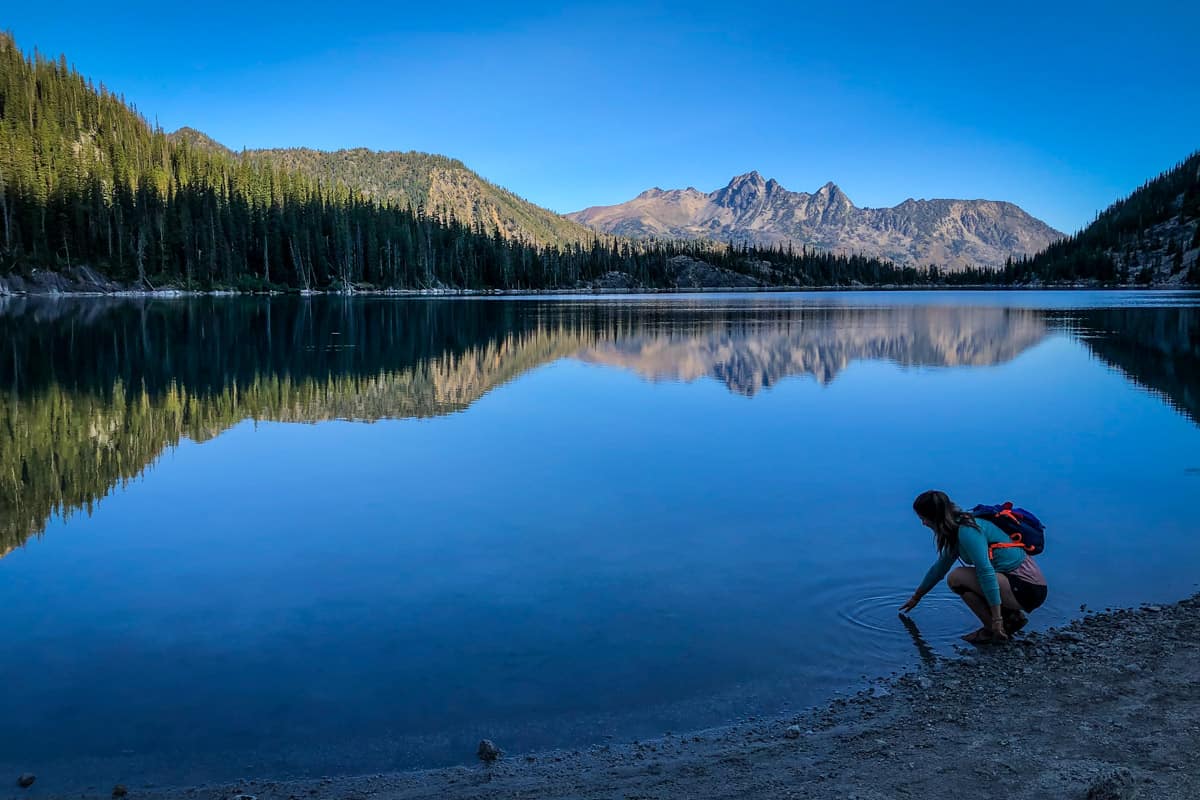 The only campsites that are actually on the Colchuck Lake trail are near the shore. While it's a stunning camping location, unfortunately, it takes quite a bit of effort to enjoy. Aside from there being just a handful of sites sprinkled in clearings among trees, you also need an elusive overnight permit to camp between May 15 and October 31.
Obtaining this permit means entering the same highly competitive lottery as other hikers embarking on the full Enchantments hike. You must apply for one between February 15th and the end of the month, and winners are notified the first few days of March.
Another option is to camp at nearby Stuart Lake, which shares a couple of miles of the trail. A stunning alpine lake in its own right, Stuart Lake also requires permits, but they're far less competitive.
Nearby Bridge Creek is also just a few minutes' drive from the trailhead and has six dispersed, first-come, first-served sites. If you're camping in an RV (and remember, the road to Colchuck Lake is rough!), your best bet is the popular Eightmile Campground along Icicle Creek, which offers both first-come, first-served and reservable sites.
What to pack for the Colchuck Lake hike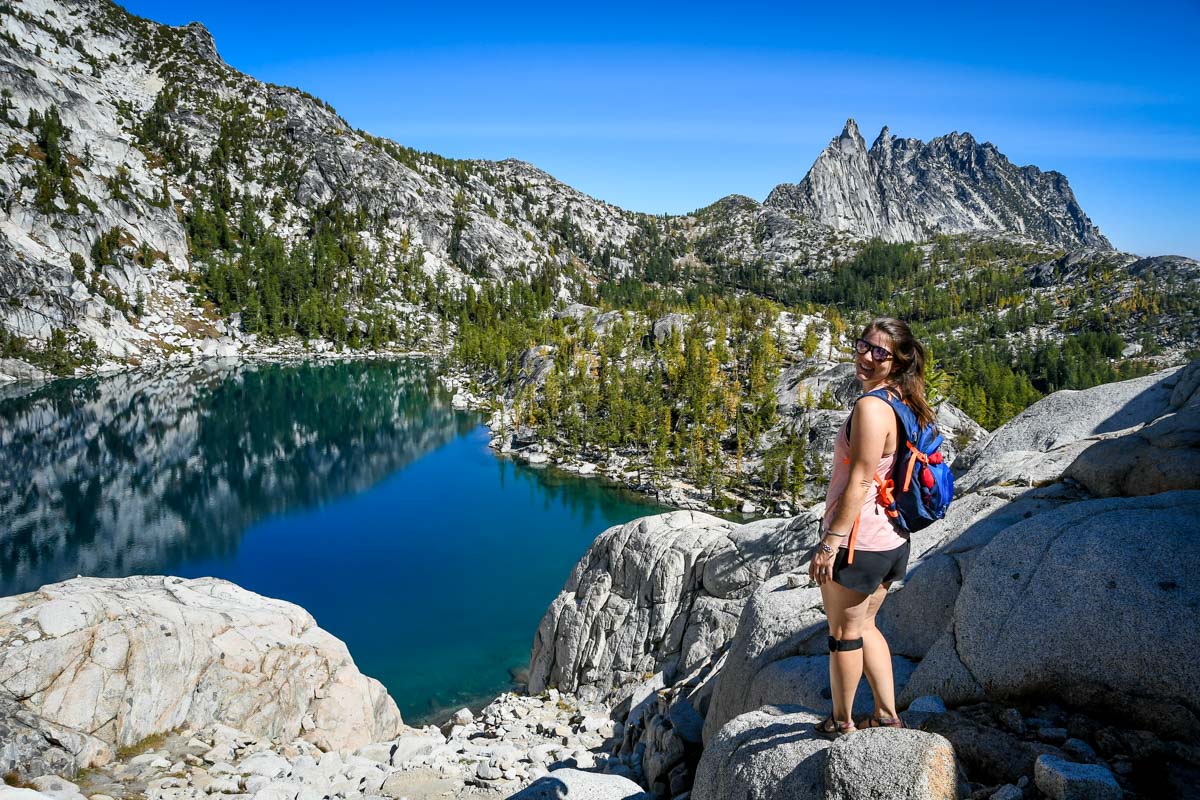 *If you choose to us your phone for navigation, be sure to bring a reliable battery pack to charge your phone


You may also like…
Save this article on Pinterest for later!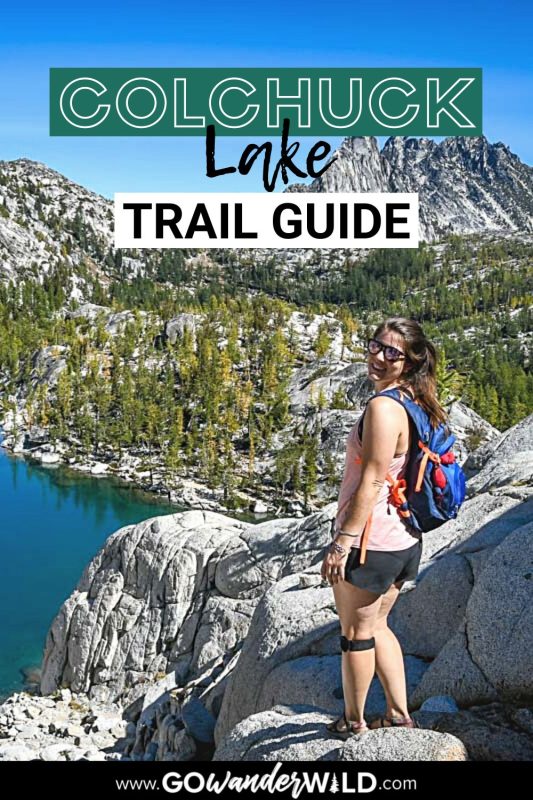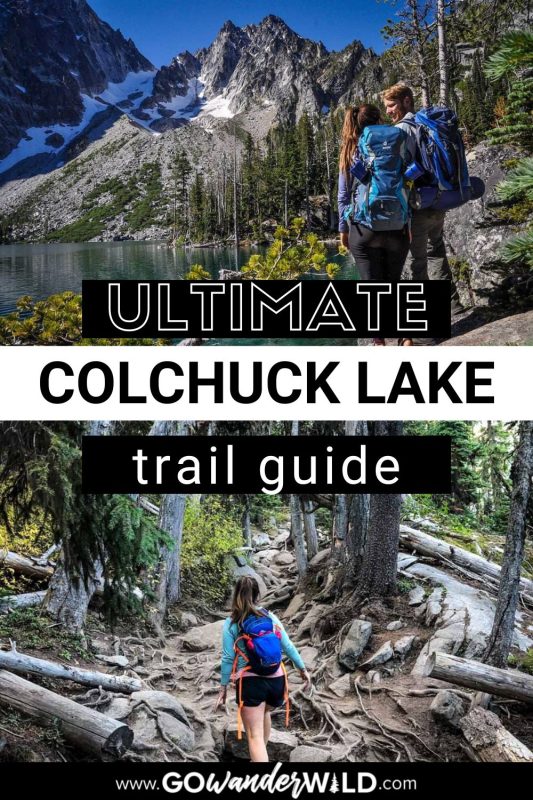 We want to hear from you!
Comment below if you have questions about hiking the Colchuck Lake trail in Washington state and we'll do our best to get back to you!