An under-visited treasure in Glacier National Park, Cracker Lake's milky, bright blue glacial waters mesmerize at first sight. Between the epic trail and excellent lakeside campsites, Cracker Lake is worth a full day! This guide details everything you need to know about the hike.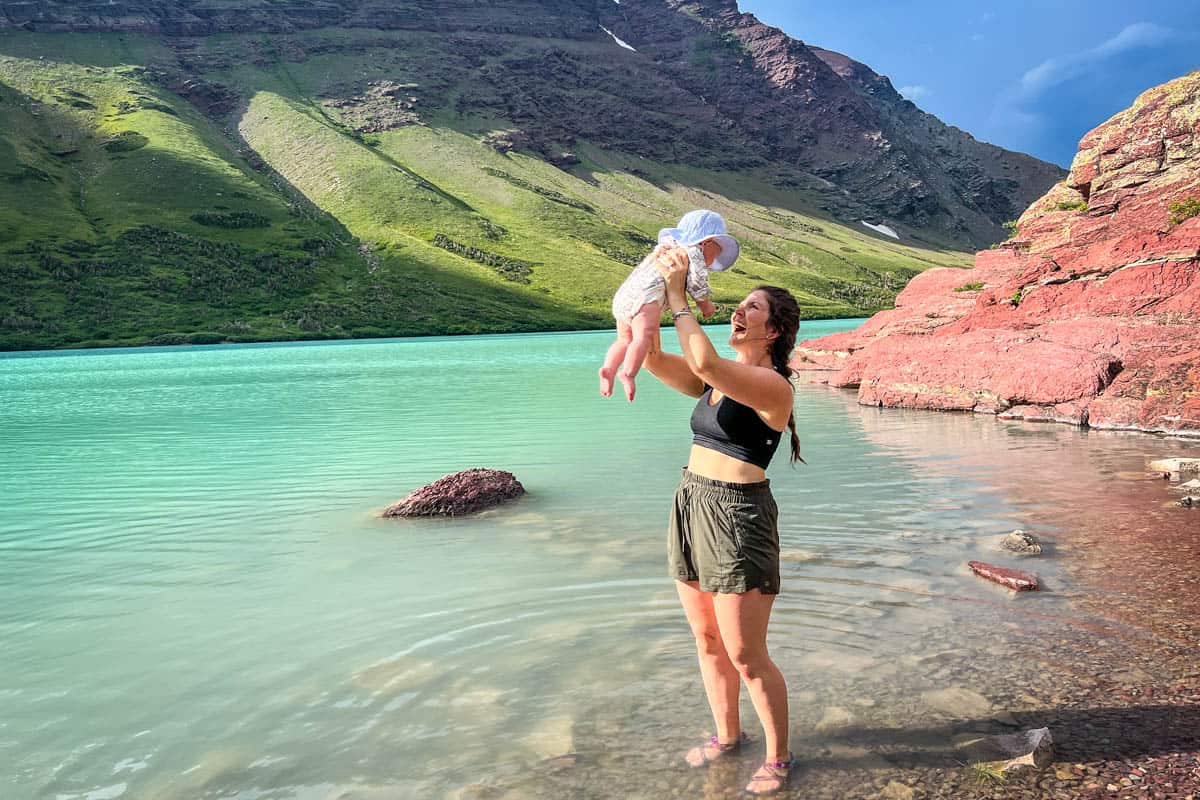 Located in far northwestern Montana straddling the Canadian border, Glacier National Park is world renowned for its majestic glacial landscapes. Filled with dramatic mountain peaks, sparkling alpine lakes, and of course, bright blue glaciers, there's plenty to discover in this stunning corner of the U.S.
Cracker Lake in the Many Glacier area is one destination that should be on your Glacier itinerary. In comparison to the park's uber-famous sites like Lake Mcdonald, Logan Pass, and Going to the Sun Road, Cracker Lake receives far less attention.
Don't let that deter you, though — this bright yet opaque turquoise glacier-fed lake is utterly unforgettable and well worth a special trip! Flanked by 9,376-foot Allen Mountain and 10,014-foot Mt. Siyeh, and fed by the Siyeh Glacier, the scenery at Cracker Lake is breathtaking.
With little traffic on the trail, Cracker Lake offers the rare opportunity for a tranquil hike and relaxation on its shores. Throw in some absolutely epic overnight camping spots, and it's easy to see why this sparkling glacial lake is truly a hidden gem.
Article Contents
Psst! This is just one of many of the best hikes in Glacier National Park!

Cracker Lake hike at a glance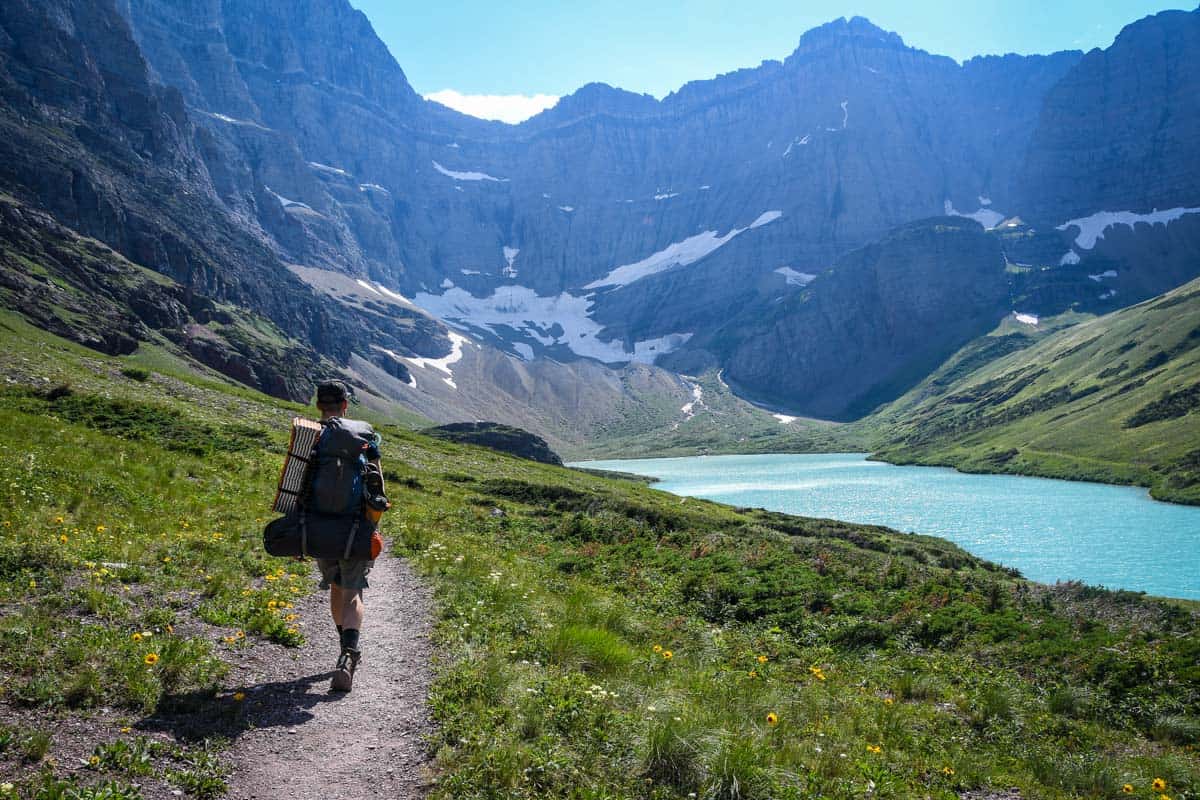 Location: Glacier National Park
Distance: 12.6 miles, out and back
Elevation: 1,650 feet
Difficulty Rating: Moderate
Timing: 5-6 hours
Pets: No pets allowed on the trail
Permits: Wilderness permit required for overnight camping at Cracker Lake
Starting from just above the popular Many Glacier Hotel and Swiftcurrent Lake, the hike to Cracker Lake quickly leaves the crowds behind. Passing Lake Sherburne and Canyon Creek early on, and traveling through dense rainforest-like vegetation minutes after being in a shaded forest, there's a great range of diversity on the trail and it's never monotonous.
The ultimate reward, of course, comes at the end. The dazzling glacial waters of Cracker Lake are such a bright color, it's truly hard to believe. This is one of those rare places where the reality looks just like the pictures — no filters here!
Expect to see plenty of wildlife on the Cracker Lake trail, including bighorn sheep, moose, marmots, and even a peaceful grizzly nicknamed Linda who's lived in the area for a long time. Remember that no matter how docile and friendly wildlife may seem, always keep a safe distance and pack bear spray just in case.
Humans have also left their mark on the Cracker Lake area, highlighting the region's pioneering spirit and historic roots. There's an abandoned mine from the 19th century located near one edge of the lake, with an old sawmill and mining equipment to explore.
It should go without saying, but in the name of erring on the safe side: do not enter the mine, as the conditions inside are unknown.
Cracker Lake sounds like an ideal area for exploring, right? Add in the three stunning backcountry campsites overlooking the lake, and it's easy to see why some hikers deem this their favorite part of Glacier National Park.
Things to know before you go
Ready to plan your hike or overnighter to Cracker Lake? There are several details to consider in order to make the most of your trip.
Best time of year to hike to Cracker Lake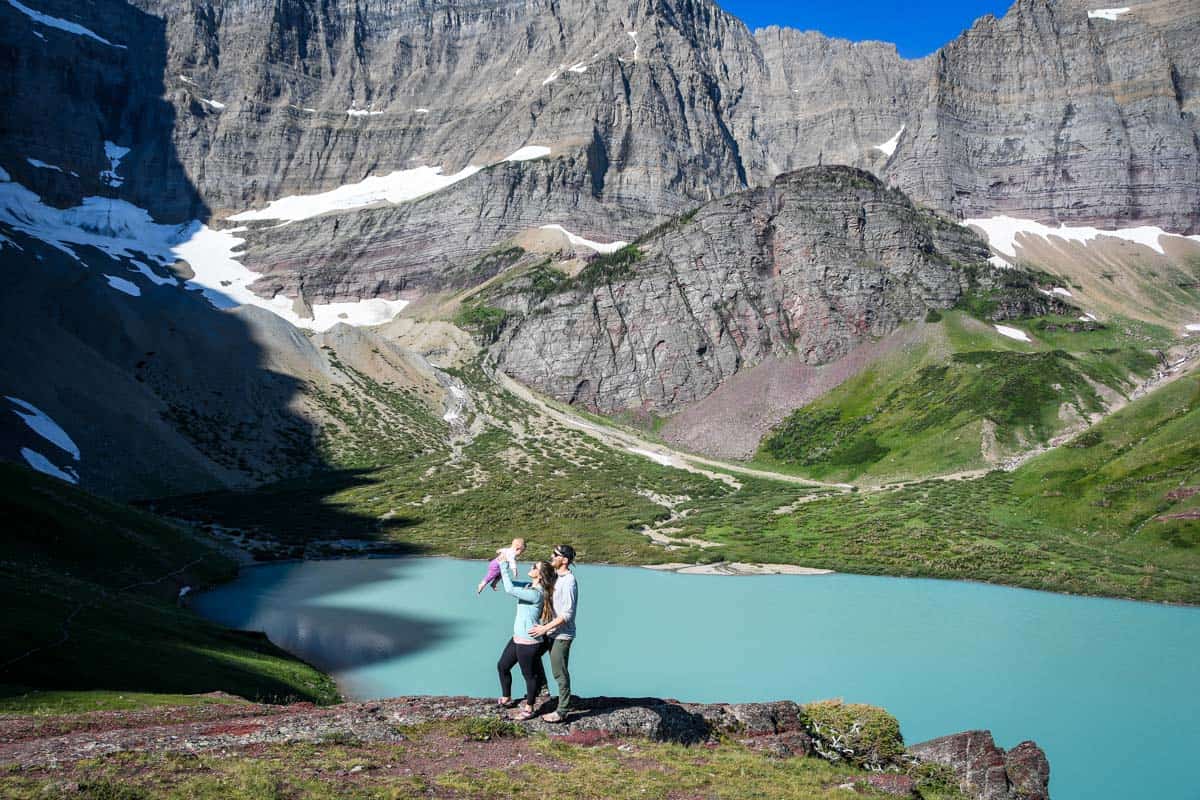 Glacier National Park has an (in)famously late season — due to its remote mountainous location straddling the Continental Divide, varying elevation, and dozens of active glaciers, many areas of the park are impassable until July.
Cracker Lake, fortunately, sits at a slightly lower elevation than many other sites in Glacier. Although it could vary from year to year, it's typically possible to hike to the lake from early June through mid- or even late October.
Make sure to check conditions before heading out to Cracker Lake, because an off-season storm or flurry could potentially make the hike dangerous.
To snag a campsite and take advantage of both pleasant temperatures and few other hikers, June through early July and again in early September are the best times to hike to Cracker Lake.
Closer to August, temperatures are pleasant for swimming, but can actually be unbearably hot hiking in, especially because the trail to Cracker Lake is largely exposed with no shade.
Many people don't realize it, but northwestern Montana gets HOT and humid, thanks to a rainforest-like climate. Foot traffic on the trail also picks up quite a bit later in the summer.
How long does it take to hike to Cracker Lake in Glacier National Park?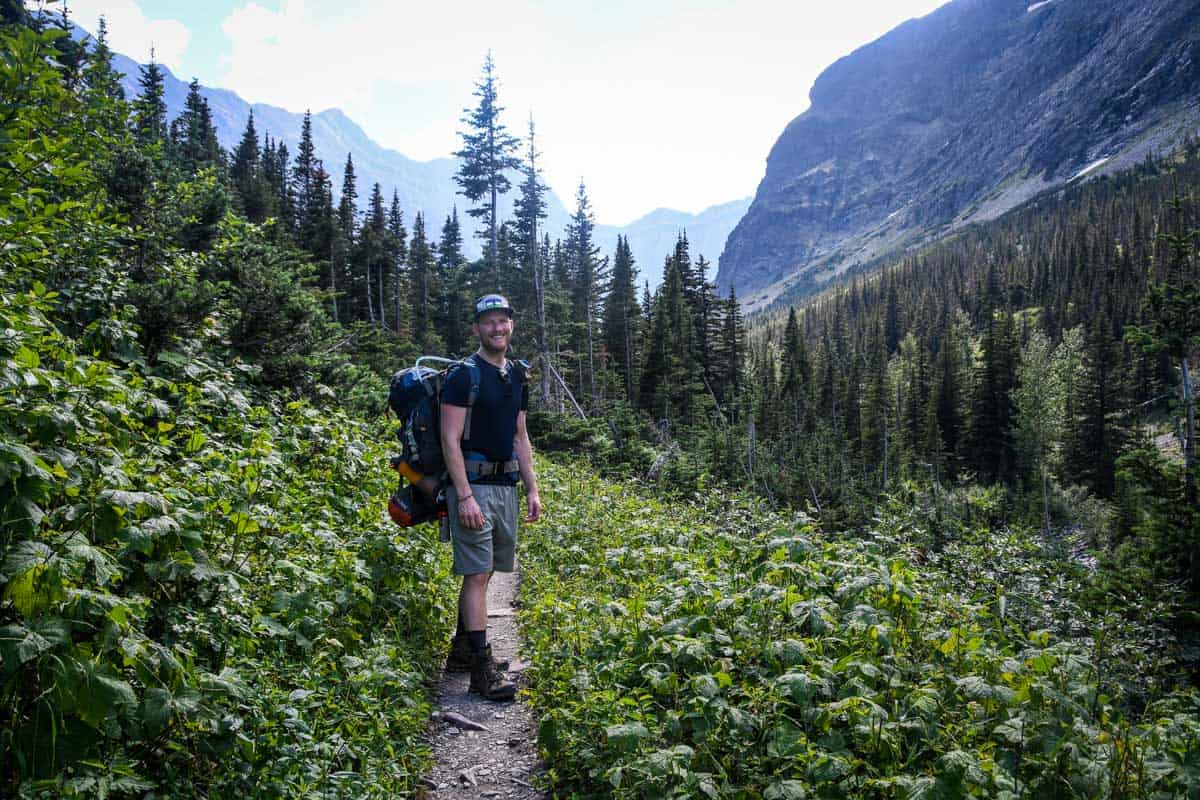 With six miles mostly uphill over rocky terrain, reaching Cracker Lake isn't exactly a quick walk in the woods. Allocate at least five hours to complete the hike, and one or two more if you plan to have a picnic or relax at the lake (which you absolutely should!).
Cracker Lake is seriously impressive, and the trail equally so — this hike is less about speeding through the trail and more about enjoying its astounding beauty! While the views are amazing the entire way, the grand finale is what it's all about.
If you have time to spare, consider doing Cracker Lake as an overnight backpacking trip. The lakeside backcountry campsites are gorgeous, and sit at almost exactly six miles from the trailhead, a manageable distance for just about everyone. Overnighting it also means getting to see the stunning colors of sunset and sunrise over Cracker Lake!
How difficult is the Cracker Lake hike?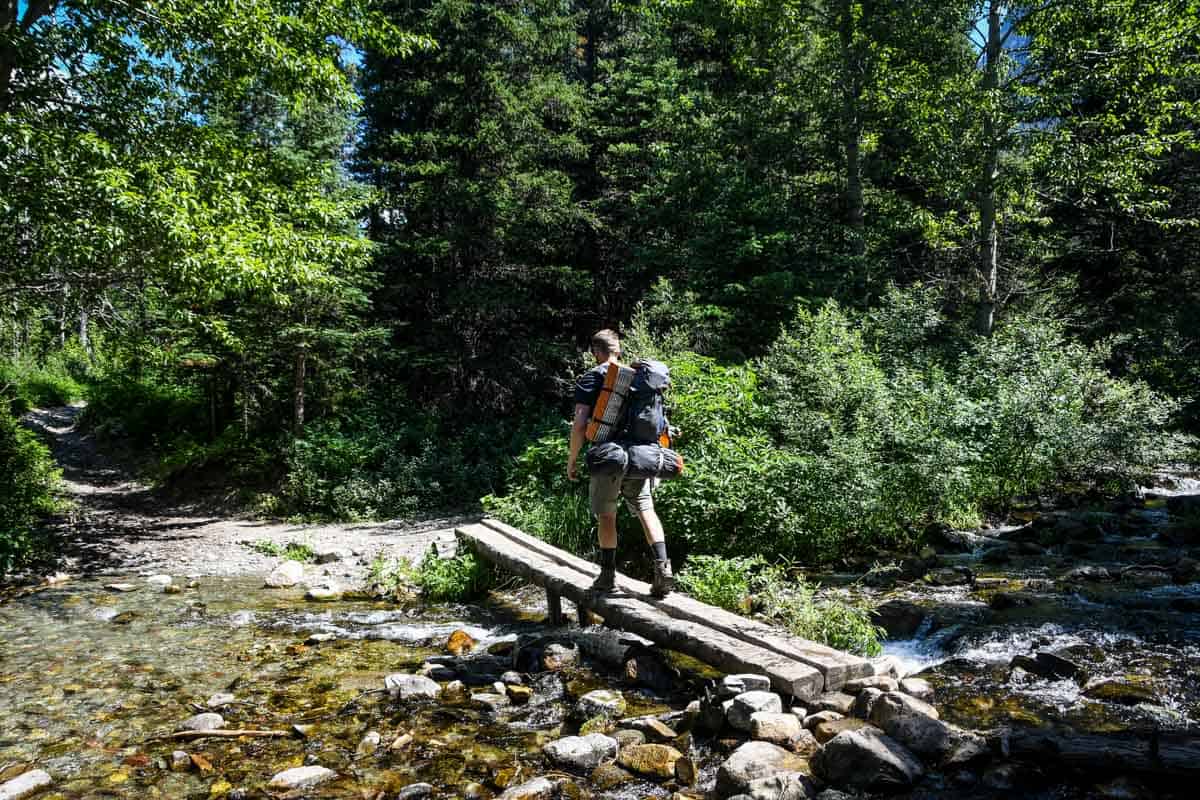 Cracker Lake is a moderately strenuous hike. The hike is slow and steady, with some switchbacks but nothing notably steep or technical.
The trail's distance is its most challenging factor; however, Cracker Lake is doable for just about anyone with fairly regular hiking experience.
Another thing to be aware of when hiking Cracker Lake, particularly on hot, humid days, is that there are long stretches where the trail is entirely exposed with no shade whatsoever.
Most people aren't expecting this type of heat in northern Montana, so it can sneak up on you! Wear a good sun hat and be sure to pack enough water and food for the trek to avoid becoming dehydrated.
The route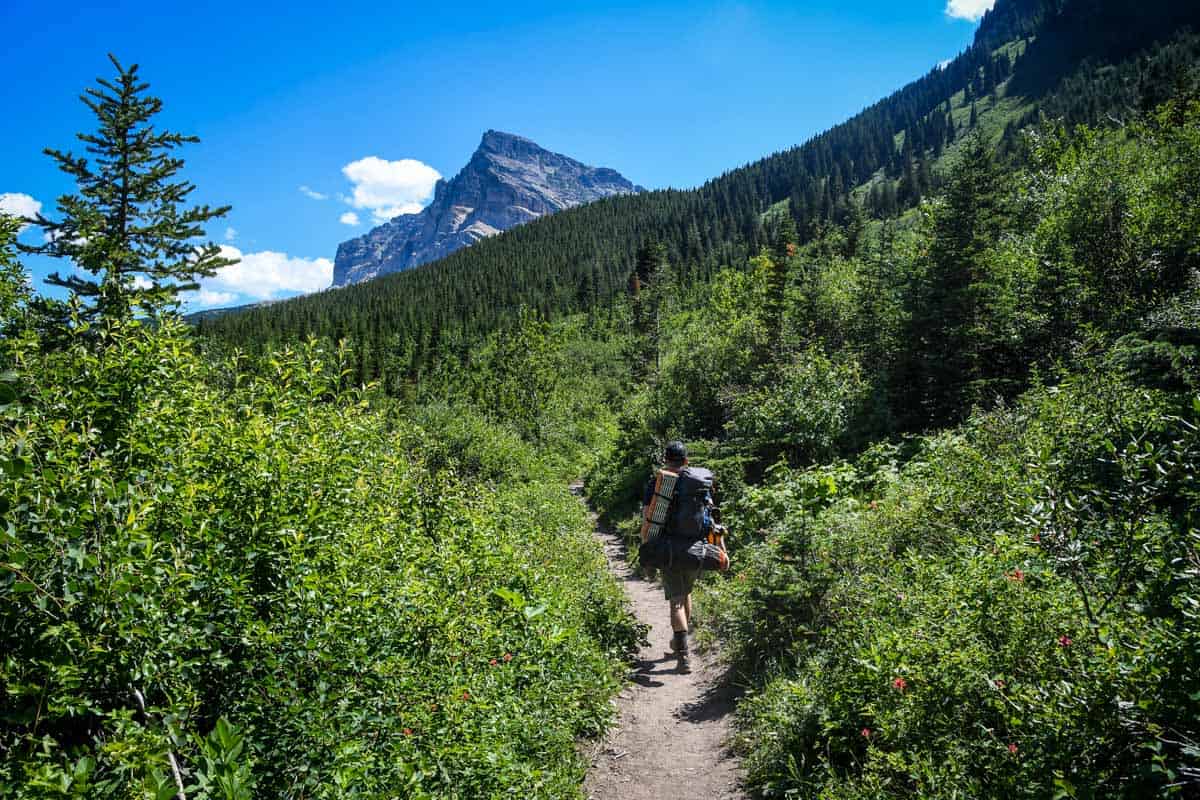 The trail starts from the Cracker Lake/Peigan Pass Trailhead, located just above Many Glacier Hotel. For the first 1.7 miles, the trail is shared with a horse route, so expect lots of droppings and uneven ground with deep ruts. Don't worry, though, it gets a lot better!
Exactly one mile from the trailhead, you'll reach a fantastic overlook of Lake Sherburne. Follow the lakeshore for just under half a mile, where you'll see signs for the Cracker Flats Horse Loop. From here, the trail is for hikers only; no horses.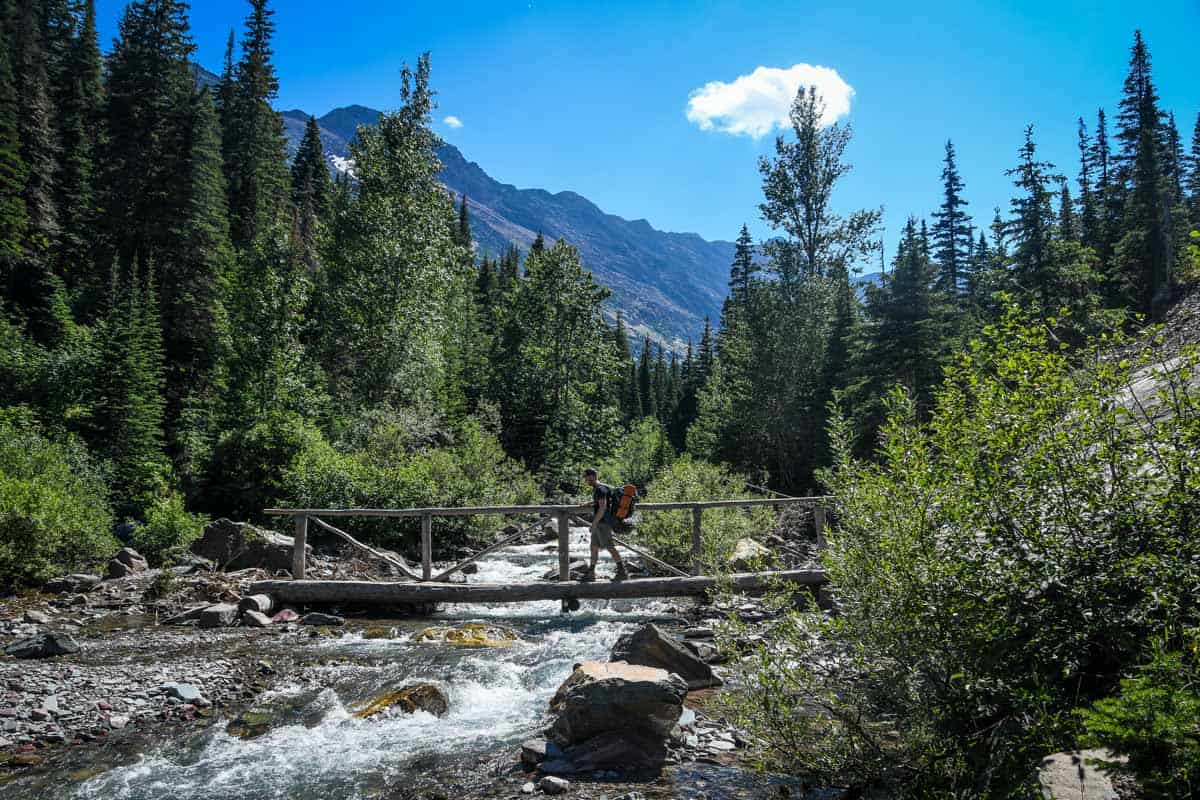 Shortly after this point, you'll cross Allen Creek on a footbridge. This area is densely forested with berry patches and thick bushes, which also means it's prime bear habitat. Make extra noise and stay vigilant.
After climbing a few series of switchbacks, around the two mile mark, you'll find yourself on a ridge with fantastic views of multiple valleys below. You'll have great views of both Allen Creek and Canyon Creek and, depending on the time of year, there are often multiple waterfalls flowing, both small and large.
3.25 miles in, you leave the forest behind and the trail is completely exposed. The views are fantastic the rest of the way (not that they weren't already), with glimpses of the canyon, Mt. Siyeh, and Allen Mountain. This view means you're getting close to Cracker Lake!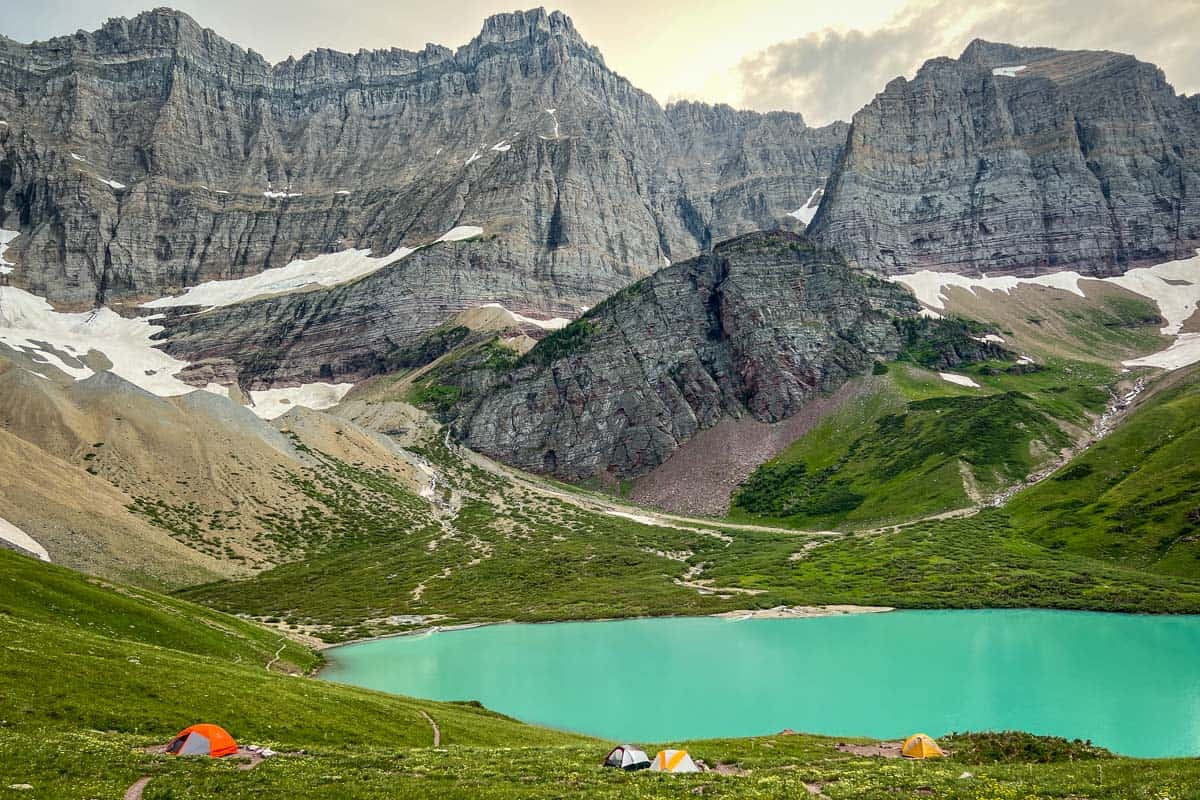 At 5.8 miles, you're finally rewarded when a jaw-dropping vista of Cracker Lake finally opens up. With the brilliant blue color and panorama of the enormous wall of mountains above, it's tempting to stop here, but don't — continue downhill to the lake.
There are plenty of spots to relax and have a picnic and yes, you can take a dip, but beware that it's always frigid (it is glacier-fed, after all!). If you have the energy, continue along the lake for about a half-mile to the obvious red rock outcropping. The views are somehow even better here!
If you're not camping overnight, retrace your steps back to Many Glacier Hotel after enjoying the lake.
Obtaining a permit for your Cracker Lake hike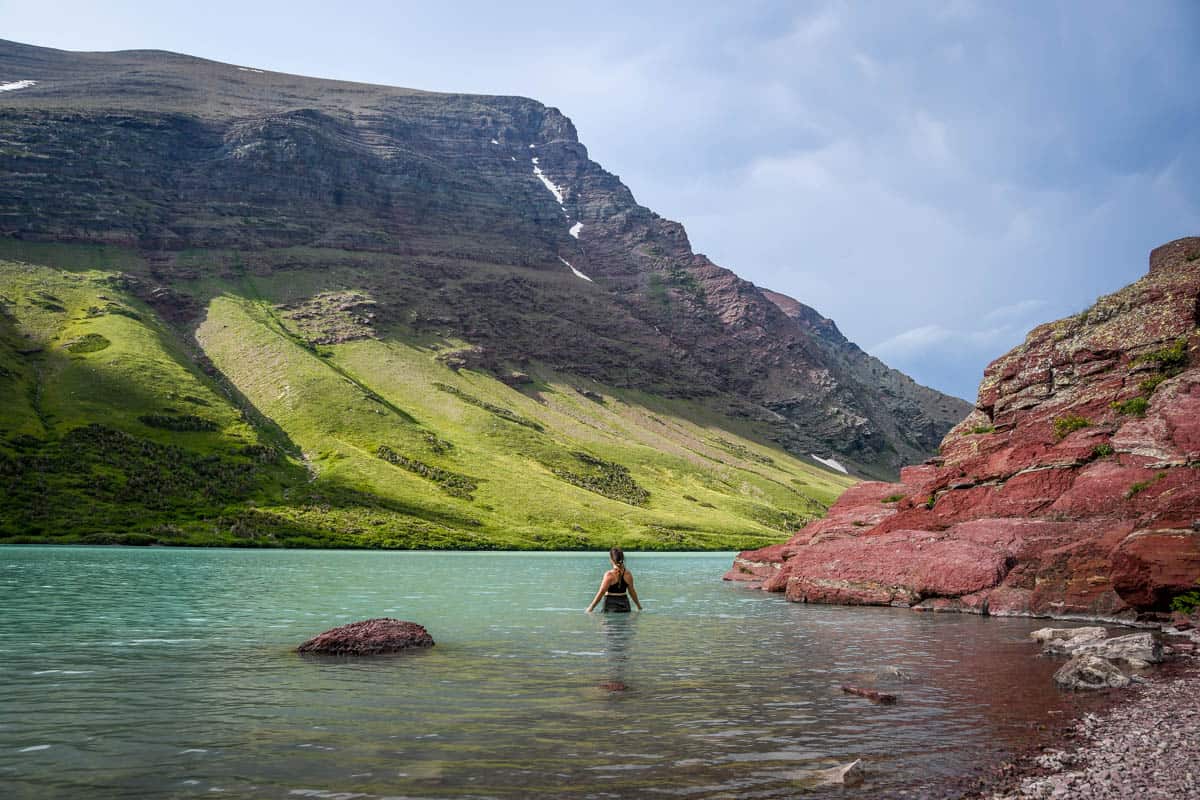 Other than paying the national park entrance fee, no permit is necessary to hike to Cracker Lake. However, you will need to obtain a $10 wilderness permit if you plan to camp overnight at one of the three sites by the lakeshore.
Getting a wilderness permit requires either securing an advance reservation through recreation.gov or heading to a Ranger Station in person the day before or the day of your intended hike.
70% of the permits are administered through the online system, while 30% are reserved for walk-ups. Note that campsite availability is not guaranteed even with a walk-up permit, as people on longer backpacking trips may already have the sites.

Wildlife on the trail
Wildlife sightings are common on the way to Cracker Lake. Hikers regularly spot bighorn sheep, moose (especially in the lake itself), elk, mountain goats, marmots, and yes, grizzlies on this trail.
In fact, the Cracker Lake trail is inhabited by a well-known mama bear nicknamed Linda! She's known to be docile and you're most likely to spot her from a distance with cubs, as she tends to keep her distance from hikers.
Regardless of Linda's consistent demeanor, grizzlies are wild animals that should be given a very safe distance.While there have been less than a dozen human-involved bear incidents in Glacier in the past 30 years, it's always necessary to know and practice proper bear etiquette.
Make noise, such as singing or banging poles when hiking through the dense forest, so as not to surprise any bears. Also, hike with a group if possible and perhaps most importantly, don't forget to pack bear spray! 155
Tips for hiking to Cracker Lake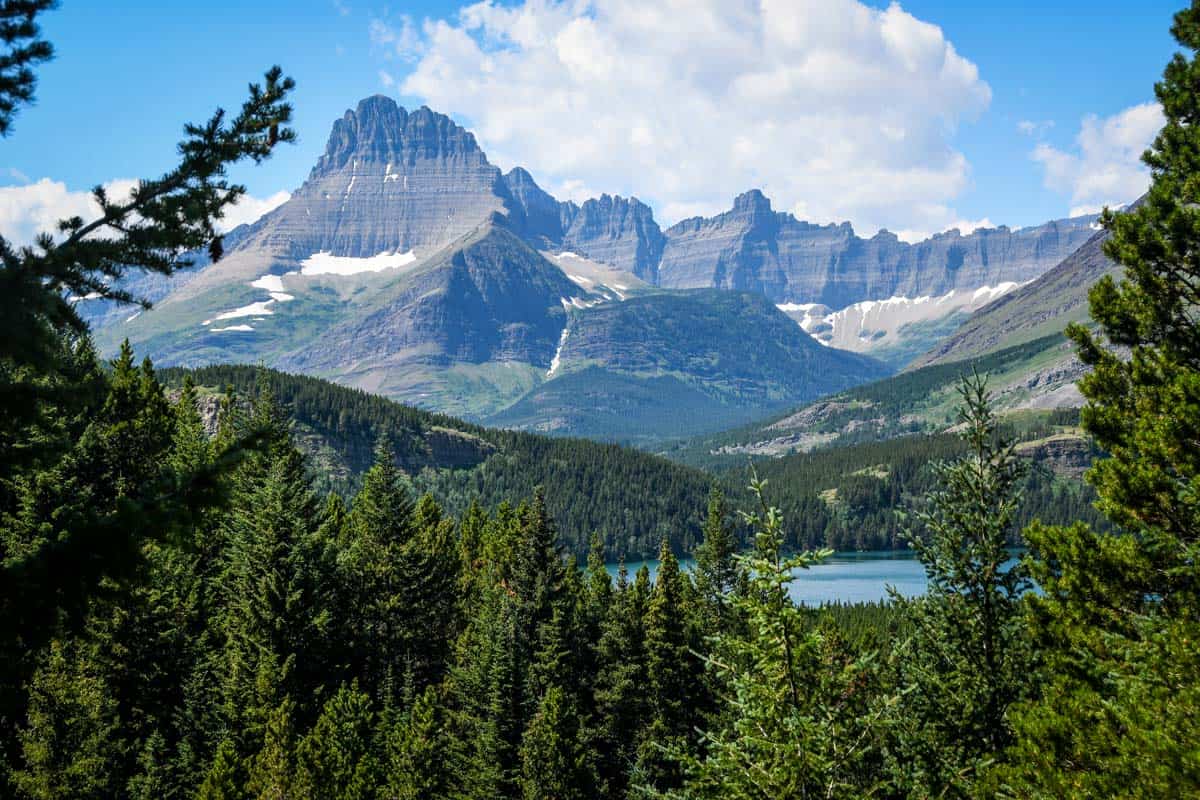 Bring a sun hat and wear sunscreen, as the trail is largely exposed
Factor in extra time to relax by the lake (and if you're feeling brave, take a dip!)
The trail is often muddy, particularly the beginning/ending section shared with the horse loop — bring a bag or wipes for muddy boots before getting into the car!
If you'd like to camp at Cracker Lake, submit a wilderness permit application in advance
Bring bear spray, and don't forget to make noise on the trail
Where to camp at Cracker Lake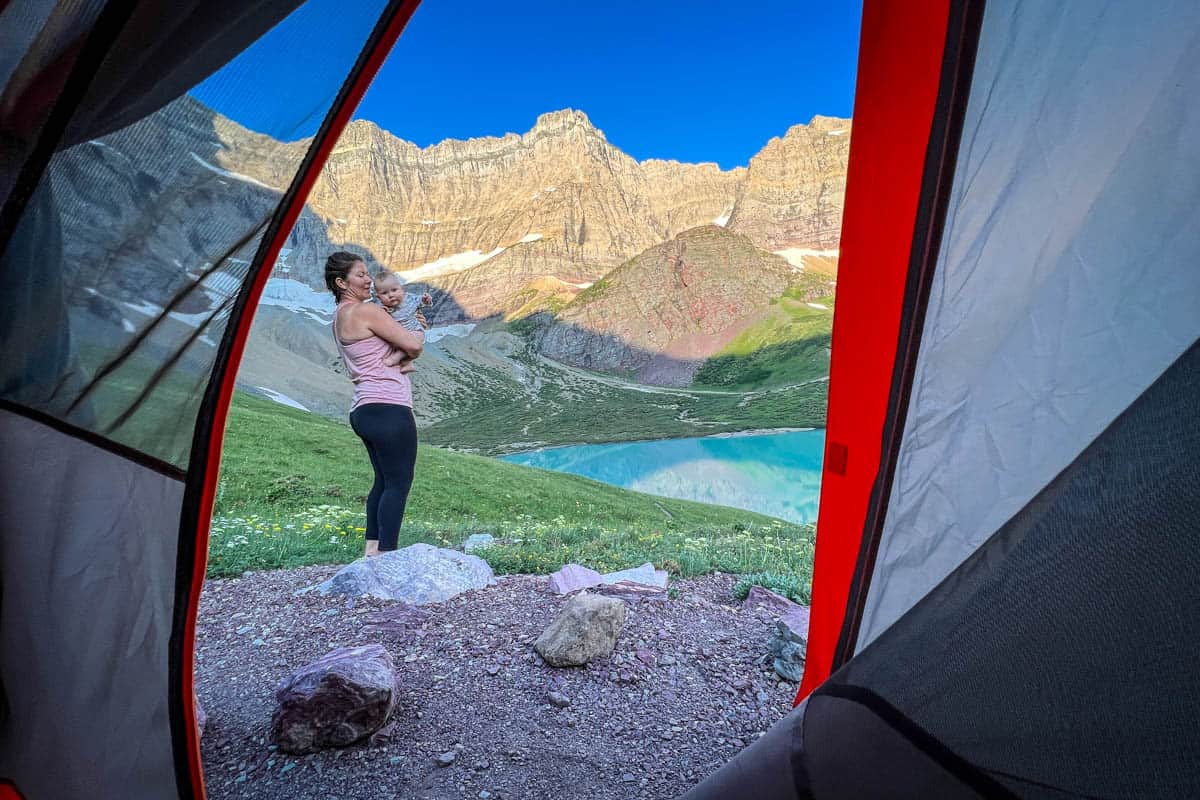 There's no better way to experience Glacier National Park than camping in the backcountry. The three backcountry campsites at Cracker Lake offer a stunning view, with a full panorama of the lake and mountains from inside your tent.
If the spots at the lake are booked or you don't necessarily feel like backpacking, there are other camping options close to the trailhead, such as the large Many Glacier campground.
With over 109 campsites, don't expect much solitude, but the facilities are nice. Half of the sites can be booked online, and the other half are available on a first-come, first-served basis. However, during peak season, get there early to snag one before they're all taken — it happens quickly!
If you're looking for a more easygoing option outside the national park, head to Duck Lake Campground in Babb. The privately-run site offers pretty lakeside views without the logistical fuss.
There are also cabins if anyone in your group prefers to overnight it inside four walls.
What to pack for hiking to Cracker Lake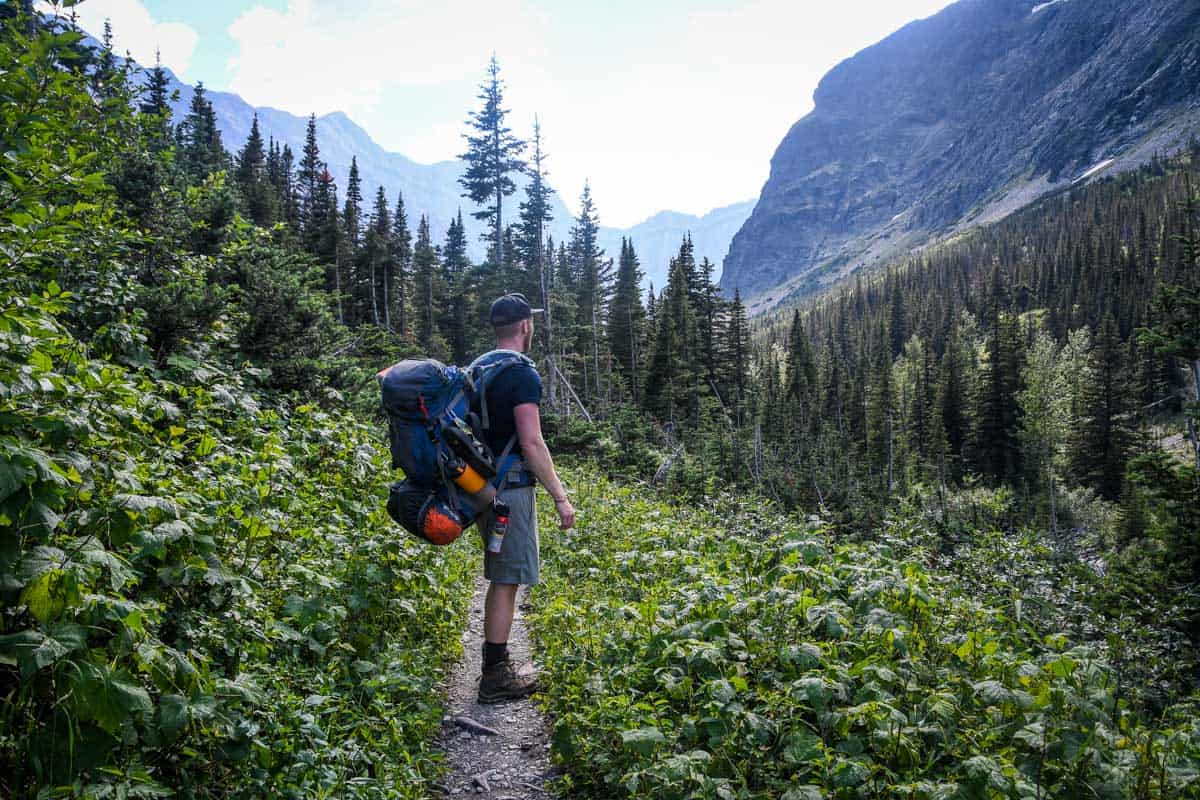 Navigation: we recommend using Alltrails+ to download the offline trail map
Backcountry permit**
Water bottles and bladder for your Camelbak
Way to purify your water (we love our Grayl water bottles, and before them we always brought along our Steripen)
Warm layers (here is a great resource if you're wondering what to wear hiking)
Hiking boots
Microspikes (if there is any chance of snow and ice)
Lightweight tent: find out the best 2-person tents for camping and backpacking
Sleeping bag
Sleeping pad
Dry bag (we always carry one with us for our valuables in case of rain)
Bug repellant
Sun protection: sunscreen, hat, sun glasses
Battery pack (if you are relying on your phone)
Bear spray (just in case)
Bear canister (to properly store your food)
Multi-tool
Toilet kit: toilet paper, small shovel, bag for packing out TP, hand sanitizer
Bag for your trash
Lighter
Camp stove/fuel (we love our Jetboil!)
Mess kit
Food (see section below)
Biodegradable soap and small towel
*If you choose to us your phone for navigation, be sure to bring a reliable battery pack to charge your phone
**Don't forget to pack your permit! 
Be sure to grab our ultimate hiking packing list includes our must-have gear for any hiking trail!

Optional gear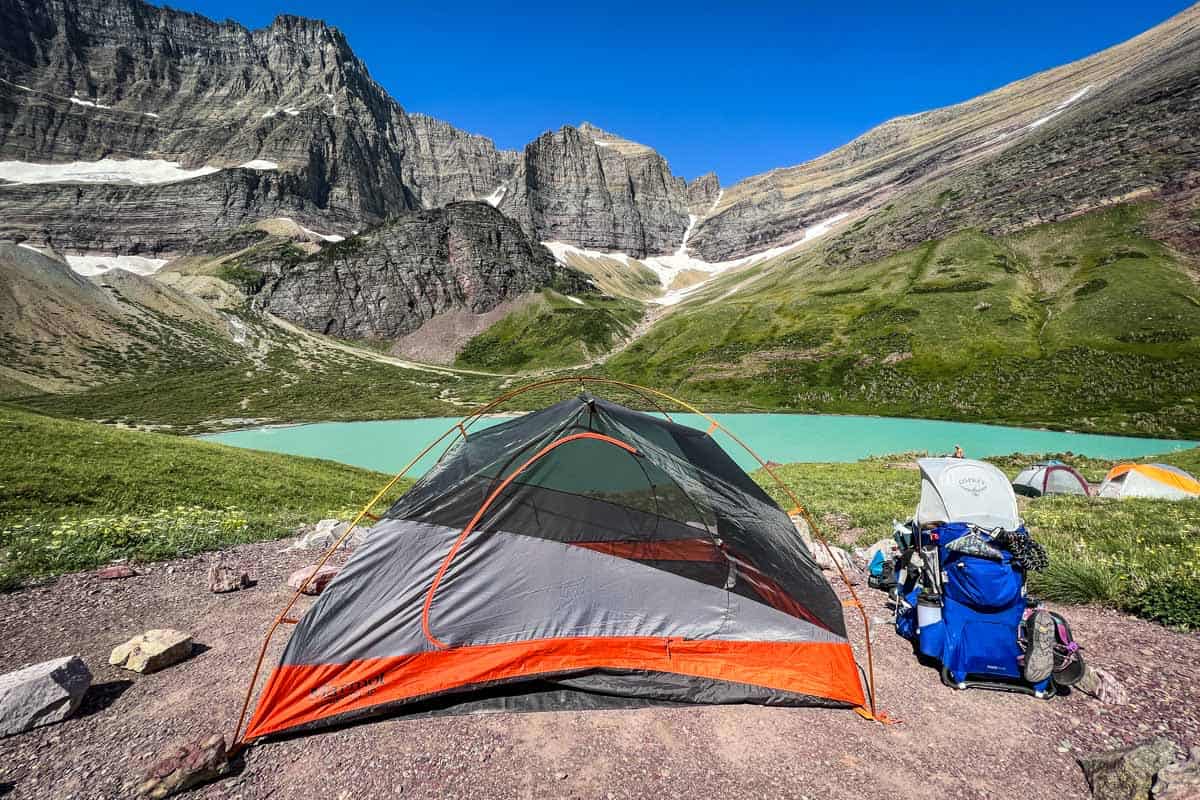 Camp chairs (we like our Crazy Creek chairs)
Deck of cards
Camera and tripod (this is our favorite for hiking)
Binoculars
ENO hammock (we love our 2-person ENO shown above!)
Book or Kindle
Notebook and pen/pencil
Hiking poles
Shoes for at camp: We like to wear our Chacos sandals at camp as it's nice to be able to change out of the boots we've been wearing all day. Some people like hiking with lightweight Crocs or flip flops for a comfy option at camp.
Inflatable camping pillow
Kula cloth: reusable pee cloth for women (Yep, sounds weird, but it has a cult following. I'm new to this, but am loving it so far!)
Food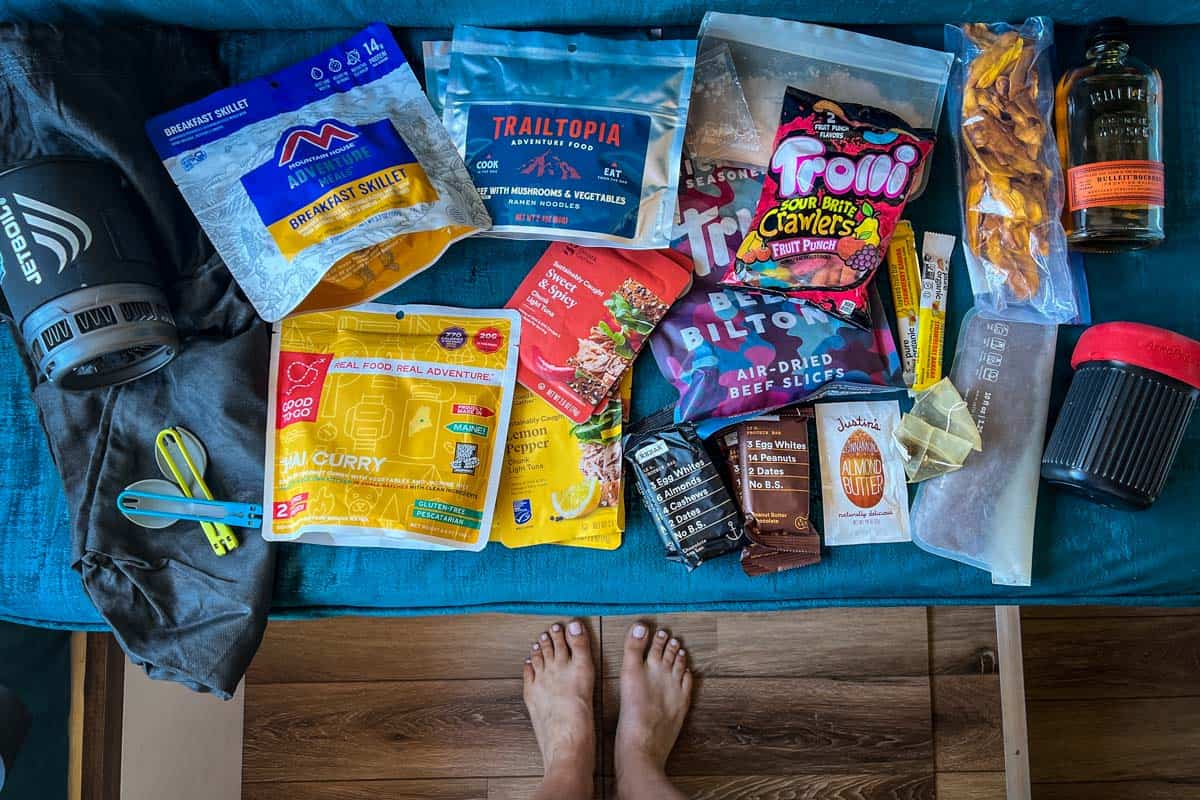 You may also like…
Save this article on Pinterest for later!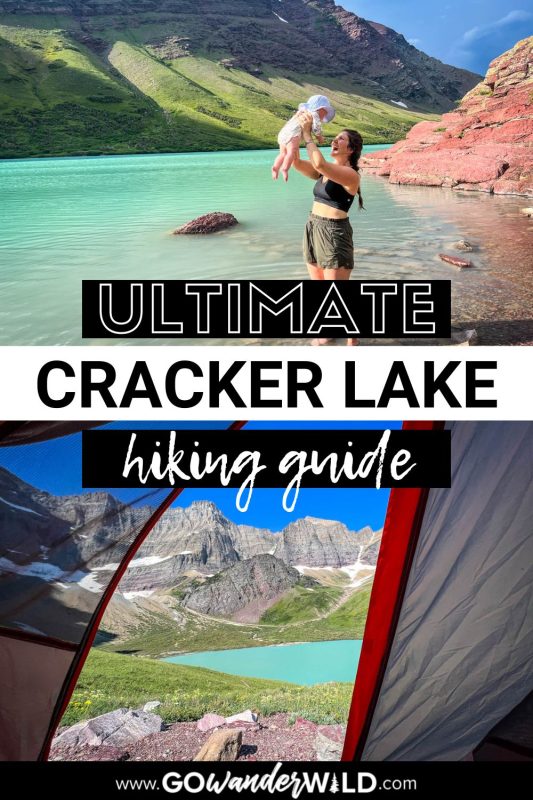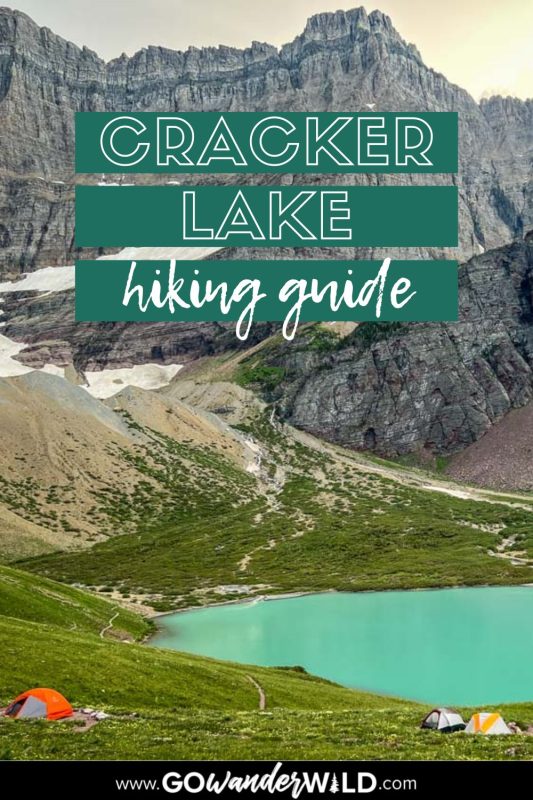 We want to hear from you!
Have you hiked the Cracker Lake Trail in Glacier National Park? Got more questions about planning your hike? Let us know in the comments below!