A highly underrated corner of the American West, Idaho is filled to the brim with rugged mountain ranges, sparkling alpine lakes, natural hot springs, and unusual geological formations. In this article, we've rounded up our top picks for the best trails for hiking in Idaho.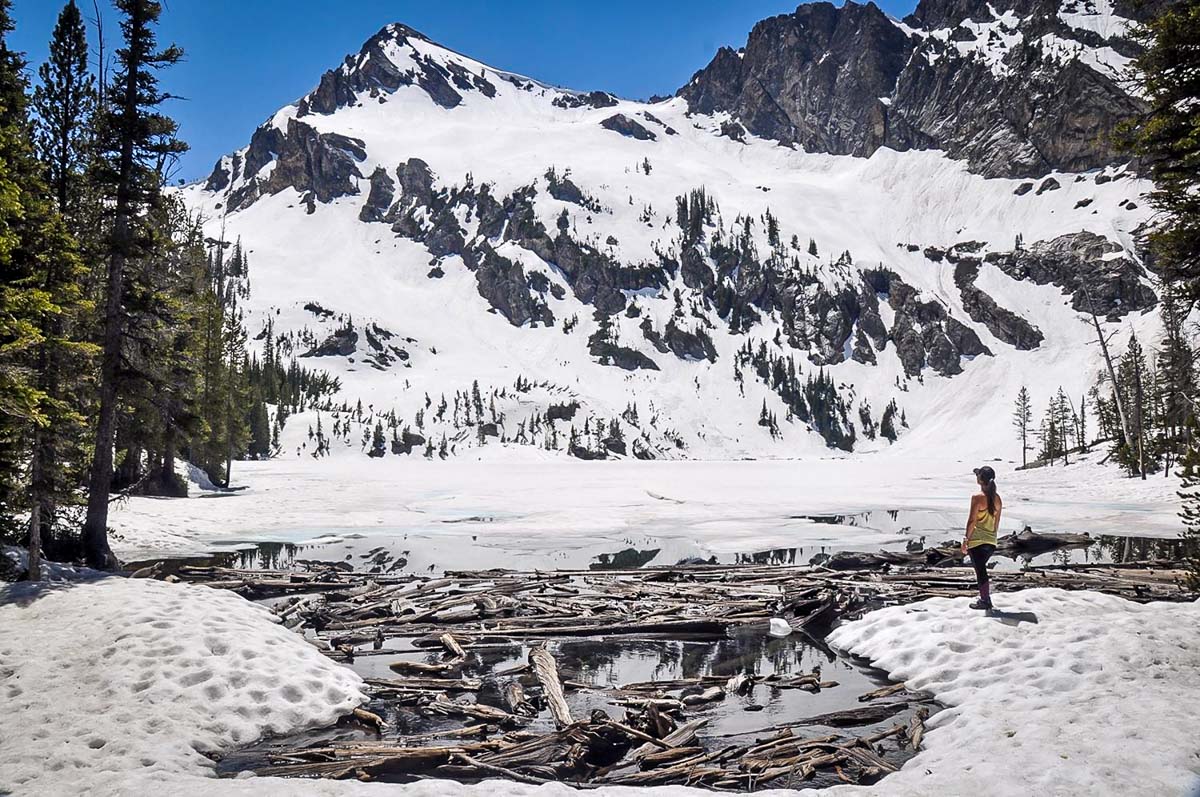 Often overshadowed by its much larger neighbors, Idaho is an incredible outdoor destination filled with dramatic mountain ranges, tons of hot springs, and unique volcanic-created landscapes. Due to its lack of national parks and household name attractions, Idaho receives relatively few visitors and flies largely under the radar.
Don't let that fool you, though — the scenery stands on its own and throughout the state, you'll find jaw-dropping (and uncrowded!) hidden gems sprinkled between tiny towns. As a bonus, you won't have to contend with full parking lots and trying to secure permits while hiking in Idaho!
With over 60% of the state reserved as public land, finding the best areas for camping and hiking in Idaho can be tricky. That's why we've rounded up our top picks for the most stunning Idaho hikes, from easiest to the most challenging.
1. Creekside Towers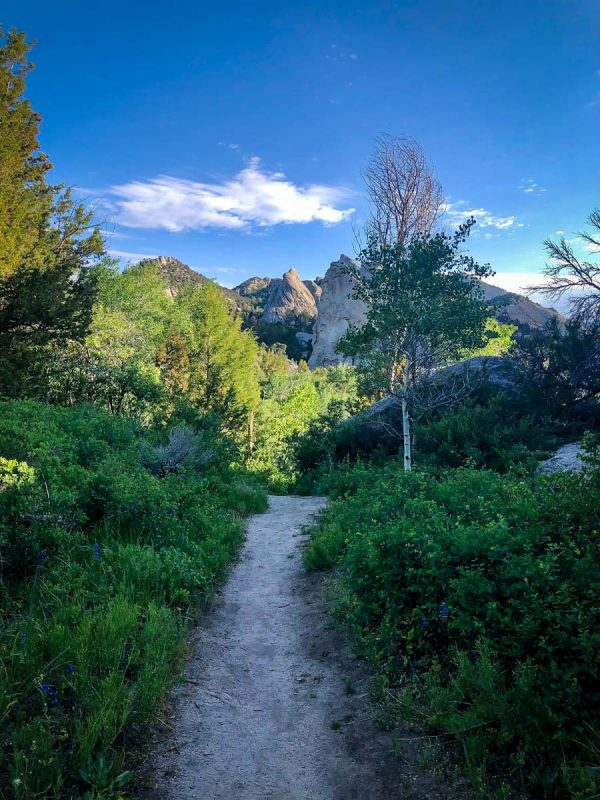 Situated just north of the Utah border in the City of Rocks National Reserve, this Idaho trail boasts incredible rock formations, popular with hikers and rock climbers. Like the awe-inspiring scenery Utah is so famous for, there are arches, hoodoos, and large boulders, all against a mountain backdrop.
We love this short but photogenic trail, which takes you right up to some of the park's most dramatic formations. Despite the modest elevation gain, there are several scenic viewpoints.
2. Tubbs Hill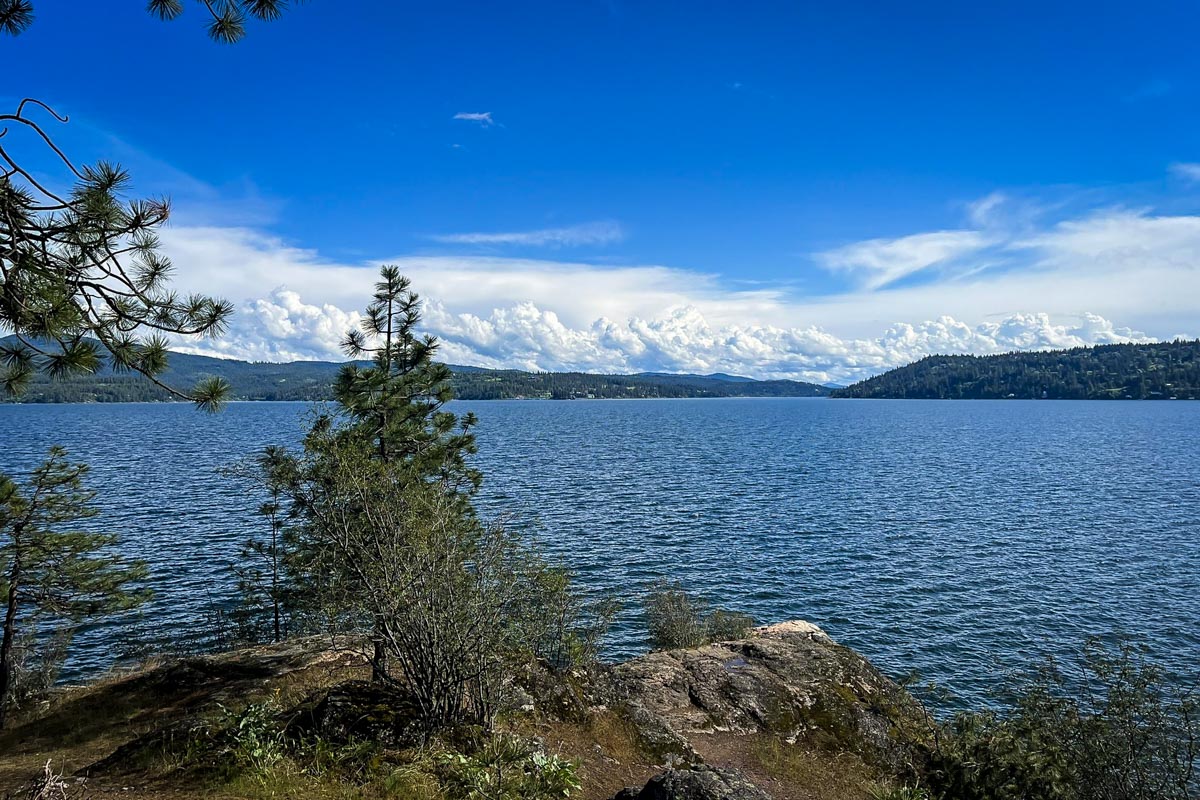 On the tranquil shores of Coeur d'Alene Lake, this easy-going trail is the perfect escape for swimming and postcard-perfect views. Following the loop takes you past a few beaches and rocky shorelines, perfect for cliff-jumping.
Many side trails criss-cross through the park, situated right on the edge of town. Tubbs Hill is a low-commitment way to explore this beautiful pocket of Idaho!
Psst! Check out our article on the best things to do in Coeur d'Alene.
3. Caves Trail
How often do you have the opportunity to explore lava tubes, caves, and tunnels? This unique trail inside Craters of the Moon National Monument encourages exploration of its incredible volcanic crevices, but be sure to get a (free!) caving permit.
We highly recommend a helmet, and a flashlight is an absolute must. And if you don't want to embark into the dark, cold bat-world, we love the paved leisurely path above ground that showcases the fascinating rock formations.
4. Table Rock Trail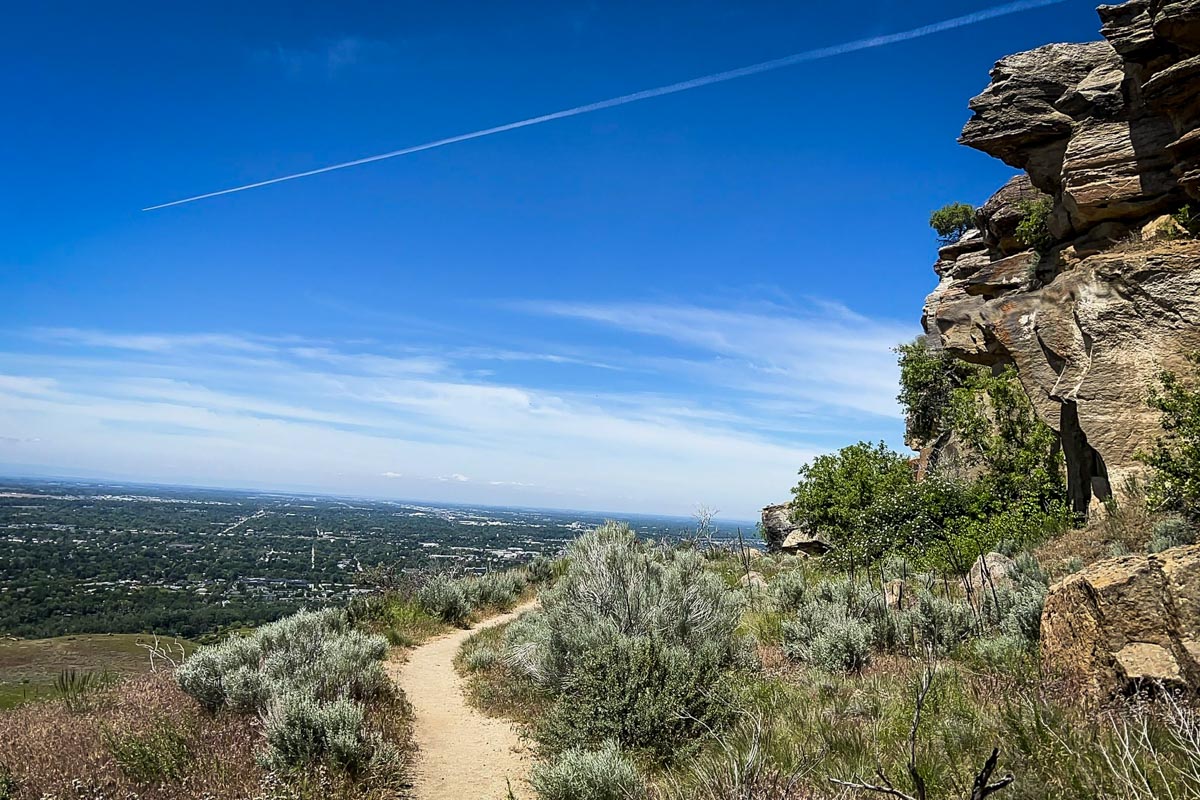 Minutes from downtown Boise, this hike traverses the city's foothills, with views of downtown and the surrounding Sawtooth Mountains. Popular with trail runners and families alike, it's a refreshing place to go hiking in Idaho without committing to a long journey.
The unique urban and mountain views are a fantastic backdrop, and the trail is just secluded enough to feel like an escape. If we lived in Boise, we'd hike here every week!
5. Stanley Lake to Bridal Veil Falls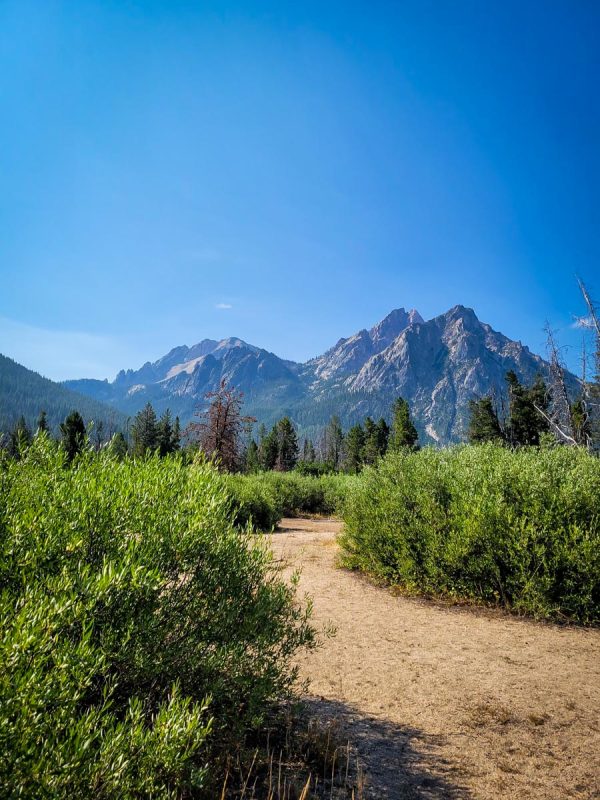 A pup and family-friendly hike, you'll start out in a meadow blanketed with wildflowers and cross multiple streams in a dramatic valley. Many people think the valley is actually more stunning than the falls themselves — us included!
Open year-round, the changing scenery offers stunning photo ops in any season, making it one of our go-to spots for hiking in Idaho. The final approach to the base of Bridal Veil Falls requires some rock-scrambling, but you can view the cascades without climbing if you prefer.
Insider tip: Take a quick 20-minute detour to Lady Face Falls en route to Bridal Veil Falls! Once you start the uphill push, look for an unmarked but fairly obvious viewpoint, then make the short scramble down to the water.
6. Bruneau Dunes Loop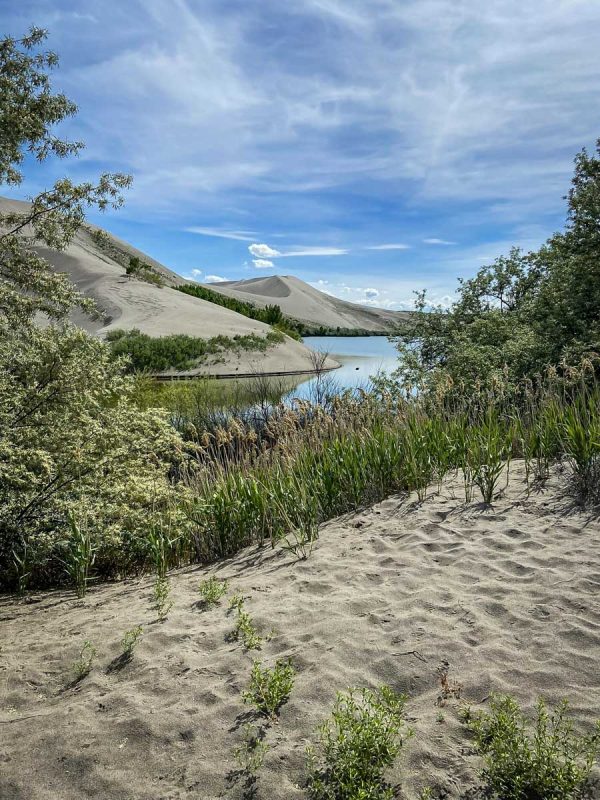 Not all hiking in Idaho is mountainous! This unique trail is home to North America's tallest free-standing dune, whose summit is included in this hike. Don't let the low mileage and elevation gain deceive you — clambering up the sand is exhausting! Thankfully, that's only a small part of the hike; there's also a small lake and a scenic prairie.
Make sure to bring plenty of water for this one and trust us: don't attempt it in the summer. The sand is scalding hot!
7. North Crater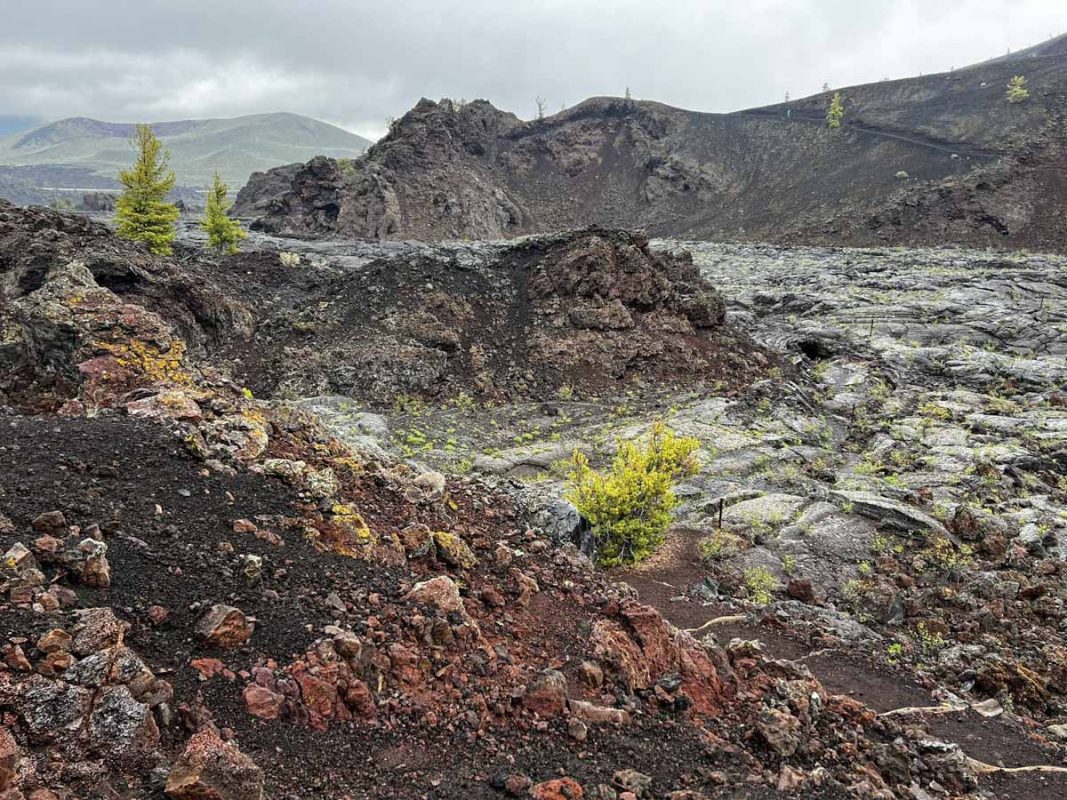 We love this trail for its variety of dramatic landscapes in just a few short miles. Lava flows, cinder cones, caves, and mountain views…gang's all here!
The loose volcanic rock makes the terrain on this trail slightly more difficult than others, giving you a great workout. It can also get very windy, so be prepared for a tougher hike than the distance suggests. However, the scenery is unforgettabl; an otherworldly landscape that lives up to its name.
8. Goldbug Hot Springs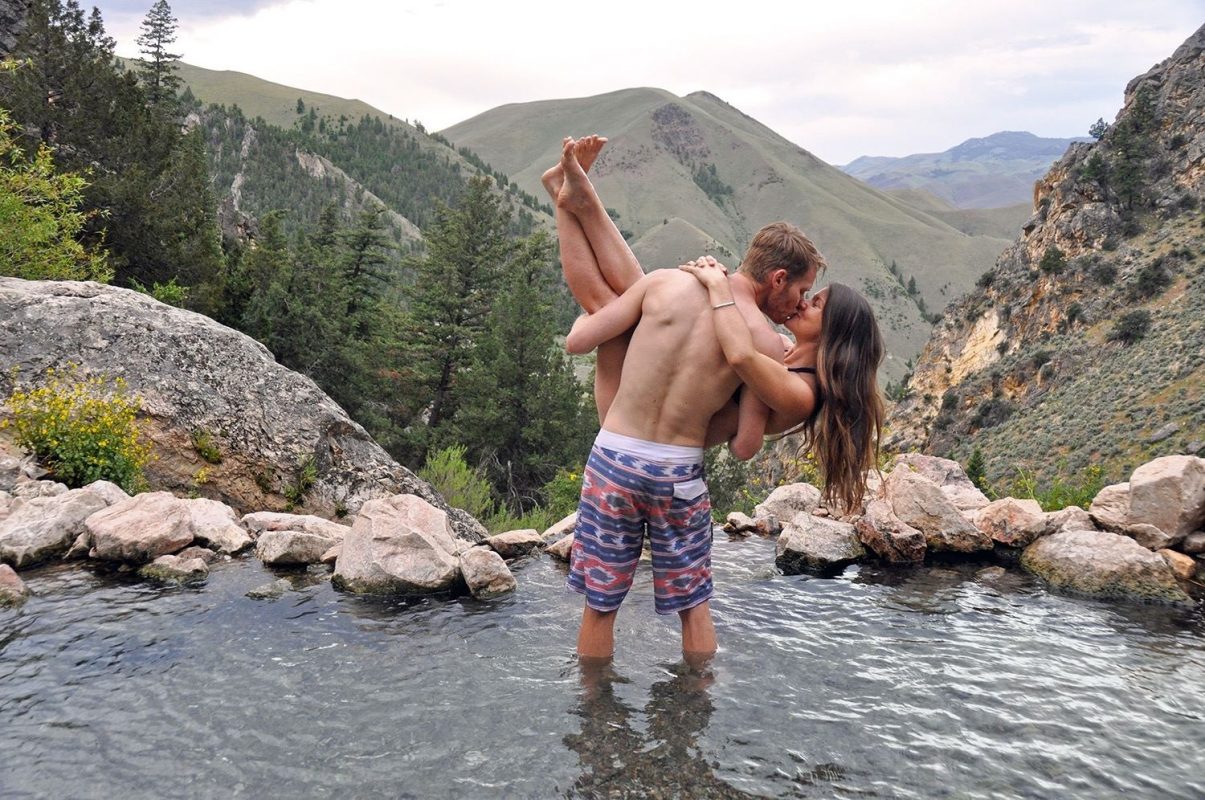 We LOVE a good Idaho hot spring! And this hike features a picture-perfect series of them at the top of a valley. Taking in the views while soaking is an absolute dream, especially during the winter when everything is blanketed in snow.
The ascent to the pools is grueling: 900 feet straight up in less than 2 miles. But that makes your soak all the more satisfying! At one time, this spectacular destination was top-secret, but the word is out; prepare to share the pools unless you're visiting during an off-season weekday.
We put together a detailed guide to visiting Goldbug Hot Springs, including how to get there and what to expect.
9. Around the Mountain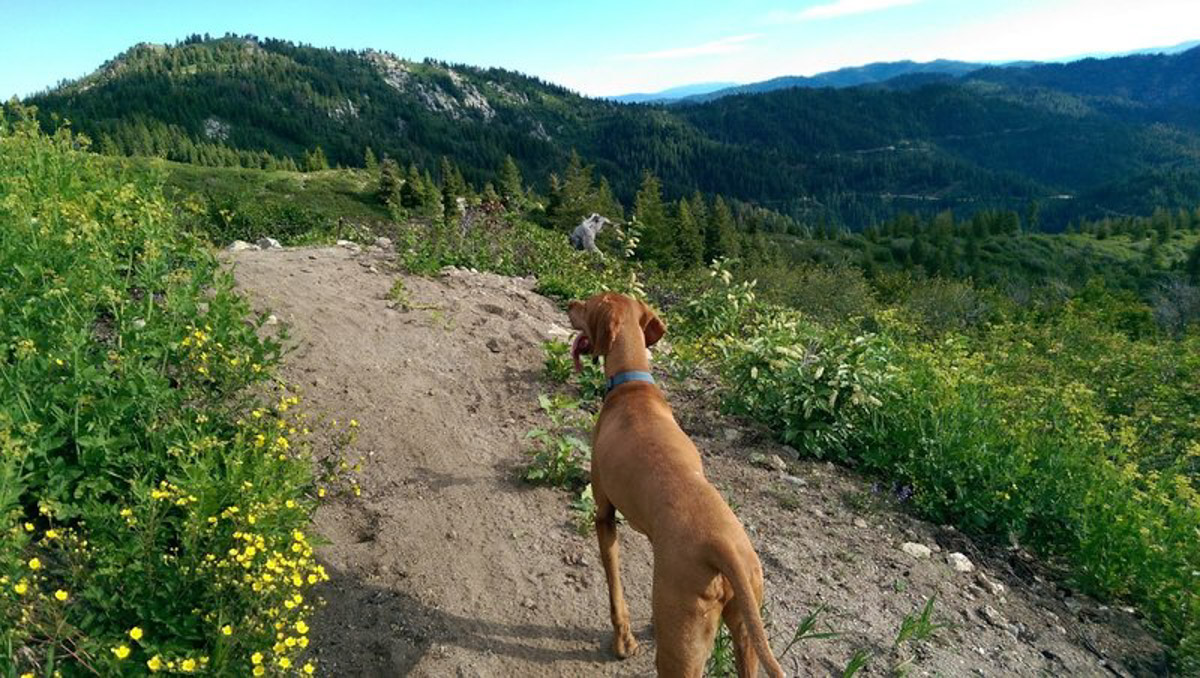 We've heard "ATM" referred to as the "crown jewel of hiking in Idaho." We fully agree! The trail has a bit of everything: amazing views of the Sawtooths, switchbacks, ridges, and thick forest, all just a short drive from Boise.
The loop circling Bogus Basin Ski Resort is long but easy-going, making it popular with trail runners, mountain bikers, and families. It does get crowded on weekends, but visiting in the very early morning or on a weekday will earn you more solitude.
10. Sawtooth Lake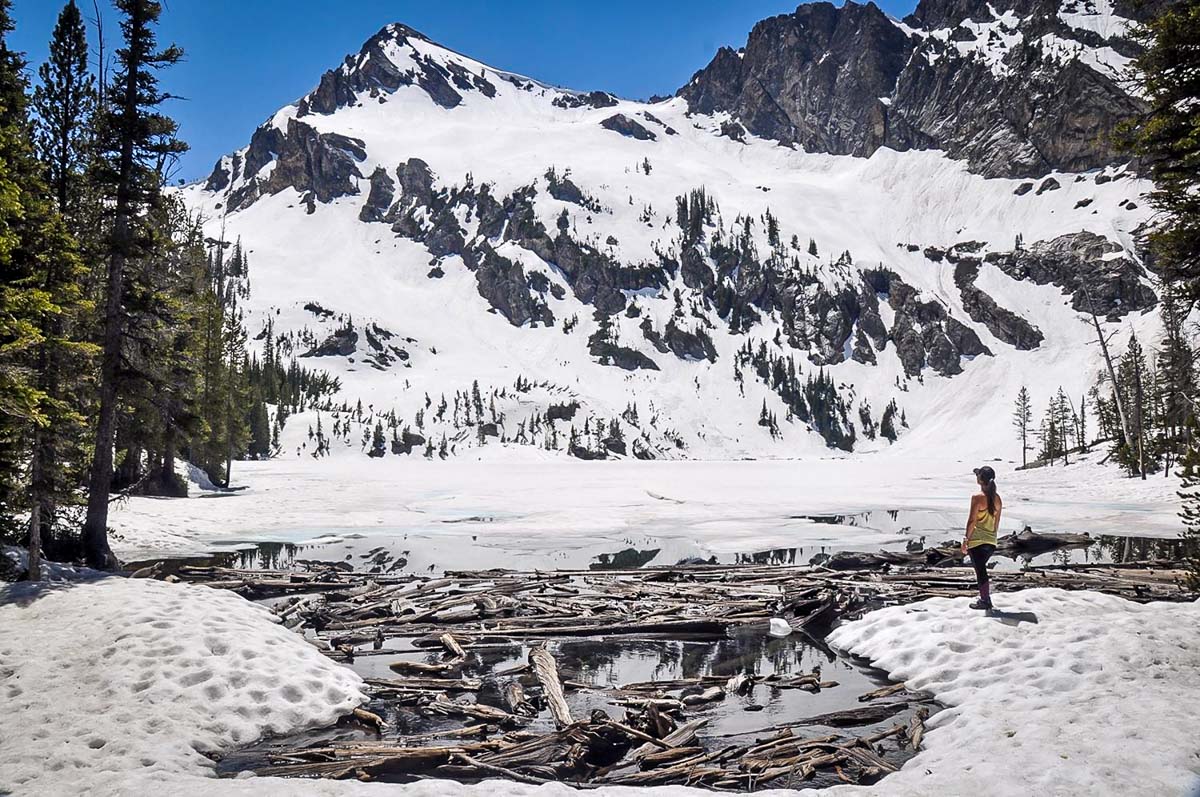 This trail to the most famous lake in the Sawtooth Range unhurriedly climbs uphill through the shade, making this a perfect choice for hiking in Idaho in hot weather.
You'll pass Alpine Lake, a beautiful sight worthy of a rest stop — but don't stay too long, the views are just starting to get good! From here, the trail gets trickier but still doable, with jaw-dropping Sawtooth Lake as your reward at the end. The water is turquoise blue with craggy, snowy peaks rising from its shores. Sure, a dip may be chilly, but it's the perfect finale on a summer day.
11. Goat Lake via Iron Creek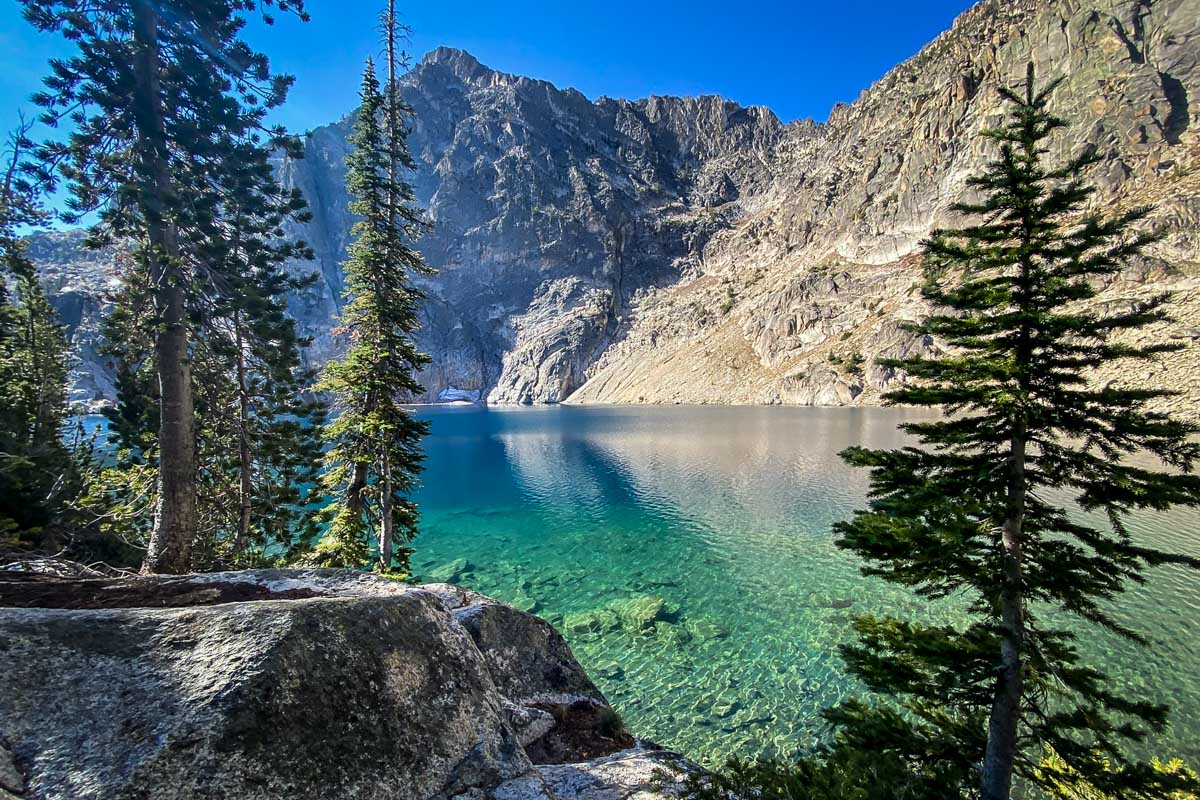 One of the most pristine lakes in the Sawtooths, reaching Goat Lake was once a wild route-finding adventure. However, there's a proper trail now, which, while difficult, has improved access for advanced hikers.
Goat Lake lives up to its acclaim, a beautiful, clear deep blue-green color, with rugged cliffs rising from its shores. Once you arrive, several spur trails surrround the shore, making it easy to find your own spot for a picnic or swim.
12. Cervidae Peak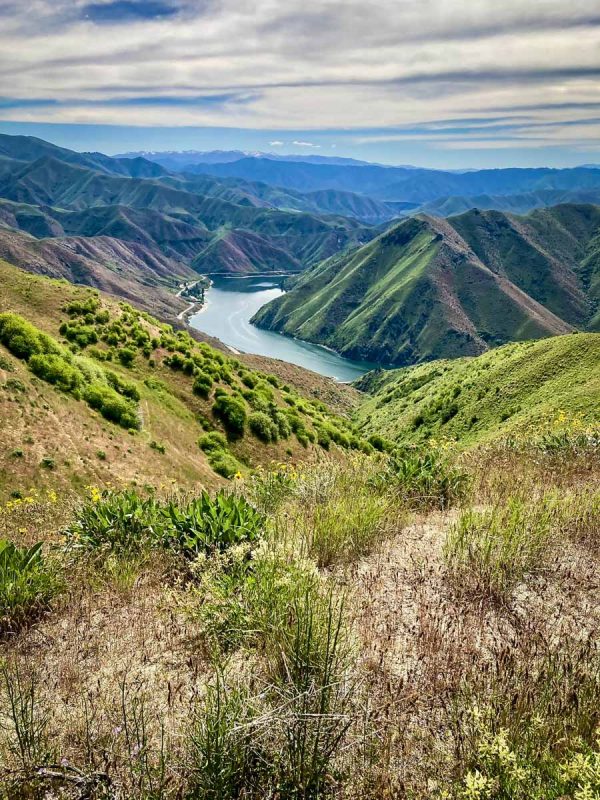 A relatively short but steep summit hike shows off spectacular scenery surrounding Lucky Peak Lake. Unlike much other hiking in Idaho, the terrain here is rugged and wide-open, rather than forested.
Cervidae Peak is actually an unofficial trail without any sort of markings, but the path is well-worn. Note that there's a false summit exactly 1.5 miles in and if you've had enough of the relentless climb, this is a perfect turnaround point. The views from here are spectacular; you won't be disappointed even if this is your "summit."
13. Long Gulch to Pioneer Cabin Loop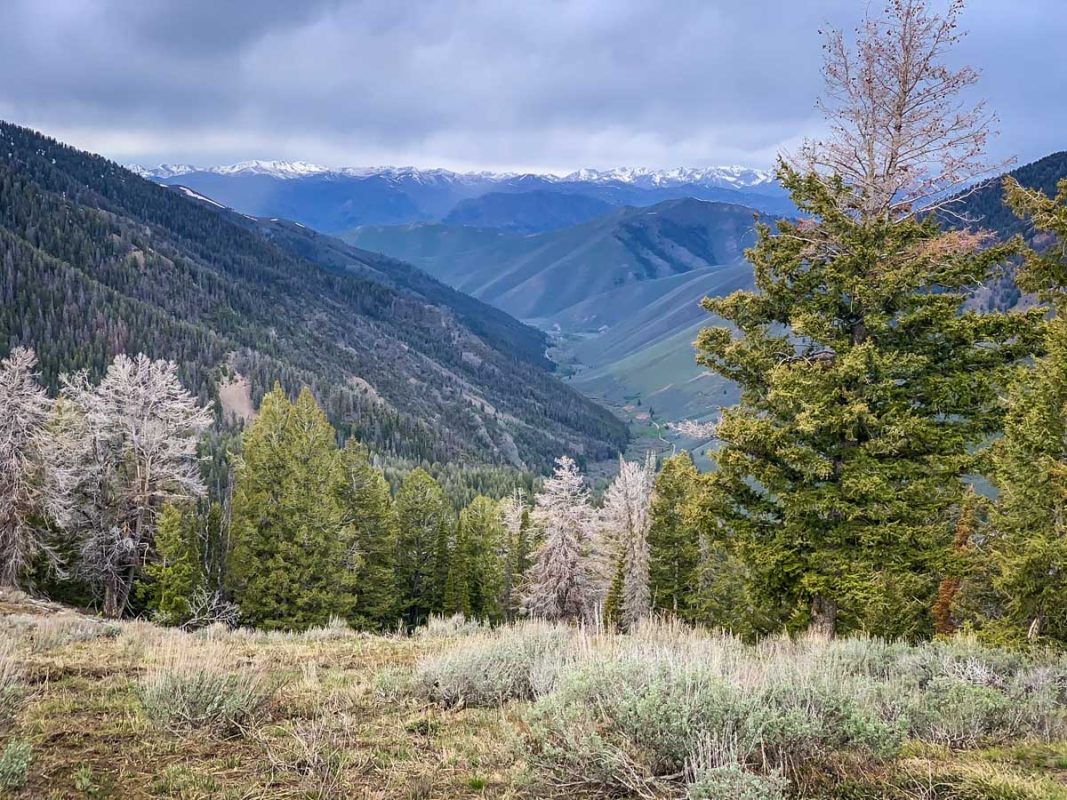 This varied, challenging trail is one of our favorite Idaho hikes, filled with seasonal wildflowers, scenic mountain vistas, and a slice of history. Comprised of the Pioneer Cabin Trail and Long Gulch Trail, it's possible to hike fewer miles if approaching Pioneer Cabin as an out-and-back, but it's worth the extra miles on the loop.
There's continuous up-and-down climbing, with 23 switchbacks and the intensity kicking in immediately. The finale is a picturesque 1937 rustic cabin against a breathtaking backdrop. The views from the cabin are some of the best in the state! Pack a lunch and spend your time enjoying it here.
14. Scotchman Peak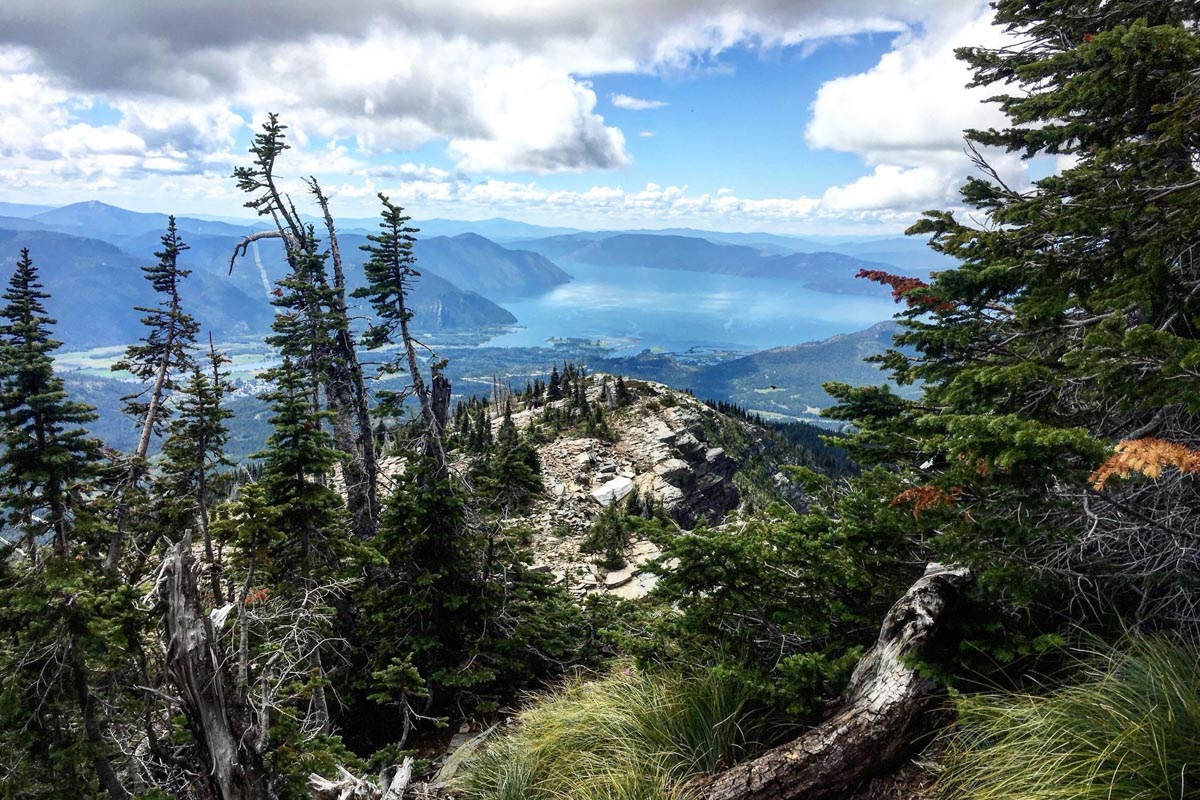 This summit hike packs an intense punch with sweeping views of Lake Pend Orielle and the entire Clark Fork River Valley. The elevation grade is steep (about 1,000 feet per mile!), but the well-packed path and shade trees slightly soften the blow on a hot summer day. Moose and mountain goat sightings are common, so be extra aware of your surroundings.
Insider tip: Nestled right against the Montana border, you're just a few hours from Glacier National Park and Montana's acclaimed wilderness. Weekend trip, anyone?
15. Thompson Peak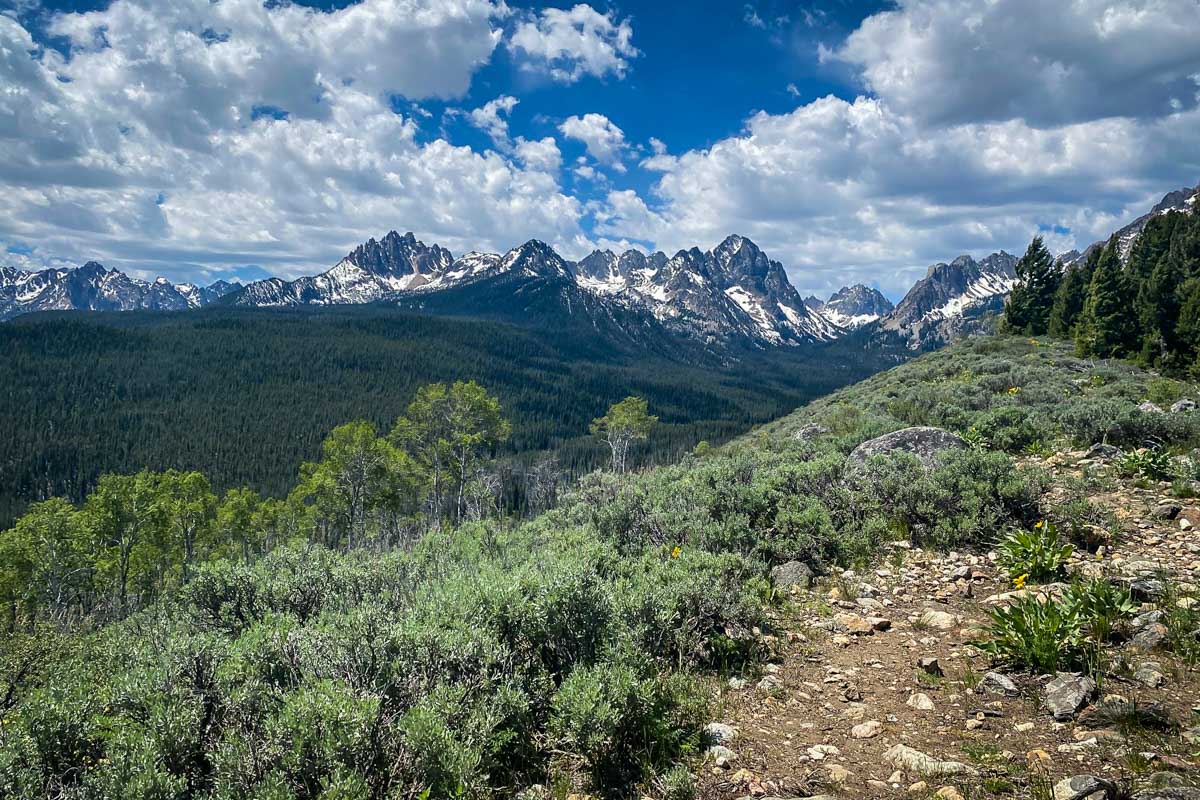 The tallest mountain in the Sawtooth Range blurs the line between a hike and a climb but is a rewarding endeavor for the well-prepared. This is hiking in Idaho at its finest, but we really have to emphasize the importance of being prepared for this challenging trail.
From pristine Lake 8865 (a worthy hiking destination in itself), the hike becomes technical, with a class 3 scramble through loose scree and a steep snowfield. Proper GPS is necessary, as the Alltrails route easily misleads to more treacherous sections. However, with preparation and a little know-how, the payoff at the summit is truly awe-inspiring.


You may also like…
Save this article on Pinterest for later!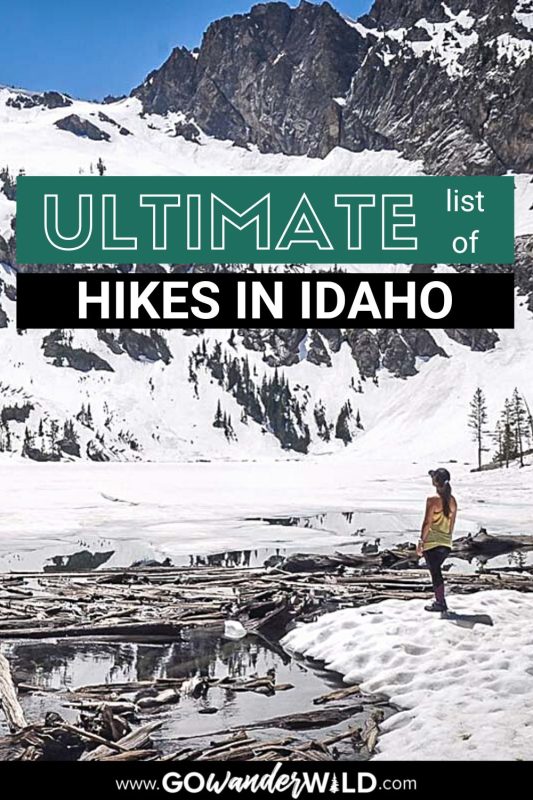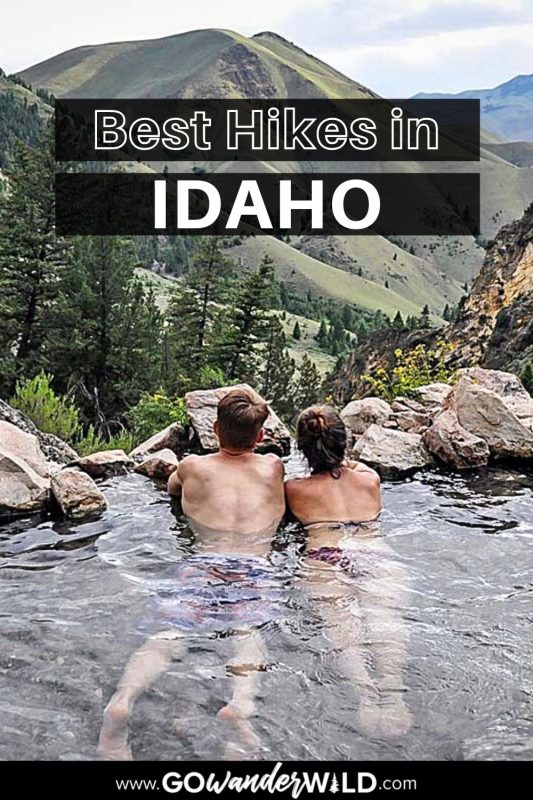 We want to hear from you!
Have you tried any of the Idaho hikes on this list? Do you have a hike in mind you think we should add to the list? Leave your comment below and let us know!