With more than 1,000 hidden throughout the state, there's no shortage of slot canyons to explore in Utah! From fairly open and easily accessible trails to some so narrow they require rappelling gear, here is our round up of the coolest Utah slot canyons.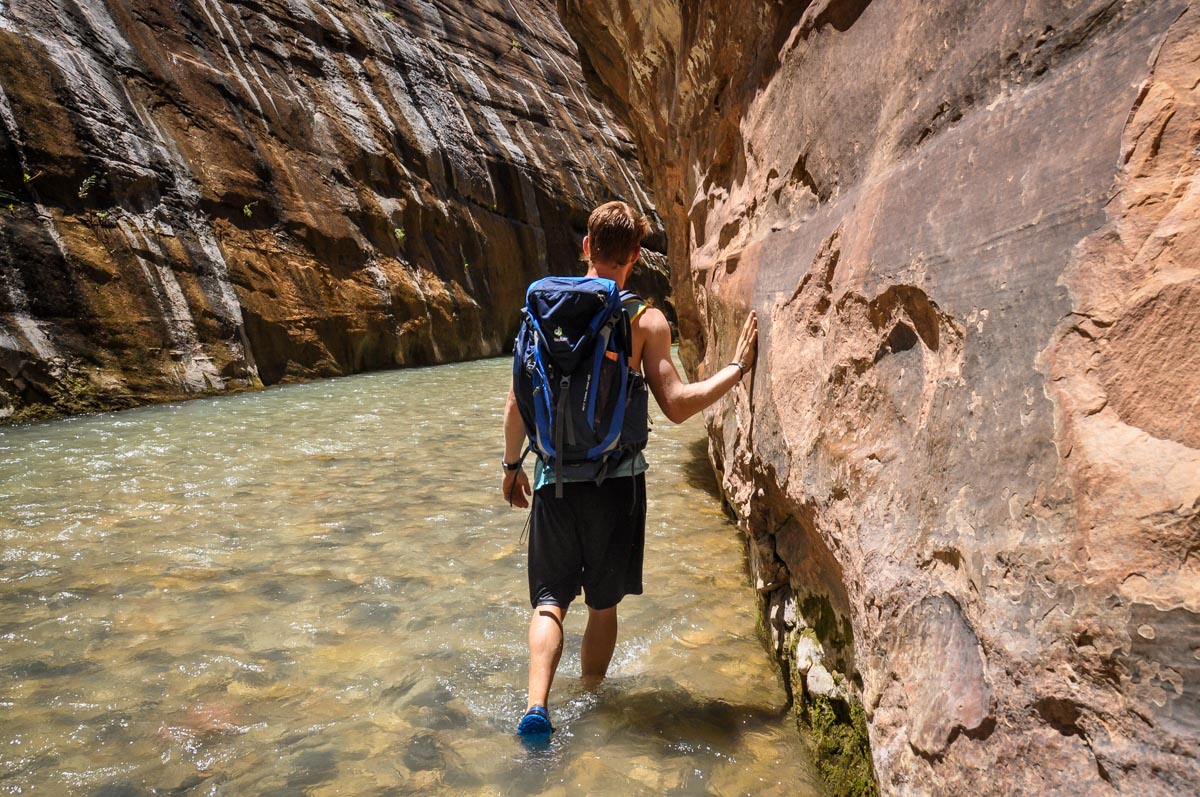 If you've been on any type of social media in the last few years, you've probably seen at least a handful of pictures of Utah slot canyons. The spectacular Southwestern state has the highest density of slot canyons anywhere in the world, with more than 1,000 to explore!
You can actually hike right through many of the slot canyons in Utah, offering a unique opportunity to get up-close and personal with these fascinating (and photogenic!) geological wonders.
With so many to choose from, it can be tricky just deciding where to start! To help you narrow it down, we've put together a list of stunning Utah slot canyons that you can hike.
But let's not get ahead of ourselves. First, we're going to answer a question some of you may be wondering…
What is a slot canyon?
Slot canyons are geological marvels that take several million years to form. Starting out as a small crack in the bedrock, slot canyons are created when rainwater and flash floods pass through the fissure and slooooowly erode the opening over time, gradually making it larger and larger.
After millions of years of this erosion, the result is a "slot" canyon.
It has a narrow gorge at the bottom with steep walls on both sides, usually at least a 10:1 height-to-width ratio. Occasionally, you'll find a slot canyon with a ratio of more than 100:1! These numbers mean that slot canyons are anywhere from 10 to 100 times as deep as they are wide.
Slot canyon safety
Since water from storms and flash flooding naturally rushes into the slot canyons, it is extremely important to never go into one if there has been, or might be, any rain in the area.
Even storms several miles away can flood a Utah slot canyon! The high walls and narrow openings mean that flooding can quickly reach depths taller than you and there is often no quick way out.
We don't like to sound so dramatic, but we can't emphasize this enough — the Southwest desert is unforgiving and you really do not want to find yourself in a slot canyon in Utah during a storm or flood!
Always check with a local ranger station (a quick Google search will help you find one close to your hike) to ensure that conditions are safe before heading out.

Utah slot canyons
Now we'll get to the good stuff. Here are our top picks for the coolest Utah slot canyons you can actually hike through.
1. Furniture Draw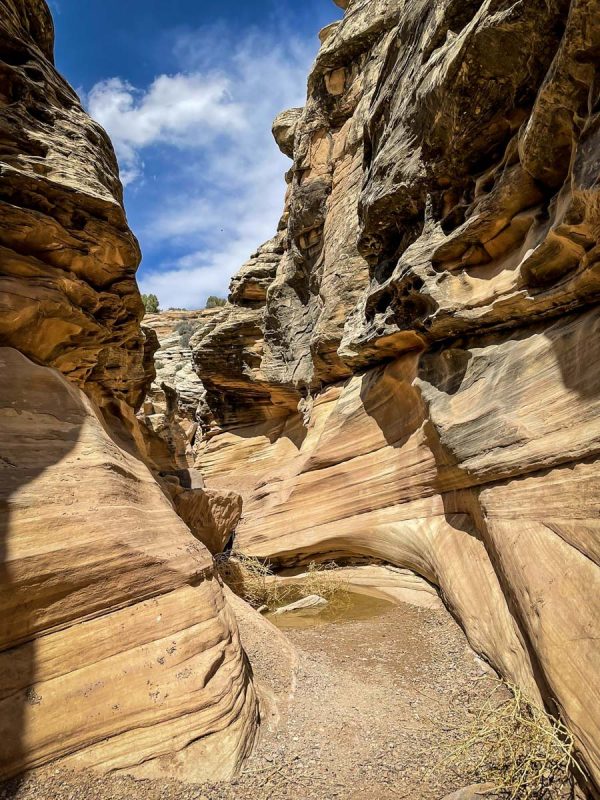 A perfect dog-friendly hike for families and those wanting to get their first Utah slot canyon experience, Furniture Draw is easily accessible and doesn't get quite as narrow as many others. Some people are intimidated by narrower, steeper slot canyons in Utah and can feel claustrophobic, so this is a nice starting point. The "slot" portion of Furniture Draw is also shorter, with a more open trail on either end.
2. Wire Pass to Buckskin Gulch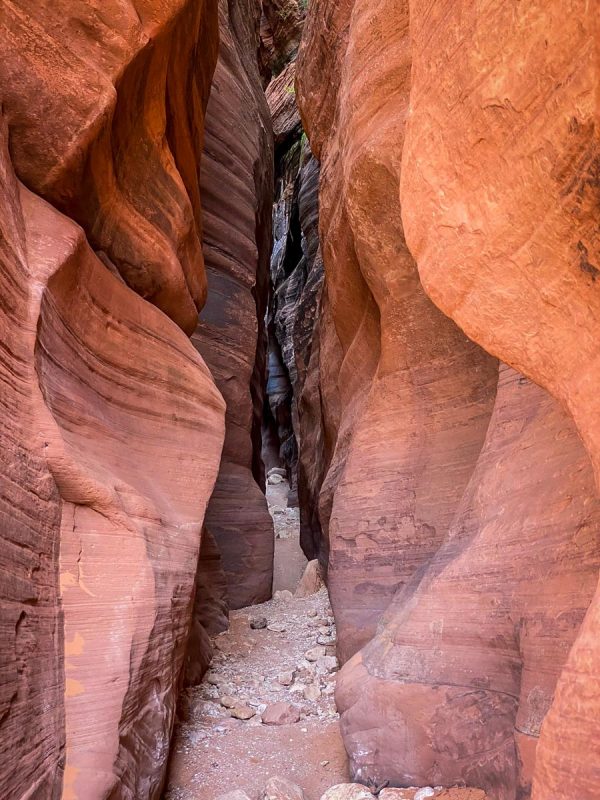 Buckskin Gulch is the longest slot canyon in the United States, and is believed to be among the longest in the entire world. Hiking the Wire Pass Trail (which, fun fact, is the same trailhead used to access the famous "Wave" on the Arizona-Utah border) allows you to get just a taste of its awe-inspiring beauty.
Wire Pass is mostly flat, but much of it runs through a sandy wash, which can be tricky and tiring to trudge through. You'll also come to an obstacle; a 10-foot drop that requires a short climb on a wooden ladder. The ladder is solid and stable, manageable for just about anyone, but it's important to note that it's there — especially if you're planning to bring your pup along.
Once you reach Buckskin Gulch, you can continue hiking as far as you wish, but note that it's much more rugged than Wire Pass and the only way out is to come back the way you went in.
Note: Hiking Wire Pass requires a $6 day-use permit per person (and funny enough, per dog!), which you can get ahead of time on recreation.gov.
3. Zebra Canyon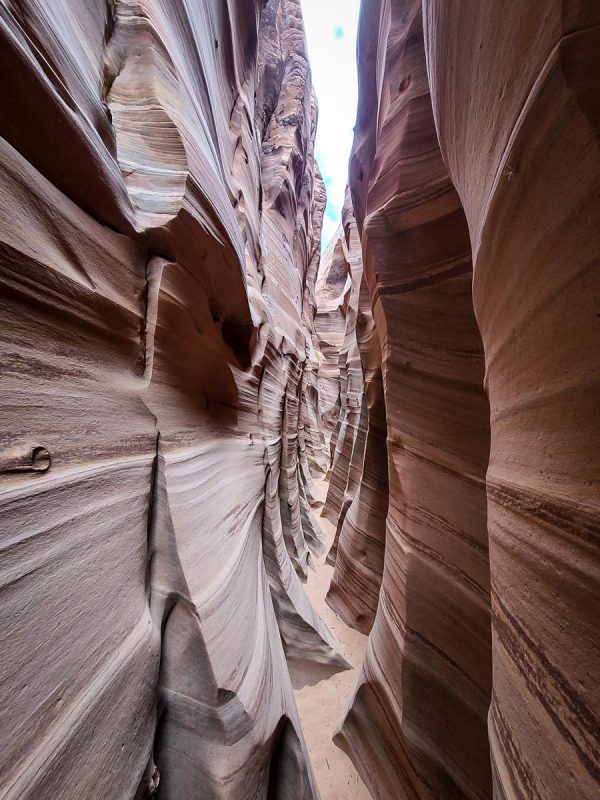 One of the prettiest and most popular slot canyons in Utah, Zebra Canyon is famous for its striped walls (hence its name!). The hike isn't particularly technical, but there are a few steeper sections and parts where the canyon gets pretty narrow.
It can also be tricky finding the entrance to the slot canyon, which is inside the stunning Grand Staircase-Escalante National Monument. The trail becomes difficult to follow once you're in Harris Wash, because of sand and several false trails. Study people's comments on Alltrails and keep to the left bank of the wash without actually crossing it.
Psst! Have more time? Be sure to check out all the best hikes in Utah before your trip comes to an end!
4. Little Wild Horse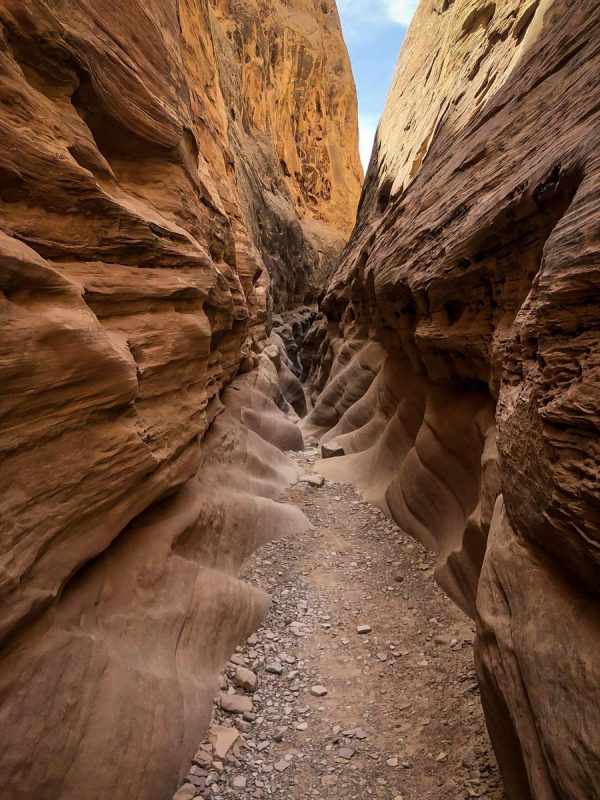 An incredibly photogenic Utah slot canyon near Goblin Valley State Park, Little Wild Horse is best known for its sections of steep "narrows," where the canyon walls are so close together you have to move through sideways. It's not necessarily difficult or technical, but you may find it challenging if you get claustrophobic.
There are two ways to hike this particular slot canyon in Utah. You can either go into Little Wild Horse as far as you'd like, then turn back the way you came, or you can combine it with Bell Canyon Trail for an 8-mile loop. While most people think Little Wild Horse is slightly more scenic, both trails are fun, non-technical, super beautiful, and generally dry.
5. Kanarra Falls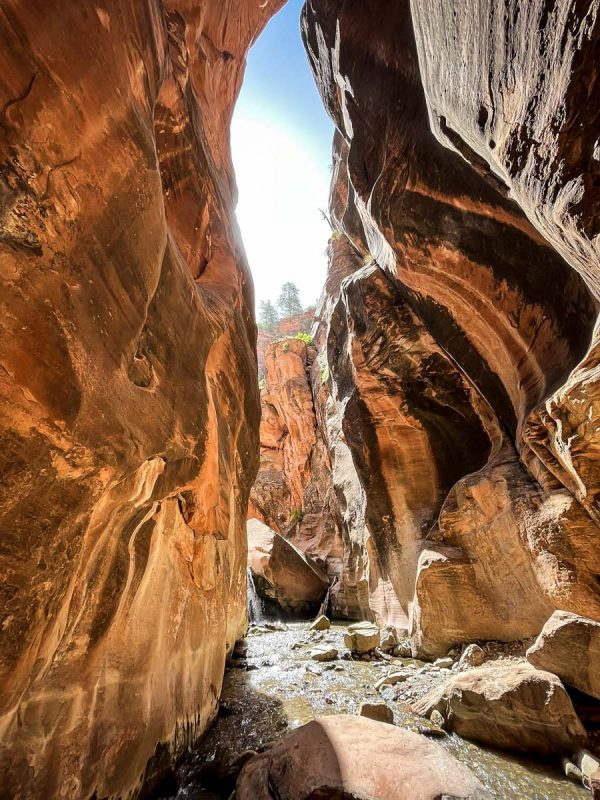 Also commonly called Kanarraville Falls, this hike is unique among Utah slot canyons. A small river runs through much of the trail and the bottom of the canyon. It's beautiful, but note that the water is often ankle-deep even in "dry" conditions — so be even more aware of flash-flooding conditions here. Hikers will climb a 20-foot ladder and do some light bouldering, but none of the obstacles should be too difficult.
Note: Kanarra Falls is on private property, and you must reserve a $12 permit in advance at kanarrafalls.com. The trail is limited to 150 permits per day and they DO sell out several months in advance, so book yours as early as possible.
6. Spring Creek Canyon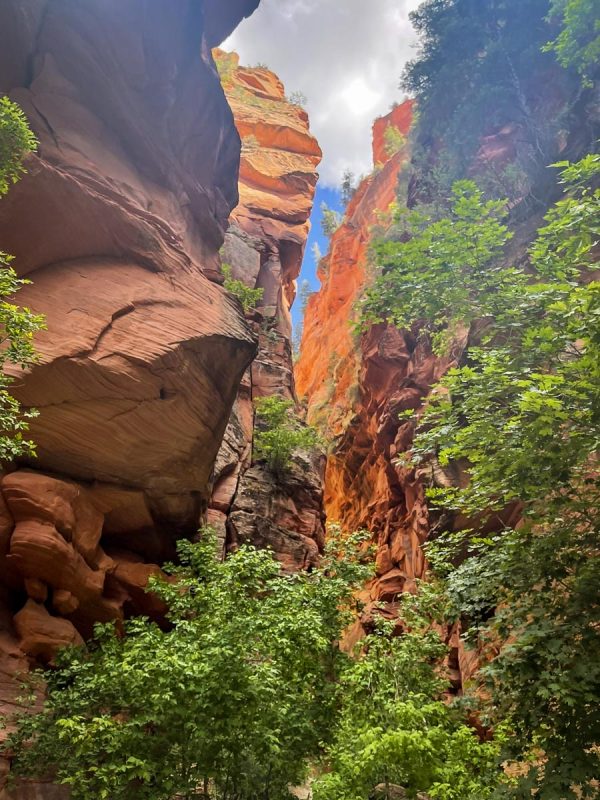 Another Utah slot canyon hike right near Kanarraville, this is a great alternative if you can't get a permit for Kanarra Falls or don't want to hike through water. Usually dry and sandy, Spring Creek Canyon has a decent amount of elevation gain (about 950 feet — unusual for slot canyons in Utah!), so be prepared for a consistent grade going in and enjoy the downhill hike back out. Leashed dogs are welcome.
7. Moonshine Wash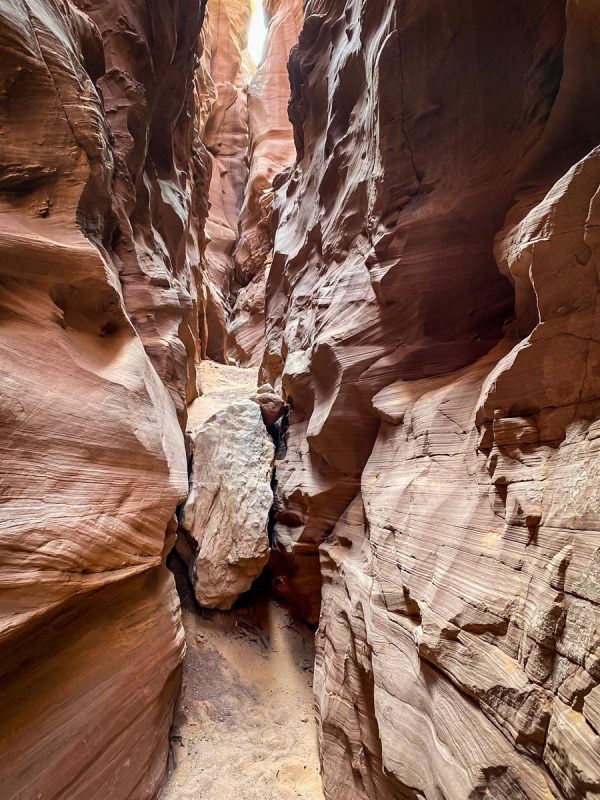 In a remote section of the San Rafael Desert, Moonshine Wash is well off the beaten path. If you want to explore a Utah slot canyon in solitude, this is probably your best bet! The hiking loop actually has several beautiful slot canyons, as well as interesting remnants of moonshine stills from bootlegging during the Prohibition era and an old narrow sheepherders' bridge.
Note that without a 4WD vehicle, you'll only be able to get within about a mile of the trailhead, so calculate that extra mileage if you have a passenger car. Also, because the area is so remote, we recommend not exploring this particular slot canyon alone and attempting it only if you're an experienced hiker with solid outdoor skills. Finally, download an offline map ahead of time — you won't have service out there.
8. Zion Narrows Bottom-up to Big Springs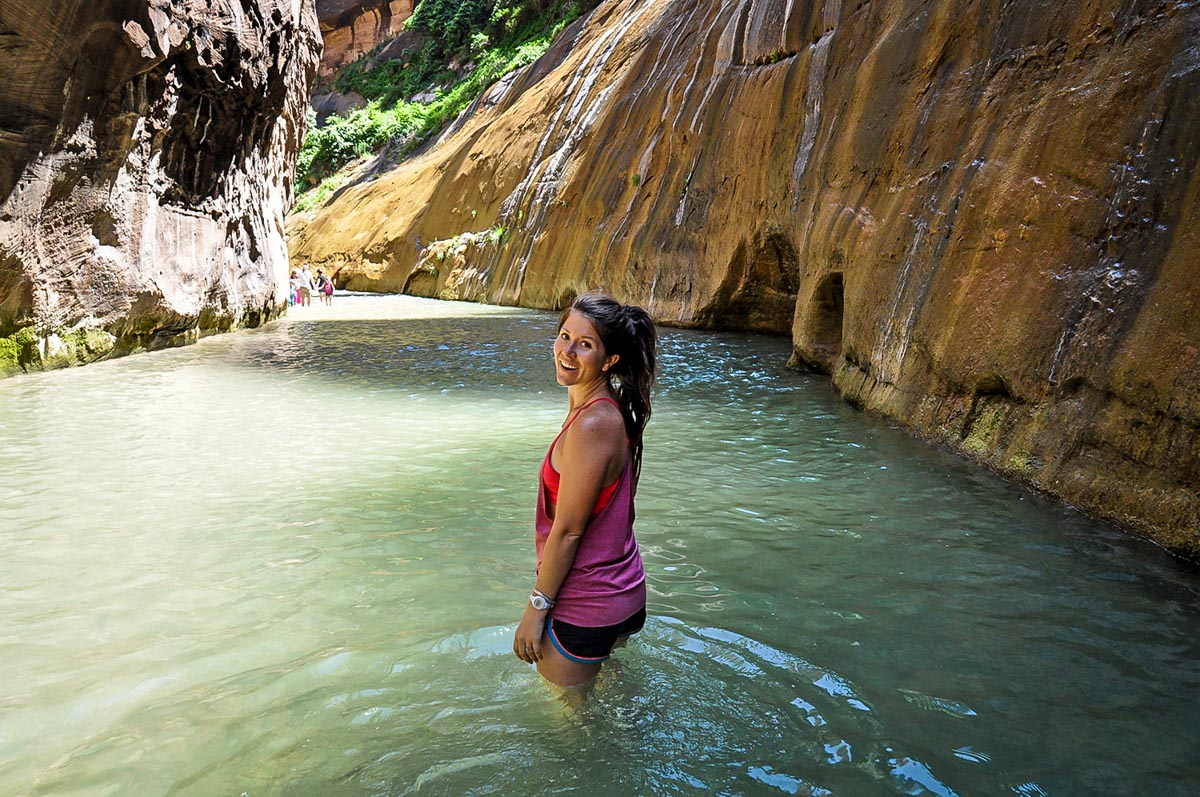 The Narrows is one of the most iconic hikes in all of Utah (and really, in the entire National Park system!), named because it's the narrowest part of Zion Canyon. With the narrow floor and steep canyon walls up to 1,000 feet tall, this hike will take you through the most spectacular section of one of the best slot canyons in the world.
Year-round, there's usually at least ankle-deep water throughout much of the trail and at times, it can be much deeper. Most people rent equipment such as neoprene booties or pants from one of the in-park outfitters to make hiking through the water easier. Expect to spend at least five hours on this world-class hike and note that the trail may be closed during periods of heavy rain.
Psst! If you're planning a trip, you'll want to check out our top picks for the best hikes in Zion.
9. Dry Fork Narrows, Peekaboo, and Spooky Slot Canyons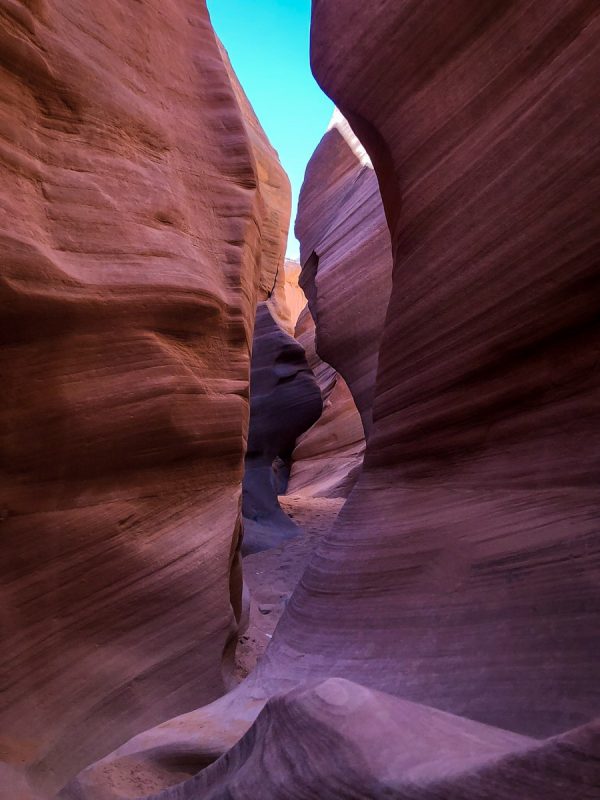 This is another popular and well-beaten trail with several of what many consider to be some of the best slot canyons in Utah. We recommend starting with Peekaboo, the easiest of the three, then moving onto Spooky and finishing with Dry Fork Narrows if time allows. Peekaboo doesn't have any technical obstacles, but is quite narrow in sections. The other two trails have lots of up-and-down, as well as some drops that require rope ladders or the help of other hikers.
The trails between these winding slot canyons can become tricky to stick with, so it is recommended to download an offline map beforehand. One really nice thing is that you can skip parts of any one of the slot canyons if you want to make your trek shorter. Also note that dogs are technically allowed but experiences hikers recommend against it because of the difficulty.
10. Keyhole Canyon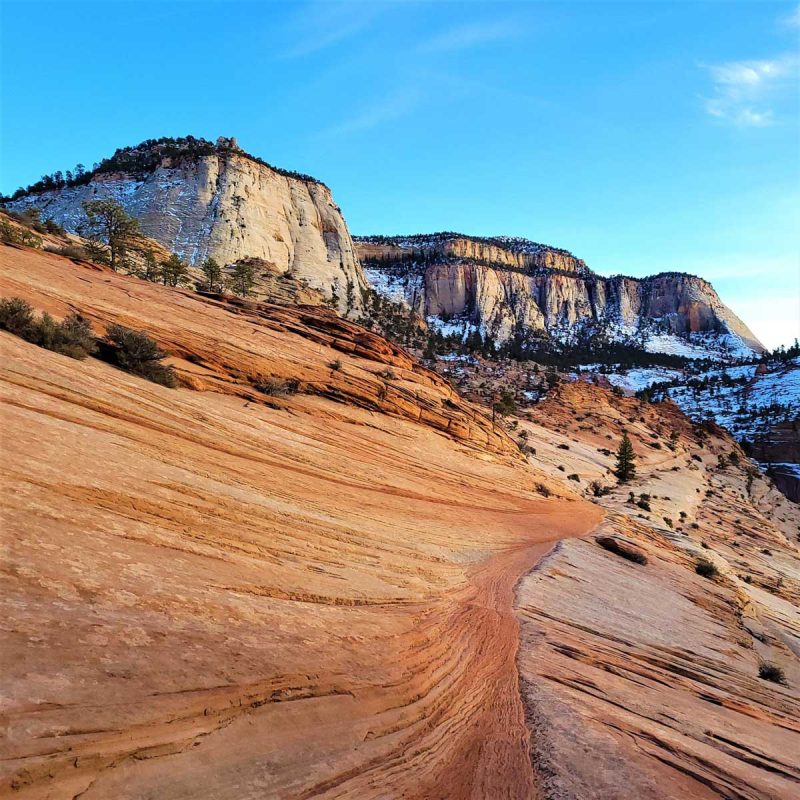 Don't let the short distance fool you. Even at under one mile, Keyhole Canyon is a tough, highly technical hike for experienced adventurers. This route requires canyoneering skills and technical rappelling gear to traverse, and a guide is recommended. You will also need a canyoneering permit from Zion. Those willing to jump through all the hoops will be rewarded with hands-down one of the most picturesque Utah slot canyons.
There is a bit of deep water on this route that's permanently in the shade, so most people wear a wetsuit under their climbing gear to stay warm. Because of the various obstacles in tackling Keyhole Canyon, it's a much less-frequented Utah slot canyon, so you're likely to enjoy it without the typical national park crowds.
Bonus: Antelope Canyon (UT/AZ boarder)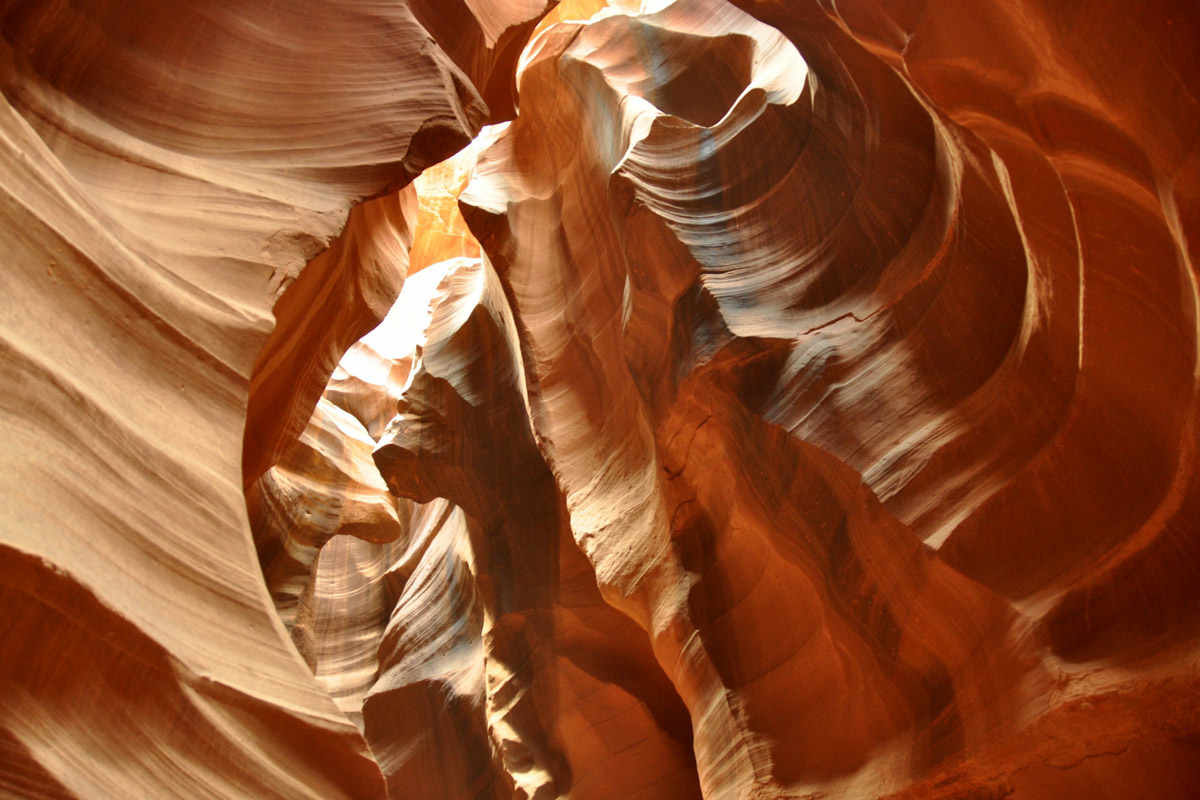 Probably the most recognized, and easily the most photographed slot canyon in the Southwest, Antelope Canyon is known for it's characteristic curves with rock that changes color as the sun shifts overhead throughout the day. We're including this one because of it's popularity and proximity so close to the Utah boarder, we figured it would be worth mentioning.
Located in an area protected by the Navajo Parks and Recreation, you will need a guided tour to enter the famous canyon. You can purchase your tickets online ahead of time to guarantee a spot on the tour you prefer.
There are two options for guided tours of Antelope Canyon: The Upper Antelope Canyon tour is the most popular as more sunlight enters the canyon in this section and the walls reach up to 120 feet. This tour requires a 20-minute walk on sandy trail, with some steep metal staircases, from the parking lot.
The Lower Antelope Canyon tour is just as impressive, but requires a longer walk from the parking lot and several elevation changes with staircases and ladders to reach the canyon.
Be sure to grab our ultimate hiking packing list includes our must-have gear for any hiking trail!


You may also like…
Save this article on Pinterest for later!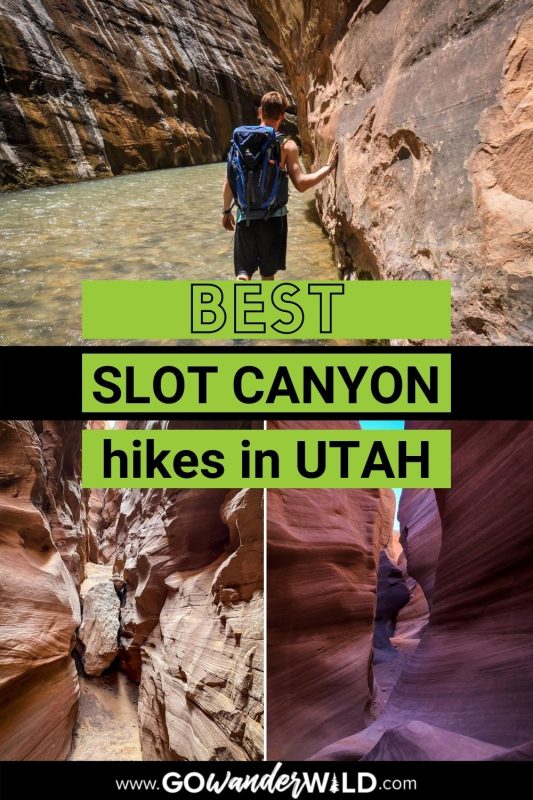 We want to hear from you!
Have you hiked any of the Utah slot canyons on this list? What was your experience like? Are you planning a trip to Utah and want more advice? Comment below and let us know!