Nestled in southern Idaho, Twin Falls is a paradise for outdoor enthusiasts. From easy family-friendly options to challenging trails with unique features, here are the must-do hikes in Twin Falls, Idaho.
Often overshadowed by its more famous PNW neighbors to the west, Idaho is a gem of a state. And we mean that literally; its official nickname is the Gem State!
Twin Falls is situated in the Sawtooth National Forest right along the Snake River Canyon, an area renowned for its natural beauty and endless recreation opportunities. Its combination of breathtaking rock formations, waterfalls, natural hot springs, vast forest, and the mighty Snake River provide a spectacular natural backdrop for all sorts of outdoor pursuits, but especially hiking.
From the crystal-clear river and thundering waterfalls (Shoshone Falls is just the beginning!) to towering rock formations and urban trails right in town, we've rounded up the must-do hikes in Twin Falls.
1. Perrine Coulee Falls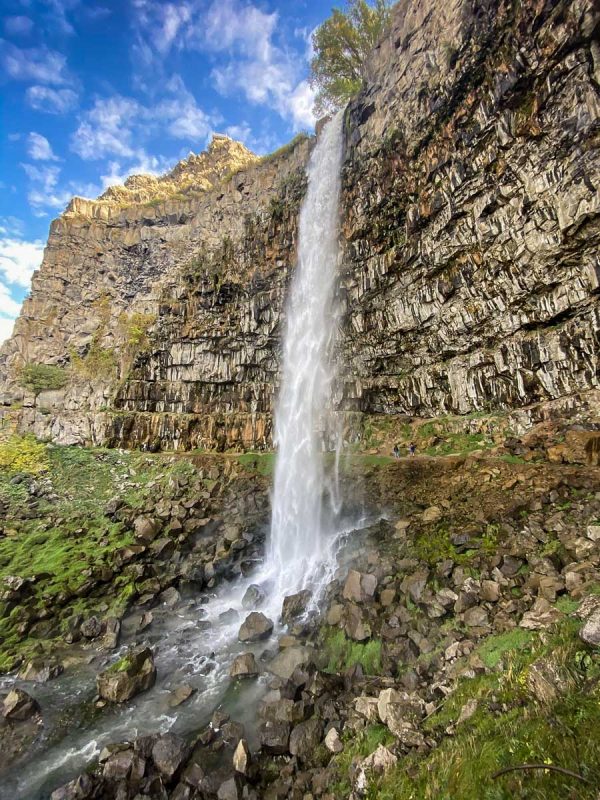 We had to start our list of hikes in Twin Falls with the city's most unexpected gem, Perrine Coulee Falls. The 200-foot waterfall flows year-round and it's easy enough to reach that you can add your visit onto any other hike (or another adventure!) on this list.
By far the best thing about this waterfall hike is that you can actually walk right behind Perrine Coulee Falls! Despite the waterfall being so high-volume and fast, there's a sizable gap between it and the canyon wall, making it easy to pass safely behind it. If you'd prefer to stay dry, you can also access the falls from the Canyon Crest pathway up above.
2. Pike Mountain Loop
If you're looking for a moderately-challenging day hike near Twin Falls, look no further than Pike Mountain Loop in the South Hills area. This trail is notorious for amazing wildflowers throughout the summer and wildlife sightings, including elk and moose. Pike Mountain is also popular with mountain bikers and trail runners, so be sure to practice trail etiquette and share the trail!
Note that Pike Mountain is an extremely popular ATV area. The start of the trailhead and the parking area is often busy (and loud!) with ATVs coming and going.
Traveling beyond Twin Falls? We put together a guide to hiking in Idaho with all the best trails around the state.
3. Snake River Canyon Rim Trail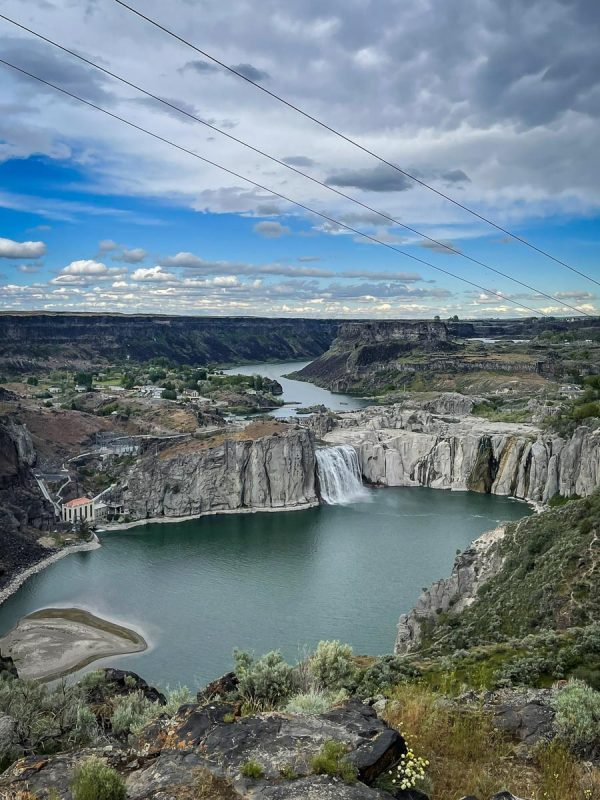 Despite being one of the longest hikes in Twin Falls, the Snake River Canyon Rim Trail (commonly referred to as simply the "Canyon Rim Trail") is actually fairly leisurely with not much elevation gain. There are also several access points, making it easy to hike as much or as little as you want in one session.
The paved trail provides fantastic views of the Snake River Canyon, Perrine Bridge (famous for being a major year-round BASE jumping destination!), and numerous waterfalls, including Shoshone and Perrine-Coulee.
4. Pillar Falls Trail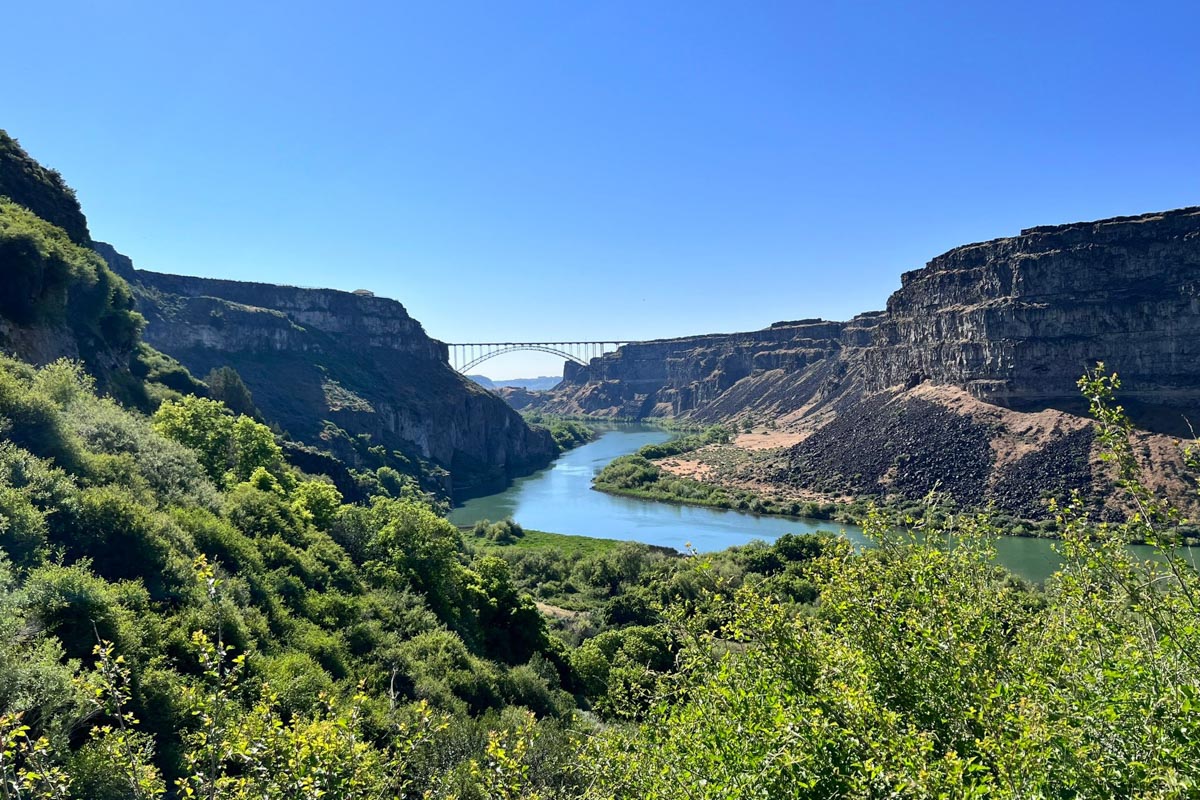 On the south side of Snake River Canyon, Pillar Falls is a magnificent 20-foot waterfall tumbling over several Rhyolite pillars. The canyon views here are among the best; look for impressive Perrine Bridge downstream. In the summer when the water level dips, hikers can explore unique rock formations and pools.
The trail is deceptive because it's so short, but make no mistake: the steepness is more challenging than it looks. Bring trekking poles if you have them!
Insider tip: you can also view Pillar Falls from above on the Canyon Rim Trail, for days you're feeling slightly less adventurous.
5. Box Canyon Springs Trail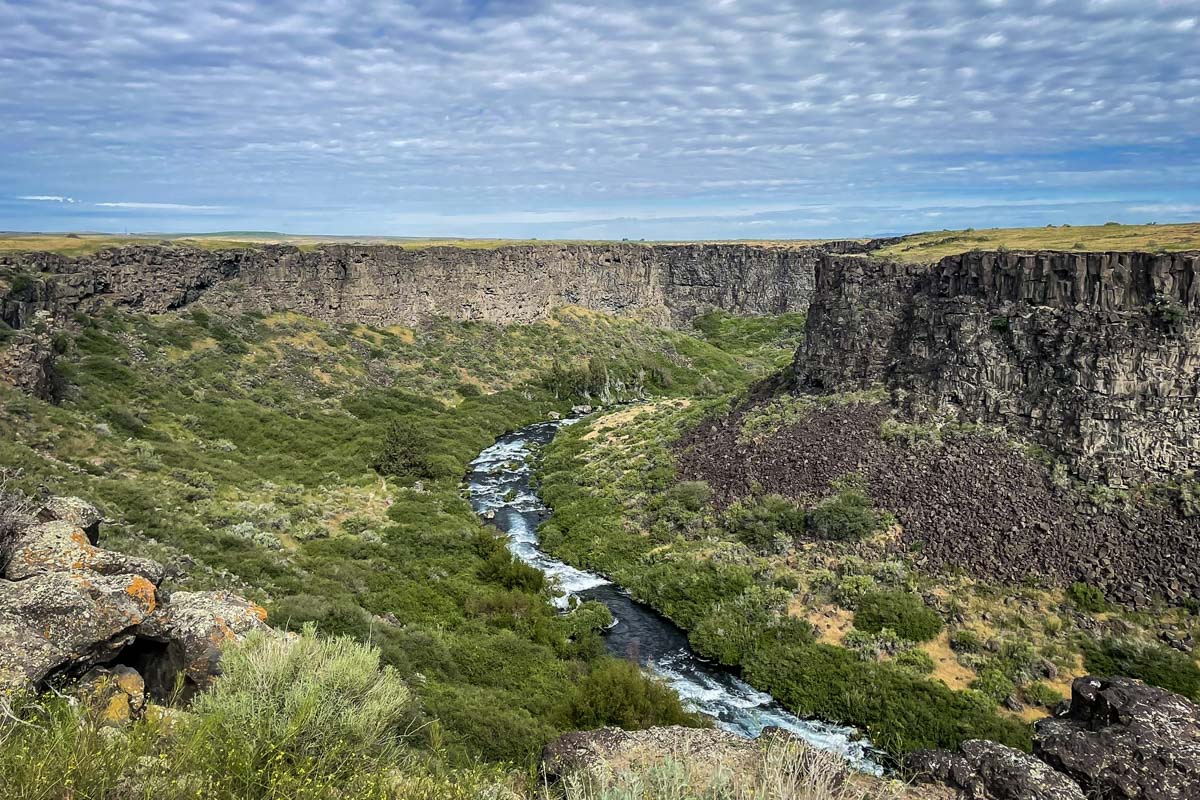 Inside the Earl M. Hardy Box Canyon Springs Nature Preserve, a fairly level dirt trail takes you to Box Canyon Springs, one of the largest springs in the country. You'll notice right away that it's a gorgeous blue and shaped like a mermaid tail!
The trail takes you to an overlook up above, and you can also climb down to the pools via a few well-worn but steep trails.
Insider tip: a new parking lot was recently added, and parking here will save you about one mile. Signage isn't very clear, so bypass the front lot and continue on a bit further back. Unless you have an Idaho State Parks Passport, parking is $7.
6. Dierkes Lake Trail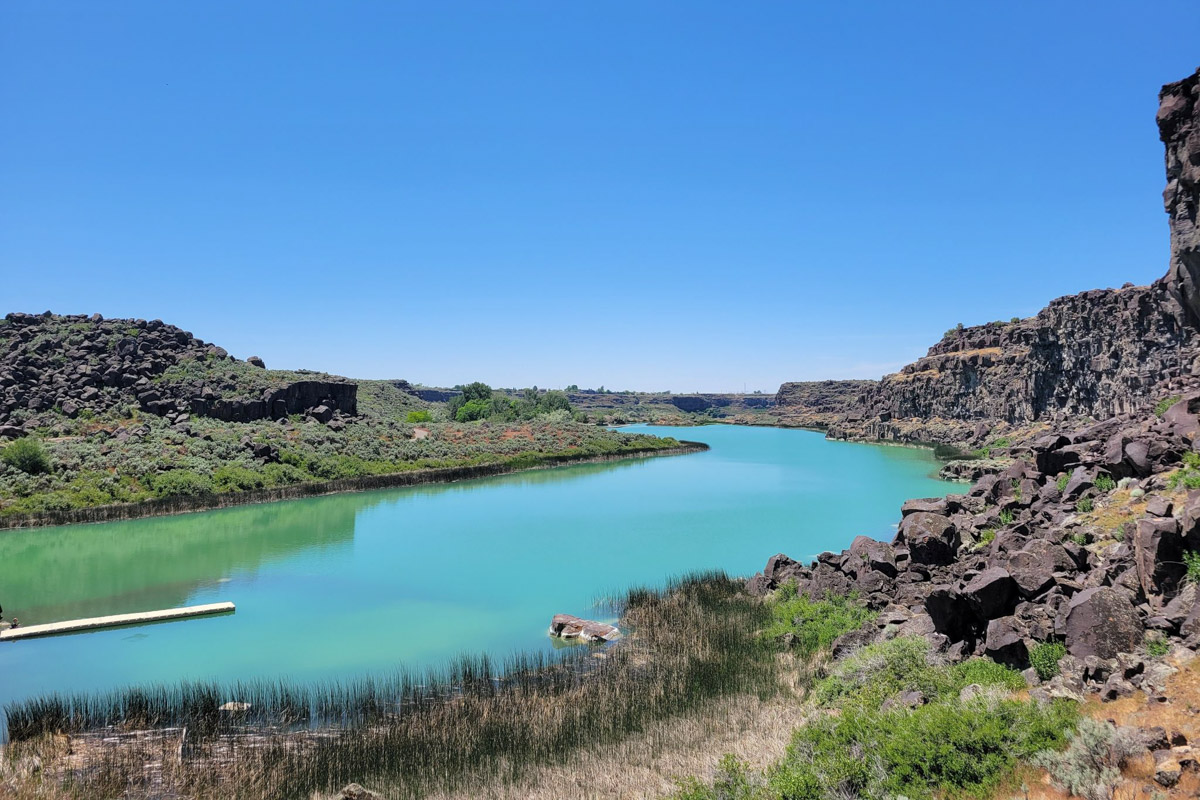 Due to both its proximity to the city and its short-and-sweet length, Dierkes Lake Trail is one of the most popular hikes in Twin Falls. In less than an hour, you can hike around Dierkes Lake and smaller Hidden Lakes, climb stairs to get a quick workout in, scramble boulders, get a spectacular view of the Snake River Canyon, and even stop for a quick swim.
Dierkes Lake Trail is accessible year-round, as is the namesake lakefront park. Note that while dogs are welcome on the trail, they are NOT allowed in the park.
Psst! While you're traveling through Idaho, be sure to check out this list of must-visit Idaho hot springs so you don't miss a chance for an epic soak!
7. Salmon Falls Creek Gorge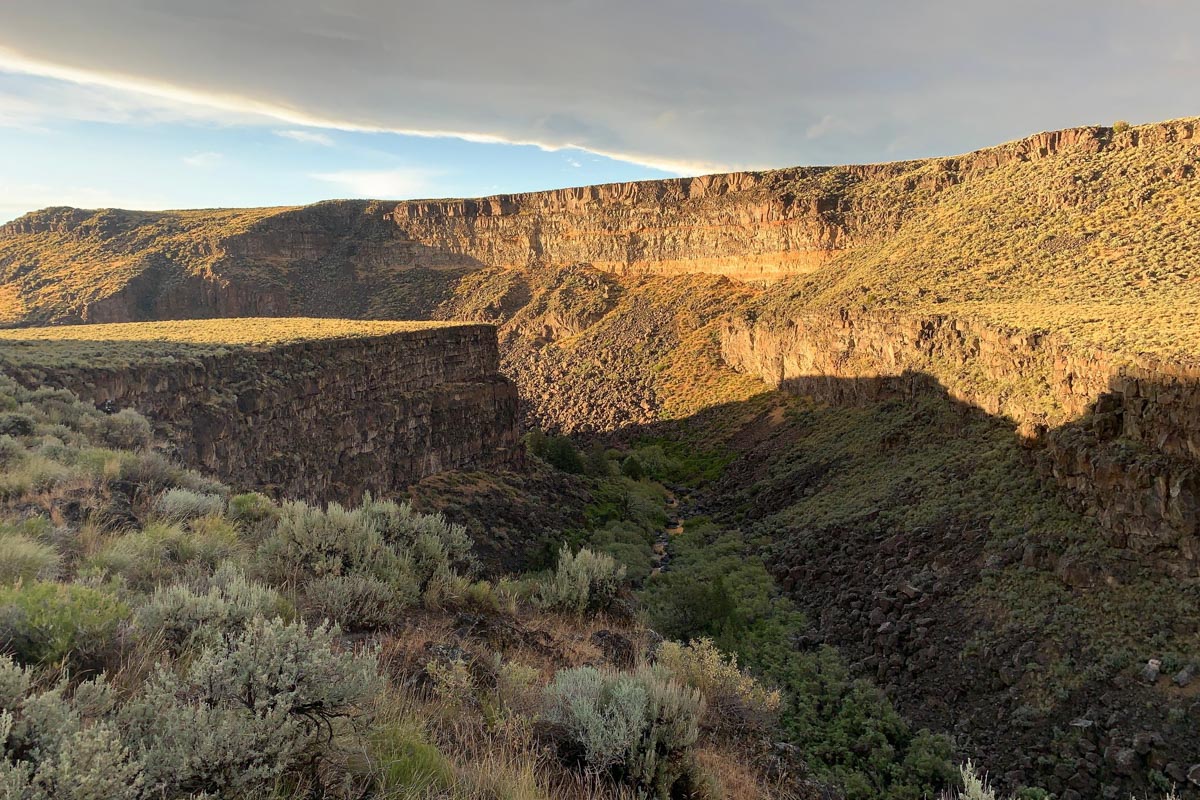 This is definitely considered a hidden gem among hikes in Twin Falls; you likely won't encounter anyone else! Enjoy epic canyon views from up above and keep your eyes peeled for wildlife, particularly birds, deer, and snakes. The trail has no shade, but is an easy, fairly level path.
Note that the gate at the start of the trail is usually closed, but you can simply open it with the lever. Make sure to close it behind you, though!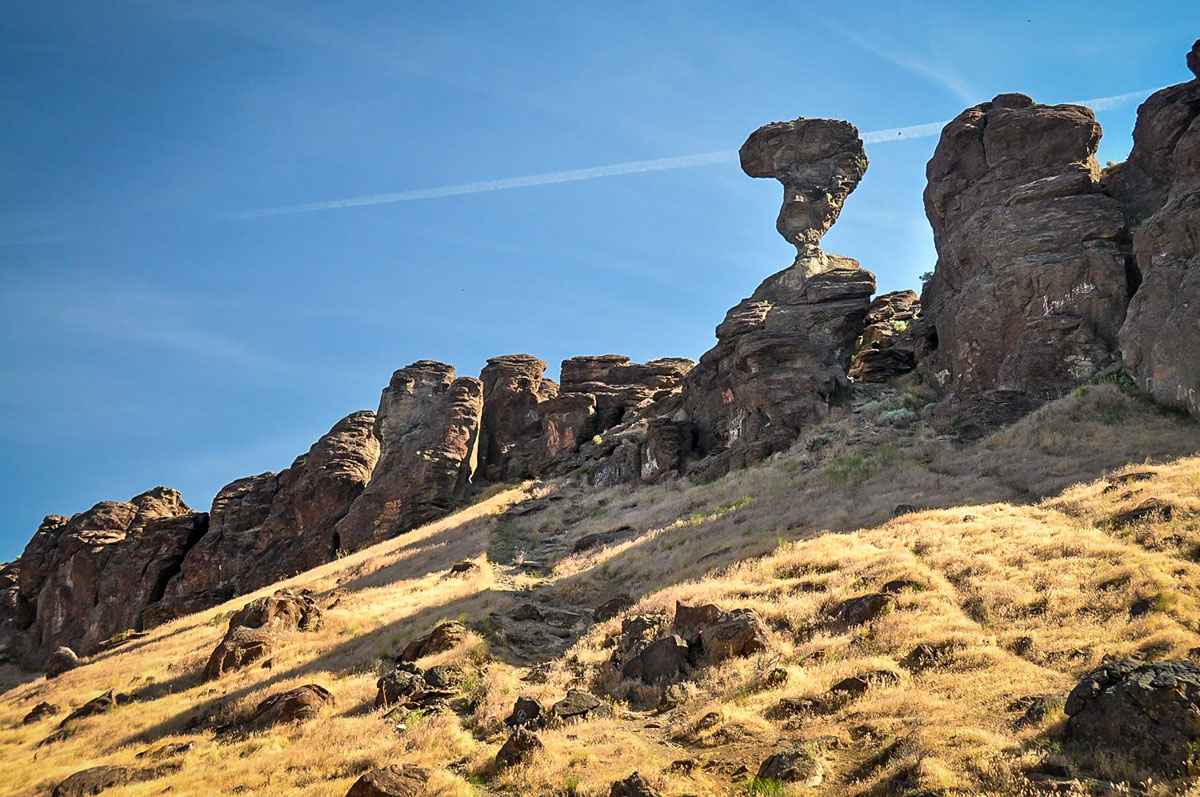 Bonus: Nearby, you can also make the short 0.9-mile hike to Balanced Rock in the eponymously-named Balanced Rock Park, a unique wind-carved formation balancing precariously on a 3-feet pedestal.
8. Mogensen Trail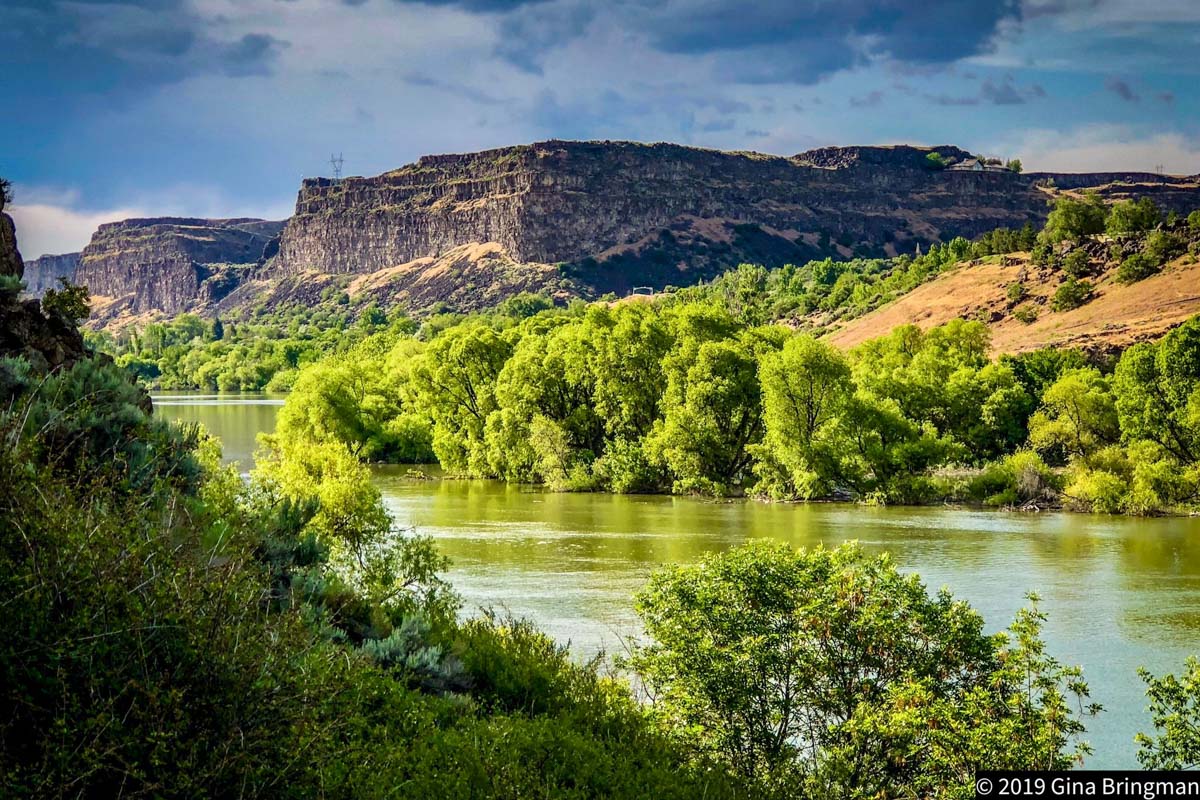 Right near Centennial Waterfront Park, the Mogensen Trail is another easy out-and-back hike in Twin Falls. Naturally, this easy-going trail is a go-to for families, and leashed dogs are also welcome. Somewhat surprisingly, though, it's not nearly as popular as other hikes in Twin Falls, making it a great option for peace and quiet.
One especially unique attribute of the Mogensen Trail is that it passes directly under the Perrine Bridge 486 feet above. Because of this, you get a front-row ticket to watch BASE jumpers land literally right in your path!
9. Auger Falls Park Loop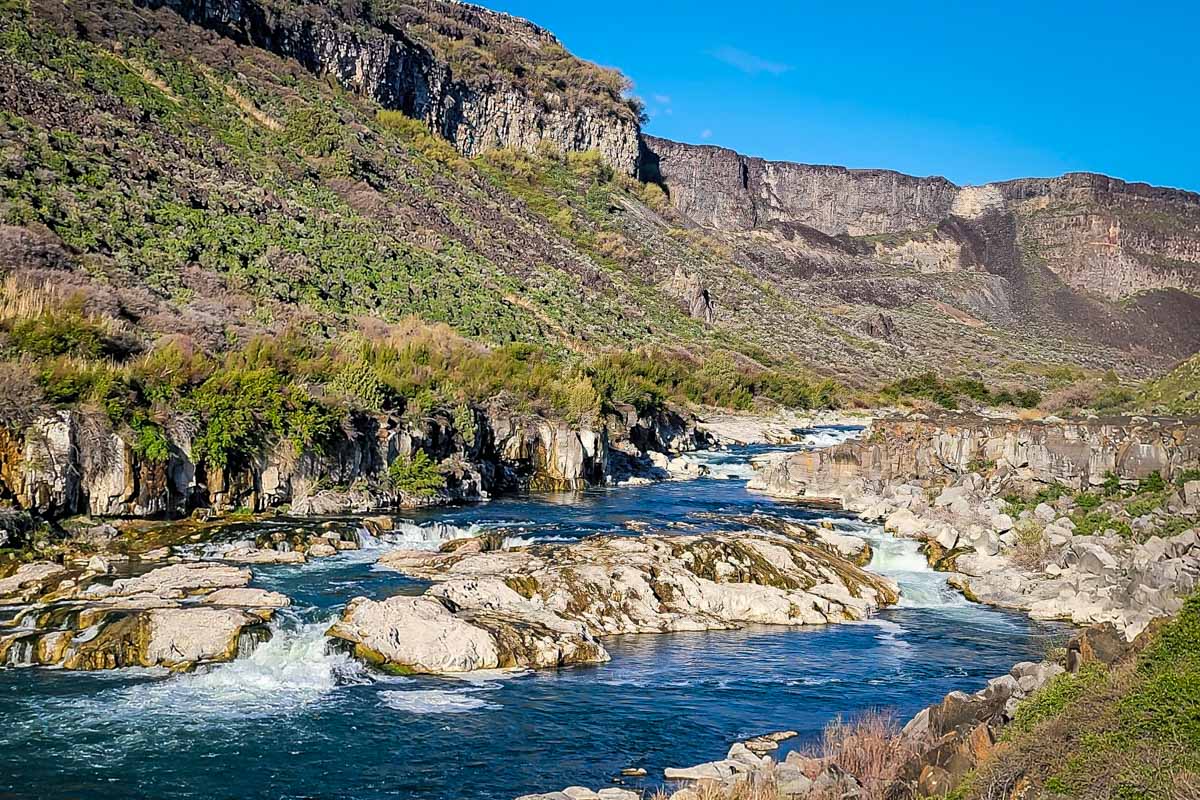 Although Auger Falls Heritage Park is situated right along the banks of the Snake River, Auger Falls Park Loop is one of the lesser-known hikes in Twin Falls. You'll hike inside the steep canyon, being treated to the rugged scenery that's a cornerstone of southern Idago.
One mile into the loop, you'll reach Auger Falls, which is actually a significant 30-foot drop in the entire river that creates a significant corkscrewing eddy. Continue on and you'll also come to Mermaid Falls and ruins from early homesteads in the canyon.
10. Ross Falls Trail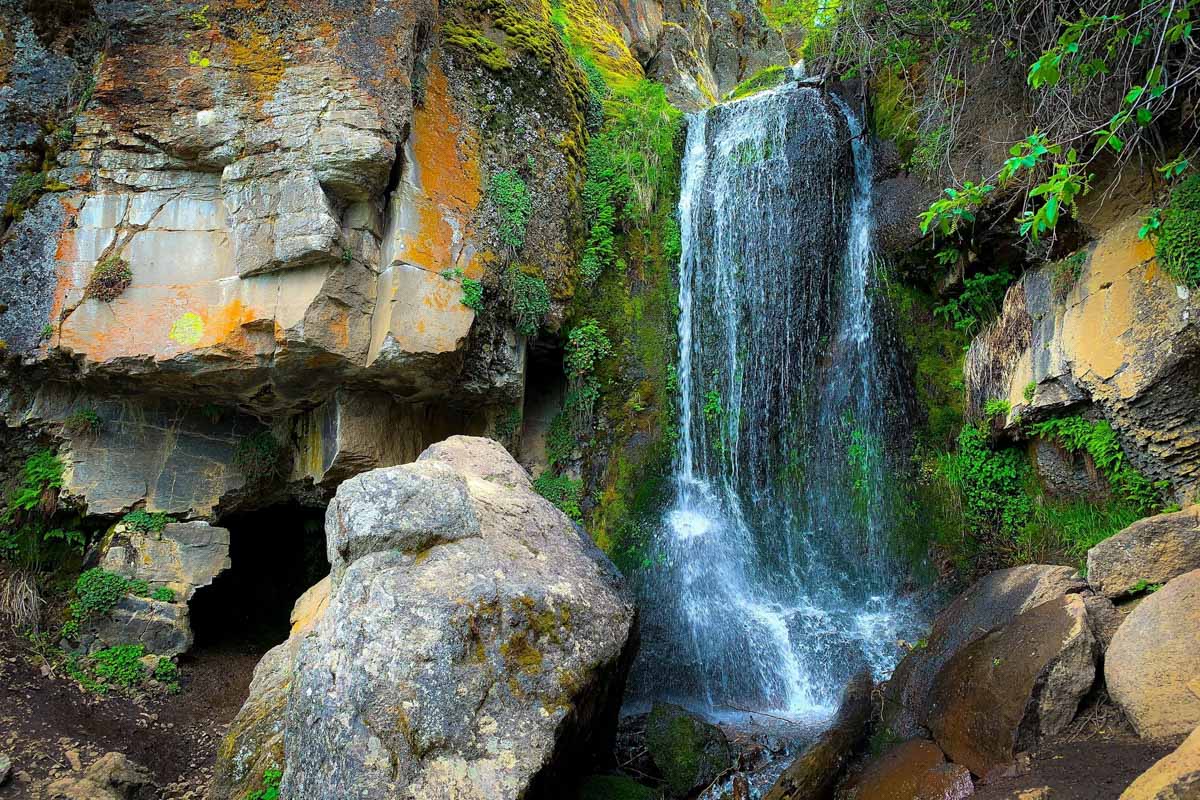 This is easily the shortest hike near Twin Falls, making it perfect for the entire family. Ross Falls is found in the South Hills, right near the Magic Mountain Ski Area.
The well-maintained trail features lush, thick vegetation and a wooden bridge that makes for interesting photo ops before culminating at the 40-feet waterfall. You can get right up close to the falls, so pack some snacks or a whole picnic and enjoy the view. Ross Falls flows year-round and in the winter, becomes a dramatic frozen waterfall.
11. Eagle Loop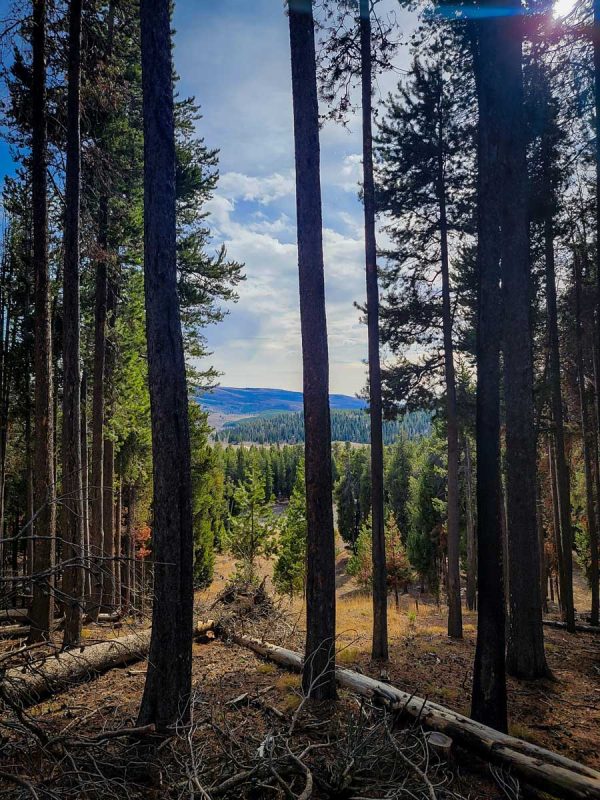 Just beyond the Magic Mountain Ski Resort, Eagle Loop packs a lot of gorgeous scenery into just two miles. Enjoy views of the surrounding mountains and valleys, summer wildflower blooms, and if you're lucky, plenty of wildlife. Eagle Loop is a prime moose hangout in the summer and fall months!
The hike starts on the north side of Pettit Campground and intersects with several ATV trails. It can be easy to veer off-trail in some places, so just keep an eye on your footing and pay close attention to trail markers. In the winter, Eagle Loop is excellent for snowshoeing and cross-country skiing, but note that the parking lot is not plowed.
12. Old Towne Rock Creek Parkway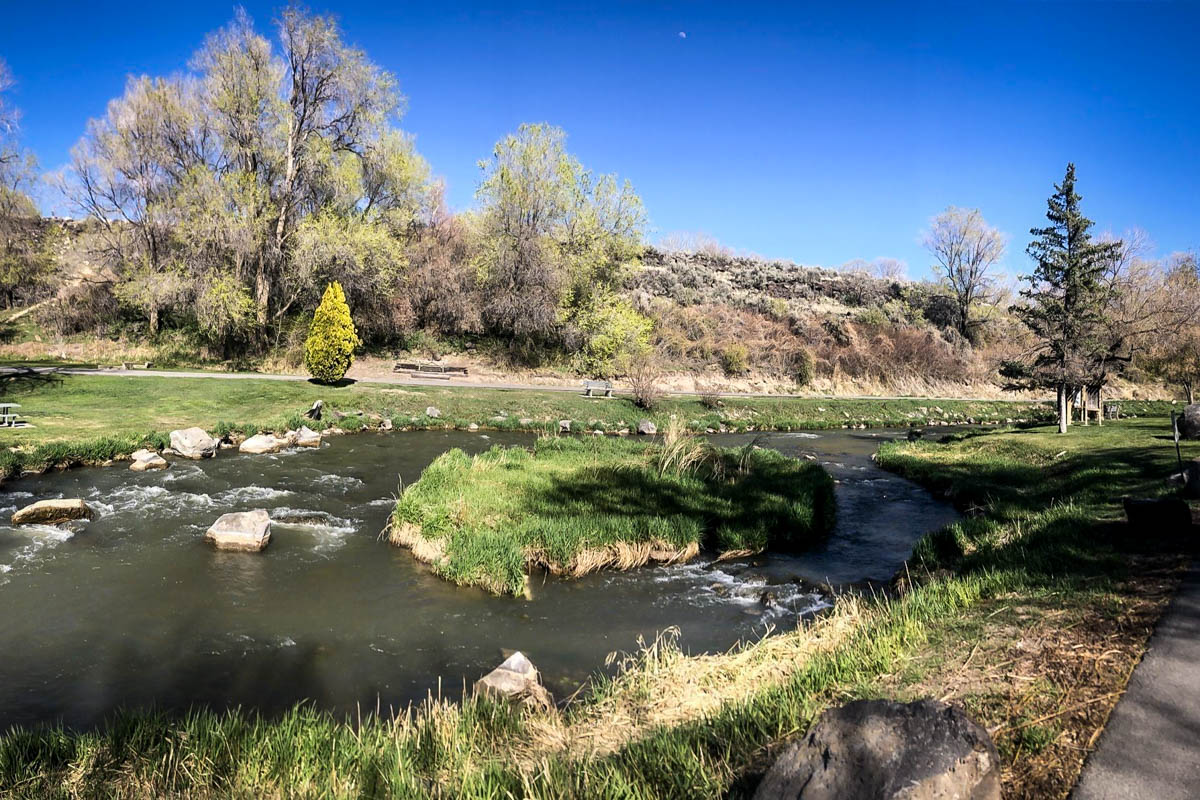 Very much a hidden gem on the south side of town, several AllTrails comments indicate that many locals don't even know about Old Towne Rock Creek Parkway! This is an excellent choice for an easy and straightforward, but not necessarily popular, hike in Twin Falls.
Tucked in Rock Creek Park, this paved and well-shaded trail has several access points so you can easily hop on and off whenever you've had enough. There are also lots of lovely benches and picnic areas, and plenty of wildlife to see.
13. Clyde Thomsen Loop
Clyde Thomsen Loop is admittedly far more of a quick walk than a hike, but it is ideal for children or those days when you just have to get outside and don't have much time. All you need is 15 minutes or so to complete this wide, paved loop trail inside Clyde Thomsen Park.
The trail is wheelchair- and stroller-friendly, and there's a nice playground for kids and a picnic area.
14. Indian Springs Trail/South Hills Single Track System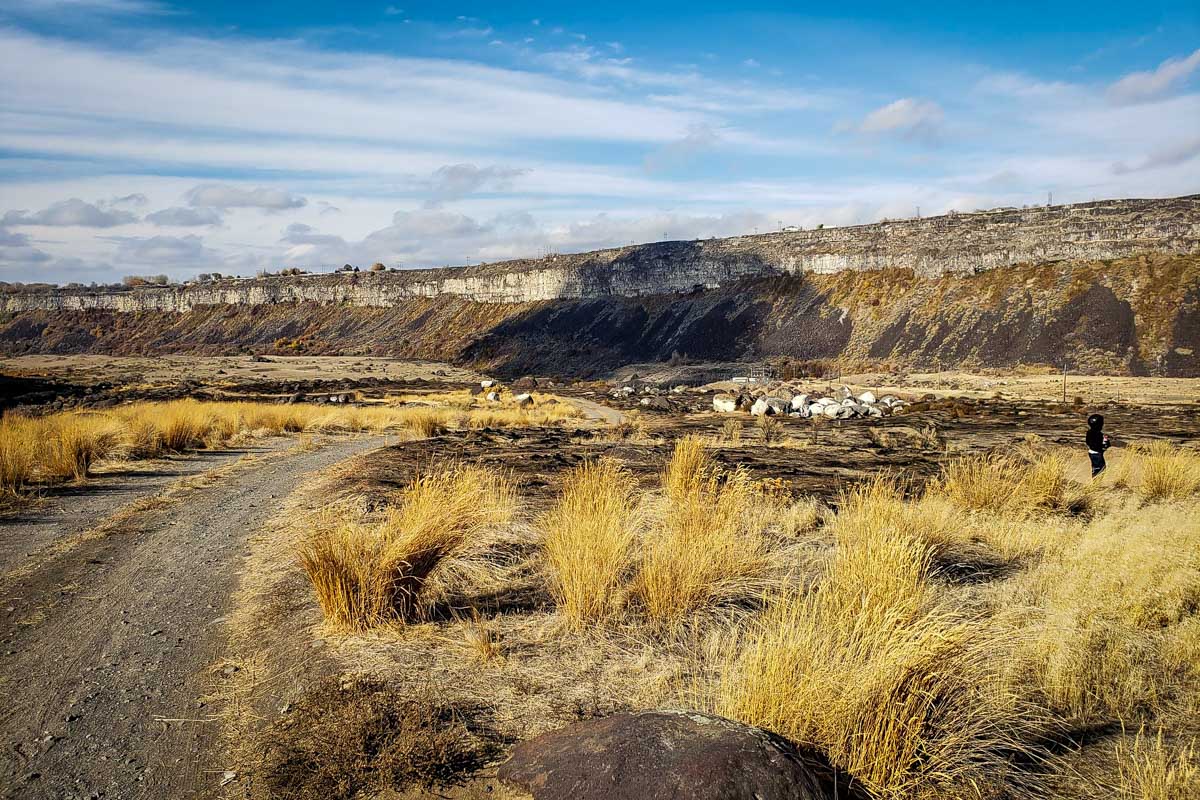 When you want to hike to truly "get away from it all," head just south of Twin Falls to the South Hills area. Just across 2900 East, you'll find the South Hills Single Track System (formerly, and often still, called Indian Springs Trail) nestled into a vast swath of accessible Bureau of Land Management land.
Indian Springs Trail is a fairly straightforward 8-mile loop with some ups and downs, but nothing technical. It's especially pretty in the spring and summer when the surrounding meadows are covered in wildflowers. With over 40 miles of well-used trails, this area is also popular for mountain and dirt biking, trail running, and horseback riding, in addition to hiking.
15. College of Southern Idaho Fitness Trail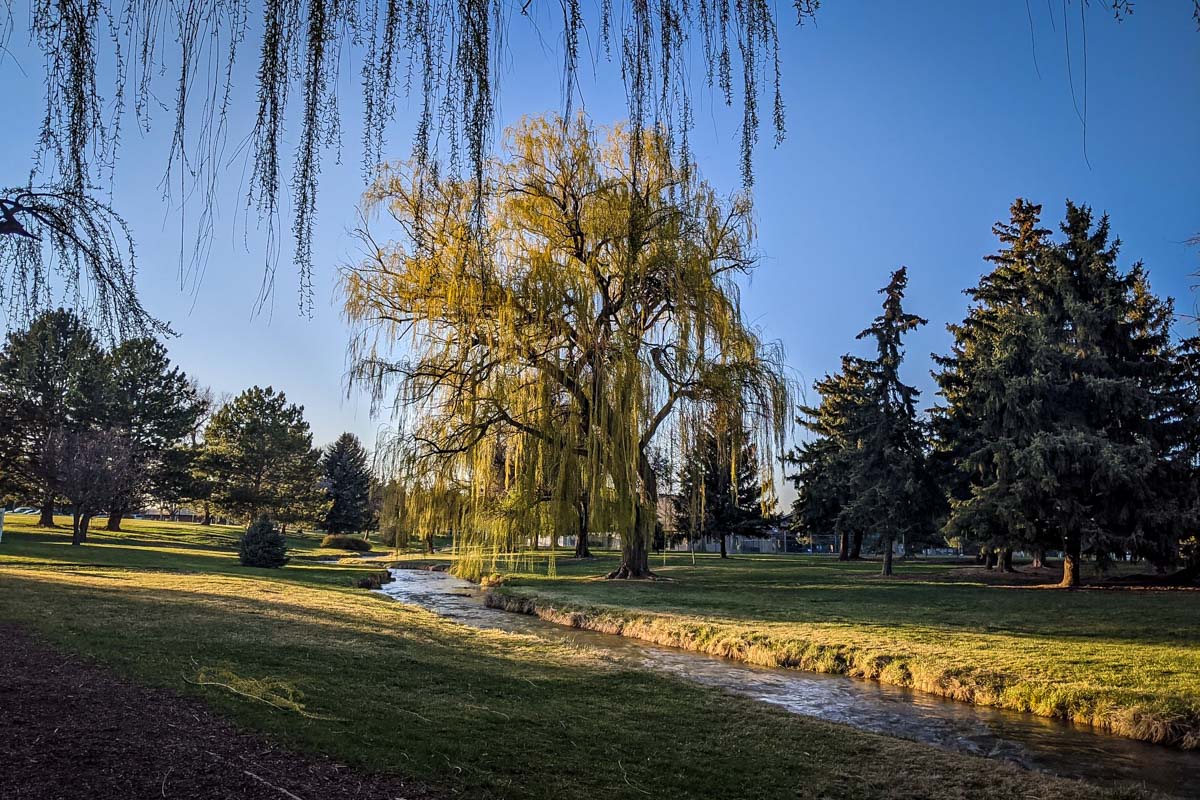 For those times when you very literally want one of the quickest, easiest hikes in Twin Falls, the College of Southern Idaho (CSI) Fitness Trail is the perfect solution. Running through the picturesque College of Southern Idaho campus, the fitness trail consists of several interconnected individual sections.
Despite being short and sweet, the CSI Fitness Trail is unique in that it features several exercise stations along the trail, giving you a surprisingly good workout. Stop every so often to do sets on balance beams, pull-up bars, and other stationary equipment.
As a bonus, the trail runs alongside a creek and under several shade trees, providing lovely scenery for this urban hike.
Be sure to grab our ultimate hiking packing list includes our must-have gear for any hiking trail!


You may also like…
Save this article on Pinterest for later!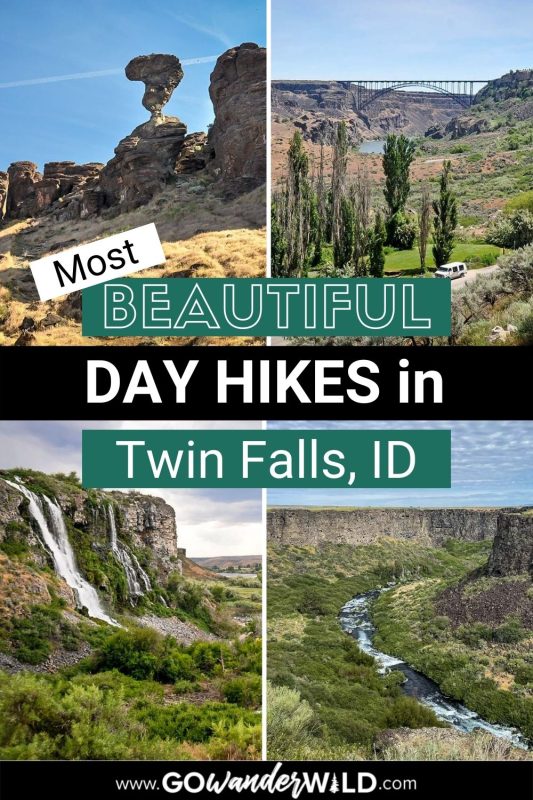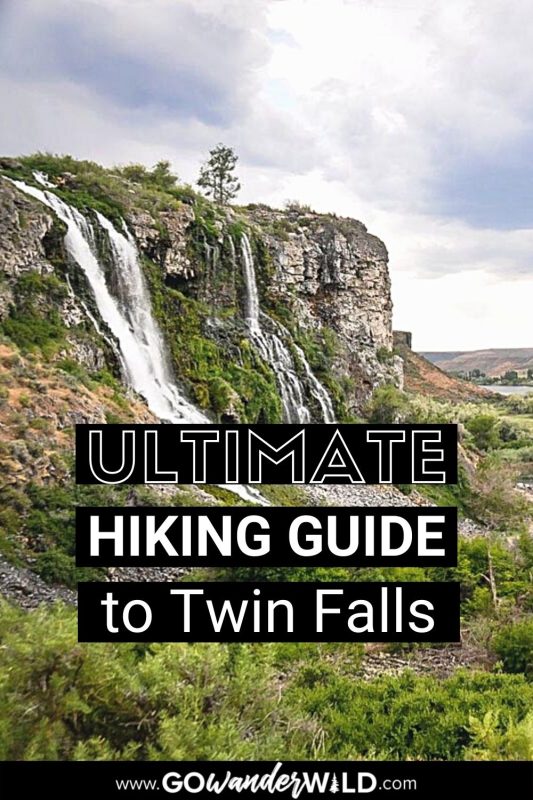 We want to hear from you!
Which of these hikes in Twins Falls has you most excited to hit the trails? Comment below and let us know!