Goldbug Hot Springs, also known as Elk Bend Hot Springs, is one of the most beautiful hot springs in Idaho. In this guide, we'll show you exactly how to get to Goldbug Hot Springs, what you can expect once you're there, and all the insider tips.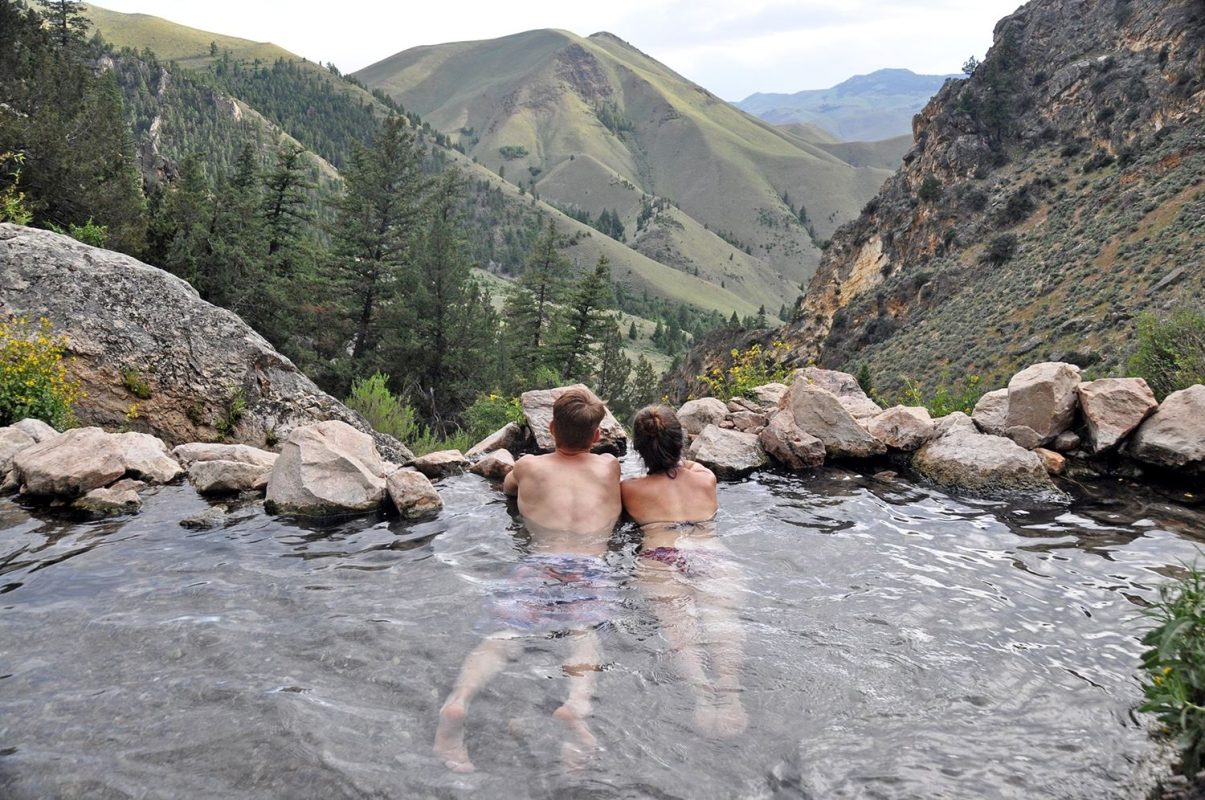 Right in the heart of Idaho's Salmon-Challis National Forest is a soaking experience unlike any other. Goldbug Hot Springs consists of six idyllic waterfall-fed pools overlooking a lush green valley in the Idaho wilderness.
It is an adventure to get up to the springs, so a touch of prior planning is necessary, but SO WORTH IT. Once you cross the last footbridge and arrive at the pools, you'll forget all about the steep climb it took to get here.
In this guide to visiting Goldbug Hot Springs, we dish out exactly how to get to the springs, the parking and camping situation, important Leave No Trace principles, what to pack, and what you can expect at these spectacular hot springs.
Goldbug Hot Springs description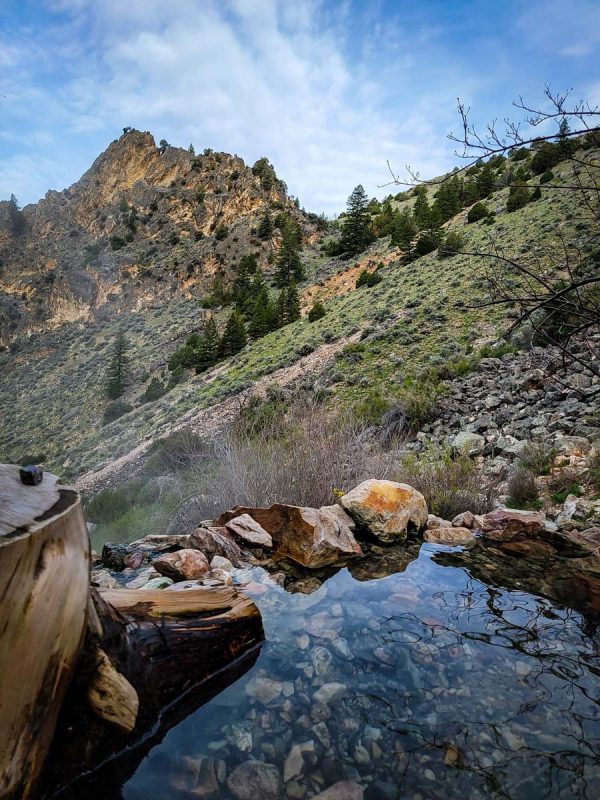 Goldbug Hot Springs is arguably one of the most stunning, bucket list-worthy hot spring soaks in the Pacific Northwest. The six different pools are all fed by a nearby creek that falls down mini cascading waterfalls.
One of our favorite parts about visiting the springs is that each pool has an amazing view of the valley, so no matter what pool you're in, you have the best seat in the house.
Soaking in these pools makes you feel as though you've escaped the "real world" and transported yourself to your own little slice of wild paradise.
Goldbug Hot Springs stats
Here are all the important things to know about Goldbug Hot Springs:
Location: in Salmon-Challis National Forest, just off Highway 93
Exact Location: 44.90550382972442, -113.92962185395616
Trailhead Location: 44.89820334699119, -113.95693988146236
Nearest moderately-sized town: Salmon (23 miles north). The springs are technically in Salmon, but it's a short drive away from downtown.
Access: Moderate, 3.5-mile out-and-back trail
Time of year: open year-round but microspikes are recommended in the winter
Cost: Free
Camping available overnight
Camping: There are three camping areas in the first mile or so of the trail that are free, BLM camping.
Type of hot spring: Natural/undeveloped; the only developed part of the springs is the trail to get there, so they're kept in their natural form.
Number of pools: 6; there are different shapes and sizes of pools with varying depths and temperatures.
Water clarity: pretty clear
Temperature (at source): 113ºF; this is the average temperature for the large, heart-shaped spring, but the temperature varies by pool and season.
Depth: 1-2' feet deep
Clothing: optional
Suitable for children? Due to the remoteness of the hike to get here, temperature of the spring and difficulty of the trail, it may not be suitable for children.
How to get to Goldbug Hot Springs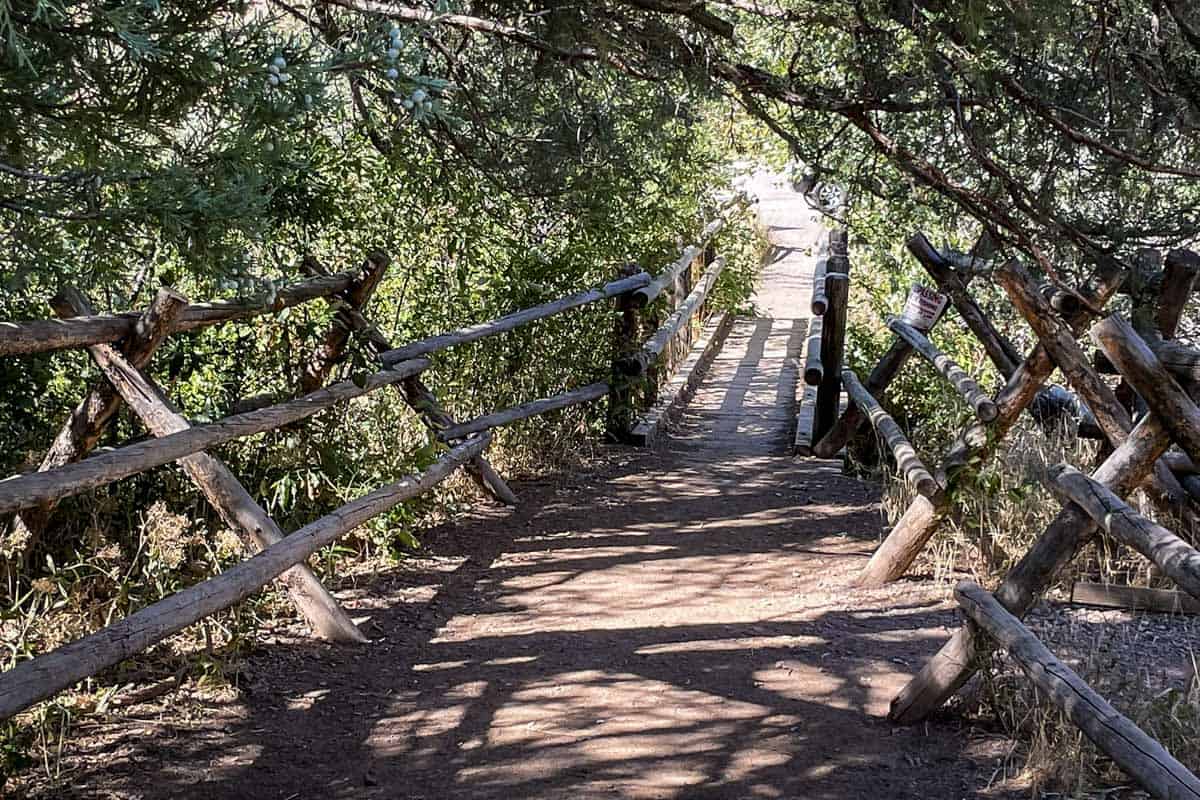 Goldbug Hot Springs is located in Salmon, Idaho in the Salmon-Challis National Forest. There are paved roads that take you all the way to the trailhead, so having a 4×4 or high clearance vehicle isn't necessary.
Directions to Goldbug Hot Springs
Distance from Stanley: 93 miles, 1 hour 46 minutes
Distance from Twin Falls: 225 miles, 3 hours 53 minutes
Distance from Boise: 226 miles, 4 hours 26 minutes
Distance from Yellowstone: 260 miles, 4 hours 16 minutes
Coming from the East (Idaho Falls/Jackson/Yellowstone)
[You are driving westbound on Highway 28]
From Idaho Falls, you'll take I-15 N to E1500 N.
Turn left and drive down E1500 N for 4 miles.
Merge onto ID-28 N.
Follow ID-28 N for 182 miles.
Turn left onto Warm Springs Road to the Goldbug Hot Springs Trailhead.
Coming from the West (Boise/Stanley/Sawtooth Mountains)
[You are driving eastbound on Highway 21]
From Stanley, you'll take Highway 75 N eastbound.
Turn left onto US-93 N and follow for 38 miles.
Turn right onto Warm Springs Road to the Goldbug Hot Springs Trailhead.
The hike to Goldbug Hot Springs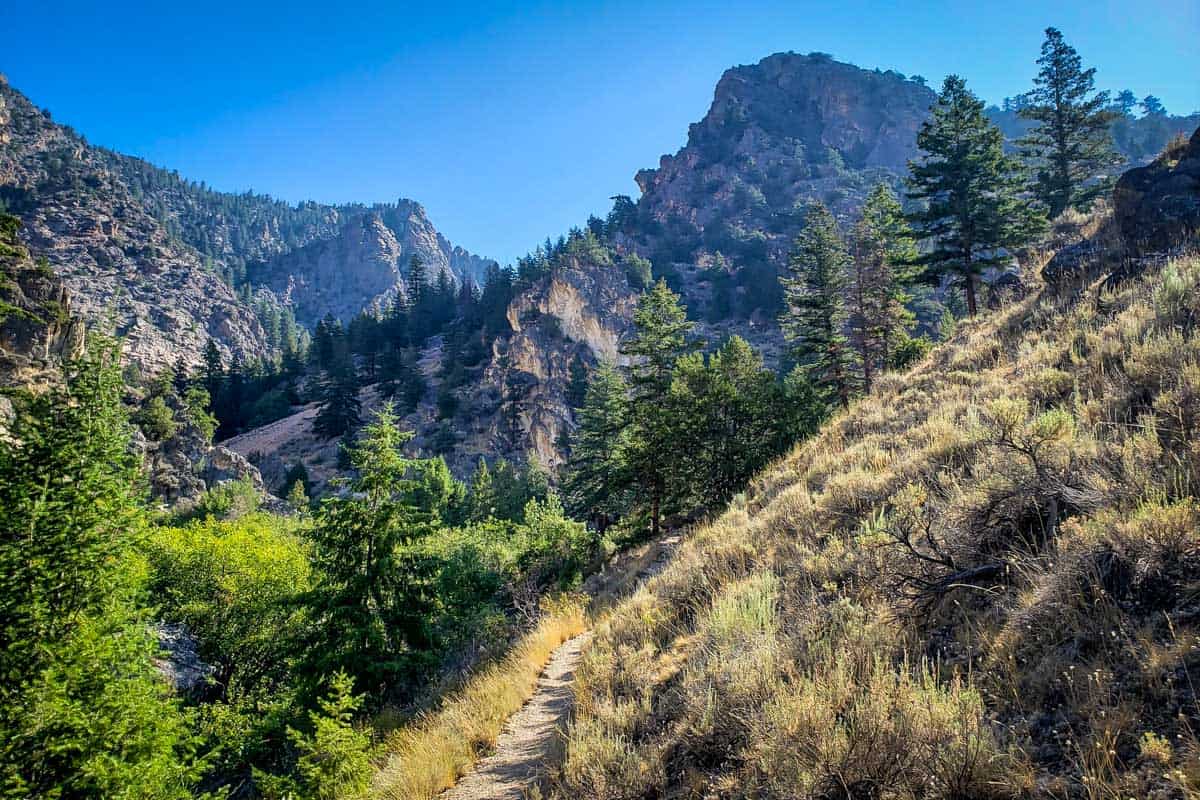 Distance: 3.5 miles, out-and-back
Elevation: 958 ft
Difficulty Rating: Moderate
Things to know about visiting Goldbug Hot Springs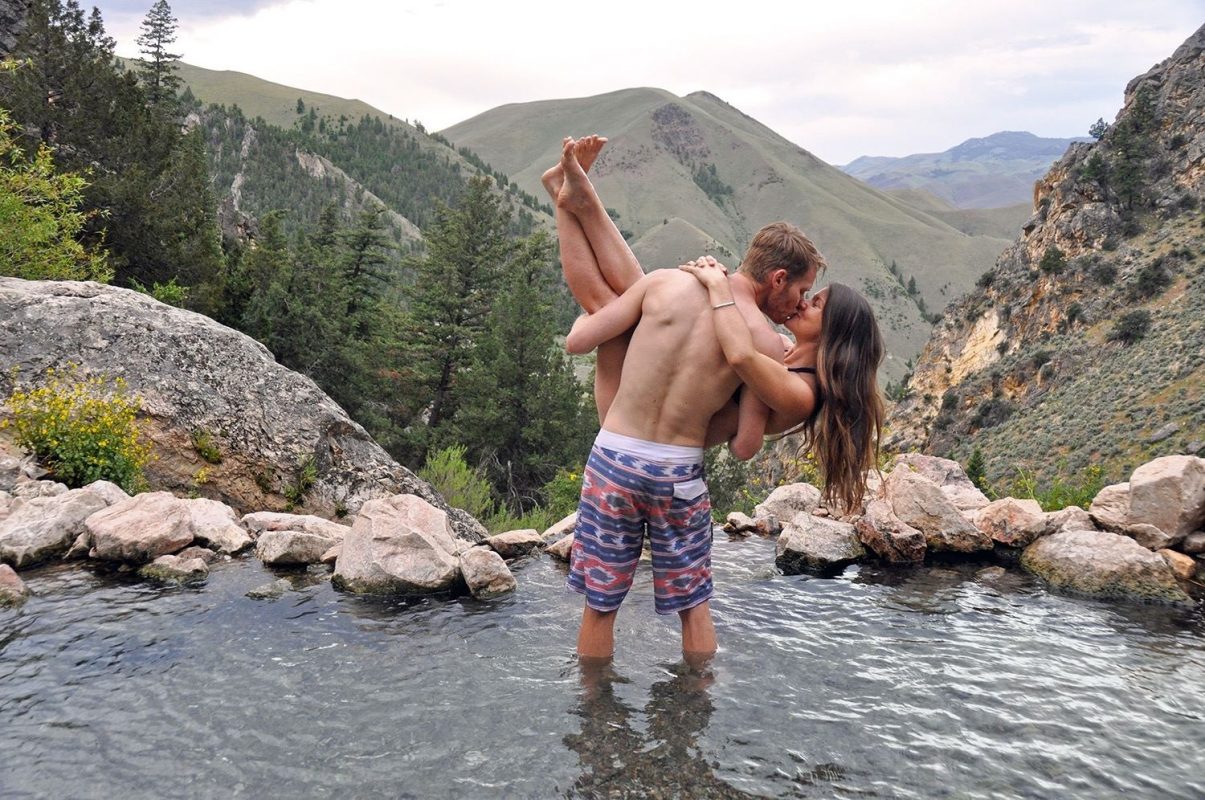 You cross through private property to get to the hot springs. The first half-mile of the hike is on privately-owned land. The locals and landowners work together to provide public access to this land, so stay on the trail to make sure we can all enjoy these springs in the years to come.
There are no facilities at the hot springs. Because these springs are remote, they require a bit more prep to get to than other hot springs. Note there are no bathrooms here and no changing areas.
A moderate hike is required to access the springs. The hike to get to Goldbug Hot Springs is 4-miles out-and-back and rated moderate. Keep this in mind as you're packing your hot springs essentials.
Expect it to be busy, especially on weekends. These hot springs have become quite popular on social media, which means more people come out to enjoy. Aim to arrive early in the morning or in the off season for a more secluded soak.
Expect nudity. This is common for most wild and remote hot springs.
Carry out all your trash with you. With increasing popularity, there has been an increase of waste left around the pools. Please remember to take your trash out with you and leave Goldbug Hot Springs better than you found it.
Cell service is limited. Download the hiking trail on AllTrails and save the driving directions offline since you'll likely be out of cell signal range.
Goldbug Hot Springs FAQs
Here are some important things to know before visiting Goldbug Hot Springs:
How many pools are there?
There are six different soaking pools that are fed by small waterfalls. The main pool overlooking the valley is heart-shaped and can fit quite a few people, but you can explore the smaller pools for more solitude.
The best part about this hot spring is that all of the pools have an amazing view!
How crowded is Goldbug Hot Springs?
The soaking area is rather small, so the springs get crowded pretty quickly. Instagram and other social media platforms have caused this hot spring to dramatically increase in popularity over the years, but it's still worth visiting despite its growing popularity.
To avoid crowds, we recommend getting here early, avoiding weekends and holidays, and to aim for a spring or fall visit since the summer season is the most popular.
Because of the remote nature of this hot spring and the trail to get here, it doesn't get quite as crowded as other, easily accessed hot springs.
When's the best time of year to visit?
Summer is one of the most popular times to visit, but it can get crowded. Plus, soaking in a hot spring in hot weather isn't the most appealing.
In the spring and fall months, the weather cools down and is a lot more pleasing to soak in the springs, but these months are popular as well.
Winter is the least crowded time to visit Goldbug Hot Springs, but you'll likely need microspikes and additional winter hiking essentials since the trail will be covered in snow.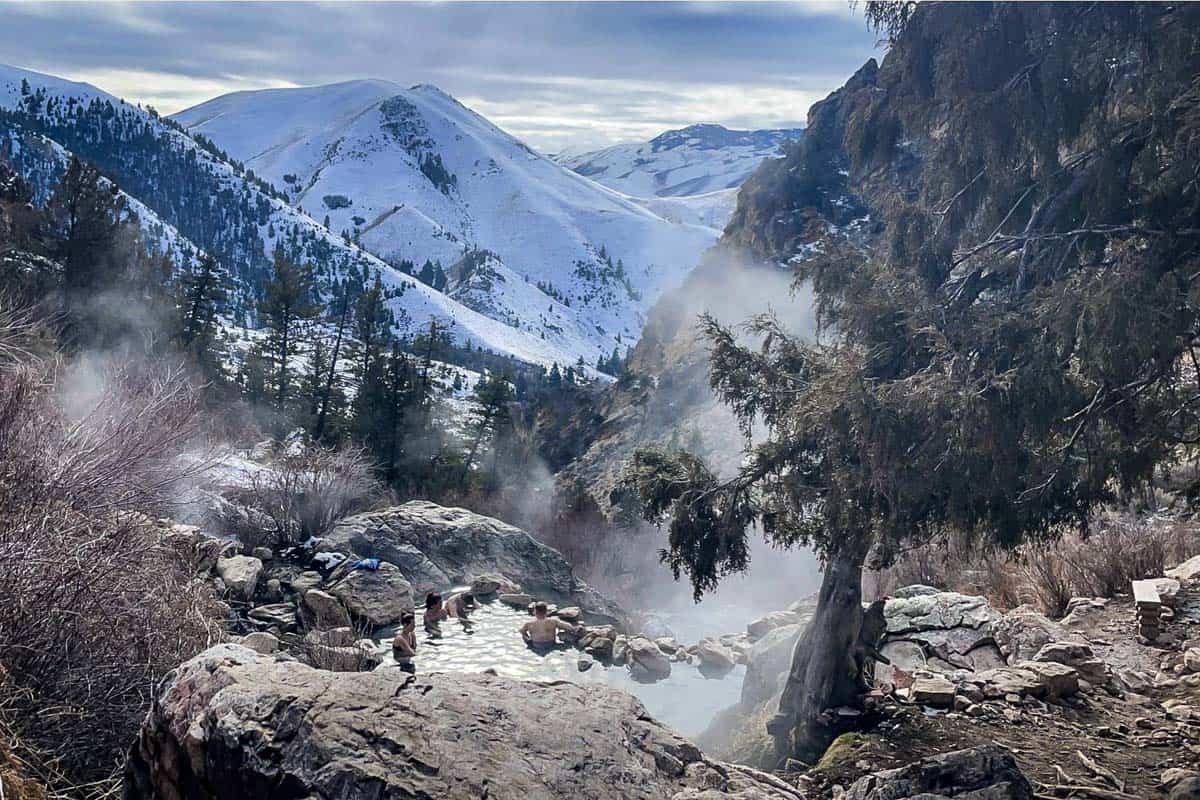 Goldbug Hot Springs are open year-round, but each season has its own draws (and drawbacks).
Is Goldbug Hot Springs worth visiting?
Absolutely. Goldbug Hot Springs is one of our favorite soaks we've had in the Pacific Northwest. It's worth the extra effort to get here to have a truly memorable experience.
The not-so-great parts about Goldbug Hot Springs:
It can be difficult to access. While other hot springs are on short and easy trails, the hike in requires a bit more planning, but it's MORE than worth it!
The atmosphere varies depending on which season you go and the visitors. We've heard of other visitors playing loud bluetooth speakers, leaving behind trash, and camping near the springs, which isn't allowed.
It can get crowded.
The good parts about Goldbug Hot Springs:
The views and setting are incredible.
The water is clear and stays fairly hot.
How much time should you spend at Goldbug Hot Springs?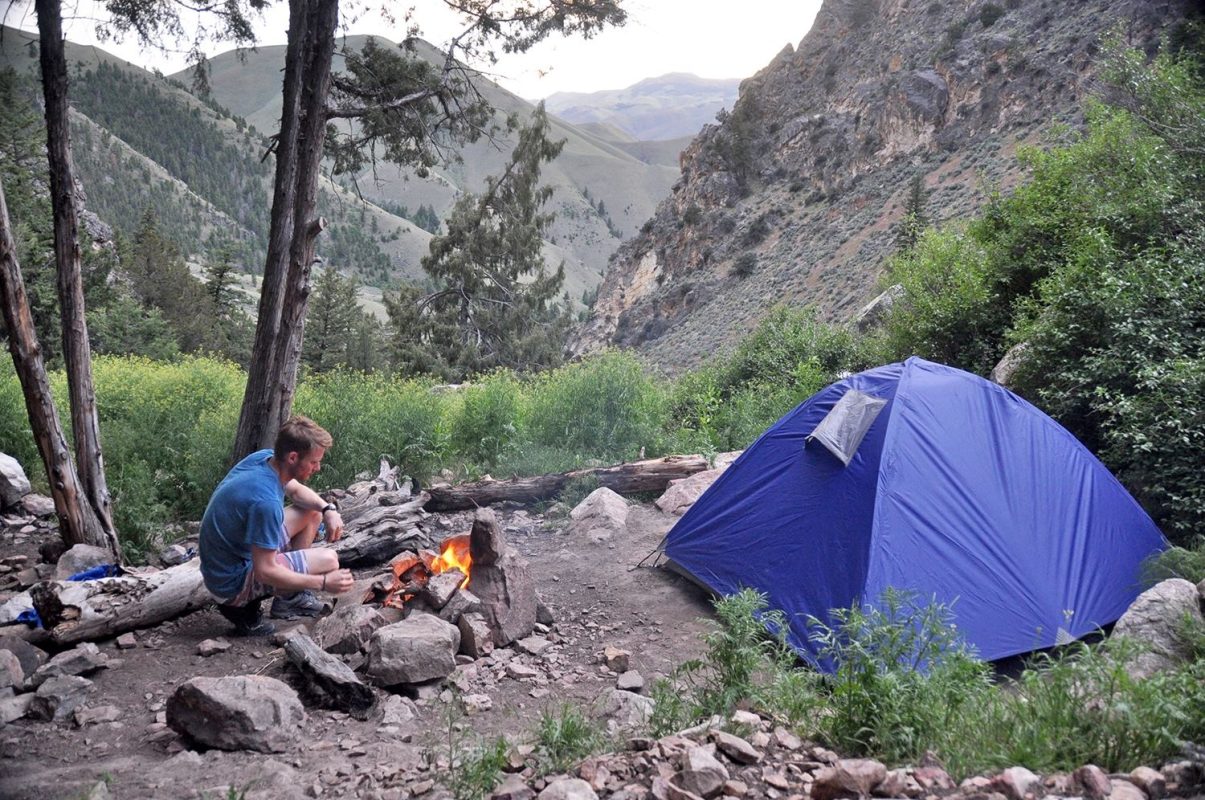 The answer to this question varies from person to person. Some people hike to the springs, take a photo, and then leave, while others camp overnight to enjoy the springs. We tend to enjoy 1-2 hours of soaking before we're ready to head out.
When planning your visit to Goldbug hot Springs, be sure to estimate drive time and hiking time into your plans since that will play a large factor in how long you'll spend here. This is a great stop to add with other spots nearby, so keep reading for more recommendations while you're in the area!
What should I pack?
Drinking water (you'll want to stay hydrated while you soak!)
Tip: Keep your water cold (and refreshing!) in a Hydroflask bottle
Towel and/or sarong
Hiking shoes
Sandals that are easy to take on and off
Bathing suit, or whatever you're comfortable soaking in
Clothes that are easy to change in and out of
Dry bag to prevent valuables from getting wet
Snacks (As long as you don't leave any wrappers or scraps and pack out your trash!)
Psst! Check out our favorite snacks for bringing on outdoor adventures!
Leave no trace & hot springs
There is no trash bin near the springs, so pack out everything you brought in. Yes, that includes fruit peels or nutshells.

Why? While biodegradable, they are not native to this environment, and wildlife should not be consuming them or drawn-out near people. Don't put the animals in harm's way by leaving anything behind.
And if you want to be extra amazing, pick up any trash you see and pack it out to keep this place beautiful.
Read more about Leave No Trace here.
Things to do nearby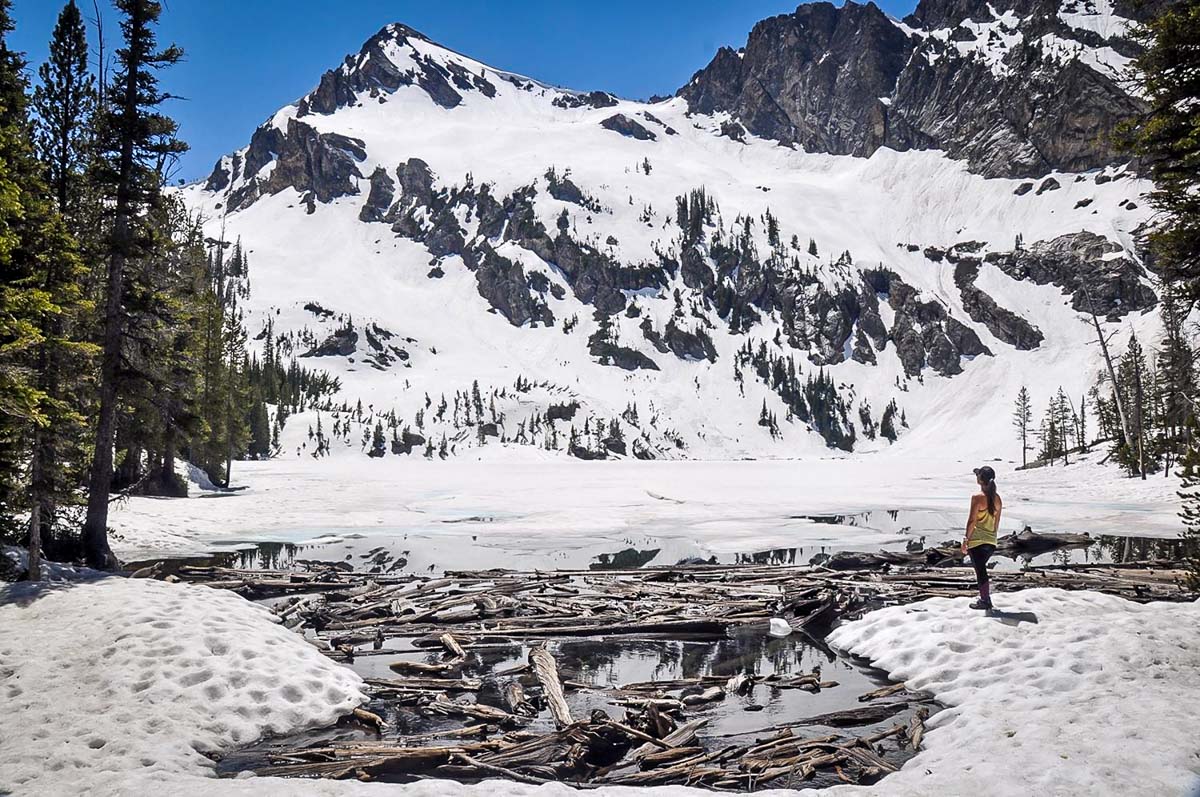 Because of the remote nature of Goldbug Hot Springs, it's best visited on an epic Idaho road trip. These are some of our must-see spots while you're exploring the area:
Sawtooth Mountains: This mountain range is one of the most pristine wilderness areas left in the United States and home to some of the best hiking trails in Idaho. Take on the hike to Alice Lake, or consider taking the Big Casino Creek Trail to see views of the White Cloud Mountains.
Stanley: Carbed by the Salmon River, right at the base of the Sawtooth Mountains, this charming mountain town will sweep you off your feet.
Craters of the Moon: As the scenery changes to a volcanic landscape just north of Twin Falls, discover what was once an area that was filled with hot flowing lava.
Boise: Visit one of our favorite up and coming cities filled with scenic rivers and rolling meadows.


You may also like…
Save this article on Pinterest for later!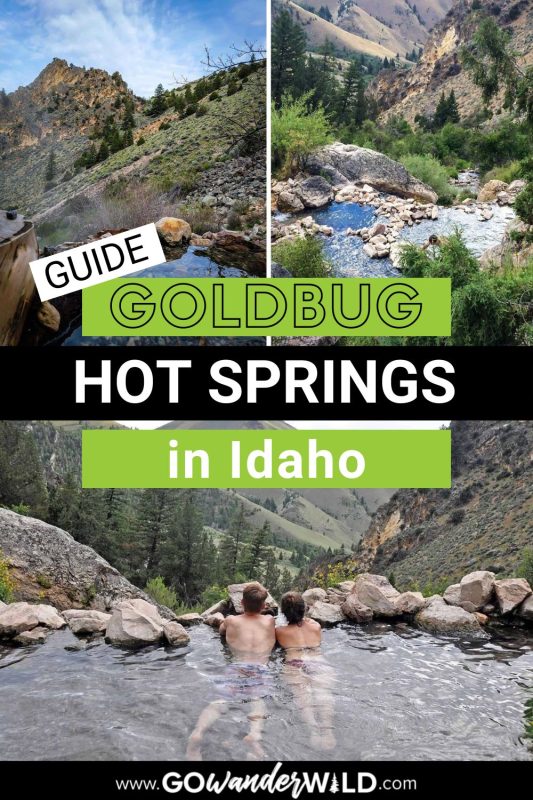 We want to hear from you!
Have you ever been to Goldbug Hot Springs? What was your experience like? Comment below and let us know!