Hiking with kids can seem like a daunting task, but it's easier than you might think! Here are our top tips for helping you prep, execute, and enjoy a day hiking as a family. Plus, we share some resources for finding the best hikes for kids.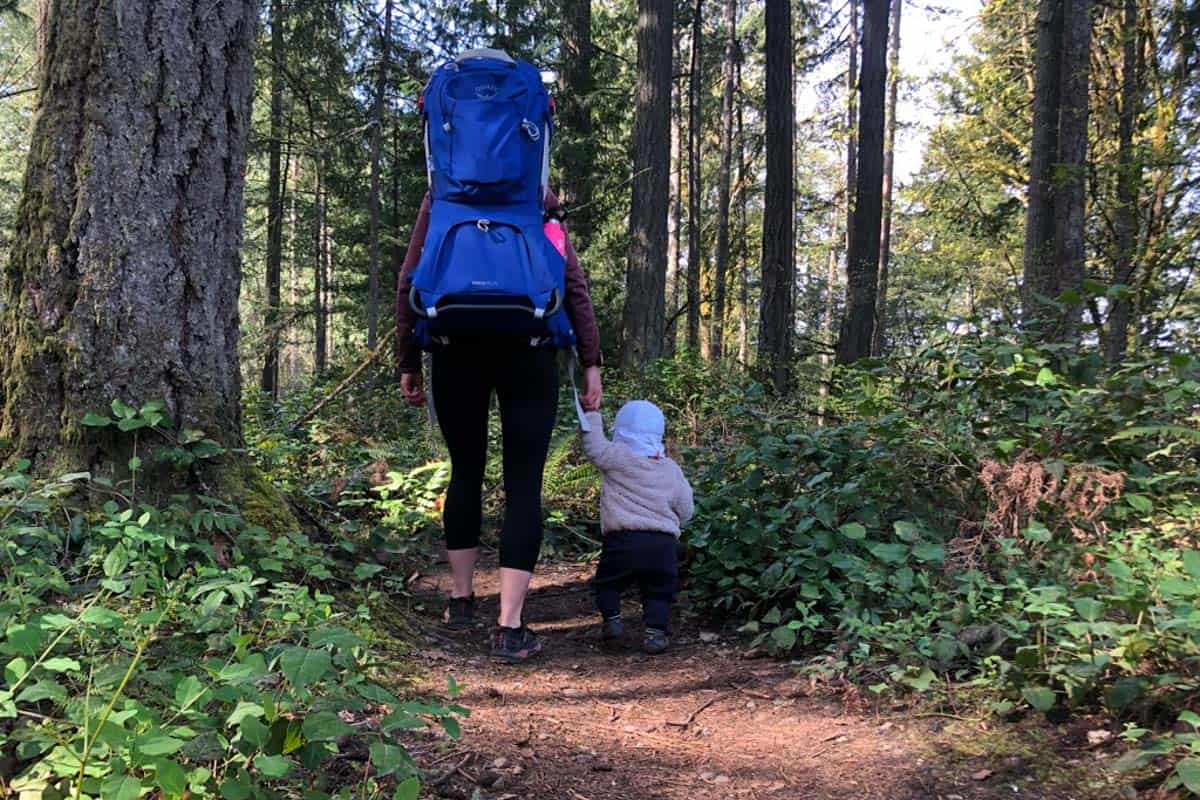 Written by Guest Author: Laurel Turnquist
Do you love the outdoors and have kids? Hiking with kids is an excellent way to spend time together as a family, keep active, and build a love and appreciation for nature.
Have you seen Instagram photos of parents out with their kids and wondered how they do it? It is easier than you might think to enjoy hitting the trails with your little ones.
Sure, it's a bit more work than heading out on your own and can be messy at times, but we promise that time spent outside with kids is worth it. A bit of extra planning and thought can get you outside with your kids in no time!
In this article we'll cover:

Top tips for hiking with kids
Here are my top tips for enjoying hiking with your kids in tow.
1. Manage expectations
Setting appropriate expectations is key to a successful day out with kids. Know that you might not make it all the way to the lookout point or the top of the mountain.
Let go of the need to get to a certain place. Literally set the goal of "walking on a trail with my kids." This will give you the patience to slow down, enjoy the journey, and keep disappointment and frustration from creeping into your family hikes.
Hiking with kids can be slow, messy, and you might not get very far down the trail. Be prepared to enjoy a lovely day outside with your kids no matter how far you go.
Save training days, long strenuous hikes, or specific objectives for older kids or when you have a babysitter.
2. Get your children involved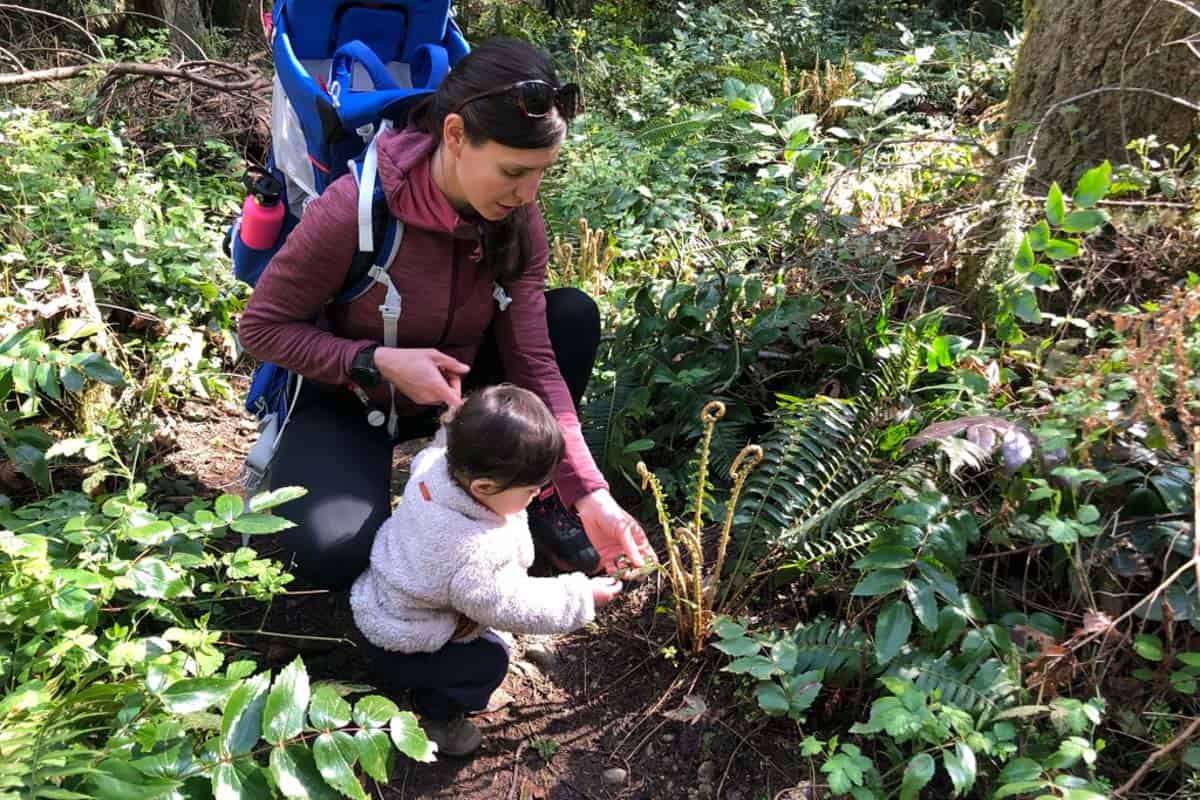 Hiking with kids can be lots of fun when they're excited to get outside. When there's buy-in from your kids, the whole family will have a more enjoyable day. Find ways to involve them in the planning, preparations, and while on the trail.
Ways to involve kids:
Have kids pick a hike.
Have kids pack the snacks.
Use a guidebook to identify plants as you hike.
Let kids take photos. You can look into purchasing a kid-friendly camera or get an extra sturdy phone case and let kids go to town with your phone camera.
Let kids carry the map. Kids love being the family navigator. You can purchase maps from your local gear store or print them off from websites like CalTopo by easily generating a PDF of your hiking destination.
Get kids a special piece of gear. This could include a special backpack, hat, fanny pack, or water bladder of their own. I know a three-year-old who loves hiking because he gets to carry and drink as much as he'd like from his water bladder.
3. Plan for extra time
Kids can be slow when it comes to hiking. Plan time for hiking, snack breaks, and extra stops to admire a snail, spider, or a cool fern.
Planning lots of time will keep you from feeling stressed, frazzled, or annoyed by having to hurry your kids.
Plan extra time if you have younger kids who are used to riding in a stroller. Allow time for these kids to walk when out hiking as a family. You may not get far, but this is how they will get stronger and build balance and coordination. Save the carrier for moments when you need to get moving.
It can be helpful to know the time of sunset if you'd like to avoid being out in the dark. Be aware of how long you have been hiking (and that your kids might be slower on the way back) to plan lots of time to make it to the car.
4. Check conditions ahead of time
Take the time to check both the weather and the conditions of the trail that you will be using. Maybe there is some snow on the trail, or it's extra dry and there will be no places to filter water along the way. Perhaps the forecast is looking to be a bit hot or rainy.
This information will be necessary for determining what clothing you will wear and pack, how early you'd like to start the day, and what time you'll plan to turn around.
5. Wear and pack proper clothing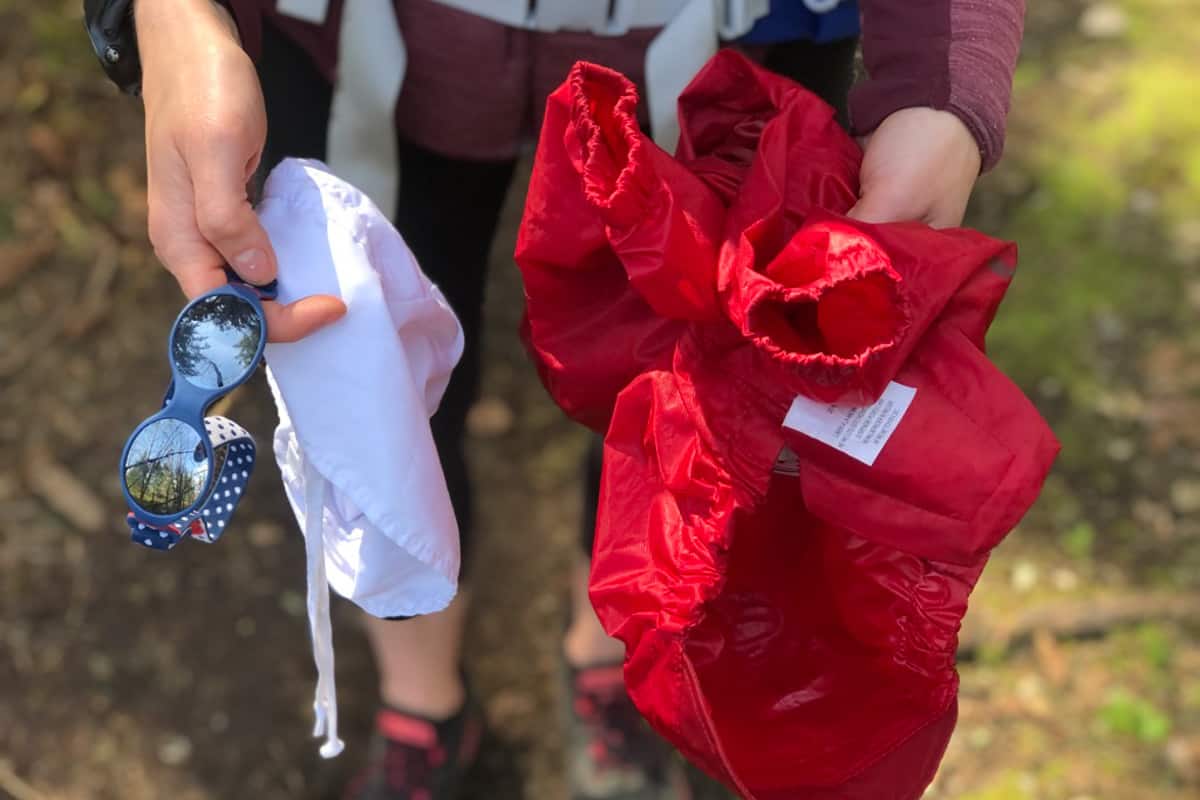 Kids are generally pretty happy outside when they're warm and dry. The saying goes, "There's no bad weather, only unsuitable clothing," and it is certainly true that clothing can make or break a family hike.
Once you know the conditions, wear and pack the appropriate clothing for your hike. Consider sun, wind, rain, and cold. Always pack a warmer layer because even on hot days, the temperature can drop as the day wears on or the wind picks up.
Kids' hiking clothes should be:
comfortable
easy for kids to move around in
things that can get dirty
appropriate for the conditions
You want to let your kids explore; taking breaks on logs, and wandering through the mud without worrying about ruining nice clothing.
Protip: A lightweight, long-sleeved shirt can be great for sun and bug protection and keeps chemicals off kids' skin.
Kids' hiking shoes should be:
closed-toed
stay on feet (sorry Crocs, you don't cut it)
well broken in BEFORE a long hike
Plan what you'll wear and dress appropriately so that you can also enjoy the day. There's nothing like having happy and content kids but cold, wet, and miserable parents who want to cut the trip short.
6. Pack lots of snacks and water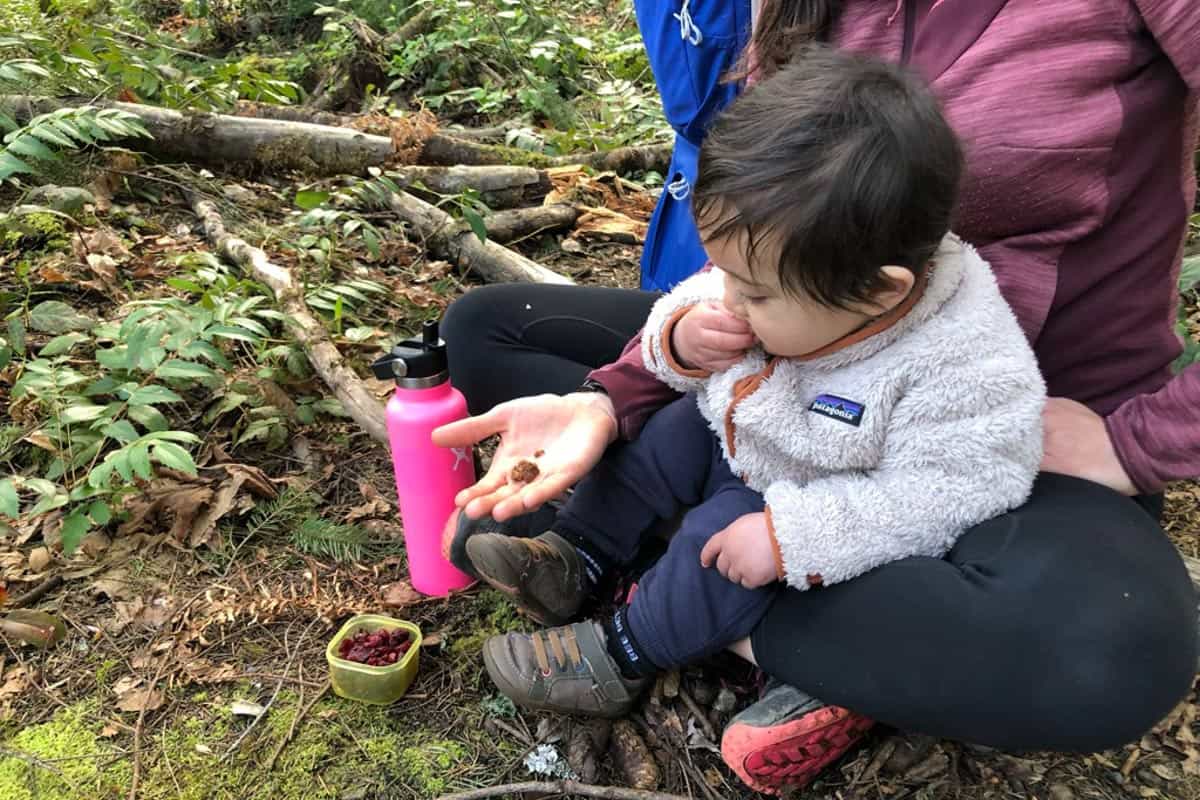 Kids need fuel to get through the day, and snack breaks are key to a great hike. Snacks can be one of the most exciting parts of a hike for kids. Snack breaks allow time for everyone to eat, rest, take in the beauty, and drink some water.
Have kids help make and pack fun snacks that they'll be excited to stop and eat. Bring snacks with fat and protein to help give kids some long-burning energy. Check out our favorite hiking snacks for some inspiration.
Don't forget about hydration. Pack lots of water and consider bringing a water filtration system on longer hikes if there will be places to fill up along the way. Kids may need reminders to drink enough water throughout the day.
Kids love carrying their own water when they have a fun water bottle or water bladder. Just note that they tend to drink their water very quickly if using a water bladder.
Take a moment to look around at the end of a snack break for items your kids might have forgotten. Pick up any pieces of microtrash like the little corner of a wrapper that gets ripped off when opening a granola bar.
7. Pack the 10 essentials
When in the wilderness, it's important to be prepared. The 10 Essentials list things that you should carry to help you manage situations that might arise.
10 Essentials
Navigation: a map, knowledge of the trail, GPS
Sun protection: sunglasses, hat, sunscreen, long sleeve sun shirt
Insulation: extra warm layers
Illumination: headlamp, flashlight, inflatable lantern +extra batteries
Fire: matches, lighter
First Aid Kit
Repair kit and tools: tape, knife, zip ties, extra pieces for tents and stoves
Water: extra water, water filter, water purification tablets
Extra food
Shelter: this could be as minimal as an extra-large trash bag or emergency blanket.
Bonus essential: a whistle. The sound of a whistle will carry much further than your voice if you need help. Many newer backpacks have a whistle built into the sternum strap buckle.
More than being specific items, the 10 essentials cover basic categories. What you bring along will depend on the hike that you're doing.
For example, when considering the category of navigation, you may bring a paper map on a long hike through remote wilderness but may rely on trail signs when hiking through a small local state park. Situational awareness is key to packing correctly.
8. Follow the Leave No Trace principles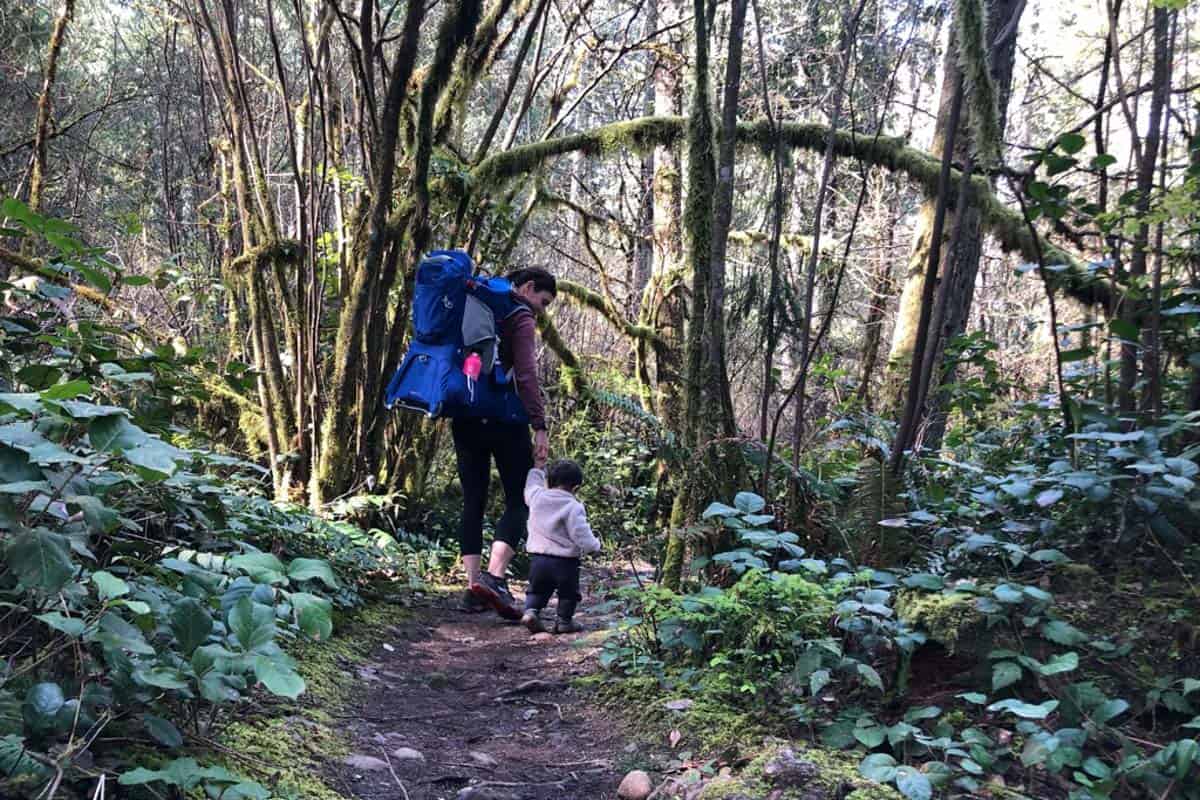 It's important to minimize your impact and protect wild spaces when hiking. You're a role model and teacher for your kids, so what you do matters.
Kids can learn to travel in nature sustainably from a young age when they see you follow the Leave No Trace principles.
7 Principles of Leave No Trace
Plan ahead and prepare

This includes looking at trail conditions and weather to allow you to pack appropriately and know where you're going. Getting lost and needing an extensive rescue effort has a significant impact on wild spaces.

Travel and camp on durable surfaces

When hiking with your kids, this means staying on the trail and avoiding walking through fragile areas like meadows filled with wildflowers, no matter how great a photo you might want to take.

Dispose of waste properly

Make sure to carry out all trash and dispose of it in a proper trash can. Never throw garbage into a pit toilet as rangers and other trail workers must then come and clean it out.
Toilet paper and fruit peels must also be packed out with you. While they will decompose, it takes a very long time, and in the meantime, they are unsightly to others and are often consumed by wildlife.

Leave what you find
Minimize campfire impacts

Avoid lighting fires when at all possible.

Respect wildlife

Keep wildlife wild. Never feed, touch, or hold wildlife, and keep your distance. Manage pets so as not to disrupt wildlife. This will protect both you and wild animals.

Be considerate of others

This includes sharing the trail, picking up all trash, and keeping the volume down. If you listen to music, use headphones instead of a loud portable speaker.
9. Stock the car for the drive home
Having extra snacks, water, a change of clothes, and extra shoes can go a long way toward keeping everyone happy on the drive home.
10. Start small and go big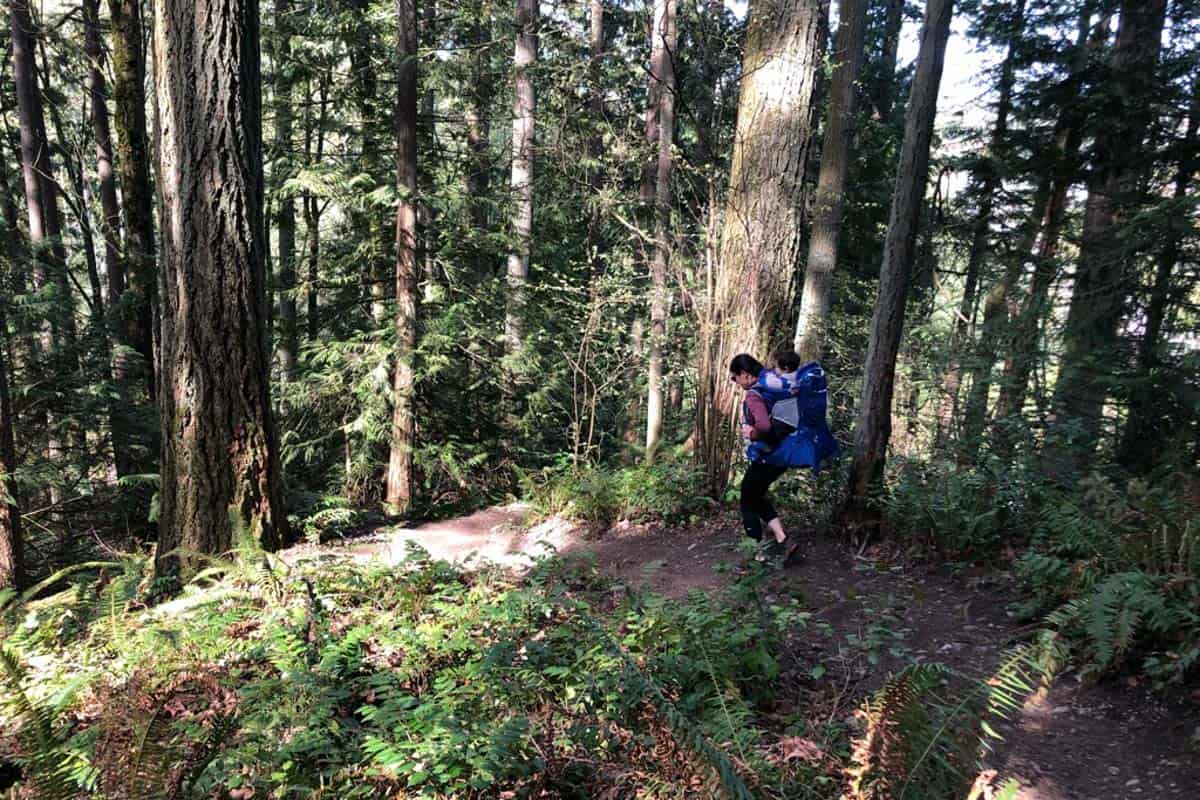 If hiking is new for your family, pick an easy trail to start. Maybe find one that is flat and pick a day with nice weather to head out. Get a sense of how far your kids can go. Note the things that go well and what things you might change or add on a future hike.
You can start picking longer and more challenging hikes as your family spends more time outside together. And remember, you can always take it slow and turn around whenever you need to!

How to find the best kid-friendly hikes
There are great hikes for kids all over the Northwest.
Here are some resources for discovering fun hikes but don't always feel like you need to do something new. Kids love exploring the same trails again and again.
Here is where you can find the best hikes for kids:
Guidebooks: If you have older kids, it can be fun to have them help pick family hikes. Kids love looking through hiking guidebooks and selecting ones to try. You can find guidebooks for your area at the library or local outdoor store. You can even check off the hikes you have tried and write the date in your book.
AllTrails: AllTrails can be accessed online and via the AllTrails App, and is a great place to discover trails in your area. I love filtering hikes by length, difficulty, and suitability for kids.

Each hike description includes the length of the hike, elevation gain, directions to the trailhead, and ratings from other hikers. You can often find information about recent trail conditions in the rating section.

Washington Trails Association: If you live in or are traveling through Washington state, the Washington Trails Association is a fantastic online resource that lists trails all around Washington.

Descriptions of each trail include the length of the hike, the amount of elevation gain, directions to the trailhead, and recent trip reports posted by other hikers. This can be a great way to learn about trail conditions.
You can search your area or search the name of a specific hike. They even have a page titled Where to Hike as a Family that offers many fantastic hike suggestions.
What types of hikes are best when hiking with kids?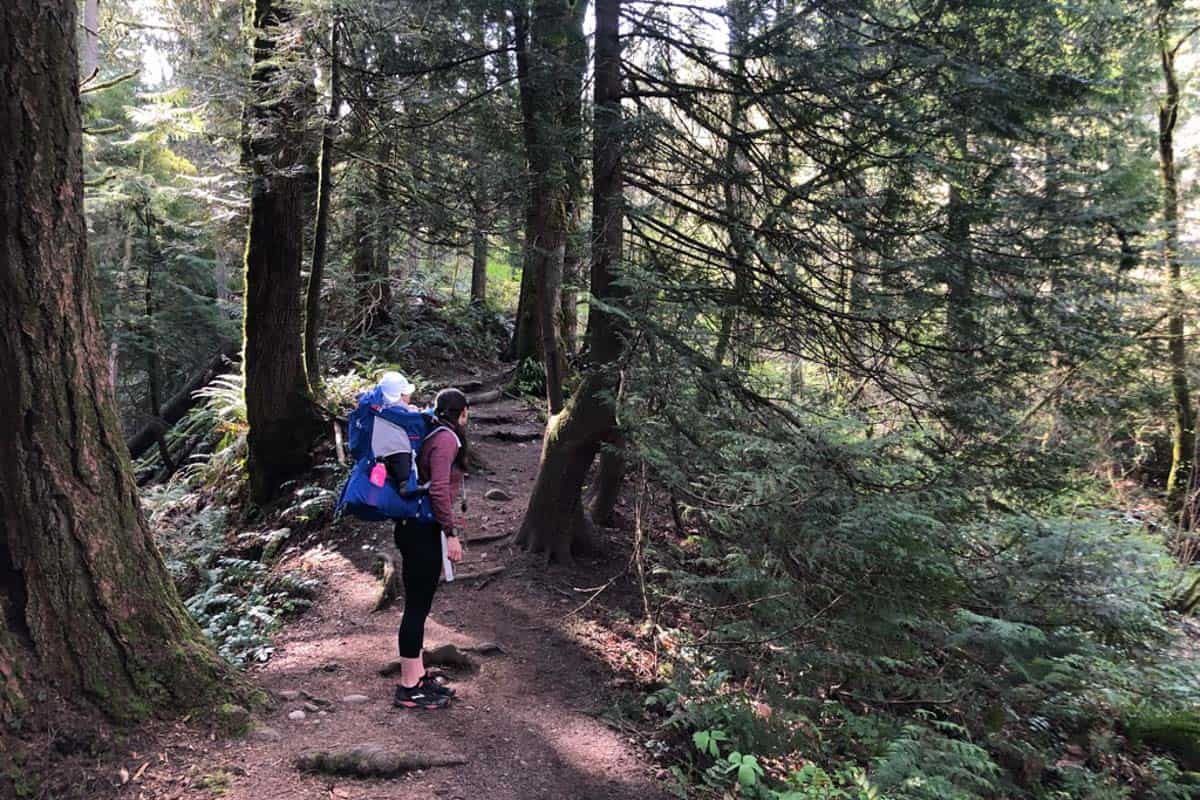 The best hikes for your family will depend on the ages of your kids and your athletic ability. Short flat hikes on well-maintained trails will suit the widest range of ages and abilities.
Important considerations when picking a hike:
Length. How far are you looking to go?
Elevation Gain. How much uphill would you like to try?
Dangerous sections. This would include any areas where a trip or a fall would have high consequences. Tripping on a wide flat path may result in a scrape, while slipping off a log bridge over a raging river could be fatal.

Knowing your kids' abilities will help you decide what might be dangerous. It's best to avoid trails with lots of exposure, river crossings, and slippery single-log bridges.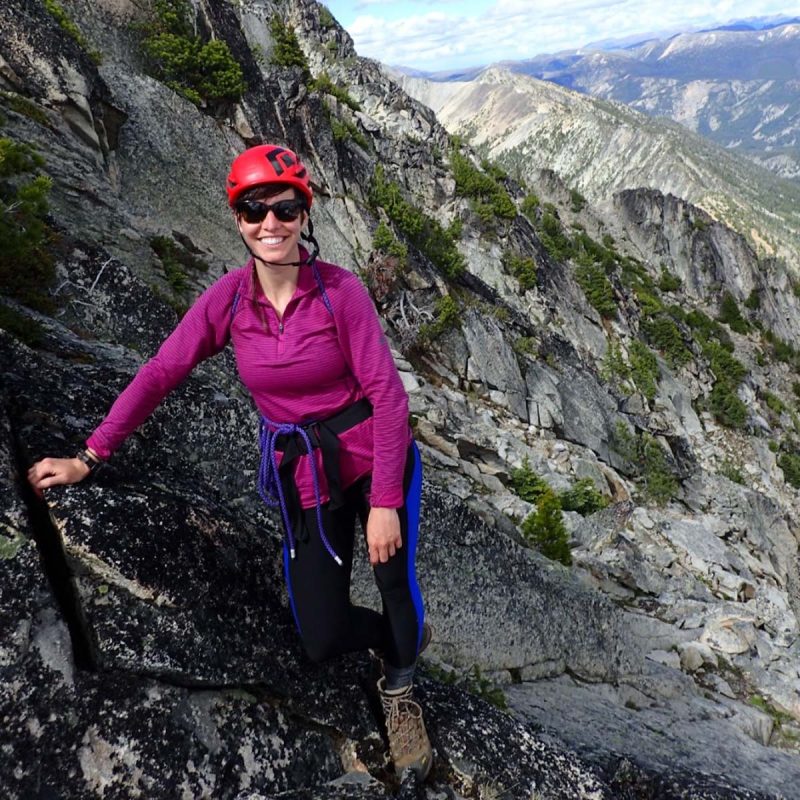 About the Author
Laurel is an NW native and loves exploring the outdoors. You can often find her hiking, backpacking, trail running, and rock climbing. She is passionate about using her experience as a preschool teacher and parenting coach to help get families outside. She enjoys sharing her child development knowledge by writing for Kids Who Play.

You may also like…
Save this article on Pinterest for later!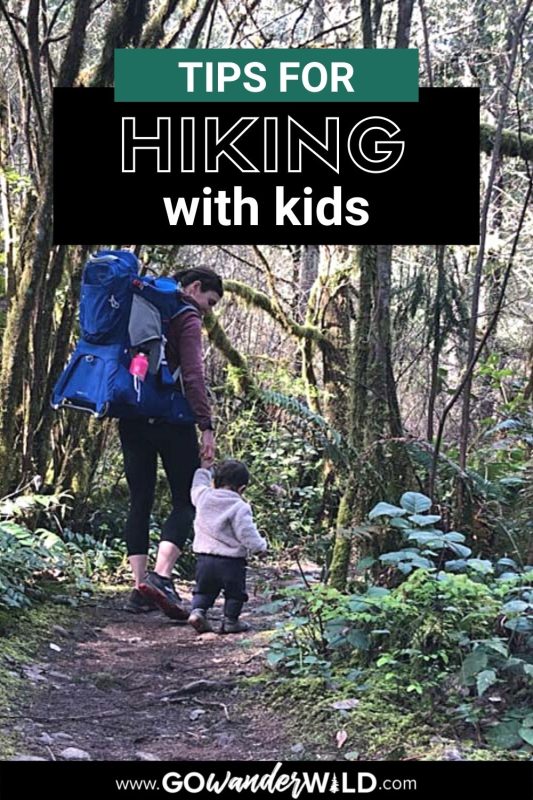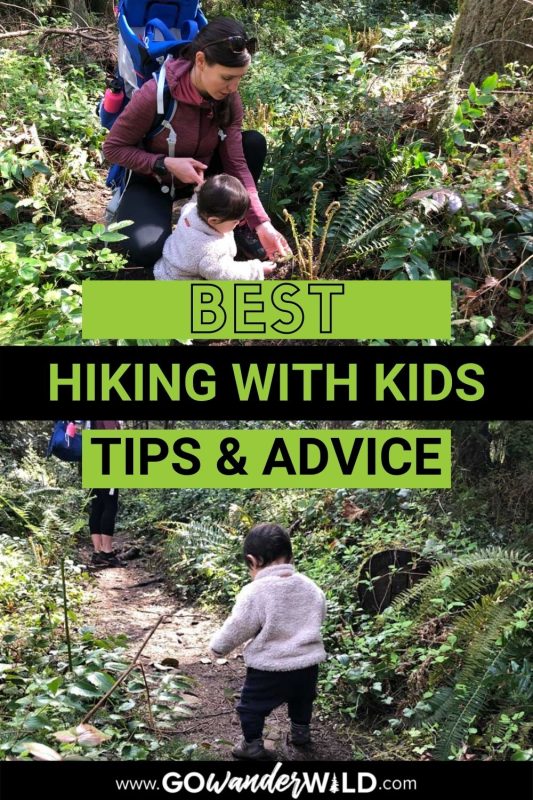 Do you often go hiking with kids?
Share your top tips and stories in the comments to help inspire other families to head outside!