Whether you're a casual hiker or a trail fanatic, having a few hiking gadgets in your pack can make every outdoor adventure a bit more enjoyable. From helping you prepare for a true wilderness emergency to repelling pests and even keeping you entertained (and fed!), we've rounded up the best, most clever hiking gadgets available.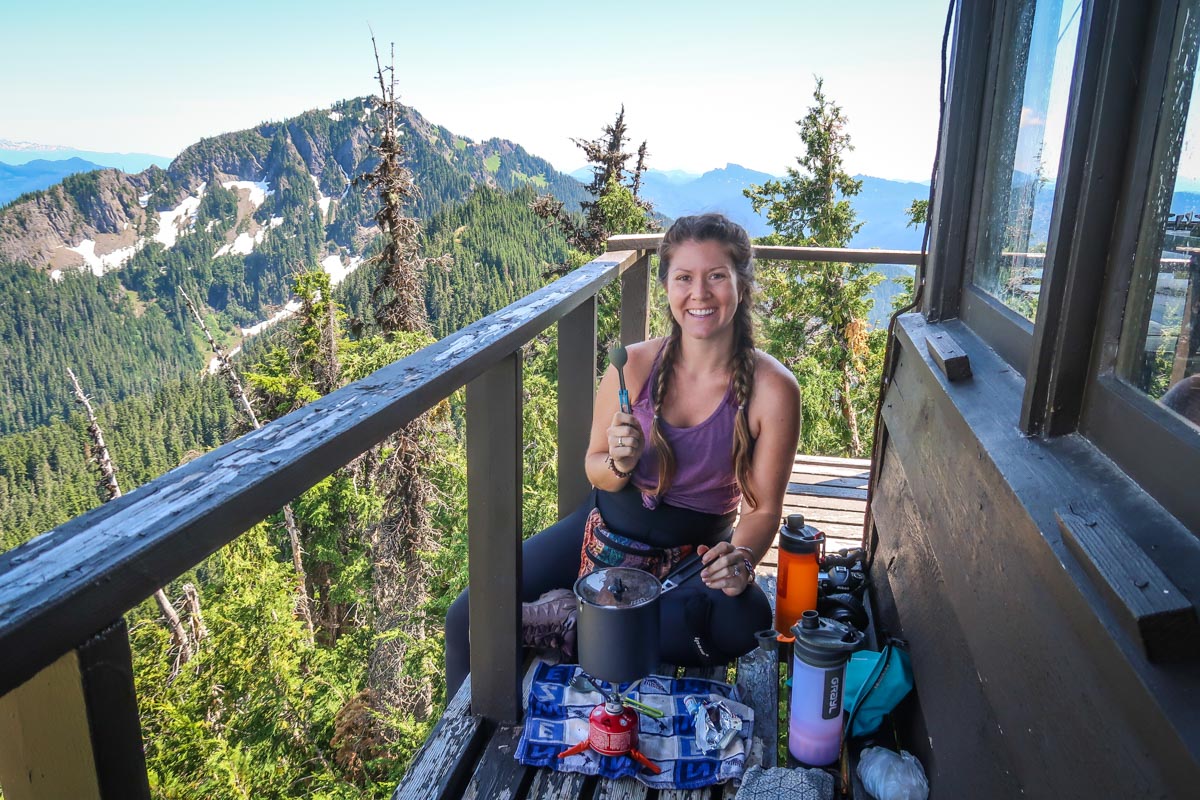 Truth be told, you don't need much of anything at all to go on a hike: a decent pair of trail-ready shoes or boots, a water bottle, and maybe a hiking backpack. After all, hiking is, by definition, "a long, vigorous walk, usually on trails or footpaths in the countryside."
However, there are plenty of hiking gadgets and gear that can make the experience more enjoyable and in some cases, even safer. From practical items that help you see better or navigate the trail to more fun, nice-to-have things that no one truly needs, a few thoughtfully-selected hiking gadgets should be in every adventure lover's gear arsenal.
Whether you yourself are a hiking enthusiast or you're shopping for one, here are 20 of the best and most useful hiking gadgets!
1. Collapsible Trekking Poles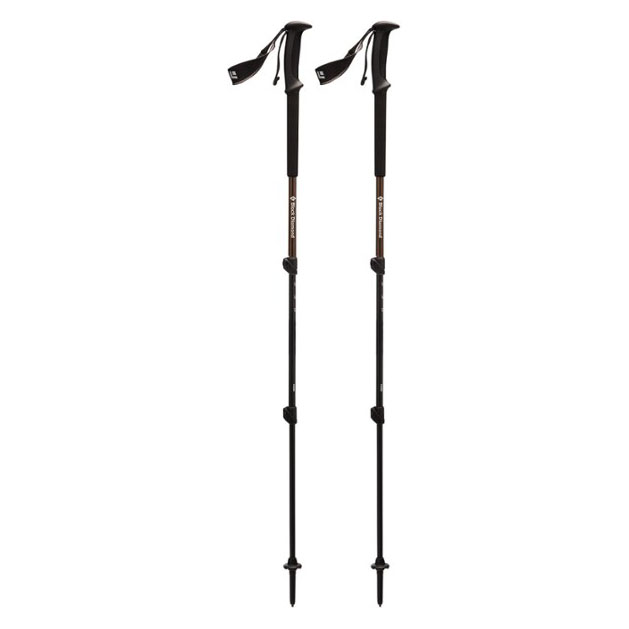 No matter what type of hiking you do, trekking poles are one of the best hiking gadgets to have on hand (literally!). Even casual hikers will appreciate being able to pull these out when terrain gets muddy, slippery, or steep.
Look for a pair that collapses down so they're easy to attach to your bag. Bonus points if they're also height-adjustable, like these collapsible trekking poles, and compatible with mud or snow basket attachments.
Price: $89.95
2. Headlamp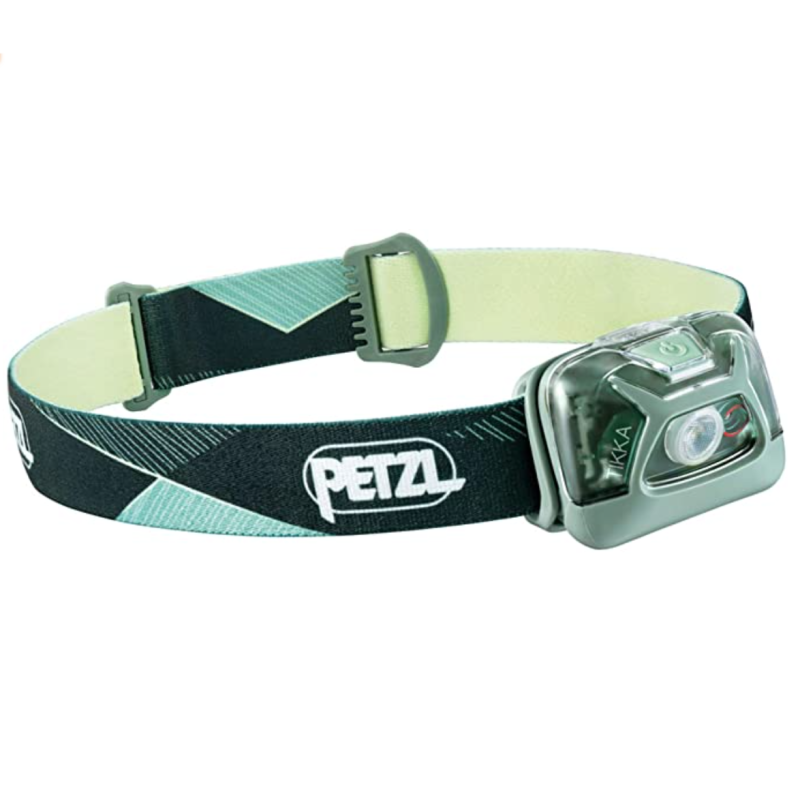 A great headlamp is one of the most practical hiking gadgets out there!
We use ours on the trail all the time (they're especially useful for sunrise and sunset hikes!), and also around campsites. Especially when you wake up in the middle of the night and have to find your way to the bathroom.
There are tons of options out there, but you really just need a no-frills, lightweight headlamp with a bright light and long battery life.
Price: $29.95
3. LifeStraw Personal Water Filter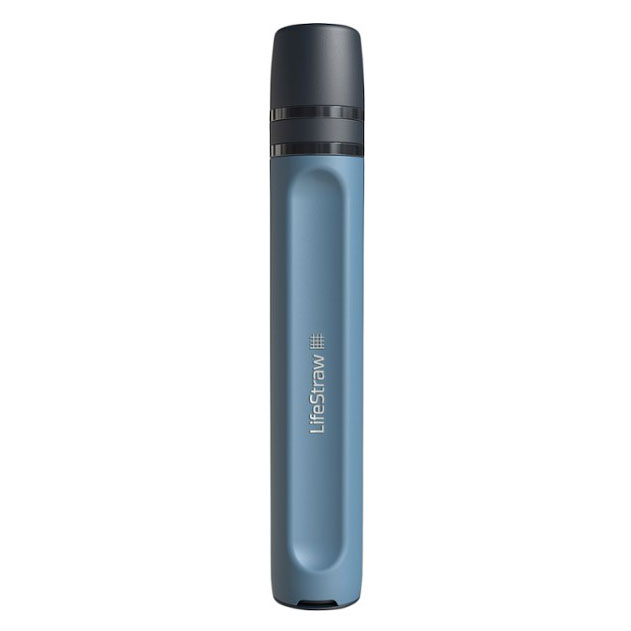 Another incredibly useful hiking gadget is the LifeStraw. This unique packable product is a personal water filter and a must-have for any outdoor adventure.
The compact device removes 99.99% of bacteria and other contaminants from water, making it safe and drinkable. One filter cleans up to 1,000 gallons of water so you can feel good about not wasting all those plastic bottles too!
Price: $29.95
4. Water Purifying Bottle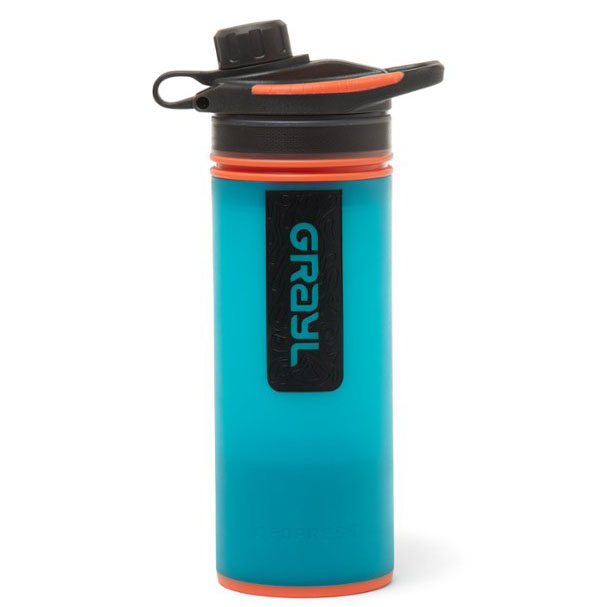 If you like the idea of hiking with a personal water filter, another great option is a water purifying bottle. This neat invention combines two necessary things — a water bottle and a water filter — into one easy-to-carry item.
We love our Grayl water purifying bottles and have brought them on countless hikes with us. With the filter in place, simply fill the bottle as normal from a faucet, river or stream, and voila! Within seconds, you'll have clean drinking water.
Price: $99.95
5. Solar Power Bank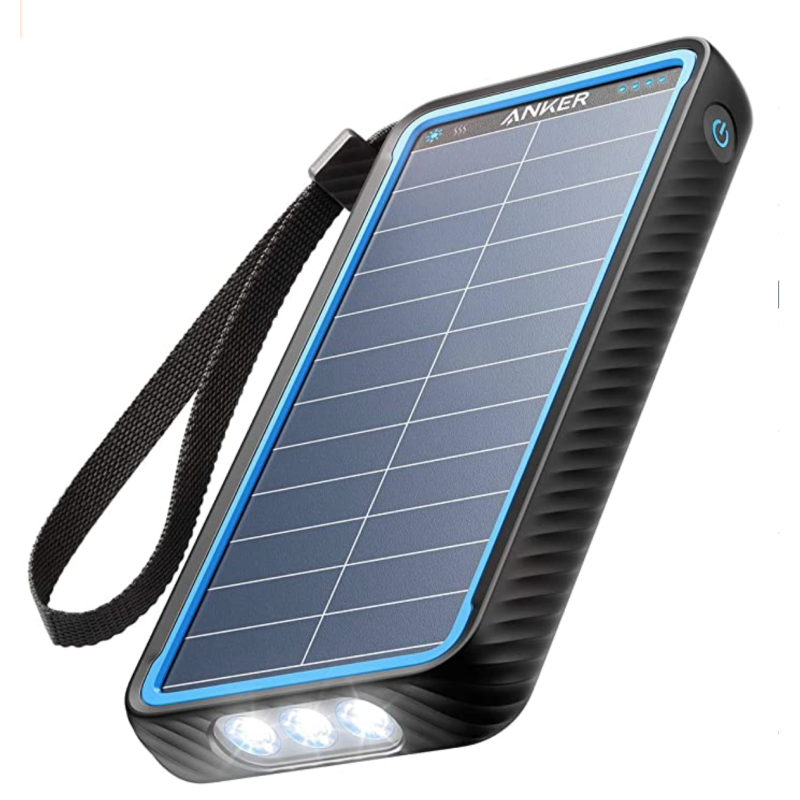 A way to charge our devices using solar power is a must on any long hiking or backpacking trip. The solar power bank has become one of our go-to hiking gadgets.
They provide peace of mind so you can snap away on the trail without obsessing over whether or not you have enough battery left. This model is also dust- and waterproof, and has an integrated flashlight.
Price: $49.99
6. Multi-tool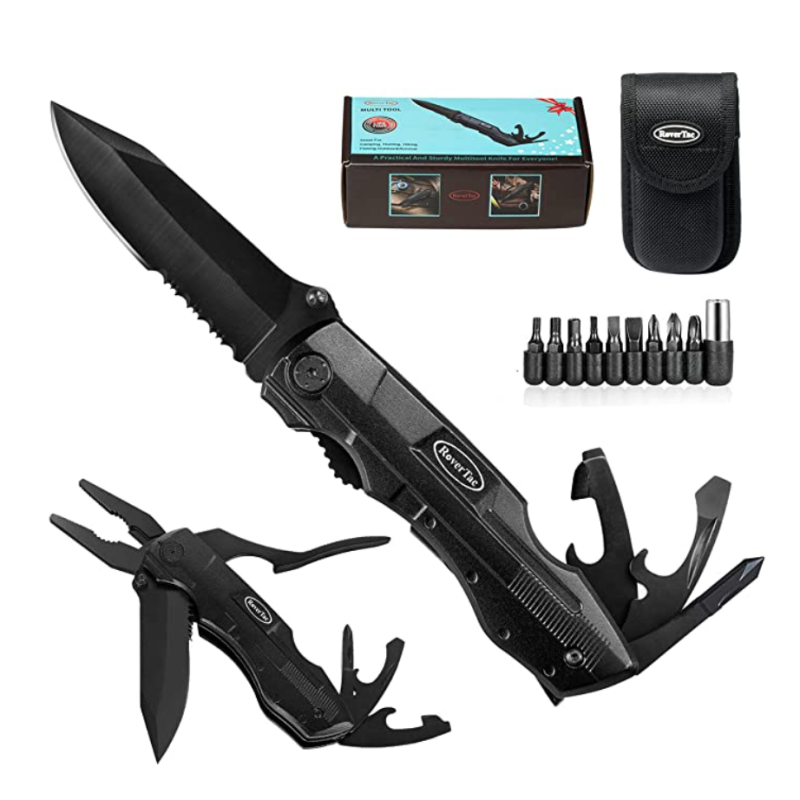 Think of a multi-tool as an adventurers' version of a Mary Poppins bag. There's something for every situation! This one in particular includes a handy pocket knife, screwdriver, can opener, and bottle opener, for those post-hike adult beverages.
Price: $21.99
7. Rechargeable Batteries
Here's a hiking gadget that works in tandem with all your other hiking gadgets!
You need a way to charge all the various devices you bring on hikes and other adventures, including headlamps and flashlights, right? Problem solved!
These rechargeable batteries come in a pack of 8 with a smart charger. Bring this along on any overnight backpacking or camping trip and you won't have to worry about your batteries running out on you.
Price: $28.99
8. Mini Folding Shovel
We're going to let you in on a little secret: once you start bringing a mini folding shovel on all your backcountry adventures, you'll wonder how you went so long without one!
This handy, compact gadget is ideal for hiking and camping, proving useful for everything from digging a small hole to sawing and chopping firewood (if it's safe to do so, of course!).
Price: $17.95
9. Two-way Radios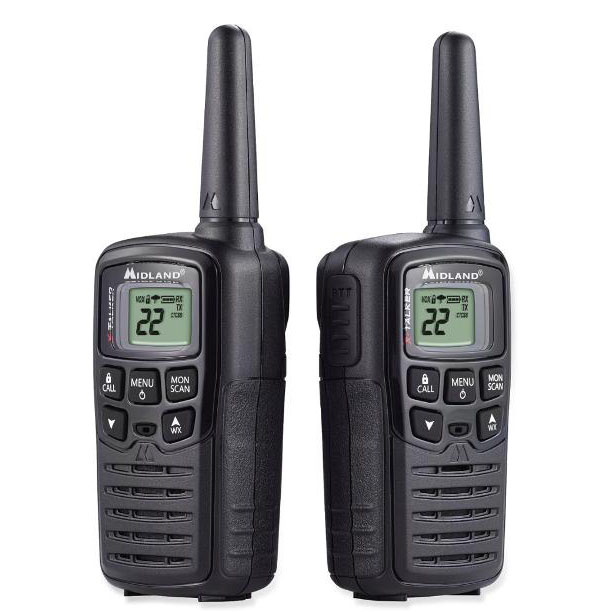 …AKA, walkie-talkies!
Like the mini shovel above, if you've never played with—ahem, used— two-way radios while hiking or camping, well, consider your life changed.
These babies are especially useful in larger groups where people may break off on their own and for off-trail potty breaks (don't forget the shovel!). They're also great for keeping tabs on children, but be sure your kiddos know they're not to be used as a toy — it's important to be respectful of others on the trail.
Price: $30.00
10. Solar Inflatable Lantern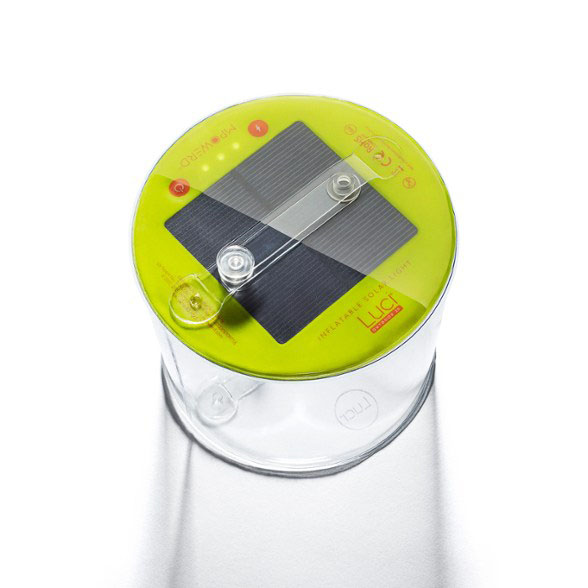 We LOVE our inflatable lanterns and highly recommend them for camping trips!
This clever product charges devices with a USB cord and inflates to be a decent-sized lantern, then folds completely flat when not in use. Best of all, it charges from the sun and is waterproof. We clip ours onto the outside of one of our backpacks so it charges as we hike.
Price: $24.95
11. Jetboil Flash Cooking Stove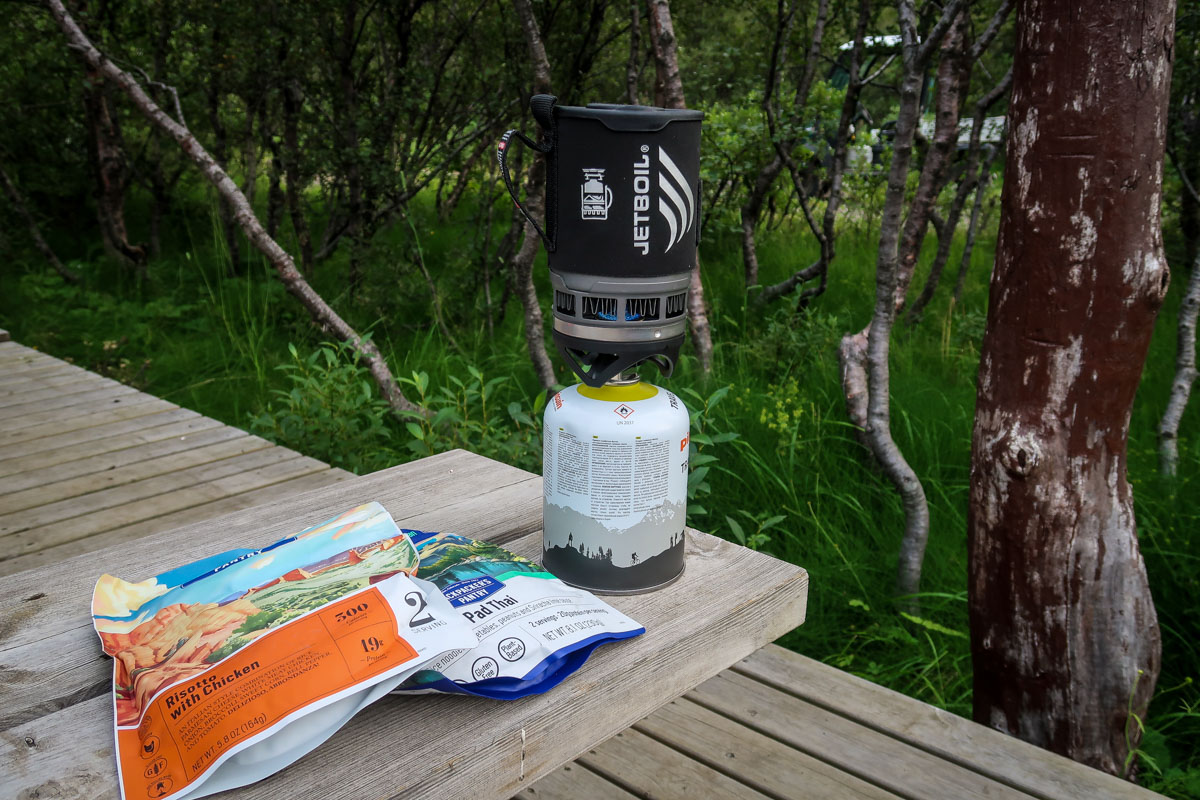 Even if you primarily do day hikes and really never go backpacking, a stove is one of the best hiking gadgets to have. They're useful for everything from making coffee or tea to heating up a whole meal and purifying water.
The Jetboil is our go-to backpacking stove and is especially handy because it boils water in just 100 seconds, allowing you to conserve fuel and get to the good part faster (aka eating!).
Price: $114.95
12. Camping Utensils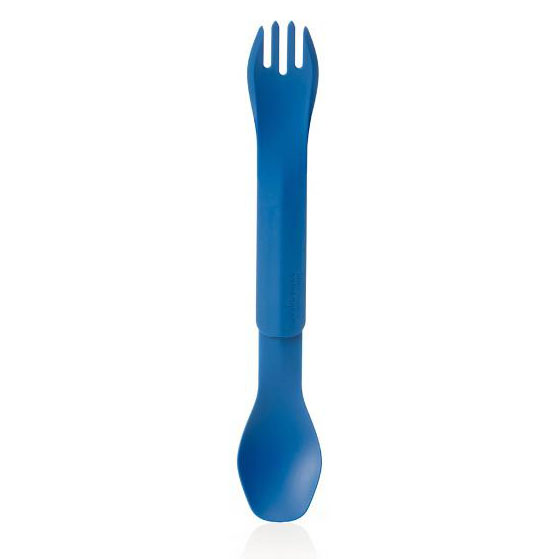 If you're bringing a stove hiking, you should probably have some utensils to eat with, and you might be surprised at how easy it is to overlook them! A clever, ultra-lightweight nesting utensil set is the perfect solution, taking up hardly any space in your pack.
Price: $8
13. Rechargeable Waterproof Lighter
You just never know when you might need to start a fire in the wilderness. That's where a rechargeable, waterproof lighter comes in handy. This model is flameless, so it's also wind-proof and substantially safer than many others.
Of course this goes without saying, but please practice respectful fire safety, and abide by the Leave No Trace principles and local fire restrictions!
Price: $16.99
14. Portable Speaker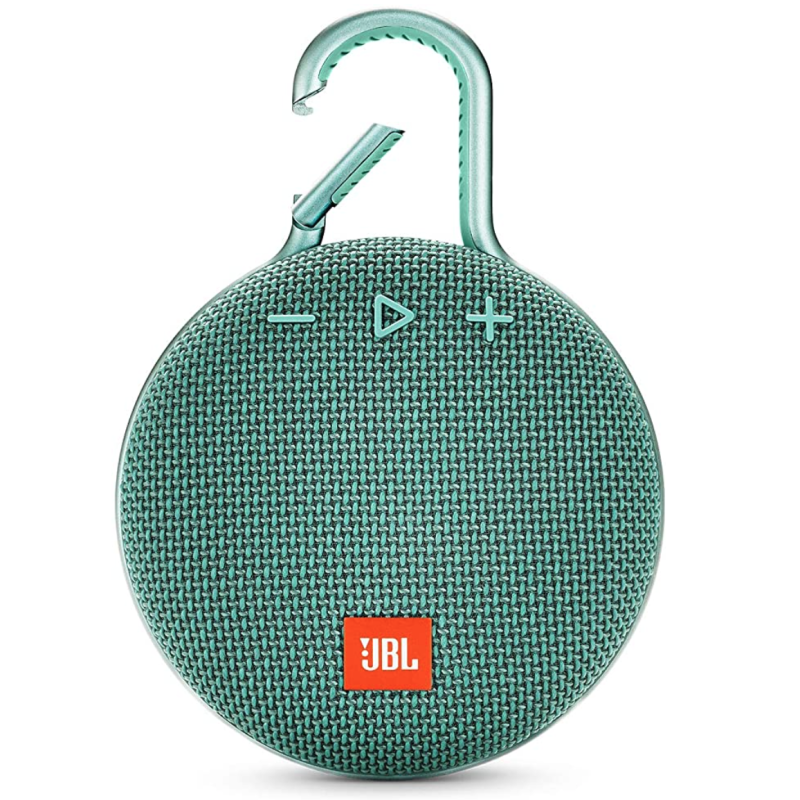 We're firm believers that music makes just about any situation even better. Who doesn't love a chill soundtrack while you're enjoying a trail snack or relaxing at camp?
This cute portable speaker is one of the best hiking gadgets out there because it clips right onto your pack and is extremely durable.
A quick note: When listening to music in nature, please be mindful of others around you. Not everyone wants to hear music as they hike or camp, so keep the levels low enough so only your group can hear it.
Price: $49.95
15. Hammock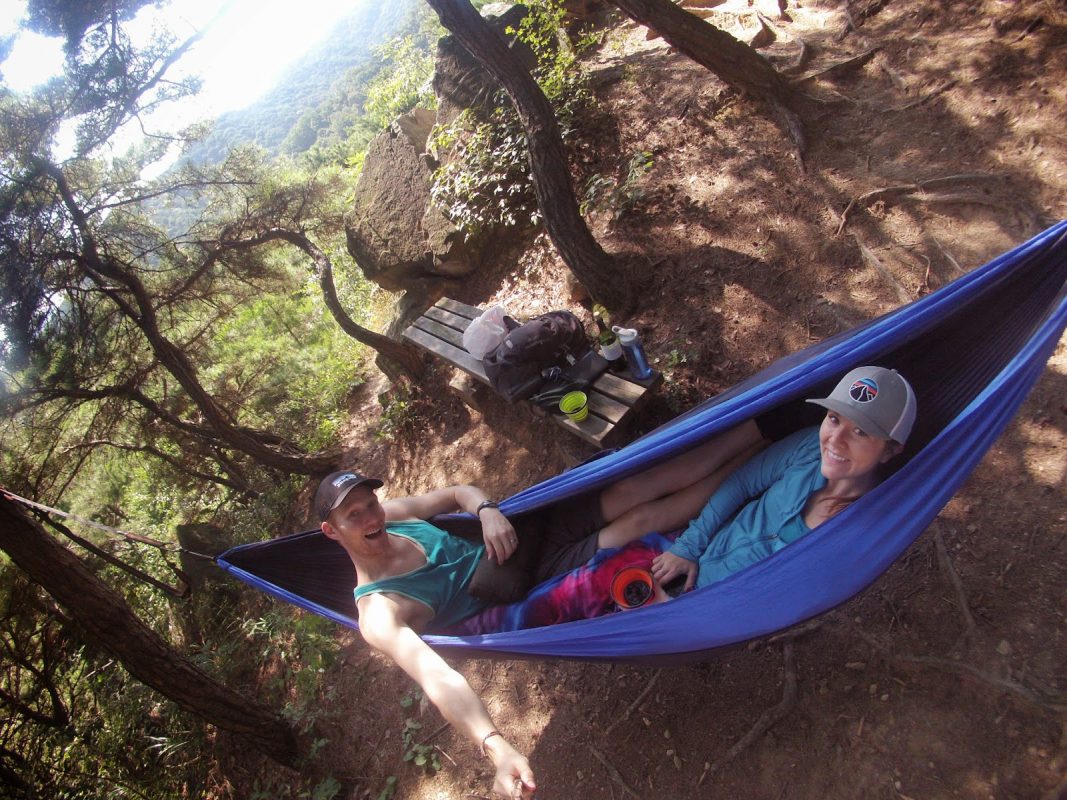 We've been obsessed with our ENO hammock ever since we received it as a wedding gift, and the love is definitely still going strong! It's an awesome hiking gadget because it packs away really small, so you can toss it in your pack and set it up off-trail (or in your backyard!) whenever the mood strikes.
Price: $54.95
16. Flexible Phone Tripod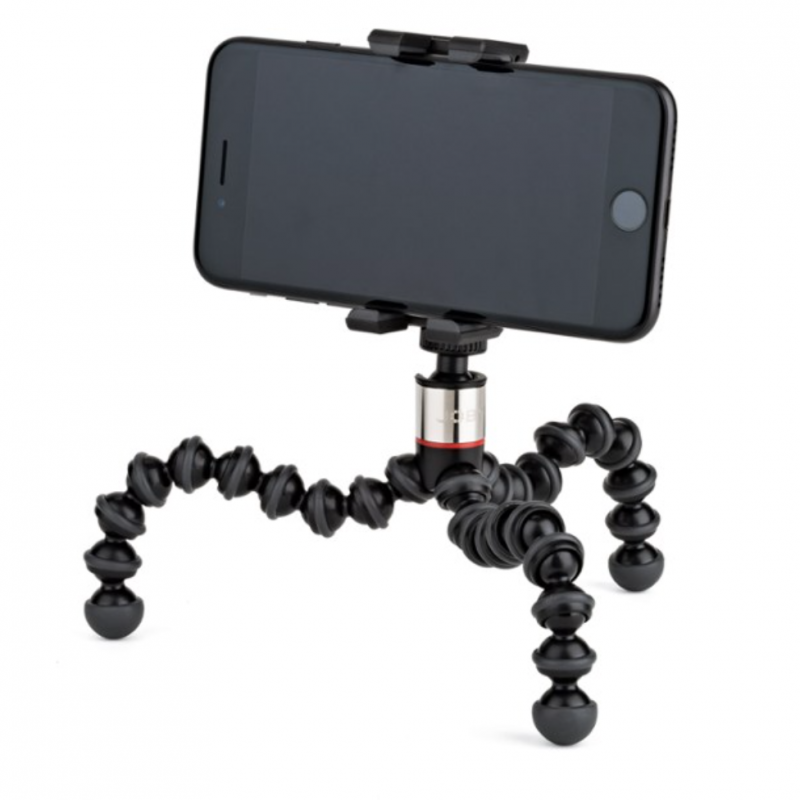 Ever wonder how adventurous couples and even solo travelers capture such awesome pictures? The answer is most likely a simple tripod and remote setup, which also happens to be one of our go-to hiking gadgets!
Compact and flexible, the Joby tripods are best for the outdoors because their bendable legs can wrap around things like a tree branch to give you a unique angle and better stability. The incognito Bluetooth remote allows you to set your phone camera up pretty much anywhere.
Price: $34.95
17. ThermaCell Bug Repeller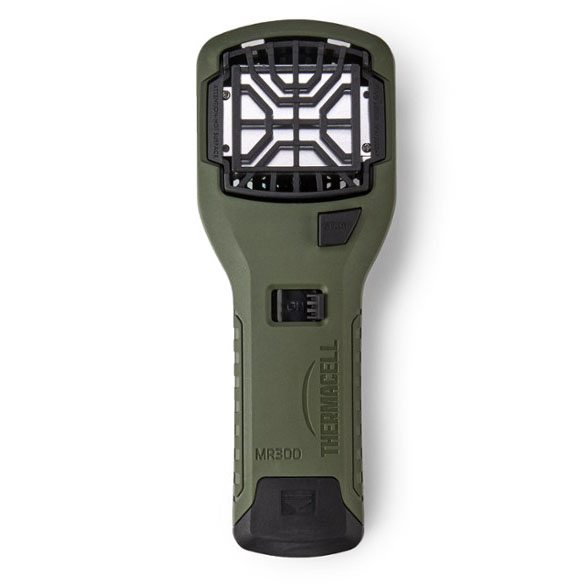 If you spend any time adventuring near lakes or other bodies of water, a Thermacell should be at the top of your list of must-have hiking gadgets. This magical little device somehow repels mosquitoes and other pests without the use of bug spray, citronella, harsh chemicals, smoke, or flames. You can set it up somewhere nearby or even clip it to yourself and you really will have a magic, invisible shield extending 15 feet all around you.
Price: $24.95
18. Folding Sunglasses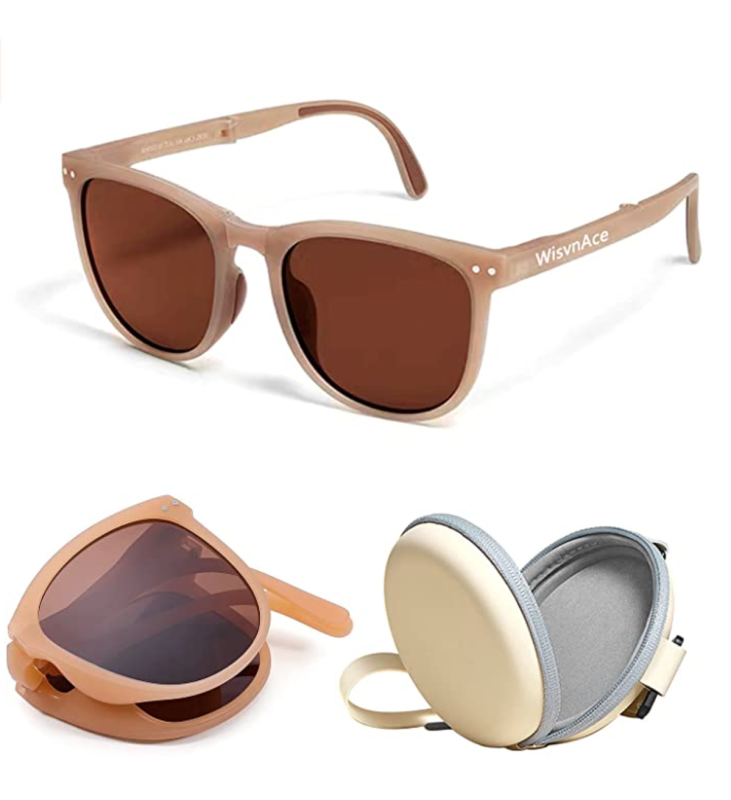 If you're anything like us, you may have a serious problem with losing or breaking your favorite pairs of sunglasses. Does that ring a bell?
Folding sunglasses seem to be the answer to that very problem, neatly stored in an ultra-compact case so you don't have to tuck them into your shirt or wear them on your head. They stow away nicely in your backpack when the light gets dim and don't take up too much space.
Price: $24.99
19. Dry Case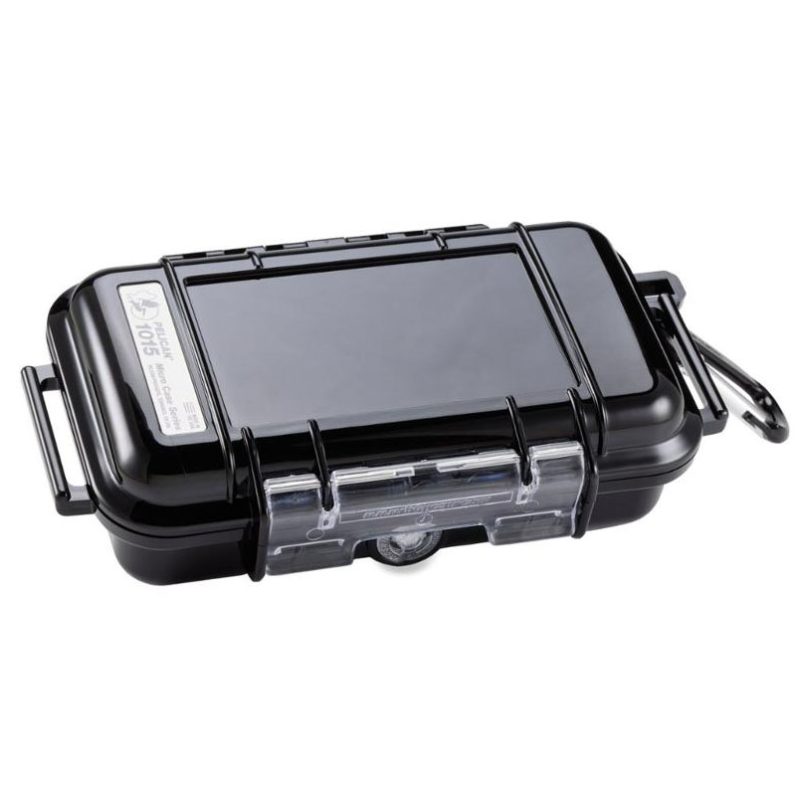 Similar to a dry bag but more compact and offering a bit more sturdy protection for valuables, a dry case is super practical to have while hiking. It's the perfect size for a hiking pack, intended to store just a phone, keys, and one or two other small items, and it also has a carabiner.
This is an especially handy item if you live somewhere rainy or if, like us, you enjoy taking an impromptu dip in swimming holes on hikes!
Price: $24.95
20. Microspikes/crampons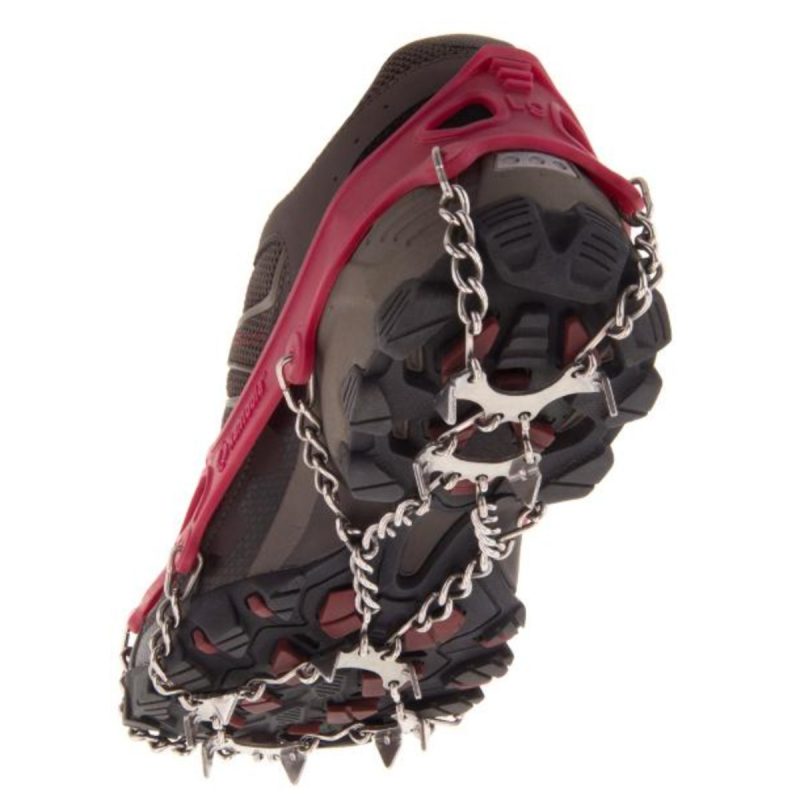 If you spend a lot of time hiking in the mountains or in particularly wet, rainy areas like the Pacific Northwest (our beloved home!), microspikes are some of the best hiking gadgets to keep in your pack.
Also referred to as micro spikes and ice cleats, they slip easily on over your shoes or boots to give you additional traction for slippery surfaces like ice or snow. Ours have come in handy on multiple occasions from hiking a glacier in Iceland to exploring some especially slippery Oregon waterfalls.
Price: $63.95
Be sure to grab our ultimate hiking packing list includes our must-have gear for any hiking trail!


You may also like…
Save this article on Pinterest for later!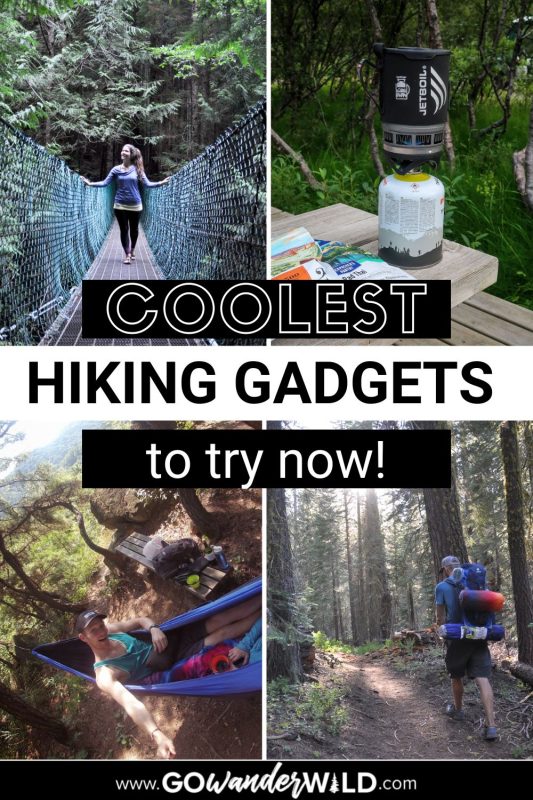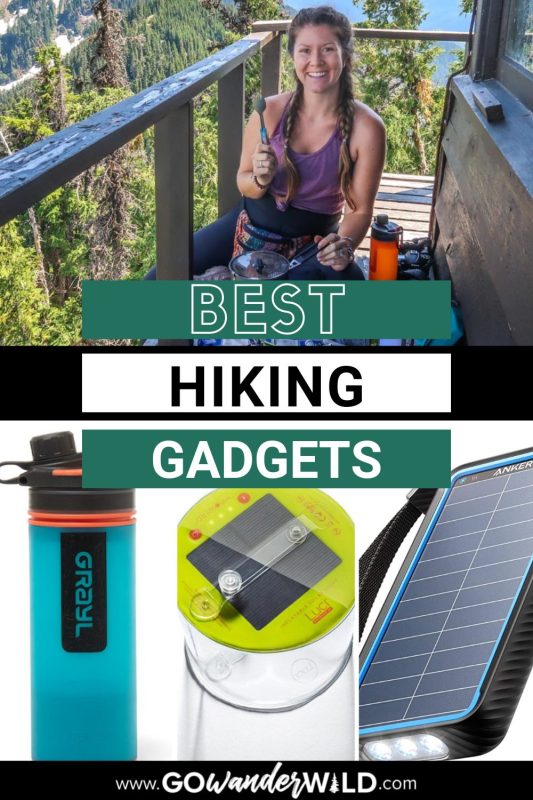 We want to hear from you!
Which of the hiking gadgets on this list are you mots excited to test out? Are there any more hiking gadgets you use that you think we should add to the list? Comment below and let us know!