Choosing what to wear hiking can make all the difference when it comes to being prepared for a great time on the trail. We're covering the basics from the best fabrics for hiking, how to layer, what to pack and most importantly, what not to wear on the trail.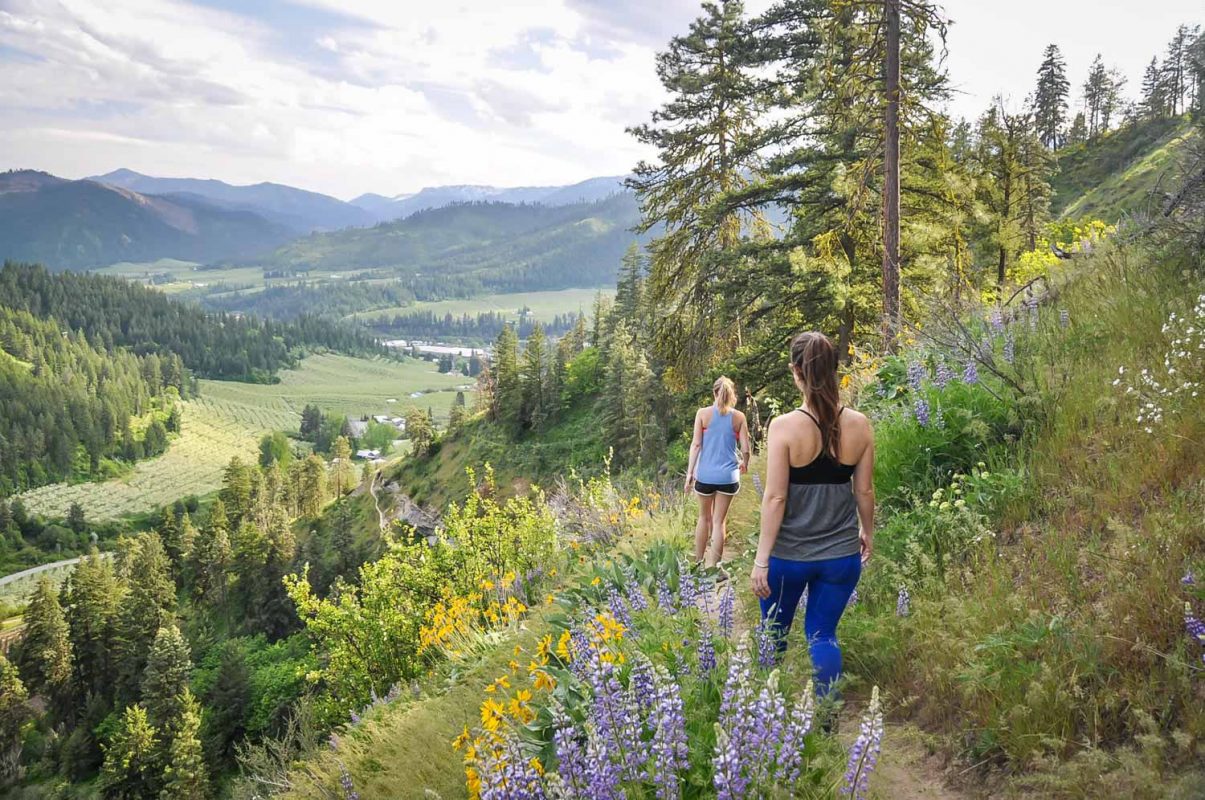 Getting dressed for a hike requires a bit more thought than simply picking an outfit to wear around town. Or at least it should!
While you won't necessarily be as concerned about your fashion choices, you should really be putting some thought into the types of fabrics you're choosing as well as the kinds of layers you'll be wearing.
Choosing what to wear hiking can make all the difference when it comes to being prepared for a great time on the trail. Wearing the wrong type of clothes when hiking can lead to discomfort, and in the worst cases, can even put your safety at risk.
So let's go through the best fabrics for hiking, what types of layers you should pack, and what not to wear on the trail!
Looking for some hiking inspiration? Check out our list of top 50 hikes in Washington state to figure out which trail you want to hit next.
WHAT TO CONSIDER WHEN CHOOSING HIKING CLOTHES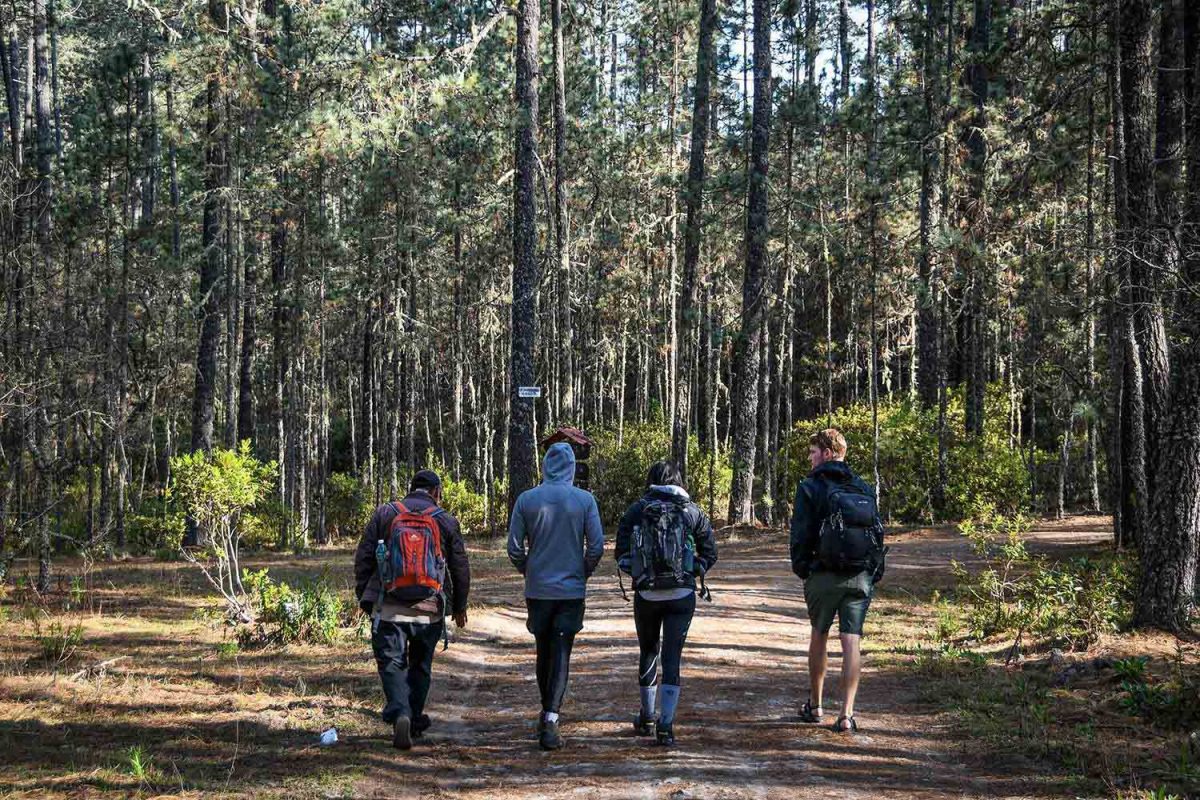 The list below goes over some of the major factors you should consider when choosing what to wear while hiking.
1. Weather
Before setting off on a hike, check the weather forecast and dress accordingly. You don't want to wear heavy pants if it's hot or outside or a tank top if it's cold. Err on the side of being over-dressed by packing at least one more layer than you think you'll need based off of conditions. Carry extra layers in a good ergonomic hiking daypack.
Additionally, take into consideration any elevation gain, as higher altitudes often lead to colder temperatures and stronger wind gusts.
2. Type of Hike
A short and easy hike is going to require much different clothes and gear than a multi-day hike with lots of elevation gain. Be sure to check the distance, length, elevation gain, and difficulty ranking so you can plan (and dress) accordingly.
AllTrails is a good place to get that information, as they have info for many hikes just about everywhere in the world.
Tip: If you're looking for other helpful apps, we've put together a giant list of the best outdoor apps for camping, hiking and road trips. These apps give you all the information at your fingertips to plan the ultimate outdoor adventure.
3. Conditions of the Hike
Not only does the length and difficulty of the hike make a difference, but it's good to know what obstacles you may encounter along the way…
Look into whether you'll encounter any of the following:
poisonous or prickly plants
bugs
extended sun exposure
rocks you'll need to scramble over
river crossings
For example: If it's likely you'll come across lots of prickly plants and will be exposed to bugs during your hike, you'll definitely want to wear clothing that covers your skin.
4. Layering
No matter the type of hike, you'll always want to dress in layers. This way, you're prepared to add another layer of warmth or protection against the elements. However, the types of layers you'll pack is going to depend heavily on the first three points: weather, type of hike, and conditions.
5. Fabrics
There are many fabric options when deciding what to wear hiking whether you choose casual, everyday outfits or a more durable one. Many people simply use cotton t-shirts and jeans or shorts to hike trails but this isn't always the best option.
Since hiking is a physical activity, we recommend wearing athletic clothing and quick-dry fabrics. Since athletic wear is made specifically for physical activity, the quick-dry fabric will wick away moisture to keep you dry and be best suited for movement.
And while we're on the subject of fabrics, let's discuss the best (and the worst!) materials for hiking clothes and what qualities make them so great.
Psst! Gearing up on a budget? No problem! We've put together an article with all of our tips for finding discounted outdoor gear and apparel.
BEST FABRICS FOR HIKING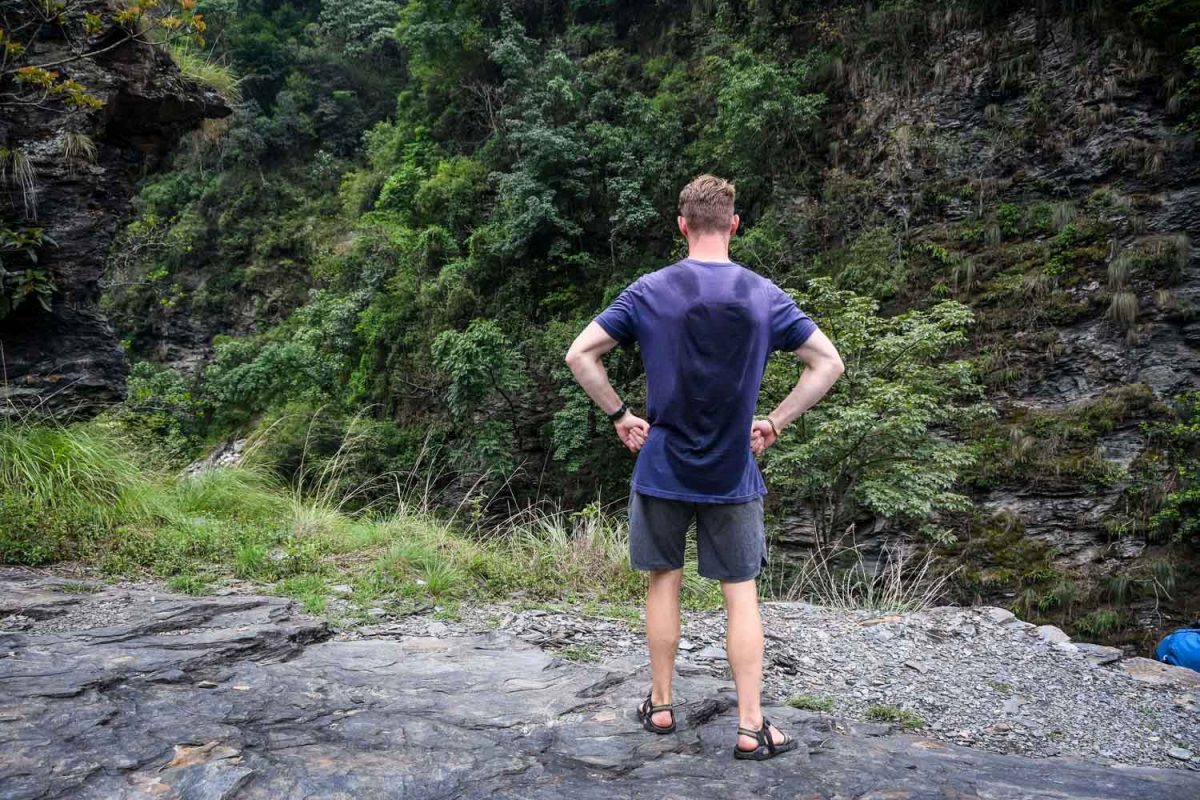 Merino Wool
This sheep's wool is perhaps the most versatile of fabrics on this list. It has so many incredible characteristics that make it a perfect fabric for hiking, most notably, merino wool wick away moisture from your body and helps regulate temperature (keeps you warm in cool weather, and cool in warm weather!).
Sounds like a magical fabric, right? That's not all it's known for. 
Why is merino wool so great for hiking?
Here are more characteristics that make merino one of the best types of fabric for outdoor activities:
Non-itchy: unlike other types of wool, merino is not itchy and is hypoallergenic, making it super comfortable
Quick-drying: this is a characteristic you want in any fabric you'll be wearing outdoors, because keeping dry is imperative in staying comfortable
Regulates temperature: keeps you cool in hot weather, and keeps you warm in cool temperatures
Odor resistant: here's another magical quality – merino wool absorbs odors and only releases them when it is washed. That means even if you get sweaty on a hike, you won't stink like your friend who is wearing a cotton shirt. Plus, items made of merino don't need to be washed as often!
Durable: merino wool is not cheap, but it'll last you a long time. In fact, merino wool is said to be 6 times stronger than cotton. Now, that price tag makes sense!
UV resistant: aka natural sun protection
Renewable & biodegradable: making this fabric eco-friendly
Are you a hiking enthusiast looking for some items to add to your wishlist? Check out our extensive list of gifts for hikers to get some unique inspiration!
Other fabrics to incorporate into your hiking attire
Polyester – This flexible fabric keeps you moving and dry as it wicks away your sweat.
Fleece – Fleece has insulation properties to keep you warm in the cold while still wicking away moisture.
Nylon – This durable fabric is great because it is resistant to tears and is windproof.
Be sure to grab our ultimate hiking packing list includes our must-have gear for any hiking trail!

FABRICS TO AVOID WHEN HIKING
Denim: Denim is a wonderful fabric for everyday life, but not for outdoor activities. It isn't flexible and will absorb water, too. Leave the jeans at home.
Cotton: Cotton should be avoided at all costs when getting dressed for hiking. Cotton will absorb water, weigh you down, and can lead to frostbite or hypothermia. Just don't.
QUICK LIST OF HIKING CLOTHES
1. Quick-dry shirt
Athletic, quick-dry shirts are made specifically for physical activities and will work to wick away all the sweat that builds up. This way you will be cool and comfortable instead of sticky and clammy. Sounds like an easy choice to us!
2. Underwear
I know what you're thinking… what does underwear have to do with hiking? More than you think, actually. Wearing regular cotton underwear is a common beginner mistake, and can lead to all kinds of discomfort. Cotton holds moisture and can increase chafing in your most sensitive places (yikes!). Instead, opt for nylon, merino wool, or polyester to wick away moisture and keep you comfortable.
3. Sports Bras
Similar to underwear, cotton is not the choice you want to go with. Choose a dry-fit fabric that will wick moisture and sweat away from your body and keep you feeling comfortable and dry.
4. Hiking Pants or Shorts
There are many companies that create hiking pants and shorts in order to give the ultimate amount of flexibility and comfort. Some hiking pants are even convertible so you can get both shorts and pants in one (or "shants" as we like to call them!). Whether you see them as practical or terribly ugly is a personal preference…But whether you go with shorts, pants or both (aka shants!), be sure you choose one that is meant for outdoor activity. This means it'll be made with moisture-wicking fabric that is both durable and breathable so you can keep moving.
5. Upper Body Layers
Use a quick-dry shirt to wick away moisture, a fleece or insulated jacket depending on weather conditions, and a rain jacket to keep wind and water out of your clothes.
Hiking shirts for women and men are made with similar materials, however, the fit can make a major difference. Having somewhat fitted layers, as opposed to very loose and baggy clothing, can help keeping you dry and warm and minimize chafing.
6. Hiking Socks
Say it with us: cotton kills! So the normal cotton socks are not a good option when hiking because they will absorb your sweat and keep your feet cold and wet. You will get blisters and be very uncomfortable during your entire hike when wearing cotton socks. Opt for wool socks instead that will wick away moisture and keep the blisters at bay.
Psst! Contrary to what you might think, layering socks isn't necessary. And with proper hiking socks, you'll only need one pair.
7. Rain Jacket
Mother Nature can be unpredictable and it can rain at a moment's notice, so be sure to pack a rain jacket for your hike, even if precipitation is not predicted. We like rain jackets that are lightweight, breathable and pack up small so we never have a reason not to bring it. That way you'll be protected in case of rain, but you won't be slowed down by unnecessary bulk.
8. Warm Jacket
If you'll be gaining elevation on your hike, it will get colder the higher you get. Invest in a good jacket to keep your body warm.
9. Hiking Shoes
You have a ton of options when it comes to footwear but steer away from tennis shoes. Depending on the difficulty of the hike, your tennis shoes won't protect you from rocks and sharp objects on the trail. Invest in a pair of durable hiking shoes, sandals, or boots depending on preference. This way your feet are comfortable and you have grip no matter the climate.
Don't go hungry on the trail! Make sure you also pack some healthy & delicious hiking snacks if you plan to be on the trail for more than an hour or so.
HIKING ACCESSORIES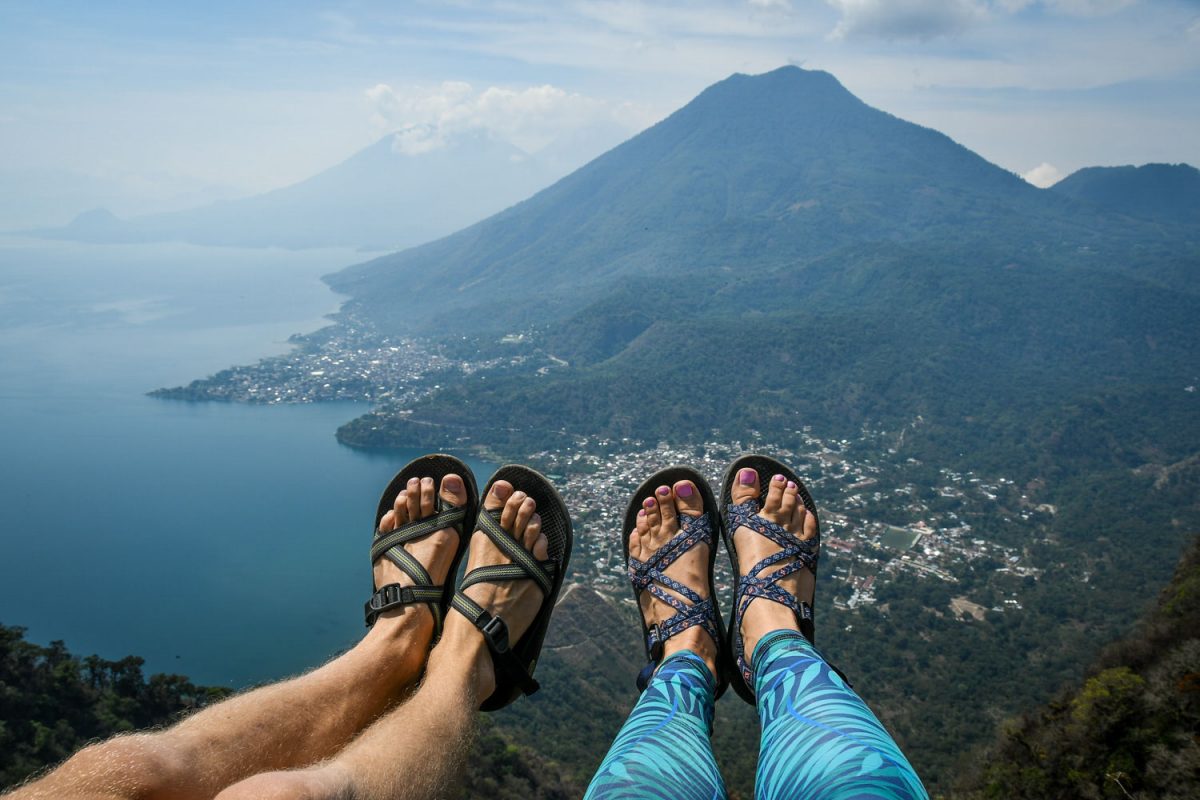 Sun Protection – Even if it's cloudy, just being outside will expose you to harmful UV rays, so it's a good idea to always think about sun protection, no matter the type of hike. Protect yourself from uncomfortable burns (as well as increased cancer risk and unsightly wrinkles). You'll thank yourself later!
Hat: baseball cap or wide-brimmed
Sunglasses
Sunscreen
Lightweight layers: this can be one of the best ways to protect your skin from getting burnt
Psst! We've gotten sunburnt high in the freezing Himalayas as well as in the dense forests of the PNW. So just because you won't have constant sun exposure, that doesn't mean you won't get burnt.
Beanie and Lightweight Gloves – If you're hiking in cold weather, be sure to pack a beanie and some lightweight gloves. The hands are the first part of the body to get cold and we all know that uncomfortable feeling that comes when they get cold. Bring along a warm fleece beanie to keep your ears warm too!
Hiking Poles – Whether to bring poles on your hike comes down to personal preference and the type of trek. Personally, we only use hiking poles on very difficult terrain or lengthy downhill hikes. However, some people love using them on just about any kind of trek. If you have bad knees, hiking poles can really help lessen the discomfort, especially on downhill portions. Additionally, poles give you a bit of balance and can help distribute the weight of a heavy pack more evenly.
Gaiters – Gaiters will easily attach to your hiking boots or shoes to keep mud, dirt, and burrs out of your shoes. And there are even waterproof versions for rainy conditions. We'd only recommend wearing gaiters when conditions make it necessary, otherwise they can be overkill.
Microspikes – If you are hiking where there is snow or ice, be sure to invest in microspikes. They will keep your from slipping and sliding on icy surfaces. And there are many brands out there, so if you don't have the budget for a top-dollar version, you don't have to break the bank.
Psst! Check out this list of coolest hiking gadgets we put together to get your get outfitted for hitting the trails.
TIPS FOR LAYERING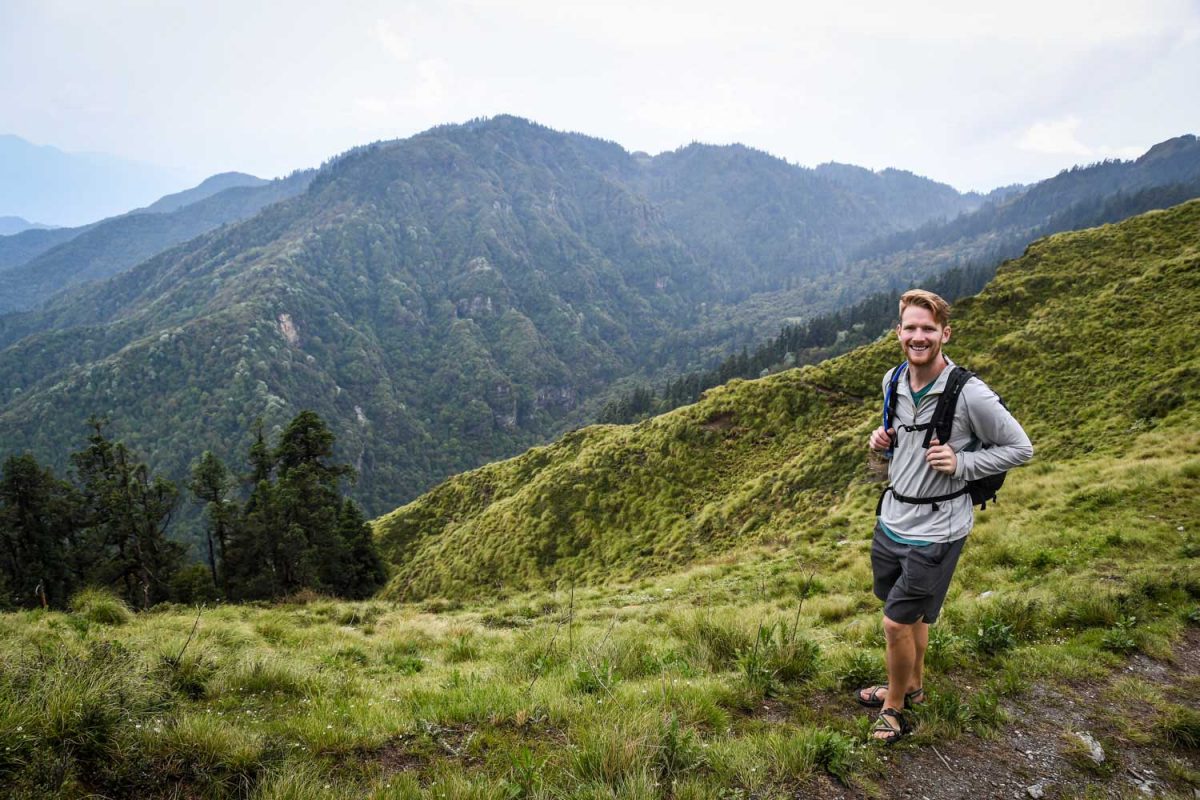 Underwear/Sports Bra – As stated earlier, invest in breathable underwear that will wick away sweat. Good options are merino wool, polyester, or nylon underwear and sports bras. Just make sure that your lower layer wicks away moisture and protects your body while still remaining breathable.
Base Layers – For your base layer, you're going to want items made of merino wool if possible. This layer is closest to your skin aside from underwear so it's important that this layer wicks away moisture and sweat. Merino wool is your best friend for the base layer.
Middle Layer – This layer provides primary warmth on your hike and should be able to be flexible too. Choose a fleece or puffy jacket depending on conditions. If it's colder, go with fleece while if it's mild go with a lighter weight option.
Outer Layer – This layer is mainly protection from water and rain. Buy waterproof rain jacket and pants that will keep water from getting inside your clothes and still stay flexible enough to keep you moving.
Looking for an epic hiking adventure? Check out this list of the best hikes in Grand Teton National Park, one of our favorite parks for hiking in the US!
WHAT TO WEAR HIKING IN THE SUMMER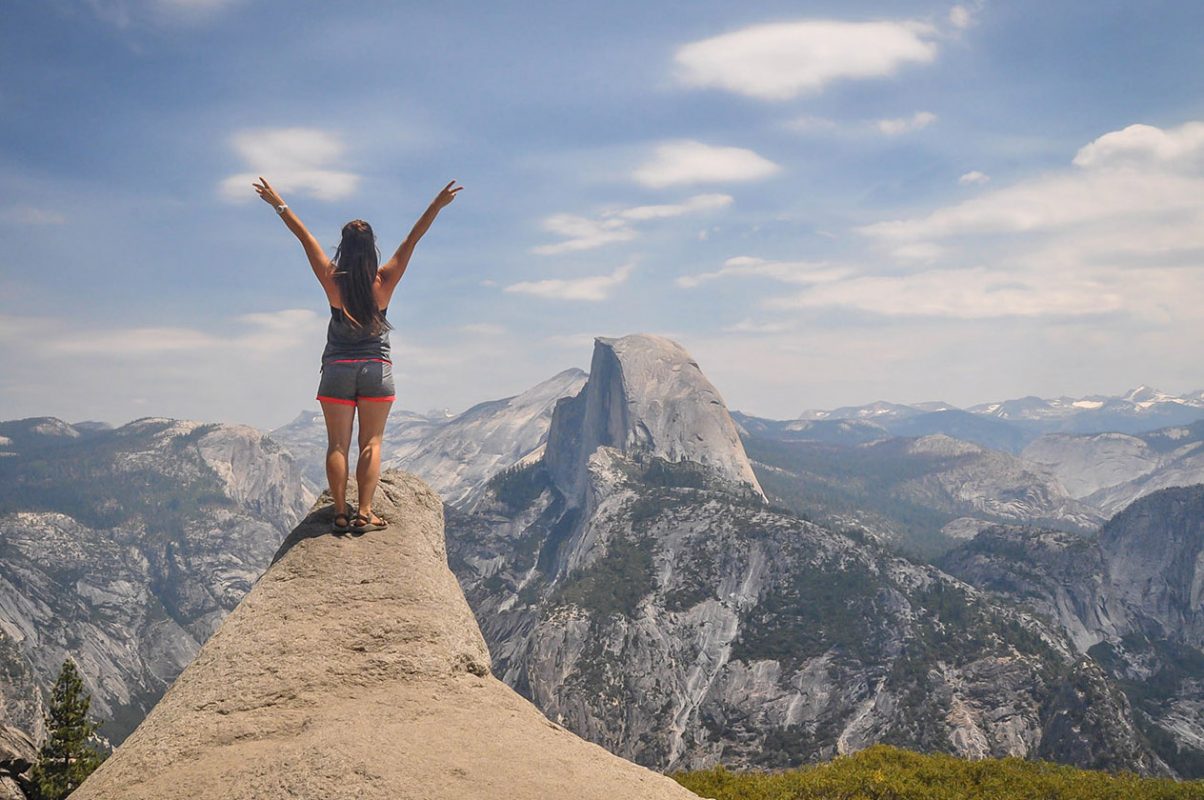 The Essentials
Shirts – Pick quick-dry shirts for hiking in the summer because you're likely going to sweat a lot. You can opt for t-shirt or tank top based on personal preference.
Bottoms – While many people reach for shorts during the summer, make sure you are prepared for any situation on the trail such as poisonous plants or objects that can scrape your legs. Whether you choose shorts or pants, they should be a similar moisture-wicking material as your shirt to keep you dry.
Shoes – When trekking in hot weather, we're huge fans of hiking sandals like Chacos. They can take on any terrain while allowing your feet to breathe. They're also great in the water, so it makes river crossings or any other water activity a cinch! Alternatively, if you aren't a fan of open-toe shoes, opt for a lightweight hiking shoe.
Tips
Choose lighter colors for your fabrics: Dark colors attract more sunlight and can cause you to be much hotter.
All of your fabrics should be quick-dry: This way, they'll wick away sweat and moisture so you're comfortable the whole hike.
Pack a hat to help keep the sun's rays off your neck, face, and ears.
Sunscreen! No ifs, ands, or buts. You will need sunscreen.
WHAT TO WEAR HIKING IN THE WINTER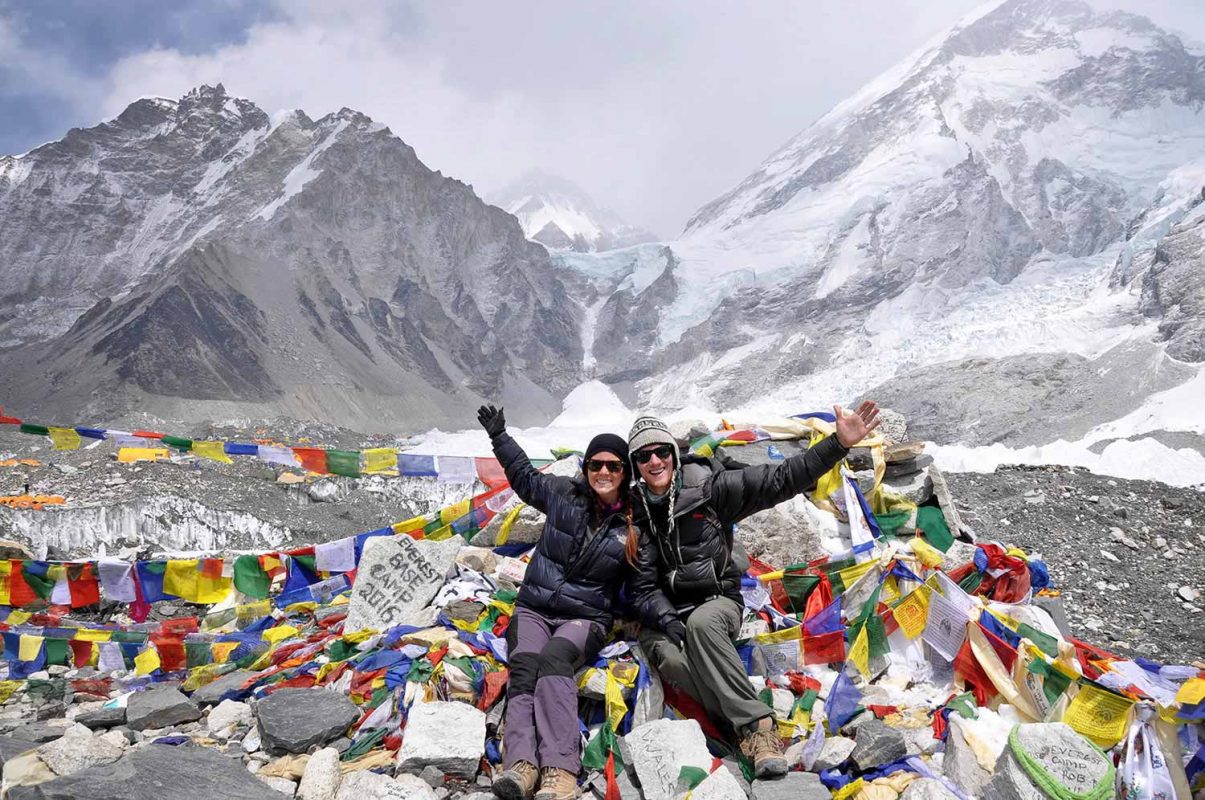 The Essentials
Layer – When it comes to cold weather, layering is an absolute must. The base layer keeps you dry, the mid layer keeps you warm, and the outer layer keeps wind and water out. So make sure to layer up, especially if you're hiking in the wintertime.
Cover all of your skin – In very cold weather, any uncovered skin is prone to getting frostbite. Bring along items that you can put on should you need them: a beanie for your head, gloves for your hands, and even a buff to protect your nose and cheeks. Trust us, your body will thank you later.
Footwear – Be sure to use closed toed hiking shoes or boots to protect your feet from the cold conditions. And if you plan to hike through lots of snow and ice, micro-spikes should be packed as well.
Tips
Use hand warmers – Hand and toe warmers are cheap, so pack some in your shoes and gloves so you don't lose heat!
Protect batteries – Cold weather kills batteries, so you want to make sure to keep batteries (or any electronic with batteries, like your phone) close to your body to keep them warm. Put them in a chest pocket so they aren't as affected by the weather.
Avoid tight clothing – Tight clothing cuts off circulation and you can more easily get frostbite.
WHAT TO WEAR HIKING IN THE SPRING OR FALL
The Essentials
Footwear – Use hiking shoes or boots because there could be muddy conditions.
Layering – Much like the winter, it's important to layer up in the spring or fall because the weather fluctuates and could change during your hike.
Sun protection – It's common to forget about sunscreen or hats when it's not summertime. But it's always a good idea to protect your eyes and skin from the sun's rays, no matter the time of year.

You may also like…
Save this article on Pinterest for later!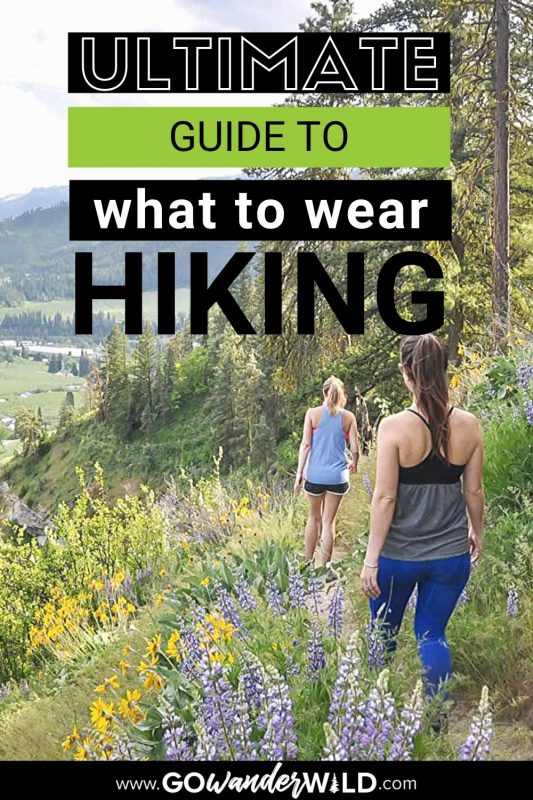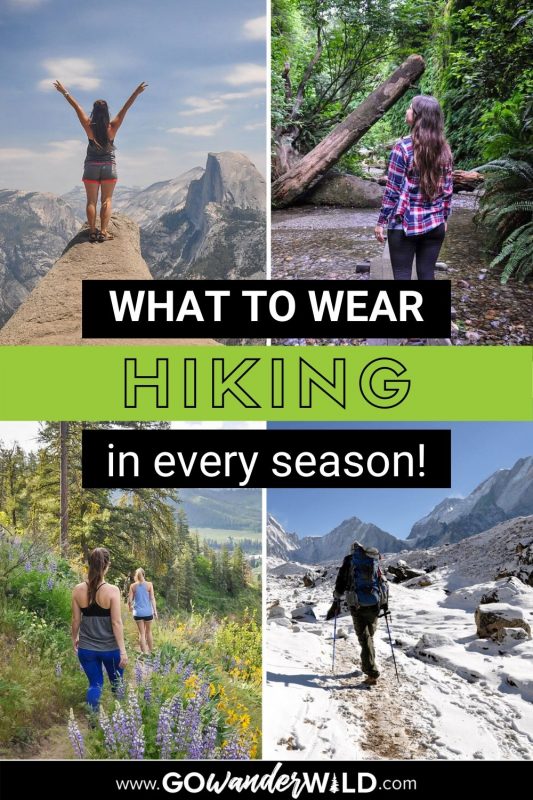 We want to hear from you!
Comment below if you have questions about hiking apparel, or if you have any tips you'd like to share.