Choosing a daypack for hiking is important, but it's not necessarily straightforward. There are several things to consider and compare.We researched and tested several of the best daypacks for hiking for both shorter, casual hikes and longer backcountry excursions.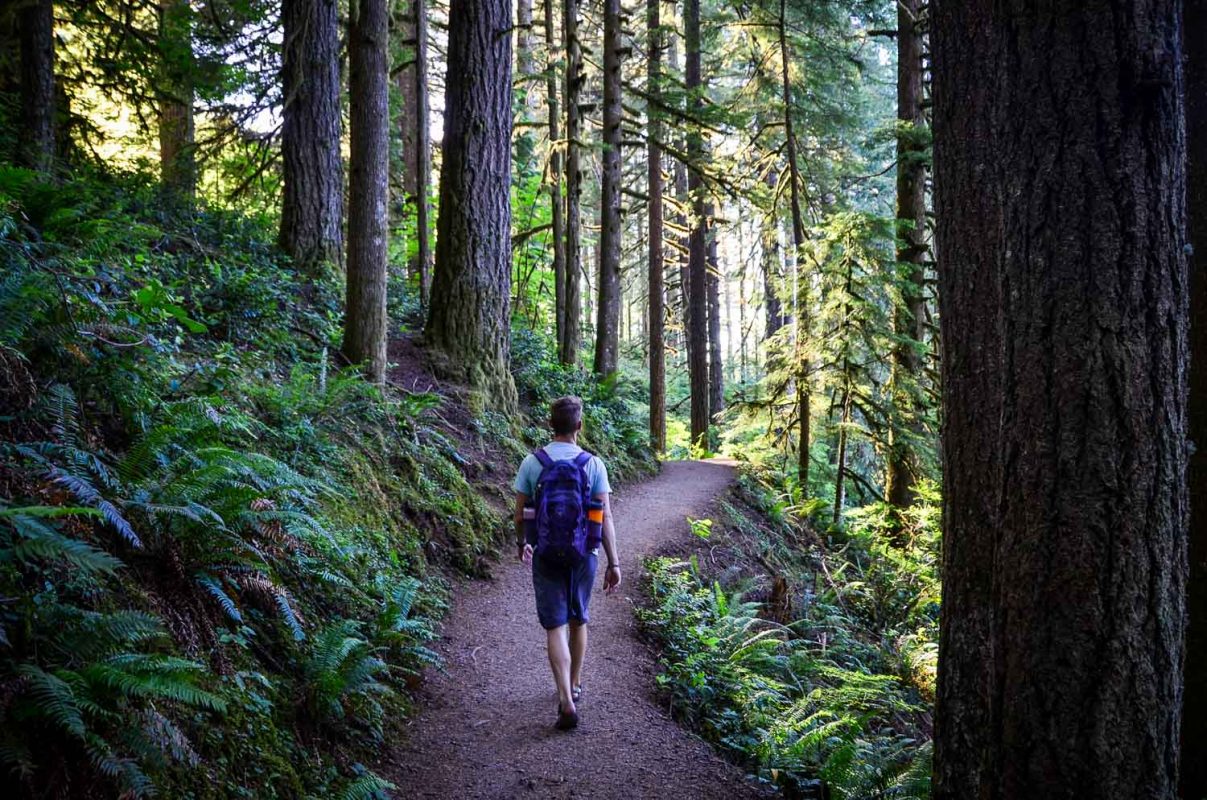 It goes without saying that we're huge fans of hiking. It's one of the best ways to escape from the hustle and bustle of daily life, plus it's an amazing way to explore!
While you don't technically need anything more than a sturdy pair of shoes to hike, having the right gear certainly makes it more enjoyable. One of the most important pieces of hiking gear is an ergonomically-designed daypack.
Different from both regular backpacks and more technical backpacking packs, daypacks have unique traits to help keep you safe and comfortable during day hikes. But with a dizzying number of options, how do you know which are the best daypacks for hiking? In this guide, we review 10 of the best daypacks for hiking, hand-selected to suit a wide variety of preferences, budgets, and hiking styles.
Highlights
If you don't feel like reading through the reviews and just want to get straight to the good stuff, here are our top picks…
How to choose the best hiking daypack for you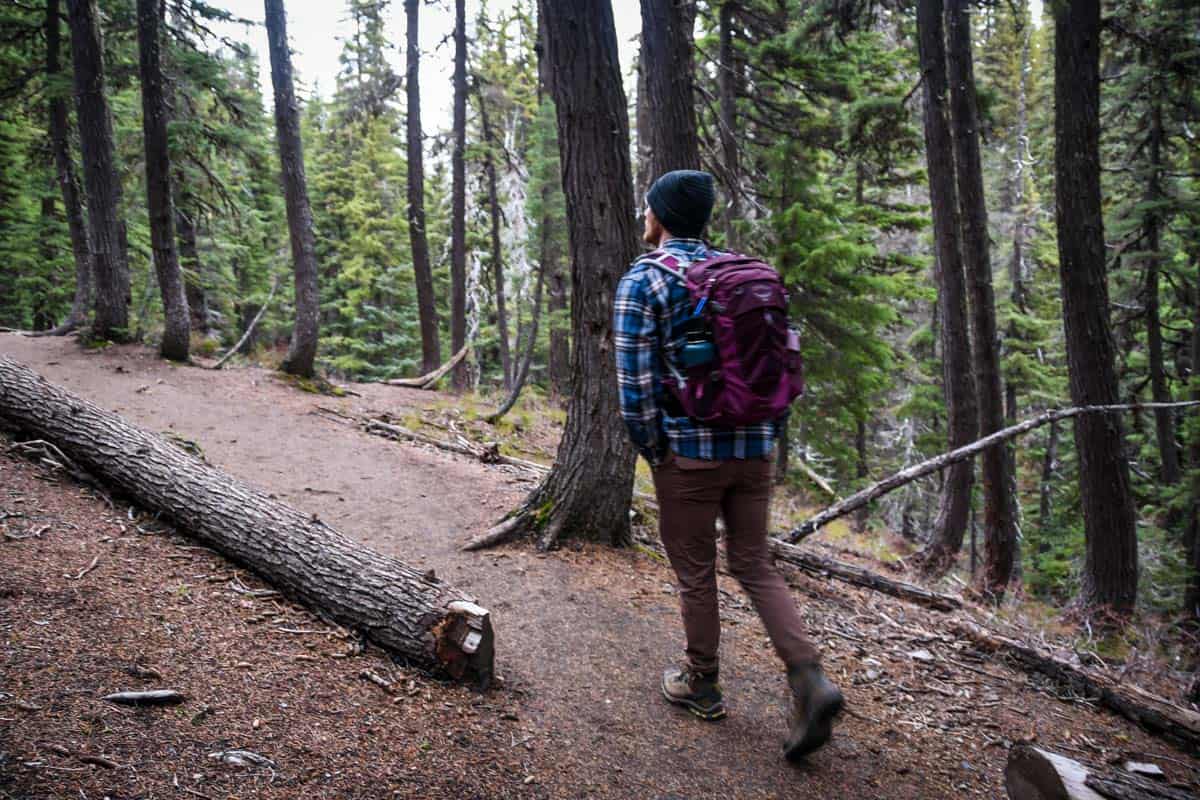 Selecting the best daypack for hiking really comes down to a matter of personal preference. Some people will prefer an ultra-lightweight pack, while others want something with a bit more heft. However, answering a few questions will help you narrow down your search.
What's most important for you in a hiking daypack?
For most hikers, convenience and comfort are paramount, but again, specific features are extremely subjective. When it comes to comfort, is overall weight the most important factor, or is it having padded back panels or more adjustability?
Similarly with convenience features, ask yourself what your priorities are. Is it having more pockets for organization or having a dedicated compartment for a hydration bladder? Keeping all these things in mind, capacity and budget are also important considerations.
What will you be using your hiking daypack for?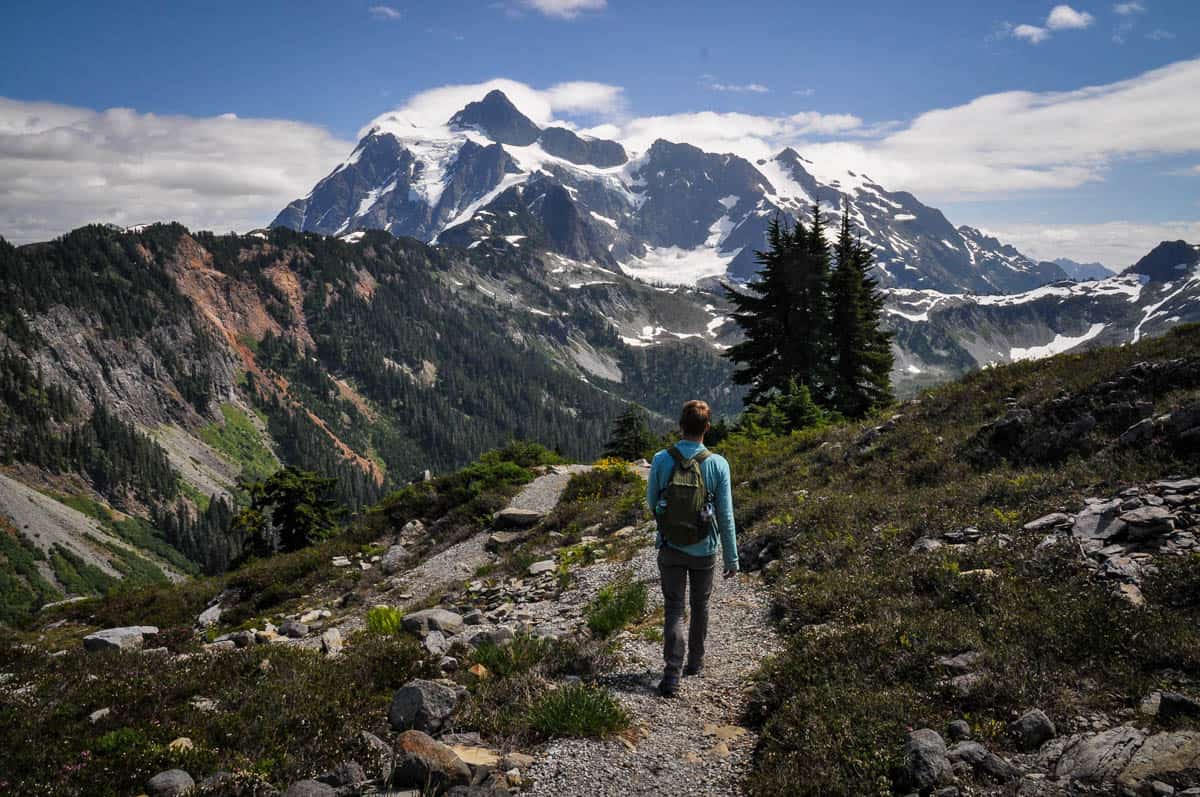 Before deciding on a daypack, it's important to determine what types of hiking you'll actually be doing, as some are tailor-made for specific activities.
For example, if you do any mountaineering or climbing, you may want to look for a daypack made of more rugged materials and with a narrower profile for less restrictive movement.
Mountain biking enthusiasts will probably appreciate smaller, low-profile daypacks with waist belts and casual hikers might be interested in options that serve double-duty as hiking packs and airline-compatible travel bags.
What size daypack do you need?
You'll find the best daypacks for hiking come in a vast range of sizes. Beyond the overall size of the pack, you should pay close attention to internal storage capacity and the capacity of the hydration bladder, if there is one. Some bags may be larger but only accommodate a 1.5-liter bladder, while others have a smaller profile but fit a 3-liter bladder.
Comfort/Fit and Sizing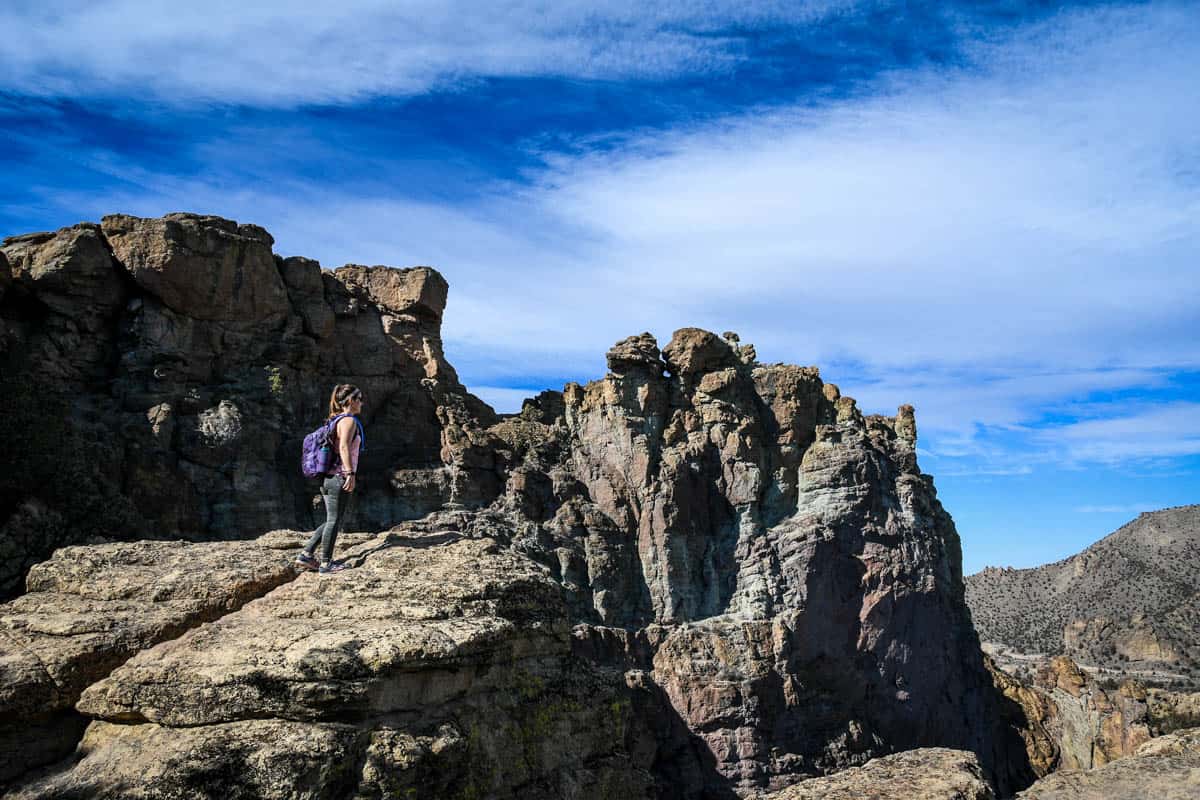 Comfort is the most subjective aspect of daypacks. What's extremely comfortable to one of us, the other may feel is rather uncomfortable.
A pack's overall size and materials play a role in its comfort level, and then there are all the various "extras" such as sternum straps, load-lifter straps, hip belts, rigid internal frames…the list goes on!
Our best advice is to narrow down your options, then go into a local store like REI to physically try them on. You may fall in love with a pack's features and looks, only to find out it fits you poorly and vice-versa, you may end up going home with one that was never even on your radar!
Psst! If you're a hiking gear-enthusiast, you'll want to check out this list of coolest hiking gadgets we put together.

Product reviews of best daypacks for hiking
We researched and compiled all the info we could find by scouring product reviews, specs, and reports to come up with the list below. It is our objective to give you honest, unbiased reviews of each product so you can decide which is the best hiking daypack to fit your specific needs.
Osprey Tempest 20 (Women's) & Talon 22 (Men's)
Features: Six exterior pockets, adjustable front panel storage, zippered hip belt pockets, and several attachment options including for trekking poles and a bike helmet.
Pros: Extremely lightweight, the AirScape back panel keeps you cool and dry, and the stretch mesh side pockets are unbelievably handy. We also love that they're made of recycled materials and come in multiple colors.
Cons: The uber-light design doesn't hold up well to getting wet or carrying heavy gear
Both the Osprey Talon 22 and Osprey Tempest 20 are excellent versatile packs suitable for day hiking, travel, and casual daily use.
They feature several smaller, practical pockets that are easy to reach when wearing the pack, numerous loops and clips for attaching extra gear, a convenient water bladder compartment, and lots of attachments for multi-purpose adventure options.
The back ventilation system is also impressive and really keeps you cool.
REI Co-op Flash 22 Pack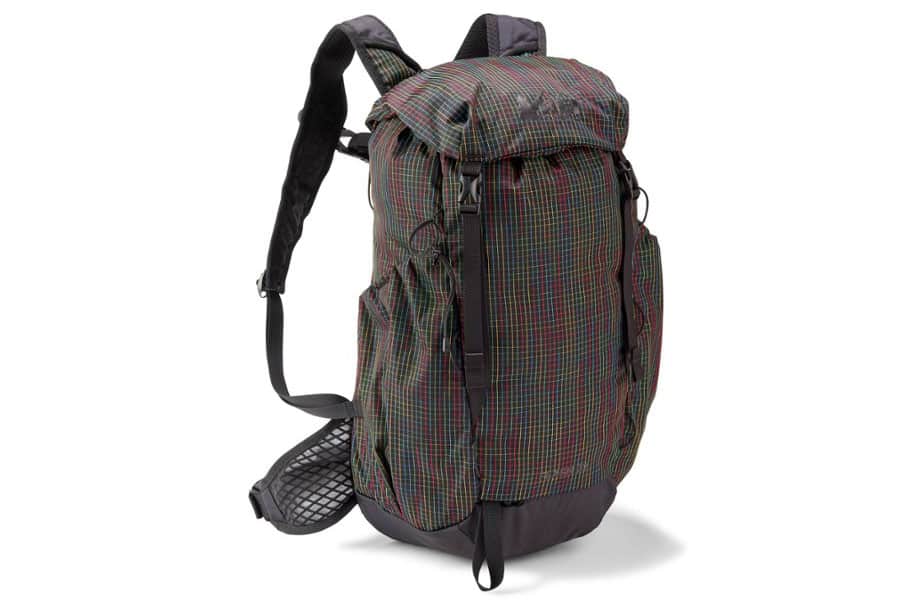 Features: Lightweight, frameless design, mesh back and breathable shoulder straps, draw-cord closure, internal hydration bladder storage, and detachable bungees.
Pros: One of the most affordable options out there, lightweight, compatible with hydration bladders, bluesign® recycled materials, and a removable back panel pad that doubles as a seat pad.
Cons: Only available in one size and color and there's no removable hipbelt.
If you're looking for a middle-of-the-road, no-frills pack for casual use that combines functionality and minimalism, the REI Co-op Flash 22 Pack is one of the best daypacks for hiking. It has impressive ventilation and cushion, a comfy ergonomic design, exterior loops and side stash pockets for all those extra little things.
Plus it has a few thoughtful touches that are honestly surprising at this price point. Most notably, the removable PackMod bungee cord is compatible with any of the bag's connection points, so you can really customize it to your needs.
Black Diamond Distance 15 Pack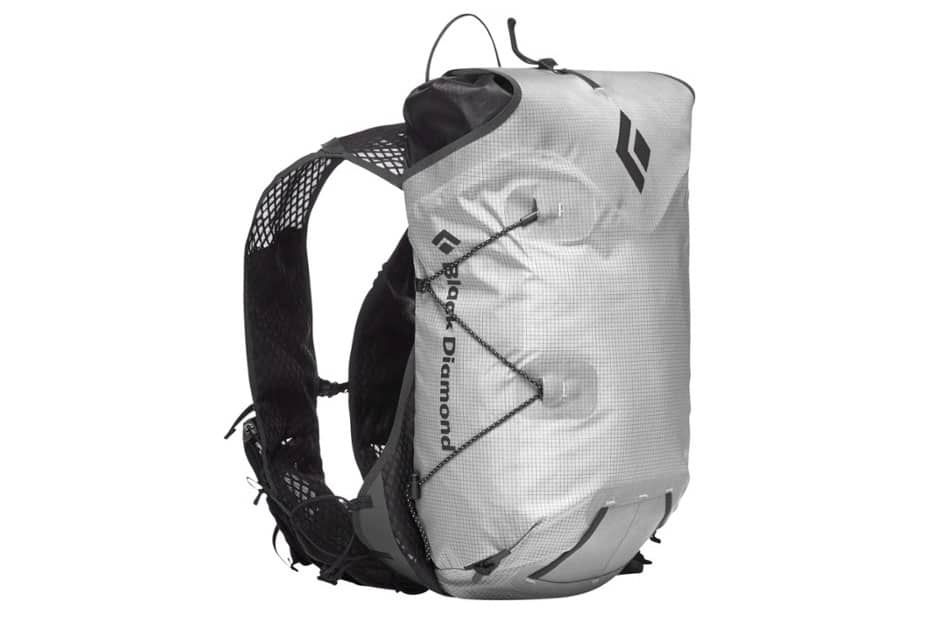 Features: Water-resistant main compartment, interior zippered pockets and stretch mesh divider, adjustable elastic cording, and a carry system for trekking poles and tools.
Pros: Sturdy ripstop fabric for quick-moving adventures, robust shoulder straps, and a surprising amount of storage including convenient, accessible slash pockets.
Cons: No hydration flasks are included.
A unique lightweight hiking daypack in a category of its own, the Black Diamond Distance 15 wears like a trail-running vest but has all the functionality of a larger pack. The ultra-light frameless pack has a hybrid design and clocks in at just 14 ounces, making it a top choice for impromptu hikes, trail running, and climbing.
Perhaps most impressively, the Black Diamond Distance 15 remains comfortable even when stuffed full of bulky gear and the main compartment is completely water-resistant. We'd opt for a larger pack with more water storage capacity for longer adventures, but this is an excellent option for quick treks or when weight and space are big concerns.
Osprey Sirrus 36 (Women's) & Stratos 36 (Men's)
Features: Large 36-liter capacity, super adjustable torso, integrated rain cover, side compression straps, zippered hip belt pockets, and ultra-comfortable mesh back panel.
Pros: Amazing versatility (it even meets most airlines' carry-on requirements!), exceedingly durable materials, integrated rain cover, and Osprey's lifetime guarantee.
Cons: It inexplicably doesn't include a hydration reservoir, which is surprising in a pack this size.
Another male/female Osprey hiking daypack duo, the Stratos 36 and Sirrus 36 are robust, yet lightweight and super comfortable options for more aggressive day hikes and quick overnight trips.
The minimalist design features no-fuss top loading with a couple of interior zippered stash pockets, plus convenient side panel access. The harness and hipbelt (which has several zippered pockets) is exceptionally well-ventilated and padded, making it comfortable to wear even on long distances and with a heavy load.
Both the men's and women's versions have adjustable torso lengths, allowing you to really customize the fit.
Gregory Juno 24 H2O Hydration Pack (Women's) Citro 24 (Men's)
Features: Five exterior pockets and a convenient top zippered pocket, 3-liter hydration bladder included, well-ventilated suspension, and padded hip belt with zippered pockets.
Pros: We love that the Gregory 3D Hydro reservoir is included and this pack is designed to be able to get water quickly on the go.
Cons: More limited adjustability options than other packs.
The Gregory Citro 24 and Juno 24 H2O Hydration Packs are lightweight yet very capable. As their name implies, hydration is a main priority in these hiking daypacks, and it truly is easy to both fill and drink from the 3D Hydro reservoir.
Little touches like the sunglasses quick-stow system make this a standout among the best daypacks for hiking.
Kelty Redwing 30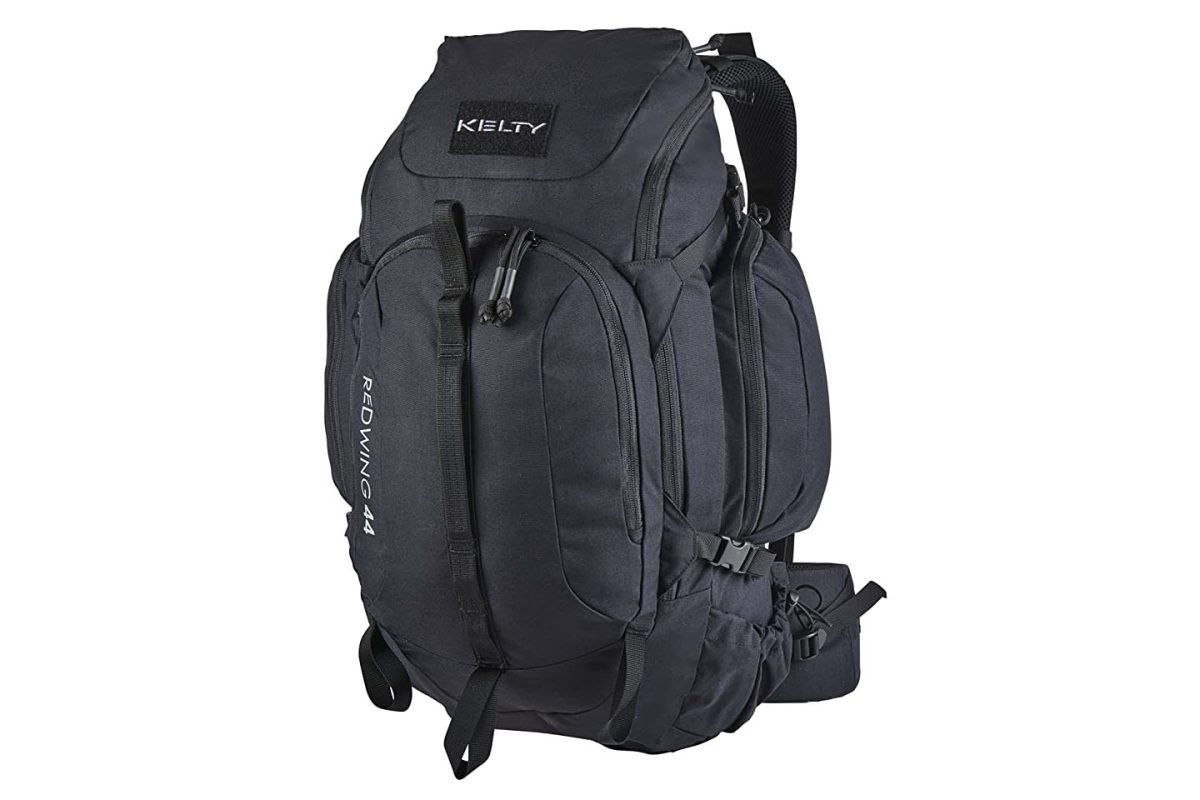 Features: A tactical daypack for hiking with a ton of useful pockets, loop attachment options, and a clever insulated dual-use laptop/hydration sleeve.
Pros: Almost shockingly affordable, versatile storage options, and a robust harness and suspension system.
Cons: The side pockets are a bit too shallow to be useful and the pack lacks any sort of strap keepers.
Many people associate tactical backpacks with heavy-duty use or even the military, but they're actually extremely practical for hiking. The Kelty Redwing 30 is a high-performance daypack that makes it easy and comfortable to carry all your gear.
Aside from the rugged material and abundance of pockets, this pack features a highly technical, adjustable suspension system and load-lifter straps, multiple tool loops (inside and out!), and a daisy chain.
Cotopaxi Tarak 20L Del Dia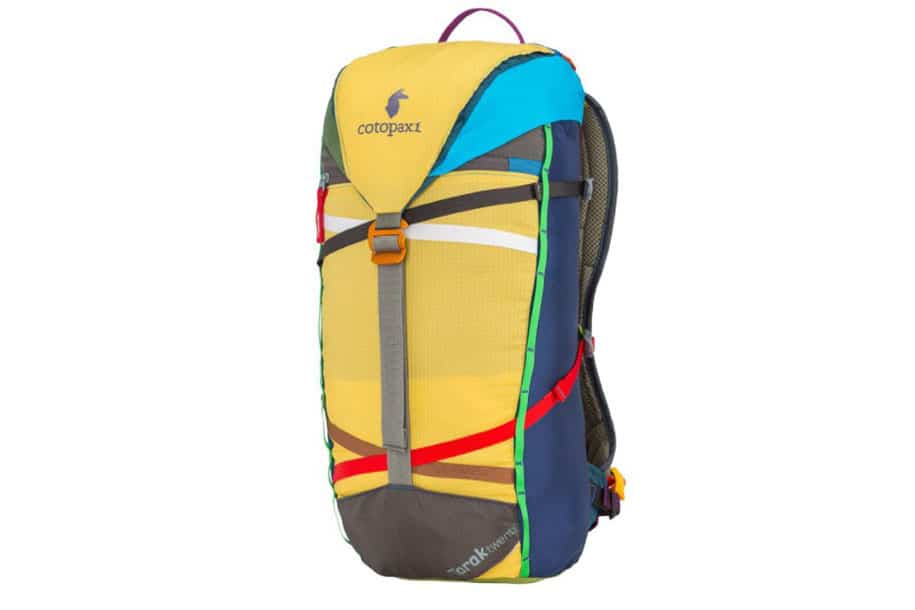 Features: A low-profile, lightweight top-loading pack featuring a minimalist design with a handy zippered top lid and removable hip belt.
Pros: Durability and light weight are the stars here. Plus, how could you not love Cotopaxi's unique colorways and sustainable business practices?
Cons: No side pockets and the soft design means hard-edged items protrude through the material.
Cotopaxi has established itself as a leader in making minimalistic, eco-friendly unisex packs that are exceptionally comfortable and durable. The Tarak 20L Del Dia is no different, a fantastic hiking daypack that's just as useful skiing down the slopes or climbing crags.
The slim, low-profile exterior is comfortable to carry even on longer treks and there's a convenient zippered top lid for quick access to essentials. It's also really neat that Cotopaxi upcycles material remnants and no two bags are ever the same.
CamelBak Helena 20 (Women's) & Rim Runner 22 (Men's)
Features: Tons of pockets inside and out, 2-liter hydration reservoir included, top panel access, load-bearing hip belt with pockets, and integrated daisy chains.
Pros: Hydration bladder included, tons of pockets, and exceptionally comfortable.
Cons: Straps impede zippers in some areas and this bag is heavier than others.
Both the CamelBak Rim Runner 22 and Helena 20 offer robust design and features in a relatively compact pack size. These are some of the best daypacks for hiking when you want something that falls between an ultralight option and a bigger 30-plus-liter-capacity pack.
This pack is very well-ventilated and comfortable, and it has an enormous amount of practical pockets, plus it includes a 2-liter bladder.
Arc'teryx Aerios 30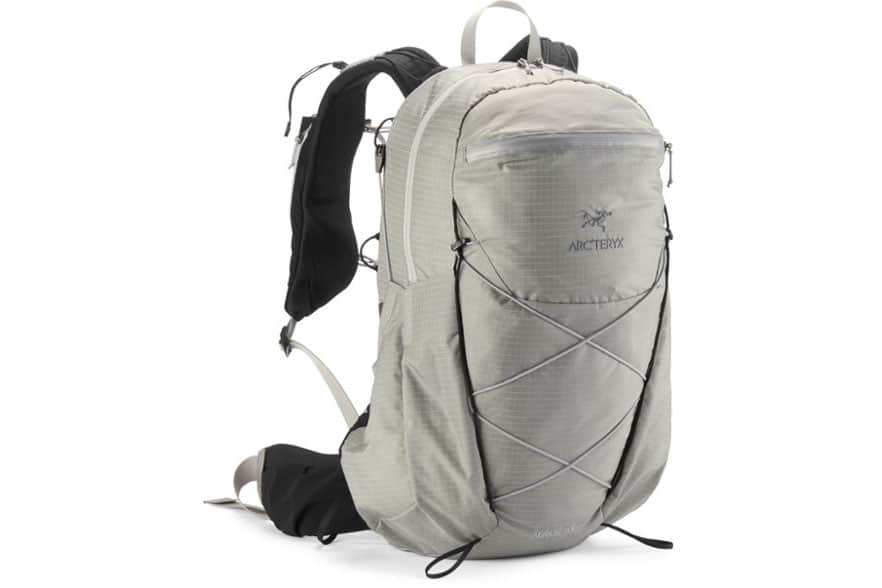 Features: Several exterior pockets including on the hipbelt and straps, plus numerous attachment points including a daisy chain and bungee cord.
Pros: Super light and the side pockets are notably deep and adjustable.
Cons: Interior lacks organization and a bladder blocks access to the interior pockets.
In the Arc'teryx Aerios 30, the company combined all the best mountaineering features with those desired by hikers. It's fully framed with a full suspension, yet super lightweight and durable. The ripstop nylon stands up to anything and it's highly breathable, too.
Feature-wise, this pack is just as robust: there are multiple pockets in and out, including on both the hipbelt and straps, it's compatible with hydration bladders, and there are multiple attachment options such as a daisy chain and bungee net.
Mountainsmith Day Lumbar Pack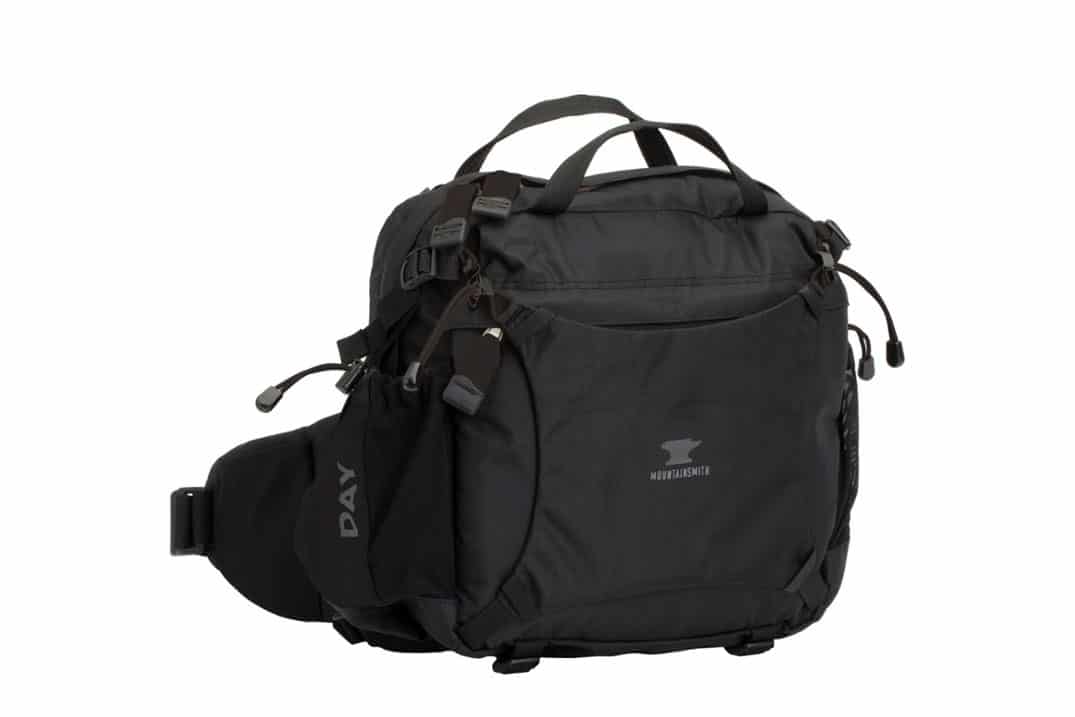 Features: Tuck-away waist belt, interior zippered compartment for small valuables, side water bottle pockets, and compression straps to make the pack more stable.
Pros: A ton of storage in a small package, plus the ability to get Mountainsmith Strapettes for more carrying options.
Cons: If you do get the Strapettes, carrying as a backpack isn't comfortable for long.
There are times when you're headed out for a relatively short hike or one close to home and you simply don't need a full-blown backpack. For those occasions, enter the Mountainsmith Day Lumber Pack. This pack is shockingly efficient, offering a ton of storage and a comfortable, totally hands-free wear.
Waist belt pockets accommodate larger smartphones and there's even a padded interior pocket to accommodate a tablet. The cord-adjustable water bottle pockets are also a nice touch.
Be sure to grab our ultimate hiking packing list includes our must-have gear for any hiking trail!


You may also like…
Save this article on Pinterest for later!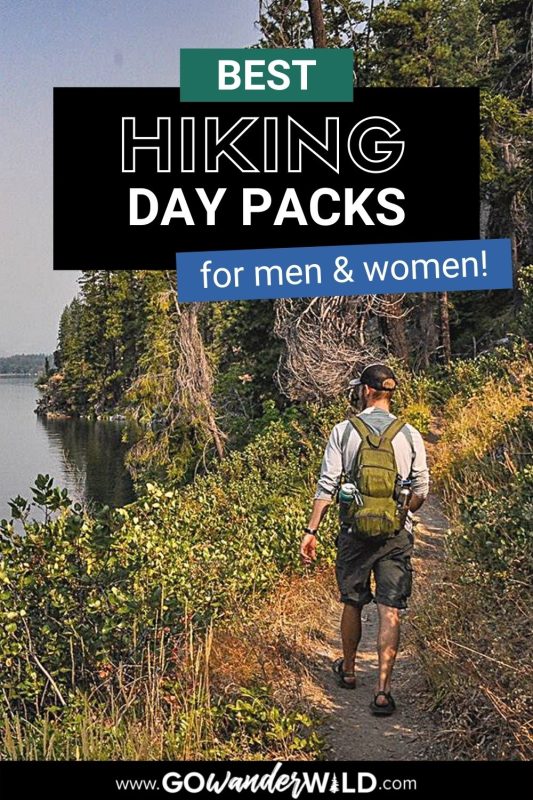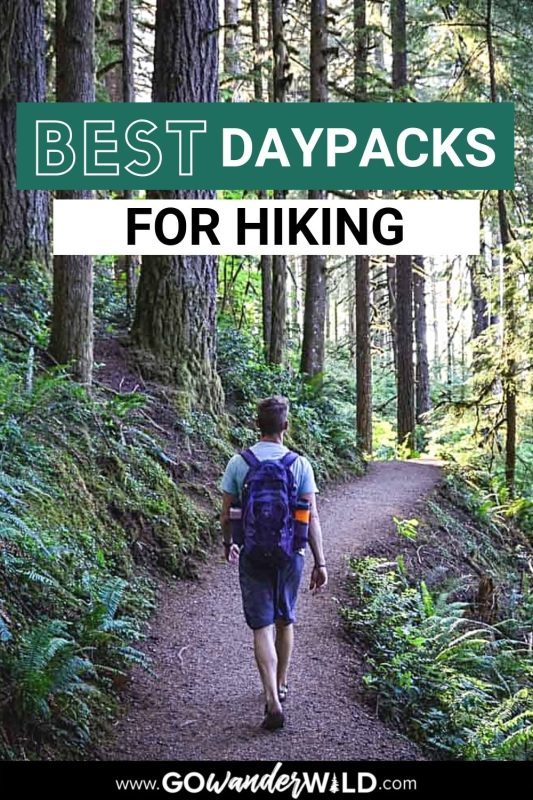 We want to hear from you!
Have more questions about the best daypacks for hiking? Ore maybe you have a great hiking daypack recommendation you think we should add to this list? Comment below and let us know!