Hiking to historic Lake Agnes Teahouse is on many Banff bucket lists, and for good reason. The trek involves a moderate challenge and incredible views, and at under five miles round-trip. This guide walks you through what to expect on the trail to the iconic teahouse.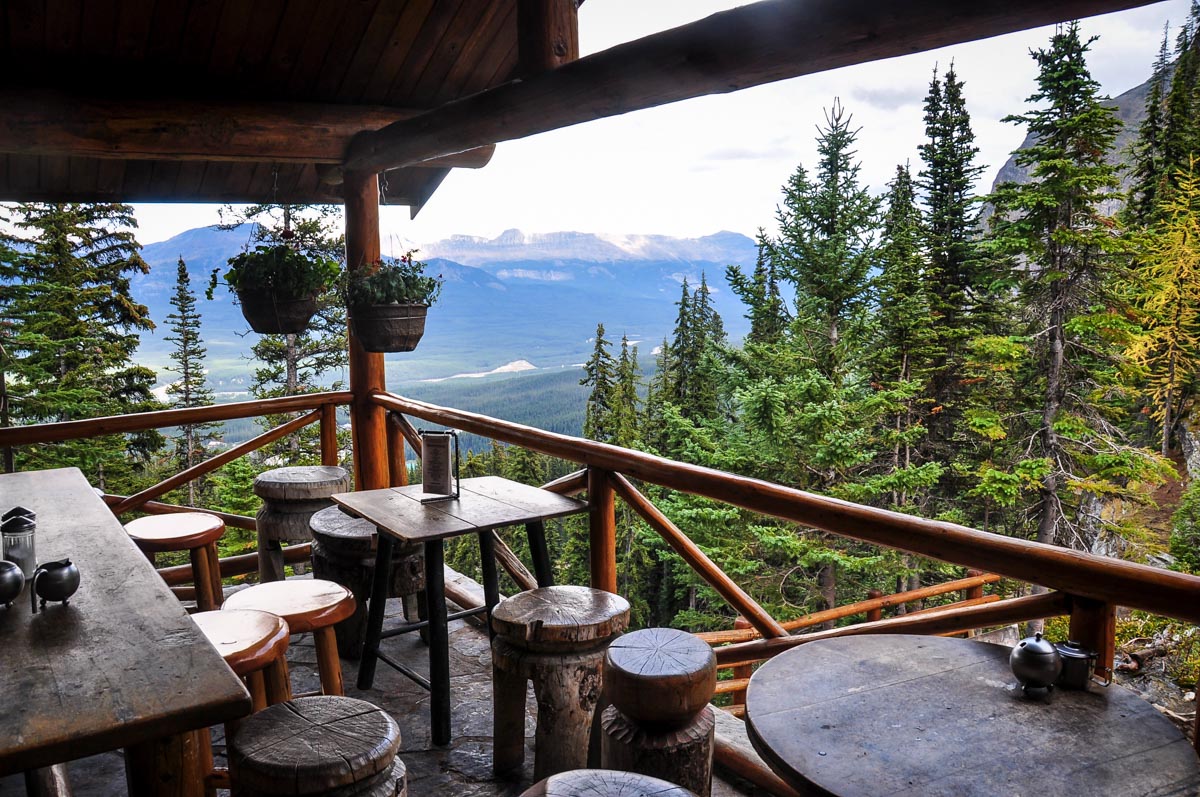 Nestled in the heart of Banff National Park, Lake Agnes Teahouse is a popular destination for hikers looking to combine the stunning natural beauty of the Canadian Rockies with a touch of historic charm.
The teahouse opened in 1901 and began serving thirsty hikers in 1905! It was actually the first teahouse in this area, starting what has now become a beloved tradition.
Getting there involves a fairly straightforward, but uber-scenic, hiking trail through lush forests and past sparkling alpine lakes. At the end, enjoy a rewarding cup of tea at the teahouse, overlooking Lake Agnes.
Lake Agnes Teahouse Guide

Lake Agnes Teahouse trail stats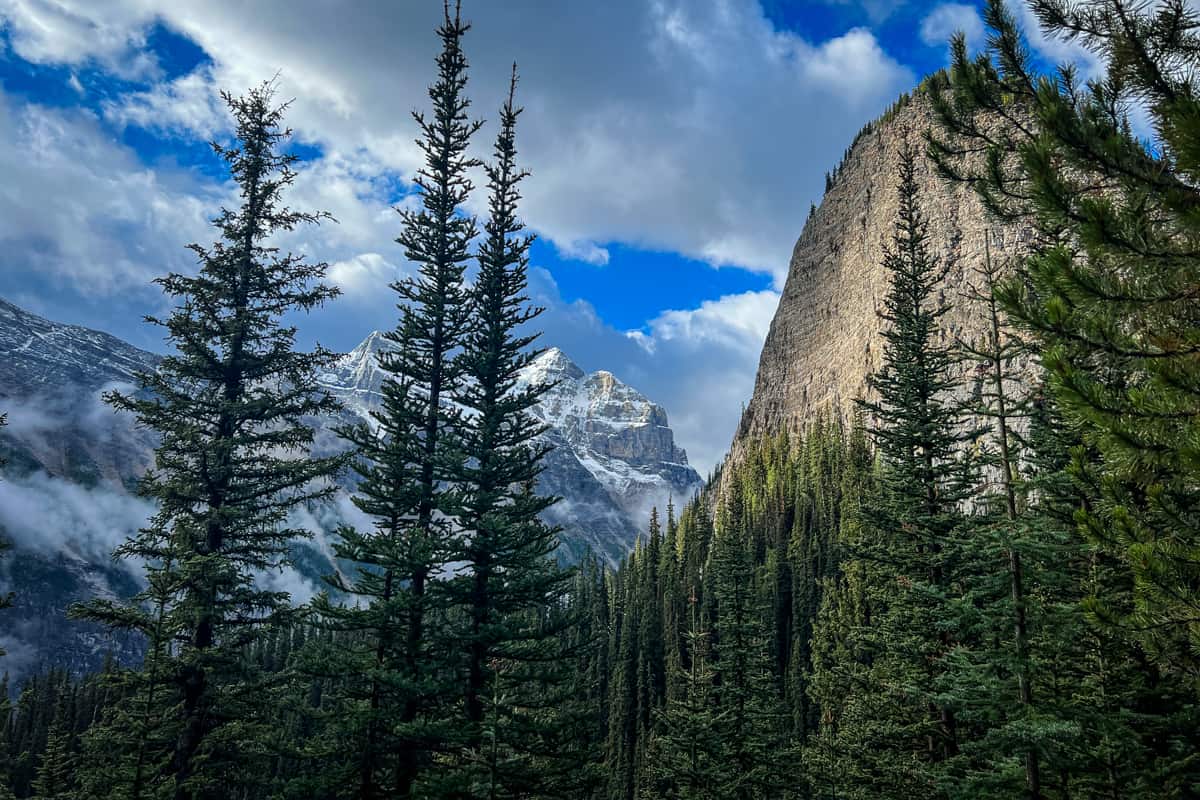 Location: Banff National Park, Alberta, Canada
Distance: 4.6 miles, out and back
Elevation gain: 1,259 feet
Difficulty rating: Moderate
Timing: Anywhere from 3-5 hours, depending on your wait time at the teahouse and how much time you spend there
Pets: Leashed dogs welcome
Permits: No permits required, but you will need to pay admission or have a pass to get into Banff
Lake Agnes Teahouse hike overview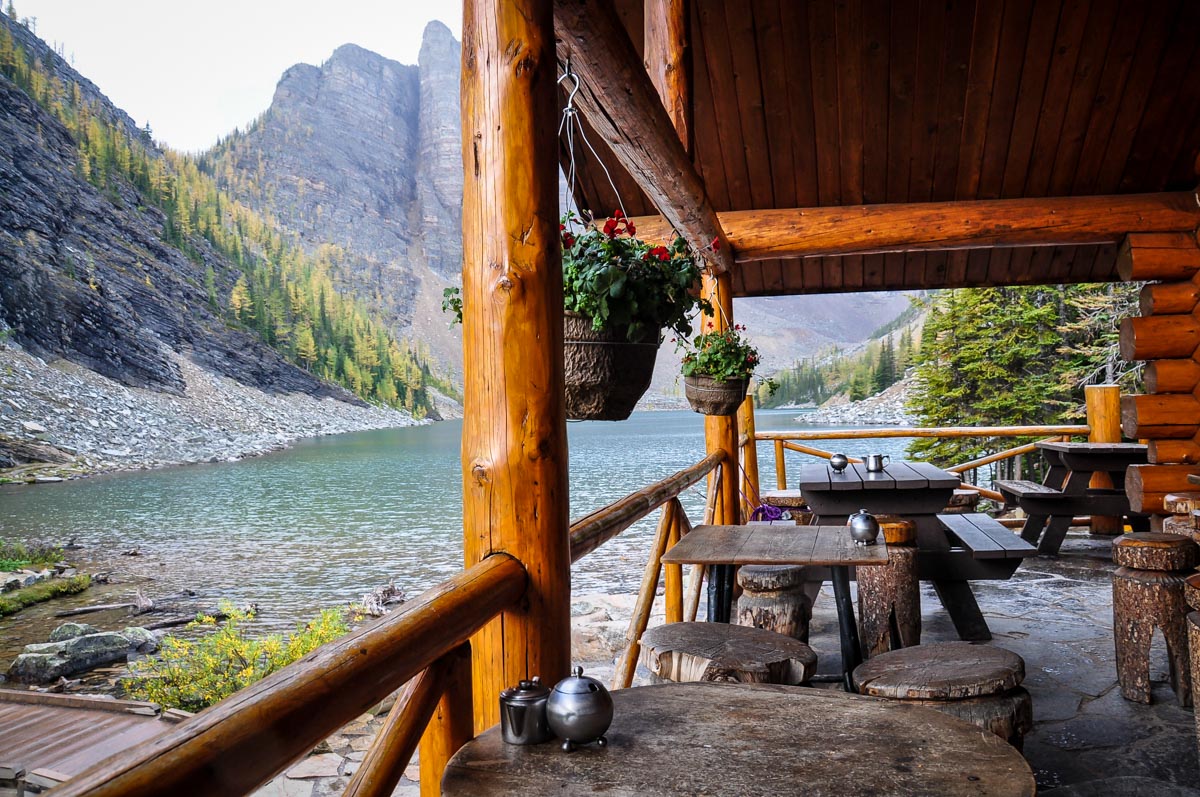 Starting at stunning Lake Louise and taking you to an iconic, historic teahouse that's well over 100 years old, this hike is nothing short of spectacular. As a major bonus, it's also relatively short and completely family-friendly!
It's easy to see why the hike to Lake Agnes Teahouse is one of the most popular in Banff. Another popular destination, Big Beehive, is just shy of one mile beyond the teahouse, offering epic views and a bit more of a challenge. 
A couple of things to be mindful of: the teahouse closes daily at 5:00 pm, so reverse-engineer your hike time and plan accordingly. Also, it's cash only, so hit the ATM before entering the park!
Things to know before you go
There are some important things to know and consider before hiking to the Lake Agnes Teahouse.
Best time of year to hike to Lake Agnes Teahouse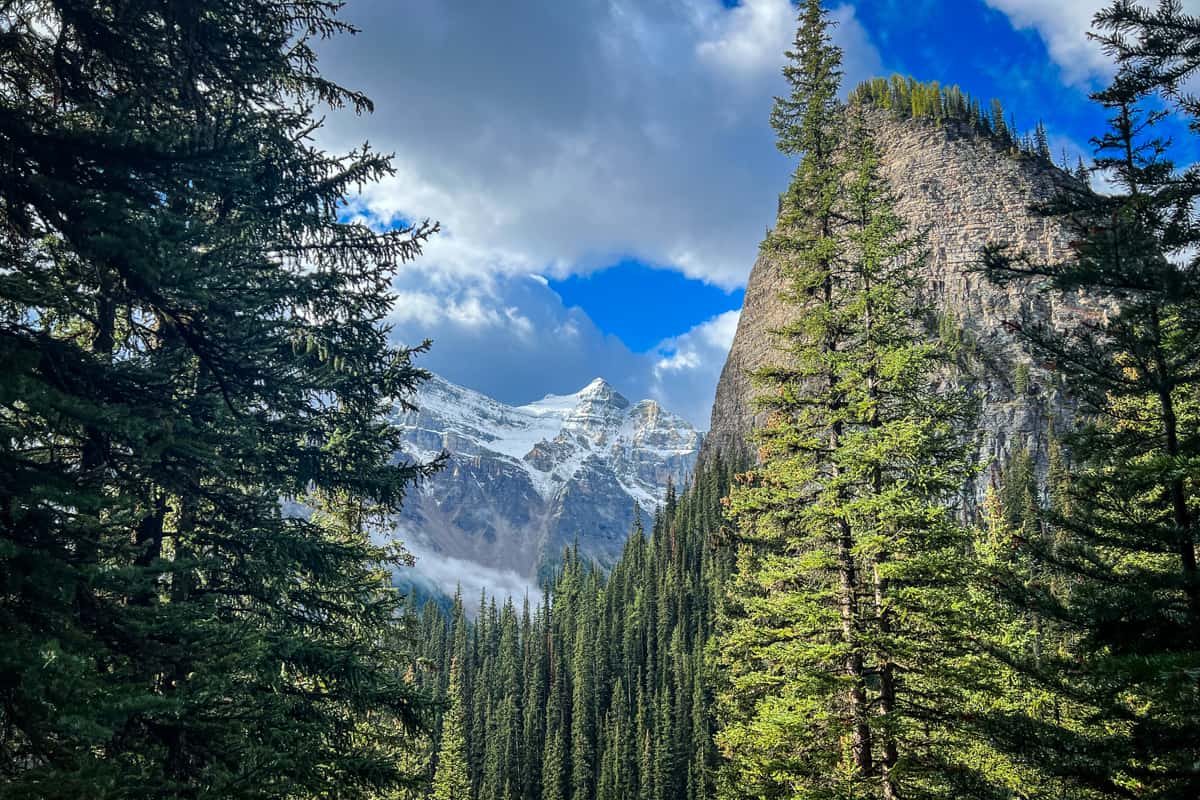 Lake Agnes Teahouse is open seasonally from early June through mid-October, so you'll want to plan this hike for then. Outside of these months, in the winter and spring, the risk of avalanches along the trail is high.
Aside from the fact that the teahouse isn't open then, hiking between late October and June is recommended only for those trained in avalanche safety and experienced with using ice cleats and ice axes.
How long does it take to hike to Lake Agnes Teahouse?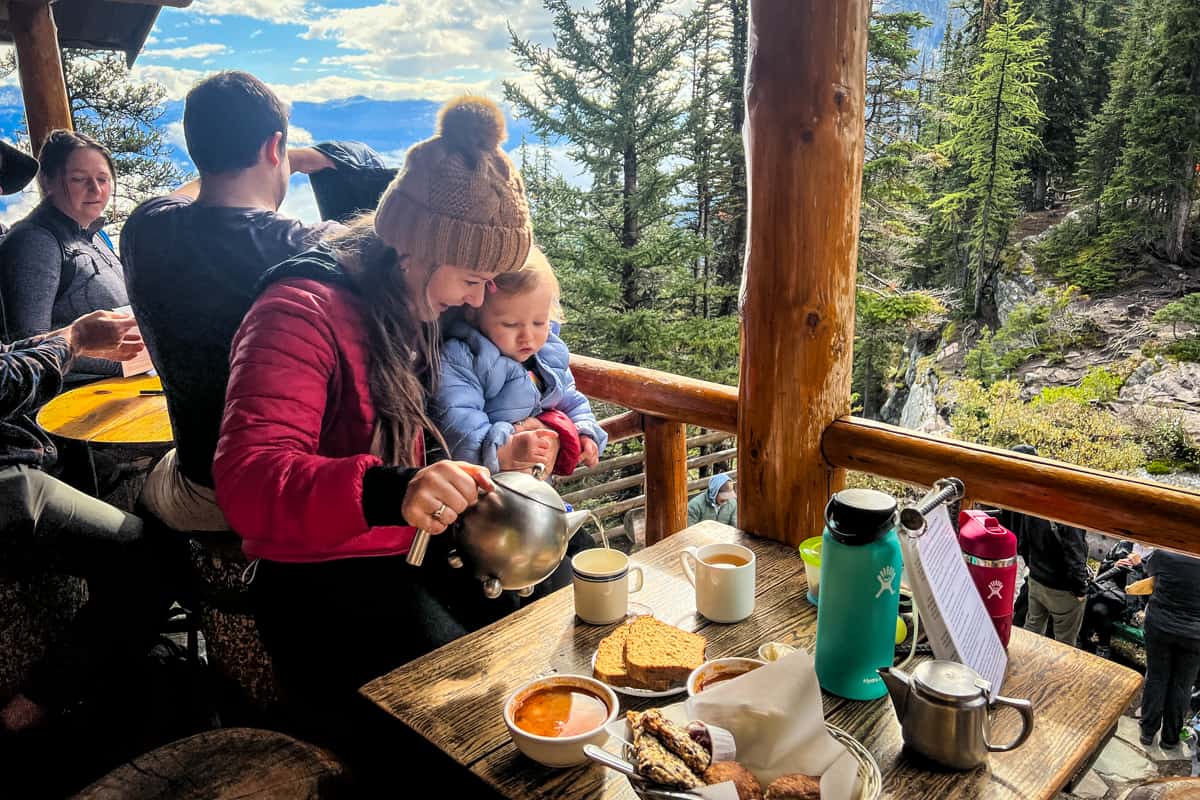 Plan on your Lake Agnes Teahouse adventure being half a day. Depending on your pace, hiking takes 1-2 hours each way, but you should factor in more time to spend there.
If you're not at the teahouse right at opening (8:00 am), the wait for a table can be upwards of an hour—easily—on peak summer days. Once you sit, plan on another hour or so to enjoy some tea and goodies, plus a bit of extra time to explore Lake Agnes.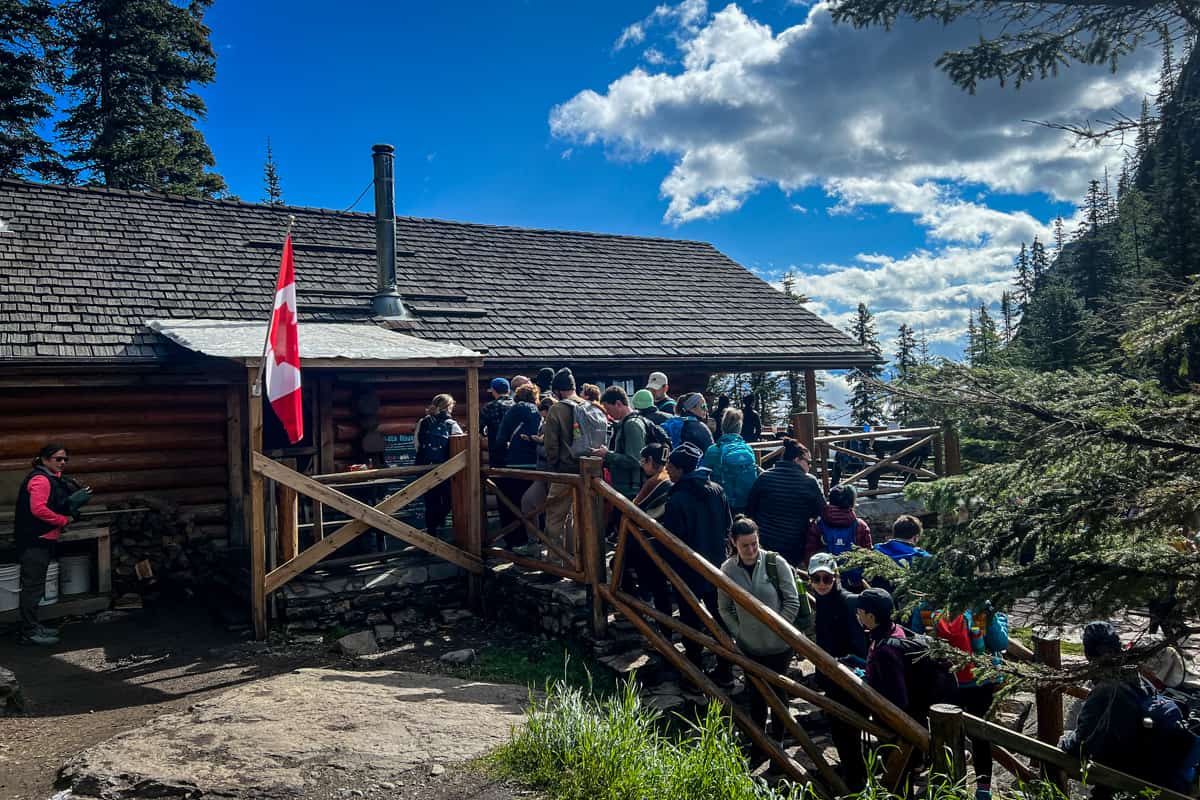 Don't forget to allot extra time if you have to park in the overflow lot and take the shuttle. This part of your day can add 30 minutes to one hour on either end, both coming and going.
How difficult is the Lake Agnes Teahouse hike?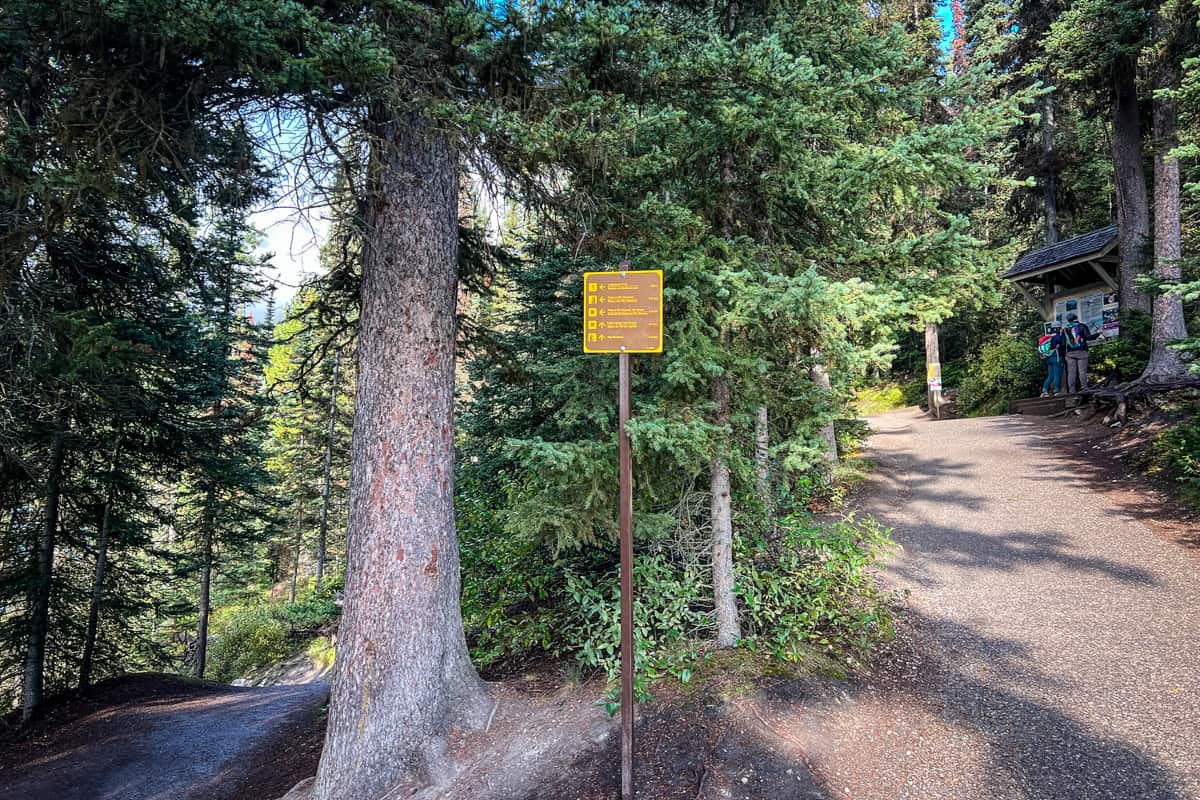 The hike to Lake Agnes Teahouse is solidly moderate, manageable for even the most casual or occasional hikers, as well as kids. Although the trek to the teahouse is all uphill, the trail is smooth, well-beaten, and wide, and there's nothing technical to be concerned about.
On the teahouse website, it even states that hiking boots aren't necessary and running shoes or trainers will suffice. With that said, avid hikers will likely find this hike to be on the easier end of moderate.
Parking at Lake Louise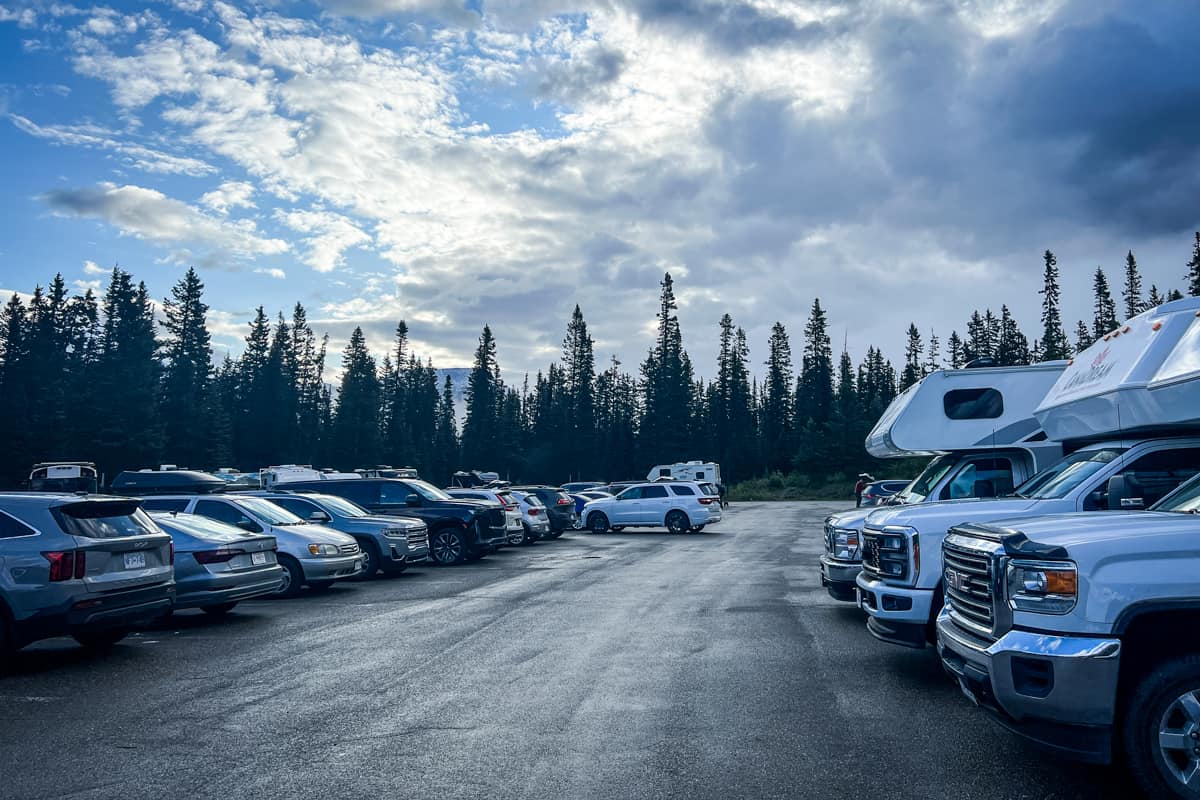 Being that this and a few of Banff's other amazing trails begin at the popular Lake Louise, parking here can be a challenge.
We'd heard that the parking lot at Lake Louise fills up early. Some blogs even suggested arriving at 4 a.m. (which may be necessary during peak summer season). However, when we were visiting in early September, we arrived to the lot at 5:50 a.m. and the parking lot was nearly empty.
Since we were in our campervan, we ended up parking and going back to sleep for another hour before getting up to start our hike.
Parking at Lake Louise is $21 for the day.
Shuttle to Lake Louise
Instead of driving yourself, you can also book a shuttle that'll take you to Lake Louise. That way you won't have to worry about getting there at a certain time for parking.
You must book the shuttles in advance. A portion of the shuttle spots are available months in advance and a portion are made available 48 hours in advance. And they do sell out!
Expect to pay about $8 per person. The official Banff and Lake Louise site details all the information you need to know about booking a shuttle.
Wildlife on the trail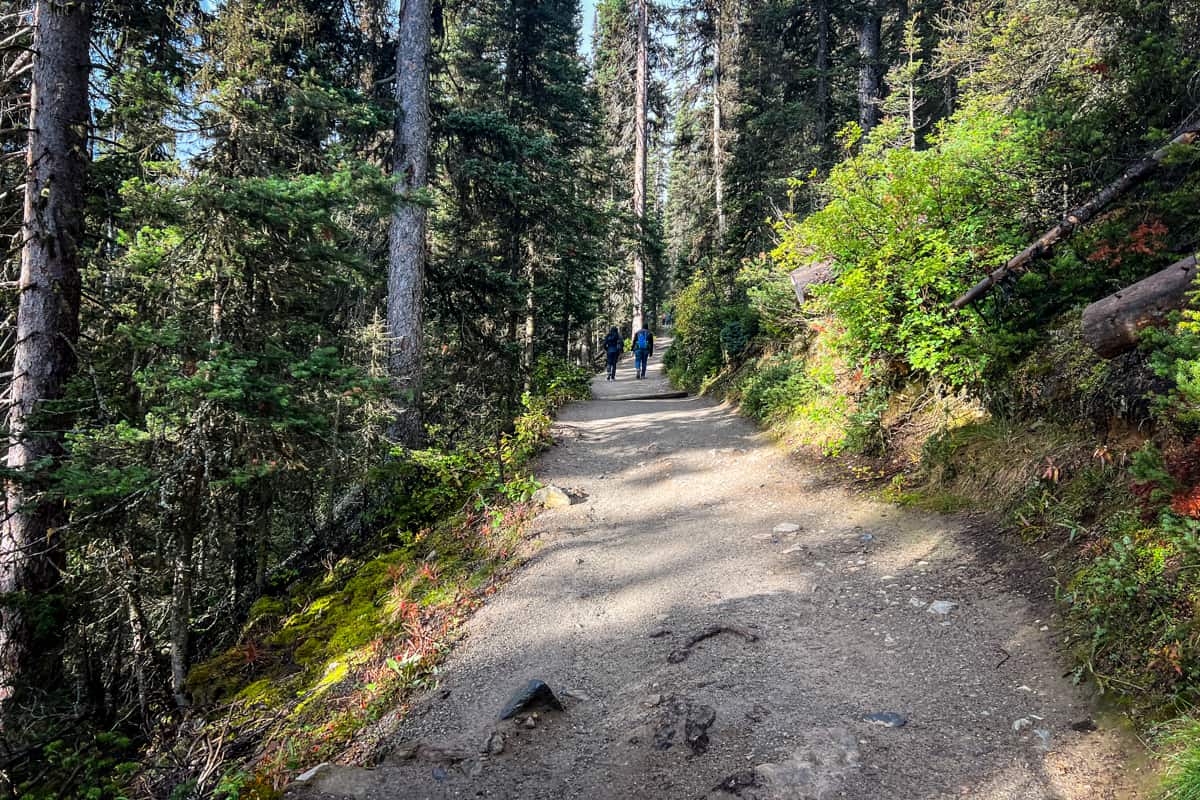 The Lake Agnes Teahouse trail is so busy with hikers that it's actually pretty rare to see wild animals. However, this is still the Canadian Rockies, so it's smart to be prepared for the possibility of bears, moose, deer, and other native animals.
It's nothing to worry about; just remember to keep plenty of distance if you do encounter an animal.
The route to Lake Agnes Teahouse
We broke down the route for hiking the Lake Agnes Teahouse trail into parts to give you an idea of what to expect on the route.
Part 1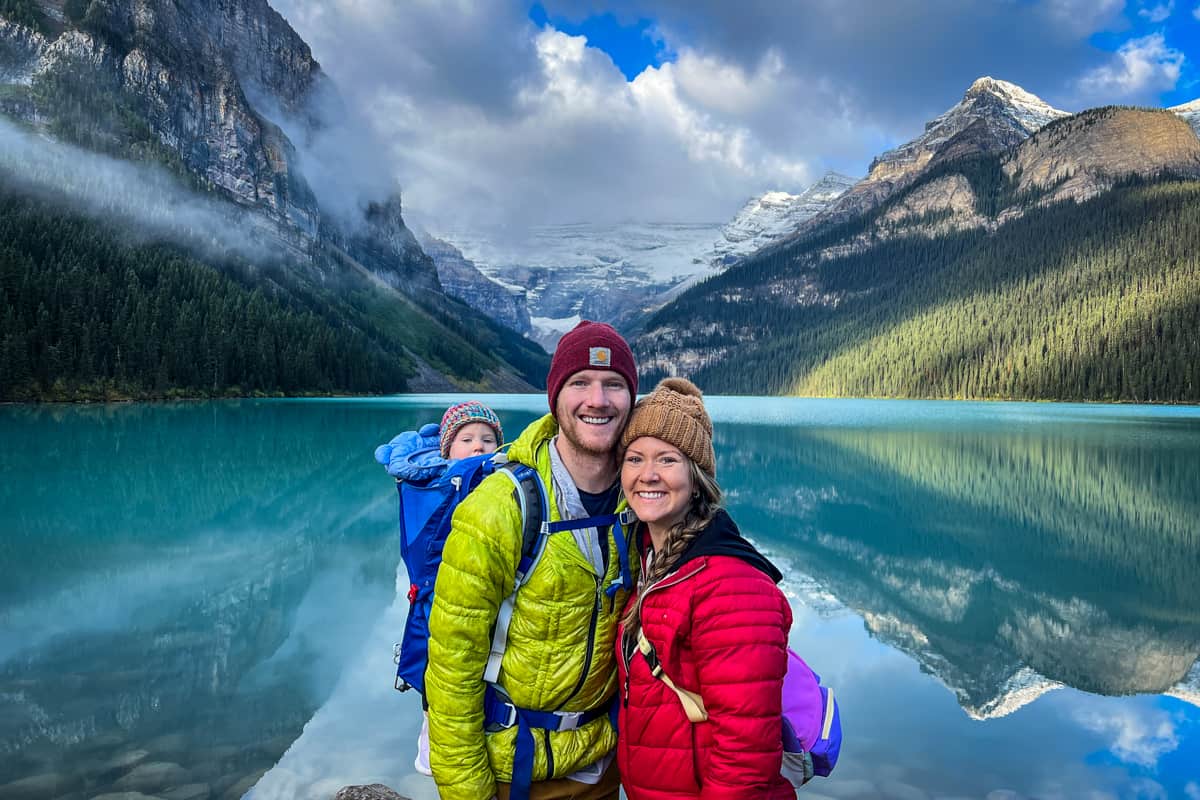 Like many other popular trails in Banff, the hike to Lake Agnes Teahouse starts at the Fairmont Chateau Lake Louise.
From the parking lot (or shuttle drop-off), walk along the main paved lakeshore path for 0.1 miles. Look for the official start of the Lake Agnes Trail, just beyond the bronze statue of a Swiss mountain guide and well-marked with a blue sign.
Quick note: if you continue all the way around the lake, you're actually making your way toward a different Banff teahouse, Plain of Six Glaciers.
To head to Lake Agnes Teahouse, bear slightly right away from the lake, where you'll enter a dense forest. Shortly after crossing the horse trail, the pavement ends. This first leg of the hike is the steepest, and the ascent comes quickly once you hit the proper trail.
Continue trudging upwards through the trees, reminding yourself that the teahouse is just over two miles.
Part 2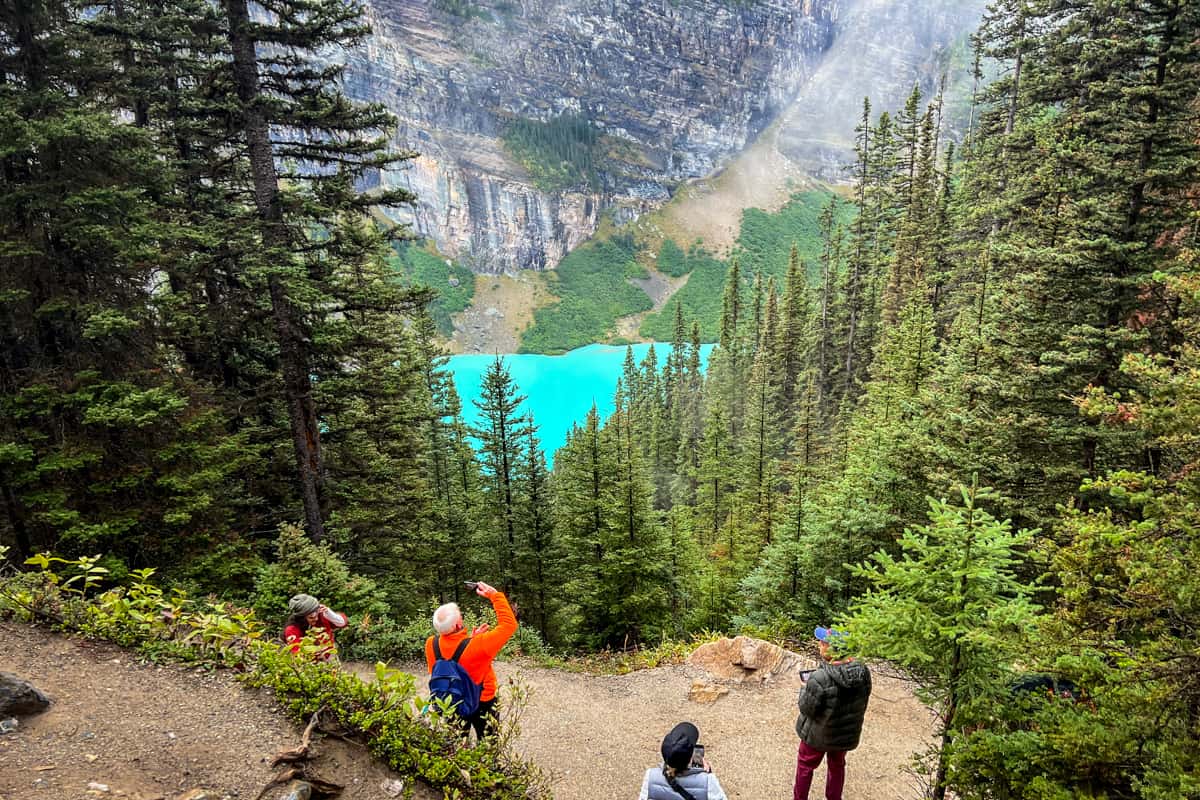 Just shy of 1.2 miles in, there's an obvious switchback and opening in the forest where you can clearly see Lake Louise down below — this is the halfway point (and a great spot to rest and snap a photo!).
Your next milestone is a trail junction and horse gate, at the 1.7-mile mark. Continue uphill, slightly to the left. Soon, you'll come to Mirror Lake. Be aware that in late summer and fall, it's more like a pond.
Part 3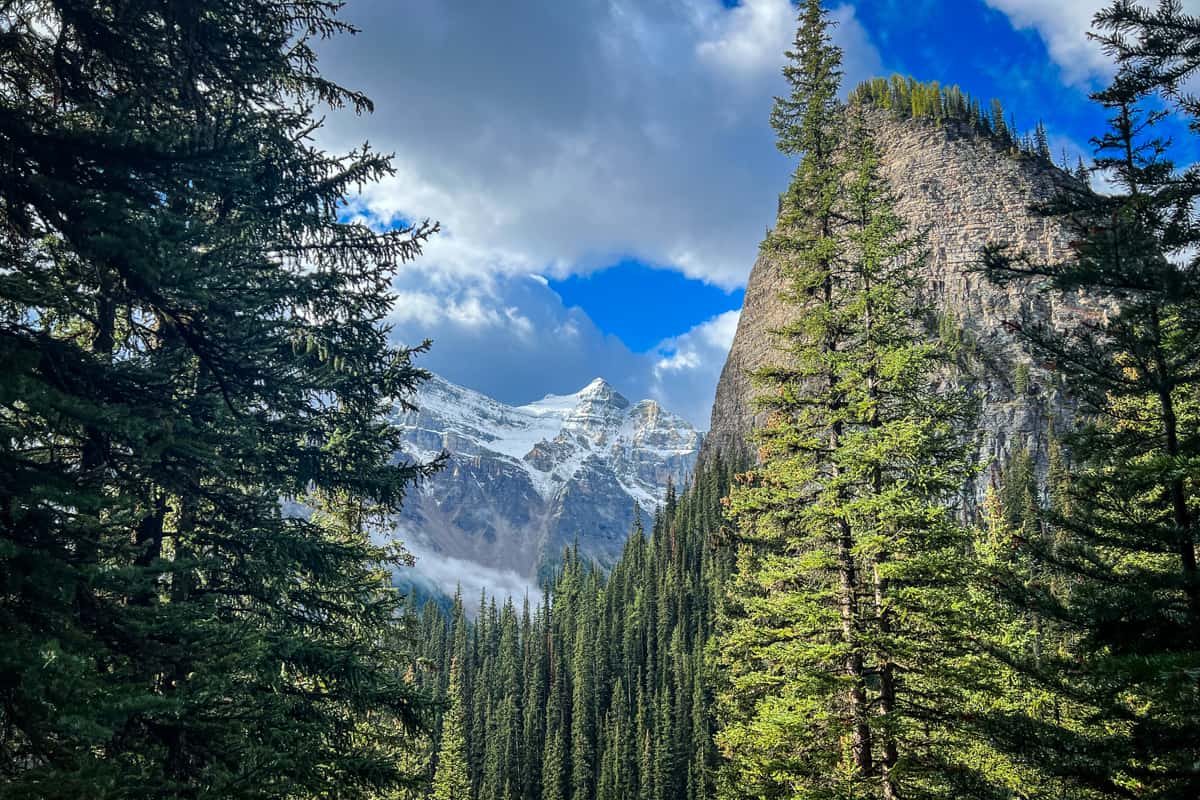 From Mirror Lake, look up to see the Big Beehive dominating the view. If you squint and look to the right, you may also spot Lake Agnes Teahouse. You're nearly done! Just 20 minutes, more climbing, and a staircase to conquer. Follow the trail straight up and slightly to the right.
You'll quickly pass horse stables, then find yourself at the bottom of the stairs to the teahouse. There's a lovely little waterfall here, making a perfect quick stop for photos…and to muster the energy to climb the nearly 60 steps, your final obstacle on the trail.
Once you're at Lake Agnes Teahouse, enjoy the view along with some tea and snacks.
Insider tip: there are over 100 varieties of tea on the menu! Study the menu while you wait, or before your hike, so you're ready to order relatively quickly.
From here, you can either retrace your steps back down to Lake Louise or continue on another 40 minutes to Big Beehive. In our personal opinion, the jaw-dropping views at Big Beehive are WELL worth the additional effort! 
Tips for hiking to Lake Agnes Teahouse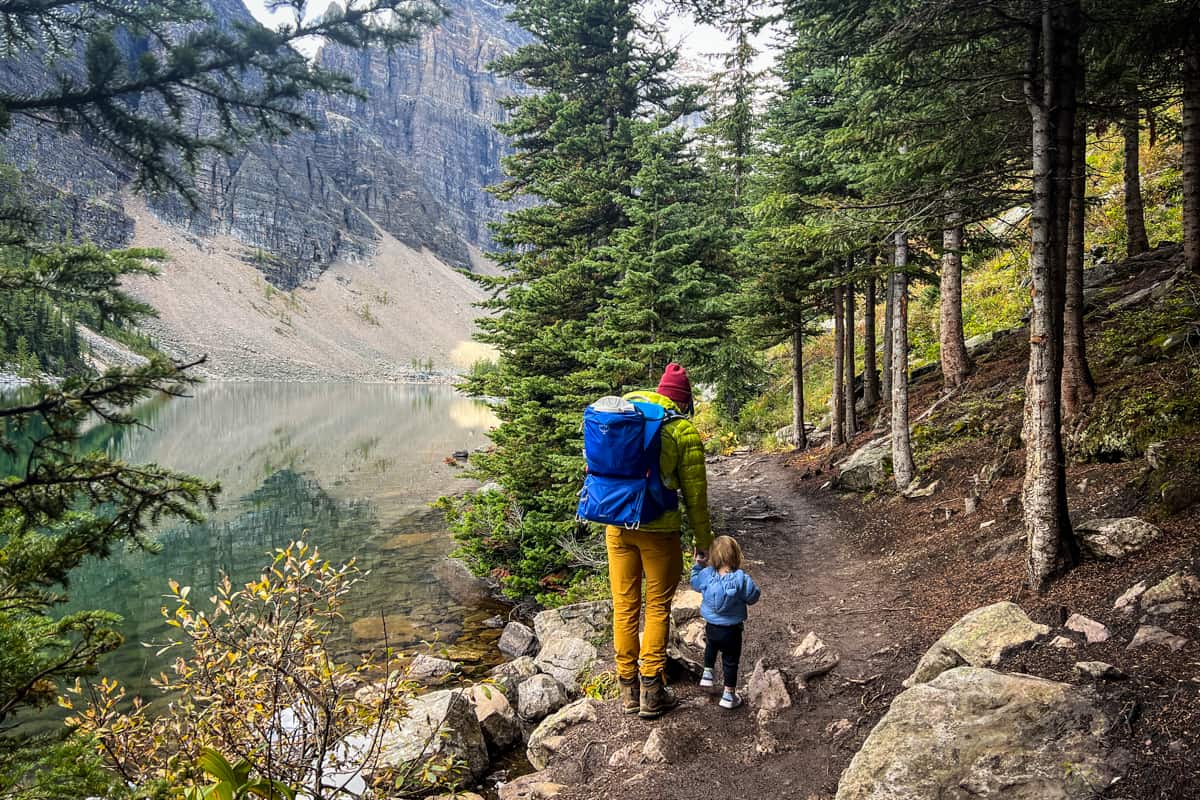 Start EARLY. The teahouse, trail, and Lake Louise parking lots all get extremely crowded, especially during the summer. Start your hike as early as possible to beat (some of) the crowds.

When the Lake Louise parking lot fills up, people have to park in overflow lots and take shuttle buses. It's not unheard of for the wait to exceed one hour, just to catch the shuttle, so again — arrive early!

Bring cash. Lake Agnes Teahouse operates on a cash-only basis. Fortunately, you can pay with US or Canadian dollars.
Order the Mountain Bar. That was the standout for us. The menu said it was a staff favorite so of course we had to try it. It was kind of like a 7-layer bar meets a granola bar.
Prepare for hiking at altitude. Lake Agnes Teahouse sits at over 7,000 feet, and you can easily get altitude sickness if you're not used to this elevation. If possible, acclimate for 2-3 days before hiking. At the very least, stay well-hydrated and pace yourself.
Bring snacks. Even if you're planning to grab a bite at the teahouse, you'll likely have a bit of a wait. Pack something light to ward off hangry-ness!
Pack layers — and crampons. Weather in the Canadian Rockies changes quickly, particularly in the early and late season (June and September). Ice is also a common sight on the trail into June.
Practice Leave No Trace. Lake Agnes Teahouse doesn't have electricity or running water (there are outhouses, though), and staff hikes in baking supplies a few times a week…which means they also have to pack it back down the mountain.
What to pack for hiking to Lake Agnes Teahouse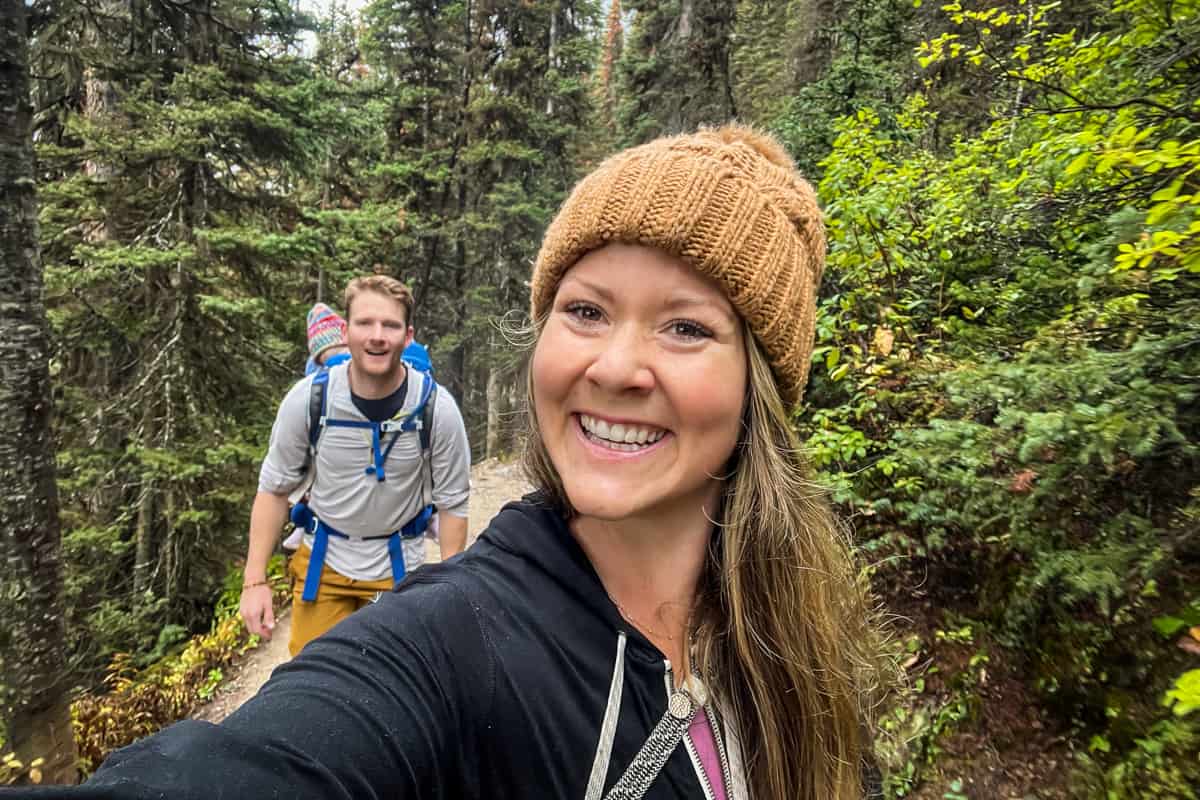 Navigation: we recommend using Alltrails+ to download the offline trail map
Water bottles and/or bladder for your Camelbak
Bug repellant
Sun protection: sunscreen, hat, sun glasses
Camera/tripod (this one's our favorite for hiking)
Lots of layers (here is a great resource if you're wondering what to wear hiking)
Rain jacket
Comfortable hiking boots or shoes
Hiking poles (optional)
Be sure to grab our ultimate hiking packing list includes our must-have gear for any hiking trail!


You may also like…
Save this article on Pinterest for later!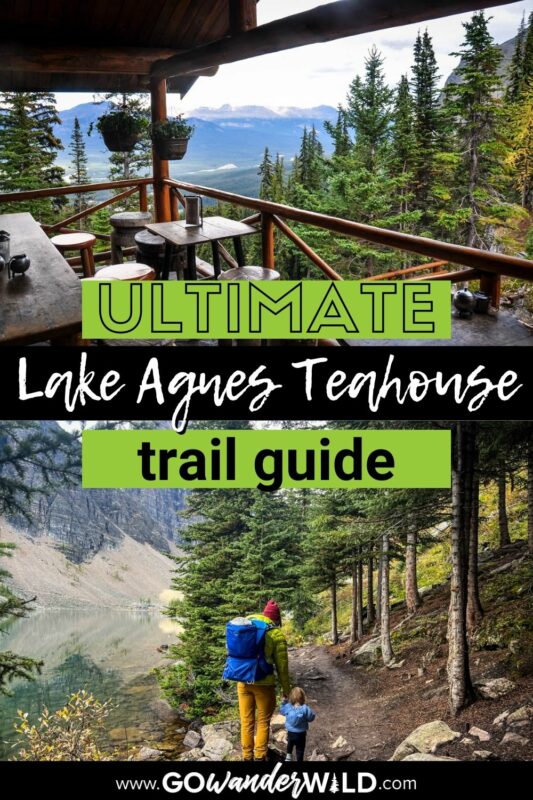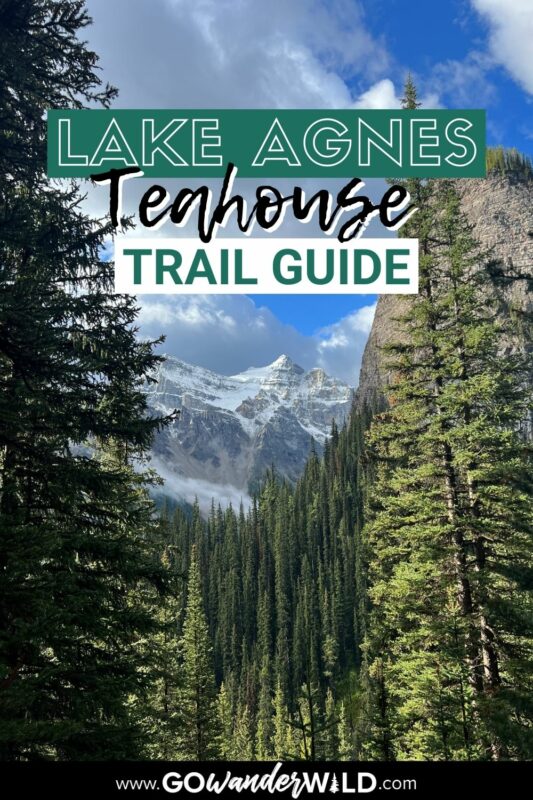 We want to hear from you!
Have you ever done the Lake Agnes Teahouse hike in Banff National Park? What was your experience like? Do you have more questions about doing the hike? Comment below and let us know!