There are many amazing trails in Banff, Canada, but none offer quite as much bang for your buck as the Big Beehive hike. With sparkling lakes, a historic teahouse, jaw-dropping views of Lake Louise, and a fairly short distance, you can't beat Big Beehive!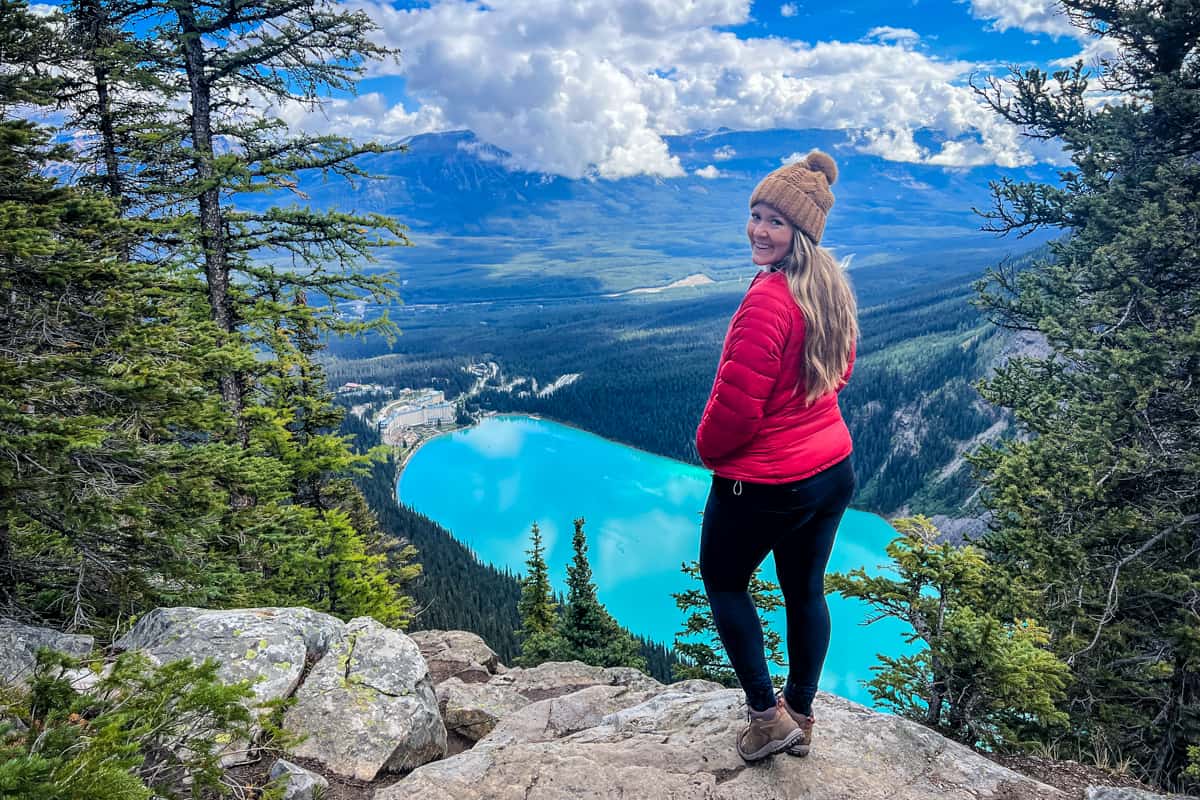 Aptly named for its resemblance to a giant beehive, the Big Beehive hike is one of the best in Banff National Park.
The moderately challenging—yet relatively short—trail shows off spectacular Lake Louise and its grand surroundings, starting from there and leading to one of the park's most breathtaking viewpoints.
It also passes Mirror Lake and Lake Agnes Teahouse, offering a memorable, choose-your-own-adventure type of hike. Plus, you can add on some side trails to explore other popular destinations in Banff!
With so much varied scenery and a manageable distance and difficulty, the Big Beehive hike will mesmerize you start to finish.
Article Contents

Big Beehive hike trail stats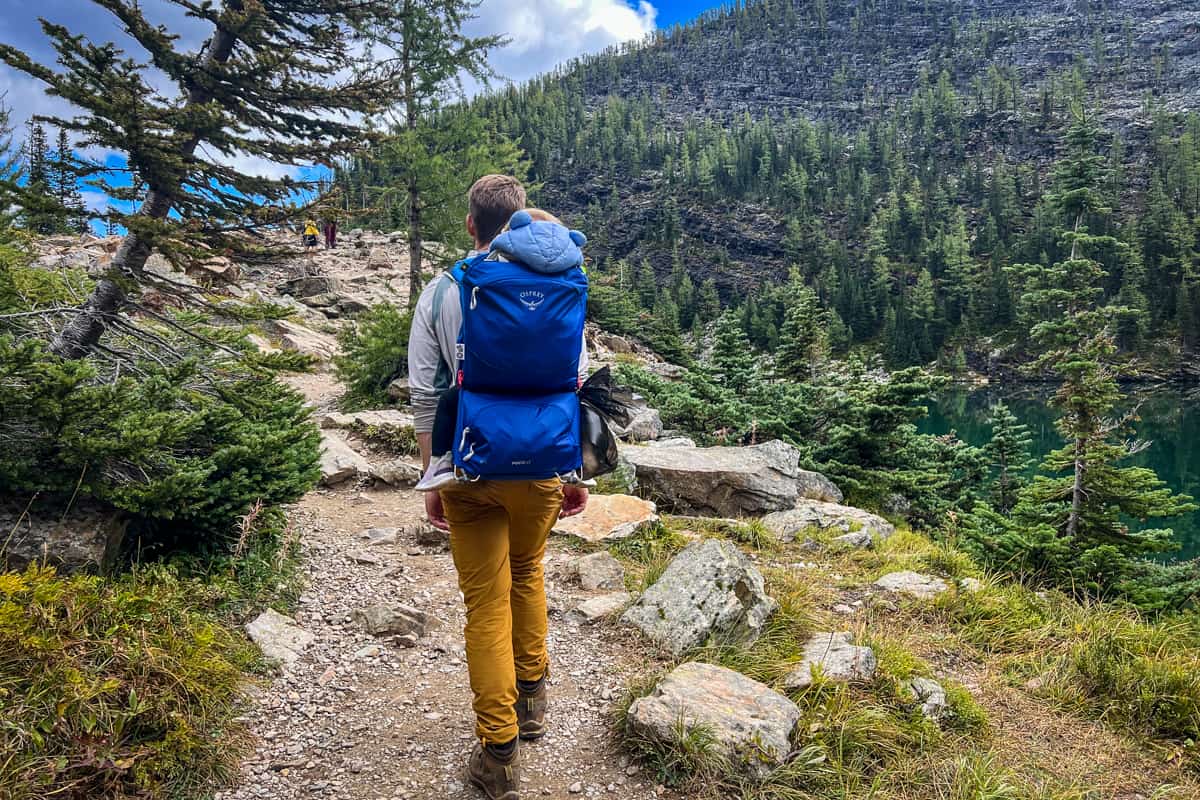 Big Beehive hike overview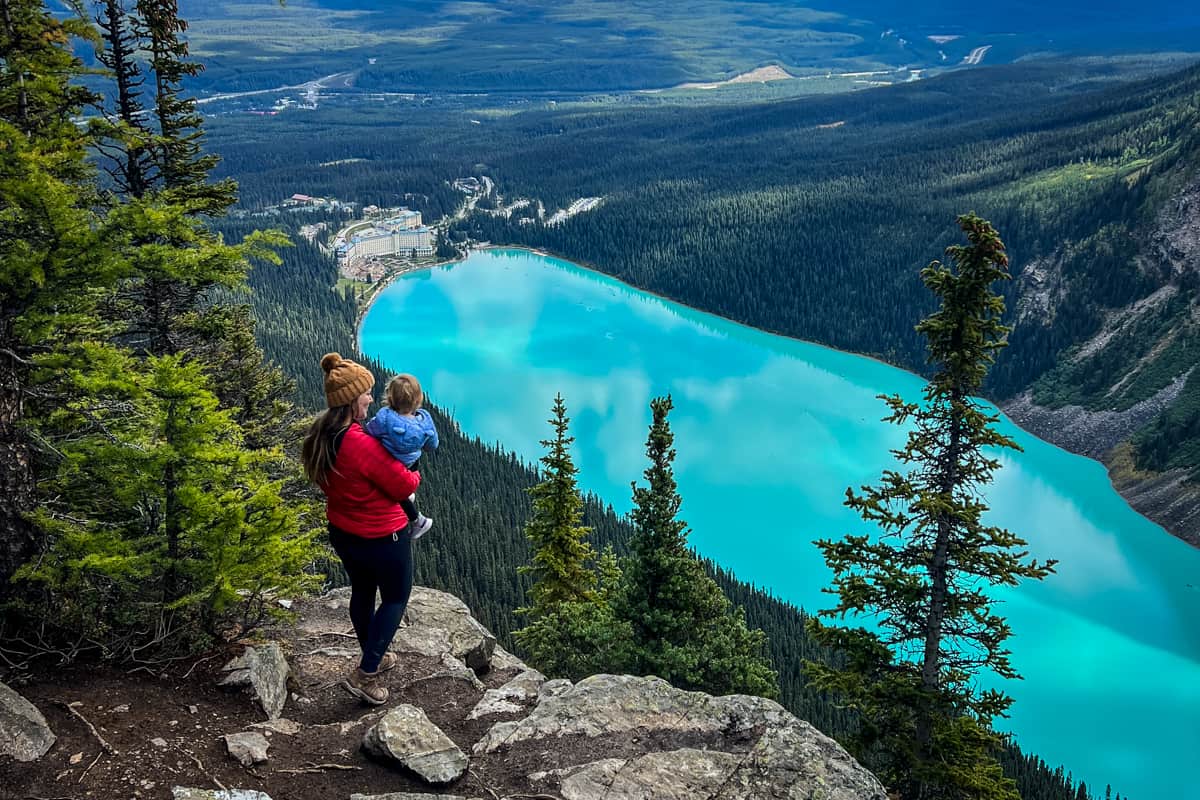 For those willing to put in some thigh-burning cardio, Banff National Park's Big Beehive hike pays off with incredible dividends.
Starting from the shores of always-busy Lake Louise, the trail climbs up, up, up past photogenic Mirror Lake, the beloved historic Lake Agnes Teahouse, and even further above Lake Agnes.
The reward is a truly breathtaking aerial view of milky blue Lake Louise.
After the teahouse, the trail really starts to feel like a backcountry alpine trek. There's scree and ledges to maneuver around, and some serious climbing. Yet, it's never unmanageable — and that's one of the things that makes this such a fantastic hike!
If you're up for a bigger challenge, the Big Beehive trail also offers the opportunity to branch off and check out some of the park's other epic spots, including Little Beehive, the Plain of Six Glaciers, the Highline Trail, and the Devil's Thumb.
Things to know before you go
The Big Beehive hike is pretty straightforward, but there are still several logistics to take into consideration before setting out.
Best time of year for the Big Beehive hike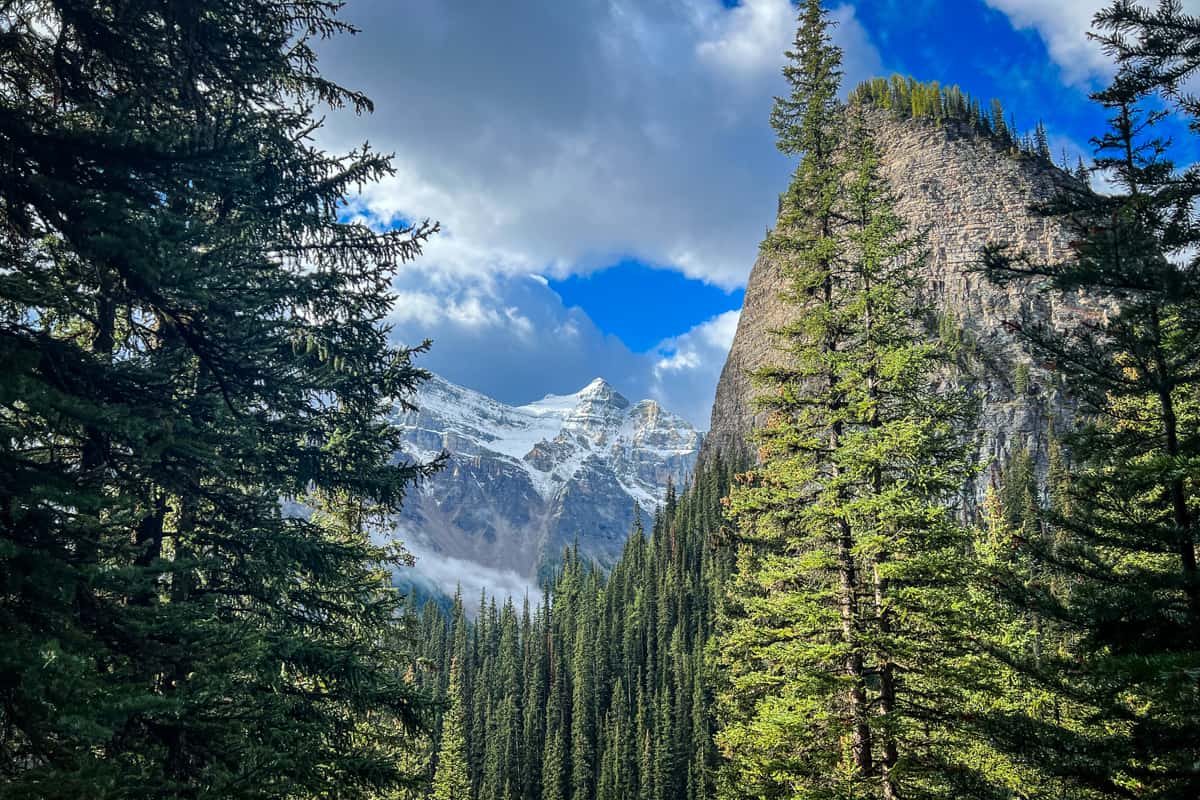 The best time of year to hike to Big Beehive is between June and September. At higher elevations like this, Banff receives quite a bit of snow starting as early as September—and it often sticks around until July.
Lake Agnes Teahouse also opens for the season in June, and it's really a fantastic addition to Big Beehive. Plus, Lake Louise typically thaws in June, setting the scene for those perfectly glassy photos.
The park's high season is July and August, so if we had to pick a specific timeframe to hike Big Beehive, we'd say very late August into early September. During these few weeks, the trail is (usually) free of snow, there are fewer crowds, and you may see golden larches.
Due to high avalanche risk, it's not recommended to attempt this hike in the winter.
How long does the Big Beehive hike take?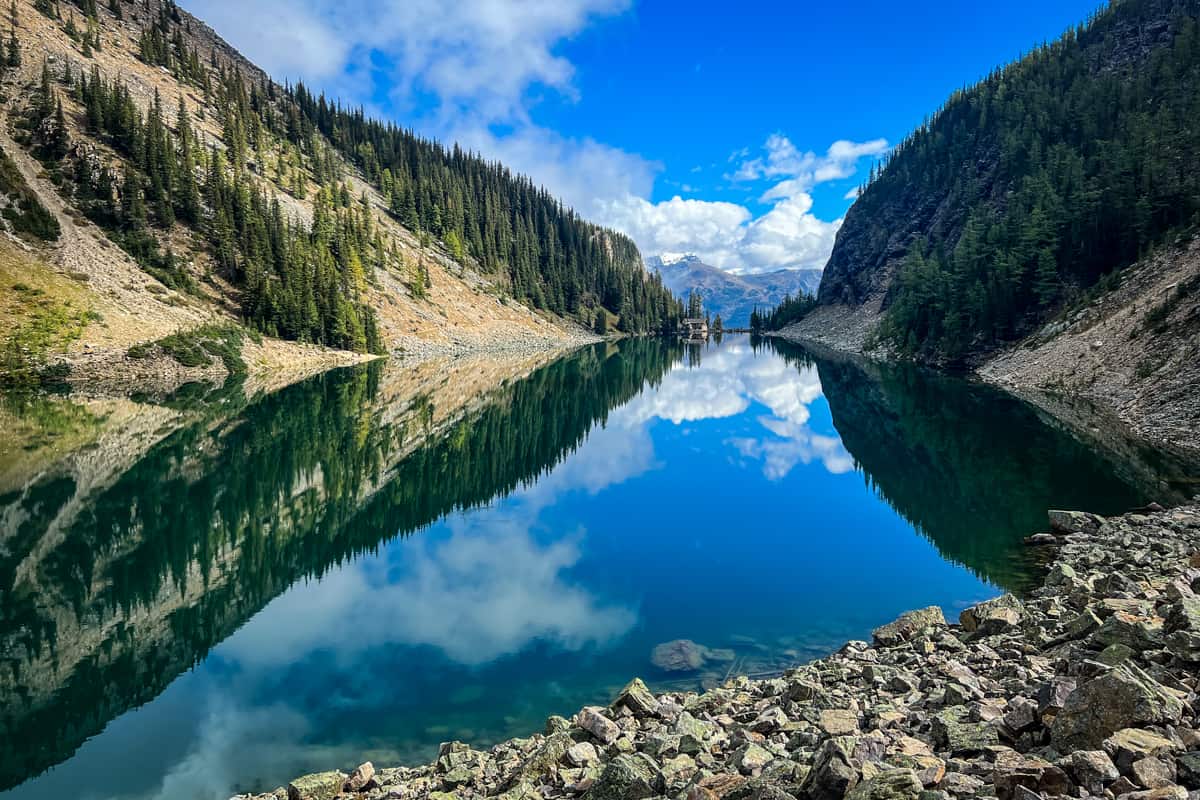 Plan on about 5-6 hours to complete the Big Beehive hike. With the elevation gain, beautiful views you'll want to stop to take on, and a potential stop at Lake Agnes Teahouse, the Big Beehive hike takes some time.
Don't forget to factor in additional time if you're taking the Lake Louise parking shuttle.
How difficult is the Big Beehive hike?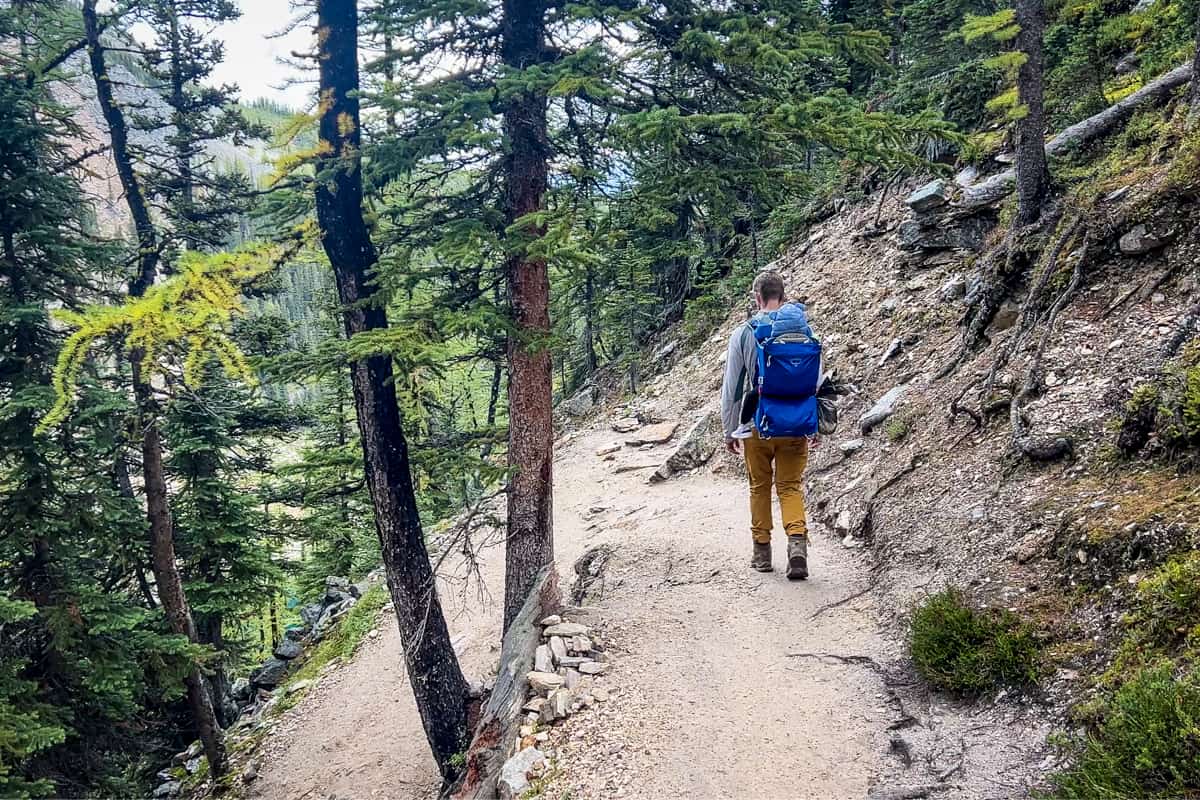 Despite packing a 2,000-plus foot elevation gain in just over three miles, the Big Beehive hike is only moderately difficult.
While it involves a steep uphill ascent, there's nothing technical or tricky to worry about. The trail is also mostly smooth and very well-traveled. Even new hikers should fare just fine hiking to Big Beehive, as long as you can endure the long sections of climbing.
Wildlife on the trail
Banff, and specifically the area around Lake Louise, is busy enough that wildlife encounters aren't a major concern. Still, this region is home to a large, diverse population of wildlife, from bighorn sheep and elk, to moose, grizzly bears, and more.
Just remember to keep a safe distance if you do happen to come across any animals. And although attacks are even more rare than sightings, it doesn't hurt to carry bear spray.
The route to Big Beehive
We broke down the route for hiking the Big Beehive trail into parts to give you an idea of what to expect on the route.
Lake Louise to Lake Agnes Teahouse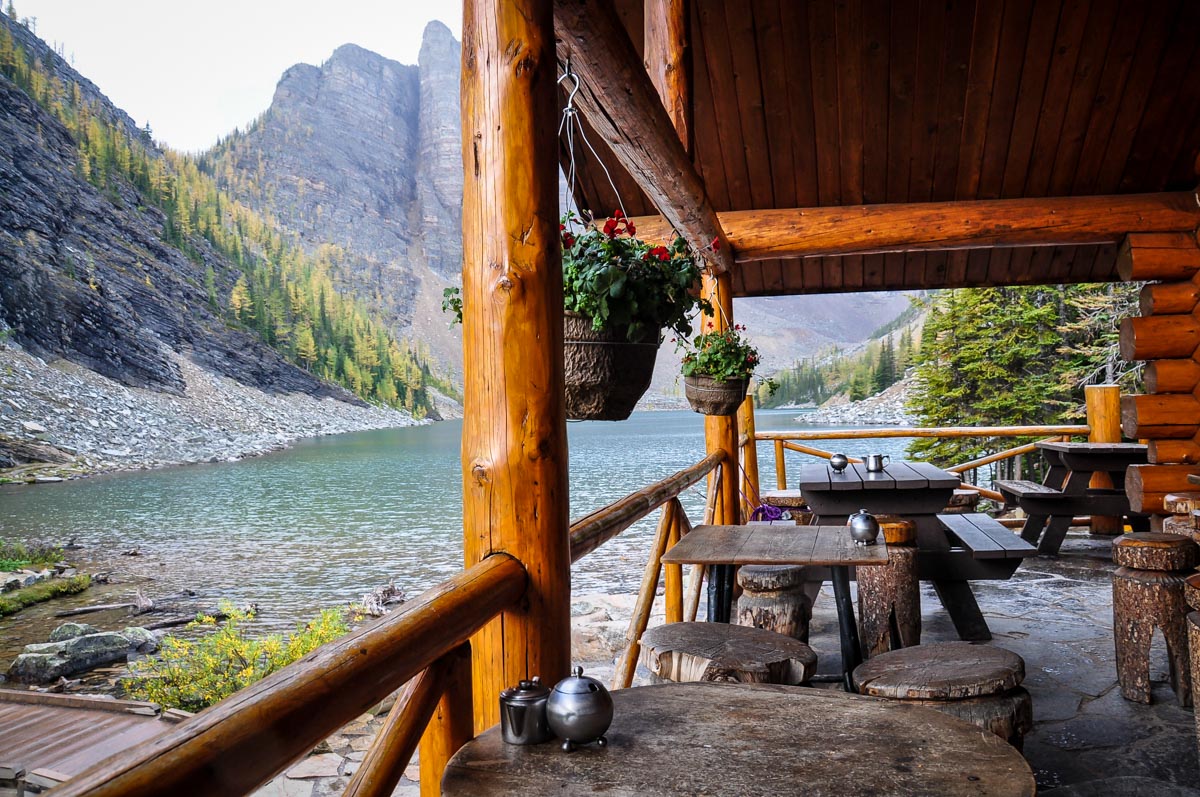 You'll start the Big Beehive hike from Lake Louise, like many other popular hikes in Banff.
The trailhead is the same for the Lake Agnes Teahouse hike and is quite popular, so expect a steady flow of people on the well-traveled path.
After 2.3 miles of hiking, including a 57-step staircase, you'll be at the Lake Agnes Teahouse. If you're hiking between June and mid-October, take in the view of Lake Agnes with some tea or a snack. However, be aware that it's cash only and often has a wait of about one hour.
Psst! Note that if you don't start EARLY, there's an excellent chance you'll have to park in the overflow lot and take the shuttle. This isn't the end of the world, but it will add a decent amount of time to your day. See more details about parking in our Lake Agnes Teahouse Trail Guide.
Lake Agnes to Big Beehive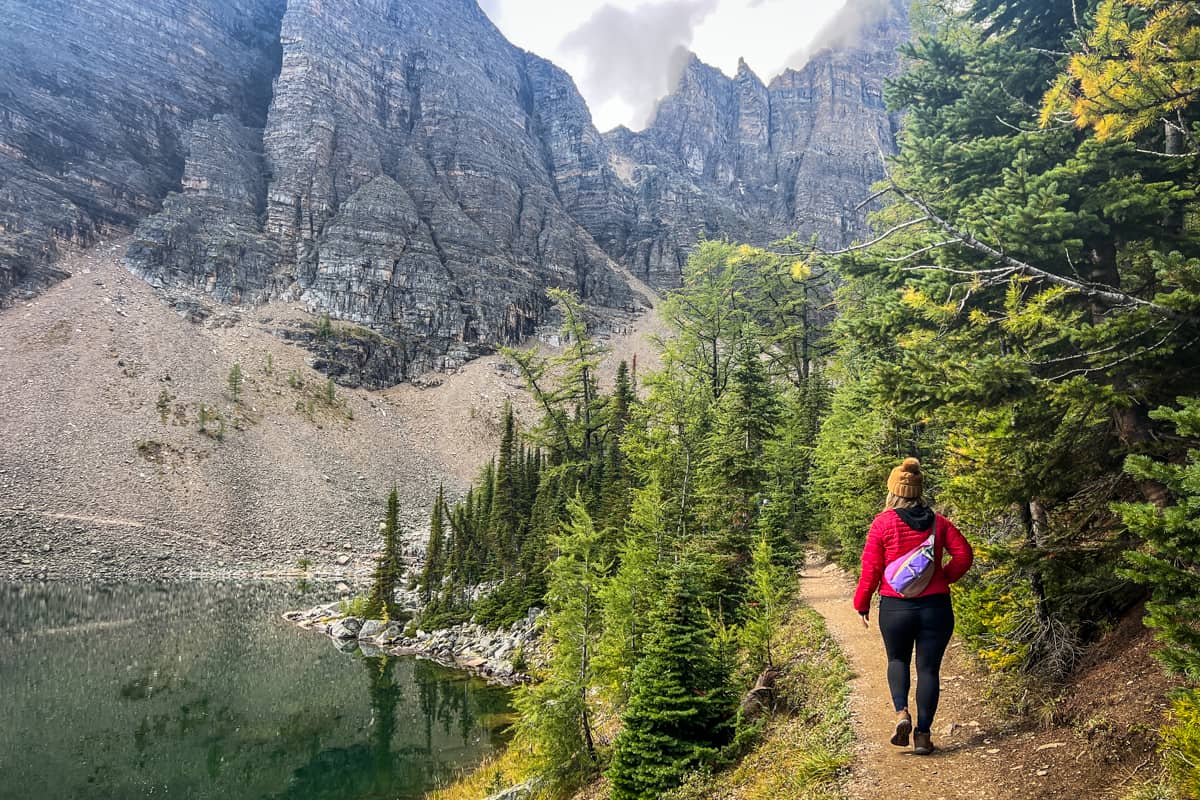 Beyond the teahouse, the Big Beehive hike becomes more rugged. The trade-off, though, is that you almost completely lose any crowds, and the views also become notably better.
Walk along Lake Agnes to the far end, then up the hill covered in scree. This section is steep and slippery, so take your time and watch your footing.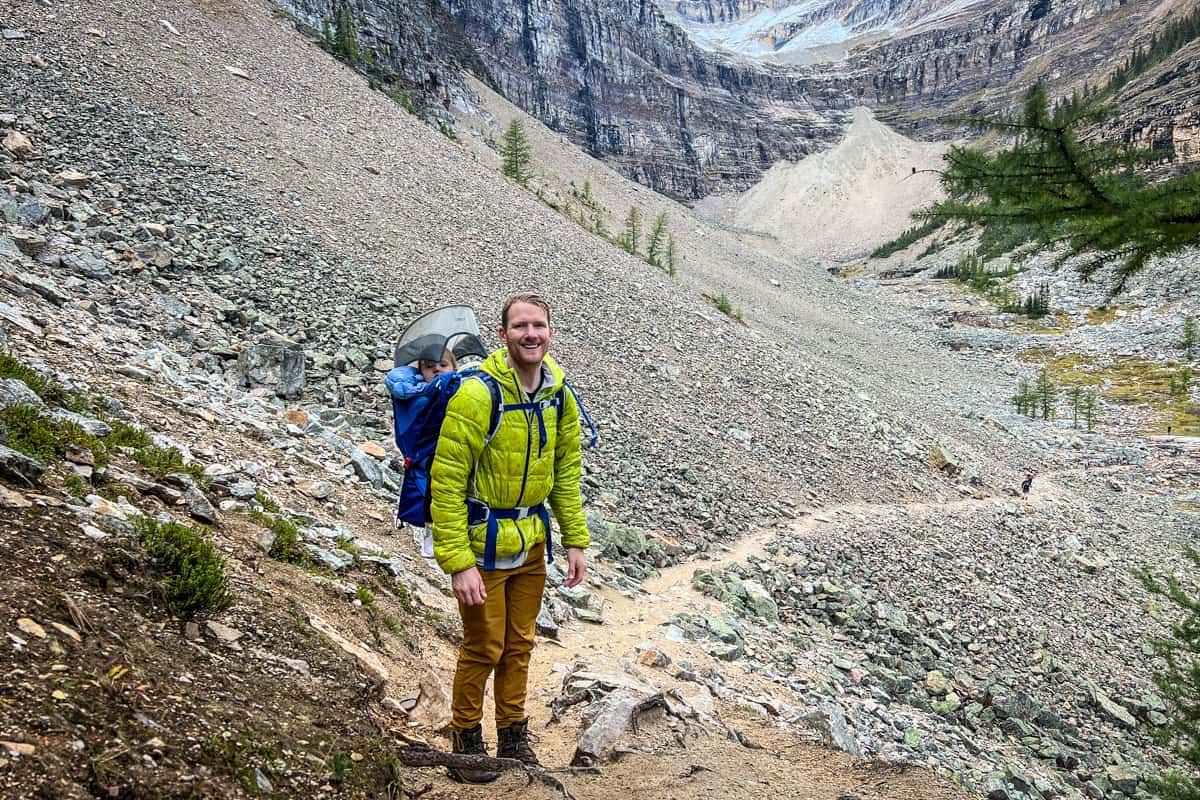 As you climb, the views open up. Mount Whyte and the Devil's Thumb reveal themselves in front of you, and the teahouse is soon visible far below. At the top of the slope, take a look back for a gorgeous view — and a breather. The steepest section is about to come.
Over the next quarter-mile, knock out about 500 feet of elevation gain on a series of eight grueling switchbacks. About one mile from Lake Agnes, and 3.6 miles from the trailhead at Lake Louise, you'll reach an intersection of four trails. This signifies your climbing is done!
Continue on to Big Beehive by following the sign to the left, which also goes to a fire tower lookout. Just up ahead, you'll be on top of the "hive" with jaw-dropping views over Lake Louise.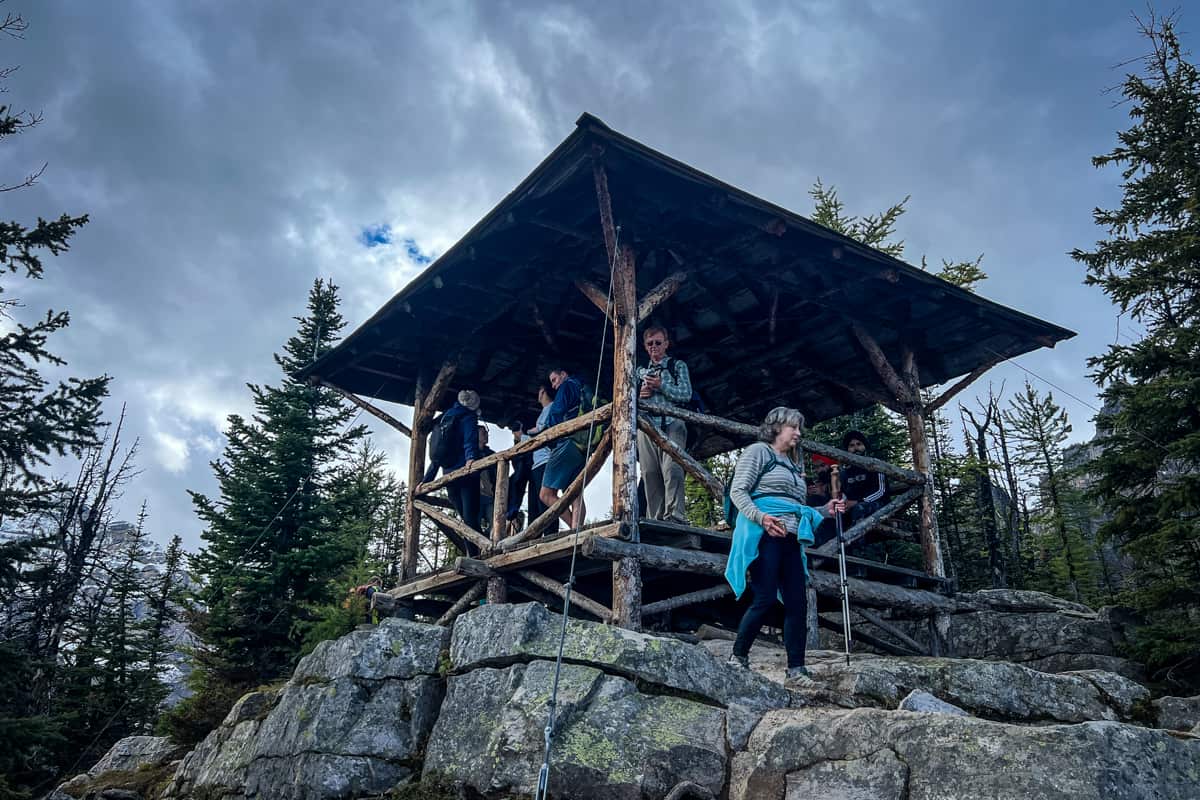 Have a snack, walk around to get photos from different angles, and simply take in the view. There's a gazebo, but the best views are along the ledges. Some of them are exposed, but there's plenty of room to get solid footing and even have a seat.
Return hike options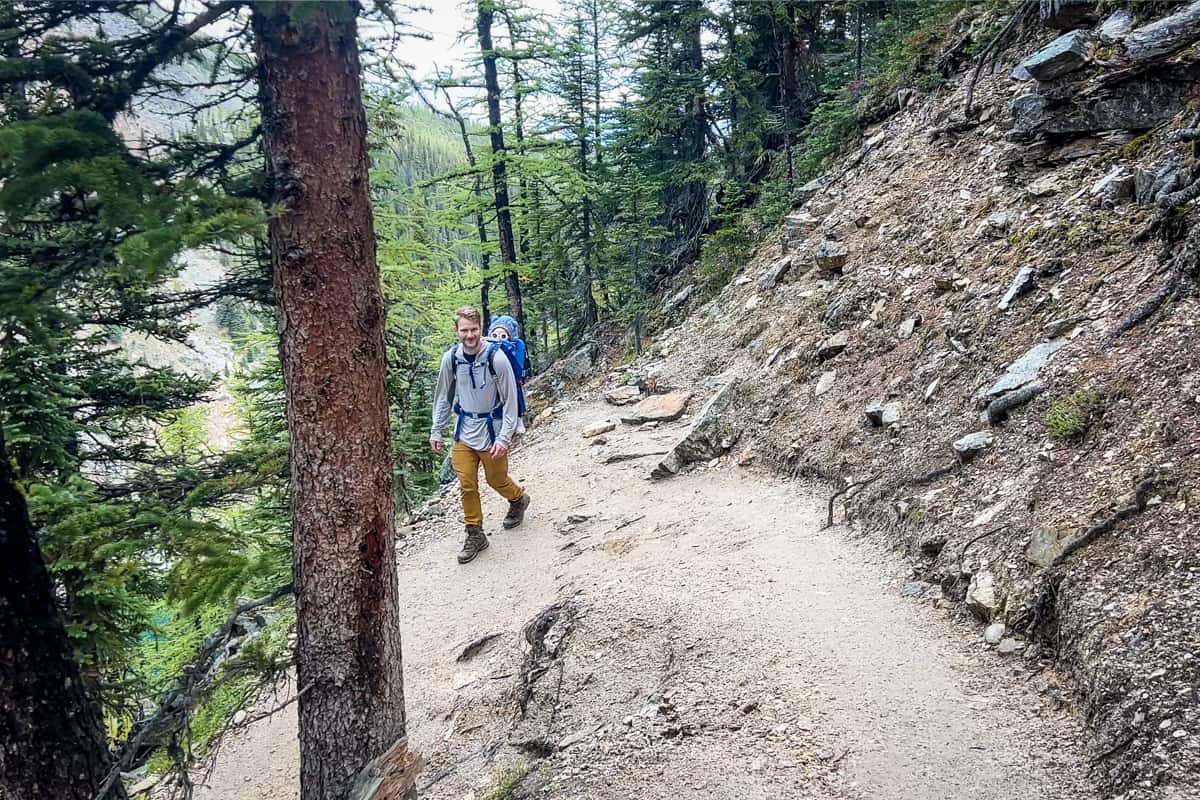 To head back, you have a few options. Of course, you can simply take the same route, passing the teahouse and Mirror Lake again.
If you still have some energy after reaching Big Beehive, though, consider adding on the short side trip to the Devil's Thumb.
Devil's Thumb
Back at the 4-way trail intersection, the opposite direction leads you there (left if you're coming down the mountain, right when you're going up), ascending an additional 500 vertical feet to the rocky protrusion.
The scramble is worth it, though, because Lake Louise and Lake Agnes are simultaneously visible from the Devil's Thumb.
Highline Trail
Alternatively, you can descend back to Lake Louise via the Highline Trail at the trail junction. The Highline connects Lake Agnes Teahouse and the Plain of Six Glaciers Teahouse, offering new views over Lake Louise and avoiding crowds.
While this option is a fantastic hike, it does nearly double your total distance (12.5 miles), making for a long day.
Tips for hiking to Big Beehive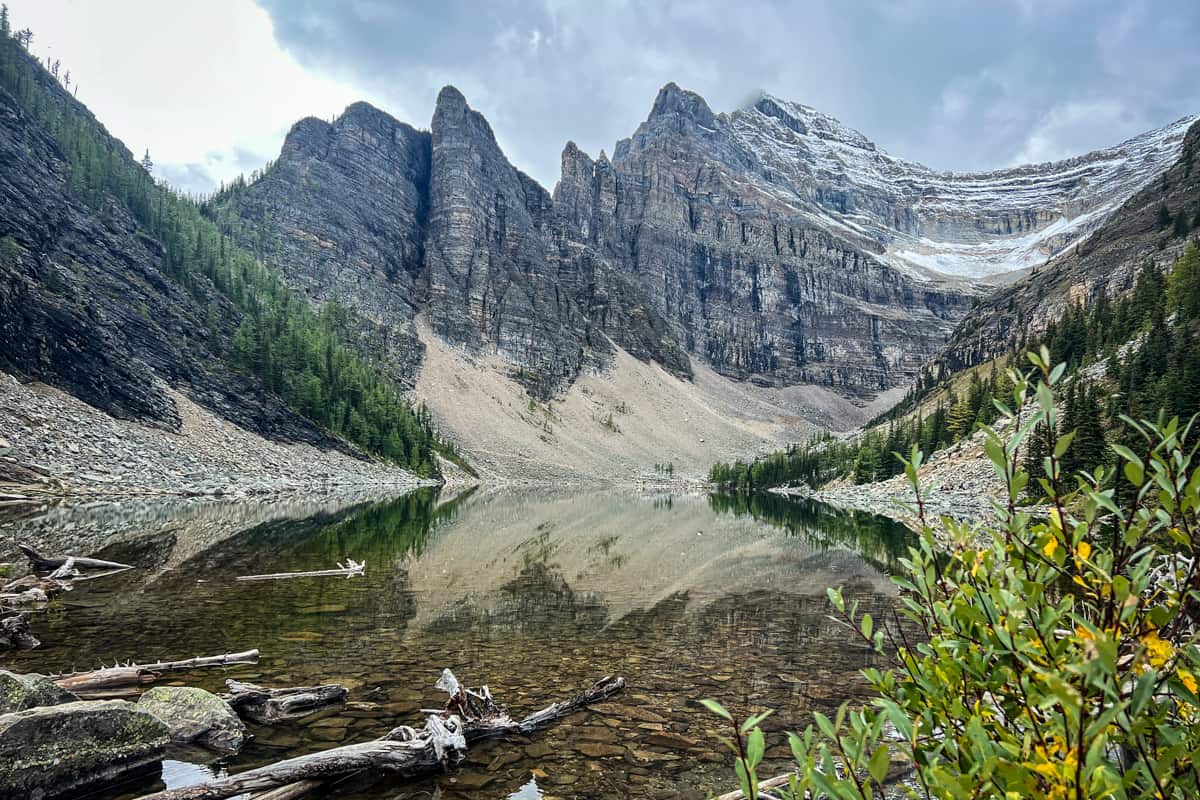 What to pack for the Big Beehive hike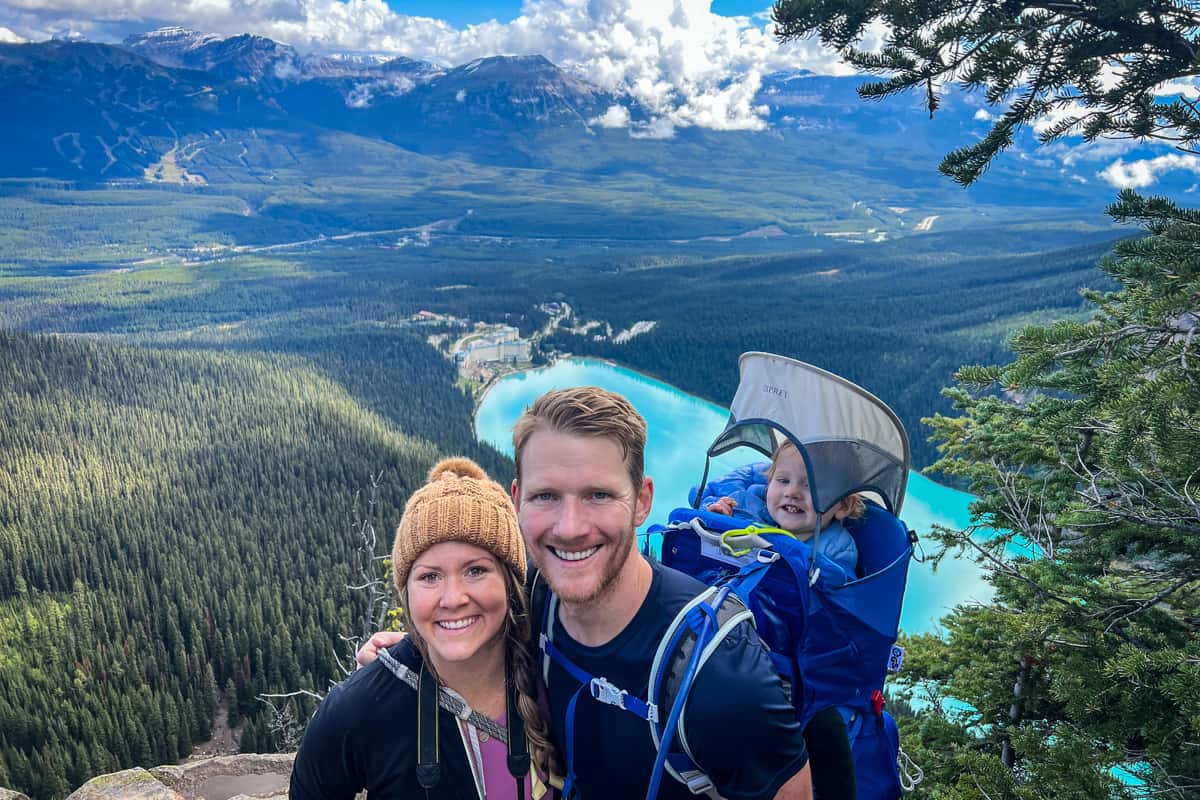 Be sure to grab our ultimate hiking packing list includes our must-have gear for any hiking trail!


You may also like…
Save this article on Pinterest for later!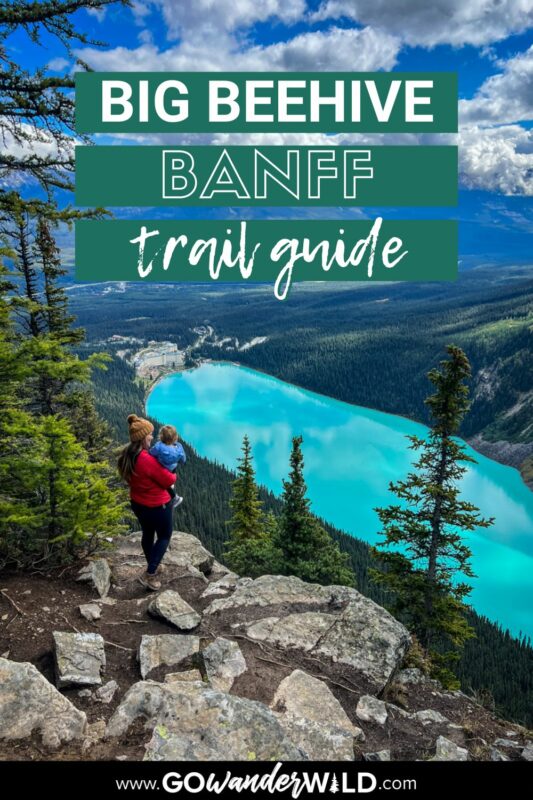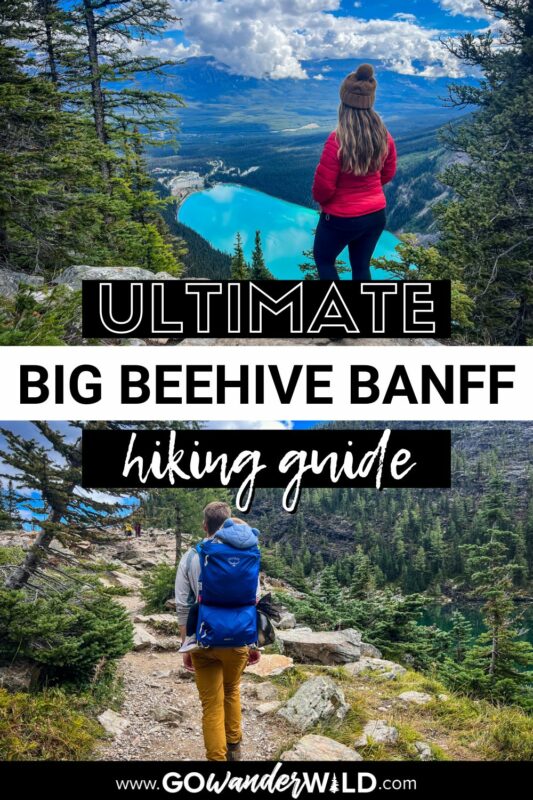 We want to hear from you!
Have you ever done the Big Beehive hike in Banff National Park? What was your experience like? Do you have more questions about doing the hike? Comment below and let us know!