Hiking in Banff National Park is one of the best ways to experience the park's stunning scenery and wildlife. With hundreds of trails to choose from, it can be intimidating just trying to decide on one — which is exactly why we put together this list of the best hikes at Banff National Park.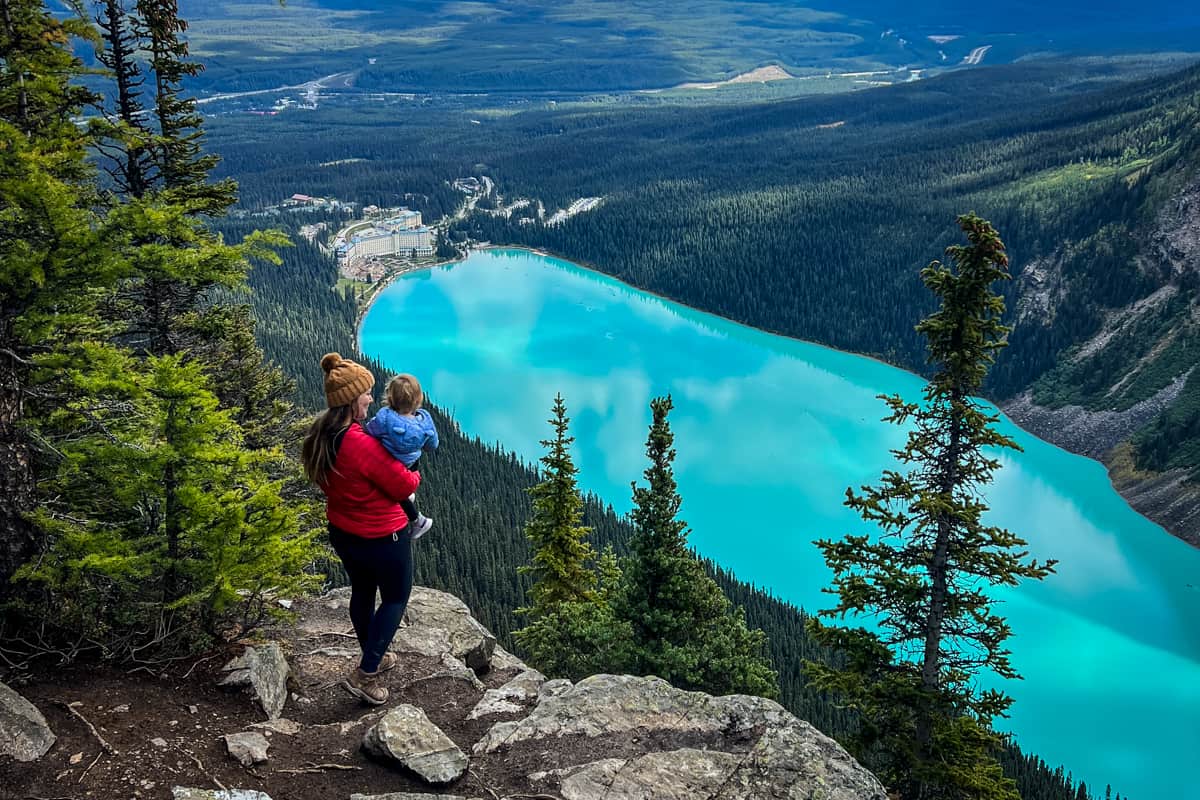 Banff National Park, nestled deep within the Canadian Rockies, is one of the most naturally beautiful destinations in the world. Surrounded by countless mountain peaks and thousands upon thousands of miles of forest, this unique region will take your breath away at every turn.
To best enjoy its epic mountain scenery and wildlife, consider tackling one of the best hikes at Banff. From popular trails following the shores of one of the most famous lakes in the world to tranquil ones frequented mostly by wildlife and wildflowers, we've rounded up some of the best Banff trails.
Banff hiking guide
We've included some extra info for planning your hiking trip to Banff National Park in Canada. Jump to the following sections (or just keep scrolling to see it all!).

1. Lake Agnes Teahouse Trail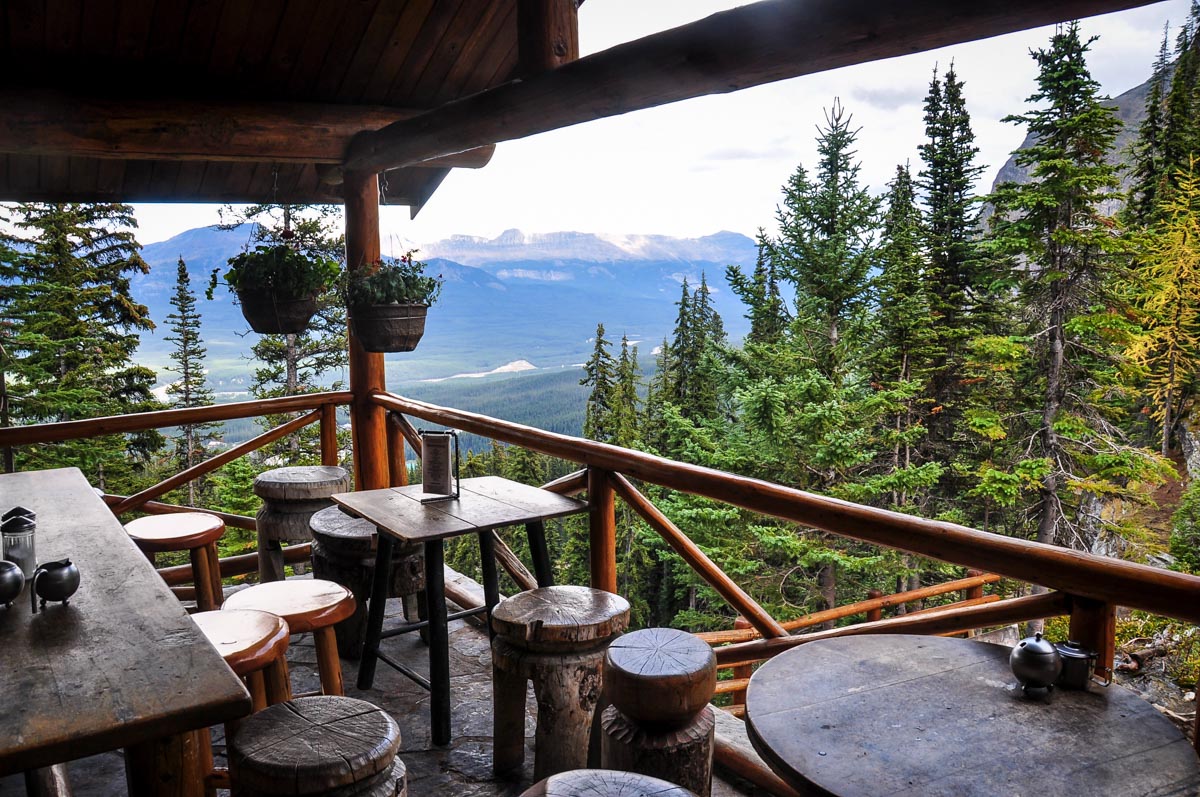 The Lake Agnes Tea House Trail is one of the most iconic hikes in Banff, not to mention one of our personal favorites!
The trail starts from the famous Fairmont Chateau Lake Louise and climbs steadily uphill through the forest. Along the way, you'll pass Mirror Lake and a small waterfall at Lake Agnes before coming to historic Lake Agnes Tea House, built in 1901. Here, you can enjoy some light snacks (it's open June through October) before making your way back.
Psst! If you're making your way around Canada, you'll want to check out these incredible Vancouver hikes as well!
2. Big Beehive Trail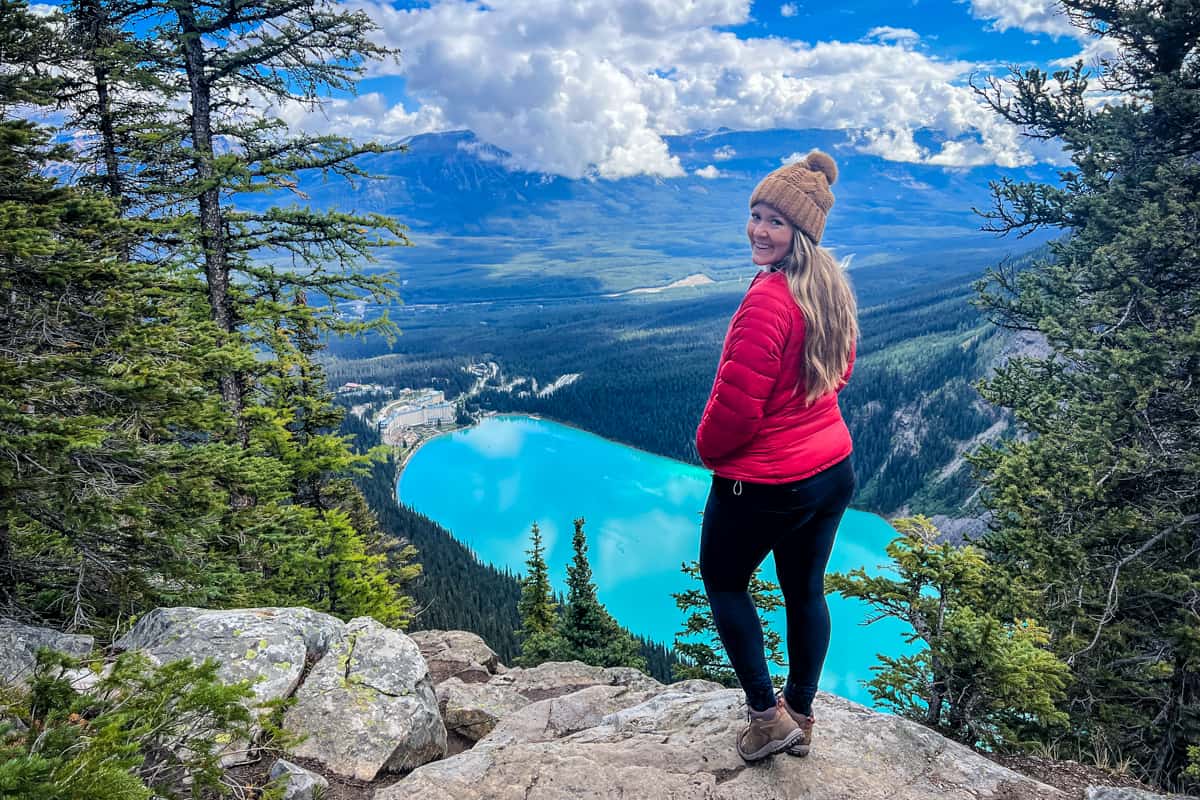 This is one of our all-time-favorite Banff trails, and for good reason. Just look at that view!
The views aren't without effort though, as this challenging trail is over 6 miles with a fairly steep climb. The good news is, if you are planning to hike to Lake Agnes Teahouse (see above) you'll already be well on your way to the Big Beehive summit!
The trail winds through lush alpine meadows, fragrant forests, and rocky outcrops, offering a diverse range of scenery. Once you reach the summit, you can take in the unparalleled views of Lake Louise, the iconic Fairmont Chateau Lake Louise, and the Victoria Glacier.
3. Mount St. Piran Loop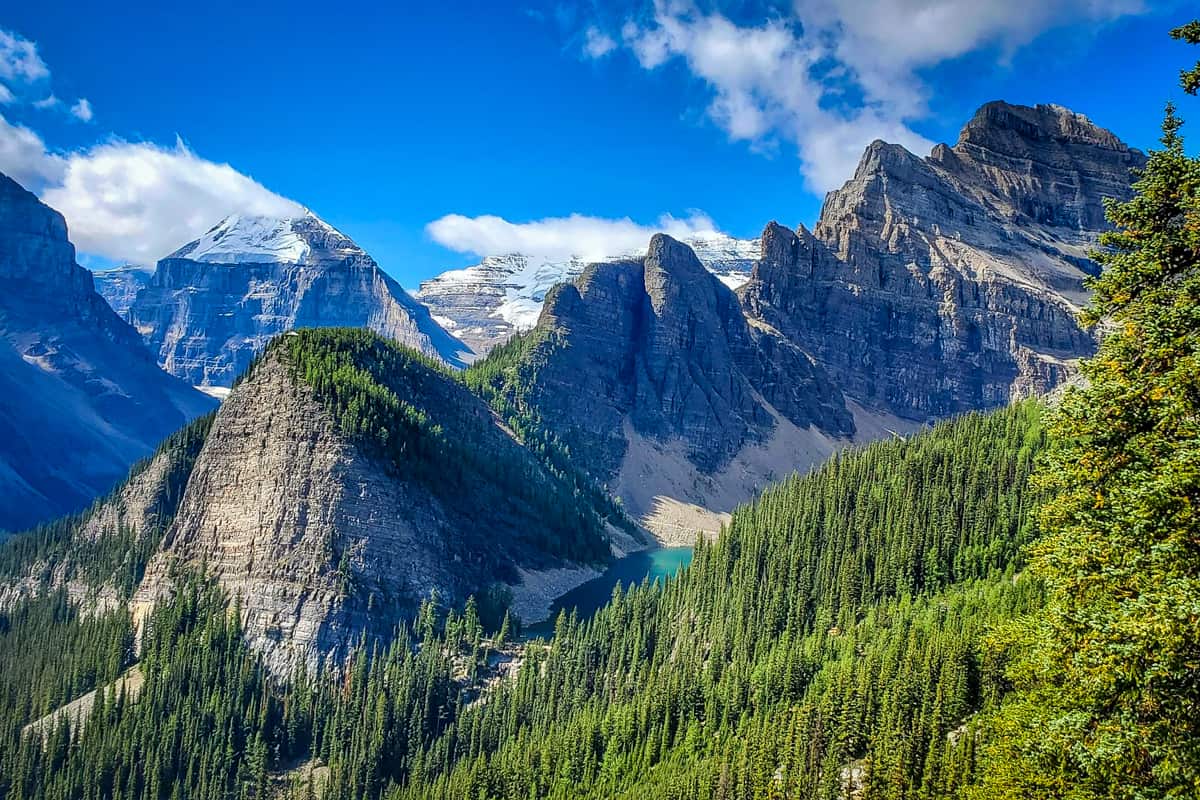 This trail offers hikers the opportunity to explore a less-crowded, hidden gem in the park. As you hike through lush forests and ascend above the treeline, the views become increasingly spectacular.
From the summit of Mount St. Piran, you're treated to a 360-degree panorama of the surrounding peaks, including the iconic Lake Louise and Lake Agnes.
Just like the 2 hikes above, this trail continues on past Big Beehive summit, so if you want to tackle all 3 in one hike, this is the route you'll need to take.
4. Johnston Canyon to Upper Falls Trail
Johnston Canyon is, in our opinion, one of the best hikes at Banff because it can be done in any season (not exactly common here!). In fact, it's equally beautiful in summer and winter! The frozen waterfall is breathtaking in the winter, while the falls thunder at their peak in the summer.
There are two options: take the short route to the lower falls, then turn back, or continue from the lower falls to the upper. It's worth the hike to the upper falls, as the 100-foot height is pretty impressive! Plus, the trail follows Johnston Creek and crosses a unique metal walkway built into the canyon walls.
5. Moraine Lake Shoreline Trail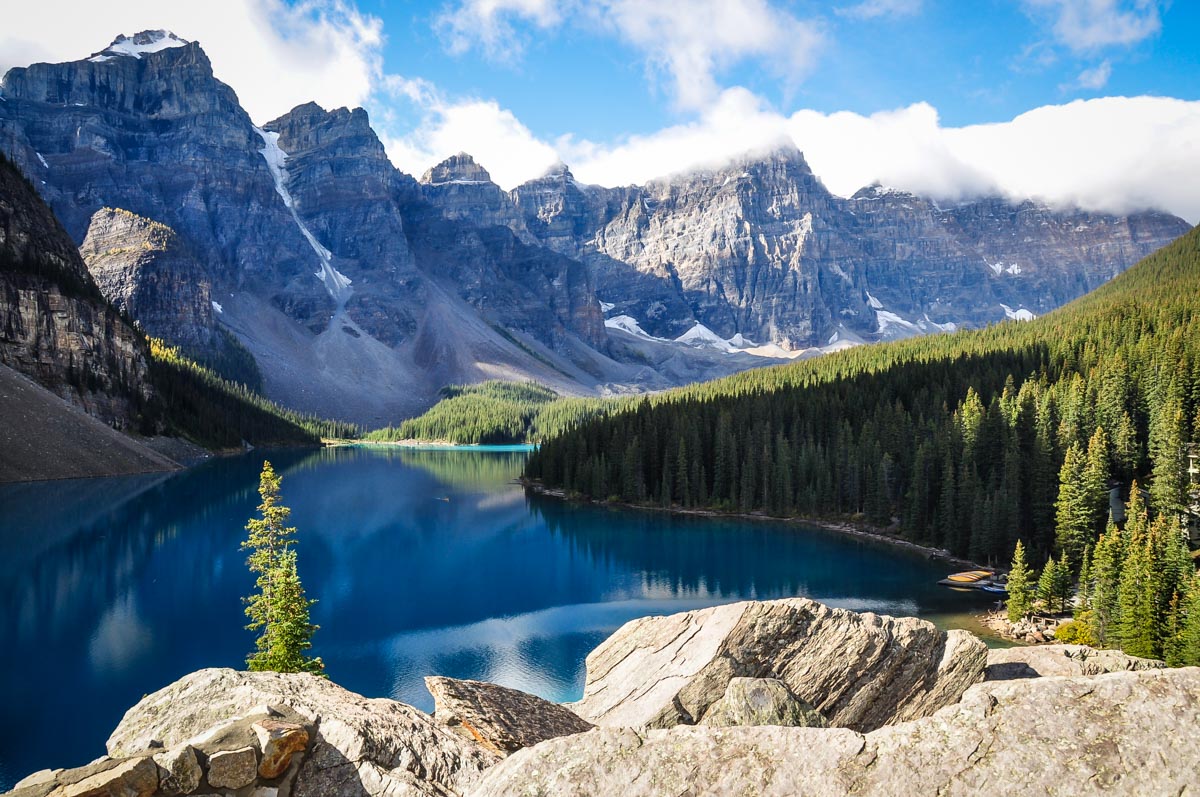 The Moraine Lake Shoreline Trail proves an easy hike doesn't have to be boring. In fact, this is one of the prettiest hikes in Banff! Despite Moraine Lake's wild popularity, most tourists overlook this trail; instead, they stop for photos before moving onto their next destination (a shame, because this trail has some seriously epic views!).
If you want to make a day of it during the summer, you can rent canoes and there's a cafe open seasonally.
6. Parker Ridge Trail to Saskatchewan Glacier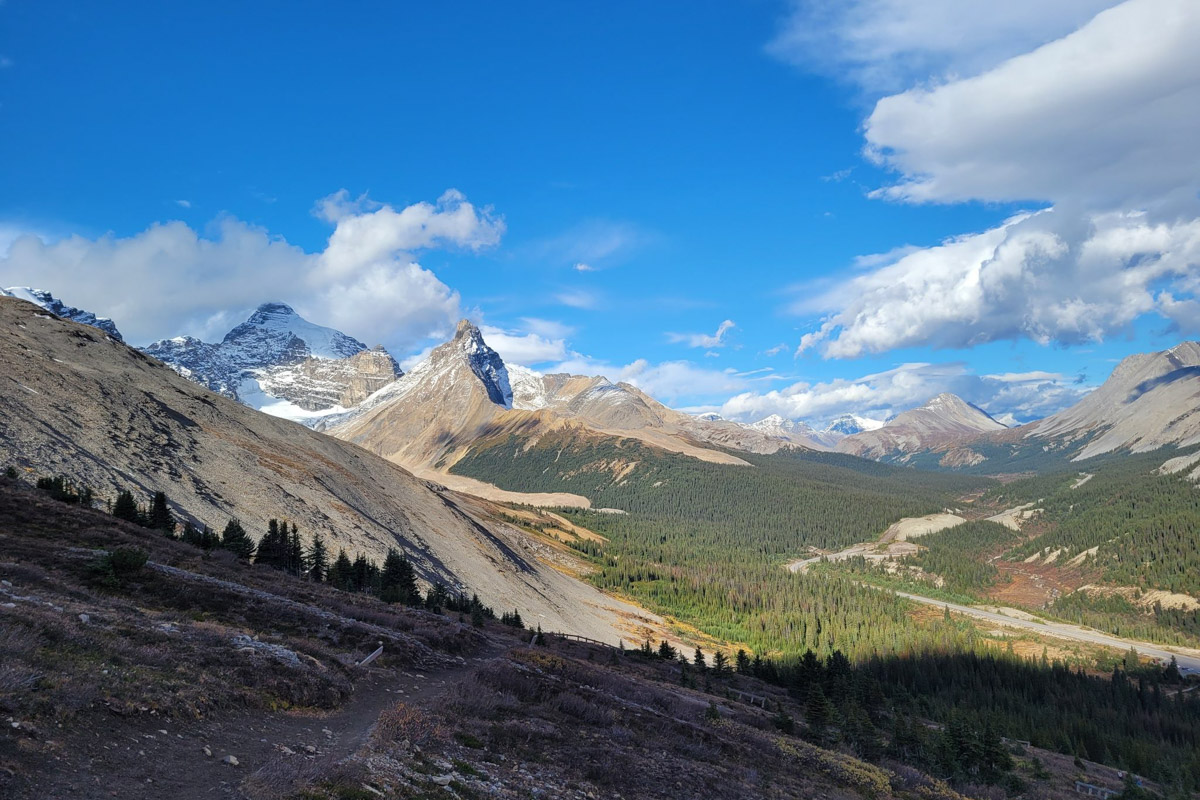 Parker Ridge is one of the least challenging, yet best hikes at Banff. It starts on the west side of the spectacular Icefields Parkway, a few miles from the Banff-Jasper border, and features a wide-open pathway to Saskatchewan Glacier with expansive views across the valley on most of the trek.
This trail is also known for being blanketed in colorful wildflowers in the summer. Couple that with its views of Mount Athabasca, Andromeda, and Cirrus Mountain, and it's easy to understand why it's so popular!
7. Bow Glacier Falls Trail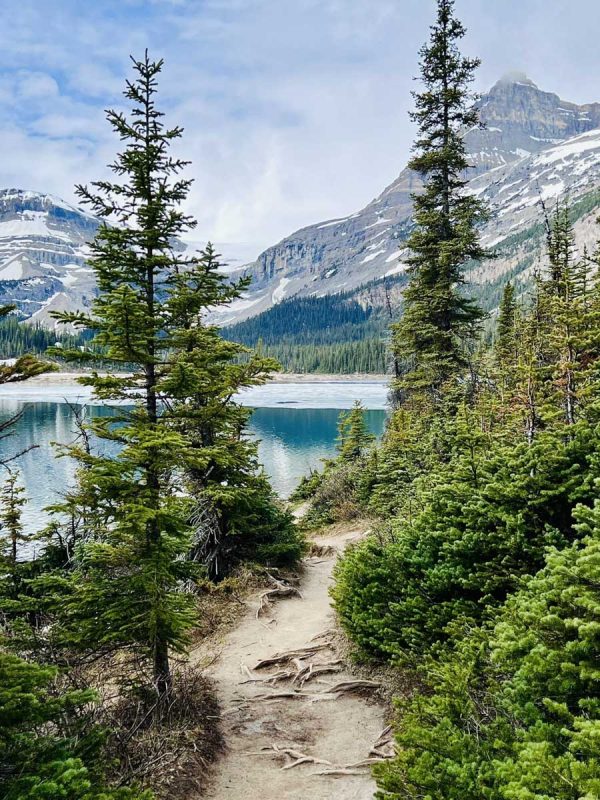 If you only have time to check out one of the best Banff trails, Bow Glacier Falls doesn't disappoint! Running right along the shores of ice-blue Bow Lake, this is easily one of the most picturesque areas in the entire park (which is saying a LOT!).
The trail is scenic the entire length, and includes interesting features that make it seem shorter than it really is. After the lake, you'll climb an old wooden staircase and there's also a small, manageable rock scramble toward the end. Notably, this is one of the only hikes in Banff that permits leashed dogs.
8. Plain of Six Glaciers Trail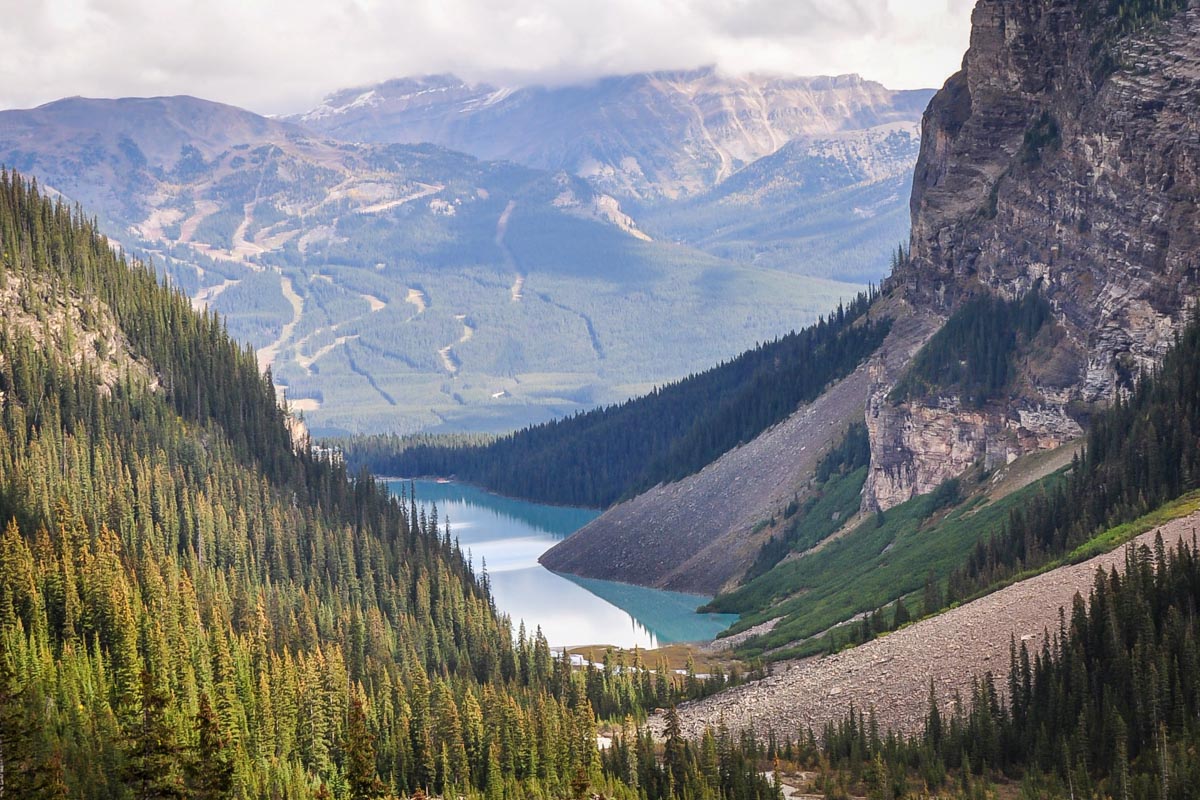 Another trail leading to Lake Agnes, Plain of Six Glaciers is well-known as one of the most scenic hikes in Banff. Note: many hikers turn back at Lake Agnes, so the distance listed here may not apply to your route.
Whether you complete the full route or create your own, the views are spectacular, with Lake Louise, Victoria Glacier, and wildlife including caribou and bighorn sheep. Once you pass the lake, the trail gets substantially more difficult and steep. Both the Lake Agnes Teahouse and Plain of Six Glaciers Tea House are in this area, open in the summer.
Fun fact: the Six Glaciers Tea House has been owned by the same family since 1959 and, in an effort to preserve its history, still doesn't have electricity to this day. Everything is prepared on propane stoves!
9. Lake Annette via Paradise Valley Trail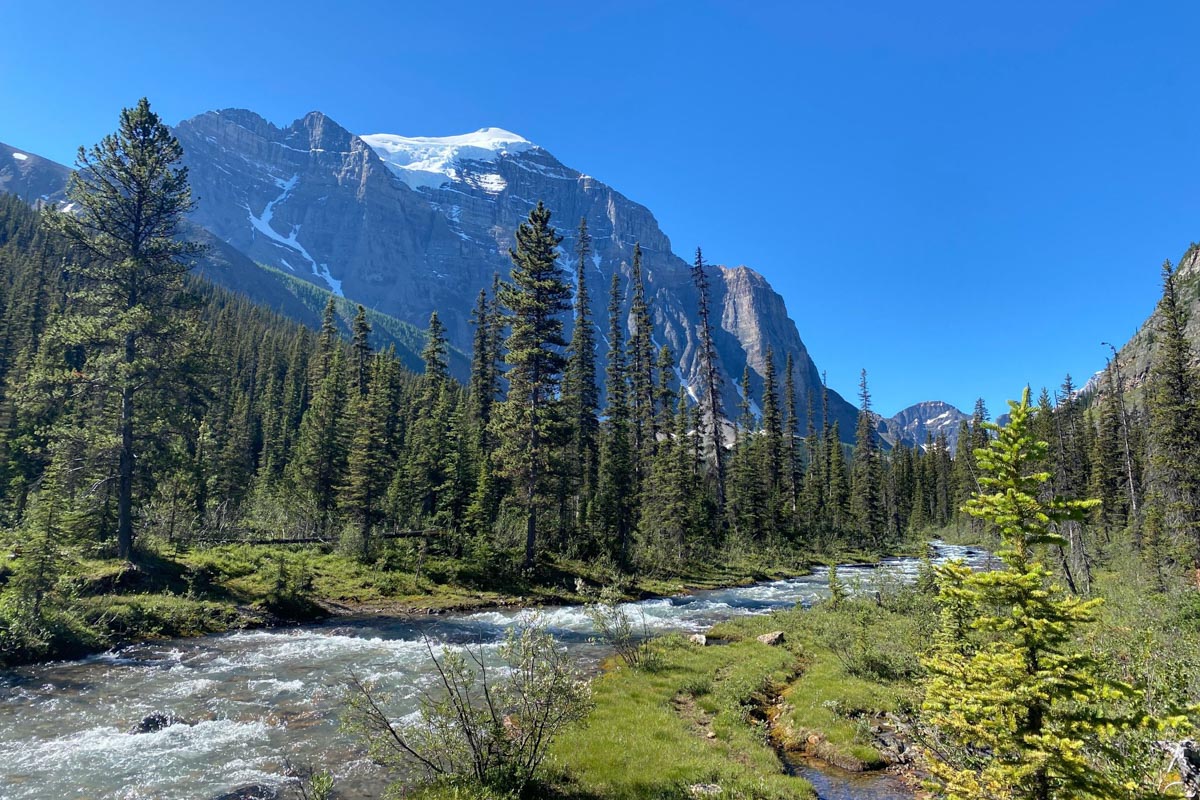 In researching this trail, you'll quickly find that it's constantly referred to as one of the most underrated hikes in Banff. It's a stunner, with soaring mountain ranges, hanging glaciers, and sparkling Paradise Creek, all leading to green-hued Lake Annette.
You'll cross the creek several times, and a few densely-forested sections provide welcome shade on hot summer days. When you reach Lake Annette, relax and take in the views or hike further into Paradise Valley. Doing so makes the entire hike 12.8 miles (20.6 kilometers).
10. Helen Lake Trail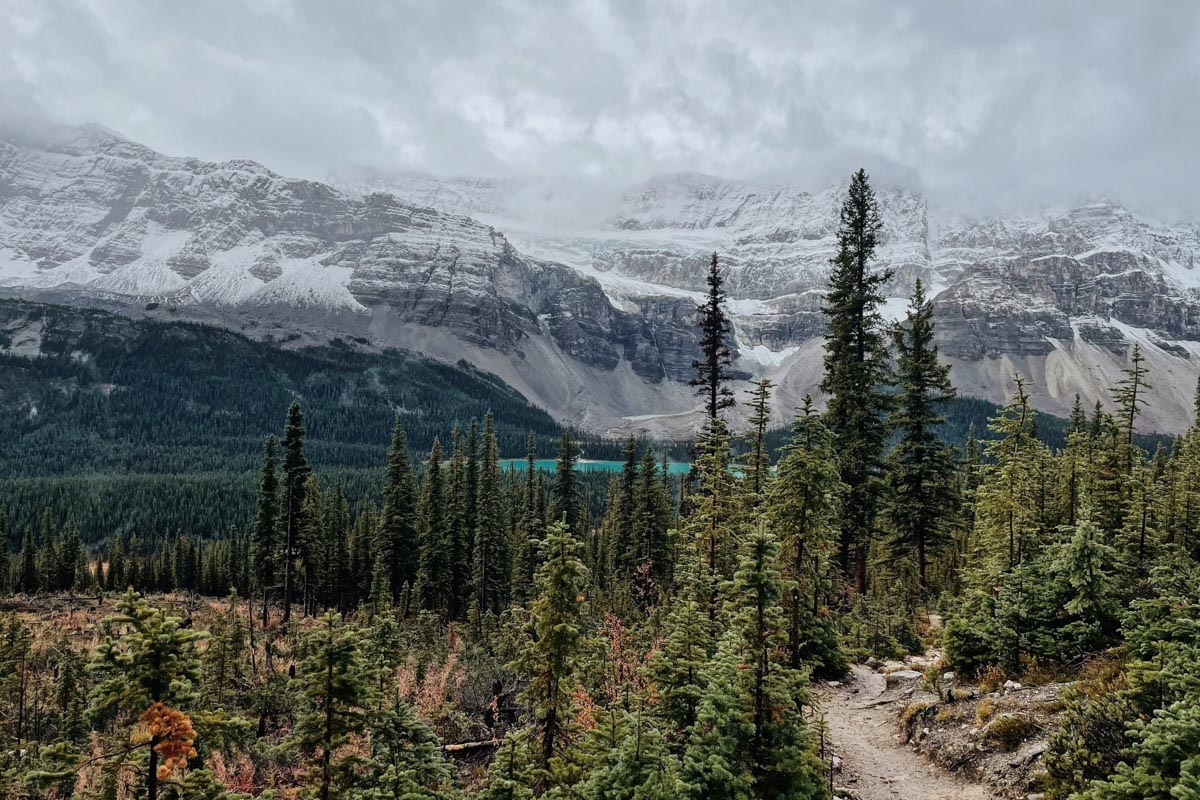 A less-traveled trail in the park, Helen Lake is rated as moderate but widely considered one of the easier hikes in Banff. The varied terrain crosses meadows filled with glacier lilies, lakes, and dense forest before arriving at Helen Lake.
You'll also cross several creeks and depending on recent rain levels, the water may be deeper than you expect! Helen Lake is exceptionally scenic on calm days when the mountains reflect on the mirror-still surface.
11. Sentinel Pass via Larch Valley Trail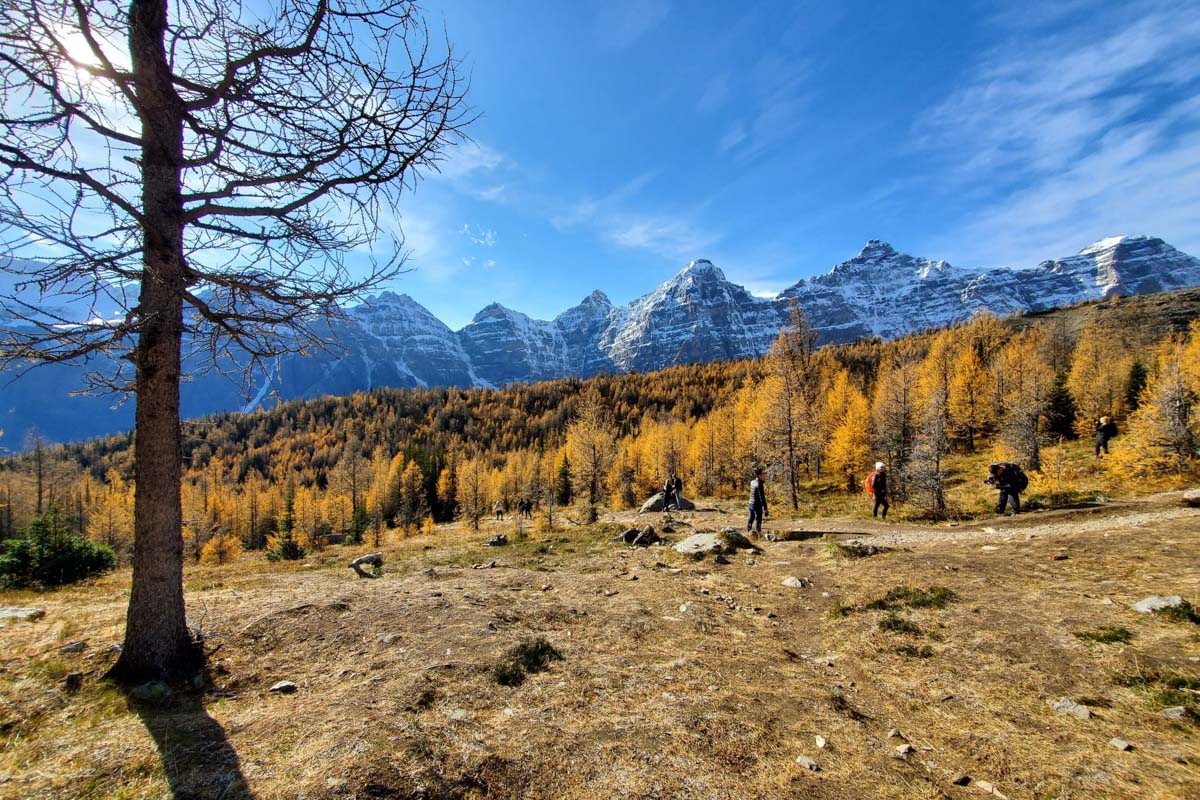 If you want to see spectacular fall foliage (and you're up for a fairly challenging trek), put this Banff hike at the top of your list. The larch trees turn a solid, beautiful golden color!
The first section of this trail is relatively flat and easy, but the switchbacks present quickly as it begins to climb. Take plenty of time to rest on the way up and keep your eyes open for surprise views of milky-blue Moraine Lake! At the summit of Sentinel Pass, above the treeline, enjoy one of the best views in Banff, which includes all 10 of the park's peaks.
The Moraine Lake parking lot fills up quickly almost every day and the park closes the road, forcing people to take the shuttle. It runs hourly and advanced reservations are highly recommended. Read more about the Moraine Lake shuttle.
12. Cascade Amphitheatre Trail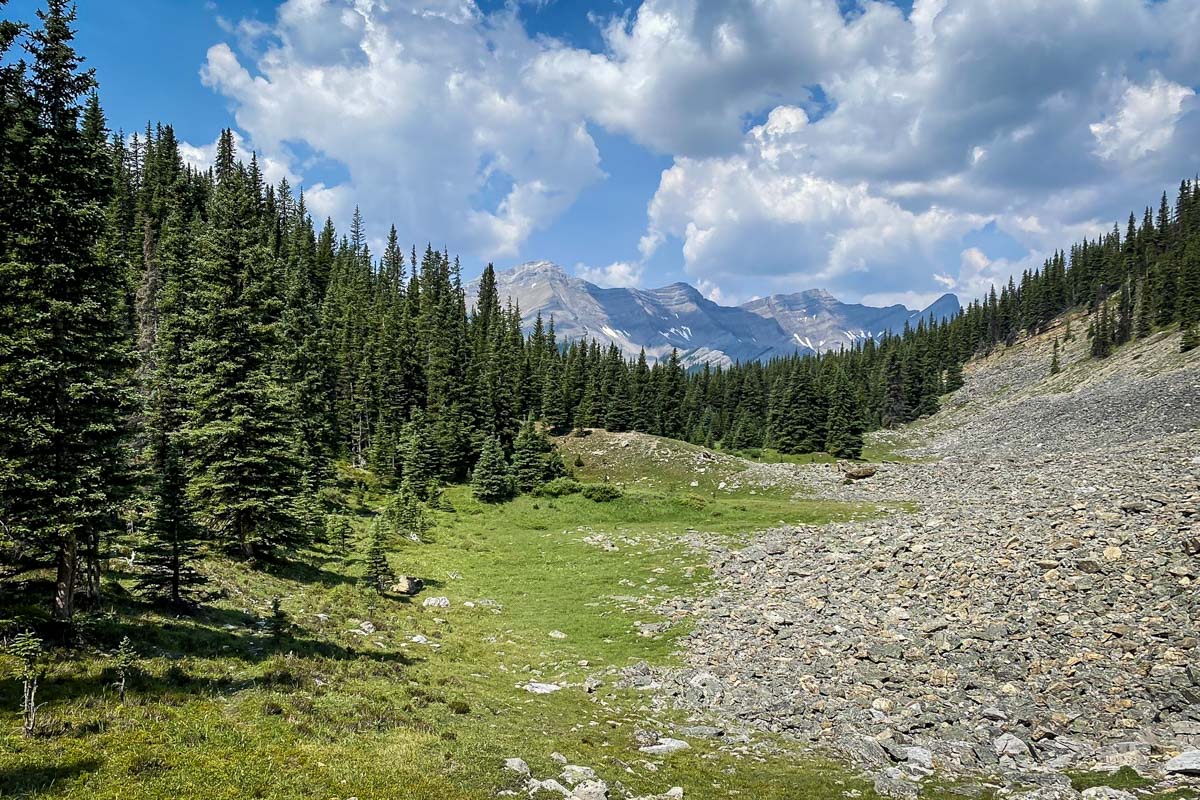 Cascade Amphitheatre, while difficult, is one of the best Banff hiking trails. The trail starts from behind the Mystic Chairlift at Mount Norquay and follows a mostly-forested area until you reach the natural amphitheatre. The first mile or so is deceivingly easy — don't be fooled.
From the amphitheatre, you can attempt to summit storied Cascade Mountain, but be warned that it's a difficult task, recommended only for those with previous scrambling/climbing experience.
13. Cory & Edith Pass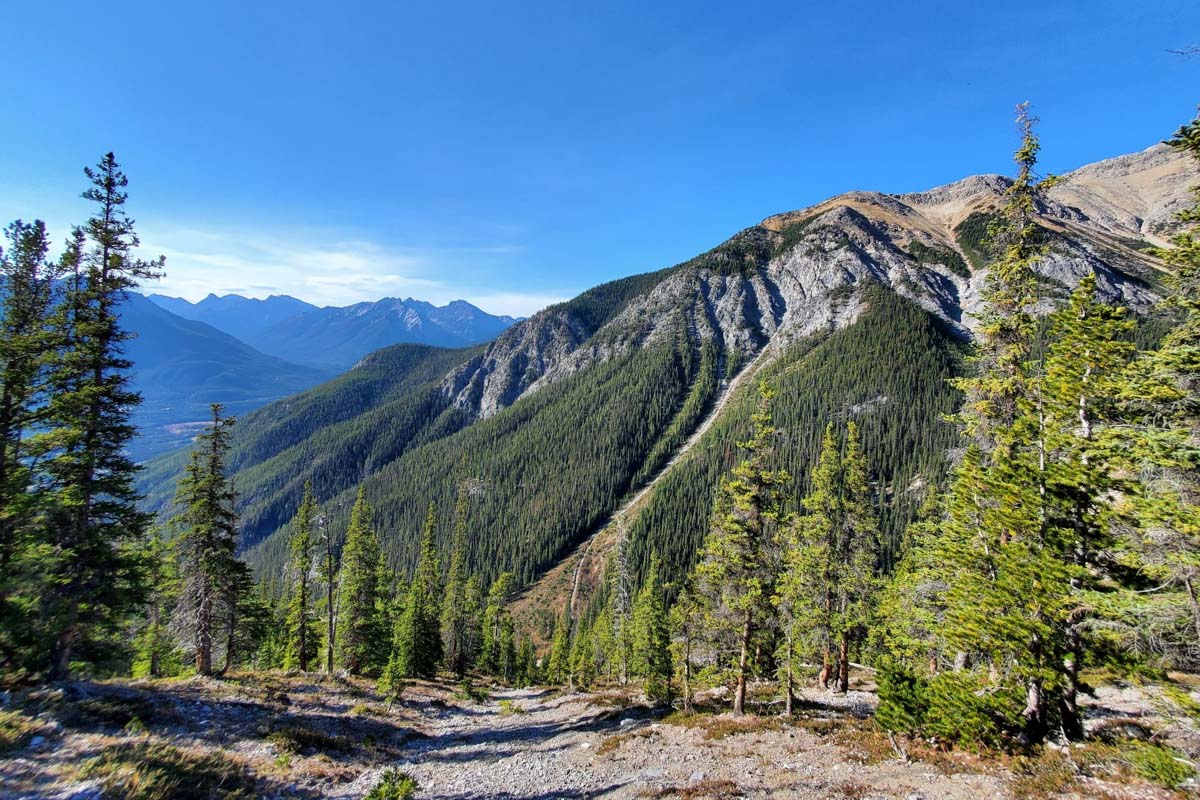 One of the most challenging but certainly epic Banff hiking trails is the Cory and Edith Pass Loop. With a substantial elevation gain and a section requiring technical rock scrambling, it isn't for the faint of heart, but man is it rewarding. Because of the effort involved, you won't encounter crowds!
We recommend ascending the Cory Pass side and descending via Edith Pass. This route gives you head-on views of Mount Cory, plus puts the steepest, most challenging section toward the beginning, preventing you from tackling it when you're exhausted. You will have to scramble and climb over large boulders, but the sense of accomplishment at the end makes it worthwhile.
14. Bourgeau Lake Trail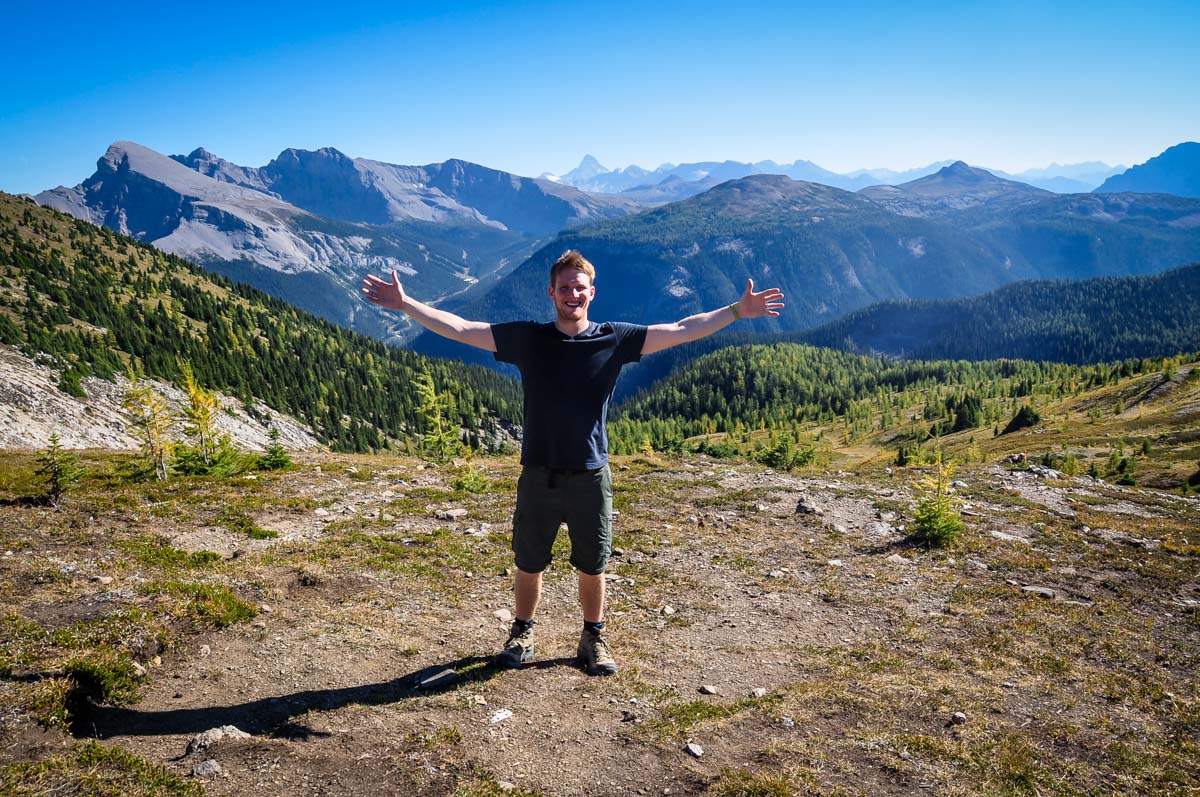 In all our travels, we've learned to go where the locals go. Bourgeau Lake Trail is considered the locals' favorite and proving that, you won't find any crowds here. The trail has a bit of everything that makes the Canadian Rockies magical, including sweeping views, alpine lakes, waterfalls, and wildlife.
Although rated "hard," we firmly believe that applies solely to the portion beyond Bourgeau Lake, en route to Harvey Pass. Continuing on adds another 1.5 miles and the pass is covered in snow-pack and ice year-round (likely the reason it's "hard!").
15. Fairview Mountain Trail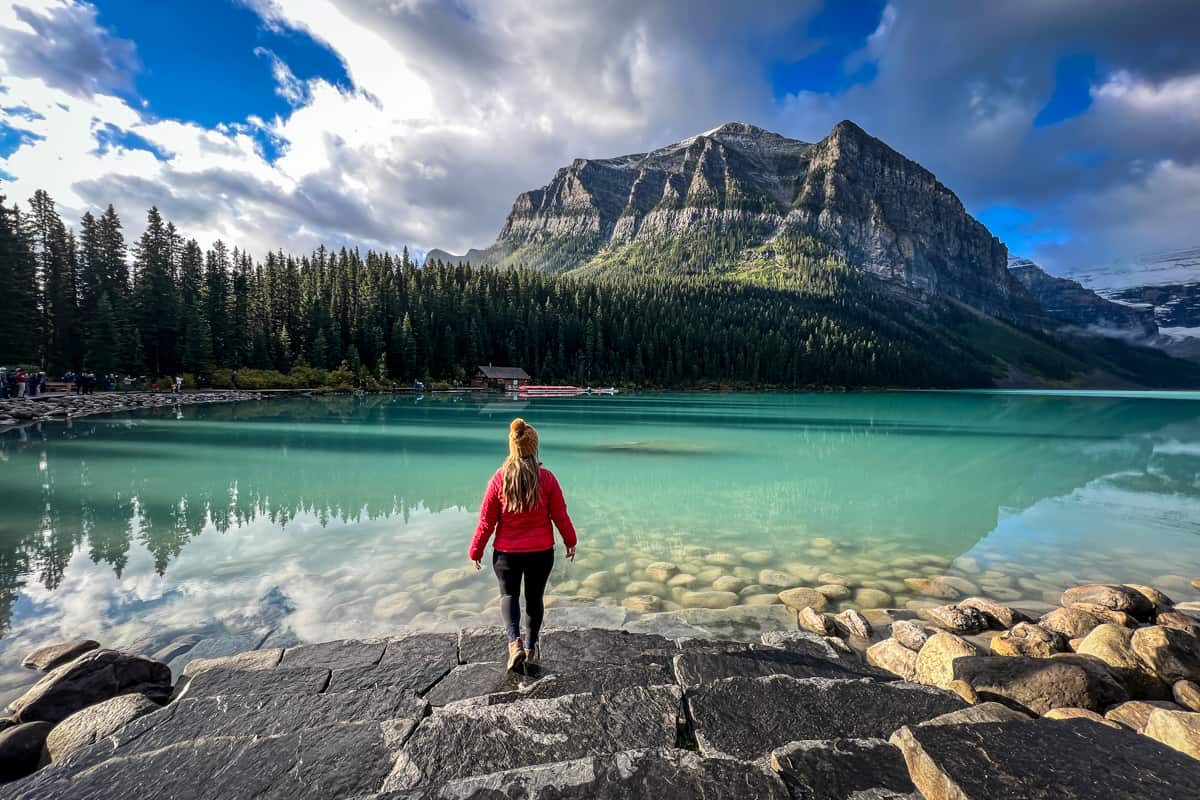 We could argue that any trail starting from Lake Louise is one of the best hikes at Banff. Fairview Mountain, though, has a real advantage in that it's often overlooked in favor of less challenging hikes in the area.
The steep ascent is what makes Fairview Mountain so demanding. You'll spend a solid hour climbing, crossing several frustrating false summits along the way. Once there, the 360-degree views are incredible and you'll feel like you're on top of the world.
16. Sulphur Mountain Trail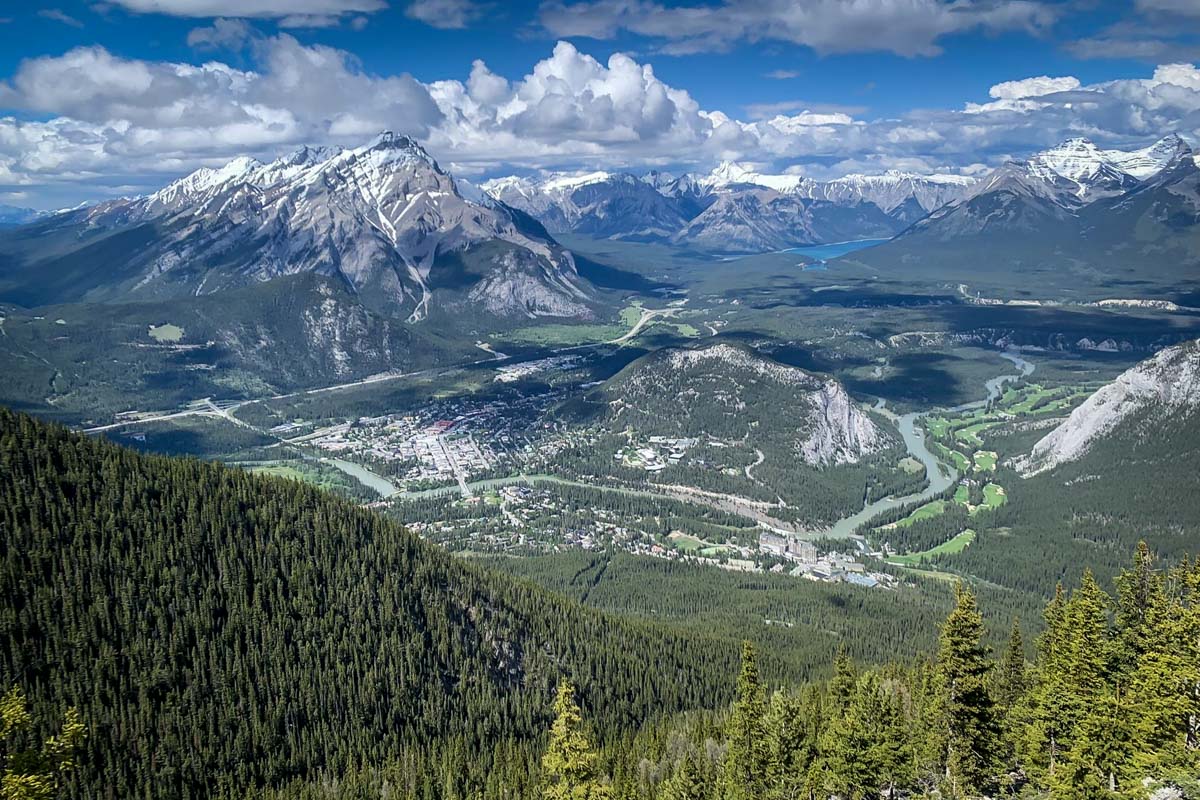 If you're looking for a less-trafficked hike in Banff National Park, Sulphur Mountain is it. The trailhead begins from the Banff Gondola parking area. Pro tip: it's much easier to start from the top of the Banff Gondola (park and then ride up!).
The significant elevation gain is what earns Sulphur Mountain a "challenging" rating. You'll also climb and scramble steep scree-covered slopes. Reaching the summit is worth the challenge, as the views across Banff and the Sundance Mountain Range are amazing!
17. Healy Pass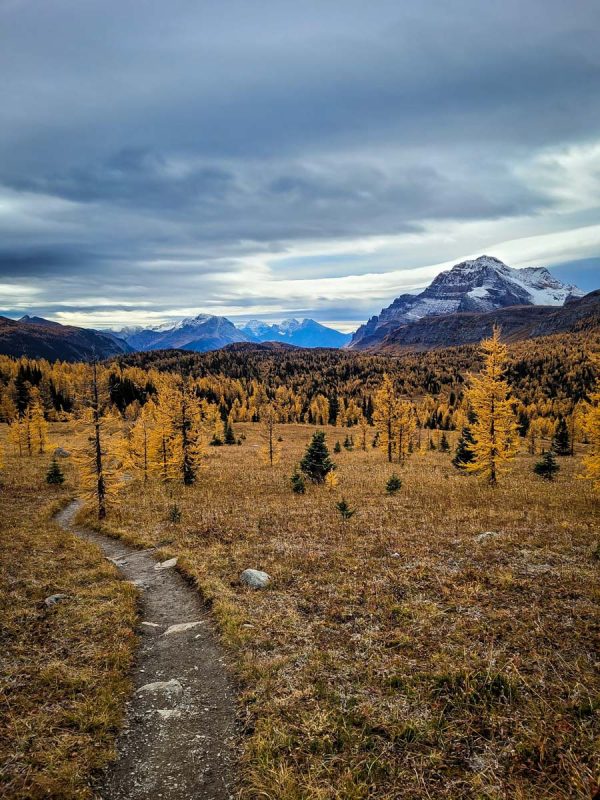 One of the best hikes in Banff thanks to the postcard-perfect scenery (especially during fall color change!), Healy Pass deserves a spot on your itinerary. It's "hard" rating is undoubtedly due to the length of the trail and overall elevation gain, because it's actually quite manageable. You'll need some endurance, sure, but if you hike regularly, you'll be just fine.
Most of the trail is through a well-canopied forest, but it opens up on the final approach to Healy Pass, offering sweeping mountain and lake views. Because of the stunning colors, we recommend it in either summer, when the valley is bursting with colorful wildflowers, or fall, when the golden larch trees appear to be on fire.

Best time to go hiking in Banff National Park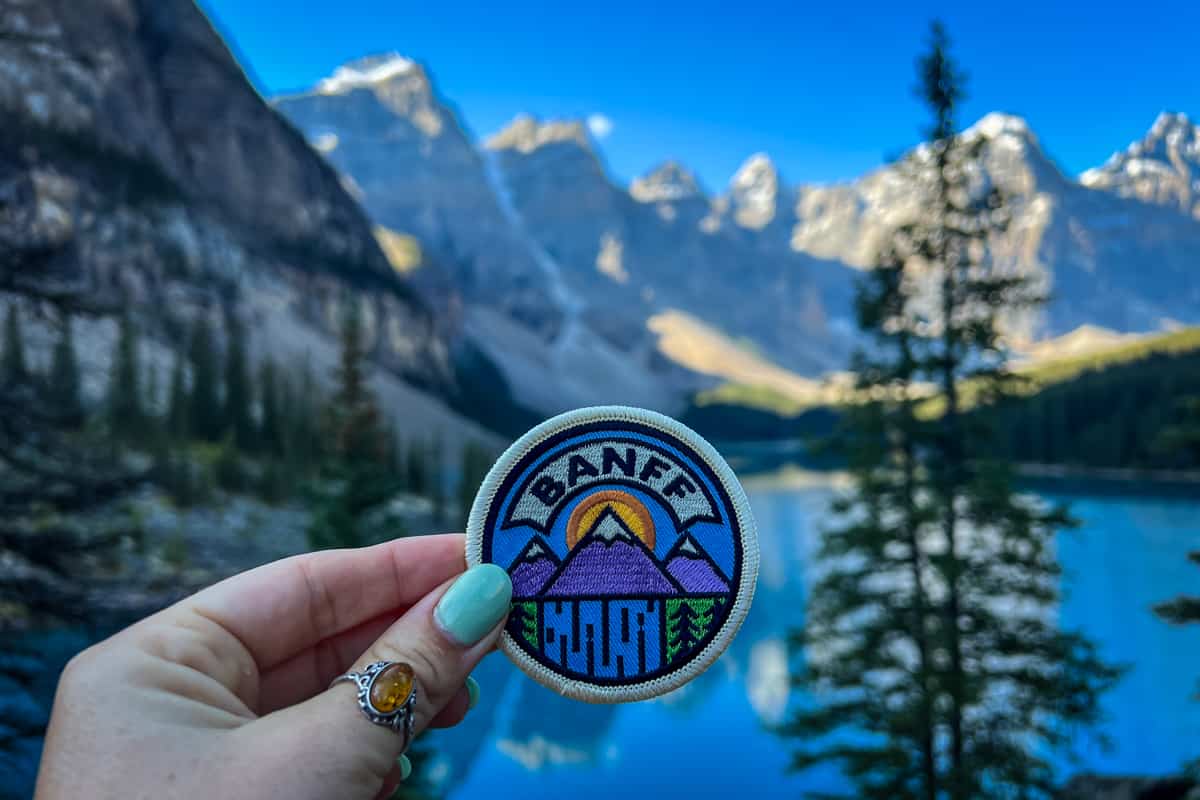 Between late-spring and early-fall is the best time for hiking in Banff National Park. During the summer months, the weather is warm and you're likely to have sunny days and the best trail conditions.
However, the popularity of hiking in Banff has gone up since we first visited on our honeymoon back in 2013, and when we returned 10 years later we saw a lot more crowds. We'd recommend visiting during spring or fall if you want to avoid the crowds of peak season.
Insider tip: the park experiences heavy snow in winter and spring and major roads close seasonally. For the best (and safest!) access, visit between mid-June and early October.
What to pack for hiking in Banff National Park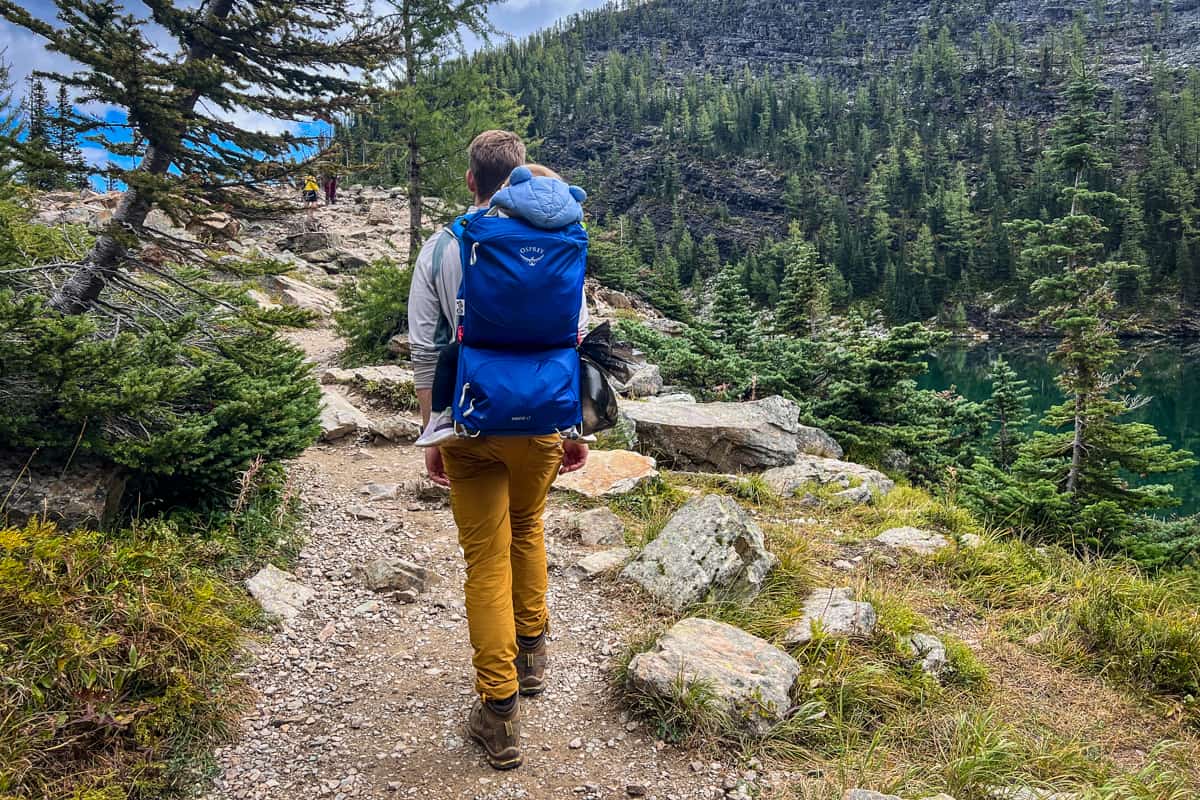 There are a few items we take on every hike with us, no matter how far or challenging the trail we plan to tackle.
Be sure to grab our ultimate hiking packing list includes our must-have gear for any hiking trail!

Roundup of the best hikes at Banff National Park
Here's a roundup of all the best Banff hiking trails so you can see everything in one place.
Johnston Canyon hike
Moraine Lake Shoreline
Parker Ridge to Saskatchewan Glacier
Bow Glacier Falls
Plain of Six Glaciers
Lake Annette and Paradise Valley Trail
Helen Lake
Sentinel Pass via Larch Valley Trail
Cascade Amphitheatre
Cory and Edith Pass
Bourgeau Lake Trail
Fairview Mountain
Sulphur Mountain
Healy Pass
Mount St. Piran

You may also like…
Save this article on Pinterest for later!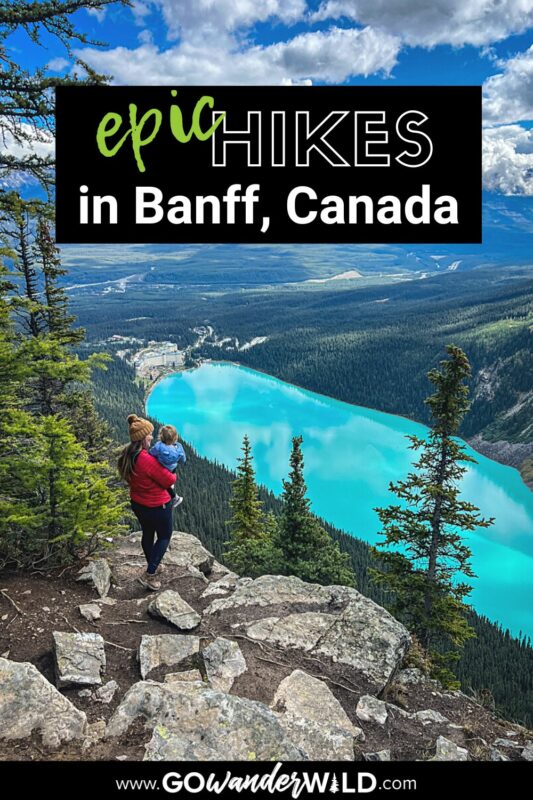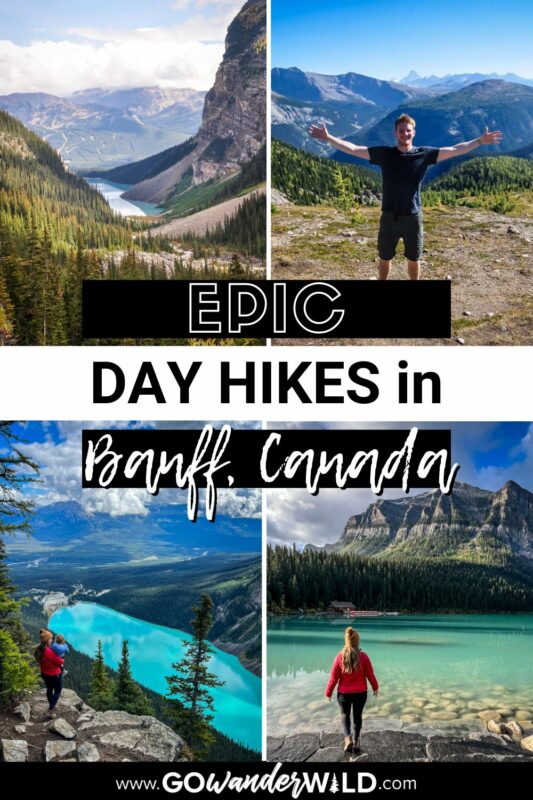 We want to hear from you!
Which of these epic Banff trails has you most excited to lace up your hiking boots?? Have you done any of the Banff hikes on this list? Was your experience like? Leave your comment below and let us know!