Often seen as a hiker's paradise, there are so many hikes near Vancouver, it's hard to know where to start. With the help of a local hiking enthusiast, we've put together a list of the top Vancouver hikes along with all the details to help you hit the trails.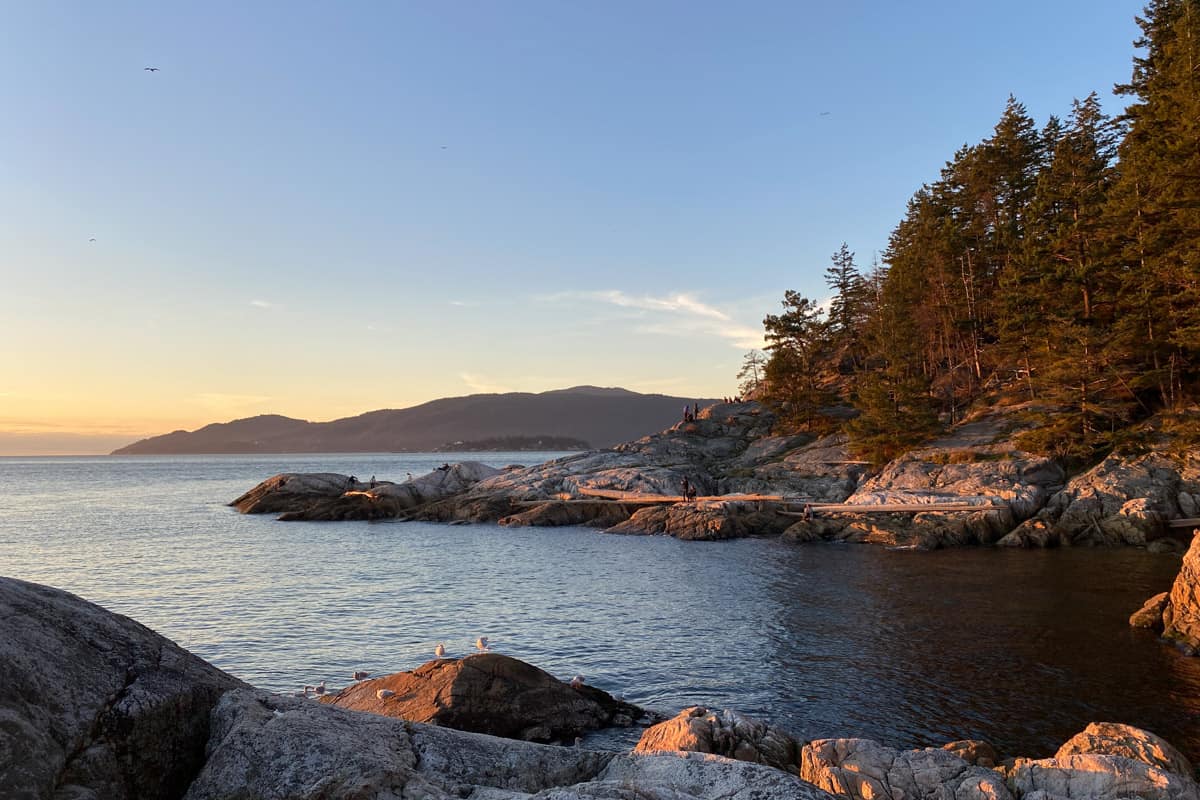 Written by Guest Author: Amanda Lawrence
Vancouver is full of lush forests and mountainous terrain begging to be explored. Many Vancouver hikes rival other cities in Canada, but with so many options, it can be tough to know where to start. So to help you decide, I've created this comprehensive list of the best hikes in Vancouver.
A huge metropolitan city surrounded by mountains in the north and the ocean to the west, Vancouver is seen as a hiker's paradise, often visited for its scenic mountainous background and picturesque trails.
Although there is plenty to do in the city, everyone likes to get out and hit the trail, discover waterfalls and mountain tops, and even spot some wildlife.
You don't have to be active or outdoorsy to enjoy hiking in Vancouver; the city and surrounding area has trails suited for all skill levels and abilities. In this article, you will find some truly magical Vancouver hikes you can check out with friends or as a solo adventure!
1. Cypress Falls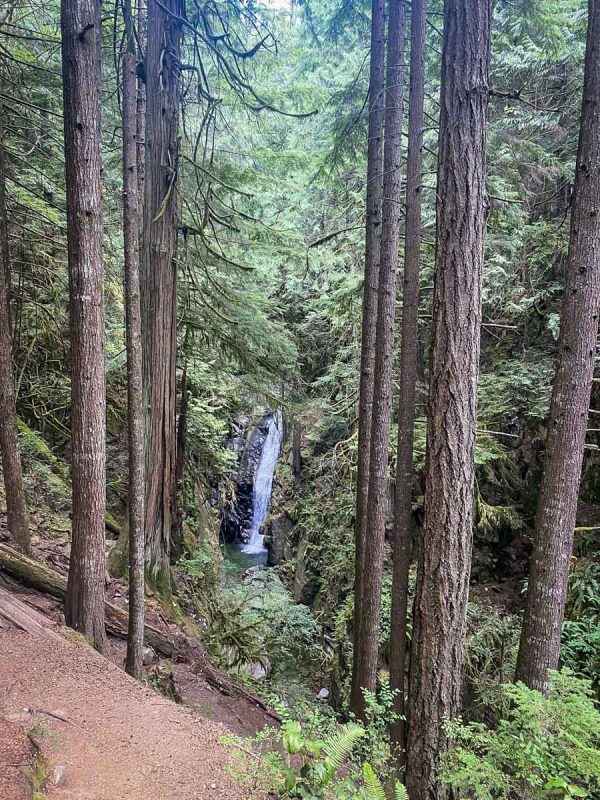 Distance: 1.6 miles/2.7km, out and back
Elevation: 124m/ 406ft
Difficulty: Easy
The Cypress falls hike is a beautiful lush green hike in North Vancouver. The trail is well trafficked, well maintained, and can get busy on the weekends.
As you hike alongside Cypress creek and the towering green trees, you will come across not one but two beautiful waterfalls. When you reach the upper falls, try and spot the old rusty car that was pushed over the roadside many years ago… (Hint: There are actually two of them hidden in the woods.)
This is a transit-accessible and dog-friendly trail so bring your furry friends if you have them!
2. Pacific Spirit Park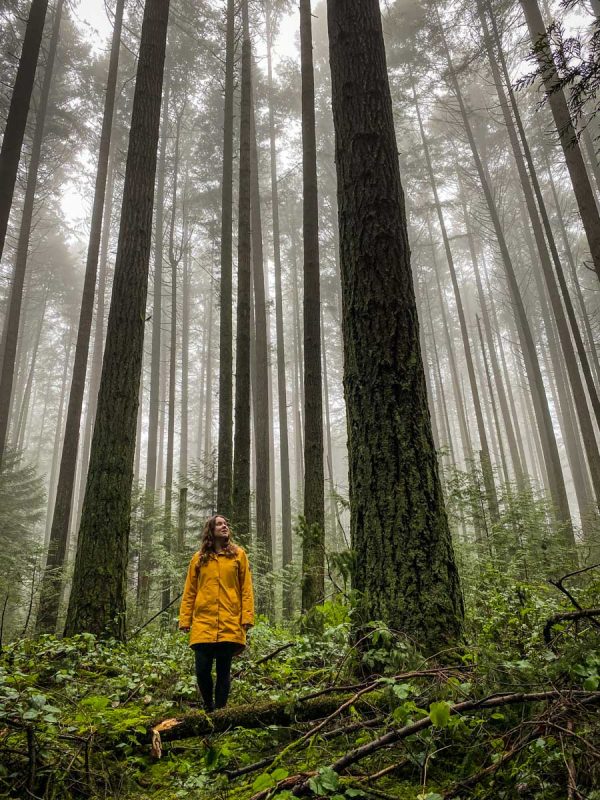 Distance: 4.2 miles/6.8km loop
Elevation: 78m/255ft
Difficulty: Easy
There are over 15 trails to choose from in this 874-hectare park, but the Top, Nature, Salish,
and Sasimat trail combo will give you the best experience. The trails are dog-friendly, well maintained, and perfect for the elderly or families with young children.
Visitors are amazed by the gigantic Cedar, Hemlock, and Douglas Fir trees that create a canopy high above the trail. It's an excellent trail for a rainy day, as this canopy creates a little umbrella that keeps hikers (mostly) dry.
This park is accessible by Vancouver transit, so feel free to leave the car at home!
3. Lighthouse Park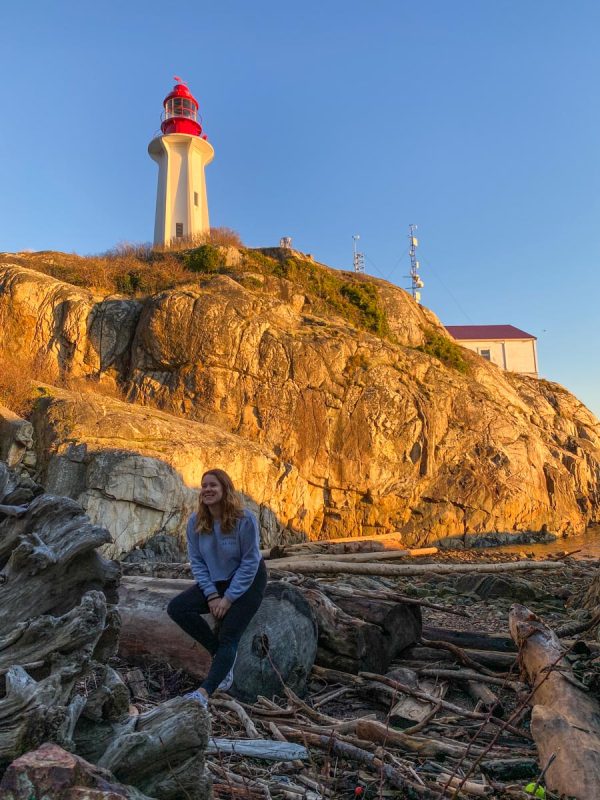 Distance: 2.11miles/3.4km loop
Elevation: 133m/436ft
Difficulty: Easy
There are a few trails in Lighthouse Park, but the Point Atkinson and Shore Pine Point trails are the ones you need to see. As you walk through this beautiful ancient forest, you can catch glimpses of the rocky shoreline of the Burrard Inlet.
At the end of the trail, you can sit and enjoy a view of the Point Atkinson Lighthouse, built in 1912. And if you visit on a good day, you might be able to see seals or orcas in the water!
This trail is transit and dog friendly, well maintained with some rocky/rooted sections.
4. Jug Island Beach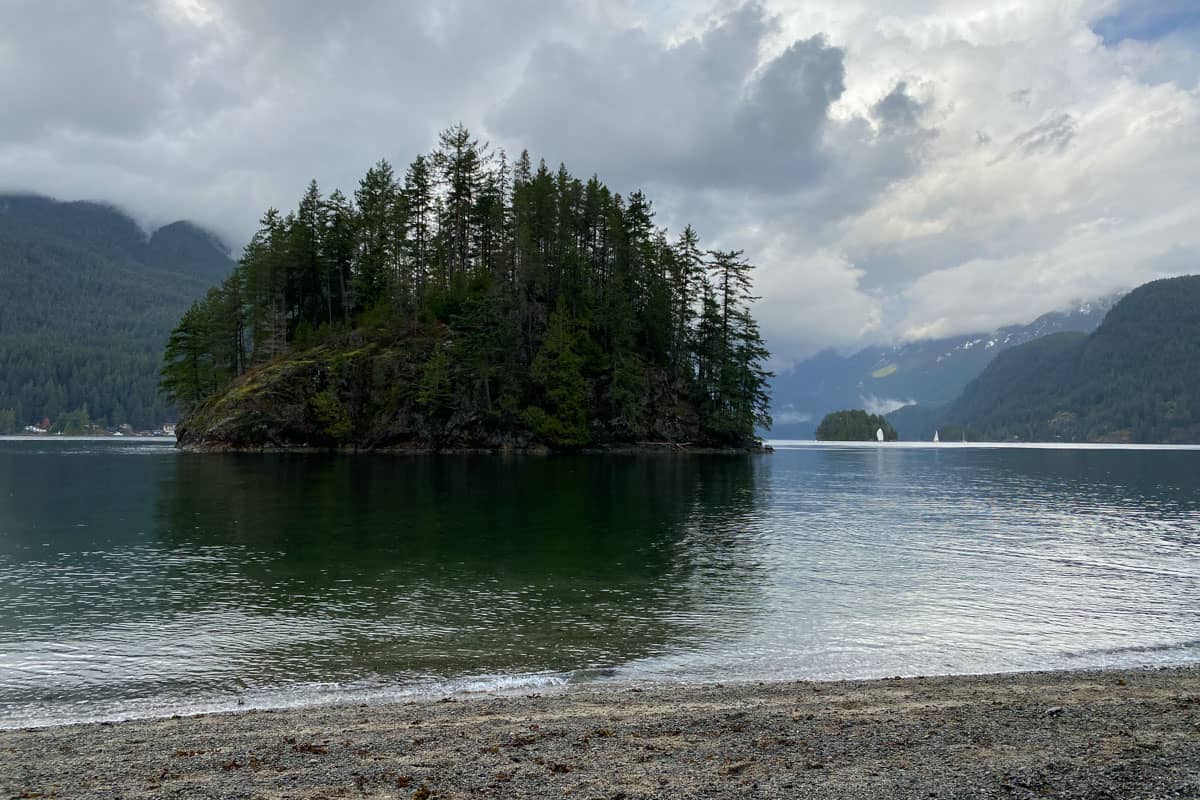 Distance: 3.1miles/5.1km, out and back
Elevation: 221m/725ft
Difficulty: Moderate
Jug Island beach is a popular hike for locals who like to walk their dogs or go trail running, especially on weekends. The terrain varies from trails, rocky sections, and stairs as you walk through the forest. You will encounter inclines and declines before finally descending to the beautiful beach and view of Jug Island.
You can feel free to swim or kayak in this area as well. Dogs are welcome; you can often see them frolicking in the water. This trail is transit accessible, although it will require some walking.
5. Quarry Rock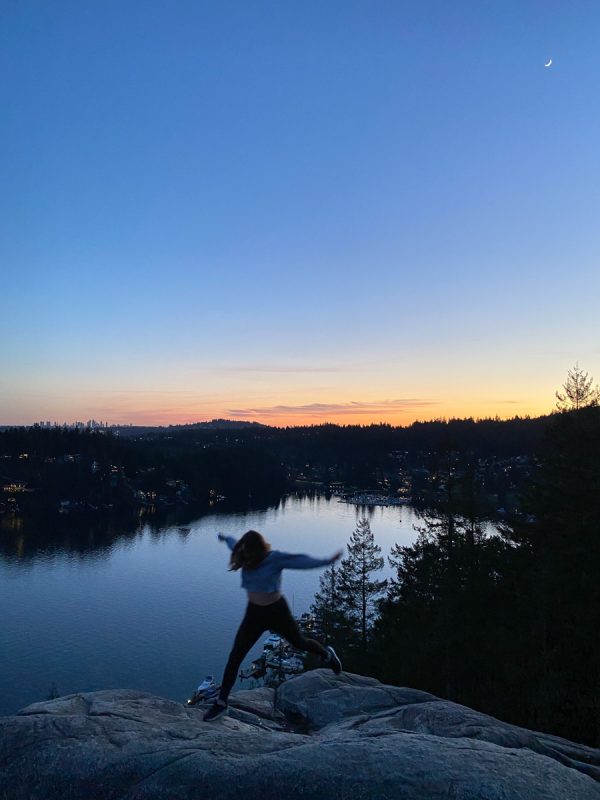 Distance: 3.9miles/6.4km, out and back
Elevation: 259m/849ft
Difficulty: Moderate
Quarry Rock is a beautiful lookout trail near Deep Cove. It is a very popular and well-maintained trail and can get busy during weekends and holidays.
Hike over rocky terrain, bridges, and stairs before heading to Quarry Rock to view Deep Cove from above. This trail is transit and dog friendly.
6. Buntzen Lake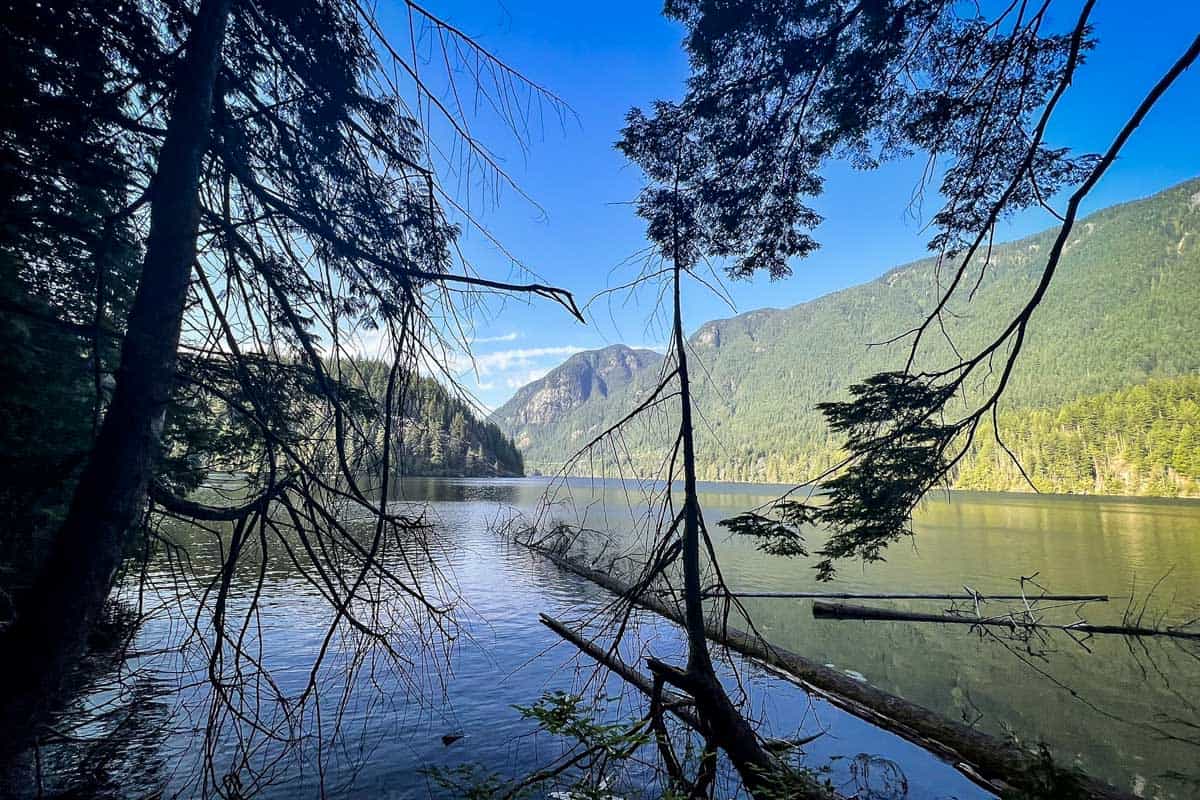 Distance: 6.5miles/10.5km loop
Elevation: 301m/987ft
Difficulty: Moderate
This loop trail that surrounds Buntzen lake is one of the more popular and well-trafficked trails in the area. It is dog-friendly, popular for bird watching and trail running, and easy to navigate.
This hike features beautiful lake views and a small suspension bridge at the North end. Buntzne Lake is transit-friendly, although it will require a long walk to get to the trailhead.
7. Tunnel Bluffs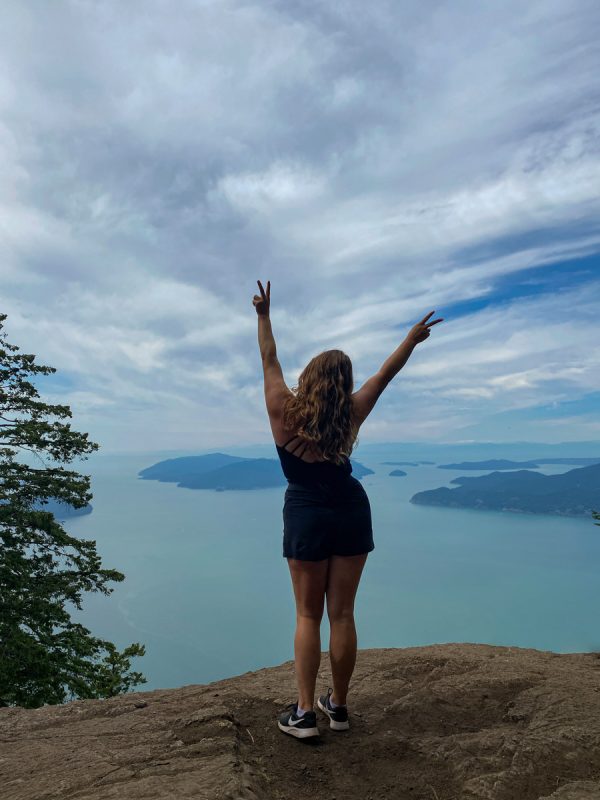 Distance: 6.7 miles/10.9km out and back
Elevation: 519m/1702ft
Difficulty: Moderate
Tunnel Bluffs has sweeping views of Howe Sound, making it one of the best hikes in Vancouver! The trail starts steep and rocky before it plateaus through the dense forest. There are some wood bridges before a little scramble to the viewpoint. The hike to the view is well marked, and it is worth the strenuous hike!
8. Norvan Falls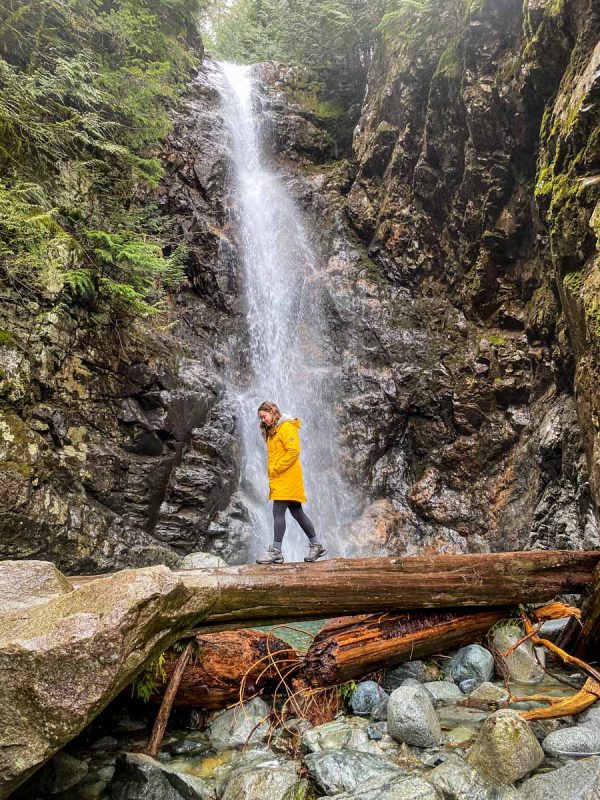 Distance: 8.5miles/13.8km out and back
Elevation: 345m/1131ft
Difficulty: Moderate
The hike to Norvan Falls covers all kinds of hiking terrain, inclines, declines, rocky paths, and maintained trails. The trail is long and mostly flat, following Kennedy Creek but includes some steep switchback sections.
Crossing the creek before getting to the falls is recommended, as the left side makes it easier to get close to the falls. Once you reach Norvan falls, you will be greeted with a beautiful cascade and a cool mist!
This trail is great for adventurous kids and is dog friendly.
9. St Marks Summit
Distance: 6.5miles/10.5km, out and back
Elevation: 587m/1925ft
Difficulty: Challenging
St Marks Summit is easily one of the most challenging trails on this list! The steep elevation gain throughout the hike will tire you out, but the view of Howe Sound from the top is unparalleled.
The trail is generally easy to traverse with no scrambles or technical terrain and is dog friendly. Due to its popularity, it is best to start early.
If you want to summit a mountain in Vancouver, this hike is for you!
10. Lynn Canyon Loop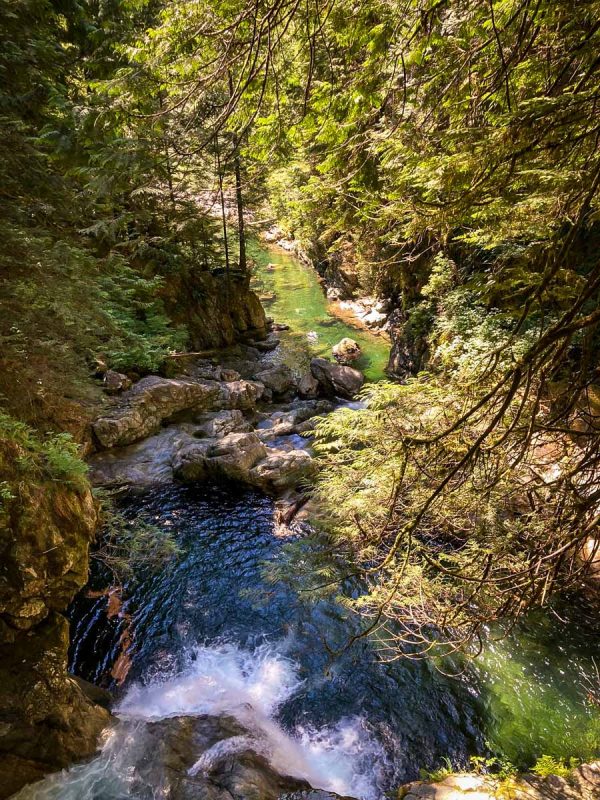 Distance: 1.6 miles/2.6km loop
Elevation: 108m/354ft
Difficulty: Easy
Lynn Canyon is a family and dog-friendly hike in North Vancouver with relatively easy terrain
and many sights to see. Crossing the suspension bridge can be scary if you aren't used to it, but the view of Twin Falls and the 30-foot pool on the other side is worth it.
11. Kennedy Falls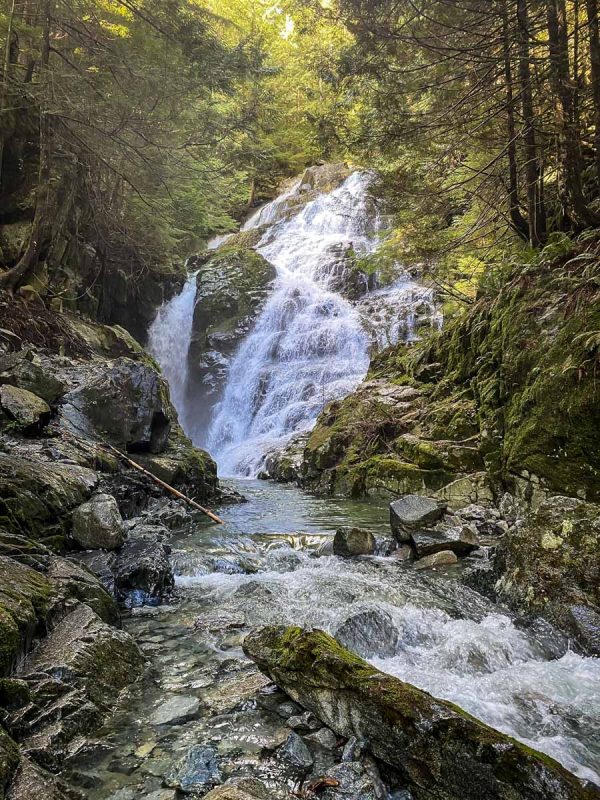 Distance: 6 miles/9.8km, out and back
Elevation: 432m/1417ft
Difficulty: Moderate
The hike to Kennedy falls is an adventure as the natural trails are not maintained by the park, although they are well trafficked and easy to find.
There are a few more technical sections of the hike, and creeks must be crossed on foot. Along the way, you will find one of the largest remaining old-growth trees on the North Shore, affectionately nicknamed & Big Cedar. Don't forget to cool off in the waterfall at the end!
12. Grouse Grind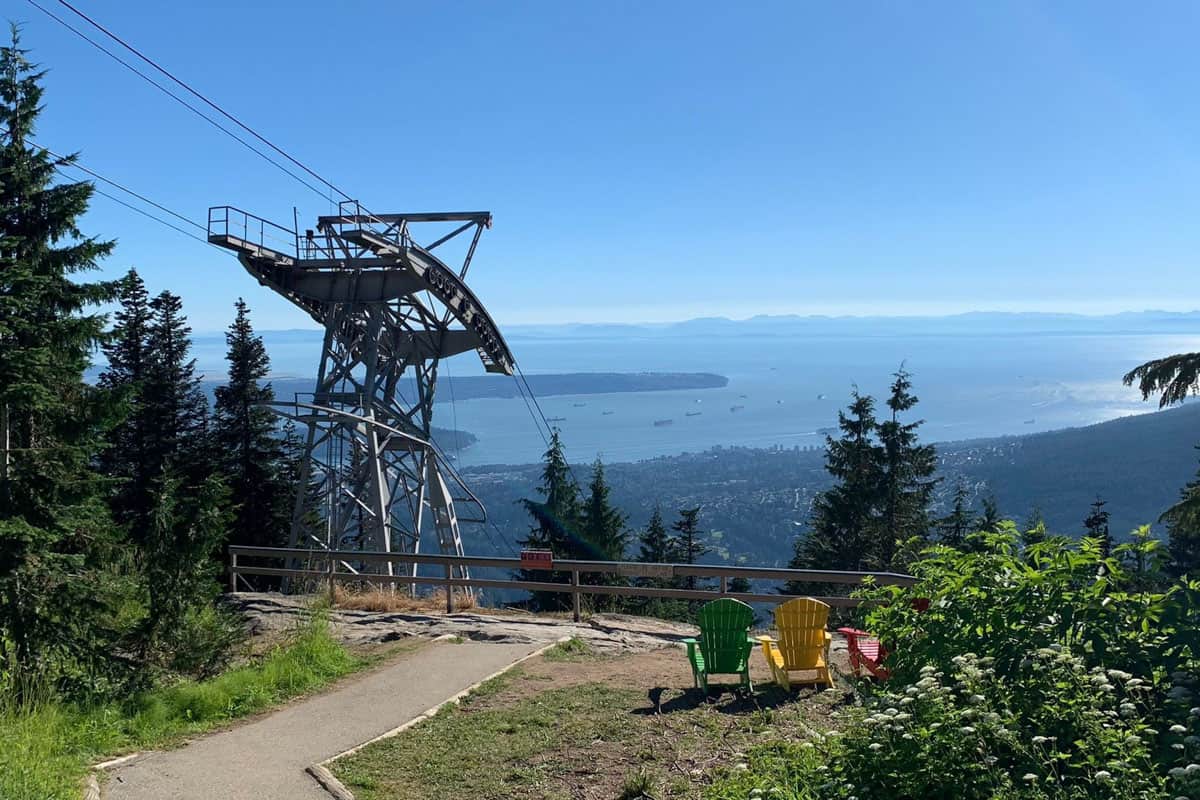 Distance: 1.6 miles/2.6km; point to point
Elevation: 771m/2529ft
Difficulty: Hard
The Grind is a tough Vancouver favorite and a staple workout hill for locals. Mother Nature's Stairmaster takes you straight up the face of Grouse Mountain.
The trail is made up of rocks, roots, and wooden steps and is split into quarters, so you know just how far you've made it. Once you reach the top, you've earned bragging rights for completing The Grind and are rewarded with beautiful views.
Note: This hike is only one way. You will need to book a ride back down on the Grouse Mountain Resort Skyride before starting the hike.
13. Whyte Cliff Park
Distance: 0.4miles/0.8km loop
Elevation: 18m/59ft
Difficulty: Easy
Whytecliff trail is an easy hike that is perfect for hikers of all ages and skill levels. This well-maintained trail brings you around the whole park to see beautiful mountain views and beaches.
This trail can be finished quickly, so it is easy to do multiple hikes in the park. Unfortunately, this hike is not dog friendly, and with limited parking, it does tend to fill up fast on the weekends. The good news is, this is one of the many Vancouver hikes that are accessible by public transit!
14. Dog Mountain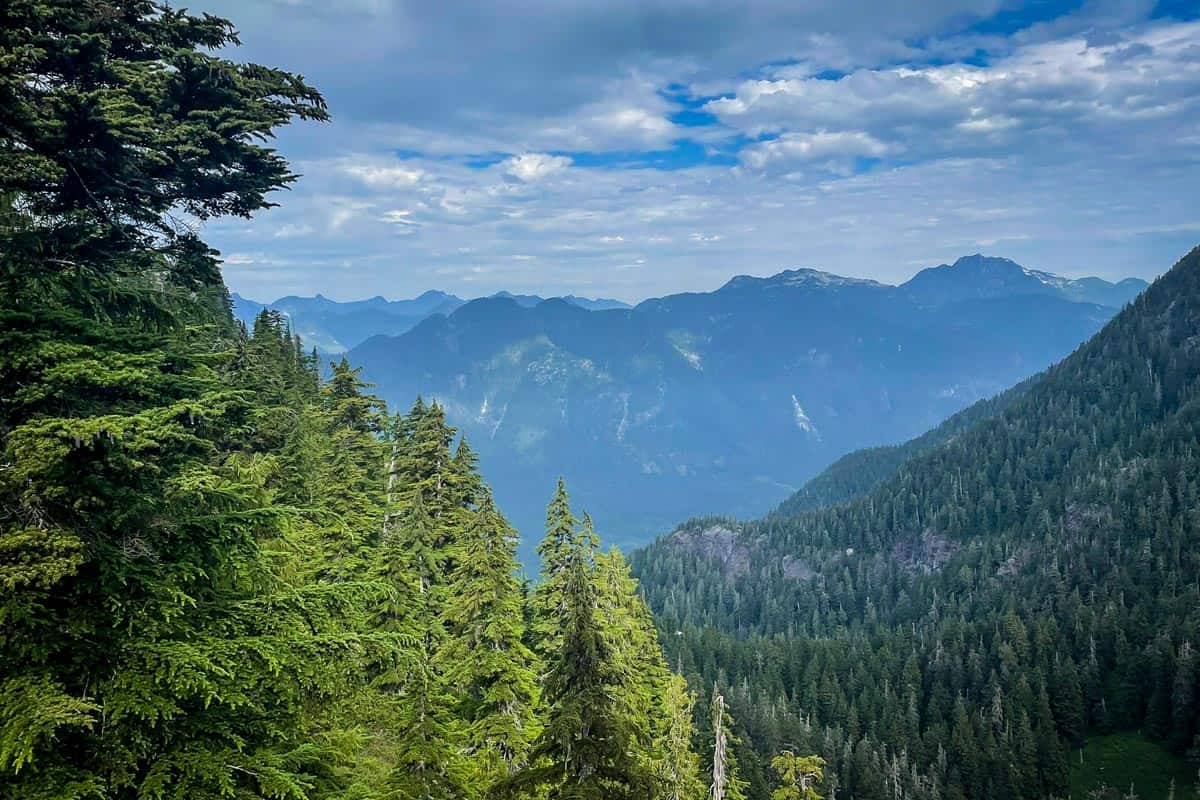 Distance: 3.1 miles/6.1km, out and back or loop
Elevation: 292m/958ft
Difficulty: Moderate
This dog-friendly Vancouver trail is extremely popular with locals on the weekend, so it's good to start early and beat the crowd. The trail is rocky in some sections but otherwise easily hiked.
You can head out to the viewpoint at Dog Mountain and stop there to head back, or continue on to Suicide Bluffs and make it a loop hike. The bluffs open up at two peaks to give sweeping landscape views.
15. Hollyburn Peak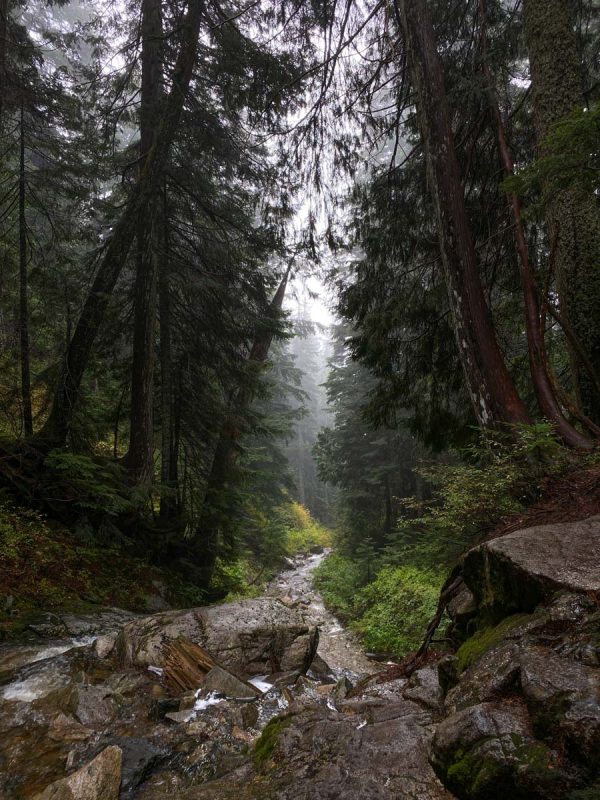 Distance: 5.4miles/ 8.7km, out and back
Elevation: 446m/1463ft
Difficulty: Moderate
Hollyburn Peak is a beautiful and dog-friendly North Vancouver trail. The gradual incline over the course of the trail makes it easy to traverse.
Some sections of the with wood bridges and roots can be slippery in wet weather. It would be helpful to have poles and proper hiking shoes for this reason.
Along the trail, you are surrounded by lush forest and rewarded with a stunning mountain view at the top!
16. Bowen Lookout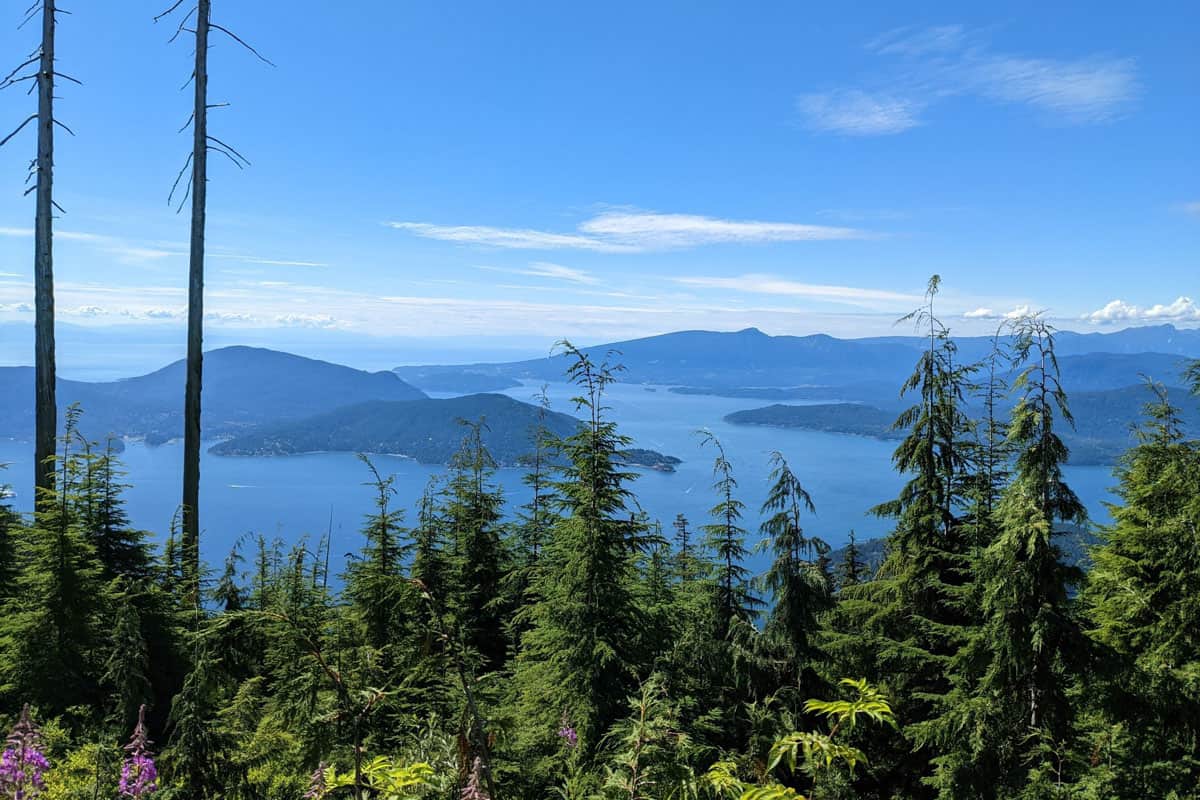 Distance: 1.4miles/2.3km, out and back
Elevation: 110m/360ft
Difficulty: Easy
Bowen Lookout is an excellent alternative to St Mark's summit if you don't want to hike that far or don't have much time.
Starting from the Cypress Mountain Lodge, you climb up the steep ski hill and start the Howe Sound Crest Trail. After a few switchbacks, you should reach a flat section before being rewarded with a nice view of Howe Sound.
The trail is well kept and not very rocky. It can also be a little confusing to know which signs to follow, so using the Alltrails map is a good idea to keep you on track!
17. Goat Mountain and Ridge Extension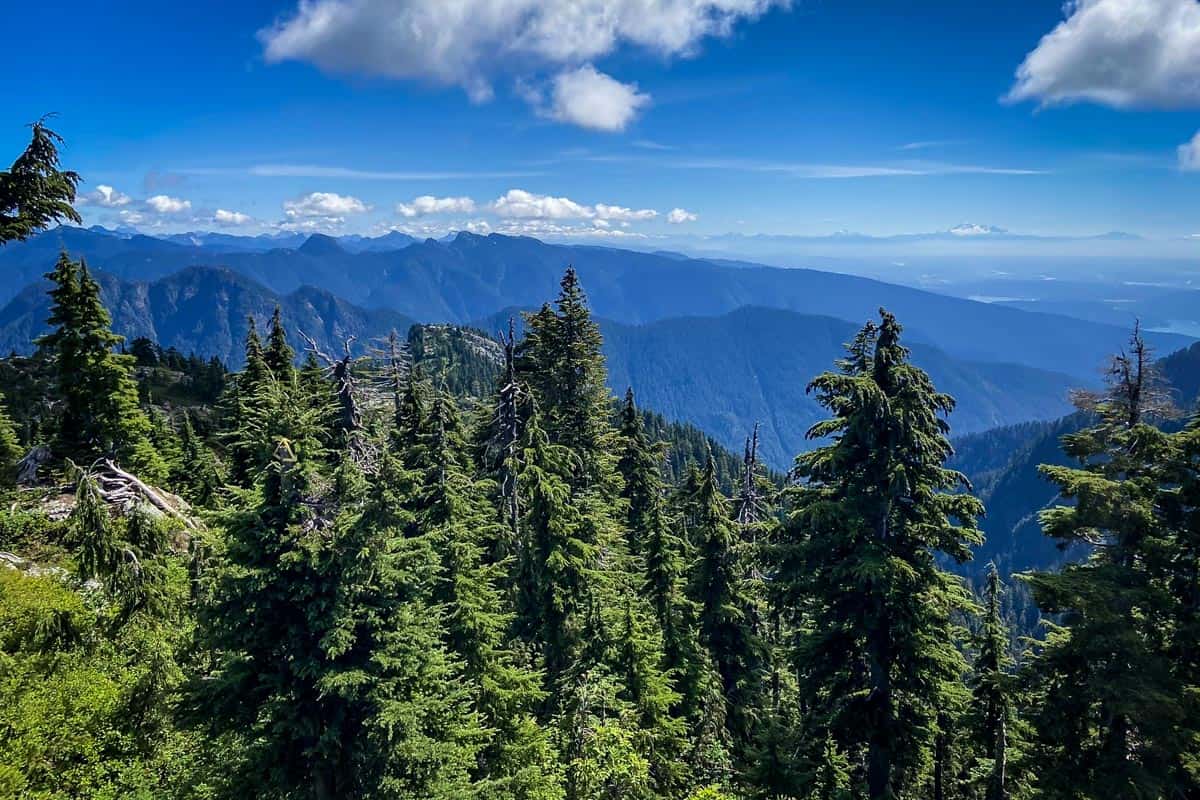 Distance: 6.4miles/10.3km, out and back
Elevation: 654m/2145ft
Difficulty: Moderate
Unlike the neighboring Grouse Grind trail, this hike is dog-friendly and takes you straight up Grouse mountain over varied terrain.
It's recommended for hikers familiar with mountainous terrain as there are some scrambles and chains to reach the summit. There are a few inclines and declines before reaching the peak, but the 360-degree view from the top is worth it!
Note: This trail is not well marked, so it's advised to follow the Alltrails map.
18. Diez Vistas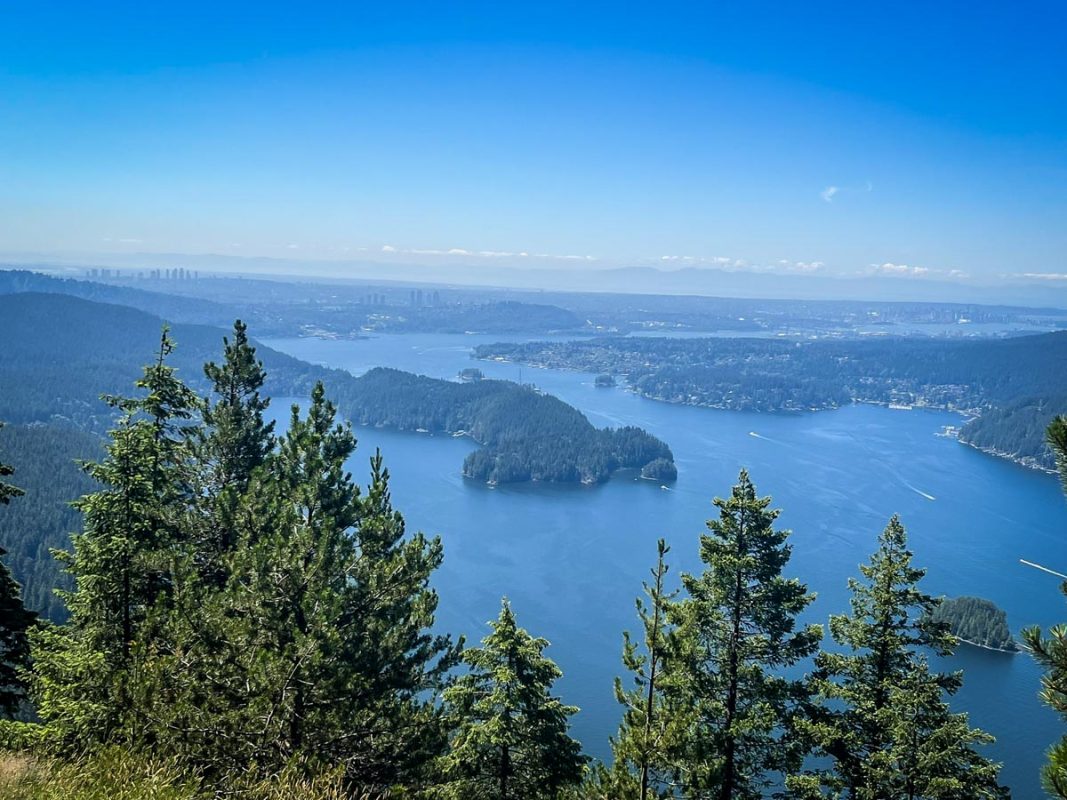 Distance: 5 miles/8.2km out and back
Elevation: 545m/1788ft
Difficulty: Hard
Diez Vistas is usually done with Buntzen Lake as a loop but can be done on its own for a shorter hike! This hike will bring you up to Vista #1 (which is actually the 5th vista along the trail) and the trail's highest peak on Sunrise Hill.
The trail is quite steep and challenging as it goes on, with rooted and rocky sections being common. It's recommended to bring sturdy shoes and gloves for the climb down.
This trail is one of the less-trafficked, dog-friendly Vancouver trails.
19. Upper Gold Creek Falls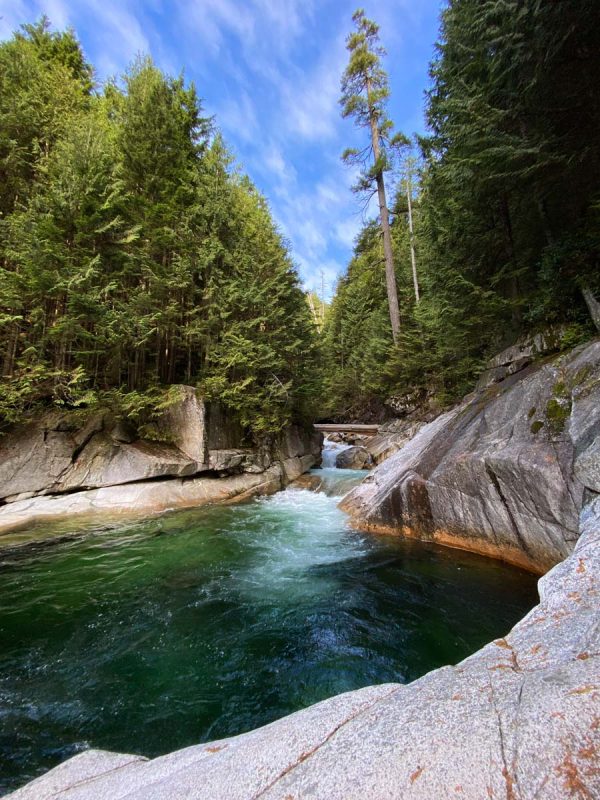 Distance: 6.5miles/10.5km loop
Elevation: 392m/1282ft
Difficulty: Moderate
This dog-friendly trail in Golden Ears Provincial Park is perfect for a view of the vast canyon below and a cascading waterfall.
The trail starts off wide, heading through the forest where you can catch glimpses of the mountains through the trees. It then narrows and heads up over some steep and rocky terrain.
Showcasing a great mix of all kinds of terrain, this Vancouver trail can be popular amongst dog walkers in the summer. Due to crowding at Golden Ears, it's best to arrive as early as possible.
20. Baden Powell Trail (Horseshoe Bay to Deep Cove)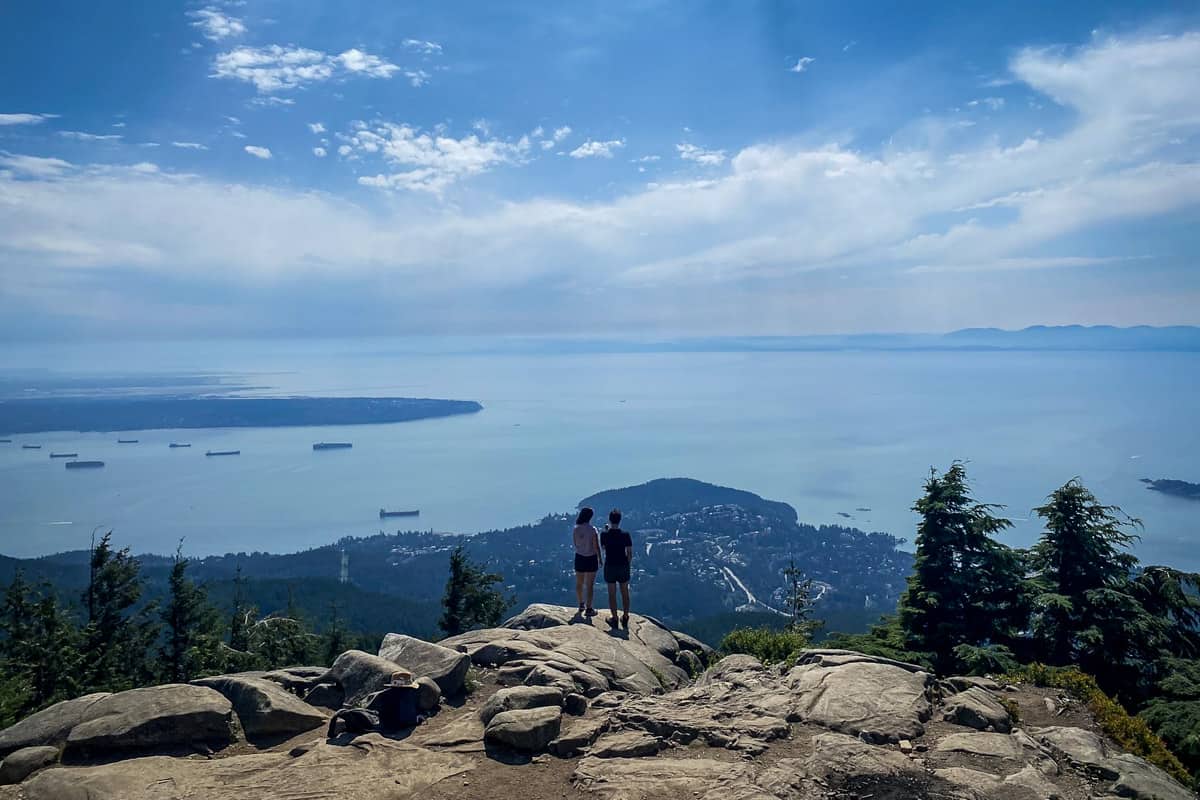 Distance: 28.2miles/45.5km
Elevation: 2448m/8031ft
Difficulty: Hard
Completely immerse yourself in Vancouver's nature as you backpack your way over this forested mountain trail. On average, this trail takes 16 hours to complete and involves rock screes and backcountry camping.
While the entire trail is only for serious hikers, certain sections will have some day hikers as the Baden Powel trail connects many scenic trails and natural areas in the North Vancouver region.
Ensure you have experience with backpacking and comfortable gear suited for your needs before attempting this strenuous hike. This round up of the best backpack brands for hiking is a great place to start.

What to pack for hiking in Vancouver
Ensure that you are prepared for anything nature throws at you while hiking in Vancouver, and pack these items before you hit the trails!
Bug spray
Bear spray
Sunscreen/ Hat
Water
Snacks
Rain jacket
Comfortable hiking shoes
Camera
Alltrails Pro or offline Google Maps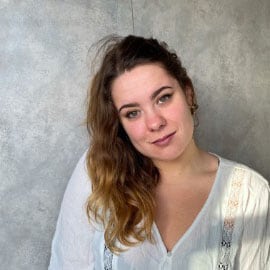 About the author
Amanda is a travel blogger and freelance writer based in Vancouver. In her spare time she enjoys finding hidden gems and planning budget-friendly trips. She's also a regular contributor at FidisTravel.

You may also like…
Save this article on Pinterest for later!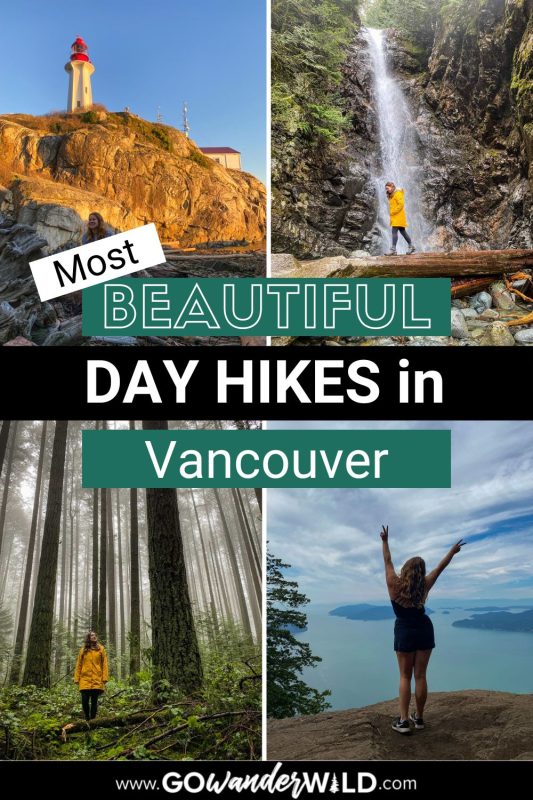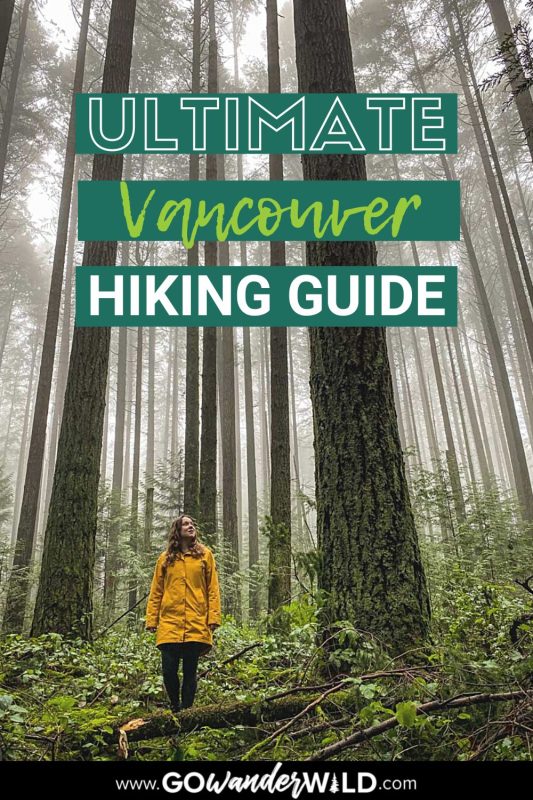 We want to hear from you!
Have you done any of the Vancouver hikes on this list? What was your experience like? Which is the hike you're most excited to add to your bucket list? Comment below and let us know!