Located right off Highway 101, Thor's well is one of the most interesting and fascinating stops on the Oregon Coast. Use this guide to Thor's Well Oregon to plan an epic stop on your coastal road trip.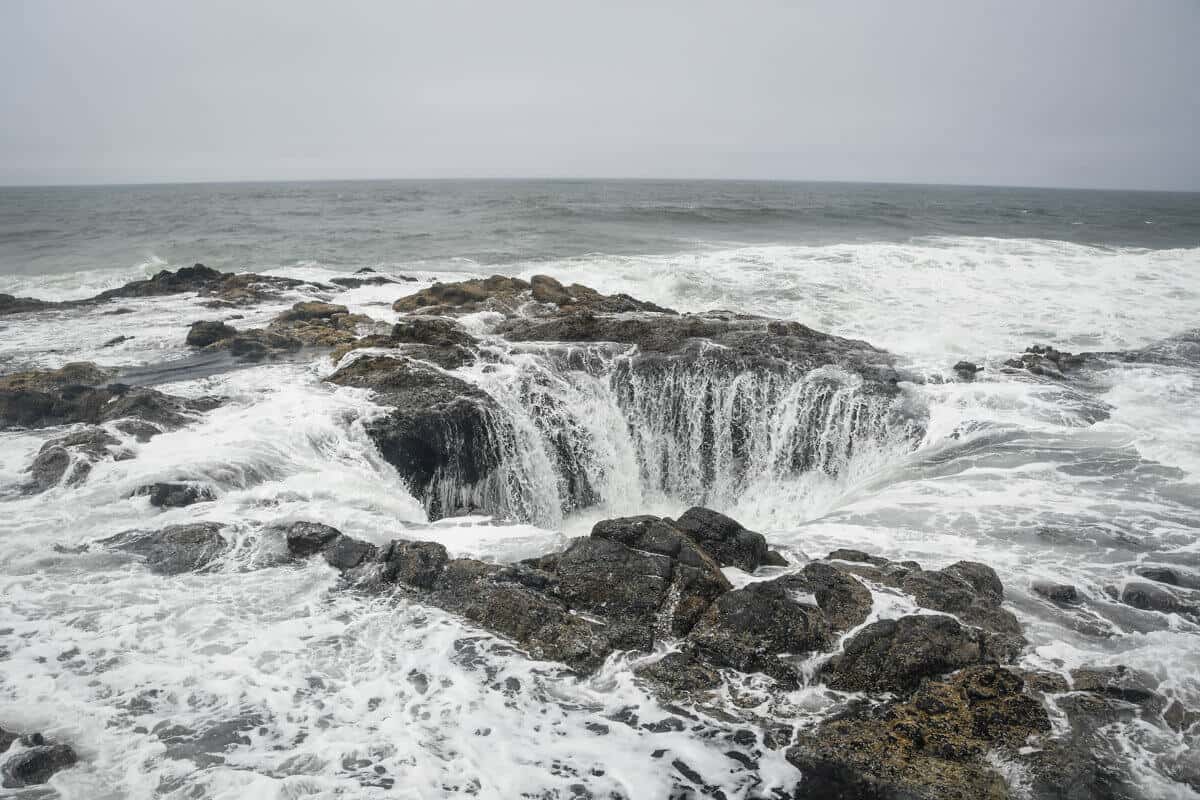 Whether you're heading out for an adventurous weekend getaway, driving Highway 101, or road tripping the Oregon coast, Thor's Well is a stop worthy of your bucket list.
Just a short drive south of Yachats in the Cape Perpetua Scenic Area, you can watch the Pacific Ocean be swallowed by this seemingly bottomless chasm right against the coastline.
After millions of years of erosion, the roof of this sea cave collapsed and what's left is what locals consider "the drainpipe of the Pacific". As the tide rolls in, watch Thor's Well fill up and spew geyser-like ocean sprays before the water drains into the well. As the water recedes back into the ocean, visitors can't help but be consumed in awe over this natural wonder.
But the adventure doesn't stop there. The Cape Perpetua Scenic Area is home to many other famous hikes, scenic areas, lighthouses, and small coastal towns that you could easily spend a week exploring them all.
In this guide to Thor's Well Oregon, get all the best insider tips to make the most out of your visit to one of the most popular spots on the coast and other things to do in the area.
How to get to Thor's Well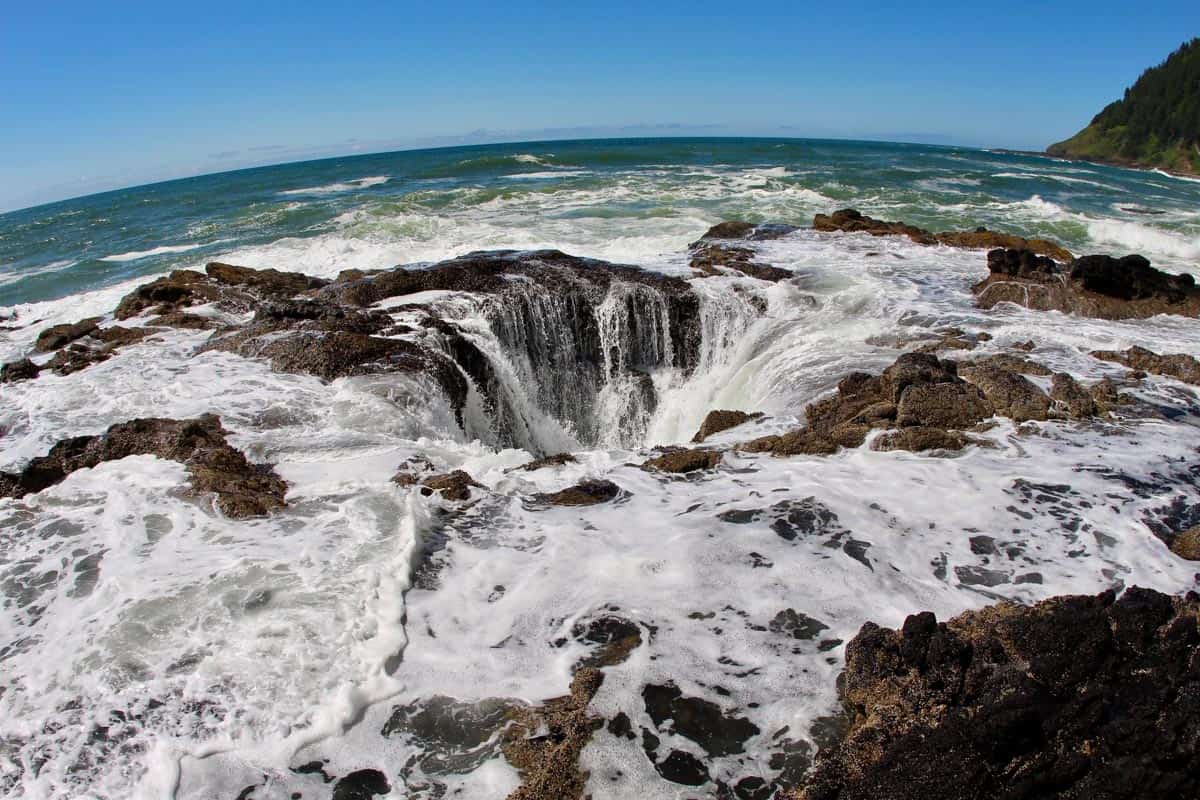 Thor's Well is right smack dab in the middle of the Oregon Coast, just 3-miles south of Yachats in the Cape Perpetua Scenic Area.
The best way to get to Thor's Well is by parking at the Cape Perpetua Visitor Center and taking the short, 10-15 minute trail down to the coast. The short trail crosses the 101 and then you can link onto the Captain Cook Trail or walk directly to the Thor's Well Trailhead.
If you don't feel like walking that far, there is a smaller parking lot closer to Thor's Well. Keep in mind that this lot is pretty small and fills up pretty fast.
Cape Perpetua Parking Location: Google Maps
Best time to visit Thor's Well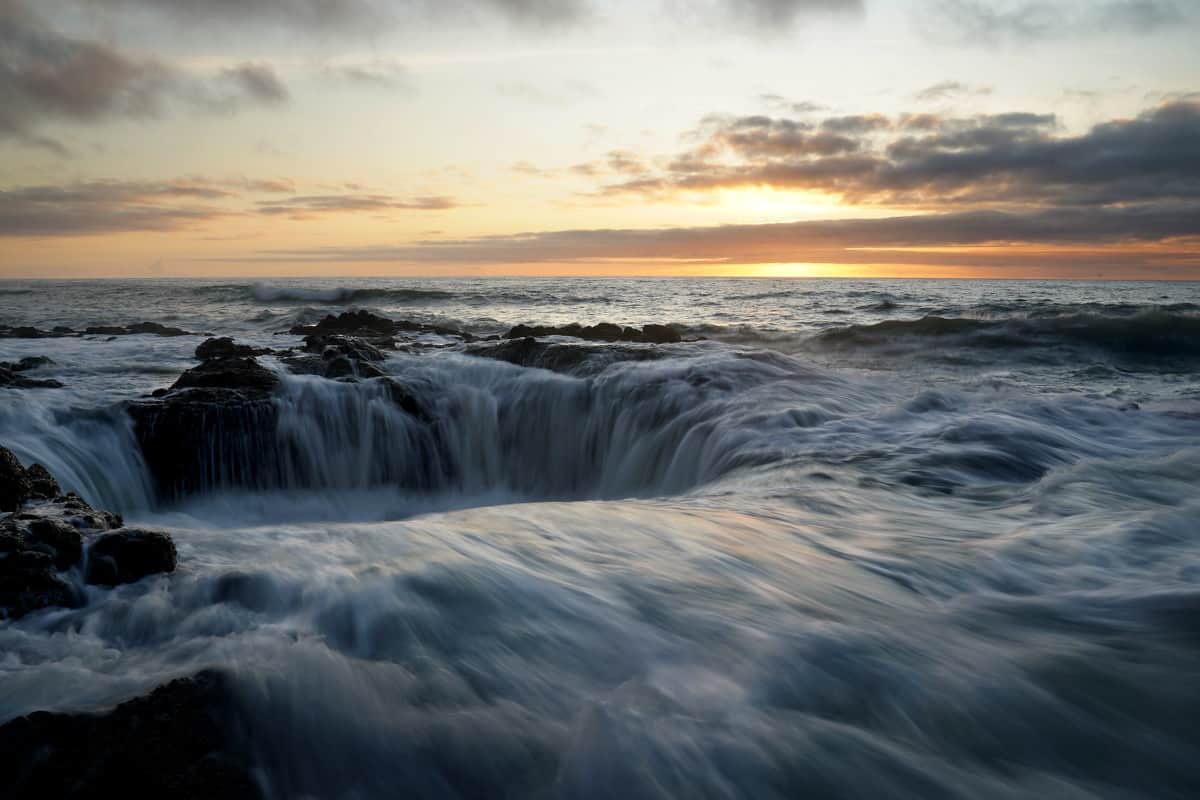 Thor's Well puts on its best show during high tide. A good rule of thumb is to go an hour before or after high tide so you can watch the well fill up as the tide comes in.
If you're really adventurous, head out before a storm rolls in for a spectacular show, but be extra cautious on the beach if you're venturing out there in poorer conditions.
For a safer visit, shoot for high tide on a clear day, or consider visiting during low tide. High tide is more impressive but each offers something different, so consider making time to see both. Low tide is a great time to take advantage of the calm ocean to explore the tide pools along the cape.
While visiting, be extra cautious of sneaker waves, also known as sleeper waves. These occur when many smaller waves sync together to form a large wave that is a lot larger than any of the average waves happening in the area.
Tips for visiting Thor's Well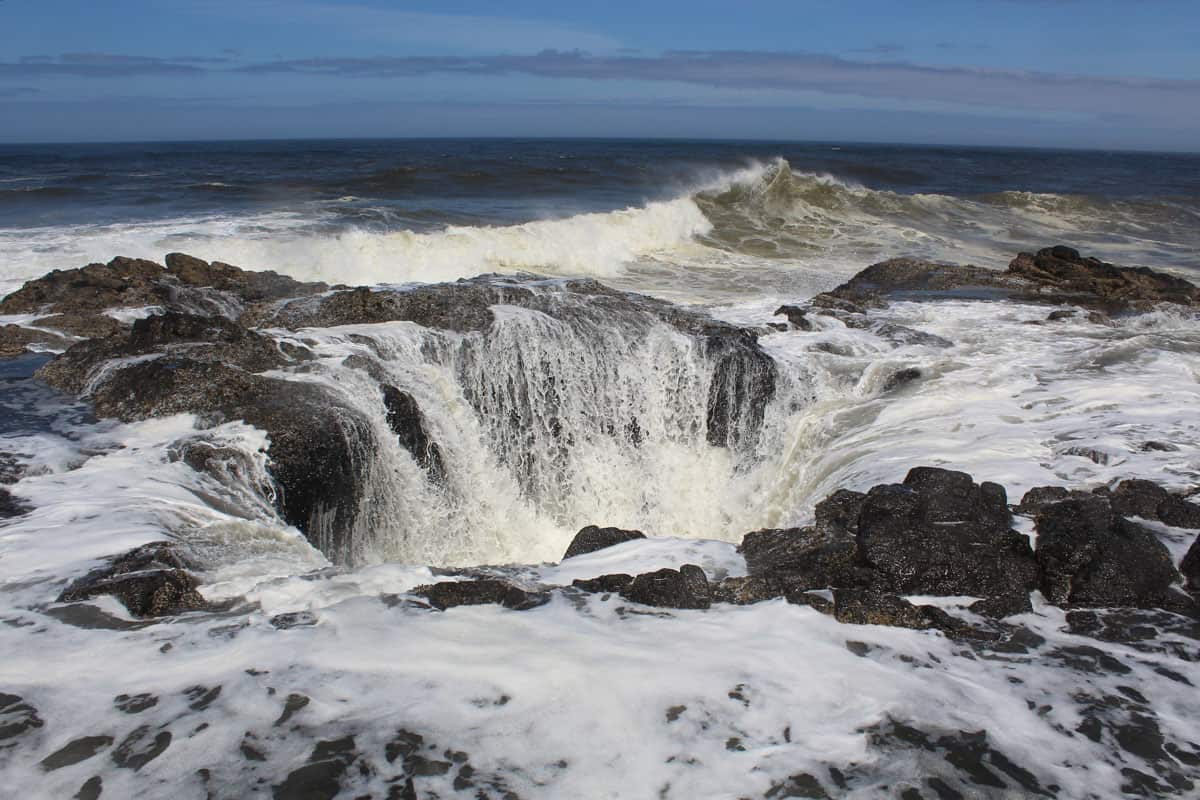 Wear sturdy and waterproof shoes. The short hike to Thor's Well takes you across volcanic rock that is uneven and covered in moss in some areas. Sturdy, waterproof shoes with grip are ideal so you can keep your feet dry and cross the cape with ease.
Check the tide chart and weather before you go. For your safety, it's crucial to keep both of these things in mind before you head out.
Expect to get wet. Thor's Well shoots up water out of the chasm and you'll likely get a splash, especially during high tide. Consider bringing a waterproof rainjacket and wearing waterproof shoes to help keep dry.
Visit other scenic spots along the trail. The half-mile trail to Thor's Well includes other sites like Cook's Chasm and Spouting Horn. View the trail notes and don't miss stops on the way!
Know what to expect. Photos of Thor's Well are often misleading. The well is only about 10-feet across, a lot smaller than most people anticipate, but note it's still worth seeing its impressive and dramatic geyser-like show.
FAQs about Thor's Well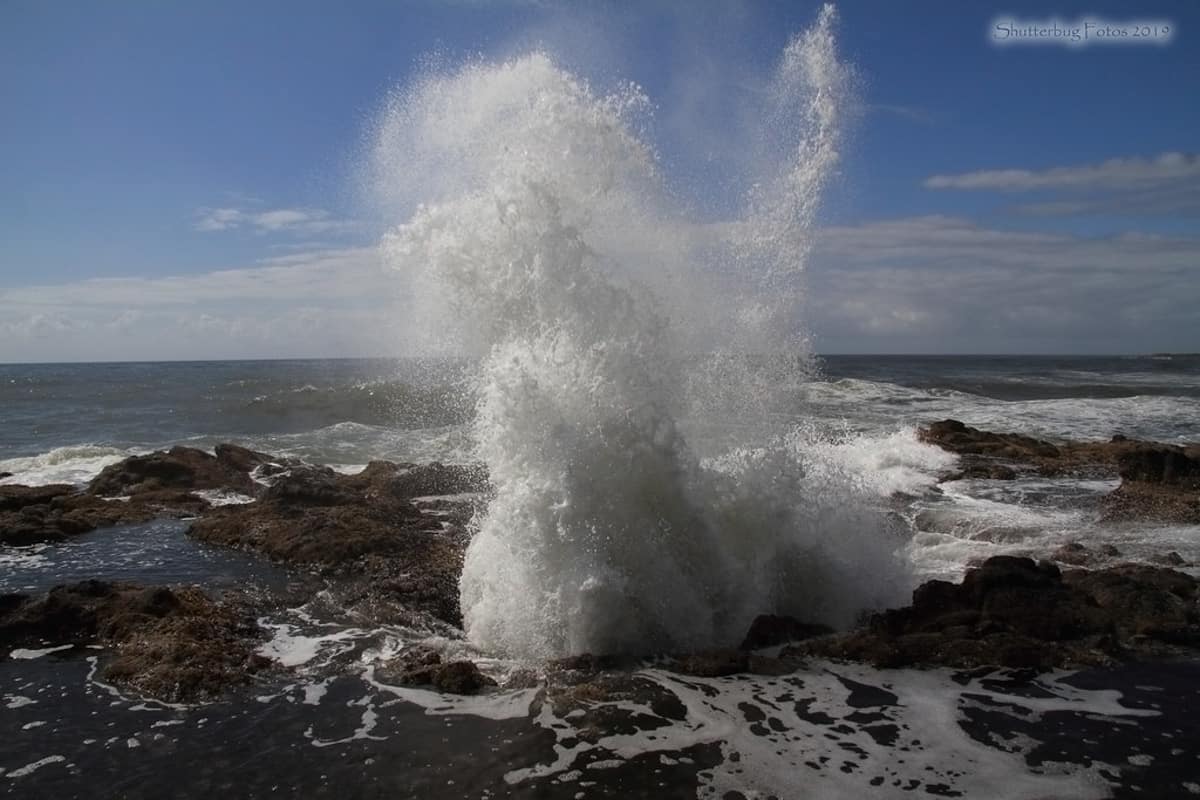 Once you're witnessing the mighty pull of Thor's Well, you can't help but wonder about this fascinating coastal phenomenon. Keep these interesting facts in mind as you hike out to see this wonder.
How does Thor's Well work?
Often called "the drainpipe of the Pacific" and even the "gate to Hell", this well lined by volcanic rock empties and refills with water as the tides come and go. As quickly as it fills up, it drains away and the water appears to be sucked into the center of the earth, hence the intense nicknames.
Thor's Well was was actually said to have began as a sea cave and over time the roof collapsed, leaving the phenomenon we can admire today. When the water fills to the top it fizzles and sprays over the rocks until it's sucked back down into the well, making it appear that the Pacific Ocean is constantly being swallowed into the well.
How deep is Thor's Well?
Thor's Well is around 20-feet deep and is either empty from low tide, or completely full during high tide. Just before and just after high tide, you can watch the chasm dramatically empty and refill from the frothy and dramatic waves of the Pacific.
Why is it called Thor's Well?
Thor's Well was named after the norse god of Thunder, Thor. The legend is that Thor created the sinkhole after striking the earth.
Can you swim in Thor's Well?
No. You should not attempt to take a plunge in Thor's Well as the tides are strong enough to take a boat down with it. For your safety, stay at least a few yards when watching and photographing the well.
Is Thor's Well safe?
Yes, but there are safety precautions you must take when visiting Thor's Well in Oregon. Especially during high tide, you want to make sure you keep at least a few yards between you and the well and don't stand between Thor's Well and the ocean.
Here in the Pacific Northwest, our motto is "never turn your back on the ocean". As long as you keep your distance and be mindful, you'll have an amazing visit to Thor's Well.
Other places to visit near Thor's Well
Thor's Well is close to many other amazing stops on the Oregon Coast. Consider exploring these other stops while you're in the area or add them to your Oregon Coast road trip itinerary!
Cape Perpetua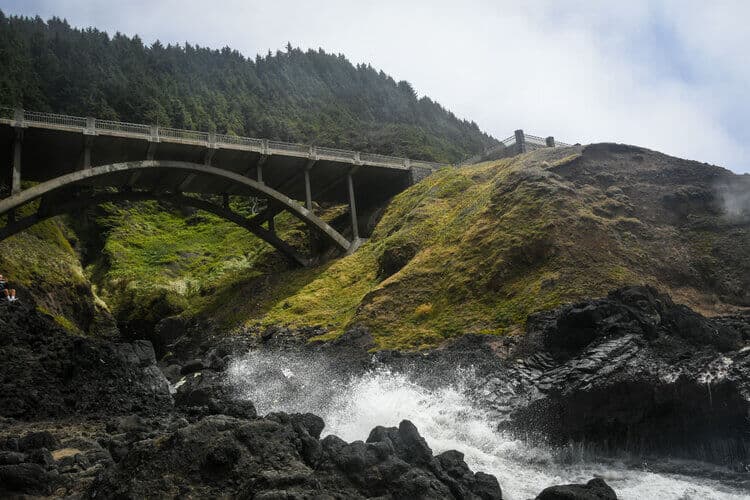 The Cape Perpetua Scenic Area is filled with some of our favorite things to see and do along the Oregon Coast. Just two miles south of the charming coastal town Yachats, this scenic area has over 26-miles of hiking trails and viewpoints you don't want to miss. This area encompasses over 2,700 acres of coastal habitat that is protected for it's unique ecology.
From Thor's Well, these other spots are only a short ways away: Spouting Horn, Devil's Churn, Captain Cook Point, Cape Cove Beach, and the Cape Perpetua Marine Garden.
Devil's Churn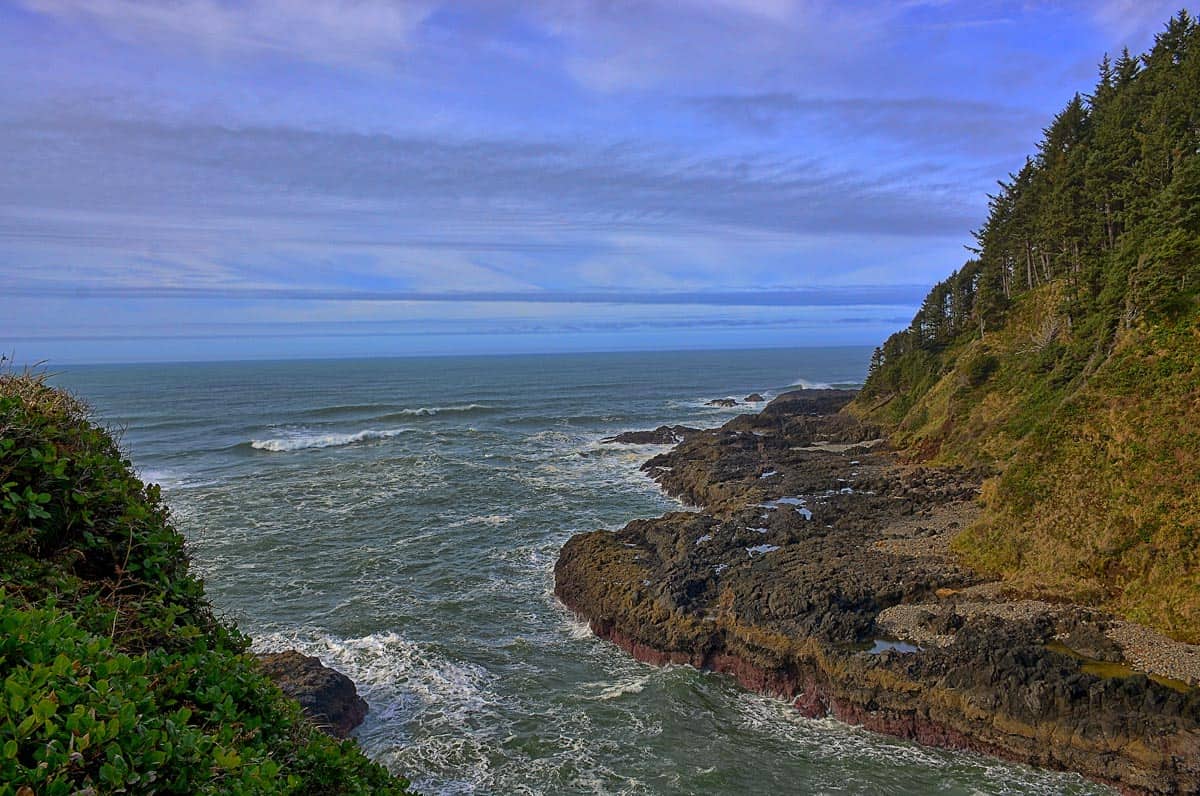 Located in the Siuslaw National Forest, Devil's Churn is another bucketlist stop for your trip on the Oregon coast. Although a similar phenomenon to Thor's Well, Devil's Churn is a small inlet of the Pacific Ocean that was once a sea cave. As the waves of the Pacific crashed into the basalt shoreline, the cave formed and the roof eventually collapsed. As the tide rolls in, it can shoot water hundreds of feet in the area once it slams against the edge of the churn.
To access Devil's Churn, first make sure you have a Northwest Forest Pass, then access it from Thor's Well on the Cape Cove Trail or from the smaller parking area off Highway 101.
Yachats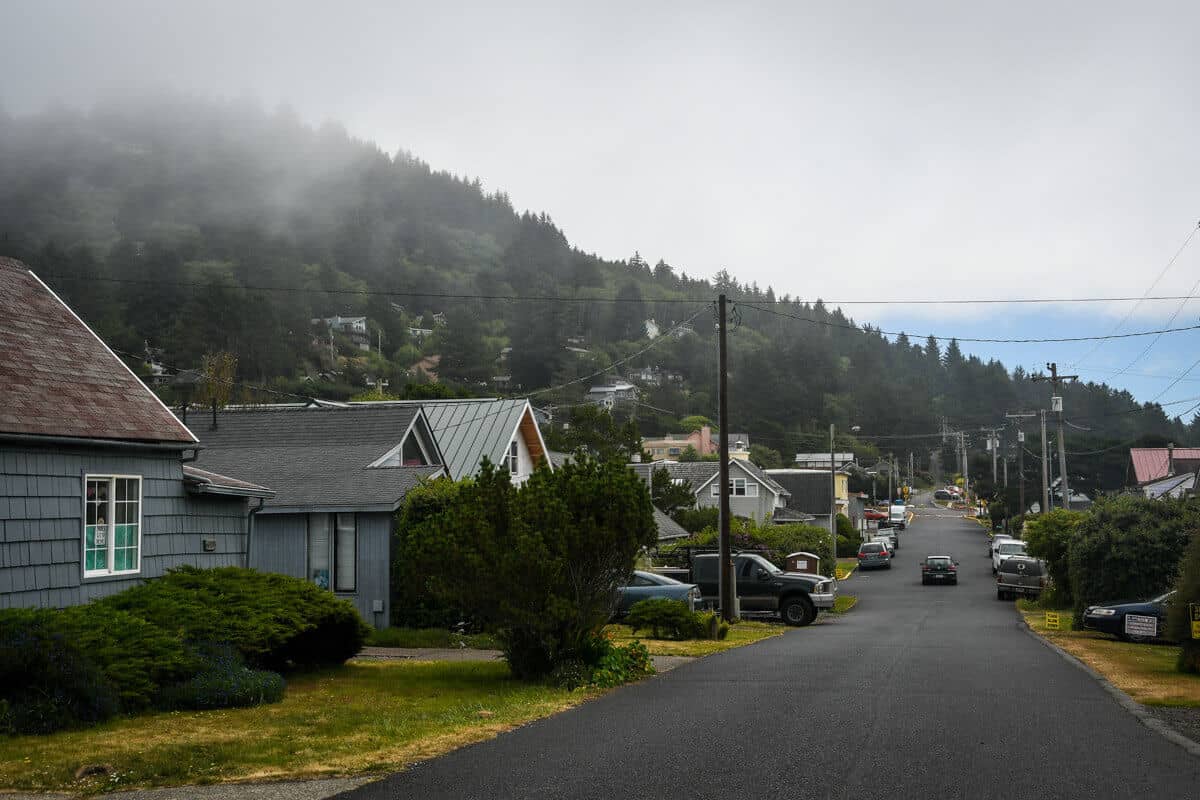 This charming and sleepy coastal town is sure to steal your heart whether it's your first, third, or tenth time visiting. It sits along the rugged coastline and is surrounded by Siuslaw National Forest, and it's chock-full of amazing things to do and explore in the area.
It was even named one of the "Ten Coolest Small Towns in the USA" by Budget Travel Magazine and one of Frommer's top 10 destinations in the world!
Whether you pick up a fresh pint at a local brewery, explore the scenic hiking trails, take a relaxing stroll by the ocean, or poke around the tidepools, this small town will have you eager to see what other Oregon coast towns have to offer.
Heceta Head Lighthouse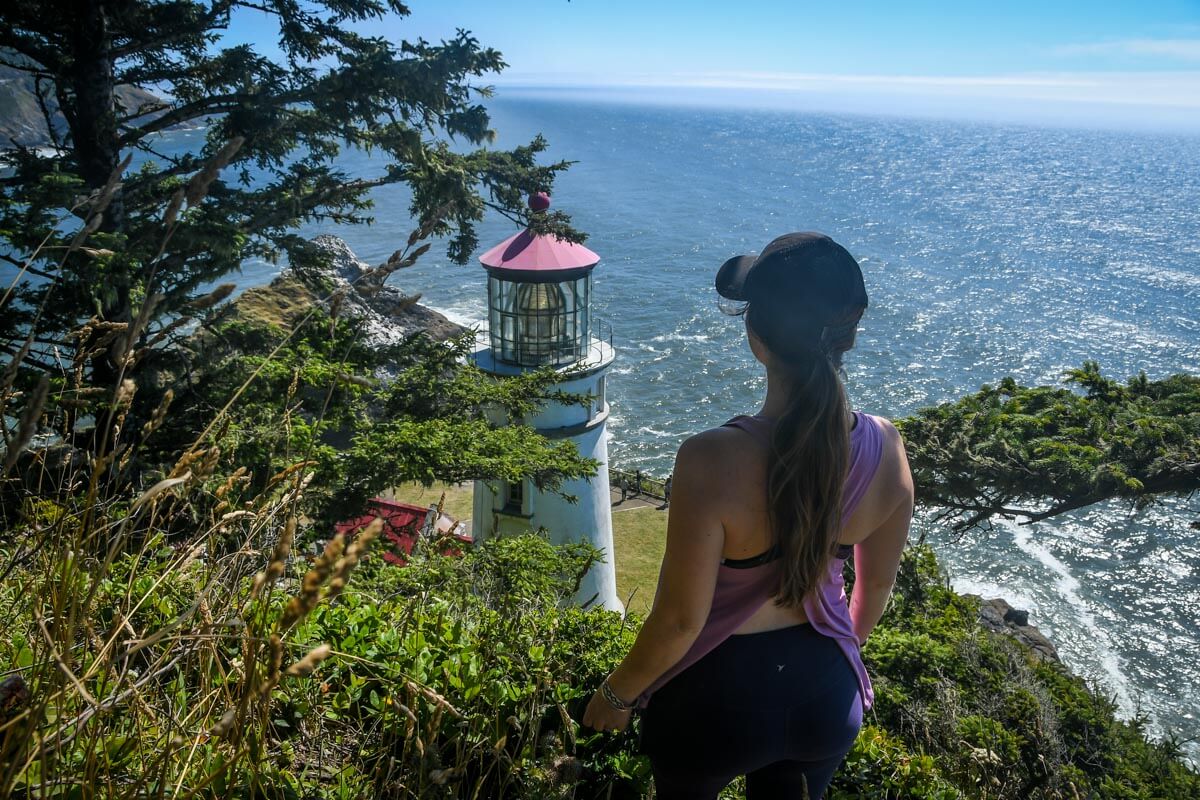 There are many photo-worthy lighthouses on the Oregon coast, but if you can only visit one, it should be Heceta Head. It was first illuminated in 1894 and its beacon is not only one of the last remaining on the Pacific Coast, but it's known as one of the strongest lights on the Oregon coast.
The lighthouse is easily accessed on a short, easy trail just off Highway 101. We loved seeing it up close, but if you follow the trail that goes right just before the lighthouse, you can get an even better view of it with the ocean in the background. From there, you can either turn around and head back to the trailhead, or you can continue up this trail and visit Hobbit Beach.


You may also like…
Save this article on Pinterest for later!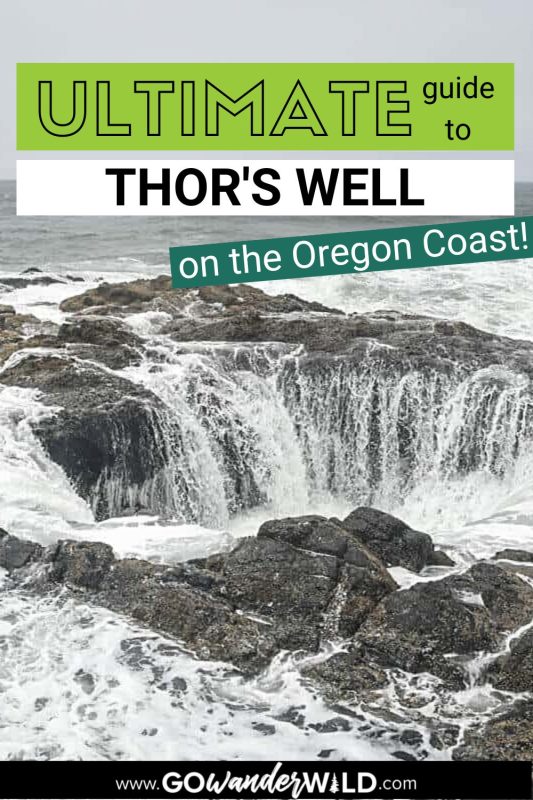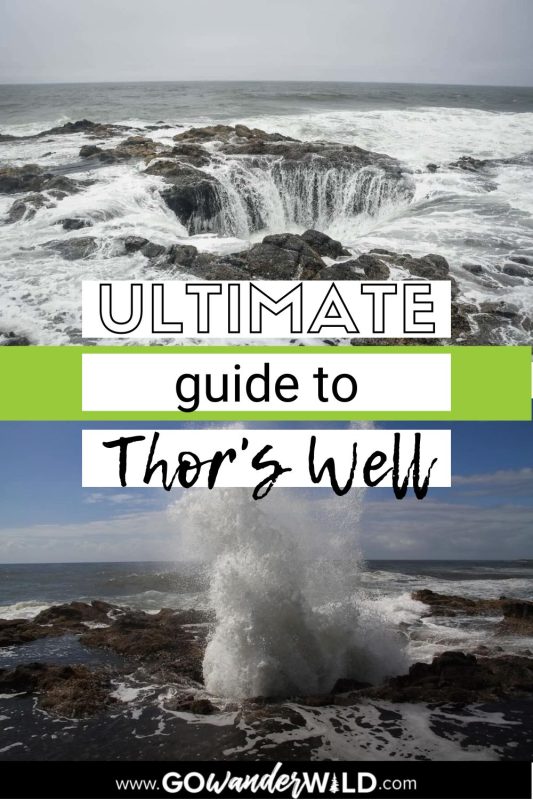 We want to hear from you!
Are you planning a trip to visit Thor's Well Oregon? Let us know if you have any other questions in the comments below!