Utah's Bryce Canyon National Park boasts incredible red rock spires and hoodoos, panoramic vistas, and unforgettable hiking. Although small compared to other parks, it can be difficult deciding which trails to explore, so we've narrowed down the best hikes at Bryce Canyon.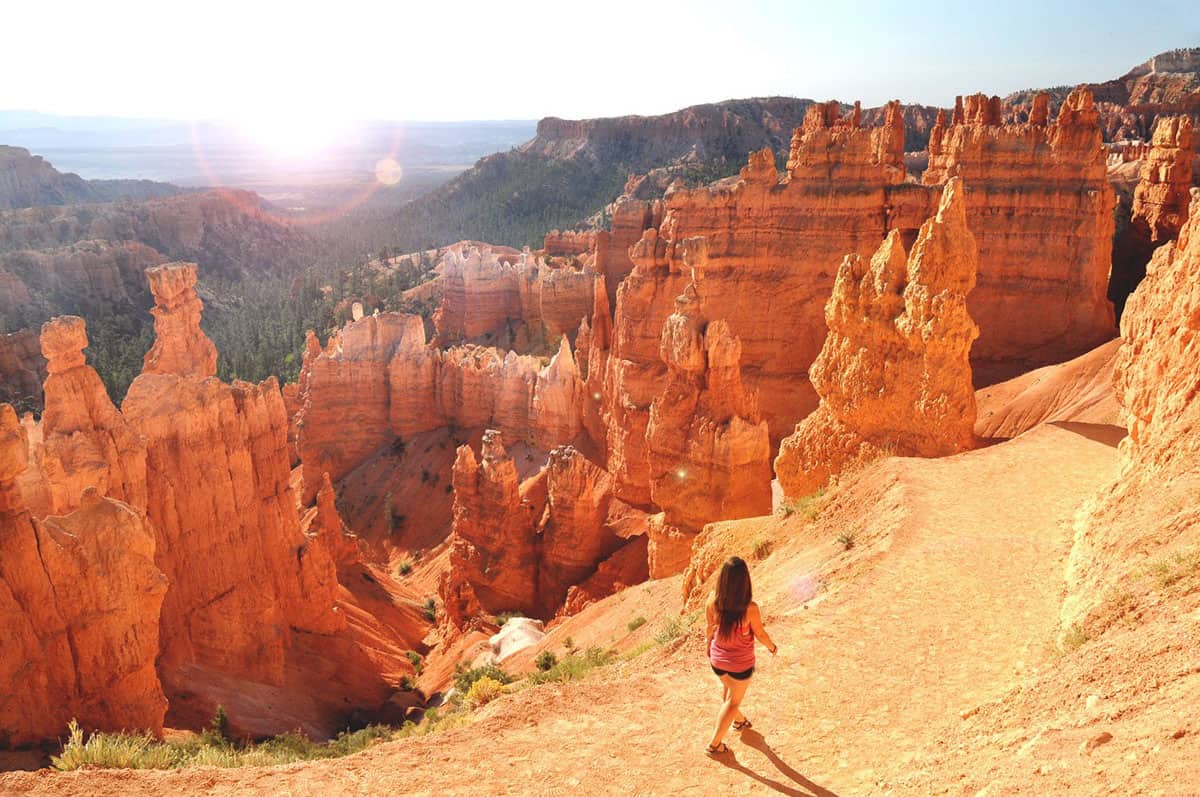 Utah's spectacular scenery is incredibly unique, often resembling another planet more than our own. This is especially true in Bryce Canyon National Park, which manages to pack an especially magical punch into a rather small area.
In fact, some of the park's most impressive views hardly require a hike, with many of the best viewpoints just a stone's throw from the parking lot!
To truly appreciate the geological wonders here, we recommend lacing up your boots and hitting some of the best hikes at Bryce Canyon, descending into the hoodoo-filled wonderland to marvel at natural surprises around every corner.
Bryce Canyon is easy to navigate, with one main road following the super-scenic canyon rim.
We recommend you drive it in full and hike in different sections of the park — each one offers a totally new perspective!
The shuttle is a great option here, too, whether you're hiking point-to-point or simply don't want to contend with parking.
Best time to visit Bryce Canyon National Park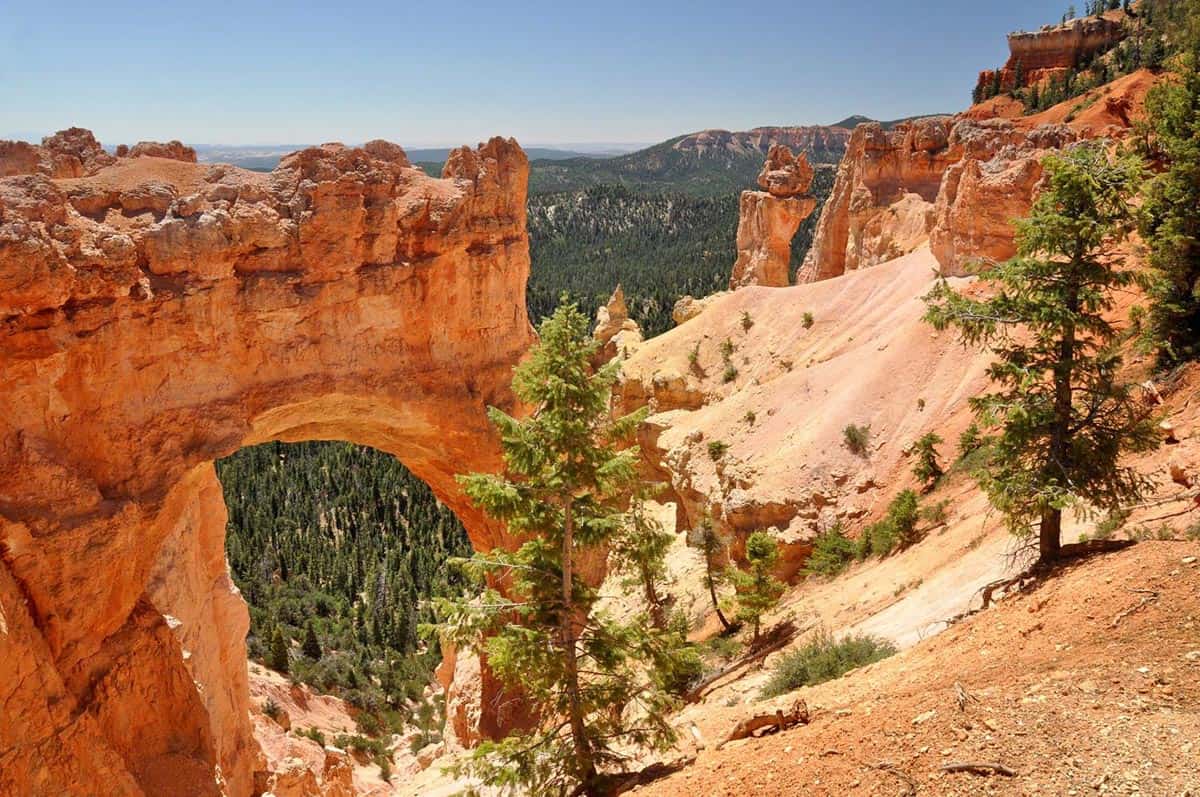 Bryce Canyon's climate is one of contrasts — with a high elevation of 9,100 feet, winters are cold and snowy, and summers are blazing hot.
To fully appreciate the park's geology and hit all the best hikes, fall and spring are the best times to visit. Crowds are smaller, temperatures are pleasant, and camping is accessible. Keep in mind that at this elevation, cold fronts can sneak in even during warmer months!
Trails may sometimes close intermittently between October and April, but the sight of the bright orange and red hoodoos covered in snow makes it worth chancing a cold front. And unlike other parks, some of the best views here are easily accessible by car, so don't dismiss Bryce in winter.
While summer brings a lot of visitors, we think it's the least pleasant season. It gets stiflingly hot, and with heavy crowds and little shade, it's hard to find relief.
Psst! Did you know Bryce Canyon is one of the best national parks to visit in winter?
America the Beautiful Annual Park Pass

If you're planning to visit more than one of Utah's "Mighty 5" National Parks, we'd highly encourage you to look into getting an annual park pass. At $35 per vehicle, entering Bryce Canyon along with other national parks in the U.S. can get expensive.
For just $80 per year, you can purchase the America the Beautiful park pass. This pass grants you free access to all of the national parks. Plus it also covers your entrance to over 2,000 natural, historical, and recreational sites across the United States.
If you still need convincing, check out our article: America the Beautiful Annual Park Pass: Is it Worthwhile?
Psst! Check out some of our other favorite national parks on the west coast & Western U.S. that make great hiking destinations.

Best day hikes at Bryce Canyon National Park
There are seemingly endless hikes to choose from in this super unique national park, but here are some of the top single-day trails to put on your itinerary for Bryce Canyon.
1. Queens Garden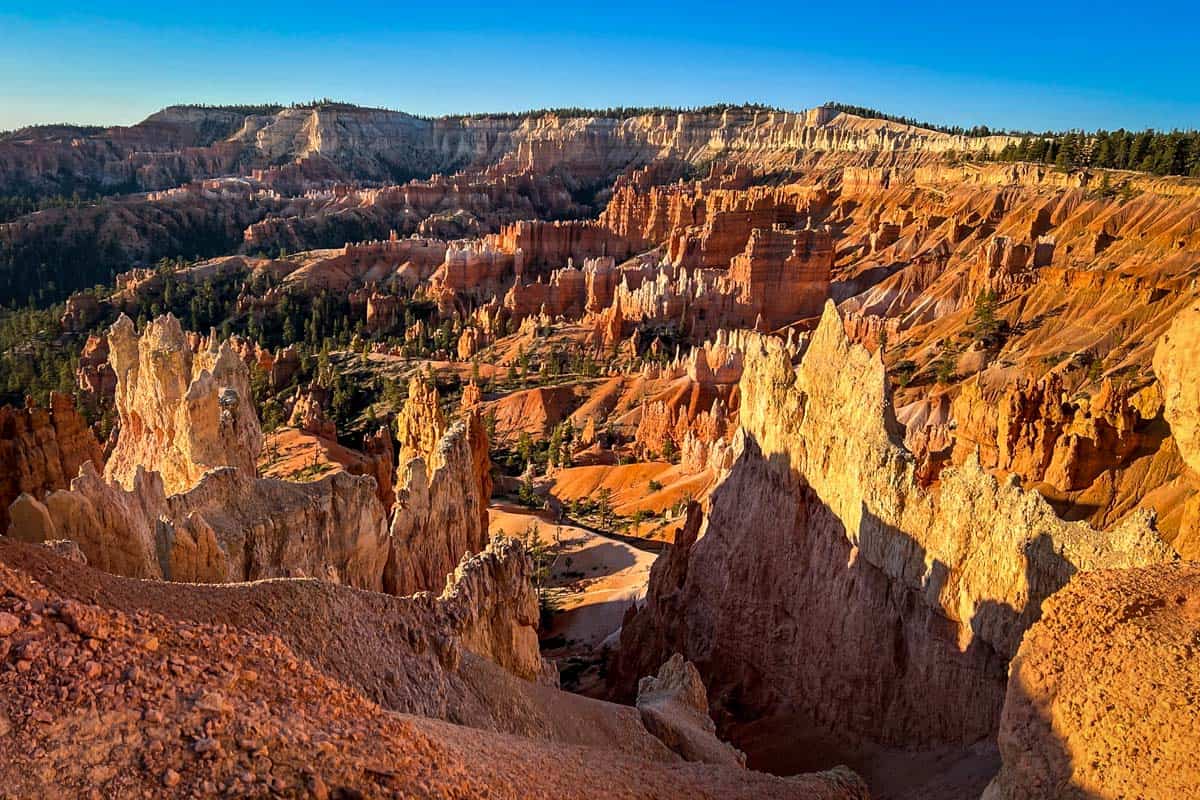 Looking for a quick, scenic introduction to Bryce? Queens Garden, one of the best hikes at Bryce Canyon, takes you right into the geological magic. This short trail begins and ends at Sunset Point, one of the park's most dramatic viewpoints.
After offering a sweeping view of the hoodoos from above, this trail lets you explore them up close. Natural arches, slots, and precariously-balancing rocks — oh my! It's an easy descent on the way in, but remember, that means a climb coming out!
Psst! Check out our ultimate Zion to Bryce Canyon National Park itinerary to plan an epic road trip around these two incredible national parks.
2. Navajo Loop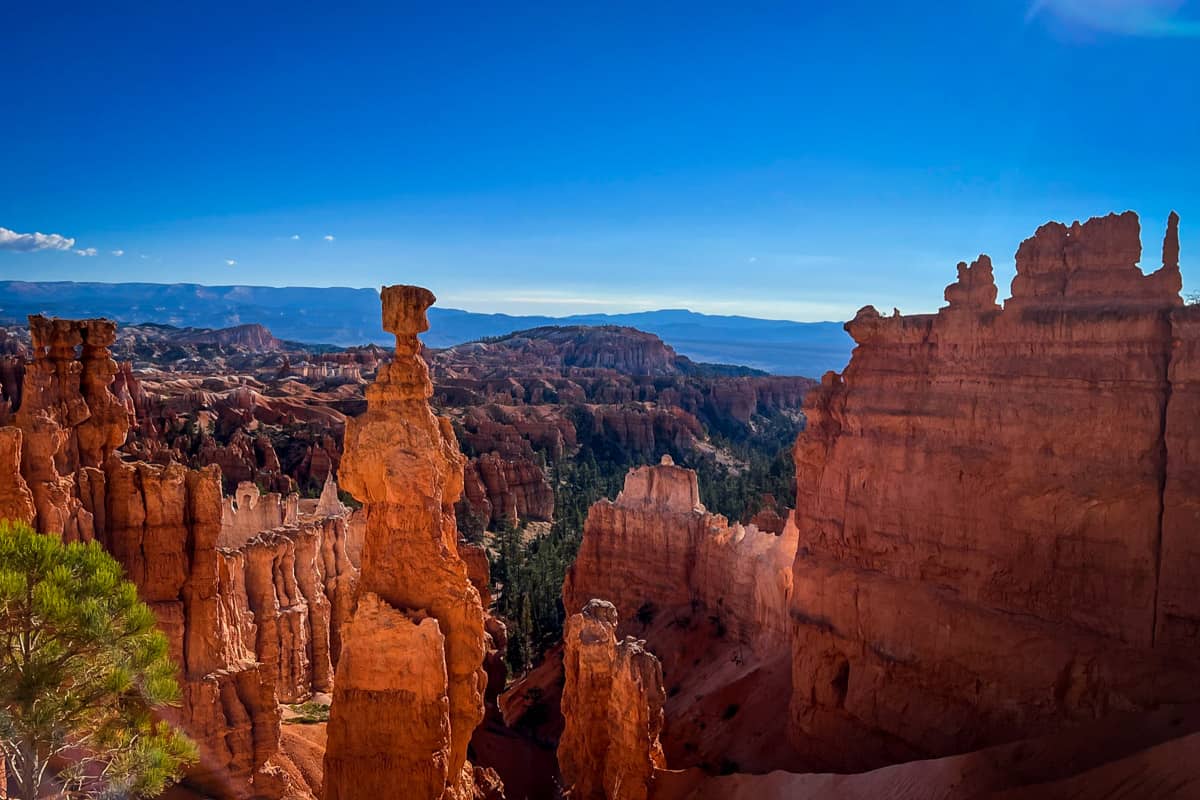 Like Queens Garden, Navajo Loop starts from Sunset Point and descends into the hoodoos. The path down involves a set of incredibly photogenic switchbacks, making this one of the best hikes at Bryce Canyon in and of itself!
The wildly popular trail passes several well-known landmarks, including Wall Street, Two Bridges, and Thor's Hammer. Navajo Loop is deceptively steep — the ascent doesn't take long, but works up quite a sweat!
If you want to tackle both iconic hikes in one go, you can combine this trail with Queens Garden to form a longer loop.
3. Peek-a-Boo Loop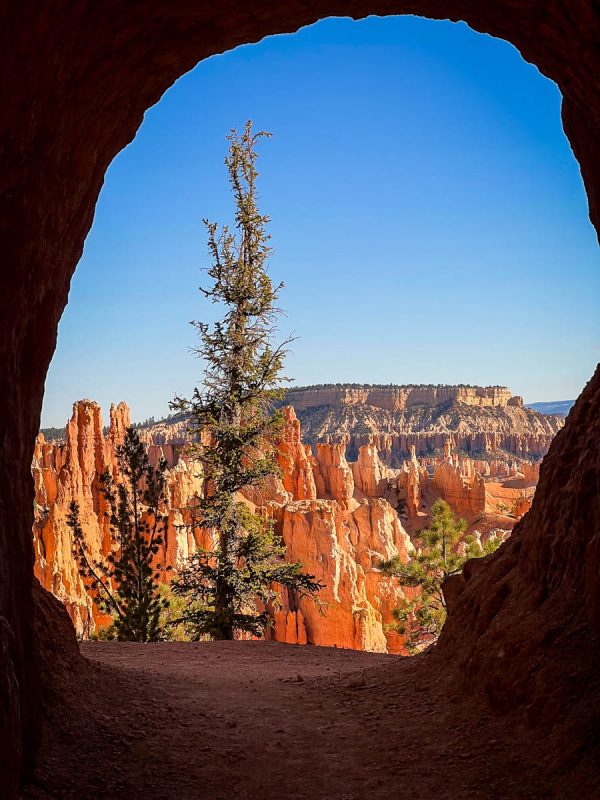 This hike shares a portion of Navajo Loop to descend into the canyon, then weaves through some of the park's best views! The first portion gets crowded with people stopping for photos at Wall Street, but by the time the climb to Peek-a-Boo starts, the crowd thins out.
We love how Peek-a-Boo Loop bends and turns, constantly offering new vantage points. There are fantastic slot canyons, a sea of hoodoos, and so many overlooks. Perhaps the only "con" is the fact that it's shared with horseback riders. Horses tend to leave some "gifts" on the path. Regardless, we wholeheartedly recommend it as one of the best hikes at Bryce Canyon!
4. Bryce Point
Bryce Point delivers one of the most breathtaking views in the park via a quick, easy walk to a gorgeous viewpoint. The viewing platform juts out, so it feels like you're floating above the canyon! Plus, the view allows you to see well past Bryce to the neighboring mountains.
This is also an ideal spot for sunrise. The hoodoos start glowing as the morning's first rays hit! No matter what else you have on your Bryce Canyon itinerary, definitely check out this fantastic, highly accessible spot!
5. Fairyland Loop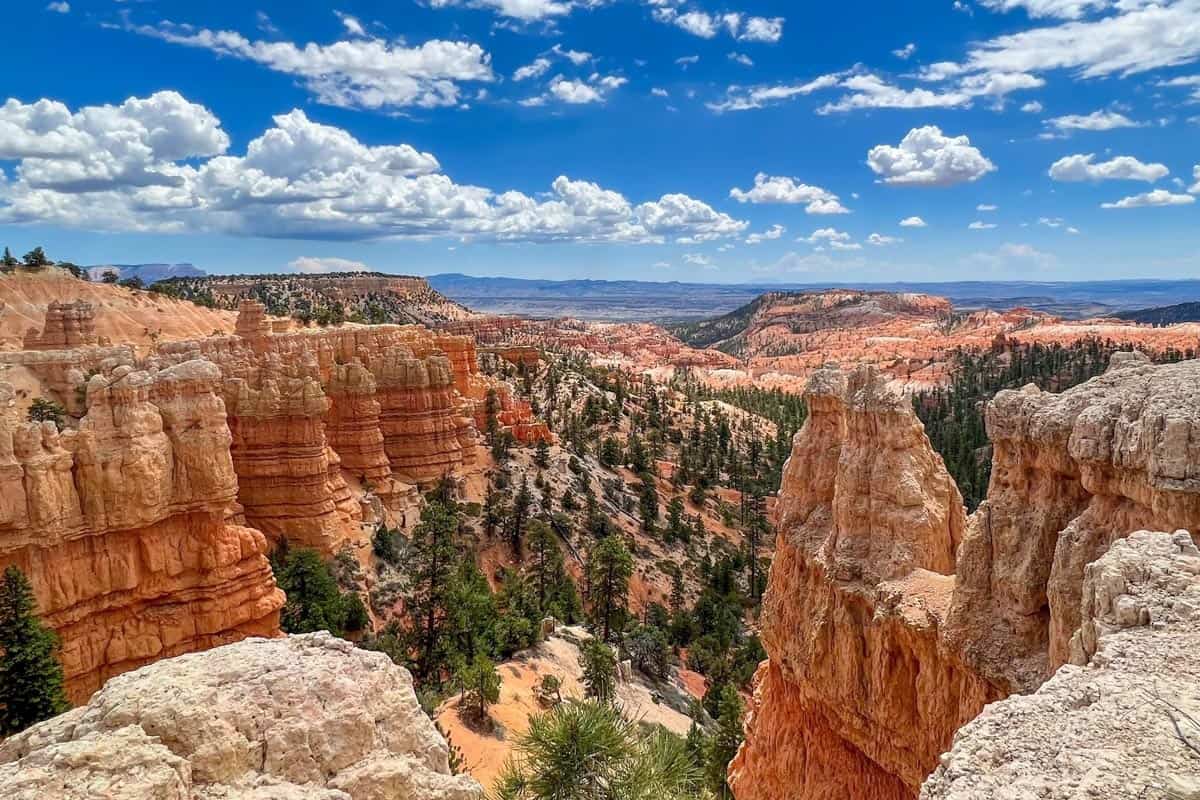 The Fairyland Loop trail delivers a pleasant variety of everything Bryce Canyon National Park offers. It gets you close to hoodoos, shows off views from the rim, and passes by Tower Bridge.
Best of all, Fairyland is almost completely devoid of crowds since it starts just outside the park and is a bit longer. It takes 4-5 hours to complete, so bring plenty of water, especially in the summer! This is definitely one of the best hikes at Bryce Canyon — a workout, solitude, and plenty of photography ops.
Psst! Have more time? Be sure to check out all the best hikes in Utah before your trip comes to an end!
6. Sunset Point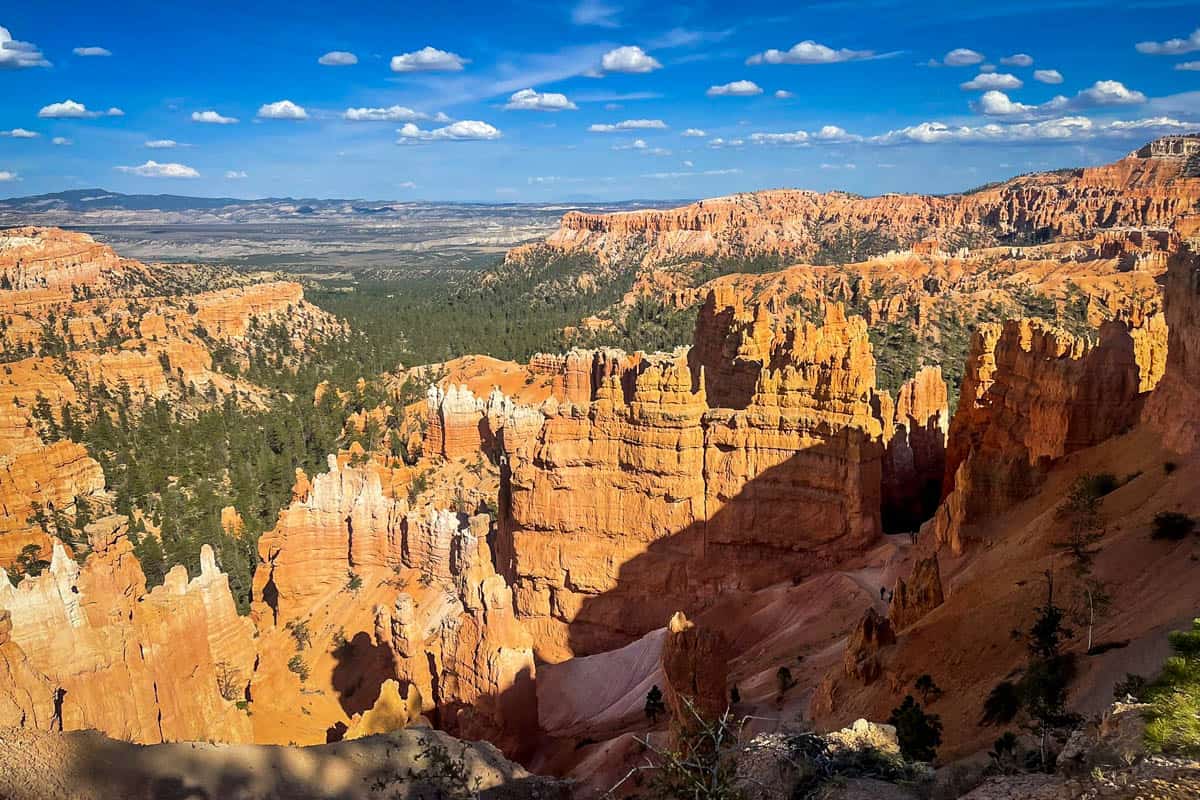 Similar to Bryce Point, Sunset Point is less of a hike and more of a stroll to a viewpoint. Since this one is paved, it's highly accessible, but also attracts a large crowd. Don't let that dissuade you, however. It's a stunning area with a postcard-worthy view of Bryce Canyon. Plus, you'll likely pass Sunset Point going to one of the longer trails anyway! Make sure to check out Sunrise Point too!
7. Tower Bridge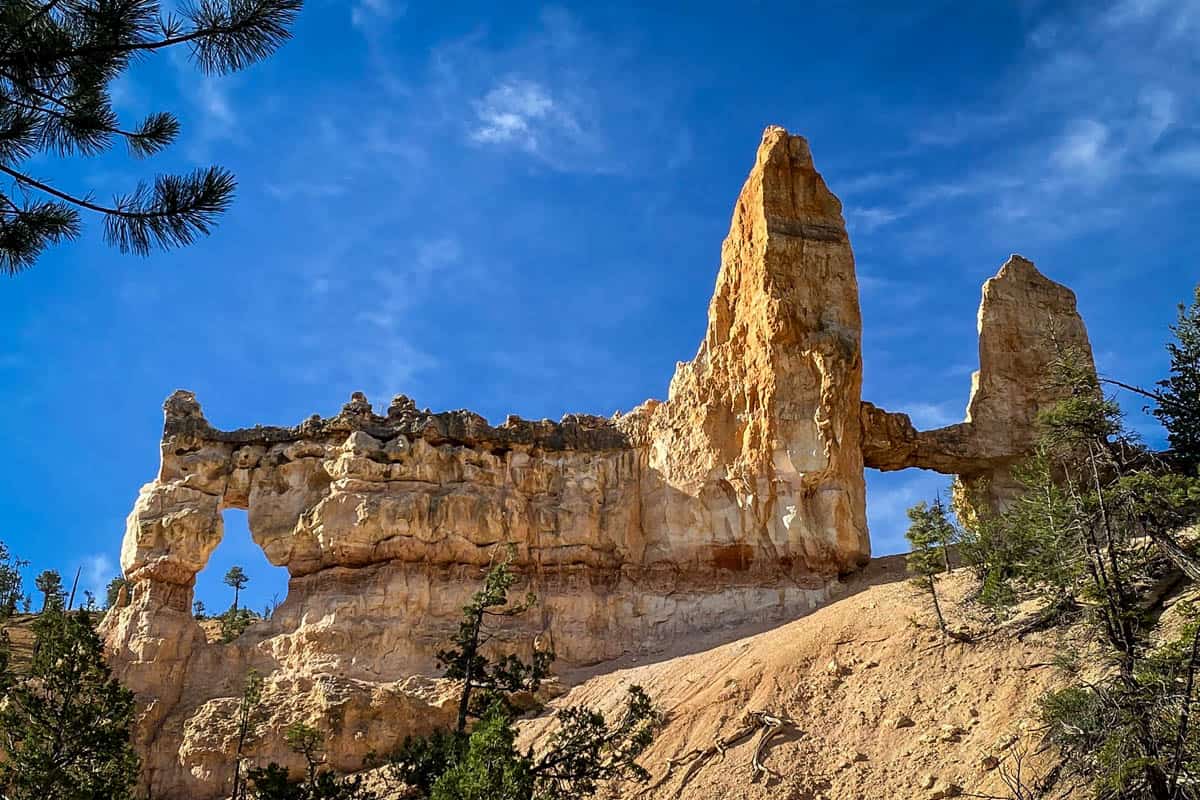 The names of some of Bryce's formations may be a bit of a stretch, but we see the resemblance to the London landmark here. Like many other Bryce Canyon hikes, Tower Bridge descends from the rim to get up-close and personal with geology.
However, this trail deviates from the park's hoodoo-dense area in favor of a section with more trees and fewer crowds. Views are fantastic throughout, particularly of rock "windows" and other formations. At the end, don't miss photo ops with Tower Bridge itself.
8. Rim Trail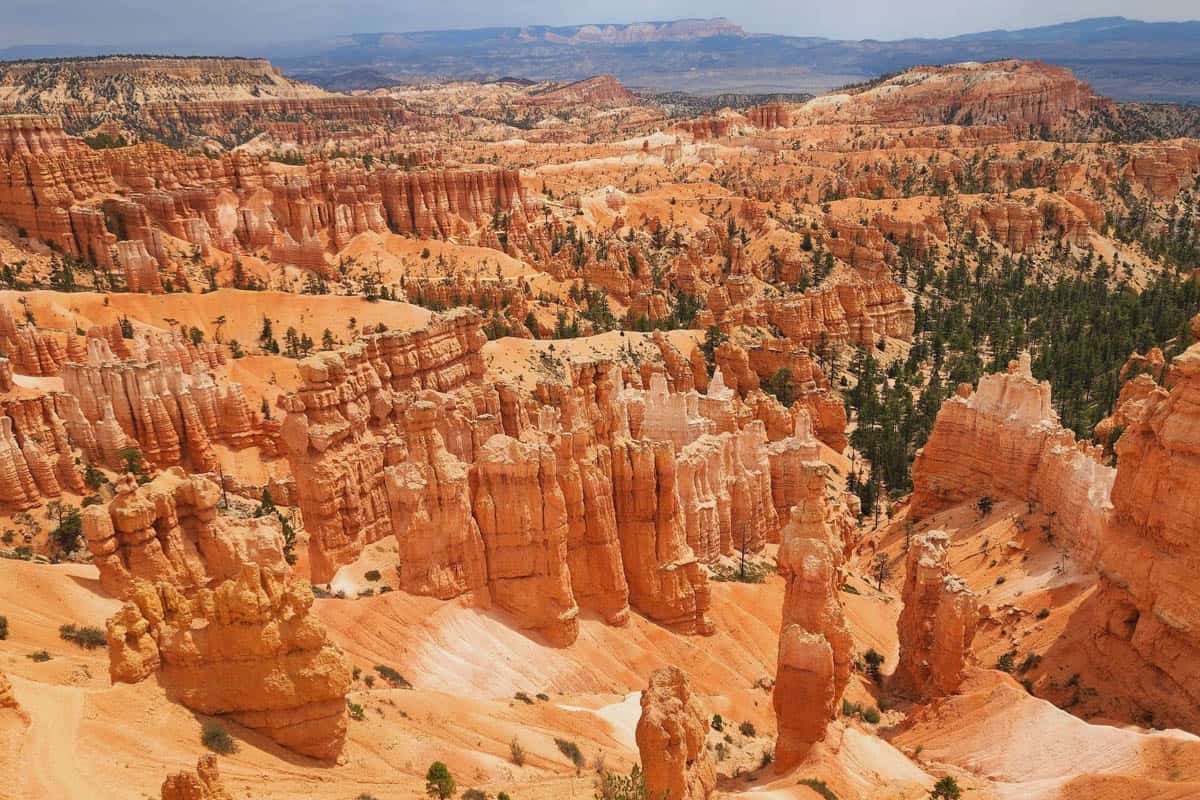 Want to see Bryce's hoodoos from above without contending with crowds? The Rim Trail connects all the park lookouts, offering incredible canyon views en route.
Although it's long, you don't have to hike the entire distance! It's easy to catch the free park shuttle back to the parking lot from any of the lookouts. The Rim Trail is great during winter, when canyon descents may be too slippery. Seeing Bryce covered in snow is quite a sight!
9. Figure 8 Trail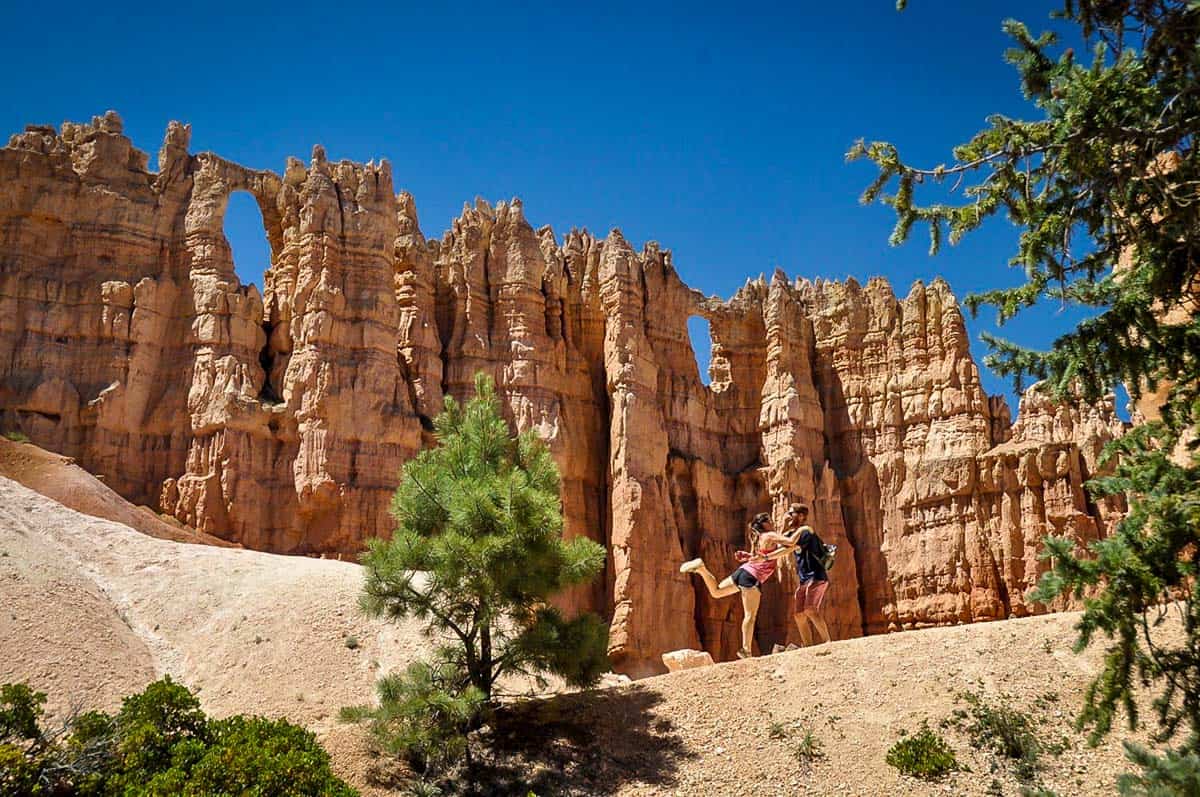 The Figure 8 Trail connects three of the best hikes at Bryce Canyon into a longer 8-shaped loop: Queens Garden, Peek-A-Boo, and Navajo. This hike is a bit more crowded than the park's other longer trails, but for good reason. The popular landmarks along the way are spectacular!
When you reach the Peek-a-Boo junction, we recommend going left for the best views of the Wall of Windows, one of our favorite sights in Bryce. The orange hues here are striking, and pop even more during evening light!
10. Hat Shop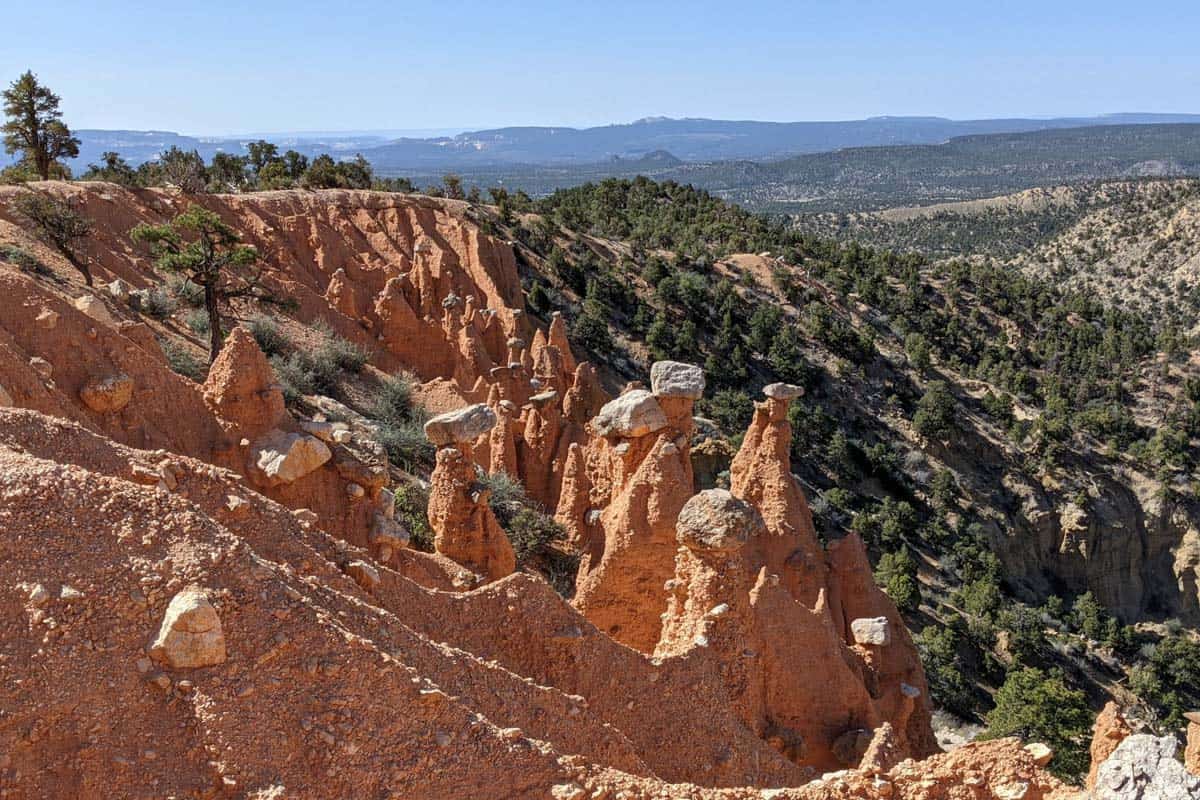 A real leg-burner, Hat Shop descends 1,500 feet down a steep trail to a lesser-visited part of the canyon. While there are fewer hoodoos here, you'll be treated to a sweeping view of the Grand Staircase in the distance.
The view at the end explains the trail name — gray boulders gingerly perch atop orange spires, truly resembling hats! The distinct formations and steep elevation make this one of the park's more memorable trails.
11. Mossy Cave Trail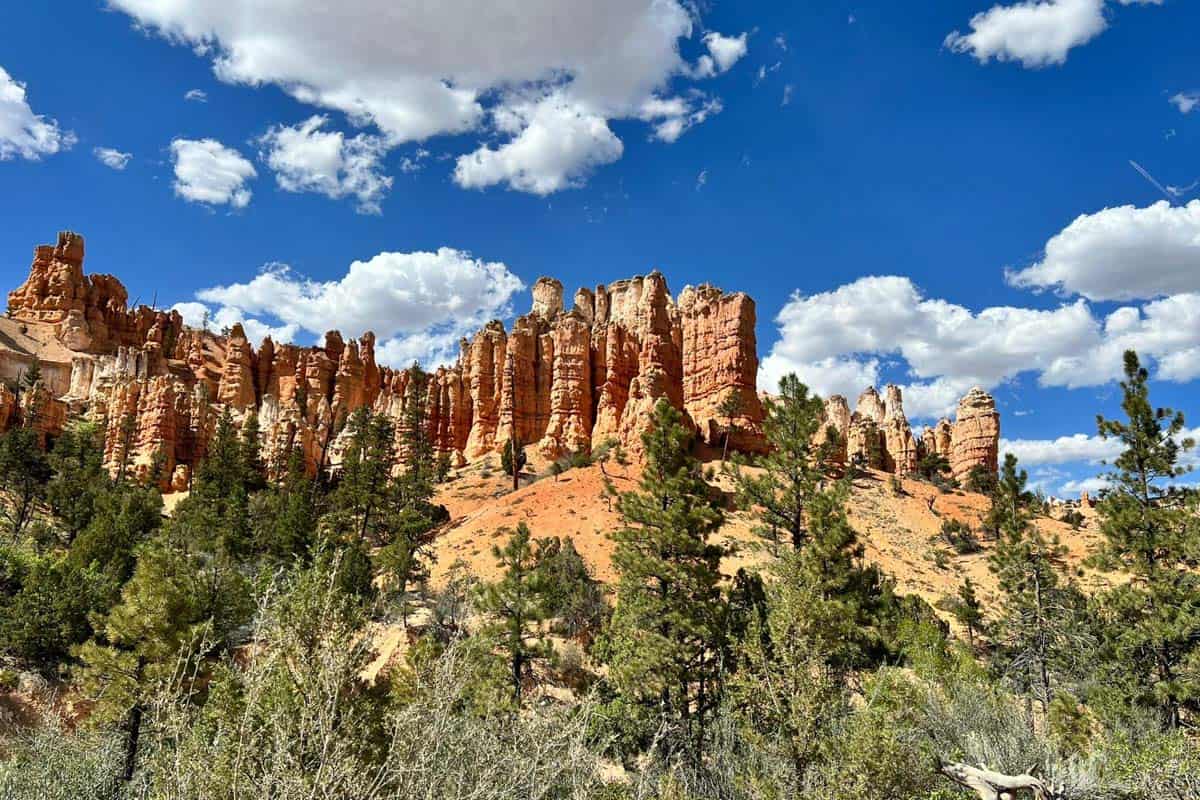 Staring out at the park's desert-like landscape, it's hard to imagine there's a waterfall nearby! A short drive from the park entrance (the trailhead is just outside the park, but the hike crosses into the official park boundary), Mossy Cave Trail follows a river to reach a cave and small cascade.
It's a lovely spot to wade and cool off during the summer, and the contrast of running water against the rock formations makes for some interesting photos.
12. Bristlecone Loop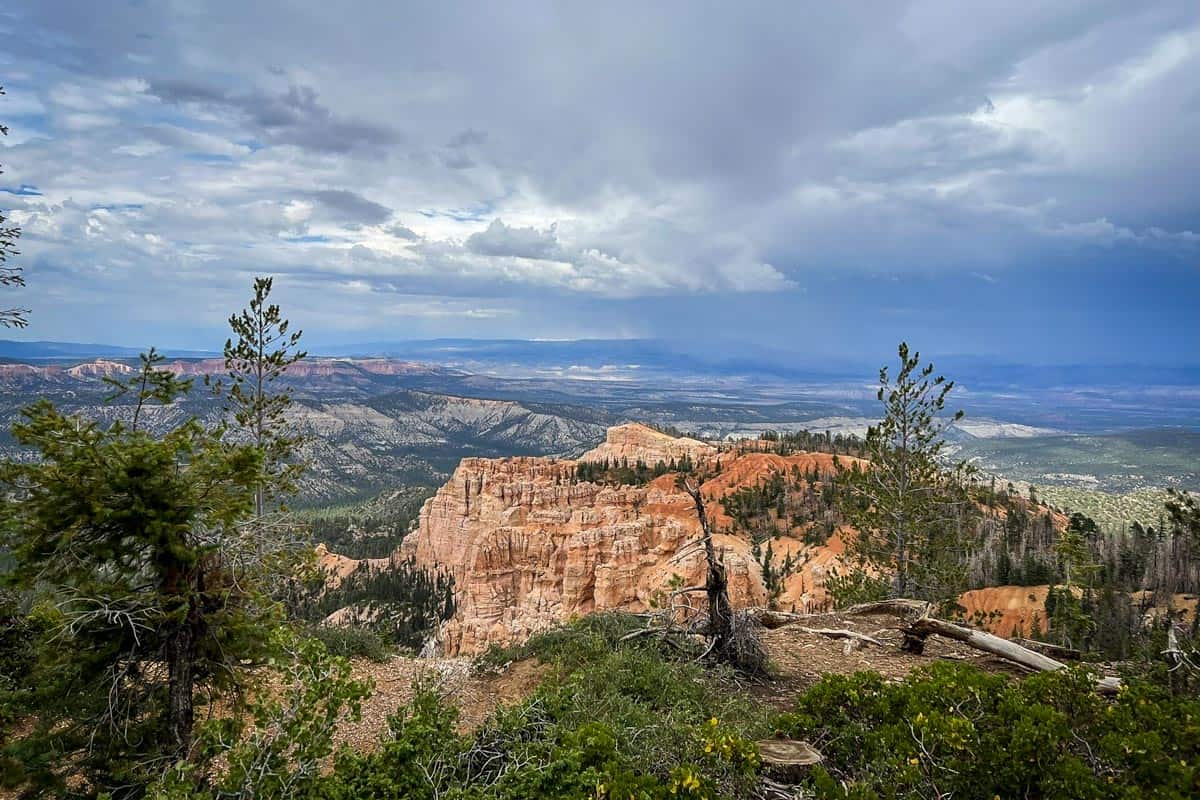 At the very end of the drive through Bryce Canyon lies Rainbow Point, a dramatic vista at over 9,000 feet elevation. Bristlecone Loop starts from here, showcasing sweeping views that dwarf hoodoos into needles from afar.
From this vantage point, you get a different perspective of Bryce's surroundings, with pine-covered valleys stretching into the horizon. The dramatic location makes for perfect sunset or sunrise photos.
Note: it gets extraordinarily windy here, so pack a windbreaker and don't approach the edge when gusts are extreme.
13. Inspiration Point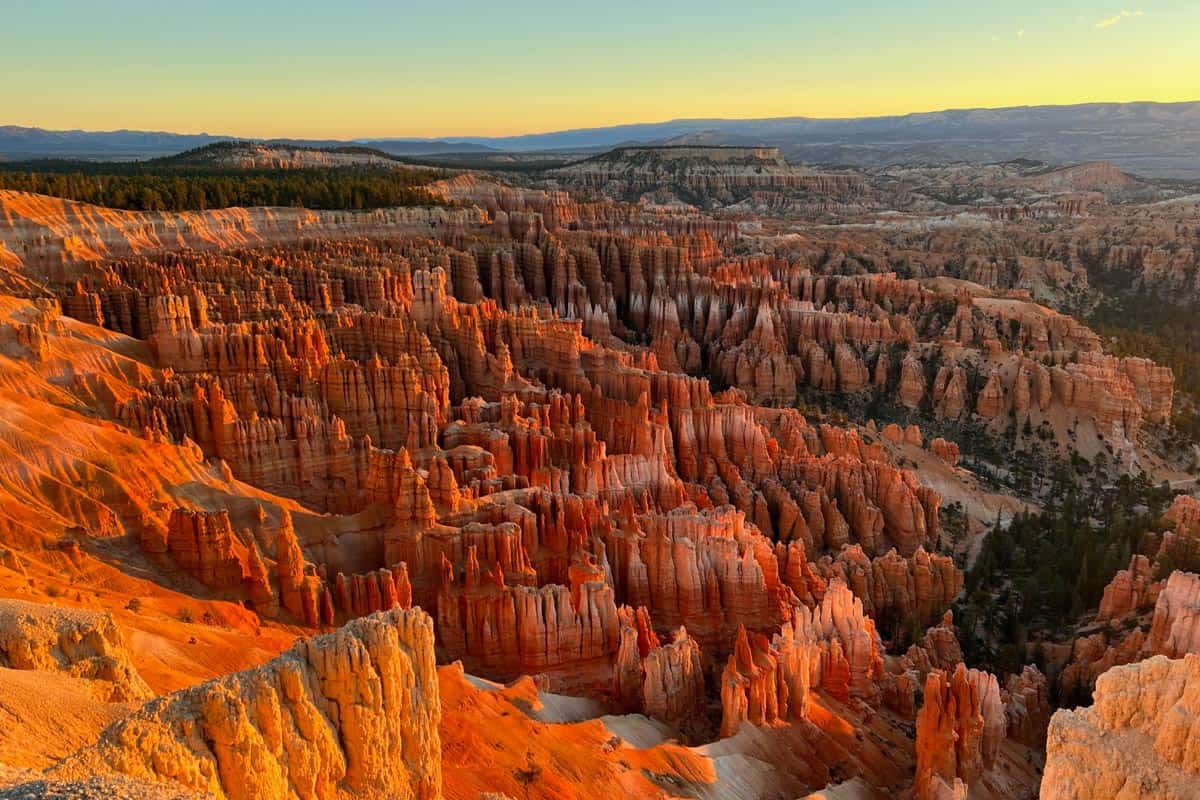 One of the most impressive views in the entire park, Inspiration Point comprises not one but three observation decks. Accessed via a short paved trail, it's likely to be crowded, but that doesn't diminish the wow factor.
A sea of hoodoos stretches out in all directions, with stunning views of valleys below. Whether you're exploring the park by car or you just finished a thigh-burner, don't skip one of the best hikes at Bryce Canyon!
14. Riggs Spring Loop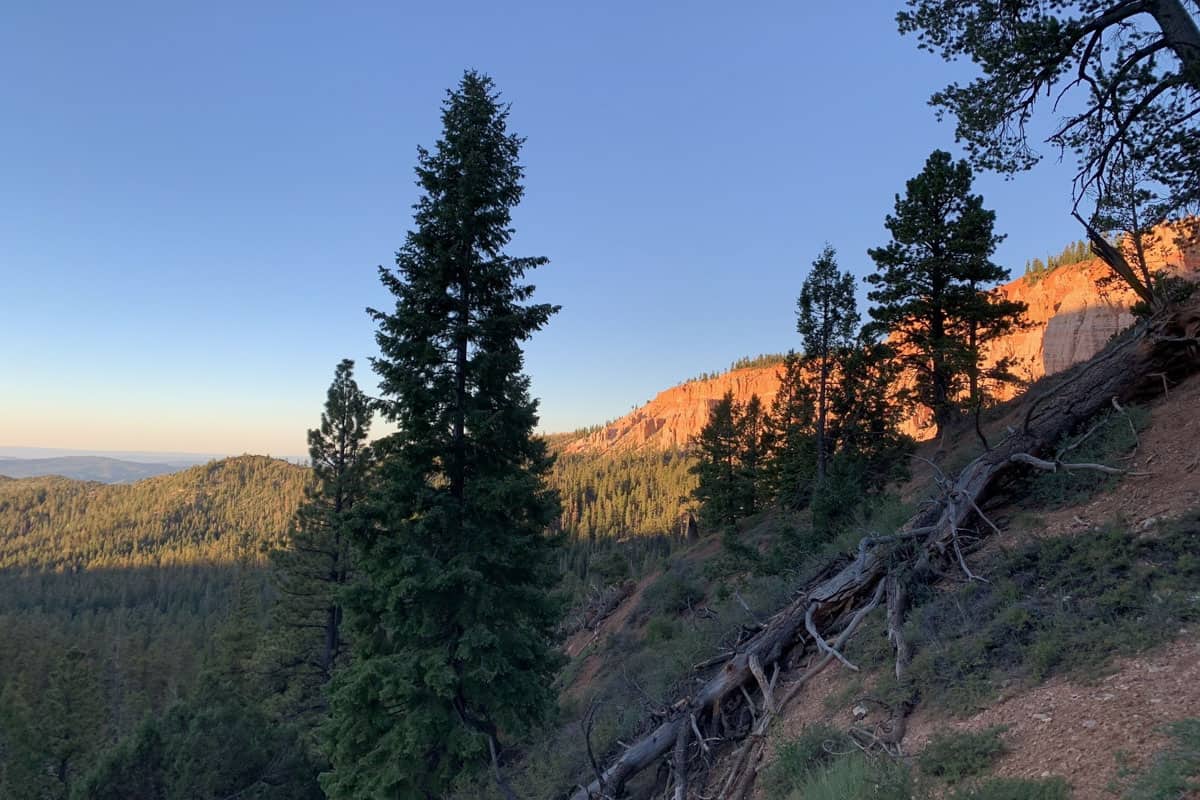 Want to explore in solitude at Bryce Canyon? Riggs Spring Loop is your trail! While it has fewer jaw-dropping rock formations than other hikes in the park, there are still fantastic views (and zero crowds!).
Dropping down so much from the rim allows you to experience the park's ever-changing geology firsthand. Most of the trail is shaded with trees, unique in Bryce. Camping at Yovimpa Pass is the main attraction of this hike — imagine staring out at hoodoos from the comfort of your tent.
15. Under The Rim Trail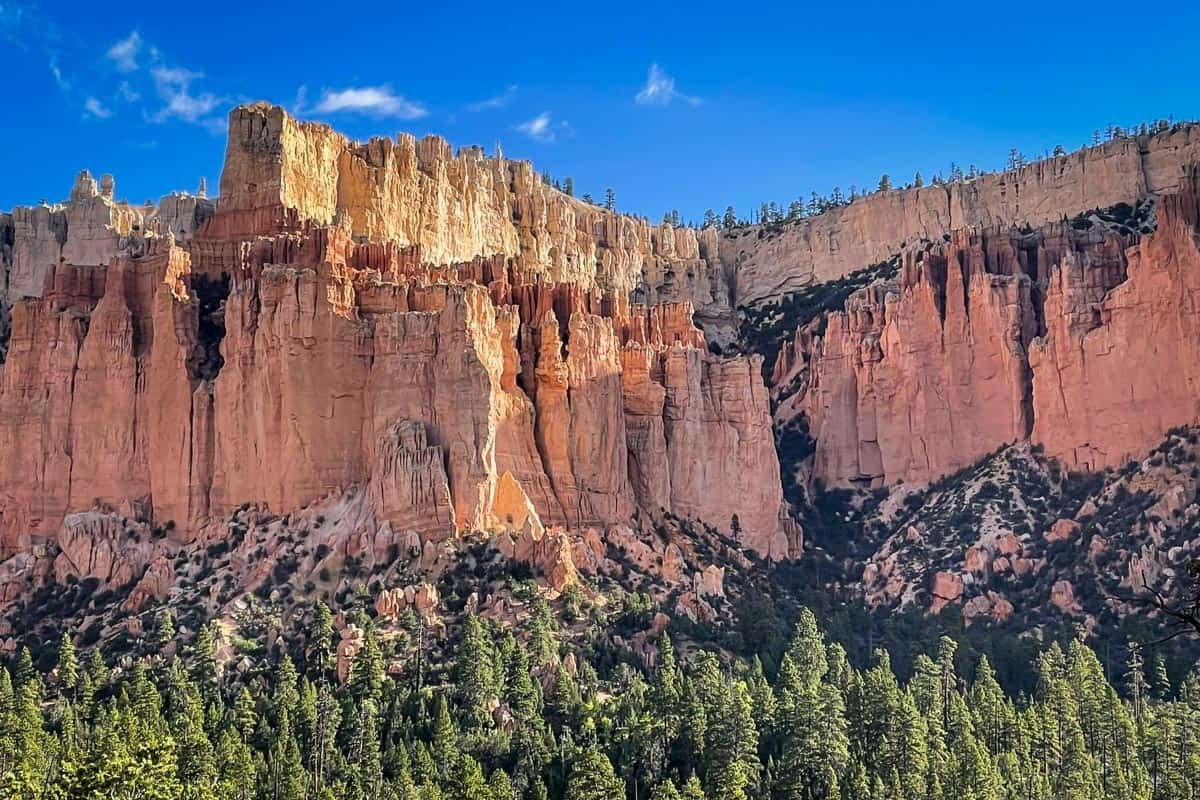 Last but certainly not least, this spectacular hike is the ultimate Bryce Canyon backpacking adventure. This trail passes iconic spots before dipping into the backcountry.
Although strenuous with lots of elevation change and sand underfoot, completing Under the Rim lets you experience the very best of this unique park. Usually split up over 2-3 days, there are also several excellent campsites en route.

What to pack for hiking at Bryce Canyon National Park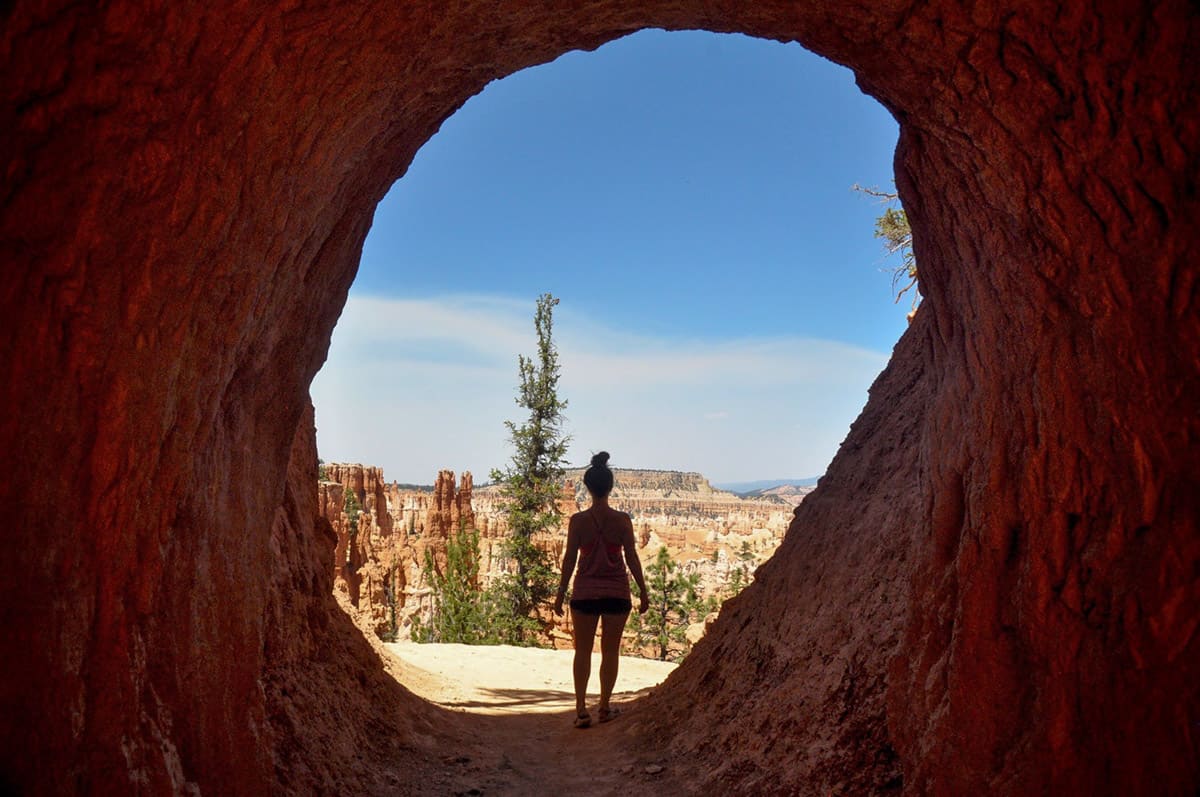 There are a few items we take on every hike with us, no matter how far or challenging the trail we plan to tackle.


You may also like…
Save this article on Pinterest for later!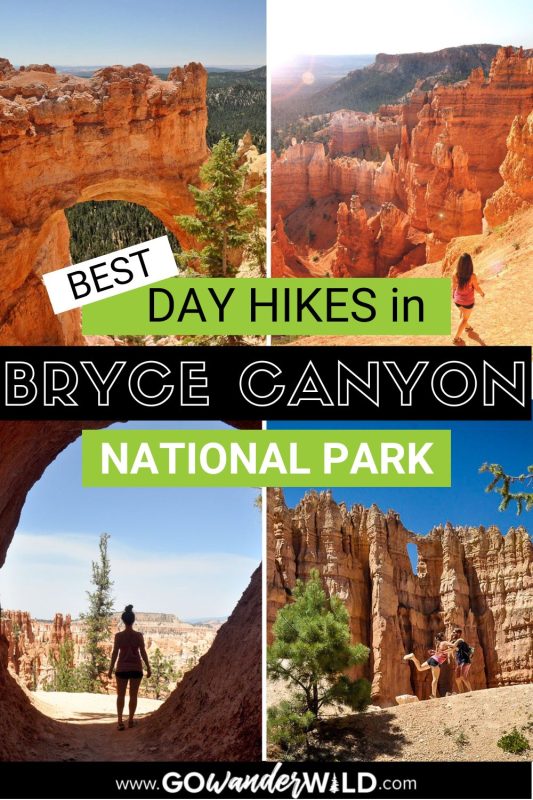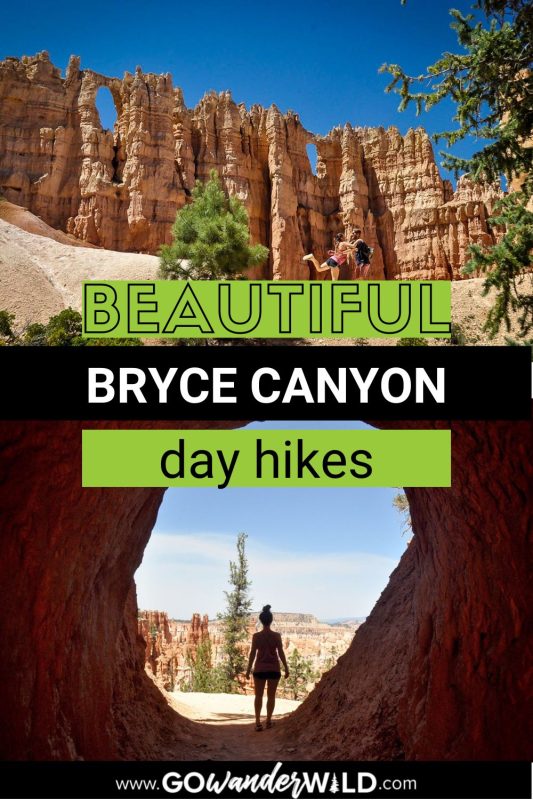 We want to hear from you!
Have you done any of the Bryce Canyon hikes from this list? What was your experience like? Are you planning a trip to Bryce Canyon National Park and want more advice? Comment below and let us know!