When exploring Cannon Beach, there are trails for all hiking levels. We've put together this list of the best hikes near Cannon Beach so that you can plan the perfect itinerary and see some of the most beautiful views on the Oregon coast. From popular trails to unique ones, these Cannon Beach hikes are sure to make your adventure worthwhile.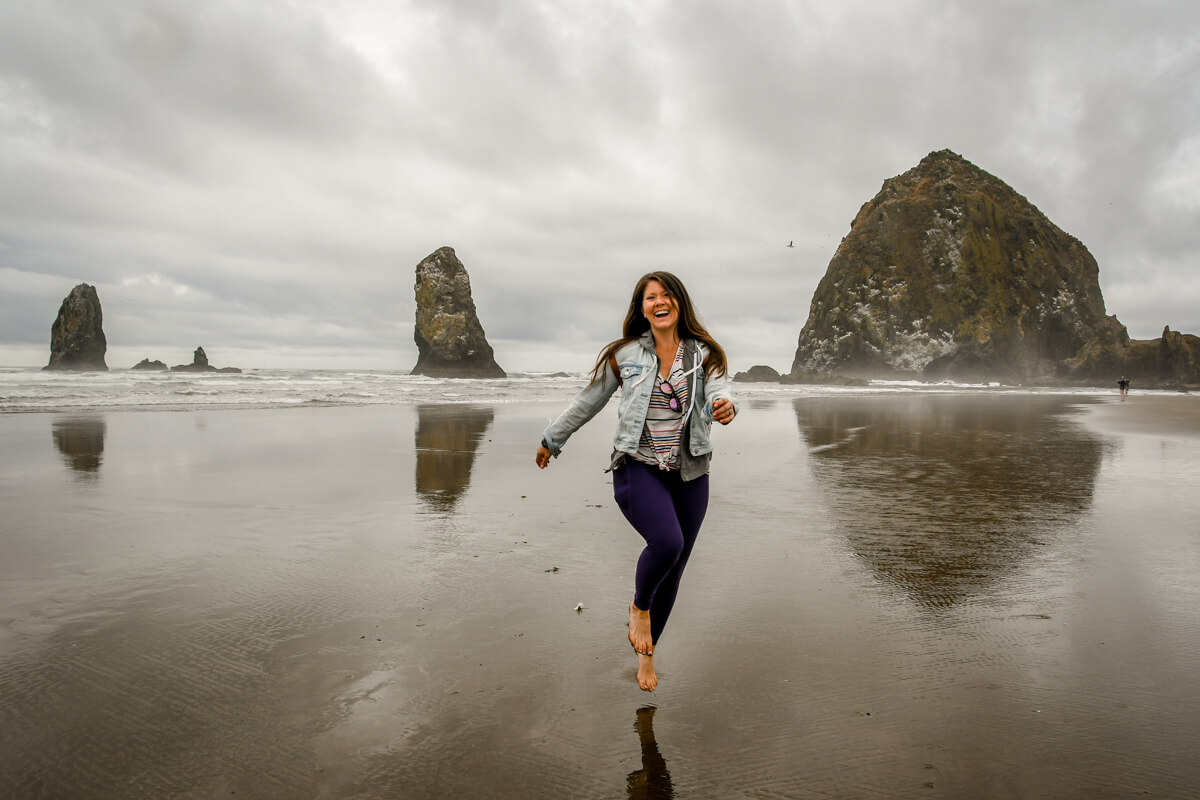 With seemingly endless stretches of sandy beaches, rugged coastline, wildflowers, old growth forests, and panoramic views all down the Oregon coast, there is no shortage of opportunity for adventure. Cannon Beach is no exception with its proximity to the nearby state parks.
We put together this list of incredible Cannon Beach hikes to encourage you to hit the trails while on your beach getaway. No matter what your fitness or experience level is, there is a hike here we're sure you'll enjoy.
After taking on these stunning hiking trails, resting your legs in front of a bonfire on the beach is the perfect way to end your day with a craft beer in hand, overlooking the Pacific Ocean.
Psst! If you have the time, check out all of the fun things to do in Cannon Beach during your stay.
1. Haystack Rock Trail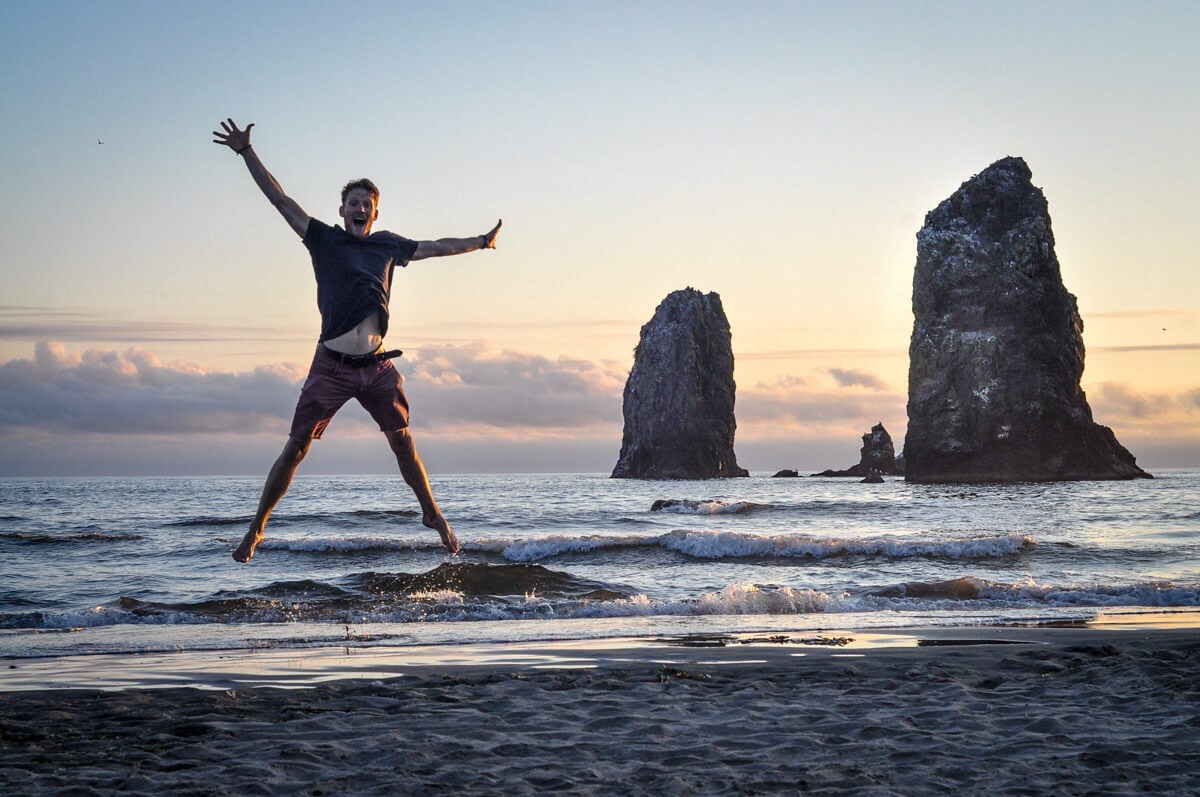 The Haystack Rock Trail is one of the most popular Cannon Beach hikes and one of the best hiking trails in Oregon! This 235-foot monolith is one of the largest sea stacks on the Pacific Coast and is booming with intertidal life and nesting seabirds.
This hike takes you all the way down Cannon Beach where you can explore tide pools, pull up a chair and take in the views, or even build a fire for the perfect sunset. Since this beach walk is flat and rated easy, you should be able to walk the whole beach in an hour and a half, but you can go as far down the coast as you'd like.
2. Neahkahnie Mountain Trail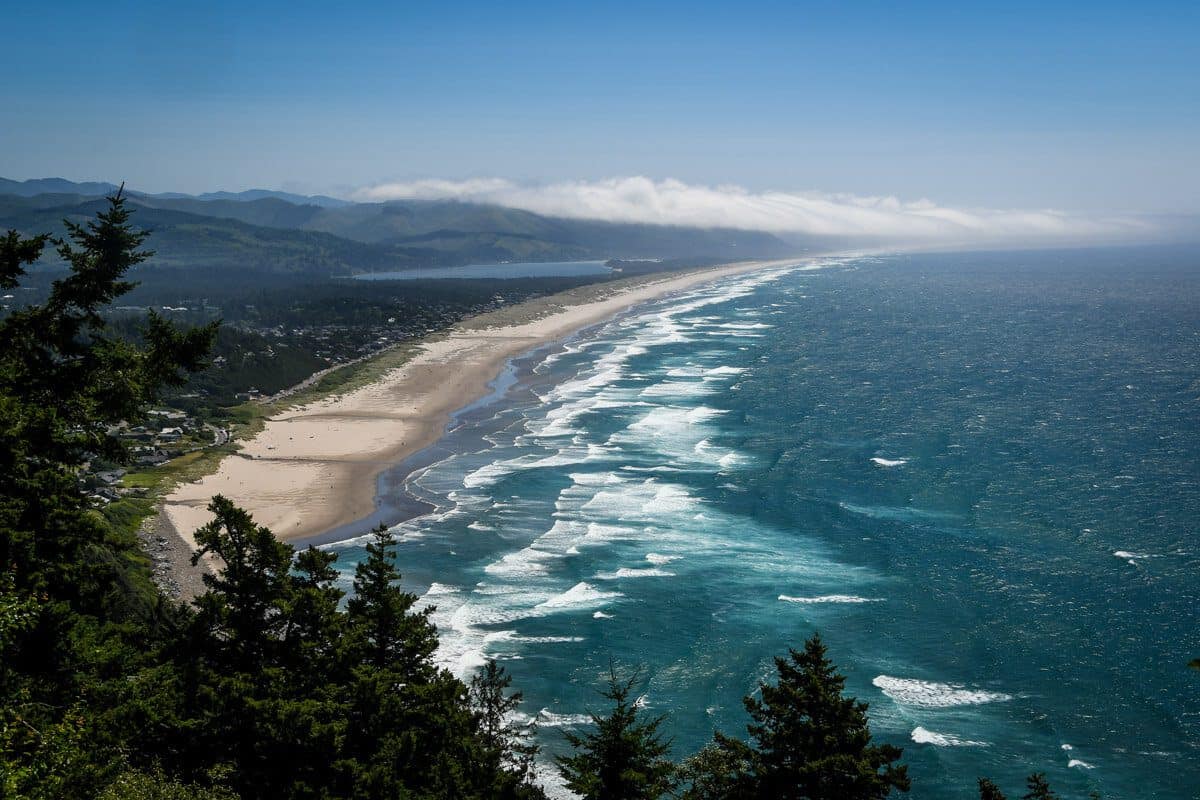 The Neahkahnie Mountain Trail has one of the best panoramic views of the Oregon Coast. It's no wonder this one is considered one of the top hikes in Oregon!
In the spring months, the trail is lined with colorful wildflowers like coastal fawn lilies and salals as you hike through dense pine forest to the top.
The toughest part about this trail is a steep push at the end to the final viewpoint. The whole trail should take you around an hour and a half or two hours, but you'll likely stay a little longer for those dramatic coastal views.
3. Clatsop Loop Trail from Indian Beach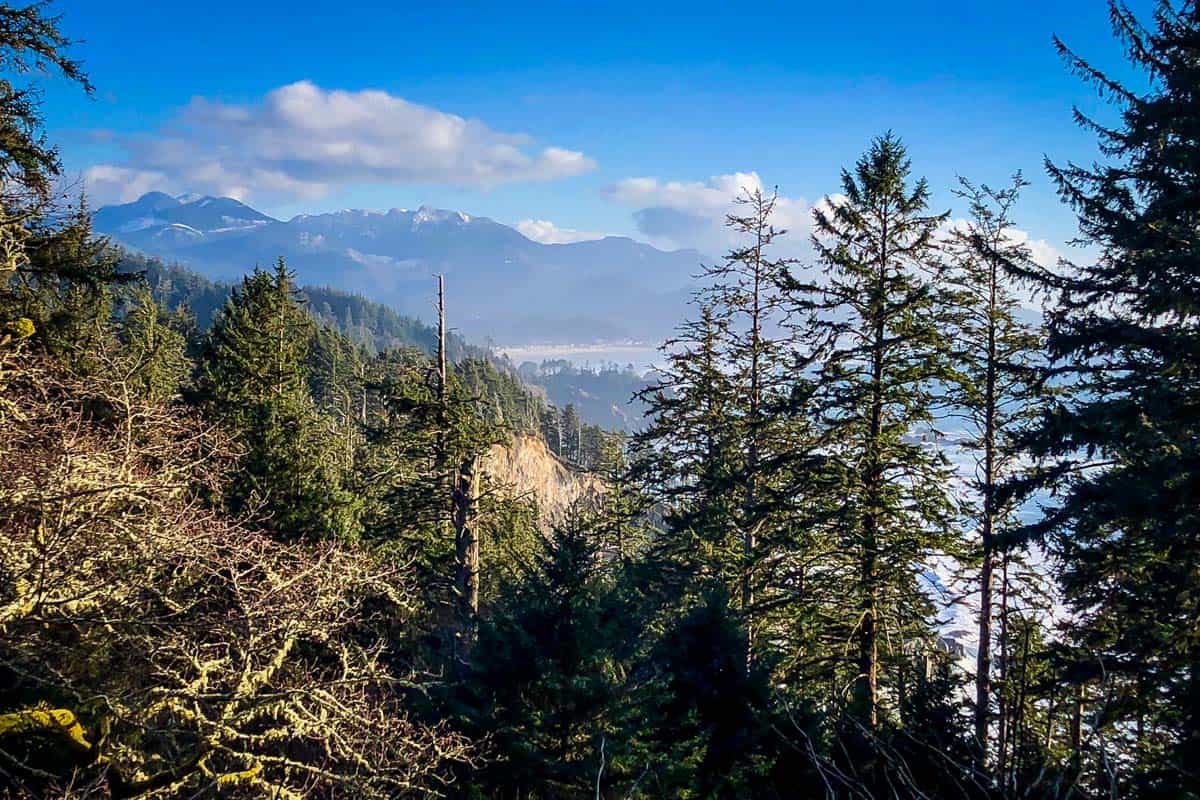 The Clatsop Loop Trail is a beautiful Cannon Beach hiking trail that takes you through forests of massive, moss-covered trees to visit a World War II radar station and a viewpoint of the Tillamook Rock Lighthouse.
This trail is completed in around an hour and a half. Along your hike, spot surfers catching waves on Indian Beach, the tiny lighthouse miles from shore, and on a really clear day, the rich blue hues of the Pacific Ocean.
Psst! If you're staying a while on the coast and looking for more outdoor adventure (or just affordable accommodation), we have a list of the best camping near Cannon Beach too!
4. Cape Falcon Trail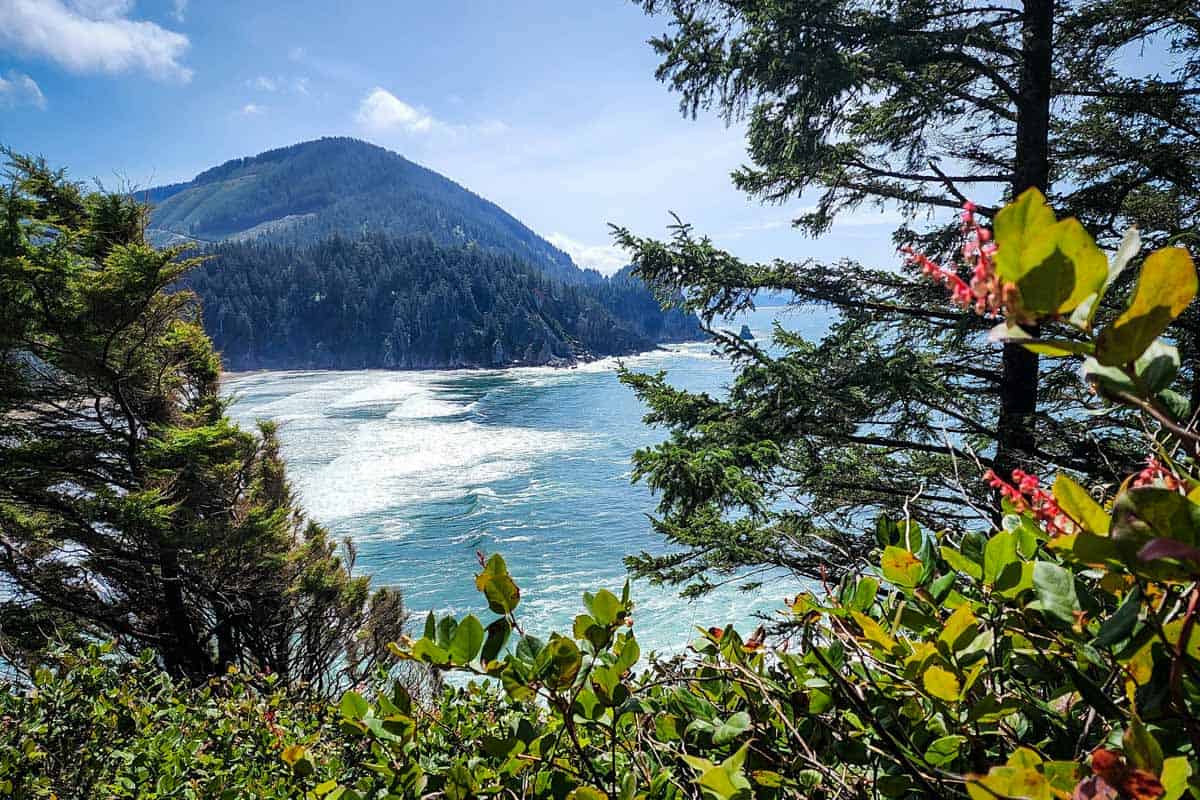 Explore the Cape Falcon Trail to see views of Neahkahnie Mountain, Smuggler Cove, Short Sand Beach, and Manzanita. This hike goes through dense forests of Sitka spruce trees as it weaves down the coastal ridge and opens up to miles of Oregon coast views.
This trail stays muddy for the majority of the year, so wear proper hiking shoes or boots to enjoy this hike. It takes around two hours to complete and is one of the most scenic hikes near Cannon Beach.
Psst! Check out our complete guide to visiting Oswald West State Park while you're at it!
5. Indian Beach Trail via Ecola State Park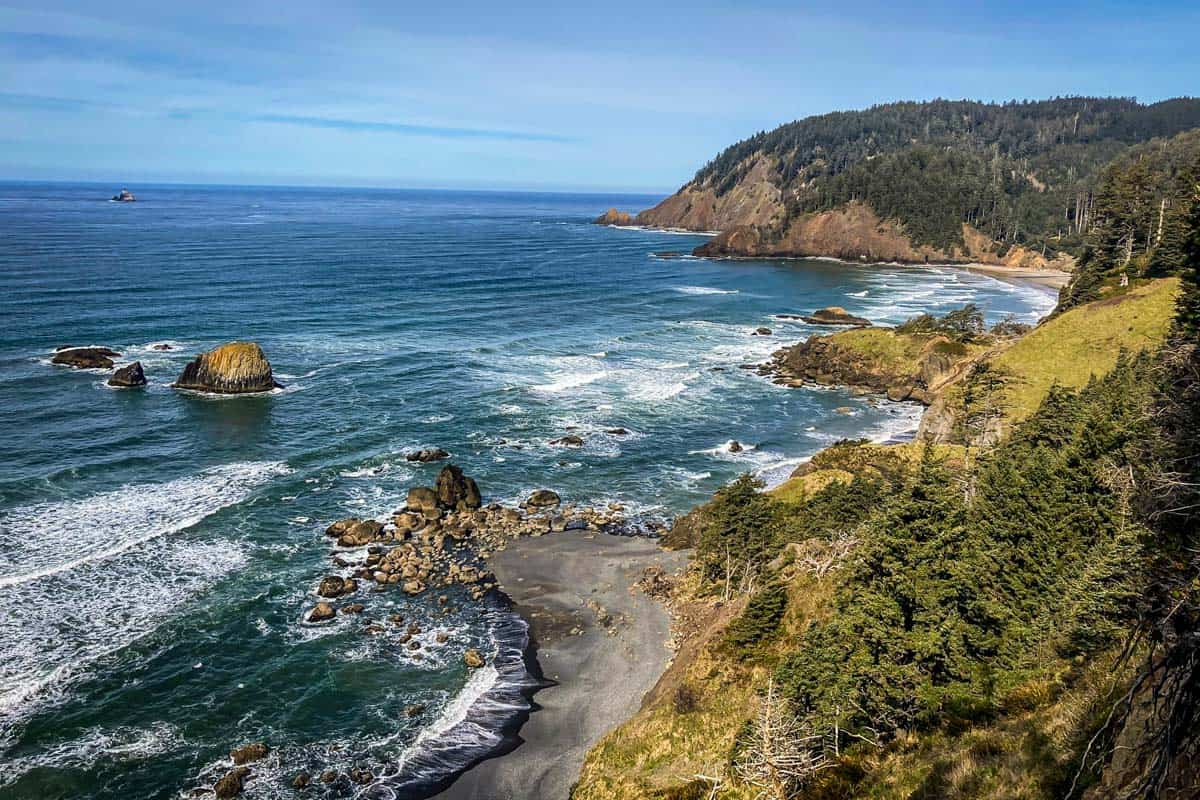 Take the Indian Beach Trail to discover some of the best views in Ecola State Park. This is one of the best Cannon Beach hikes since you can enjoy lush coastal forests and the vibrant blue pacific waters peeking through the trees on sunny days. From Tillamook Rock, you'll be able to spot sea stacks as far as the infamous Haystack Rock and watch massive waves crash to shore.
The original trail from Indian Beach to Tillamook Rock Trailhead was destroyed in 2016, so this route is slightly longer than the original and doesn't hug the shoreline, but is still beautiful nonetheless. Hike this 2-hour trail as a point-to-point or a longer out-and-back. You'll want to be sure to pack sturdy shoes since this hike is infamous for mud!
6. Crescent Beach Trail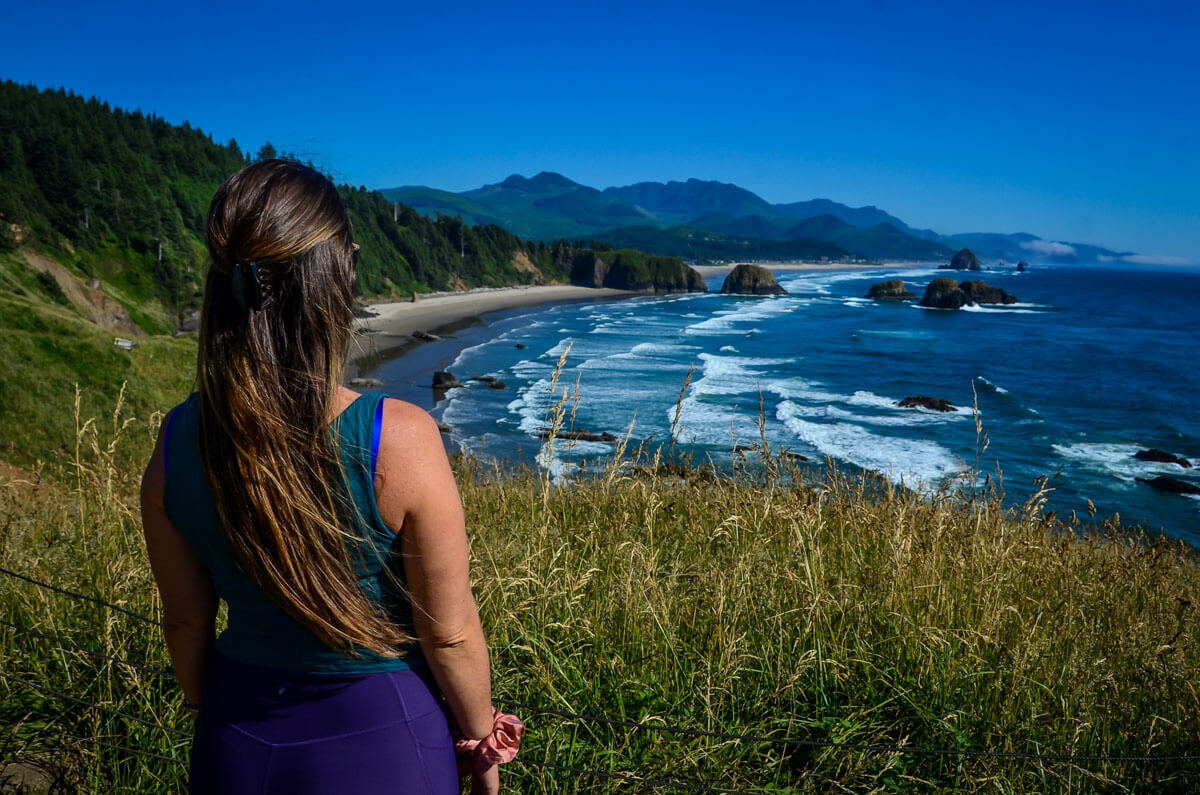 The Crescent Beach trail is one of the easiest Cannon Beach hikes since it's just under a mile and takes less than 30-minutes to complete. Hike through lush forest that opens up to an expansive beach with sea stacks and seabirds along a rugged coastline.
Before you begin the trail, venture out to Ecola Point and take smaller, paved routes to see views of Haystack Rock, Cape Falcon, and a beautiful overlook at Crescent Beach. From here, spot Sea Lion Rock, the largest sea stack that forms a natural arch.
7. Elk Flats Trail and Devil's Cauldron Overlook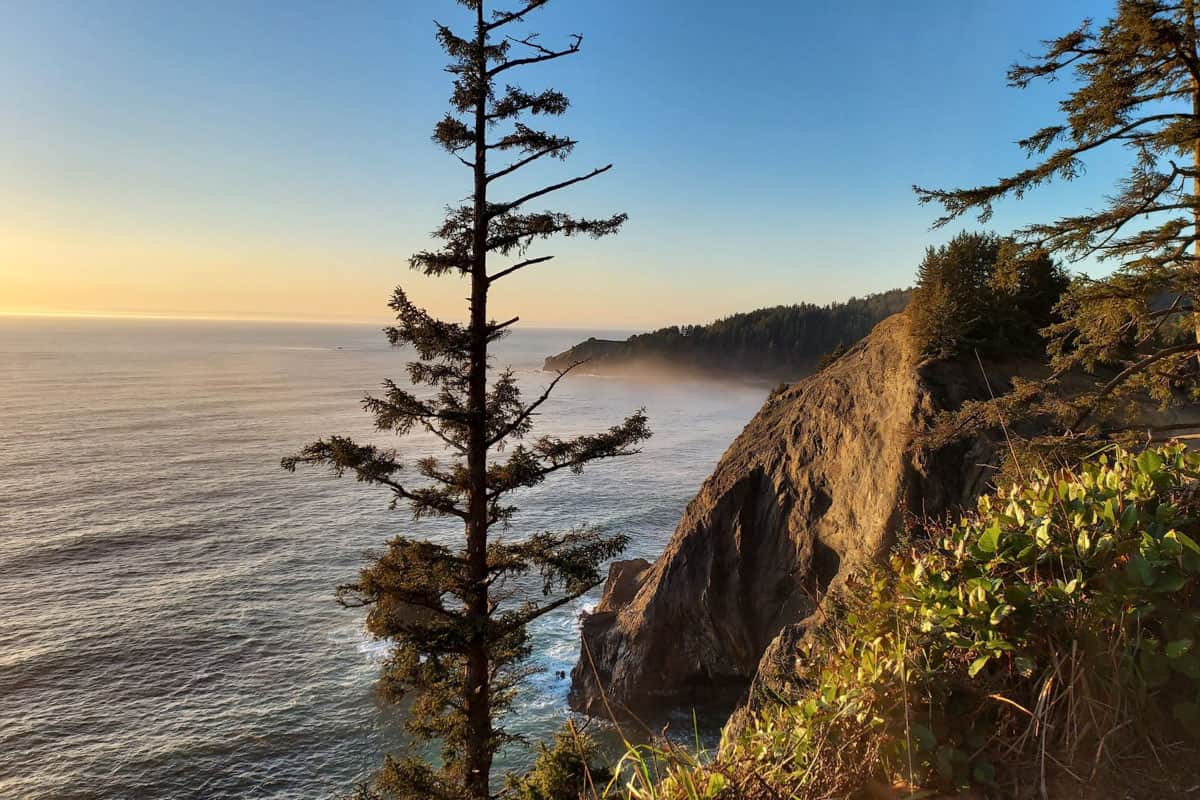 The Elk Flats Trail takes you to dramatic sea cliffs overlooking the Pacific Ocean. These cliffs form the Devil's Cauldron, a small cove that the 300-500 foot sea cliffs jut out of. Along the route, enjoy scenic beach views and hike through vibrant green forest. If you visit during high tide, you'll witness MASSIVE waves slamming against the cauldron!
This hike takes around an hour and a half to complete and can be accessed from Short Sand Beach if you're looking to extend your day hike, otherwise it is accessed just off Highway 101. Take caution at the grassy viewpoint since there are no rails to prevent you from being swept off the cliffside from those notorious coastal winds.
8. Short Sand Beach Trail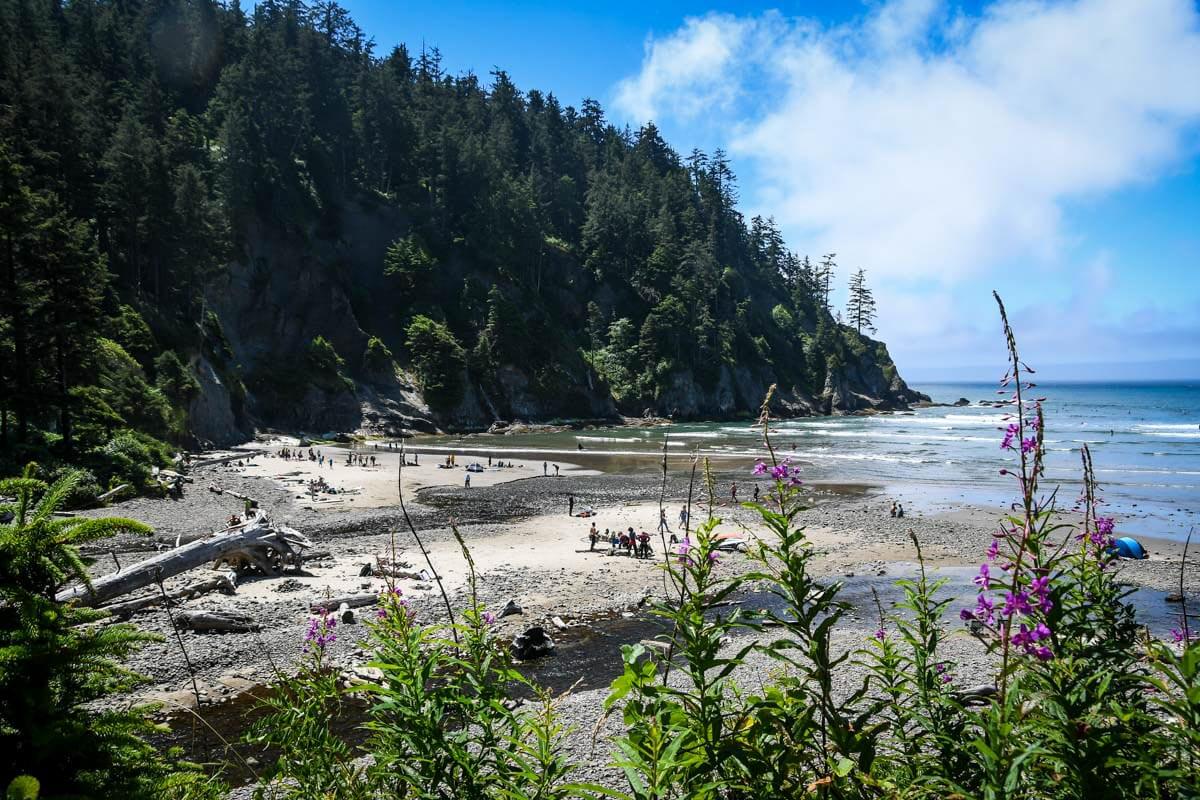 The Short Sand Beach Trail is an easy stroll through old-growth forests to a moody beach. Explore some of the connecting trails to this beach, or consider walking to the north end of the beach to see Blumenthal Falls pour into the Pacific Ocean.
From this beach, you'll be able to spot Cape Falcon, visit the Matt Kramer Memorial, and take in the views over Smuggler's Cove. This is a fantastic trail for families to take on since there are many small spur trails leading to the beach that you can explore!
The Short Sand Beach Trail is the fastest way to get to the beach, but consider taking the Cedar Crossing Trail, Cape Falcon Trail, Necarney Creek Trail, or the Old-Growth Forest Trail for a different adventure on your way back to the car.
9. Hug Point Trail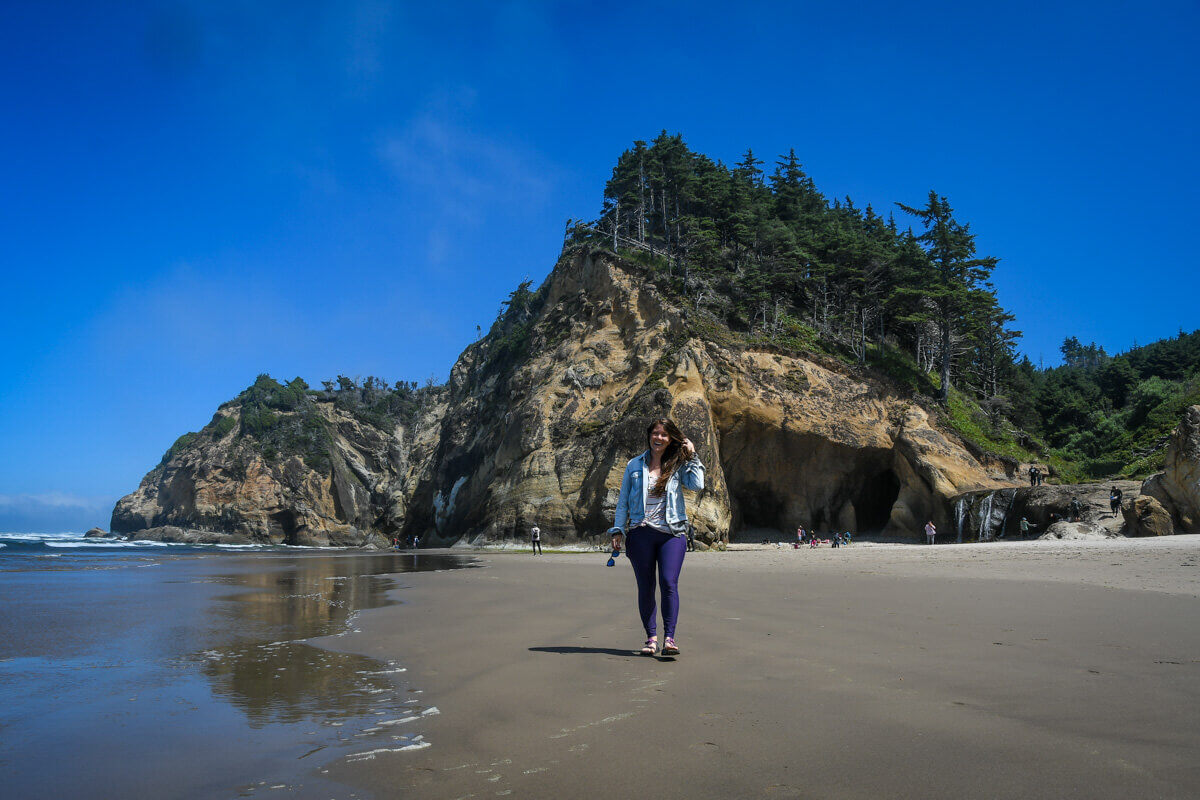 The Hug Point Trail is a popular hike near Cannon Beach that's known for picturesque sea caves, tide pools, and a waterfall that flows directly into the ocean. This is a short hike that leads to loads of exploration and fun without a ton of work.
Before you head out, make sure the tide is low so that you can explore the tide pools and walk along the sea caves close to the waterfall. One of the best spots is on the beach just past Hug Point! Be sure to watch the tides as you're walking around so that you don't get stuck on the other side, and don't forget some non-slip shoes!
10. Tillamook Head Trail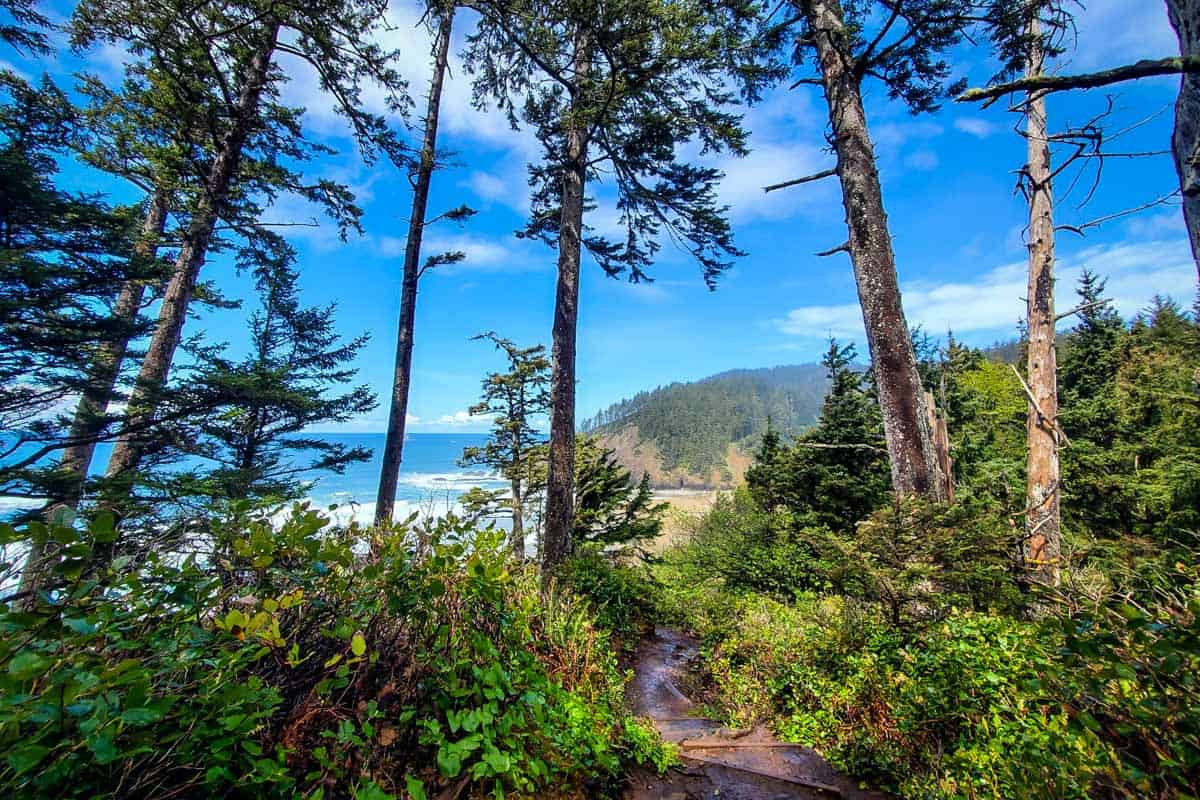 The Tillamook Head Trail is one of the most unique hikes near Cannon Beach since it is a point-to-point trail and runs between the town of Seaside and Ecola State Park, just north of Cannon Beach.
Before you head out, make sure to set up a shuttle ride back to the trailhead, otherwise you can go back the way you came for a challenging, but incredible day of hiking also known as the Lewis and Clark Discovery Trail.
This trail follows a portion of the Oregon Coast Trail featuring views of 'Terrible Tilly', the Tillamook Lighthouse, the Oregon Islands Wilderness, and Indian Beach. This is a historic trail in Oregon since it was the exact trail the group took in hopes of purchasing whale blubber in Cannon Beach!

What to pack for hiking near Cannon Beach
Hikes near Cannon Beach vary from casual beach walks to more challenging trails along the coast, however there are still several key items you'll want to have in your pack.


You may also like…
Save this article on Pinterest for later!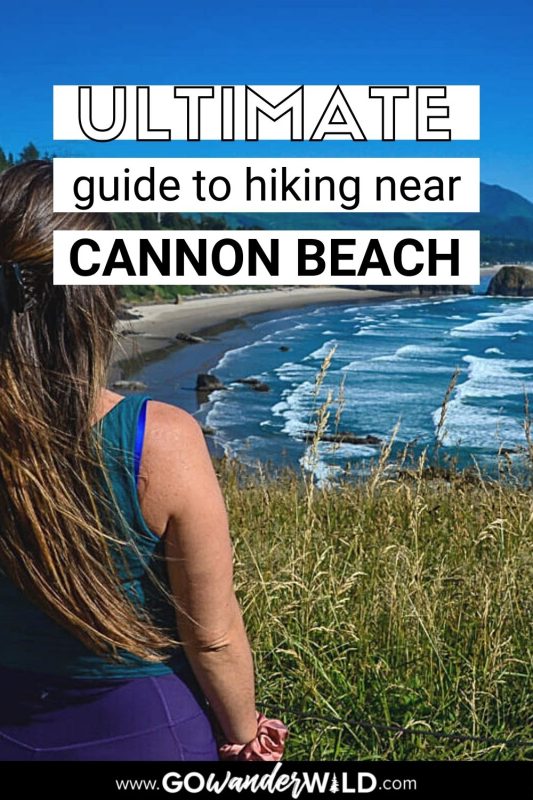 We want to hear from you!
Have you done any of the Cannon Beach hikes on this list? What was your experience like? Are you planning on doing some hiking in Cannon Beach and want more advice? Comment below and let us know!