While Oregon as a whole has some of the best hiking in the Pacific Northwest, Oregon coast hikes in particular are simply stunning. With dramatic cliffs where the Pacific ocean meets the rocky coastline, old-growth forests, towering rock formations, sand dunes, and so much more, here are our favorite Oregon coast hikes!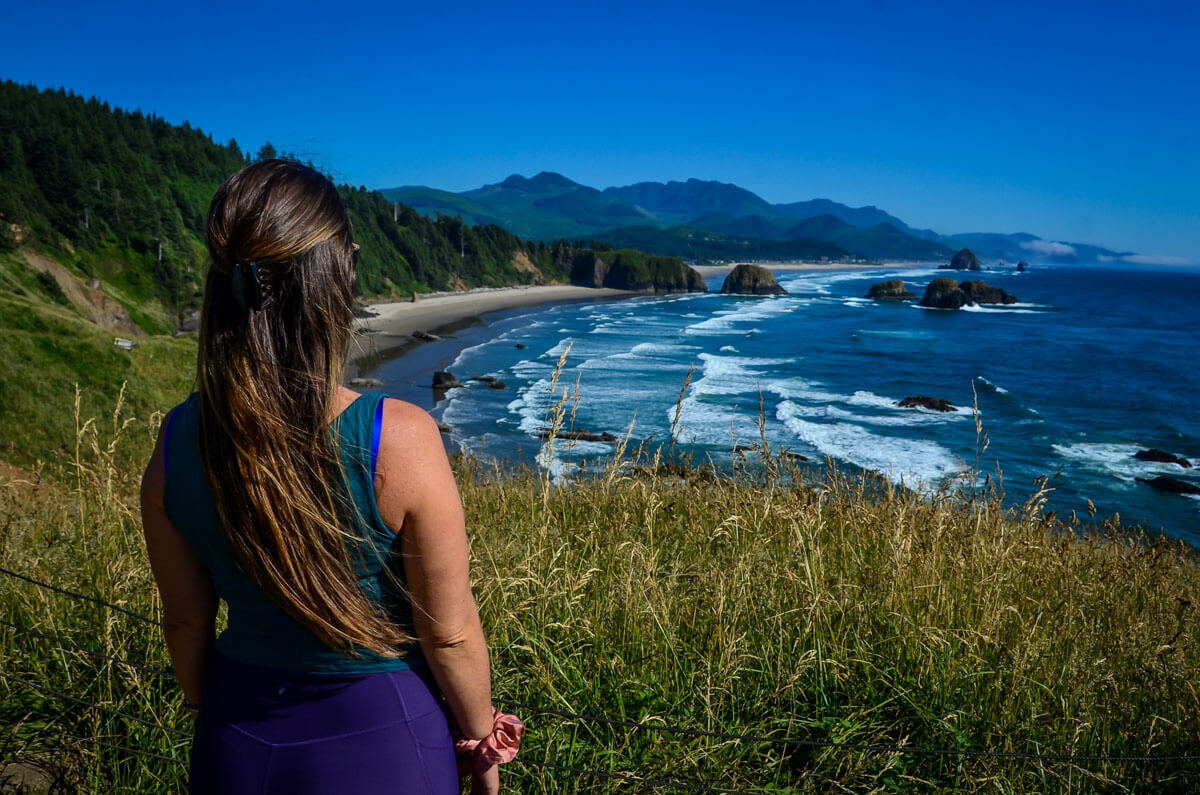 Dramatic and stunningly beautiful coastal Oregon is paradise on Earth for nature lovers and hiking enthusiasts (like us!). The unique experience of hiking through mossy old-growth forest until it opens up to sweeping Pacific Ocean views or following rocky ridgelines hundreds of feet above the beach is truly unforgettable!
It was hard to narrow down our favorites, but we've come up with a list of incredible Oregon coast hikes that should be on your list!
We've listed these hikes by region from North, to the Central coast, to the Southern coast of Oregon. So you can plan your hikes based on which of the Oregon coast towns you plan to visit.

North Coast Hikes
These hikes can be found on Oregon's northern coast and we think they are worth a try!
1. Oregon Beaches via Seaside Promenade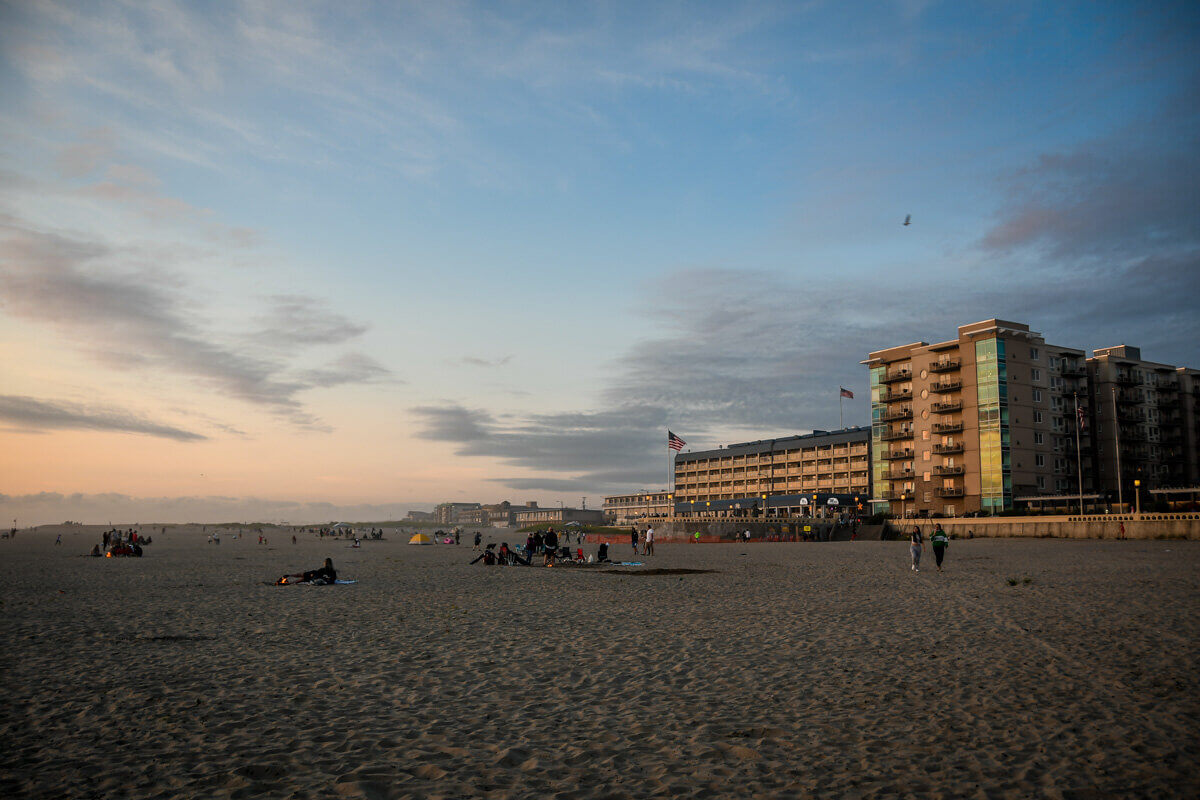 This is easily one of the most accessible and leisurely Oregon coast hikes. The trail is mostly paved with some sections of sand, and it's flat and relatively even the entire way. Best of all, there's direct beach access at several spots along the trail, so you can stop to spend some time by the water or have a picnic.
2. Fort to Sea Trail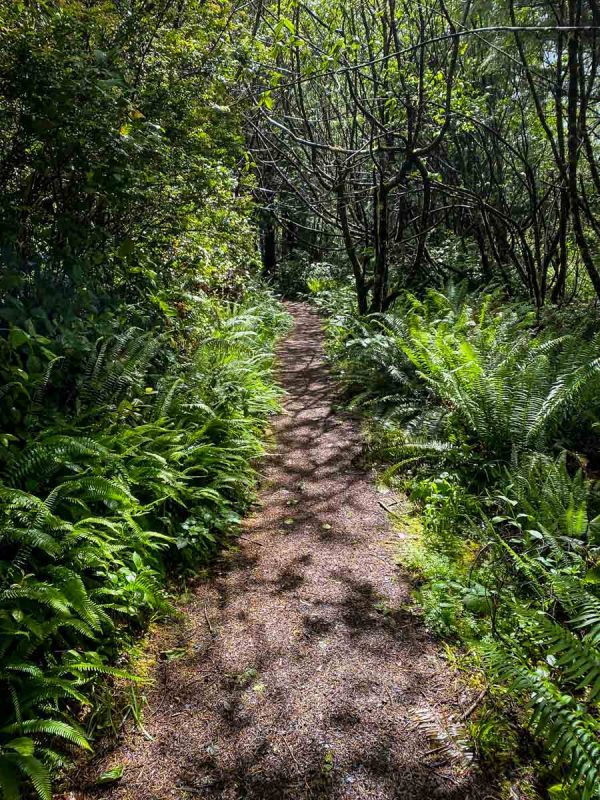 This aptly-named trail starts in the forest at Fort Clatsop and takes hikers directly to the ocean (Sunset Beach). While it's a fairly long distance — note that it's 6.1 miles one way — this hike isn't particularly challenging, minus a couple of steep sections and areas that can be muddy.
Pro tip: if you don't want to hike the 13 miles out-and-back, shuttle cars and have one parked at Sunset Beach.
3. Haystack Rock Trail
See the iconic sea stacks of Cannon Beach on this popular Oregon coast hike: Haystack Rock Trail. The highlight is a 235-foot monolith, one of the largest sea stacks on the Pacific Coast, booming with intertidal life and nesting seabirds.
This hike takes you all the way down Cannon Beach where you can explore tide pools, pull up a chair and take in the views, or even build a fire for the perfect sunset. Since this beach walk is flat and rated easy, you should be able to walk the whole beach in an hour and a half, but you can go as far down the coast as you'd like.
4. Kwis Kwis and Fort to Sea Loop
Another alternative to the longer Fort to Sea Trail is to combine it with the Kwis Kwis Trail, forming a loop. Take Fort to Sea one way and Kwis Kwis the other, adding some moderate elevation gain and a stretch on a boardwalk through wetlands. As a bonus, this route is generally not crowded at all — a rarity among Oregon Coast hikes!
5. Oregon Coast Trail: Arch Cape to Devil's Cauldron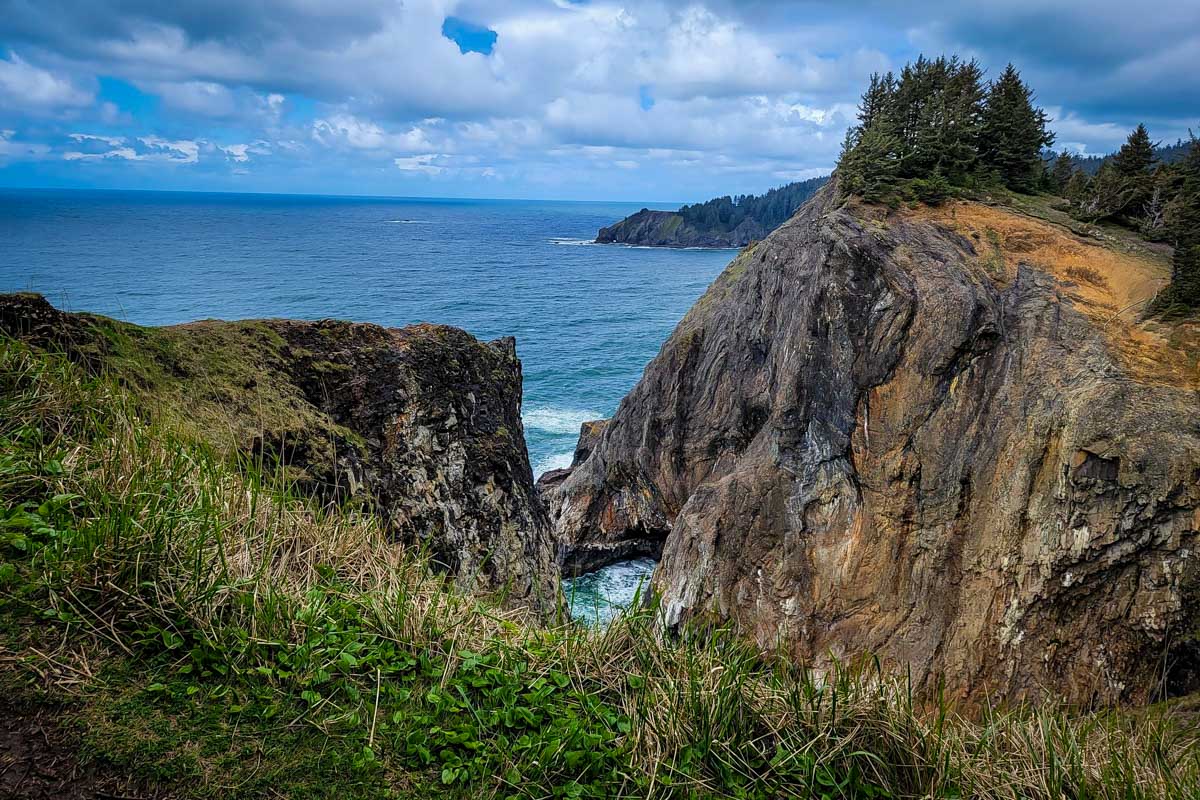 Despite being inside Oswald West State Park, this trail isn't heavily traveled. There isn't dedicated parking and finding the trailhead can be tricky (look for the pullout off Highway 101 just south of the parking areas for Short Sand Beach). Your efforts will be rewarded with some of the best views on the north coast! Note that this trail gets exceptionally muddy when wet.
Psst! Check out our complete guide to visiting Oswald West State Park while you're at it!
6. Oregon Islands South Trail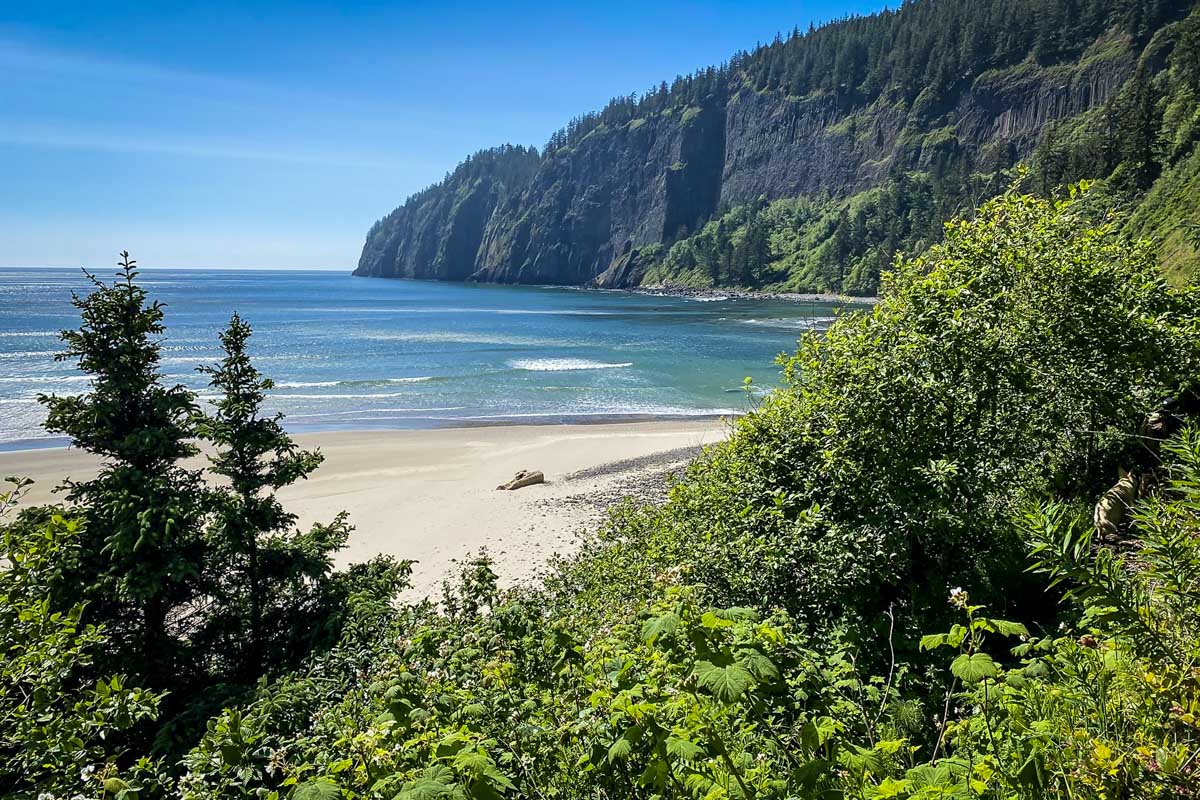 This hike takes you straight downhill to a gorgeous secluded beach using a series of switchbacks. While that certainly sounds appealing, keep in mind that it means the trip back is all uphill! Views are fantastic all along the trail, with lots of Insta-worthy photo ops through the trees.
Note: AllTrails shows this trail as 3.1 miles roundtrip, but it's actually a little over 4 miles.
7. Lewis and Clark Discovery Trail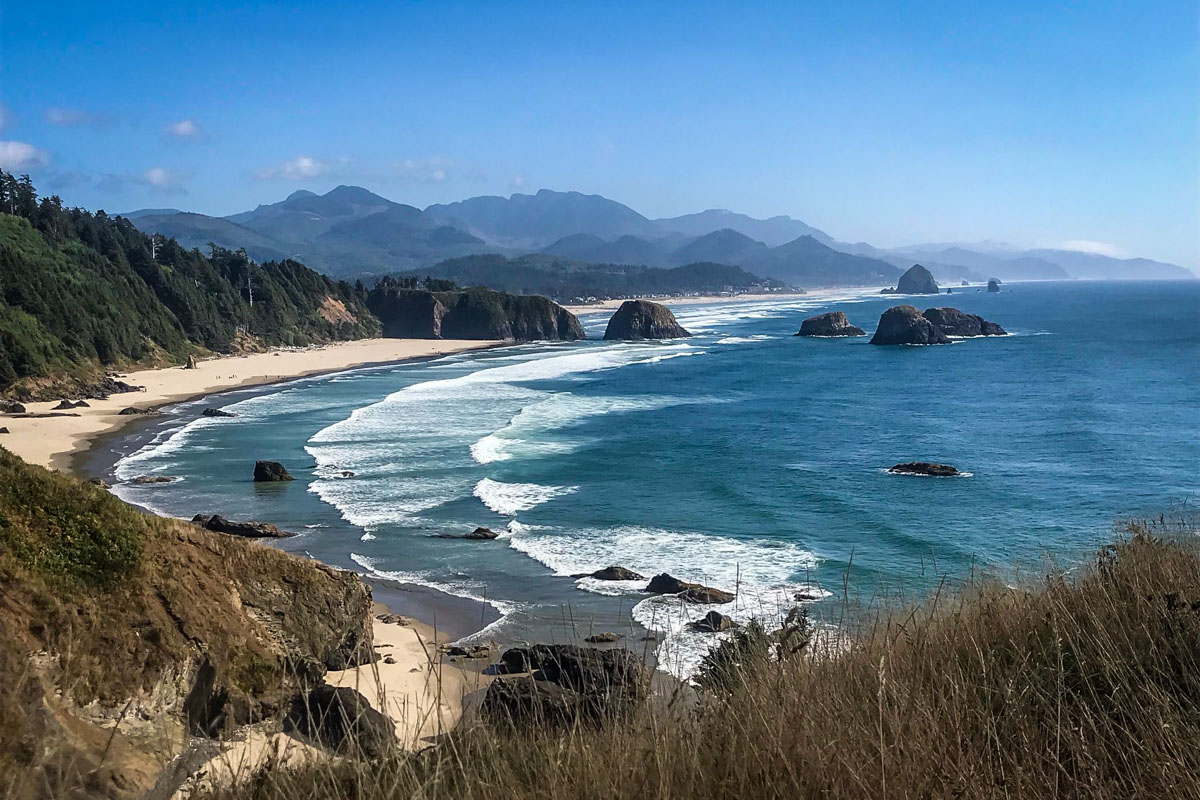 Follow in the footsteps of famed explorers Lewis and Clark on this incredibly scenic hike, part of the Oregon Coast Trail. You can start from either Seaside or Indian Beach in Ecola State Park, but we recommend starting from the beach.
The views are far better and the Seaside section tends to be muddier, so starting from Indian Beach allows you to do the best section of the trail as an out-and-back if you wish. Don't miss the Tillamook Rock Lighthouse, a quick detour near Indian Beach!
8. Neahkahnie Mountain via South Trailhead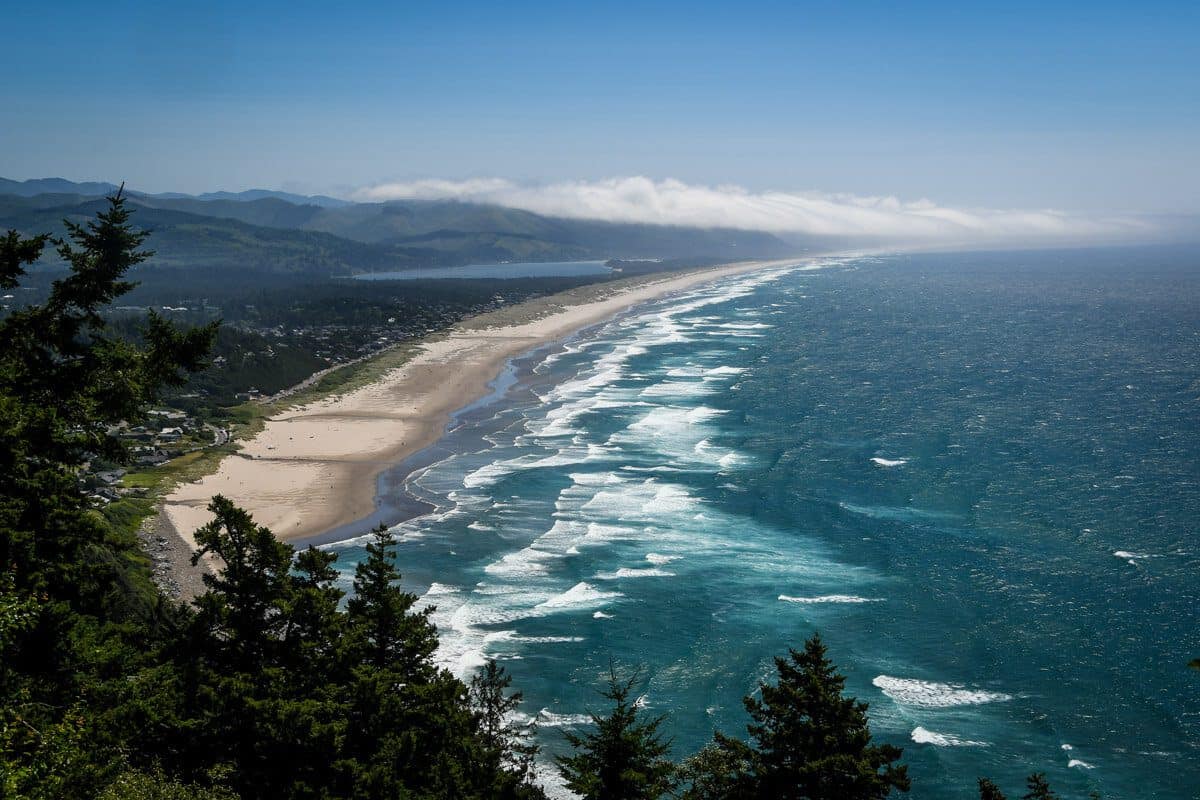 Another popular stop along the OCT, the Neahkahnie Mountain summit is accessible from both the south and north. The north trail isn't maintained, so approaching from the south is safer and more manageable.
You'll take 13 switchbacks up the mountain before needing to scramble some rocks at the summit (the reason for AllTrails' "hard" rating), but the final view of Nehalem Bay and Neahkahnie Mountain is worth it!

Central Oregon Coast Hikes
These hikes can be accessed while visiting anywhere on the central coast of Oregon.
9. Cape Meares Viewpoint and Octopus Tree Trail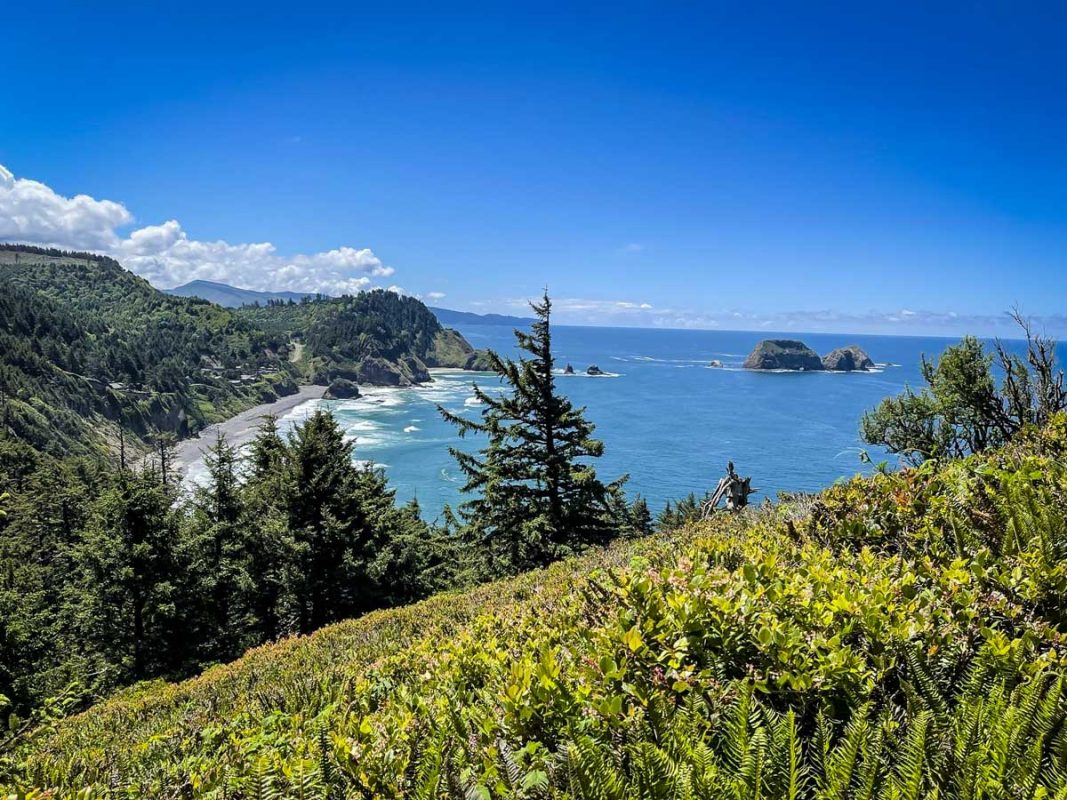 Tucked inside Cape Meares State Park, this hike packs a one-two punch with not only the postcard-worthy Cape Meares Lighthouse, but also the Octopus Tree, a massive, several-hundred-years-old, and unusually-shaped Sitka spruce with several limbs. Much of this trail is paved, so it's also one of the more accessible Oregon coast hikes.
Psst! Have you heard of Thor's Well? This unique natural wonder is one of the most interesting stops along Oregon's central coast. We have a whole guide to visiting Thor's Well Oregon.
10. Giant Spruce Trail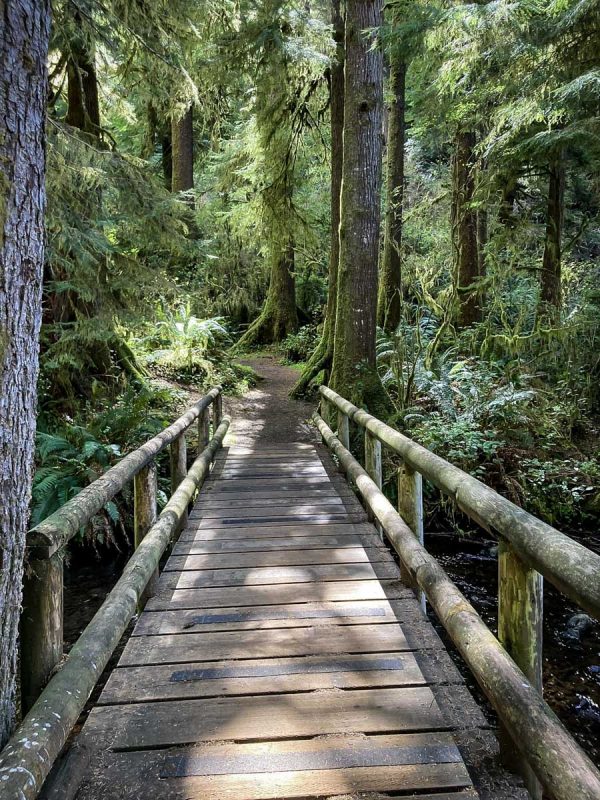 As its name implies, the Giant Spruce Trail leads to one of Oregon's largest (and oldest!) spruce trees. Start from the Cape Perpetua Visitor Center and enjoy the relaxing, straightforward hike. The 185-foot-tall, 500-plus-year-old tree even has a massive, complex root system you can climb into for photos!
11. Cape Lookout Trail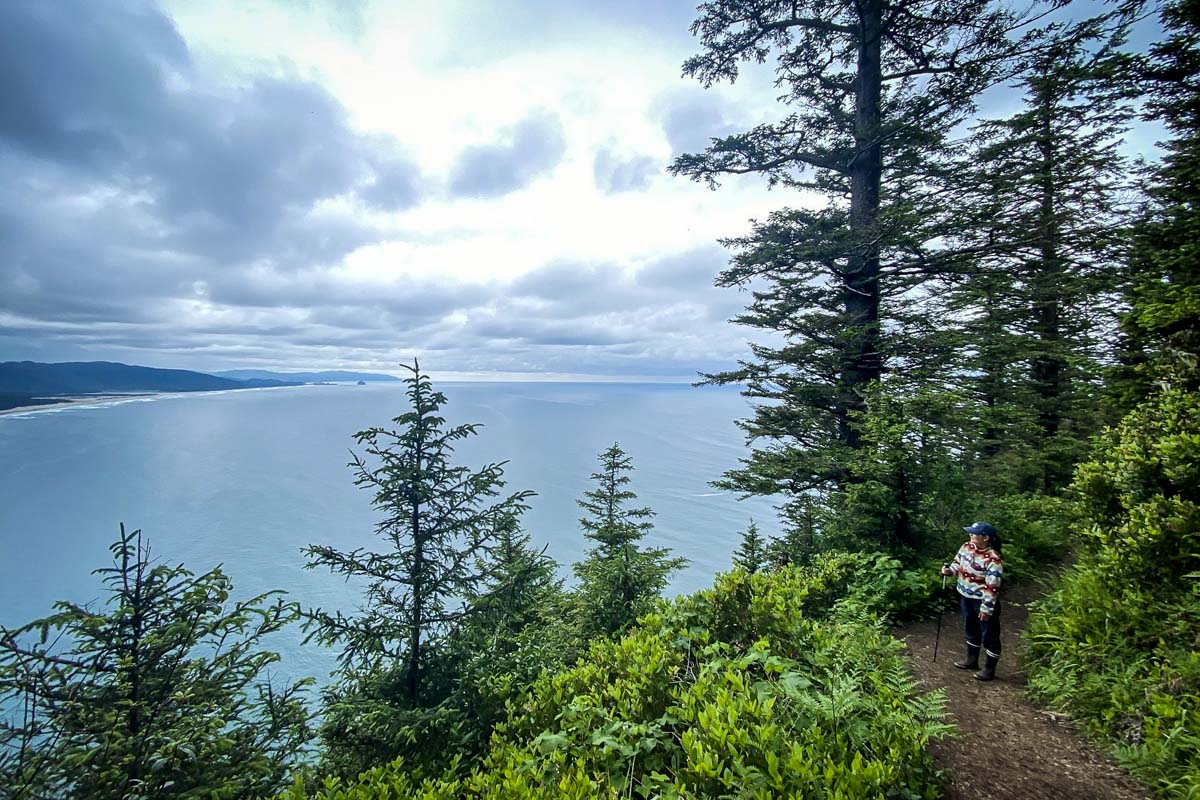 This is one of the most popular Oregon coast hikes, largely because it's great for whale-watching. The peninsula juts directly into the migration lane of gray whales, forcing them to detour around it. Even if you don't spot any whales, the views are phenomenal! Cape Lookout is also notoriously muddy, so wear good boots and bring trekking poles.
12. God's Thumb via The Knoll
Those willing to brave the mud on this trail will be rewarded with one of the most unique Oregon coast hikes (also considered one of the best hikes in Oregon!). It takes you to the top of "God's Thumb," or simply "The Thumb," a massive basalt formation with stunning views in every direction.
Note that there are several routes to The Thumb, but most (illegally!) cross private property. Trust us, this is the safest and best way to approach this hike.
13. Amanda's Trail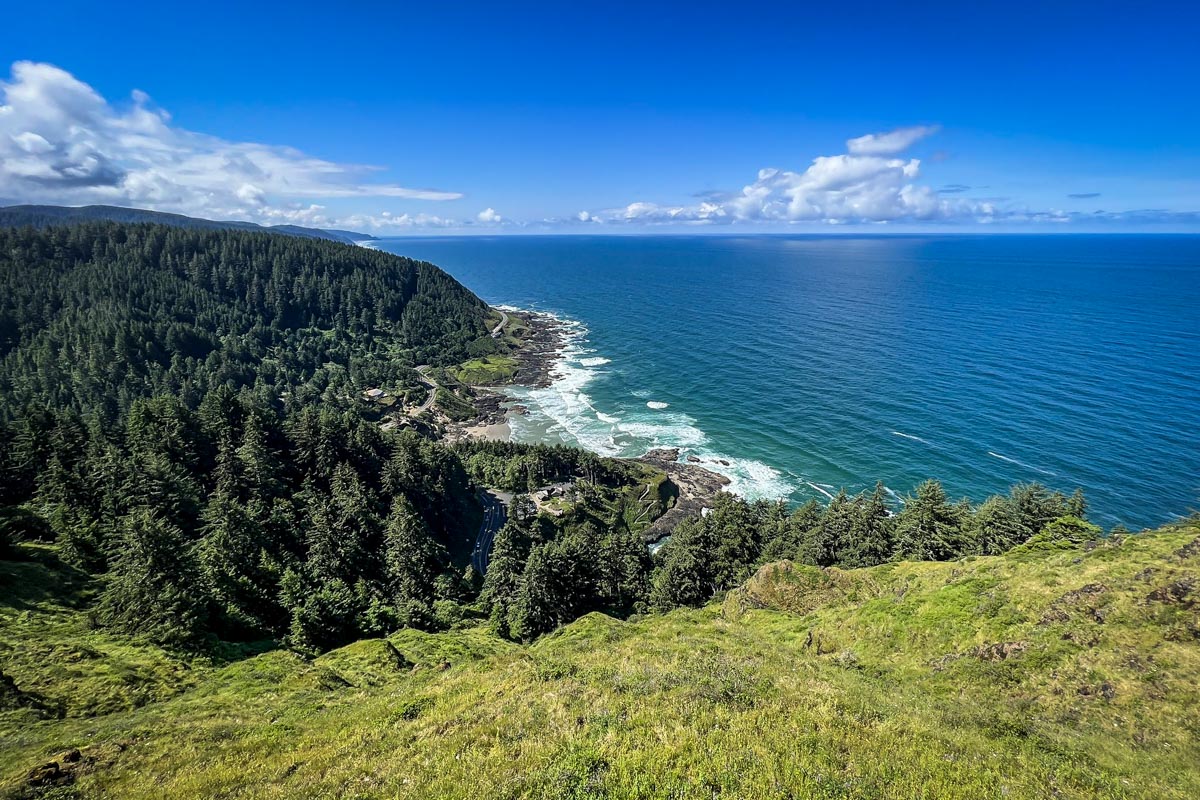 Tracing the coastline from southern Yachats to Cape Perpetua (and back if you choose), Amanda's Trail is a 3.7-mile stretch of the Oregon Coast Trail with a dark history. The trail is named in honor of Amanda De-Cuys, one of the native Americans who were forcibly rounded up and relocated in the mid-1800s.
Picking up where the 804 Trail leaves off, this moderately difficult hike features beautiful wildflowers and views of the coast. About 1.5 miles into the hike you'll reach the iconic Amanda Statue, which has signage that can tell you the rest of her story.
Psst! Check out these other fun things to do in Yachats, Oregon on your trip!
14. Cummins Creek Trail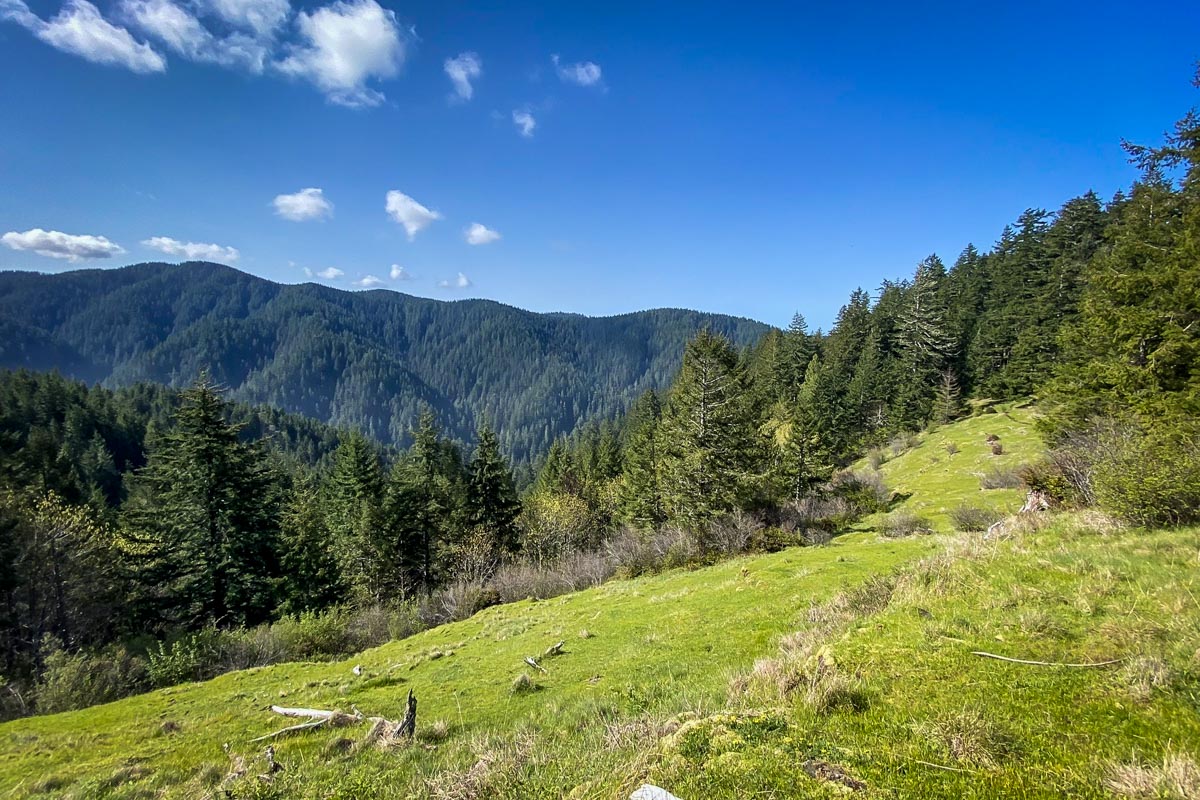 Despite being part of the uber-popular Cape Perpetua trail system, Cummins Creek is a hidden gem among Oregon coast hikes. You'll hike through the only remaining old-growth Sitka spruce forest on the coast, and views are fantastic. Signage isn't great and there are a few trails here, plus well-beaten false trails from wildlife, so we recommend using GPS or a fitness tracker.
15. North Ridge Trail to Marys Peak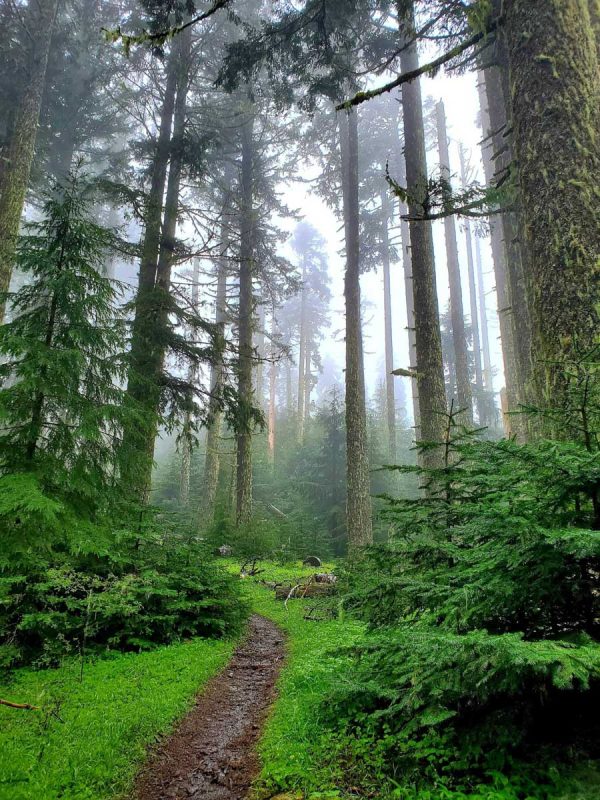 Marys Peak is a popular destination for hikers and mountain bikers and, while there are easier routes to the summit, North Ridge Trail is one of the lesser-traveled — not to mention spectacularly beautiful. Enjoy the mixture of new and old-growth forest on the way to the summit, where you'll be treated to panoramic views (on a clear day) of the Pacific, the Coast Range, and even Mount Hood!

Southern Coast Hikes
If you're going to be visiting the Southern Oregon Coast, you'll want to put these hikes on your to-do list!
16. Sunset Bay to Cape Arago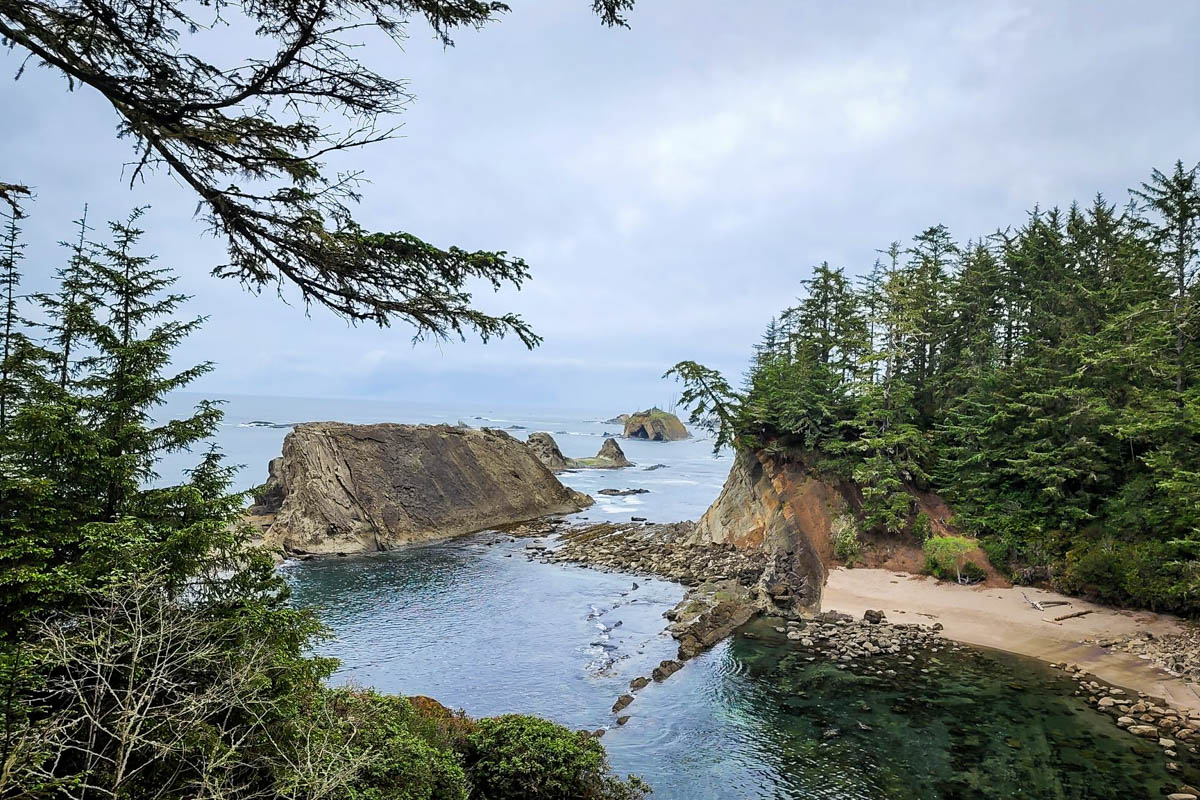 This might be the most photogenic hike on the Oregon coast! You'll hike along beaches, through well-manicured gardens in Shore Acres State Park, past interesting rock formations, and right to a major sea lion viewpoint. Despite the long-ish distance, this trail is very laid-back.
17. Waxmyrtle Trail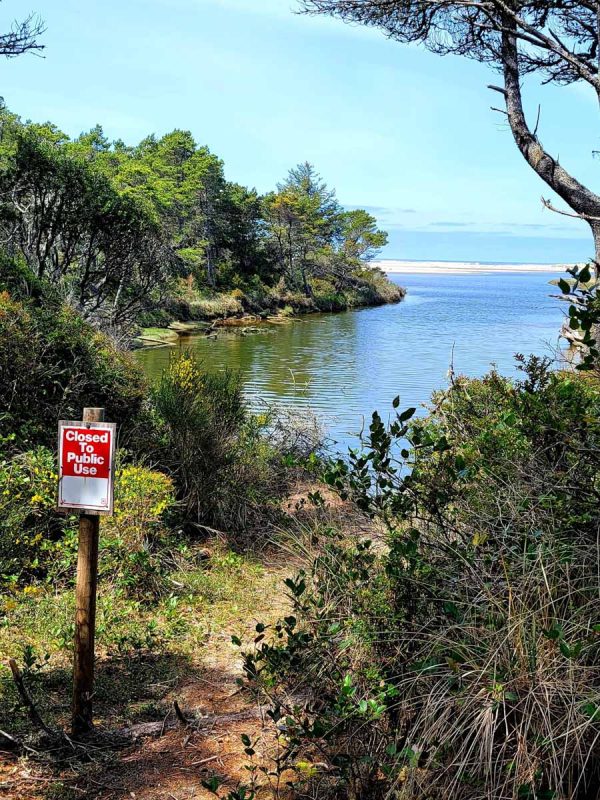 If you're looking for a quick workout, this short-and-sandy hike is a great option! The trail traverses woods, marshes, and lots of sand en route to the beach. Note that dogs aren't permitted on the beach from March 15 to September 15, the nesting season of federally-protected snowy plovers.
18. Humbug Mountain Loop Trail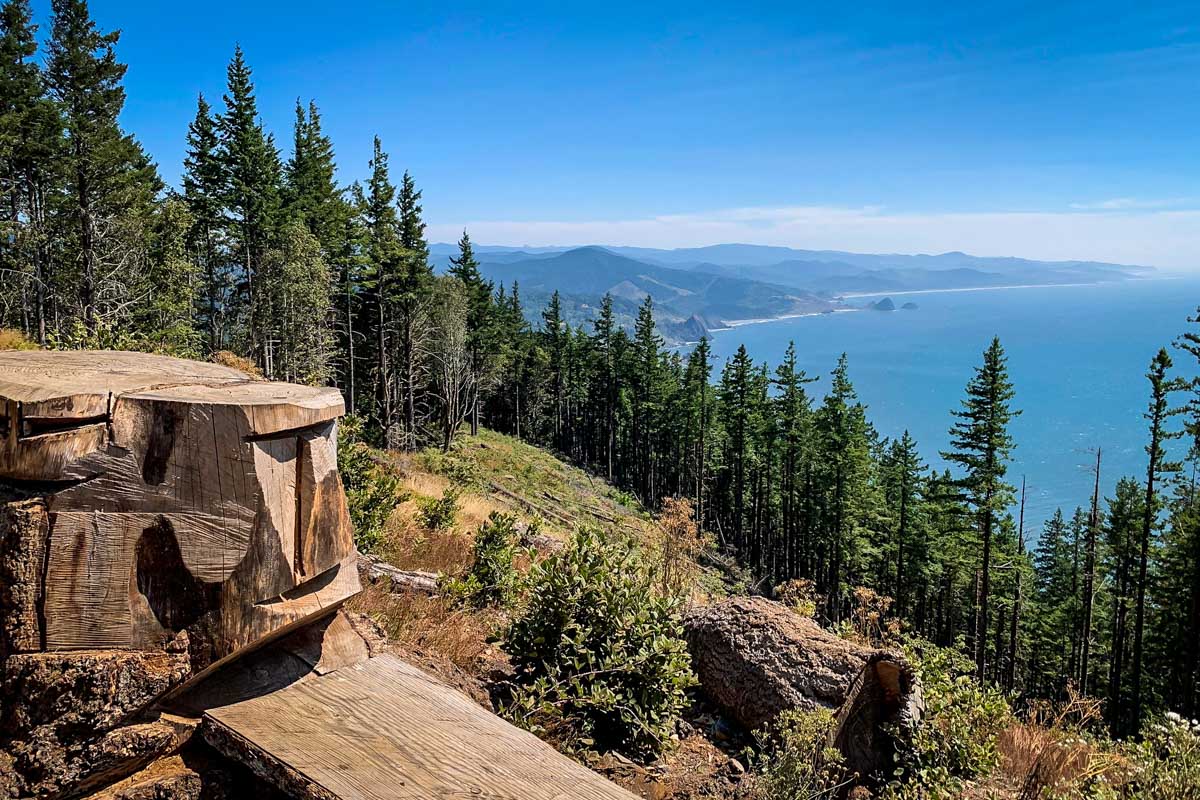 For an authentic coastal Oregon hiking experience, summit the highest mountain on the coast! The steady incline gets the blood pumping on the way up, then offers a fast descent, most of the way passing through a thick forest of Douglas fir (unusual for the coast). From the summit, take in sweeping views of the coast and the cerulean blue waters of the Pacific.
19. Thomas Creek Whaleshead Beach Trail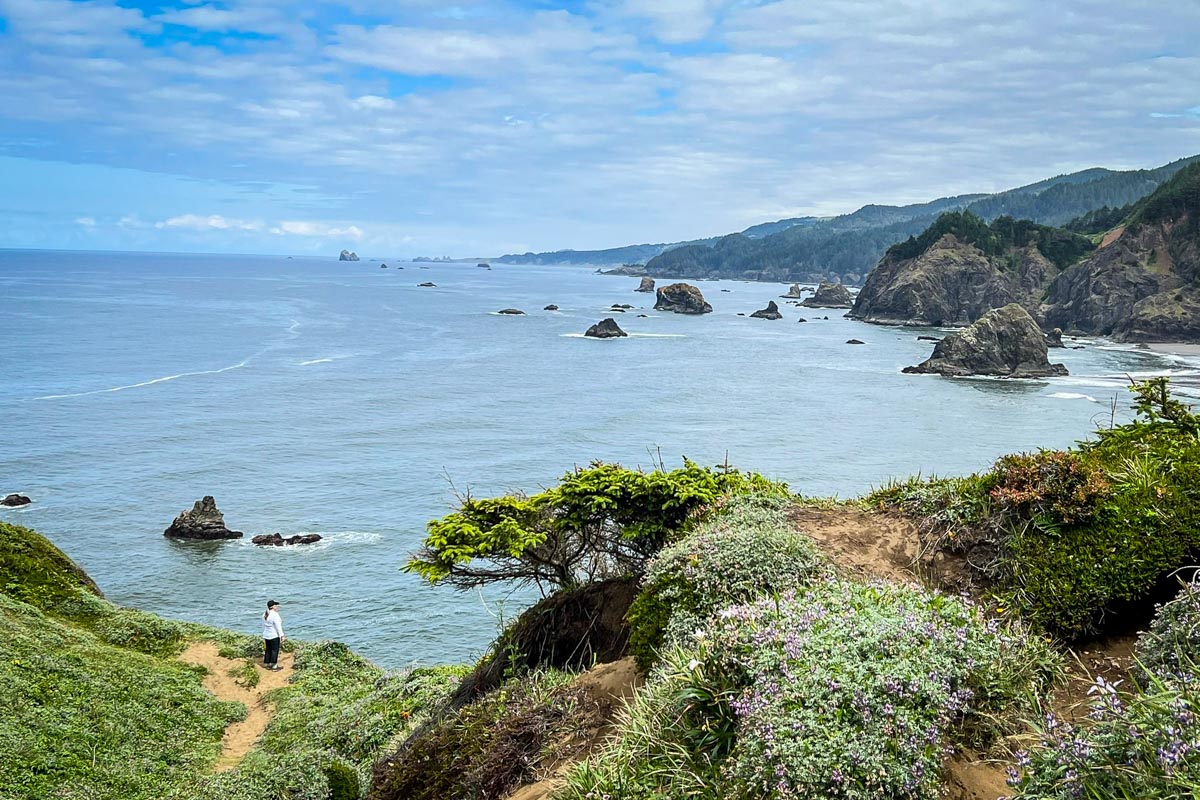 In the stunningly beautiful Samuel H. Boardman State Scenic Corridor, this trail takes you along rocky coastline and through mossy, fern-covered coastal forest and sand dunes. Depending on the season, you may be lucky enough to spot gray whales on their migration — that alone makes this one of the best Oregon coast hikes!
20. Secret Beach Trail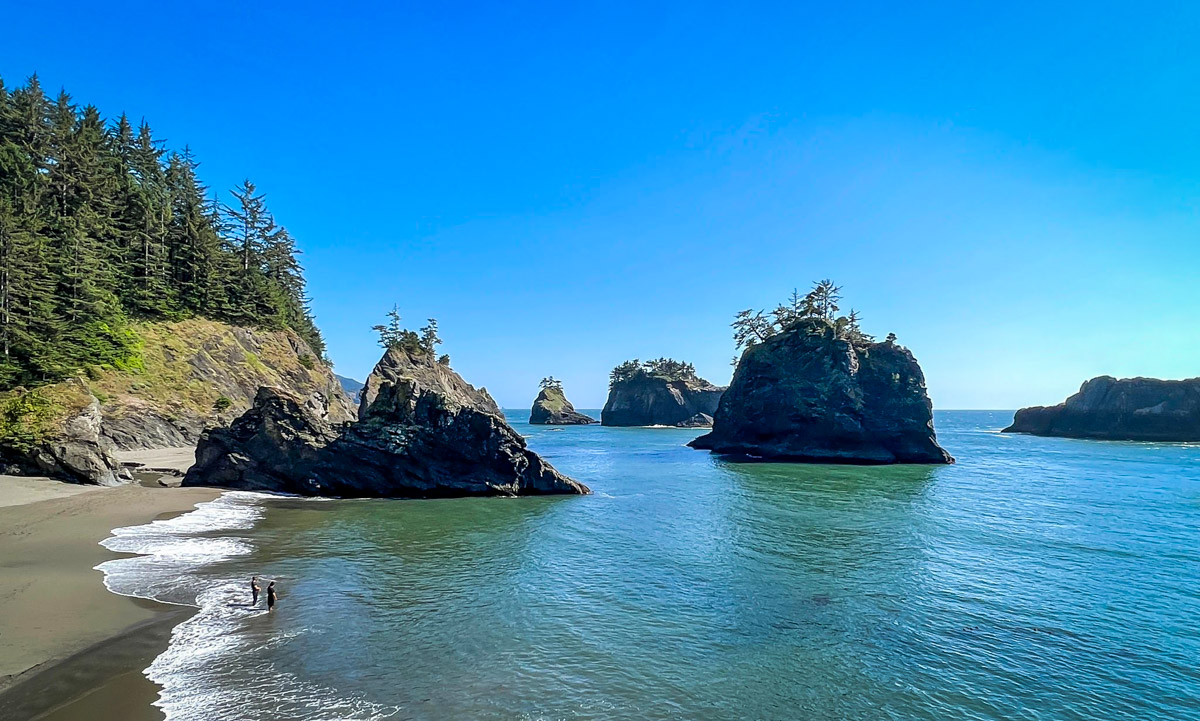 Secret Beach offers a tremendous payoff in a short distance, making it one of our very favorite Oregon coast hikes! Plan your visit for low tide so you can explore the tide pools and sea caves, in addition to the already-amazing secluded beach and rock formations teeming with sea life. To find the trailhead, look for a small gravel parking lot just south of milepost 345 on the 101.
21. Cape Sebastian Trail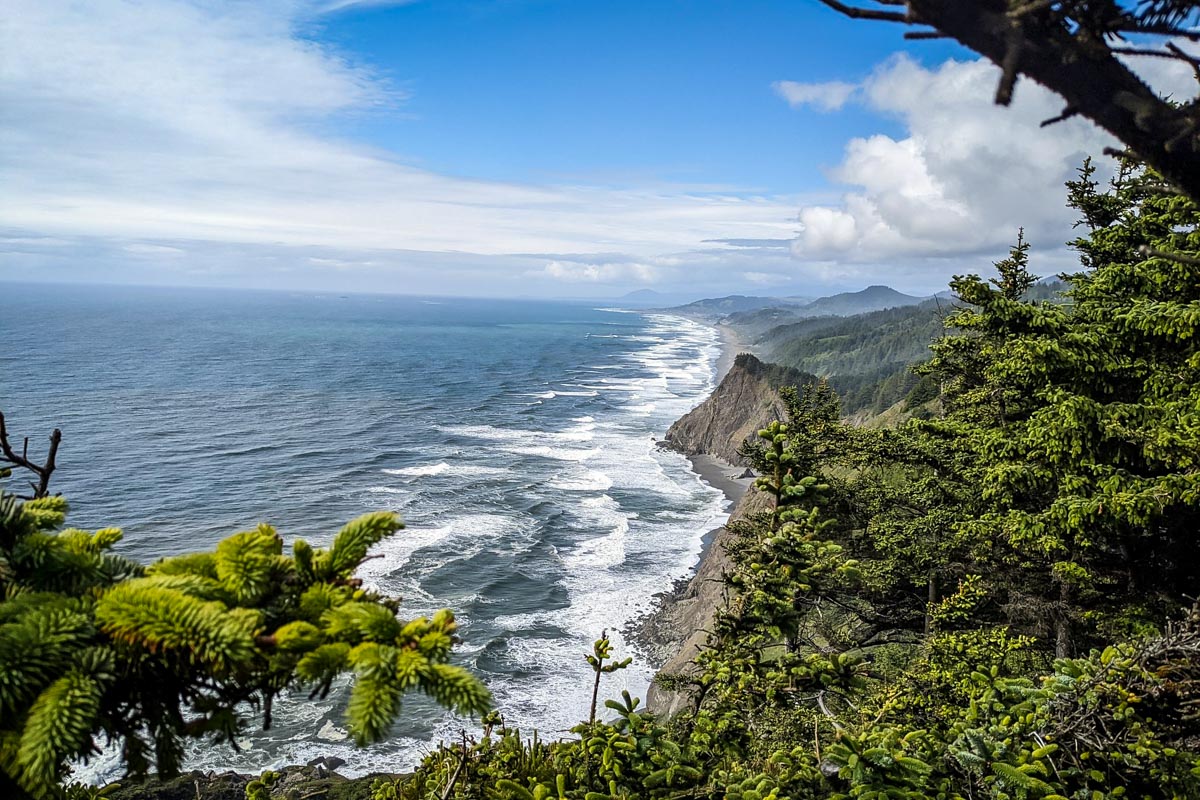 Cape Sebastian offers a decent workout in a relatively short distance, but more importantly, ahh-mazing views of one of the most scenic stretches of the coast! In fact, the views are jaw-dropping almost immediately and only continue to get better (initially to the north, then to the south). At the end, you also have the option of going down to Hunters Beach — which we highly recommend. It's steep, but there are ropes to guide hikers.
Be sure to grab our ultimate hiking packing list includes our must-have gear for any hiking trail!


You may also like…
Save this article on Pinterest for later!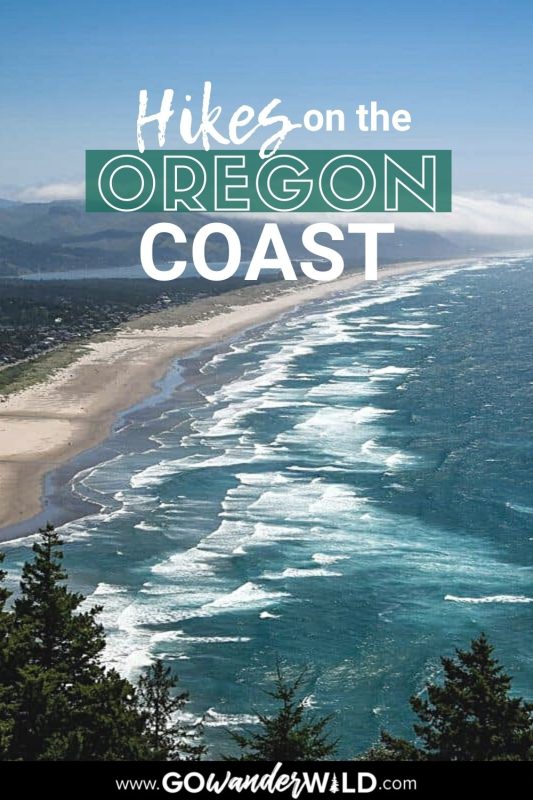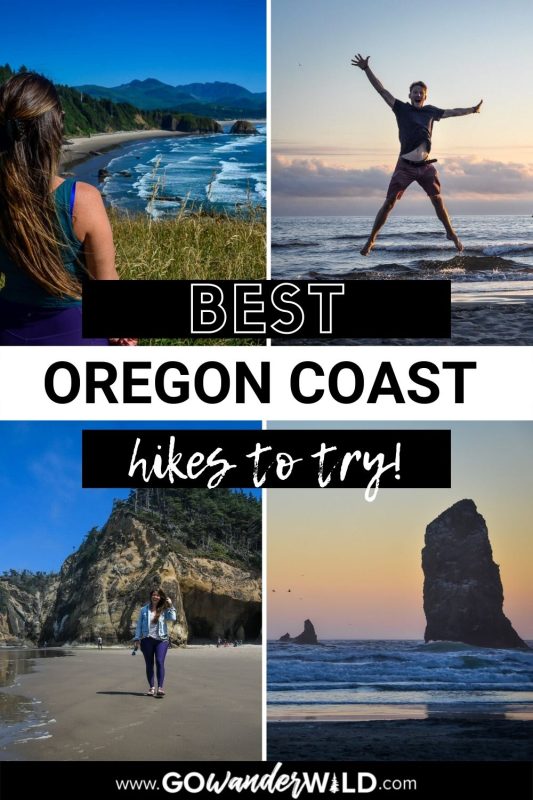 We want to hear from you!
Have you done any of the Oregon coast hikes on this list? What was your experience like? Are you planning on doing some hiking on the Oregon Coast and want more advice? Comment below and let us know!