One of our biggest priorities when spending time outdoors is whipping up a tasty and satisfying meal. We've rounded up these delicious camping dinner ideas that will have you excited to step into your camp kitchen after a long day of adventuring!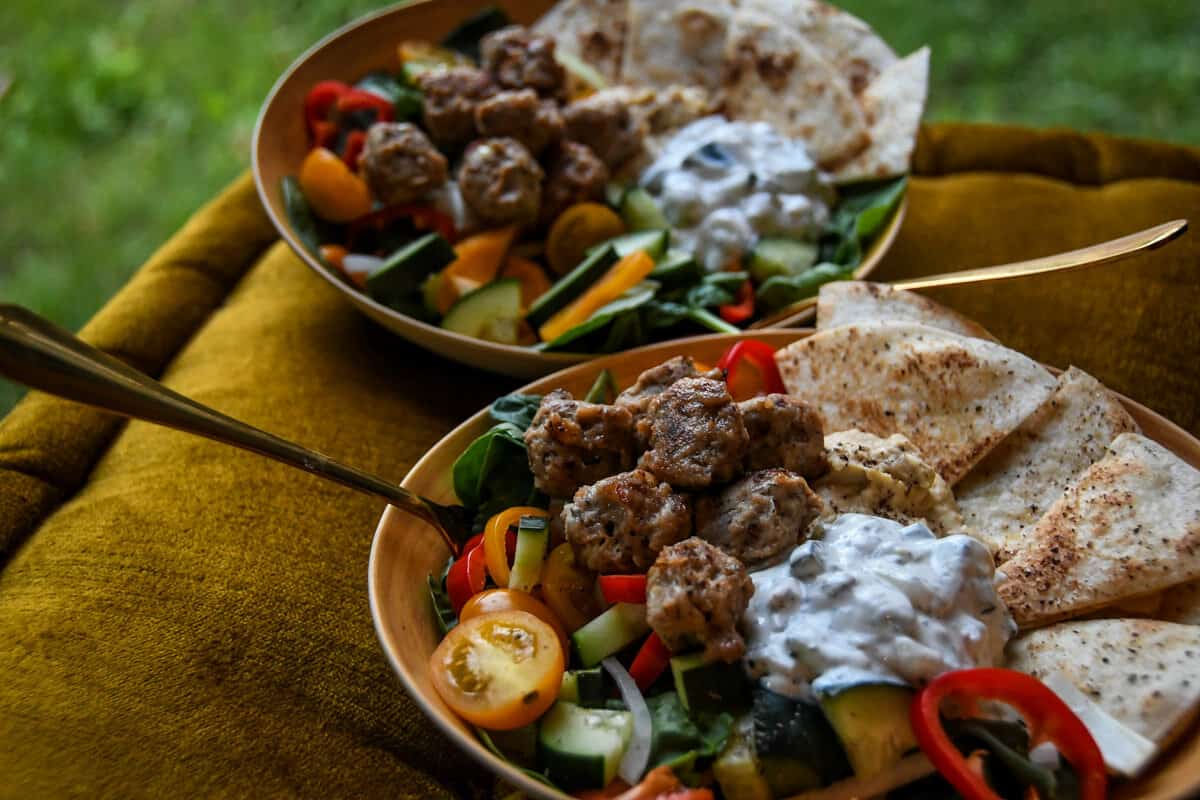 These camping dinner ideas use minimal ingredients, take up little space in your food storage, and are packed full of flavor. Some of these recipes can even be made ahead of time to save time on prep and cleanup.
We feel you shouldn't have to sacrifice flavor and quality just because you're cooking outdoors! That's why we've curated this list of filling and satisfying recipes to keep you fueled for your next adventure.
Keep these camping dinner ideas bookmarked so you can spend less time meal planning and more time planning your epic adventures.
1. Jambalaya Foil Packets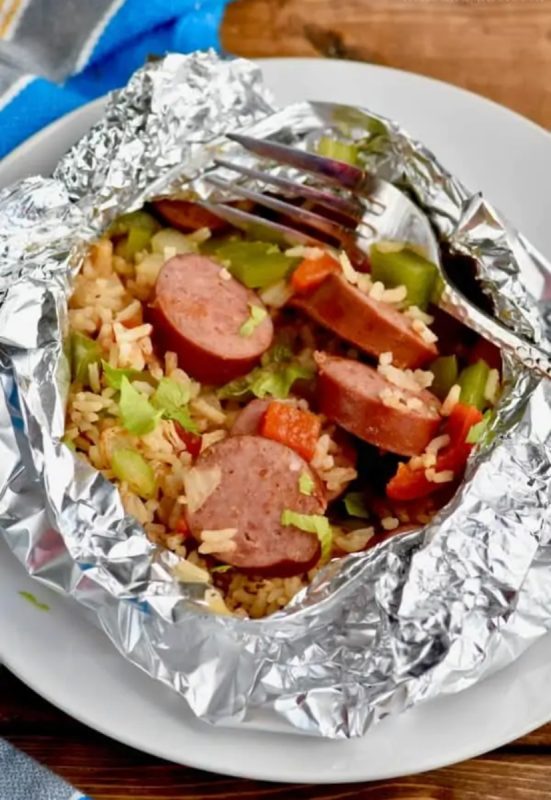 Bring the bold flavors of the south to your camp kitchen with this tasty jambalaya made with rice, scallions, andouille sausage, and okra. We love foil packets for camping because they require little prep, minimal clean up, and serve in less than 30-minutes.
2. Easy Chili Mac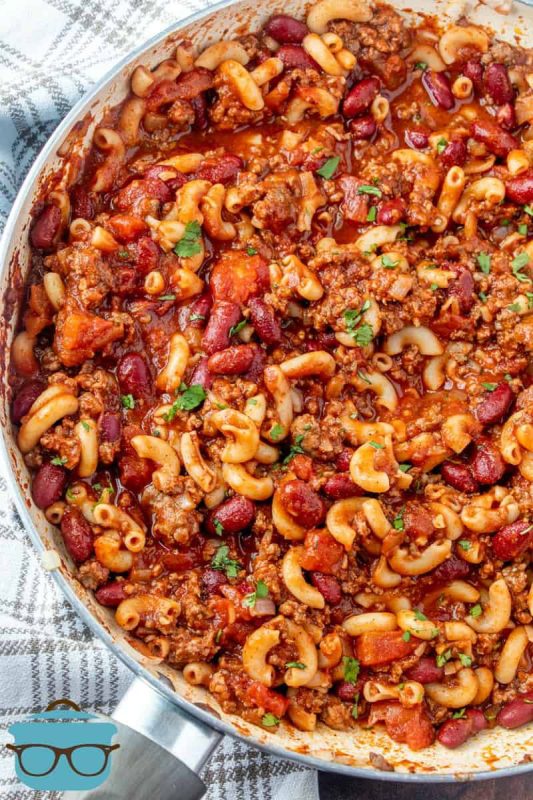 Chili mac is a go-to camping dinner idea that is cheap, easy to make, and a favorite in the outdoor community. This is a great meal to make for a group since you can make a big pot and everyone will be satisfied after a big bowl of their favorite childhood meal topped with freshly grated cheddar cheese.
3. Campfire Nachos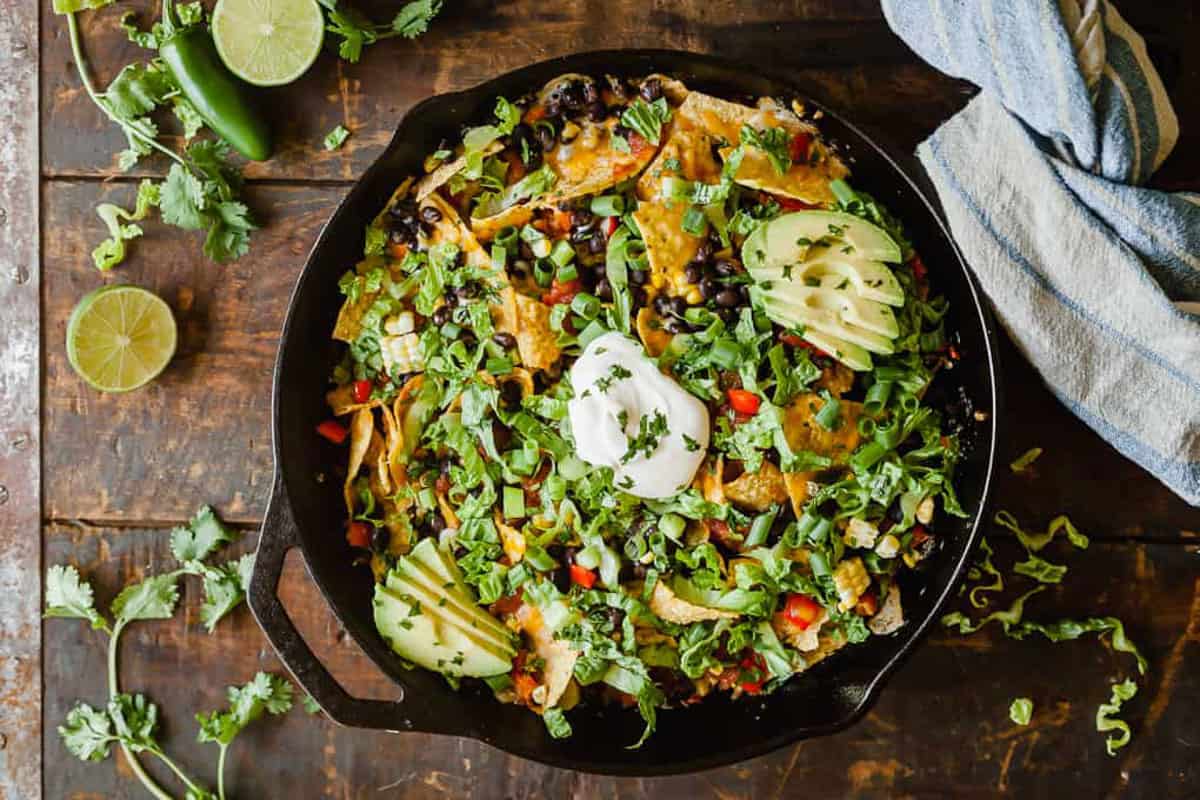 Nachos are the perfect camping dinner because they're fully customizable. Add your favorite ingredients over a bed of crunchy tortilla chips and gooey, melty cheese. The best part is that you combine everything in a skillet and you can serve a crave-inducing meal in less than 20-minutes.
4. African Peanut Stew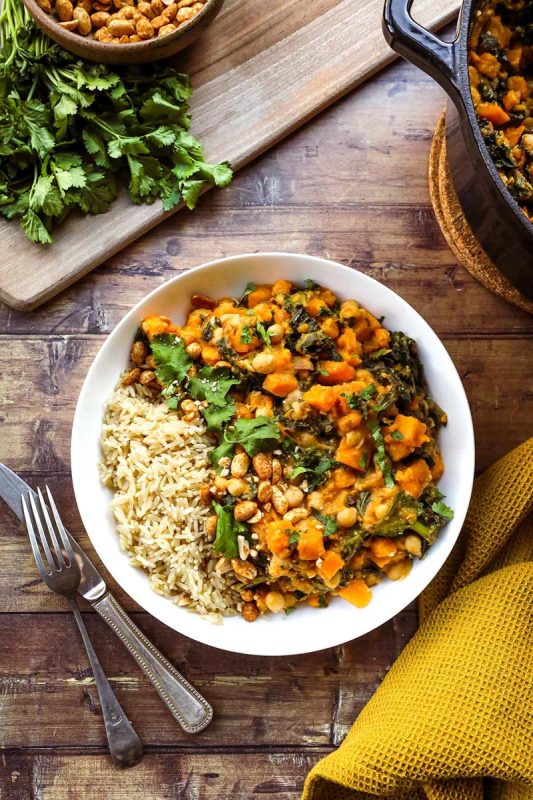 A hearty and flavorful stew is one of our favorite meals to make when we go camping. This african peanut stew combines peanut butter, sweet potato, garbanzo beans, and spices to create a satisfying camping meal. This is a great make ahead recipe that is best served with rice or quinoa.
5. Honey Mustard Chicken Skewers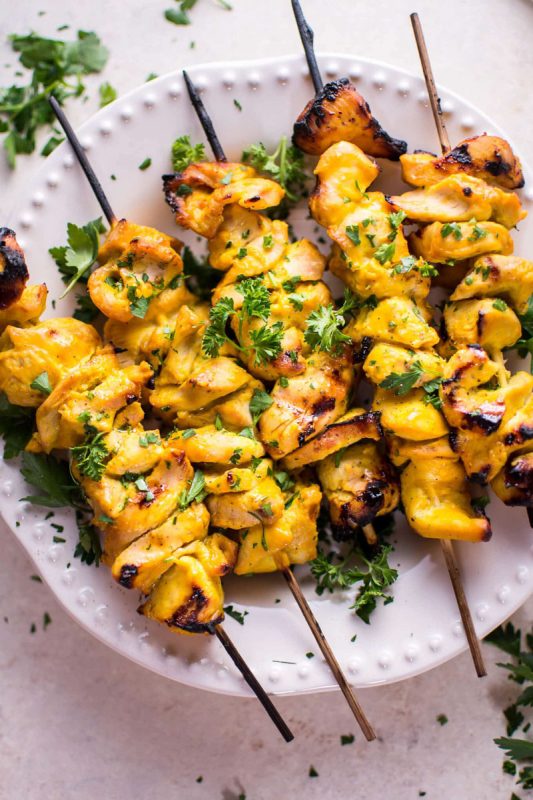 These honey mustard chicken skewers are the perfect make ahead camp meal because the longer the chicken marinates for, the more powerful the flavor. This recipe is great even if you're not a huge fan of mustard because the flavor isn't overbearing.
6. Vegetable Lentil Soup w/ Garlic Croutons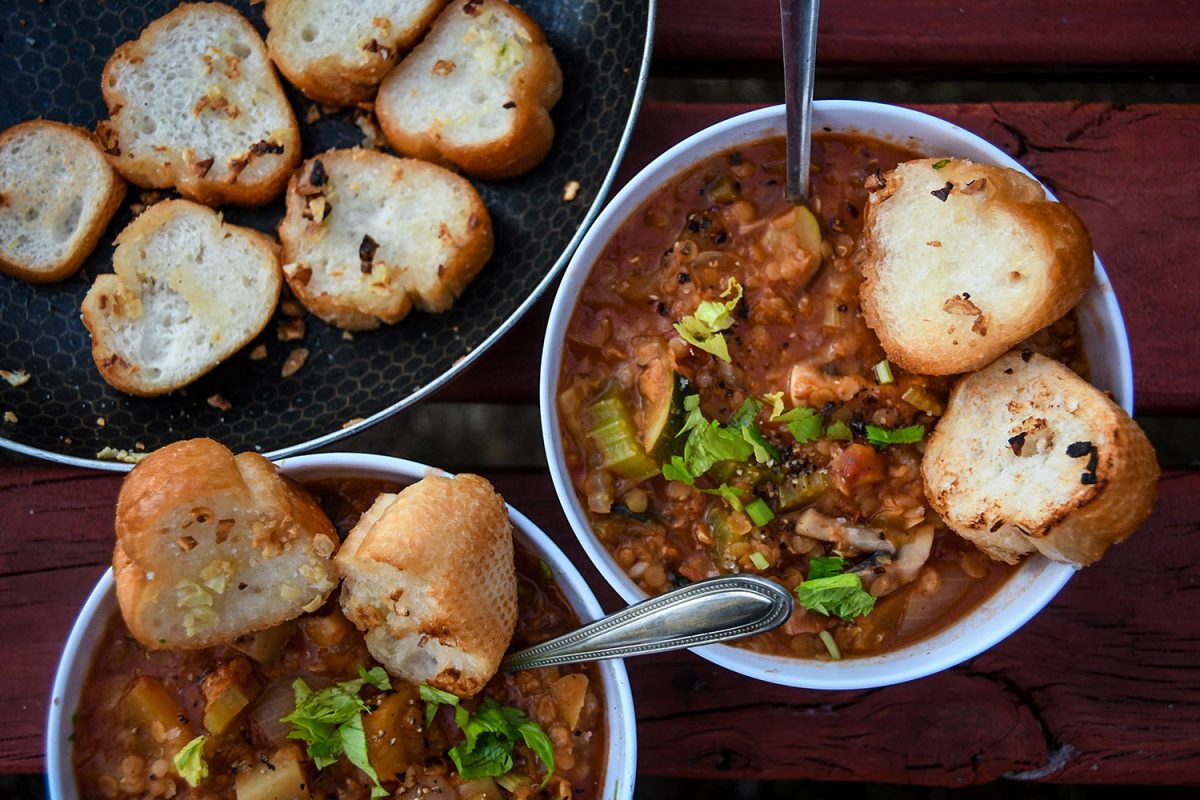 This one pot meal is one of our favorite camping recipes that's packed with protein and hearty veggies. We've made this recipe in our campervan and at home and it's always a hit. Use your favorite veggies and make the garlic croutons ahead of time for a nice crunch.
Psst! Looking for more veg-heavy options? We've got you covered with these vegetarian camping meals that are both healthy & delicious!
7. Chicken Gyro Wraps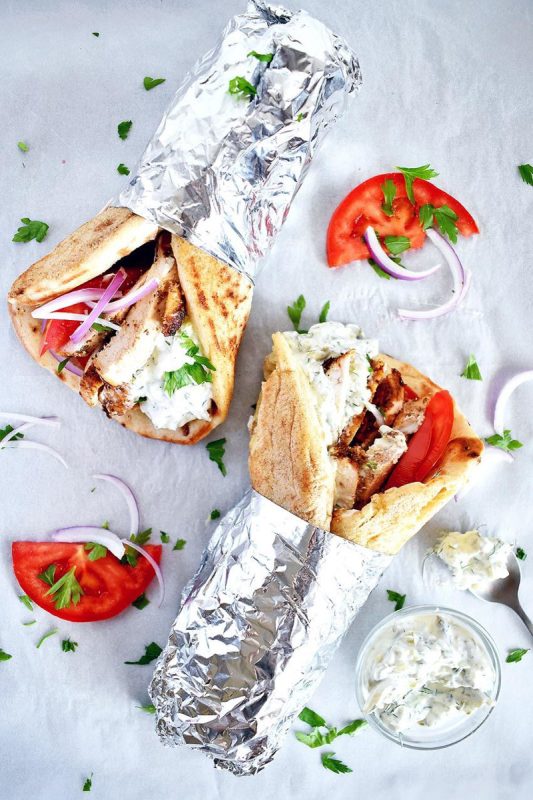 Enjoy all the flavors of Greek street food with this simple and easy dinner recipe. The zesty tzatziki sauce, onions, tomatoes, and grilled chicken wrapped in a toasted flatbread is easy to assemble and serve around the campfire.
8. Creamy Beef Stroganoff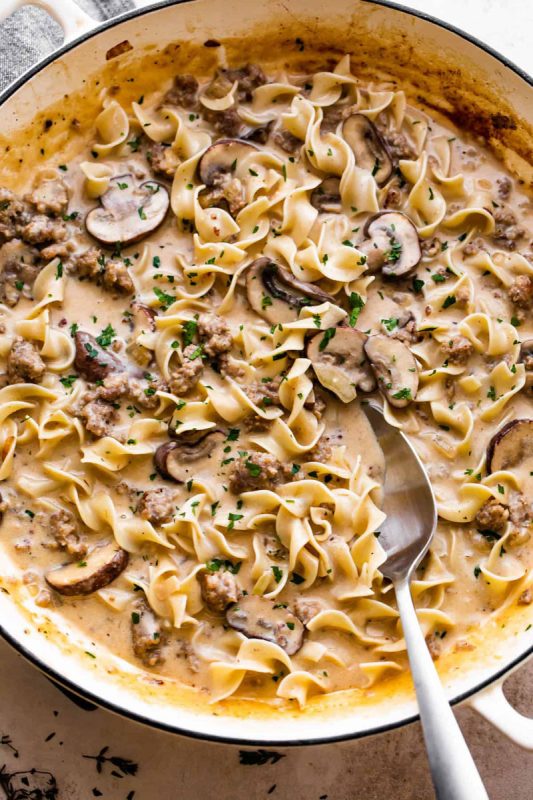 This simple and creamy beef stroganoff is the perfect, hearty meal after a busy day on the trails. It takes less than 30-minutes to prep and cook and you can swap the beef for your favorite plant-based crumbles to make this a veggie-friendly. Snap peas are another great addition for a healthy element and nice crunch.
9. Mexican Street Corn Chicken Tacos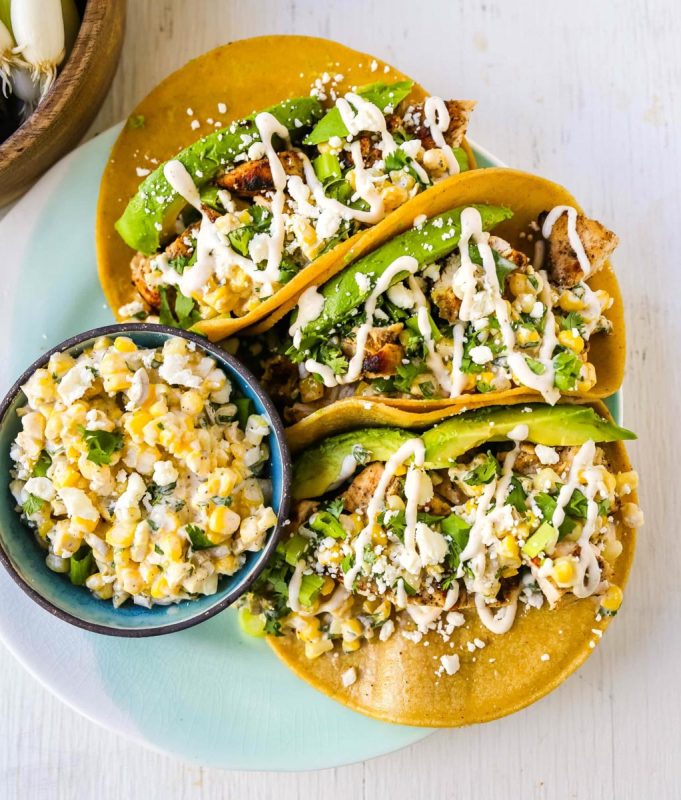 Marinated chicken, homemade street corn salsa, fresh avocado, and spiced Mexican crema are all the key ingredients to a flavorful camp dinner. This recipe is very simple to make but packed with big flavors that will elevate those nights under the stars.
10. BBQ Tempeh Sandwiches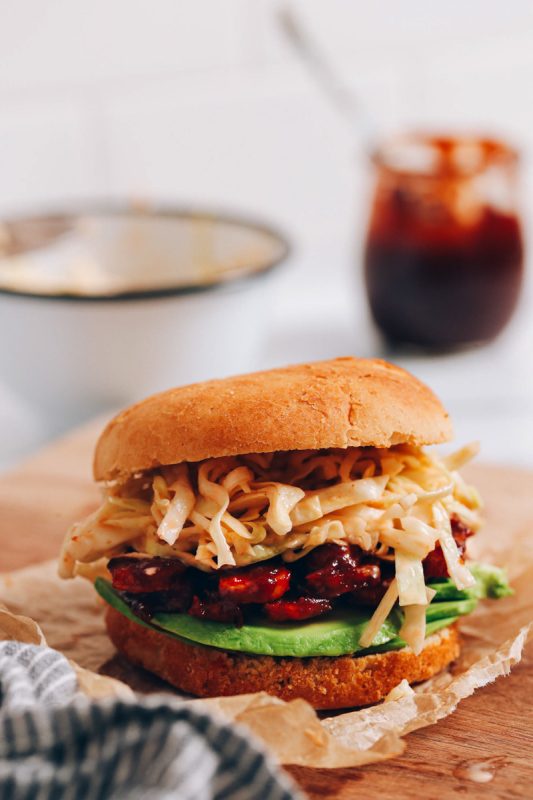 Serve up these drool-worthy tempeh sandwiches in under 30-minutes with ten simple ingredients. The BBQ tempeh and slaw can be prepped ahead of time so then you can heat and serve once you get to camp. We love pairing these with potato salad, baked beans, or grilled corn.
11. Thai Green Curry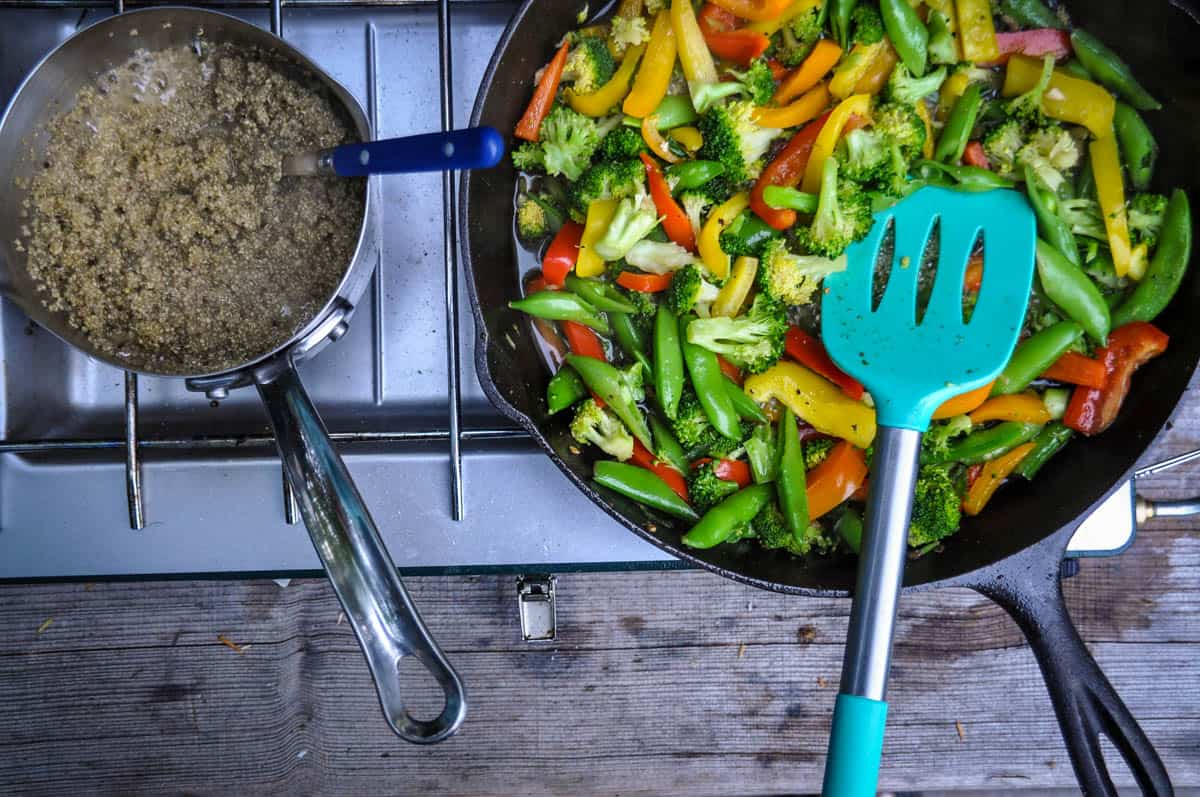 This green curry is one of our favorite camping dinner ideas we've curated because once all the prep is done, the cooking happens all on it's own. Combine all your favorite veggies, coconut milk, and curry paste in one pot and serve in under 30-minutes.
12. Lentil Veggie Burgers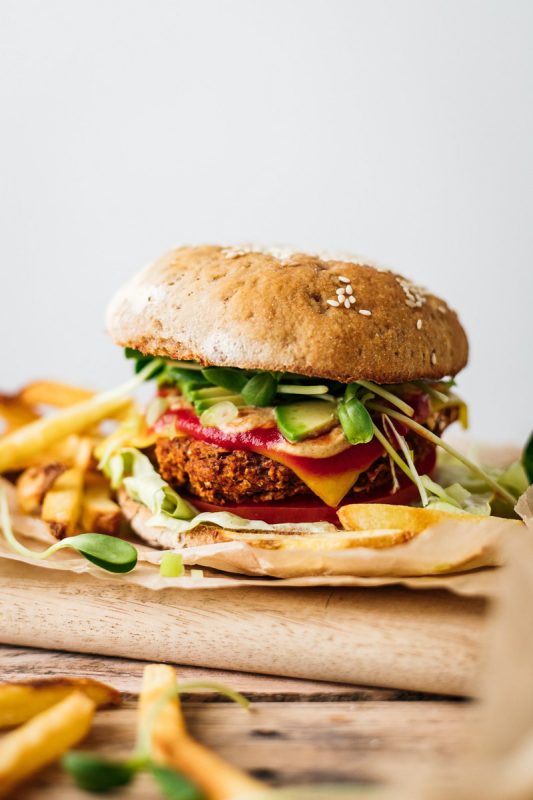 These simple and easy veggie burgers only take six ingredients and 5-6 minutes on the grill. Because they can be made ahead of time and they won't fall apart on the grill, they're perfect for camping. This recipe is also versatile, so you can pack your favorite burger toppings.
13. One Pot Red Lentil Chili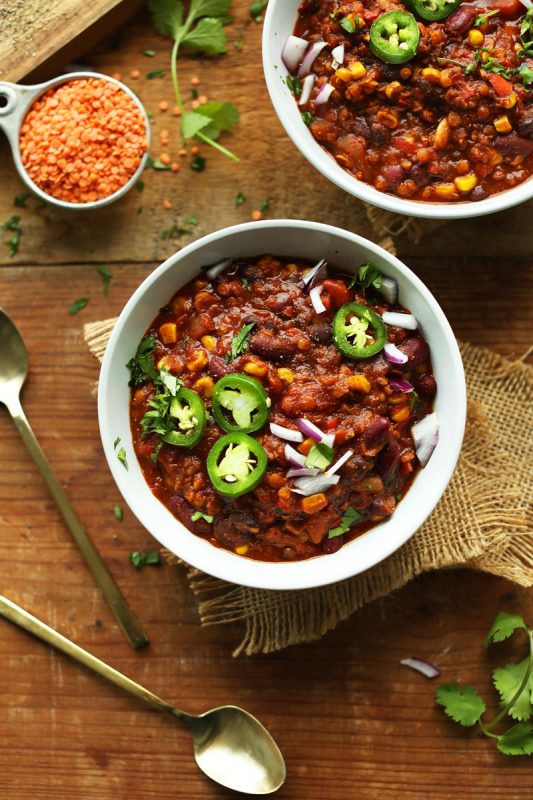 This hearty and smoky chili is packed with protein and smoky flavors, making it the perfect comfort meal for a night around the campfire. If you make this ahead of time, the flavors from the lentils and spices will be even more impactful since they will marinate together for longer.
14. Wisconsin Beer Brats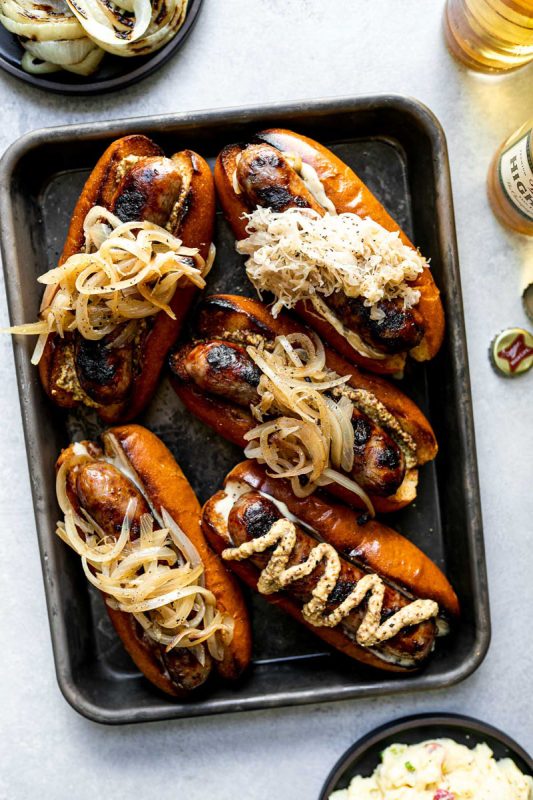 These juicy and flavorful beer brats are made with only three simple ingredients: bratwurst, beer, and onions. We love to serve these on soft brioche bread or a rustic pretzel bun to take this recipe to the next level.
15. Chicken Tinga Enchiladas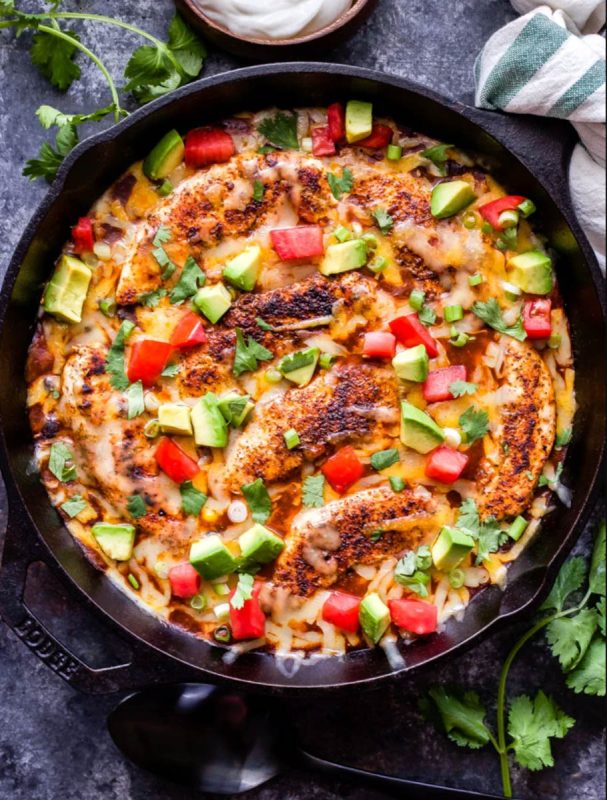 Tender chicken cooked in a creamy enchilada sauce and topped with fresh sour cream, lime, and cilantro is the perfect way to wrap up a day of exploring. This dish packs in all the traditional flavors of chicken enchiladas but without all the work and prep.
16. Easy One Pot Pasta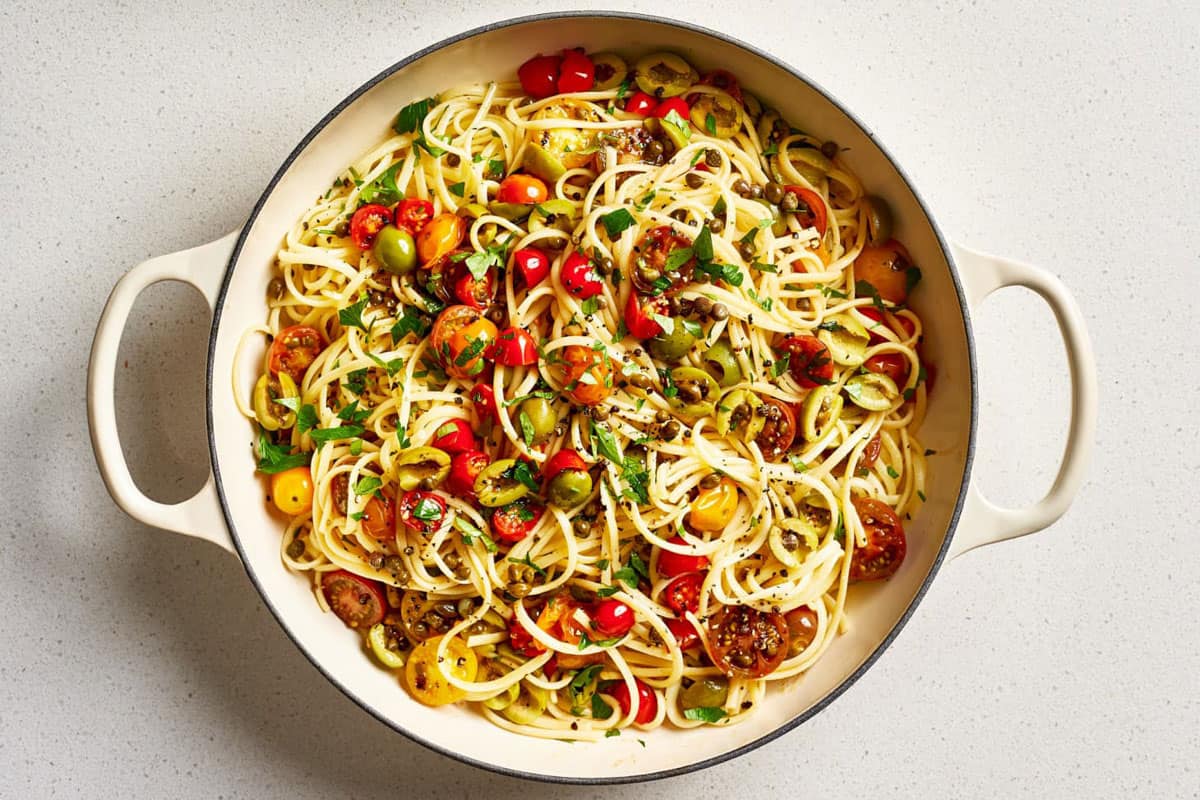 This one pot pasta is one of the quickest camping dinner ideas that cooks up in only 15-minutes. On those nights where we don't want to cook, we cook up this pasta, and combine with ingredients like cherry tomatoes, lemon juice, and freshly chopped basil for a simple but flavorful meal.
There are a few different variations of this recipe you can make depending on what you have in your pantry at home.
17. White Bean Chicken Chili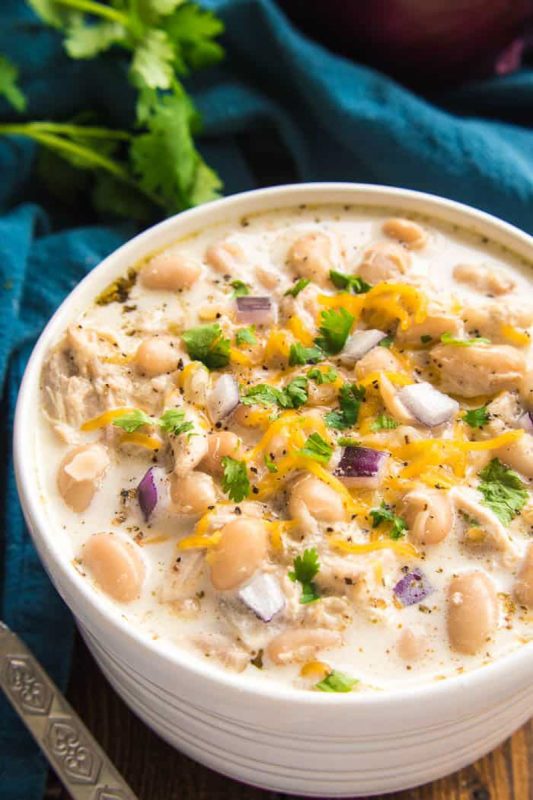 Chili is one of our favorite, easy camping dinner ideas that hits the spot every time. This white bean chicken chili is a tasty and creamy alternative to a traditional chili and is paired perfectly with cornbread.
18. Campfire Pizza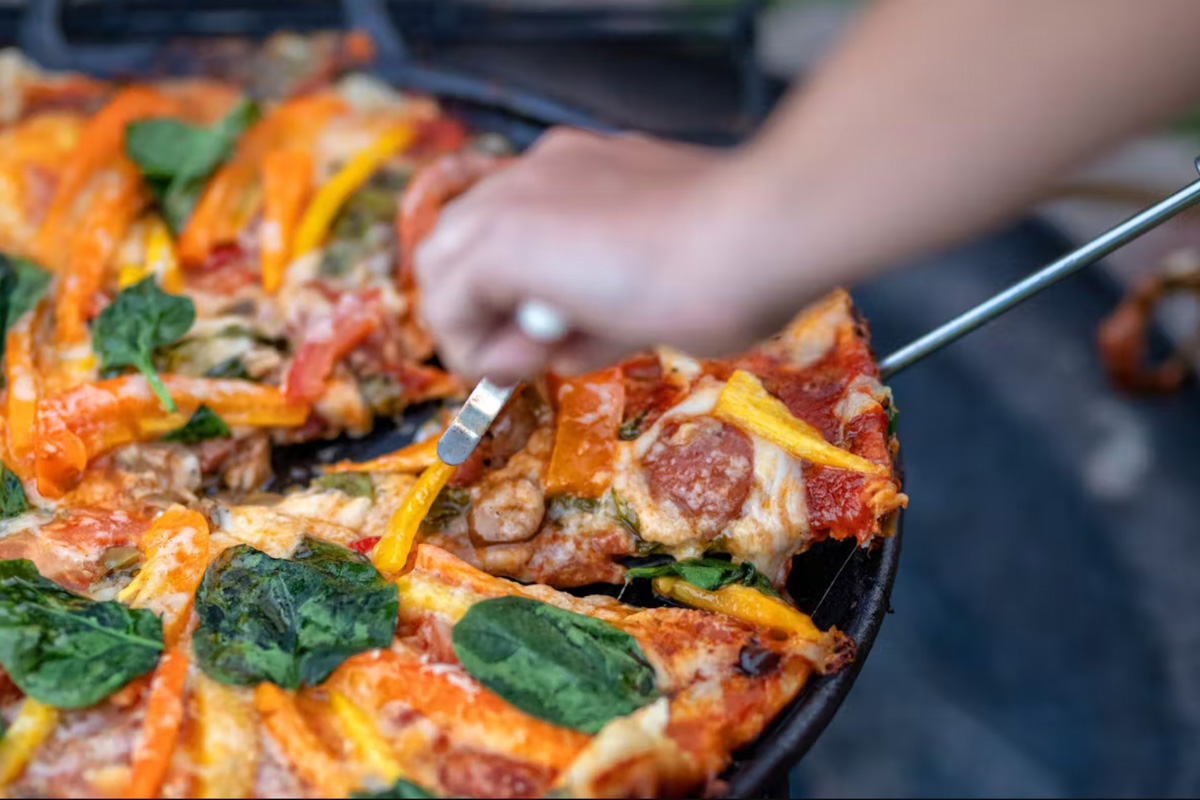 Who says you need a traditional oven to make an amazing pizza with gooey cheese and all your favorite toppings? These easy campfire pizzas are fully customizable and take under 30-minutes to prep and cook over the fire.
19. Grilled Fish Tacos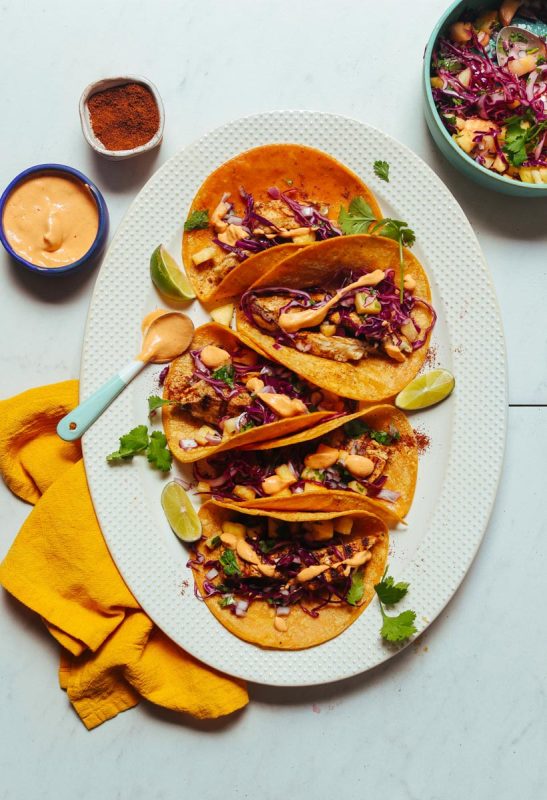 Ten ingredients and 30-minutes is all you need to whip up these juicy grilled fish tacos. These tacos are topped with a fresh pineapple salsa and chipotle cream sauce that will make this recipe a staple in your camp kitchen. Prep the salsa and sauce before you head out to save even more time and clean up.
20. Easy Penne Arrabbiata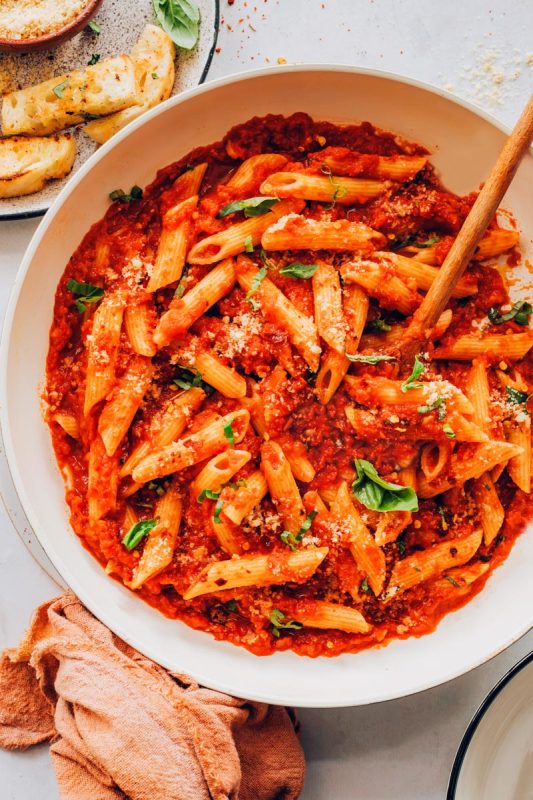 This take on the classic italian dish is rich, saucy, and satisfying. This recipe takes the traditional flavors to the next level with an easy, homemade sauce and fresh basil. Add your favorite parmesan cheese for some extra creaminess and tang.
21. Pulled BBQ Jackfruit Sandwiches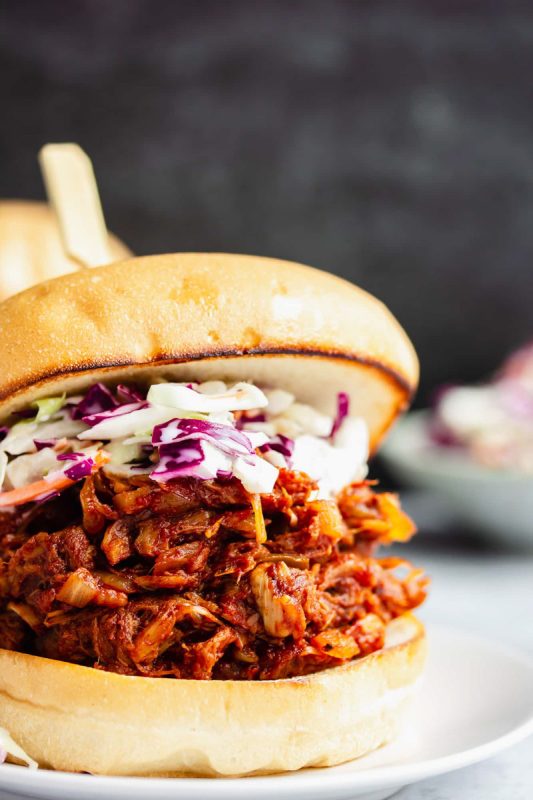 These BBQ pulled jackfruit sandwiches are quick to whip up and serve with creamy coleslaw on a toasted bun. BBQ is one of our staple flavors for camping, and this plant-based version of a traditional pulled pork sandwich satisfies our hiker hunger.
22. Lentil Dahl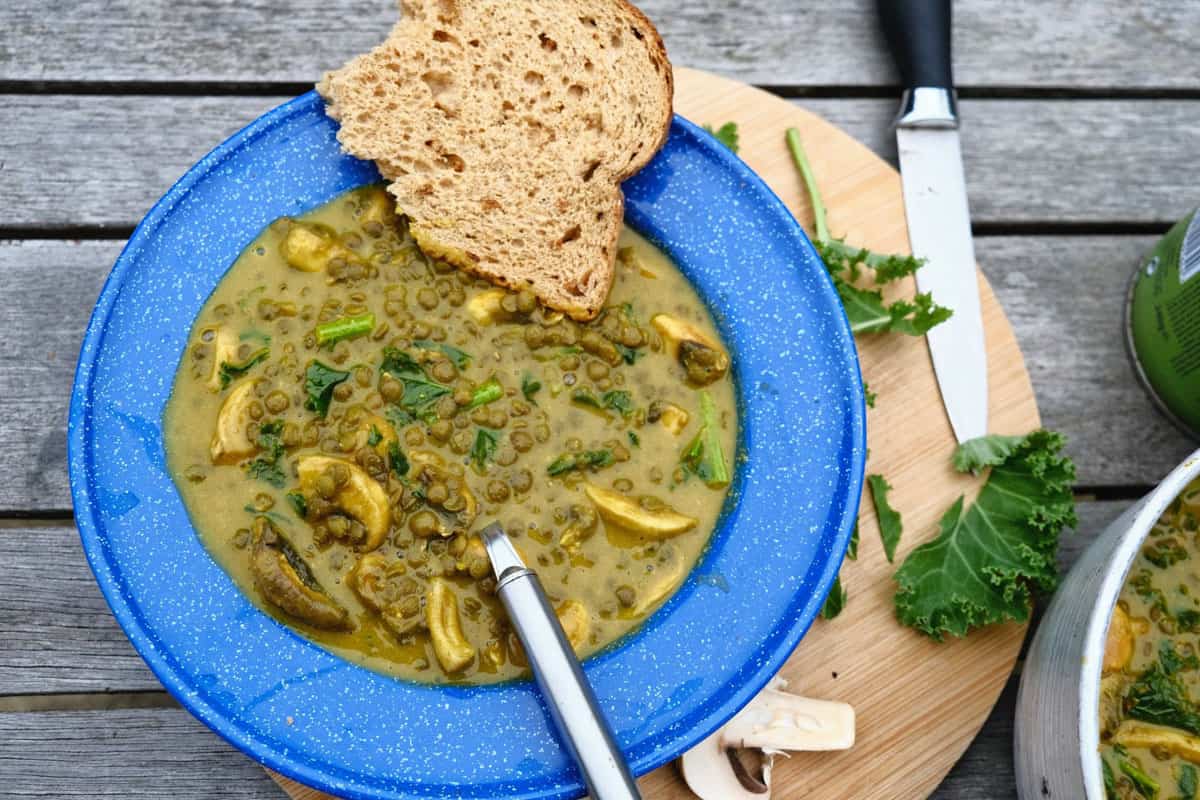 One of our favorite ways to wrap up a day chalked full of exploring is with a warm and nourishing bowl of lentil dahl. This is a delicious one pot camping meal that is perfect for those days where you still want a gourmet meal, but without a lot of prep and cook time.
23. Loaded Sweet Potatoes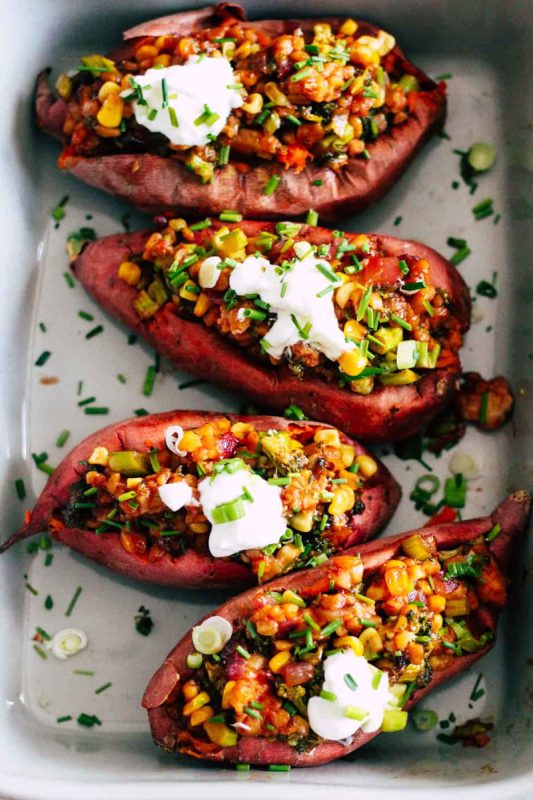 Loaded potatoes are perfect for camping because you can fill them with anything you want and they're guaranteed to be good. Plus, if you have leftovers from another meal, you can take them to the next level by tossing them in a hot and steamy potato.
This camping dinner idea is packed full of crispy vegetables and a savory BBQ tempeh filling. Wrap your potatoes in foil, toss them on the grill, add the fillings, and then top with your favorite garnishes.
24. Thai Coconut Curry Meatballs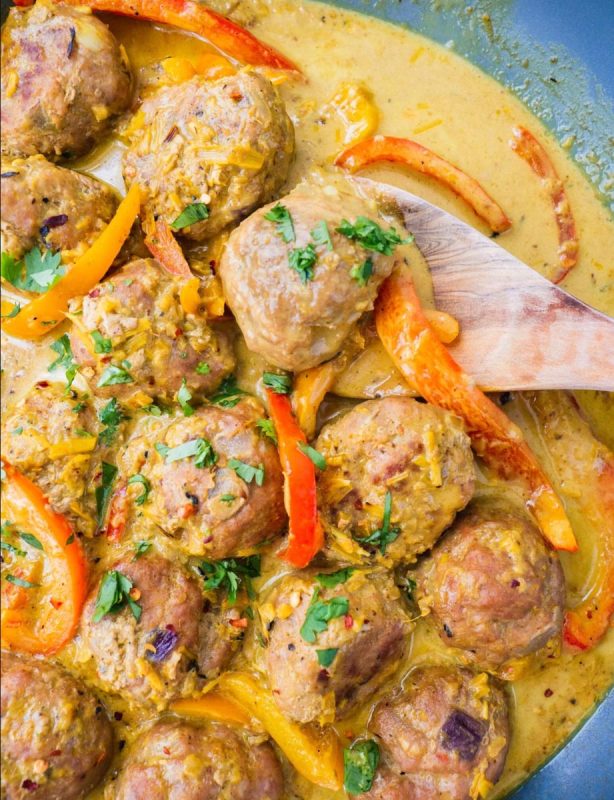 Thai food is one of our favorite cuisines, so anytime we find a delicious meal inspired by the regions flavorful spices, we jump at the chance to try it out in our camp kitchen. We love these curried meatballs because they're full of flavor and only use one pot.
You can make this veggie-friendly by swapping the meatballs with sweet potato or cauliflower.
25. Jerk Chicken Bowls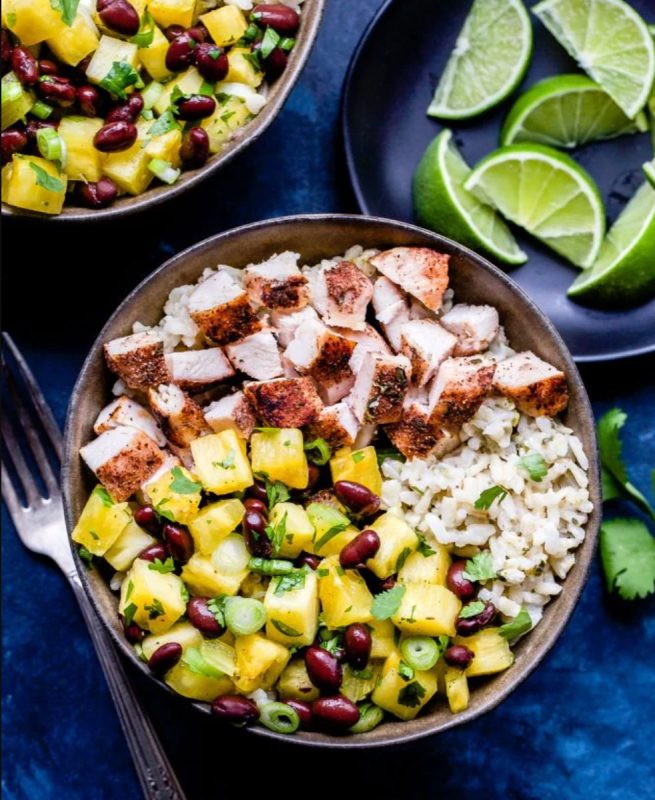 We love flavorful dinner ideas that are both healthy and easy to prepare. These jerk chicken bowls can be prepped ahead for easy assembly and are jam-packed with protein. Serve these in a bowl or put the rice, chicken, and mango salsa into a warmed tortilla for yummy tacos.
26. Tomato Soup w/ Grilled Cheese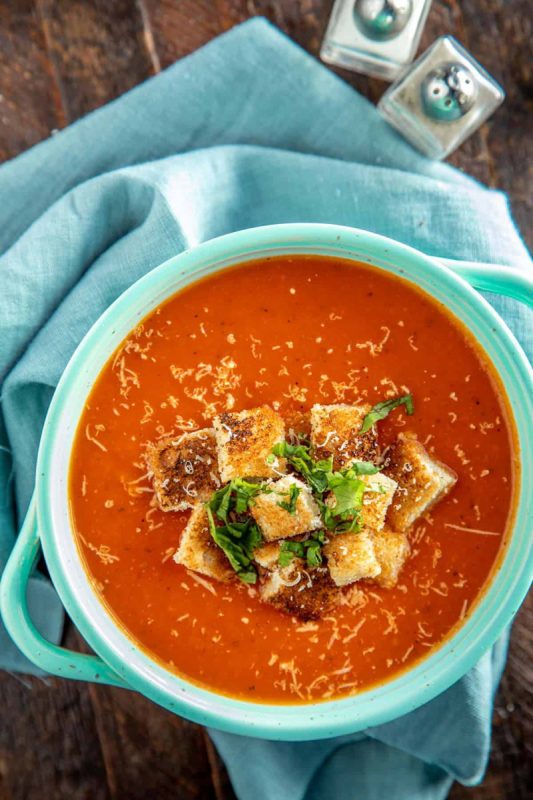 Grilled cheese and tomato soup is one of our favorite comfort meals at home and while we are wrapping up our adventurous day at camp.
Not only is it simple to make, you can make it ahead of time, and when you're ready to serve, all you have to do is toss the grilled cheese on your cast iron and enjoy in minutes. For even less prep, you can purchase premade tomato soup at your local grocery store.
27. Pesto Chicken Wraps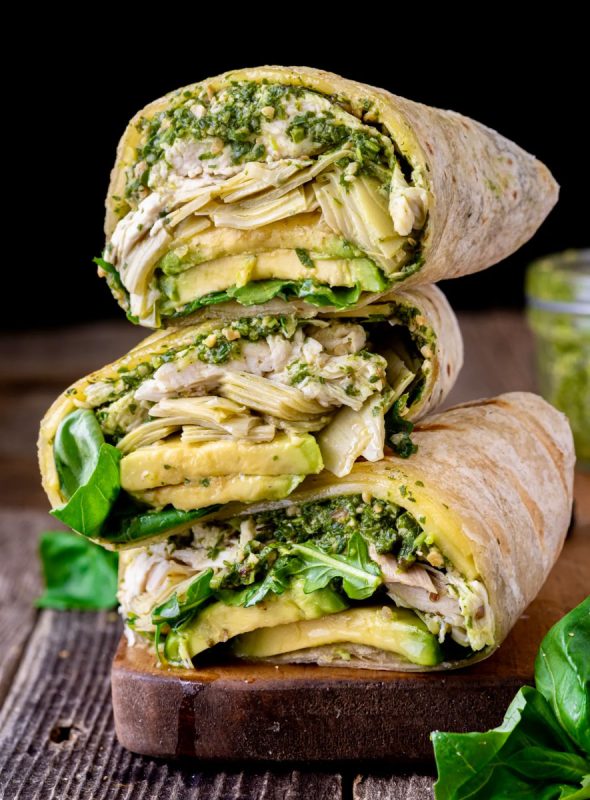 On those days where you get back to camp and want something simple and quick to whip up, these wraps with juicy chicken, creamy avocado, savory pesto, and fresh mozzarella take less than 10-minutes to prep and grill.
You can prepare the chicken ahead of time and buy store-bought pesto for even more ease of cooking. This camping dinner idea is quick to make, but is packed with flavor.
28. Camp Pad Thai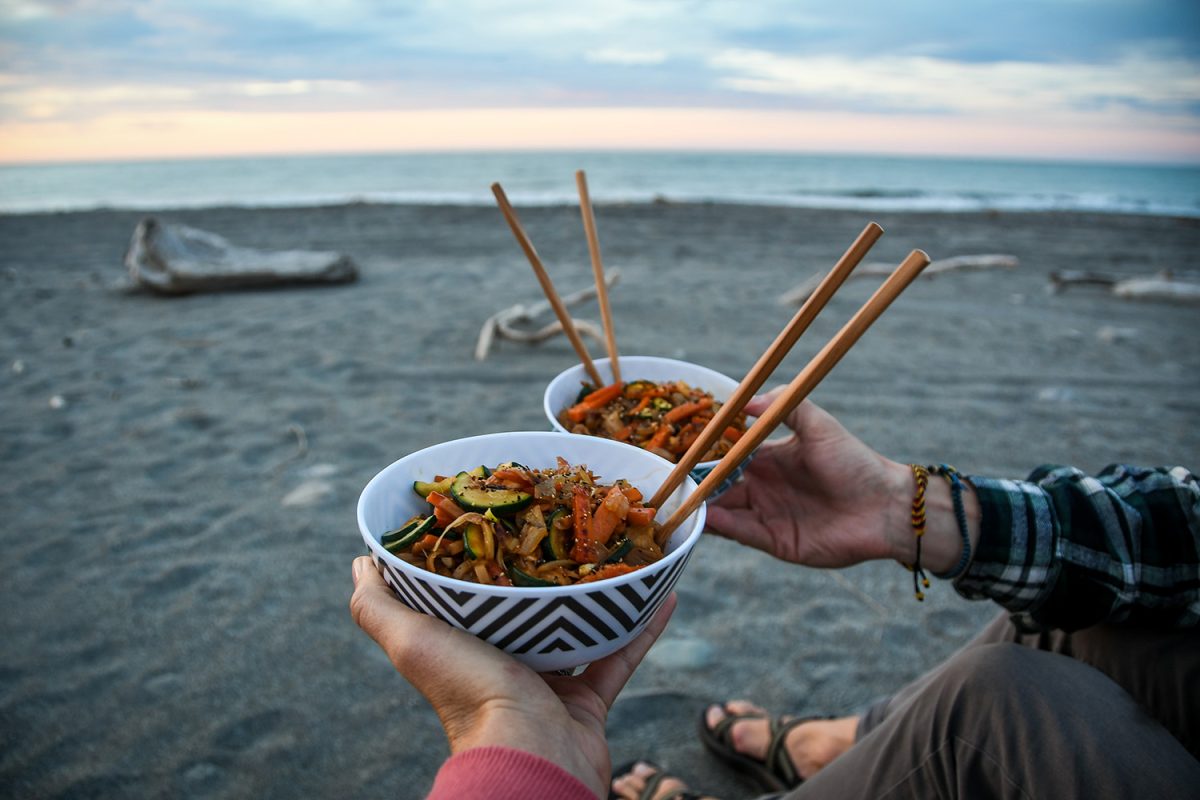 One of our staple recipes in our camp kitchen is this savory and filling pad thai. We've simplified this recipe from traditional pad thai to make it camp-friendly, but still so delicious you won't miss the original. Keep it simple, or add some of our flavor-packed topping ideas to take your bowl to the next level.
29. Shrimp Tacos w/ Mango Salsa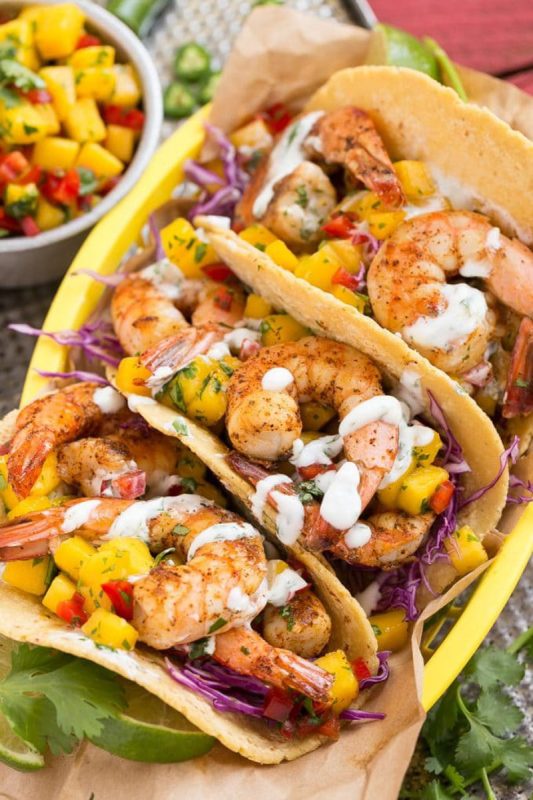 Tacos are one of our favorite camping dinners to whip up since they're easy to make and extremely versatile. Shrimp is perfect for a bit of extra protein and the mango salsa is the perfect fresh element to add to the meal.
Prep the shrimp, salsa, and creamy sauce ahead of the time, and you'll be able to reheat and serve everything in minutes.
30. Dutch Oven Lasagna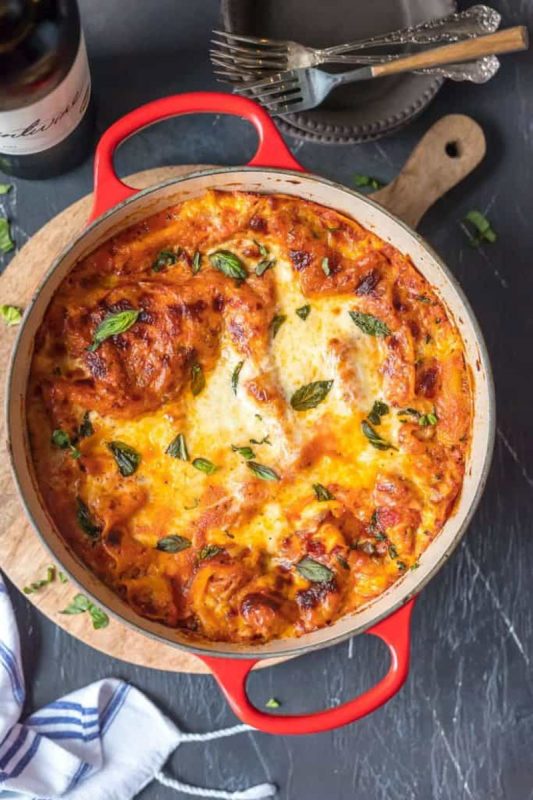 This melty, cheesy lasagna is super simple to make and only uses one pot for quick and easy clean up. Layer the no boil noodles, red sauce, and cheese for one of the most satisfying and hearty camping dinner ideas.
For a veggie option, swap with your favorite cashew ricotta and meatless crumbles.


You may also like…
Save this article on Pinterest for later!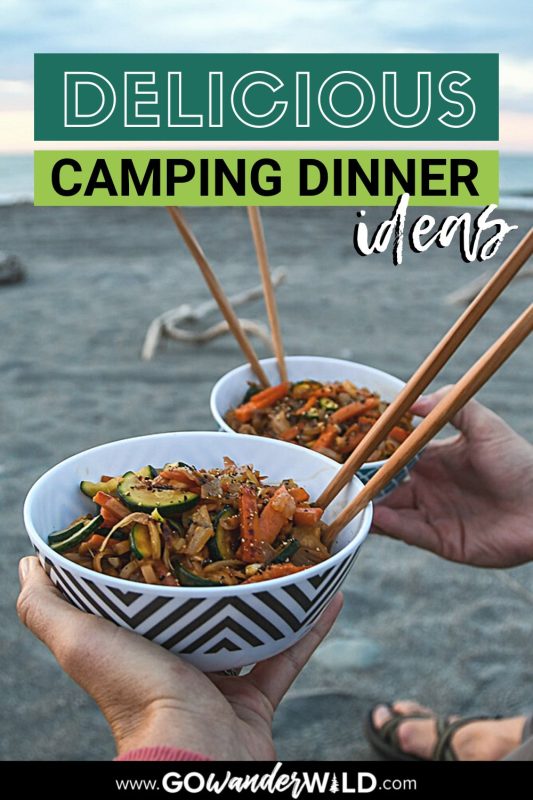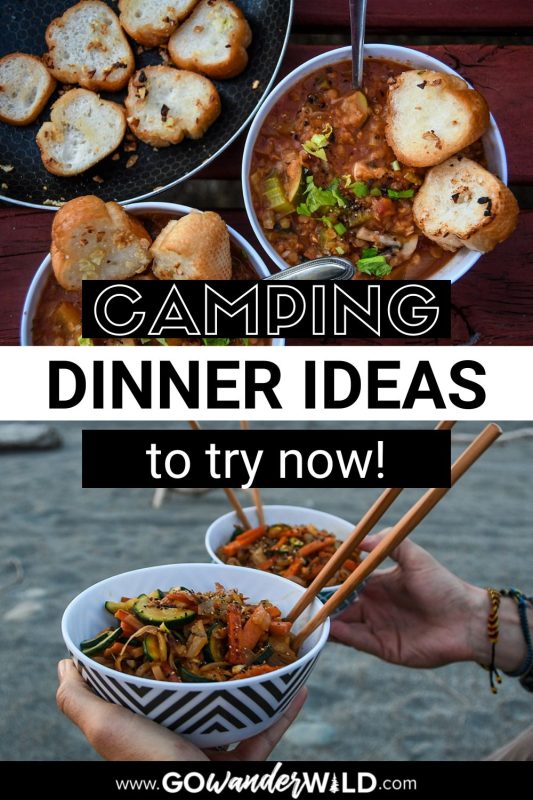 We want to hear from you!
What's your favorite camping dinner from this list that you cannot wait to try cooking? Do you have any other camping dinner ideas you think we should add to this list? Comment below and let us know!