It can be tricky finding decent vegetarian camping food that tastes good and can be prepared over a fire. That's where we come in! With everything from breakfast options and side dishes to entrees and desserts, here are our favorite healthy and delicious vegetarian camping meals.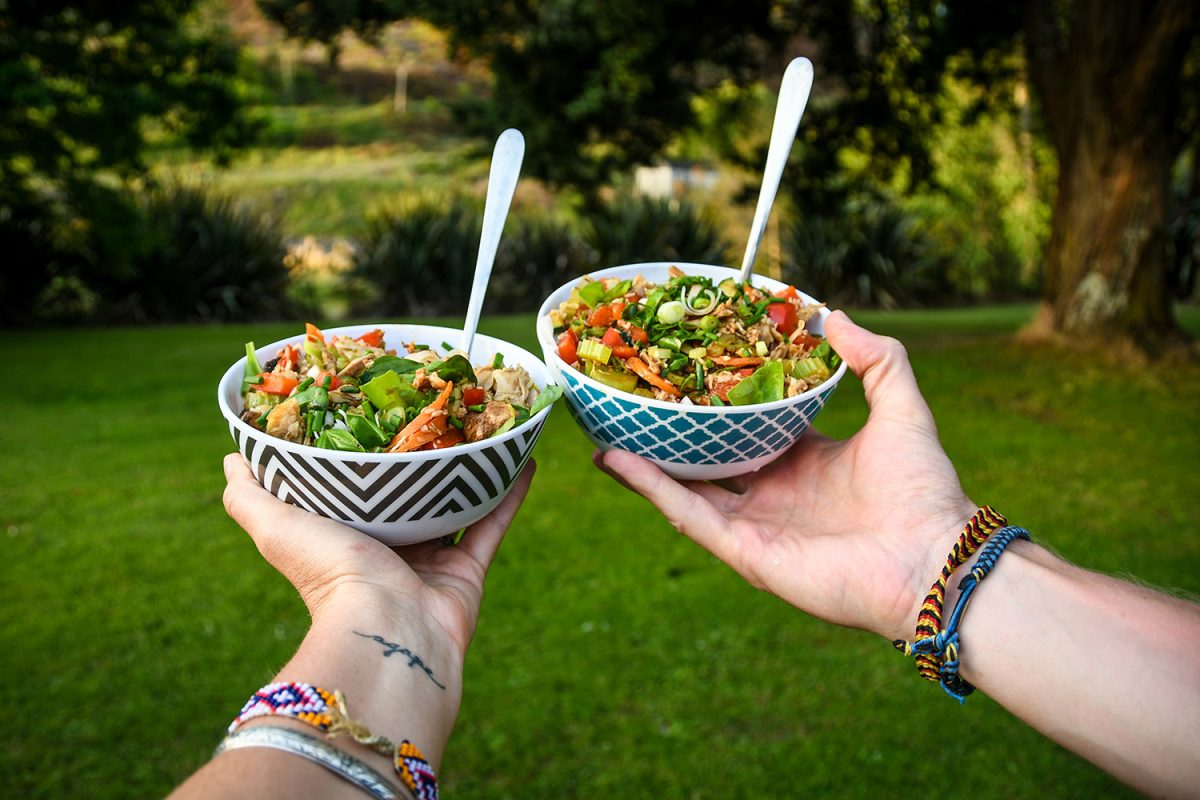 When you start planning out food for a camping trip, you quickly realize that the overwhelming majority of recipes out there include meat. We get it — you need the protein and calories when you're adventuring, and meat-based recipes tend to be a bit simpler (we're looking at you, hot dogs and burgers).
However, vegetarian camping meals are fresh, healthy, flavorful, and tend to be a little more budget-friendly than their meat-based counterparts.
During our extensive travels, particularly the time we've spent in our campervan, we've found that vegetarian camping food actually simplifies things a bit. Many vegetarian dishes don't need refrigeration and costs tend to be a little lower, too.
Whether you're a strict vegetarian or you're just looking for healthy veg-heavy recipes, we've put together this list of our favorite vegetarian camping meals.

Vegetarian Breakfast Ideas
You'll need plenty of fuel to start your day of adventuring. These vegetarian breakfast ideas are all easy to cook around the campfire and will start you off on the right foot.
1. Healthy Camp Oatmeal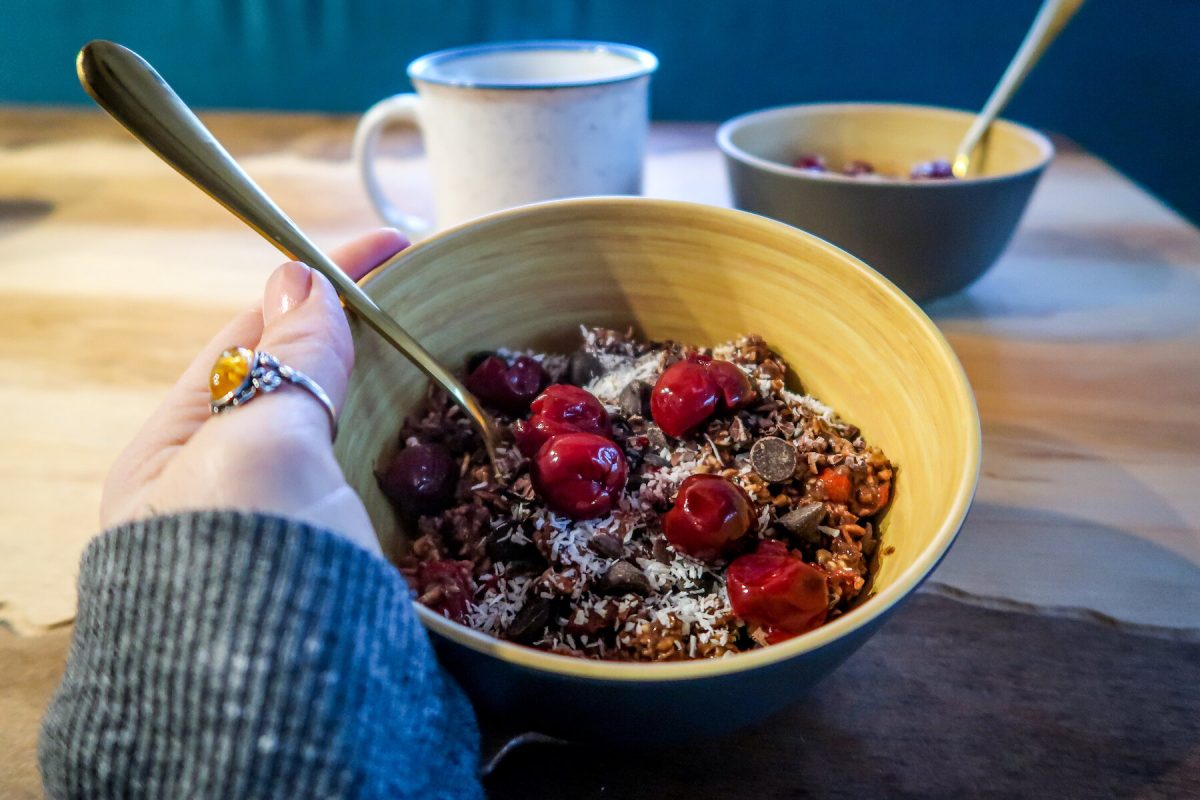 We're kicking off our list of tasty vegetarian camping meals with one of our own, Healthy Camp Oatmeal. Our go-to breakfast when camping, this recipe is simple and doesn't require a lot of prep time or ingredients. Plus you can follow directions for the different varieties, or add different toppings to come up with your own.
2. Sweet Potato and Egg Skillet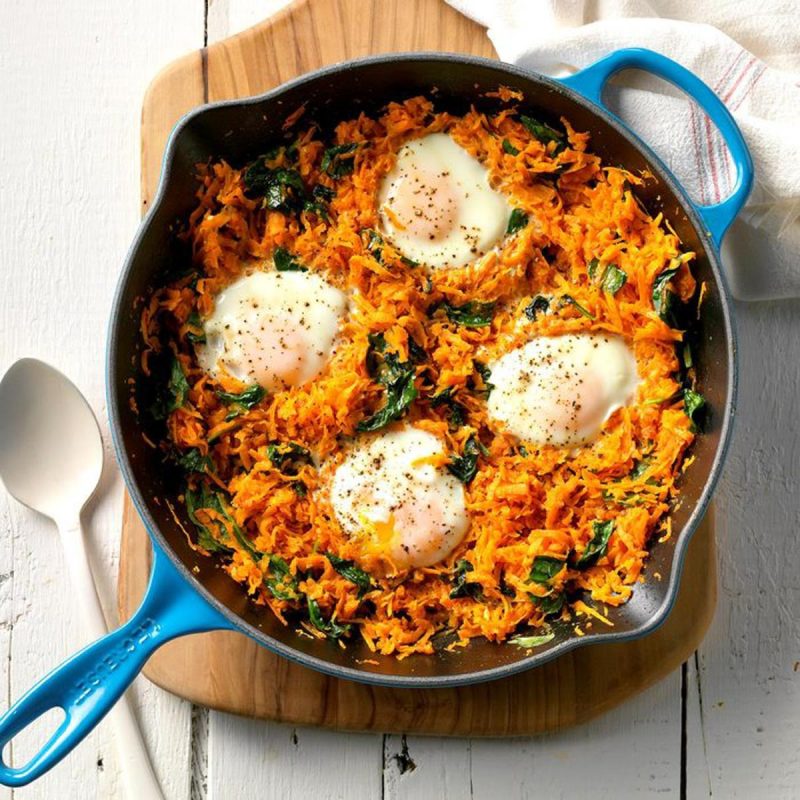 This vegetarian camping meal looks and tastes fancy, but actually has just three meain ingredients plus seasonings. The recipe calls for shredding the sweet potatoes, but we found that dicing works just fine, too!
3. Foil Packet French Toast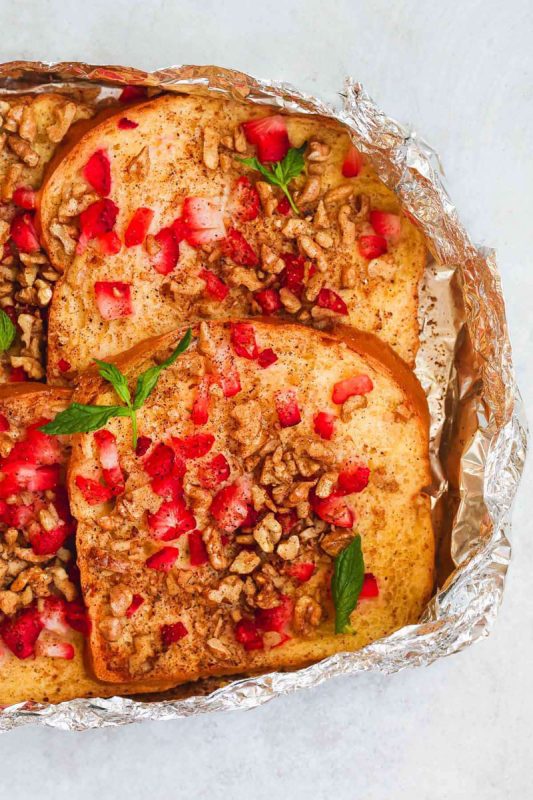 We're not totally sure why we didn't think of this genius hack ourselves, but we're sure happy someone else did! The best thing about this decadent French toast is that it can be cooked over a campfire, on a grill, or in an oven. No matter how you camp, this recipe will work! Also note that it calls for fruit and nuts; feel free to change those to your liking or omit them altogether.
4. Breakfast Camping Burrito Bowls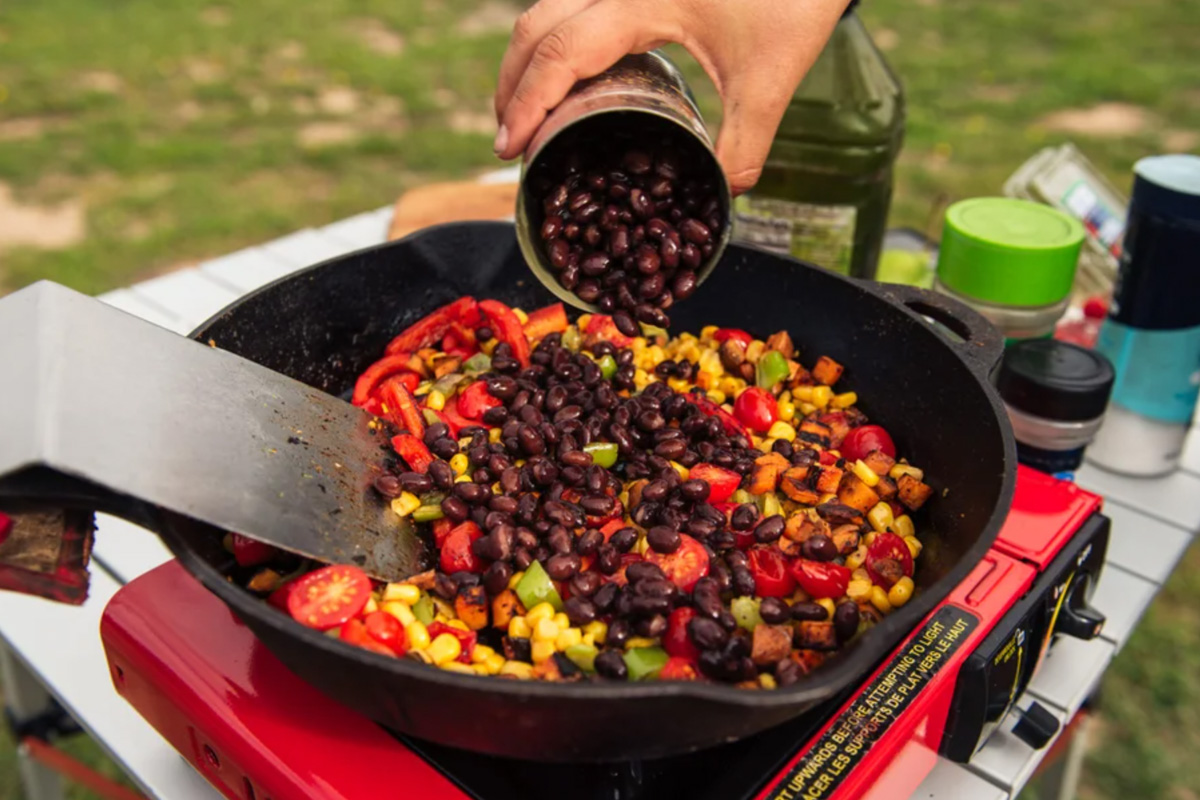 Using a few breakfast staples (that you probably already have on hand!), this meal comes together super fast. It's also one of those vegetarian camping foods that quickly transforms from breakfast into lunch or dinner, with simple ingredient swaps. For example, ditch the eggs and sub in rice for an anytime camping burrito bowl.
5. Super Simple Shakshuka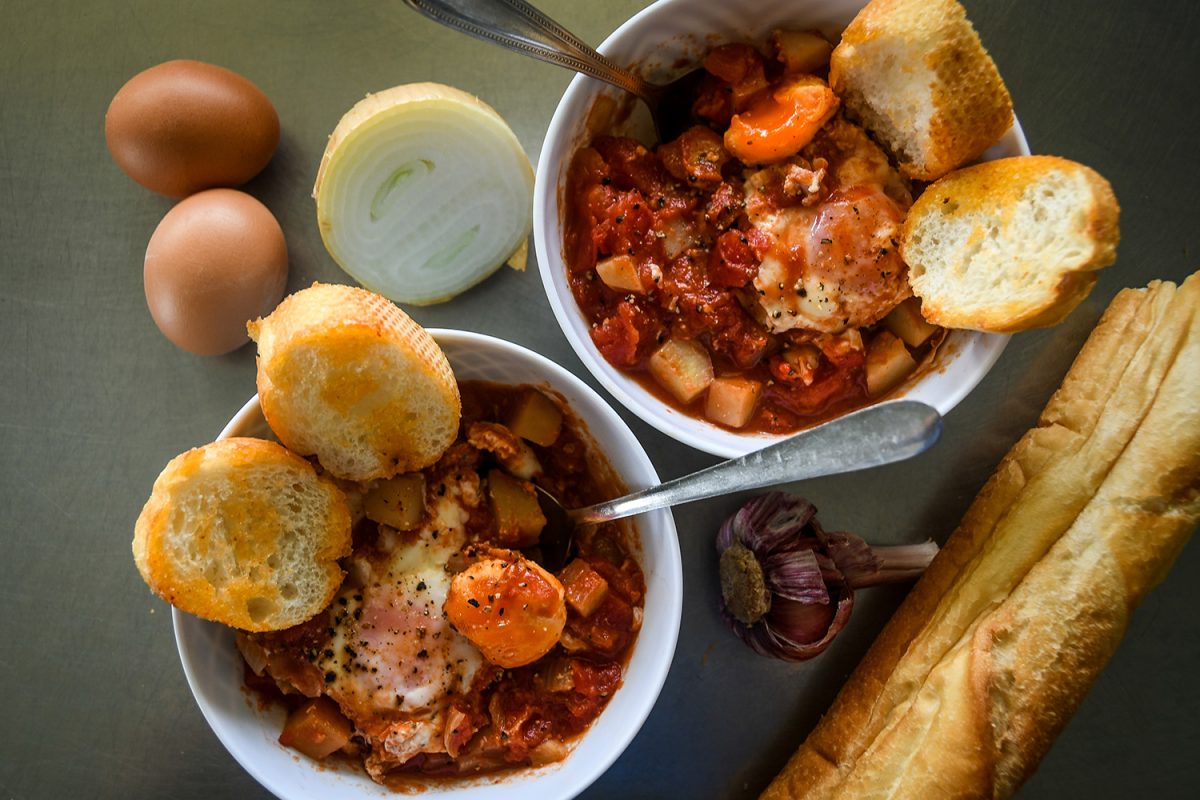 Perfect for both breakfast or dinner, this hearty Isreli dish is incredibly simple to make on your camp stove. Dress it up with spices, vegetables, potatoes, feta cheese, or even fresh herbs! And for our gluten-free friends, just skip the bread!
6. Apple Cinnamon Overnight Oats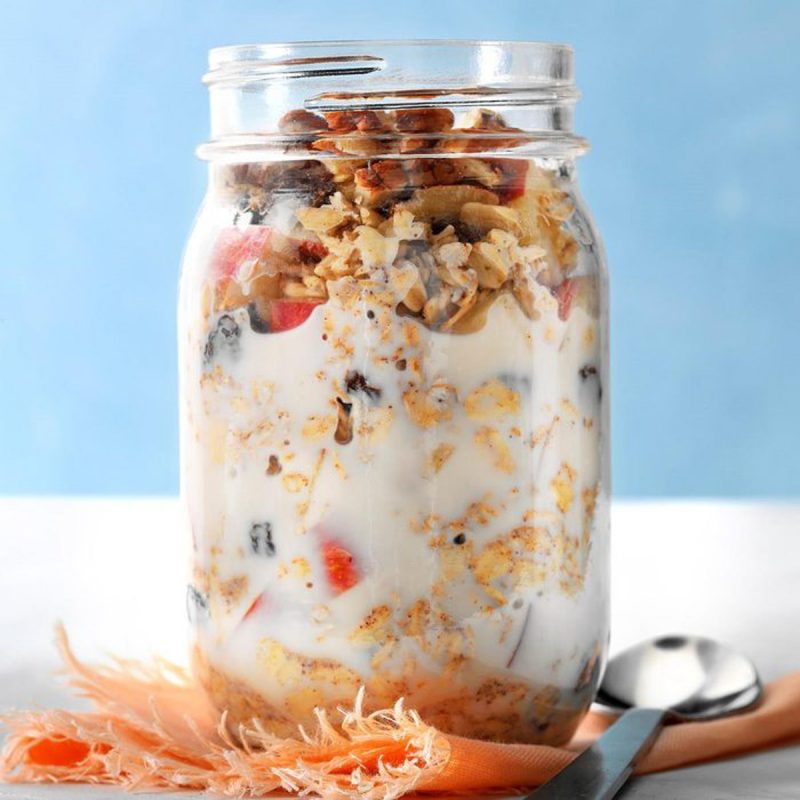 We're huge fans of this type of vegetarian camping food: easy to make and super adaptable. Spend five minutes prepping, adjust the ingredients to your liking (we like to change out the fruit for whatever's local and in season, plus use different milk alternatives), and voila!
7. Breakfast Skillet Migas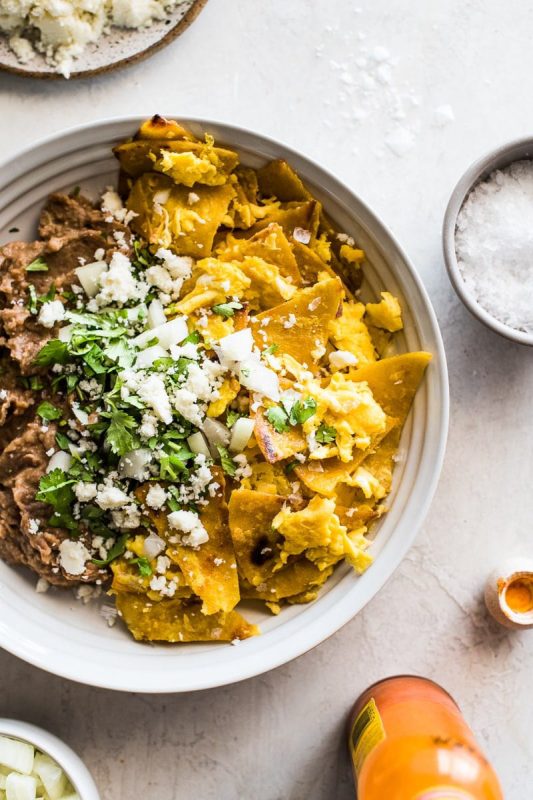 If you're in search of some super-easy vegetarian camping foods, it's hard to top Migas. This hearty dish has just four ingredients (and two are oil and salt)! We love adding some spice and flavor with diced tomatoes, cilantro, and hot sauce.

Vegetarian Lunch Ideas
Don't skip lunch just because you're out adventuring! Try these lunch ideas made with tasty vegetarian camping food.
8. One Pot Pesto Pasta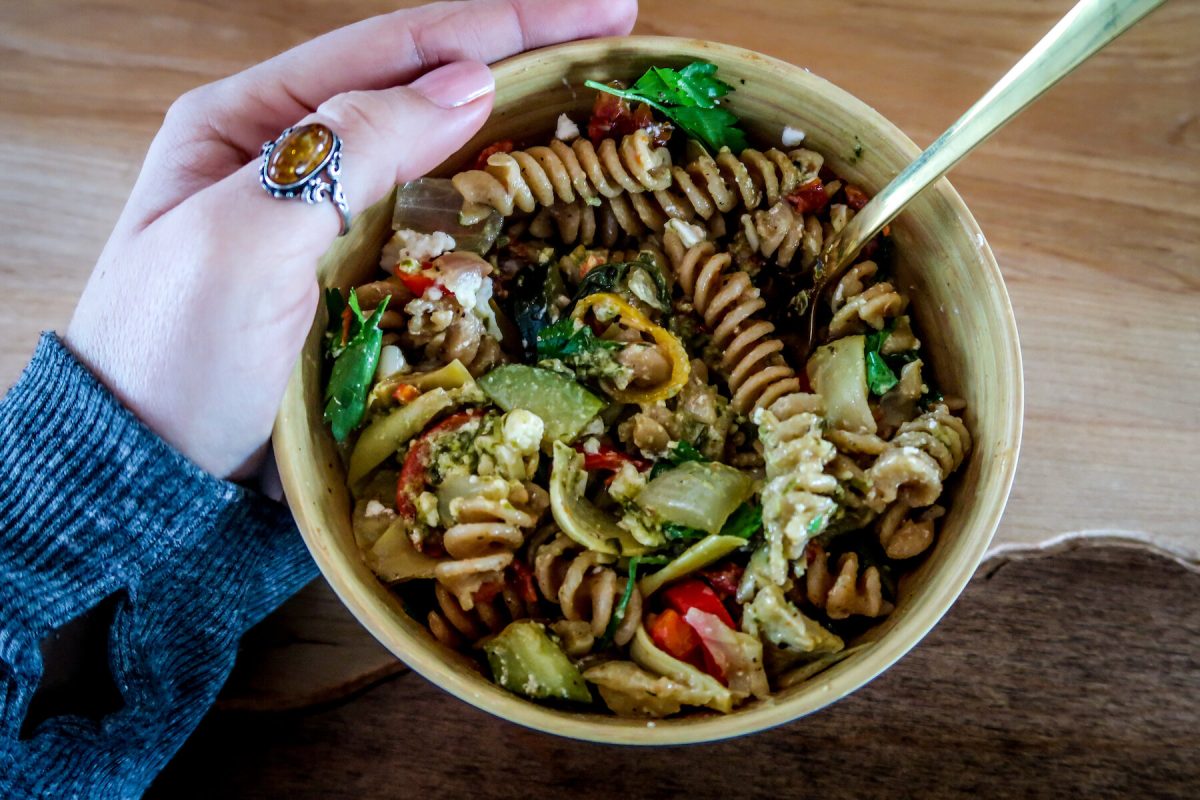 This veggie-packed, flavorful pasta salad is more filling that you would think, making it one of our go-to vegetarian camping meals. Plus, the main ingredients are shelf-stable, making it perfect for off-grid camping or vanlife.
9. Cucumber Tomato Salad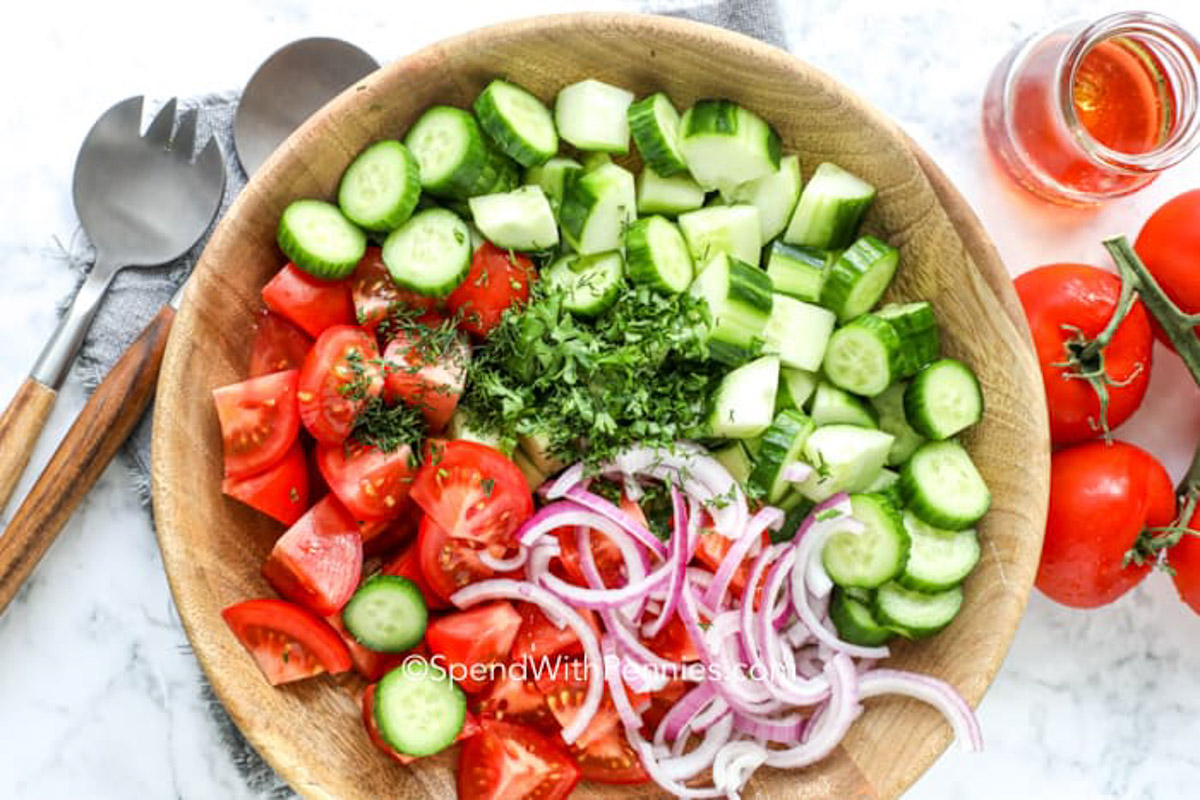 This flavorful, super simple salad is one of our hot-weather faves. It doesn't involve any cooking, and the flavor combo is so refreshing!
Pro tip: the longer it sits, the more flavorful it gets! Also, a sprinkle of feta takes this to the next level.
10. Campfire Caprese Grilled Cheese Sandwiches
If you're a food lover like us, it's hard to top the deliciousness of classic caprese flavors: tomato, mozzarella, and fresh basil. Those things aren't common camping foods, but swap in refrigerated pesto and boom, game-changer! Grill over the campfire for a few minutes to make it gooey and we're certain this will be one of your new fave vegetarian camping foods also.
11. Tabbouleh Salad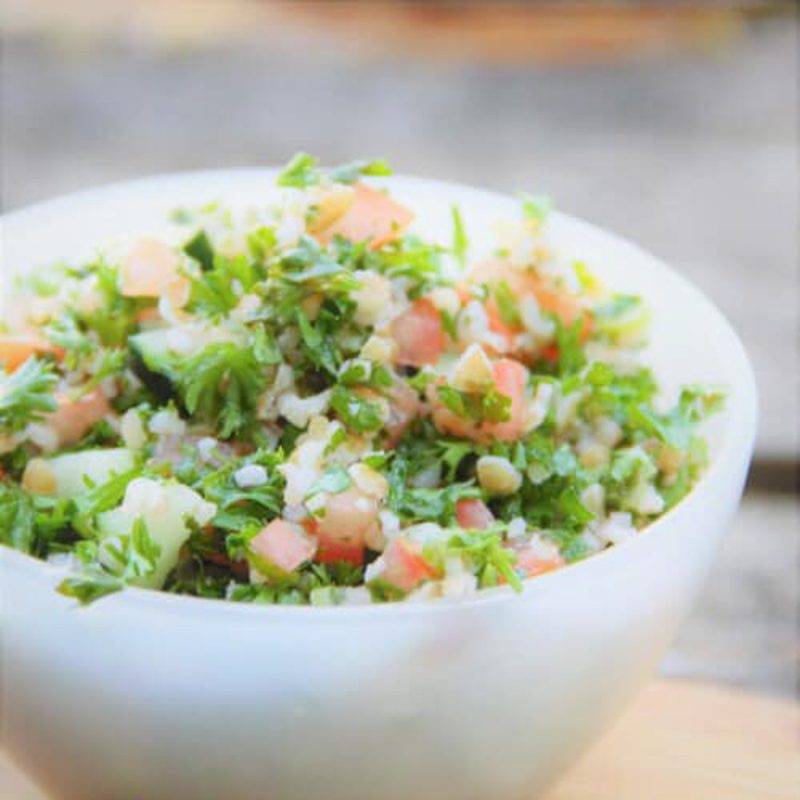 This simple salad makes a perfect light meal or side dish, packing in a ton of flavor along with protein and carbs. The only slightly unusual ingredient is bulgur, but we can usually find it in most grocery stores. If you're more of a savory breakfast person, this is also a wonderful accompaniment to eggs in the morning.
12. Grilled Eggplant Parmesan Stacks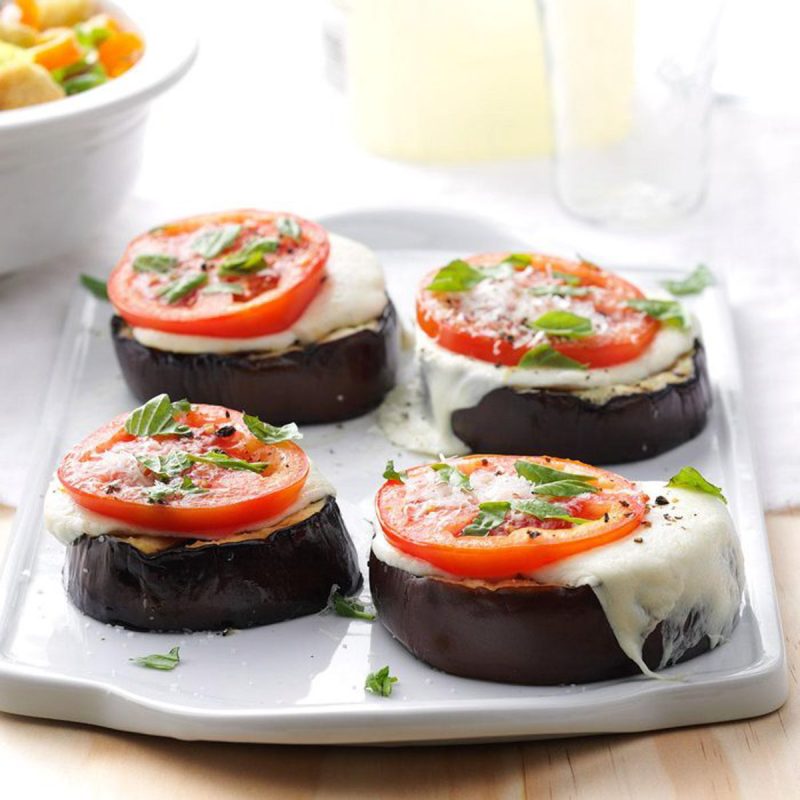 Think of this as a deconstructed (i.e., way easier to make!) eggplant parmesan. There's no heavy breading involved and it's topped with fresh tomato and basil, making it a great lighter option among vegetarian camping meals.

Vegetarian Dinner Ideas
Who says you have to sacrifice flavor just because you're eating vegetarian? These dinner ideas are not only delicious, but easy to prepare in your makeshift camp kitchen!
13. Thai Green Curry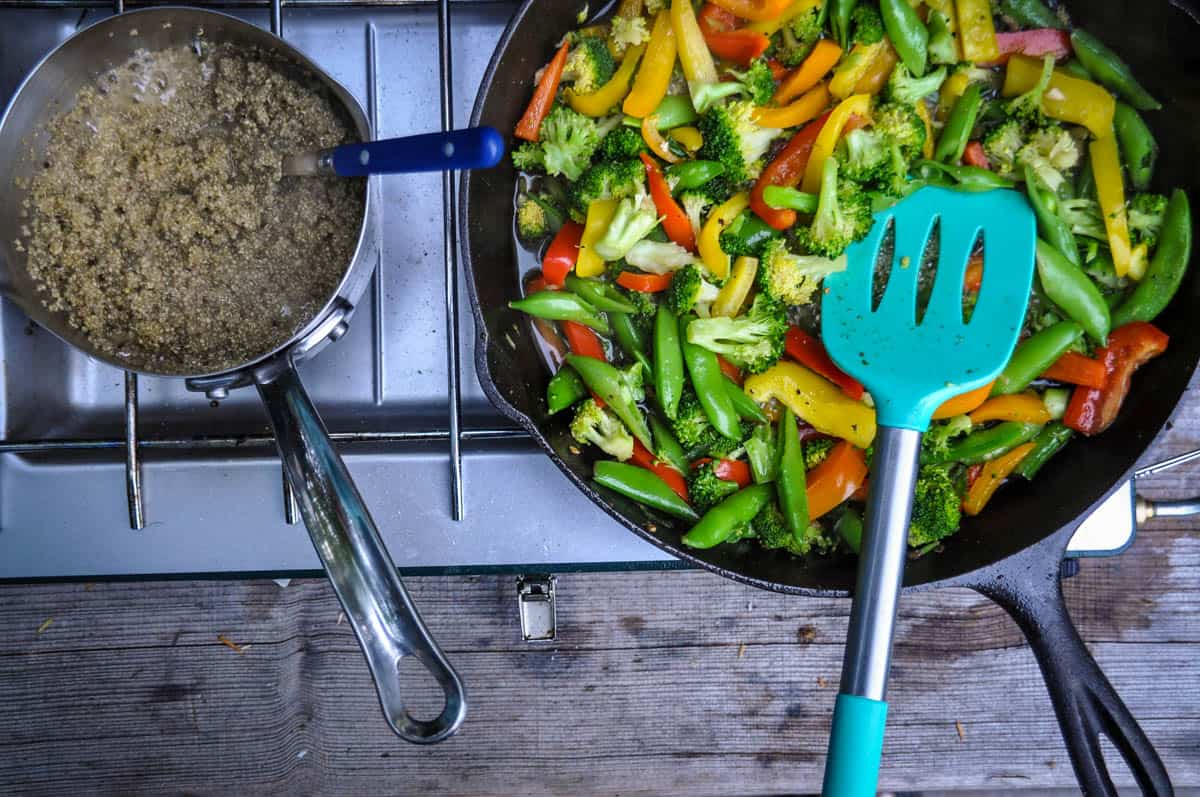 We absolutely LOVE flavorful (and yes, spicy!) food, so Thai is one of our fave cuisines. We adapted this recipe as an easy one-pot dish for cooking in our campervan, so it's a lot simpler than you may expect!
14. Rainbow Grilled Veggie Kabobs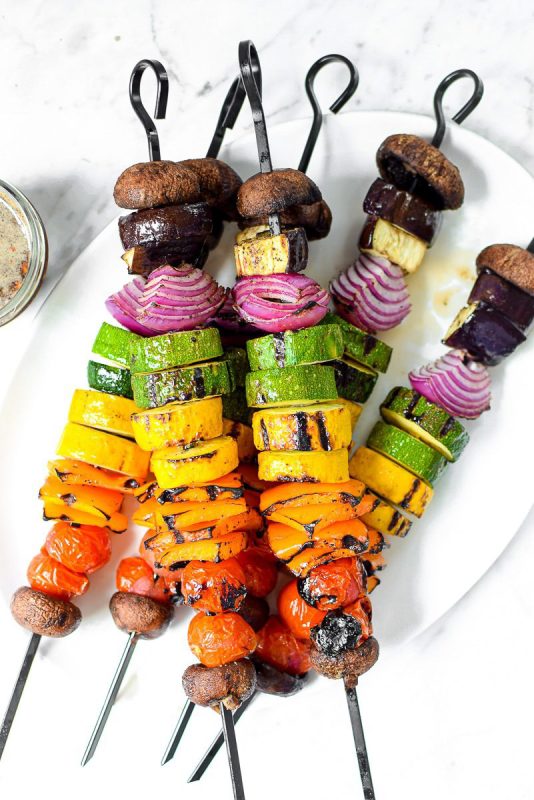 With the gorgeous color on these kabobs, this simple dish is sure to become one of your go-to vegetarian camping meals. The original recipe cooks them over a grill, but a grate over a campfire works just as well.
15. One-pot Vegan Minestrone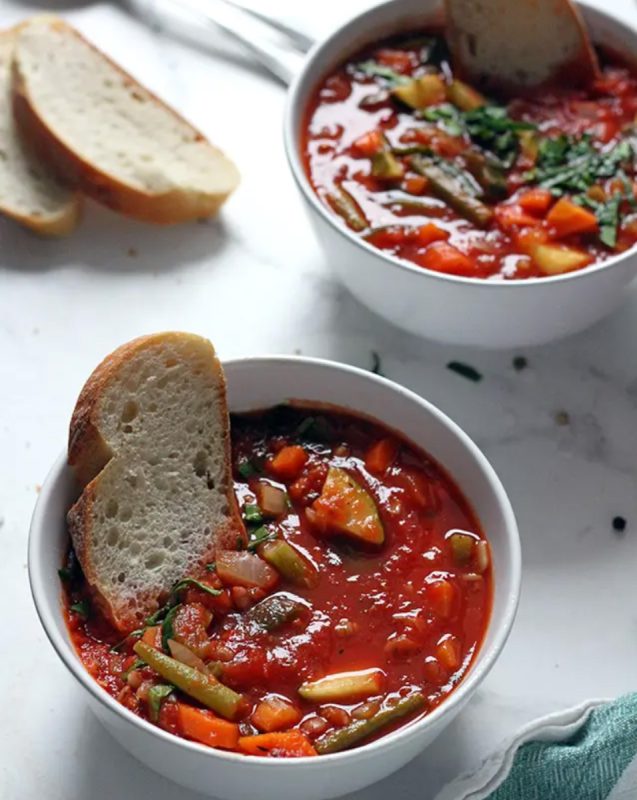 In English, minestrone literally means 'thick vegetable soup,' so it's no surprise that it's the perfect vegetarian camping food. This soup is rustic and hearty, especially with crusty bread. Like some of our favorite camping meals, we absolutely love that we can just sort of throw whatever into this soup and it still turns out great.
Psst! Check out these other ideas for vegan camping food!
16. Tuscan White Bean Skillet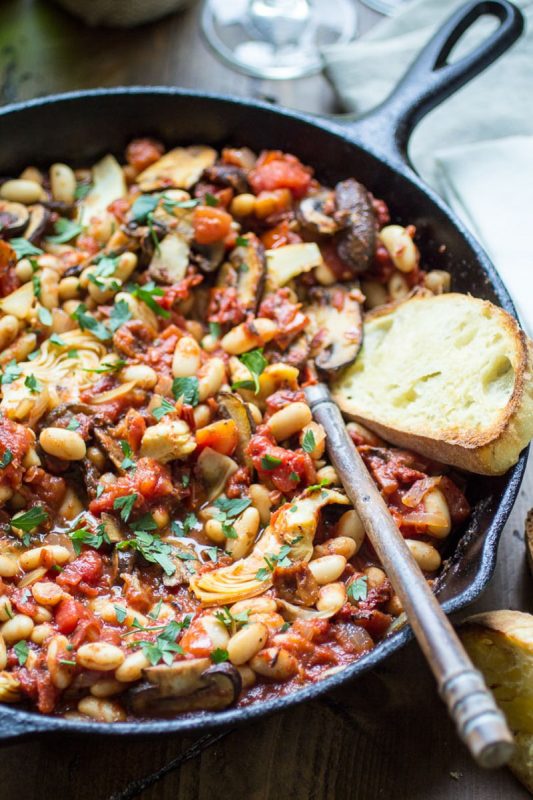 Think of this as Mediterranean chili. Using only pantry staples and a cast iron skillet, this is one of our favorite vegetarian camping meals because it really does come together fast. Best of all, you can easily adapt the ingredients if you don't have something on hand or want to use something up. No sun-dried tomatoes? No problem! Need to use up a yellow squash? Throw it in!
17. Stuffed Mushrooms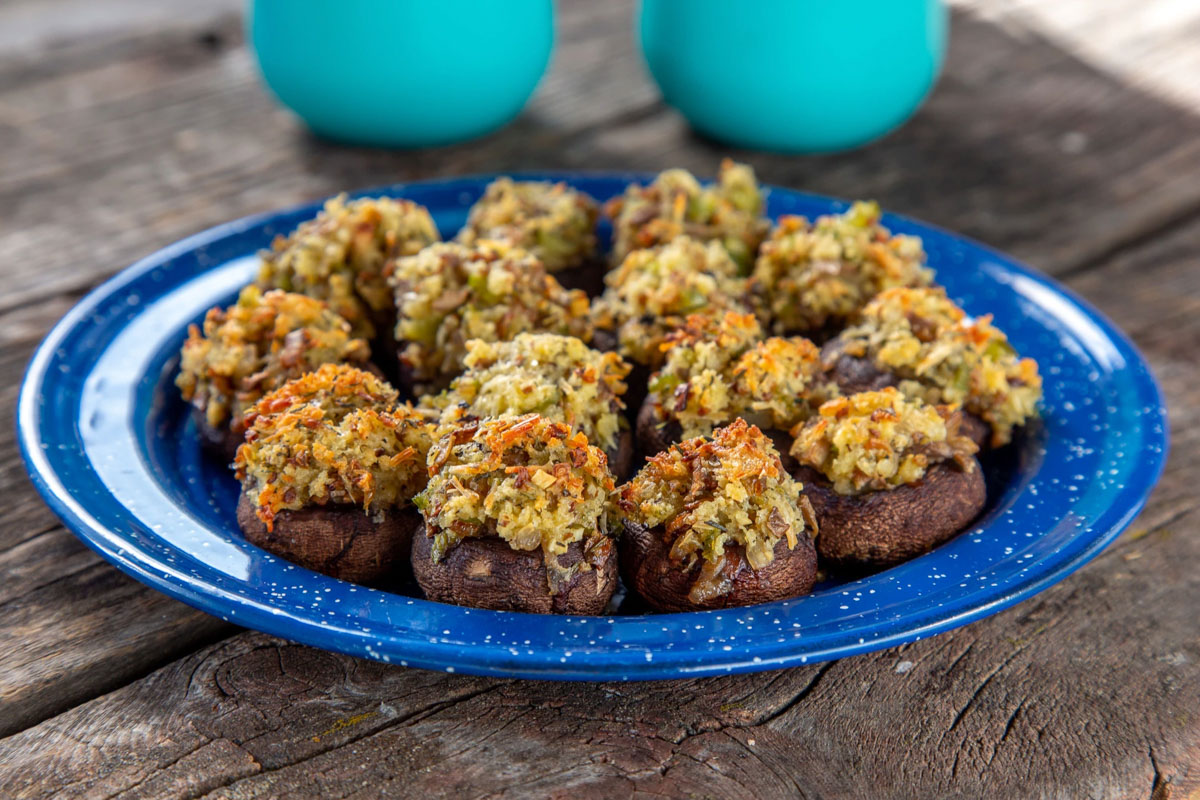 We really love this one for its versatility. It's an excellent standalone vegetarian camping food, but can easily be made for carnivores by adding ground meat into the mixture. Or you could do both! And if you do any foraging, you can use your own mushrooms!
18. Vegetable Lentil Soup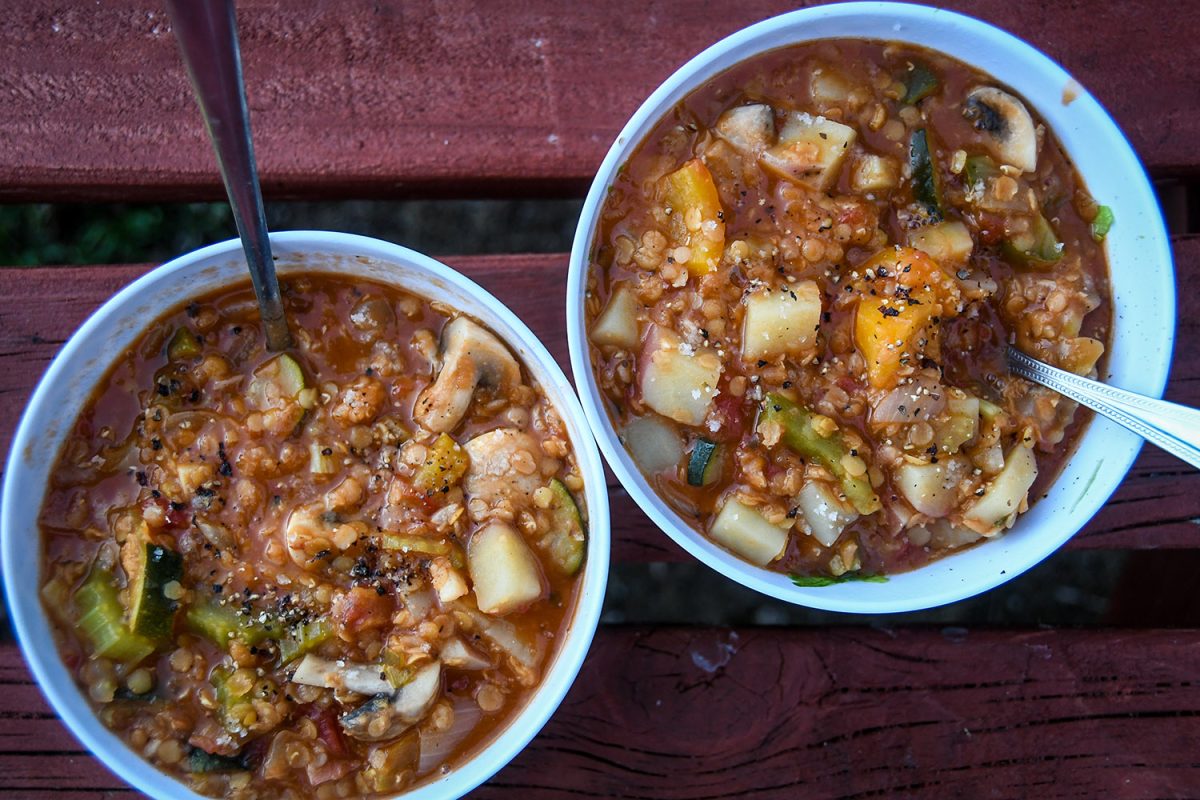 Combining what all great vegetarian camping meals should be — hearty, inexpensive, flavorful, and quick to prepare — we find ourselves coming back to this tasty soup again and again. Switching up the vegetables to whatever is in season where you'll be camping is the best way to alter this meal.
19. Chickpea Curry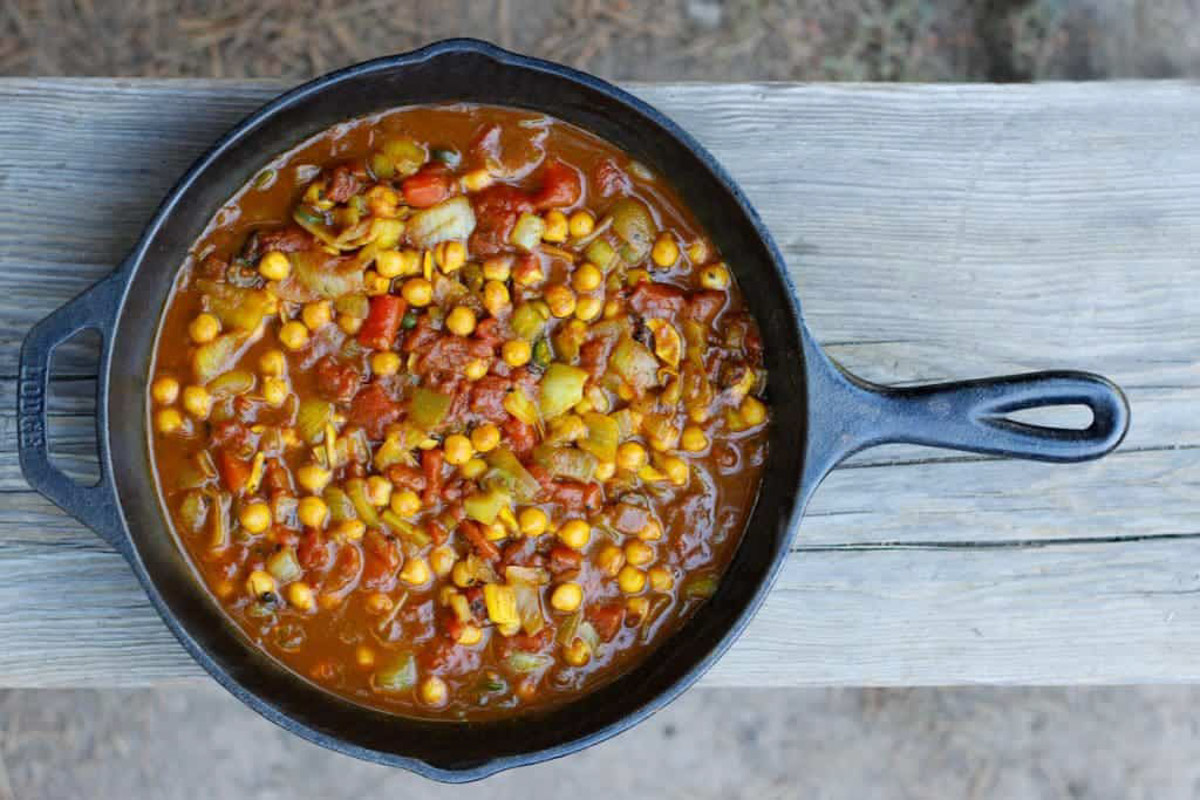 Also called chana masala, this Indian-inspired dish comes together in about 20 minutes, start to finish (see why it's one of our fave vegetarian camping meals?!). The best part is that none of the ingredients need to be refrigerated, so this one is especially good for bringing along hiking or on long days of adventuring where you don't know what lies ahead.
20. Dutch Oven Mac & Cheese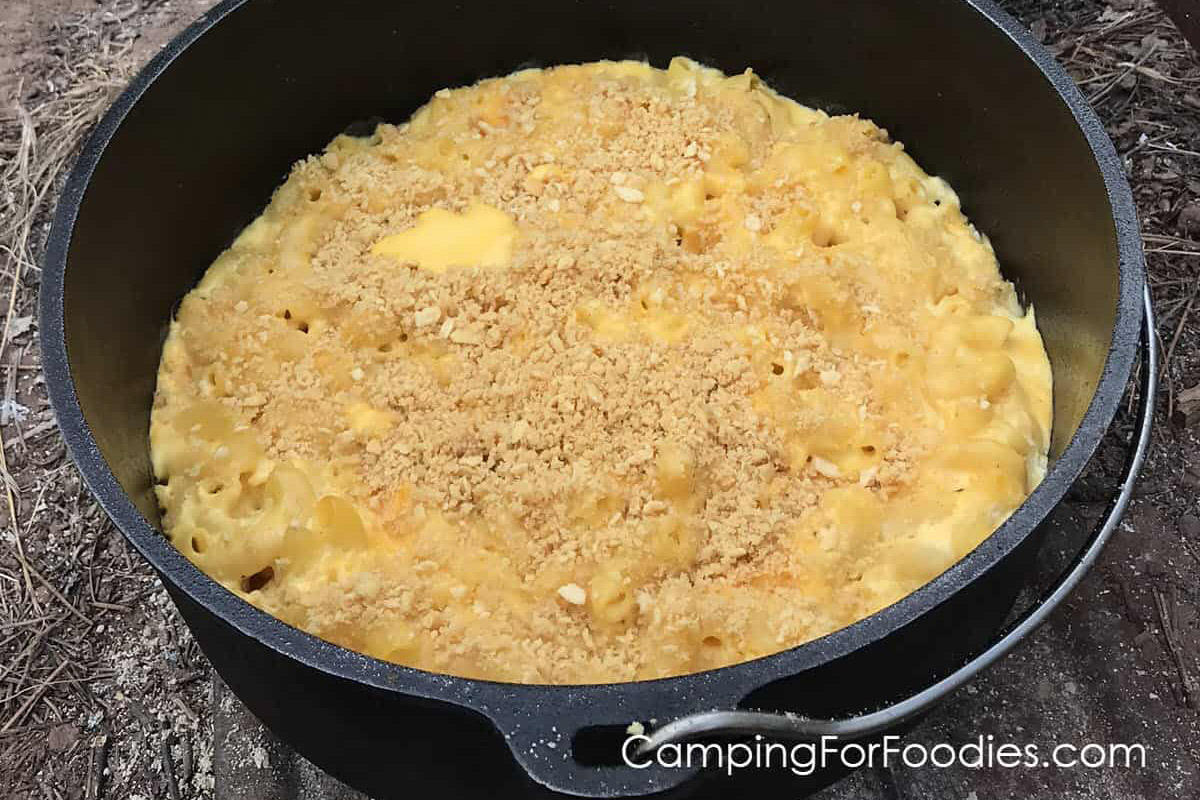 You really can never go wrong with gooey, filling mac and cheese — especially when you're camping. It's easy and affordable, works as a side or main dish, and keeps well for days. If you have carnivores in the group, sprinkle a little cooked bacon or add some diced chicken to their dish for a more complete meal.
21. Moroccan-Inspired Backcountry Couscous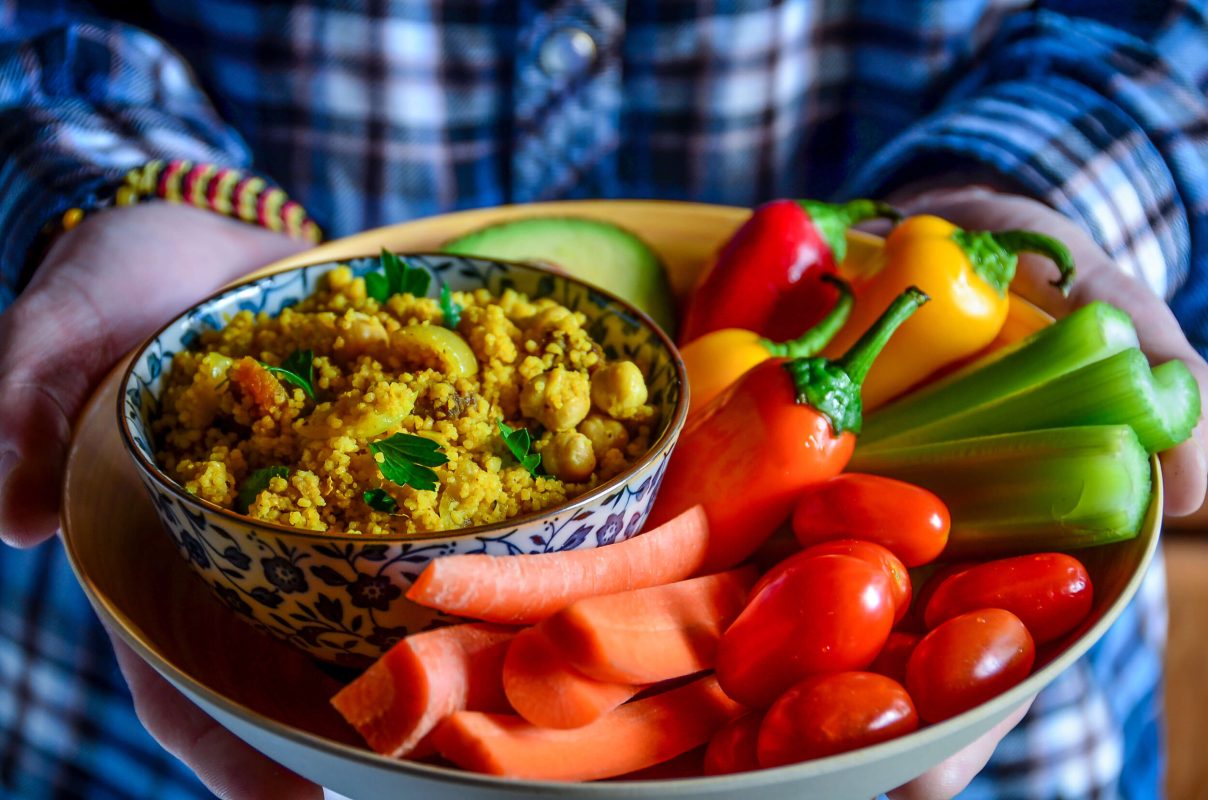 Hearty and full of flavor, we were inspired for this dish while hiking to a backcountry hut a few years ago in Washington. A family was staying in the hut and cooking a similar meal when we arrived. The smell greeted us first and they shared the recipe, which we've tweaked to make it our own.
Backpacking Hack: The best part about this dish is it is super simple and portable. You can literally put all of the ingredients together in a reusable container and pack it up to a mountain hut. It's lightweight, yet more delicious than the packet meals you can pick up at the supermarket.

Vegetarian Snacks and Desserts
Need a little extra pick-me-up? Try these vegetarian recipes for camping snacks and desserts.
22. Cast Iron Nachos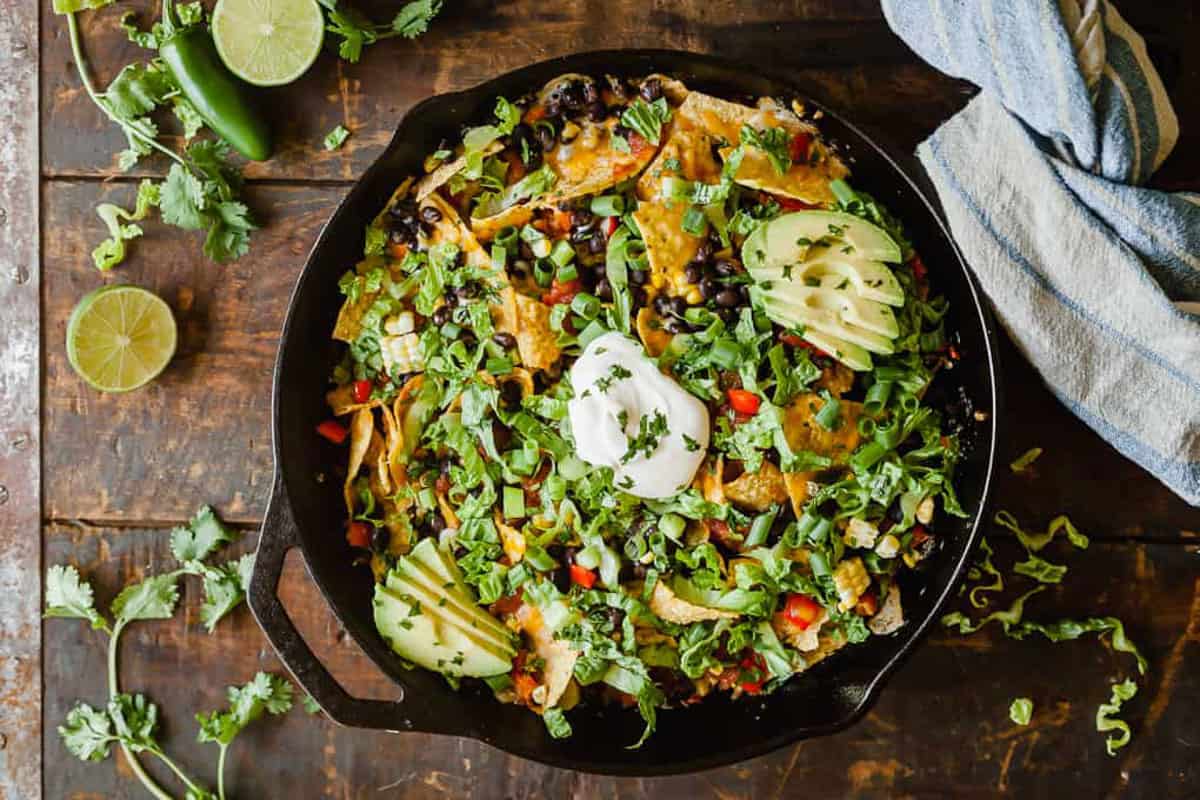 Yep, we're totally calling nachos a meal. Think about it: they have carbs, cheese, veggies…sounds like a complete, well-balanced meal to us! The best part about this dish is that it's 100% customizable, so you can add or omit any toppings. It's also a great way to feed a crowd!
23. Skillet Mexican Street Corn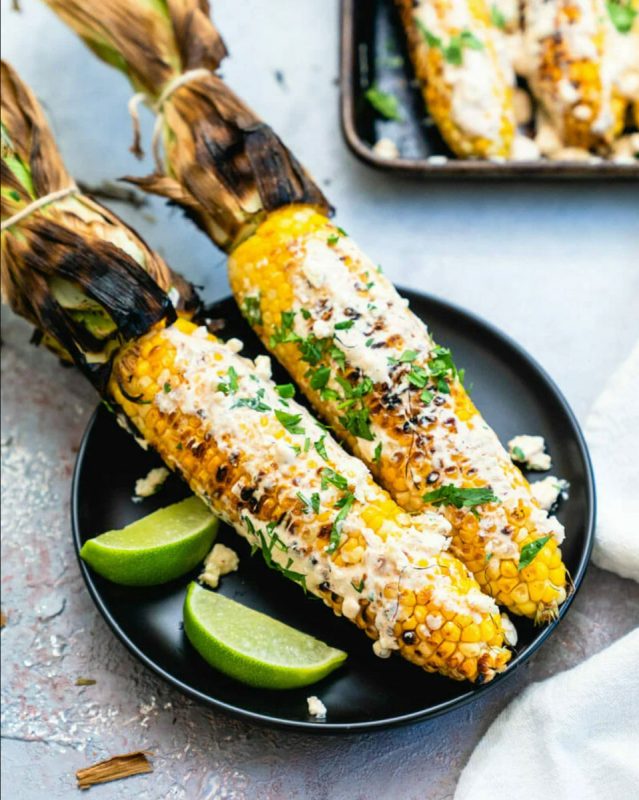 We adore the zesty flavors of traditional street corn, but it can definitely be one of the messier vegetarian camping meals. With this skillet preparation, the mess is eliminated! To make this into a heartier meal, pair it with the cast iron nachos or even just a tortilla.
24. Campfire Spinach Dip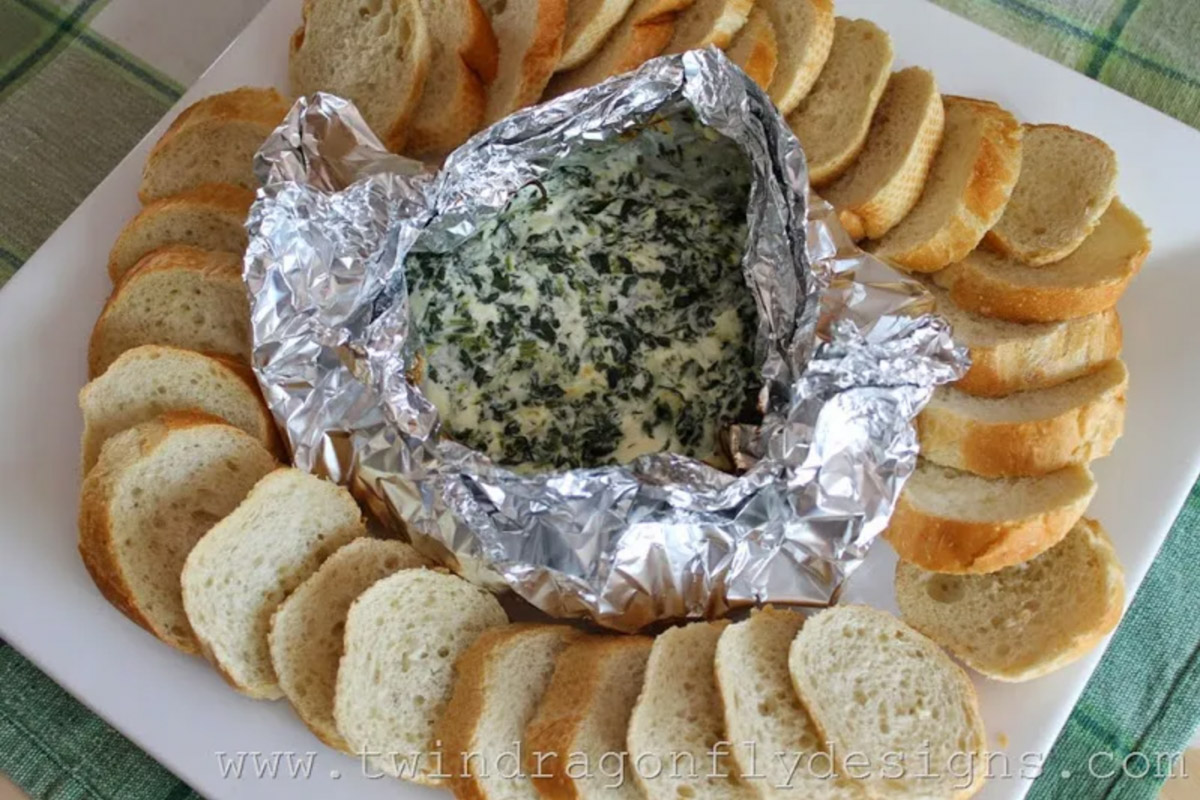 Sometimes, you just want something quick and comforting. Others, you end up having an impromptu fireside happy hour (those are the best!). For both occasions, campfire spinach dip is one of the best vegetarian camping meals. Add some veggies or bread to make it more hearty, or you could even get fancy and use this as filling for croissants.
25. Thai Mango Sticky Rice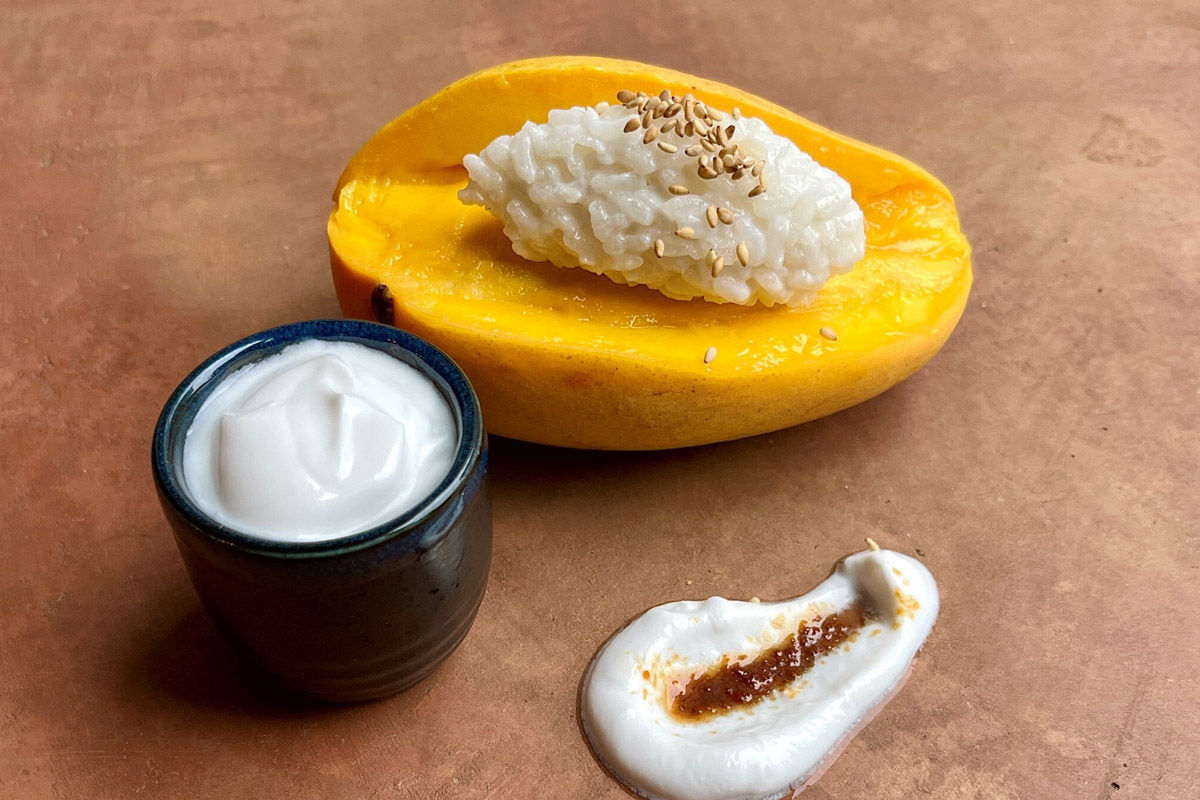 Mango sticky rice is a favorite Thai street food, but it doesn't exactly lend itself to camping. With a genius hack courtesy of REI, however, it works perfectly! It isn't cloyingly sweet, but it definitely satisfies those cravings, so it's one of our go-to desserts.


You may also like…
Save this article on Pinterest for later!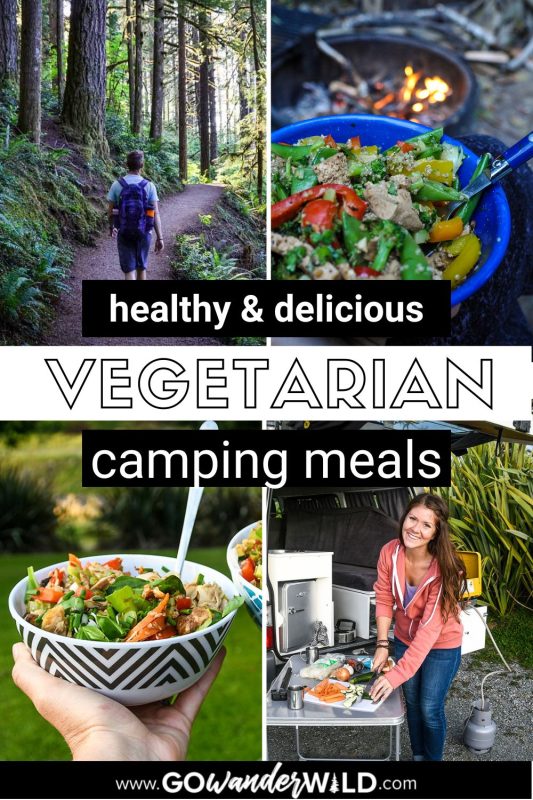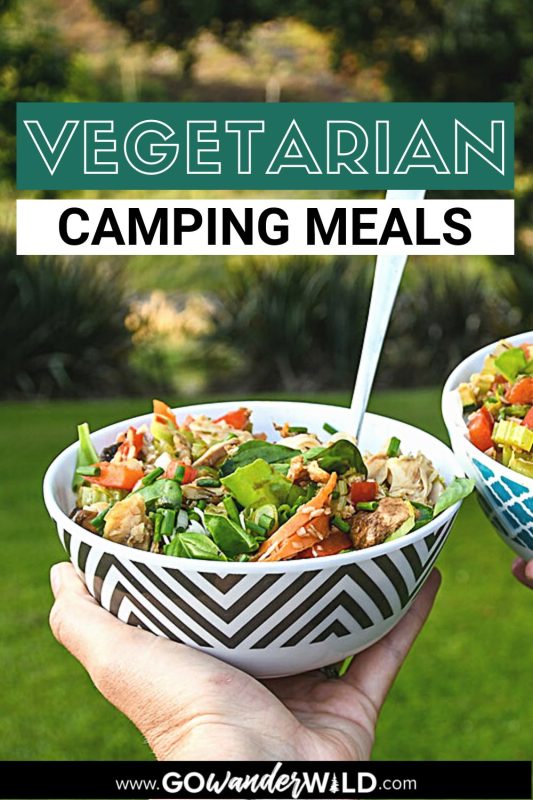 We want to hear from you!
What's your favorite vegetarian camping meal from this list that you cannot wait to try cooking? Are there any other veg-forward favorites you think we've missed? Comment below and let us know!