Camping is one of our favorite ways to get outside. After many years, we know firsthand the struggle of finding meal ideas to satisfy and prepare you for your next adventure, while still being simple to make. So, we've rounded up some camping lunch ideas that will have you excited to step into your camp kitchen after a long morning outdoors!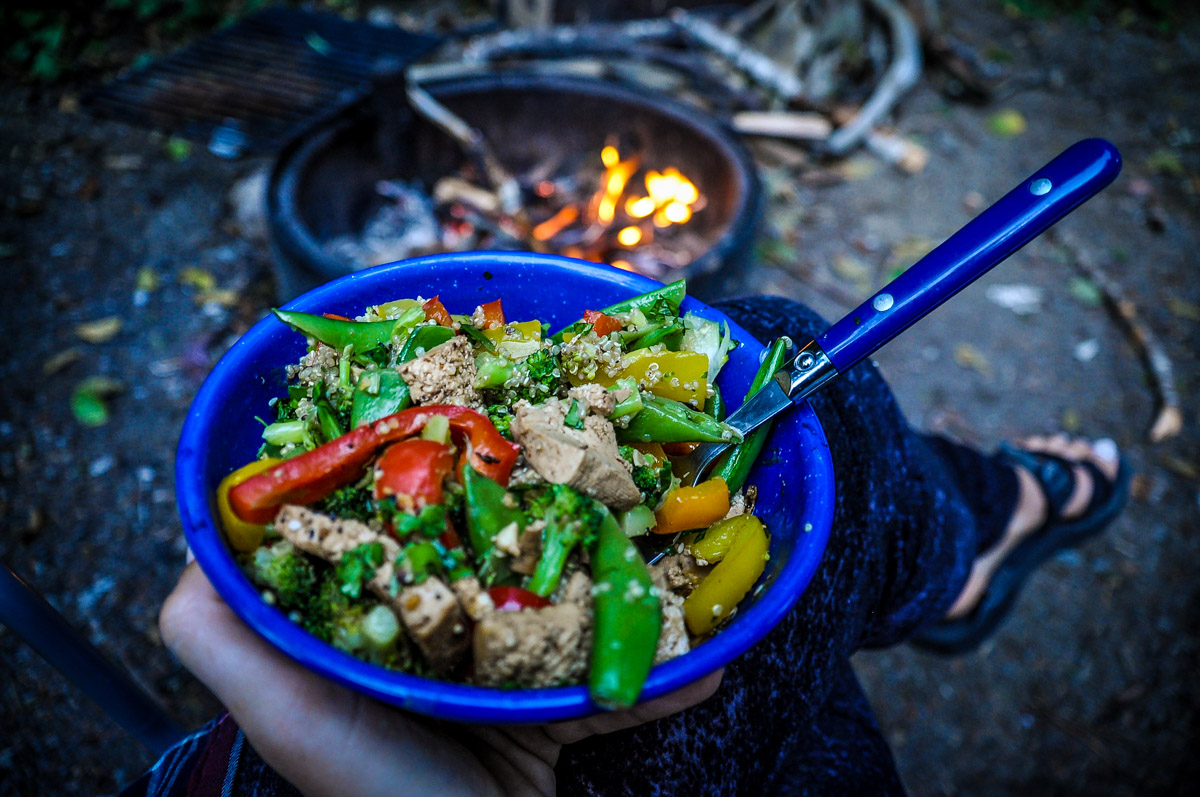 These camping lunch ideas focus on simple recipes that still pack loads of flavor into your meals to keep you nourished while adventuring in the wilderness.
We're here to remind you that you don't have to sacrifice the quality of your camping meals for convenience. We've rounded up these camping lunch recipes to show you that as long as you plan ahead, you can still eat well when preparing your food outdoors!
Improve your camping trips ten-fold with these yummy camping lunch ideas that are easy to make, store, and prepare outdoors.
1. Honey Mustard Chicken Salad
This simple camping lunch is packed with a TON of protein and is versatile for a variety of other camping recipes. If you don't eat chicken you can easily swap it out for tuna/salmon. Eat this as a yummy sandwich or add it to some fresh greens for a filling salad.
We love this camp meal because you can put all the ingredients together in one bowl and serve in less than thirty minutes.
2. Teriyaki Shrimp Foil Packets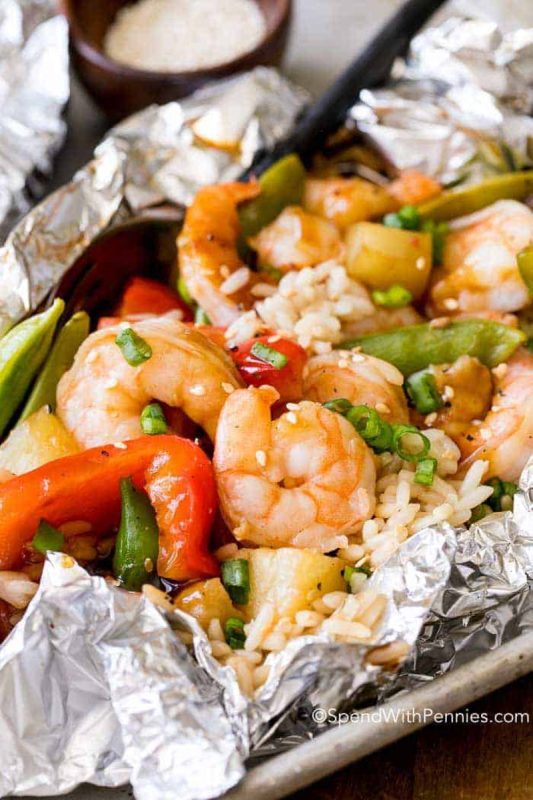 Tender, crisp veggies and juicy shrimp make for a tasty camp lunch that is light and fresh. Foil packets are one of the easiest lunches for camping because you can throw everything on the grill and have little to no cleanup when you're done. You can even opt to prep these ahead of time for even more ease when it's time to get cookin'.
3. Camp Quesadillas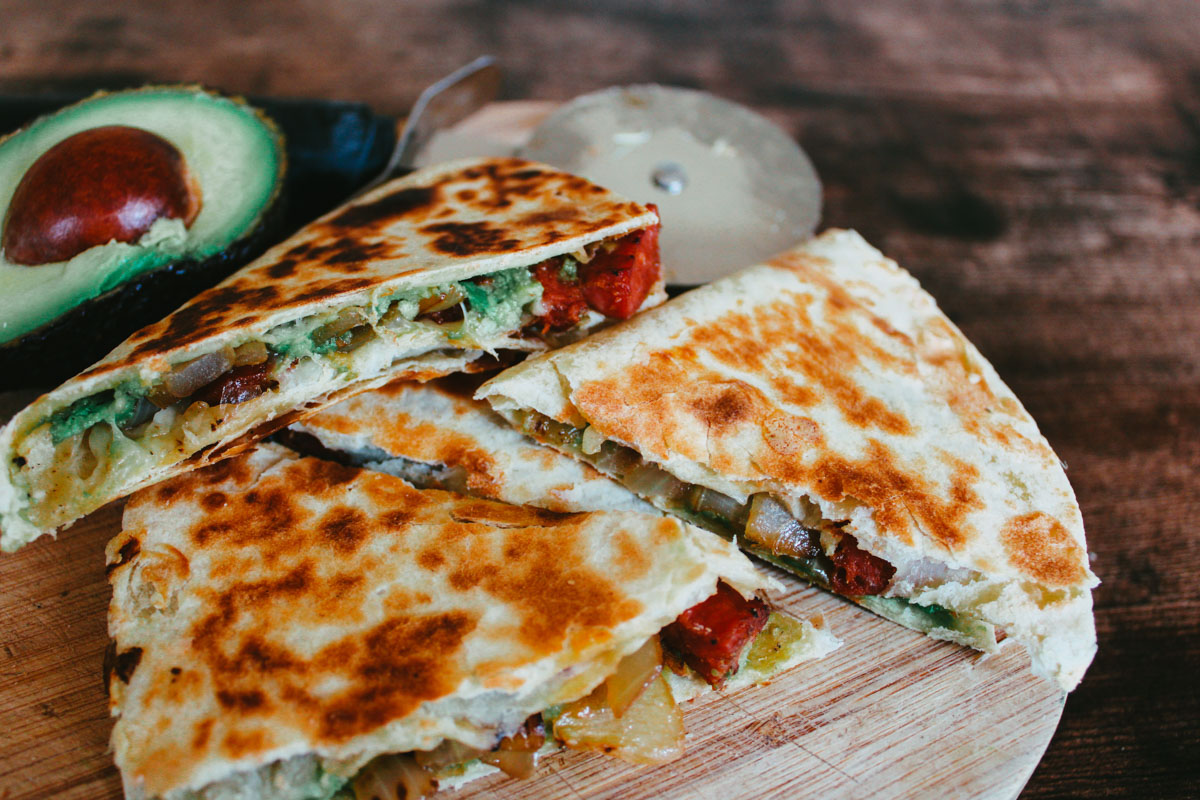 Quesadillas are another great camping meal idea because they are easy to make and versatile even if you have dietary restrictions. Assemble your tortillas with your favorite ingredients, wrap them in foil, toss them onto the grill, and enjoy the melty cheese with sour cream, salsa, or creamy guacamole.
4. Greek Pasta Salad
Pasta salad is the star of the show when it comes to camping lunch ideas. Tangy feta, juicy cherry tomatoes, and crunchy cucumbers make this one of the best camp meals to whip up on a hot summer day. Pasta salad is a perfect camping meal because you can prepare it ahead of time and enjoy your food with no prep and minimal cleanup!
Psst! Looking for more veg-heavy options? We've got you covered with these vegetarian camping meals that are both healthy & delicious!
5. Classic BLT Sandwiches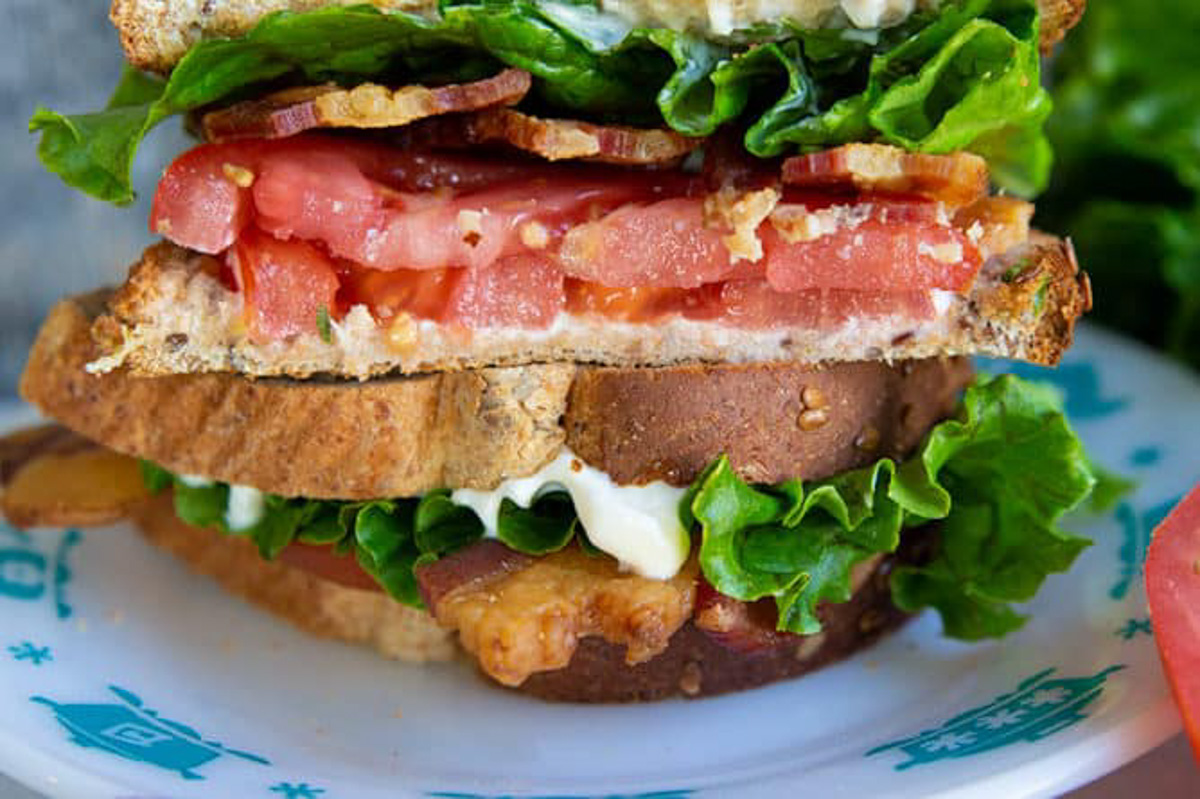 BLT's are an overlooked camp lunch recipe, but they're simple to make and require very few ingredients. You can opt to prepare the bacon ahead of time for even less preparation. All you have to do is assemble your sandwich, toast it if you'd like, and enjoy with chips or a tasty pasta salad recipe.
6. Chickpea Salad Sandwich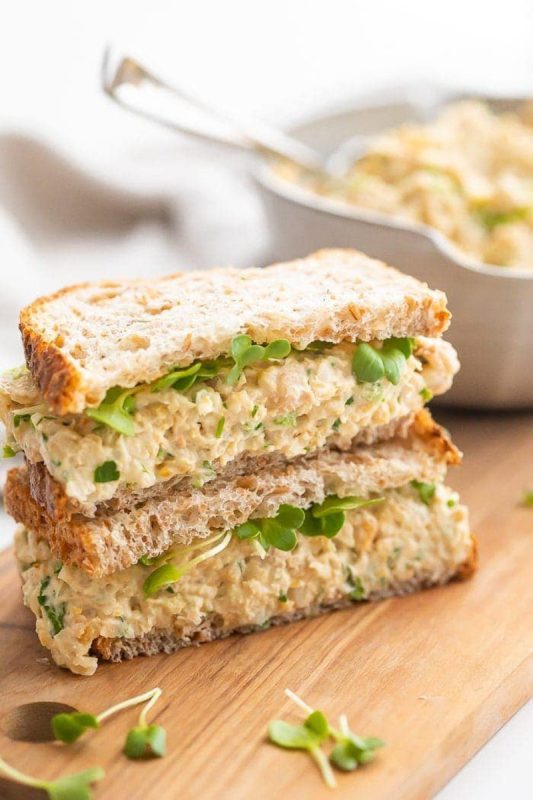 Chickpeas are an amazing source of plant-based protein after a long day of hiking. We love this recipe when we want something healthy and satisfying, but don't want a ton of clean up. Simply mix all the ingredients in one bowl and enjoy with your favorite bread.
7. Veggie Skewers with Chimichurri Sauce
Veggie Skewers are one of the best ways to incorporate more fresh foods into your camp kitchen. This is a nice and light lunch idea for camping and the nice char from the grill mixed with the creamy chimichurri sauce will have you hooked on these! With only a few minutes of prep and 20-minutes to cook, this is the perfect, quick and easy camp meal.
8. Sausage, Potato, and Green Bean Foil Packets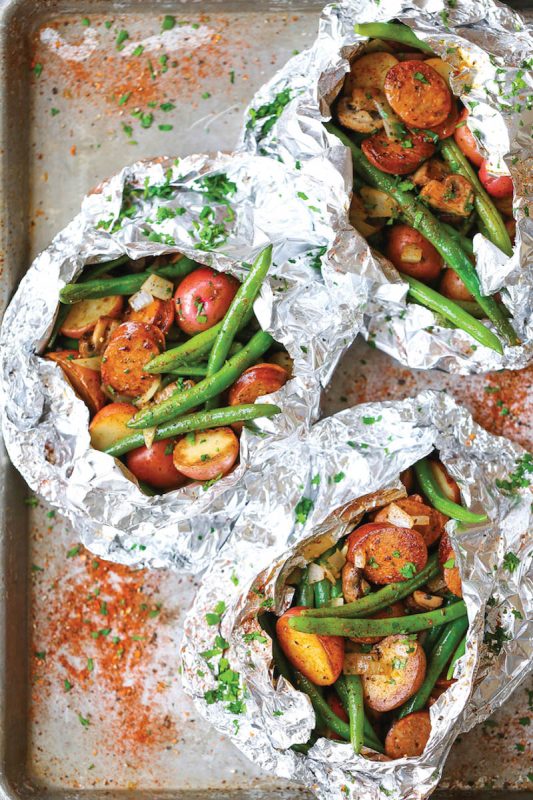 Foil packets are ideal camping lunch meals because you can prepare everything at home, and then once you make it to camp, dishes and set up are minimal so you can toss them on the grill and relax. Plus, these are quick and only take 20-25 minutes to cook.
9. Thai Quinoa Salad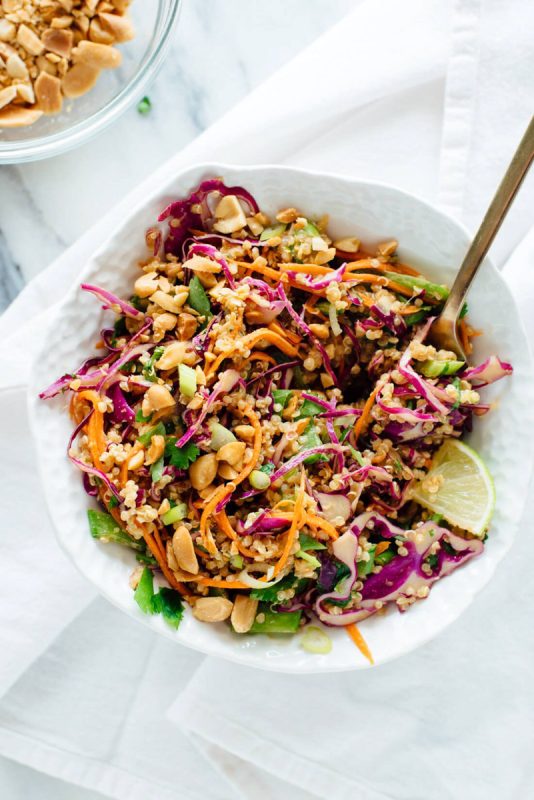 This crunchy and refreshing quinoa salad is the perfect make ahead meal, or you can prep the ingredients and assemble everything once you arrive at camp. This recipe is versatile, so you can add or swap your favorite veggies to enjoy with the creamy peanut dressing.
We love this camping lunch idea because it has clean ingredients, quick prep, and is packed with protein!
10. Blackened Fish Tacos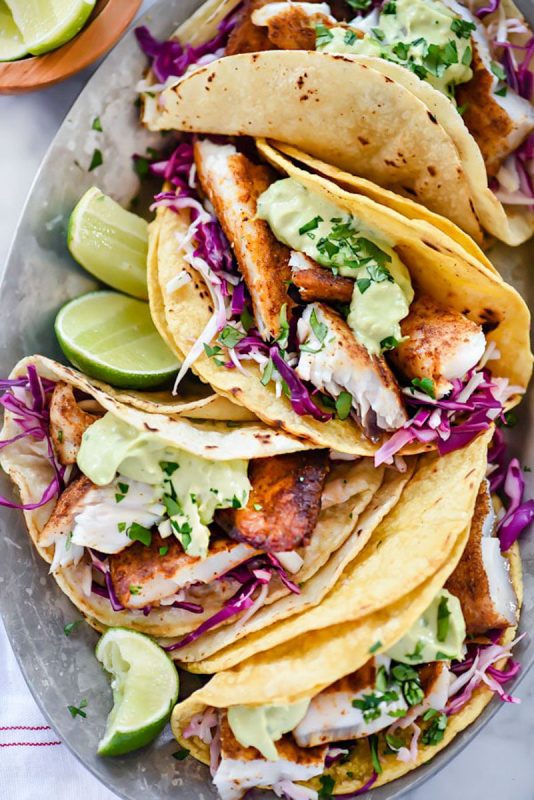 Tacos after a long day of exploring are a match made in heaven and these fish tacos will satisfy that hiker's hunger. These tacos are a lighter, healthier option than traditional tacos, so they're perfect for camp lunches! Pair this with your favorite salsa or homemade guacamole for the ultimate post-trail meal.
11. Campfire Nachos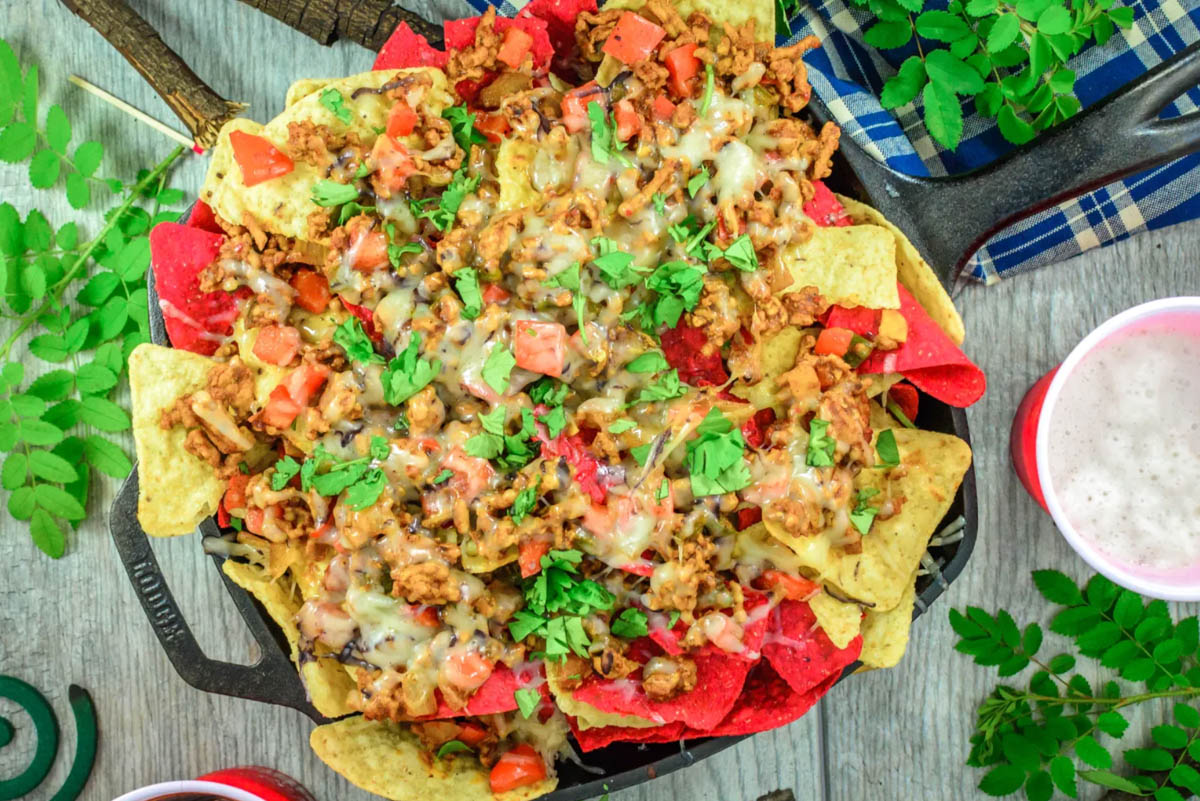 Nachos are many camper's favorite because you can load up on your favorite toppings and have a tasty meal in less than 30-minutes. Prep and clean up is quick since everything is whipped up on a foil-lined cast iron. Crispy tortilla chips, ooey gooey cheese and tangy sour cream is the perfect combination for a tasty camping meal.
12. Fresh Spring Rolls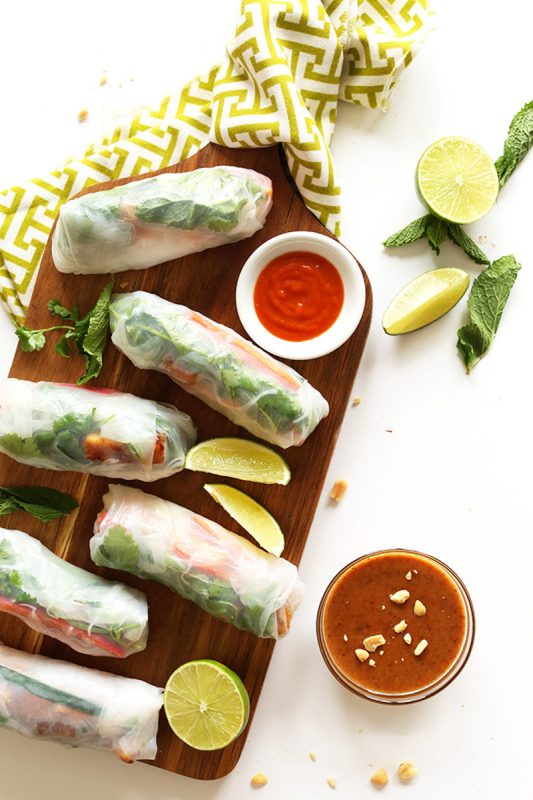 Fresh spring rolls are an easy camping lunch idea to prepare ahead of time to have no prep and little cleanup! These rolls are made with rice noodles, carrot, cucumber, bell pepper, fresh herbs, and crispy seasoned tofu, served with a peanut sauce.
This is a versatile recipe, so you can add grilled chicken or shrimp for more protein or swap out any of the veggies.
13. Grilled Mexican Street Corn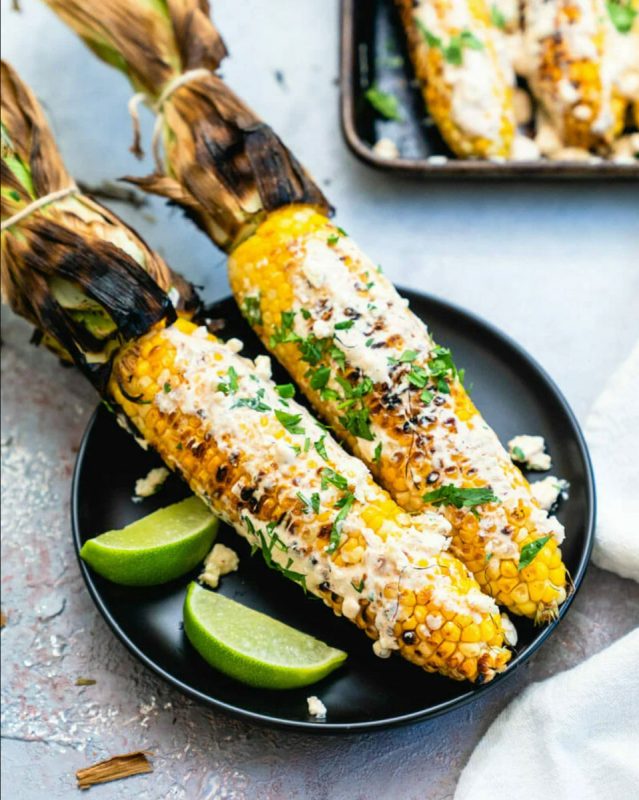 Street corn isn't a popular lunch idea for camping, but it's bursting with flavor and one of the easiest meals to put together for any outdoor enthusiast. The fresh corn and special elote sauce take around 15-minutes to grill to perfection. Consider pairing this recipe with street tacos for the ultimate mexican-inspired lunch!
14. Chicken Fajita Stuffed Peppers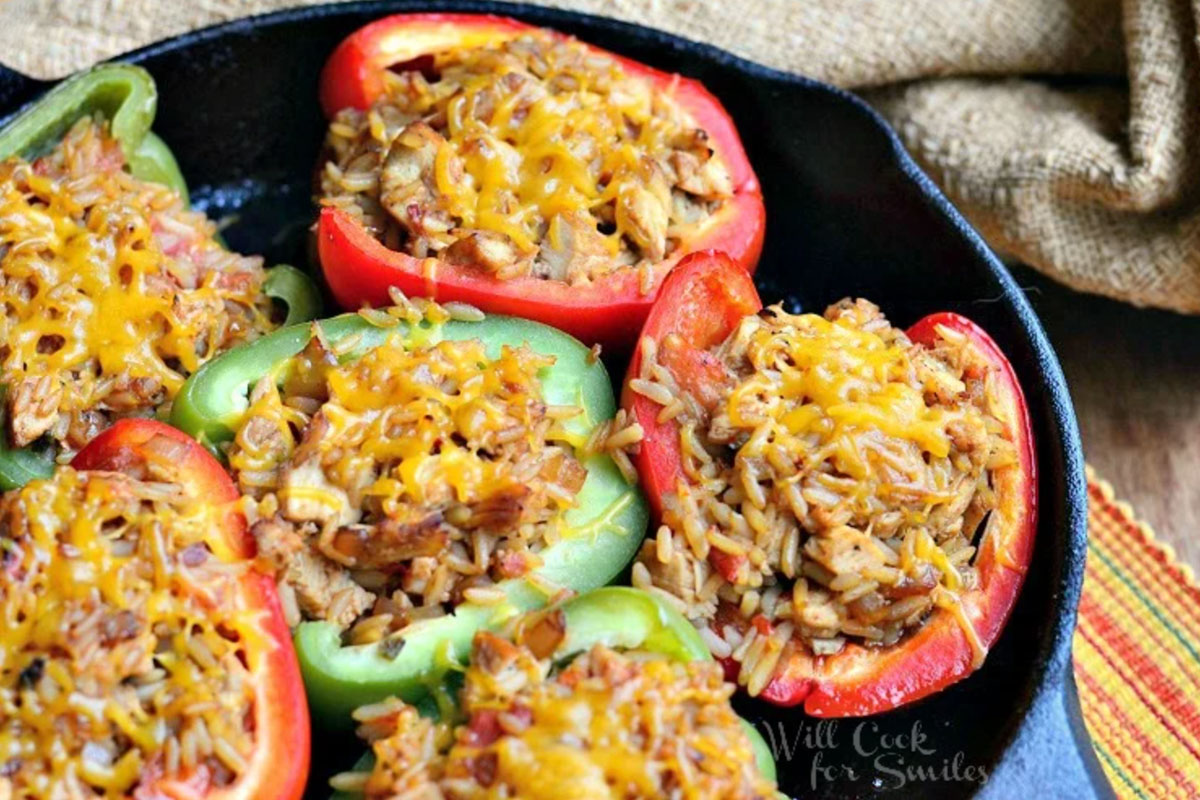 Stuffed peppers are a simple camping lunch idea that you can toss on the grill and have a savory, protein packed meal in no time. If you prep the chicken and veggies ahead of time, you can wrap these in foil and cook them on the grill so you can conquer that hiker's hunger quickly once you get off the trail.
15. Shrimp Boil Foil Packs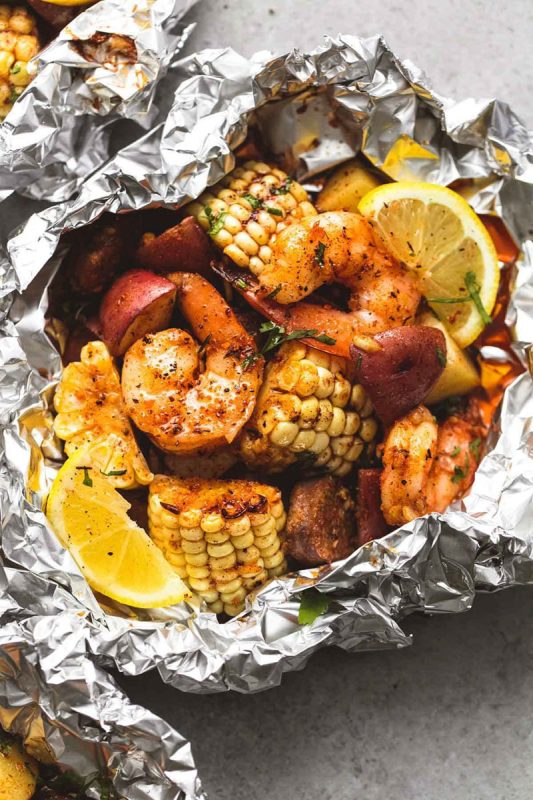 One of the staple flavors of the summer is a southern-style shrimp boil. These no-mess foil packs are bursting with flavor and cook quickly, so they're perfect for camp lunches. We love whipping up shrimp in our lunches because it's light, versatile, and cooks fast.
16. Black Bean Salad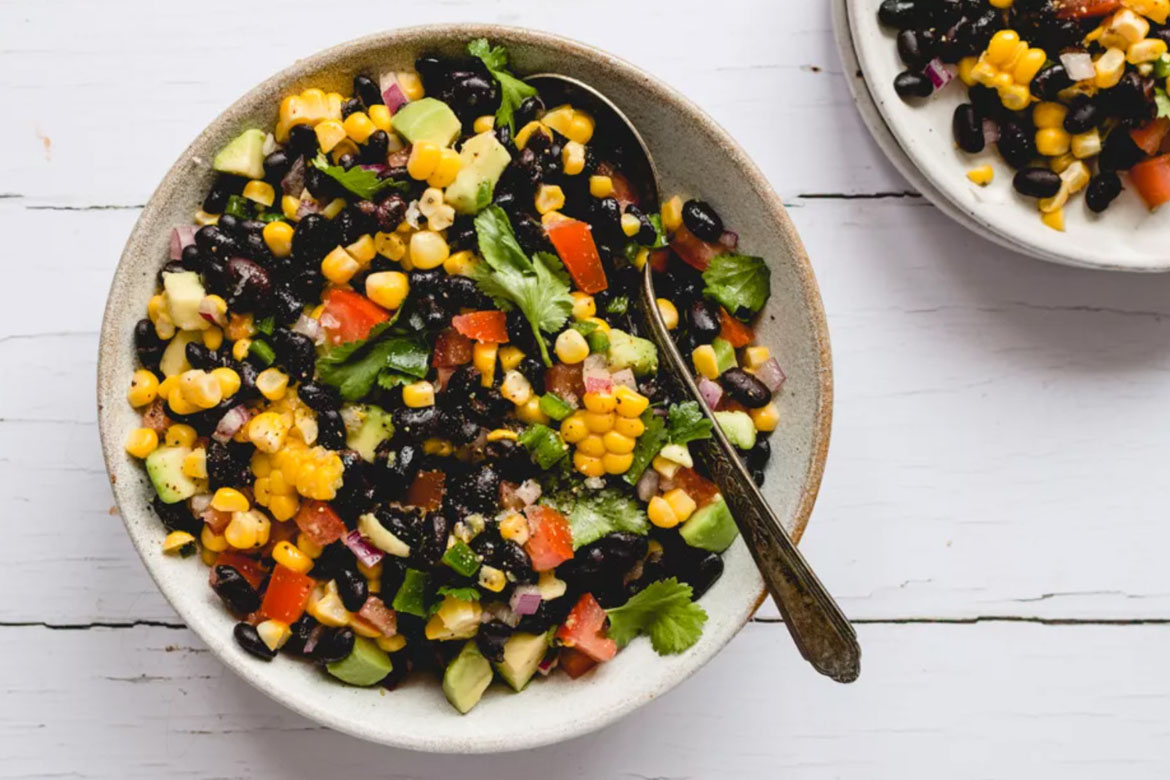 Outdoor activities can burn a lot of energy that causes the infamous hiker's hunger. In those times where you want food fast, you can prepare this salad at home and then enjoy it with tortilla chips as soon as you get back to camp. It's fresh and easy to make, plus it's loaded with protein!
17. Seattle Style Hot Dogs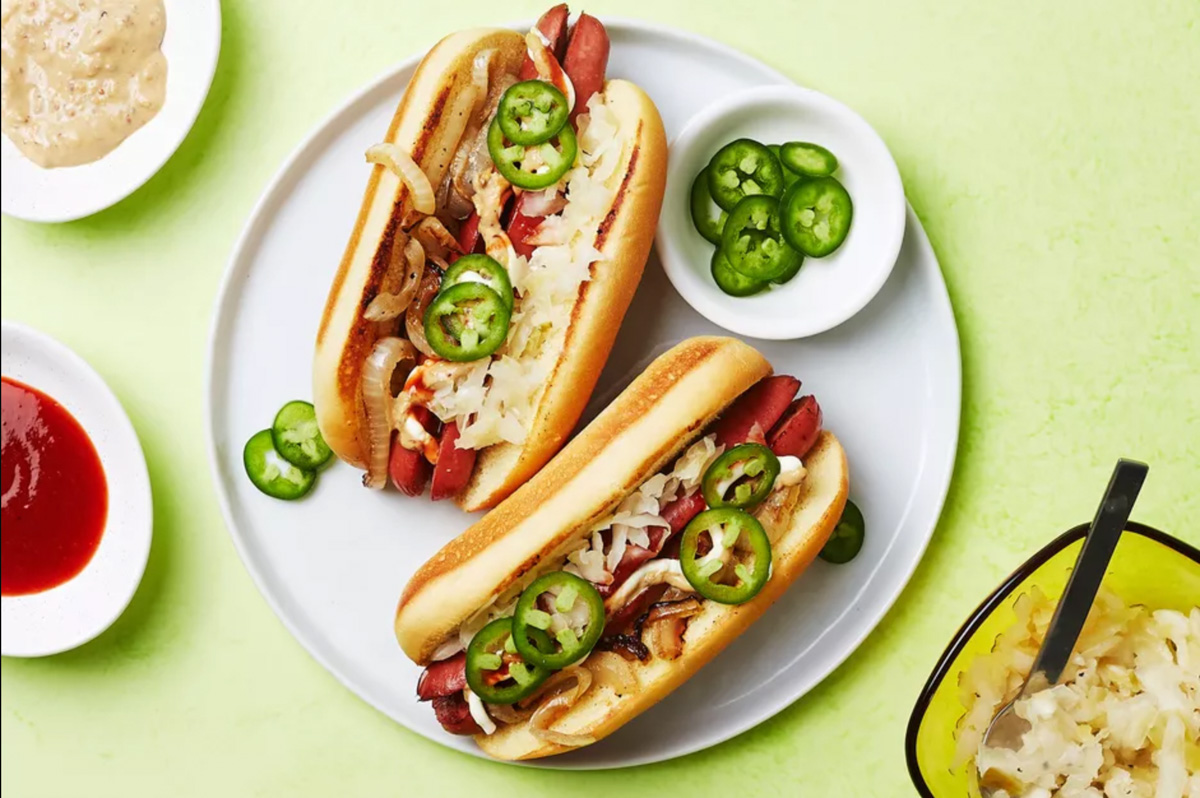 Upgrade your plain ol' hot dog to Seattle style, a hot dog topped with grilled onions, cream cheese, tangy mustard, and jalapenos all stuffed into a toasted bun. Hot dogs are easy to make and assemble, and a classic camping lunch idea.
18. Grilled Chicken Street Tacos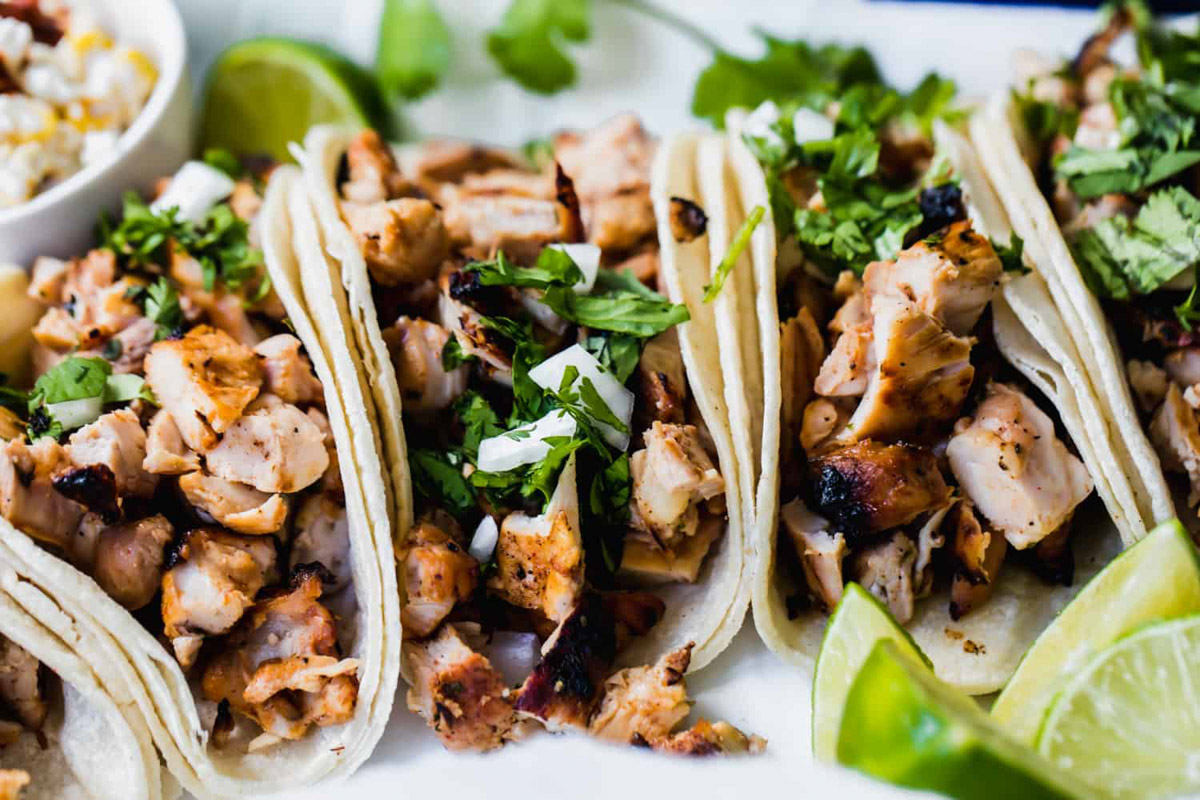 Tacos are a versatile camp lunch, so everyone in the group can customize their own. Dress up your tacos with chopped onions, cilantro, guacamole, and sour cream for a delicious lunch. Cook your chicken and prepare your toppings ahead of time for easier prep and clean up.
19. Toasted Caprese Sandwich
This sandwich is inspired by the perfect caprese summer salad. Put all the traditional ingredients; crisp tomato slices, tangy mozzarella, fresh basil, and balsamic onto your favorite bread and toast it to caramelized perfection. These require very little prep since the ingredients are simple, but they're bursting with mediterranean flavors.
20. Veggie Miso Soup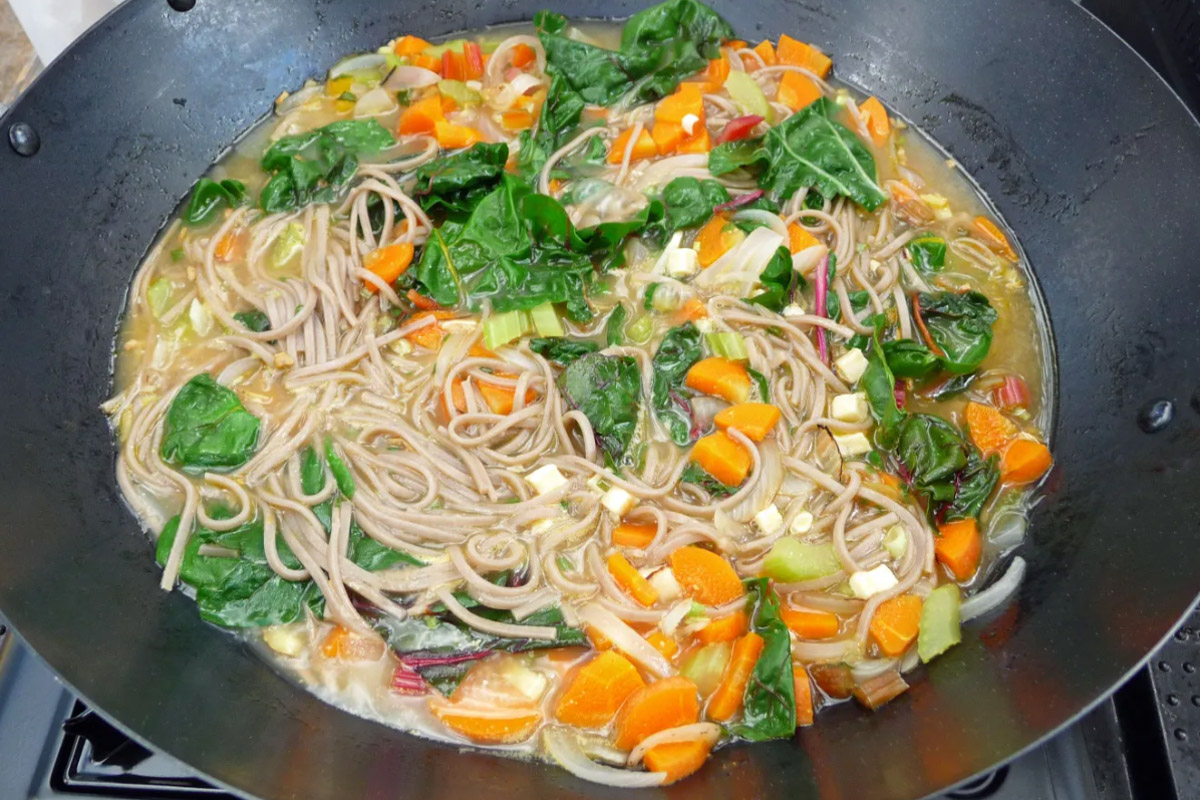 A hearty and light soup is the perfect way to pack in a ton of nutrients after a long day of adventure. We love this camping lunch idea because you can use one pot for the whole recipe and make cleanup a breeze. This is a flavorful vegan option packed with protein!
21. Charcuterie Board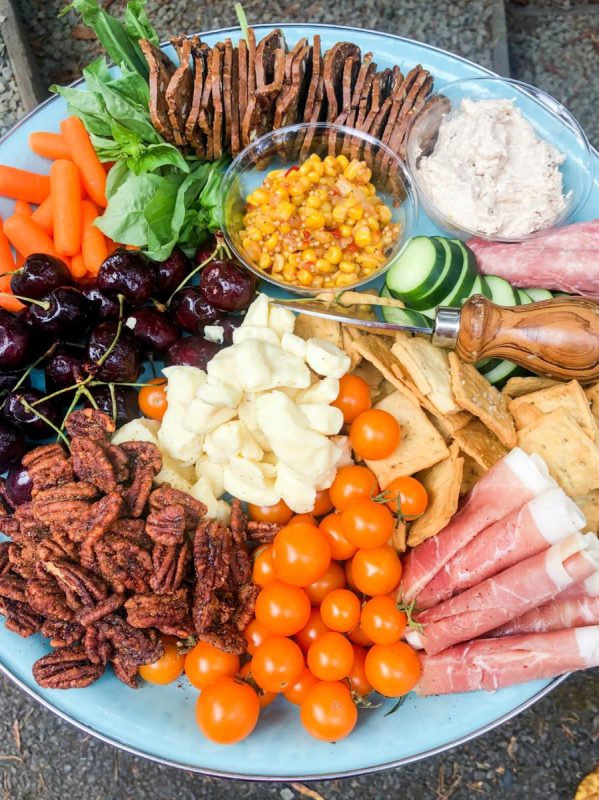 Charcuterie boards are an easy and satisfying recipe for those relaxing afternoons at camp. Load up your board with your favorite cheeses, meats, crackers, and fruits. This meal is ultra-flexible so you can swap stuff out for your favorite sweet and salty flavor combinations.
22. Savory Couscous Salad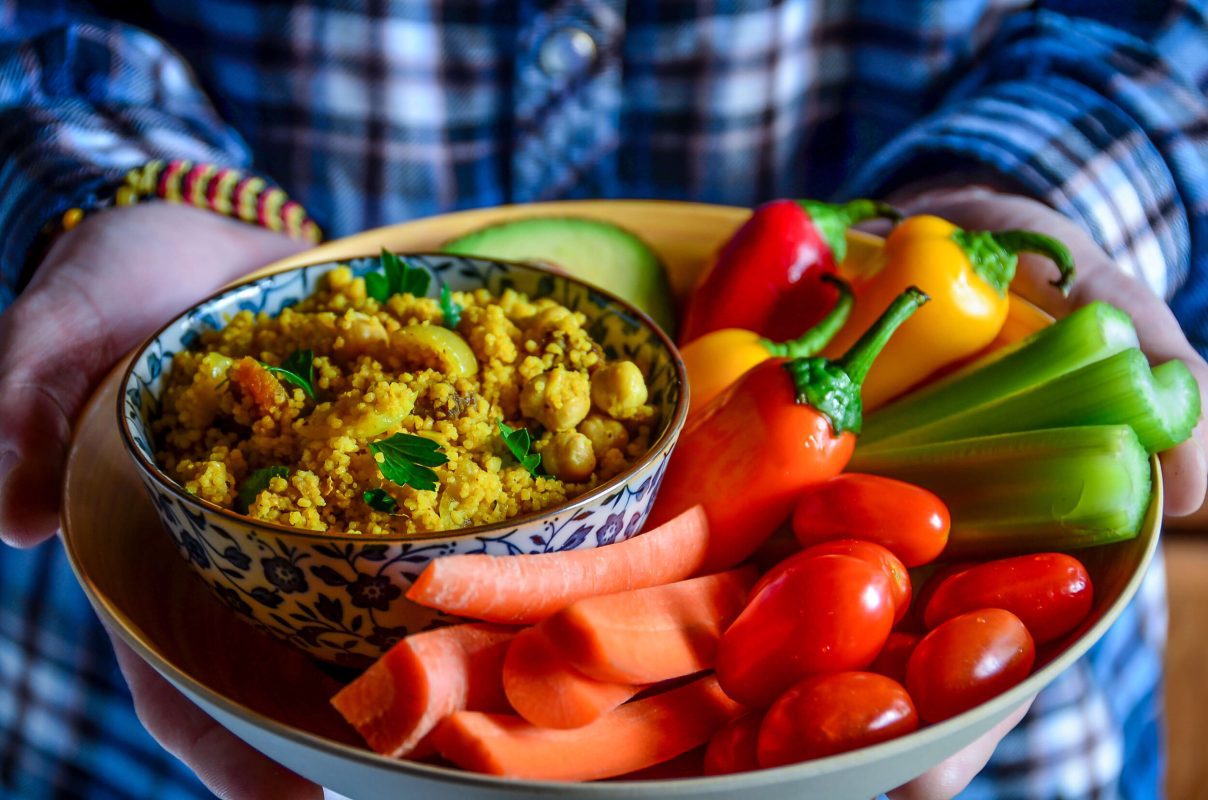 This colorful couscous salad is a perfect summertime camp lunch idea. Couscous is excellent for camping since it's so lightweight and will double in serving size after being cooked. This is another recipe that you can mix up in advance to save time and cleanup at camp.
23. Chicken Tikka Masala Tacos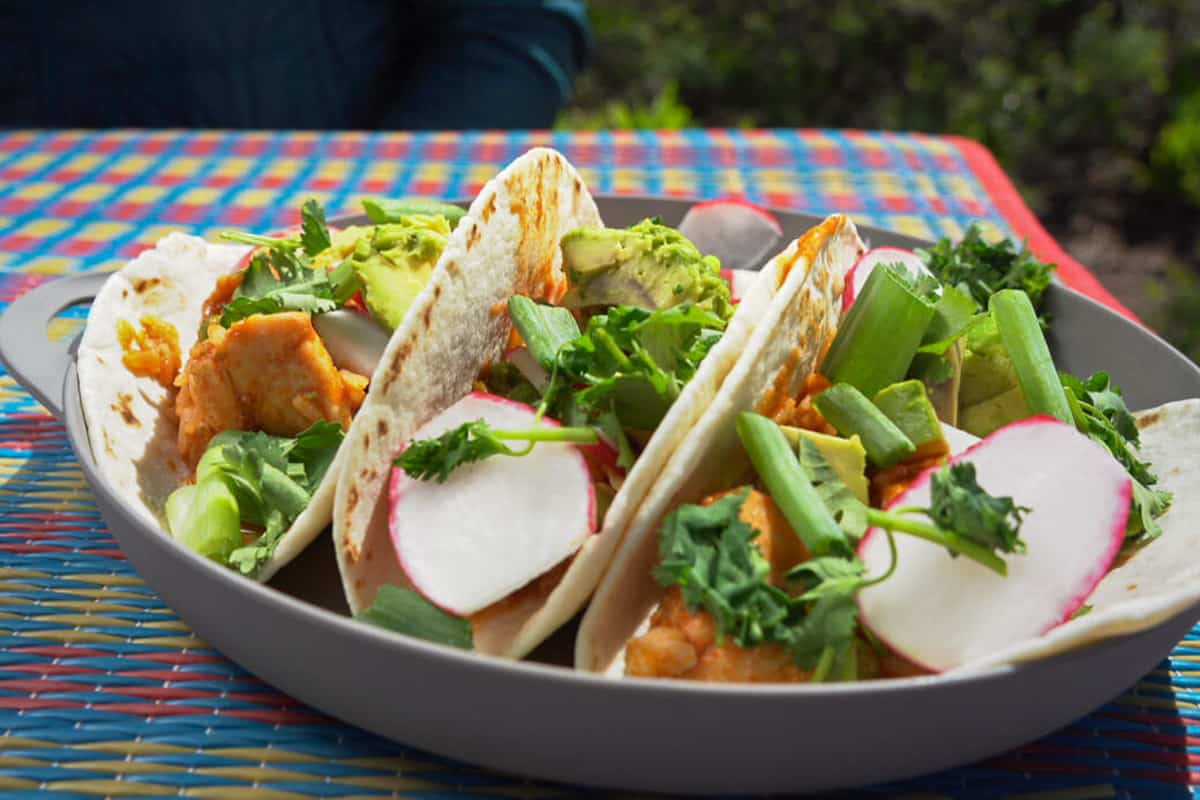 This is the perfect one-pot camping meal when you want to come back to camp and eat a delicious meal without all the hassle of cooking and cleaning up. Juicy masala-style chicken topped with cilantro is one of the best recipes to end an adventurous morning.
24. Asian Chopped Salad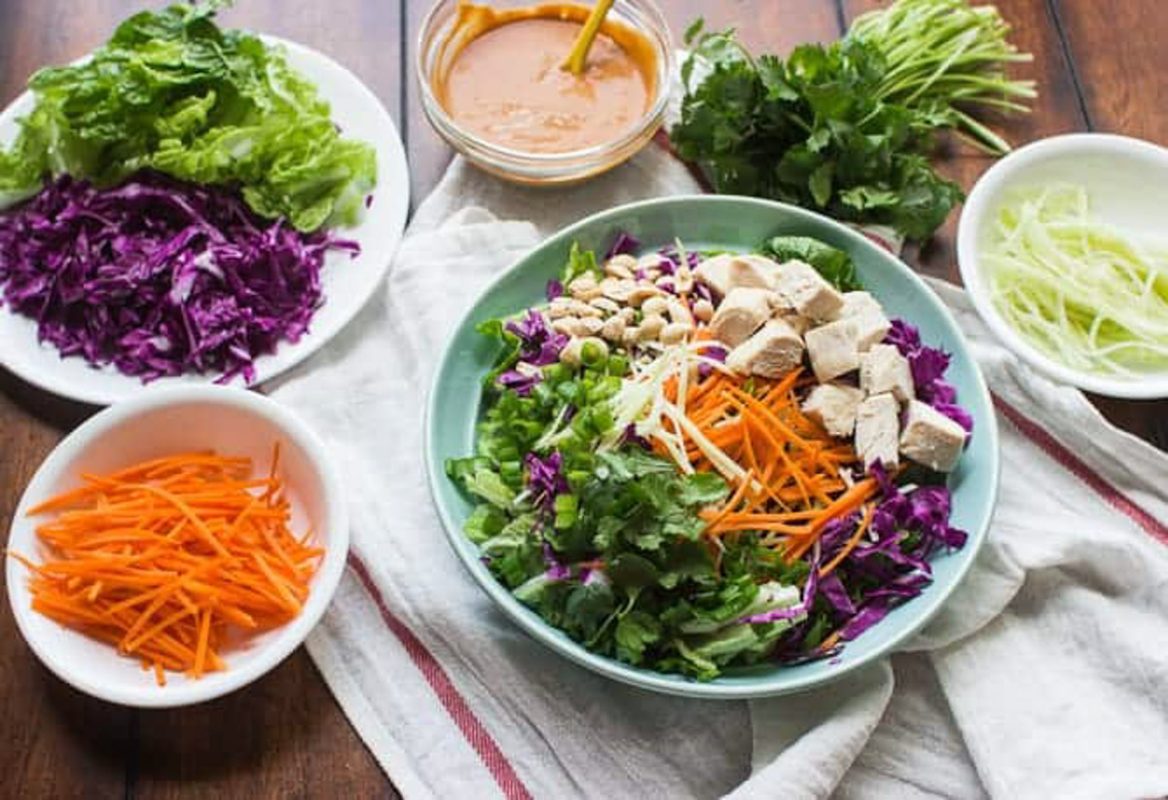 Unlike other salad recipes that will leave you reaching for snacks, this camp salad will have you feeling energized and satisfied. Chop all the ingredients ahead of time to put these together in under 10-minutes! The ultimate quick and easy camp lunch idea.
25. Egg Salad Sandwiches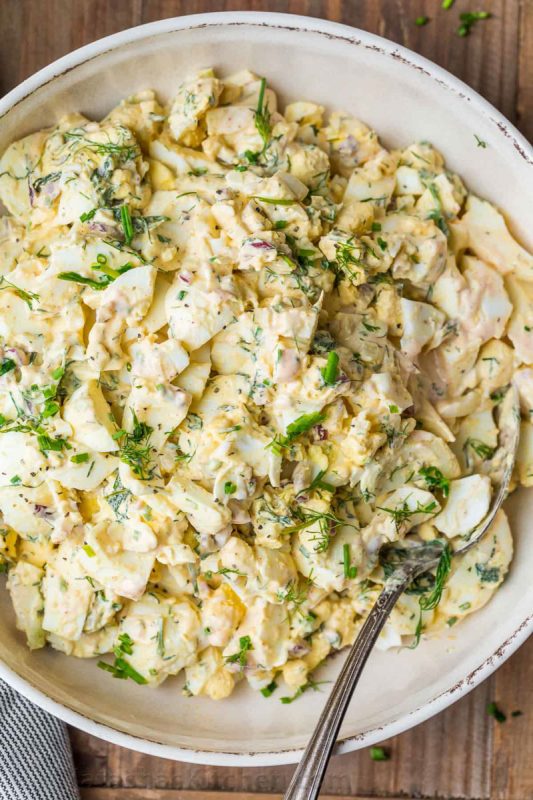 Egg salad sandwiches are the quintessential quick and easy camp lunch. It can be prepared ahead of time, so when you get back after a long day of exploring, you can scoop some onto your favorite bread and enjoy it with minimal cleanup.
26. Easy Kale Salad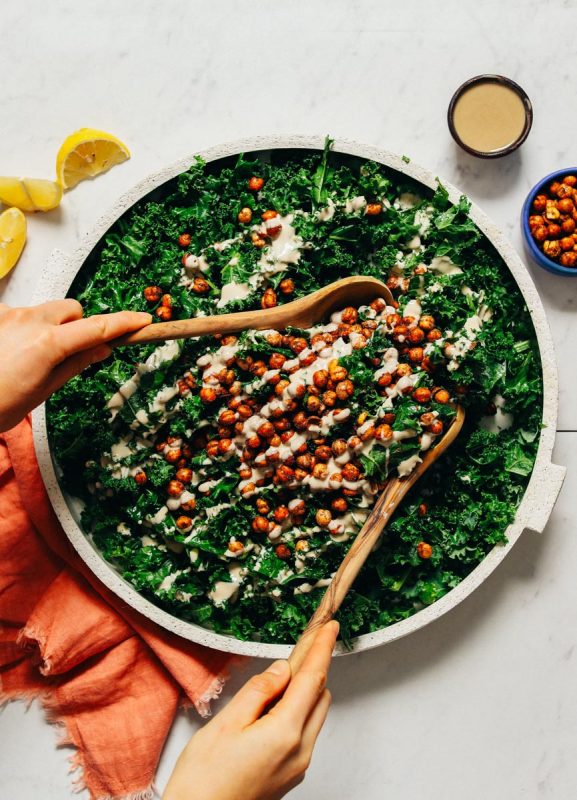 This massaged kale salad is made with minimal ingredients and takes only 15-minutes to whip up. Opt for store-bought roasted chickpeas for an extra protein source or add your favorite veggies to this dish. Salads are one of the easiest camping lunch ideas since you can add any combination of ingredients for fresh flavors.
27. Vegan Lettuce Wraps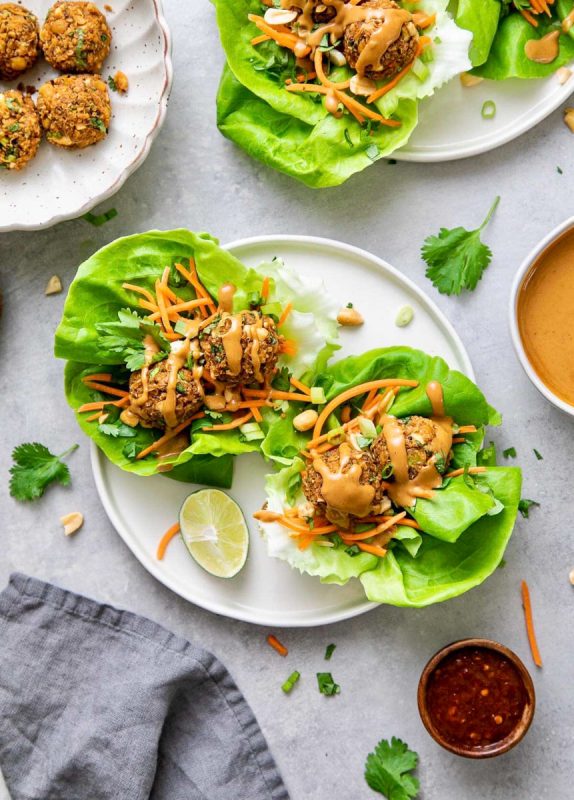 Nothing beats a crispy and fresh lettuce wrap after a long day of exploring. These require little preparation and only twelve ingredients that pack BIG flavors. We love that this recipe uses everyday ingredients so you can use leftovers to make a salad or buddha bowl.
28. One Pot Veggie Couscous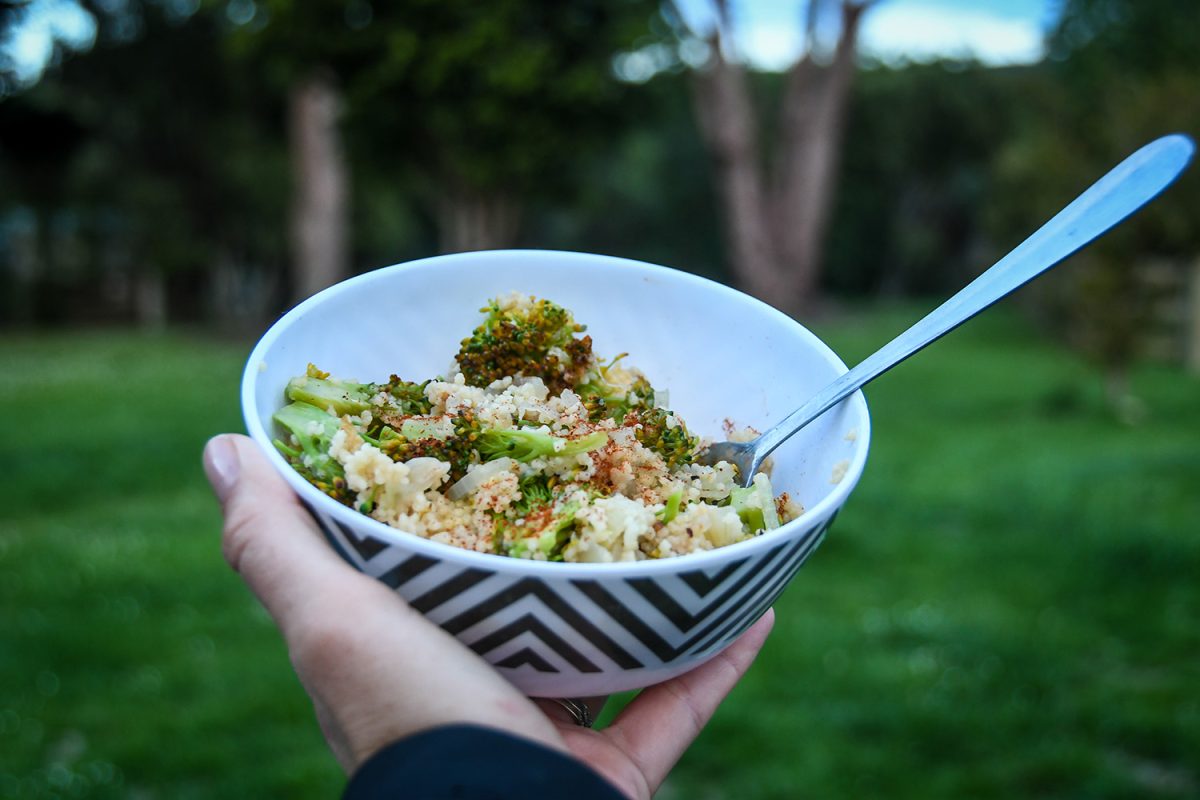 Couscous is one of our go-to ingredients for one-pot camping meals because it's versatile and cooks quickly. We also love that you can experiment with a wide variety of flavors to make a tasty meal you love. Add in chickpeas for more protein or leafy greens for a fresh flavor.
29. Healthy DIY Buddha Bowl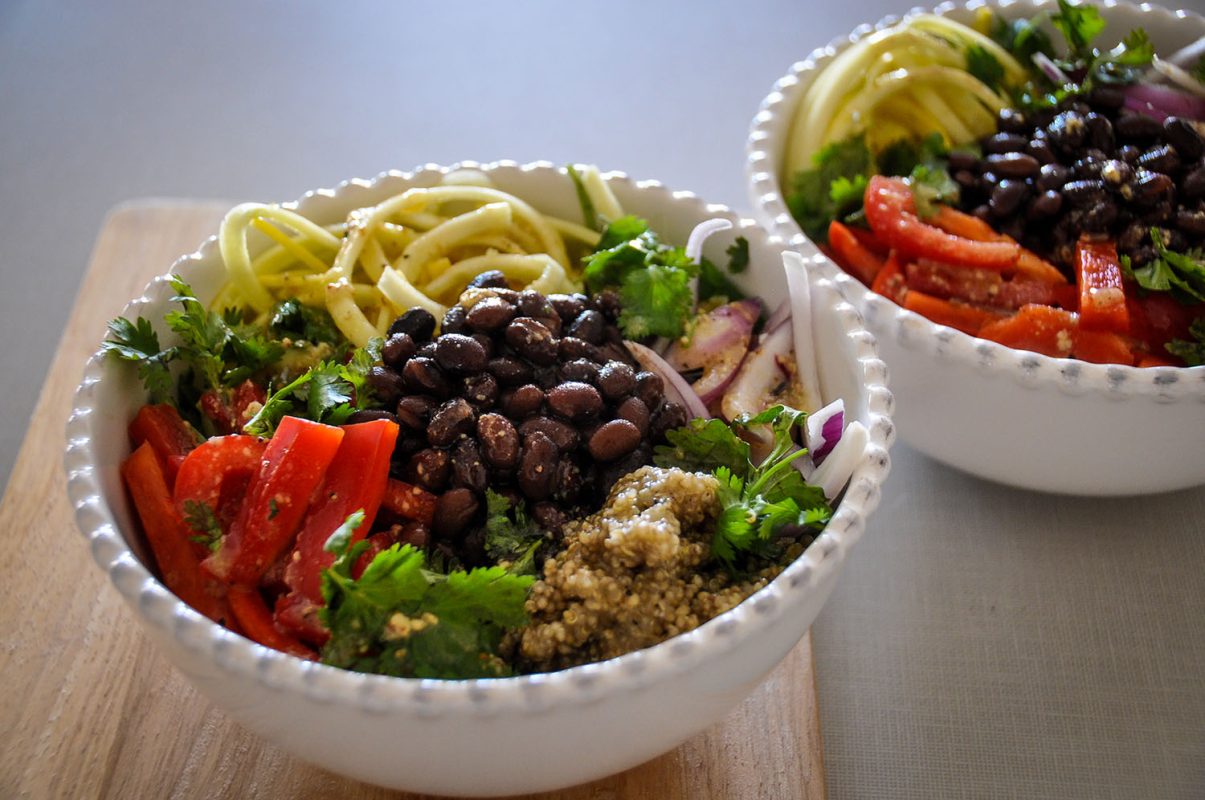 We love putting together buddha bowls for lunch at camp because you can customize it to whatever flavors you're craving and they're very difficult to mess up. Choose a grain, your favorite veggies, and a protein, and you have a delicious camping lunch idea.
30. Chickpea Stuffed Flatbread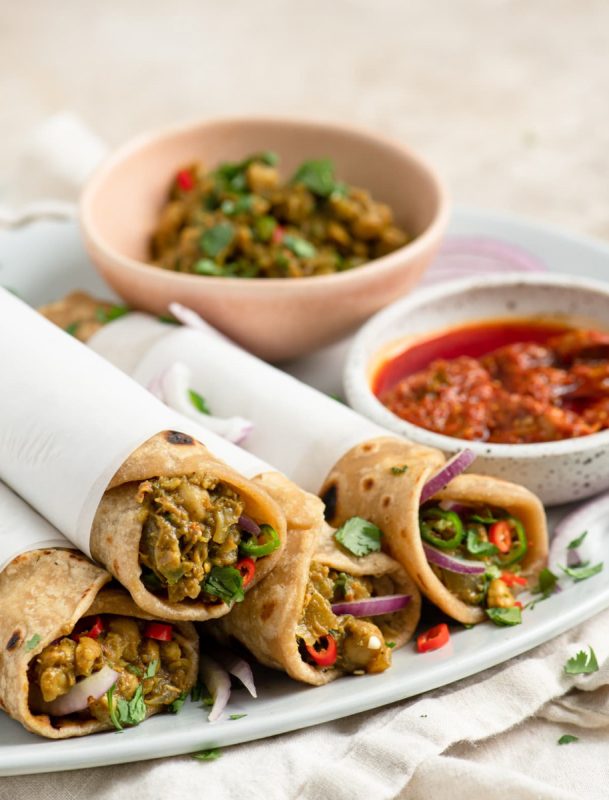 This is a unique camping lunch idea that is flavorful and quick to cook up. These are a traditional Indian street food, but in just under 30-minutes you can enjoy these in the comforts of camp topped with fresh cilantro or chutney for more freshness.


You may also like…
Save this article on Pinterest for later!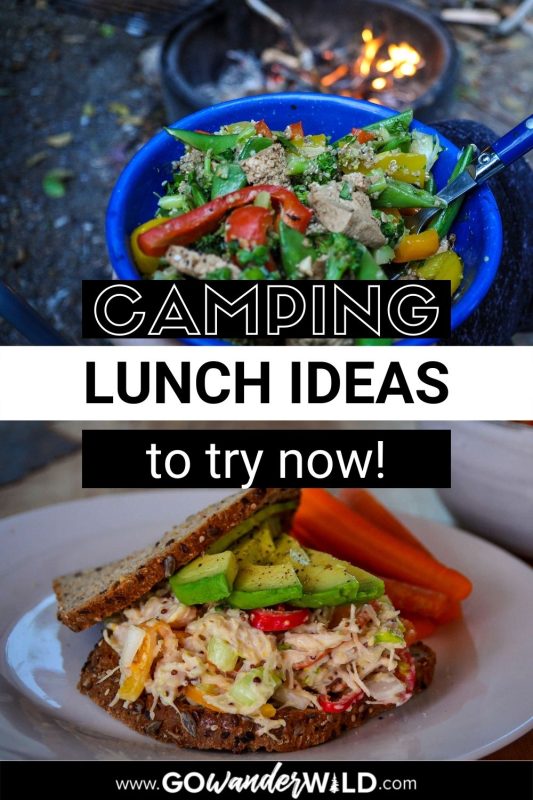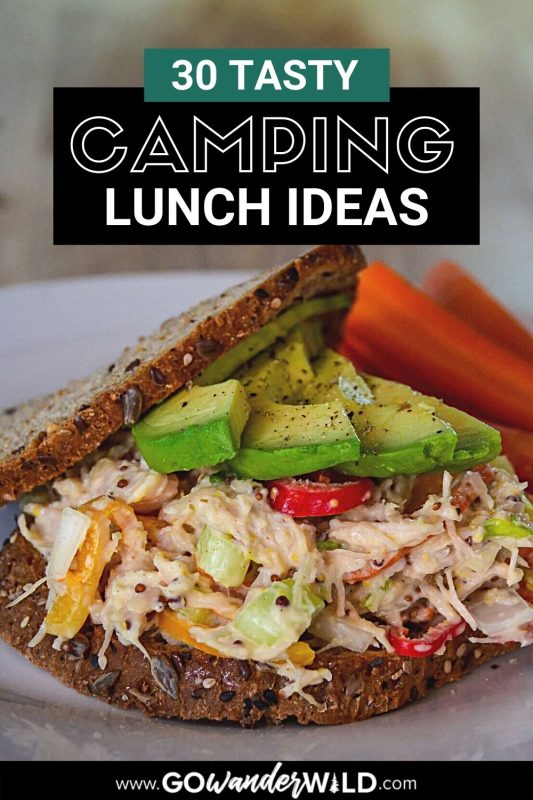 We want to hear from you!
What's your favorite meal from this list that you cannot wait to try cooking? Do you have any other camping lunch ideas you think we should add to this list? Comment below and let us know!